Title: Dine With Love
Also Known As: 陪你一起好好吃饭, Pei Ni Yi Qi Hao Hao Chi Fan
Director: Gang Chen
Screenwriter: Hu Hui
Genres: Food, Romance
Country: China
Episodes: 16
Year: 2022
Original Network: Hunan TV, Mango TV
Where To Watch: Rakuten Viki, MangoTV
Dine With Love Synopsis
Dine With Love was a Chinese romance drama, released in 2022. The story focused on Su Kelan, who works as a staff member of the Public Relation Department on What To Eat, a fresh food startup that was created by Yu Hao. Despite her capability, Kelan doesn't plan to have a promotion. She opts to have a simple job, so she can take care of her ailing mother. Kelan is a talented chef. And she often cooks for her colleagues when their department has to work overtime.
Her life started to change when an incident befallen Yu Hao, the workaholic CEO of What You Eat. He was the image of the fresh food startup and often appeared in front of the camera to show his own cooking show, even though he actually can't cook. One day, some viewers noticed that he had been using a body double on his show. This sparked a heated debate between his fans and became trending on the internet.
After this incident, he fired three executives of his company, and appointed Kelan as the director of the Public Relations Department. This work relationship leads to a different direction for both of them. When they finally realize that they love each other, they have already separated. When they finally get back together, They met another hardship. Yu Hao's ex-girlfirend is moving back to China to get back together with him and Kelan's mother suddenly has to be hospitalized.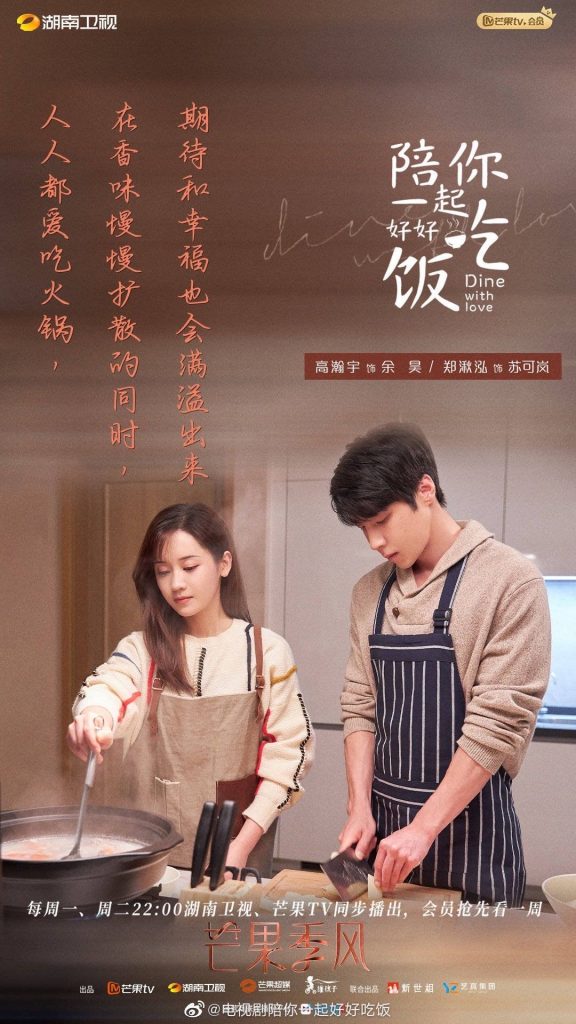 Dine With Love Review
I stumbled on Dine With Love when I was browsing a new series to watch on Viki. Dine With Love is another drama with cooking and food as the main topic aside from the romance. My favorite combo… 😍
The Simple but Complex Characters
This is the first time I saw Gao Han Yu acting in the main role. I used to watch him as Zhangsun Wuji's personal guard in The Legend of Fuyao. When I check on Gao Han Yu on Wikipedia, he's been doing quite a number of movies and dramas. And besides an actor, Gao Han Yu is also a famous singer. The same thing with Zheng Qiu Hong. She's an actress and also a singer. I really like the scene where they sing in a competition together in the 3rd episode.
They make a fantastic duet.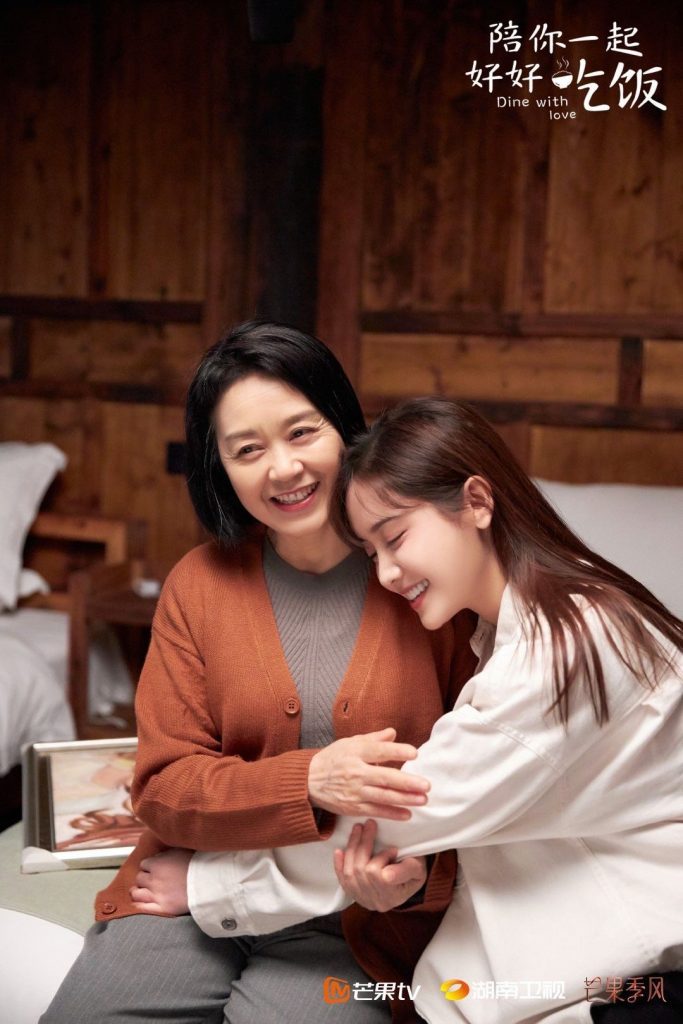 I was attracted to Zheng Qiu Hong's acting. Su Kelan's character is a good-natured girl. She always takes care of the people around her. Her priority is her ailing mother, so she prefers to have a simple work life and avoid any ambitions. Although, she really has all the competence to soar up high. But then when she suddenly had to fulfill Yu Hao's unreasonable requirement at work, she had a hard time balancing it with her family time.
Plus, at the same time, she finds out that her long-term boyfriend, Li Xun, is a sweet-talker-manipulative person and only takes advantage of her. All of this situation made her a bit fragile, but at the same time, she had to appear strong. Unfortunately, Kelan looks gentle, but in reality, she's quite a stubborn person. Therefore, it became harder for her to deal with work-life and love life.
I'ts Just, Irritating
Personally, I want to scream in her face… "You are such a good, rational, capable person, even able to recognize a swindler at first glance. How can you be so blind and being cheated on for 5 whole years… Are you insane??". For me, being able to make a viewer go mad after watching her acting is a sign of good acting. Hong Qiu really nailed it. 👏
On the contrary, I don't find Han Yu's acting pleasing to the eyes. I don't like the way he portrayed Yu Hao's cold and detached personality. He looked like a sulking teenager, and I found that his expression was almost the same for almost the entire episode.
I know he needs to be a cold, heartless, workaholic CEO. But showing us some humane expression will be appreciated. Yu Hao's past baggage is quite heavy. Because it deals with abandonment and also the grief of loved ones. Thankfully, he got Gong Wengxin to keep an emotional balance in his life.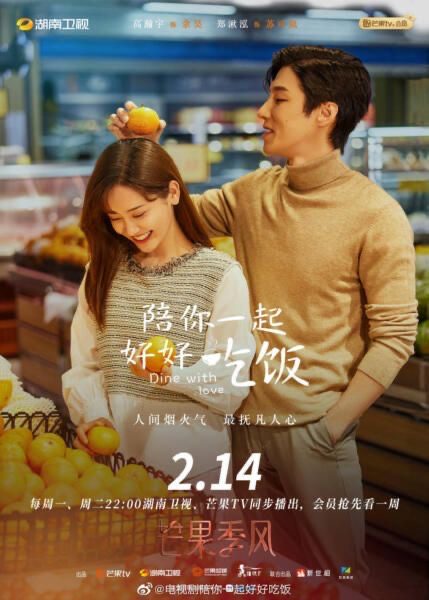 Better Side Characters
Gong Weng Xin (Lu Lu) is Yu Hao's uncle. Wengxin and Yu Hao were classmates in high school and they were very close as friends and family. I know it sounds confusing, but it will be explained later. Wengxin is the opposite of Yu Hao, just like Han Meng is the opposite of Kelan. They look childish, but actually, they were more emotionally mature and courageous compared to Kelan and Yu Hao.
But their obsession with setting up Kelan and Yu Hao together is killing me. 😆😆
Han Meng is my favorite character. She is Kelan's close friend and colleague. She has a bubbly and lively personality. Furthermore, she is also a bold and short-tempered person, but very devoted and loyal to Kelan. I really like her scenes, and Wang Pei Han's beauty is pleasing to the eye. She makes a cute couple with Wengxin. Their impulsive but affectionate characters were displayed clearly by a series of actions: shotgun marriage followed by divorce and back to remarry.

😅

Jin Xuan or Director Jin (He Lei) looks handsome with his unkempt appearance. I'm not fond of wide-frame glasses or man-bun. But it looked nice on him, and it adds some artistic nuances to Jin Xuan, considering he was a renowned artist in the USA. My heart goes to Jin Xuan's character… As a matter of fact, Jin Xuan is the younger son of a conglomerate family, but he spends his time taking care of the children at the hospital. He's such a sweet person. Zhang Bi (Bai Yinxi) the vivacious actress, is way more suitable for him, better than Kelan.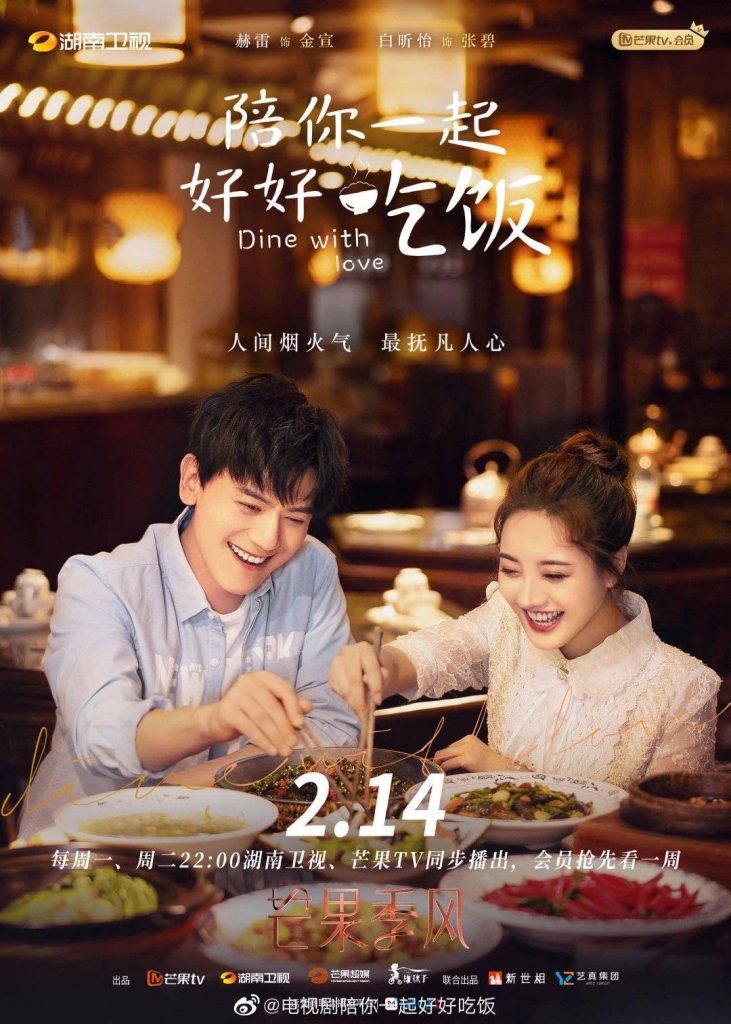 The Unusual Vs The Usual Ones
There were not many characters in this drama. Therefore, the story is simple and easy to follow. Dine With Love is a short drama with only 16 episodes. But, Chinese drama were well known for its elaborate stories. So it was compensated by the longer duration of every episode.
Dine With Love's episode duration was an average of 1 hour and 13 minutes long compared to the usual 40-45 minute duration per episode. At first, the longer duration was not a big problem for me, but then I felt that I was more comfortable with the usual 40-45 minute duration.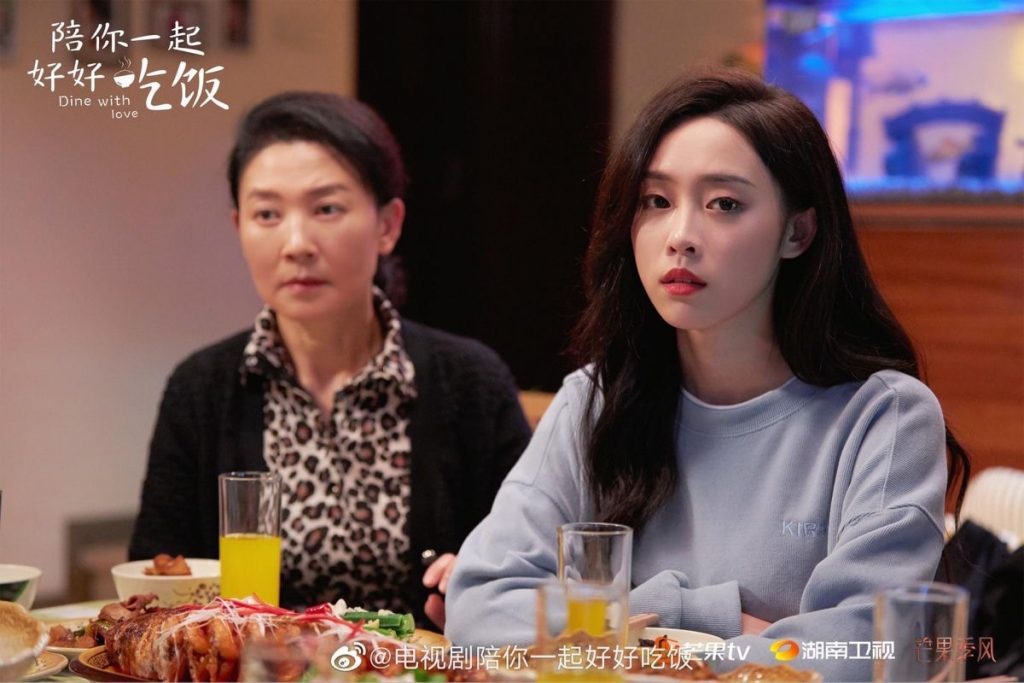 The cinematography is quite good. Not too special, but also not lacking.
The thing with modern Chinese drama sets is that they resemble one another. The minimalist and modern apartment for the male lead, with the same gray walls and dark leather sofas… And don't forget the refrigerator. The high-tech ultra-modern refrigerator with only bottles of water and liquor inside it 😅.
Most people opt for a healthier style of life nowadays. So, maybe some fruit inside the refrigerator won't hurt anybody. The female lead's apartment always comes in an earthy color, with warm light and cute trinkets everywhere. And the bed. Mostly, the female lead only has a single bed, but the male lead has a king-sized bed.
The Cooking Scenes
Dine With Love's cooking scene has a different approach compared to other dramas such as Delicacies Destiny or Cupid's Kitchen. If you're paying attention to the scene, it was more like a cooking show that teaches the viewer to cook. It gives you some recipes and also tips for better cooking. I personally, made some notes after watching this Cdrama.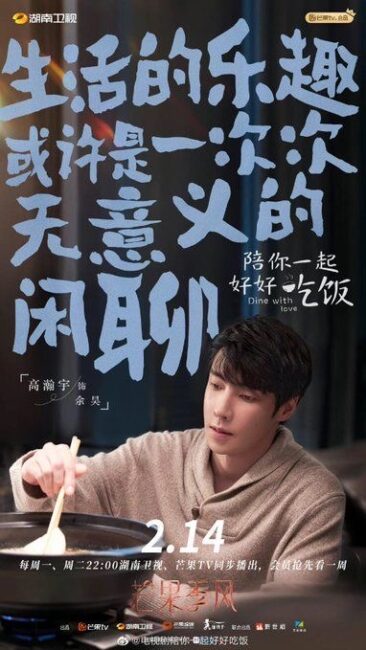 It's quite refreshing to have a Cdrama that gives you more knowledge after watching it. There were no overly-exaggerated scenes of tasting the food or the over-the-top cooking techniques presented in this drama. Just simple home cooking and a warm family dinner ambiance. I really like the scenes where they have a simple family dinner. It warms my heart and keeps my stomach growling. 😅🤣
The Conclusion
I thought Dine With Love was just another romance drama. But the story is quite engaging to keep me staring at my iPad. There were three pairs of love birds and a complicated relationship between four of them. It was sweet and funny at the same time. The writer has done a great job to make the story far from the run-of-the-mill romantic comedy. The scene switches between all the characters in quite a fast-paced way. You'll have to stay focused on your screen or prepare to hit the back button.
All in all, Dine With Love is all about food, but the food is not everything. It's the people who sit with us at the dining table that matter the most..