Title: Oh My Lord!
Also Known As: 惹不起的千岁大人, Lord QianSui who can't afford to offend, Re Bu Qi De Qian Sui Daren, Oh My Qian Sui Sama
Director: Cai Jun Ai
Scriptwriter: Fresh Guo Guo
Genres: Romance, Comedy, Hystorical
Country: China
Type: Drama
Number of Episodes: 15
Year: 2022
Original Network: iQiyi
Where to Watch: iQiyi
Oh My Lord! Synopsis
Oh My Lord! is a 2022 Chinese romance drama. The main story is about Chen You You who is a streetwise and sassy girl who works as a cosmetic seller for a living.
Lord Qiansui, Bai Li, is a powerful lord in Fujian City. For years, even though he was an eunuch, he held the title of the most beautiful person in the city.
They crossed paths because of Lord Xian. Bai Li was forced to marry You You, because Lord Xian suspected his identity as a fake eunuch. And You You was also forced to marry Bai Li because she wanted to save her father who was offending Lord Xian.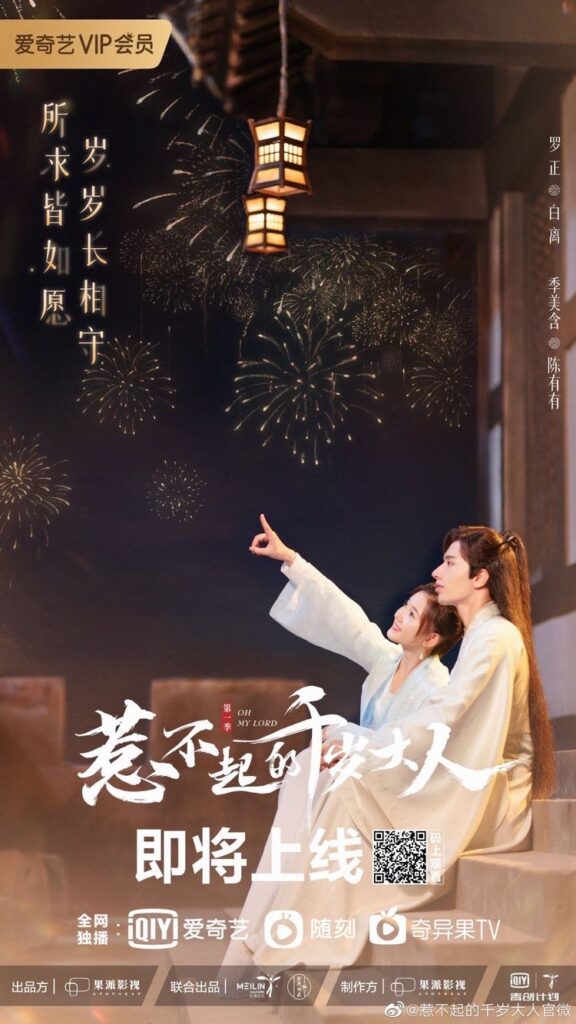 With a tacit understanding, they decided to make their marriage a contract marriage with a divorce as the end. But things got complicated when Cupid was in charge. Jealousy and misunderstanding brought them together and they finally realize that they fell in love with each other.
Oh My Lord! Review
I have never watched a Cdrama and felt like I'd been cheated before, and was full of hope and expectation when I decided to watch Oh My Lord. But, oh boy! The ending was a cliffhanger and I've been digging at the internet to find the release date of Oh My Lord season 2, but it was for naught. 😭
Oh My Lord (just pretend that this is the first season, ok!) is a light Chinese romance drama about Bai Li and Chen You You. I was attracted to watch it because Oh My Lord only has 15 episodes with only a 30-minute duration. It's a good deal for a busy week. But again… If it's too good to be true, it probably is?
Oh My Lord was written by Fresh Guo Guo, the same person who wrote The Journey of Flower. I have a good impression of the 2015 drama because the story was good. Hence, even though I have no idea when Season 2 would be released, as an optimist, I would still put this drama on my watch list. Just in case, if Season 2 was released in a few more years, I might need to rewatch to freshen up the memory…😆
There was one thing that I would take note of at the beginning of the drama. It is said that the people of Fuxian City admire the beauty. All the inhabitants' identities, statuses, and daily life were judged by their looks. Therefore, everybody was busy making themselves more beautiful. This is the city where ugly flowers can't survive.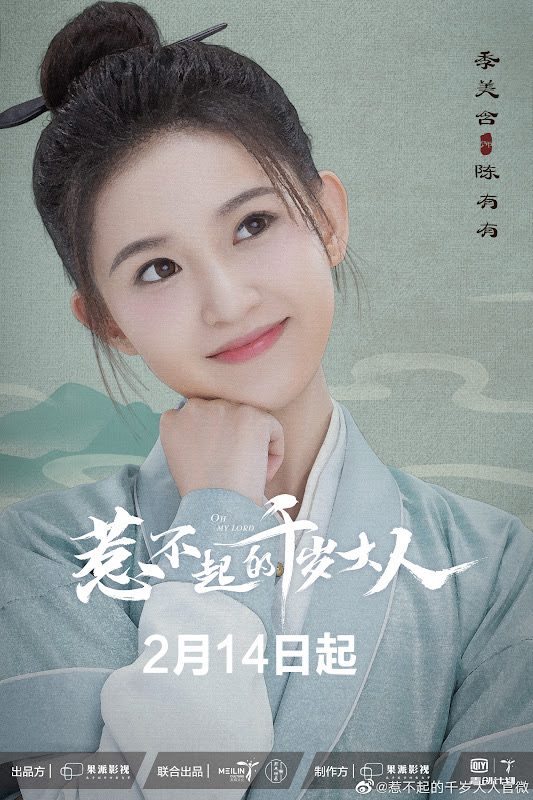 I guess there was some hidden meaning behind this city background. Nowadays, many people in Asia are also obsessed with the term beauty. Many of them are willing to go to great lengths to improve their innate beauty. Beauty has become a privilege for certain people. Just like in the opening scene. That's why I believe that our writer might conceal some important and powerful message in the script…🧐
In my opinion, beauty is in the eye of the beholder. If you really love someone, you don't care about their appearance.
OK! Back to the review!!!
Casts & Characters
Luo Zheng played Lord Qiansui, Bai Li. A cold-blooded, cruel, and powerful eunuch. He was very handsome, hence he snatched the title of Fuxian City's Most Handsome Man from Lord Xian. This is the main reason why Lord Xian holds a grudge toward him.
Bai Li hides his identity because he wants to find the truth about the demise of his parents and the entire family. He was brought up by his master, Wang Ren Hao, a eunuch who served the former city lord.
This "faking identity as a eunuch" seems irrational to me. You see, a eunuch has a high-pitched voice. For instance, Eunuch Li (you can find him in episode 1) and Lord Xian's butler. But Luo Zheng's voice is low-pitched and his build (Oh My God, check out the shirtless scene in episode 1…😁) was very manly. There is no way he could deceive everybody that he was a eunuch…🙅🏻‍♀️
Luo Zheng was handsome, but his hairdo reminds me of Ariana Grande's hair… 😂
As the powerful Lord Qiansui, his cold demeanor was convincing. But as I see it, his acting is just so-so. I can't catch the emotions of his character, Bai Li. His face is a bit stony…😔.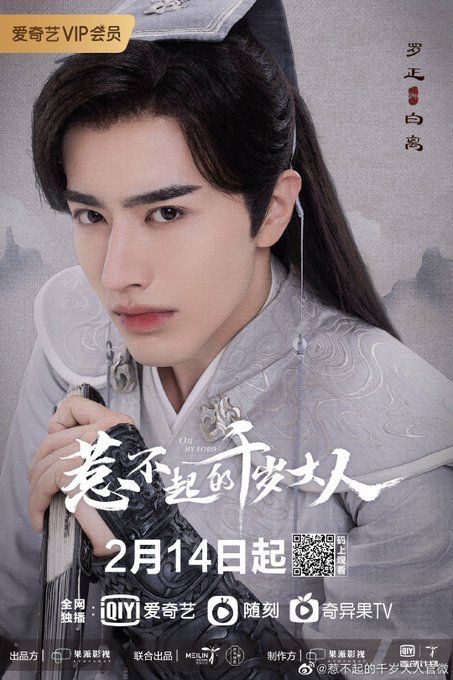 Ji Mei Han is the exact opposite of him. As the lively Chen You You, she reminds me of a pack of colorful candies. You could read all the emotion on her face, but it didn't feel all-natural.
You You's background was simple. She was a commoner who worked as an entrepreneur. She's a hardworking person who loves and highly regards her relationship with her father. Even though her father was sometimes ignorant.
Perhaps there will be more to add to You You's life in Season 2. So far, I feel that she was just an ordinary girl, and Bai Li fell in love with her because of her warm attitude.
My favorite couple is not Bai Li and You You. It's their attendees, Gu Tian He (Hu Wei) and Xiao Tiao (Zhu Mei Ji). I like their scenes together. They were harmoniously hilarious even though their nature is the exact opposite. Xiao Tiao is a smart person. She can read emotions and understand feelings.
She was also loyal to her master. But she is bad at reading situations. More than once, she barged inside You You's room and talked about Qi Sheng Wen (Chen Ming Hao), You You's suitor, in front of Bai Li and provoked Bai Li's irate and jealousy.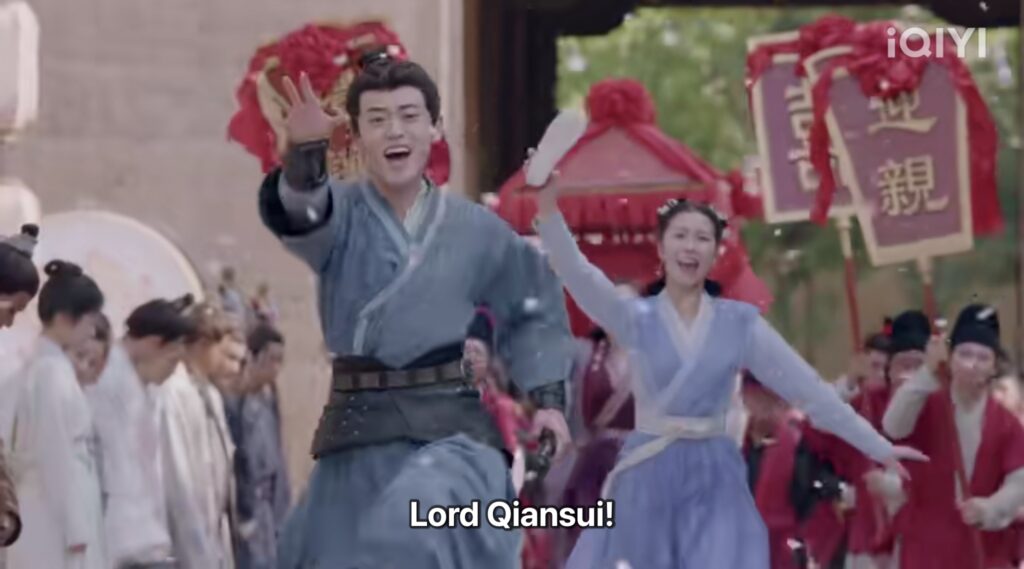 Gu Tian He is an awkward general. He was rigid but dead loyal to Bai Li. He is a good and trusted aide of Bai Li, but sucks at human relationships… 😆 He often misinterprets Bai Li's intentions, which leads to a bigger problem. Mostly it's all about You You.
Together, they made a weird but sweet couple, a kind of couple whose love language is bickering every now and then… 😂
Of course, we need a third party to spice up the romance. Meet Qi Sheng Wen and Jiang Bi Han (Yang Yi Mo), two people that work soo hard to keep them apart for their personal gain. Qi Sheng Wen is the son of the late city lord. He fell in love at the first sight when he saw You You in the forest. His hobby is cooking and inventing snacks, he looked nice and kind, but I always feel that there's more to this than meets the eye.
Bai Li hated him because he was jealous of Wen. Jiang Bi Han is a crazy jealous woman. She was obsessed with Bai Li and she thinks that, in fact, Bai Li only loved her, but because of the circumstances, they can't be together. Whaaatt?? Girl, are you serious?? 😅
Some of The Stories
I was a little bit confused at first because this Cdrama gives us a hint that there were seeds of conflict regarding Bai Li's identity. But it was not revealed for more than 10 episodes. Bai Li opens up about his real identity to You You in the 12th episode, and Jiang Bi Han threatens You You about Bai Li's secret in the 13th episode. I thought the problems were too big to be solved in just 2 episodes. Really didn't see the cliffhanger coming right at me. That was a bummer!
But the conflict looked promising. It may lead to a more exciting story.
Besides the conflict, Oh My Lord! is just a pure light romance. A cliché fake marriage leads to lovers that are meant to be together. Bai Li was forced to marry You You, and vice versa. But they easily fall in love with each other, just because of ordinary acts of kindness and accidental intimate events. But this is Cdrama, you better not think too much to enjoy it.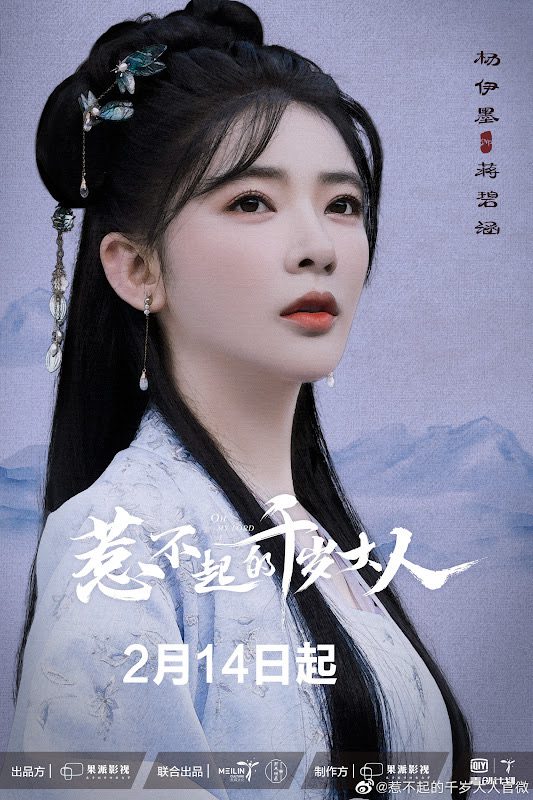 I guess my rants above were enough to give you a description of the cliffhanger ending. Deep down inside, Bai Li felt some conflicts about his mission and his love life. As an orphan with a traumatic childhood, it is acceptable to say that love was his biggest weakness. He longs for familial love and at the moment, You You is the closest person that he could address as family.
The Conclusion
Oh My Lord! story looked promising. I'll wait for season 2, to see how the story will develop. Let's just pray that the wait won't be too long.
I would categorize this drama as a light romance because all you see for 15 episodes is a lovey-dovey relationship between Bai Li and You You. Lots of kisses and jealousy were all over the place.
If you're looking for a light drama as a getaway from a busy week, you might want to consider this Cdrama. But if you easily get triggered by a cliffhanger, stay away from this one. Let's just wait until the next season.
I bet Luo Zheng would still be as handsome as he was, even if you wait for a little longer…😁