Title: Ruyi's Royal Love In The Palace
Native Title: 如懿传
Also Known As: Inner Palace: Legend of Ruyi, Hou Gong Ruyi Zhuan, 后宫·如懿传, 如懿傳
Director: Wang Jun, Cheng Yuan Hai
Genres: Historical, Romance, Drama, Melodrama
Country: China
Type: Drama
Total Episodes: 87
Year: 2018
Original Network: Tencent Video
Where to watch: Rakuten Viki and Disney+
Ruyi's Royal Love In The Palace Synopsis
Ruyi's Royal Love In The Palace is a Chinese romance drama, released in year of 2018, with total episodes of 87. The story is about Ruyi, a beautiful young noblewoman must learn since she was chosen as one of the concubines of Emperor Qianlong, her childhood sweetheart.
But living in the palace is not all glitter and gold.  She realizes that beauty and young age were not the only foundation in order to live inside the palace. Therefore, she learns how to calculate and also be calculated by other concubines.
After raising in rank and ultimately becoming the Empress, her relationship with Emperor Qianlong becomes eroded. Will Ruyi be able to keep her position and Qianlong's favor under such difficult circumstances?
Ruyi's Royal Love In The Palace Review
Ruyi's Royal Love in the Palace is the longest Chinese drama I've ever watched. I usually choose a drama with 20-60s episodes. When I stumble upon Ruyi, I have no idea it'll be a long drama. But the curiousity beated me and I decided to carry on.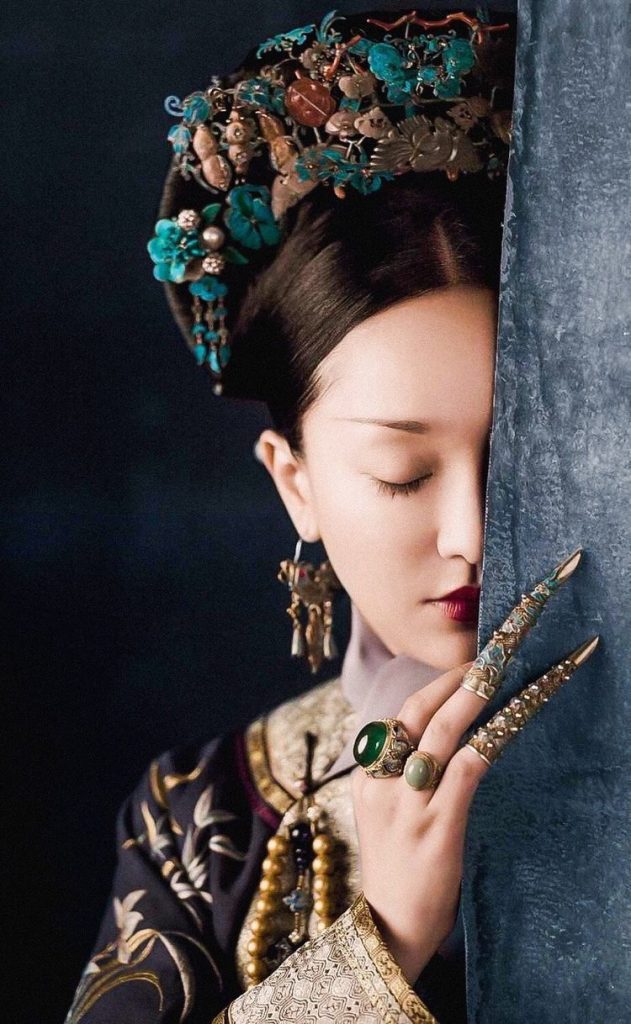 Ruyi's Royal Love in the Palace is a 2018 historical drama adapted from a novel, Hou Gong Ru Yi Zhuan, by Liu Lianzi. It's a mixture between history and a made-up story. Starring Zhou Xun and Wallace Huo, as Ruyi and Emperor Qianlong. Both were acclaimed actors and singers with impressive filmography and discography.
As a star-studded drama, you also can see many famous names acts as Qianlong's concubines such as Qin Li, Janine Chun, Zhilei Xin, Jianing Zhang, and many more.
First Class Cinematography
Ruyi's filming budget was impressive. It was unbelievably high up to 300 million yuan (approximately US$43.8 Million at the time). With an immense budget, Ruyi was packed with luxurious costumes, authentic props, and lavish sets. You'll be amazed by the vibrant costumes and hair pieces worn by the harem women.
As a modern person, I really appreciate the intricate details of olden-time fashion. And Chinese has been well known for its embroidery crafts. I just have a hard time imagining, how the olden time people used to sleep with a very complex hairdo.😣
Wang Jun, the director, has done an outstanding job. He was able to convey the grandeur and the miserable life of the palace people through the lenses.
The Emperor and The Harem
Many say that the Chinese emperor used to have 3000 concubines in the harem. Usually, the most beautiful girl was chosen to be sent to the palace. They are often sent for political reasons. Some of them might be able to gain favor from the emperor, but mostly only saw the emperor once, and then lived a lonely life. As a monogamous person, I don't agree with the custom. Hence, I have no empathy for the emperor's remorse at the end.
There were 30 people inside Qinglong's harem (I had to look at Wikipedia for this fact because I lost count of the concubines..), and I can't remember most of them even though I watch this Cdrama intent.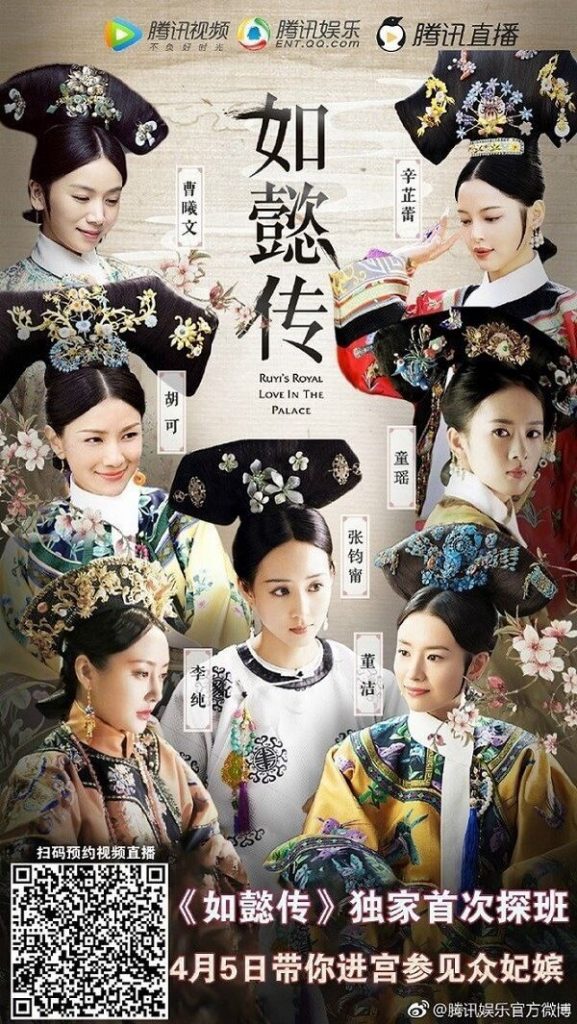 Too many people and the story was too perplexing, it seems I don't really suitable for this kind of harem drama 😣
There was a scene that I do remember. It was when Qianlong and Ruyi were in the study. Ruyi told Qianlong about the possibility of a man only had one wife and no concubine. An opinion that she heard from Mr. Castaglione, a foreign painter who works at the palace. Qianlong scolds her for talking nonsense. Ruyi said, "The customs are different, but the hearts of all men and women in this world are the same." It's wishful thinking of harem women. But Ruyi keeps that thought deep inside her.
The harem struggle in this Chinese drama is dreadful. Many murder attempts were happening there. Qianlong has (presumably) 15 children, but many of them died because of machinations. What a scary place indeed…
Ruyi's Royal Love In The Palace Storyline
Qingying (Ruyi's former name) and Hongli (Qianlong's name when he was a prince), are childhood sweethearts. They spend time together since Ruyi's aunt is Empress Xiaojing. She was supposed to be Hongli's primary wife (difujin), but after Empress Xiaojing was exposed to murdering the previous empress, Hongli cannot take her as his first wife. Therefore he made a compromise with Emperor Yongzheng to make Qingying his second wife/concubine (cefujin) and Fuca Langhua his primary wife.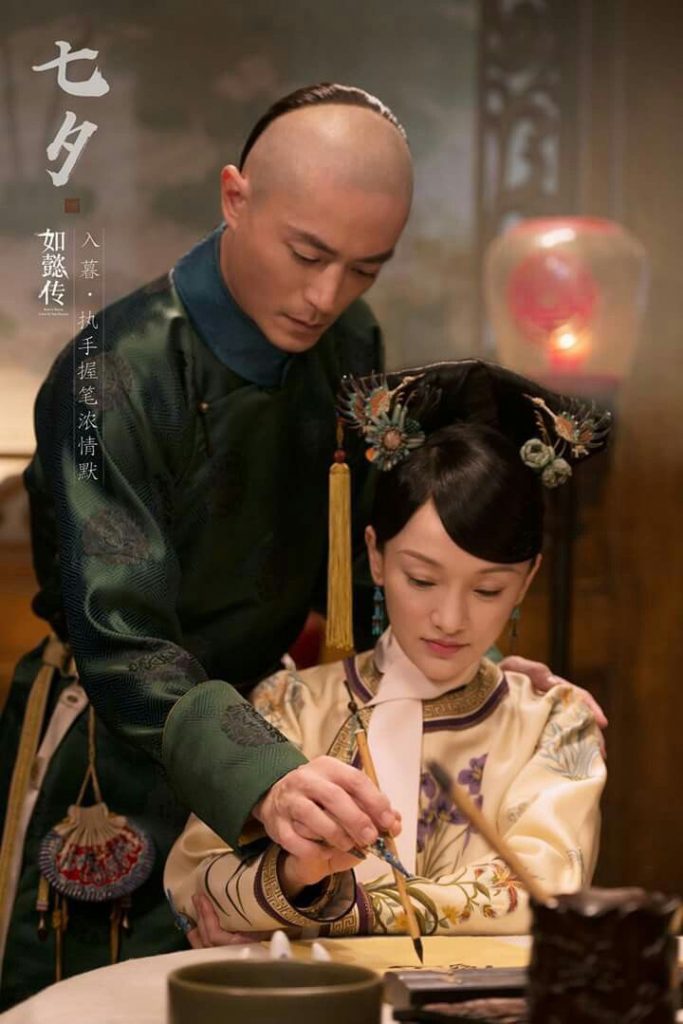 Qingying was later titled Consort Xian and changed her name to Ruyi. At that time, Qingying and Hongli were a truly young couple who loves each other.
The Complicated Things
As an Emperor, Qianlong was supposed to expand the harem. Therefore, he married many beautiful women as his concubines. Some of them were married for political reasons, some of them came from a neighboring country as a token of peace, some of them were the result of a drunk accident 🤨, and some of them were taken into the harem because of Qianlong's lust toward them.
And this is where the harem struggle began.
The Empress was jealous of Ruyi because of her long relationship with the Emperor. Therefore, she gave Ruyi a bracelet with basil seeds inside to make Ruyi infertile. The Empress also set traps in order to make her less favored by the Emperor.
At this moment, we could see the changes in Qianlong. He still loves Ruyi, but now it has been reduced due to his interest. As the result, Ruyi was sent to the Cold Palace for years. She was able to escape the Cold Palace with the help of Hailan or Consort Yu.
For years, Hailan has been a good sister to Ruyi. She was devoted to her, not only when Ruyi became the Second Empress of Qianlong, but also when Ruyi was demoted and when she was confined at the Cold Palace.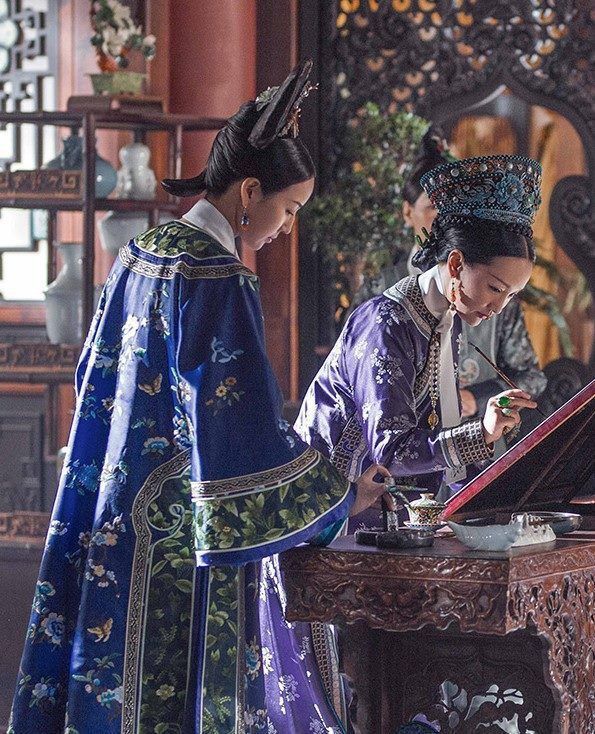 The Regrets
Qianlong was gifted with many children. But most of them died early because of illness or being schemed by others. Many concubines come and go (died) inside Qinglong's harem. But as the owner of the harem, Qinglong seems to close his eyes over it. He would take action only if his interest were disrupted.
Many times Empress Dowager (Qianlong's stepmother) has to give him some sentiment to help him with his judgment, especially about the harem affair.
Ruyi then ascended as the Step Empress after Empress Fuca died. But her relationship with Qianlong grows apart. The estrangement escalated to the point of Ruyi confronting Qianlong when he indulged himself in courtesans. She cut her hair off in front of Qianlong, which symbolizes the end of their relationship. At that time, cutting hair was taboo because it was seen as a curse for Qianlong and Empress Dowager. Qianlong forced Ruyi under house arrest
Ruyi investigated the deaths of many people inside the harem, including the death of her child. As the result, it was proved that Wei Yanwan is the culprit. With the help of Empress Dowager and Hailan, Ruyi was able to expose the crimes of Wei Yanwan or Consort Ling in front of Qianlong. The latter then punished Wei Yanwan and tortured her slowly with poison until her death.
Qianlong try to make amends with Ruyi, but she refused. She also disclose the fact that her days were numbered because of tuberculosis. Qianlong was away on a hunting trip when her death was announced. He was remorseful and devastated. After learning that Ruyi has burned her portrait dressed as an empress, Qianlong realized that Ruyi no longer wanted to be involved in the harem. He then has all of her records destroyed, gives her a small funeral, and announce her death as a mere clanswoman instead of an empress.
Qianlong spends the rest of his life with regret until his ultimate death.
The Conclusion
FYI, I'm a big fan of historical Chinese drama. Therefore, I often watch Cdramas with harem tags. I also used to praise that Cdrama's long episodes were a promise to an elaborate story. But not today, watching Ruyi is arduous and draining. The story IS too complicated, too many characters were involved, the harem struggle was horrendous, and watching Ruyi-Qianlong and Qianlong-his concubines were appalling. 😰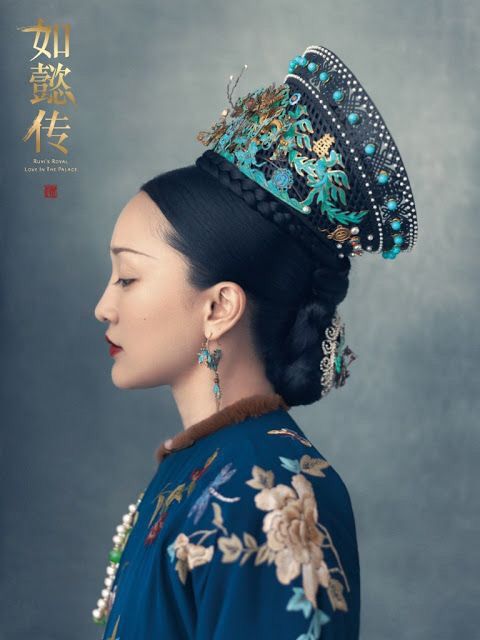 I keep going just for the ending and the visual and I need to know who the biggest villain in the harem is and what will happen to Ruyi. It was the costumes I truly admire, they were masterpieces, and the head ornament Ruyi wore is amazing. They were such eye candy for me.
If I must choose my favorite character, I would say Suoxin, Ruyi's maid who married the imperial doctor, Jiang Yubin.
She's loyal and kind-hearted. In the end, she was crippled but still fortunate enough to get married to someone she loves and loves her back. Her character is a bit of fresh air in the drama.
How about Ruyi? Do I like her? Geez, it's hard to say. I do admire Ruyi because she's smart and clear-headed. She was loyal and sincere to Qianlong. But, I cannot endure watching her being tolerant of someone whose manipulative and selfish as Qianlong. He is the worst male lead I've ever watched.
The Verdicts
Anyhow, Ruyi's Royal Love in the Palace is a top-notch Chinese drama. The cinematography was beautiful and the actors are amazing. The story is something you would love to hate. The content is annoying, but it was well written. Therefore, if you decided to watch Ruyi, remember to always open your eyes (to the beautiful actors, costumes, props, and sets) and open your mind (to the story). And DO remember that this is NOT the real history of Ula Nara Empress.