Hello readers, it's me again with the ending explained post. Today I wrote about ending explanation of 2022 Chinese romance drama called A Romance of the Little Forest. By the way, I also wrote A Romance of the Little Forest drama review, you can kindly read it. Thank you. Now, let's begin the ending explained!
A Romance of the Little Forest Ending Explained
How did the Ending Begin?
After somebody posted Yu Meiren's Junior High School photo, it caused an uproar among her online follower. Many accused her of having plastic surgery to fix her appearance. Yu Meiren (played by Yu Shu Xin) was distressed. She did have appearance anxiety and this incident remind her of her younger days. And at the same time, she was worried that Zhuang Yu had already known about the written format plan of "Pursue Yu" that she made back then.
It was a piece of paper containing every step that she planned to make Zhuang Yu fall in love with her at the beginning. Her former assistant found the paper between her work papers and gave it to Xia Zhi, another beauty blogger and love rival who hate Yu Meiren. And it was Xia Zhi who posted the picture on Weibo.
What Happened With Zhuang Yu?
The truth was, Zhuang Yu (played by Vin Zhang) did not find Yu Meiren's written plan annoying. On the contrary, he was happy because it show how many effort she made to make him fall in love with her. He even used all the plans on Yu Meiren herself.
He wanted to make her fall in love with him. Zhuang Yu moving out to live in her apartment was premeditated by him who asked for help from Li Tian Tian to flood Yu Meiren's bathroom so he could no longer sleep in his study. Then, Li Tian Tian would suggest Yu Meiren to let Zhuang Yu live in her apartment for a while. It was an identical plan when Yu Meiren moved into his apartment building.
When she was in a low mood, Zhuang Yu took her to eat at a food stall. The stall owner made a mistake and gave her a beer and made her drunk. Yu Meiren, in a drunk state, flirted and played with Zhuang Yu and made him blush all over. She also said that in the future she would provide for him since he was poor. Zhuang Yu grinned from ear to ear when he heard her words. It seemed that he really enjoying her drunk state.
Until… Yu Meiren throw up all the food and drink…
What Happened With Yu Meiren?
Yu Meiren revealed everything in her drunken state. She told him the matter that has been weighing in her mind. Zhuang Yu comforted and support her. He persuade her to be more confident about herself even when she was without makeup on. Zhuang Yu express his feeling for her in touching words, "In my eyes, you look beautiful in every way".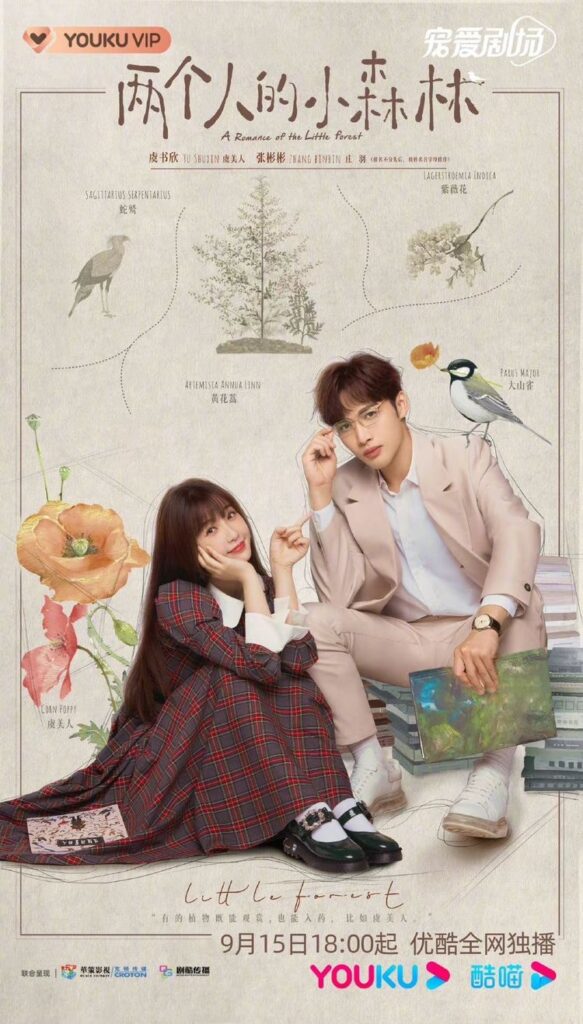 At the charity event, Yu Meiren came without her makeup on. She was just casually dressed in a white t-shirt and jeans. Yu Meiren clarified the plastic surgery rumor. Her speech was applauded by everyone in the room, except Xia Zhi and Yu Meiren's former assistant. Because of the rumor, Yu Meiren lost many work opportunities.
But suddenly, Jian Tao, another big-shot company, gave her a job offer as a brand ambassador on stage. Jian Tao's representative was President Zhuang, Zhuang Yu. The same Professor Zhuang Yu, but with a different hairstyle… Yu Meiren was shocked by this identity reveal.
To make Yu Meiren as Jian Tao's brand ambassador, Zhuang Yu asked her mother a favor. Different from what Yu Meiren thought, Mrs. Zhuang was very happy that Zhuang Yu finally come to ask her a favor.
Is it A Happy Ending?
Yes, A Romance of The Little Forest drama had a happy ending. Jin Xi used his power to find out the culprit behind Yu Meiren's photo incident. He managed to track it down to a marketing agency, where Xia Zhi signed. Xia Zhi's boss was angry with her because she made mistakes again and again. Her own agency posted a photo of her high school year. They did it to show her that Xingfu had abandoned Xia Zhi for a new signed blogger.
Yu Meiren meet Zhuang Yu's mother when they were in Meiren's Homestay. It was a chaotic but funny meeting. Zhuang Yu's mother thanked Yu Meiren for changing her son into a better version of Zhuang Yu.
Under the divine tree, Yu Meiren told Zhuang Yu that he should go to Africa and continue his research on Artemisia annua. She reassured him that she would wait for him. Zhuang Yu went to Africa to continue his research and Yu Meiren continue with her work as a lecturer at Huaguang University. Zhuang Yu proposed to her in an acknowledgment section of his published research paper.
What Happened to Li Tian Tian and Jin Xi at the End?
Jin Xi and Li Tian tian finally reconciled after Li Tian Tian accidentally saw Jin Xi's prosthetic leg. Months before they met again, Jin Xi was involved in a car accident after he went to chase Li Tian Tian. He stayed in the hospital for months, but his leg cannot be saved. they stayed strong together. Jin Xi often came to her hometown to help her with the vineyard. They finally marry in a low-key ceremony and kissed on the tea plantation.
Okay readers, that's all my ending explanation of this A Romance of the Little Forest drama. Hope you like it. We'll met again in another ending explained post. Thank you!