Title: The Flame's Daughter
Original Title: 烈火如歌  (Lièhuǒ rú gē)
Year: 2018
Number of Episodes: 52
Genre: Drama, adventure, fantasy
Country: China
The Flame's Daughter Synopsis
The Flame's Daughter was a Chinese fantasy drama, with total of 52 episodes. The story of The Flame's Daughter follows Ru Ge and her entanglement with three very different men in her life. Yin Xue, an immortal who has waited for the chance to meet his unrequited love reincarnated in Ru Ge. Zhan Feng who grew up together with her, and Yu Zi Han, her best friend who was always gentle and loving towards her.
The story began when the evil and powerful An Ye Luo sowed discord between Zhan Feng and Ru Ge's father. This is causing Zhan Feng to sever ties with Ru Ge and break her heart in the process. In her quest to win back Zhan Feng, Ru Ge came to know Yin Xue, who over time became someone who always protected and consoled her.
This drama is based on the novel Lie Huo Ru Ge by Ming Xiao Xi.
The Flame's Daughter 

Review
Having watched Love of Thousand Years recently, though unsuccessfully completing the series until the end, I am sharing my thoughts on The Flame's Daughter with a slightly different spirit than when I first planned to share it here. First of all, I can't help of having to compare this drama with Love of Thousand Years. Just based on the fact that the plot is similar in that an immortal falls in love with a mortal and a total of three men is besotted. Omg, fancy word, I know hahaha. Sorry I was reading Pride and Prejudice this morning (~˘▾˘)~ with the female lead.
Although, to be fair, I think their level of production is very different, to say the least. For starters, The Flame's Daughter's production team is the same one behind the ever so popular 2017 drama, Eternal Love: Ten Miles of Peach Blossom. The first time I have ever seen a TV drama produced in such high quality.
Hence, it would just make more sense if people were to compare The Flame's Daughter with Eternal Love. And I personally think it would be fair. Having said that, I cannot help but to sit here with my mind making unconscious comparisons with Love of Thousand Years instead. I will try to minimize this as best I can.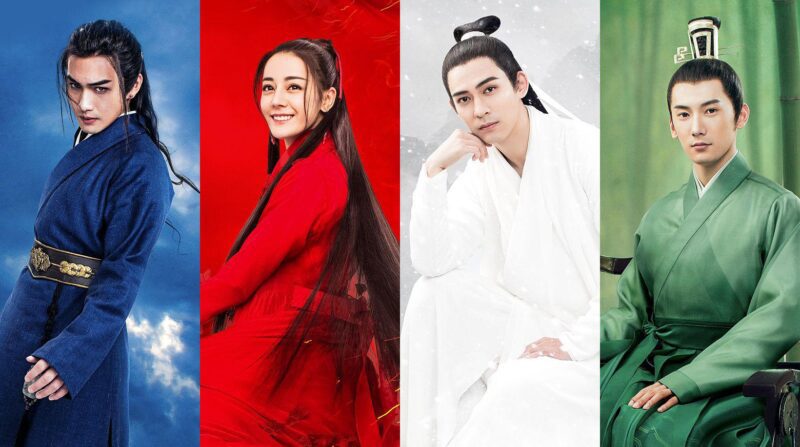 The Reasons Behind All
First of all, I started to watch this Cdrama because of Vic Chou. I don't think I have ever seen him in a costume drama before this. To be honest, I am fascinated by Vic Chou, he made his debut as the quiet and reserved Hua Ze Lei in Meteor Garden. Not a fan. I really did not think out of the entire F4 members, he would be the one that came out arguably the most popular. If I'd have to bet on anyone, I would have picked out Jerry Yan.
His acting was solid in Meteor Garden, plus his character was charming.
But then, Vic Chou acted in Poor Prince, which made me thought 'What the heck is this???'–the weirdest TV series I have ever seen but I was highly enjoying it. He was hilarious there. 21 years on and I still cackle whenever I remember some of the scenes he acted in that one.
Make Me More Curious
Then he starred in Mars with Barbie Hsu, portraying the serious and trauma riddled Chen Ling. Loved him there too, very charismatic. After that he acted together with Mark Chao in the popular series Black and White, his character being this seemingly shallow but mysterious Chen Zai Tian, was very intriguing to watch. So needless to say that over the years he has proven himself as someone who's very versatile.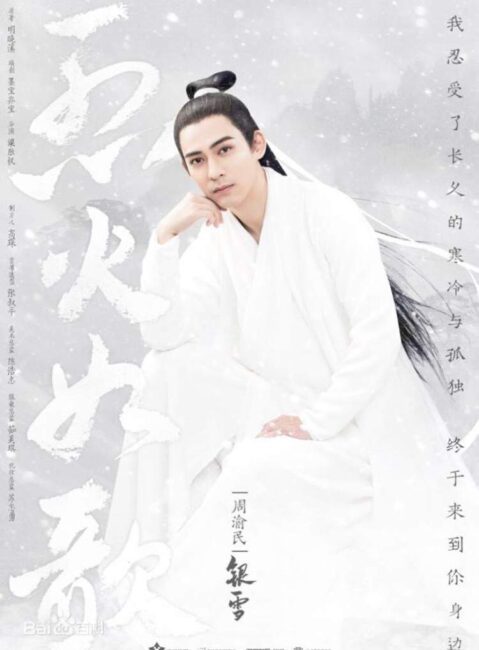 Now having said all of that, I personally do not think his character in The Flame's Daughter is his best performance. Perhaps I was going in with high expectations. Especially after I saw him in Saving General Yang, this epic movie where his scenes were intense and powerful even with minimal dialogues. But I just did not get the same riveting performance from him as Yin Xue. Although his character is pretty devastating as well. On top of that, the way they did Yin Xue's hair is not Vic Chou's best look (•_•)
Nevertheless, as the great actor that he is, he delivered well and had beautiful chemistry with Ru Ge, played by Dilraba Dilmurat. Which was enough to make me watch the entire 52 episodes of the drama and feeling quite at a lost when it was all over.
Took me a while to recover from The Flame's Daughter withdrawals.
The Stories
May contain spoilers ahead….
Ever since Yin Xue found Ru Ge, he has decided to love and protect her. Although sometimes in weird ways that made it seem he was not being serious, but it was very clear early on he would do whatever it takes to make her happy and safe. Uuughhh this melts my heart. You cannot get anymore passionate than this!
When Ru Ge was heartbroken, he comforted her. When she needed strength for revenge, he supported her, even when she lost her memory, he was patient with her. Swoon. As an immortal, Yin Xue has witnessed countless mortal lifetimes and also meaningless vengeances.
Nevertheless, he also understood that to Ru Ge, this is her one and only life. Everything matters and blood feud must be settled, else she will not be able to live with herself. So instead of stopping her from running to her ruin, he helped her and even traded his own life for it. Such a sweet story, so sweet it gave me diabetes.
My favorite scene of them has to be when Ru Ge met Zhan Feng and Yin Xue after she has lost her memory. Zhan Feng was devastated that Ru Ge has forgotten about him, but Yin Xue on the other hand affectionately said to her:
如果你忘记了我,那么就重新认识好了.
If you have forgotten about me, then let's get to know each other again.
Oh man, am so shooked I don't know what to do with myself!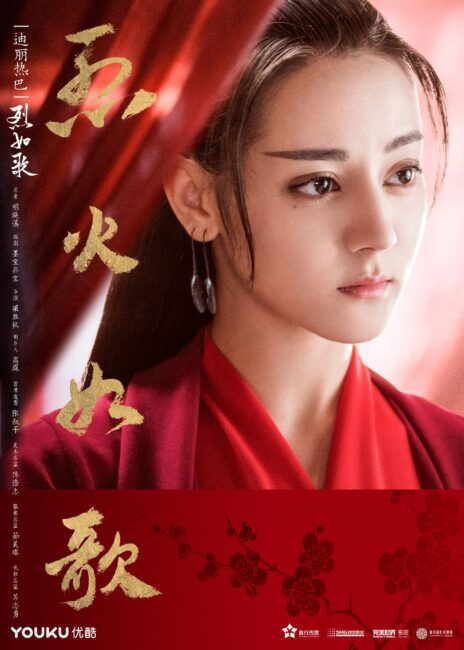 The Cast & Characters
Main Leads
Dilireba played her character very well. With Ru Ge being an heiress of a large estate, it was expected that she would be willful which can be annoying to watch. But I really enjoyed Dilireba's performance. I especially loved the scene where she slapped Zhan Feng's woman, after she understood the woman had purposely displayed herself as weak and vulnerable to appeal to men's better nature.
I cannot say am a fan of how her eyebrows were drawn in this make up style though ʘ‿ʘ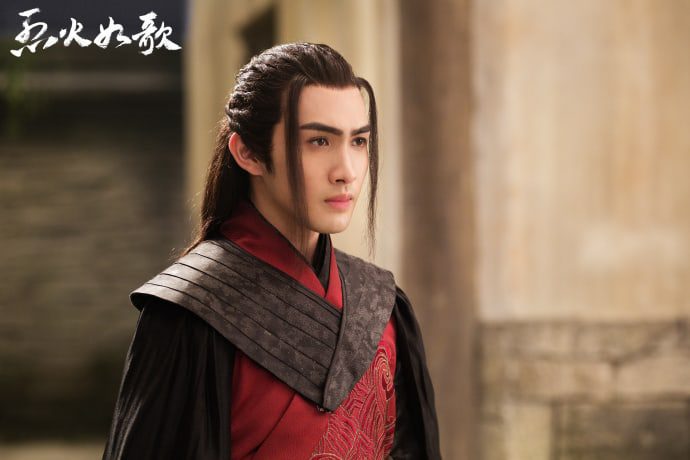 Many viewers were excited for this drama because they were looking forward to see Vin Zhang and Dilireba reunited after their performance together in The King's Woman. I cannot say I have watched that, but I will give it a try since I was pretty impressed with Vin's Zhan Feng.
He played his character so well as Zhan Feng that I felt great satisfaction when it was revealed to Zhan Feng. How he was actually duped into hating Ru Ge and her father based on a lie. The crushed and hurt expression on his face was spot on. I think he is meant for characters like these that carry deep heart aches haha.
Supporting Roles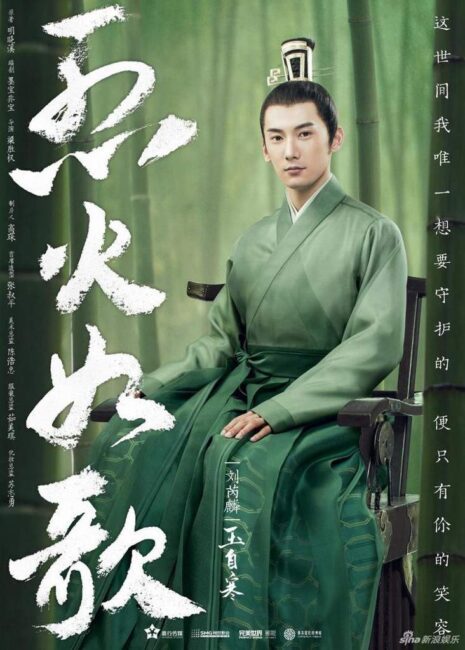 Yu Zi Han, played by Liu Ruilin, can be said as the most dashing character in this series in my opinion. He was smart, charming, gentle, beautiful, dependable and a prince! It was unfortunate that not only Ru Ge has only ever seen him as her best friend. But he also limited himself only as Ru Ge's best friend.
I suppose it was understandable that he saw his physical limitation as an obstacle of providing real happiness for Ru Ge. In other words, he thought Ru Ge deserved better. Aaawww. That's depressing, but solid advice: you should love yourself before you can love anybody else. But real talk, if not for Yin Xue, Yu Zi Han is the best partner for Ru Ge.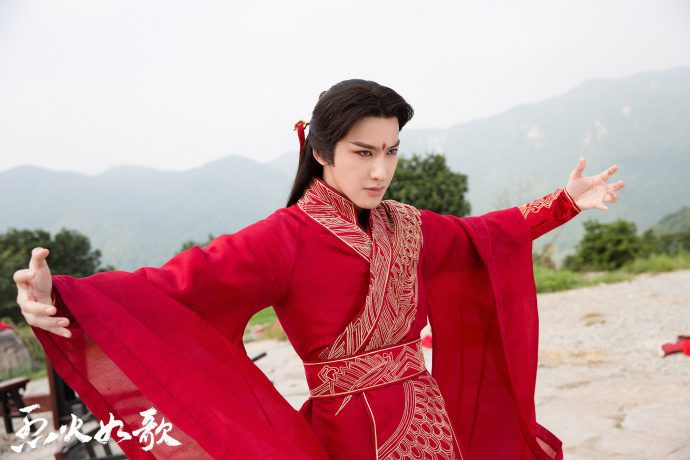 Lastly, I'd like to talk about An Ye Luo, played by Leon Lai Yi, who I was very mesmerized by. He was so demented and beautiful that I found his character very fascinating. I immediately looked him up because I was awed by his performance, he was able to portray the twisted and narcissistic An Ye Luo so believably that it felt like he was born for this character.
I cannot imagine An Ye Luo being played by anyone else. His character was so pitiful and corrupt that I was happy to see him vanquished instead of attaining redemption somehow. It is unfortunate that he hasn't gotten anymore role where he can truly shine ever since.
I would love to see it again.
Final Thoughts
Due to similarities in the plot, I really cannot help but to remember back to the regrettable series that was Love of Thousand Years. The story plot deserves so much better in my opinion but the emotion just did not carry through. Meanwhile with The Flame's Daughter, even with the numerous and lengthy episodes, they were never a bore for me. Because I enjoyed the interaction of the main leads, along with the plots of the secondary couple.
They all carried special moments to reminisce to for the viewers. And it also helped that the soundtrack was so good, it carried such a lasting impact. The song was aptly called Ru Ge, sung by Zhang Jie. The melody and lyrics really brought out the sentiment Yin Xue has for Ru Ge.