Title: Eternal Love: Ten Miles of Peach Blossom
Also Known As: 三生三世十里桃花, The Eternal Ten Miles of Peach Blossoms, Three Lives Three Worlds, Ten Miles of Peach Blossoms, San Sheng San Shi Shi Li Tao Hua
Director: Lin Yu Fen, Yu Cui Hua, Guo Hu
Genres: Romance, Wuxia, Drama, Fantasy
Country: China
Episodes: 58
Year: 2017
Original Network: ZJTV
Where to watch: Rakuten Viki, Netflix, Croton Megahit channel on Youtube
Adapted from the novel "Three Lives Three Worlds, Ten Miles of Peach Blossoms" (三生三世十里桃花) by Tang Qi Gong Zi
Eternal Love, Ten Miles of Peach Blossom Synopsis
Bai Qian is the youngest daughter of the Fox King, Bai Zhi. As a white nine-tailed fox, Bai Qian is a true nuisance for the family.  Therefore Bai Zhi asked Zhi Yan, the phoenix, to send her to the Kunlun Mountain. Disguised as A male immortal, Si Yin, Bai Qian spend 20.000 years as a troublemaker disciple of Mo Yuan, the undefeated God of War.
Si Yin was not the most brilliant disciple, but Mo Yuan favors her so much, that he took her into a battle against the Ghost Tribe with him. Mo Yuan lost his live on this battle after he sacrificed himself to the Bell of East Emperor in order to have Qing Cang prisoned. Si Yin took his body and hide it deep inside Qing Qiu's cave.
Many years later, the bell broke down. Qing Cang is trying to escape, Bai Qian try to keep him inside the bell. Unfortunately, Qing Cang put a spell on her and make her forget about her status as a goddess, seal her power, and turn her into a mere mortal without any memories. This tribulation brought her to meet Ye Hua, the Crown Prince of the Nine Heaven.
This fated encounter would keep them entangled in three different lives.
Will they be able to conquer the love tribulation and have a happily ever after ending?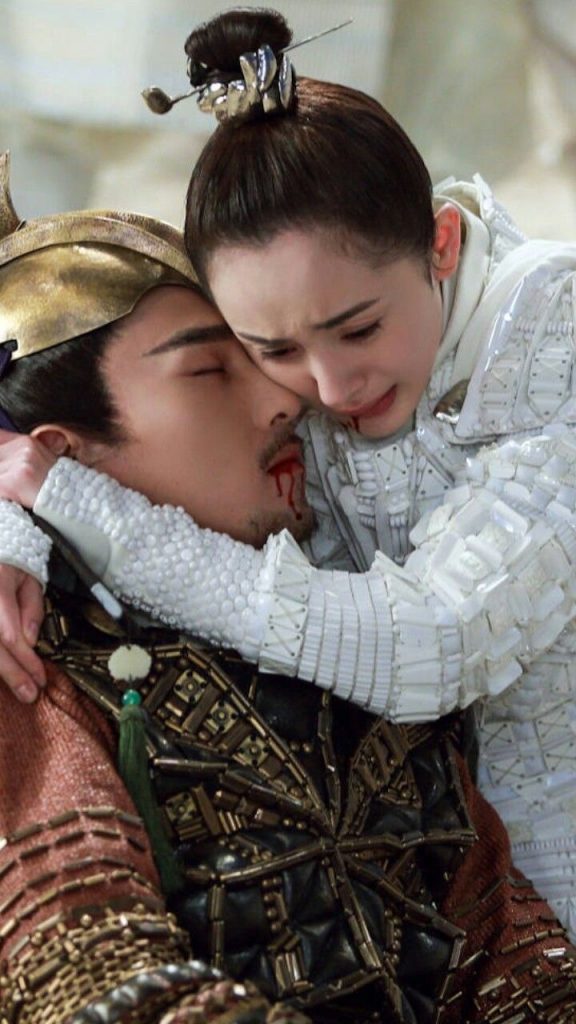 Eternal Love, Ten Miles of Peach Blossom Review
Eternal Love Ten Miles of Peach Blossom (TMPB) is my all time favorite Chinese drama. It's the reason of my obsession of Cdrama. For the first time I had to watch a 58 episodes drama. I swear that I thought that my eyes would turn into a panda's…🐼
TMPB, is a straightforward romance story. You might find adventures, harem struggle, political problems, and family affairs, but everything is in small percentage compared to the love story of our OTP (one true pair/pairing). And let me give you a spoiler, you might have more than one OTP after you watch it.
Easy to Love
I love to see the chemistry between Bai Qian (Yang Mi) and Ye Hua (Mark Chao). They were able to portray three different lives, Si Yin and the gold lotus; Su Su and Ye Hua; and the last one Bai Qian and Ye Hua. I really like Mark Chao on the third lifetime. He was crafty and playful, unlike the cold and stony Ye Hua when he was on relationship with Su Su.
Yang Mi on the other hand, were like a three different person on a three lifetime. A mischievous and loyal Si Yin, a coward and naïve Su Su, and my favorite is the sassy and arrogant Bai Qian. However, I also enjoyed watching Su Su. She was so naïve to the point of stupidity. I was speechless to see her trying to feed a snake with a chopstick and take the snake into the bed with her because she's afraid the snake to be cold. Mr. Writer, what on earth are you thinking about when writing this scene? 🤣🤣
However, on this stellar drama, there were many charming and talented faces that you can't take your eyes off. The ever beautiful Dilraba Dilmurat act as Bai Qian's nephew, Bai Fengjiu. She acts so antic and brave to the point of reckless. I guess the young woman of Bai family share the same traits. Dilireba's coquettish act were the opposite the stony Gao Wei Guang.
They had the same lovey dovey chemistry as Yang Mi and Mark Chao.
Leon Lai and also Alan Zhu also plays as a significant character as Bai Qian's senior brother and older brother. They were cute, you'll just cant take your eyes off them.
All is Good, Put Visual Effect Aside
Enough with the sweetness… Back in 2017, the visual effect was sub-par compared to today's. for instance, on my previous post, I was praising A Writer's Odyssey drama, a 2021 Chinese fantasy movie for it's remarkable visual effect. I was feeling dejected to see TMPB visual effects, even though I watched it in 2017.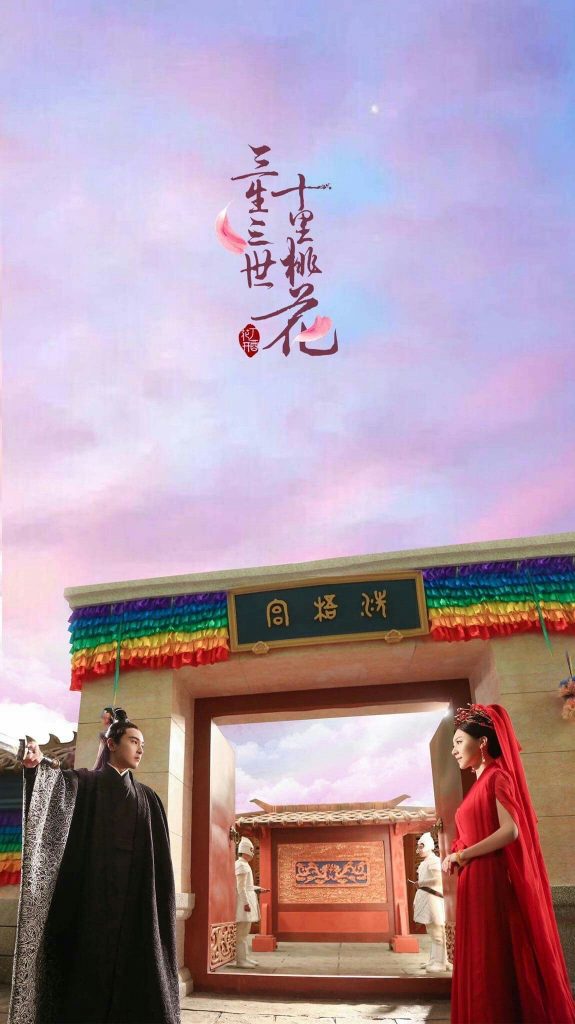 As a xianxia drama, TMPB tells you a story about fantasy world where gods, immortals, magic, and mythical creature exist. Therefore, we need an infinite number of visual effects to make up the story. But sadly, the CGI was poor. Don't be sad if you found that our lovable red fox seems to be fake, or the dragon is not as magnificent as you wished, and don't be surprised if the Golden Lion Beast are actually orange. Please don't expect too much on the visual effect. Just focus on the story, the actors, or the costumes. You'll be fine..
The Costumes are Flawless
My favorite part of TMPB to be discussed was of course the costumes. Aside from being beautiful, it seems that every costumes was made according to the character preference. For instance, the Bai family or the Fox Clan are the ruler on earth. They were naturalist and living a humble life compared to the Dragon clan. Their costumes were in natural color without intricate embroideries or golden thread.
Bai Qian is a simple and straight forward person. Therefore she wears simple gowns, with pastels color, and her hair was styled without much embellishment. While Bai Fengjiu is more playful than Bai Qian, therefore her costumes had more vibrant color, but you can see the pattern is almost the same simple designs.
On the other hand, the Dragon clan as the royal among royal was bathed in luxury. Their costumes made from piles of golden thread. With intricate embroideries and luxurious head dress. Some important person like Dong Hua Dijun and Ye Hua opt for a simple design for a personal reasons. But all in all, William Chang and Stanley Cheung has doing an amazing job as the costume designers.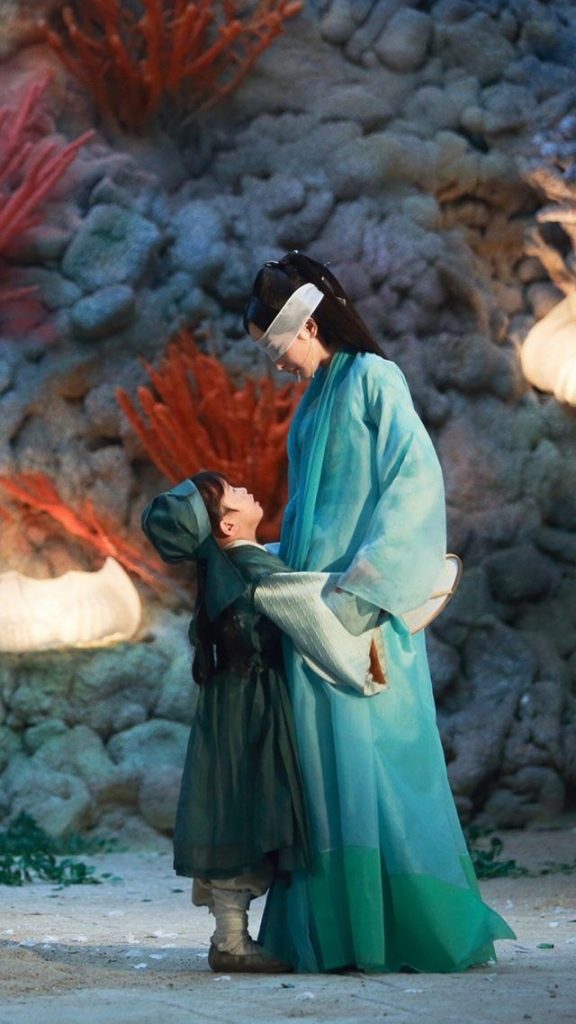 The Characters
Main Leads
Bai Qian is the only daughter of The Fox Qing. She was the future queen of Qing Qiu. Grow up as a freespirited nine tailed fox, She has doing lots of mischievous deeds. She keep her troublemaker demeanor inside the Kunlun Mountain where she become the seventeen disciple of Mo Yuan. Her love story with Ye Hua was complicated one because it involved a three lifetime.
Ye Hua is the cold and aloof  Crown Prince of Nine Heaven. He conceal his emotion deep inside him and never show it to anyone until he met Bai Qian. After two lifetime and love tribulation, he started to show his soft side to Bai Qian and Ah Li, his son with Su Su.
He is a strict father but love Ah Li very much.
Mo Yuan is Ye Hua's older brother, they were supposed to be twin but separated for 285.000 years. Mo Yuan is the undefeated God of War. He falls in love with Bai Qian, but he bow out when he learns that Bai Qian and Ye Hua loves each other.
The Clans
There were three clans involved in this Cdrama. The Phoenixes, The Foxes, and The Dragons. They were the last primordial clans that existed in the world.
The Phoenixes
Zhe Yan is the last phoenix in the world and the owner of the ten miles of peach blossoms forest. Zhe Yan is a n eccentric person with remarkable medical ability who has a deep relationship with the foxes, especially Bai Zhen. His has an excellent wine brewing skill which makes Bai Qian reluctant to leave his abode. He's responsible for replacing Ye Hua's missing arm with a lotus root. Lotus root! Mr. writer, what is wrong with you? 🤣
The Foxes
Bai Zhi, the fox king, is a powerful god that once defeated the four mystical beasts. He loves to roam the world with his beloved wife, Bai Qian's mother. The fox king and queen are the portrayed as a good parents for their children and a good sovereign for the Fox clan. I really like the relationship of the Bai family.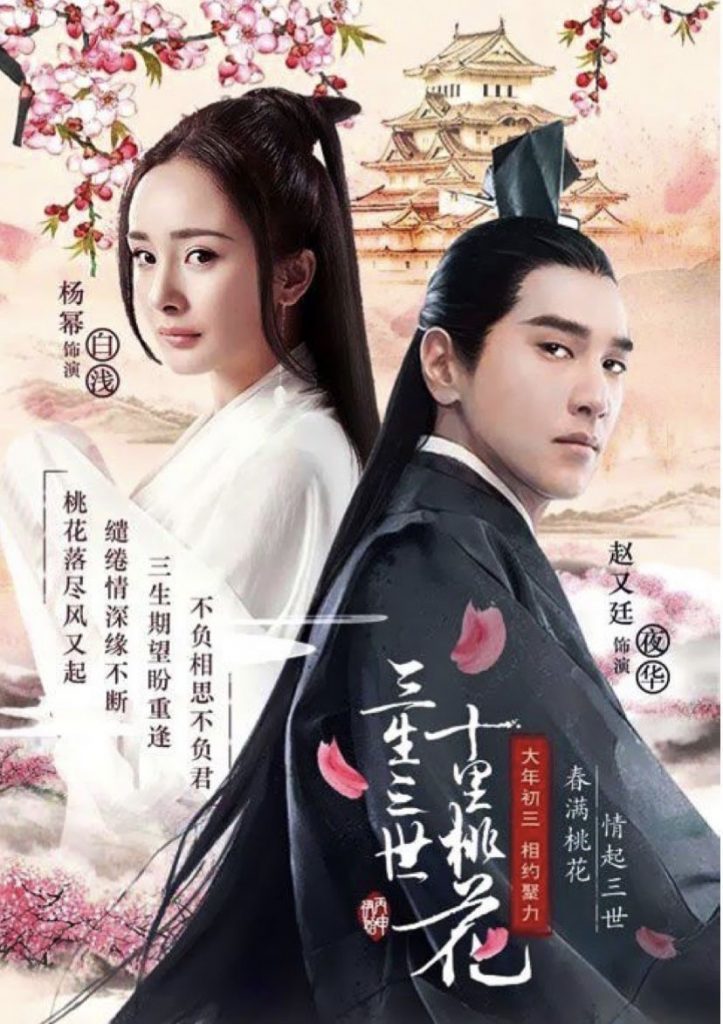 Bai Zhen (played by Yung Meng Long) is the elder brother of Bai Qian. He loves his sister so much, as he understand her itemper and always ready to help every time she needs her. His relationship with Zhe Yan is somehow vague, but their scenes are always funny. My favorite is the one where Zhe Yan and Bai Zhen ganged up to tell Ah Li all the mischievous things that her mother does when she was younger.
Bai Fengjiu is Bai Qian's nephew. Her father is the strict and unyielding Bai Yi. Even Bai Qian and Bai Zhen is doing all they could to avoid him because their feared him. Bai Fengjiu was equally playful and reckless as Bai Qian. She falls in love with the stony Dong Hua Dijun. Their love story even made as a new drama, titled Three Lives Three Worlds, The Pillow Book.
The Dragons
The Dragon clan is the royal amongst royals. They held the biggest authority upon all realm. They lived in luxury compared to the humble Foxes and Phoenixes. They were aloof and arrogant but still maintain a high regards for the Qing Qiu royal family and Zhe Yan.
Dong Hua Dijun used to be the Emperor of Nine Heaven, as he was retired, he become an idle Gods who spend his time reading book. People said that he was born from a stone.
Nine Heavens
The emperor of Nine Heavens has 3 children. The first borne is Ye Hua's father. The second borne is Sang Ji whom the Emperor dote on, and the third one is Liang Song, Ye Hua's closest kin. Sang Ji was once betrothed to Bai Qian. Unfortunately, he falls in love and elope with Bai Qian's maid and then was banished and demoted into a small king of Northern Sea as a punishment for cancelling the marriage.
As the third born prince with a free lifestyle, Liang Song was a natural born playboy. He was the one whom Ye Hua seek for assistance when he falls in love with Su Su. What I love about Liang Song, while every body in the Nine Heavens treats Ye Hua as the renowned Crown Prince, he's doing the opposite and treat Ye Hua as a young man full with desire and emotion. A kind of nice elder brother for Ye Hua.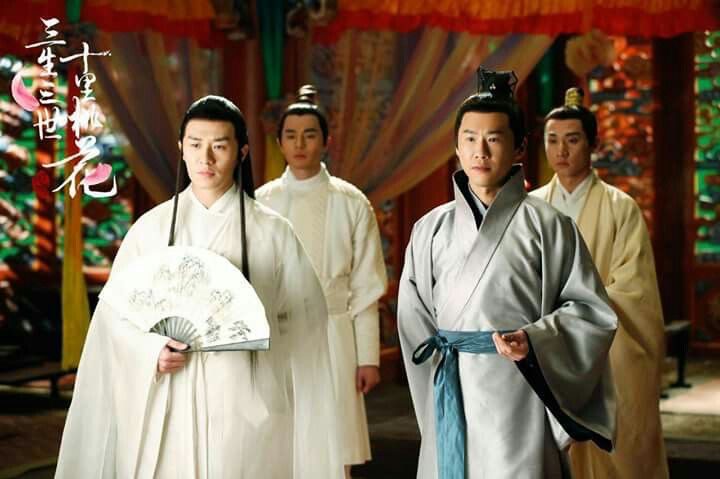 The Emperor is the one that responsible for shaping Ye Hua as a cold and aloof crown prince. Driven by his disappointment towards his sons, he raised Ye Hua with a strict rule and forbid him from having an emotional attachment with every body else, including his mother. Personally, I don't think that the Emperor is a wise ruler because he is easily schemed by Su Jin.
Su Jin is the real enemy for Bai Qian and Ye Hua's relationship. She was adopted by Ye Hua's parents and grow up as Ye Hua's companion. She had a one sided love for Ye Hua and doing everything that she could to secure her position as his wife. Su Jin is cunning and jealous person. She can't accept the fact that Ye Hua didn't love her, therefore she's doing many scheme against Su Su and Bai Qian.
Ghost Tribes
Li Jing is the prince from Ghost Tribe. He was Bai Qian's first love interest. But he betrays her and got married with Xuan Nu, Bai Qian's former friend. Qing Cang or the Ghost king and the one who was prisoned inside the The Bell of East Emperor. He was the one who caused the great war of The Ghost Tribe and Nine Heavens.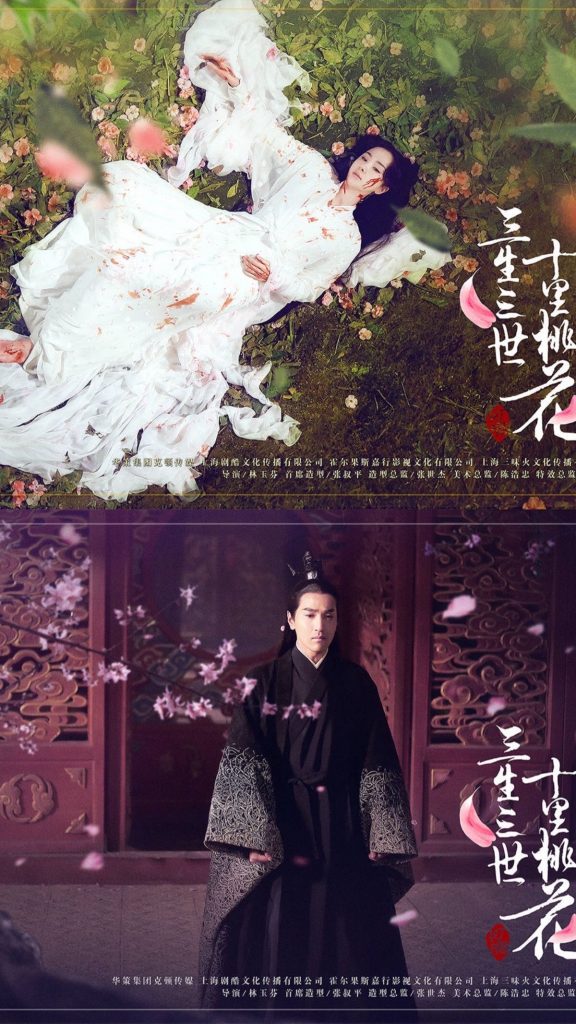 The conclusion
Ten Miles of Peach Blossom was a sweet romance story of Bai Qian and Ye Hua. There so many ups and downs on their relationship, is a scale of a gods. For instance, you can find a jealous concubine on any chinese historical drama, however only in TMPB you'll met a jealous concubine who can rob your eyes for 300 years or a love so deep, that can bring you back to live after 3 years of death.
Living as a gods in TMPB were almost the same as mortals. You'll be able to find a bunch of male immortals who gossips like an aunties in the park or the fact that the grandson of The Emperor of Nine Heavens also fond of sugarcane just like you neighbor's children. It's quite refreshing to see normal things inside a Chinese fantasy drama.
I would recommend this Chinese drama for those who enthralled by a romantic swoon-worthy drama. I'll guarantee you'll get more than you expected, just don't argue about the color of the lion beast, for nothing is perfect in this world… 😉
So, how do you like this drama review, hope you find it helpful. Thank you!