Title: She and Her Perfect Husband
Also Known As: 爱的二八定律, The 80/20 Rule of Love, Qin Shi and Her Perfect Husband, The Two Eight Law of Love
Director: Lin Yan
Casts: Li Ze Feng, Tang Jing Mei, Wang Zi Xuan, Xu Kai, Yang Mi
Screenwriter: Zhu Li
Genres: Romance, Comedy, Law
Country: China
Episodes: 40
Year: 2022
Original Network: Tencent Video
Where to Watch: Viki, WeTV
List of Recap:
Dear readers… I had a hard time writing this episode 27 and 28 recap. Yang Hua's past was unveiled and he was having a meltdown. It was soo sad to see the proud Yang Hua becoming a helpless person. Thankfully Qin Shi was a strong person who always got his back, no matter what.
Before we start, here's the new character introduction!
New Characters Appearance
He Dong Na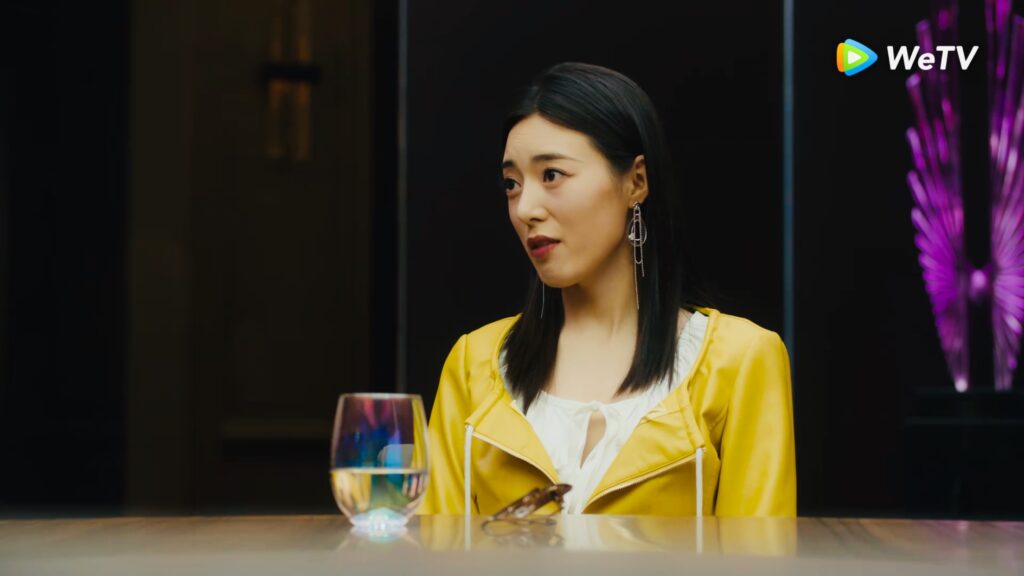 He Dong Na was a very famous actress in China. She married a tycoon named Hu Ping and had a child with him. He Dong Na was a proud actress because she had the looks, the money, and the backer.
Wang Jie Sen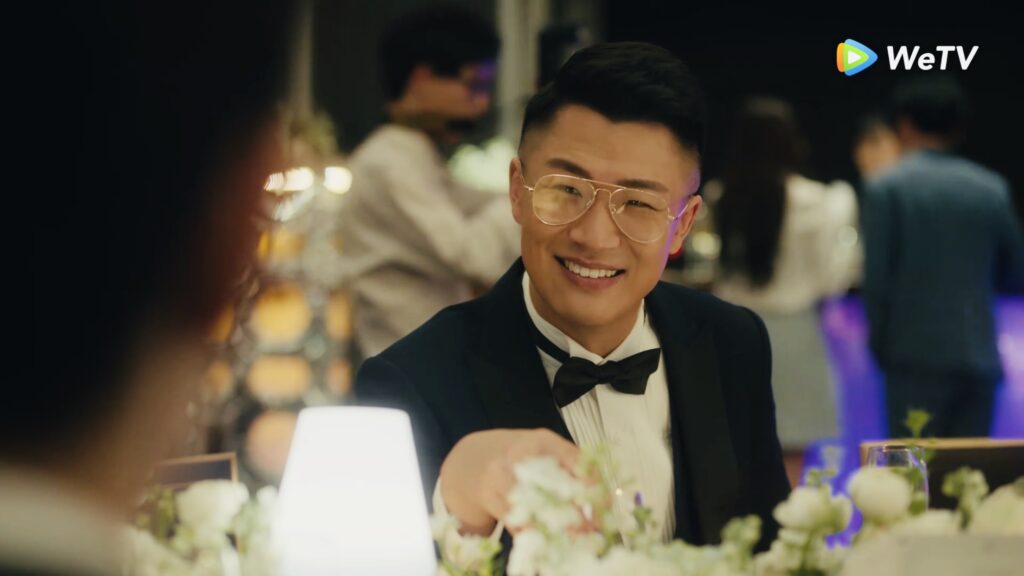 Wang Jie Sen was an old colleague of Yang Hua. They met at Qiu Jian Xiang's office and both of them worked as fund managers and were Qiu Jian Xiang's disciples. At the moment, Wang Jie Sen worked as a Vice President at Hu Ping's company.
Ms. Zhen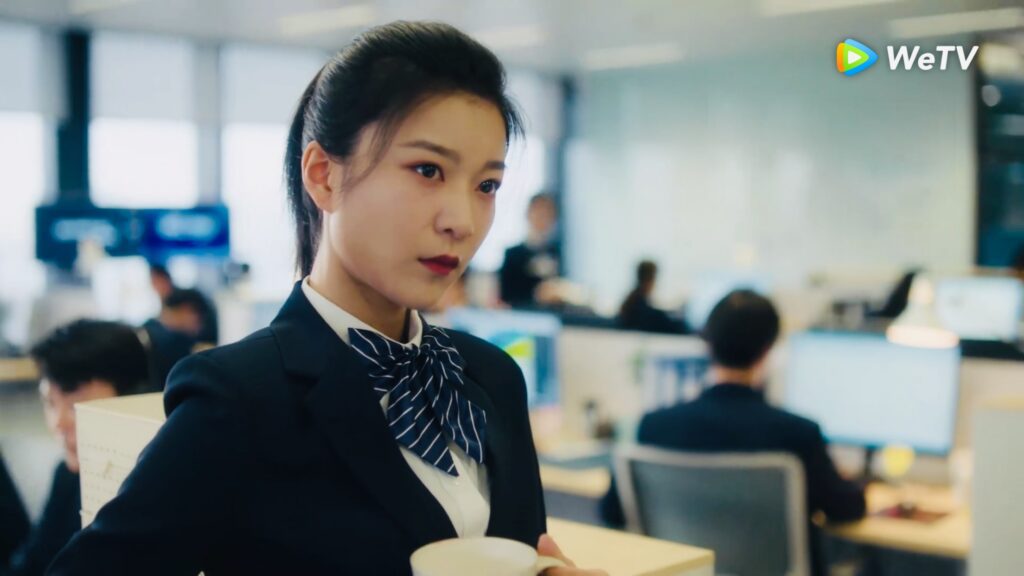 Ms. Zhen was the prettiest girl in the Credit Department of Yunshang Bank. She had set her eyes on Yang Hua althought she knew that he was married. Ms. Zhen was pretty ambitious and she enjoyed being praised by the male employees of Yunshang Bank.
Episode Recap
Episode 27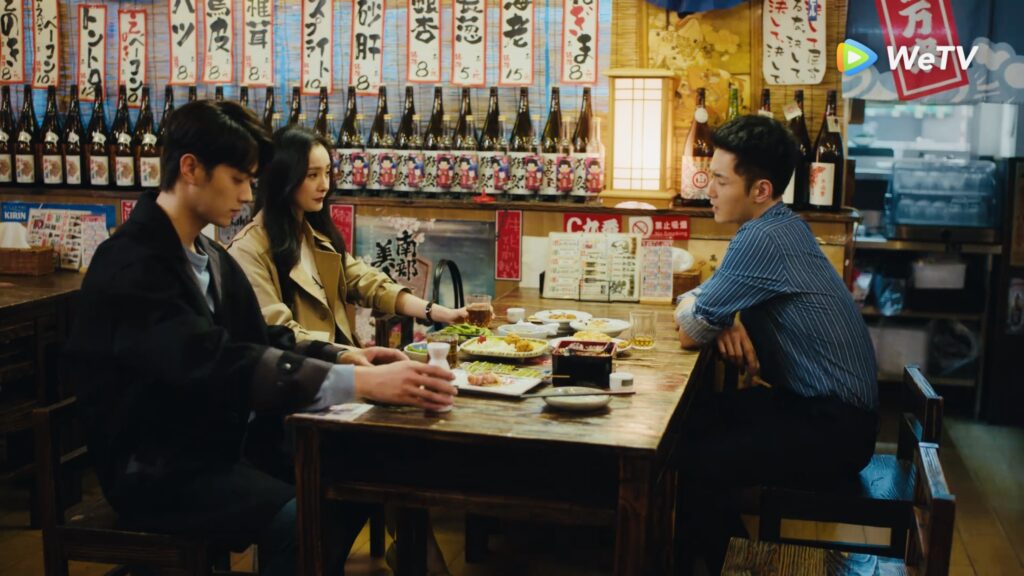 Cai Liang claimed that he was a better storyteller than Yang Hua. Hence, he was the one who told the story about Qiu Jian Xiang to Qin Shi.
Back in the early time, there were twenty fund managers on Qiu Jin Xiang's team. Only eight people were on the core team. And between the eight, only three people managed to get his training. Yang Hua was the youngest and most inexperienced of the three. But he was the one who managed the most trust accounts. Yet, everything turned upside down after the incident with stock Yongli number 21.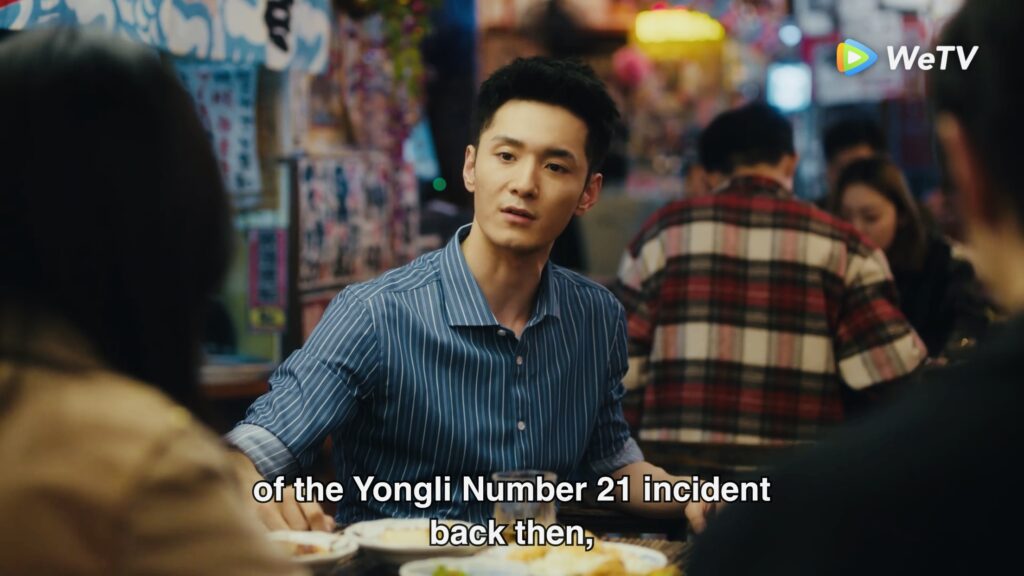 Meanwhile, Tao Jun Hui's mother met Wu Fei's parents. Mrs. Wu wanted their children's marriage to be held as soon as possible. Mrs. Tao answered that she did not have any objection, as long as their children were happy. Wu Fei mentioned that she and Tao Jun Hui had been house hunting lately. However, it was still a long process before they could have one.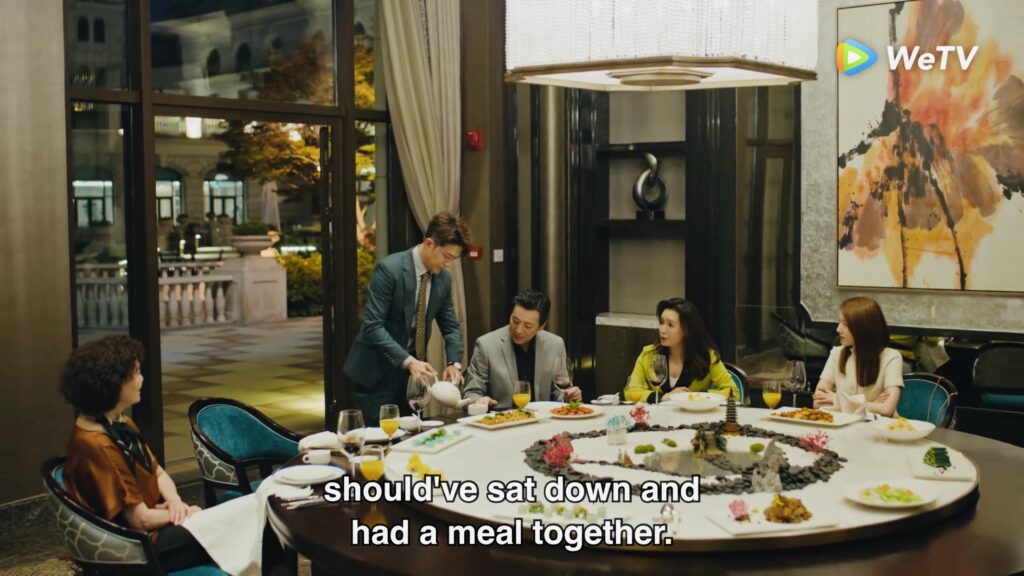 Wu Fei's parents had a surprise for them. They already bought a luxury house in Bijiang for Tao Jun Hui and Wu Fei's wedding gift. Wu Fei was ecstatic while Mrs. Tao and Tao Jun Hui did not seem too happy with the gift but still smiled out of courtesy. Wu Fei's parents urged Tao Jun Hui to use the house as their marital house. Tao Jun Hui agreed with it. Yet, Tao Jun Hui still wanted to buy a house according to his ability.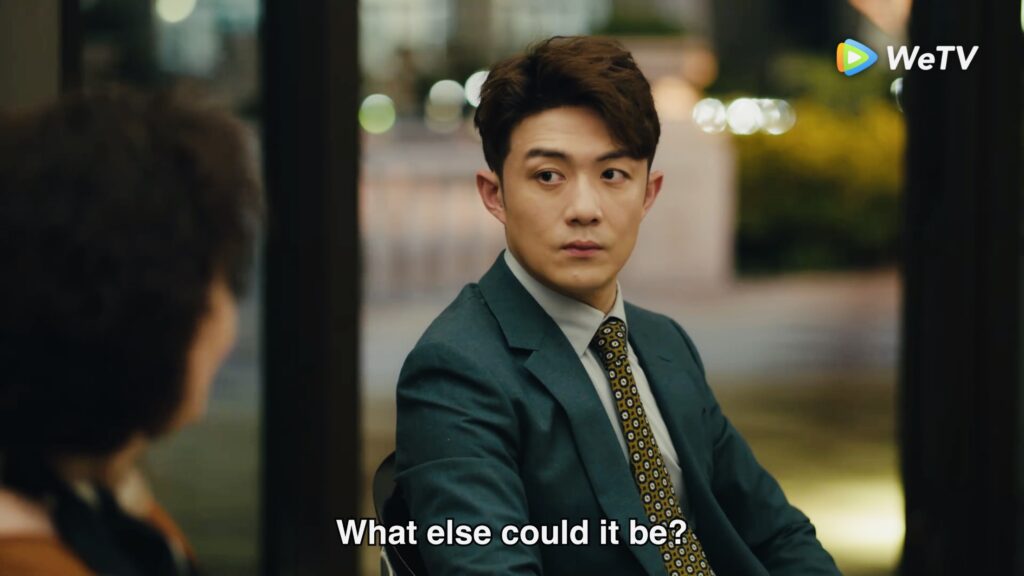 At home, Mrs. Tao asked whether Tao Jun Hui was having a fight with Wu Fei recently. After he thought for a while, Tao Jun Hui told his mother about the prenuptial agreement. Mrs. Tao was angry but Tao Jun Hui reassured her that everything was fine and they did not bully him. Mrs. Tao still compared Qin Shi with Wu Fei.
According to her, Wu Fei was better than Qin Shi, but she did not want her son to degrade himself in front of the rich. She emphasized that she never asked Tao Jun Hui to be a rich man. What mattered to her was that Tao Jun Hui and his spouse live a good life together.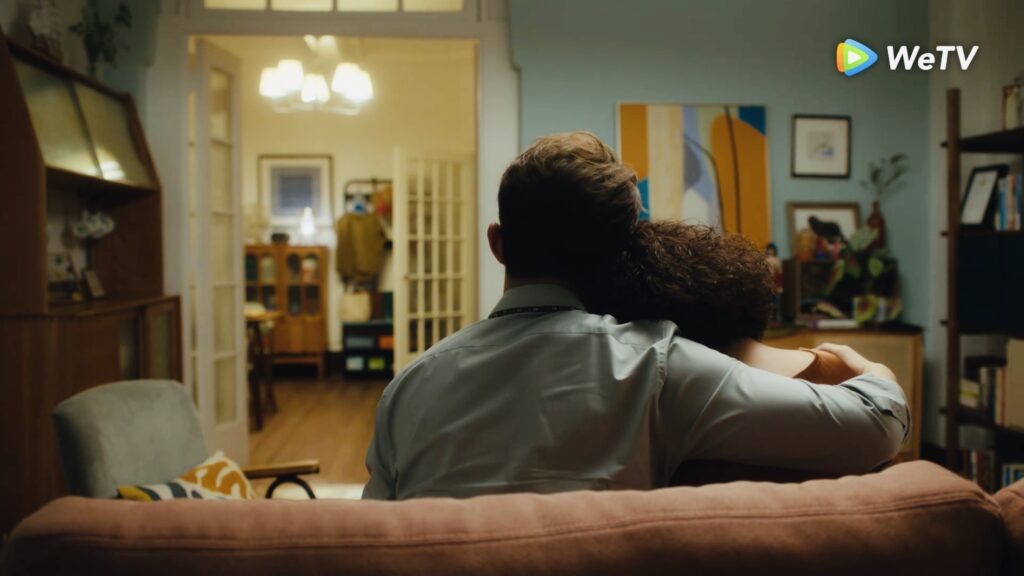 I used to hate Mrs. Tao, but now I realize that she only wanted the best for his only son and sincerely care for him.
Cai Liang told Qin Shi that he never heard Yang Hua speak about the past. He said that back then, Yang Hua was valiant, and he admired him. Cai Liang asked Qin Shi to take care of Yang Hua. When they parted ways, Qin Shi and Yang Hua walked back home hand in hand.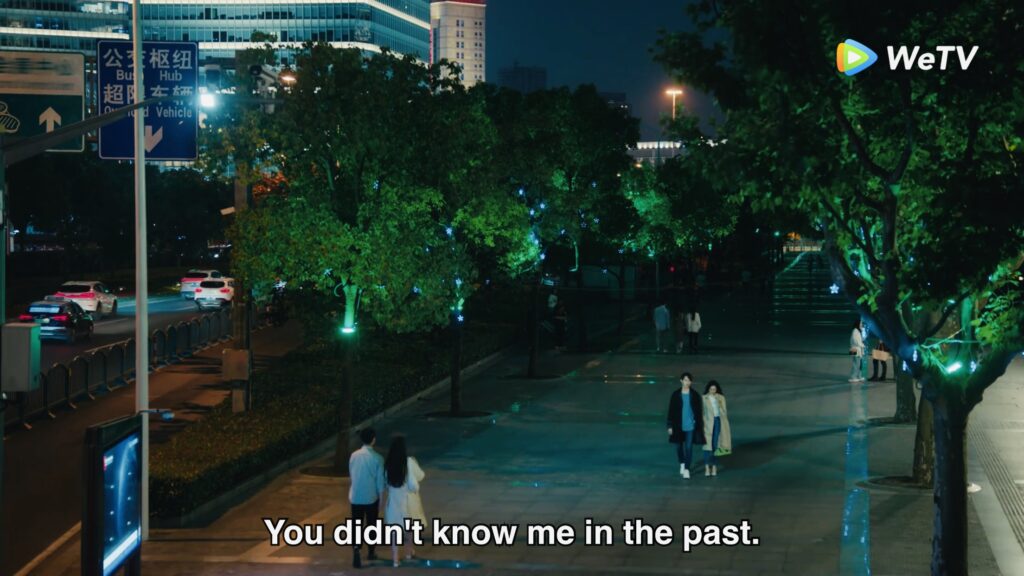 Qin Shi told Yang Hua that she believed that Yongli No. 21's failure was not because of him. She said that she was better at judging people's character than he was. But Yang Hua still told her that the failure was his. Yang Hua recounted the story about Yongli number 21. Back then at the age of 22, Yang Hua became a fund manager.
In a year, Yang Hua was able to increase the yield by 37 percent. His career was smooth and his commission was worth millions of yuan. Yet, 10 months later Yang Hua had a huge loss. Yang Hua told Qin Shi that he knew that failure was a good thing. To have a failure means that you still had room for improvement. What was scary was a greedy and jealous heart.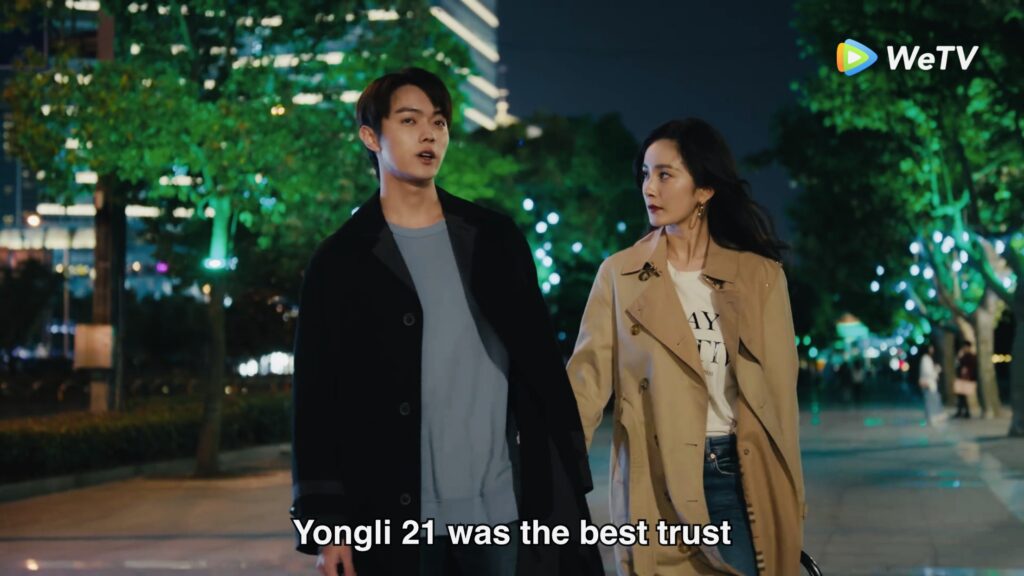 Yang Hua and Qin Shi saw a dog wandering alone. Yang Hua took it and pet the dog. He stared at Qin Shi and jokingly said "My wife, I think we have a kid..". Qin Shi was blushing. It was the first time Yang Hua called her with endearment like that. But the happiness did not last for long. The dog owner came and took the dog away.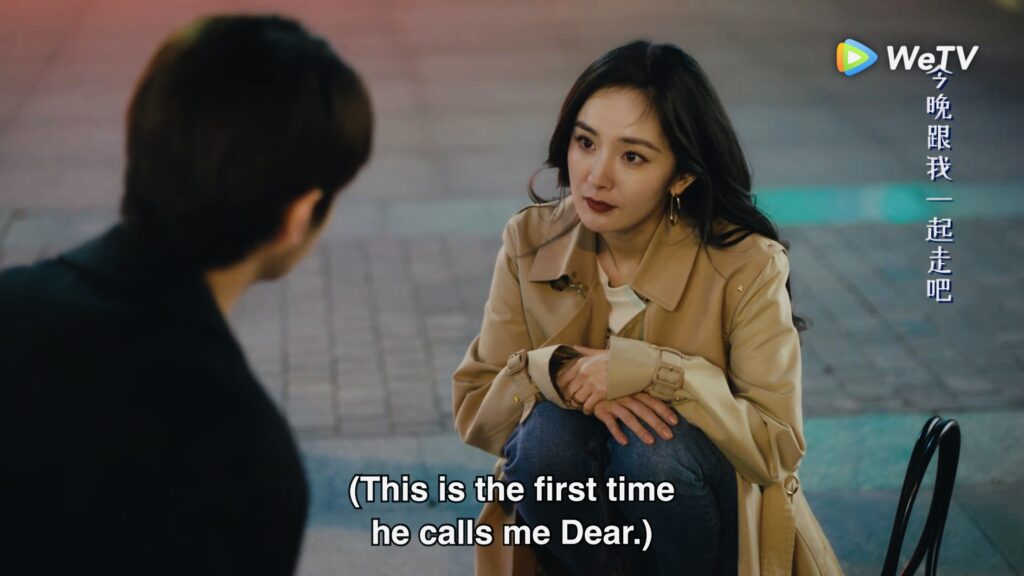 Yang Hua continued his story. He said that he was prominent back then, until one day he realized that he was a nobody. Qin Shi consoled Yang Hua and promised that she would care for and would not abandon him. Yang Hua smiled and took her in his embrace. The hugging scene only lasted for a short time because Qin Wenyu called her for an emergency.
When Qin Shi and Yang Hua arrived at the apartment, they saw Qin Wenyu and Ren Mei Mei in a bad state. Qin Wenyu was panicking because Ren Mei Mei was holding a knife and threatened to jump from the balcony. Qin Shi learned that Qin Wenyu had secretly given Ren Mei Mei medicines to stimulate ovulation. He did it because his mother promised that she would give him a sports car if he could have a child from his wife.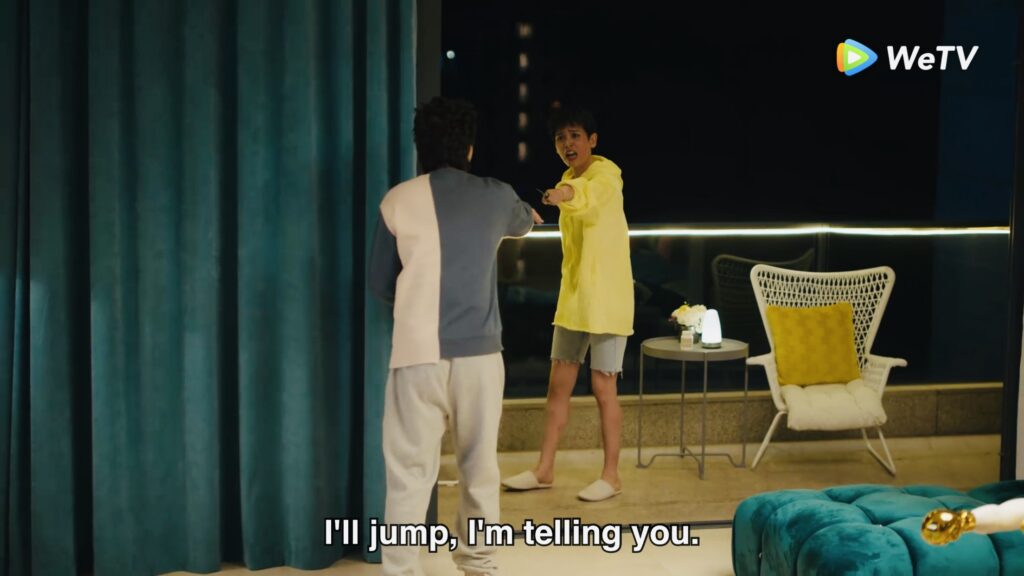 Ren Mei Mei was angry with him. But then Qin Wenyu accused Ren Mei Mei that she signed an agreement with his mother, behind his back. If Ren Mei Mei could give birth to Qin Wenyu's child, she would receive 20% of the company share. Because the argument escalated, Qin Shi took a divorce agreement and threw it in front of Qin Wenyu and Ren Mei Mei.
Qin Wenyu signed the draft, but Ren Mei Mei hesitated. She stared blankly at the agreement and then at Qin Wenyu. Qin Wenyu lamented about how he felt like trash. He could not be compared to his brother who was an obedient son, and his sister, who always won awards every year. His mother loved his brother and his father pampered his sister. Qin Wenyu felt like he was a good-for-nothing.
When he was young, he worked so hard to improve his grade from 6 to 56. Yet, people still regarded him as trash who failed the test. And now he finally got himself a beautiful wife. Yet, she was always ready to sign a divorce agreement. Qin Wenyu had an emotional breakdown and Ren Mei Mei hurriedly came to console him. The couple made peace under the watchful eyes of Qin Shi and Yang Hua.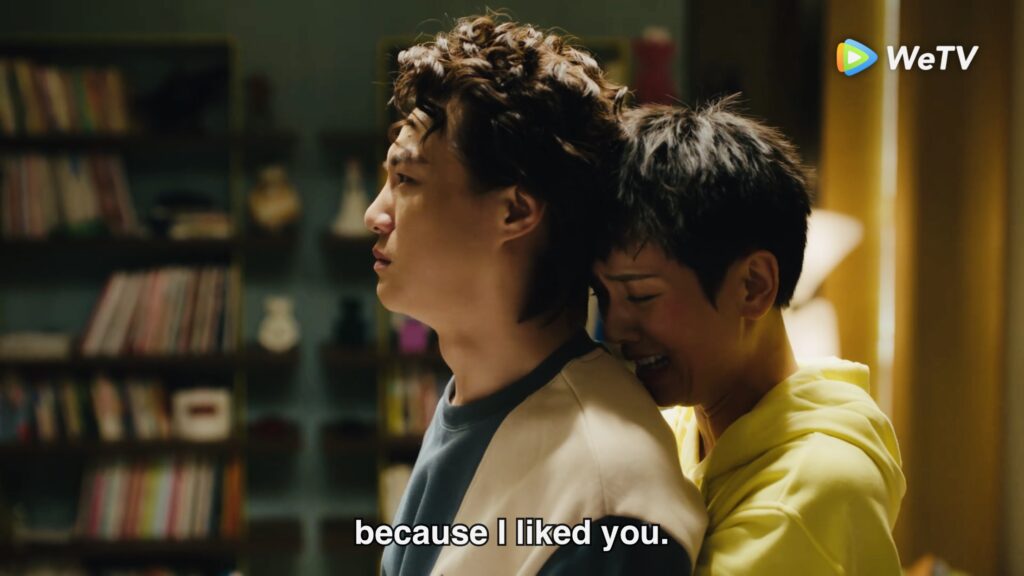 Qin Shi asked Yang Hua whether she should stop interfering in Qin Wenyu and Ren Mei Mei's relationship. Yang Hua answered that Qin Wenyu and Ren Mei Me might not need her pertinent comments. They only wanted to hear a bystander perspective. However, Qin Shi wanted them to live good life. Yet, every time they fought, they always acted like kids to spice things up in their love life. Qin Shi asked Yang Hua whether he could guarantee to will always love a person.
Yang Hua answered that it depends on the person. And if the person was here, he guessed that he surely could. Qin Shi frowned when she heard the word guess. She asked again if Yang Hua had another name on his list. Yang Hua answered that he only had her name on the list. He pulled her to the sofa and they started to make out.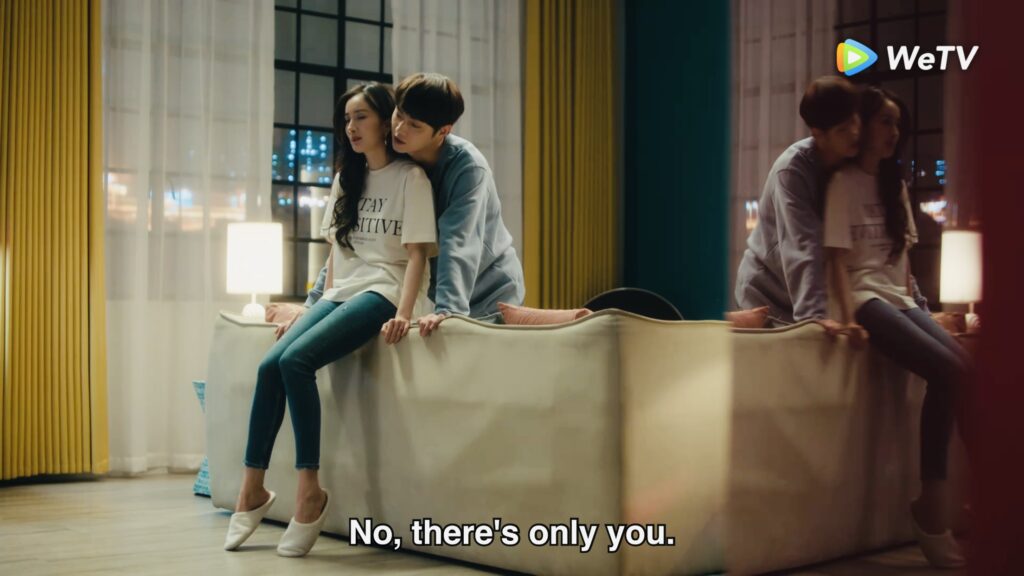 The next morning, a person brought cookies and chocolates for Manager Cai Liang. It was Yang Hua who wanted to apologize to his friend. Yang Hua said that he did not have many friends and the one who stayed with him for years was only Cai Liang. He also said that it must be quite hard for Cai Liang to be his friend. Cai Liang gaped at Yang Hua's apology. He thought that Yang Hua being nice was too much for him to bear and begged Yang Hua to be as self-righteous as he used to be….😅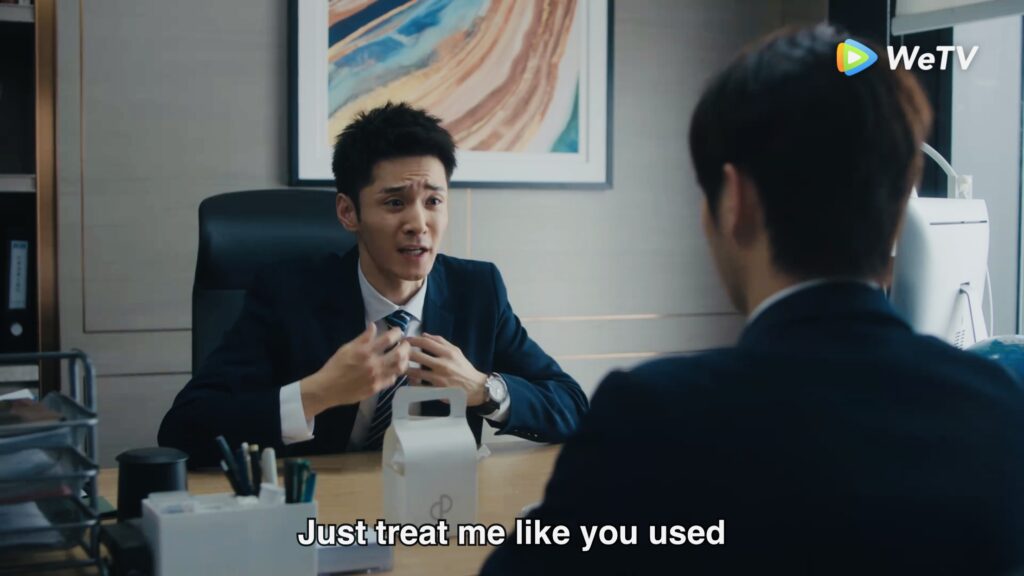 Cai Liang told him that the Bank President called him this morning. He asked about Yang Hua and Cai Liang had a hunch that Yang Hua would be promoted. Yang Hua was confused because he almost got fired the day before. But at the moment, he would be promoted. It turned out that early in the morning, the police arrested Qiu Jian Xiang. All the finance product of Fengyu Finance was suspended because Qiu Jian Xiang was suspected of benefit transfer. And what Yang Hua did prior has helped the bank and its customers.
Yang Hua's colleagues seemed to have sensed his promotion because they suddenly wanted to throw a welcome party and treat him to a meal. Yang Hua hesitated for a while but he did not reject the invitation and offered to pay them for the meal. However, he said that he got something to do later and could only treat them at the canteen.
At Cheng & Hui, people were gathering in front of the meeting room on the 11th floor. Qiao Si Ming chased Qin Shi. However, Qin Shi paid him no attention and walked straight into her room and closed the door in front of his nose. Qiao Si Ming apologized for everything that happened. It seemed that he already knew Tang Yi Hui's intention towards Qin Shi, but he played along with the lady boss.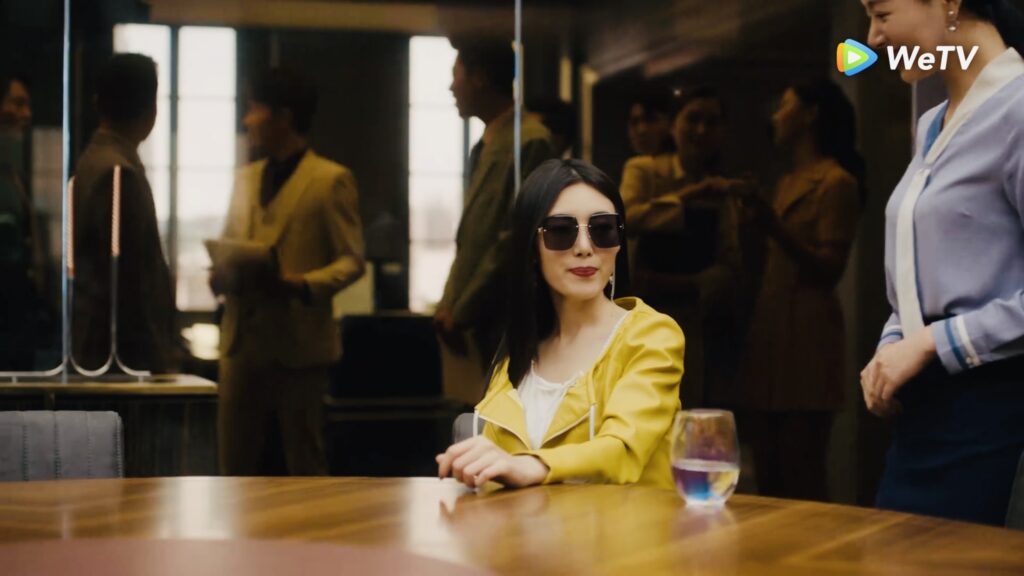 Qiao Si Ming had a piece of good news for her. Lawyer Zhang would be transferred to Wuhan and his office would be empty for her to use. Qin Shi pretended she was unhappy until Qiao Si Ming promised to buy her a flower bouquet and champagne. After she was content with the promise, Qin Shi asked Qiao Si Ming about the guest in the meeting room.
The guest was a famous actress named He Dong Na. Last night she was kicked out of Tian Hang Hotel. The news about the incident occupied the trending search, yet Qin Shi knew nothing about it.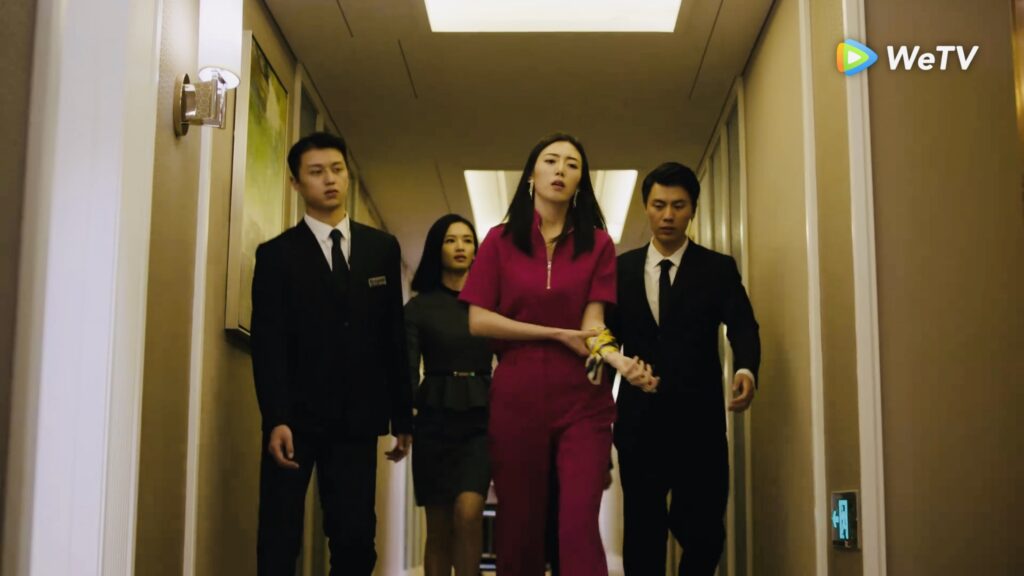 He Dong Na held a conference meeting and the spokesperson for her was Wu Fei. He Dong Na checked in at Tian Hang Hotel on 31st May. Later, her hand was injured because her bathroom glass burst. At that time, Tian Hang failed to give her timely treatment and forced her to check out at 3:00 AM from Tian Hang Hotel. He Dong Na refused to enter the hotel's car and insisted to wait for her assistant, but the hotel also insisted to drive her to a hospital.
After the incident, He Dong Na failed to communicate with the hotel and decided to publicize the matter. She wanted Tian Hang Hotel to make an apology, fire their staff, and pay compensation. At the Cheng & Hui, He Dong Na said that she would only give the hotel 3 days to prepare her demands. And if they failed to deliver the apology, she would sue them.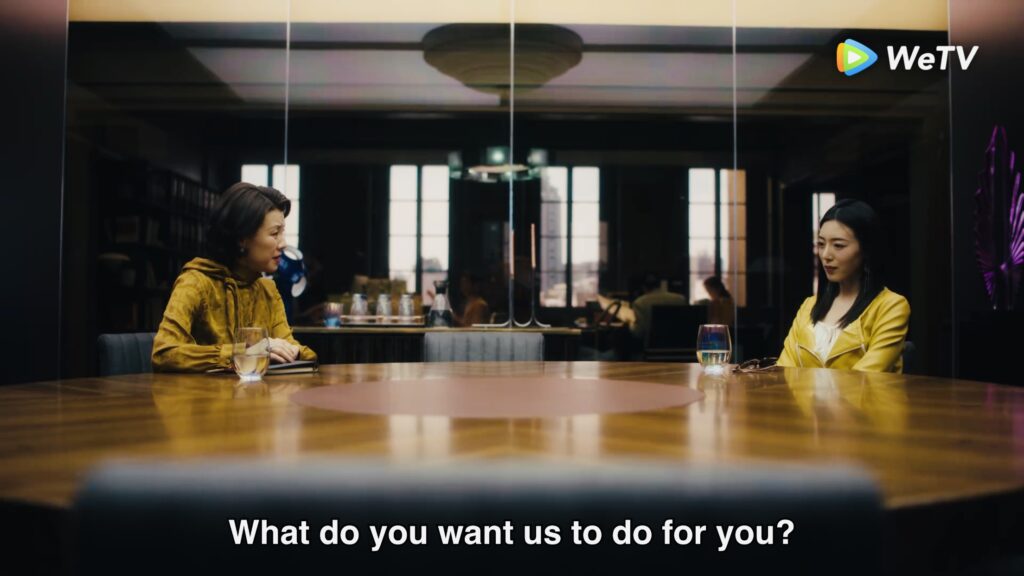 Qin Shi sensed something was wrong with the case. They could win the case easily and the benefits from the case were insignificant for the law firm. Yet, Tang Yi Hui prepared a full team consisting of 2 senior partners, Tao Jun Hui, and Wu Fei as the spokesperson. Qin Shi suspected that He Dong Na has a backer, and she was right. He Dong Na's husband was a big person in the financial industry and a very wealthy businessman, Hu Ping. And he was the sole reason why Tang Yi Hui accepted the case. Besides, He Dong Na was brought to Cheng & Hui by Xi Mei PR Company.
Qin Shi was able to sense that their law firm needed Hu Ping's investment. She was also able to guess that Tang Yi Hui was going to have a dinner meeting with Hu Ping later. However, Qiao Si Ming gave her a piece of advice that if Tang Yi Hui did not tell her about it, she better stay out of it.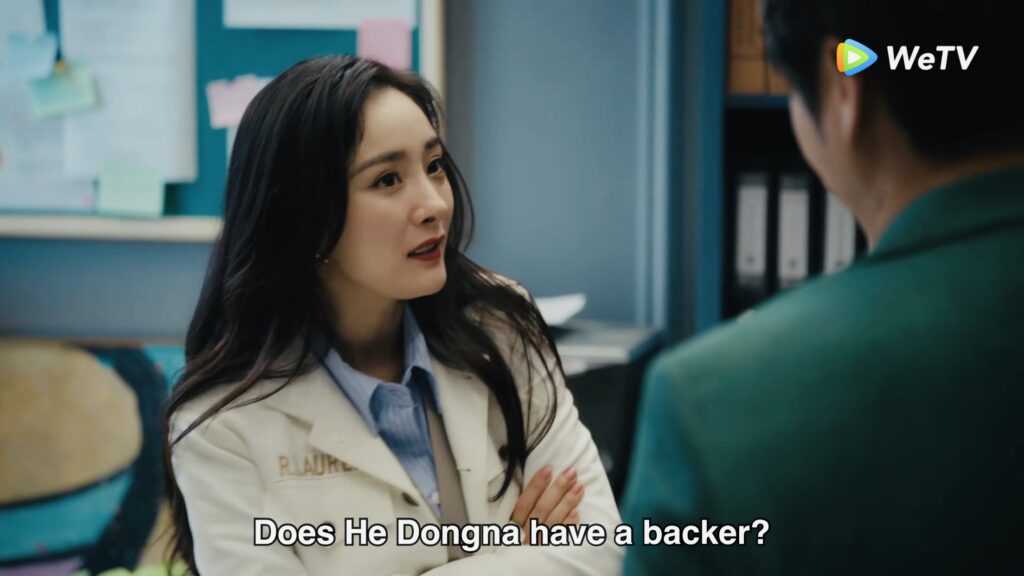 But the cunning Qin Shi still wanted to lay her hand in the case. She needed the case because its popularity was high and it was a good chance to make a name for herself. Qin Shi needed a reputation!
Tang Yi Hui could not believe that Jin Cheng had to leave town when they had an important meeting with Hu Ping and He Dong Na. Jin Cheng said that the case was too important, and he needed to go there by himself accompanied by lawyer Chen. Jin Cheng reassured Tang Yi Hui that she could handle Hu Ping by herself.
Cheng & Hui needed Hu Ping's investment because they planned to go public. Yet the previous investment company withdrew its fund and chose another law firm. Jin Cheng thought that their law firm had many talented people, yet they could not find a person who was able to speak about investment. His remark sparked an idea in Tang Yi Hui's mind.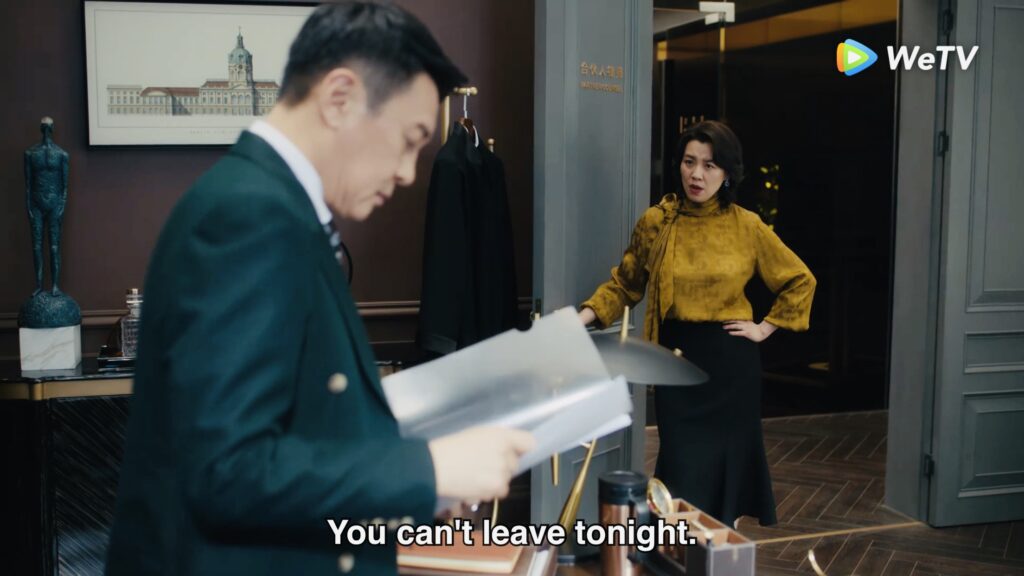 Episode 28
Jin Cheng did not put too much expectation on Hu Ping, unlike Tang Yi Hui. He believed that Hu Ping would not give any clue about the investment before He Dong Na's case was solved. Therefore, he resignedly put everything on fate. Yet, Tang Yi Hui refused to give up and already had someone on her mind.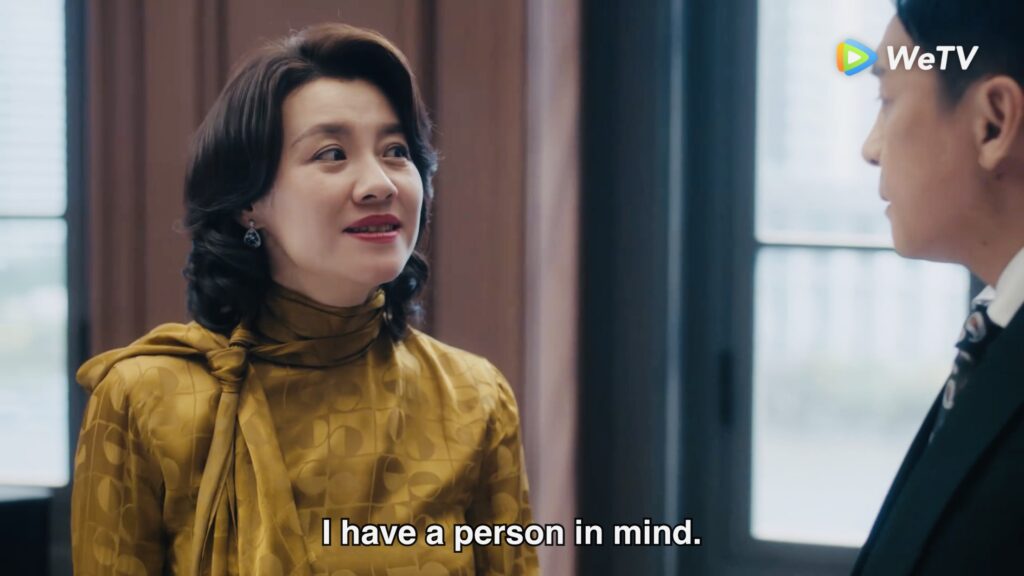 Qin Shi prayed to God for a big case. Not long after, Tang Yi Hui called her and told her to go to her office. Tang Yi Hui told her that she asked Yang Hua to do her a favor which was to talk about business with Hu Ping. Qin Shi hesitated because it meant that the real businessman would meet the fake one.
She was afraid that Yang Hua might blow his cover. Qin Shi made a reason so Yang Hua did not have to come. But Tang Yi Hui, who obviously knew her well, made an offer that was hard to reject. She promised that Qin Shi would be joining Tao Jun Hui in He Dong Na's case.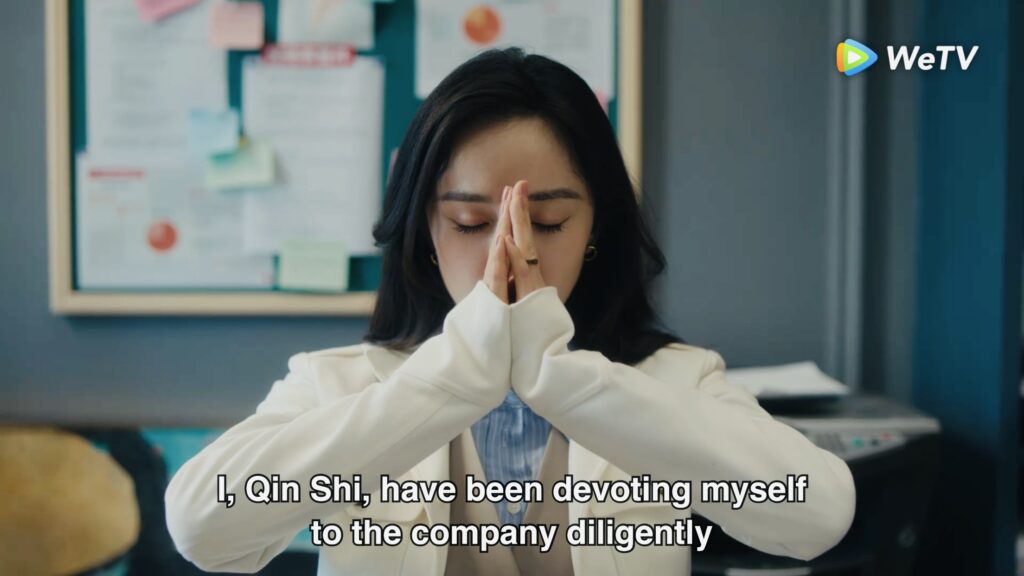 Qin Wenyu and Ren Mei Mei planned to go on a second honeymoon and asked Liu Yan to take charge of the company. Liu Yan agreed to their plan as long as they give birth to her grandson as soon as possible. But her happiness did not last for long. Qin Wenyu and Ren Mei Mei told her that they were satisfied with their life and were not anxious about having kids. They gave up the sports car and the shares that Liu Yan offered them. Although Liu Yan almost exploded because of anger, the couple did not care at all…😅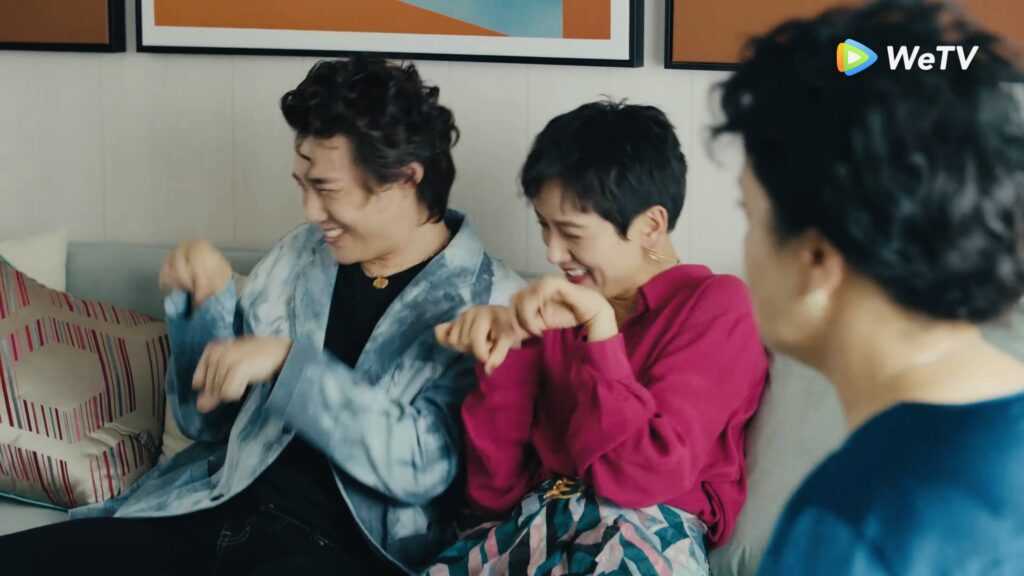 One of Yang Hua's colleagues, Ms. Zhen, asked for his help. She wanted to move to the Investment Department and begged Yang Hua to bring her along with him. She even cried in front of him. But Yang Hua did not want to help her and even told her that she was not qualified at all. So she put another card and threatened him with the Yongli No. 21 incident. Yet, Yang Hua did not buy her threat at all and left her in a hurry.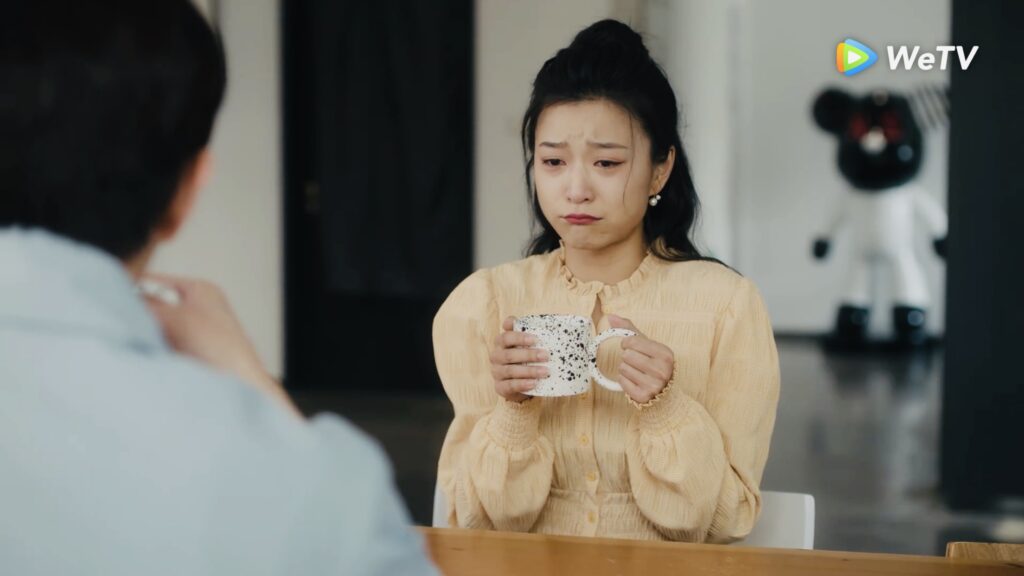 Li Dai was appointed to be Qiu Jian Xiang's attorney. She visited him at the police station and questioned him about the case. Li Dai wanted to know why Qiu Jian Xiang decided to sell 80% of his shares only in one month. Qiu Jian Xiang told her that he did it because of his 30 years of experience. Qiu Jian Xiang believed in himself and he was sure that he was a clean investor. Yet, after he sold his share, the stock price increased by 30%.
Li Dai was sure that if he answered the prosecutor's question the way he did at the moment, they would surely loose the case. Li Dai begged Qiu Jian Xiang to tell the truth. Qiu Jian Xiang repeated that he never took any bribes. And he also told her that there was only one person in the world who could understand his action. Yet, he was sure that the person would never help him. The person Qiu Jian Xiang talked about was Yang Hua.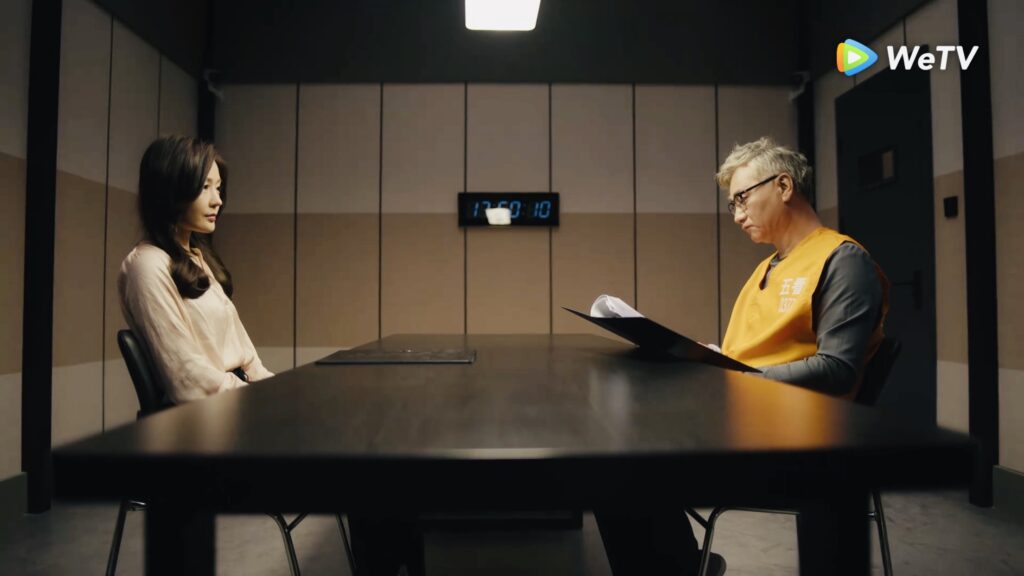 Li Dai tried to contact him several times, but he never answered her call. Li Dai went to Father and Mother Yang's house and knocked on the door. She was there because she wanted to talk to them about Yang Hua.
Qin Shi took Yang Hua to her office to prepare for the dinner meeting. She asked him whether he ever considered returning to his profession as a fund manager in a finance company. Qin Shi told him that it was such a waste since Yang Hua was very talented and intelligent. But Yang Hua felt that being smart was only a way to make his life easier. He did not have any ambition to be the 20% higher class people. He was contented to be a common person in the world.
The dinner meeting turned out to be a dinner party attended by many people from the finance society. Yang Hua and Qin Shi met Tang Yi Hui. She was excited and told Yang Hua to introduce his colleagues to her. Wu Fei stared at them with hostility in her eyes, ready to tear them down. She was angry because Wu Fei and her father had arranged for Tao Jun Hui to be the man of the night. But suddenly Qin Shi and Yang Hua were there to steal the limelight.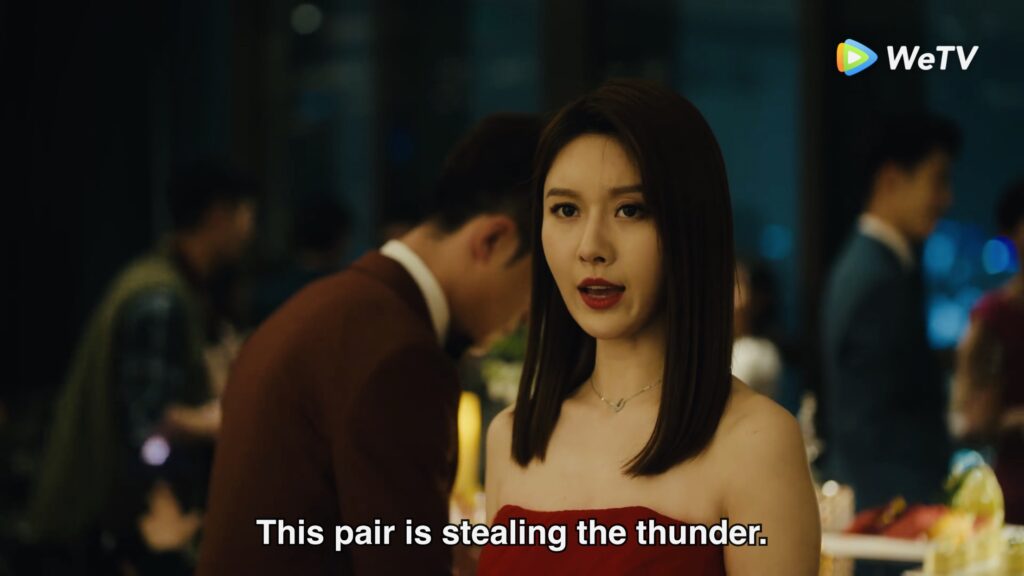 Qin Shi thought that Yang Hua was nervous because there were many people around. But in reality, she was the nervous one. Yang Hua comforted Qin Shi and reassured her that everything would be alright. Yang Hua showed his secret ability that night. He went to a foreigner and addressed him. The man did not seem to recognize him, but Yang Hua told him that they had met in New York. When he was drunk, it was Yang Hua who took the man home.
The foreigner might not remember him at all but he thanked Yang Hua out of courtesy. Yang Hua introduced Qin Shi to him, and soon after they engaged in a conversation with other foreigners. Tang Yi Hui saw them and smiled. She was sure her idea to invite Yang Hua and Qin Shi was brilliant.
He Dong Na arrived at the party. Wu Fei, Tang Yi Hui, and Tao Jun Hui welcomed her. Wu Fei asked her what she wanted to eat and ordered Tao Jun Hui to take the food for her. However, Tang Yi Hui must swallow her disappointment because Hu Ping could not attend the party. But his Vice President was there on his behalf and Tang Yi Hui could talk to him about the investment.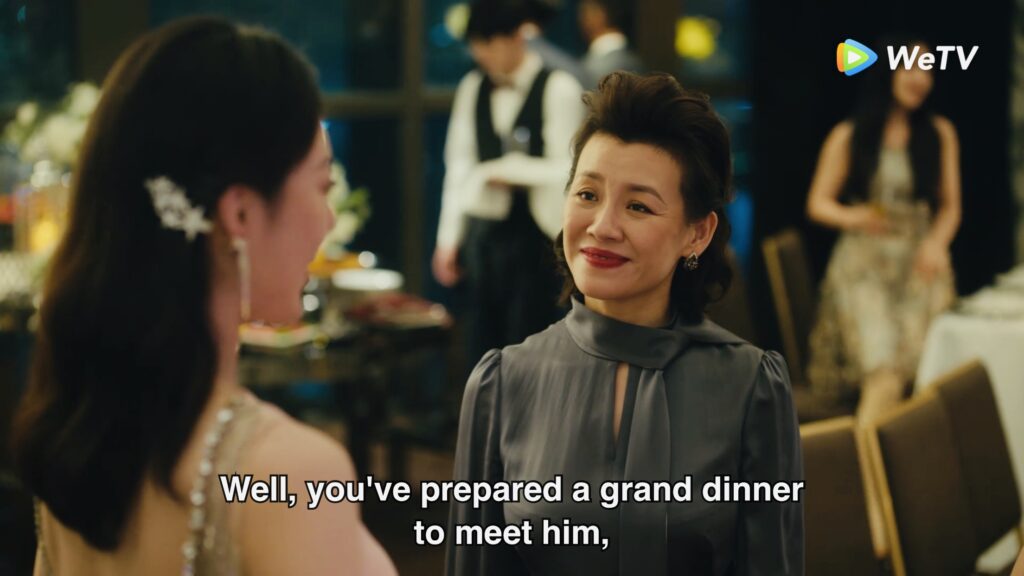 A Chinese man with gold-rimmed glasses was seen walking among the guests. He saw Yang Hua and called him by his English name, James. Yang Hua turned around and saw the man. The smile was instantly wiped out from Yang Hua's face. While the Chinese man's smile was getting wider when he saw that Yang Hua recognized him.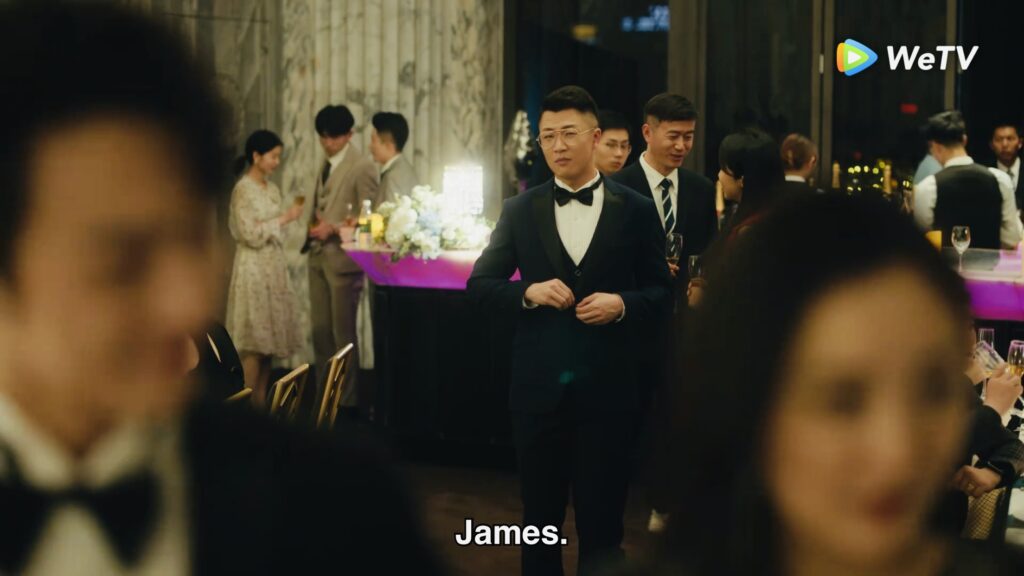 Wang Jie Sen's presence brought back old memories of the darkest time of his life. Back then before he left Hengli, the finance company, Qiu Jian Xiang yelled at him. Yang Hua put in his resignation letter and returned all of his commission to Qiu Jian Xiang. Even though Qiu Jian Xiang threatened Yang Hua that if he ever walked out the door, he could never enter the securities industry, ever again. But Yang Hua was determined to leave no matter what.
Outside the door, everybody stared at Yang Hua quietly. But Wang Jie Sen came to taunt him. He said that he would report to the board that the mass purchasing of Xinhua Biology stock was Yang Hua's decision. Because he would leave the company, then it would be fine if he became the scapegoat. Yang Hua was angry and pulled his shirt, yet the man still laughed at him and pointed out that their office had many cameras. The meeting destroyed Yang Hua's mood.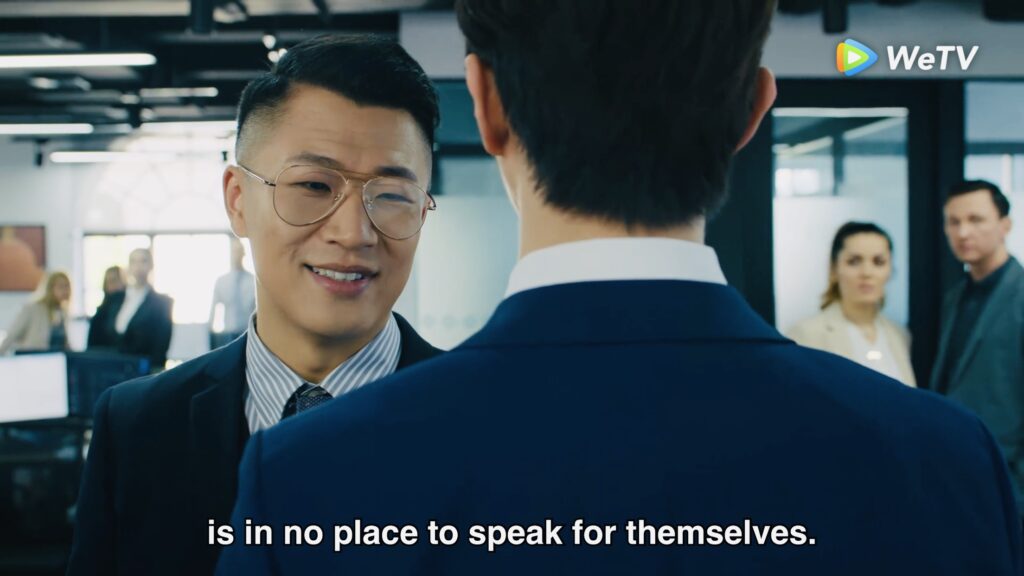 When they sat at the table, Yang Hua's mood was low. He did not say a word and kept looking down. In contrast to Wang Jie Sen who was happy. He praised Yang Hua as the most talented fund manager back then at Qiu Jian Xiang's company, Hengli. Although he said many good things about Yang Hua, the meaning behind his words was to mock him as a failure.
The one who was really interested in his story was Wu Fei. She was the one who mentioned Qiu Jian Xiang's name and it opened a door to Yongli No. 21 matter. She kept asking Wang Jie Sen about what happened at Hengli. After a while, Yang Hua could not take it anymore. He excused himself on the pretense of being unwell.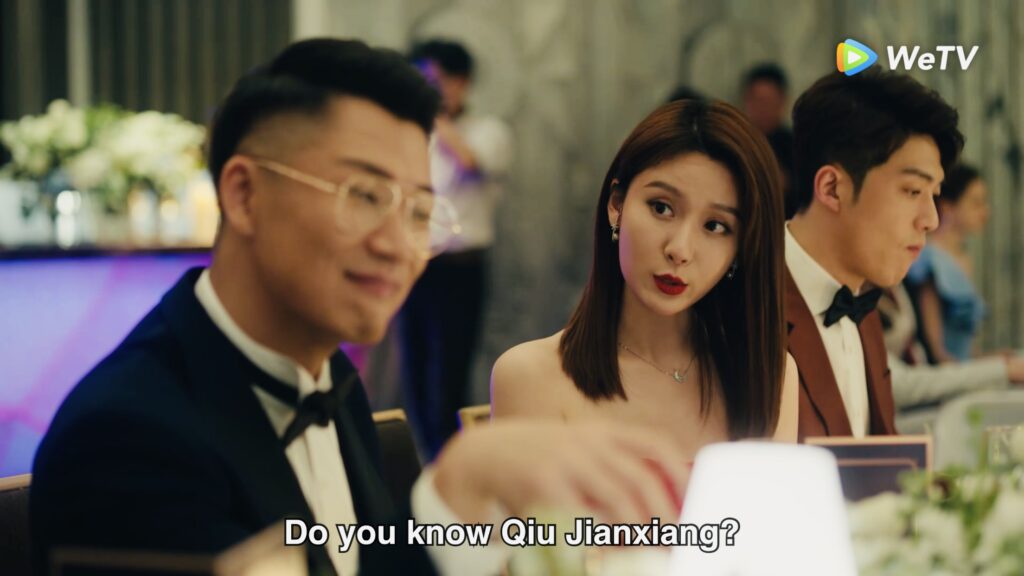 Yang Hua went to the toilet and washed his face. But could not dissipate his bad mood. He kept remembering the past. Back at the table, Wang Jie Sen was not happy when Yang Hua left the table and Qin Shi tried hard to keep her composure although she was worried about Yang Hua.
Wu Fei mentioned He Dong Na's case. At the moment, Tian Hang Hotel still had not given them an answer about the case. Tang Yi Hui reassured that Cheng & Hui would fully support He Dong Na in the case. While they talked about the case, Wang Jie Sen stared at Qin Shi. His curiosity about her was piqued. He told her that he could have a little chat with Yang Hua so they could collaborate in the future. Qin Shi only answered him out of courtesy, but Wu Fei did not seem too happy when Wang Jie Sen talked to Qin Shi.
She immediately asked him about Qiu Jian Xiang's case and it led to another conversation about Yang Hua. Wu Fei bluntly asked Wang Jie Sen whether it was Yang Hua who was involved in Yongli No. 21's case. Wang Jie Sen dodged the question but his smirks said otherwise. Tao Jun Hui looked uncomfortable and Tang Yi Hui stared at Qin Shi.
Tang Yi Hui saw Qin Shi's face was unsightly while Wu Fei was basking in glory. She changed the topic that had drifted away from the man of honor: Hu Ping. Qin Shi left the table to answer Yang Hua's call. He apologized that he could not help her this time and told her that he would be leaving the party early. Yang Hua did not answer when Qin Shi asked where he was.
Qin Shi made an excuse to leave the party to Tang Yi Hui. She called for a driver and tried to call him several times but he did not pick up. Qin Shi searched him around the town and found Yang Hua sitting in front of a convention store. She asked whether he needed to go to the hospital. Yang Hua hugged her and started to cry.
Qin Shi was sad for him. To comfort Yang Hua, Qin Shi took him to eat malatang soup. It was a small restaurant located near her university. She took care of his sauce and picked the vegetables for him. Yang Hua stared at her with a grateful look.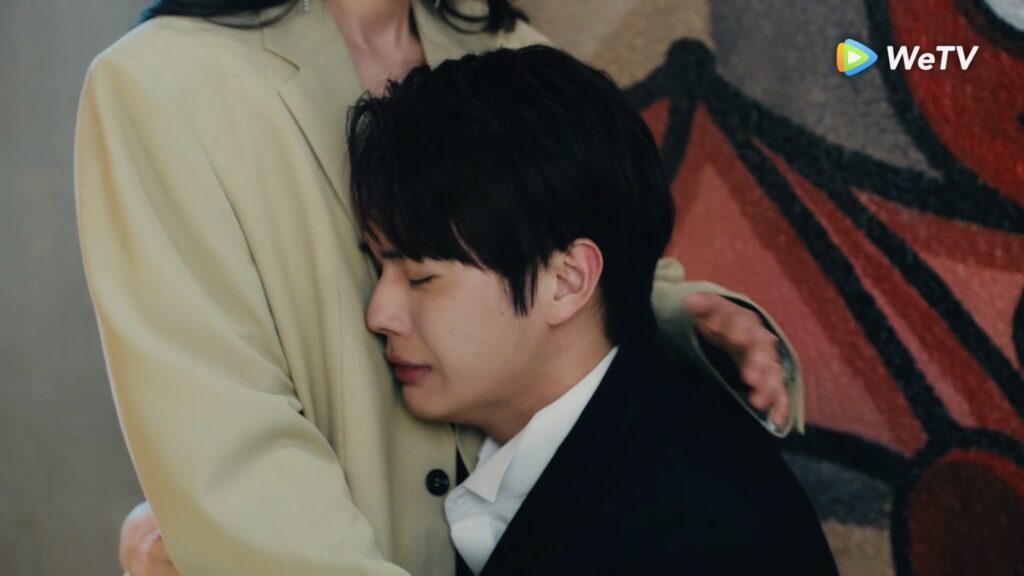 Wu Fei had a feeling of schadenfreude when Qin Shi left the party, she kept talking to Tao Jun Hui about Yang Hua and Yongli No. 21 on their way home.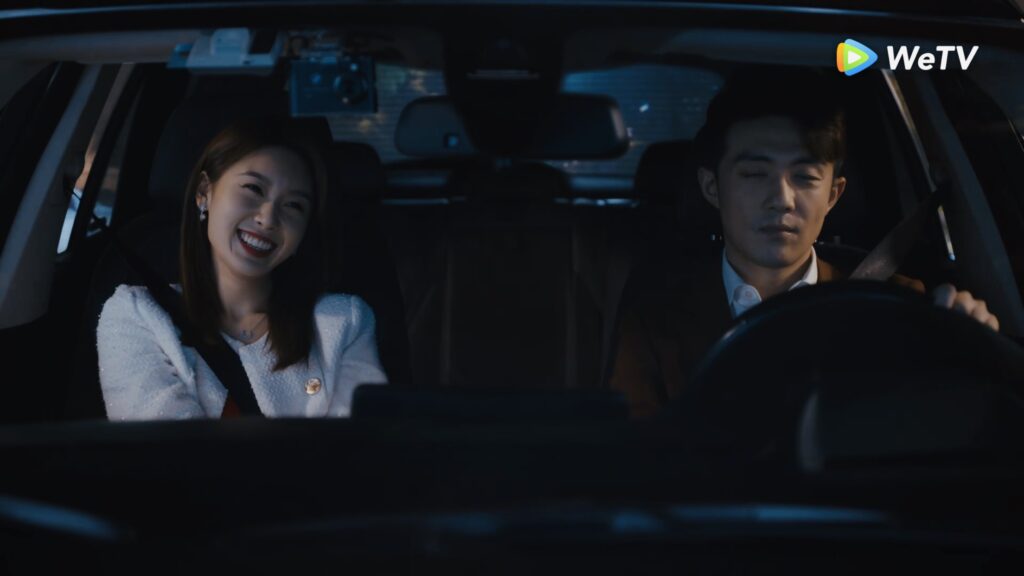 My Two Cents
I just realized, that in Yang Mi's 2016 drama, Eternal Love: Ten Miles of Peach Blossom, there was a god who loved to gossip. His name was Si Ming. And in this drama, the one who loves to gossip in the office is also named Si Ming. Is this a coincidence or is it deliberate? 😁