Title: Scent of Time
Also Known As: 为有暗香来, The Female Supporting Role, Xi Qian Hua, Subtle Fragrance Floating, The Scent of Time
Director: Guo Hao, Bai Yun Mo
Cast: Zhou Ye, Wang Xing Yue, Peng Chu Yue, Zhang Yi Jie, Zhao Qing
Genres: Romance, Drama, Fantasy, Historical
Number Episodes: 30
Date of Release: Oct 13, 2023
Original Network: Youku
Where to watch: HBO Go, Youku
Adapted from the novel "The Female Supporting Role" by Qi Yue Li
Dear readers, November has been kind to me once again. As a romance junkie, I was thrilled when I found new dramas like Love is Panace, Wonderland of Love, and Story of Kunning Palace drama was released this month. Just when I thought that I could not be surprised anymore, I stumbled upon this drama by accident. I decided to give it a go without reading the synopsis and I got hooked on Scent of Time drama. Read this post to find out why I love Scent of Time. Enjoy!
Scent of Time Synopsis
Hua Qian is the daughter of Hua Wen'ang, a butler working for the Zhong Family's century-old Royal Incense business. Back then, incense was an essential commodity, not just for ceremonies, but also for medical purposes. It saved numerous lives and cured the wounded. Hence, the Zhong family held immense power and control in Huangcheng City.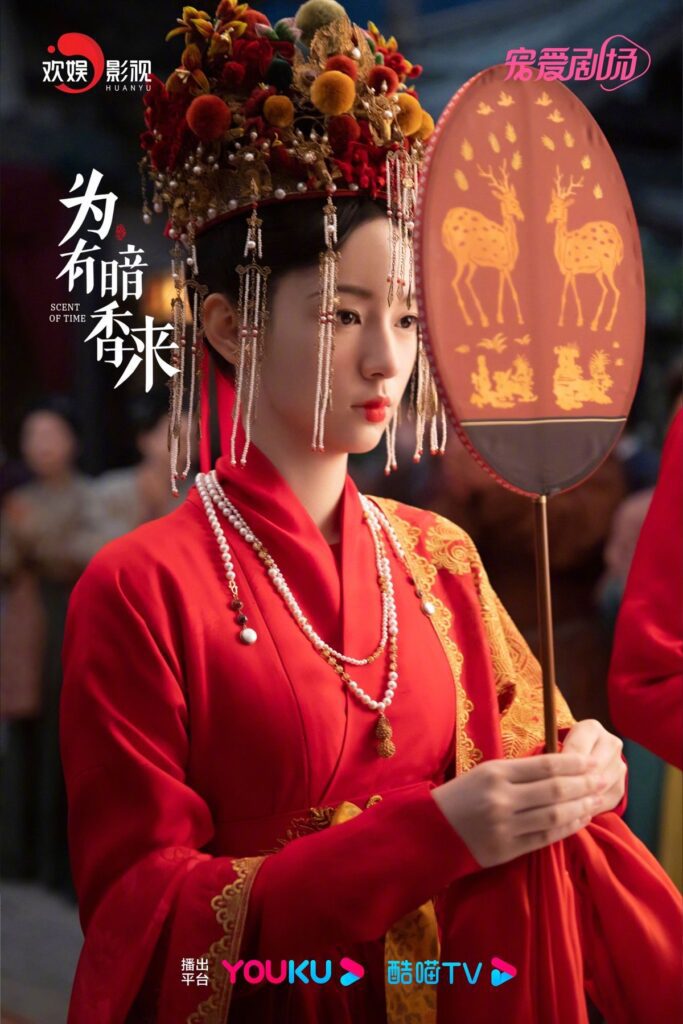 The Hua family met their downfall after they schemed against the butler Mu and his family. The Mu family perished, leaving only one descendant, Mu Yao. She investigated the case again and found out that the Hua family was responsible for everything that had happened. The Hua family was exiled for years before they died. Hua Qian tried to escape, but the yamen officer caught her. She passed out after she saw her mother and brother's bodies had turned cold.
When she woke up, Hua Qian found herself back on her wedding day, two years before the tragedy. She was married to Zhong Ye Lan, and her schemes for the Mu family had taken their course. Her only option was to avoid making things worse and make amends for her mistake.
Therefore, Hua Qian changed her attitude and became a clear-headed person. She avoids emotional entanglements and chooses to support Zhong Ye Lan and Mu Yao's relationship. Hua Qian also made an effort to keep her family on the right path and to keep them from going astray.
During Hua Qian's journey to atone for her crime, she meets several people who did not appear in her past life. She gets to know Zhong Xi Wu, the young Lord of the Zhong family who has feelings for her, and Hua Rong Zhou, a young man who is willing to give his life to protect her.
Will Hua Qian be able to atone for her sins? Or must she accept her destiny and return to her former life?
Scent of Time Review
I was about to write a review about Romance on The Farm drama, when I came across this gem. I did not find this drama in my favorite Chinese drama apps. Instead, I found it while randomly browsing through my husband's HBO Go. I thought I was gonna enjoy The Nun II, but instead, I spent 3 days binge-watching Scent of Time. But hey… it was worth it.
Scent of Time is a story about a villain who gets a second chance to atone for her crime. After the death of her family, Hua Qian was reborn on the day she got married to Zhong Ye Lan. He was Hua Qian's lover for years. The affection was so strong that it led to her obsession and jealousy.
Hua Qian's heart was so black that she wished her father would get rid of the Mu family. She was afraid that Zhong Ye Lan would know that she once pretended to be Mu Yao. After her rebirth, Hua Qian regretted everything and decided to do whatever it took to avoid the tragedy.
Scent of Time was an adaptation of a novel. I looked at the novel, and the general story was quite different. In the novel, Hua Qian is a modern girl who was transmigrated into the body of Hua Qian, a princess consort. Her husband, Zhong Ye Lan, was a prince.
Zhong Xi Wu was the Emperor, and Mistress Zhong was the Empress Dowager. Meanwhile her father was the prime minister and Mu Yao's father was a minister. I was impressed that they could change the background from an imperial household to a powerful business family.
Of course, the Zhongs are still connected to the royal family, otherwise, we would not be able to justify how the Zhongs have some noble airs around them and why the people would be fawning over them. This new background story is a breath of fresh air.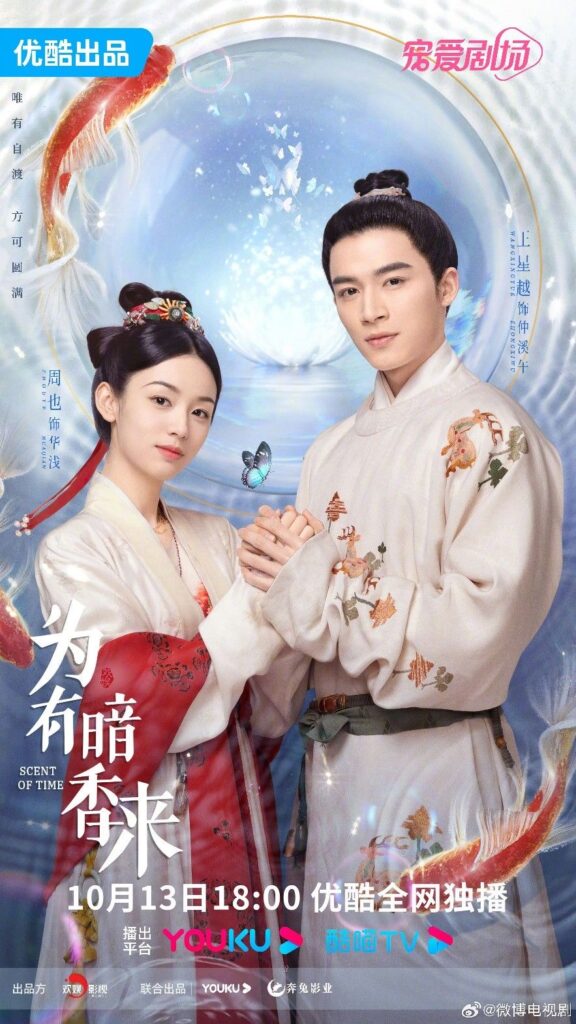 Before we begin, the term "butler" may be confusing. At first, I had always thought that a butler was the head servant of a household. But then I looked at the whole situation in terms of the modern world. Imagine the Zhong family incense shop as a big pharmaceutical company.
Zhong Xi Wu was the company's president. Therefore, the people who managed the shops could be considered managers or branch managers. Hua Qian's father held the position of head butler, so I considered him to be a director. Is it clear enough? I hope so.
The story and characters were well-written. I was able to feel the intense emotions as I went through the 30 episodes. I was crying and getting frustrated due to the angst. The misunderstanding between Hua Qian and Zhong Xi Wu also made me grind my teeth.
But I also laughed a lot because there was a hint of comedy in the drama. Mostly because of the interaction between Hua Qian and her servants. She was a woman with an open mind, so Hua Qian was different from any other female character in this drama. Her sense of humor was surpassing everyone else's in Scent of Time.
My favorite was the ancestor worship ritual in episode 7. Our main character, Hua Qian, was waiting for the assassin to attack during the ritual. She was excited when the assassin appeared. She laughed and clapped in happiness. Other women were screaming in panic.
However, some things needed more explanation. Such as the Ge clan, who were often mentioned in the story as enemies and competitors of the Zhong family. There was no in-depth explanation about them, except that they were fake incense fraudsters.
The Ge family was not the only one, I was also confused about the background of Wu Shuo Mo. And why the south shops were so important that they were mentioned several times, but not with the east, west, or north. And I almost forgot about Hua Qian's early life story, which was kind of vague.
I have to interpret or guess the overall situations that happened. It's kind of annoying. But because the story has to be shortened from the novel, I gave up my rant.
Scent of Time was a romantic drama. But I was disappointed because there was no intimate scene in this drama. I don't see any kissing scene, not even a peck on the cheek. The furthest we could get was a hug. Why was one Chinese drama full of kissing and intimate scenes while the other was as dry as the desert? It seems unfair to a romance junkie like me…
The main story of Scent of Time was Hua Qian's efforts to change her destiny. Romance plays a big role, as she is infatuated with Zhong Ye Lan. But after going through a painful ordeal of unrequited love and a near-death experience, Hua Qian's mind became clear and she let go of her obsession with him.
But later, Zhong Xi Wu appeared. He was the lord of the Zhong family and the biological son of Mistress Zhong, the Eldest Princess. Zhong Xi Wu showed that he had some feelings for Hua Qian. However, his background and position become an obstacle for him to pursue Hua Qian.
Zhong Xi Wu was jealous of Hua Rong Zhou, Hua Qian's guard. He could see that Hua Rong Zhou also had a crush on his master. So even if we did not include Mu Yao in the plot, the romance was already complicated.
Overall, although there were some plot holes, the execution was very good. You could still follow and enjoy the story completely. The visuals were also good and meticulously arranged. All thanks to the directors, Bai Yun Mo and Guo Hao.
Bai Yun Mo and Guo Hao were experienced directors. You might have seen their dramas before Scent of Time. Bai Yun Mo was the man behind Royal Feast drama, Song of Youth, and Court Lady. Meanwhile, Guo Hao created Delicacies Destiny, Marvelous Woman, Winter Begonia, and Story of Yanxi Palace. I liked all of these dramas very much. All of them were very well made. So, dear readers, if you haven't watched these dramas, I strongly recommend you put them on your watch list.
The beautiful Zhou Ye once again nailed her role as Hua Qian, a villain who wanted to atone for her sin. Her remorse and determination were vividly expressed on her face. She always put 101% effort into her role as she did in Back from the Brink and Word of Honor. In Scent of Time, I try to ignore the fact that she always raises her head in many scenes. Probably it was a natural gesture for Hua Qian, who used to be a cocky person.
Wang Xing Yue played the young lord of the Zhong family, Zhong Xi Wu. This is my second time watching his acting. There has been a lot of improvement in his acting. When he acted as Zhu Zhou Kui in Delicacies Destiny, I did not see any intense emotions.
But this time as Zhong Xi Wu, I can see many things that happened through his expression. He could shed his tears easily, and his gentle appearance really fits Zhong Xi Wu's kind but stubborn nature.
I saw Peng Chu Yue in Fight Break Sphere a long time ago. I did not have much of an impression, except that his character was a student of the Medicine Sect. However, at the beginning of the drama, I did not think his acting was very impressive.
However, as the story became more complicated and Zhong Ye Lan was caught in a state of hesitation, Peng Chu Yue was able to convey Zhong Ye Lan's feelings perfectly. But later, after he had settled with Mu Yao, Zhong Ye Lan's vivid expression became dull again.
Zhang Yi Jie, how come I've never seen any of his dramas, even though his filmography was quite long? His acting was not the most striking in this drama. However his character was very well written, and Zhang Yi Jie worked hard to convey all the suppressed feelings of Hua Rong Zhou. He also did a very good job in the fight scenes.
I like to see Li Yun Rui again after the famous Love Like the Galaxy. This time he played the dandy Wu Shuo Mo, who unfortunately did not get the woman he loves because she did not love him. Li Yun Rui had playful eyes and a cunning smile that attracted me so much. Even though his character was annoying, I still loved him very much.
The Cinematography
I find no fault with this drama. The animation in the opening and closing scenes was quite good. I really like the soundtrack even though I could not understand the lyrics. I usually skip the drama intro, but this time I never miss any of the episode intros. The soundtrack evokes a bittersweet feeling in my heart.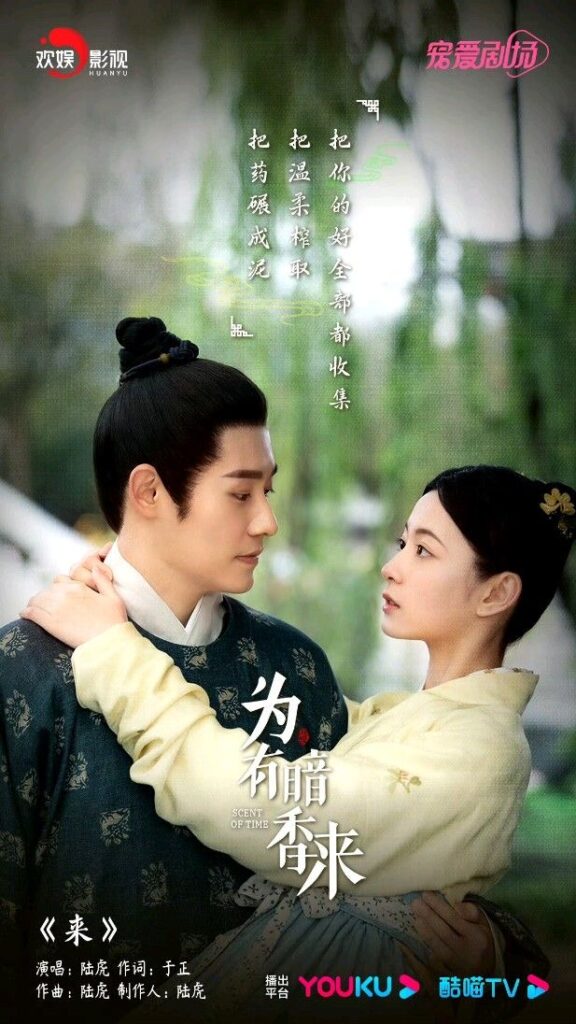 There was something special about the jewelry worn in this drama. I've seen too many gold headdresses inlaid with colorful gems in many historical dramas. But in Scent of Time, Hua Qian and the other ladies did not wear a fancy headdress.
Only Mistress Zhong used the gold hairpins. The rest of the women wore small hairpins made from colorful beads, and some of them wrapped their heads in cloth. I thought only older women wore a piece of cloth on their heads, like Mrs. Hua and Li Momo. But in the latter episode, Hua Qian also wore this kind of cloth on her head.
The women also use ribbons in their hair. Sometimes the ribbon was facing forward and sometimes the ribbon was at the backside. The hairpins were mostly designed in flower shapes. They look very pretty. I personally love colorful objects, so they were a feast for my eyes.
The Story
"The reality is all too painful for you, but running away is not the solution", said Zhong Xi Wu.
Hua Qian just wants a simple life. Why is it so hard? As a villain who got a second chance to live, she carefully considers her actions. Hua Qian did not want to see her beloved one die in front of her once again.
The first thing she did was to pave the way for Mu Yao and Zhong Ye Lan's relationship. Every tragedy in the past happened because of her crazy jealousy of Mu Yao. Hua Qian began to put some distance between herself and Zhong Ye Lan, trying to make him realize his feelings for Mu Yao.
By doing these things, Hua Qian hoped that Zhong Ye Lan would consider her kindness. She did all of this to prevent Zhong Ye Lan from teaming up with Mu Yao and destroying the Hua family.
Next, she wanted to atone for her sin towards Mu Yao. Hua Qian kept on telling Mu Yao that she realized her mistake and regretted it. Hua Qian also said that she would compensate Mu Yao one by one. Hua Qian hoped that Mu Yao would see her sincerity. But it was hard to change someone's mind who already hated you. Hua Qian had to strategize to avoid repeating the same mistake.
Later, Hua Qian wanted to tell Zhong Ye Lan the truth about her deception. When she was a kid, she pretended to be Mu Yao. This happened when Mu Yao had just moved to Huangcheng City and went to the temple. She saw the sad-looking Zhong ye Lan praying for his deceased mother. She accompanied him inside the prayer hall and left him with a good impression of her.
In addition, Zhong Ye Lan gave her his jade pendant as a token of their friendship. Hua Qian noticed them. Since Mu Yao wore a veil and never revealed her name, Hua Qian easily assumed her identity. What about the pendant? Hua Qian told Zhong Ye Lan that Hua Shen broke the pendant.
Despite having memories of her family's past life, Hua Qian's past life was different from her current life. In her previous life, Hua Qian didn't have any ties with Zhong Xi Wu, or Hua Rong Zhou. Her only maid was Qian Zhi, who died after being tortured by the soldier.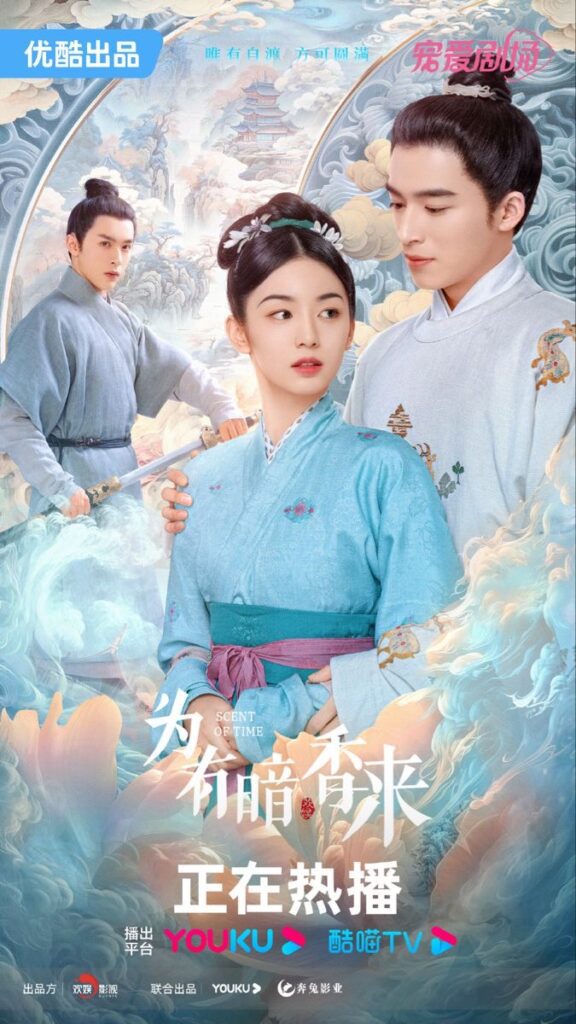 In this life, however, Hua Qian got to know Zhong Xi Wu very well. She also sought to get close to Mistress Zhong because it was a good chance to be connected to an important person like her, and she also got to know Meng Yifei and Qin Ru Xin who were temporarily staying in Zhong Garden.
These new acquaintances gradually shifted the trajectory of her life. In her second life, Hua Qian is almost killed twice. The first time was due to a miscalculation on her part, and the second time was due to someone secretly plotting against her.
However, fate sometimes cannot be changed. Despite her best efforts to protect her family, Hua Qian had to face the death of Hua Shen, her only brother, once again. Hua Shen was a good-for-nothing who loved to drink and visit brothels. He was arrogant and stupid, but Hua Shen was the first person who truly loved and cared for Hua Qian. She used to dislike his foolishness, but Hua Qian couldn't just ignore Hua Shen when he was in trouble.
And when she was in a dire situation, Hua Shen instinctively protected her, resulting in his death. Hua Shen's death led her to the most important decision of her life where she had to choose between her own feelings and her family.
And then there was Hua Rong Zhou. This mysterious character appeared in her current life. When Hua Qian needed help, he was the first to offer his hand. Hua Rong Zhou was only a guard but his strong affection for Hua Qian, made the most powerful person feel threatened.
Hua Qian may not have realized it, but she had a special place in her heart for him. Because of his feelings for her, Hua Rong Zhou had to endure years of hardship, but he never wavered because his love for her was greater than anything else.
The drama's ending was an open ending. It was quite painful, but very rational and logical. Although I was sad, a part of me was quite satisfied with it. To learn about the ending, please read our Ending Explained post.
The Characters
Hua Qian
Hua Qian (played by Zhou Ye) was a smart and determined person. Once reborn, she carefully considered her actions and prioritized her family's safety to avoid losing her loved ones again. When she was younger, as the only daughter of the Hua family, she was spoiled and pampered. No one ever tried to discipline her, so she grew up as a devious villain who posed as a weak and innocent girl aka White Lotus.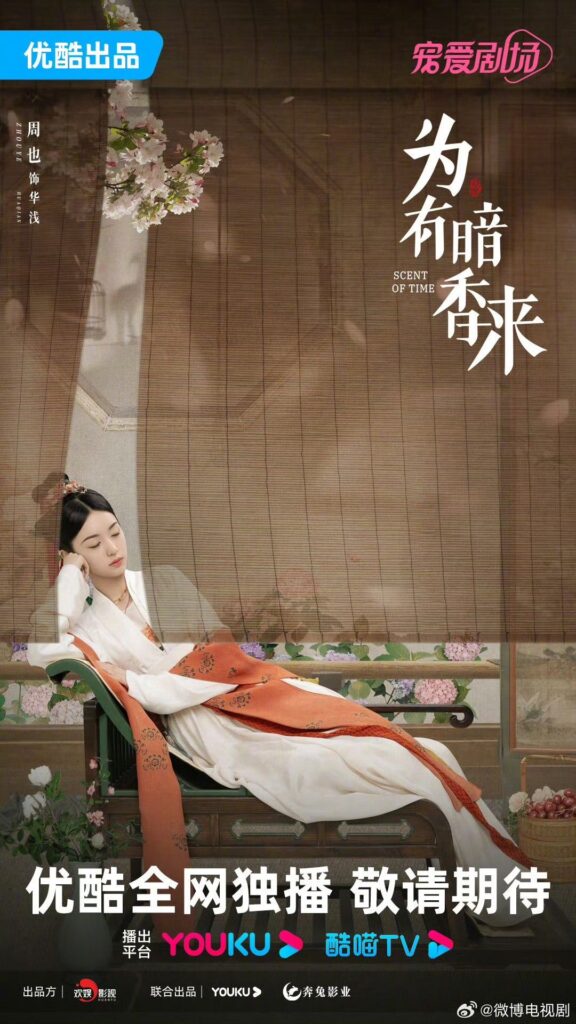 Though her family indulged her, Hua Qian did not live a life without hardship. Her father, Hua Wen'ang was ambitious and greedy for wealth and power. He worked hard to fulfill his desire and neglected his family. Meanwhile, Mrs. Hua favored her son, Hua Shen. No one paid attention to Hua Qian's needs.
Mrs. Hua favored her son because of a story from her past. When she was young, her father's concubine suppressed her mother because she couldn't have a son. Meanwhile, the concubine was able to give birth to a son. As a result, young Mrs. Hua grew up believing that a son was more valuable than a daughter. Hua Shen was free to do whatever he wanted because his mother always defended him when he made mistakes.
Hua Qian worked hard to keep her family from erring. Even though it was difficult to convince her father, Hua Wen'ang still had some awareness. Meanwhile, she used a stern approach to make her brother see his mistakes.
Hua Qian has been in love with Zhong Ye Lan for years. It started when they were still children. Hua Qian grew up with Zhong Ye Lan and Zhong Xi Wu. She used to claim to be the little girl who accompanied Zhong Ye Lan to the temple. But in reality, the little girl was Mu Yao. This secret was kept for a long time, but after Hua Qian was reborn, it became a thorn in her mind. Hua Qian regrets everything she did in the past.
Her love and obsession for Zhong Ye Lan has turned her into a villain. But a near-death experience has transformed her completely. Despite being a villain, she always had compassion for those from lower status. Before and after she was reborn, she always stood up for the servants and everyone around her.
Zhong Xi Wu
As the head of the Zhong family, Zhong Xi Wu (played by Wang Xing Yue) acted as the representative of the family. He appeared to be warm and friendly, but that was a false facade. In reality, Zhong Xi Wu was intelligent, cunning, stubborn, and domineering. He never submitted to others. Zhong Xi Wu's mother was the Eldest Princess and it made him a member of the Royal family.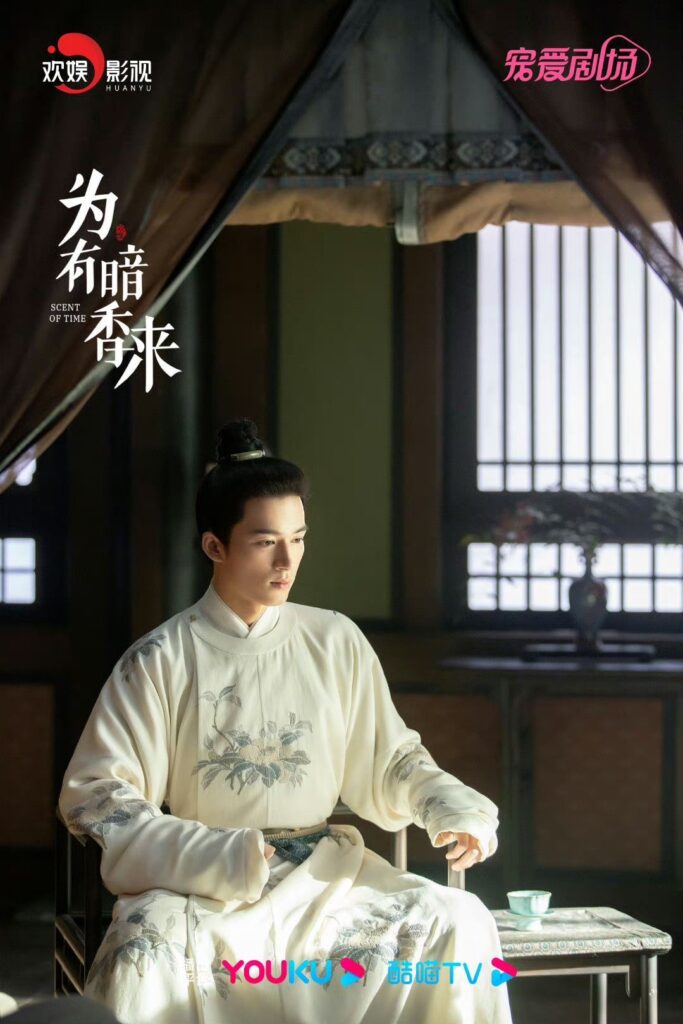 Additionally, being the only descendant of the Zhong family meant that his actions were restricted. Whenever he desired something, including love, he had to take numerous factors into consideration.
Zhong Xi Wu had feelings for Hua Qian for a very long time. He was well aware that the real Hua Qian was a selfish, spoiled, and possessive person. She would do anything to marry Zhong Ye Lan. When he saw that Hua Qian paved the way for Mu Yao at Zhong Ye Lan's birthday banquet, he became suspicious of her. So he asked her if she was the real Hua Qian or not.
Since they were young, Zhong Xi Wu knew that Hua Qian only had eyes for his senior and chose to hide his feelings. It wasn't until Zhong Ye Lan treated Hua Qian coldly after she saved him from an arrow that Zhong Xi Wu realized he was wrong.
Zhong Xi Wu wanted to do something for Hua Qian, but their encounter started badly, and she was already wary of him. Zhong Xi Wu was unaware that Hua Qian's focus was on the safety of her family. Although she secretly liked him, Hua Qian had chosen her family above everything else.
Zhong Xi Wu had never loved anyone other than Hua Qian. His mother invited two young women, the daughters of renowned butlers from the Zhong family, to live in their mansion. Their names were Meng Yi Fei and Qin Ru Xin. However, neither of them caught his attention.
Zhong Ye Lan
Zhong Ye Lan (played by Peng Chu Yue) was calm and composed. He was the last disciple of the late Lord Zhong, Zhong Xi Wu's father. Although Mistress Zhong and Zhong Xi Wu treated him as family, he always maintained appropriate boundaries. He treated them warmly and respectfully but also kept some distance.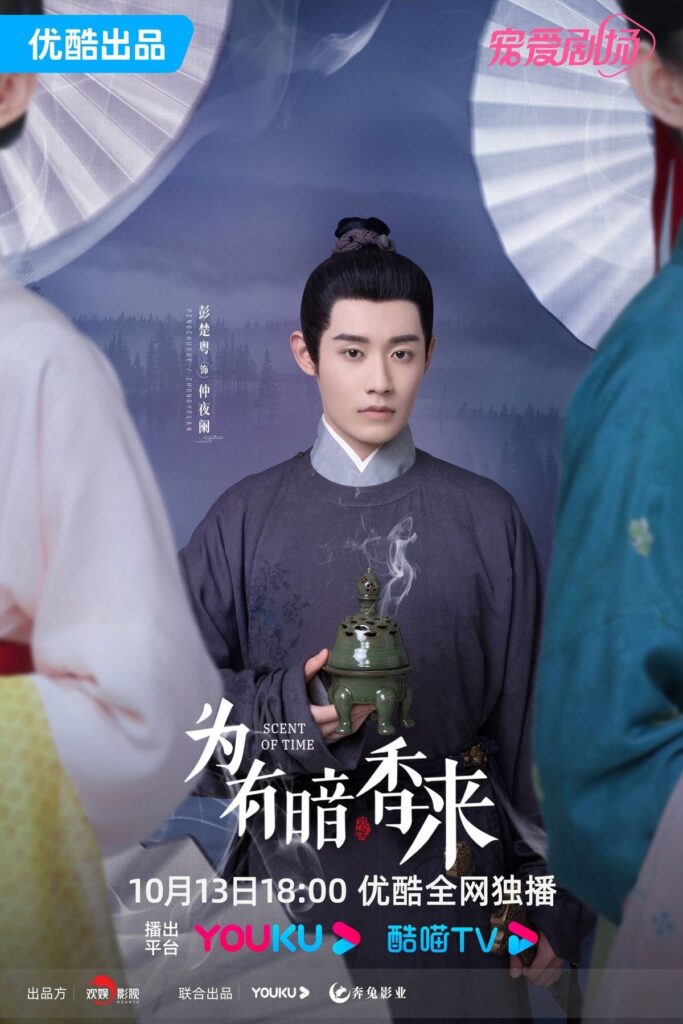 Zhong Ye Lan was excellent at conducting business, which made him Zhong Xi Wu's most trusted person because Zhong Xi Wu knew that Zhong Ye Lan was not greedy for wealth and power.
Zhong Ye Lan has never seen Hua Qian as a love interest. The way he treated her was akin to how he treated a work colleague without any feelings involved. However, Zhong Ye Lan was a gentleman and took responsibility after Hua Qian drugged him. Despite being drunk in bed, they didn't do anything, but Zhong Ye Lan was willing to marry her.
It's likely that Zhong Ye Lan treated Hua Qian indifferently because he already had Mu Yao in his heart. If he had, Zhong Ye Lan wouldn't have left Hua Qian on their wedding night to find Mu Yao. And he wouldn't have left Hua Qian alone when they visited the Hua family.
But Hua Qian was able to shake his world. On the second day after his wedding, he went to see Hua Qian and was stunned when he saw her. And it happened several times. Especially when she came with a bowl of Longevity Noodles and after the love confession incident on his birthday.
Unfortunately, Hua Qian has already made up her mind to stay away from him for the sake of her family. So even though he refused to divorce her because he cared and wanted to protect her, Hua Qian's determination was unshakable. Zhong Ye Lan could only bury his feelings because he promised to only have Mu Yao in his heart and home.
Mu Yao
Mu Yao (played by Zhao Qing) was the daughter of Mu Yun Ping, a butler at Zhong Incense Shop. In Hua Qian's previous life, the Mu family perished because of Hua Qian and her father's plot. Mu Yao and Hua Qian began as friends, but their relationship ended as enemies. However, it was not entirely Mu Yao's fault. Hua Qian was a vicious person who schemed against her for the sake of Zhong Ye Lan.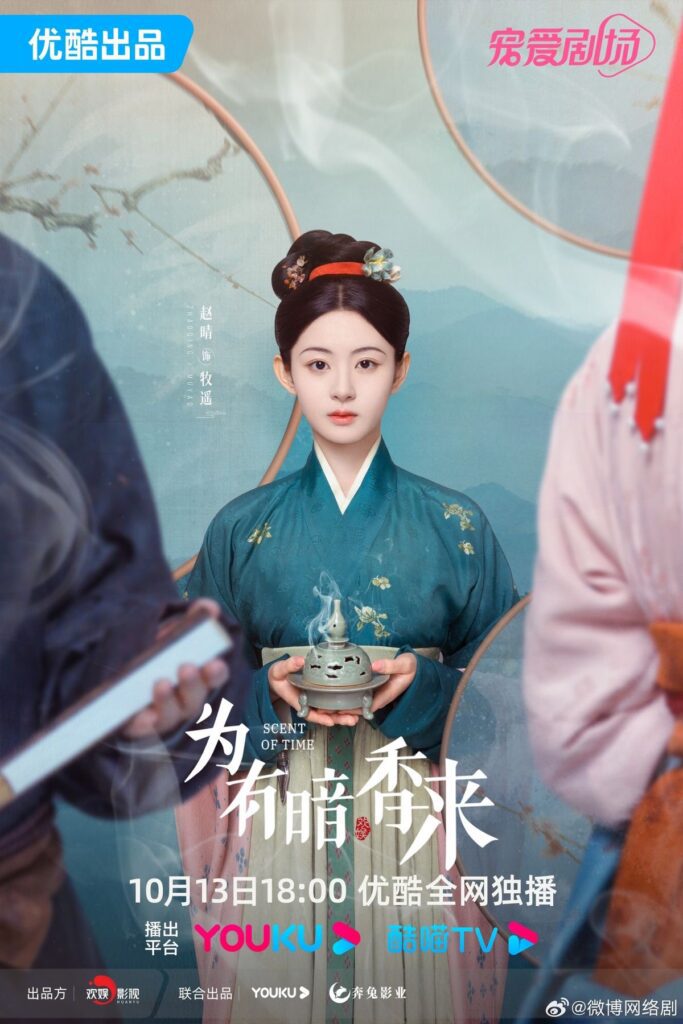 Despite appearing frail, Mu Yao was actually stronger than Hua Qian and skilled in martial arts. Mu Yao was initially naive until her family was forced into exile. She became much tougher, bitter, and stubborn. Nonetheless, many people are still drawn to her. For example, Zhong Ye Lan and Wu Shuo Mo.
Even though Zhong Ye Lan always loved her, Mu Yao was not convinced. He rarely spoke, making it difficult to understand him. In contrast, Hua Qian was intelligent and shrewd. Therefore, Mu Yao needed confirmation. This is why she repeatedly tested Zhong Ye Lan's love for her.
Hua Rong Zhou
Hua Rong Zhou's (played by Zhang Yi Jie) family name used to be Qi. He was a stubborn person with a firm determination. One of his strong points was his utmost loyalty to Hua Qian. His affection was written all over his face. Everyone could see it except for Hua Qian. The way she treated him was affectionate, but it was not a romantic feeling. In my opinion, it was like familial love. You know, like siblings bonded with each other.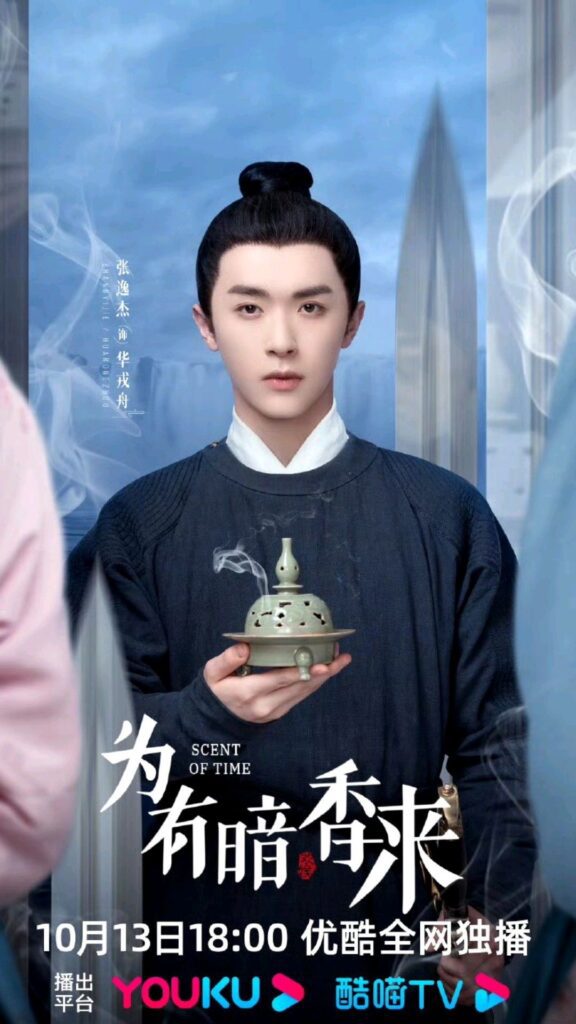 Hua Rong Zhou's past was painful, and he also had mother issues. The young Qi Rong Zhou was born in a common household. His father was a rural scholar with great ambitions but was lazy. His mother was the breadwinner. She worked hard to feed the family, but when Rong Zhou was 5 years old, she died of tuberculosis.
Mr. Qi remarried the next year and had another son with his second wife. When he was 10 years old, famine struck the village. His stepmother urged his father to sell Rong Zhou. Jealous of his late mother, Rong Zhou's stepmother sold him to a notorious merchant named Li.
Mr. Li and his wife always tortured the children, and most of them ended up dead. Mr. Li loves to hear the children cry and scream when he whips them. While his wife used them as playthings. Rong Zhou finally escaped and was afraid that they would chase him, so he set fire to the house. He ended up begging on the streets until he met a craftsman named Wei Xian who took him as his apprentice.
Unfortunately, Wei Xian also liked to torture Rong Zhou. He relentlessly tried to escape from her clutch. He returned to the streets as a beggar before he met Hua Qian. Impressed by her kindness, Rong Zhou decided to take Hua as his surname.
After he arrived at Hua's residence, Hua Rong Zhou saw that she was unarmed. Hua Rong Zhou went to Wei Xian to buy the knife bracelet for Hua Qian. But before he left, Wei Xian tried to catch him again and attacked him with a hidden weapon. Hua Rong killed Zhou on instinct. The killing of the Li couple and Wei Xian became a reason for Zhong Xi Wu to imprison Hua Rong Zhou.
The Conclusion
Scent of Time drama is a must-see gem. The well-written story and characters had me engrossed from episode one. I didn't move from my chair for a long time as my eyes were glued to the screen. Scent of Time was about a tragedy. But it was written so beautifully that I could feel the bitterness but not the frustration that would make me want to throw away the iPad.
I highly recommend adding this drama to your watchlist. Be sure to clear your schedule before starting, as you won't be able to stop once you've started an episode. Gather your snacks, tissues, and plenty of drinks. You will need them to replenish your tear ducts, which are likely empty due to excessive binge-watching the sad scenes.
You may want to apply some eye cream to nourish your tired eyes as well. Trust me, it was all worth it. Don't forget to share your thoughts on this Scent of Time drama with us, dear readers. Ciao!