Title: Word of Honor
Also Known as: 山河令, Tian Ya Ke, Faraway Wanderers, Shen Ha Ling, A Tale of the Wanderers
Director: Gary Sing, Jones Ma, Li Hong Yu
Screenwriter: Xiao Chu
Genres: Wuxia, Mystery, Fantasy, Political
Country: China
Type: Drama
Number of Episodes: 36+1
Year: 2021
Original Network: Youku
Adapted from the novel Faraway Wanderers by Priest
Word Of Honor Synopsis
Word of Honor is a Chinese drama released in 2021. The story is about Zhou Zi Shu is the leader of Windows of Heaven, an assassin organization that pledges loyalty to Prince Jin. As a loyal member of the Windows of Heaven, he must obey every order given to him, including killing the member of his sect, the Four Season Manor. Hence, he killed all the 81 members of his sect, including his master.
Silently drowned in sorrow and remorse, Zhou Zi Shu decided to leave the organization. He made a plan to leave the organization. But the plan required a sacrifice. Zhou Zi Su administered the cruelest torture of Windows of Heaven to himself, The 7 Nails of Torment. He managed to prevent himself from death, but he would still suffer from pain and his body would gradually become weak before death came, 3 years later.
To hide from the organization, the former prestigious Zhou Zi Shu, the leader of Windows of Heaven, transforms himself into a drunkard beggar and lives a worry-free life.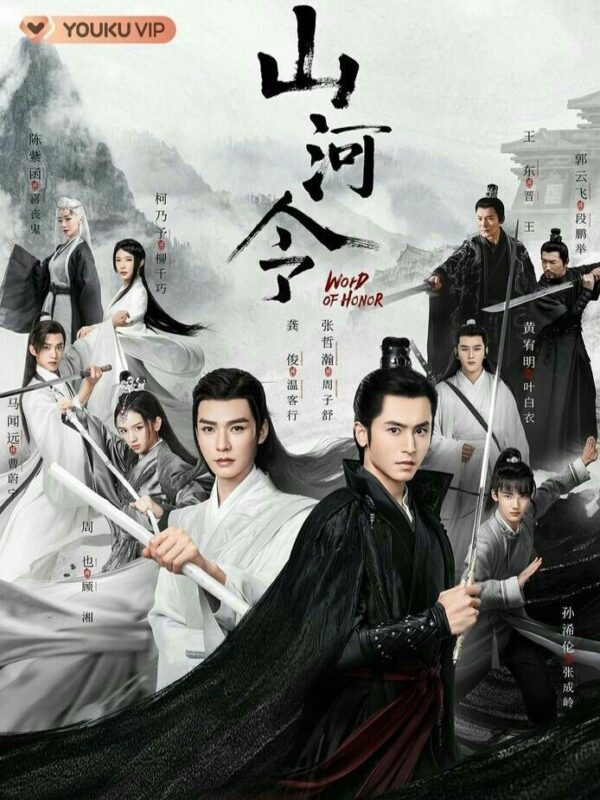 But his plan was for naught, the jianghu (martial arts world) was in turmoil because of the Glazed Armour. Zi Shu was dragged into it.
The Story Goes
On his journey, he crossed paths with Wen Ke Xing. A mysterious person who was attracted to him. Ke Xing helped him every time Zi Shu was in danger. But his motives remained hidden.
Fate brought them together. Therefore, accompanied by Zi Shu's little disciple Zhang Cheng Lin and Ke Xing's maid Gu Xiang, they wander around Jianghu. Each of them carried a secret and their own motives.
Will Zi Shu be able to fulfill his dream of living a worry-free life with his soulmate Ke Xing?
Word Of Honor Review
It's a bit hard for me to understand this drama since it was a straight wuxia that involved many sects and loads of characters. I keep on writing the wrong name in this review and I should check it more than twice just to make sure that everything was right. Aahh.. my aging brain is suffering.. 😆
Word of Honor tells you the story of Zhou Zi Shu (played by Zhang Zhe Han) and Wen Ke Xing (played by Gong Jun). A pair of soulmates who wander around the jianghu. Usually, I don't watch the danmei genre. But Word of Honor was soooo famous, and everybody was making comments about it. Hence, I decided to watch it.
The relationship between Zhou Zi Shu and Wen Ke Xing was stated as a soulmate. It was a smart way to avoid Chinese censorship without losing the excitement. Even though they made it a friendship between the two, it's impossible to miss the cue. Subtle hints of romance were displayed blatantly. You will see it through many small gestures such as eye glances, smiles, lingering eye contact, hugs, and, of course, a romantic getaway under the moonlight.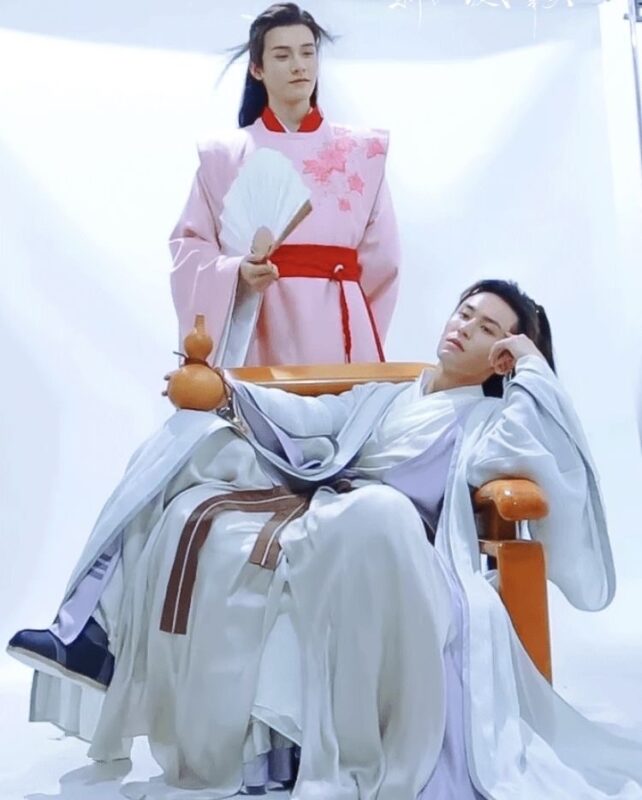 The perfect presentation of Word of Honor was borne from the hard work of our directors, Gary Sing, Jones Ma, and Li Yong Hu. All of them were veteran directors with an impressive filmography list.
Word of Honor was adapted from a danmei (Boys Love or BL) genre novel, Faraway Wanderers, written by Priest, the same author that wrote Guardian and Legend of Fei. Her works have also been adapted into manhua and donghua formats.
The Word of Honor script was written solely by scriptwriter Xiao Chu. She was the only scriptwriter for this drama.
The Casts & Characters
My first impression of Word of Honor was…. WOOHOO! I can't believe that Gong Jun would be looking dashing in this drama. Especially when he was wearing the green robe. My jaw instantly dropped at the sight of him. Although Zhang Zhe Han was handsome as he always did, just like in Nirvana In Fire drama. But this time, I chose Gong Jun.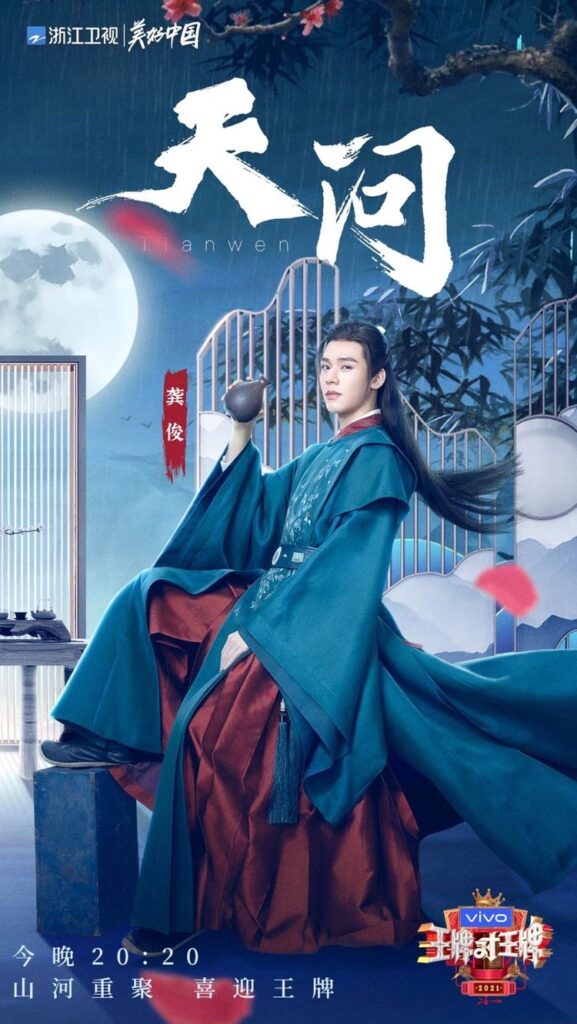 Main Roles Just Superb
I watched Gong Jun for the first time in Unique Lady. He was handsome, but in my view, his acting was just right. But in this cdrama, he was striking and his acting was waaaay more natural. Wen Ke Xing was a complicated character. He was a two-faced person. As the leader of the Ghost Valley, he was crafty, shrewish, and cruel. As Philanthropist Wen, he was a kind, helpful, patient, righteous person, and passionate person. Ke Xing's flirtatious manners somehow remind me of Zhangsun Wuji from The Legend of Fuyao.
It was amusing to watch Gong Jun change his expressions as Wen Ke Xing. His emotion was displayed openly on his face. He could manipulate his microexpressions at high speed. I also find it entertaining to guess the meaning behind his expressions, such as the half smile, the eye roll, or the head tilt. My favorite one is when Ke Xing raises his eyebrow. And don't forget the jealous expressions. He was sooo adorable… 😍
Zhou Zi Shu was the exact opposite of Wen Ke Xing. If we look from the outside, he was a cold, cruel, and clever person. He hides his feelings very deeply. But underneath the cold demeanor, Zi Shu was a gentle and loving person, he took good care of the people he loved. We can all see the loving gaze every time he looks at Ke Xing.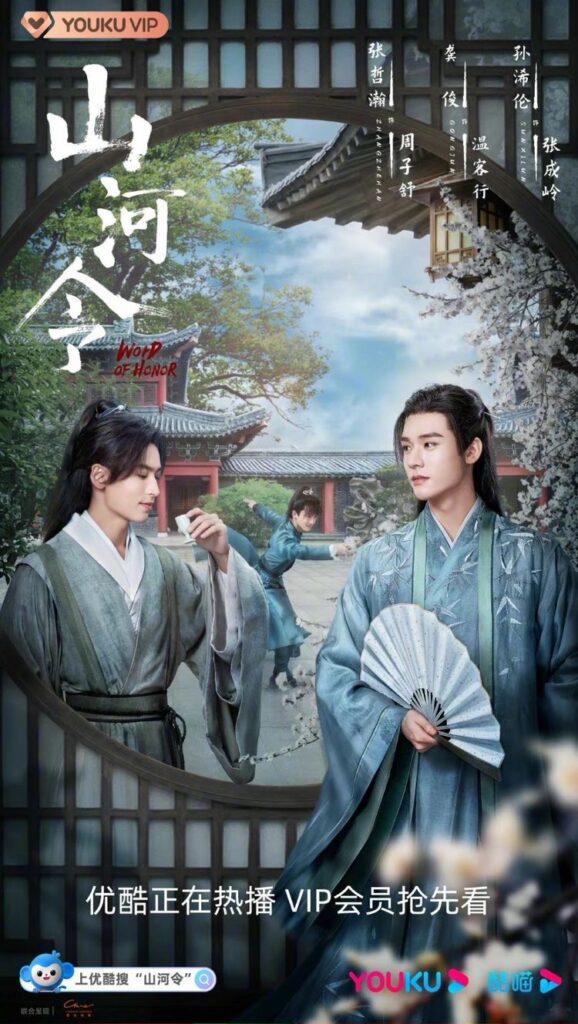 I was astonished to see Zhang Zhe Han as Zhou Zi Shu. You can see that his expression changed swiftly. From the cold and cruel Zi Shu, the leader of The Window of Heaven, into the gentle and loving Zi Shu after he meets Ke Xing. And although I'm not fond of his bang, I had to admit that Zhe Han looked super handsome 🥰.
Good Supporting Roles
This is the first time I took a good look at Sun Xi Lun. He used to act in A Love So Beautiful as a supporting role. But I have no impression of him. But in Word of Honor, I was annoyed by him because Zhang Cheng Ling was such a crybaby. He shed tears now and then. I wouldn't say much about him because I wanted to smack his head, every time he start to cry. And as I always say, if a character piqued my emotion, it means that the actor was doing a great job. Hence, I might watch Sun Xi Lun's upcoming work.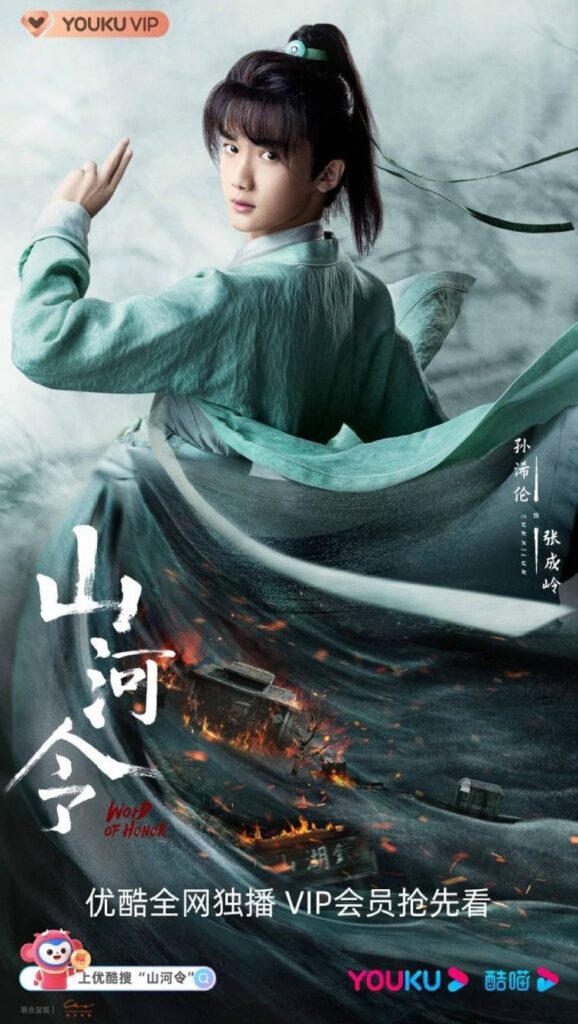 And the last one is my favorite couple. Gu Xiang and Cao Wei Ning. They were so lovable. The bubbly Gu Xiang was performed by Zhou Ye and Wei Ning was performed by Ma Wen Yuan. This is the first time I watched their drama. Their acting was quite good. Gu Xiang was a rude, brash, and very straightforward person. As a person who lived a hard childhood, her intuition was sharp compared to the naïve Wei Ning. He was the exact opposite of Gu Xiang, but he fell in love at first sight with her.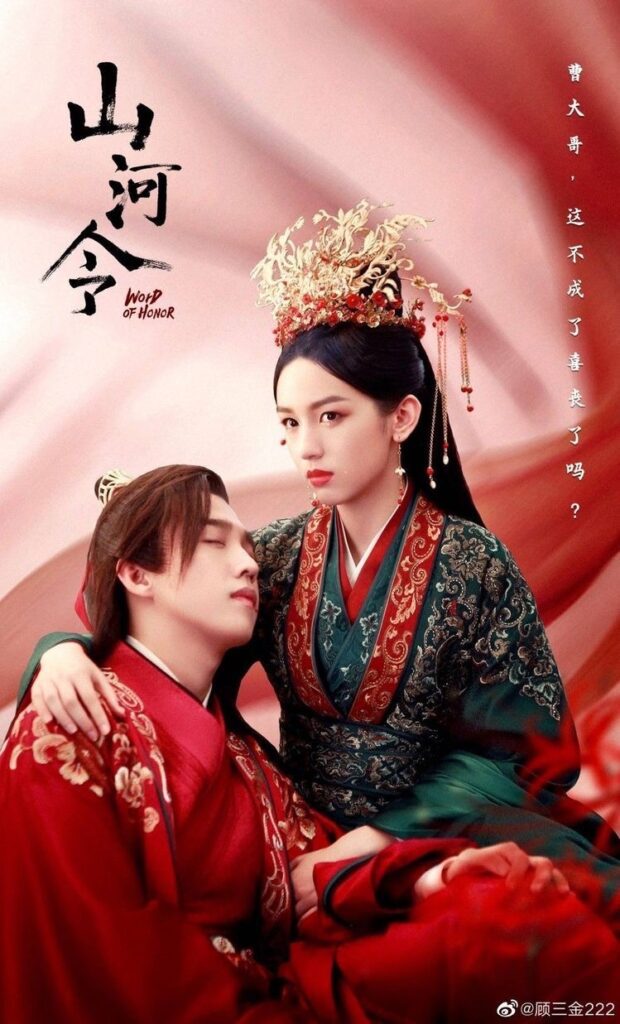 The Cinematography
I found it hard not to be pleased by the scenery in this drama. The directors did a great job of choosing a place with a striking environment. Since the story is mainly about our handsome wanderers, they often go places. I wasn't a fan of simple background drama, therefore, Word of Honor sets are truly a feast for the eye.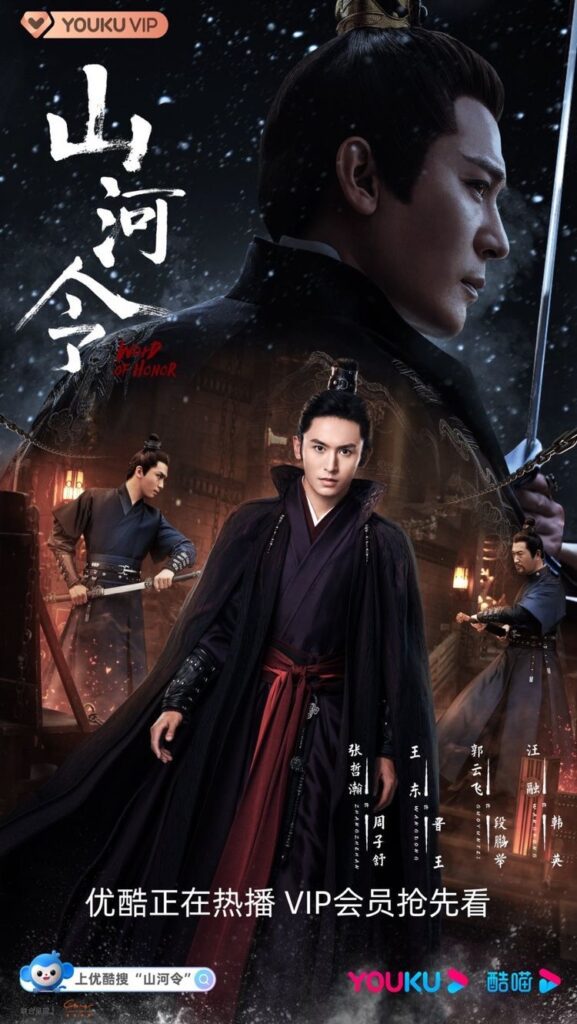 The lighting and the filming angle were my favorite. Our directors were able to catch the expression and the mood from a perfect angle. Especially in Ke Xing and Zi Shu's romantic scenes.
The costumes were enjoyable. Since there was the unrestrained Ghost Valley sect, their costume was more flamboyant. My favorite is Tragicomic ghost's costumes. It was as grand as a wedding dress. But her hair was a no-no for me. I found it refreshing to see Zhe Han wearing a light-colored robe and loose hair. His character as the lord in The Blooms at Ruyi Pavillion and The Legend of Yunxi made him always wear a high bun. It turns out he was also stunning with a side bang.
The Fascinating Word of Honor Story
Word of Honor is a fast-paced drama. But for a slow-paced viewer like me, this was a problem. There were many characters introduced swiftly. I find it hard to remember, and sometimes I need to look back to certain episodes, to make sure about their identity. Some facts were also hidden to keep the story intriguing and build up the suspense. Word of Honor was a revenge drama with a touch of romance between our main roles. The theme was simple yet the story was written fascinatingly.
The main story was built on layers of conflict. There were many ups and downs and all of them swiftly flowed just like a river. Once you are hooked, you'll easily get carried away by the stream…
From the beginning of this drama, I was guessing who would be the biggest villain of all. As the leader of an assassin organization, Zi Shu has a lot of enemies waiting for him. It was the same situation with Ke Xing as the leader of Ghost Valley. Hence, it was hard for me, because there were too many suspects.. 😆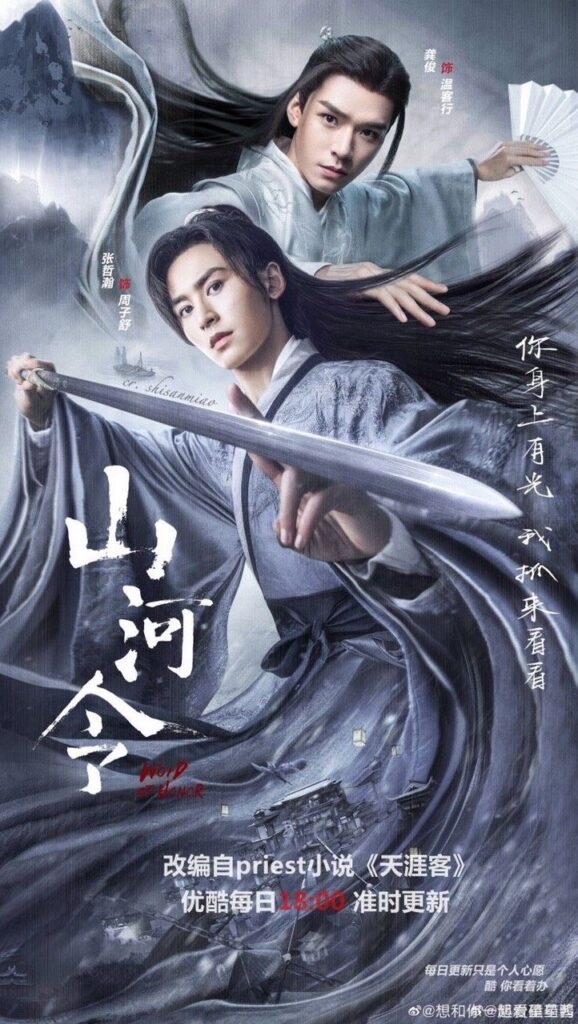 But let me warn you, beware of the plot twist! And there were some surprises for you regarding the long-lost armory.
(Spoiler Ahead! Beware!!)
The Word of Honor Ending
The ending is far beyond my expectations. I was devastated when I watched the 36th episode. I was so sad because, unbeknownst to Zi Shu, Ke Xing chose to sacrifice himself to save him. Ke Xing's hair turned white and he slowly closed his eyes. Zi Shu was surprised, and the scene ended. Later, the older Cheng Ling was telling his disciples about the story of Zi Shu and Ke Xing. It was never told whether Ke Xing died and what happened to Zi Shu after that.
The ending can be considered an open ending. That means the interpretation of Zi Shu and Ke Xing's ending was according to your comprehension. But I thought that Ke Xing was dead and I can't imagine how Zi Shu would continue his life without his soulmate.
But Youku was kind enough to provide another clip of Word of Honor in an additional episode. It showed us a happier ending for Ke Xing and Zi Shu…😚
The Conclusion
Word of Honor's strength lies in the story's plot and the power couple. You might stay for the story, or you might stay for the couple. But I do both. The story fascinates me even though I was having a hard time grasping it. And the character was a sight to behold. It was a feast for my eyes to watch them and their antics.
I was shocked at the idea of rewatching this drama, since I wasn't such a big fan of wuxia drama. But then I have a thought, maybe if I rewatched Word of Honor, I might have a better understanding of the whole story.
All in all, if you were looking for an intriguing wuxia story, please put this on your watch list. But if you were looking for eye candy to relieve your boring weekend, please put this on your watch list too. And if you were looking for a danmei romance story, please just put this on your watch list. So, whatever you were looking for, this drama is too good to be left outside your watch list. Happy watching!