Title: Royal Feast
Also Known As: 尚食, Shang Shi , Imperial Cuisine
Director: Wang Wei, Bai Yun Mo
Screenwriter: Zhou Mo
Genres: Historical, Political, Food, Romance
Country: China
Episodes: 40
Year: 2022
Original Network: Hunan TV, Mango TV
Where To Watch: WeTV, MGTV, MGTV Drama Channel
Royal Feast Synopsis
Royal Feast was 40 episodes of historical Chinese Drama. It was a story of the relationship between Yao Zi Jin, an imperial chef, and Zhu Zhan Ji, the emperor's grandson.
Yao Zi Jin was a talented chef. She entered the palace kitchen because of her love for cooking. Amidst the competition and internal affair, Yao Zi Jin was able to work her way up at the Food Bureau. A place that seemed simple but it was full of politics and dirty tricks. Yao Zi Jin must use all her wisdom, talent, and knowledge because living in a palace was never easy.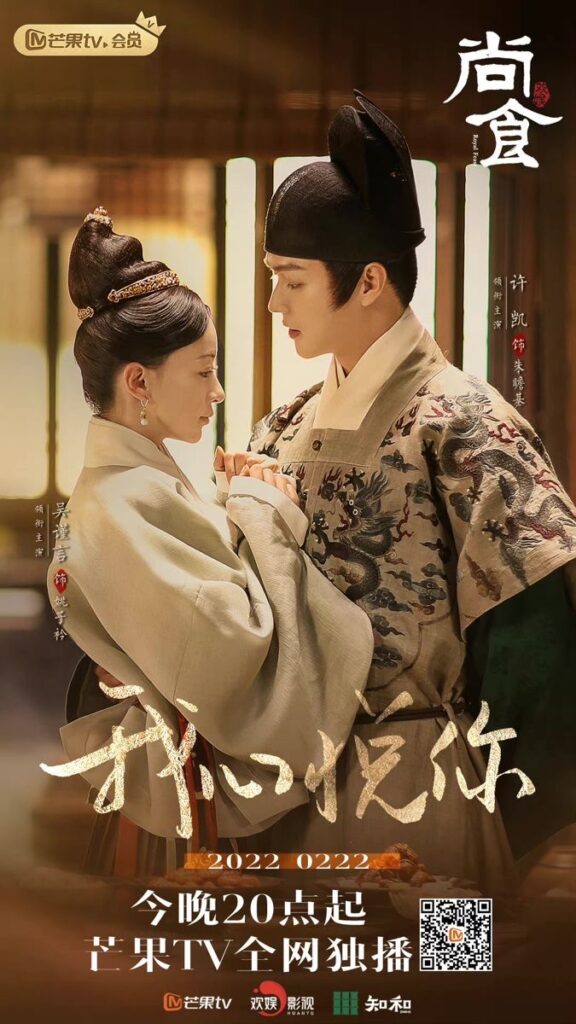 Zhu Zhan Ji was the Emperor's grandson. He was a talented person both in martial arts and literature. As the future pillar of the kingdom, Zhu Zhan Ji had everything in this world that anyone could ever dream of. However, his perfect life was shaken by a lowly maid. Zhu Zhan Ji's heart was touched by Yao Zi Jin's attention, perception, and compassion. Love was something rare to find at the palace, moreover for the royal family.
Zhu Zhan Ji and Yao Zi Jin's relationship bloomed in the middle of a power struggle. Gradually, Yao Zi Jin was dragged into it. Now, she must use her brain to help the one she loved and protect her life and the people around her.
Royal Feast Review
I've been watching The Royal Feast several months ago. However, due to bad reviews that I read, I did not finish it. And several days ago I decided to rewatch it. I had to admit that my reason for rewatching this drama was sooooo shallow… I did it for Xu Kai! There, I said it… you might laugh at me…🙈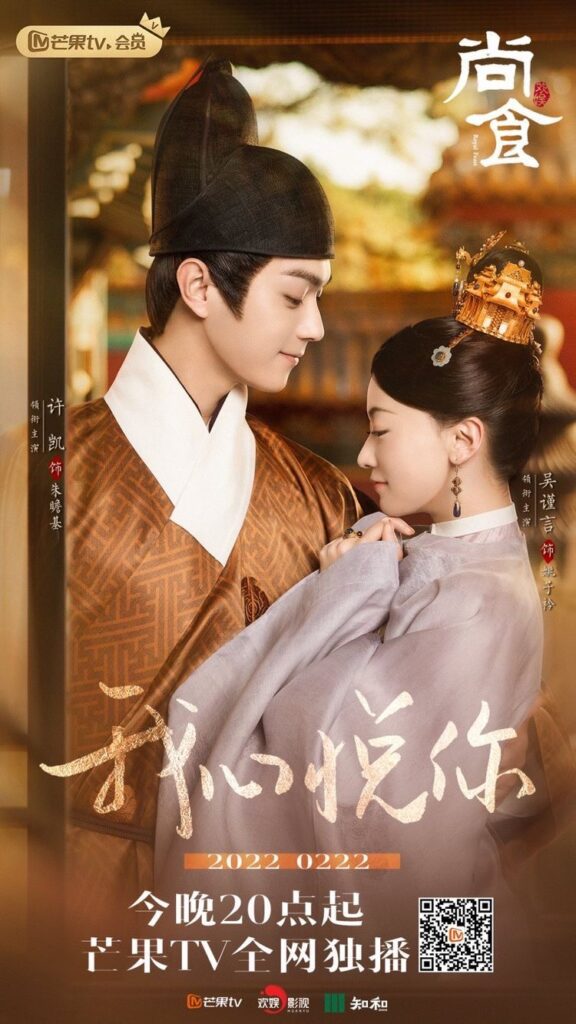 As you can read, I've been writing the review and recap of Xu Kai and Yang Mi's new drama, She and Her Perfect Husband. And I was smitten by Xu Kai. He was drop-dead gorgeous and I love his dimples. Well, I do have a weakness toward dimples…😅
Long story short, I felt like rewatching She and Her Perfect Husband several times a week was not enough. I need more daily doses for Xu Kai, but I did not want to see him in a modern drama. Therefore, I choose between Ancient Love Poetry and The Royal Feast. And for my love of food, the latter won.
Back then, I was influenced by The Story of Yanxi Palace which Xu Kai and Wu Jin Yan took part. However, I feel a very different feeling right now. I could see that although the story was a little bit draggy, I could still tolerate it. Back then, I felt that Yao Zi Jin's hard-to-get attitude was annoying.
But now I could see clearly that she did not play hard-to-get, but she really did not know what to choose. She yearned for freedom and her ambitions. She also had many hidden agendas and schemes and I really agree with Zhu Zhan Ji's opinion that Yao Zi Jin was indeed a fox. However, she could not let go of Zhu Zhan Ji. She was curious and interested in him since she was 10 years old.
Thankfully, Yao Zi Jin was a rational person. She could calculate everything with a calm mind. Being patient was really her forte. Therefore, although she yearned for him, she did not easily accept his proposal to be his concubine. And that was a fresh breath for me. I watched too many harem dramas where girls anxiously jumped into the Emperor's bed.
Mouth-watering Foods
Royal Feast was a Chinese mouth-watering historical drama. It was 40 episodes long, and 60% of the scenes were food/eating/cooking ASMR. Totally must be avoided by people who were on a strict diet since it would destroy your hard work.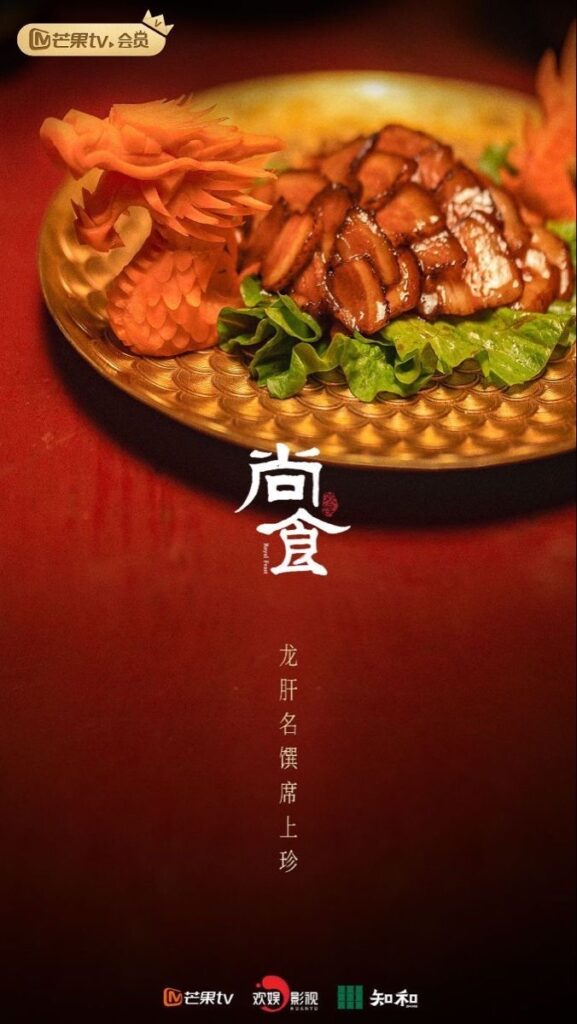 Believe me, dear readers… I wrote this sentence based on my experience. I thought that Delicious Destiny drama was enough to torture myself, but I never thought that Royal Feast was two times crueler. The food and the cooking scenes were amazing that my stomach would grumble in every episode. They were shot in close range to emphasize details and I could feel a satisfaction every time I watched the scene.
There were no mukbang scenes just like in Delicious Destiny. Everyone eats decently, especially the royal family. There were many etiquette and rules involved in a single meal.
Wonderful Costumes
The costume was a feast for the eyes! The embroidery was beautiful. I used to pause the screen to take a good look at the embroidery pattern. They used many solid colors and only a few pastel colors were seen on costumes. Mostly it could be found in Crown Princess Hu's costumes. She used to wear soft colors such as peach or soft pink.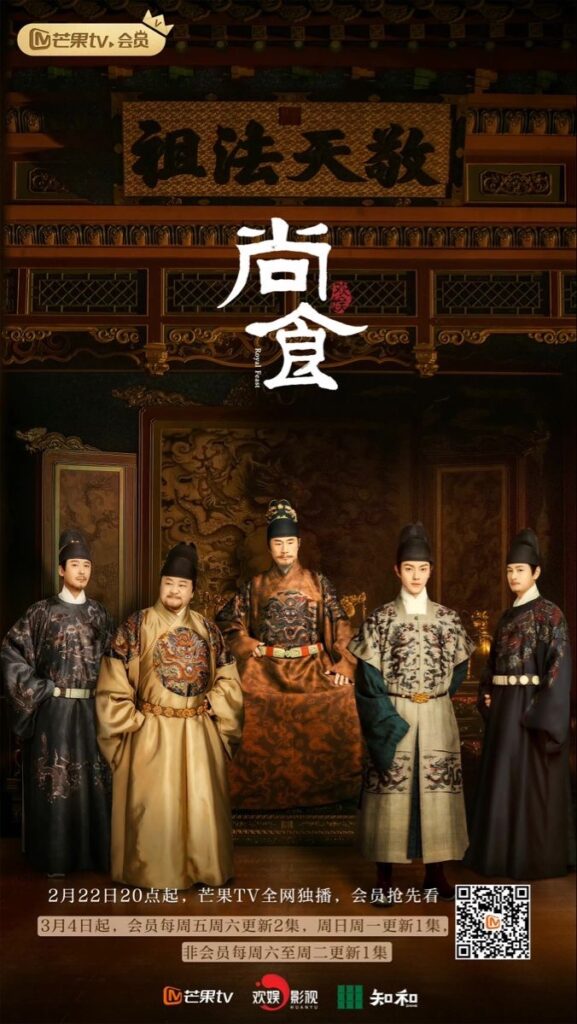 The level of the people who worked at the palace could be distinguished by the color of their clothes. The ordinary guards used blue, but their leader used a different shade of blue. However, Yao Yifan the one in charge of the whole Jinyi Guard wore several shades of red.
As for the maids, they use different colors, different designs, and different headdresses. Of all the costumes and headdresses, I fancied Concubine Wu's headdress and Zhu Zhan Ji's emerald green robe with a grey outer embroidered with dragons.
The Casts
A good drama was born from a good cooperation between the story, the actors, and the crew. The actors played important roles to convey the characters to the viewer. And in my opinion, the star of this drama was He Rui Xian. She acted as the unbridled Yin Zi Ping and her presence dominated the screen.
Xu Kai also acted very well, but since I already watched She and Her Perfect Husband drama (I also wrote She and Her Perfect Husband drama review and She and Her Perfect Husband episode recap), I would prefer his acting in the latter drama. I love Yao Zi Jin's character. She was strong and resilient. But in my opinion, Wu Jin Yan's expression was a bit flat. But still, I would give two thumbs up for her and the actors who worked hard for this drama.
Besides He Rui Xian, I recognize several faces in this drama such as Liu Min who also acted as the queen in Delicacies Destiny, and Lawyer Bian Jing in She and Her Perfect Husband. He Feng Tian who also acted as a friend of Xu Kai in She and Her Perfect Husband.
Zhang Zhi Xi who acted as Minister Hu also could be found in Immortal Samsara as Ran Qing. Wang Dong who acted as Prince Han was a villain in The Blue Whisper drama (I also wrote The Blue Whisper Ending Explained). The beautiful Zeng Yi Xuan also acted in The Rebel Princess drama and Ruyi Royal Love in The Palace drama. This list made me wonder, how many dramas have I watched for the past 5 years? I guess it was too many…😅
The Story
Royal Feast mainly talked about food. There were so many scenes where they prepared ingredients, cooked them, and then explained the dish to the royals. Somehow they reminded me of the Masterchef series but with the monarch as the judge. How scary is it that every dish you made might cost you your life? 😱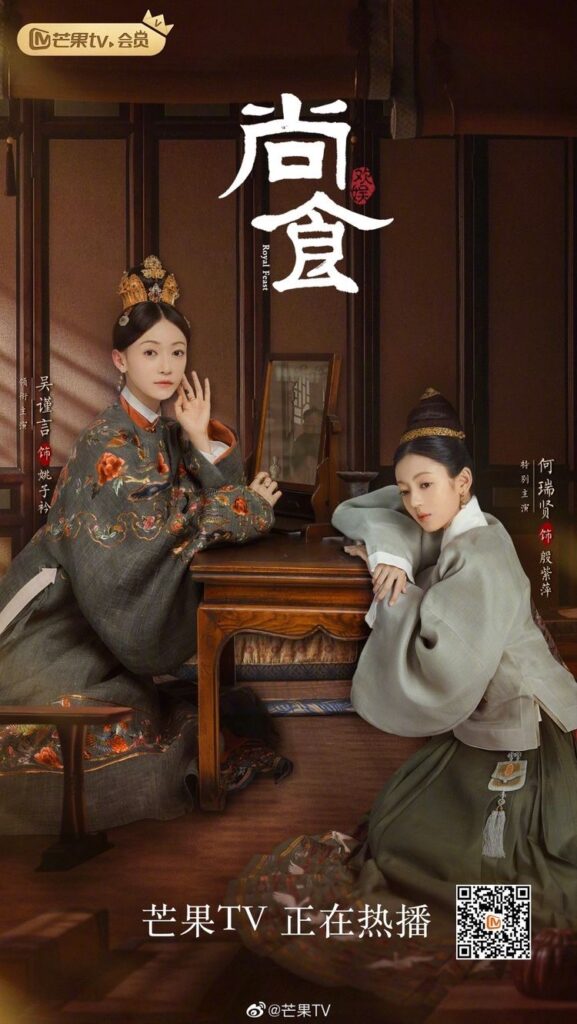 In this drama, food could be used as a weapon or shield. Every dish was not so simple anymore. They could have hidden meanings that might stir up the country. The chefs were no longer cook, they were more like generals and soldiers. And as the center of attention, the Food Bureau was the military camp where they planned the strategy to face threats.
There were many politics inside the palace. The conflict is mainly related to the power struggle. Whoever was close to the top would have the chance to step on others. Therefore many people used dirty tricks to dispose the ones who stood in their way. I could barely remember a clean character in this drama.
Even Yao Zi Jin and Zhu Zhan Ji also used many tricks to trap others.To manage a palace was like managing a huge household that consisted of thousands of people and involved a huge amount of money. Hence, corruption was the main problem inside the palace. Corrupted officials lurked among upright ones.
The romance was slow-burn so you have to be patient when you watch this drama. Thus, although this drama was about the romance between Zhu Zhan Ji and Yao Zi Jin, the portion of their romance was less than I expected. They met after 8 episodes but they only got married in episode 26. So, if you need some quick romance, you might want to skip this one…😆
Zhu Zhan Ji's harem consisted of several concubines. But other than Yao Zi Jin, Hu Shan Xian, and Wu Miao Xian, the other concubines only played small roles and were rarely mentioned. It also said that he did not have any children because of his lack of interest in the harem. Other than Yao Zi Jin, there were no intimate scenes between Zhu Zhan Ji and his concubines.
Other than the romance, I enjoyed the friendship between Yao Zi Jin and Yin Zi Ping. Their character was different but their bond was strong. They also supported each other without being a hindrance. There was a scene of a cooking competition and the winner get a position in the kitchen.
Yin Zi Ping found out that Crown Empress Zhang wanted tofu to be the main theme of the competition, but Concubine Guo use the Crown Prince's name to change it into fish. Yin Zi Ping told the information to Yao Zi Jin. Yao Zi Jin understood her good intention, but in the end, she did not use the tofu because she did not want to take victory from Yin Zi Ping. However, it was Yao Zi Jin who won the competition because Yin Zi Ping's status was too low to be a kitchen matron.
The Characters
Yao Zi Jin/Noble Consort Sun (Wu Jin Yan)
The kitchen was Yao Zi Jin's sanctuary. She was born to a talented but low-birth mother. The Zhang family, Zhu Zhan Ji's maternal family, used Yao Zi Jin as a tool to strengthen their footing in the palace by making her the future wife of the Emperor's grandson. Her mother/teacher taught her many things but in a harsh way. If Yao Zi Jin made a mistake, she would never hesitate to hit her with a rattan.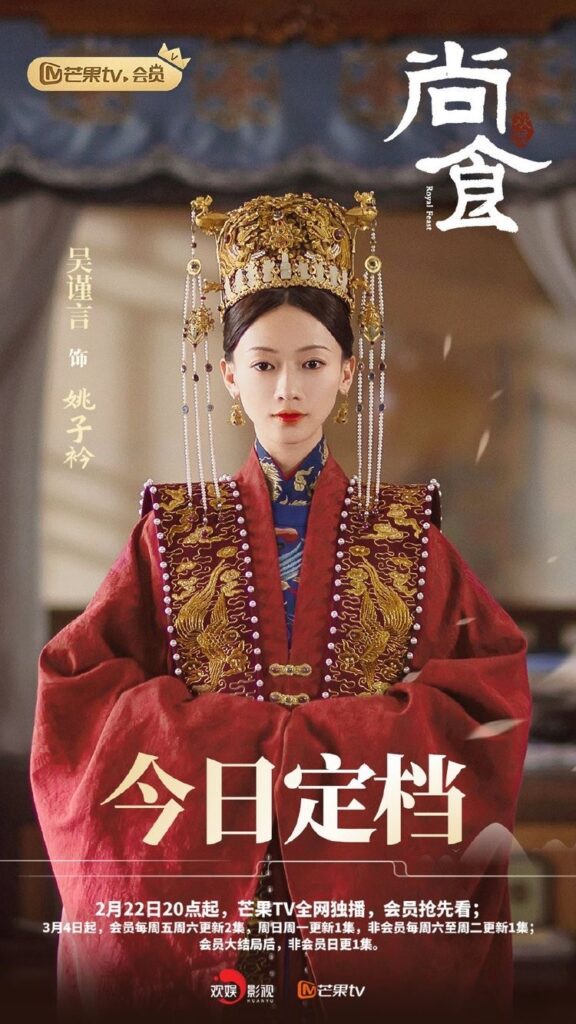 However, the kitchen was the only place where she could not hit Yao Zi Jin with a rattan because the kitchen was the place where delicate tableware was stored. Therefore, the kitchen was the only place where she could feel safe. But in the end, the Hu family snatched the position of Zhu Zhan Ji's position for Hu Shan Xiang.
The Zhang family still wanted to sent Yao Zi Jin to the palace as a concubine, but she refused. She then made a bet with Crown Princess Zhang that she would not tempted by glory and weatlh. That was the reason why Yao Zi Jin entered the palace, to prove that Crown Princess Zhang was wrong.
Yao Zi Jin met Zhu Zhan Ji when she was 10 years old. She kept her admiration for him hidden for years because of the bet, until she met again with Zhu Zhan Ji at the palace. Because Yao Zi Jin had undergone training to become the wife of Zhu Zhan Ji and she had affection towards him, Yao Zi Jin knew and learnt about all his preferences in many aspects. Therefore, when she was in the kitchen, she was able to create many dishes according to his liking.
However, although Yao Zi Jin was cautious when it came to food and cooking, I have no idea what made Yao Zi Jin could be so casual towards Zhu Zhan Ji. She entered his study room and casually looked around his table as if she did not fear the punishment. This action was too daring for a lowly maid…😱
Although Yao Zi Jin seemed to be brave and strong, she had a trauma. When she was a teenager, the Zhang family imprisoned her in a room. She could not get out for six months. The punishment left a deep trace in her heart. The fear of being locked up made her lose her ability to talk for more than three months when Zhu Zhan Ji grounded her in Yongning palace to repent.
Nobody knew the reason why she stopped talking. Even Yin Zi Ping and her maids could not make her talk. Only after Zhu Zhan Ji realized it and apologized, the knot in her heart loosened and Yao Zi Jin was able to talk again.
Zhu Zhan Ji (Xu Kai)
As the Emperor's grandson, he was spoiled and loved by the emperor, more than his father as the Emperor's son. However, Zhu Zhan Ji always helped his father when he met problems. Zhu Zhan Ji was talented both in martial arts and literature while his father was a kind person but weak. Although he was a reserved person, Zhu Zhan Ji was a hot-tempered person. When he was dissatisfied over something, we could see his sullen face and suddenly he would throw something such as tea cups.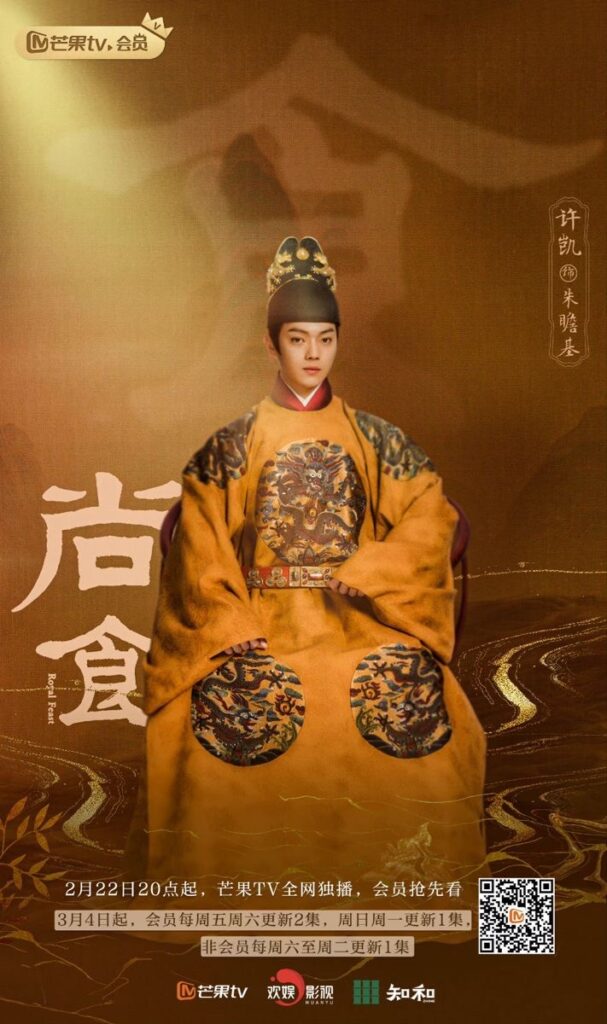 Zhu Zhan Ji loved nature and quietness. He spent most of his time in his small study room, called Xingyun Cottage at Qiong Garden. This was the place where Zhu Zhan Ji and Yao Zi Jin met again. Zhu Zhan Ji has no interest in his harem. Although he already had several concubines, he still did not have any children. That was why his mother, Crown Empress Zhang decided to give Yao Zi Jin to him because he seemed interested in her, despite his refusal.
It was true that an Emperor was always wary of their sons. When Zhu Zhan Ji's father was a crown prince their relationship was good. But when he ascended to the throne, he become distant and guarded against Zhu Zhan Ji. The Emperor almost sent him to Nanjing if Yao Zi Jin did not help Zhu Zhan Ji to coax the Emperor.
As an Emperor, Zhu Zhan Ji's deep thoughts could not be measured. His strategy was well hidden. However, he was a good Emperor that always put the people above everything.
You Yifan/Zhu Zhang Li (Wang Yi Zhe)
Our second male lead was the youngest Jinyi Guard Commander, You Yifan. He was unlike any other soldier. He was talented in martial arts and also proficient in literature. You Yifan rarely smiled. His countenance was cold and his words were sharp. Combined with the sight of his wide sword and military bearing, everybody was afraid of him. Only Zhu Zhan Ji thought of him as a friend.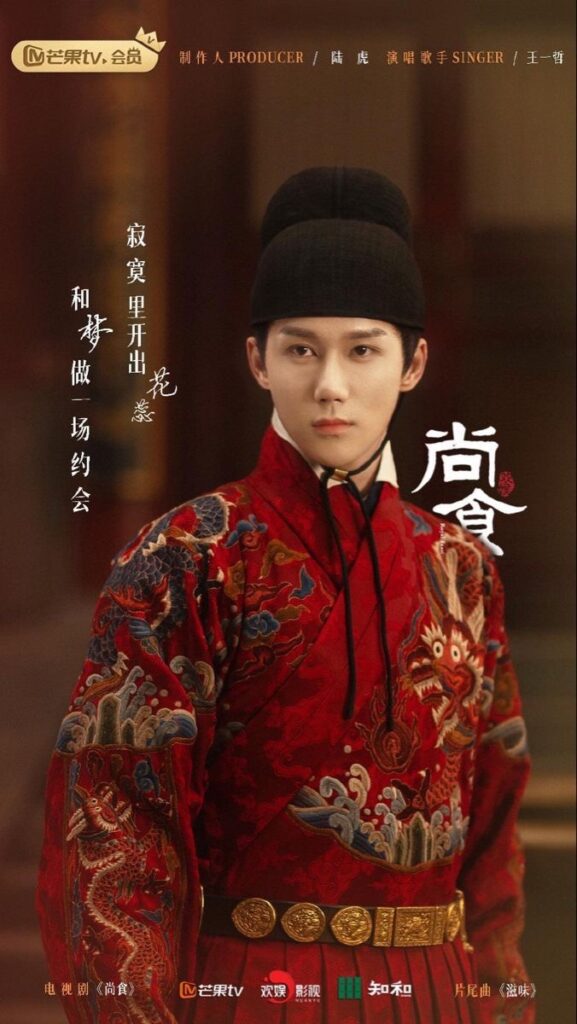 You Yifan had another identity. He was Zhu Zhang Li, the illegitimate son of Prince Han. He ran away from home because his concubine mother was killed by Prince Han's legitimate wife. You Yifan swore to revenge for the death of his mother. You Yifan hid his secret identity well. However, Prince Han found out and persuaded Yao Yifan to join his side.
You Yifan fell in love with a girl who was grounded in a small house in the middle of the city. He was impressed because although she was in a bad situation, she still had the compassion to help him. However, although he had guarded the room, he still missed her. When he had the chance to see her face, it was Yao Zi Jin. And the next time they met again was when he and the Jinyi Guards entered the Food Bureau to punish one of their chefs.
He missed his chance again to pursue Yao Zi Jin because he found out that she was the Crown Prince's love interest. He stepped back and tried to forget his feelings. However, we could see from his gesture that he never forget her. Whenever You Yifan saw Yao Zi Jin, his gaze always lingered a little bit longer on her.
Yin Zi Ping (He Rui Xian)
The most hardworking person was Yin Zi Ping. She was of low birth, uneducated, with an unbridled attitude. She survived many punishments because of Yao Zi Jin. Her forte was her cooking skill and her resilient attitude. She might not come from a prominent chef family such as Su Yue Hua, or knowledgeable like Yao Zi Jin but she was able to survive in the Food Bureau and create many delicious dishes.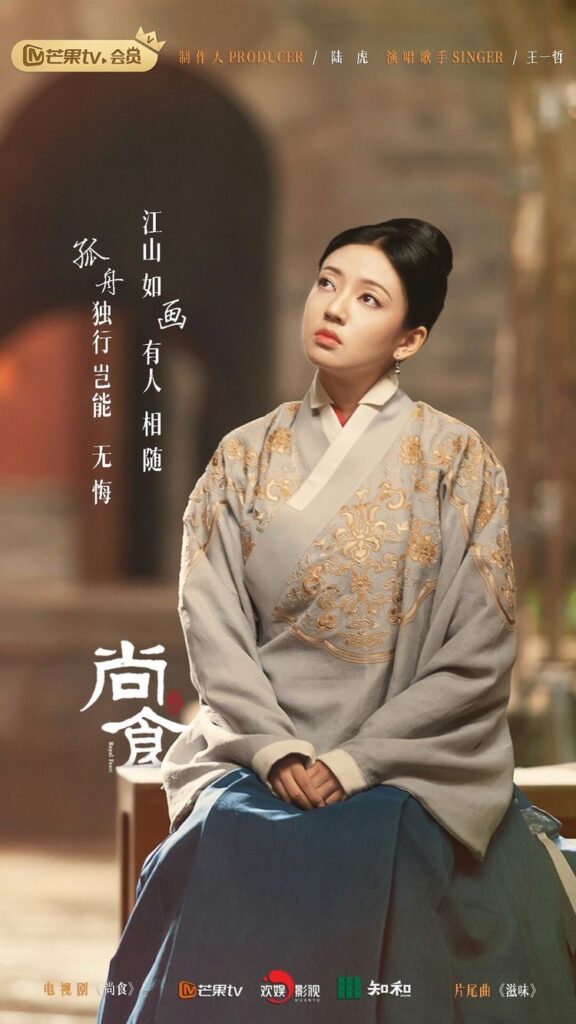 Yin Zi Ping lived a harsh life. Her parents and brother died because of the crickets scandal back in their hometown. She relied on herself to survive and worked in many restaurants to learn the cooking skill. She wanted to improve her life because she did not want to be belittled by others just like her parents. That was why she entered the palace to seek glory.
Her friendship with Yao Zi Jin made Su Yue Hua jealous. Although Yin Zi Ping was rude, Yao Zi Jin chose to be her friend because of her kind and simple heart. Their bond was unbreakable. They became friends in thick and thin since they were still lowly maids until Yao Zi Jin became a Noble Consort.
Su Yue Hua (Wang Chu Ran)
Su Yue Hua was the biological daughter of Minister Meng. She was abandoned when she was a child and it hurt her. She entered the palace to find her mother and for revenge. Su Yue Hua was an ambitious woman who highly valued herself. She wanted to be number one in the Food Bureau. Su Yue Hua was also jealous of Yao Zi Jin and Yin Zi Ping's friendship. She did not have any friends and wanted to be Yao Zi Jin's friend out of admiration.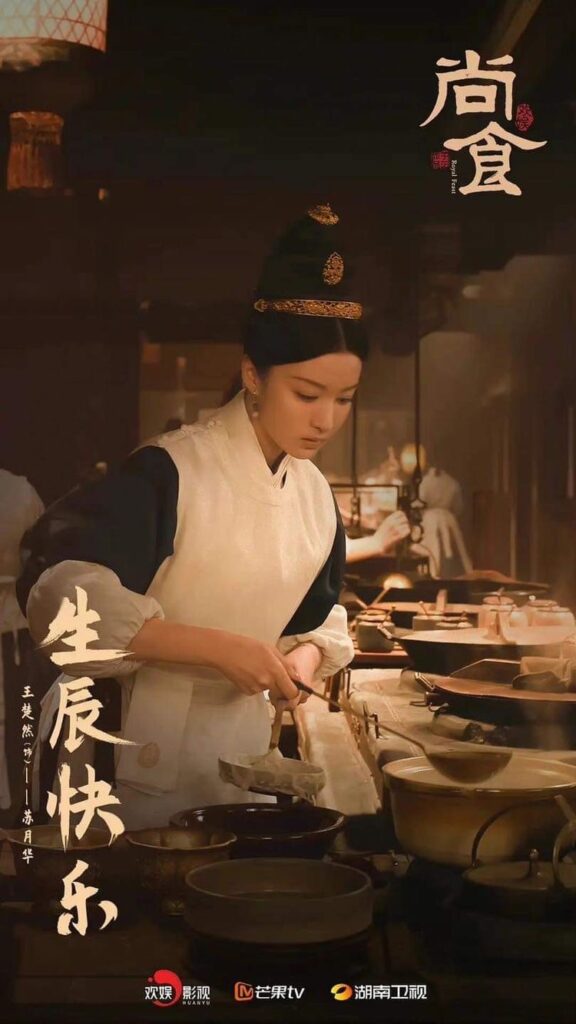 Although she was talented, Su Yue Hua's heart was already corrupted by hatred. She was no longer able to distinguish right from wrong. She took many wrong decisions and hurt many people. You Yifan saw her weakness and used her as a tool. And because she harbored feelings for him, she was willing to do it.
Su Yue Hua longed for motherly loved, but Meng Zi Yun could not give her that and it made Su Yue Hua angry. She no longer cared about their bond as mother and daughter and never hesitated to hurt Minister Meng.
Hu Shan Xiang/Empress Hu (Zhang Nan)
Hu Shan Xiang never wanted to be Zhu Zhan Ji's wife. She was forced to be one. The Hu family created a persona that made people believe she would bring auspiciousness to Zhu Zhan Ji's life, therefore she successfully entered the palace as Zhu Zhan Ji's wife. However, their loveless marriage was torture for both of them.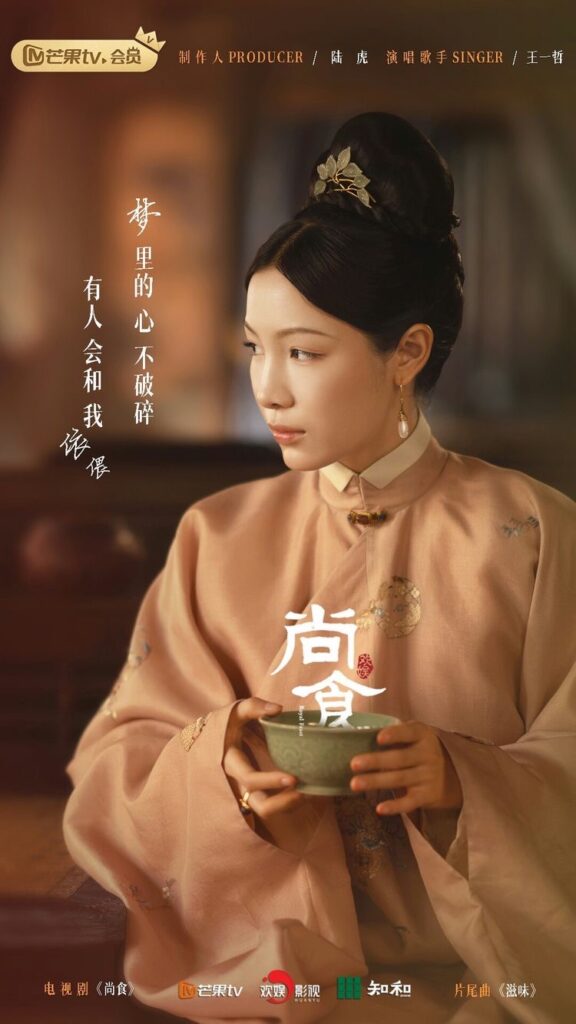 Hu Shan Xiang had a weak body and she often poisoned herself as a way to suicide. There was a time when Zhu Zhan Ji inadvertently ate her peeled orange that had been smeared with poison and he got sick because of it. Hu Shan Xiang regretted the incident because that day, Zhu Zhan Ji expressed his feelings and asked her whether she was willing to spend the rest of their life together.
His words touched the frozen heart of Hu Shan Xiang. However, when Zhu Zhan Ji found out about the poison, he was disappointed with her and gave her the cold shoulder for months. It was Yao Zi Jin who persuaded him to forgive her.
Hu Shan Xiang wanted to kill herself because she never felt happy. She understood that her Hu family used her as a tool to gain power while she always wanted to be a physician like her grandfather. When one of her pregnant patients died, the deceased family blamed her. To avoid further problems, Hu Shan Xiang agreed to enter the palace.
Later she learned that her family deliberately killed the patient because it was the only way to make her forget her dream to be a physician. The Hu family would do anything to make her enter the palace. This incident left a deep trace in her heart. The heartache made Hu Shan Xiang lived a depressing life and she became a gloomy person.
Wu Miao Xian/Concubine Wu (Nina Wang)
Wu Miaoxian was a cheerful concubine of Zhu Zhan Ji's. She loved perfumes and fragrances. She seemed foolish and reckless. However, she knew by heart about the palace's politics and how to survive in the harem. Her childish attitude hid her real personality.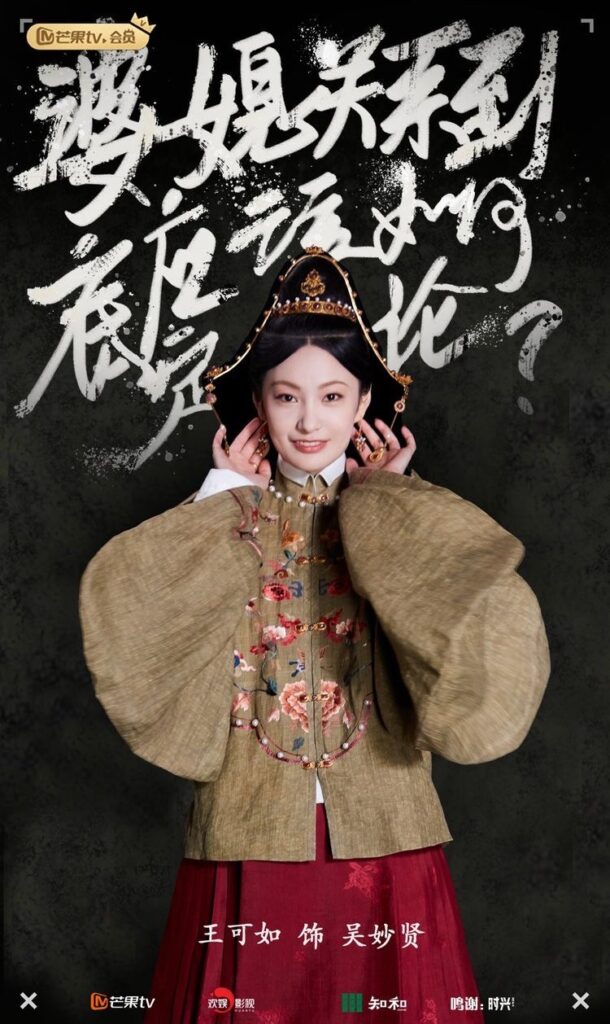 She always tried to be close to Zhu Zhan Ji, however, he regarded her as a disturbance and tried many ways to avoid her. There was a time Zhu Zhan Ji tricked her that there was a poisonous butterfly on her body and she must stood still to avoid its poison. Zhu Zhan Ji did that because he did not want her to follow him.
Meng Zi Yun/Minister Meng (Wang Yan)
Minister Meng was in charge of the Food Bureau. She was a talented chef and her wisdom was well-known in the palace. However, not many people knew that behind her so-called wisdom, she was also stained by the dirty trick of palace politics. Meng Zi Yun served many masters, whomever she thought would be profitable for her.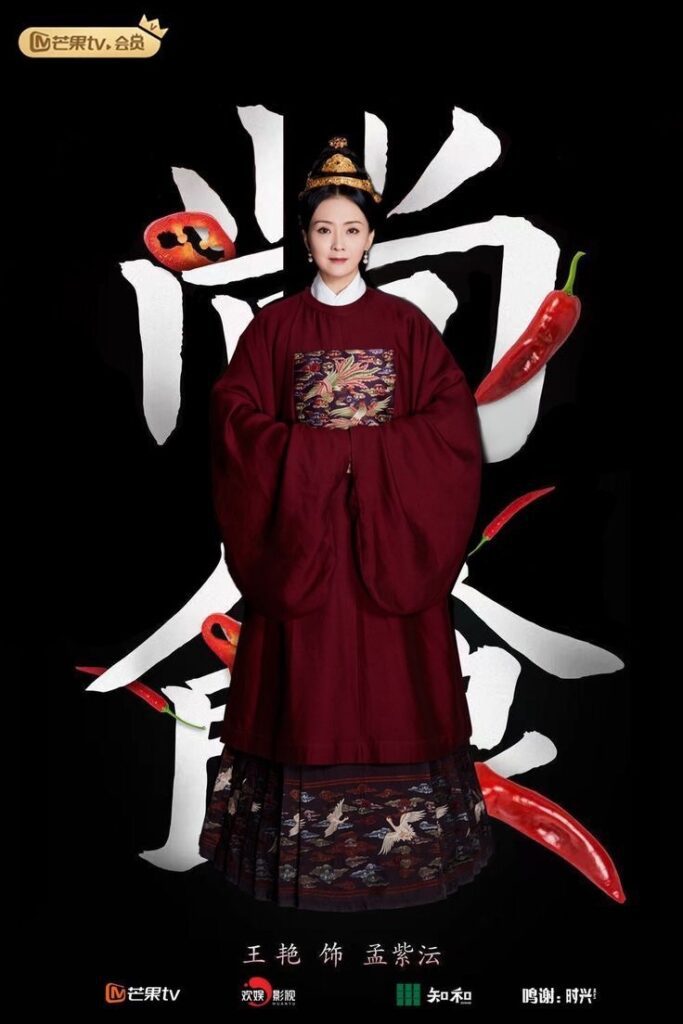 Meng Zi Yun had a dark past. There was a time when a lecher tried to molest her and to defend herself, she killed him. Prince Han helped her to enter the palace and since then they were entangled in a love-and-hate relationship.
Because of the incident, Meng Zi Yun must abandon her daughter, Su Yue Hua. And in the palace, she refused to admit her as her daughter to protect her. Although she had severed their relationship, Meng Zi Yun secretly thought of Su Yue Hua and use all means to protect her life.
Princess Zhang/Empress Dowager Zhang (Liu Min)
As a Crown Princess and Zhu Zhan Ji's mother, Princess Zhang's wisdom way surpassed her husband, Crown Prince Zhu Gao Chi. She was a politician through and through. Even her father-in-law respected her for that. She realized that her marriage was loveless and her husband only respected her because of her position as the crown princess.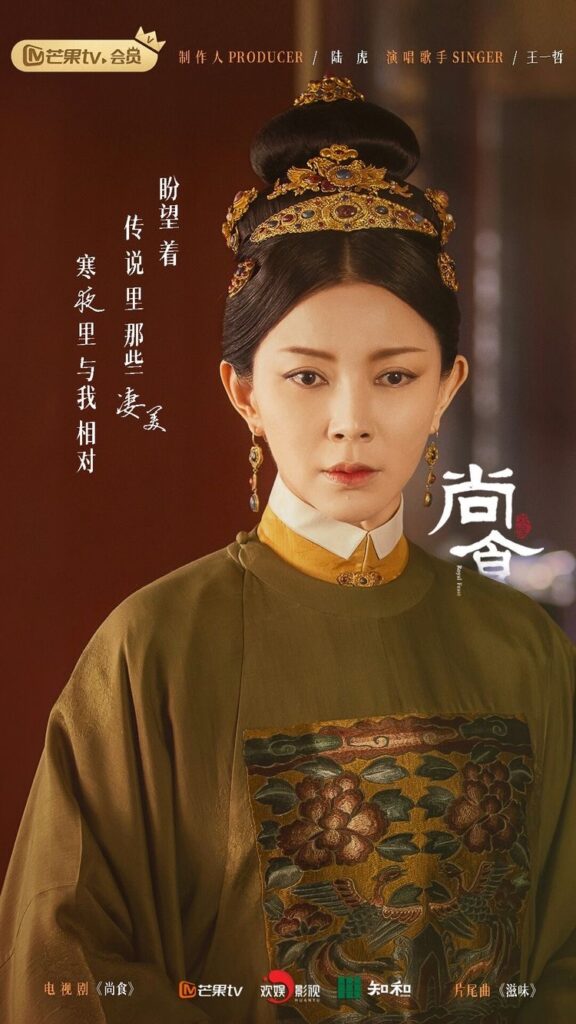 Zhu Zhan Ji loved his mother and tried everything he could to protect her. The bond between mother and son was much stronger than Zhu Zhan Ji's relationship with his father. Zhu Gao Ci respected his wife but his love and affection were for Concubine Gao.
The Ending
Royal Feast's ending was quite satisfactory for me. Yao Zi Jin and Zhu Zhan Ji's relationship ended happily and some plot twists made me flabbergasted. I thought that there were some hints before, but I did not notice back then. I explain more about Royal Feast ending on Royal Feast Ending Explained post.
The Conclusion
I find this drama worth to be praised. Although the story was not their main forte, many aspects were carefully arranged. The costumes were amazing and the set was perfect and detailed. Not to mention the food and the cooking. The eating scenes were not really tempting since the royals always ate in very small bites and in an orderly manner.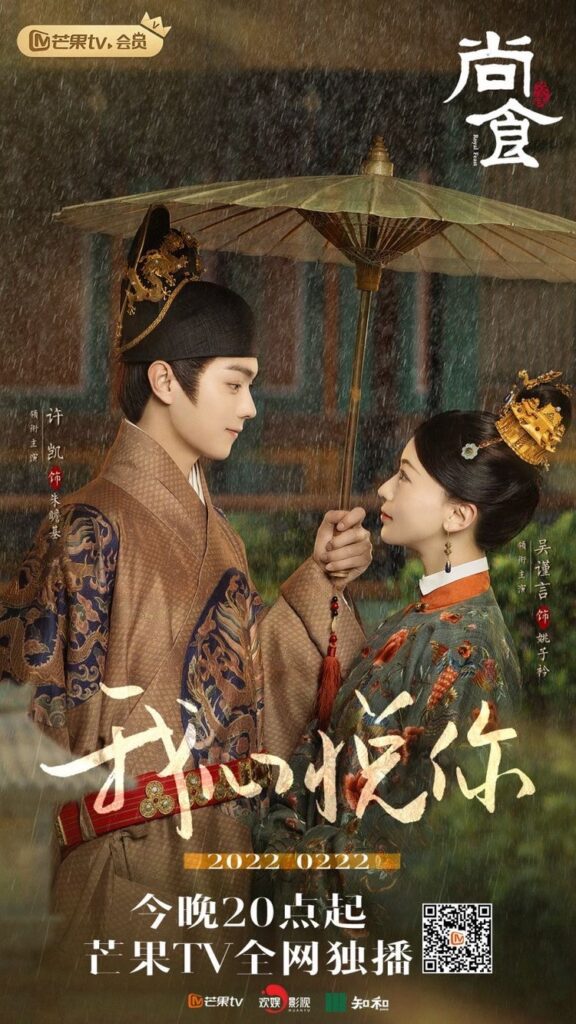 But I felt an indescribable hunger when I watched the cooking scenes. And after that, I felt an indescribable disappointment when I looked into my fridge. Is there any way that I could at least try the foods? This cooking Chinese drama was not only tempting but also torturing!
All in all, this drama is worth your time, only if you were patient enough with the story. And if you watched it with an open mind, you might find that this drama was actually good. No need to prepare any snack or drink when you watch this drama in your spare time. It was useless anyway…😆 Well… Happy watching, dear readers!