Title: Sweet And Cold
Also Known As: 甜小姐与冷先生, Leng Xian Sheng Yu Tian Xiao Jie, Mr. Leng and Miss Tian, Miss Sweet and Mr Cold
Director: Zhang Feng
Casts: Wang Zi Wen, Jin Han
Screenwriter: Mi Tian Hui
Genres: Romance, Drama, comedy
Country: China
Type: Drama
Number of Episodes: 31
Release Date: 8 May 2023
Original Network: Youku ZJTV
Where To Watch: Youku, Viki
Rating: 8/10
Hola readers… I hope you are all well. I slightly had a headache when I wrote this review. Nothing too serious, I just spend my beauty sleep binge-watching Vin Zhang and Janice Wu in Here We Meet Again drama. Soon I would write about the review. This drama was a hot one. Anyhow… Sweet And Cold drama has been on my watchlist for some time because I liked Wang Zi Wen and I had to admit that the poster was tempting. So, let's get into the review! Happy reading!
Sweet And Cold Synopsis
Meng Hao Tian was a strong independent woman, or so people see from the outside. She was a businesswoman with an extensive business venture. As someone who was burdened with a large amount of debt because his father failed his business, Meng Hao Tian worked hard than anybody else. Her focus was solely on her business. But later on, a person appeared in her life and changed her mind.
Leng Si Ming was born with a golden spoon in his mouth. His playful nature and handsome appearance were brimming with energy. Leng Si Ming was passionate about his work. His laidback antics hide his true ability and passion.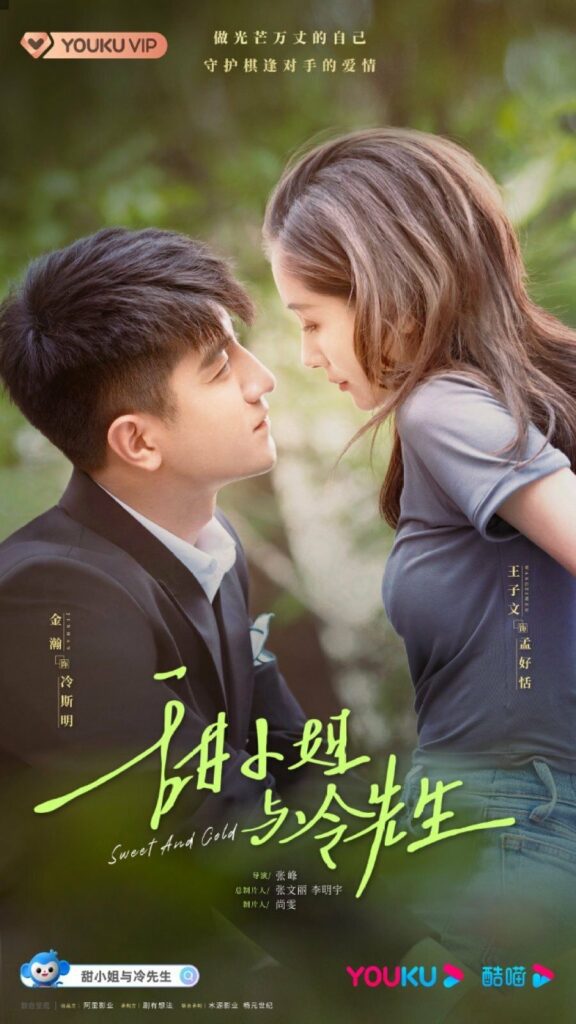 Meng Hao Tian and Leng Si Ming met at a wedding rehearsal. Meng Hao Tian was a paid bridesmaid while Leng Si Ming suddenly have to take the role of the best man. Only because he was idle at the time and his height was suitable with the best man's suit. Leng Si Ming was attracted to Meng Hao Tian since the beginning.
Yet, when he came to her again, Meng Hao Tian refused and act indifferent to him. Did Leng Si Ming give up on her? Of course not! Meng Hao Tian's cold demeanor aroused his curiosity. They met again on several occasions and Leng Si Ming realized that his feelings for her were not a passing wind.
Meng Hao Tian realized that Leng Si Ming sincerely wanted to help her. She started to open up her heart to Leng Si Ming and they gradually become closer. They support each other in terms of feeling and work.
However, there were problems arose in their relationship. From ex-boyfriends, problems at work, and family statuses to arranged marriages. All of them become stumbling blocks in their relationship. Could Meng Hao Tian and Len Si Ming overcome the problems and stay together forever? Or would they surrender to their fate?
Sweet And Cold Review
"Didn't you like your old life? Throw it away! Say goodbye to it once and for all. And then live again! Find out who you really are."
-Meng Hao Tian to Jiang Lei Lei-
Sweet And Cold was not just a romantic drama about love and relationship. It was about finding yourself and making peace with your old self. Some people might find it a hard thing to do. They did not know where to go or what to do with their life. It was such a blessing to have a support system around you. But, some people might not recognize the support system because they were absorbed in their sorrow and it was hard to see the light.
This drama had a good message, a great cast, witty dialogue, and enjoyable visuals. The story was good at the beginning. However, somewhere in the middle, the story becomes unstable and leaves many loopholes that make my teeth itch. Yet, I keep on watching till the end and there was something that I had to address and something worth to be praised.
Sweet And Cold had a catchy opening soundtrack that you'll be hard to miss. It only took me one episode to make the song stay in my brain rent-free for days. Especially the phrase " Yoo hoo hoo… Yoo hoo hoo.. No hazard to my house like you". You sing, you lose, readers… 😂😂
This romantic drama only had a little or barely there comedy and tonnes of sweetness. Jin Han was perfectly fit for a role of a doting but playful boyfriend. He had a friendly expression and smiling eyes. Meanwhile, Wang Zi Wen looked very mature. She was giving off an aura of a strong and independent woman.
The message in this drama was quite clear, about how to be a strong and independent woman, but at the same time dared to open up your heart for a new love. People tend to weaken when they fall in love. They would show their most vulnerable part, which is the heart, to their loved ones.
Some people would cherish the chance, but others developed malicious intentions because of it. This drama showed perfectly the two sides of love. You could meet someone so sweet as Leng Si Ming. Or someone who was full of red flags like Yuan Wen Bin. Or maybe you'll meet someone who seemed nice but in reality, was a total jerk like Luo Zi Yi.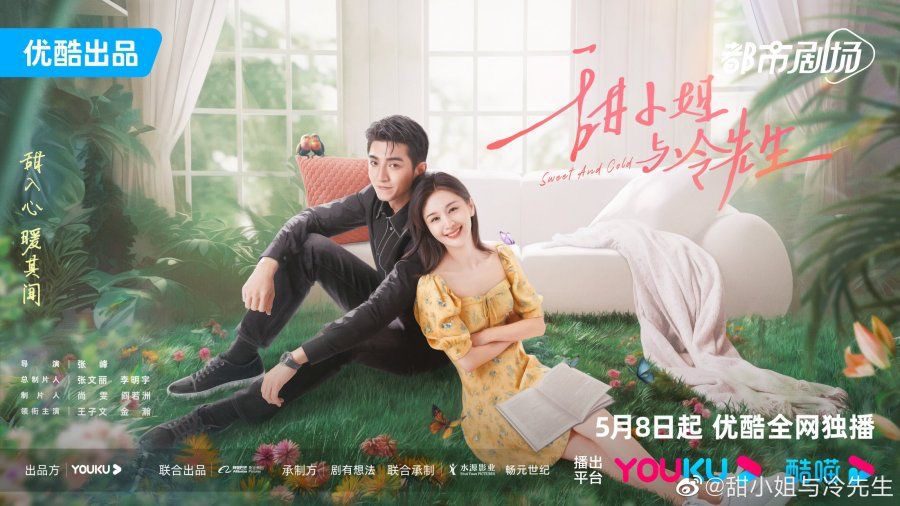 This heart matter leads to the issue of women's empowerment. Jiang Lei Lei, Shen Cunyi, Xia Yang, and Yang Hong was an example of a woman who was suppressed by man. Jiang Lei Lei was dependent on her husband. Shen Chunyi had a severe insecurity problem due to Yuan Wen Bin's personality disorder. Xia Yang and Yang Hong were involved with a man who often abused them. Through hardships, they manage to turn over a new leaf in their life.
Besides love and human relationship, Sweet and Cold also talked about the business world. It emphasized Meng Hao Tian's hard work and relentless optimism. As well as Leng Si Ming's obstinacy to his passion for technology.
Meng Hao Tian believed that there must be a way to every problem, all she had to do was believe in herself and her crew. The way she treat her employee was a million times better compared to how Yuan Wen Bin treated his right-hand man, even though their salary difference was vast as the ocean.
Meanwhile, Leng Si Ming knew that his strength lies in his passion for technology. And he was a fortunate person who had a mentor who guided him in developing his own company and being his first investor. Well, starting a tech company of course needed a lot of money.
Sweet And Cold also addresses the importance of mental health. The supporting characters like Shen Chunyi and Yuan Wen Bin were the center of this issue. Shen Chunyi was feeling insecure in her heart while Yuan Wen Bin had personality disorder. He always had a strong sense of control. He wanted to hold everything in his hand.
Just like he wanted to control his job, his company, his subordinates, and his loved ones. Yuan Wen Bin's father wanted to soften up his son a little bit, so he put Shen Chunyi next to him. But it did not work well. Shen Chunyi moved out of their apartment and she was developing a sense of insecurity.
Yuan Wang Shen understand that his son had a desire to lead but he did not know how to guide, so he did another thing to help Yuan Wen Bin. He put Leng Si Ming inside Lingzhi. However, he did realize that this was a drastic measure that would put him further away from his son. But he could not help it. Yuan Wen Bin was like a knife that need to be sharpened.
I am not going to say this was a very bad idea, but the older generation tends to do this. I am sure that most Asian people grew up listening to their parents praising their neighbor's children instead of their children. And that is what Yuan Wang Shen did. When Leng Si Ming stood next to Yuan Wen Bin, everybody could see the difference between them And could not help to compare them.
Overall, aside from the story, Sweet And Cold was a result of good cooperation between the director and the cast. The director, Zhang Feng was the one who directed Our Glamorous Time, where Jin Han played Li Zhi Cheng as the main role and Zanilia Zhao as the female lead. So this drama was not their first collaboration.
I used to watch Wang Zi Wen play Xuxu in When The Snail Falls In Love with Wang Kai as a psychologist/rookie policeman. She had acted in several other dramas, yet this drama was the one I remember the most. While you could watch Jin Han in Hello My Shining Love and Jun Jiu Ling drama. But he was the most memorable as Zhao Xi Feng in Princess Agent. I never thought that they had good chemistry and they really looked good together.
The Cinematography
Sweet And Cold was another drama with Pinterestque style sets. The companies' working spaces, the apartments, and even the flower shop were arranged in a detailed manner. It looked good and pretty. But many dramas use the same pattern: the male lead's apartment would be over the top modern and futuristic.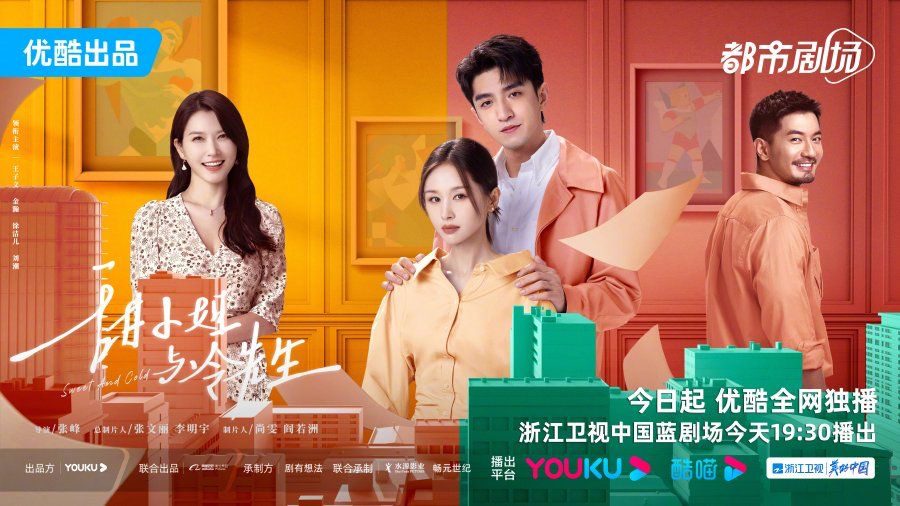 While the female lead's apartment was a mixed design full of small trinkets and looked messy but aesthetically pleasing. I had a puzzling feeling on Leng Si Ming's office door. I knew he works for a tech company, but the door design was a little bit too much. There's no need to put some Star Trek stunt here. It makes me wonder would a Klingon entered the door in the middle of the drama.
Aside from the sets, I have no other complaints about the visuals. The lighting, shooting angles, and costume were good. I would not comment on this part because although some of it was a little bit too much, I enjoyed these aspects of the drama.
The Story
Sweet and Cold started with the meeting between Meng Hao Tian and Leng Si Ming at a wedding rehearsal. Leng Si Ming looked nervous while Meng Hao Tian was indifferent about it. Of course, Leng Si Ming would be nervous since he liked her from the moment he saw him. Leng Si Ming liked Meng Hao Tian because she was beautiful and capable. it was her energy which attracted him.
Their relationship was fast-paced because there was a phone incident when Meng Hao Tian mistook Leng Si Ming's phone as hers. His casual way of giving her his passcode and letting her use his phone and even answer every call was because he already believed in her in the first place. It was kinda illogical to trust someone easily nowadays. But this is Cdramaland, anything could happen in a weird and unbelievable way.
So the phone incident leads to Leng Si Ming's effort to win Meng Hao Tian's heart. But although she tried to resist him, people around her urged Meng Hao Tian to open her heart. She tried and immediately lost herself to him. In the end, it was Leng Si Ming who express his feelings and intention to marry her in the first place.
Yet, it was Meng Hao Tian who finally asked him to be her boyfriend after he lost to a bet. Leng Si Ming who was already sad and dejected could not contain the happiness. You could see it from his happy and smiling eyes. The relationship was smooth sailing.
Both parties was not the type who was clingy to each other. Leng Si Ming and Meng Hao Tian had their activities, place, as well as friends. In short, although they were together, they still have their own lives. In terms of marriage, it was Leng Si Ming who wanted to take the relationship further while Meng Hao Tian was a bit traumatized by the divorces around her.
Sweet And Cold also tell stories about other relationships. those were the relationship between Luo Zi Yi-Jiang Lei Lei and Jiang Lei Lei-Qi Lang, Yuan Wen Bin-Shen Chunyi's messy relationship, and Leng Nuan-Li Cheng Yang's young relationship. Luo Zi Yi and Jiang Lei Lei's relationship was important because it lead to Jiang Lei Lei's enlightenment.
However, I feel her relationship with Qi Lang was too hurried. And I have no impression whatsoever about Leng Nuan and Li Cheng Yang's relationship because I did not like the two characters. They were two teenagers with little self-awareness and big selfishness.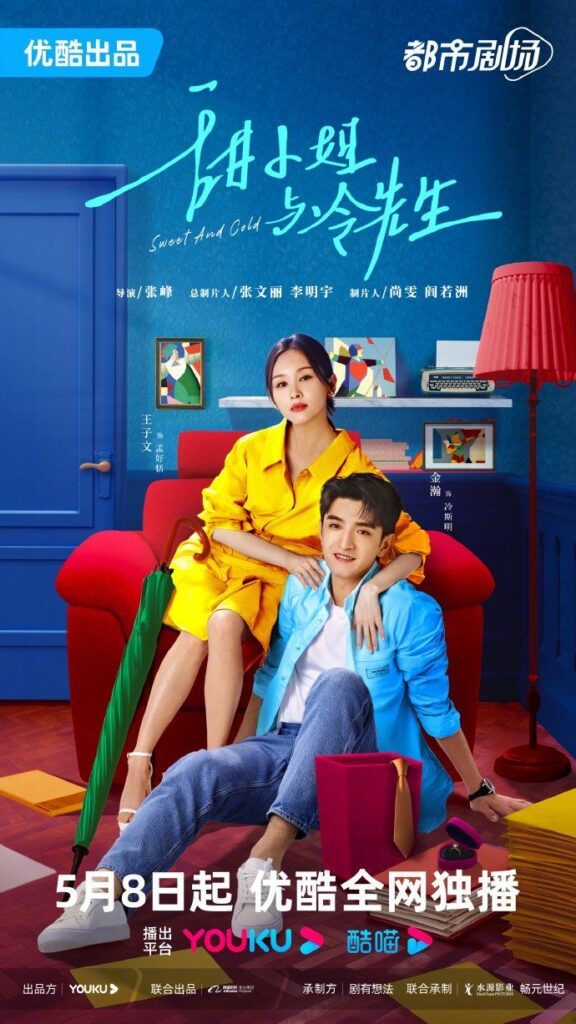 I like Meng Hao Tian and Jiang Lei Lei's friendship. They were sincere and respected each other. Jiang Lei Lei knew that Meng Hao Tian was burdened with debt, so Jiang Lei Lei was always ready to help Meng Hao Tian every time she need it. Meanwhile, when Jiang Lei Lei's marriage was crumbling down. Meng Hao Tian was the first one to react and took a stance in front of her. And when Jian Lei Lei picked up her shattered life, Meng Hao Tian supported her. It was so sweet to see their friendship.
The first half of this drama focused on the relationships while the latter half focused on the business side. I feel like the business side was not interesting. But it brought us a new character that would be a thorn in Meng Hao Tian's heart, Maggie. She was a successful woman from a high-class family. And Leng Si Ming's father choose her as his future daughter-in-law.
Although Maggie's presence was not enough to cause a rift between them, Leng Si Ming's father did. Family was Meng Hao Tian's biggest weakness. She did not put too much importance on her financial situation, but when it came to her family, she was powerless.
Meng Hao Tian's parents were divorced when she was young. Then her father got set up by his colleague and ended up in prison. Meng Hao Tian shouldered his debt for years. The complicated family situation made Meng Hao Tian feel hesitate to take the relationship further.
The ending of Sweet And Cold was predictable, it was indeed a happy ending. Yet, I feel like some of the stories were a bit draggy, especially when it comes to Leng Si Ming and Meng Hao Tian's business. But their relationship ending felt hurried. I feel that since their relationship's development story was meticulous, the ending should share the same way too.
The Characters
Meng Hao Tian
She was a strong and independent woman who hide the pain of her family's past. She came from a divorced family. Her father was a real estate businessman whose business fall out because he was deceived by others. Meng Hao Tian's father was sent to prison and it was her who pay off his debt.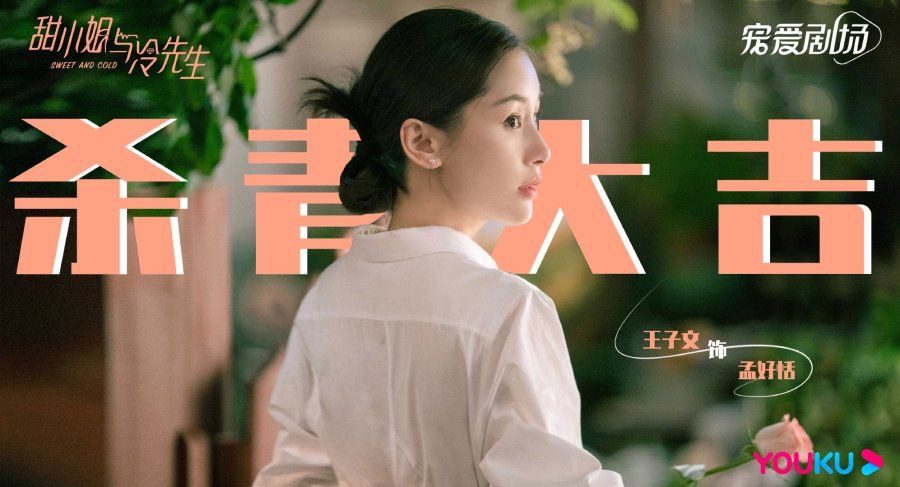 Although Meng Hao Tian's mother did not agree with her decision, Meng Hao Tian was still willing to pay because he was her father. Blood is indeed stronger than water.
With such a huge burden on her shoulder, Meng Hao Tian took her business seriously. She did many things to earn some money. It did not mean that Meng Hao Tian was a money-grubber or muddle-headed when it comes to money, but she was focused on this aspect. She always racks her brain to find a way to make money. She worked an extensive business venture from the owner of Pi Video, a small agency/production house to a professional bridesmaid (she got paid to become a bridesmaid).
I really like the way she showed her confidence and strong mind whenever she go or encounter anything. Meng Hao Tian had principles and she adhere to them. You could not scam her because she always thought carefully about everything. When Meng Hao Tian loves, she would try her best to be a loyal girlfriend.
Leng Si Ming
Leng Si Ming's passion was always for technology matters. He entered Lingzhi as a Chief Technology Officer (CTO). Leng Si Ming looked like a playful person in nature. He was brimming with energy and confidence. Anywhere he goes, it would attract much attention towards him.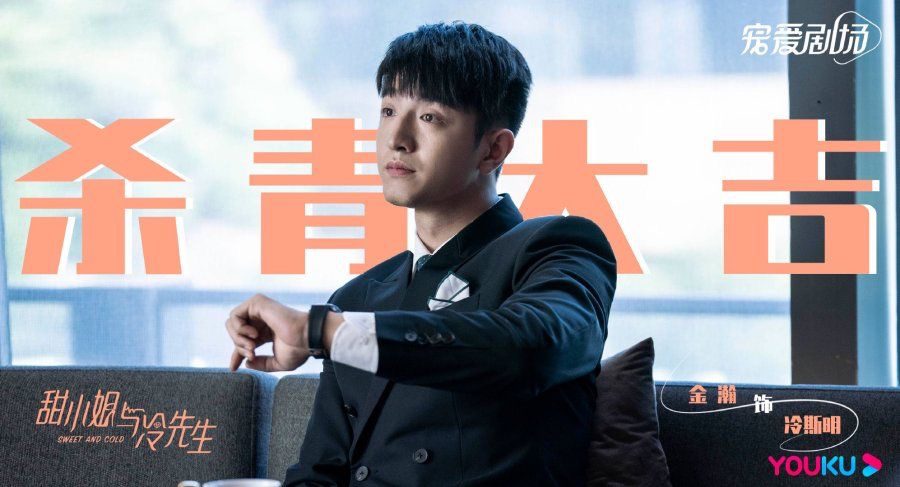 As a straightforward person, Leng Si Ming's intention toward Meng Hao Tian was clear as day. Every time he saw her, he would light up and he would do anything to be close to her. Leng Si Ming knew and could sense the hostile jealousy from Yuan Wen Bin. However, he was not someone who would cower at the sight of a competitor.
Leng Si Ming never liked his father because he was a controlling person. Unlike his brother, Leng Si Ming wanted to be the person he aspired to be. He did not like to walk on a path that his father paved for him. So over the years, their relationship was tense. Everything got worse when Leng Si Ming's father arranged a marriage for him and Maggie.
Jiang Lei Lei
Jiang Lei Lei lived a life that most girls wanted. She had a happy marriage with a husband who dotes on her and a cute son who loves her. They lived in a big and beautiful house. Her husband was a wealthy businessman who would let her open a flower shop just to pass the time. Besides her happy marriage, Jiang Lei Lei also had a great relationship with her best friend Meng Hao Tian.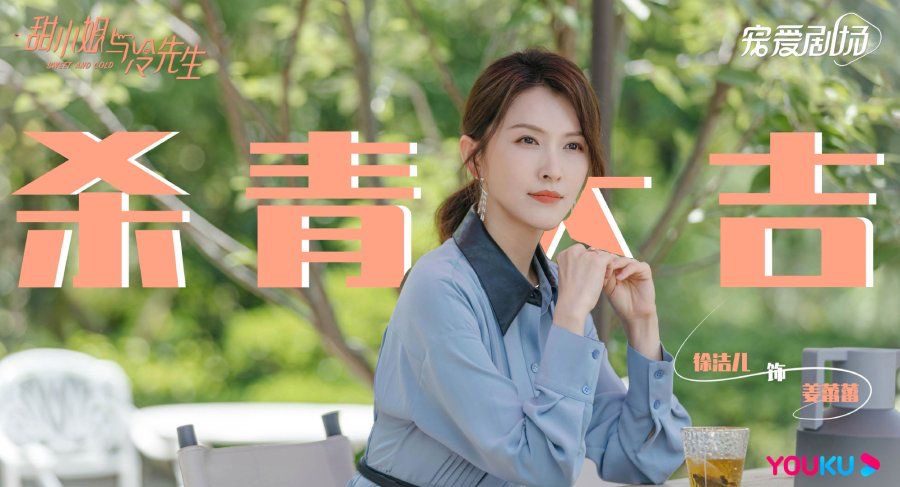 Everything seemed fine until Jiang Lei Lei found out that her husband Luo Zi Yi was cheating on her for years. He used many so-called "business trips" to be together with his mistress and her daughter. Jiang Lei Lei was never suspicious of her husband. But Meng Hao Tian accidentally saw the weird state of Luo Zi Yi and Bai Xin when Xiao Tuan fell into the swimming pool. Meng Hao Tian's instincts told her that something wrong was going on between Luo Zi Yi and Bai Xin.
After a painful divorce, Jiang Lei Lei tried to find herself again. She managed her business more seriously and overcome the sadness of separation. Jiang Lei Lei learned that she had to depend on herself and protect her precious son. The hardship of marriage had transformed the meek and pampered Jiang Lei Lei into a strong and determined woman.
Yuan Wen Bin
Yuan Wen Bin was Meng Hao Tian's ex-boyfriend. They separated because Yuan Wen Bin choose his career over their relationship. They meet again when Meng Hao Tian went to find one of her clients at Lingzhi's building.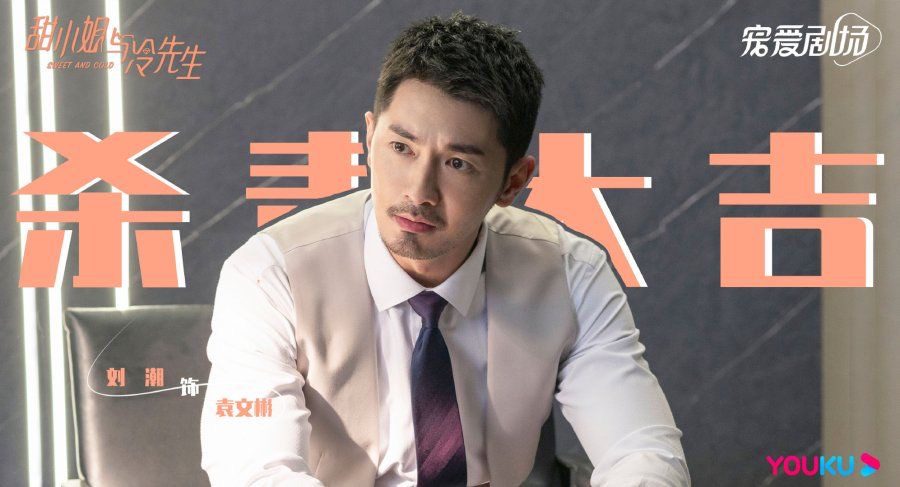 As a second-generation rich man, Yuan Wen Bin was used to having people around him at his beck and call. He developed a controlling habit and wanted to hold everything in his hand. Including work and love. In reality, Yuan Wen Bin always feel insecure since he knew that his ability was lacking and could not fulfill his father's demands. This character made Yuan Wen Bin could not handle setbacks and was easily deceived by people around him.
Yuan Wen Bin still has some feelings for Meng Hao Tian although he already had a fiancee. Luckily, Meng Hao Tian already cut all her feelings for him. She no longer cares about Yuan Wen Bin. However, the indifferent attitude from Meng Hao Tian irked Yuan Wen Bin. He still wanted to control her and show his possessiveness towards Meng Hao Tian.
Although his position was higher than Leng Si Ming, Yuan Wen Bin was jealous of him. He did not like the fact that his father, Yuan Wen Shang, was more lenient and protective towards Leng Si Ming. The jealousy level was increasing after Yuan Wen Bin learned that Meng Hao Tian was in a relationship with Leng Si Ming.
Yuan Wen Bin's fiancee was Shen Chunyi. Over the years, Shen Chunyi was believed that Meng Hao Tian was the one who pester Yuan Wen Bin. She also believed that Meng Hao Tian was the reason why she lost her baby.
Luo Zi Yi
As Jiang Lei Lei's husband, Luo Zi Yi always appears as a family man. He worked so hard to make sure Jiang Lei Lei and Xiao Tuan's needs were fulfilled. He loved and pampered Jiang Lei Lei to the max. He was a model father for Xiao Tuan and very attentive to him.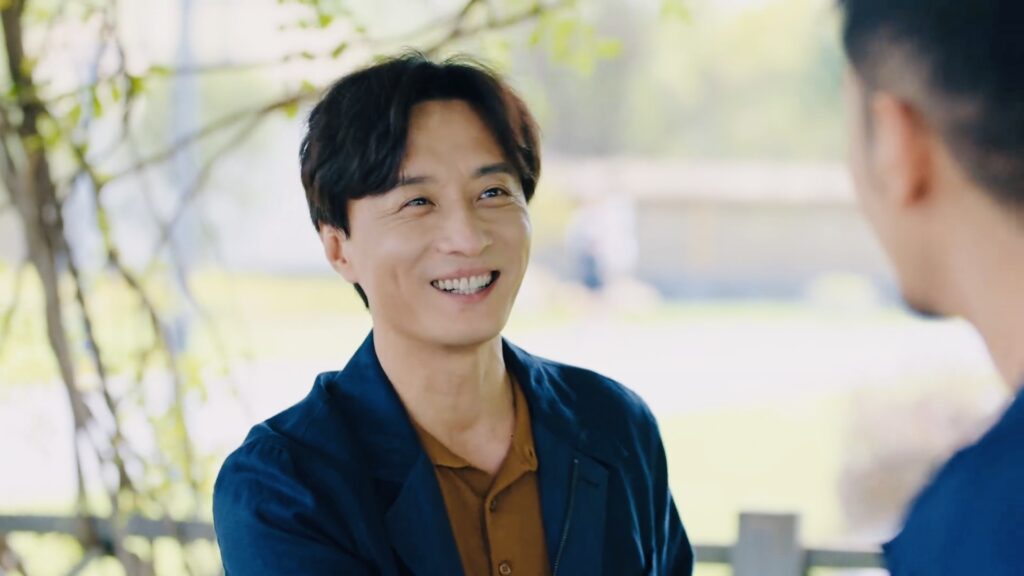 However, everything was just a farce that he made to deceive Jiang Lei Lei and everybody around her. Luo Zi Yi was a selfish and greedy person. He was a manipulator and liar. There's nothing good about him, besides his love for Xiao Tuan was real.
I don't feel like commenting on him. His character was the worse, ever!
Shen Chunyi
Shen Chunyi was Yuan Wen Bin's fiancee. She came from a high-class and rich family. Shen Chunyi knew that Yuan Wen Bin still have a lingering feeling for his ex-girlfriend, Meng Hao Tian. She become insecure and tried to accommodate Yuan Wen Bin in every way. Shen Chunyi did not realize that she was destroying herself when she did that.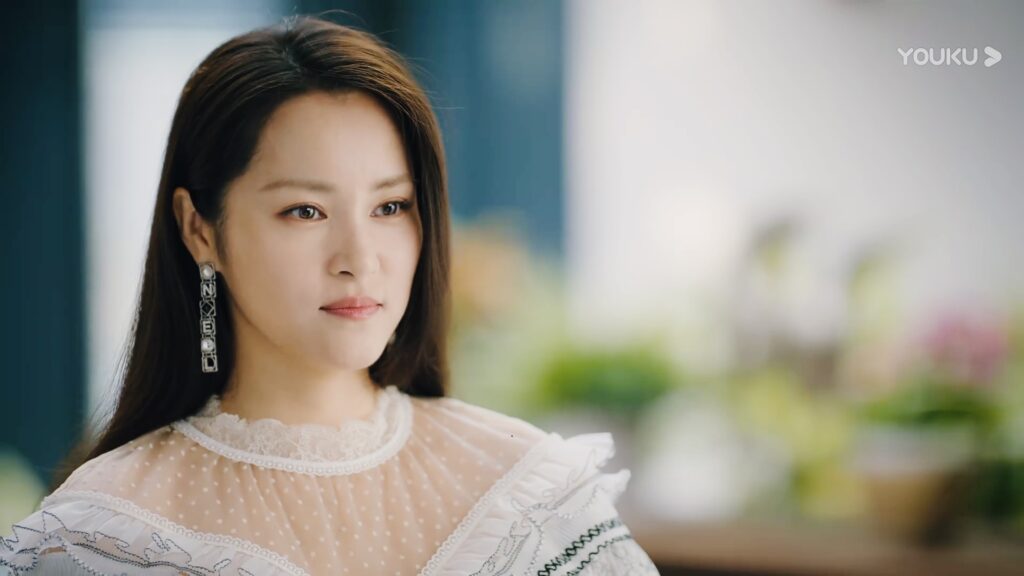 When Shen Chunyi realized that something was wrong with herself, she went to a psychologist named Ji Mo. She was his first patient, so Ji Mo tried hard to help her. But, nobody could help Shen Chunyi but herself.
Fang Hui
Fang Hui was married to a businessman, Xiao Rui. They owned an advertising company named Reda. Fang Hui accidentally get an acquaintance with Meng Hao Tian and Leng Si Ming after she fainted on the street. At that time, Fang Hui was in the lowest state of her life because she just found out that her husband was cheating on her.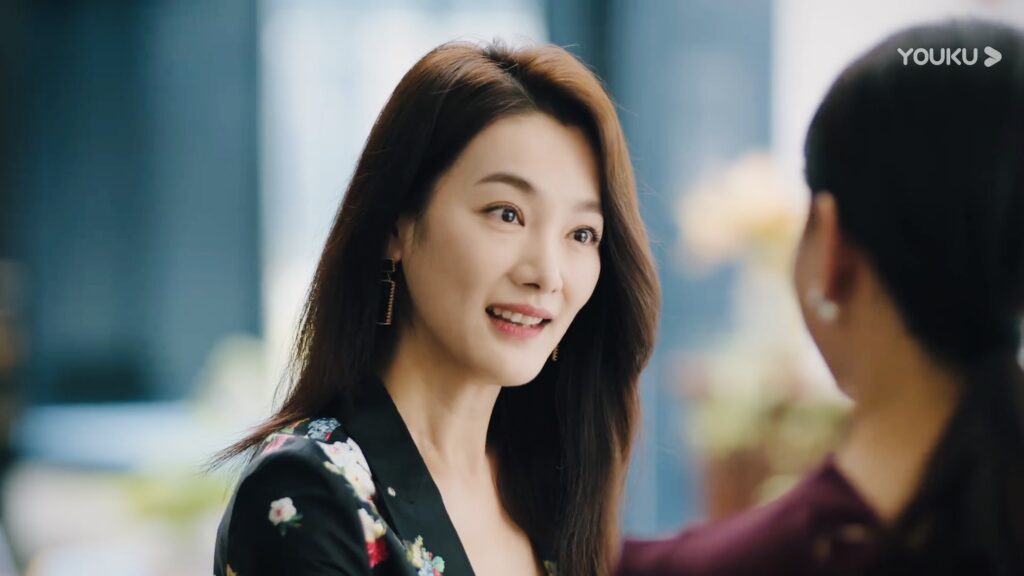 Xiao Rui was not a good person. He was a cunning and vengeful man. Another manipulator who was waiting to be punished…🤬
Fang Hui knew what kind of person her husband was. However, she decided to keep their marriage intact because she still had a glimmer of hope that Xiao Rui would change into a better person.
Fang Hui was a kind and friendly person. However, she was weak and depended on her husband. The problem in her marriage forced Fang Hui to be a stronger, more decisive, and independent version of herself.
Maggie
Maggie's father was a wealthy businessman. Maggie herself worked as an Executive Director of their family business, Hengtian Investment. Maggie's father was an old acquaintance of Leng Si Ming's father. Maggie was a confident, independent, strong, and straightforward person.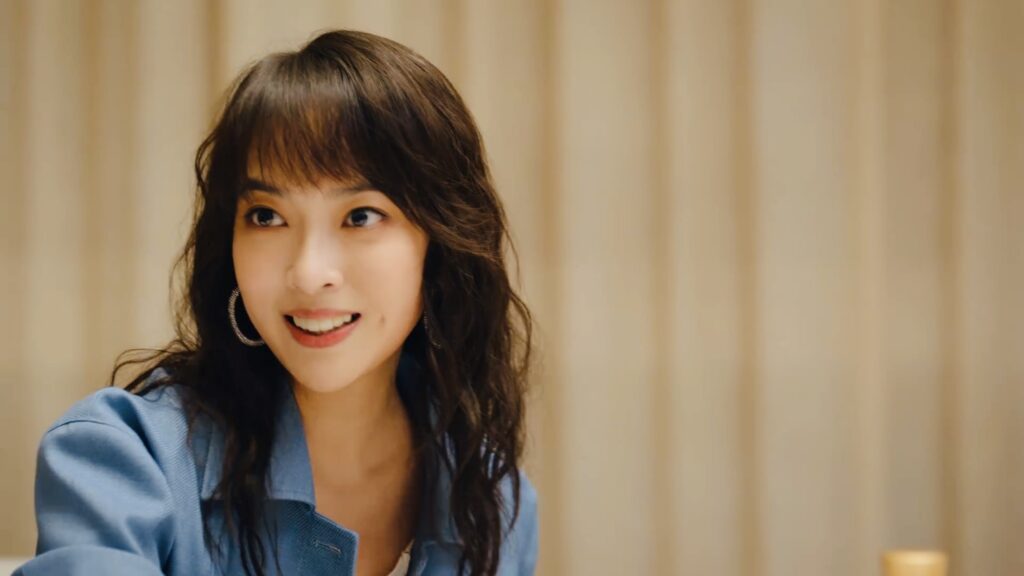 When Mr. Leng's CL Estate faced a financial problem, he decided to solve it by marriage. Therefore there was an arranged marriage plan between Maggie and Leng Si Ming. Of course, Leng Si Ming would refuse the arrangement. But Maggie showed some interest in him. She started to pursue him under the pretense of following the elders' orders.
The truth was, Maggie, was already had a boyfriend named Sun Hao. She knew that Leng Si Ming already had Meng Hao Tian as his girlfriend, so she proposed a play to deceive the elders. Leng Si Ming agreed to the plan. But as time goes by, Maggie found herself getting attracted to Leng Si Ming's friendly personality.
Qi Lang
Qi Lang was a 25 years old man who always drive a motorcycle and worked as a delivery man. He met Jing Lei Lei when he almost hit her on the street. Because of the collision, Jiang Lei Lei's expensive bag was scratched and Qi Lang had to pay for it. However, because he could not pay in full, Qi Lang offered to work at her flower shop to pay the debt.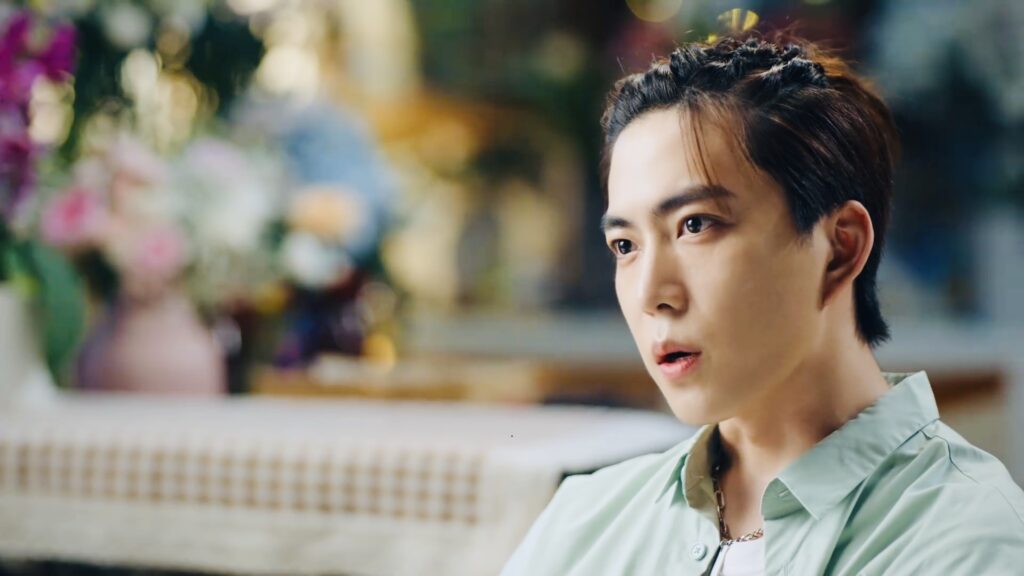 Although he looked quiet and fierce, Qi Lang showed his attentiveness to Jian Lei Lei. With him, Jiang Lei Lei feel protected ad taken care of. Qi Lang's feelings for Jiang Lei Lei were obvious. Yet, Jiang Lei Lei was still traumatized by her divorce.
Yuan Wang Shan
He was Yuan Wen Bin's father. Although he was the President of Lingzhi, he rarely showed up at the company. However, every news of Lingzhi never missed his ear. Yuan Wang Shan spends his idle day at his noodle shop. He was a good chef and the noodle was tempting.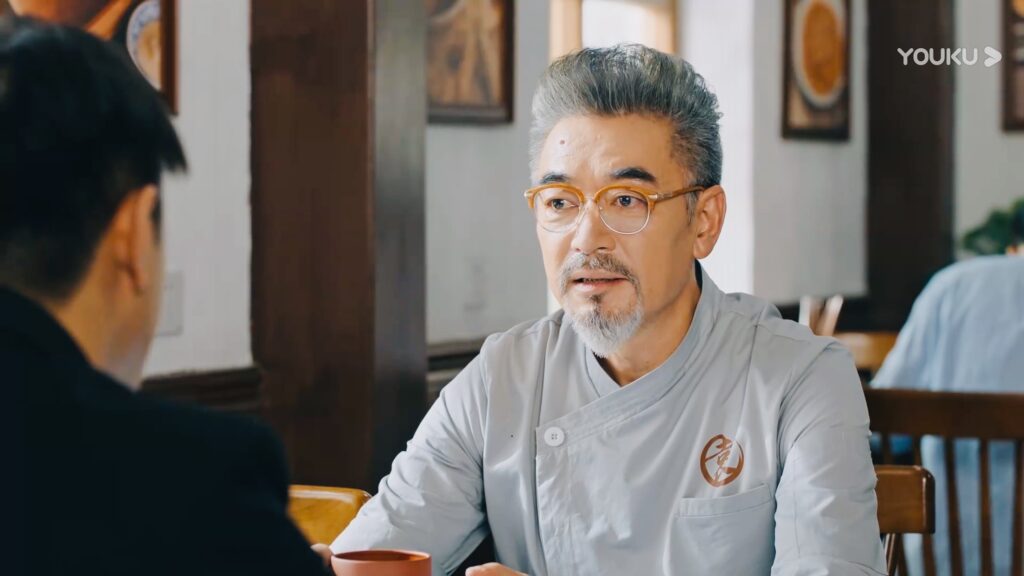 Yuan Wang Shang knew his son very well. Although he looked like a cruel person, he keep thinking about his son. Yuan Wang Shan recruited Leng Si Ming as his right-hand man and send him to Lingzhi as a help for Yuan Wen Bin. But his decision create a rift between him and his son. Yuan Wen Bin saw his father's actions as something against him. So he hated Leng Si Ming and was angry towards Yuan Wang Shan.
The Conclusion
Sweet and Cold drama was a good choice, if you need something to pass the time but could not decide what to watch. The story was a bit lacking, but at least you could enjoy the good chemistry between Jin Han and Wang Zi Wen.
The first half of this drama was quite interesting. However, the latter part was, I could not help to say, bearable. You could take this drama in a daily dose because the 31 episodes were quite long if you wanted to binge-watch it in one go. And this drama was suitable to relieve you from a hard day. If you want to skip to the end and know how this drama end, you can find out on Sweet and Cold ending explained post that I wrote, thanks.
So, what are you waiting for? Just open the streaming app on your gadget and enjoy the sweet relationship between the handsome Jin Han and the cute Wang Zi Wen. Happy watching!