Title: Wrong Carriage, Right Groom
Also Known As: 花轿喜事, Xin Shang Cuo Hua Lang Jia Dui Lang, Hua Jiao Xi Shi
Director: Cheng Feng
Cast: Tian Xi Wei, Ao Rui Peng, Zhao Shun Ran, Bai Bing Ke
Genres: Comedy, Romance, Historical
Country: China
Type: Drama
Number of Episodes: 24
Date Of Releasee: Aug 28, 2023
Original Network: Youku
Where To Watch: Youku, Viki
Adapted from the novel: Wrong Carriage, Right Groom by Xi Juan
Hola readers! Wrong Carriage, Right Groom was a new historical drama that I found in Youku. Actually, it was not one of my reserved dramas and the title was too obvious for me. I decided to give it a try because I was kind of like Tian Xi Wei after I watched her in New Life Begins drama. However, I feel like this drama was a bit disappointing for many reasons. Let me tell you why in this drama review post. Now, onto the story!
Wrong Carriage, Right Groom Synopsis
One fine day in Yangzhou, two prominent families married off their daughters. The first family was the Li family, the head of the Mighty Martial Arts Center. They planned to marry their daughter Li Yuhu to the powerful general in Jingzhou who was rumored to have killed his first two wives, Yu Bu Qu.
Meanwhile, the Du family planned to marry their daughter, Du Bing Yan to a sickly third young master of the wealthy Qi family in Linzhou, who was rumoured would die anytime soon. One is in the north of the country while the other one is in the south of the country.
Li Yuhu and Du Bing Yan aboard their wedding carriages with discontent and helpless feelings engraved in their hearts. They were not willing, but they knew that they had no choice but to agree. Adorned in the same beautiful wedding attire and the same carriage, the brides walked out of their residence at the same time.
In the middle of the day, the weather suddenly changed. Li Yuhu and Du Bing Yan should take shelter at an empty temple. The brides entered the main hall, while their attendants waited at the pavilion. Li Yuhu and Du Bing Yan got acquainted with each other. These women talked about their future husbands and realized that they faced the same situation.
But fate played them and brought them to the wrong groom. Because of the switched wedding veil, Li Yuhu who should have been marrying into the general residence, was taken to the Qi family in Jingzhou. Meanwhile, Du Bing Yan who should become the Qi family's daughter-in-law was taken to the General's residence.
Both girls felt empathy and shared solidarity for each other, so each of them hid the truth about their real identity. Li Yuhu who was illiterate but adept in martial arts had to pretend to be a noble lady from a prominent family. And Du Bing Yan who was adept in four arts and was soft had pretended to be the tough Li Yuhu.
As soon as Li Yuhu entered the Qi family, she discovered that her sickly husband was not sick at all. He just pretended to be sick in front of his own family. While Du Bing Yan had to find a way to meet her husband. She embarked on a journey to the military barrack, pretending to be a young boy who was looking for his brother.
The wrong carriage brought Li Yuhu and Du Bing Yan to their fated husbands, Qi Tian Lei and Yuan Bu Qu. However, there was a problem ahead of them. How would Li Yuhu and Du Bing Yan explain their identity? And will these young ladies manage to return to their own home, or will they find another place to call home?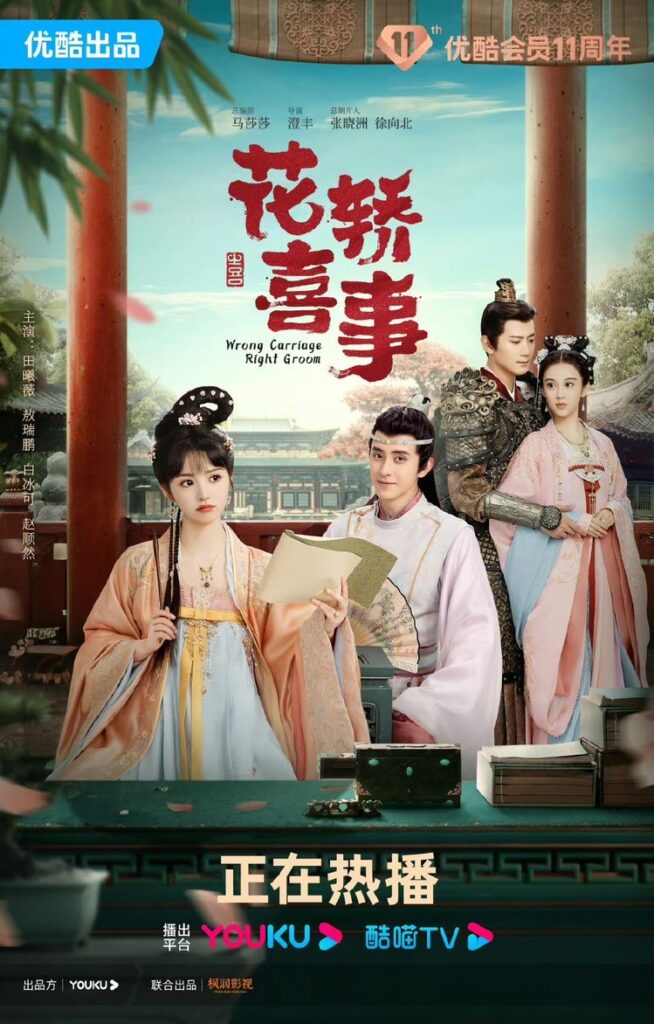 Wrong Carriage, Right Groom Review
Wrong Carriage, Right Groom was the latest historical drama that I found in Youku. I was interested in this drama solely because of Tian Xi Wei's familiar face. I'm not so sure about the plot because the title and the poster were already giving a clear picture of the story. And in my opinion, they already lost the surprise effect.
Readers, I already told you that this drama was a bit disappointing for some reason. Therefore, let me remind you that this review post would be a bunch of rants.
Wrong Carriage, Right Groom was an adaptation of a popular novel with the same title, written by Xi Juan, who had already written several romance novels. This drama was a remake of a 2001 drama with the same title. I have never watched the 2001 drama or read the novel before, so I could not make the comparison. This review was solely based on this 2023 drama that I watched several days ago.
The first episode of Wrong Carriage, Right Groom was about the wedding day. The director made sure this episode would attract the attention of the viewers. The wedding attires of Li Yuhu and Du Bing Yan and their carriage were made beautifully. I fell in love instantly with Li Yuhu's hairdo. It looked so pretty on her.
Yet, this first episode also had me fuming about this kind of forced wedding. Both Li and Du families have no objections to the idea of marrying their treasured daughters to someone with a foul reputation, far away from home. Yuan Bu Qu might be a powerful general, but he was ruthless and already had two dead wives. It was rumored that he was the one who killed them both.
Qi Tian Lei comes from a wealthy Qi family, but he is a sickly person who might die anytime soon. So, the Du and Li family did not care if their daughter would die at the hands of her husband or become a widow at a young age. What kind of family are they? The parents were selfish but they still smiled watching their daughter leave their home.
But then Li Yuhu and Du Bing Yan showed a positive mental attitude toward their circumstances, and it relieved me. I like tough and smart female leads. Especially in the historical genre where they must face a harsh social situation. And the male leads turned out to be good people with good attitudes. So, I was quite content with our main leads.
I felt the story was a bit forced when our female leads were rushed to go to the temple. Their entourage urged them to enter the praying hall while they waited outside. It was fine if they left the maidservants with the bride, but Li Yuhu and Du Bing Yan must wait inside the hall alone.
And they stood awkwardly in front of the Goddess statue. No chair for them to sit in, while all the attendants sat comfortably outside. And I thought in my heart that, this was only the beginning.
The second rant was about the story pace which was quite slow. But the male leads fall in love very quickly. It only took a moment before they realized that they were attracted to the female leads. Qi Tian Wei thought that Li Yuhu was weird but cute and interesting.
Yuan Bu Qu fell in love instantly after he saw Du Bing Yan swimming on the river in her dudou ( a piece of cloth that was used as a chest and belly cover in ancient China). I know I might sound absurd because of this rant. I always complained when the main leads fell in love at a snail's pace, but I also complained when they fell in love in a flash.
Well, too little or too much was never good. I wished that Qi Tian Lei and Yuan Bu Qu would fall in love a little bit later because I enjoyed watching the process.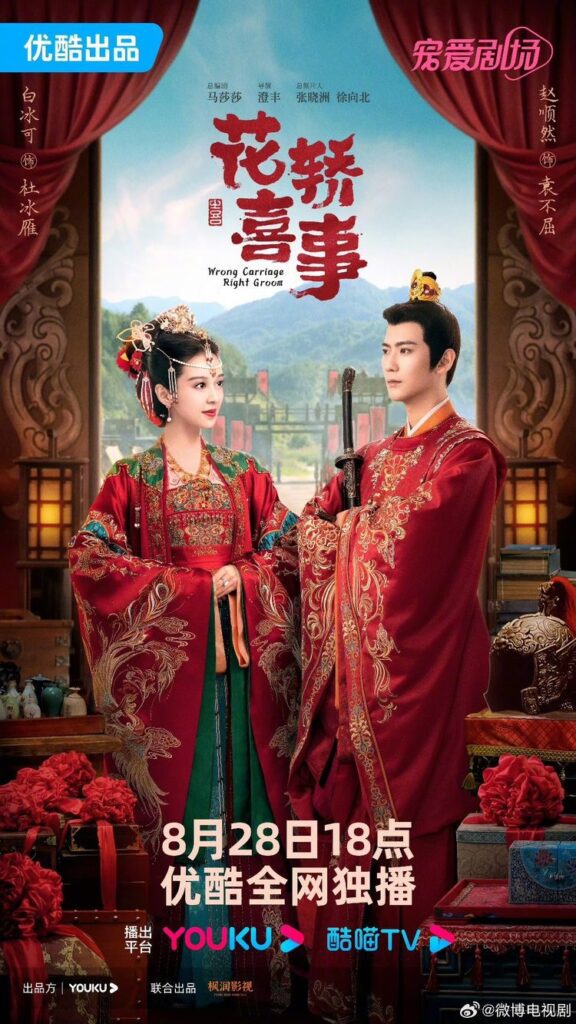 The story plot itself was predictable. Just like the title itself, I felt that the story lacked a surprise element in it. When the love rivals appeared, I could not but roll my eyes and screamed inwardly "I knew it!!'.
Another thing that left me frowning was the side stories. Aside from Li Yuhu-Qi Tian Lei and Yuan Bu Qu-Du Bing Yan's stories, there was also a story of Liu Ruo Qin's relationship and the story of the Queen's past. All of this story feels like an add-on and is not part of the main story.
And the last thing that made me dissatisfied was Du Bing Yan's costume. When she pretended to be Du Bin, she dressed like a young man. But the fitted robe did not conceal her feminine figure. And in that kind of clothes, it was impossible for her to stay at the military barrack pretending to be a man. I think the costume department needs to work harder with their imagination.
After Qi Tian Lei confirmed Li Yuhu's real identity, he then asked Lu Yuhu's help when he had to deal with the villains, Ke Shi Zhao and Fang Xiao Qiao. This evil couple was super annoying, and their intentions were obvious. But Grandma Qi was oblivious to their bad deeds. I was a bit tired with this kind of character.
They always came from a prominent family, cunning, and smart, but failed to see the danger in front of them. And when somebody pointed it out, they refused to believe it. I am pretty sure that there are so many ways to write this ambiguous character better than this.
The evilness of Ke Shi Zhao and Fang Xiao Qiao lasted from the beginning of the drama until the very last. They were sneaky and were all over the place. Fang Xiao Qiao was the maidservant of Grandma Qi, but she seemed to manage to boil the medicine for Qi Tian Lei all the time. Plus, she often becomes Ke Shi Zhao's drawing object. I wonder why the old lady never questioned that her maidservant seemed to be missing all the time.
Li Yuhu was a good martial artist, but she did not look like a master at all. She did not have any heroic aura on her. When she first entered the Qi family, she tripped on her feet when she was about to present a cup of tea to Grandma Qi. Can you imagine that? A martial artist tripped on her own feet?
Qi Tian Lei himself was not a dashing character to me. Yes, he was handsome indeed. But I did not like his character at all. He had a genius doctor, Liu Ruo Qian, by his side. But Qi Tian Lei was only taking some measures against Ke Shi Zhao after Li Yuhu arrived at the residence.
Qi Tian Lei himself was smart and adept in martial arts too. So, I could not help myself but curse his slowness and cowardliness. He could do so much better than this.
Compared to Li Yuhu-Qi Tian Lei, the story about Du Bing Yan and Yuan Bu Qu was more interesting. Du Bing Yan learned how to be a doctor in the military barracks. She was a good student who learned fast. And before long, she had become a competent doctor. Yuan Bu Qu thought she was a young man and completely believed in him.
The war scene was unconvincing. Yes, it involved many people and horses, but it did not seem real. For instance, when Shang Ping Wei was surrounded by enemies in episode 5. He fell from the horse, but his armor and cape were squeaky clean. And before he started to fight, he waved his blue cape as if he was a model on a catwalk.
This gesture was absolutely unnecessary. It might show how good the cape was, but he was in the middle of a battle. There was no need for this kind of thing.
There were too many rants during my time watching this drama, but I think I should stop here. Because even though this drama was not like I expected it to be, it still has many things to be praised. Such as the chemistry between the main leads and the costumes.
As for the main leads, it seemed that Li Yuhu and Qi Tia Lei had more screen time compared to Yuan Bu Qu and Du Bing Yan. So, in my opinion, it was clear to see how the chemistry between Tian Xi Wei and Ao Rui Peng was stronger than Zhao Shun Ran and Bai Bing Ke.
Wrong Carriage, Right Groom was the first collaboration between Tian Xi Wei and Ao Rui Peng. This was the first time I saw Tian Xi Wei after she acted in New Life Begins with Bai Jing Ting. And I was disappointed because her character did not change at all. She was still a cheerful, bubbly, childish, and straightforward girl.
So, I did not see any changes between her roles as Li Yuhu and Li Wei. Meanwhile, I once watched Ao Rui Peng in A Female Student Arrives at the Imperial College alongside Zhao Lu Si and Xu Kai Cheng. Then he acted in the Blood Oof Youth where he played the adorable, idealistic, and simple-minded Lei Wu Jie. And he did it very well. In this drama, Ao Rui Peng also played the role of Qi Tian Lei who was sweet, playful, and kind.
I did not have much impression of Zhao Shun Ran even though he acted in the historical dramas Weaving a Tale of Love and A Girl Like Me. He did well in this drama portraying the serious and astute Yuan Bu Qu.
However, I think he needs to work hard to build a stronger aura if he takes another role as a war general or another character who holds power in his hand. As Yuan Bu Qu, I like to see his distraught expression when he could not shake off Du Bing Yan's face from his mind.
Wrong Carriage, Right Groom was the first drama of Bai Bing Ke where she played the main role. A few months ago, she acted in The Legend of Anle as Mo Shuang, the Princess of Northern Qin. Bai Bing Ke did a good job as Du Bing Yan in this drama. She looked soft and sweet, but you could see her stubbornness displayed in her face. Du Bing Yan's character suits her well, but I would like to see her in a more challenging role.
The Director of this drama, Cheng Feng, was also the person behind the dramas The Princess and the Werewolf, Ms. Cupid in Love, The Great Ruler, and Ashes of Love.
Although Wrong Carriage, Right Groom was obviously a low-budget drama, Cheng Feng did a good job with the cinematography. the shooting angles and lighting were able to convey the emotions that the actors tried to express. The costumes and the set were beautiful, especially the garden and rooms in the Qi family residence.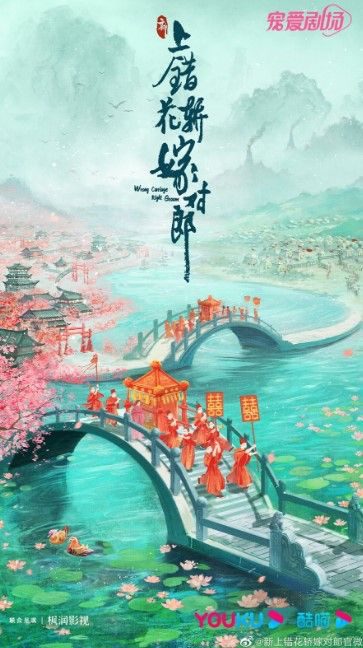 The Story
The story begins when the two young women express their dissatisfaction with the marriage plan on the wedding day. Du Bing Yan expressed her feelings by playing a song in her guqin while Li Yuhu would shout and yell at her father. These girls came from different backgrounds and had different temperaments.
Li Yuhu came from the Li family who owned the Mighty Martial Arts Centre and had a straightforward attitude. Du Bing Yan came from a wealthy business family in the north of Yangzhou and she was a calm and composed person.
These young women should marry husbands they did not know. Li Yuhu had to marry far to the west, where General Yuan resided. He was a well-known war general who already had two wives, but both of them died. While Du Bing Yan's parents married her off as a chongxi bride.
A chongxi is a folk belief marriage that uses marriage to ward off bad luck and disease. Her future husband, Qi Tian Lei came from a prominent family. But his health was not good, and it was rumored that he would die soon.
The Li family knew that their daughter would marry the Du family's daughter at the same time. So, it was inevitable that people would compare the wedding. So, they made Li Yuhu wear the same wedding attire and the same carriage as Du Bing Yan.
But at the last minute, Li Yuhu ruined her wedding veil to delay the wedding, and the matchmaker Aunty buys another one with a different embroidery. This veil would be the reason why they entered the wrong carriage.
The Li family also wanted to steal the limelight from the Du family, so Master Li planned to make Li Yuhu's carriage ride in front of Du Bing Yan's carriage. I have no idea why the Li family was so competitive towards the Du family.
I hate the parents of the Li and Du families because they use their daughters to save themselves. The mothers also guilt-ridden their daughters so Li Yuhu and Du Bing Yan would not refuse the wedding. After the girls said that they were willing to get married, those sad and helpless expressions were wiped out from their faces. Everybody thought that the wedding was good for them, but the ones inside the carriage felt otherwise.
The brides embarked on the road together. But the sunny day turned out to be a rainy day in a flash. Li Yuhu, Du Bing Yan, and their entourages had to stop on an empty temple, to take shelter from the rain. And this was the first time Li Yuhu got acquittanced with Du Bing Yan.
These brides told each other about their future husbands and realized that they were in the same situation and fate. they bond pretty quickly and develop a strong sense of empathy and solidarity. Therefore, it was predictable that they would support anc protective towards each other in the latter episode.
When Li Yuhu arrived at the Qi family, she realized that Qi Tian Lei's personality was different from the image that he showed the world. He pretended to be sickly and frail. But in reality, he was healthy and vigorous. Qi Tian Lei was smart and was a good martial artist. Therefore, it did not take long before he realized that Li Yuhu's personality was different from Du Bing Yan's.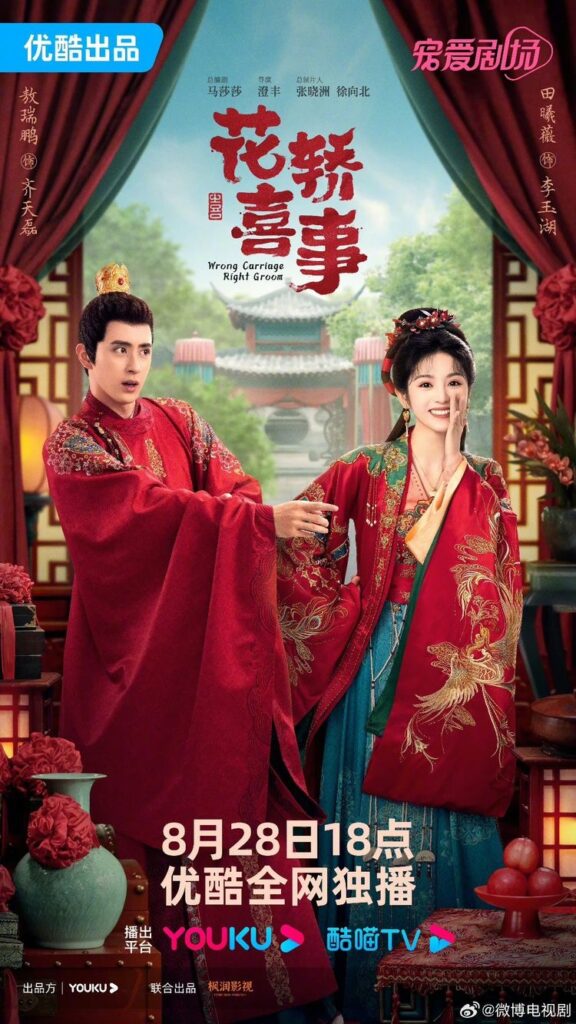 Moreover, Du Bing Yan was a noble lady whose adept in four arts and culture. Meanwhile, Li Yuhu used to slack in her life and was barely literate. So, when she read the calligraphy wrong, Qi Tian Lei was sure that Li Yuhu was not Du Bing Yan. However, Li Yuhu's bubbly personality made Qi Tian Lei fall in love.
Deep down inside he did not want to lose Li Yuhu. So even though he found out her identity, he made up a reason for Li Yuhu so she could stay and not leave him.
The problem inside the Qi happened since they lost the first and second young masters of the Qi family due to bad luck. And now the only heir of the Qi family, Qi Tian Lei had become a sickly person who could die anytime soon.
The matriarch of the Qi family, Grandma Qi, found a reliable man named Ke Shi Zhao to be the manager of the Qi business empire. But Ke Shi Zhao was a bad guy who wanted to take over all the business for himself. He worked together with Granma Qi's maid servant, Feng Xiao Qiao.
Ke Shi Zhao and Feng Xiao Qiao were a couple. However, Feng Xiao Qiao pretended to fall in love with Qi Tian Lei and acted very attentive towards him. This was only an act because it was the only way for her to gain access to Qi Tian Lei's medicine. She and Ke Shi Zhao secretly added slow-acting poison to his medicine.
Luckily, Liu Ruo Qian helped Qi Tian Lei and they discovered the poison. He took all the medicine but secretly poured it out to make Ke Shi Zhao believe that he succeeded in his action.
To conceal his bad deed, Ke Shi Zhao had many underlings inside the Qi family. Therefore, Grandma Qi only heard good news about him. Only after Qi Tian Lei and Li Yuhu find out about Ji Jian Tang, do they have proof to prove that Ke Shi Zhao was a wolf in sheep's clothing.
Compared to Li Yuhu, Du Bing Yan's life in the General manner was worse. Li Yuhu's personal maidservant runs away with the matchmaker aunty because they fear the general will kill them if he finds out that his newly wedded wife is fake. So, she had to deal with the strict rule of the General manor.
To tell Yuan Bu Qu about the situation, she had to meet him first. But he rarely returned home and chose to stay at the barrack. So Du Bing Yan had no choice but to sneak out of the mansion and go to the barrack.
On her journey, Du Bing Yan met Liu Ruo Qian who helped her. The miracle doctor was on the way to Yuan Bu Qu's military barrack to check about the real identity of Qi Tian Lei's wife, Li Yuhu. Liu Ruo Qian believed in her story of looking for her brother. But later he realized that Du Bin was a woman in disguise and her real name was Du Bing Yan.
Liu Ruo Qian was the one who helped Du Bing Yan reveal her gender and her real identity to Yuan Bu Qu. He saved up soooo many scenes by telling them straightforwardly and made Yuan Bu Qu realize that he did not want to lose Du Bing Yan, despite her real identity, not Li Yuhu.
Later, Du Bing Yan learned to be a doctor who helped the wounded soldiers. She also personally took care of the general himself. Maybe because he already developed feelings for Du Bing Yan the night he saw her swimming in the river. Moreover, his instinct also tells that Du Bing Yan was harmless. Therefore Yuan Bu Qu was less guarded against her.
When Liu Ruo Qian reminded Yuan Bu Qu that he might lose Du Bing Yan if he did not make a move, Yuan Bu Qu decided to tell Du Bing Yan about his feelings. At that time, Du Bing Yan has also developed feelings for him.
The relationship between Du Bing Yan and Yuan Bu Qu only met hardships when Yuan Bu Qu realized that he could not keep Du Bing Yan's real identity from his comrades. Or else it could be regarded as a crime against military rules.
So, he sacrificed himself to receive military punishment for her. But one of his military counselors helped him. And because of this incident, Du Bing Yan and Yuan Bu Qu managed to complete their wedding ceremony.
Another hardship that Du Bing Yan and Yuan Bu Qu had to deal with was when the Queen decided on Yuan Bu Qu to be her future son-in-law. Because of his meritorious deed, Yuan Bu Qu was awarded with a noble title and a bestowed marriage to Princess Chang Ping.
The eunuch who delivered the edict said that it was a fortune for Yuan Bu Qu to be able to marry an imperial princess. And if Yuan Bu Qu still wanted to keep his present wife (AKA Du Bing Yan), he could keep her as a concubine. Of course, Yuan Bu Qu refused to do that.
Therefore, he had to think about a way out, so the emperor would take back the edict. Yuan Bu Qu himself could not refuse the arranged marriage because it was a huge crime to refuse an edict.
The story ending was predictable since we could see in the opening scene that Li Yuhu and Du Bing Yan would marry the person they love. However, there was a long way to go before they could re-do the wedding ceremony.
Qi Tian Lei and Li Yuhu had to deal with Ke Shi Zhao and Feng Xiao Qiao first. While Du Bing Yan and Yuan Bu Qu had to dodge the marriage between Yuan Bu Qu and Princess Chang Ping. I wrote about the Wrong Carriage Right Groom ending in a separate post, you can read it anytime.
The Characters
Li Yuhu
As a daughter of the founder of Mighty Martial Arts Centre, Li Yuhu (played by Tian Xi Wei) lived a carefree life. She was not good at literature and poetry, but she was very good at martial arts. Li Yuhu always talks straightforwardly. Her bubbly and naïve personality caught Qi Tian Lei's interest.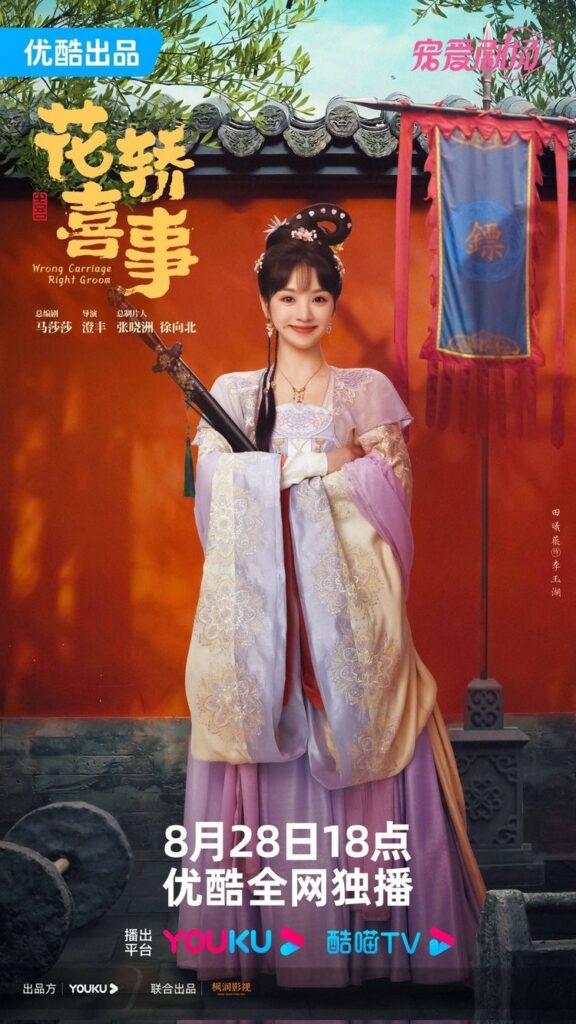 Although she was a bit ignorant and childish, Li Yuhu was a soft-hearted and honest girl. She tried to protect Du Bing Yan by pretending to be her. However, she did not wish to covet Qi Tian Lei because, in her heart, Li Yuhu knew Du Bing Yan was the rightful wife of Qi Tian Lei.
Li Yuhu falls in love with Qi Tian Lei because he is kind and attentive to her. However, personally, I like to think that Qi Tian Lei awakened her heroic instinct. Li Yuhu wanted to protect people who were weaker than her such as Du Bing Yan and Qi Tian Lei. Although in the latter episode was revealed that Qi Tian Lei was not that weak, and he could do some martial arts.
Qi Tian Lei
As the third Son of the Qi family, Qi Tian Lei (played by Ao Rui Peng) was the only heir of the Qi family. His brothers died in a dubious death. One was bitten by a snake and the other one got sick all of a sudden. Qi Tian Lei wanted to prove that their death was homicides, but he had no way to prove it.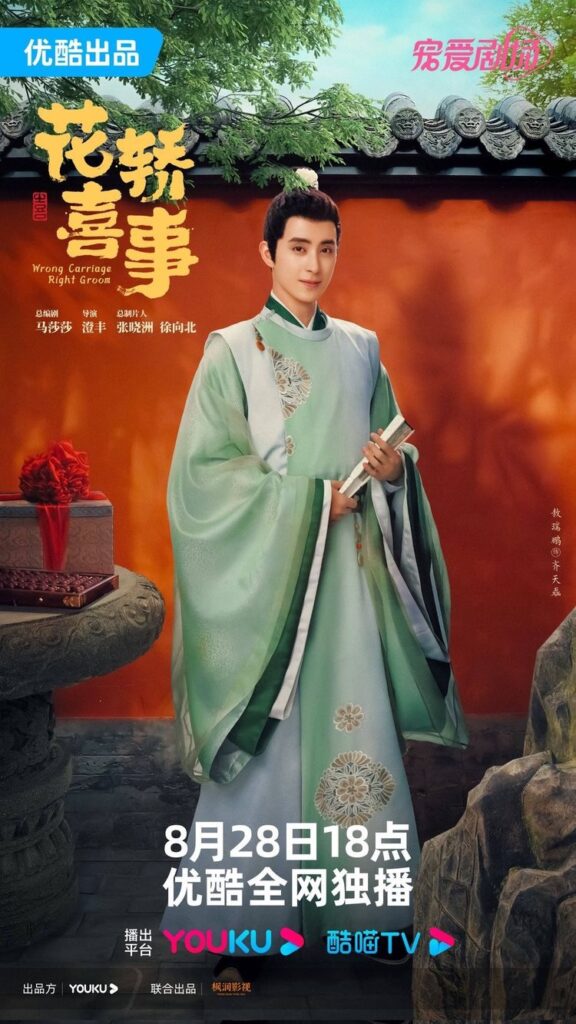 Qi Tian Lei was a good and kind person. He was attentive, soft-hearted, and very considerate of others. For him, Li Yuhu was a fresh breath of air that came into his desolate life.
Qi Tian Lei fell in love with Li Yuhu from the beginning when she came into Qi's residence. Her awkward and naïve nature successfully moved his heart. He did not want to lose Li Yuhu even though she was not his fated wife. So, Qi Tian Lei hoped that Du Bing Yan and Yuan Bu Qu would fall in love with each other. So, Li Yuhu would willingly marry him.
Du Bing Yan
Du Bing Yan (played by Bai Bing Ke) was the epitome of a noble lady. She was calm and composed. Talented in literature and four arts. She was also beautiful and famous for being the number one maiden in Yangzhou. Although she looked soft-hearted and frail, Du Bing Yan was a stubborn person. She could transform from a boudoir girl into a tough woman if it was needed.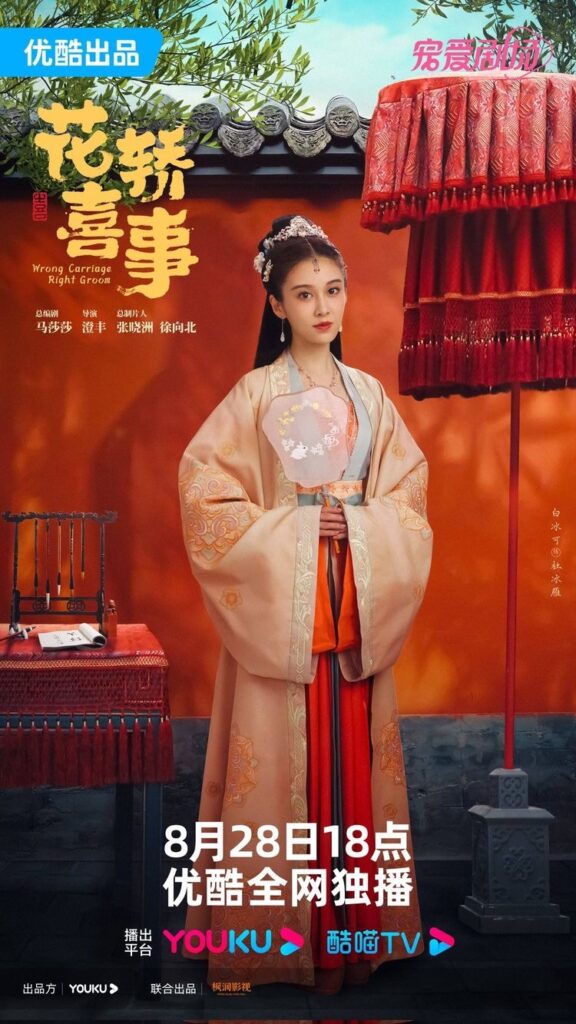 But it did not make her lose her sense of empathy, instead, she gained compassion. Therefore, she was the right person to be Liu Ruo Qian's disciple.
After she went to the military barrack, Du Bing Yan spent some time waiting for Yuan Bu Qu to return from the warzone. She learned medicine and how to help people. As a smart and fast learner person, it did not take her a long time to master medicine.
Liu Ruo Qian also acknowledged her ability. her beautiful face attracts Yuan Bu Qu's attention. But later her humble and hard-working nature shone and made him fall in love completely.
Yuan Bu Qu
Yuan Bu Qu (played by Zhao Shun Ran) was a serious and astute person. He rarely smiles let alone laugh. As a war general, he lived a lonely life. Yuan Bu Qu used to have two wives, but both of them died of misfortunes. It was rumored that he was the one who killed them, which was absolutely wrong.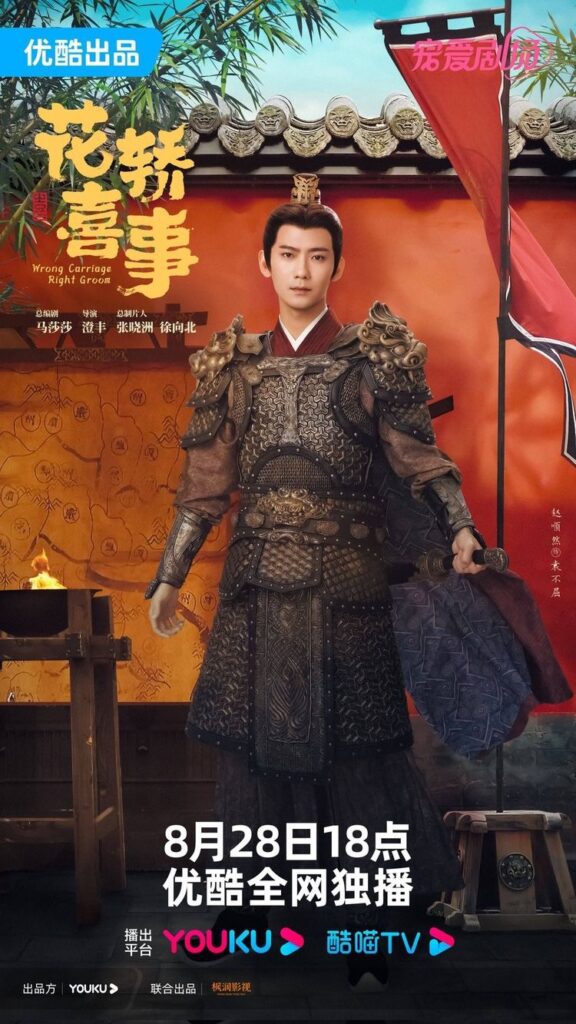 But Yuan Bu Qu just let the rumors spread like he did not care about it. He might really not care about it since he seemed ready to live as a lone wolf in the military barrack. But after he fell in love with Du Bing Yan, Yuan Bu Qu started to realize that deep down inside his heart, he also wanted some love and feared being lonely.
Yuan Bu Qu was a man with a righteous heart. He was a good leader and brother to his comrades. He would protect them at all costs, even if it meant sacrificing his life. So when Du Bing Yan faced injustice, he tried his best to protect her. And this kind of affection won Du Bing Yan's heart.
The Conclusion
Overall, even though this drama lacked interesting aspects in the story, there were still things to enjoy in this drama. Such as the beautiful costumes, the pretty faces of the actors, and the detailed sets. However, I don't think I would waste my time to rewatch this drama. I guess there was a thing or two that screamed once is enough.
So, what do you think, dear Readers? If you decide to watch Wrong Carriage, Right Groom drama, don't forget to tell us about your opinion in the comment box below. I'll see you in another post of the drama review. Bye!