Dear readers, since the opening scene of When I Fly Towards You, the director already revealed that Zhang Lu Rang and Su Zai Zai's story would be ended in a happy ending. They would have a beautiful wedding, surrounded by their family and friends. But, did you curious about the process? And what would happen to Gu Ran and Jiang Jia's relationship? Fret not, dear readers… This is the Ending Explained of When I Fly Towards You drama, written exclusively for you. Happy reading!
When I Fly Towards You Ending Explained
What Happened to Su Zai Zai?
Su Zai Zai was so happy when Zhang Lu Rang showed up at Jiangyi High School's graduation ceremony. But she was not the only one who was happy with the surprise, Gu Ran, Jiang Jia, and Guan Fang were happy too.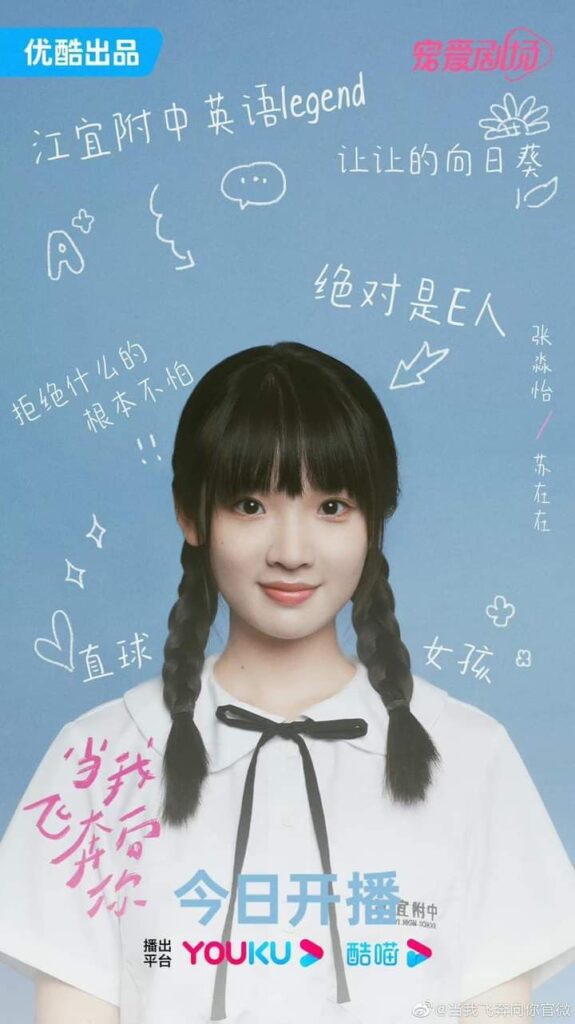 But the happiness did not last long because, by the end of the day, Granny Guan fainted and was taken to the hospital. The gang accompanied Guan Fang when he waited for Granny Guan's surgery. On their way home, Su Zai Zai fell asleep on Zhang Lu Rang's shoulder once again.
Zhang Lu Rang asked Su Zai Zai to go with him on a date at a night market. Jiang Jia told Su Zai Zai that Zhang Lu Rang might want to confess. Su Zai Zai was nervous but Jiang Jia helped her. She told her many tips for making a memorable moment, but the tips only created awkward moments. But it paid off when Zhang Lu Rang told her his feelings.
Su Zai Zai was very happy that after she and Zhang Lu Rang were finally in a relationship, they were also admitted to the same university. Su Zai Zai would become a student in Foreign Language Faculty while Zhang Lu Rang would study at the Electrical and Mechanical Engineering Faculty. Su Zai Zai stays in a dorm room with new girls from different faculty. She immediately made friends with them.
Su Zai Zai went back to Jiangyi for a holiday together with Zhang Lu Rang. They were caught hugging by Mother and Father Su. At first, Su Zai Zai's parents were angry. However, when Mother and Father Su saw that the man was Zhang Lu Rang, they were elated and enthusiastically invite Zhang Lu Rang to the house.
They told him many stories about Su Zai Zai's shortcomings. Mother Su was afraid that Zhang Lu Rang would be shocked when he found out about Su Zai Zai's real personality. She also asked him to take care of Su Zai Zai. Father and Mother Su was happy because Su Zai Zai dated a young and fine man like Zhang Lu Rang.
Four years passed by in an instant. Su Zai Zai graduated and was going to return to Jiangyi and worked there. She and Zhang Lu Rang planned to live together in a rented house. Zhang Lu Rang prepared everything for her since Su Zai Zai was busy with her graduation. Their relationship progressed on the first day at the rented house. 💕
Su Zai Zai started working as an intern at a company. One day she had to go on a business trip and had a bad experience with a handsy client. And rather than stand up for her, Su Zai Zai's chief scolded her. Su Zai Zai was sad and feeling low. She called Zhang Lu Rang who immediately noticed that she cried.
Su Zai Zai told him that she was homesick and sat at a bus stop for hours to calm herself. Zhang Lu Rang drove for hours to take her home. Su Zai Zai was afraid to be a nuisance to Zhang Lu Rang. Her weighed heart finally settled after Zhang Lu Rang told her that he wanted her to trouble him more often.
Su Zai Zai's dream of marrying Zhang Lu Rang finally come true when he proposed to her after his drone was launched. Then she asked Jiang Jia to help her find a wedding gown. Su Zai Zai told her best friend that she regretted not taking the initiative to propose to Zhang Lu Rang earlier. If she did that, they would already celebrate their wedding anniversary.
On their wedding day, Su Zai Zai told Zhang Lu Rang that since she was 16 years old, her New Year's wish was to marry him. Zhang Lu rang smiled at her and said that it was his pleasure to marry her. The wedding was beautiful and intimate, surrounded by families and friends. Su Zai Zai got pregnant not long after they got married. She named the baby You.
What Happened to Zhang Lu Rang?
After he moved to Suyang, Zhang Lu Rang communicated with Su Zai Zai through letters. He made a surprise visit to Jiangyi High graduation ceremony. They spend the following days accompanying Guan Fang whose grandma was hospitalized. After the situation got better, Zhang Lu Rang asked Su Zai Zai to go with him to a night market. He confessed to her with a simple sentence "I like you" which make them blush and full of happiness.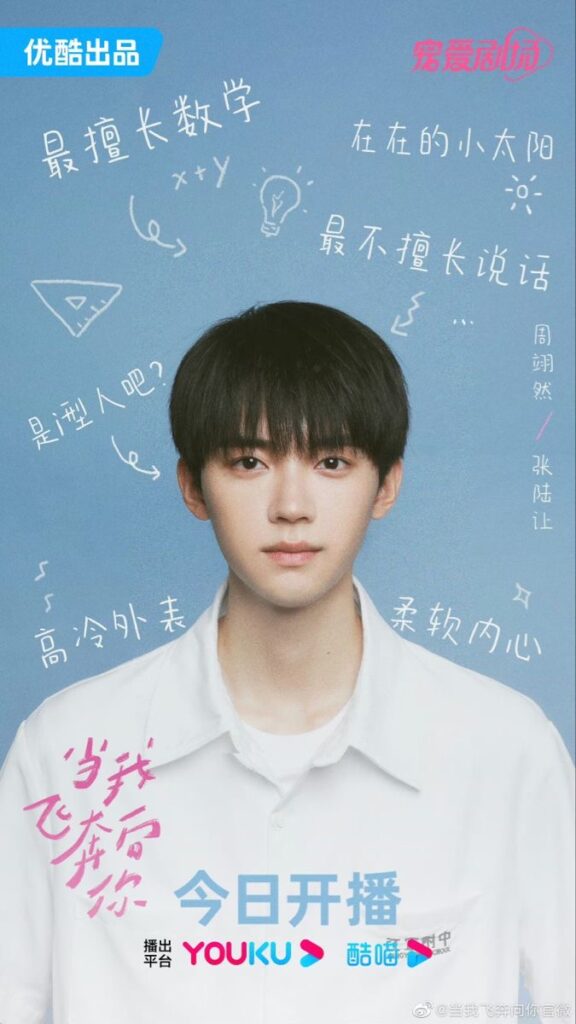 Zhang Lu Rang and Su Zai Zai's hard work paid off when both of them were admitted to Huadong University. Their dormitories were not far from each other. They went on a dinner date on the first day at the university and had their first kiss on the bus later that night.
Zhang Lu Rang was jealous when Su Zai Zai's senior, Lin Nan, fall in love with Su Zai Zai. But Su Zai Zai calmed his heart right away. Su Zai Zai also got in trouble when Zhang Lu Rang's classmate fall in love with him. Although the girl was scheming, she could not shake their relationship.
When the New Year holiday finally arrived, Zhang Lu Rang and Zu Zai Zai return to Jiangyi. Su Zai Zai's parents were elated when they learned that Zhang Lu Rang dated their daughter. Meanwhile, Zhang Lu Rang's uncle was grateful for her because Su Zai Zai's presence brought happiness to Zhang Lu Rang's life.
Years passed by and Zhang Lu Rang started his internship at a company. They return to Jiangyi and started to live together in a rented house. Su Zai Zai had become his charging pod when the job started to tire him out. Zhang Lu Rang's hard work successfully made him the youngest engineer who build a drone in the Luming Company
After Zhang Lu Rang's drone product release, he took Su Zai Zai to a new apartment and told her that he bought the apartment as their new home. He also surprised her with a video. It was a compilation of Su Zia Zia's footage that he took secretly for years. A proposal came straight after a very touching speech. They got married on a sunny day surrounded by their loved ones.
One day at the office, Su Zai Zai called Zhang and asked him to pick her up at a park near their house. Zhang Lu Rang was stunned when Su Zai Zai told him that she was pregnant. Zhang Lu Rang had been dreaming about it many times. Su Zai Zai named their baby You. Zhang Lu Rang happily complied.
After the baby was born, Zhang Lu Rang and Su Zai Zai went to their high school reunion wearing their high school uniforms. Zhang Lu Rang remembered the time when he first saw her under the rain. Su Zai Zai's eyes were shining as if it hinted to him that his light was coming.
What Happened to Jiang Jia?
Unlike her friends, Jiang Jia was not sure about her life choice. She never thought seriously about her plan. When she graduated from primary school, Jiang Jia only thought that she had to enter junior secondary school. When Jiang Jia graduated from junior secondary school, she only thought that she had to enter high school. And now Jiang Jia was not sure about what to write on the university option in her school form.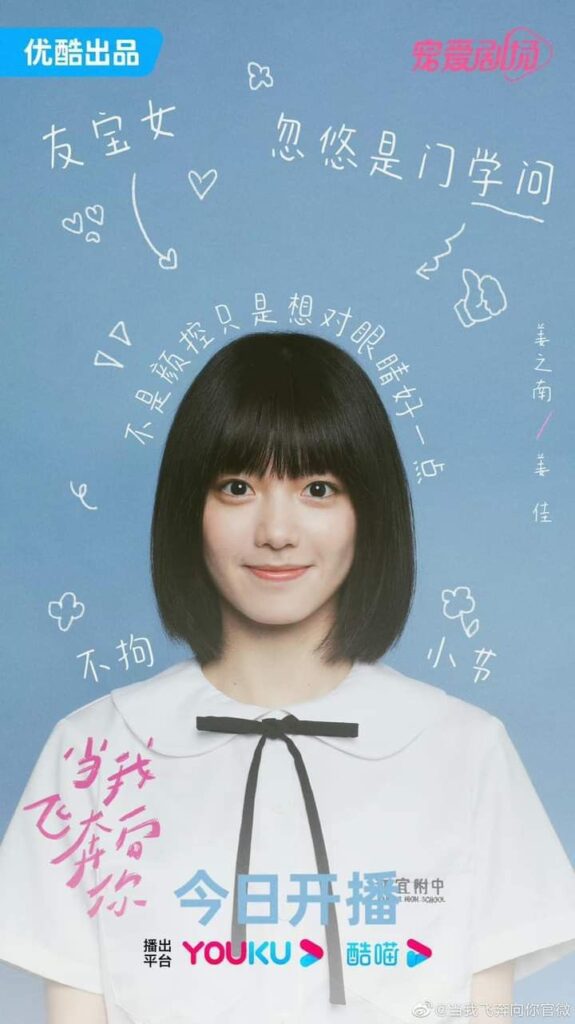 In the middle of her confusion, Gu Ran helped her by telling Jiang Jia about her strength. He said that Jiang Jia had a sense of justice and always wanted to help the weak. His words made her ponder and finally decide that she wanted to be a journalist.
After their graduation, Jiang Jia and her friends went to camp. She was stunned when Gu Ran told her that he might go abroad to study. That night, Gu Ran almost confessed to her, but Guan Fang came abruptly and ruined the moment. Gu Ran left a letter for Jiang Jia, asking her to tell their friends that he was leaving.
He wrote that he could not tell them about his plan, because Gu Ran was afraid that he would not bear to leave them. But in reality, Gu Ran did not want them to send him off because he was afraid he would cancel everything. After all, he did not want to leave Jiang Jia alone.
Jiang Jia worked hard as a journalist. She was always busy with her job and meetings. But she often managed to join on a video call with them. Her relationship with Gu Ran was going nowhere since none of them was ready to confess their feelings.
After waiting for years, finally Gu Ran confessed to Jiang Jia at their high school reunion party. Jiang Jia's heart was filled with happiness. When Su Zai Zai got married, she caught the wedding bouquet. It seemed that there would be another wedding soon…😉
What Happened to Gu Ran?
Gu Ran always had feelings for Jiang Jia. However, Jiang Jia was confused about the signals and she did not know her feelings well. Gu Ran was feeling down when he heard Jiang Jia tell her friends that she would never date her best friend. It'll be awkward if they start dating and then something happened to them.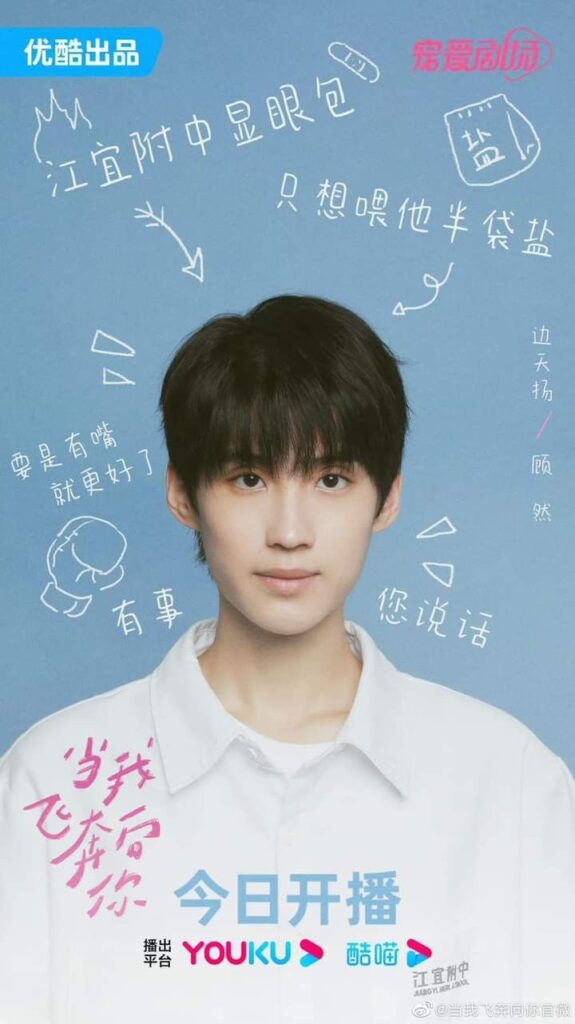 Ever since he accidentally listened to her words, Gu Ran decided to keep his feelings only for himself. Little did he know that if only he stay a little bit longer, he would hear Jiang Jia said that if the friend was Gu Ran, then it will be okay (to start a relationship).
Gu Ran decide to follow in his parents' footsteps and took medicine as his major. He told Jiang Jia about his plan to study abroad. Jiang Jia thought it was just a joke, but she looked sad and shocked when Gu Ran said it was real.
During his study, Gu Ran was the only one who rarely appeared in their video call sessions due to time differences. And every time he showed up, he looked tired and he got dark circles in his eyes. His friends, Zhang Lu Rang, Su Zai Zai, and Guan Fang always gave Jiang Jia and Gu Ran some time alone. Yet, Jiang Jia is often busy with her job. Gu Ran returned to Jiangyi after he graduate. He planned to continue his graduate studies there.
However, after he return, Jiang Jia was still busy. There was a time when Gu Ran had VIP tickets for dining at a famous restaurant. He wanted to take her there, but she could not go because she already had a plan. Gu Rang asked his friends Zhang Lu Rang and Guan Fang to the restaurant. He was surprised to see Jiang Jia having a meal with an unknown man.
Zhang Lu Rang asked Gu Ran why he have not confessed to Jiang Jia. Gu Ran was shocked, he never thought that his feelings were obvious to everyone, except Guan Fang. This clueless lad was always late in reading situations…🤣
At their school reunion, Gu Ran went there alone because he heard that Jiang Jia would attend the event. They met and had a good conversation until one of their friends asked Jiang Jia for a dance. She could not say no and went to dance.
One of their friend, He Yu, saw Gu Ran was alone and talked to him. She thought Jiang Jia and Gu Ran were a couple. Gu Ran was stunned when He Yu said that Jiang Jia had liked him for ages. Gu Ran did not want to miss the chance and run to find Jiang Jia. They met in the hotel alley. Gu Ran read the love letter that he has been keeping for five years. That night, they officially become a couple. It was the happiest time of his life.
What happened to Guan Fang?
After the graduation ceremony, Guan Fang asked his friends to eat his grandma's shaved ice cream. But a kind neighbor told Guan Fang that his grandma was taken to the hospital. Luckily, it was Gu Ran's mother who was in charge of Granny Guan's treatment.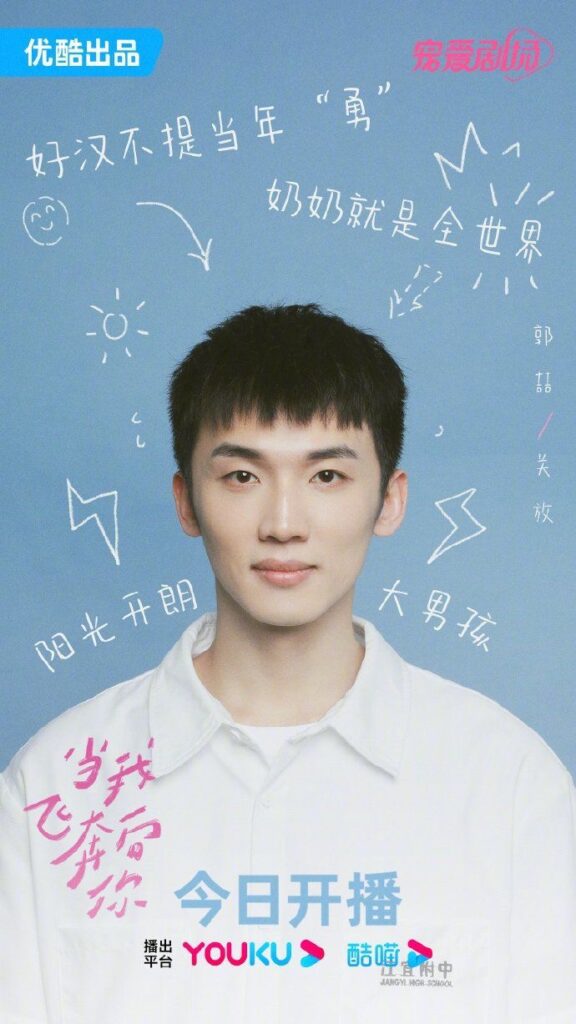 Yet, because she need immediate surgery, Guan Fang was shocked. With the support of his friends, Guan Fang was able to face the hardship calmly. Although his hand was shaken when he sign the patient's family consent form, Guan Fang eventually did it.
In a span of a night, Guan Fang had become an adult who could shoulder responsibility for his family. The operation was successful and Granny Guan was saved. She was grateful for such a good grandson like Guan Fang.
Guan Fang choose to learn finance in Yong'an City since he had always been in charge of Granny Guan's Desert Stall account. After he graduated from the university, Guan Fang joined his friends and return to Jiangyi. He rejected an offer from a company in Yong'an because he wanted to spend more time with Granny Guan.
My Musing
Finally an ending without any plot twist or dramatic problems. Everybody was happy and living a good life. I enjoy watching and writing post for this drama. Yet, I wished for more stories of Gu Ran and Jiang Jia's relationship as well as Guan Fang and his grandma.
Don't forget to take a look at our When I Fly Towards You drama review post. I'll see you in another post of Ending Explained. Bye!