Title: When I Fly Towards You
Also Known As: 当我飞奔向你, Luo Yao Knew What
He Meant , The Girl Who Fell Into Love , When I Run Towards You
Director: Mao De Shu
Casts: Zhou Yi Ran, Zhang Miao Yi
Screenwriter: Yue An, Tao Kai Xin
Genres: Romance, Comedy, Youth
Country: China
Episodes: 24
Aired on: June 13, 2023 – June 29, 2023
Original Network: Youku
Where to Watch: Youku
Adapted from the novel: "She's a Little Crazy" by Zhu Yi
Dear readers… When I Fly Towards You was topped in my region just under Zhao Lu Si's Hidden Love. So, I had to put it on my watch list. And here it was, the review of When I Fly Towards You. Happy watching!
When I Fly Towards You Synopsis
On a rainy day, the bubbly Su Zai Zai took a glance at a handsome young man around her age. They only exchange a few glances, but Su Zai Zai lost her heart at that moment. She only did not realize it yet.
A few days later was Su Zai Zai's first day in high school. Yet, she and her best friend Jiang Jia was late. It was quite an embarrassing moment and they were punished to join military training. Which led her to get to know the cold and aloof Zhang Lu Rang, the young man under the rain. The small bud of love start to bloom and it lit up her days since.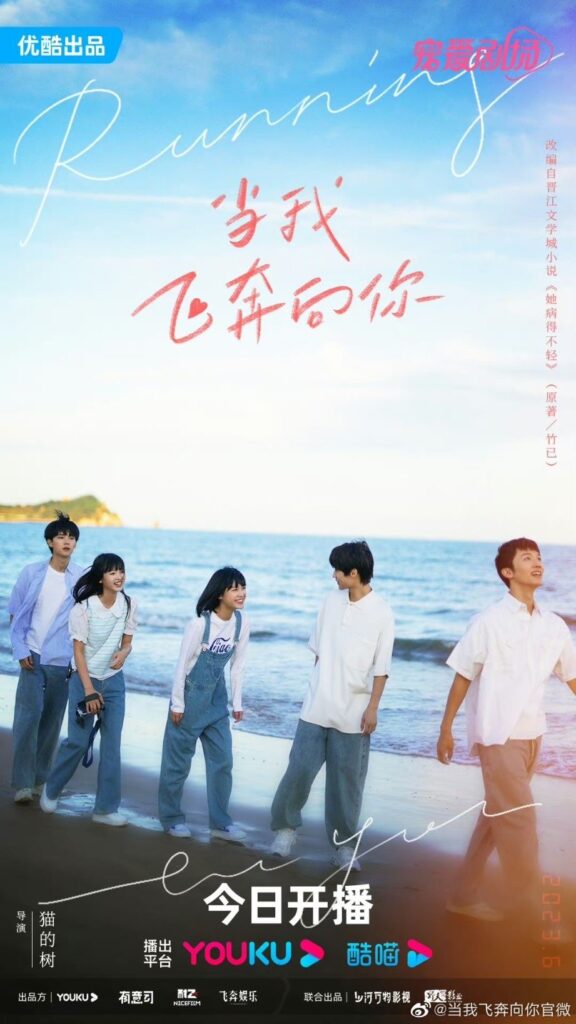 Zhang Lu Rang seemed to be a cool, calm, composed, and confident person. But in reality, he did not feel that way about him. All these years he was suppressed by his genius younger brother and his parents did not care about him at all. All of their attention, love, and time was directed to their genius son.
Zhang Lu Rang decided to live away from them and stay with his uncle, Lin Mou. After years of shouldering a stigma that he was "not good enough", Su Zai Zai showed Zhang Lu Rang that he had strength too. She helped him build his confidence and brought back the smile on his face.
Zhang Lu Rang's high school days started to be livelier after he met Su Zai Zai. Together with their friends, Jiang Jia, Gu Ran, and Guan Fang, they embarked on the journey of teenage years that was full of love and dream.
When I Fly Towards You Review
There were so many reasons you should watch When I Fly Towards You. Number one was because this drama exudes positive vibes. I realized that watching dog blood dramas made me feel tired because it drained me emotionally. And this kind of youthfulness, kindness, and naivety was some kind of charging pod for my almost empty battery.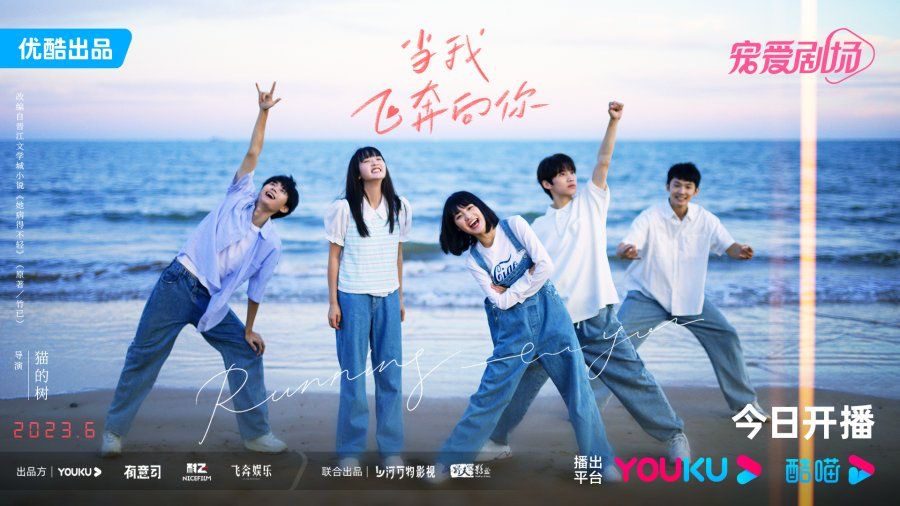 After I spent my time binge-watching Skip A Beat and got exhausted because of the dramatic story. I was eager to watch When I Fly Towards You. This drama was very refreshing. It tells you a heartwarming story about a bunch of youths who brimming with energy, love, and dream.
When I Fly Towards You was written by the same author of Hidden Love. Both dramas were about cute female leads who chased their love interest. They did not afraid to show their character and stay true to themselves, which I admired a lot.
There were no face-slapping scenes although you could find a scheming girls. Well, this was a Chinese drama after all. But the intensity was quite low. So, if you like dog blood drama, then When I Fly Towards You was not your cup of tea.
When I Fly Towards You was packed with romance and comedy. It was not another coming-of-age drama that you could enjoy half-heartedly. At least I could not do that. Sometimes I watch several dramas at the same time. But this drama demands your full attention.
The story was too captivating that I spent more than two days in a row binge-watching this drama. I almost ignored my beauty sleep if only my cousin did not mention the dark circle around my eyes earlier. 🐼
The youthfulness in When I Fly Towards You was like a fresh breeze to me. It was hilarious yet it would touch my heart in the right part. Hey! I used to be 16 too and I do feel some puppy love back then. I was not as brave as Su Zai Zai, but I do have Jiang Jia's wisdom in love, which was quite misleading… 😅.
Yet in adulthood, I realized that my teenage years were the best part of my life. I did not resent nor dissatisfied with my life right now, but there was a charm in being able to live life to its fullest. Being brave in love or everything. At least, I was brave enough to ride a roller coaster several times in a row. And enjoy the rides…😂
Anyhow, back to the drama. One thing that I enjoy the most in this drama was Su Zai Zai and her friends' relationship. That kind of friendship was something that I believed would last for a very long time. They had a deep understanding of each other personality.
They were willing to help and always be there when they need each other. And most importantly, they would support one another. It was such a blessing if you could have that kind of friendship in real life.
My favorite part was when a schoolmate accused Su Zai Zai of stealing the class fund out of jealousy. Jiang Jia, Zhang Lu Rang, Gu Ran, and Guan Fang secretly helped her. They search for the missing fund in the school's garbage bins. And if Su Zai Zai did not look in the garbage bins herself, she would not find her friends secretly doing the same thing for her. Jiang Jia, Zhang Lu Rang, Gu Ran, and Guan Fang's sincerity toward Su Zai Zai touched me.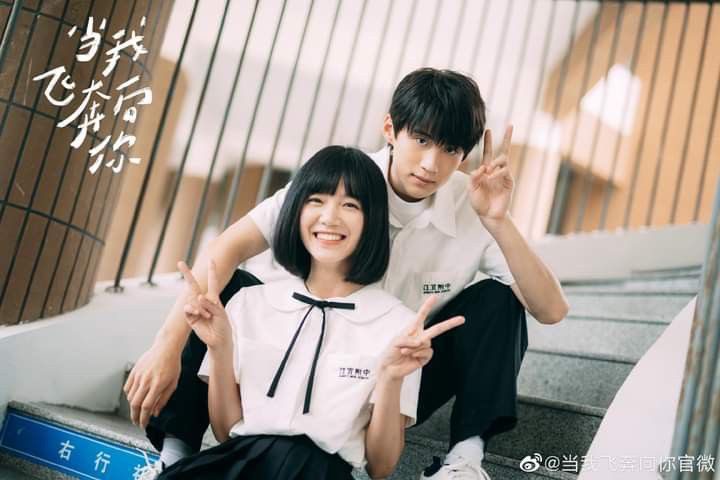 Although I like the friendship part more, the romance was adorable as well. It was quite funny to see Su Zai Zai trying hard to catch Zhang Lu Rang's attention. She had the naivety of a teenager when she tried to be the type of girl that Zhang Lu Rang loved the most. Little did she know that the girl type Zhang Lu Rang mentioned was based on his uncle's golden retriever traits. 😂
When I Fly Towards You was a good drama that you should not miss. It might look like an ordinary coming-of-age drama, but I feel like I was enlightened after I watch it. Being optimistic was something that decreased a lot when you enter adulthood. You started to get worried about many things and overthinking was a routine.
So to see the world from Su Zai Zai's point of view reminded me that somewhere deep inside my heart, I still have the young and carefree girl inside me.
The director was Cattree or Mao De Shu. This was my first time watching his work of art, and I was totally smitten by it. The story was refreshing and the cast acting was amazing. The set, the light, and the shooting angles were good. And I love the way he closes every episode using a monologue. It was like the summary of Su Zai Zai's thoughts.
After so many times when I was annoyed by many abrupt episode closures, I feel like this drama was a remedy for my aching heart. Everything was so well thought of. Mister director, I'll be waiting for your next drama… 😉
Our screenwriters were also new names that I have not heard before. Tao Kai Xin and Yue An only had two dramas in their filmography. However, because When I Fly Towards You was a hit, I am sure they would be sought-after screenwriters in the Chinese drama industry.
Our male lead Zhou Yi Ran was only 22 years old when this drama aired. He used to be a musician and tried his luck on an acting career when he was 18 years old. I watched him for the first time on Winter Night, a drama about a parallel universe. I was not fond of the story so I left midway, but his small dimple caught my eye. You know that I had such weakness for a dimple…😆
As Zhang Lu Rang, Zhou Yi Ran was able to portray a lonely high school student who longed for warmth. His eyes which always so distant but they would light up every time he saw Su Zai Zai. The corner of his lips would slowly raised when he remembered her or when he watch her skipping around. Yet, he would put a distant look when he was around others. Zhou Yi Ran's acting was very natural and his chemistry with his co-stars was strong.
Zhang Miao Yi, the cute Su Zai Zai, was very busy in 2023. When I Fly Towards You was not her only drama, she still had plenty on her shelf. Zhang Miao Yi was famous for her role as Yian Yi Yi in Please Don't Spoil Me series and Marvellous Woman. And When I Fly Towards You was the second project in which she teamed up with Mao De Shu and the screenwriters, Tao Kai Xin and Yue An.
Zhang Miao Yi acted naturally as the cheerful and cheeky Su Zai Zai. Although sometimes I feel like Su Zai Zai's vibrant personality was a little bit too much, I enjoyed watching her and laughed at her silliness.
This drama was the first time for me to see Jiang Zhi Nan and Bian Tian Yang. Jiang Zhi Nan was the actress who acted as Jiang Jia. She had great chemistry with Zhang Miao Yi because they used to act together in the same drama, Let's Meet Now. Meanwhile, Guo Zhe, the actor who played Guan Fang, also made an appearance in the Listening Snow Tower.
I saw many familiar faces in this drama, such as Guo Xiao Tian who acted as Xu Qi. I recognized him as a character in Road Home drama, Double Love drama, and Mr. Bad drama. Wang Jia Xun who acted as Zhang Lu Li, Zhang Lu Rang's younger brother, also appeared in the hit drama Till The End of The Moon.
Veteran actor like Hao Wen Ting who acted as Zhang Lu Rang's mother was also present in Meet Yourself drama, Hi Venus, and The Oath of Love drama. Su Zai Zai's mother was played by Chen Si Si who could be recognized in her role as Cheng Yang's mother in Love Like the Galaxy drama.
And Zhan Lei, who acted as Su Zai Zai's father also appeared in Side Story of Fox Volant drama, Meet Yourself, A League of Nobleman drama, and also in the newly aired drama, The Longest Promise.
It was such a delight to be able to watch new faces in a drama. I really hoped that these promising actors would last long in the Chinese entertainment industry. I'm looking forward to their new project, especially for the handsome Zhou Yi Ran.
The Cinematography
The differences between 2012's set and nowadays were not obvious, except for the electronics. You could see that from Su Zai Zai's and friends' mobile phones type. Zhang Lu Rang still uses Walkman and cassettes to listen to music and English vocabulary. He also use letters to communicate with Su Zai Zai, although they had started to use We Chat as another option for messaging.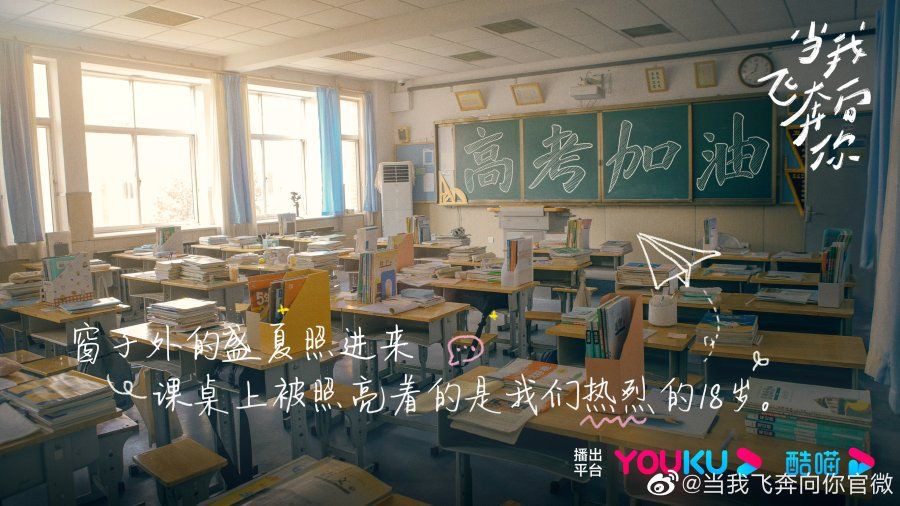 Back in the 2000s, cameras were a hit. It was the time when everybody started to carry a pocket camera or if you like something bigger, a Sony Handycam was an option.
All the visual in this drama was flawless. I enjoyed watching this drama. You could see that everybody tried their best to make When I Fly Towards You. Kudos to the director and production team!
The Story
When I Fly Towards You was a tale about a group of students in their high school years in 2012. It spanned for years until they enter university days and even after that. One thing that I like about this drama, is that our 5 characters have their own story told. Even though the main story was about Su Zai Zai and Zhang Lu Rang's relationship, Jiang Jia, Gu Ran, and Guan Fang played a significant role in their life. Every one of them had an interesting story in their life.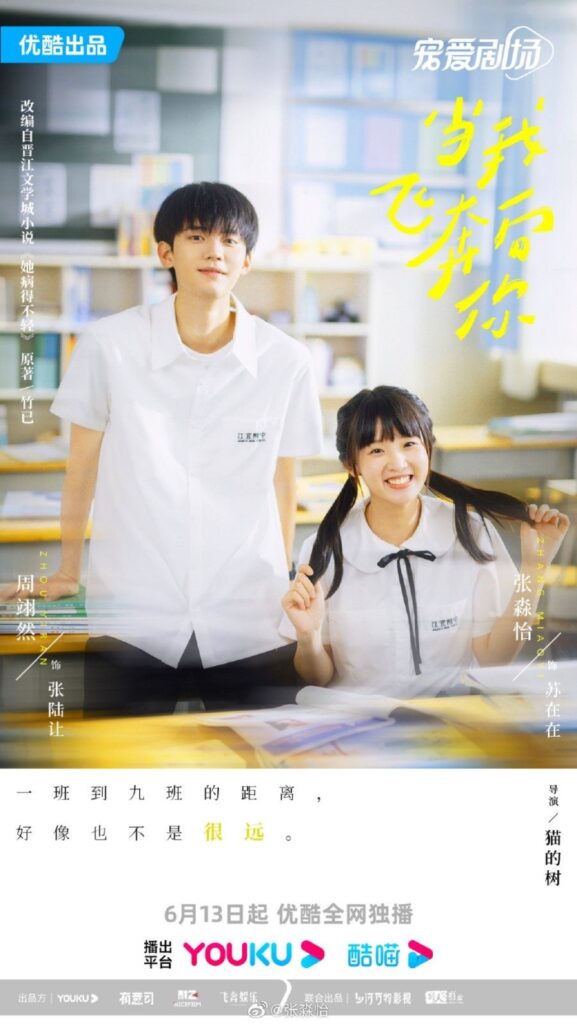 Su Zai Zai was the element that balanced the story. Her positive personality stemmed from her family. Her parents were very supportive of her. They provide a good environment to help Su Zai Zai grew into an optimist, brave, cheerful, strong, and confident person. She was the only person in the group who did not have any emotional baggage. Su Zai Zai might appear reckless and childish. But she was focused and diligent.
Contrary to other dramas where the main leads seemed to be someone who was blessed with talents or intelligence, Su Zai Zai and Zhang Lu Rang were just ordinary students.
Su Zai Zai and Zhang Lu Rang were getting closer after the tutoring sessions. To be each other's tutor was Lin Mou's idea. He saw that Su Zai Zai could help Zhang Lu Rang with his English and in return, Zhang Lu Rang could help Su Zai Zai with her math and physics scores. Because although Su Zai Zai was excel in English, her math and physics scores were poor… 😅
The relationship between Zhang Lu Rang and Su Zai Zai developed at the right pace. It was not too fast or too slow. They never confessed their feelings to each other during their high school years because they realize that they had more important things to do which was Gaokao, or the college entrance exam.
Soon after the exam ended, their relationship progressed and they finally were in a relationship. And after that, everything was smooth sailing. There were some love rivals, but Zhang Lu Rang and Su Zai Zai were quick to handle the problems.
Another story that was worth an episode or two dedicated to them was the relationship between Gu Ran and Jiang Jia. Contrary to their bold actions, Gu Ran and Jiang Jia were shy when it came to their relationship. Both of them regarded each other as best friends.
They were too afraid to take risks to confess because they were not confident enough. It was too bad that they had to waste so many opportunities to confess. And every time it happened, I just wanted to yell at them. 😆
Guan Fang was the only person who did not have any love interest in this story. Yet, his familial relationship with Granny Guan was heartwarming. They only had each other and there were many sweet interactions between them. Granny Guan was a person who never run out of patience when it comes to Guan Fang.
And I'm sure you could feel Granny's love for her cheeky grandson. Every time I watched their scenes, my eyes got teary because I remembered my late mother. Therefore I could totally relate to Su Zai Zai's monologue about her longing for her grandmother after she saw Granny Guan.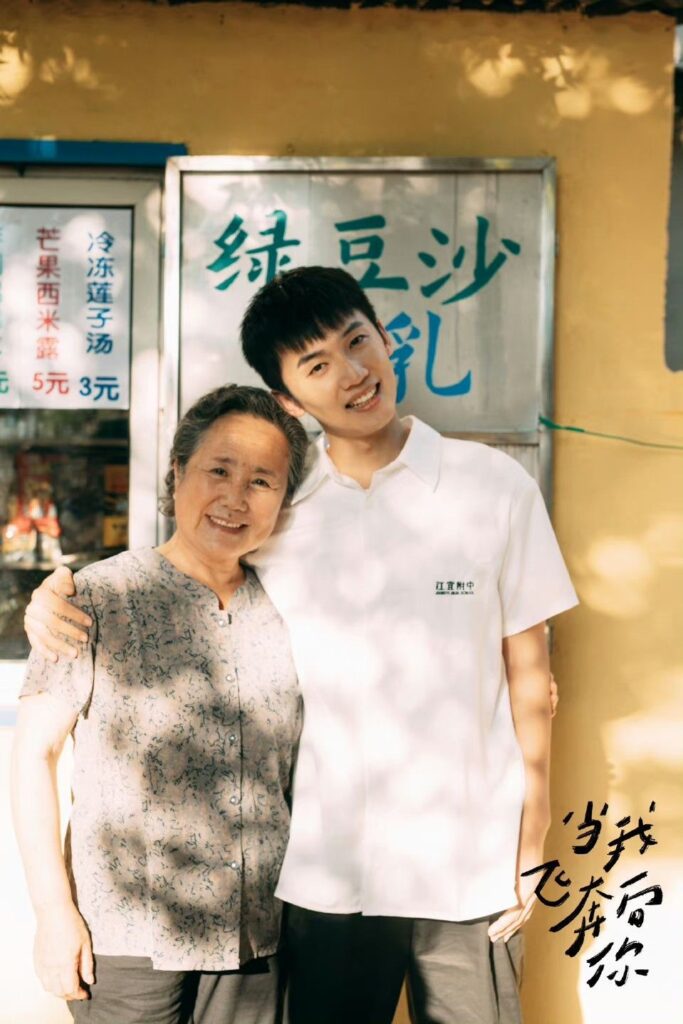 Sometimes you could guess the ending after you watch half of the episodes. Sometimes you don't. But you need not to guess on this one. Because the ending was revealed in the opening scene. It caught me by surprise and then I laughed. This was a plot twist that I have never thought of. But still, as someone who might be watching too much dog blood drama, I got suspicious and waited for a plot twist that never come. 😅. For the detail about the ending, I wrote When I Fly Towards You Ending Explained, feel free if you want to read it.
The Characters
Su Zai Zai
Su Zai Zai (played by Zhang Miao Yi) probably would be my favorite character because of her positive personality. You could never hate this cheerful, optimistic, enthusiastic, kind, and confident girl. Her energy was contagious and her silliness was laughable.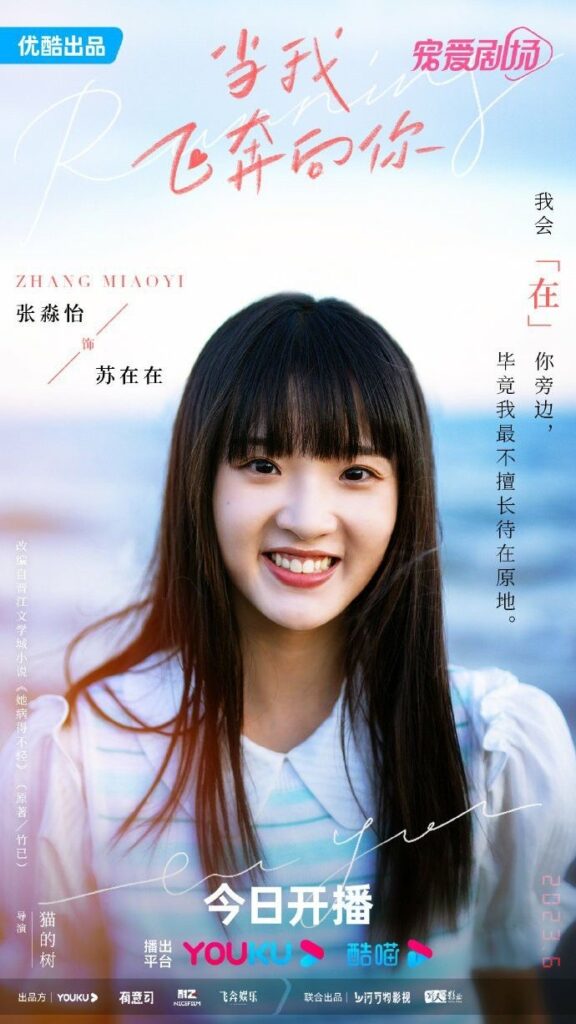 As an extrovert person, Su Zai Zai always speaks straightforwardly. She did not shy away when the teacher praised her in front of the class. She was not humble either when she talked about her ability. Yet, Su Zai Zai was not the kind of person who loved to brag about her accomplishments. I could see that her friends were comfortable being around her.
Su Zai Zai's family consisted of her father and mother. The family was harmonious and the relationship between the parents was good. They fully supported Su Zai Zai in everything she did, including when she decided to go to Huadong University following Zhang Lu Rang's choice.
As a young girl, she might look childish. But do not be fooled by her appearance. Su Zai Zai's strength was to be able to maintain her focus well. She might develop romantic feelings and a little bit obsessed with Zhang Lu Rang. However, she could keep her English score high and at the same time improve her math and physics scores.
Su Zai Zai was not a person who would dwell on problems. When a scheming girl spread gossip about Su Zai Zai taking Zhang Lu Rang's class fund, she did not cry or weep over the accusation.
Although the scheming girl pretend to be weak and pitiful in front of the teachers, Su Zai Zai refused to shed a tear because she believed that only those who made mistakes would cry. Su Zai Zai did not afraid to speak for herself to prove that she was innocent. And when the scheming girl insincerely apologized to her, Su Zai Zai refused it.
She also told the girl the reason why she did not accept the apology. So everybody present would understand Su Zai Zai's feelings and not malign her as arrogant.
As a 16 years old girl, Su Zai Zai did not have any experience of being in love. However, she understood very well that she liked Zhang Lu Rang and wanted to be close to him. Su Zai Zai also understands that as high school students, they should not be involved in a relationship.
The parents and school strictly forbid them to do that. So when Zhang Lu Ran asked her an ambiguous question about what she liked (the medallion or him), she did not want to answer and emphasized that she was only 16 years old (as if she forget that Zhang Lu Rang was also the same age as her).😂
When an extroverted fell in love, she would openly speak about her feelings. She might look like a pester, but an extroverted person tends to actively seek out opportunities to be closer to their love interest.
Su Zai Zai never hide her feelings for Zhang Lu Rang. She openly told Zhang Lu Rang (and their friends) about her admiration for him. She chased Zhang Lu Rang with all her might. And with those energies and determination, it was only a matter of time before he succumb at the end. 😂
Zhang Lu Rang
As the only introverted among extroverted people, Zhang Lu Rang (played by Zhou Yi Ran) was quite comfortable being the only man of few words. He rarely smiled much less laughed. His small circle of friends consisted of Gu Ran and Guan Fang. Later, he slowly accepted Su Zai Zai and Jiang Jia into his worlds.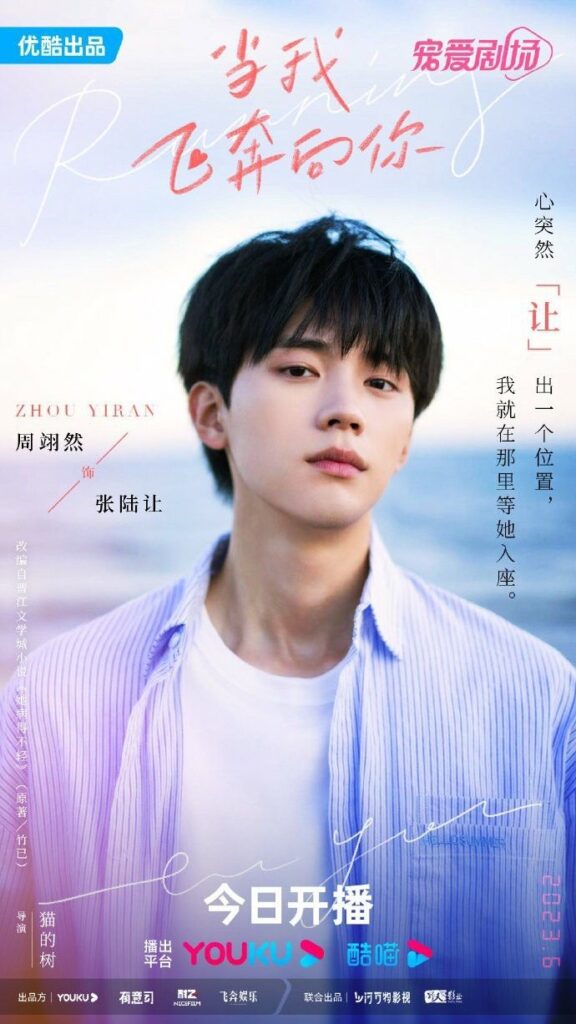 Even though he was not the best in high school, Zhang Lu Rang was not an average student as well. He always got a high score in exams except for English. But it was not enough for his parents, especially his mother. Zhang Lu Rang's younger brother was a genius student.
Although Zhang Lu Li was younger, he was already in 12th grade at the moment. Zhang Lu Li was Mother Zhang's pride and joy. She was so proud of him that she could not stop comparing Zhang Lu Li to Zhang Lu Rang.
Initially, the relationship between Zhang Lu Rang and Zhang Lu Li was good. Zhang Lu Rang was a good and attentive brother while Zhang Lu Li always idolize his older brother. Everything changed after their parents found out that Zhang Lu Li was a genius. They started to compare their sons and put more academic pressure on Zhang Lu Rang.
As if it was not enough of a burden for him, Zhang Lu Rang's schoolmates also mocked him. At first, Zhang Lu Li enjoyed all the special treatment he got from everyone around him. But later he regrets it because it drives Zhang Lu Rang away from him.
The feeling of being "not enough'" etched on Zhang Lu Rang's mind. He lost his confidence and life was not enjoyable anymore. He moved out of his house in Suyang and went to Jiangyi City. Zhang Lu Rang finally finds the appreciation and recognition that he always yearns for from Su Zai Zai.
When she looked at him with undisguised sincere admiration in her eyes, Zhang Lu Rang's cold heart was touched. In her eyes, he found the piece of him that had been lost for years. He started to open up to her and everybody around him, including Zhang Lu Li.
It was so sad to see the relationship between Zhang Lu Rang and his mother. The alienation was too obvious. She would spend more time with Zhang Lu Li. They chatted, laughed, and on Chinese New Year, Mother Zhang would make dumpling with Zhang Lu Li, while Zhang Lu Rang had to stay in his room to study or went to the library to read.
That poor kid only wanted some family warmth, but he could not get it because his exam scores were not good enough.
Jiang Jia
Just like Su Zai Zai, Jiang Jia (played by Jiang Zhi Nan) was an extroverted person. She enjoyed being the center of attention and love others' company. She was an outgoing person, equally cheerful and chatty as well. Compared to Su Zai Zai with her naivety, Jiang Jia was more mature. She only lived with her father who unexpectedly knew Gu Ran's family well.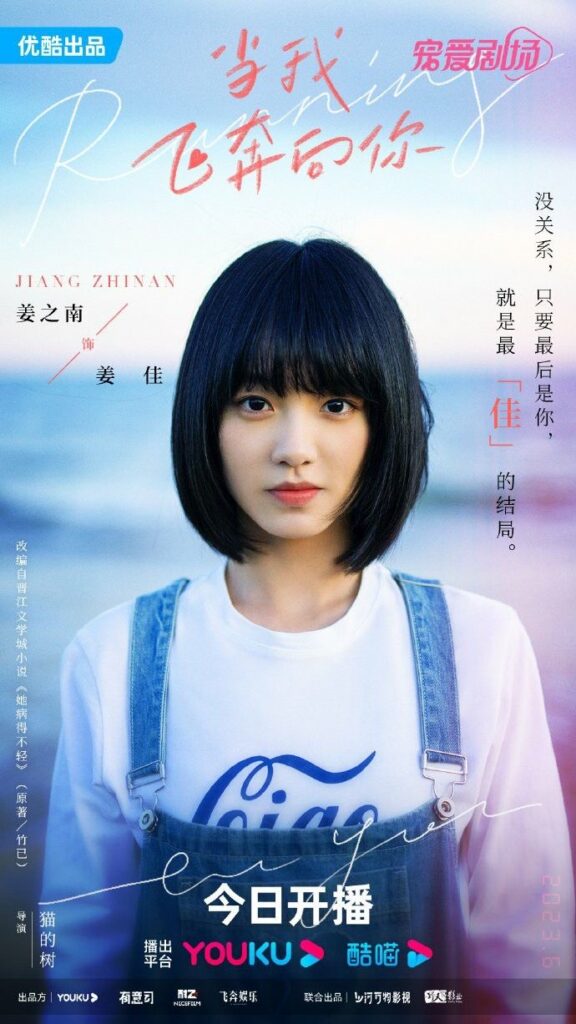 Jiang Jia's strength was not on the academic side. Her score was average, barely passable. She was the kind of person who go with the flow. Jiang Jia admit it herself that she did not have any dreams or goals in life. When she graduated from primary she only thought that she had to enter junior secondary school.
After she graduated from secondary school, Jiang Jia only knew that she had to enter high school. Jiang Jia was the only one among her friends who did not know what she wanted to do in her life.
The future was not the only thing that made Jiang Jia confused. She mistook her feelings for Shen Qianyu as a romantic feeling but in reality, she was just idolizing him. It took her a very long time to realize that her feelings were for Gu Ran who was always there to help her whenever she was in need. Gu Ran also had a huge influence on Jiang Jia's future, since he was the one who showed her what her strength was.
Gu Ran
Gu Ran (played by Bian Tian Yang) was another extroverted person in the gang. Together with Zhang Lu Rang, Gu Ran was listed as one of the most talented students in their high school. He had been friends with Zhang Lu Rang before they entered high school. Although he was pretty smart, he was not the kind of diligent student like Zhang Lu Rang. So probably if he tried harder, Gu Ran could be considered to be a highly intelligent student.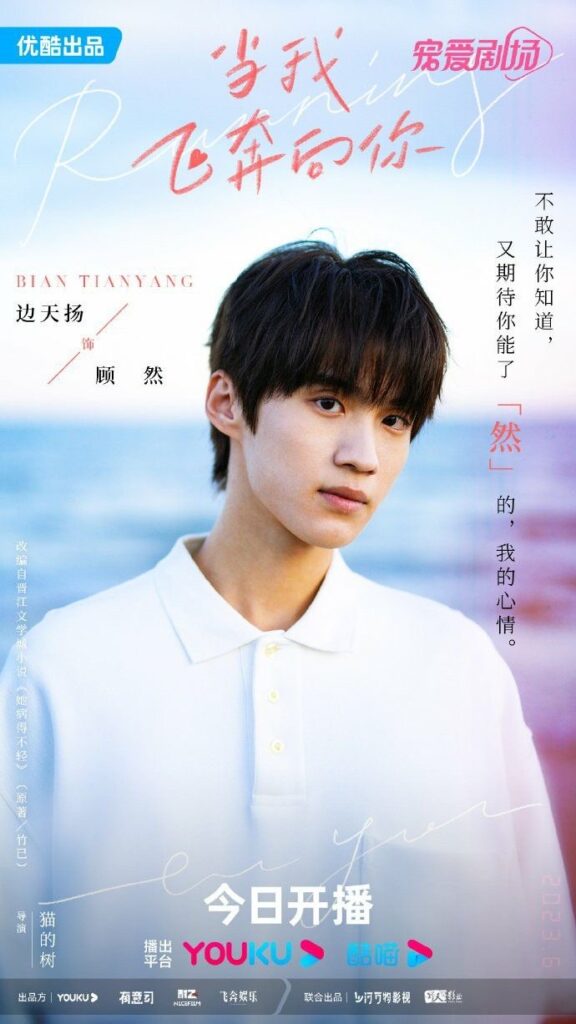 Gu Ran was someone who valued his friendship more than anybody else. When they worried about Guan Fang, Gu Ran was the first one to make a move to find him. He kept his feelings for Jiang Jia for years because he valued their friendship more than his feelings for her. Gu Ran was afraid that if he confessed his feelings, Jiang Jia might leave him.
As an only child of extra busy parents, Gu Ran was always alone. Father and Mother Gu were kind and nice people. They were very attentive to him. Yet, as doctors, they were too busy to save others' lives. Gu Ran's parents failed to realize that their son also needed their presence. Fortunately, Gu Ran was a very sensible person who knew how important his parents' profession was. He still regarded them as heroes.
Guan Fang
As someone who lived the hardest life, Guan Fang (played by Guo Zhe) hide his real self behind a meek attitude. He used to be very rebellious when he was in 8th grade. He thought that being the strongest person in the school would make him famous. But then he found out that he could get away from every consequence of his action because somebody took it for him. And the person was Granny Guan.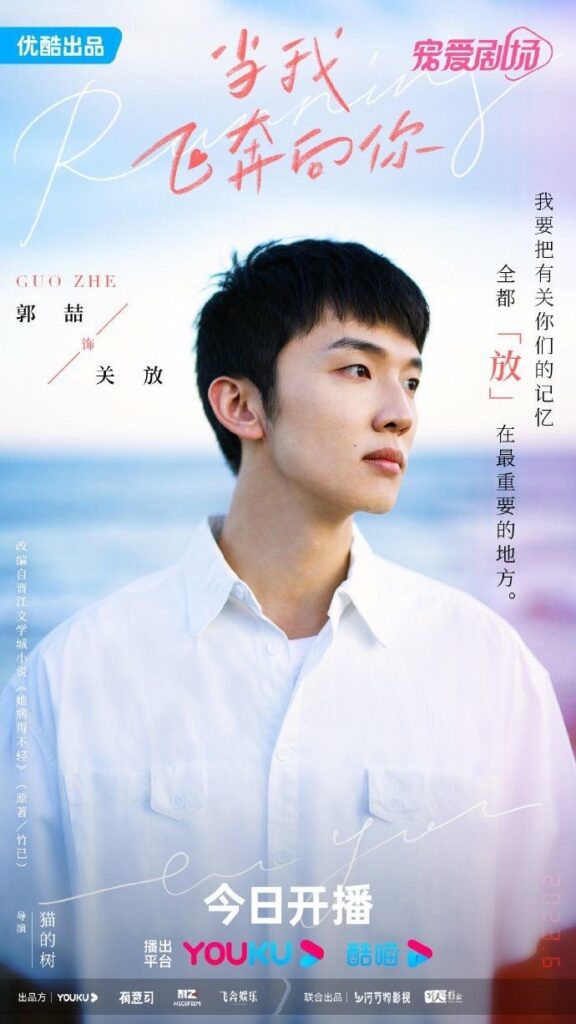 Guan Fang saw how worried his grandma was because the teacher said that no high school would accept him because of his rebellious behavior. It was the defining moment when he decided to change his way of life. Ever since Guan Fang promised to never come home with a wound on his body. His determination was strong that he become submissive to others because Guan Fang wanted to avoid conflicts.
Only after his friend tried to make him "less amiable", Guan Fang realized that he was not the same Guan Fang used to be. He learned that there were another way to solve conflicts other than to use violence. So Guan Fang opened up about his past. The reception was positive because Su Zai Zai and the others knew how kind-hearted Guan Fang was. And he would never do something that would make Granny Guan sad or angry.
Guang Fang had a strong determination and he knew what he wanted to be in the future. He was kind, smart (he got admitted to the same class as Gu Ran and Zhang Lu Rang), loyal, and attentive. The only thing lacked from him was the ability to read the situation. He was the only one who was clueless about the relationship between Su Zai Zai-Zhang Lu Rang and Gu Ran-Jiang Jia. He did not seem to realize that he was the fifth wheel in their small circle of friendship.
The Conclusion
It was a good thing for me to come across When I Fly Towards You. The story was about growing up and supporting your loved one. In my opinion, this was a drama that you should not miss. The story might not be complicated and dramatic enough, but it brought warmth to your heart.
If you are a romance junkie like me, immediately put this drama on your watch list. Then you would get your daily dose of sweetness and fluffiness as well as silliness. And bonus for you was Zhou Yi Ran's sweet smile and dimples. Hope you like this When I Fly Towards You drama review. Happy watching!