Title: Double Love
Also Known As: 墨白, White Ink , Dashen, Ni Jia
Furen You Guale , Black and White , Mo Bai
Director: Wang Yan
Genres: Romance, Comedy, Youth, Drama
Country: China
Episodes: 24
Year: 2022
Original Network: iQiyi
Where to Watch: iQiyi, WeTV
Rating: 7/10
Tags: Zhang Xue Ying, Bi Wen Jun
Adapted from the novel "Master, Your Wife is AFK Again" by Da Ju Mao.
Double Love Synopsis
Double Love was a Chinese romance drama with 24 episodes long, about a pair of young actor and actress who was passionate about their job.
Lu Wan Wan was a student at an acting academy, who wanted to be a famous actress. Besides studying, which she rarely did, Lu wan Wan spent her time fangirling Han Jing Mo and playing online games. One day she had a rare chance to meet Han Jing Mo when she went to an audition.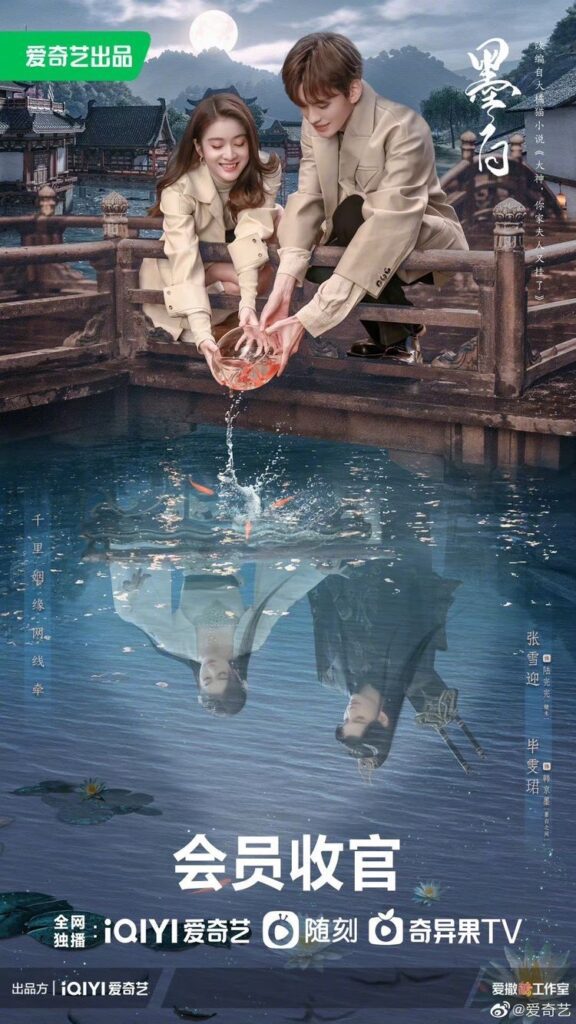 However, an accident occurred and it left grudges between them. A few days later, Lu Wan Wan had a job offer to be Han Jing Mo's temporary assistant. Lu Wan Wan was ecstatic and immediately agreed because she had an ulterior motive inside her brain.
Han Jing Mo was a famous and talented actor. He was the golden son of his entertainment agency. His bearings were cool, composed, and distant. Only a few people knew his real temperament. One day he was distracted by a small rookie actress and made a mistake.
Although both of them had different temperaments, there was one thing in common. Both of them was good game player, and coincidentally they played the same game. As just like in real life, Han Jing Mo was an experienced player called Mo Bai and Lu Wan Wan was an amateur under the name Chu He. However, with the help of God Mo Bai, Chu He could be one of the top-tier players.
Enemies in real life and comrades in the game world. How would Lu Wan Wan face the truth when she was inadvertently drawn to Han Jing Mo? Could she balance her love life while working hard to build her own career?
Double Love Review
It was kinda hard now to look for a drama with a 40 minutes duration because it seemed that short-duration drama was a thing right now. They were everywhere on many streaming platforms. I rather choose a long-duration drama because it satiates my thirst for a good drama. If the duration was too short, I barely felt the excitement when it suddenly ended. But if was too long, I get bored easily.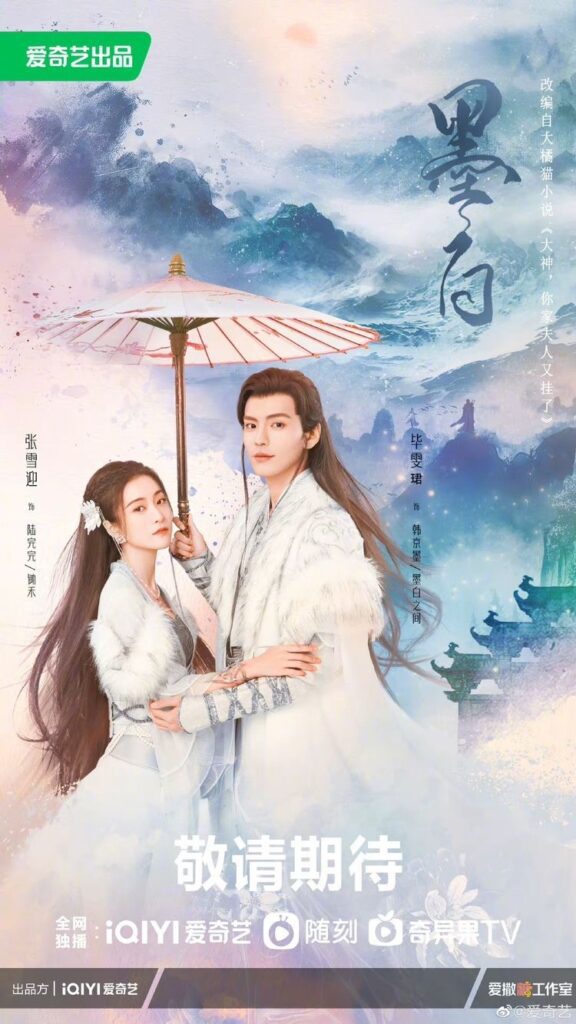 Last night I watched a Taiwanese drama with a 1-hour duration. It felt way too long and it made me keep checking the time bar. So, yes, I would choose a 40 minutes duration drama. That suited me more…
Great Sets and Costumes
I'm not a fan of online games since my hand coordination was as bad as my feet coordination. Therefore, I really could not join an activity that required coordination such as dancing or gaming. You would never find me playing games such as Genshin Impact, Dota 2, or PUBG.
I prefer a "low impact" game such as The Sims…😆 I did enjoy watching people dance or do a dance challenge, but you would not find me dancing, at least not in public. Even my type of workout was yoga since I could do it slowly and there was enough time to position my hands and feet.
Okay, stop with the ramblings….
Anyway, one thing worth to be praised in this drama was the game set and costumes. They did it perfectly. Although the props such as Mo Bai's swords were fake, the costume was good. And because in games you can easily change your hero looks, then the costumes were varied and all of them were a feast for the eyes.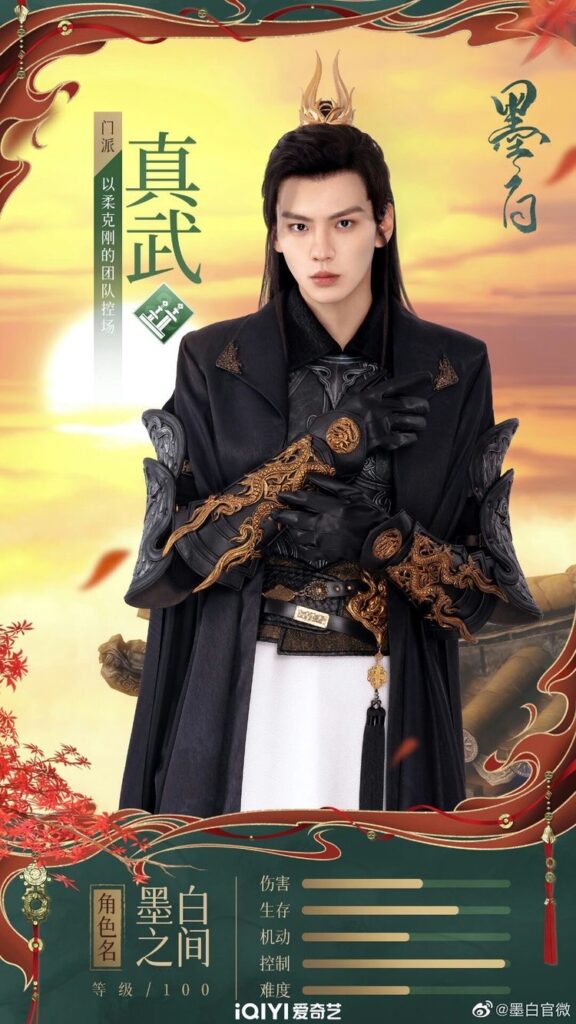 My favorite one was Chu He's white shirt and black asymmetric robe with golden embroidery. With her hair set in a high ponytail, it gave a valiant vibe to her.
It was funny to see Lu Guang Han's hero costumes. Top Lady's costumes were as quirky as the person itself. He always opted for a short dress full of fringe everywhere. As for Mo Bai, I'm not a picky person. He looks good in every costume. His face was already gorgeous with long dark hair.
Another one to be praised is the sets, either in the real world or the game world. Lu Wan Wan's bedroom was over the top. It feels like you were staring at a box of crayons. Colors were everywhere. I envied her round hanging bed. I wished I could have one in my house so I could sit or lie there and watch dramas in every possible position and put as many pillows as I could.
She also had a coffee table with two couches on a spinning platform. Well, I had to admit that this one was too much. A spinning coffee table? Would it give you a headache if you sat there for hours and it keep spinning?
Lu Wan Wan and Lu Guang Han's apartment depicted their character. It screamed money since they were rich however the design was complicated. Probably the designer thought about how Lu siblings had minds that were hard to decipher…😂
There were many books, but I don't think that the Lu siblings like to read. Somewhere near the stairs, I saw a book about the worldwide internet and Triangle Construction. Like do they read this kind of book?
However, nothing is perfect in this world. Double Love's CGI was a bit off. My jaw dropped at the sight of the buffalo in the game world. I was speechless about it.🤯
The Casts
I saw Zhang Xue Ying as Princess Rongle in Princess Silver back in 2019. Her acting was quite good and I still remember her character, although the drama did not give too much impression on me. Meanwhile, Bi Wen Jun was the opposite. I watched him on the drama In a Class of Her Own. I remembered the drama, but I don't remember him much.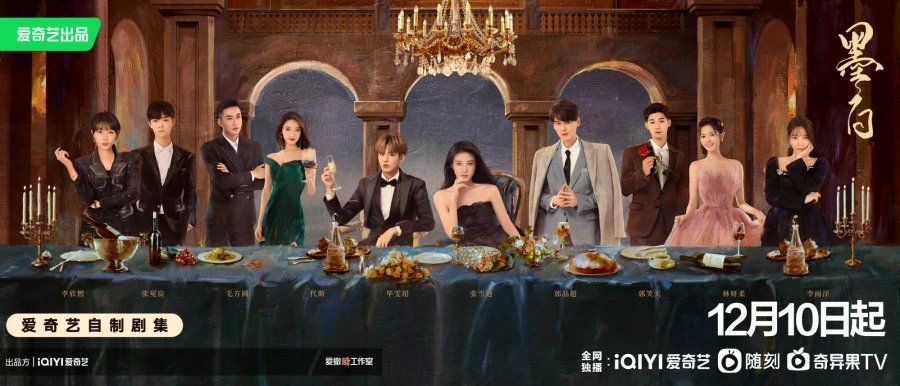 In my opinion, the stars of this drama were Zhang Xue Ying and Dylan Kuo. The Lu sibling characters were silly and quirky. I enjoyed the interaction between them. The script was good but they were better. Especially Dylan Kuo. I've never known that Dylan Kuo could be so adorable. When he was at the office, he had an aura of a CEO but when he was at home, he would wake up carrying some kind of stuffed animal.
However, every time he saw his little sister, there was always mirth in his eyes. And it was the same with Lu Wan Wan. You could see that she cared a lot about her brother. The interaction would never be good if Zhang Xue Ying did not have good sibling chemistry with Dylan Kuo. Kudos to them!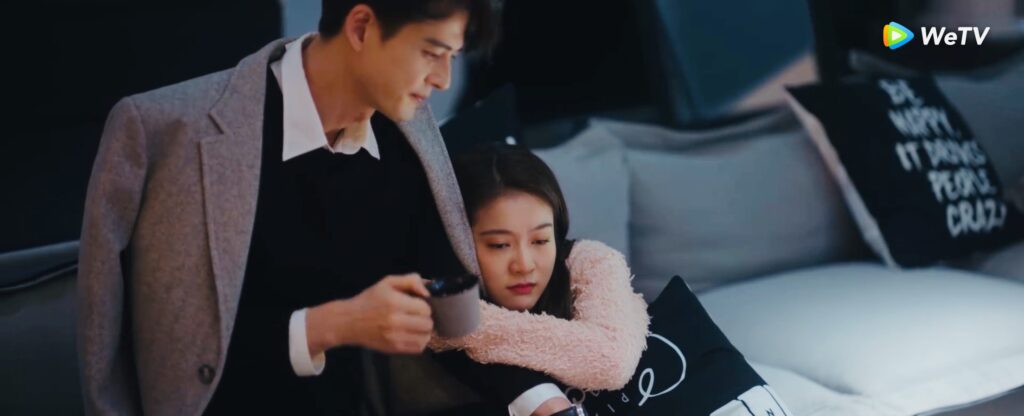 Bi Wen Jun's acting was good. However, I still feel that it lacked something. Perhaps his chemistry with Zhang Xue Ying was not that strong or maybe because I was already falling in love with the interaction between the Lu siblings that others seemed lacking in my eyes. But still, I admired how Bi Wen Jun was perfect for the role.
The Characters
Lu Wan Wan
Lu Wan Wan (played by Zhang Xue Ying) was a chatter, meddlesome, hot-tempered, impulsive, naïve, but kind person. She did not seem to be highly intelligent but she had some wisdom and was street-smart. Lu Wan Wan came from a wealthy family. Her brother was a high-profile CEO of an entertainment company.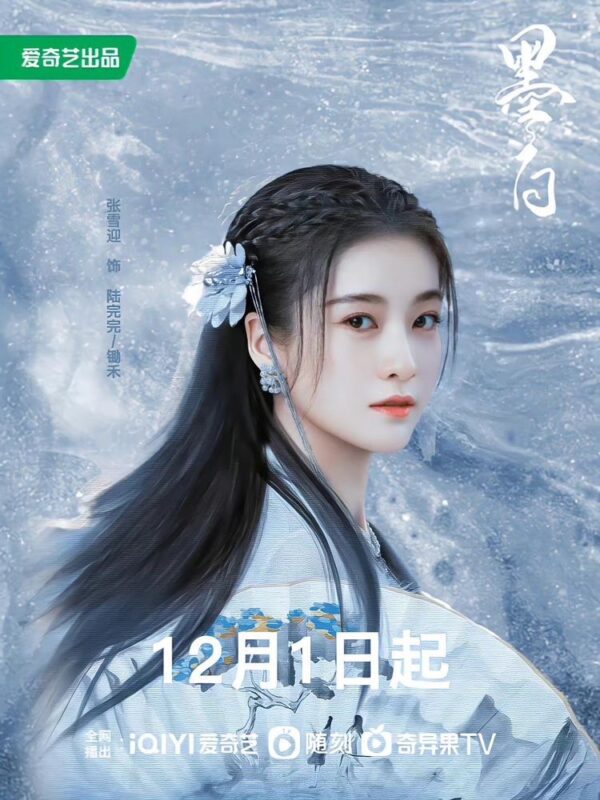 Lu Wan Wan always wanted to be an actress. It should be easy for her, considering her brother's position. However, she refused every time Lu Guang Han wanted to help her. Lu Wan Wan determined to rely on herself because if she used the connection, she was afraid of getting scolded by netizens.
Lu Wan Wan had been idolizing Han Jing Mo for 5 years and her brother was so tired of her praise for him. However, after a water splashing/pouring incident, Lu wan Wan held grudges against Han Jing Mo and decided to take a job offer as his temporary assistant only to get revenge. But after that, she started to fall in love with him. Well, I would be tempted if I spent much time with a gorgeous idol such as Han Jing Mo.
As a girl who was born into a wealthy family with a high-profile brother, Lu Wan Wan's determination and hard work were admirable. She was willing to work as a temporary personal assistant and also joined auditions to get roles. But because she was born into a very good family who always protected her, Lu Wan Wan becomes a bit naïve that others could easily plot her. But fret not, Lu Wan Wan always had her brother and boyfriend who worked together to protect her.
Han Jing Mo
Han Jing Mo (played by Bi Wen Jun) was a cool and suave actor that was admired by many young girls. His popularity was high, and everywhere he went, he should wear a mask, hat, and sunglasses to avoid being recognized by fans. Han Jing Mo was a hardworking actor. He took his job seriously and aimed to be a good actor.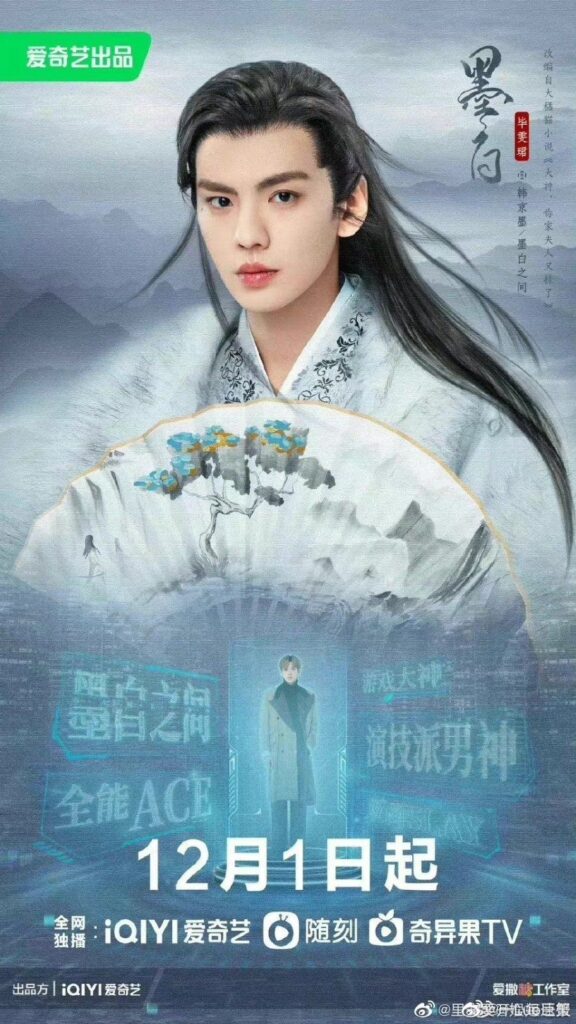 Han Jing Mo's life seemed simple. He did not have many friends. The only one who was always around him was his best friend Gu Qiao Bei, his assistant Song Chi, and his agent Lin Wei. He rarely went out to play. Mostly he spent his time playing an online game, Moonlight Blade, in this online game, originally he had two friends. One of the was Gu Qiao Bei, and the other was the Young Master of the Tang Sect. So, you could see that his real circle was quite small.
Han Jing Mo longed for familial love. As someone who was abandoned by his parents, Han Jing Mo always felt that something was missing in his life. He had an amazing grandfather who took care of him, he came from a wealthy family so money was not an issue, and his career ran smoothly. Not to mention that his physique was excellent.
However, he wanted a life surrounded by love. Han Jing Mo could stare longingly at Jiang Ming Shu who was happy with her new family. He was also stunned at the dining table of the Lu family, where parents and children cared for each other. A family was something he always wanted to have. That was why he was so eager to build his own family with Lu Wan Wan.
Gu Qiao Bei
Gu Qiao Bei (played by Guo Xiao Tian) was also a famous figure and actor. His kind heart made him more approachable than his best friend Han Jing Mo. Combined with his handsome countenance, Gu Qiao Bei was surely the perfect boyfriend material. Lu Wan Wan was not immune to his charm either. That was why Han Jing Mo was very jealous of him.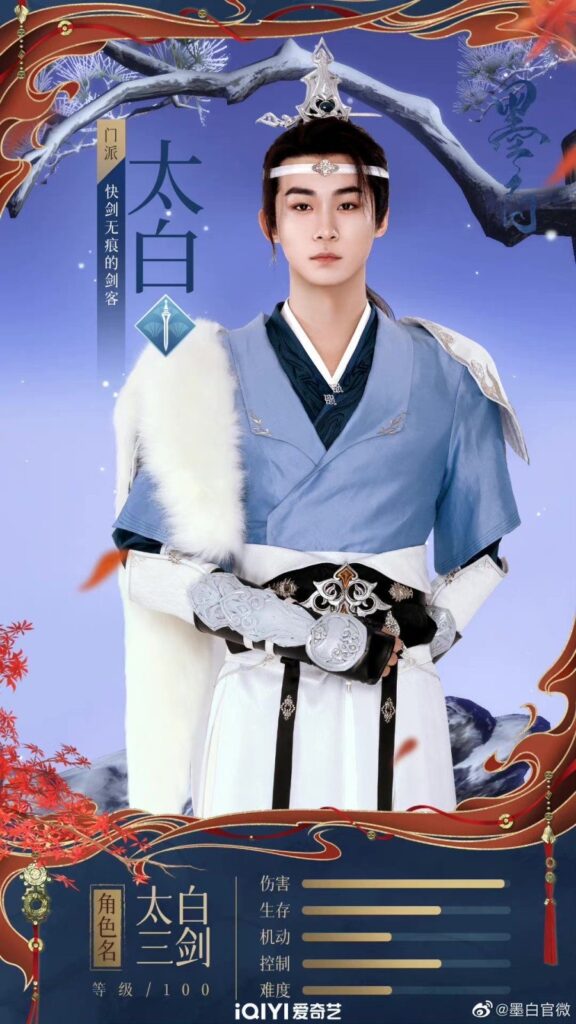 Contrary to Han Jing Mo who was born with a silver spoon, Gu Qiao Bei came from an ordinary family. He worked hard to improve his life. However, at some point, work was no longer his passion. He still loved to act but he did not find the job as intriguing for him. Before he graduated, Gu Qiao Bei had several projects to act in a literary movie. His acting was good but many people said that he lacked commercial value.
Back then, the only person who believed in him was his present agent. Gu Qiao Bei knew that his company was not suitable for him, but he was indebted to his agent and preferred to stay there for her
Gu Qiao Bei was very confident about his skill, including his cooking skill. His signature dish was braised meat. However, every time somebody ate his dishes, they always ended up in a hospital with an IV on their hand.
Lu Guang Han
Lu Wan Wan had many nicknames for her brother. She loved to call him Cold Feet, but she also called him Lu Meiren or Lady Lu. It was all because of his name, Guang Han derived from Guang Han Palace. It was a palace on the moon in a Chinese classical myth.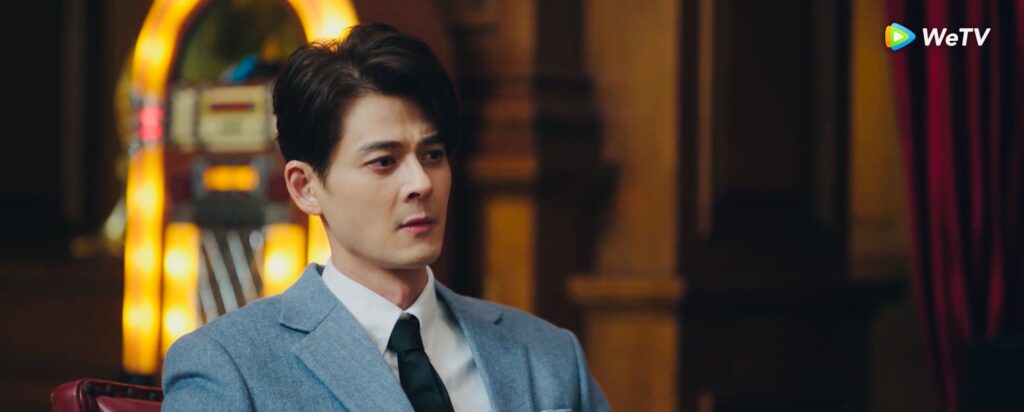 Lu Guang Han (played by Dylan Kuo) was a caring brother, he took care of Lu Wan Wan carefully. He also protected her on behalf of their parents. I never thought that he could be a successful businessman because Lu Guang Han was a laid-back person, he did not look like someone who would work very hard.
Lu Guang Han admired Gu Qiao Bei. He valued him and was very sure that with the right resources and opportunity, Gu Qiao Bei would propel into stardom. And Lu Guang Han was sure Yingge could be the right place for Gu Qiao Bei.
I almost thought that Lu Guang Han and Gu Qiao Bei's relationship would turn into boys' love. Lu Guang Han's admiration for Gu Qiao Bei was too intense. And Lu Guang Han has never pictured any girl other than Lu Wan Wan. Even his family was urging him to be in a relationship. But in the finale, my doubt about them was cleared.
Guan Yiwei
Guan Yiwei (played by Dai Si) was a beautiful actress and a successful businesswoman. She ran another agency company where Yan Sheng Kai was listed. She was the one who recommended Yan Shen Kai because she was indebted to her. Yan Sheng Kai helped her during an accident when they rode in the same car.

Guan Yiwei grew up with Han Jing Mo. They had a sibling relationship although they were not blood-related. Guan Yiwei also got along well with Han Xi Xing, Han Jing Mo's grandfather. Guan Yiwei fell in love with Zhao Jing Hang and tried hard to pursue him.
Zhao Jing Hang
Zhao Jing Hang (played by Mao Fang Yuan) started to appear in episode 10 when Lu Wan Wan got plotted by Li Wei Qin. He introduced himself as Lu Wan Wan's bodyguard to Han Jing Mo. Zhao Jing Hang was Lu Guang Han's friend and also Yingge's investor.

He watched Lu Wan Wan grow up and always considered himself her older brother. However, when he saw Han Jing Mo's affection for Lu wan Wan and she also reciprocated his feelings, Zhao Jing Hang started to feel threatened.
At first, Zhao Jing Hang did not like Guan Yiwei. He always avoided her like she was some kind of beast. However, when Zhao Jing Hang was brokenhearted because he missed the chance to be with Lu Wan Wan, it was Guan Yiwei was always there to support him. She did everything to cheer him up, and slowly his heart warmed up to her. Considering Guan Yiwei's persistence in pursuing him, it was a matter of time before they finally be together.
The Story
Double Love's story was easy to chew on because it was a light romance drama. Although there were still some flaws in it, you could just pretend that everything was okay.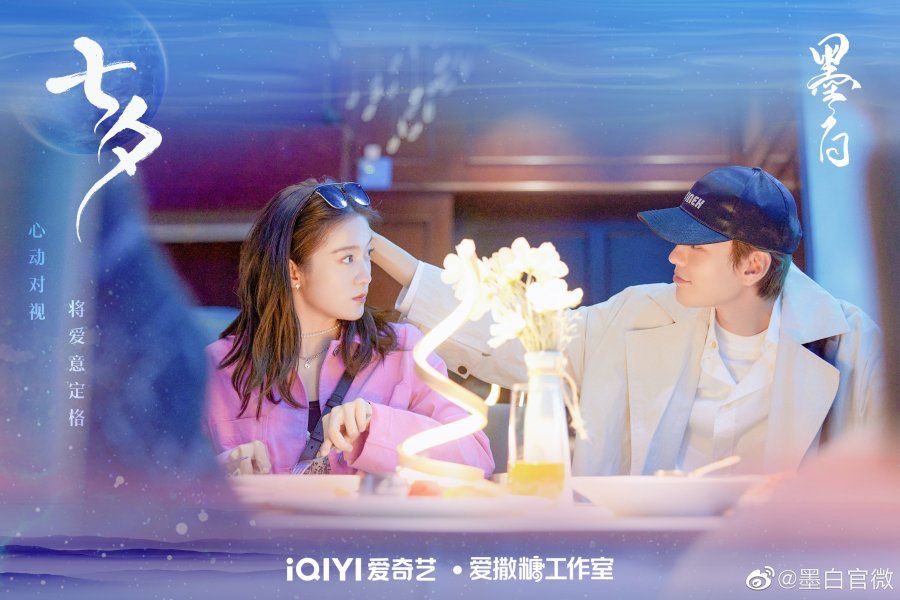 However, after a few episodes, I found that this drama was too monotonous. The main theme of this drama was Lu Wan Wan and Han Jing Mo's relationship which covers two different worlds: the real world and the game world. At first glance, I thought Lu Wan Wan would be the one that chased after him.
But then I realized, it was Han Jing Mo who did it the whole time, whether in the reality or the game's world. Therefore, the main focus was how Han Jing Mo tried to make Lu Wan Wan fall in love with him.
The other focus was how Lu Guang Han tried hard to poach Gu Qiao Bei from his agency and made him sign a contract with Yingge. Lu Guang Han tried to pursue him through Lu Wan Wan and even entered the game to befriend him.
Meanwhile, to add to the spiciness of the story, there were two female actresses that fell head over heels for Han Jing Mo. Those actresses tried every possible way to make him fall for them and to get rid of a potential threat to them, which was Lu Wan Wan. And of course, every time something happened to Lu Wan Wan, Han Jing Mo would be involved and in the end, he would save the girl he likes.
Han Jing Mo also had a love rival, Zhao Jing Hang. He was Lu Guang Han's friend and much like an older brother to Lu Wan Wan. Zhao Jing Hang was a low-key rich guy who was willing to pretend to be a bodyguard for Lu Wan Wan. At first, Zhao Jing Hang sort of denied his feelings. Only after he knew that Lu Wan Wan liked Han Jing Mo, he started to pursue her.
But because he was late, Lu Wan Wan's feelings could not be shaken. Then he fell into despair. Allowing another character, Guan Yiwei, to enter and pursue him despite Zhao Jing Hang being in a broken heart state.
In my opinion, the story was not this drama's main forte. The romance was so-so, and the conflict was not too satisfying. I tried hard to keep my mind on track when I watched this drama. Thank goodness that the visual was outstanding.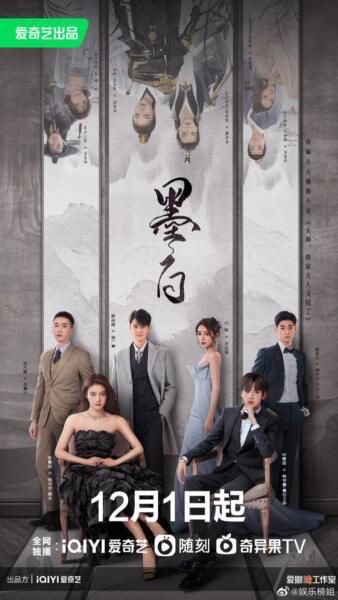 Lu Wan Wan's determination to rely on herself was admirable and I like to see how much she was willing to sacrifice for her career. But, she was living a quite carefree life. She spent most of her time on her phone, texting, or gaming. The so-called wanted to rely on herself turned out to rely on her luck.
There were too many coincidences in this drama. Han Jing Mo was saved twice by Lu Wan Wan in his younger days. Han Jing Mo and Lu Wan Wan met in the game world also by accident. The bottle throws that was also an accident but it led to Han Jing Mo's realization that Lu Wan Wan was the one who saved him. And suddenly everyone in the real world also met in the game world, including the villain, Yan Sheng Kai.
A coincidence in a drama was something acceptable because that was the way dramaland would do. However, if it was too much… then it was too forced. And that was exactly what I feel about this drama.
However, no matter how disappointed I am with the story, I still have some satisfaction with it. The interaction between Lu Wan Wan and Lu Guang Han for example. Although their character was too much and too quirky, Zhang Xue Ying and Dylan Kuo made it entertaining for me. The amount of comedy was enough and their relationship warmed my heart.
The one thing that I paid attention on this drama was there were many melon-eating scenes. In Chinese, the melon was representing hot and juicy gossip. And the people who watched the gossip intently were described as people who ate melons. And because Double Love was a story about famous people, gossips played an important role in this drama.
For example, when Lu Wan Wan and Lu Guang Han were at home and Zhao Jing Hang came with a bag of food. At first, they ate regular salty food such as dumplings. Suddenly Guan Yiwei called Zhao Jing Hang and he had to answer the call a bit far away from the table. Lu Wan Wan and her brother knew that Guan Yiwei pursued Zhao Jing Hang, while the latter was reluctant to get close to her.
Therefore, the call would be a piece of juicy news for both of them. And out of nowhere, Lu Wan Wan and Lu Guang Han pulled watermelons and started to eat them while staring intently at Zhao Jing Hang. Or when Song Chi, Han Jing Mo's assistant who loved to gossip. She would pull a watermelon out of nowhere before she listened to the news. And it was not just in the real world. Even in the game world, watermelon also existed.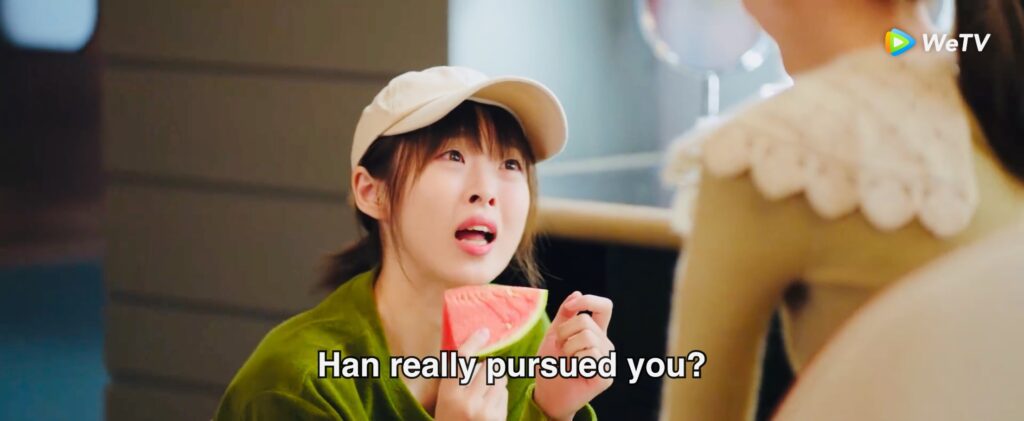 The Ending (Beware of SPOILER)
The Ending for Double Love was a happy ending just like we expected before. Han Jing Mo finally reconciled with his mother and Lu Wan Wan had her family blessed her relationship when Lao Lu, her father, accepted Han Jing Mo as his future-son-in-law. The ending was quite satisfying for everybody except Lu Guang Han who still had to wait to contract Gu Qiao Bei in his company. I will explain more detail about this in Double Love ending explained post.
The Conclusion
Double Love was a sweet and light romance drama. Very suitable for your end of the year holiday. The sweetness brought by our main leads would make you smile and remember your first love. Lu Wan Wan was sooo adorable and naive while Han Jing Mo looked like a cool person but he hid his cunningness deeply.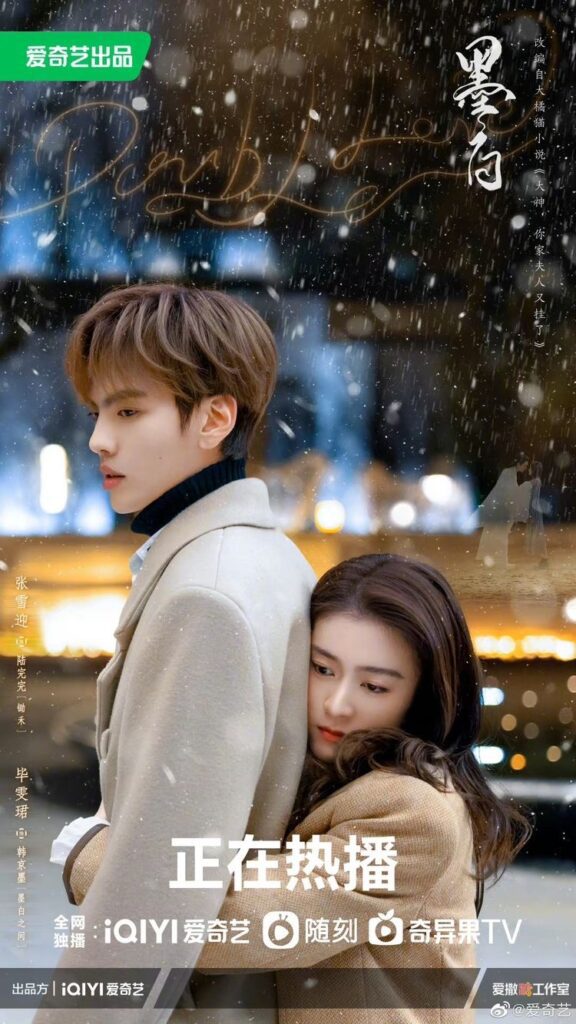 The comedy was enough. But my favorite person was Lu Guang Han. I've never known that Dylan Kuo would be soo cute as an elder brother. You would laugh out loud to see his antics.
Overall, this drama was cute. The story might a bit too exaggerated, but it would add some happiness to your day. Remember to prepare some snacks and drinks. Lu Wan Wan loves to eat snacks that somewhere between the episodes you would start to crave potato chips. Well. Happy watching!!