Title: Meet Yourself
Also Known As: 去有风的地方, Windy Place, Qu You Feng De Di Fang
Director: Ding Zi Guang
Casts: Crystal Liu, Li Xian
Screenwriter: Wang Xiong Cheng, Shui Qian Mo
Genres: Life, Romance, Drama
Country: China
Episodes: 40
Year: 2023
Original Network: Hunan TV, Mango TV
Where To watch: Viki, China Huace TV
Dear Readers… Meet Yourself was a gem that I picked up in my spare time. It was a shame if I did not share my thought about this well-written drama. I also wrote a post of Meet Yourself Ending Explained. Don't forget to drop by! Without further ado, let's start. Happy reading!
Meet Yourself Synopsis
Xu Hong Dou was a floor manager of a 5-star hotel. She was a hardworking and professional employee. Xu Hong Dou was always a diligent person. When she was a student, she always worked hard to strive for the best. And after she got a job at a hotel, she devoted her life to her job.
As a busy person, Xu Hong Dou did not have many friends. The one that she kept close to was Chen Nan Xing or Nan Nan, her best friend through the years. Nan Nan was always there to support her and take care of Xu Hong Dou. One day, Nan Nan found out that she had cancer. Nan fought for her life and Xu Hong Dou was there to witness her struggle. But Nan Nan lost the battle.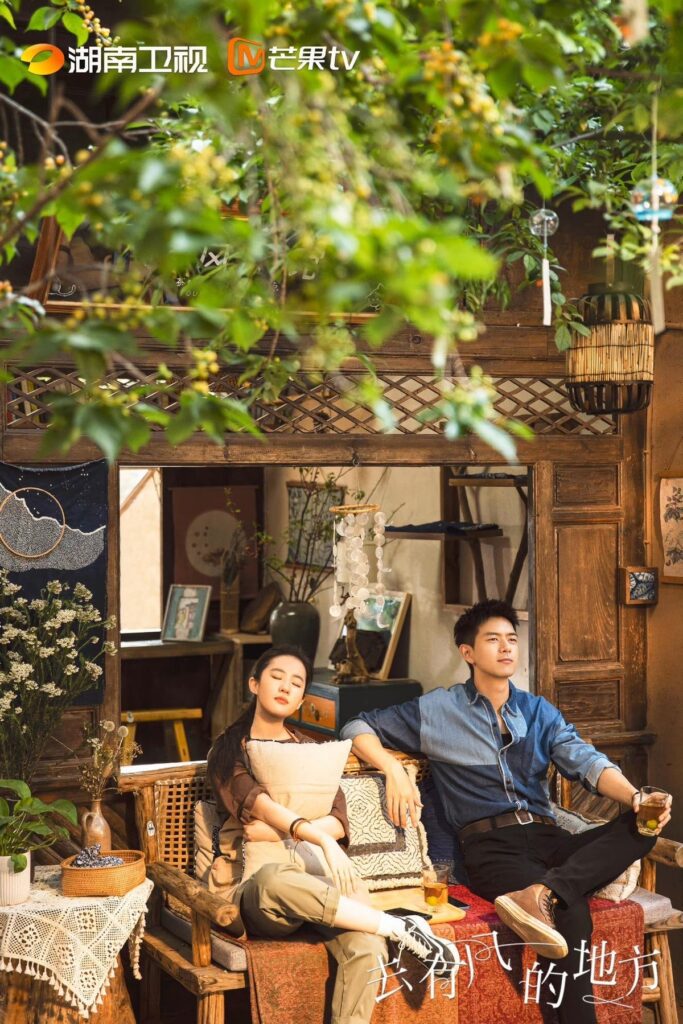 Nan Nan's death made Xu Hong Dou devastated. She lost her will and life suddenly was not fulfilling anymore. Xu Hong Dou eventually quit her job. To mend her broken heart, she decided to leave the hustle and bustle of the big city. She chose a small village, Yunmiao Village near Dali in Yunnan Province, and settled there for three months. She spent her time idly. Walking around the village, socializing with locals, taking pictures, reading a book, and had tons of sleep, were her daily activities. Xu Hong Dou was determined to enjoy an idle life. Something that never occurred to her.
Xie Zhi Yao or A'Yao was a young man whose brimming with spirits and ideas. He was smart, kind, friendly, and most importantly determined to make Yunmiao Village flourished. After years of hard work, Xie Zhi Yao left his high-earning job and returned to his hometown. He opened a business because he wanted to do something for his village.
Xie Zhi Yao always had a dream to make Yunmiao Village a better place for the people. He wanted their village's people to live better lives. Thus, there would be no more children or elderly left behind because the youngster had to make a living in the city.
He opened several businesses and recruited many locals, including the chatty aunties and grannies. When Xie Zhi Yao had a problem with those aunties and grannies, he used all means to invite Xu Hong Dou. He thought that Xu Hong Dou's professional experience and expertise could help him.
Yunmiao Village looked peaceful, but every person who lived there had their struggles. Many people had to deal with poverty. They had to sacrifice their family in exchange for money. There were also social problems. A grandmother had to deal with her grandson who skipped school. A wood carver struggled with his business and legacy. A mother had to deal with her son who barely could recognize her after months of separation and many more. Xu Hong Dou saw it with her own eyes.
She thought that with her retreat, she would find a new experience in a new world. She never thought that she would return with another version of herself, a better one.
Meet Yourself Review
In 2021 I was so full with Rebel Princess drama. In 2022 I was rooting for Love Like a Galaxy drama. Now 2023 has just started but I'm already falling in love with Meet Yourself.
Meet Yourself amazed me since the first episode. Initially, I only had this drama because of Crystal Liu or Liu Yi Fei. You might recognize her as the brave and powerful Hua Mulan in Disney's 2019 live-action movie. She was a natural beauty that even I could not take my eyes off her. She also played Zhao Pan'er in the famous 2022 drama, Dream of Splendor drama. If you haven't watched it, you could read our Dream of Splendor review first.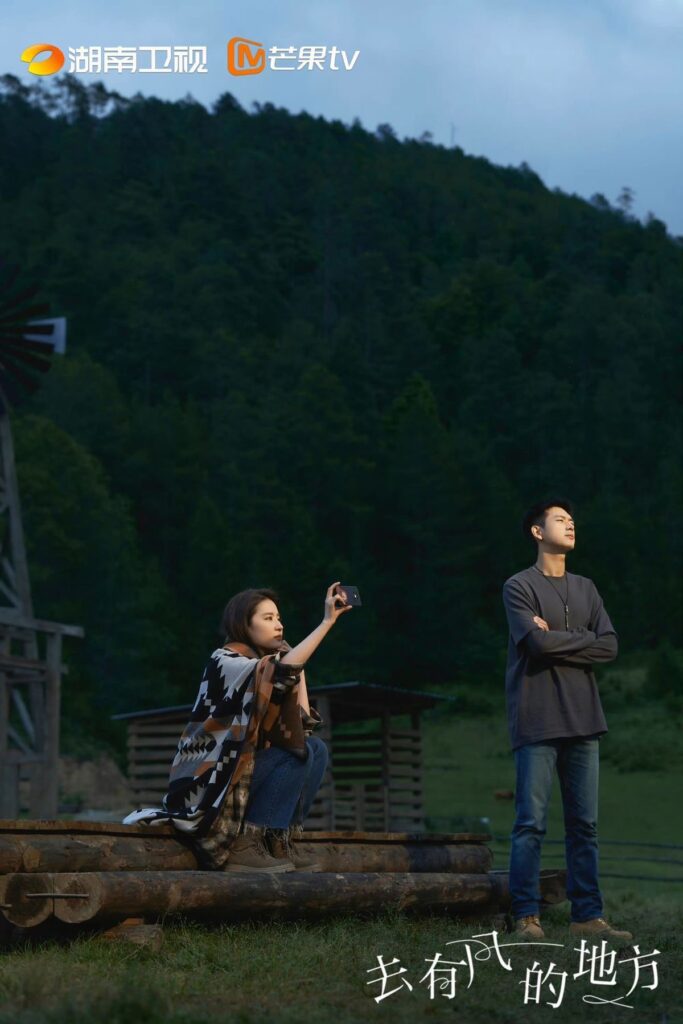 Crystal Liu led me to unravel the beauty of human interaction in Meet Yourself. This drama was full of witty conversation, sweet interaction, and an excellent story. It may look slow-paced, but, as I quoted from this drama, time was the important ingredient. You would slowly be immersed in it and then you'll get carried away by the story. You'll laugh when they laughed and cried when they cried.
The Director Ding Zi Guang, and the Screenwriters, Wang Xiong Cheng and Shui Qian Mo, had worked together on several dramas. Google said that those dramas had high ratings. Therefore, I guess I knew what drama I should watch after this one. This drama was a work of art and I could not help to see another one.
The Cinematography
After being cooped up in several costumes and modern business dramas, I started to get bored of seeing the high walls of the palace or the ultra-modern office buildings. I longed for something new that would arouse my attention. I wanted to feel the curiosity and amazement that I haven't felt for a very long time. And then Meet Yourself offered a different kind of environment.
The story's background was located in Yunnan Province. Yunmiao Village was a small tourist village near Dali. The village's houses were full of charms and the scenery was picturesque. You would not see a high building or grey monotonous rooms. Instead, you would see old houses, small alleys, and beautiful surroundings.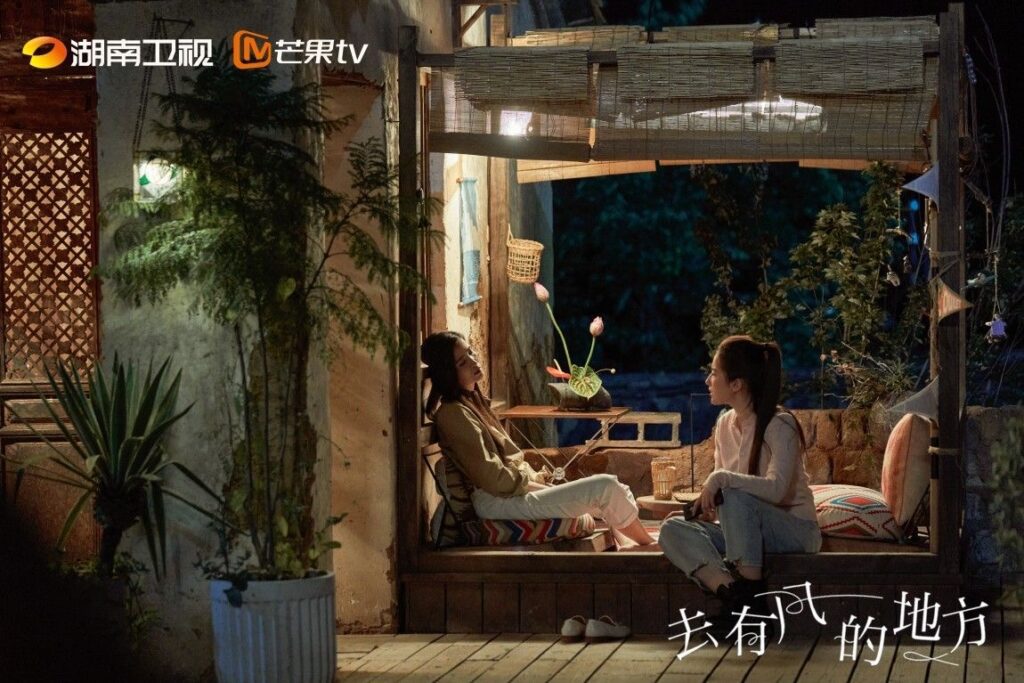 I fall in love immediately with You Feng Courtyard. It was the house where Xu Hong Dou lived as a tenant for three months. It was an old house with dark wooden doors and windows. The yard was full of colorful flowers and you could sit on a low chair and bask in the sun. Xu Hong Dou's room was full of trinkets.
It was crowded but homey at the same time. But the house was not the only place to admire. Xie Zhi Yao's ranch in the morning was a must-see scene. The surrounding place such as the farms, the rice paddy, and even the flowers on the alley would keep your eyes glued to the screen.
I would never find the scenery beautiful if the director did not work hard to shoot beautiful pictures. The angle and lighting were impeccable. Even the sound was good. I loved hearing Xu Hong Dou's voice. Very husky, very sexy.
The costume! You'll never forget about the costumes. The aunties and grannies' traditional headdress and Xu Hong Dou's boho-style fashion was the main point for me. The embroideries and colorful thread used for the headdress attract my attention. And you'll love Xu Hong Dou's clothes which exuded summer and vacation vibes.
Flowy dresses, casual jeans, t-shirts, and do not forget the sunnies and hats. Every time she stepped out of the room in that outfit, she looked like she just stepped out from Pinterest pages. Effortless chic would be the keywords.
Meet Yourself inevitably promoted the beauty of Yunnan Province. Through the eyes of Xie Zhi Yao, we learned about Yunnan's intangible cultural heritage such as wood carvings, embroideries, and hand dyeing. And after I watch this drama, I write down Yunnan as my travel destination and had rice vermicelli soup for my lunch…😁
The Cast
Another strength of this beautiful drama was the cast. Crystal Liu of Liu Yi Fei did an amazing job as Xu Hong Dou. Her acting was natural and she had excellent chemistry with Li Xian. They shone in every scene.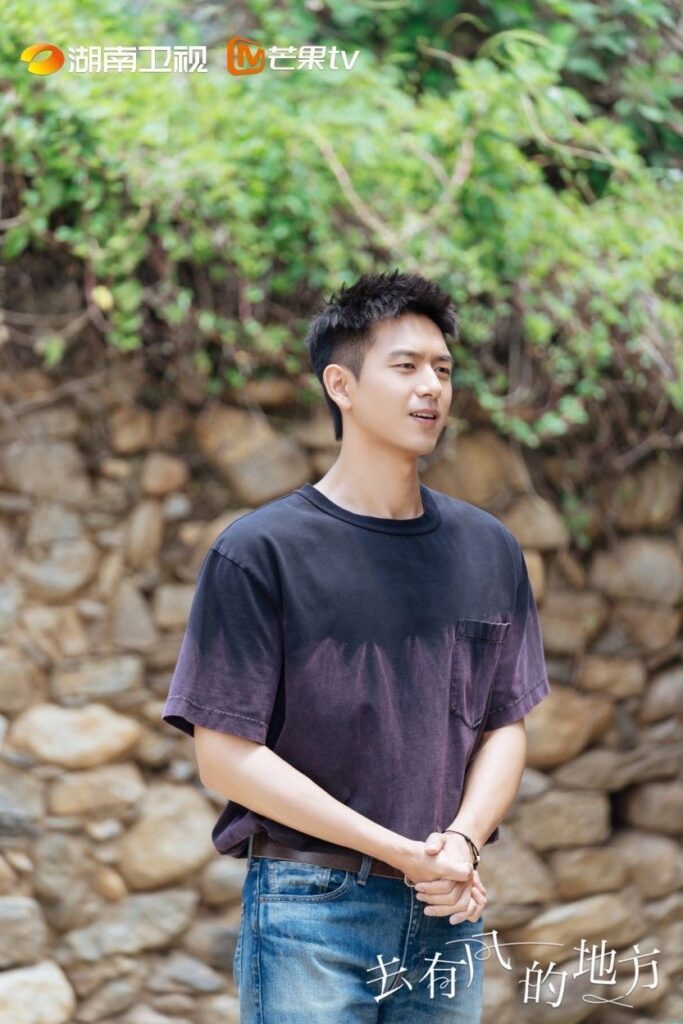 I did not watch much of Li Xian's drama, but I remembered him in the Go Go Squid series and Medical Examiner Dr. Qin. But I was amazed by his natural acting in this drama. Xie Zhi Yao was a friendly character and I loved to see Li Xian's smiles and his twinkling eyes.
There were also many familiar faces in this drama. Fan Shuai Qi who played Shang Guan Jing in New Life Begins acted as Huang Xin Xin. Ma Meng Wei who played Xiang Qin in Royal Feast acted as Da Mai, the writer. Gong Bei Bi as Xu Hong Mi also played Shi Ying in Master of My Own. You could see Yang Kun acted as Aunty A Gui who used to play Liu Yin in She and Her Perfect Husband.
Cui Yi who played Mei Ren's mother in A Romance of the Little Forest now acted as Xu Hong Dou's mother. And I was surprised to see Zhao Zi Qi as Bai Man Jun. she used to play Ling Bu Yi's stepmother in Love Like the Galaxy. And the last familiar face was my favorite. You could also see a glimpse of Joseph Zeng as the handsome Zhang Ming Yu of Shaohua Bookstore.
But the one I fall in love with was Estelle Wu. This 85-year-old actress played Granny Xie, Xie Zhi Yao's grandmother. Their chemistry was great.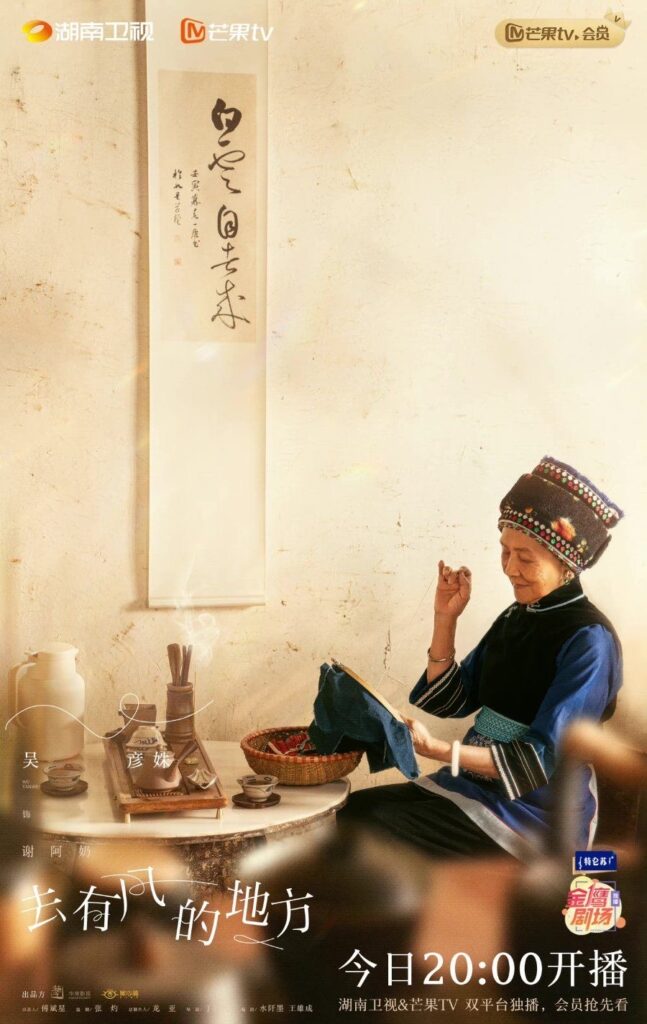 Estelle Wu and Li Xian successfully portrayed the closeness of family members. Xie Zhi Yao grew up with his grandparents because his parents had to live elsewhere to earn money. And Granny Xie was the perfect grandmother for the lively Xie Zhi Yao. She was a sweet old lady but she was very powerful when she swing the stick toward her grandsons. Her beating was very natural…🤣
And you should see the four little actors who played the group of little children of Yunmiao Village. They were adorable!!😍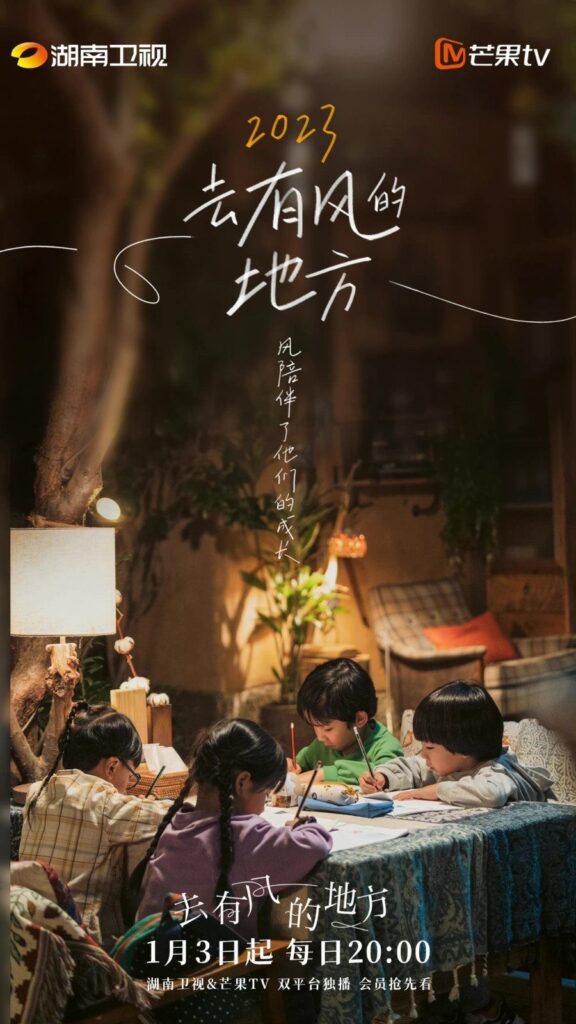 The Character
Xu Hong Dou
Xu Hong Dou was a former Floor Manager of a 5-star hotel in Beijing. She was a hardworking and diligent employee who had worked for a decade. Xu Hong Dou was also an independent, rational, yet sentimental person. Her best friend's death hit her hard and shook her world. However, Xu Hong Dou had a habit to keep her sadness away from others. She would mull over it by herself until it consumed her. It was hard for her to open up to others. Not because she could not trust others, but because she was afraid to be a burden to them.
Her vacation to Yunmiao Village was to fulfill Nan Nan's wishes. She resigned from her job solely because she found out that her job no longer became her interest. Therefore, she took her time to retreat from the hustle and bustle of urban life. Xu Hong Dou found out that her expertise came in handy and people needed her. It was a different feeling compared to when she worked at the hotel. Back then, she always felt like she was an insignificant person.
Xu Hong Dou also made new friends. Her first friend was Da Mai, a web novelist who struggled with writer's block and harsh criticism from netizens. Later, she was also getting close to Li Na, a rich girl who chose to live in the village. Both Da Mai and Li Na were also tenants in the same courtyard.
Xu Hong Dou started to question her life again when somebody asked what her aspiration was. She admitted that she did not know what she wanted to do with her life. And Xu Hong Dou was there to figure out what kind of life she wanted.
However, Xu Hong Dou is also not immune to mistakes. There was a time when she accompanied Xiao Hu Lu, Xie Xiao Chun's daughter with her math homework. Xiao Hu Lu begged her to help with her math problem. Xu Hong Dou thought Xie Xiao Chun would not find out, but she did. Xie Xiao Chun erased all the answers, made Xiao Hu Lu redo the homework, and glared at Hong Dou…😂
Xu Hong Dou was a single woman. Her last date was around 6-7 years ago. She broke up with her boyfriend because they seldom meet. Xu Hong Do was never fond of long-distance relationships. She and her ex-boyfriend only lived 2 districts away, but she considered it a long-distance romance. Therefore, when she was slowly attracted to Xie Zhi Yao, she never thought it would be a promising relationship.
Xie Zhi Yao
Xie Zhi Yao was the village beau. He was handsome, friendly, hardworking, and smart. He could be considered a successful youngster. He went to the university and worked in a venture capital company. And it was a high-earning job. After years of working and saving money, Xie Zhi Yao returned to Yunmiao Village.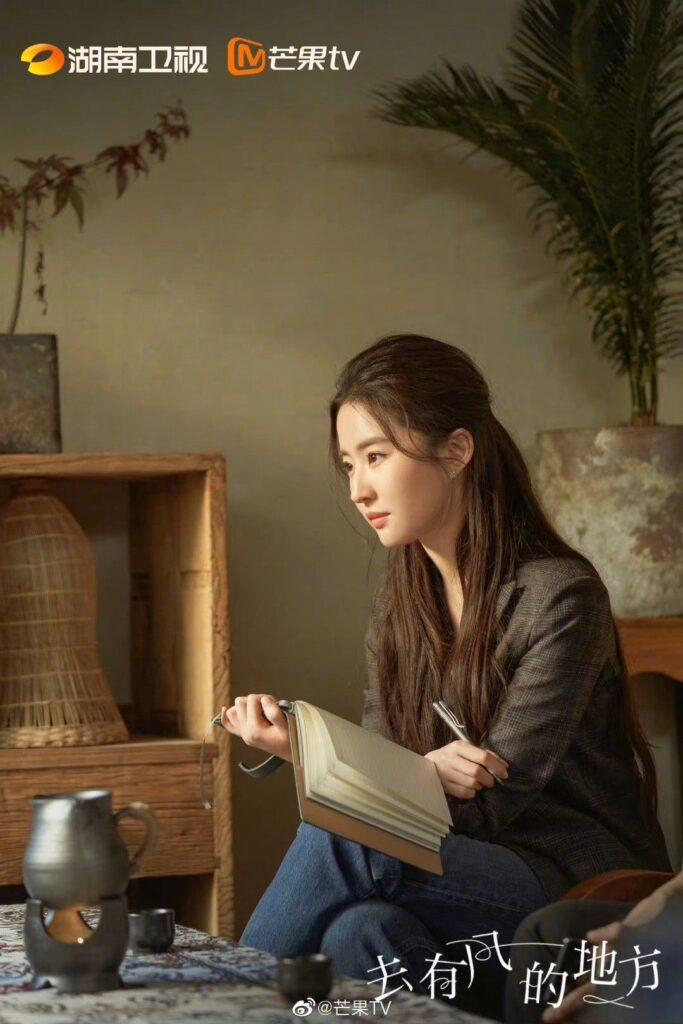 He lived with his grandmother and took care of her. He also started his business which consisted of a ranch, a homestay, a café, an online shop and warehouse, and also a tie-dye workshop. Everybody called him Chairman Xie.
Xie Zhi Yao had a dream to make Yunmiao Village a renowned tourist destination. If the Yunmiao Village flourished, then the youngsters did not have to leave the village to earn money in another city. The elders and the children would not be left behind anymore.
The people of Yunmiao Village looked up to him for every problem they had. He would help them with their businesses, their farms and even when their vehicles were stuck in the mud. His phone would be ringing nonstop, and Xia Zhi Yao never said no to the villagers. He was a kind person who sincerely would help others whenever he could. The aunties and grannies were very fond of him.
Xie Zhi Yao never thought about love or relationships. He was waaayy too busy to think about it. He did not fall in love instantly with Xu Hong Dou but he was not immune to her beauty as well. They met at the ranch when she was lost and accidentally stepped on cow dung. He helped her and let her ride Cutie Pie, his favorite horse.
Xie Zhi Yao knew that Xu Hong Dou could not reject a call for help, yet he schemed to make her volunteer at his café and warehouse. At that time, Xie Zhi Yao had a hard time to manage the aunties and grannies who worked for him. They never considered him their boss because they knew him since he was a kid.
Although Xie Zhi Yao managed his business with the utmost care, it was not very profitable and he got a huge loan to pay. Yet, he was determined to stay in the village. Xie Zhi Yao's father did not agree with his life plan. He wanted him to quit the business and return to his high-earning job in the city.
However, Xie Zhi Yao finally realized that Xu Hong Dou was the one he had been waiting for after he eavesdropped on her conversation with his father. And Xie Zhi Yao's father was willing to accept his son's job after that conversation with Xu Hong Dou.
The Story
From Meet Yourself, we learn how to deal with problems within. The death of loved ones, a career failure, criticisms from others, insecurities, and many more. This drama also taught us to live in the present, not brood over the past, or worry about the future.
Sometimes we can not let go of the past but also fear the future. Hence, we could not enjoy the present. Meet Yourself warmed my heart. There were no bad people in this drama. It was solely about finding your way back. In this drama, many people were struggling with their problems, but it did not hinder them from helping each other.
The romance between Xu Hong Dou and Xie Zhi Yao was blossoming at a snail's pace. The people around them could see love sparked between the two. Yet, they always denied it. Xie Zhi Yao was a handsome man, therefore there were many girls attracted to him.
However, according to him, after the girls knew that his life plan was to set up a business in his village, they stopped chasing him. While Xu Hong Dou never planned to find a lover. She was too busy to mend her broken heart. But the universe had its own way to make things happen between two fated people.
Xie Zhi Yao's father was always against his son's business. Every time he returned to the village, he would terrorize Xie Zhi Yao's employees with questions regarding his business. When he found that the business was not profitable, he would berate Xie Zhi Yao. Xie He Shun would go as far as making a commotion on the business site. He used to block the warehouse so the employee could not work. When Xie He Shun learned that Xie Zhi Yao listened to every word Xu Hong Dou said, he came looking for her.
Xie He Shun asked Xu Hong Dou's help to persuade Xie Zhi Yao so he would give up on his business and return to his old job. Xu Hong Dou did not criticize Xie He Shun because she understood that he was worried for his son. She told Xie He Shun that she admired people like Xie Zhi Yao and Huang Xin Xin. They had a dream and they were willing to fight for it.
She also told him that Xie Zhi Yao wanted to make their small village a place where people could earn money. Thus, the youngsters no longer had to leave the village and worked in the cities. Elders and children would never be left behind anymore.
Xu Hong Dou's last words made Xie He Shun gave up on his intention. She said that the reason which made Xie He Shun left the village was the reason that made his son return. Therefore, they should encourage, support, and trust him.
Xie Zhi Yao who happened to walk behind the wall listened to their conversation. Xu Hong Dou's words made him realize that she was a gem that he should never miss.
Xu Hong Dou also realized her feeling for Xie Zhi Yao, but she was also confused about it. Their separation made her think about her feelings seriously. She refused to have a long-distance romance, but she could not deny her love for Xie Zhi Yao. Hence, she racked her brain to find the perfect solution because she was the kind of girl who wanted the man and her career as well. In the end, the homestay project was the perfect solution for them.
There were many side stories about side characters that were interesting. There was a story when Xie Zhi Yao's brother returned to the village and skipped school. Xie Zhi Yuan was determined to quit his school and never return to Kunming. Xie Zhi Yao found out the reason was that he was embarrassed over an incident when he pooped on his pants due to diarrhea.
Unfortunately, Xu Hong Dou overheard their conversation. When the story of his incident spread in the village, Xie Zhi Yuan was enraged and ran away from his grandmother's home.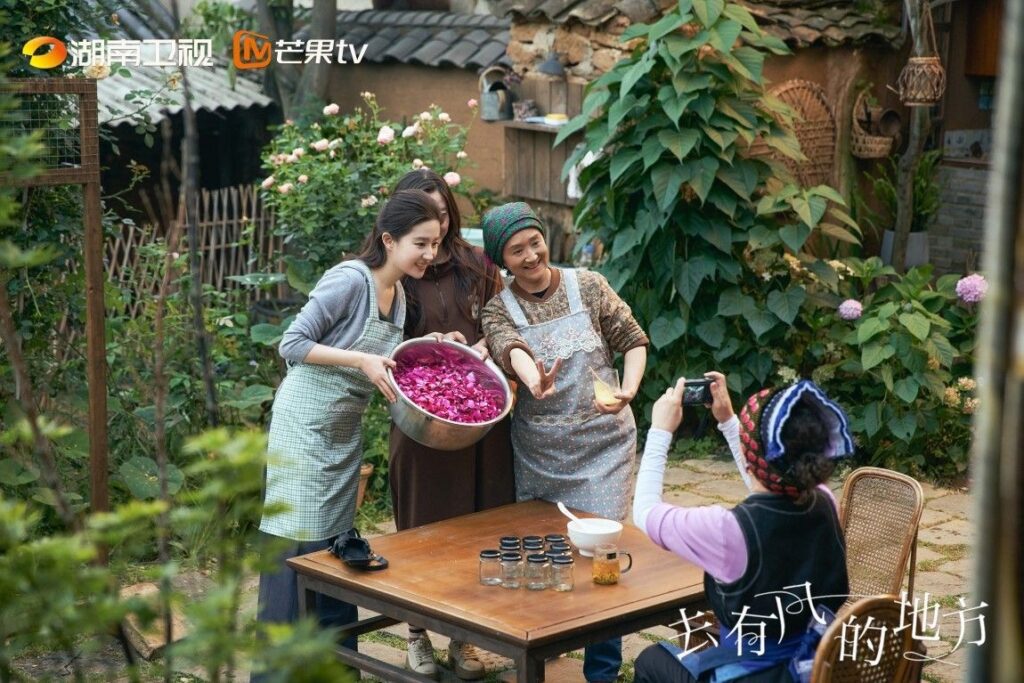 Xie Zhi Yao was criticized because of this incident. The aunties and grannies made intervention sessions for him. But, in reality, Xie Zhi Yao knew where his brother was and secretly monitored him. The incident ended with a good hearty lunch at the restaurant where Xie Zhi Yuan worked at. Of course, the harmonious lunch happened after a series of beatings from the powerful Granny Xie…🤣
There was a story about Xu Hong Dou's housemates. Da Mai the writer was an introvert and Mr. Ma was a yogi who meditated every day. They lived in their world until Xu Hong Dou came. Da Mai who was good at cooking noodles started to share food with her and more frequently stayed outside her room.
Mr. Ma often invited Xu Hong Dou to have tea, since she was the only one who was willing to sit with him for a long time. Those small insignificant interactions led to a change. Both Da Mai and Mr. Ma were getting more open to others and they also got a new insight into their bitter situation.
Xu Hong Dou's family was harmonious. The parents were chatty, the older sister, Xu Hong Mi, was bossy, and Xu Hong Dou was the sensitive one. She would describe her sister as the Head of the Department, their mother as the President, their father as General Manager, and herself as a small employee.
While Xu Hong Mi described their mother as the President, their father as General Manager, Xu Hong Dou as the Boss' spoiled daughter who just entered the office, and she was the assistant who was sandwiched between them…🤣
But the relationship between the two sisters was very good. They argued and fought but it was quite funny to watch.
In the end, I picked up a lesson from Meet Yourself. It was hard to strive for your dream. You have to suffer and should willing to sacrifice. But like what Granny Xie said, "Fight for what you desire. Do not wait for someone else's offering". After you climb a hill, there would be amazing scenery to see.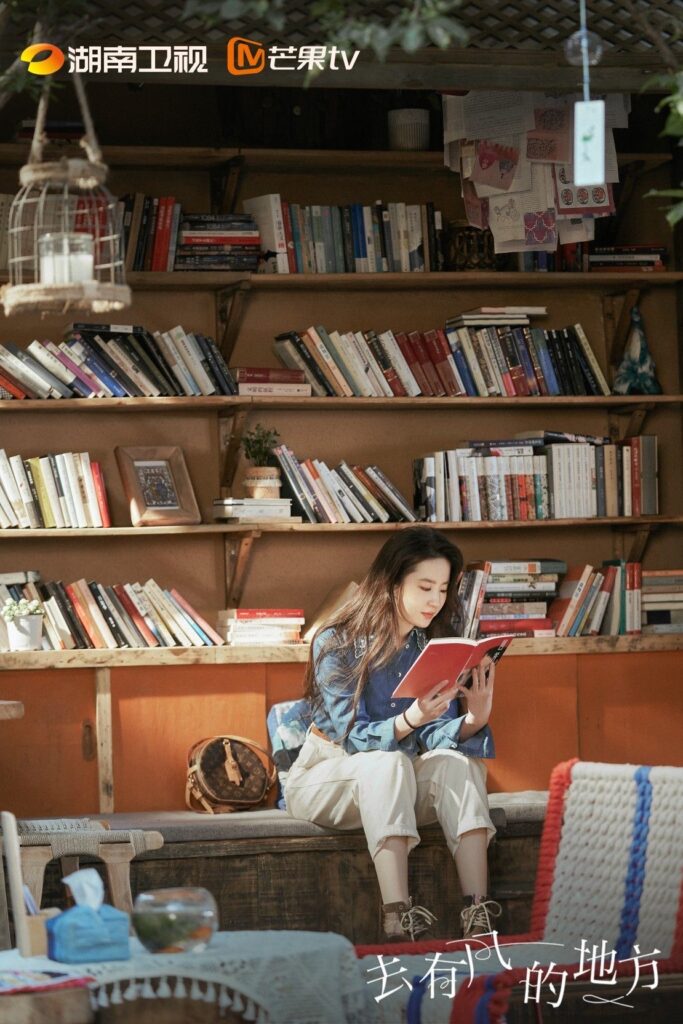 The Conclusion
I was beyond excited when I watched this drama. The story was something that would linger in your heart for a very long time. And the soundtrack would stay in your mind, and like what I had right now…😅
You would wish to have a good relationship with your family just like Xu Hong Dou has and a very kind and attentive boyfriend such as Xie Zhi Yao.
There were so many reasons to watch this drama over and over again. Hence, if you asked me whether this drama deserves a rewatch, I would answer with a YES. You could watch it over and over again. Because every time you watch an episode, there were always a thing to be praised and enjoyed.
Dear readers, I would recommend watching Meet Yourself on a long holiday to have a fulfilling experience while you enjoyed the whole episode in one swoop. Yet, you could also watch it on a daily basis, but I could not be held responsible if you could not stop thinking about the next episode while you work …😆
Happy watching!!