Title: Love Like The Galaxy
Also Known As: 星汉灿烂, Xing Han Can Lan, The Stars Are
Brilliant , Splendid Stars
Part 1: 星汉灿烂 / Xing Han Can Lan
Part 2: 月升沧海 / Yue Sheng Cang Hai
Director: Fei Zhen Xiang
Screenwriter: Zou Yue
Genres: Romance, Historical, Mystery, Political
Country: China
Year: 2022
Original Network: Tencent
Where to Watch: WeTV
Hello readers, this time I give you the review of drama that I really love, Love Like The Galaxy. Although it has long episodes, I really enjoy watching this drama. So without further ado, here it is.
Love Like The Galaxy Synopsis
Love Like The Galaxy was a Chinese romance drama, released in 2022, with total of 56 episodes (27 epsiodes of Part 1 and 29 episodes of Part 2). The story was about Cheng Shao Shang. She never saw her parents and sibling for 15 years. She grows up under the careless care of her Grandmother and Second Aunt. Shao Shang's personality was rude and stubborn. She was also illiterate and lacked virtues as a woman. Her decorum was poor, not to mention her needlework. But although she can not read words, Shao Sang was a clever girl.
When Cheng Shao Shang finally reunited with her parents, the years of separation has taken a toll on their relationship. Shao Shang had a good relationship with her father, but not with her mother. Mother Cheng had high expectations of her daughter but she was met with disappointment. Therefore, the mother-daughter duo kicks off their relationship badly.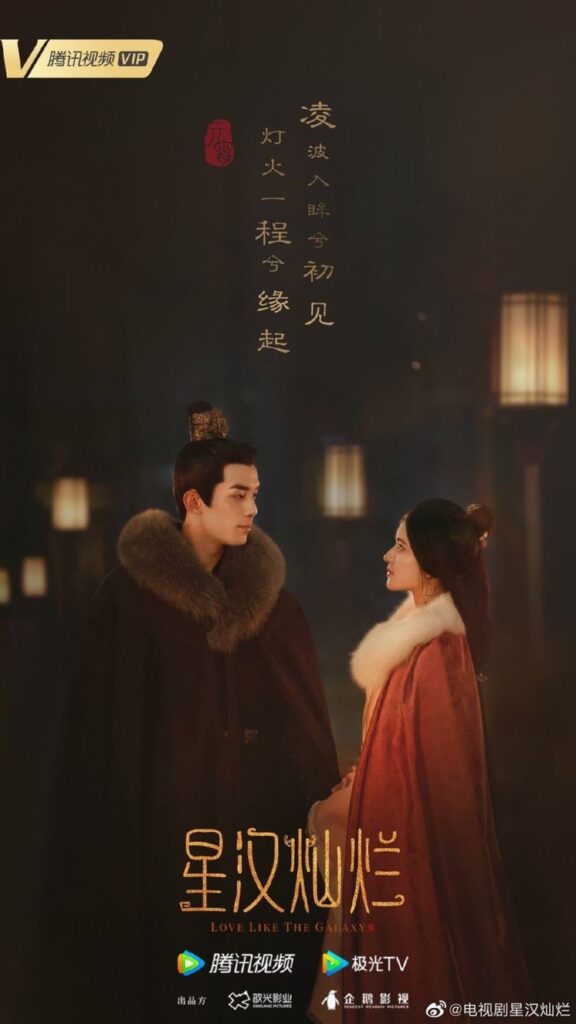 But her problem was not just her family. Cheng Shao Shang realized that if she wanted to live the free life that she had been dreaming of, she must find the perfect husband-to-be. She came across three perfect candidates; the kind, upright, and simple Lou Yao; the smart and sharp-mouthed person who lived a free life, Yuan Shen; or the feared war general and the foster son of the Emperor, Ling Bu Yi.
Cheng Shao Shang's straightforward manner and courage won the hearts of those candidates. They compete for her love. When Cheng Shao Shang ended up as the fiancé of Ling Bu Yi, their relationship was not a smooth journey. Cheng Shao Shang had to face many obstacles; her insecurity, the rejection from her family, the jealous princess, and the mysterious life of Ling Bu Yi.
What would happen to their relationship? Will Cheng Shao Shang finally lived a free life that she always wanted?
Love Like The Galaxy Review
Finally, I could write a review of this drama. Love Like A Galaxy is a romance drama with historical background. But if you watch this drama, you'll get more than just a romance. The story was unbelievably addicting.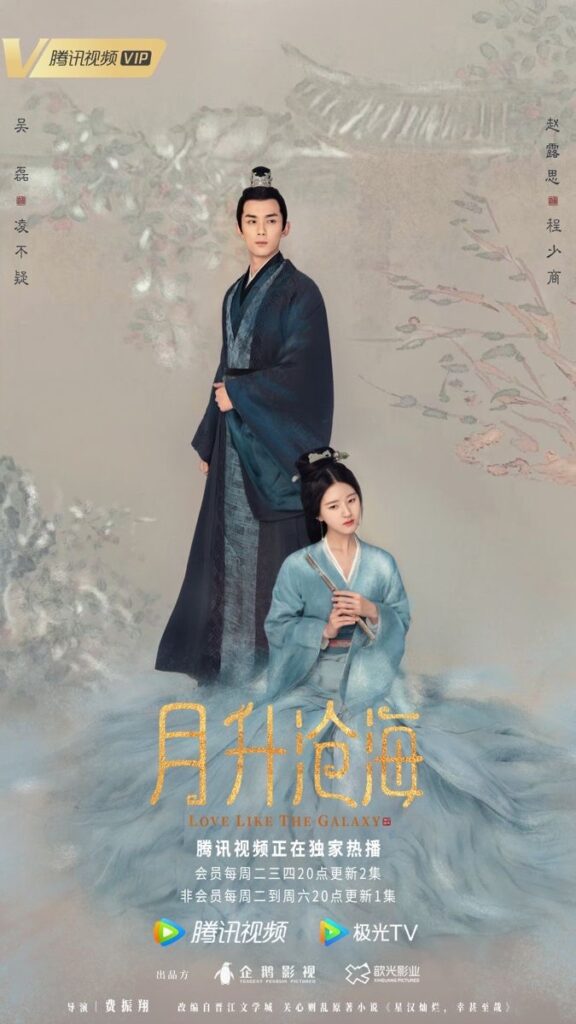 I've been waiting patiently for Leo Wu and Zhao Lu Si's collaboration since The Long Ballad. Both of them were young and promising actors. Their acting quality was not to be questioned. Their drama was something that I always wait for.
The director of Love Like The Galaxy (Part 1 and 2), Fei Zhen Xiang, was surprisingly a familiar face to me. It turned out that I used to watch him as Sun Wu Kong in a 2010 drama, Journey To The West. Fei Zhen Xiang was the veteran director behind the Candle in the Tomb series too. And our screenwriter Zhou Yue is the writer behind No Boundary and the Rise of Phoenixes.
Love Like The Galaxy was a result of amazing cooperation between veteran director-scriptwriter and young promising actors. Two thumbs up to them.
By the way, beside this drama review, I also wrote Love Like The Galaxy episode recap, if you want to know what happened to every episode of this drama, you can read it. I will much appreciate it.
The Cinematography
Love Like The Galaxy's cinematography was astounding. Although the color tone was my least favorite, the other aspect was impeccable. Through the shooting angles and lighting, the director was able to capture the perfect atmospheres and emotions of every character. The sets were arranged perfectly in a detailed manner. They were not too much or too less.
The costumes department was great. I love the costume design. They made it simple without intricate design. Even the monarchs used the same design, but their attire was adorned with embroideries, while common people's attire was plain. However, there was not much variation in the costumes.
Several characters use the same clothes in many scenes. For instance, Princess Yuchang and her grandmother, Princess Ruyang always use the same dress. Well, that was acceptable if they were common people, but Yuchang and her grandmother were princesses, and both of them lived lavish life. They should have had more than one set of clothes, didn't they?🤔
The Casts and Characters
Every character was perfectly written and humane. There were no omnipotent characters, even the Emperor and Empress have their flaw. Only in this drama, I saw an Emperor being chased out of the room by his wives because he was annoying… 🤣.
I was head over heels for our main characters, Shao Shang and Ling Bu Yi, but I did curse them a few times because of their reckless behaviors.
Ling Bu Yi or Zi Sheng
Ling Bu Yi, with a courtesy name Zhi Sheng, was a cold-faced general and a straightforward man. He was astute, disciplined, strict with his soldiers, and even harsher to himself. His uncle, General Huo, was the emperor's sworn brother. He become the last descendant of the Huo family when General Huo and his family perished in a war. Later, the emperor took him as his foster son.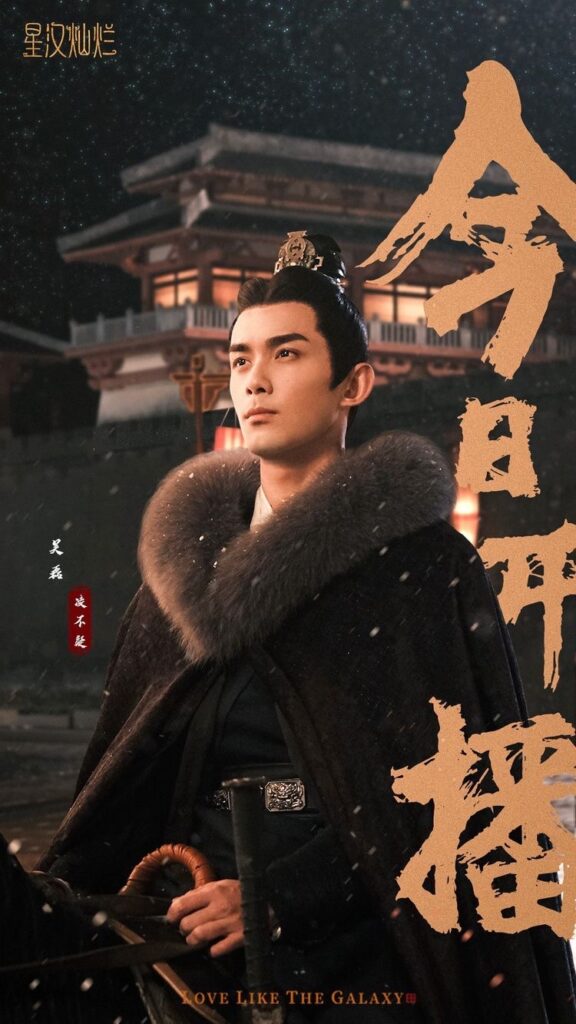 Ling Bu Yi could be considered an eligible bachelor. Although he was feared at the battleground, many young nobles woman would scream at the sight of him. He was a very talented man in every aspect. Ling Bu Yi was excellent in warfare, great at music (he played guqin at the Empress's birthday banquet), an excellent strategist, and not to mention that he was rich.
As the foster son of the monarchs and the only member of the Huo family, Ling Bu Yi could live a lavish life. But he chooses to be a soldier and follow in the footstep of his late uncle.
What can I write about Leo Wu's Ling Bu Yi? He was perfect to the core. His expression as Ling Bu Yi reminds me of his character in Nirvana in fire drama, Fei Liu. Except, Fei Liu was more playful than Ling Bu Yi. Leo Wu managed to capture the image of a ruthless general, a love-struck lover, and a stubborn son. You should see his sullen face when the Emperor throws him a pancake. It was hilarious.
He was at the top of my must-watch list. I'm so ready to wait for his new drama.
Cheng Shao Shang or Niao Niao
Compared to Ling Bu Yi, Shao Shang's life was more simple. She is the only daughter of General Cheng Shi and his wife, Xiao Yuan Yi. She has two elder brothers and a twin brother. As the only girl in his family, Shao Shang should live a spoiled life. But unfortunately, because of her Second Aunt's instigation, her parent abandoned her when she was an infant. Hence, she grew up under the care of a selfish grandmother and cunning aunt. This abandonment made Shao Shang resent her parents. And her lack of knowledge made her insecure.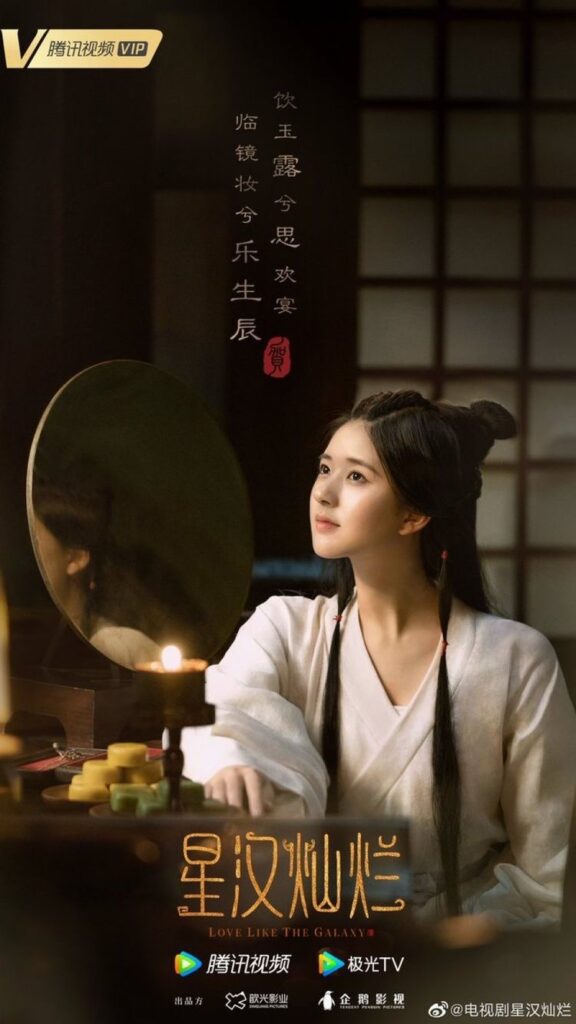 Shao Shang never learned to write, read, or the four arts. Her decorum was poor. She even did not know how to salute the elder. Although she lacks talents, Shao Shang was actually a clever person. She realized her shortcomings and it made her insecure. The effect of the insecurity was doubled because she had a biased mother who always compared her with her perfect cousin.
Shao Shang was a kind person. She was upright, straightforward, and honest. Shao Shang did not cower when she had to face the danger head-on. She was a natural-born engineer, and her creativity had helped her many times.
I could not imagine another actress acting as Cheng Shao Shang other than Zhao Lu Si. She was the perfect option. I really like her micro-expression. The pouting, the sided-eye, the confusion, the playful, the anger, the tears, and many other expression was displayed perfectly on Zhao Lu Si's face. She managed to capture every emotion of Cheng Shao Shang's character. I would definitely watch every drama with Zhao Lu Si's name on it.
Our Supporting Character
Yuan Shen
This person was despicable. Yuan Shen had foul-mouth, narcissistic, arrogant, and many-many more negative adjectives attached to him. Nonetheless, I still love him. Well, let's not forget the fact that he was a good-looking person too…😆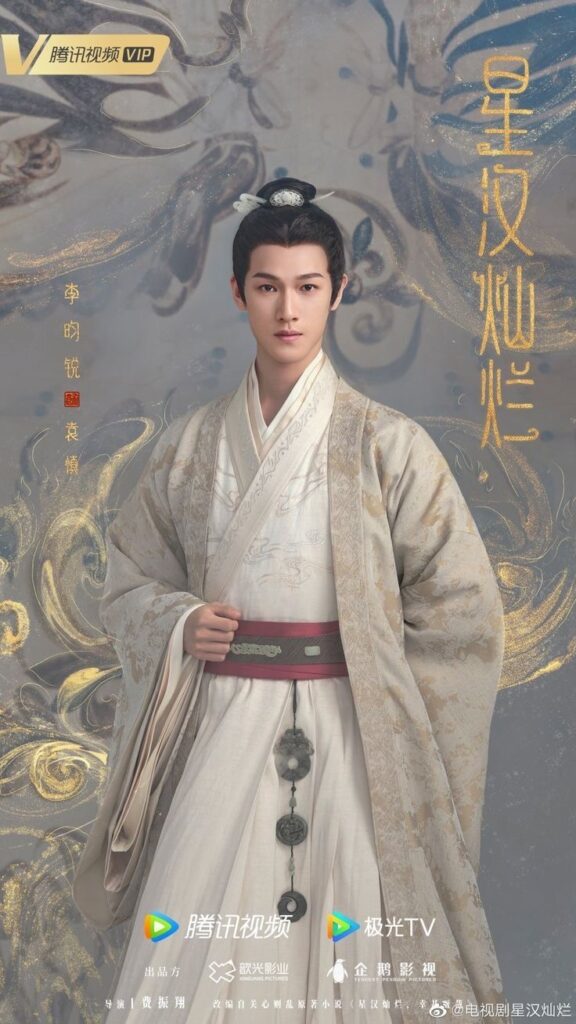 Yuan Shen was a loyal person. He rarely falls in love, although young ladies always swarm around him everywhere he goes. But when he does, he falls deeply. His affection for Shao Shang was unwavering for years. He was even willing to wait for her to fall in love with him.
Yuan Shen was traumatized by his parent's relationship. That is why it took him so long to admit his affection for Shao Shang.
Li Yu Rui used to play a supporting role in The Oath Of Love and Rebirth for You. In Love Like The Galaxy, Li Yu Rui portrayed the role of Yuan Shen perfectly. He managed to give his part much personality.
Lou Yao
Lou Yao was the first fiancé of Cheng Shao Shang. He was simple, upright, kind, straightforward, sensitive, and easy to manipulate. You could easily guess his train of thought. At first, I did not like his character. He was so weak compared to the fierce He Zhao Jun.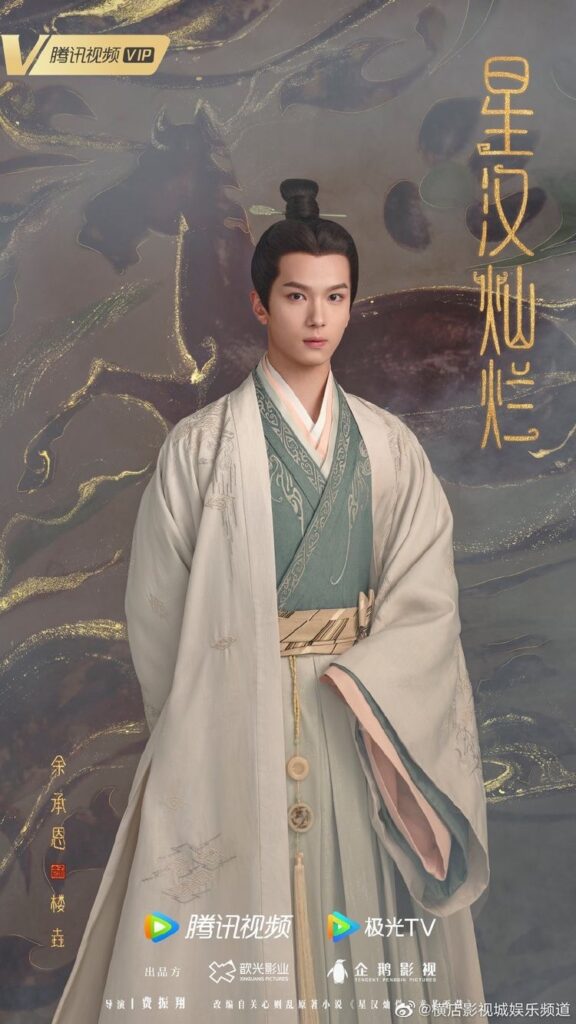 However, when he went to chase Cheng Shao Shang, I was kinda touched because he was willing to live a hard life and helped Cheng Shao Shang build the city. When his family forced him to break his engagement with Shao Shang, he was adamant to marry her. His affection for Shao Shang was real and I feel bad for him. Thankfully he finally had a good life in the end. Or else, my heart would bleed for him.
Yu Cheng En did a very good job as the simple Lou Yao. You could never hate him if you saw his innocent smile.
The Story
Love Like The Galaxy main theme was the whirlwind relationship between Cheng Shao Shang, a daughter of a general, and Ling Bu Yi, a noble and feared general.
However, this drama was addicting because the story was rich. It did not revolve only around Cheng Shao Shang and Ling Bu Yi's relationship. When you chose to watch this drama, you would not be bored because there were many subplots, characters, plot twists, and of course, a hint of comedy here and there.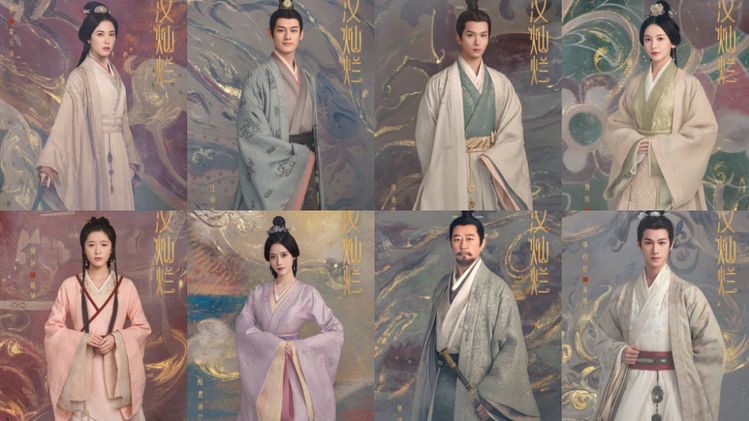 There was a subplot when Mother Cheng was so angry toward Cheng Shao Shang and had her leave for Huo County with her 3rd Aunt and Uncle. They met a mishap in the middle of the journey. The rebel soldiers chase them and wanted to kill them. Meanwhile, Ling Bu Yi who also went on a mission to exterminate rebels helped her. They had close contact during this period. After that, Ling Bu Yi decided on her, but Shao Shang already choose Lou Yao as her fiancé.
The rebellion did not stop there. The rebel killed General He and his family, except for his daughter He Zhao Jun and his young son. General He's last wish was to continue the engagement between He Zhao Jun and Lou Yao. Lou Yao and Shao Shang tried to save their relationship.
However, Shao Shang comes to her senses. Their small matters of relationship can not be compared to the General He's sacrifice for their country. Therefore, she told Lou Yao to cancel their engagement. It was a tough decision for both of them, but they managed to solve it by themselves.
There were still many cases of rebellion in the story, but the mastermind of those rebellions was still hidden.
And the biggest plot twist in this drama was Ling Bu Yi's identity. Ling Bu Yi was at his wit's end when the key person linked to the Gu City massacre, Peng Kun, was killed by someone. He did not have any evidence left to prove that Ling Yi was connected to the gu City case. Therefore, he took the last step of his revenge, to kill Ling Yi, who apparently was not his biological father.
Ling Bu Yi was the youngest son of Huo Chong, Huo Wushuang. While the kid who died back in Gu City was his cousin, the real Ling Bu Yi. Huo Junhua, Ling Bu Yi's mother and Huo Wushuang's aunt, decided to conceal his identity and planned to avenge her Huo family before her mental collapse.
Shao Shang managed to guess his identity beforehand. When Ling Bu Yi killed Ling Yi and got held up by the imperial guard, Shao Shang and her Cheng family stepped out to help him. But Ling Bu Yi did not want to implicate them. Although Shao Shang begged and even threatened him, Ling Bu Yi still jumped onto the cliff to kill himself.
He managed to be saved, but Shao Shang who was angry because he abandoned her by the cliff, asked the Emperor and Empress to cancel their engagement. They parted for a very long 5 years afterward.
I was impressed by several characters in this drama.
First was the Cheng family. Yes, the Cheng family, all of them. Even the cold Mother Cheng… The Cheng family truly loves and supports each other. Shao Shang might be at odds with Mother Cheng, but she had a very good relationship with Father Cheng and his brothers. When one of them encounters trouble, they would step out and protect their kin.
The second was Empress Xuan. Cheng Shao Shang finally found the mother figure on her. Empress Xuan was a magnanimous person. As the second person who sits at the top, Empress Xuan lives a lonely life. The Emperor had a strong bond with Noble Consort Yue, his first wife.
Empress Xuan always felt like an outsider in her own marriage. When the Empress met Shao Shang, she treats Shao Shang as her daughter. She respect her and wished that she could be as brave as Shao Shang. When she was dying, she still thought about Shao Shang's marriage.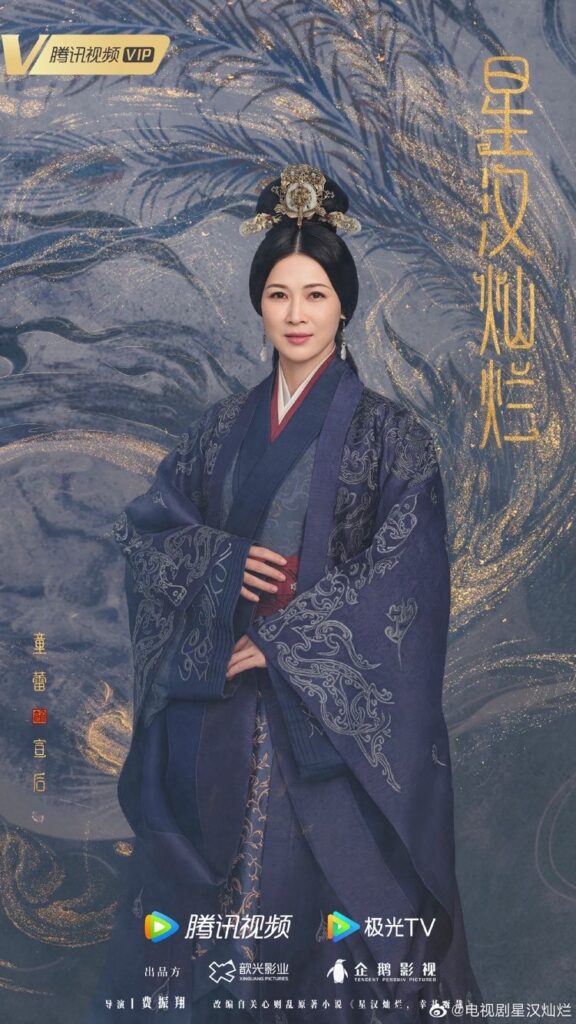 I was sobbing at the scene where the Empress was dying. She was a sweet person, she deserves a happy ending…😭
The Ending (Spoilers ahead)
Love Like The Galaxy has a happy ending. Shao Shang and Ling Bu Yi reunited again after a long separation following their break up.
For five years, both of them live a cold and lonely life. Ling Bu Yi risked his life at the border to atone for his guilt toward Shao Shang and the Empress. Meanwhile, Shao Shang pledged loyalty to take care of the deposed Empress Xuan. She also lived a lonely life. She never returns to the Cheng residence, even the Empress can not make her do that.
They reunited after they encountered a murder attempt at Huo County. Wang Yanji tried to assassinate them to avenge the death of her husband, Lou Ben. Wang Yanji was incited by the mastermind of all rebellions that happened in the country, Tian Shu.
Shao Shang, He Zhao Jun, and Yuan Shen was trapped in a secret chamber when Ling Bu Yi suddenly appeared to help them but got trapped as well. When Wang Yanji burned the chamber, Ling Bu Yi managed to help Shao Shang, He Zhao Jun, and Yuan Shen. But he could not make it himself because Wang Yanji obstructed him from climbing the rope.
When the chamber exploded with Ling Bu Yi still inside, Cheng Shao Shang was frantically running to the ruins. Liang Qiu Qi had held her up. Shao Shang was so devastated she cried and wailed over the death of Ling Bu Yi. She regretted everything and promised to forgive him as long as he returned to her.
It was so sad to see Shao Shang crying over her loved one. Liang duo also cried over the loss of their young master. The crying scenes continue until Liang Qiu Fei saw Ling Bu Yi standing in the doorway, perfectly alive. Everybody was shocked and happy at the same time.
Shao Shang ran to him and hugged him. Although she always said she would never forgive him and trust him again, Shao Shang could not stand to lose him. They got back together at that moment, witnessed by the Liang duo, the soldiers, He Zhao Jun, and also Yuan Shen.
However, after what happened in Huo County, they still had to handle Tian Shu and his bombs.
Shao Shang and Ling Bu Yi planned to hold their wedding in Hua County. The ending scene should be closed with the entire Cheng family, plus Ling Bu Yi, and surprisingly, Yuan Shen looking at the stars up in the sky. But instead, it was closed by the fuming Emperor Wen and the annoyed Empress Yue. The Emperor was angry he could not attend Ling Bu Yi's wedding in Hua County and the Empress was annoyed by the Emperor…🤣
If you want to know more detail about the ending, you can read it here Love Like The Galaxy ending explained.
The Conclusion
Love Like The Galaxy was the kind of drama that you'll remember the story for a very long time. You are willing to rewatch this drama over and over again, simply because you fall in love with the story. And every time you watched it, you never get bored although you already remember the dialogue. A kind of your comfort show when your workdays was a mess. That is why it is hard for so many people to move on from Love Like The Galaxy drama.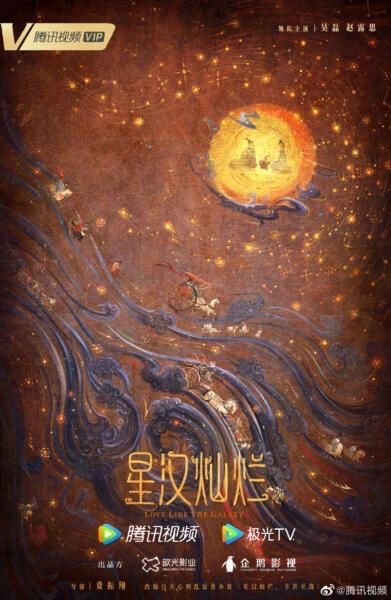 I would definitely recommend this drama to you who craved a good drama, no matter the genre was. Be ready for the long episode. Do not watch this drama if you only had a short free time.
All in all, this is the drama that is definitely worth your time. Hope you all find my Love of The Galaxy drama review helpfull to you. Happy watching!