Title: Sunshine by My Side
Also Known As: 骄阳伴我, Jiao Yang Ban Wo, The Sun Accompanies Me, Sunshine With Me
Director: Song Xiao Fei
Cast: Xiao Zhan, Bai Bai He, Tian Yu, Zhu Zhu
Screenwriter: Li Xiao, Jiang Wu Ji
Genres: Romance, Drama
Country: China
Type: Drama
Number of Episodes: 36
Date of Release: Sep 1, 2023
Original Network: CCTV, iQiyi, Tencent Video
Where To watch: iQiyi, Tencent Video
Dear Readers, Sunshine By My Side was a 36-episode long drama that I have been waiting for. It is one of the New Chinese dramas released in September 2023. And the reason was so simple: Xiao Zhan. I always admire him because not only he had a handsome face for me to see, but his acting was great too.
No matter what kind of characters he played, he always pulled it out. And this was not an exception because I managed to watch whole episodes in 3 days. After the last episode, I turned off my screen contentedly. Therefore, I had to share this happy feeling with all of you. Happy reading!
Sunshine by My Side Synopsis
Sheng Yang was a rookie in an advertising company. He was a hard-working person and full of ideas. Ten years ago, Sheng Yang met a female director who left a big impression on his heart. Unfortunately, he never met her since.
But Sheng Yang never forget her, and the image of the smiling director was engraved deep inside his heart. And because of her work of art, Sheng Yang decided to take Design Major in the college so he could enter the advertising industry.
Jian Bing was a well-known female advertising director. She married to a famous director, Xue Yi Ming. For her, Xue Yi Ming was not only a husband. He was her teacher and mentor who taught her how to direct and how to survive in the industry.
Together they build an advertising company, Jian Yi. People regarded them as golden couple of the industry. The only person who could keep up with this couple was Liang Shan Shan, the CEO of Jian Yi Advertising, who also happened to be their long-time friend.
Sheng Yang finally met his long lost first love on a restaurant when he was waiting for his blind date. At that time, Jian Bing looked distraught and sad because it was the day when she asked for a divorce from Xue Yi Ming. She was drunk that night and Sheng Yang took care of her.
His kindness and righteousness softened Jian Bing's heart. She helped him during the hard time of his career while Sheng Yang provided support for Jian Bing when the reality was harsh on her. It was not easy for them to be together.
The fact that she was ten years older than him had become family's objection. And Sheng Yang had to work harder to meet the social expectation in the term of career. However, no matter how hard it was for them, they had decided to follow their destiny.
Sunshine by My Side Review
I have fallen in love with this drama since the first episode. There wasn't a single moment that I missed because I've been all my eyes and ears since the beginning. I thought Sunshine By My Side was just another age-gap relationship romance. But it was way much more.
Sunshine By My Side's story was light but mature. I fell in love with the witty dialogue. It offers you entertainment and enjoyment, but there are so many lessons for you to take. And this is the most value that a drama could give you. It was good to have a drama to entertain you. But it was better if you could feel contented and satisfied after you watched it.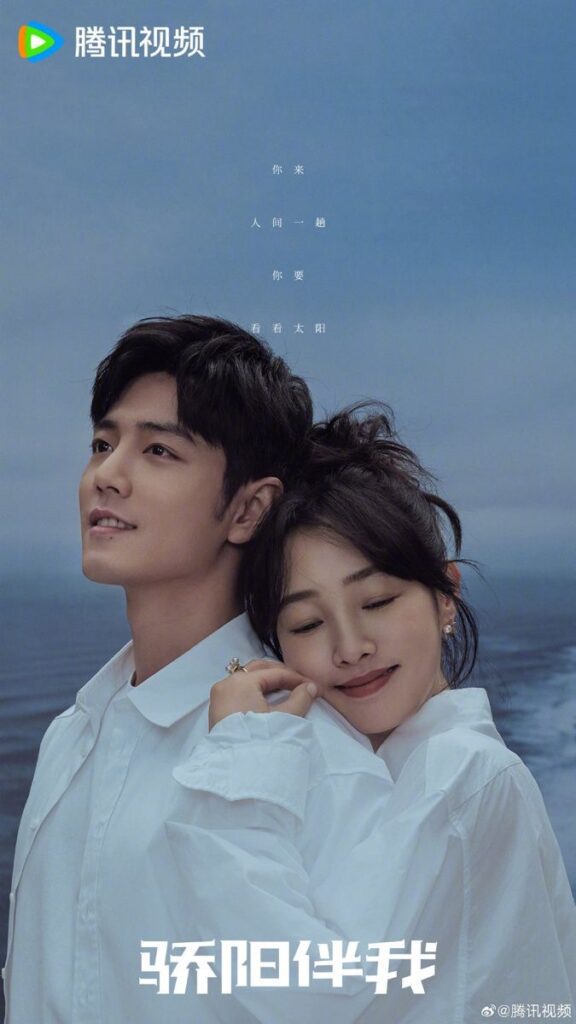 My first lesson from this drama was Jian Bing's words to Liang Shan Shan about her failing marriage:
"Is the value of us, women, defined by the success of our marriage?"
These words speak for itself. No need for an explanation. Indeed, a woman's worth was defined by herself.
All characters in this drama were adults. There were several groups of age. Xue Yi Ming and Liang Shan Shan belonged to the 40-something adult group. Jian Bing was the only one in the 30-something group. Sheng Yang and Song Chen were more than 25 years old. Pan Rou, Jian Shuang, and Hao Junjie belonged to the group of less than 25 years old group.
But there was also a group of 50s where Luo Mei Juan and Jian Xiang Qian belonged. I thought Sunshine By My Side was the only drama where I could see clearly the division of age among the characters.
Every character had their own complexity. Different age, background, education, and financial state leads to different point of view. And those things enrich the drama. There were no two-dimensional characters in Sunshine By My Side.
In this drama, sometimes the adults become childish while the child becomes mature. But every character in this drama, regardless of age did grow up. They had a very good development written for them. And this was the best thing a writer could give to their persona.
The main theme of this drama was LOVE. When I say love, it includes the unification or the separation of love. Also, different kinds of love. A familial love, longstanding love, passionate love, deep friendship, or playful love. All of them came from different perspectives of our characters.
We could see the pain that Jiang Bing and Xue Yi Ming must go through when their love fades away and the marriage slowly collapses. Later you see love from the perspective of a middle-aged couple, Luo Mei Juan and Sheng Xian Qian. they showed us that it takes a lot of work to keep the love inside the house.
Then you could see life from the perspective of college students. One was burdened by the expectations from the parents and society, while the other was living a carefree life free of burden but lack of guidance. We also learned from the perspective of someone who tried to rebuild her trust in love. And from a youngster whose first love had become his source of aspiration.
After I watched this drama, I should say that my favorite scene was when Xiao Zhan cooked for Jian Bing. People said that a man who could cook was sexy. I have never thought about it. Because whenever I watch cooking videos, I pay attention to the food more than the chef. Until Xiao Zhan cooked in this Cdrama.
The cooking scene was not as dramatic as in cooking dramas like Delicacies Destiny or Royal Feast drama. However, the director managed to capture the sincerity in Sheng Yang's actions. And it moves my heart. What could be more beautiful than a handsome man showing his sincerity in love? 😍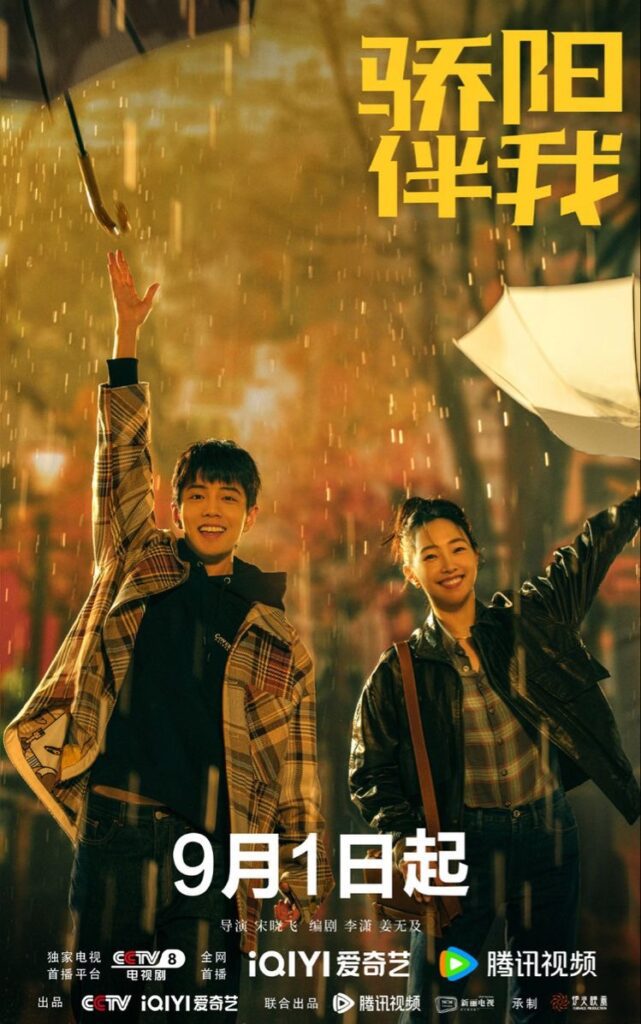 At the beginning of the story, Jian Bing was shown as a tough career woman. She was a carefree person who always spoke straightforwardly. Jian Bing rarely showed emotion in her face. She always looked calm and composed. She still could wave happily when she saw her husband walking side by side with a young model in front of her car.
Jian Bing also could talk about the divorce in a calm manner with Xue Yi Ming. She apologized to him that during their ten years of marriage, she was not a good wife who did laundry or cooked. But of course, Jian Bing also said that Xue Yi Ming was not a good husband either.
Later she learned to open up when she realised that there was another person who cared about her wellbeing. That person was Sheng Yang. Jian Bing was a bit worried that their age gap would be a problem for them. Later after they got together, it became one of the hurdles that they had to cope with together.
My favorite character in this drama was Sheng Yang, obviously. His name, Sheng Yang, means the exuberant sun. He chased away the shadow in Jian Bing's life just like a little sun. He helped Jian Bing with the emotional baggage that weighed her heart for so long.
Sheng Yang was not an exceptional person, nor did he come from a very wealthy family. He is just an ordinary person. Talented indeed, but still need some guidance. Sheng Yang's power came from his heart. His persistence, sincerity, and integrity shine so brightly.
But he was still a young man who got easily provoked by emotion. Sheng Yang was not a perfect character, but he made me smile whenever he appeared. Did I just talk like a maiden in love?🥰
Although Sheng Yang and Jian Bing was the main character in this drama, we should not overlook Xue Yi Ming and Liang Shan Shan. Xue Yi Ming was Jian Bing's playboy husband. He was a modern person who was casual about relationships and liked to date younger women. And since he was a famous director, there were many female models around him who were ready to throw themselves to him.
And this jerk accepted them happily. Liang Shan Shan also likes to date younger men. She had never been married and filled her day with work, socializing, and dating. Liang Shan Shan was the first person who supported Jian Bing's decision about her marriage.
I was shocked when they got together in the end. Jian Bing was shocked as well. However, the three of them managed to deal with the changes in their relationship. Well actually, it was Jian Bing and Liang Shan Shan who dealt with it maturely, Xue Yi Ming still acting like a jerk. 🤬
Sunshine By My Side's visual was very good. It captured the essence and the atmosphere of the story. This is not a drama with a striking visual, because Sunshine By My Side used many soft color tones in every scene. Jian Bing's clothing's color also used muted tones like maroon.
The only person who wore vivid colors was Liang Shan Shan. But I really like how the directors use lighting as naturally as possible. I like to see the light shine through the windows like the real sunshine. Although the atmosphere was dull and gloomy, everything in this drama was well-lit.
The sets were aesthetically chaotic. There were many things inside every set. Especially in Jian Bing's house and Sheng Yang's bedroom. Piled books and things were scattered everywhere which would make every decluttering master itched. One thing that made me wonder was how many lamps Jian Bing installed in her house. Did any of you count? 😁
Sunshine By My Side was written by two screenwriters, Li Xiao and Jiang Wu Jia. While the one behind the monitor was Director Song Xiao Fei who also directed the famous Sword Snow Stride. I thought he did a good job with this drama because this drama brought me so much joy.
The actors also did a good job. I was impressed by the chemistry between the actors. Xiao Zhan and Bai Bing He's age gap in real life was 8 years. They did a very good job in this drama. the chemistry between them was strong, especially when they stared at each other face to face.
Xiao Zhan and Bai Bai He were not the only ones. The relationship between Xue Yi Ming and Ling Shan Shan was hilarious. Tian Yu and Zhu Zhu played the role of two best friends turned work partners turned lovers. Their relationship was great and entertaining. And so was their chemistry.
I had to admit that in another drama, I might hate Jian Bing for staying as a friend with Liang Shan Shan after she got together with Xue Yi Ming. But in this drama, I really did not mind about this problem. On the contrary, I admire Jian Bing and Liang Shan Shan's friendship because both of them are really concerned about each other's happiness. And a real friendship should be like that.👏
The Story
If you add one small stroke to the word "imperfect", it will become "I'm perfect". Defects can be perfect. A rough terrain can be scenery too. By changing perspective, one can find beauty in life's every corner. Taken from a book The Design of Care, read by Sheng Yang in episode 5.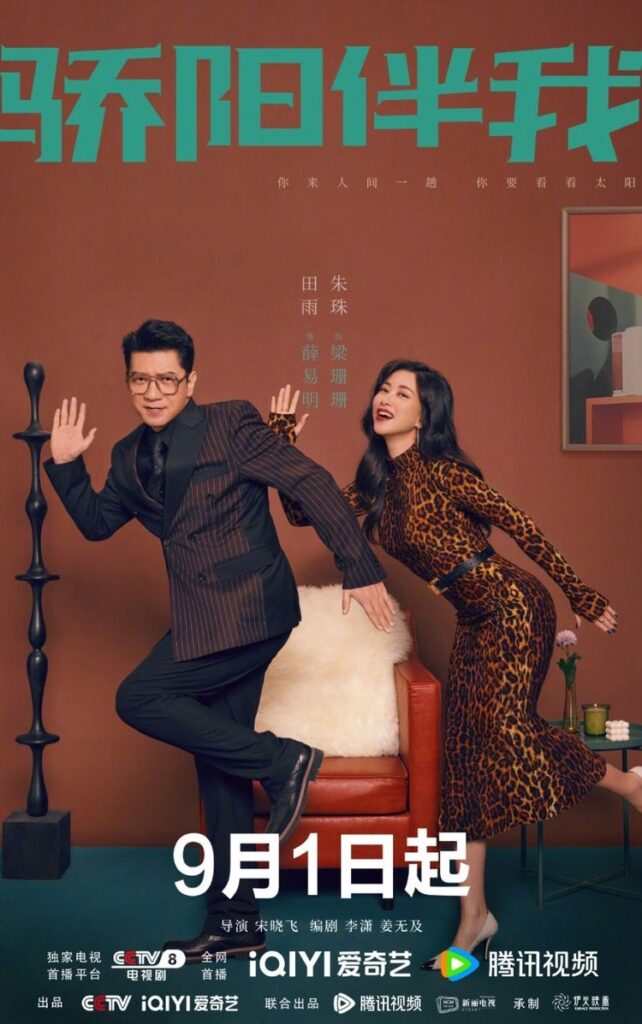 Everything started way back ten years ago. Sixteen-year-old Sheng Yang was bullied by his classmate because his father was a sanitation worker. He hated his orange uniform because his friend always made fun of Sheng Xiang Qian. But one night, Sheng Yang saw a public advertisement about sanitation workers at a bus stop. His father was one of the workers who was featured in the ad.
Jian Bing appeared and stood beside him, joining him in watching the ad. Her presence lights up his desolate life. Since then, Sheng Yang changed his perspective about his father's job and the relationship between father and son got better after that. Jian Bing became his aspiration and Sheng Yang decided to walk in the same path as her.
Ten years later, Sheng Yang is now a 26-year-old young man. He studied design and worked in an advertising company as one of their designers. But he never forgets about the female director. Sheng Yang met Jian Bing again when he was in a fancy restaurant, waiting for his blind date.
Jian Bing was in a foul mood because that night she decided to end her ten years of marriage with Xue Yi Ming. Jian Bing left the restaurant drunkenly. Sheng Yang chased her after he paid all the bills, including hers. Sheng Yang took Jian Ming to a hotel and left after he took care of her and sent the location to Liang Shan Shan.
Jian Bing found Sheng Yang's phone number and contacted him because she wanted to return his money. Jian Bing sent him 5,000 Yuan, but Sheng Yang refused because it was too much.
This interaction and the sincere thing Sheng Yang did for her when she was drunk (Sheng Yang prepared a glass of water on the bedside table and hung Jian Bing's jacket so it wouldn't be wrinkled), won her attention. Meanwhile, Xue Yi Ming was fuming when he learned about Jian Bing's relationship with Sheng Yang.
Later their interaction becomes more frequent. Jian Bing naturally taught him many things about design and directing. The relationship between them changed into a mentor-disciple. Sheng Yang would ask her opinion about his design and Jian Bing would give him lots of feedback.
They would help each other and be concerned about each other wellbeing. Especially Sheng Yang who knew that Jian Bing's lifestyle was unhealthy, so he tried to help her with that.
Jian Bing's friendship with Liang Shan Shan and her relationship with Xue Yi Ming was in jeopardy when she found out that after their divorce, Liang Shan Shan and Xue Yi Ming secretly dating. Liang Shan Shan felt guilty because Xue Yi Ming was Jian Bing's ex-husband.
On the other hand, she had been in love with him for a very long time since they were in school years. But it was Jian Bing who finally relented. She knew that her love for Xue Yi Ming was already gone, and she was concerned about Liang Shan Shan's happiness. So she decided to accept their relationship.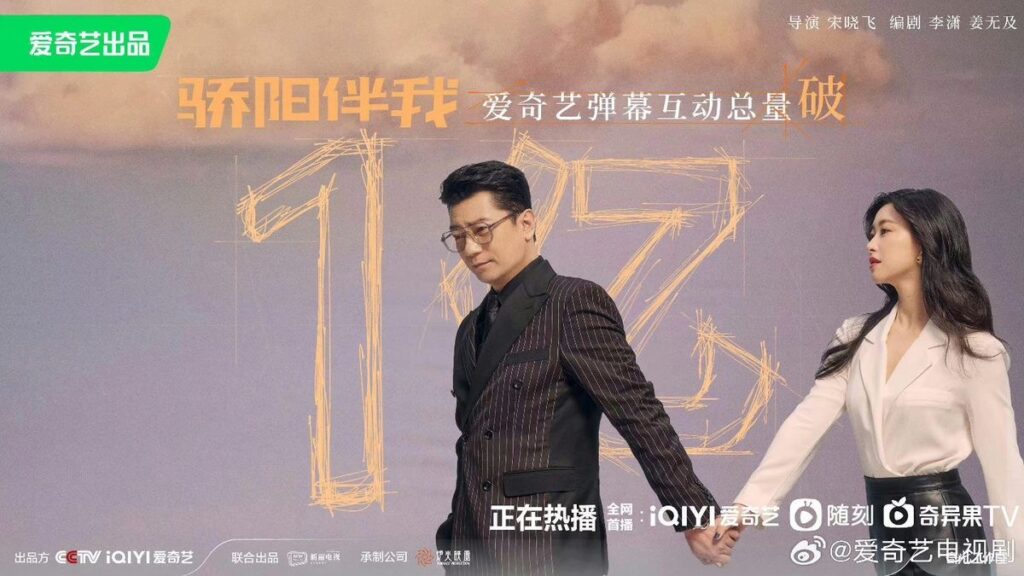 I am not sure that Jian Bing still had Xue Yi Ming in her mind. But I am pretty sure that when she decided to relent, it must have been for Liang Shan Shan and not Xue Yi Ming. 😜
Jian Bing and Sheng Yang had different characters and temperaments. Although Sheng Yang was a sensible person, he was still a young man who lacked experience. While Jian Bing's character was honed with life experiences.
Family background also plays an important role in their relationship. Jian Bing's family background is mysterious and only revealed at the end of the drama. While we could get to know Sheng Yang's parents from the early episodes. Luo Mei Juan and Sheng Xiang Qian were a couple of immature parents who always fought and threatened each other with divorce.
Sheng Yang was always caught between the two because their parents used him as their shield. In reality, Luo Mei Juan and Sheng Xiang Qian were good parents and good people. However, they always choose to fight rather than talk to each other.
Sheng Yang's friends, Song Chen and Pan Rou were the ones who were always around him when he got in trouble. Sheng Yang's problem in his working place lies in the cunning team leader, Wang You De. He always took advantage of girls, stole other's ideas, and got angry if someone shone better than him.
Wang You De secretly made a plan to kick Sheng Yang from the company because his presence would threaten his position. Later, Sheng Yang, Song Chen, and Pan Rou decided to open their own advertising company. It was not an easy thing to do. But amidst all the problems that arose, Sheng Yang, Song Chen, and Pan Rou managed to survive.
But he was not the only one who had to cope with problems at work. Jian Bing, Xue Yi Ming, and Liang Shan Shan also had to deal with deceitful and rude clients. At the same time, Jian Bing also had to deal with her personal problems and face her emotional baggage.
The ending of Sunshine By My Side drama was happy ending. Everyone finally found the purpose of their life. But for Sheng Yang and Jian Bing, there was still a long way ahead in front of them. Only if they were able to walk side by side at the same pace, they could face the problem and strengthen their relationship. You can read the explanation about this drama ending, in Sunshine By My Side ending explained post that I wrote too. Thank you.
The Characters
Sheng Yang
In the mind of the 16-year-old Sheng Yang (played by Xiao Zhan), Jian Bing was the person who showed him a different perfective that changed his life forever. Through her public ad, Sheng Yang saw how amazing his father was. Before that, Sheng Yang hated his father because he only worked as a sanitation worker.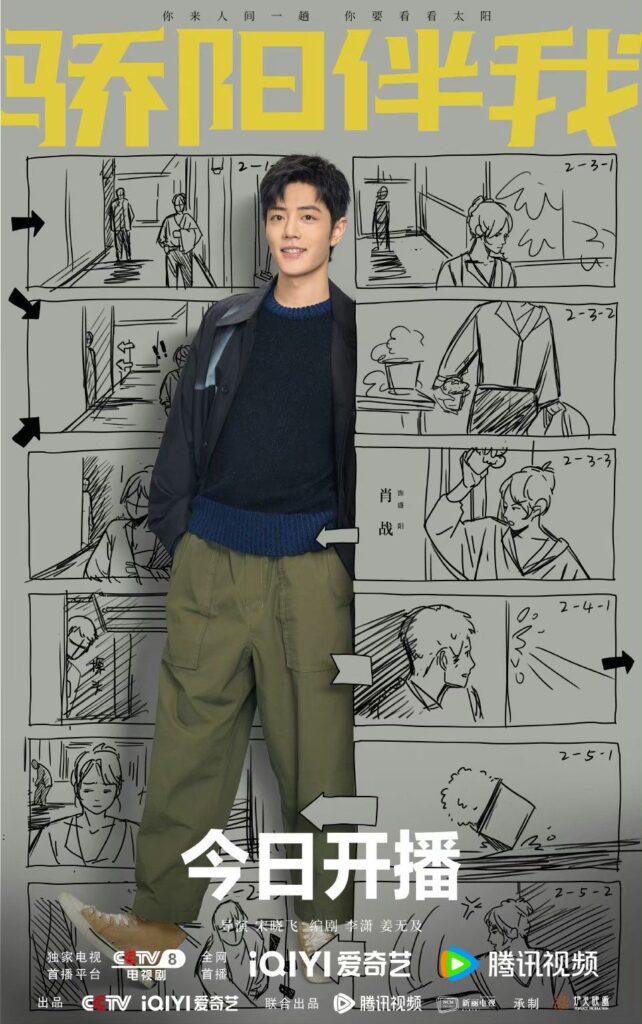 Because of his father's orange uniform, Sheng Yang became a target of other students' bullying. the ad and Jian Bing had become his source of aspiration that he kept for years.
Ten years later, Sheng Yang entered the same industry as Jian Bing. He was a passionate designer with a lot of ideas. In the advertising industry, Sheng Yang was still a rookie. His decision was still influenced by emotion and he was oblivious about the working place's schemes and politics.
This was the critical time when Sheng Yang needed guidance, and Jian Bing was there to help him. But Sheng Yang was a proud person and he always relied on himself; therefore he often hid his problem from Jian Bing.
As a young man, Sheng Yang was passionate and attentive. His sincerity and determination won Jian Bing's heart. However, as he was still green in the relationship, Sheng Yang easily got jealous. Especially when it came to Xue Yi Ming.
Jian Bing
Jian Bing (played by Bai Bai He) was a talented woman with so many creative ideas in her mind. She was tough, always talked straightforwardly, and she had this kind of unwavering determination inside her.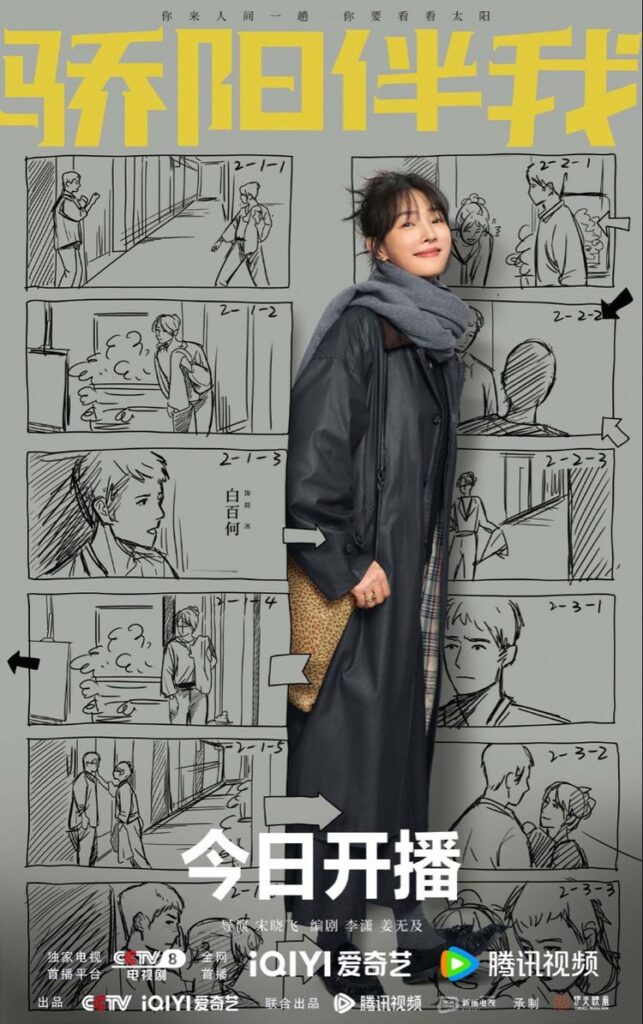 In terms of work, Jian Bing was an idealist. She knew that sometimes Jian Yi had to compromise with the clients, but she wanted the company to stand firm and hold on to their idealism. And this is the main reason why she often quarreled with Xue Yi Ming over work.
Jian Bing's shoulder was weighed with emotional baggage. She was afraid to open up to others and chose to swallow the bitterness of life by herself. Even after ten years of marriage, Jian Bing never told Xue Yi Ming that she could cook much less talked about her family's issues. Every time she encounters problems, Jian Bing always chooses to drown herself in wine.
Jian Bing loves her sister, Jian Shuang. Although every time they meet it is like a firecracker party, deep down inside, Jian Bing cares so much about Jian Shuang. And the same thing goes with Sheng Yang. Jian Bing never showed that she cared for him, but she was always ready to help him, whenever he asked. It was his dedication and sincerity that moved her.
Xue Yi Ming
Xue Yi Ming (played by Tian Yu) was several years older than Jian Bing. At the moment, he was a 40-something man who was at the peak of his career. Because Xue Yi Ming was a famous director, many young artists and models scurried to get his attention. And as a seasoned playboy, Xue Yi Ming did not let the opportunities get away.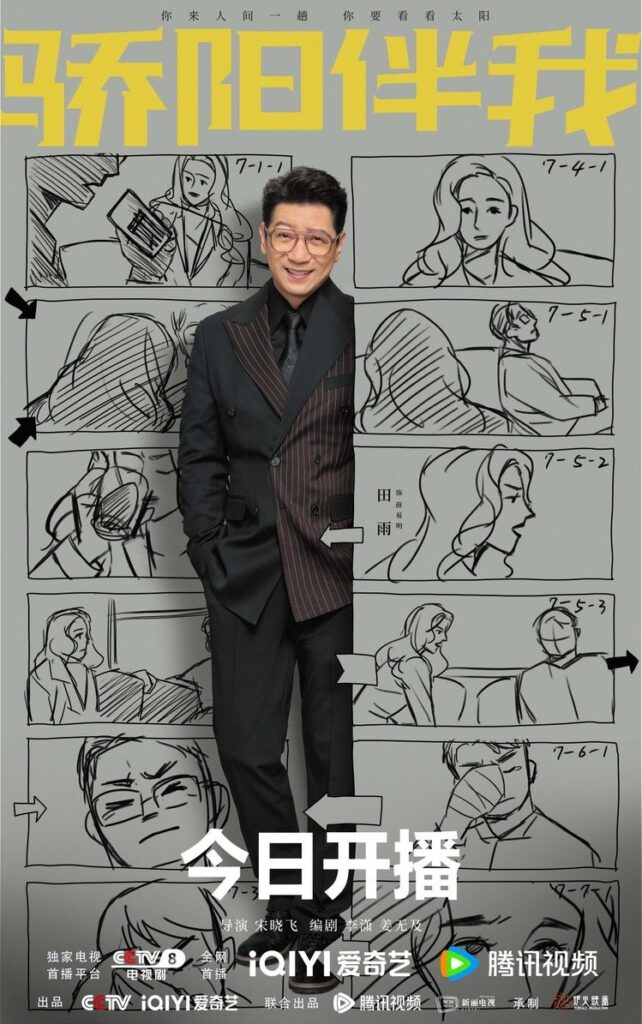 Because of this attitude, Jian Bing decided to divorce him. However, after they were divorced, Xue Yi Ming could not accept the fact that Jian Bing had moved on. So, I think we could label him as a jerk.
As a businessman, Xue Yi Ming was more experienced compared to Jian Bing. He often meddled in her business because many clients still looked up to him and looked down on Jian Bing. Xue Yi Ming knew that Jian Bing was an idealist and sometimes her idea often collided with the client's wishes. However, even though he always did many things that made Jian Bing's blood boil, Xue Yi Ming always wanted to protect her at all costs.
Liang Shan Shan
Liang Shan Shan (played by Zhu Zhu) who always dressed up to the nines was the face of Jian Yi Advertising. She worked as the CEO of the company and was very good at dealing with clients. She was an eloquent woman, a good drinker, and loved to flirt with young men.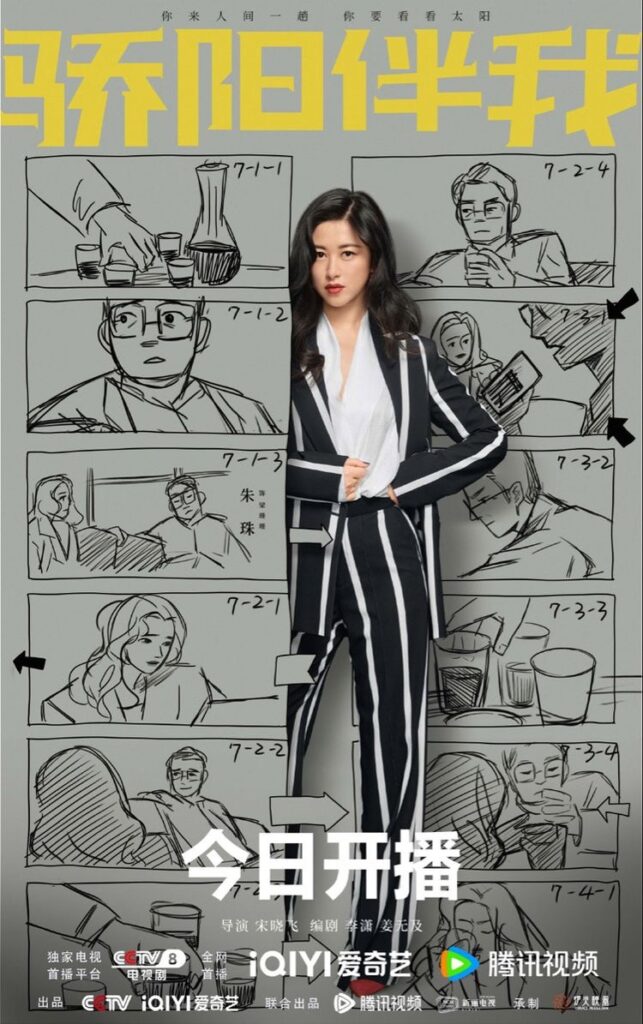 Liang Shan Shan used to be Xue Yi Ming's classmate back in their school years. She became Jian Bing's friend after Xue Yi Ming and Jian Bing engaged. Since then, she become their friend. Whenever Jian Bing and Xue Yi Ming were in a disagreement or a cold war, Liang Shan Shan was always sandwiched between them.
Song Chen
Song Chen (played by Liu Xun) was Sheng Yang's good friend at work. He was not as talented as Sheng Yang, but Song Chen knew what to do to stop others from taking advantage of him. Song Chen easily gets emotional. He always acted recklessly but one thing that made him better than anyone else was his loyalty.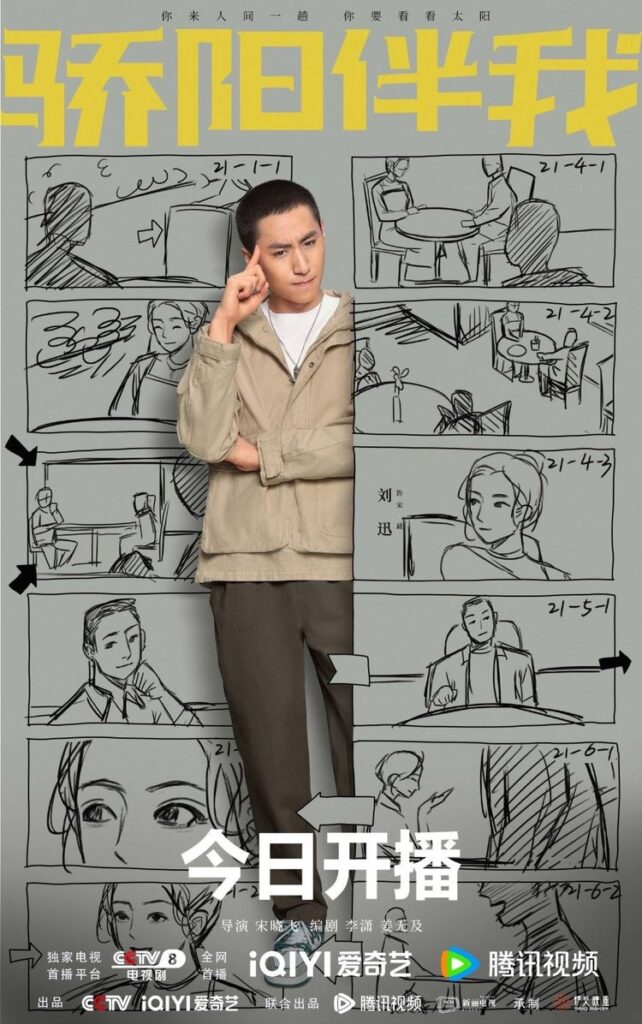 When Song Cheng knew that Sheng Yang protected and thought about him after both of them fell into their Team Leader's scheme, Song Cheng chose to leave the company together with Sheng Yang. He did not want Sheng Yang to take the burden by himself.
Pan Rou
Unexpectedly, Pan Rou (played by Julia Xiang) was the cause of Sheng Yang and Jian Bing's meeting. If Sheng Yang and Pan Rou's mother had not arranged a blind date for them, Sheng Yang would not go to the fancy restaurant where Jian Bing came that night. And if Pan Rou showed up on their date, Sheng Yang would not be able to chase Jian Bing when she drunkenly left the restaurant.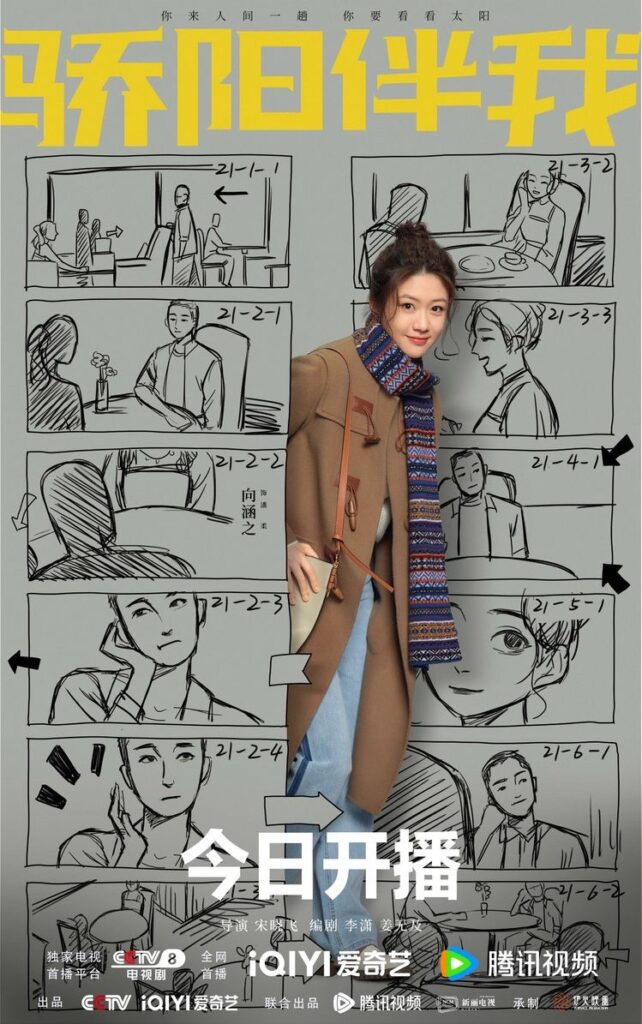 Pan Rou met Sheng Yang when she entered the same company. She was the new intern while Sheng Yang had been working there for three years. Pan Rou regretted her decision to stand him up after she saw how good-looking Sheng Yang was. She might look inexperienced and childish, but when the situation got worse, Pan Rou showed that she was a mature girl who could think things through.
Luo Mei Juan and Sheng Xiang Qian
Luo Mei Juan (played by Wang Lin) and Sheng Xiang Qian (played by Yang Hao Yu) were Sheng Yang's parents. They were in their 50's and still actively working outside the house. Luo Mei Juan worked in a supermarket as a cashier while Sheng Xiang Qian worked as a sanitation worker.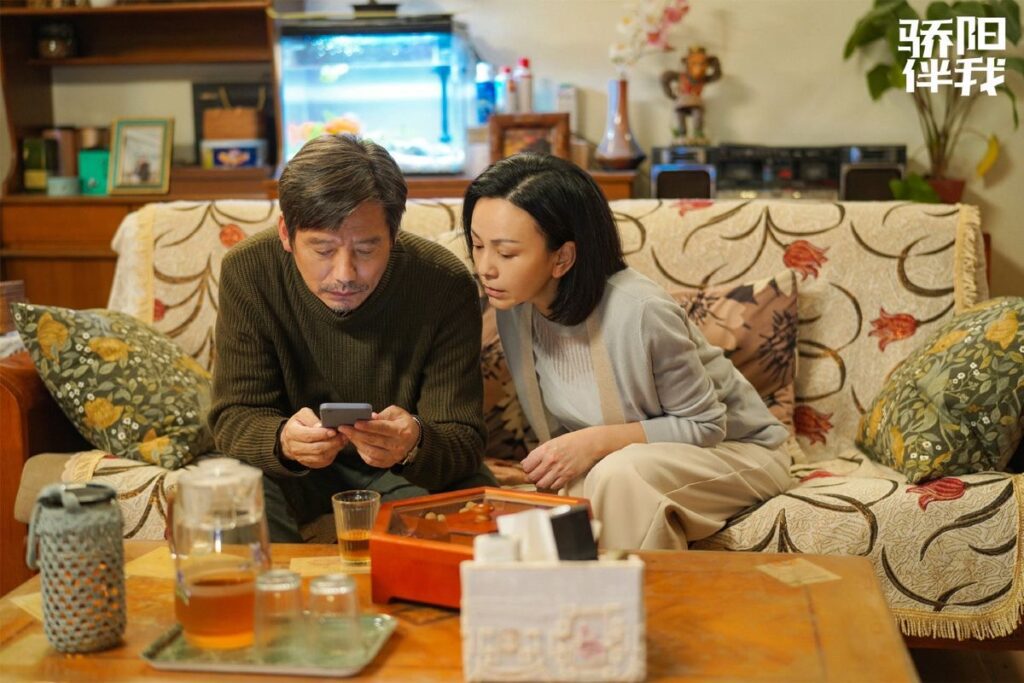 Since their job only earns a little, Luo Mei Juan and Sheng Xiang Qian never had enough money during their marriage. But they were able to have a small but homey apartment for the three of them to stay.
It was clear to see that Luo Mei Juan was pretty when she was young and loved to dress up. But since she only had a little choice in her wardrobe and her bank account could not afford it, she kept those pretty dresses in her mind.
Meanwhile, Sheng Xiang Qian led a frugal life and was obsessed with junk that others had thrown away. He often took them home and fixed them so they could be reused. And this hobby often becomes the source of their fight.
Jian Shuang and Hao Junjie
Jian Shuang (played by Bu Guan Jin) was Jian Bing's younger sister. They had a quite big age gap. Jian Shuang was in her 20s and was younger than Sheng Yang. In the eyes of an outsider, Jian Shuang and Jian Bing's relationship was estranged and they often acted harshly towards each other.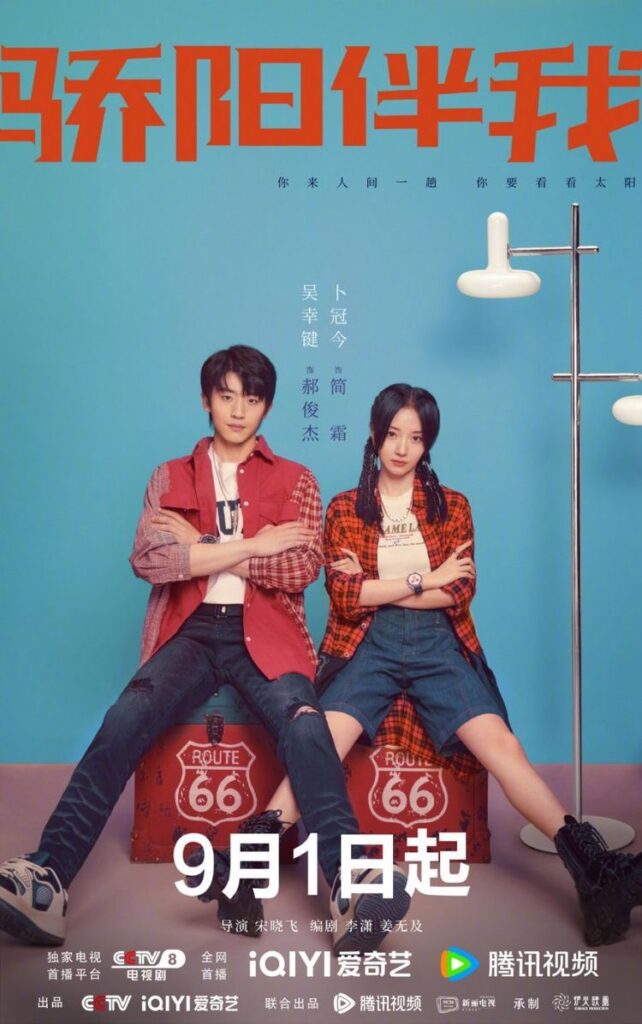 However, for Jiang Shuang, her sister was her anchor. The only person she could rely on since she was young. She did not want to be a burden to Jian Bing and wholeheartedly wished for her happiness.
Jian Shuang was like a hedgehog. She was harsh with her words and always scolded anyone around her. The only person who understood her was Hao Junjie. Her senior in college and hockey club.
Hao Junjie (played by Wu Xing Jian) was the captain of the hockey club. He was friendly to anybody, especially Jian Shuang, the only female member of their team. Hao Junjie lived with his uncle; a music professor named Fang Mu. His parents live abroad and wished that he could join them after he graduated from college.
The Conclusion
If you haven't decided whether to watch or to watch this drama, then I suggest you watch it. Sunshine By My Side was a good drama that is worth your time. The story was light but full of charm. The dialogue was smart and interesting. The plot was good. The acting was amazing. And the chemistry between the actors was impeccable.
Sunshine By My Side would take to the wonderful worlds of human relationships and the hustle and bustle of the advertising industry. I spent a long time finishing this 36-episode-long drama. But every second was well spent. I really enjoyed every episode of this drama.
If you choose this Sunshine By My Side drama, don't forget to watch it on the weekend, because I am sure you will end up binge-watching this drama. Make sure that your schedule is clear before you start the drama, since the story was too juicy that you'll regret it if you dropped this drama. Don't forget to write your opinion about Sunshine By My Side in the comment box below, dear readers. Hope this review helps. Thank you!