This year has reached the month of September. There was only 4 months left before we enter a new year. But my watch list was still full with TBA status. It was okay, I'm sure they will be aired sooner or later. I'm sure you have read New Chinese dramas premiere in August 2023, or watched some of those dramas. Meanwhile, this is the list of newly released Chinese dramas in September 2023. So what are we waiting for? Let's get into this!
New Chinese Dramas Released in September 2023
1. Sunshine By My Side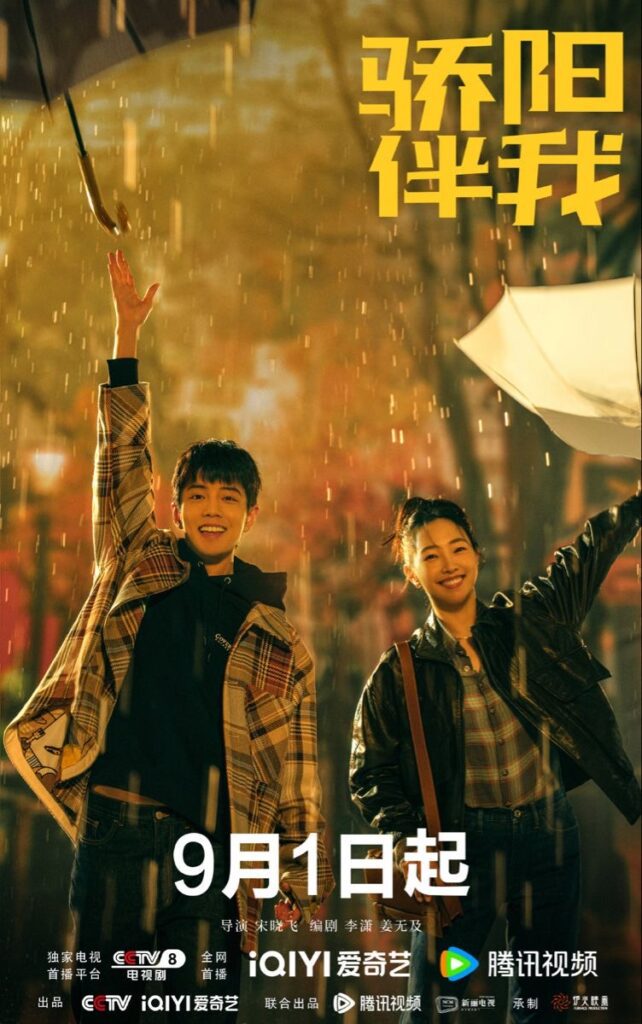 Title: Sunshine By My Side
Also Known As: 骄阳伴我, Jiao Yang Ban Wo, The Sun Accompanies Me, Sunshine With Me
Date of Release: September 1, 2023 – September 17, 2023
Cast: Xiao Zhan, Bai Bai He, Tian Yu, Zhu Zhu
Genres: Comedy, Romance, Life
Episodes: 36
Original Network: CCTV iQiyi Tencent Video
Where to Watch: iQiyi, Viki, Tencent Video
Let's start this beautiful September accompanied by the one and only Xiao Zhan. This time we would not be seeing him in long hair and ancient costumes. Xiao Zhan would act as a newcomer in an advertising company. This drama already airing and it's waiting for you to watch it.
Sheng Yang was a rookie in an advertising company. He was a hard-working person and full of ideas. Yet, his personal life was desolate. Ten years ago, Sheng Yang met a female director who left a big impression on his heart and it led him to enter the industry. Unfortunately, he never met her since.
Jian Bing was a well-known female advertising director. She married another famous director who also the one who teaches her how to direct. At the moment, her marriage was on the verge of collapse. Her husband likes to fool around and dictates her on her job.
They met again accidentally in a restaurant, forming a deep bond between us both in love and in career. But there were too many difficulties they had to face objections from both their family and also the escalating rumors in their workplace. Sheng Yang and Jian Bing decided to follow where destiny took them.
2. My Journey To You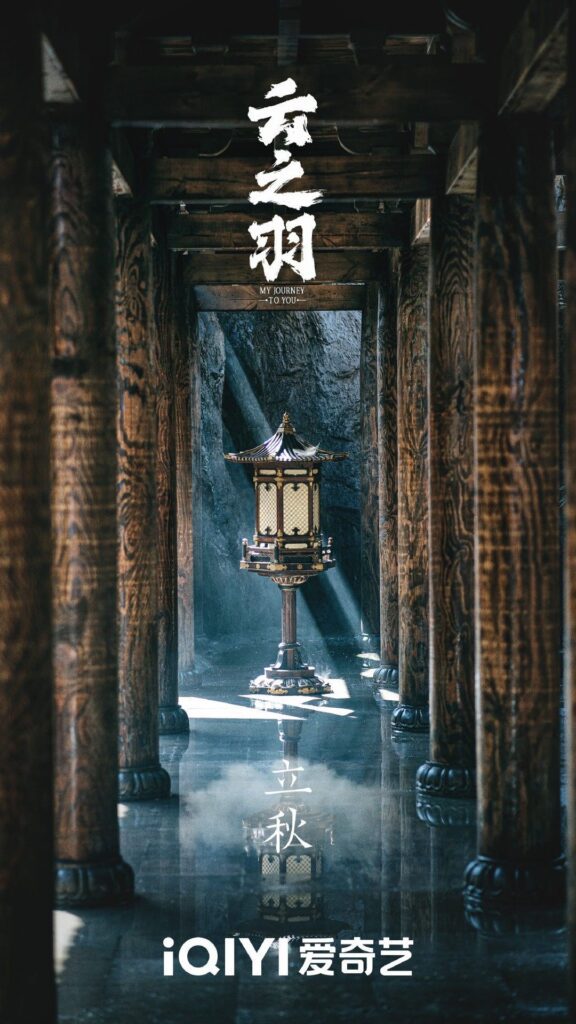 Title: My Journey To You
Also Known As: 云之羽, Yun Zhi Yu, Cloud Feather, Half of Us
Date of Release: September 2, 2023
Casts: Yu Xu Shin, Zhang Ling He, Ryan Cheng, Lu Yu Xiao
Genres: Romance, Wuxia, Drama, Fantasy
Episodes: 24
Original Network: iQiyi
Where to watch: WeTv and iQiyi
This is one of the most anticipated costume drama in 2023, starring Yu Xu Shin and Zhang Ling He. There was a nostalgic feeling when we watched the first episode a few days ago. Since Yu Xu Shin used to act as Xiao Lan Hua and Zhang Ling He used to act as her fiancée, Changheng in the legendary Love Between Fairy and Devil drama.
Anyhow, when genres such as romance, wuxia, and fantasy collide in a drama, you would see a scene full of stars!
Yun Wei Shan was an assassin from Wufeng. She was on her last mission before she could be free and live the life she wished to live. But the mission was not like any other mission. She must infiltrate the mysterious Gong family, Wufeng's sworn enemy.
The Gong Residence was more guarded than a fortress and it was impossible for an outsider to enter. But Yun Wei Shan had her chance by pretending to be a candidate for their selection of a bride.
Gong Zi Yu who was kind and soft-hearted among the Gongs lost his father and brother overnight. He was then appointed as the new head of the Gong family. He soon realized that behind the prestigious position of the family head, there were dangers lurking behind the shadow.
Fate brought Yun Wei Shan and Gong Zi Yu together and led them on a journey of self-discovery. Yun
Wei Shan found a sense of love and friendship inside the high wall of Gong's residence. In the end, she must choose between love and freedom.
3. Parallel World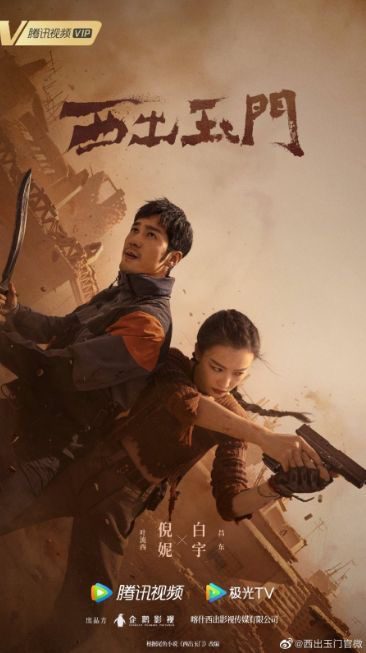 Title: Parallel World
Also Known As: 西出玉门, Western Jade Gate, West Out Of Yu Men
Date of Release: September 7, 2023
Cast: Ni Ni (Ye Liu Xi), Bai Yu (Chang Dong)
Genres: Thriller, Romance, Drama, Fantasy
Episodes: 30
Original Network: Tencent Video
Where to Watch: WeTV
Adapted from the novel: "Xi Chu Yu Men" by Wei Yu
This year we were entertained by a series of mystery genre dramas like The League of Nobleman and Mysterious Lotus Casebook drama. But this year is not over yet, and now we have a thriller drama with an impressive cast to spice up your night. We could not wait for this to be aired!
Chang Dong lost all his teammates in the desert two years ago. All eighteen people were buried under the sand, but no dead bodies were found. The accident left him devastated with guilt and regret. One day, Ye Liu Xi showed up with a clue about the accident. To find the truth, Chang Dong and Ye Liu Xi teamed up and went to the desert.
4. The Snow Moon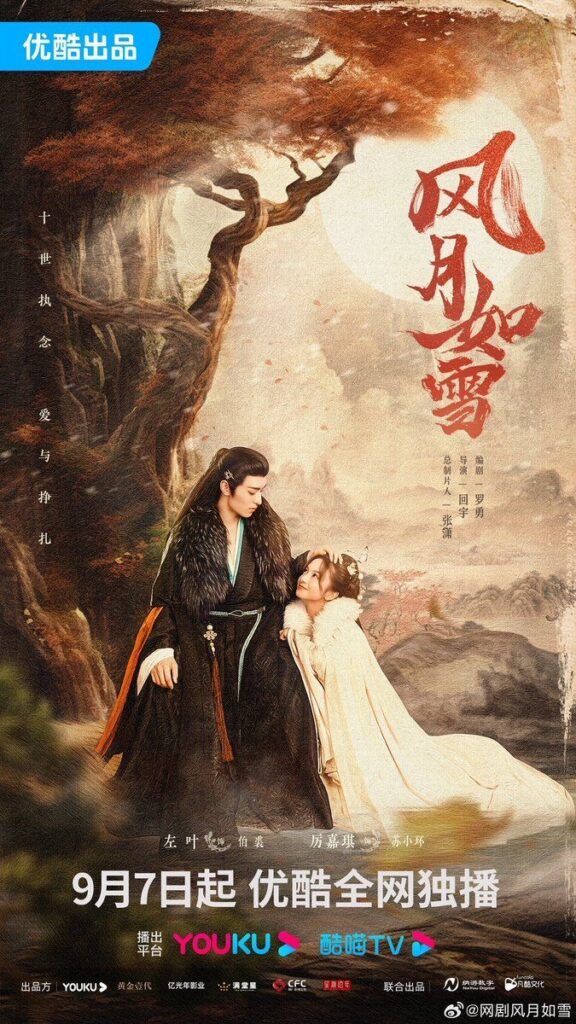 Title: The Snow Moon
Also Known As: 风月如雪, Feng Yue Ru Xue, Hu Yao Huang Di, Fox Demon Emperor
Date of Release: Sep 7, 2023
Cast: Li Jia Qi, Zuo Ye
Genres: Historical, romance, fantasy
Episodes: 24
Original Network: Youku
Where to Watch: Youku
A love that lasts for more than a lifetime was always a heart-wrenching story. This September, it was Li Jia Qi and Zuo Ye's turn to feel the sufferings in this fantasy drama, The Snow Moon. Are we going to survive this month without panda eyes? I don't think so…
Su Xiao Huan was under a curse that made her repeatedly suffer from a tragic death. The Fox Demon, Bo Qiu, endured hundreds of years of solitude and love tribulations in nine lifetimes in order to break the curse that afflicted his beloved one.
In this lifetime, Su Xiao Huan's entire family died at the hands of Fox Demon, Bo Qiu. She then wanders the streets and experiences hardships. She managed to survive due to her shameless and unscrupulous personality.
Su Xiao Huan fell into the manipulation of Xuanyuan Qing Chuan, a dethroned prince from the former dynasty. She was sent to a palace where the Fox Demon resided and waited for a chance to seek revenge. But fate tells her otherwise. Su Xiao Huan falls in love with the Fox Demon once again.
To break the shackles of fate, the Fox Demon, Bo Qiu, sacrificed himself rather than recognizing Su Xiao Huan. His action manages to move the will of heaven and finally breaks the curse.
5. Be with You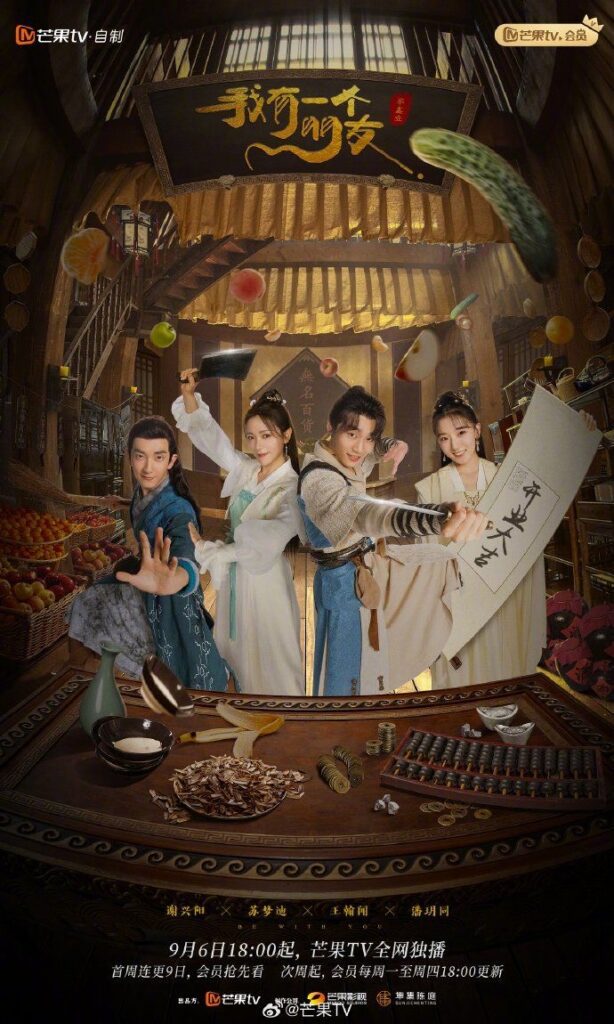 Title: Be with You
Also Known As: 我有一个朋友, Wo You Yi Ge Peng You, I Have One Friend , Stand By Me
Date of Release: Sep 6, 2023
Cast: Roy Xie, Su Meng Di
Genres: Historical, Comedy, Romance
Episodes: 24
Original Network: Mango TV
Where to Watch: Mango TV
Another historical drama for you to enjoy. We never had enough of this genre, especially if it was infused with romance and comedy. Let your September be merry so don't forget to put this drama on your watch list.
Mu Yun City was not an ordinary city. There were many Jianghu forces hidden deep inside the city. The most famous were the Liang family and the Liu Family. Meng San Xi is a martial arts master. He went on a journey to investigate the case of his friend who was murdered in Mu Yun City. Later on, he meets Liang Nian Yu, an upright and optimistic person. They worked together to solve the case.
6. South Wind Knows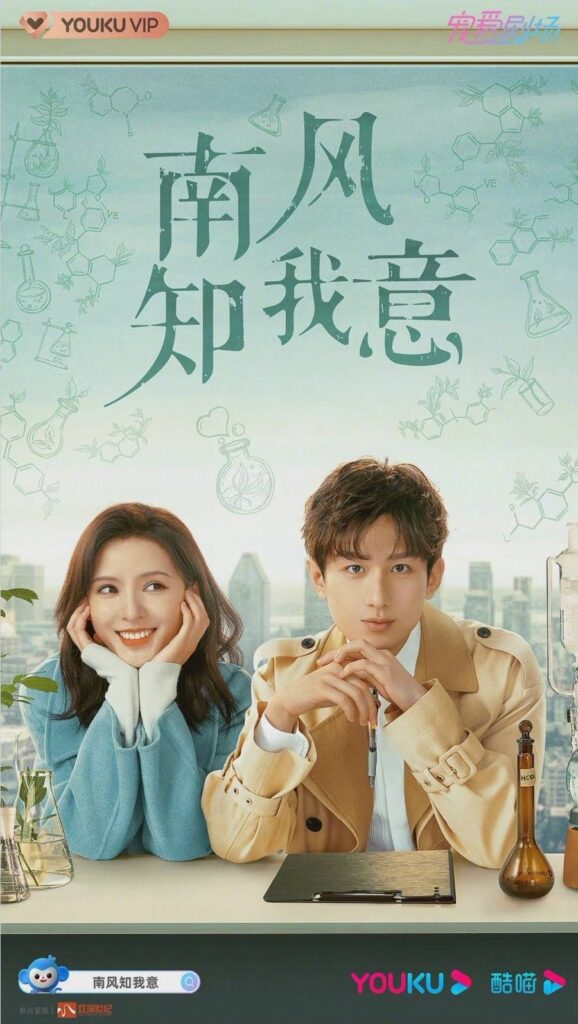 Title: South Wind Knows
Also Known As: 南风知我意, The Southern Wind Knows My Feelings, Nan Feng Zhi Wo Yi, The South Wind Knows What I Mean, South Wind Knows My Mood, Stand by Me
Date of Release: Sep 12, 2023
Cast: Cheng Yi, Zhang Yu XI
Genres: Mystery, Romance, Life, Melodrama
Episodes: 39
Original Network: Youku
Where To Watch: Viki, Youku
Adapted from the novel South Wind Knows My Mood by Qi Wei
We were impressed by Cheng Yi's acting in the Mysterious Lotus Casebook. And now he returned with another promising drama, South Wind Knows. An urban romance-mystery drama. This drama was just released a few days ago, and we were instantly engrossed with the story.
Fu Yu Shen, a researcher in a pharmaceutical company, met Zhu Jiu, a doctor, on their way to join a humanitarian mission in an underprivileged village. The first meeting at the airport gave them a bad impression of each other.
Fu Yu Shen was a spoiled young master born with a silver spoon while Zhu Jiu was a tough girl who had been through hardship since young. As time goes by, they get to know each other's good side which leads to a deeper feeling between them.
A car accident changed the relationship between them. Fu Yun Shen was injured, and it changed him completely. He thought that their relationship was coming to an end. But two years later, they met again and rekindled their love. At the same time, Zhu Jiu found out that there were mysteries behind her parents' death.
7. Miss Lucky Go!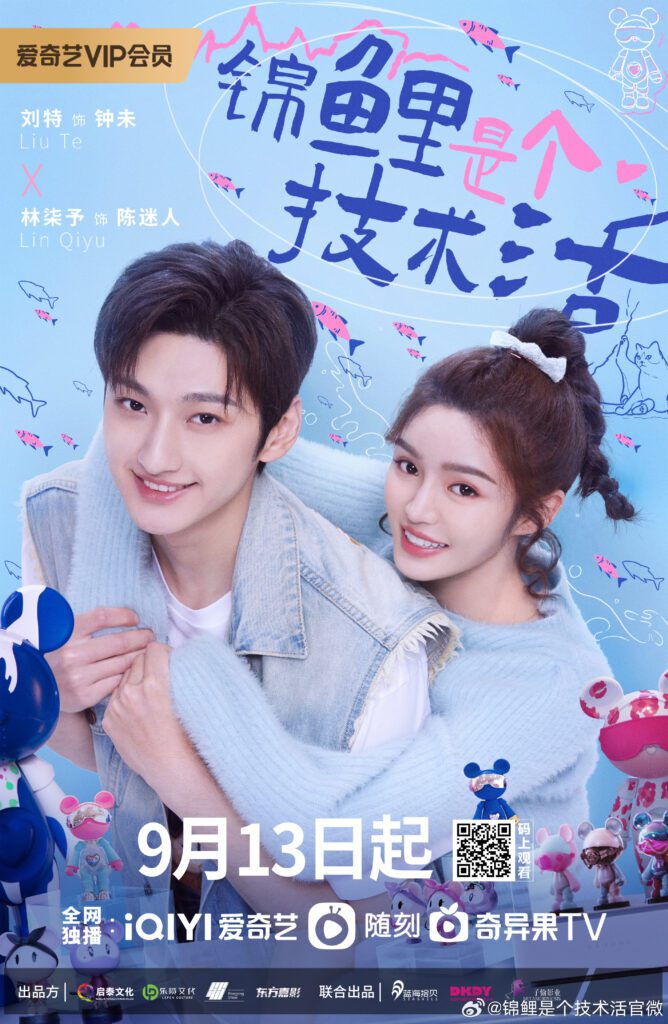 Title: Miss Lucky Go!
Also Known As: 锦鲤是个技术活, Jin Li Shi Ge Ji Shu Huo
Date Of Release: Sep 13, 2023
Cast: Liu Te, Lin Qiyu
Genres: Romance, Youth, Drama
Episodes: 24
Where To Watch: iQiyi
Adapted from the novel Jin Li Shi Ge Ji Shu Huo by Tang Xin Tian
Another youth drama for your binge-watching session! This time Liu Te (Please Feel at Ease, Mr. Ling, Cute Bodyguard) teamed up with new star, Lin Qiyu (A Song with You). In this heartwarming story, could they warm up our cold nights?
Chen Mi Ren always wanted to be a chief designer of action figures in Heng Chang, an action figure company. She applied to the Animation Department at a university.
However due to a lack of students, the major was canceled, and she was transferred to a Business Administration major. Chen Mi Ren was pessimist that she would be able to graduate from university. Her life trials were not over yet. She had to be in the same class as her first love, the one and only Zhong Wei.
Zhong Wei was a straight-A student who was born into a wealthy family. He was handsome, elegant, but thrifty. Chen Mi Ren and Zhong Wei's relationship was rather complicated. She endured three years full of ridicule from their classmate and had to shoulder the heavy emotional burden before she decided to leave without saying goodbye.
When he found her in the same class as him, Zhong Wei started his plan to seek revenge for what she did back then. Although he looked ruthless, Zheng Wei only wanted an explanation and a chance to rekindle their love. After a twist and turn, they managed to fall in love with each other again. Yet suddenly the real contender appeared and turned their world upside down.
8. Faithful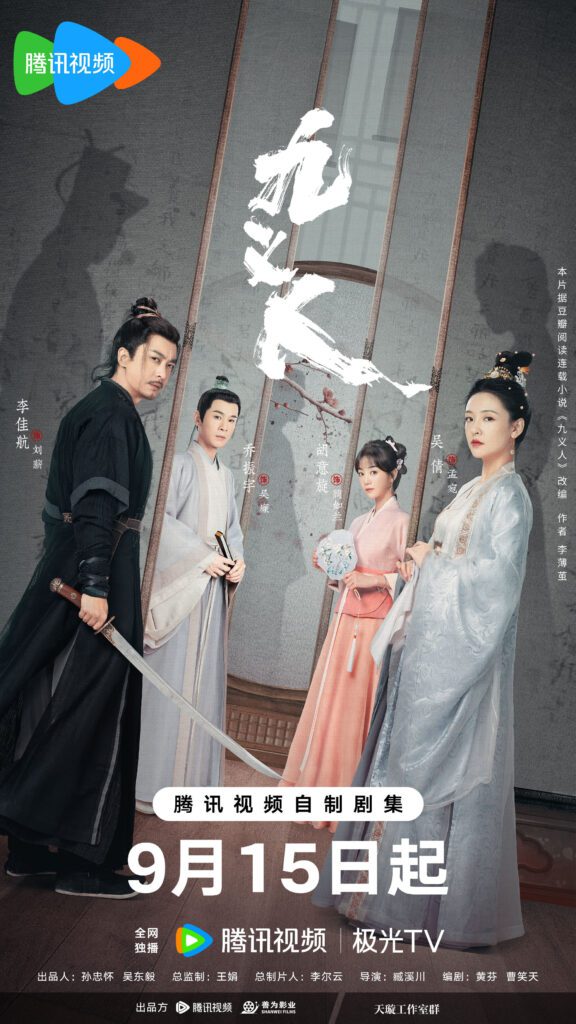 Title: Faithful
Also Known As: 九义人, Jiu Yi Ren , The Nine
Date Of Release: Sep 15, 2023
Cast: Janice Wu, Li Jia Hang. Hu Yi Xuan, Qiao Zhen Yu
Genres: Thriller, Historical, Mystery
Episodes: 25
Original Network: Tencent Video
Where to Watch: WeTV
Adapted from the novel Jiu Yi Ren by Li Bo Jian
Janice Wu had been on our watch list after she acted in Here We Meet Again with Vin Zhang and Light Chaser Rescue with Luo Yun Xi. And now she's back in a costume drama and we were excited to see her. But before you watch this drama, we had to warn you that every episode of Faithful was more than 1 hour long. So don't forget to add extra snack for you Cdrama session!
Two young embroideress lived in Yanyu Tower. They were Meng Wan and Lin Ru Lan. Both of them treat each other as sisters. Yanyu Tower was a workshop where the master of embroidery, the handsome Wu Lian, teaches young ladies how to craft a masterpiece.
One day the harmony in Yanyu tower was disrupted by the death of one of the embroideress. Lin Ru Lan was suspicious that the death of the embroideress was a homicide. She disregarded Meng Wan's objection and started to investigate the case that led to her death.
Since the death of Lin Ru Lan, Meng Wan paved her way to be on par with "that person". And seven year later, nine people who linked with Lin Ru Lan's death had to face her revenge.
There you go, we just gave you list of new Chinese dramas released in September 2023. This list will be updated in no time, so don't forget to check on this post. Ciao!