Title: A Female Student Arrives At Imperial College
Also Known As: 国子监来了个女弟子, Here Comes a Female Student at Guo Zijian, Guo Zi Jian Lai Le Ge Nu Di Zi
Director: Xu Pei Shan, Cai Guo Li
Screenwriter: Li Lin
Genres: Romance, Historical, Mystery, Comedy
Country: China
Type: Drama
Episodes: 30
Year: 2021
Original Network: Tencent Video Youku
Where to Watch: We TV, Viki, Tencent Video, Youku
Adapted from the web novel "A Female Student Arrives at the Imperial College" written by Hua Qian Ci
A Female Student Arrives At Imperial College Synopsis
A Female Student Arrives At Imperial College is a Chinese romance drama, with 30 total episodes, released in 2021. The story was about Sang Qi (played by Zhao Lu Si) used to be live in a border town. She was a straightforward person, clever and sometime reckless. Her late brother, Sang Yu, always wanted her to enroll in Imperial College as a student. He wanted her to be the first female student in the college. Sang Qi was able to enroll in the college after the emperor granted her wishes.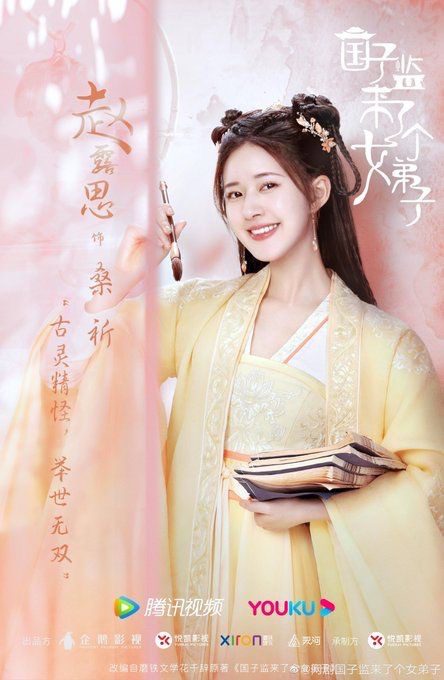 Before she entered the college, Sang Qi crossed path with Deputy Chief of the Imperial College, Yan Yuan Zhi (played by Xu Kai Cheng). He was an astute man, seems to be cold, but he was actually a passionate man. Yan Yuan Zhi was Sang Yu's friend. He promised Sang Yu that he'll be taking care of his sister. But instead being her guardian angel, they always found themselves bickering every time they met.
Sang Qi thought Yan Yuan Zhi was a bully and Yan Yuan Zhi thought she was annoying person who needed to be disciplined. But the situation didn't last long when unexpectedly they were drawn to each other.
Things got more complicated when Sang Qi was poisoned. It was the same poison that killed her brother. It turned out all this time Yan Yuan Zhi was suspicious that somebody had killed Sang Yu, and he still investigated his death. Later, Sang Qi joined him to unveil the truth.
In the meantime, Sang Qi found herself trapped in a triangle love between Yan Yuan Zhi and Zhao Wen Yuan (played by Ren Hao), her childhood friend. In the end, Sang Qi must choose between love, career, and the truth. Which one would Sang Qi pursued first?
A Female Student Arrives At Imperial College Review
I must admit that July and August were Zhao Lu Si's months. Since I'm still waiting for Love like a Galaxy's finale, I have been binge-watching her series and movies. Including this one, A Female Student Arrives at The Imperial College.
The story seemed too ordinary, but the male lead character hooked me up. Yan Yuan Zhi is different from any other character that I've seen. Yan Yuan Zhi is deputy chief of the Imperial College. For someone who held an important position in the Imperial College, Yan Yuan Zhi should be a pedantic person, astute, and clever. In short, he was someone whose everybody would have high regard.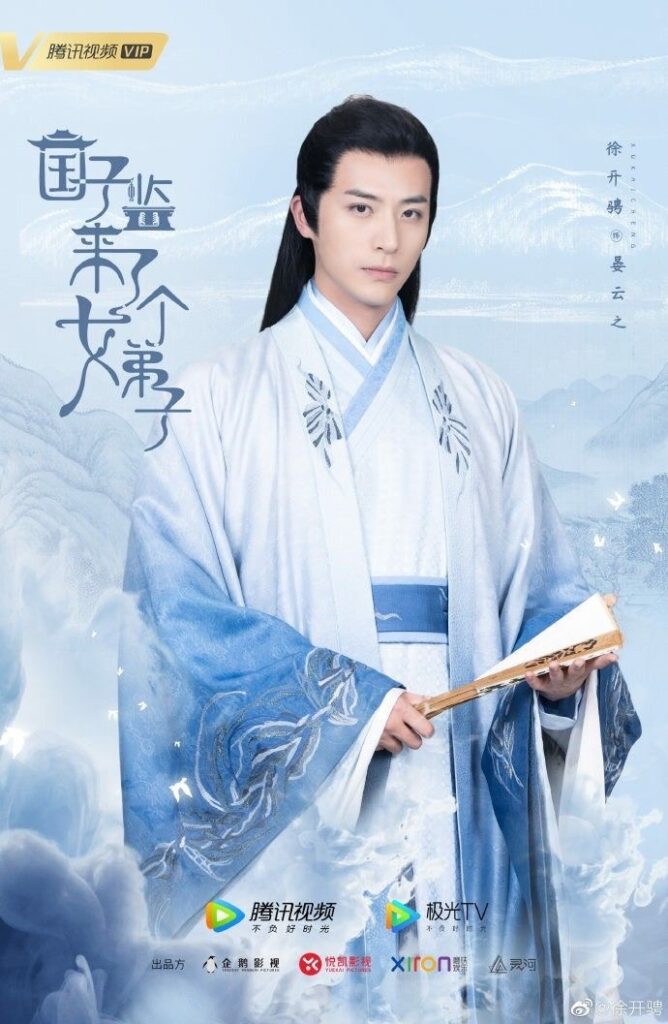 But Yan Yuan Zhi is the opposite. He put his cold face as a facade because, in reality, he is a lively person. He held grudges, so he intentionally made things difficult for Sang Qi. Also, there were many scenes that made me laugh because of his silly side. For instance, he once fell from the carriage stairs out of carelessness or when he used to hide behind Sang Qi because he was afraid of chickens… 😆 You will not find any cold-faced male lead that was so handsome but silly as him in other Cdrama… 😂
Even though he obviously protected Sang Qi, Yan Yuan Zhi was cruel enough to avenge her silly behavior because it always put him in an embarrassing situation. And every time it happened, that was when the funny thing started.
Therefore, because of him, I feel the urge to finish this drama despite several issues which bother me.
The Cinematography
I was not very happy to say the visual. A Female Student Arrives at Imperial College was obviously a 2021 drama. But why do I feel like watching a 2018 drama? The picture quality and the color tone are a bit off for me. Perhaps it was because the directors preferred a bright visual that even the shadow was barely visible. If I could choose, I would rather to see a natural tone in my drama.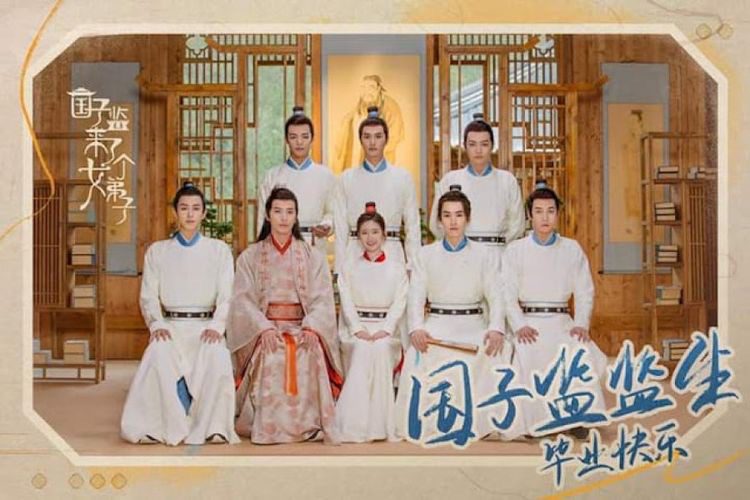 There was one thing that I liked about this drama, the costumes. I always pay more attention to the costumes in historical dramas. FYI, China was the first country in the world that weave silk. Their embroidery craft also has a long history and traditions. The art and craft of Chinese embroidery and fabrics in history have enchanted me so much, that I start watching historical dramas just to appreciate the costumes. And so far in my opinion, Cdrama with the best costumes was Ruyi's Royal Love in The Palace drama.
The costumes in A Female Student Arrives at Imperial College was good. The costumes were simple in design and the embroidery was quite simple. But there's something that was nice to see is the color combination of the clothes. There was always a pop of bright color to liven up the costumes like Zhuo Wen Yuan pink robe in episode 22. The color was pale but, he has a purple inner in his sleeves. And of course Yan Yuan Zhi's ombré colored robes need to be mentioned too because they were lovely!
But there's one thing that has been hovering my mind… Did the ancient scholar use a backpack back then? 😆
Sang Qi's Struggle
I put high hope for this drama. I thought it was going to be a gender equality drama because at that time, Chinese women were forbidden to involved in many aspects as man did, especially the public affairs. There were no female students in every school or college. Therefore, I thought the story would emphasize the struggle of a woman in men's world.
Boy, I was wrong…🥴
Sang Qi is the daughter of Grand Commander Sang. Her family was quite open-minded and modern, because her late brother is the one who encourage her to go to the Imperial College as the first female student and her father didn't seem to mind of her learning at the college. To fulfill his wishes, Sang Qi went to Bianjing City, and she persuaded her father to beg the emperor, so he could grant her a permission to enter the college.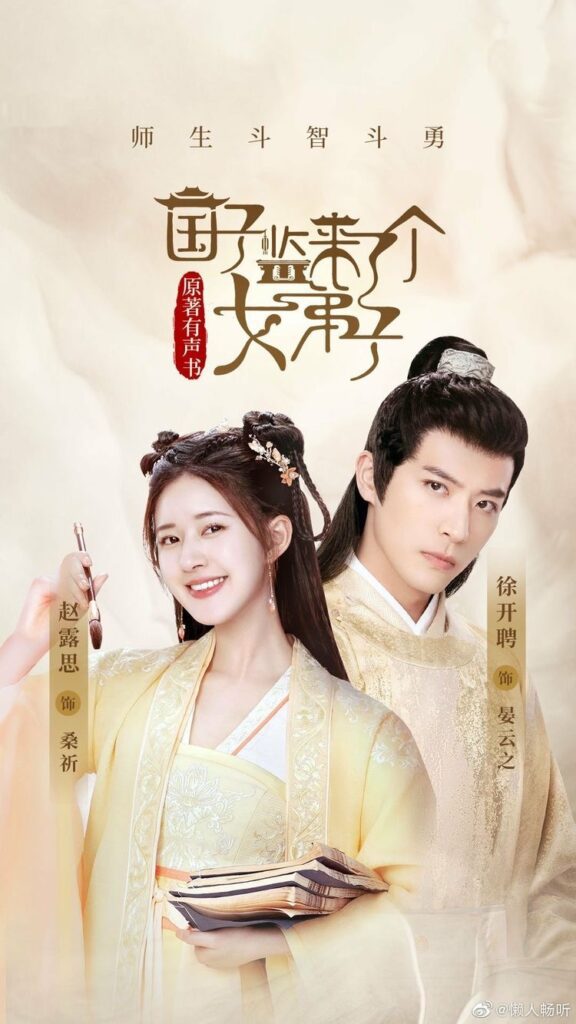 The emperor finally agree to her father's request. With a decree from the emperor, Sang Qi able to enter the Imperial College as a student. But several teachers was against the idea, therefore they made her do an entry exam while other male students didn't have to do that. Of course, she was able to pass the exam and become the first female student of the Imperial College. That was the end of Sang Qi's struggle.
It's All About The Romance
After she became a student, she was protected by her childhood friend, Zhuo Wen Yuan, and the Deputy Chief of the Imperial College, Yan Yun Zhi. Sang Qi was adept in martial arts, but I have no idea if she was also adept in social studies. I didn't see many scenes where she was studied hard to be on the same level as the male students. Hence, let's just make a deduction that she already know the subjects because her late brother used to teach her…🤷‍♀️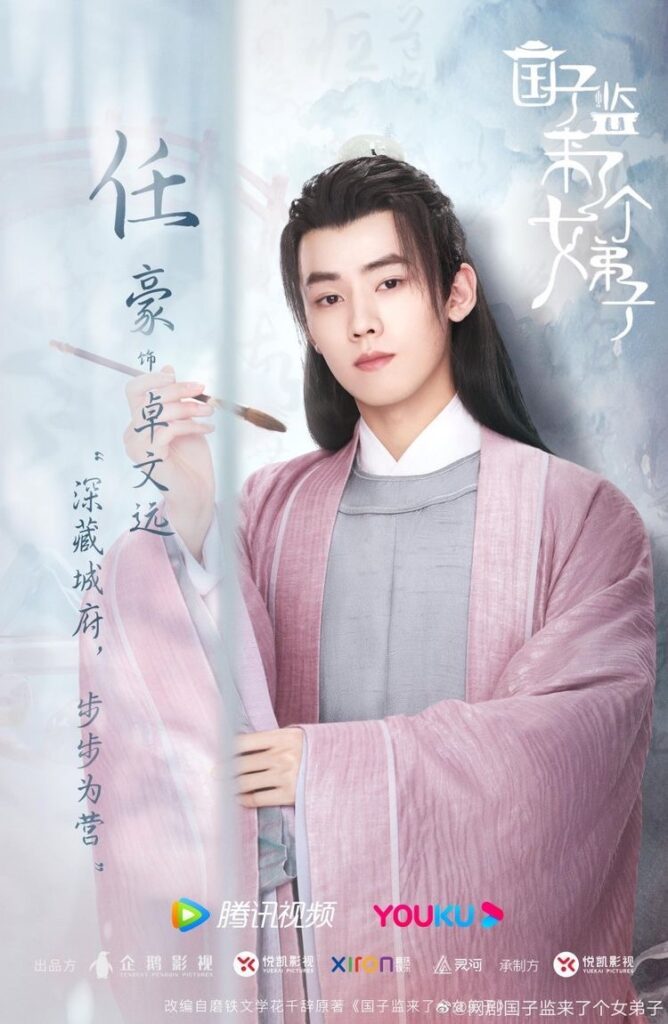 The first half of the drama mainly focused on the budding romance between Sang Qi and Yan Yuan Zhi and the love triangle between Zhuo Wen Yuan-Sang Qi-Yan Yuan Zhi. Zhuo Wen Yuan has always had a special feeling toward his childhood friend. He and Sang Qi used to enjoy a free day back in the border town, laughing and playing together. It's not surprising if he had some fondness toward her.
Meanwhile, Yan Yuan Zhi was her late brother's bosom friend. Yan Yuan Zhi promised Sang Yu to take care of his sister, Sang Qi. But in the beginning, Sang Qi didn't know this fact. He was mesmerized by Sang Qi's countenance when he met her for the first time. Later he was annoyed by her, but this was not last for a long time before he finally realized that he felt something for Sang Qi, and the feeling was love.
I was bothered by the relationship between Yan Yuan Zhi and Sang Qi. They were teachers and students. Furthermore, they flirted at school and started to date when their status was still a teacher and student. Aaaarrrggghhh! I don't think that this was a proper romantic relationship. It was the biggest turn-off for me. That's why even though Sang Qi and Yan Yuan Zhi had a happy ending, I still ship Zhuo Wen Yuan and Sang Qi.
The Real Problem
The conflict in this drama is purely political conflict. That was all about spying and smuggling. And the villain is none other that (my heart was aching right now…😭) Zhuo Wen Yuan. He was the mastermind behind all the cases. Together with his aunt, Royal Consort Zhao, they made a plan to gain wealth by smuggling salt. Huo Wen Yuan and his aunt also work with Xizhou's rebels.
The conflict was complicated enough, but unfortunately I feel that it was written only as a complement to emphasize the Zhao Wen Yuan's unlawful act. The Royal Consort's role as Zhao Wen Yuan's partner also didn't well written. In my opinion, A Female Arrives at The Imperial College's story would be more interesting if the drama had less romantic parts during this story arc. I feel like the scenes were forced to make it balanced… 😔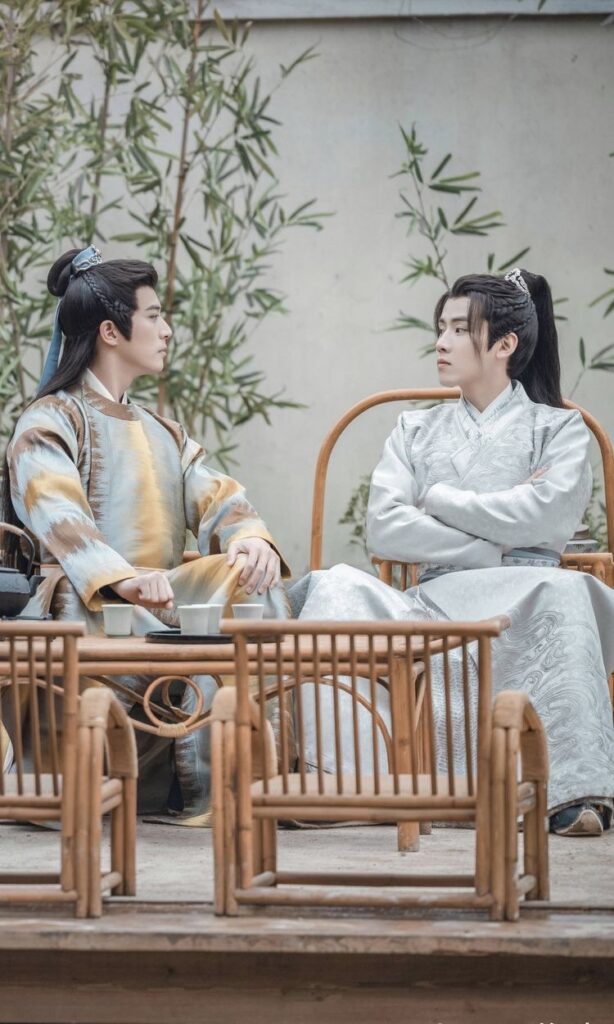 In the meantime, I found a loophole in this story. There were numerous scenes where Zhuo Wen Yuan visited her aunt. As far as I know, Royal Consort lived in the inner palace, and there were strict palace rules of who had access to them. How come Zhao Wen Yuan, a nephew of a Royal Consort able to enter his aunt courtyard so easily?🤷‍
The End of Zhuo Wen Yuan.
Zhuo Wen Yuan's heart was dead set on Sang Qi. Pure love has changed into an obsession. He used all his might, including framing Sang Qi's father to force her to marry him. And when everything he did was in vain, he decided that if he can't have her, then no one can. So, he tried to killed Sang Qi using a Xizhou poison. But fortunately, before everything was out of hand, Sang Qi and Yan Yuan Zhi discovered the poison. To lowered Zhuo Wen Yuan's guard, Sang Qi play along and pretend to be severely sick because of the poison before she (pretend again) died.
In the meantime, Zhuo Wen Yuan also set up a trap to frame Yan Yuan Zhi and accused him to be a Xizhou's spy. Yan Yuan Zhi was arrested, but this is just an act. Zhuo Wen Yuan were completely clueless that he was the one who walk into trap instead the other way round.
Sang Qi's death and Yan Yuan Zhi being arrested has made Zhuo Wen Yuan felt that he was saved. He began to continue the smuggling activities. But this time, he walked straight into the trap.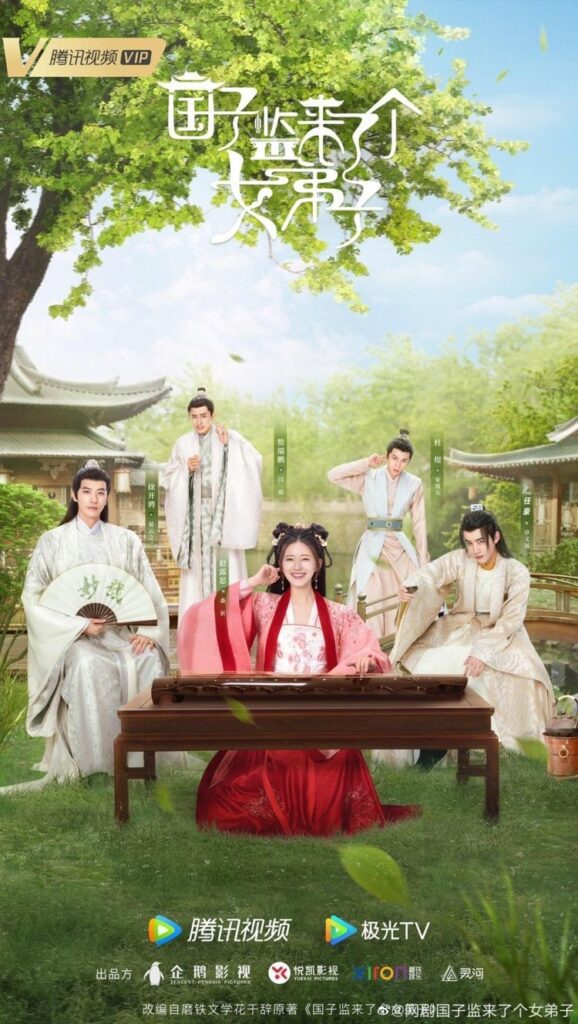 Zhuo Wen Yuan was surprised to see Sang Qi was still alive. But his guilt arose when he saw Sang Qi's indifferent attitude toward him. Zhuo Wen Yuan knew that his evil deeds was exposed. So he challenged Sang Qi for a duel to put an end between them. But during the duel, he gave Sang Qi some leeway, so she could have the upper hand. In the end, Zhuo Wen Yuan committed suicide.
It was his repayment for everything he did to Sang Qi. He closed his eyes while reminiscence his good memories with Sang Qi. After Zhuo Wen Yuan's death, everything were exposed. The Royal Consort Zhuo spared from the death sentence, but she exiled to the Cold Palace.
I found that this drama has the worst second male lead. Zhuo Wen Yuan used to be so sweet, lovable, and kind. Not to mention that he has this gentle demeanor (and handsome too). How come he become that bad?
Zhuo wen Yuan has been keeping his gilt towards Sang Qi because he was the cause of Sang Yu's death.
He knows how much Sang Yu means to Sang Qi. That is why when he knew the truth, Zhuo Wen Yuan was heartbroken because that was the point when he had to forget her. Sang Qi would never accept him if she knew the truth.
The Ending for Sang Qi and Yan Yuan Zhi
The ending for Sang Qi and Yan Yuan Zhi is a happy ending. They finally get married after the emperor grant them the marriage himself. The matrimony was not held in a conventional place, because they were married at the Imperial College, and probably they planned to live there too…😅
Sang Qi also granted a promotion from the emperor. And he made her the first female Scholar and allowed the Imperial College to accepts female students.
In the end of the drama, Sang Qi and Yan Yuan Zhi was seen at the roof top, watching the male and female students arriving at the Imperial College.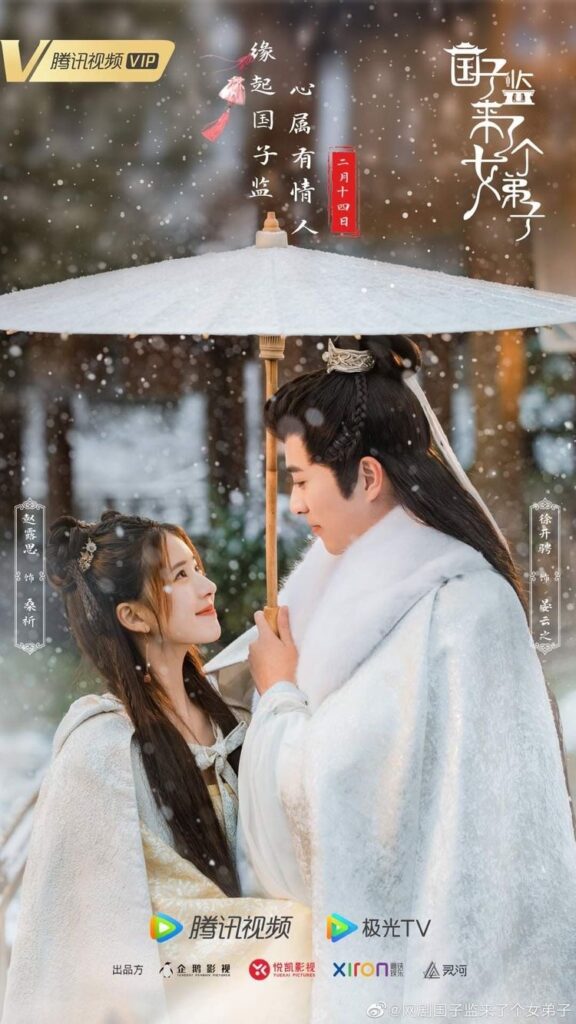 The Conclusion
All in all, I was quite entertained by A Female Student Arrives at Imperial College. But too bad, it was not because of the story. I enjoyed this drama because the actors were pleasing to the eye. I keep my eyes open for Xu Kai Cheng, Ren Hao, and Zhao Lu Si. Several supporting roles such as Ao Rui Peng and Zhang Yue are also a sight to behold.
But I was disappointed with the story. That's why I'll only give this drama a solid 6.8.
I did enjoy it, but I would not put this drama on my re-watch list.
If you are into some romance, you might want to watch it. There were some good romantic scenes between Yan Yuan Zhi and Sang Qi. No steamy kiss but sweet enough for you to enjoy.
Happy Watching!