Drama Title: Beauty Of Resilience
Also Known As: 花戎, Hua Rong, Floral Armor, Wu Chang Sheng
Director: Chan Ka Lam, Chen Guo Hua, Hu Yi Juan
Casts: Ju Jing Yi, Guo Jun Chen
Screenwriter: Qian Jue
Genres: Romance, Fantasy
Country: China
Episodes: 36
Date of Release: June 1, 2023
Original Network: iQiyi
Where to Watch: iQiyi
Adapted from the web novel: "Wu Chang Sheng (The Mistaken Eternal Life)" by Lin Jia Cheng
Dear readers, recently I tried to reduce sugar as much as I could. And the first thing I did was to cut sugar out of my beverage because God knows how much I like sweet and cold tea/coffee. Anyway… cutting sugar off my diet made me a little bit grumpy. Therefore, I spend hours watching Beauty of Resilience and my rants pour down like a waterfall. I knew and realized that this rant did not come from my logical thinking but from my decreased dopamine.
So, in order to have a more neutral opinion about Beauty of Resilience, I rewatch this drama. It is one of the Chinese dramas released in June 2023. And it turned out much better because I sipped a sweet latte before I turned on the screen. So this was my honest review of Beauty of Resilience. Enjoy!
Beauty Of Resilience Synopsis
In Dayu Country, there was a custom that every 16-year-old teenager must go through a coming-of-age ceremony and immortal bones examination. For those who had immortal bones in their body could enter Egret Academy. A prestigious school where mortals could learn cultivation and immortal magic. If they managed to master the Ten Virtues, they could ascend into immortality.
However, the Immortal Bones examination only happened at a triennial event held by the country. And only a few candidates could be produced every three years.
The 12th year of Yongding was Wei Zhi's lucky year. She had reached 16 years old and could go through the triennial event. For 16-year-old Wei Zhi, this was her chance to change her fate.
As someone who had a painful past and was labeled as a harbinger of unluckiness, Wei Zhi was determined to change her fate. Because of all these years, whenever she was around, many bad things happened. People talk about her, pointed their fingers at her, and laughed at her. But all of those nasty things did not make her waver or sad.
Because in Wei Zhi's mind, there was only one thing that become her dream: to be a student at the Egret Academy. However, right before she could leave the mansion, her mother come to take her away. She had arranged a marriage for her with a rich but in poor health young master.
Knowing that her plan was going to ruin, Wei Zhi asked for help from the kindhearted 3rd miss of Minister Mansion, Wei Lingyue. She helped Wei Zhi, so she could go to the examination. On the way to the venue, Wei Zhi noticed that someone was standing at a height and staring at the vicinity. The man was young and handsome, but aloof.
At the examination venue, Wei Zhi and 17 other teenagers were standing in front of the Immortal Revealing Mirror when suddenly a shadow of a bright red phoenix flew from the mirror and disappear into the sky.
The appearance of the phoenix caused an uproar. And because it was not certain who was the reincarnation of the phoenix, Wei Zhi and other teenagers were admitted to Egret Academy. And learned under the strict teaching of Yan Yue, the man whom Wei Zhi saw on the street earlier.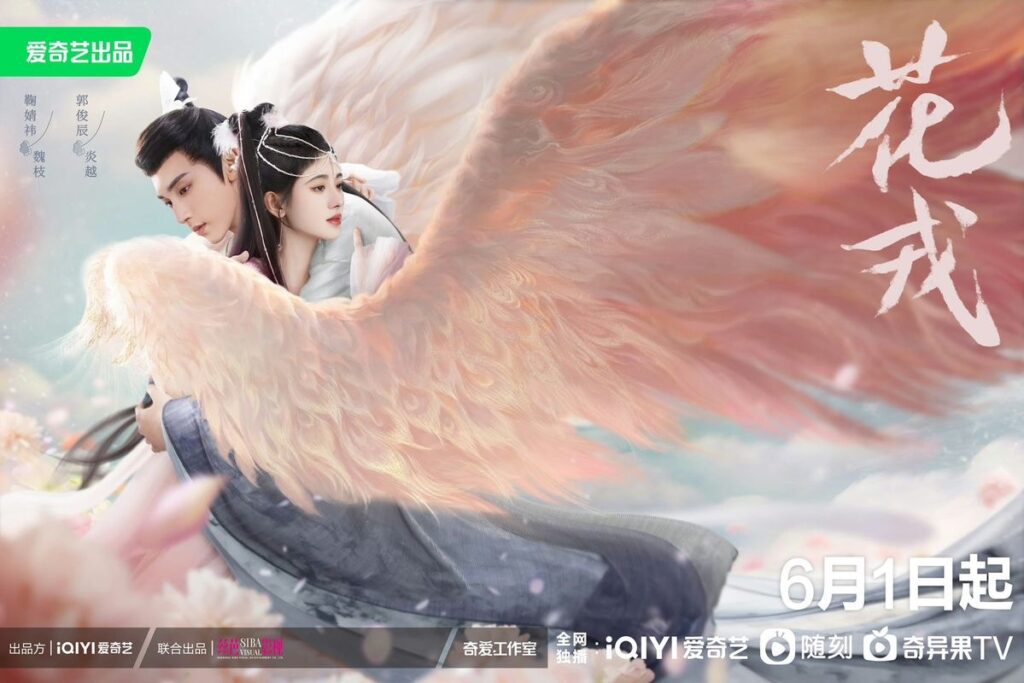 At first, Wei Zhi was happy and optimistic about her future. But the world was not as friendly as she thought. She was the least talented person in her class and people bullied her because of her lowly status. However, Yan Yue was always there to help her. Their relationship improved and the feelings were reciprocated.
But then reality hits them hard. Yan Yue's real identity was The God of the Red Sun. He was the son of the Heavenly Emperor and his mission was to find Phoenix and kill her for the sake of the three realms. And the Phoenix was Wei Zhi.
Their ill-fated relationship lasted more than a lifetime. And it always ends with death. Could Wei Zhi and Yan Yue stop the karma and started a new fate? Or must they succumb to what fate brings them?
Beauty Of Resilience Review
As a Cdrama junkie, I must admit that I could not understand any Chinese language or read any Chinese characters. I do remember some of the words since I watch so many dramas. But if you put those words into character, I could not read it at all. So all this time, I was heavily dependent on the subtitles. Whether it on English, Melayu, or Indonesian.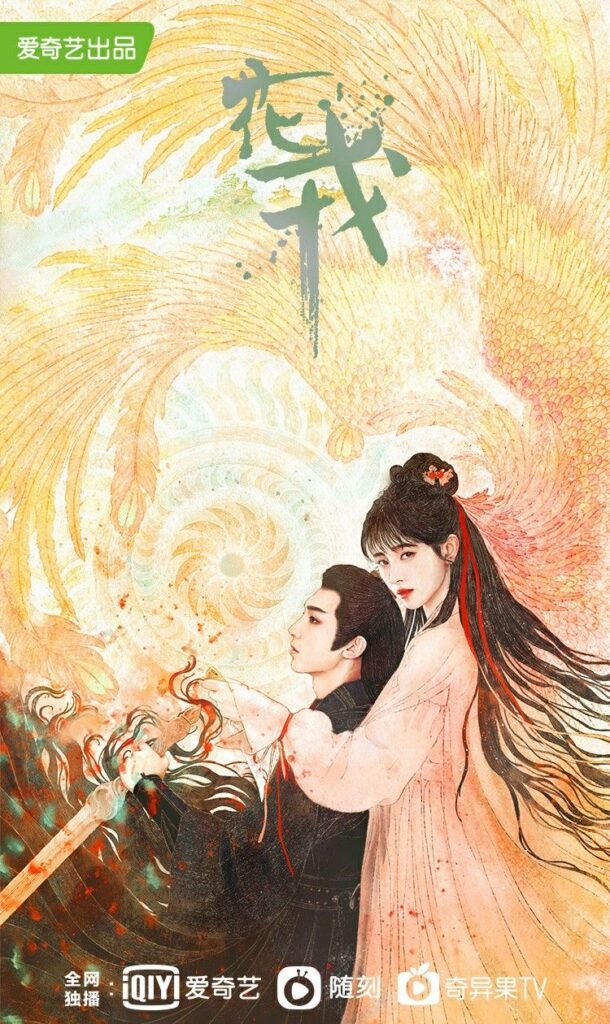 So, subtitle quality was something I looked up to. And recently, I'm a bit disappointed on many streaming platforms. At first, when I watch Ordinary Road on WeTV. And now Beauty of Resilience on iQiyi. It did not as bad as the Ordinary Road subtitle, well you could read my rant on the review, but sometimes the subs make no sense at all.
For example, the narration in the first episode. Did they use machine translation instead of manual translation? It seemed like some words were missing from the text. And in an episode, the subs were a mix between English and Indonesian.
Luckily I could understand both, but it did not mean I did not annoy by it. However, I tried to enjoy the drama and forget about the errors. Well, I guess I am a person who had a big heart and a bucket full of patience towards the world.
Beauty of Resilience enticed me with the posters. The synopsis on iQiyi had warned me about the ill-fated relationship. After watching so many Xianxia dramas, It dawned on me that the immortals of heaven feared love tribulation the most. Those immortals live a life above the people in the Human realm.
They saw humans fall in love and then break up. Humans smiled, cried, confused, angry, or fearful because of love. They lived and died also because of love. But with the short life they had, those people were able to conquer those feelings and hardship. Yet, the immortals with their long life and spiritual powers could not do that. Behind their aloof demeanor, Immortals were emotionally weak. It seemed that their healing power could not be applied to broken hearts.
This drama shake me emotionally because I feel our main character was in fact, weak. They might possess supernatural power, yet I feel that their character needed more tribulation 😅. For instance, after Yan Yue went through a lifetime as Chen Yan. The Heavenly Emperor gave him a pill that could make him forget the past.
But then Yan Yue could not get away from karma and back into another entanglement with Wei Zhi. This time he tried to protect Wei Zhi at all costs, but he was just too weak, so he failed and in the end, it was Mu Nan who could protect her completely.
And Wei Zhi was full of insecurity. She chooses to be stepped on by others at the academy. It was the complete opposite of her intention of shaking off the label of a servant in her life. Wei Zhi wished by admitted as a student at Egret Academy so she could improve the life of her mother and brother.
Yet, when Wei's sisters bullied her and make her do the chores, she did not fend for herself. She could not let go of the servant's label on her. At least she should brave enough to speak for herself, but she didn't. Girl, did you forget your original purpose?
The other characters were flawed too. The only one I admire was Yi'er, the Kitchen Goddess. She was brave enough to live her life and to chase her dream. When everything did not work out as she wanted to, she drank and work to forget the sorrow but still brave enough to face the truth and moved on. I bet she would be a very good monarch someday.
Beauty of Resilience was brought to you thanks to the good cooperation of our directors and cast. Three directors supervise the production. They were Hu Yi Juan, Chan Ka Lam, and Chen Guo Hua. Chan Ka Lam was famous for directing Weaving a Tale of Love, Dance of The Phoenix, and The Untamed. Hu Yi Juan was recognized for directing The King's Woman, another drama about an ill-fated relationship.
Starring Vin Zhang and Dilraba Dilmurat. The last one was Chen Guo Hua who was acclaimed for directing The Bloom at Ruyi Pavilion and Go, Princess Go!. This drama was not the first time Chen Guo Hua teamed up with Ju Jing Yi and Guo Jun Chen since Ju Jing Yi was the main lead for The Bloom at Ruyi Pavilion while Guo Jun Chen acted as one of the support roles in Go, Princess Go!
As the main role, Ju Jing Yi was fit to be Wei Zhi. She also had good chemistry with Guo Jun Chen who acted as Yan Yue. The only problem for me was her make-up and costume style. When you see her previous drama (Rebirth For You, the Blooms at Ruyi Pavilion, In A Class of Her Own, Legend of Yun Xi), you'll know what I mean.
Guo Jun Chen who acted as Yan Yue did not fascinate me. He was too engrossed in his role as an emotionless immortal that I thought his acting was a bit wooden. The only time he was a bit lively was when he act as Chen Yan. But the act of chewing on grass was a bit superficial to me. Because it reminds me of an old Hollywood movie where soldiers often chew a strand of grass. Although his appearance was perfectly fit as an immortal prince, I guess I like him more in his previous drama.
Liu Dong Qi's act as the loyal Mu Nan was quite interesting. He put on a grumpy expression that looked like an old man who constantly struggling with anger and other negative emotions. And the times when he tried hard to smile really creep me out.
If you watch Snow Eagle Lord drama, you'll recognize Lu Ting Yu who act as Yi'er. Lately, the drama was still on my watch list because when I wrote this review, it was still airing. However, Beauty of Resilience was not Lu Ting Yu's first drama to work together alongside Ju Jing Yi. Previously, they had acted together in Rebirth For You.
I do recognize a very familiar face in this drama, it was Huang Hai Bin who played the Heavenly Emperor. This year, he was quite busy since I have reviewed three of his drama which was The Ingenious One drama (he act as Qian Rong, the Su family's steward), Till The End of The Moon drama (as Zhao You), and Romance of a Twin Flower drama (as the Emperor). He teamed up with Ju Jing Yi and Lu Ting Yu on Rebirth for You as well. And he also acts in the same role as Heavenly Emperor on Love and Destiny.
One thing that I like about this drama was they cast Guo Jun Chen and Lin Feng Song as siblings. Although Yan Yue and Yan Luo came from different mothers, their mothers were siblings too. Therefore, their appearance must not be too different from each other.
And I was surprised because Guo Jun Chen and Lin Feng Song looked alike and it made me though that, this was what a sibling should be like. Their appearance was contrary to Wei Lingyue and Wei Jingyue's appearance which was far from similar.
And the last thing that I must tell you was I like the soundtrack. I have no idea why, but every time I watch an episode, I enjoyed the soundtrack. So if you thought that this drama was not to your liking, why don't you try to listen to the soundtrack, you might want to change your opinion.
The Cinematography
I wonder what the directors thought when they decided on Ju Jing Yi's makeup. She donned the same kind of makeup for several dramas in a row. The same color palette and the same makeup technique were similar. And now, the headdress was just a better version of Ju Jing Yi's headdress in Rebirth For You.
In my humble opinion, an actor should be a blank canvas. The sketch, the paint, and the technique applied should be adjusted to the story. And every drama tells a different story about different people. So I appreciate it if they did not use the same template. Otherwise, it feels like you watch the same drama only with a different title. But, that was my general opinion.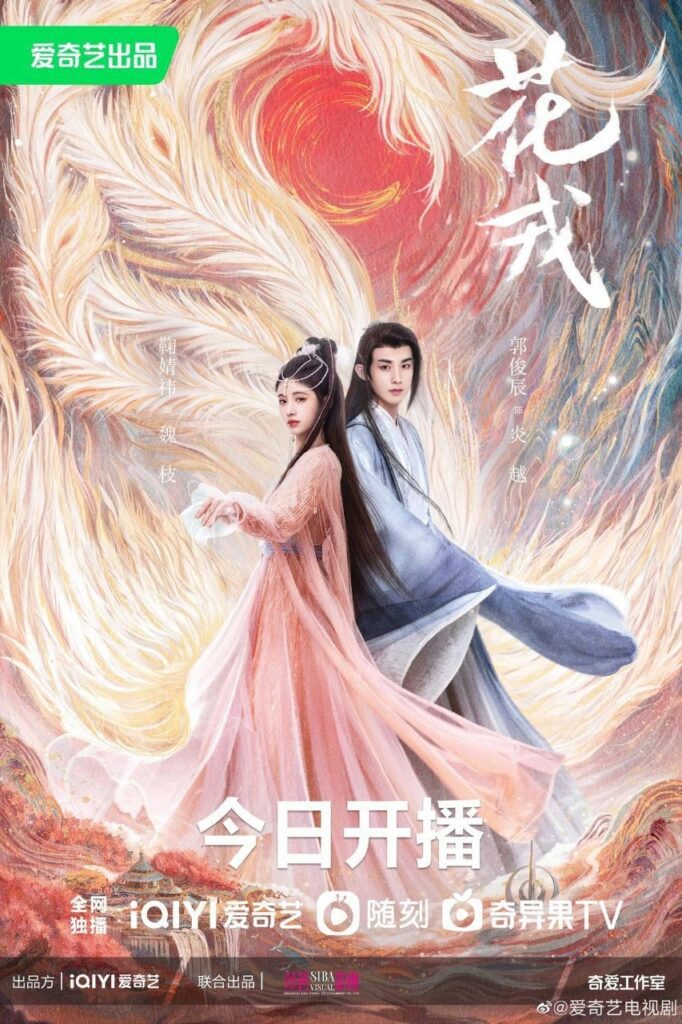 Every actor or actress had their own situation. So, even though I was dissatisfied with Ju Jing Yi's makeup, I would not put a whole lot of pages only talking about her makeup.
The costume was quite good and casual. They did not use too many embroideries, but they were very creative with the fabric. Many dressed were made from shiny and see-through fabric. The people from the Heavenly realm use many white, gold, and pastel-colored fabrics. With some exceptions like the Heavenly Empress who wore a black robe embellished with golden embroideries.
People from the Human and Devil realms would use brighter colors, while those who came from Demon realms would stick to dark colors like black, deep red, and purple. However, there was a floral dress that caught my attention. It was not worn by our main leads or the other beautiful characters. It was worn by the kind aunty from Taoyuan Village. It was a regular grey robe. But the fabric was full of colorful flower embroideries. I fell in love with the robe at first sight.
There were many interesting things that only fantasy drama had other than the costume. It's visual. Fantasy genre drama would rely heavily upon CGI and green screens. Beauty of Resilience was not an exception. The visuals were beautiful. I admire the colorful background sets they use. The pink trees and flowers were a sight to behold. Although many dramas use the same concept, I still adore this type of background.
There was nothing special about how the director shot the scenes. I barely could notice the difference between Beauty of Resilience and other Xianxia dramas. Yet, if you took a closer look at the composition, it was always arranged meticulously and beautifully.
The Story
Beauty of Resilience was an adaptation of a novel. I have not read the novel yet, so might be some plot that could not be included in the script. The story was at a moderate pace. If you want to watch this drama, dear readers, pay attention to the timeline. Because there was a time-hop from the present to the past. There was no noticeable difference between the past and present, so keep your mind alert.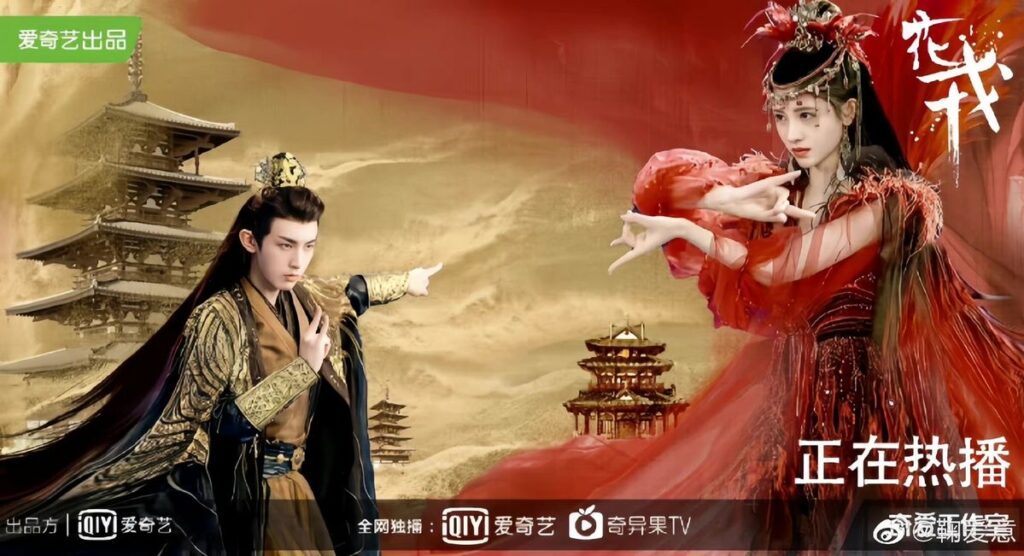 This Beauty of Resilience told us a tale about Wei Zhi, a young girl who shouldered a bad fate. She was the reincarnation of Phoenix and had a massive power that could destroy the three realms. After I watch the drama, I feel bad for Phoenix. She did not belong to one of the realms, had nowhere to go, she had nobody to teach her how to control the power. In my opinion, two people were qualified to be her teachers.
The first one was the Dean of Egret Academy. Master Jingxiu knew Wei Zhi very well. He knew her power, and character, and understand the painful past she had. However, he was qualified but did not have the capabilities to be her teacher. Master Jingxiu had long separated from his immortal body and only learn cultivation to enrich his wisdom and lived a peaceful life.
He did not have the ability to teach immortal magic. Meanwhile, the Old Demon Lord of the Demon Realm had the capability to teach Wei Zhi, but his time was too short. He was not able to explain everything nor make Wei Zhi believe in his words. All he could do was protect her from Yan Yue, the Red Sun God.
As the heir to the throne, Yan Yue's father had high expectations of him, yet he made him disappointed because he showed weakness. Falling in love and being with someone you love seemed to be a rare thing in the heavenly royal family. Yan Yue was betrothed to his cousin, Yi'er. They had a good relationship but not the romantic kind. They had already set their heart on somebody else. Yan Yue fall in love with Wei Zhi and Yi'er was madly in love with Mu Nan.
The ill-fated relationship was a common thing in dramas and novels. The main leads would meet with love tribulation that lasts for a very long time and in some XianXia drama, last more than a lifetime. But persistence and patience would lead them to eternal love.
This plot was repeated many times and I thought it would always be like that. So when you found an ill-fated love that remained ill-fated, I got upset. And in this drama, I feel that the powerful Demon Lord, Mu Nan. His destiny was tragic, although he was a very loyal person.
Mu Nan used to be Sima Wangyue's adopted brother. Their relationship was closer than Sima Wangyue and Sima Zhaoyang's relationship. Mu Nan regarded Sima Wangyue as his only family member. His loyalty and devotion to her was unquestionable.
However, familial relationships would always be defeated by love. So when Chen Yan came, even though Sima Wangyue still treat him with the same attention and kindness, his position in her heart was shifted and replaced by him. And to be honest, the childish jealousy that Mu Nan showed was a bit annoying for me.
Some of the plot felt hurried and there were missing clues on the plot. I don't recall Yan Yue and Wei Zhi having confessed their love. They just know that the feeling was reciprocated then they start to live as husband and wife and in the end spend the night together and poof! The baby was on the way.
I also feel that some character has no significant rule in this drama. The most useless one was the Imperial Advisor's lover. At first, I thought she would hold a significant meaning in the story. But then she appears on several episodes and is suddenly gone. And the Human Emperor's role was just an add-on. 😝
However, there was a huge plot twist revealed in the latter episodes. I thought Wei Lingyue and the Imperial Advisor was the big villain in this drama. However, there was another villain whose evil intention was deeply hidden beneath the surface. This villain was selfish, ruthless, and cruel. He would do anything to reach his intention. Even if it meant killing his beloved.
There was something creepy about being in this fantasy world. In the latter episode, Yan Yue was told to live in a seclusion with his wife and son. The wife's appearance was similar to Wei Zhi, but she was not her. Then it was revealed that the wife was his medicinal jade that was touched by his long for Wei Zhi.
It transformed into a human and resembled Wei Zhi. They lived together for years until the real Wei Zhi showed up. It dawned on me how creepy is to have a dead thing have desire toward us. It made me look at the things around me suspiciously. However, thankfully that thing was only fantasy.
Many things remind me of the similarity of some subplots in Beauty of Resilience with some movies I've watched before. For instance, when Wei Zhi was pregnant, her baby drained her spiritual power. And without any help from Hua Rong, she would die the moment the baby was born. Well… Bella Swan, is that you? So, I knew that it was pretty common to have some similarities since we often found our inspiration everywhere. But, still… I felt a slight disappointment when I recall it.
The Characters
Wei Zhi / Sima Wangyue
Wei Zhi (played Ju Jing Yi) was a kindhearted, laid-back, and very sensible person. She knew herself and her position very well. As a maidservant of the Wei mansion, she conduct herself as their servant up until she was admitted as The Egret Academy student.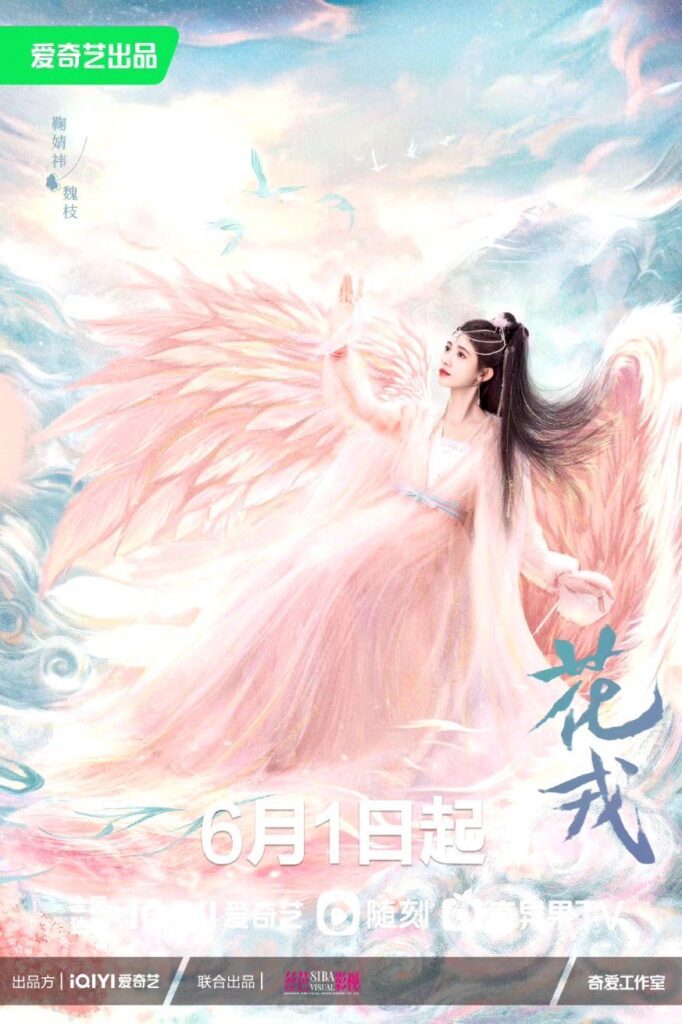 She let herself be repressed because of a lack of confidence. She regarded herself as a harbinger of unluckiness. And it stemmed from the insecurity she had, thanks to her mother's "kindness" to remind her about her ill-fated life.
Wei Zhi's feelings for Yan Yue were strong because they lasted for more than a lifetime. Yet, it was an ill fates relationship and they have to go through it all over again.
As a Phoenix, Wei Zhi did not have enough knowledge to control her power. Therefore every time she lost her composure and herself, she unknowingly would release her fire. It seemed that the Phoenix blood run in her family. Otherwise, Gu Huaizhong would not give her the family heirloom that only belonged to the leader of the Gu family. And the jade bracelet was able to repress the Phoenix power.
Sima Wangyue was Wei Zhi's past life. Unlike Wei Zhi, Sima Wangyue was brimming with confidence. She was a tomboy who did not like womanly activities such as embroidering. Her passion lies in warfare and martial arts. Sima Wangyue spends her time practicing martial arts with her adoptive brother, Mu Nan, or reading books about war.
Her passion came from her father's profession as the General of the Wei Kingdom. Every time she saw soldiers marching, Sima Wangyue's eyes lit up because she admired their valiant hearts. She hoped that someday she would be able to join her father at the warzone.
Sima Wangyue had a brother, Sima Zhao Yang. Unlike her, Sima Zhao Yang was a selfish and spoiled boy who like to pretend to be sick. He hoped that his father would not take him to the war.
As the daughter of a general, Sima Wangyue possessed the quality of a leader. She knew how a leader should act and how to manage her soldiers well. She was decisive and did not fear to admit her mistakes. In her heart, there was only patriotism for the Wei Kingdom. Until she met with Chen Yan.
Yan Yue / Chen Yan
Yan Yue (played Guo Jun Chen) was born to the first Heavenly Empress, Xi Cai. Yet, he did not even know what she looked like because Xi Cai sacrifice herself when a disaster hit Heaven. Yan Yue was only an infant back then. Then the Heavenly Emperor married Xi Cai's sister who gave birth to Yan Luo.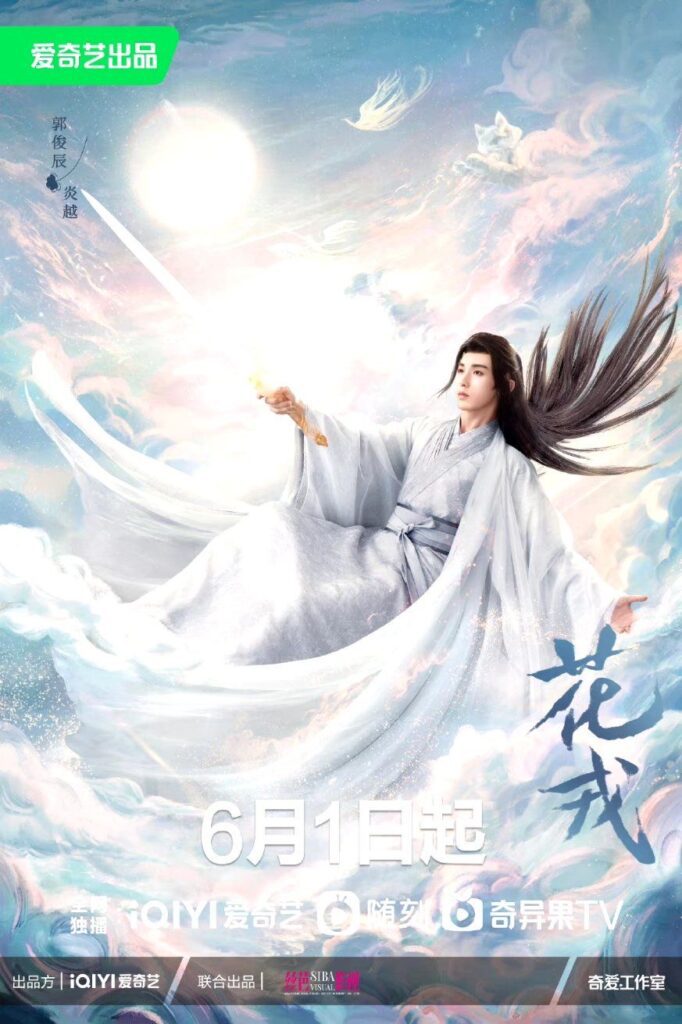 Although the then Heavenly Empress treat him kindly, he could feel the difference between how the Empress treated Yan Luo and him. Yet, Yan Luo was the only person in Heaven who Yan Yue could open up with. Meanwhile, his father, the Emperor was too busy to think about his sons. In his mind and heart, he only cares about the people.
As the eldest son of the Heavenly Emperor, Yan Yue was already burdened with the title of heir to the throne. His father had high expectations for him. His actions were under strict supervision from heaven and Yan Yue always had to abide by the rules of the Emperor. He was aloof and strict, and his heart and mind were occupied by the people. Only after he met Wei Zhi, Yan Yue he dare to brake the rule and was willing to sacrifice for someone other than the people.
Just like Sima Wangyue, Chen Yan was another identity of Yan Yue in another lifetime. As an immortal, Yan Yue must go through tribulations in his life. And Sima Wangyue was his love tribulation.
Chen Yan was a spy planted by the Jinghe Kingdom. His main role was to infiltrate the Wei Kingdom's military force. And his target was Sima Jin's army. Sima Jin was Sima Wangyue's father. He hold a large army and was a proficient general. When Sima Jin decided to take Sima Wangyue as his subordinate, he did not realize that it would lead to his death.
Chen Yan was a skillful person. He went through a special training led by Yin Keji who took him off the street. Chen Yan was grateful to Yin Keji and was loyal to Jinghe's kingdom. However, Chen Yan felt a dilemma after he falls in love with Sima Wangyue. After he finished his mission to destroy Sima Jin and his army, he went to save Sima Wangyue. But how could he think that Sima Wangyue would accept his help after she saw him killing his father with her own eyes?
After Qing Huan saved Chen Yan and Yan Yue gain his memories back, he decided to be a loyal member of the Heavenly Kingdom. Yan Yue went to fight the Phoenix head-on. After They stabbed each other, the Phoenix disappeared and Yan Yue suffered an injury on his chest.
Wei Lingyue
Wei Lingyue (played Ma Yue) was the 3rd miss of the Minister of Rites's Mansion. Wei Lingyue was famous across the capital as the most talented and beautiful woman in the capital. Although she look calm and confident, Wei Lingyue had some dissatisfaction with her father. Minister Wei always treats his daughter differently. He was more indulgent toward Wei Jingyue and stricter toward Wei Lingyue.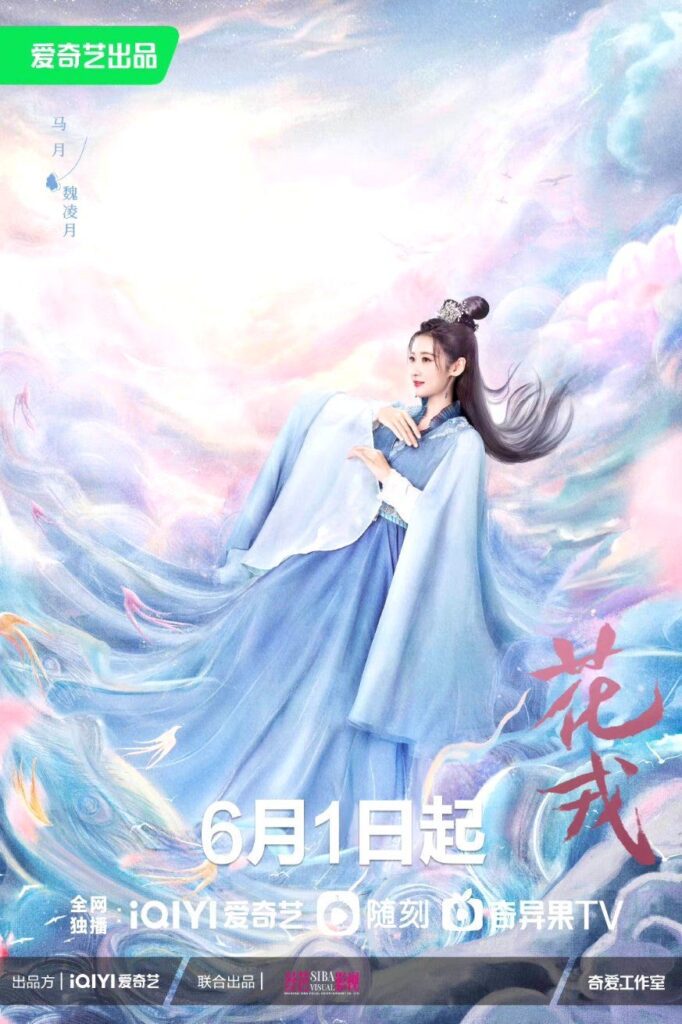 Wei Lingyue was thirsty for attention. She kept the persona of a kindhearted woman yet, in her heart she was calculative and cunning. Her confidence was boosted when her friends thought that she was the Phoenix due to her talent in magic. When people were unable to succeed in a spell, Wei Lingyue did it easily. The only person that could match her talent was Ming Lan.
Wei Lingyue's jealousy of Wei Zhi started when she realized that Yan Yue pay more attention to Wei Zhi because she had a problem with her study. Combined with her pride in being the Phoenix, Wei Lingyue believed that the key to Yan Yue's heart was very close. It never come across her mind the possibility of she was not the Phoenix.
So when Mu Nan finds out that she was not the Phoenix, she refused to believe it. Wei Lingyue's confidence shattered and turned into a deep hatred towards Wei Zhi when she realized that Wei Zh, the low-born woman, was the Phoenix who was able to attract Yan Yue's attention.
Mu Nan
Mu Nan (played Liu Dong Qin) by was the Demon Lord of the Demon Realm. He was a mysterious man who chased the Phoenix as well. Mu Nan was looking for the Phoenix because she was the Saintess of the Demon realm as well as her sister.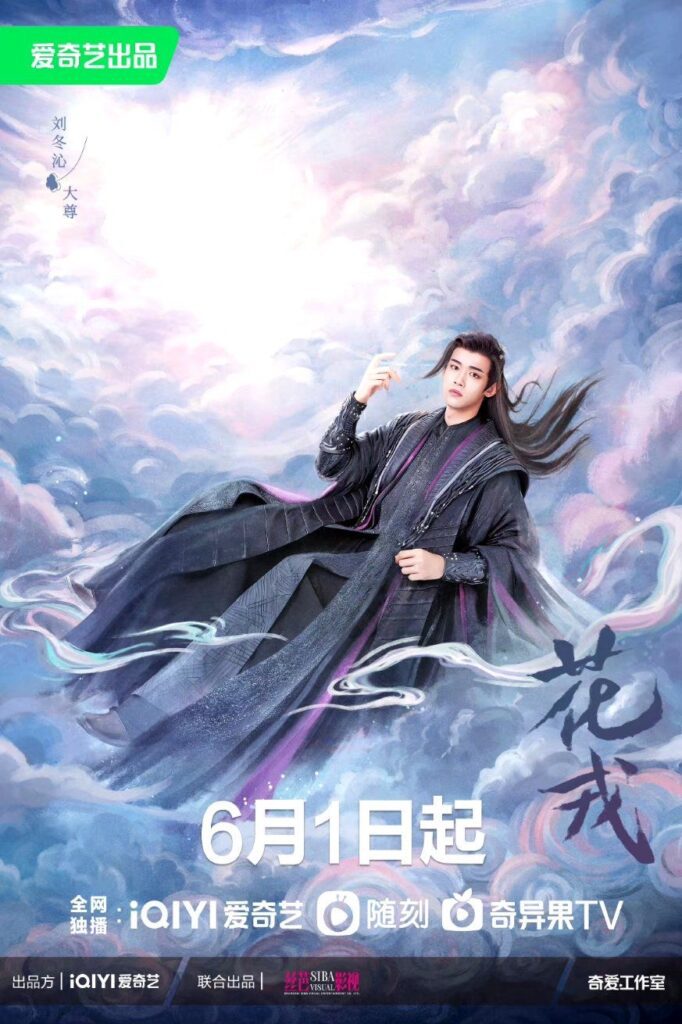 Mu Nan had another identity. He was Sima Wangyue's adopted brother. They had a close relationship and Mu Nan secretly harbor romantic feelings for Sima Wangyue. They went together to the war zone and met Chen Yan. Mu Nan was a kind person. He was a little bit childish and naïve.
When they went to war, Mu Nan's only thought was to protect Sima Wangyue with all his heart. Yet, because his mind only works in one direction, he failed to see other's evil intentions toward him. He betrayed Sima Wangyue and died in the middle of the road with arrows pierced through his body.
After Mu Nan died, the Old Demon Lord gave him all his spiritual powers so he could protect the Phoenix. His loyalty to Phoenix stemmed from his never-ending love for Sima Wangyue. And his grudge toward the immortals was also because he saw how Yan Yue betrayed Sima Wangyue.
The Conclusion
Beauty of Resilience was a fantasy drama about the ill-fated relationship between Wei Zhi and Yan Yue. The relationship lasted more than a lifetime and was a love tribulation for both of them. I had a good time watching this drama because of the beautiful visuals.
Besides, Ju Jing Yi and Guo Jun Chen made a stunning pair that you'll love to see. Yet, I don't think I would rewatch this drama. Surely because there were too many good dramas on my watch list.
If you are a romance junkie like me, this drama is a good choice. Yet, there were too many flaws that you'll find during the journey. But if you could overlook them, I am sure you'll be fine. Besides, the visual and the soundtrack was very good. Just try to find a good time to watch it, probably on a daily basis. The sight of Guo Jun Chen and Ju Jing Yi would help you forget your tired bones 😊. Hope you like this Beauty Of Resilience drama review. If you want to skip it to the end to know how this drama ends, you can read it on Beauty Of Resilience ending explained post. Thank you and happy watching!