Title: Snow Eagle Lord
Also Known As: 雪鹰领主,Lord Snow Eagle , Dongbo Xueying Land , Xue Ying Ling Zhu
Director: Lee Tat Chiu, Li Wen Long
Cast: Xu Kai, Gulnezer Bextiyar, Bai Shu, Lu Ting Yu, Liu Zi Rui, Song Xi Ran
Genres: Wuxia, Romance, Fantasy
Country: China
Type: Drama
Episodes: 40
Release Date: Jun 21, 2023 – Jul 14, 2023
Original Network: Tencent Video
Where To Watch: WeTV, Viki, TencentVideo
Adapted from the web novel: "Xue Ying Ling Zhu" by Wo Chi Xi Hong Shi
Holla readers, how are you today? I was so excited to review this. Drama. The reason was the one and only Xu Kai. This was his latest drama after he starred in She And Her Perfect Husband drama with Yang Mi. So, if you was interested in the wuxia genre or Xu Kai, make sure to read this review because I would give you enough reason to watch or to pass this Snow Eagle Lord drama. So, without further ado, happy reading!
Snow Eagle Lord Synopsis
Dongbo Xue Ying was a young hero from Xue Ying territory. His family was shattered when he was young. Dongbo Lie, his father, was killed by his uncle, Moyang Chen. Meanwhile, his mother, Moyang Yu, was taken away. Dongbo Xue Ying was left only with his younger brother Dongbo Qing Shi. Dongbo brothers grew up under the care of their uncles, Tong San, and Zong Ling. In Dongbo Xue Ying's mind, there was only one goal: to save his mother.
Dongbo Xue Ying works hard to hone his martial art skill. However, no matter how talented his parents were, Dongbo Xue Ying was different from them. He could not use Dou Qi, unlike his younger brother Dongbo Qing Shi . But he did not give up and he practiced his Spear skill diligently. He practiced very hard for years and his martial art skills were top-notch. Yet, he would still lose against the mage because he still could not use any Dou Qi.
To save his mother, Dongbo Xue Ying resorts to any means. He went to get the Black Iron Order for the sake of information about Moyang Yu. Dongbo Xue Ying realized that to save his mother, he have to defeat the Demon Clan. This was the time he met Chi Qiu Bai, the knight of Changfeng who runs Changfeng Academy, a school for heroes. Chi Qiu Bai recognize Dongbo Xue Ying's talent and told him to join his academy.
During his journey, Dongbo Xue Ying met a young beautiful hero named Yu Jing Qiu. Unlike him, Yu Jing Qiu was a powerful mage from the Water Daoist Temple. Dongbo Xue Yin and Yu Jing Qiu fall in love with each other and they started to walk on the same path.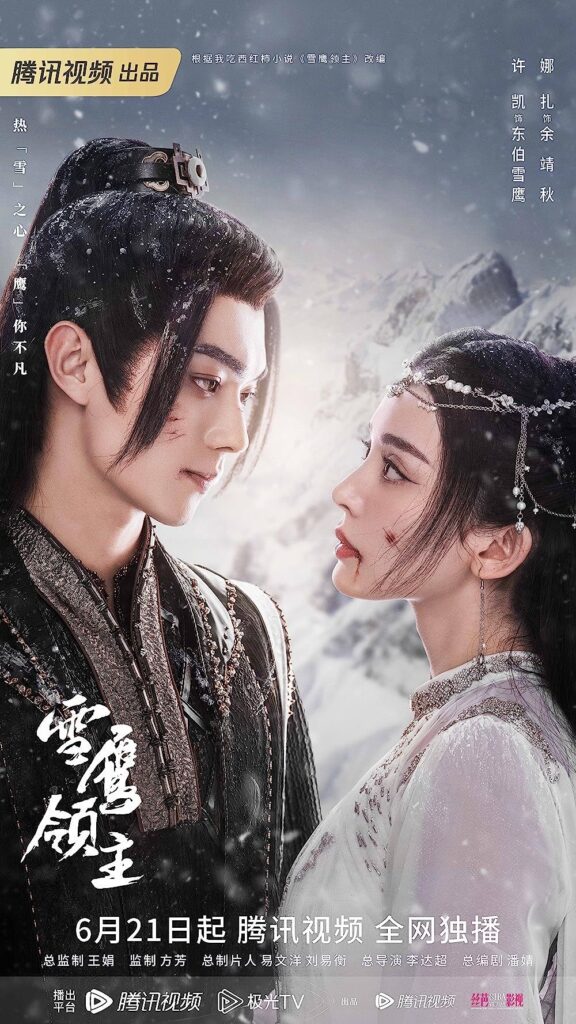 Will Dongbo Xue Ying be able to rise to be a hero and save his mother? Or will he give up and lost to the powerful Demon clan?
Snow Eagle Lord Drama Review
I was getting more and more familiar with the Wuxia genre. I think I'm started to enjoy every Wuxia drama that I watched. Not every drama had a story that could arouse my interest. Yet, some of them could be made me glued to the screen. I'm still grasping the idea of cultivation and the martial levels in martial worlds. I still need some help from Google, but I think, I made progress in this field.
Snow Eagle Lord was based on a web novel Xue Ying Ling Zhu or Lord Xue Ying, written by Wo Chi Xi Hong Shi who was famous for the Coiling Dragon series, Desolate Era, and The Nine Cauldrons. I rarely read Wuxia novels, but when I googled these books, they were famous and the ratings were quite high. Snow Lord Eagle itself had been adapted into Manhua and Donghua.
My first impression of this drama was good because of Xu Kai. Aside from his handsome appearance, I think Xu Kai was a good actor. He always had good chemistry with his partners in every drama that I watch. And Snow Eagle Lord was not an exception. I did not have a strong impression of Gulnezer Bextiyar's acting. But I think she was pretty good in this drama.
But still, I had trouble answering question of what part of this drama was better than the other. I read some synopsis of the books, and I am sure it was more interesting than this drama. The story pace runs very fast. Too fast that it was hard for me to grasp the whole story.
The general story was about Dongbo Xue Ying looking for his mother, Moyang Yu, who was kidnapped by her brother, Moyang Chen. But before Dongbo Xue Ying could find her, he must hone his talent first. And to do this, there were many things he had to do, including entering the Changfeng Academy.
The romance between Dongbo Xue Ying and Yu Jing Qiu start very early, but I did not feel a deep connection between them. Dongbo Xue Ying fall in love with Yu Jing Qiu because she was beautiful and talented. Yu Jing Qiu on the other hand, fall in love with Dongbo Xue Ying because he was kind, strong, and handsome.
But there were not many scenes where they talk deeply about their relationship, family, dream, or anything. It seemed like they meet and fall in love, and that was all they need for their life. I'm a romance junkie, and I enjoyed slow-burn romances where the main leads would slowly start to build up their emotional connection. And sadly I did not feel it in this drama.
My favorite part of this drama was when Dongbo Xue Ying work hard to practice his spear skill. It was interesting to watch and the choreography was too good that I did not mind rewatching those scenes…😁
My favorite character was unexpectedly Kong You Yue. This girl was full of positivity. She might look shallow and spoiled, but she had good control of her emotions. Kong You Yue falls in love with Dongbo Xue Ying. But after she realized that Dongbo Xue Ying never love her back, she contented to be his friend and supporter of his relationship with Yu Jing Qu.
Throughout the drama, I was annoyed by Situ Hong. He was the worst! Situ Hong was a self-centered person. Do not be fooled by his gentle appearance. He thought that he was better than anyone else. So when he found that Dongbo Xue Ying was more exceptional than him in terms of martial art skill, Situ Hong was attacked by inferiority feelings.
Things get worse for him when his love interest, Yu Jing Qiu, fell in love with Dongbo Xue Ying. the jealousy and envy in his heart were doubled. Situ Hong thought that if he could not be the best, he rather be the bad guy who defeated the good guy. In the end, his goal to defeat Dongbo Xue Ying had become an obsession that lead him astray.
Situ Hong also thought that he was a better option for Yu Jing Qiu, compared to Dongbo Xue Ying. This was a weird logic that I found in many Cdrama and Cnovel. Every villain always had one thing on their mind, which was "If I like someone, then she/he had to be mine, regardless of their feeling about me". What was wrong with them???😖
Snow Eagle Lord had so many good things that need to be improved. The story was full of loopholes. And I thought they need to give a more thorough explanation about things related to the martial arts and cultivation in this drama, including the background of the story. I need to rewatch several episodes because I barely could grasp the story background.
The fighting scenes in this drama were impressive. That was apprehensible because one of Snow Eagle Lord's directors, Lee Tat Chiu, specialized in action movies and drama. He was the Action Director for 2013's TV series Ip Man and 2014's The Romance of Condor Heroes.
Lee Tat Chiu was also involved in many dramas and movies as a stunt coordinator. Meanwhile Li Wen Long was famous as the director of dramas such as Detective Dee, Above The Clouds series, Goodbye My Princess, and William Chan's Side By Side With You.
Xu Kai made me cry when Dongbo Xue Ying had to separate from his mother, Moyang Yu. The tears pictured his love, longing, sadness, and helplessness were amazing. And Liu Min, who played Moyang Yu, also showed sadness but determined expression on her face.
Snow Eagle Lord was not the first drama where Xu Kai teamed up with Liu Min. They also act together in She and Her Perfect Husband drama, Royal Feast drama, and Court Lady. And yet, this would not be the last because they would act together again in Chinese Paladin 6.
Gulinazar Bextiyar or Guli Nazha, was one of the most beautiful actresses in Cdramaland. However, I am not too impressed with her acting. I've watched several of her drama such as Fighter of Destiny, Ten Years Late, and Weaving a Tale of Love. And unfortunately, Snow Eagle Lord did not change my opinion of her.
I enjoy Xu Kai and Gulinazar Bextiyar's acting especially when the story was getting complicated. The sight of Xu Kai crying when his mother was taken away and Gulinazar Bextiyar's red-rimmed eyes and sad expression took my heart away. In the early episodes, I did not feel their chemistry was strong. But later it got better. I'm always enjoying Xu Kai's drama because he always had good chemistry with his partners, and Snow Eagle Lord was not an exception.
And like any other Chinese drama, Snow Eagle Lord was dubbed as well. The actor who was dubbed Xu Kai was Zhang Fu Zheng. He was a professional voice actor who also dubbed Li Hong Yi in Wulin Heroes drama, Wu Lei in The Long Ballad drama and Yi Da Qian in Romance of A Twin Flower drama.
While the voice actor who was dubbed Gulnezer Bextiyar (Guli Nazha) was Nie Xie Ying. You could hear her voice in Beauty of Resilience drama as Lan Su, Shining Just For You as Qihai Rui, or Su Muncheng in 2019's The King's Avatar. But not all actors were dubbed. Bai Shu who played Pu Yang Bo used his voice, as well as Hu Kun who played Si Borong.
The Cinematography
Snow Eagle Lord was based on a web novel and had been adapted to Manhua and Donghua. Therefore I really admire the directors' intention to emphasize this fact. They did not try to make Snow Eagle Lord a real-life drama. But they made us think that Snow Eagle Lord was a live-action donghua by putting some animated scenes. You could also tell when you pay attention to the sets. Most of them seemed unreal.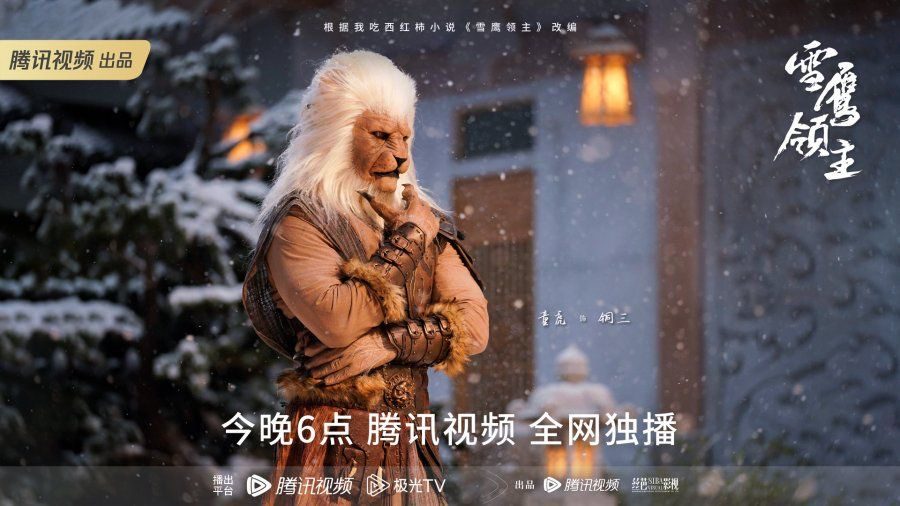 There was a scene when Dongbo Xue Ying and Yu Jing Qiu were trapped on a cliff. There were trees with luminous fungi on their bark. And those fungi were made from colorful lamps. I did not fond of them, but I have to admit that this kind of set would appear in my mind when I read a manhua/manga.
The CGI was not at its best, and I really hope they put more effort (and funds) into this aspect and the sets. I did not fond of the sets as well. Although some of them were good. But the fort, dungeon, and the Black Wind Cliff were a no-no. You could see at first glance that the stones that built the fort were fake.
Including the stones that fell when Dongbo Xue Ying, Yu Jing Qiu, and Kong You Yue entered Lu's fort. I did not say they should use real stones, but maybe they could do something about the color so the stones could be more convincing. A real stone's hue was a mix of dark and light neutrals. You could see some brown, black, green, or beige on the hue, instead of solid grey.
The costume was fine, if you did not mention the animal/ghost masks. Tong San's tiger mask was a big no. But the ghost masks were even worse. It is almost the same with those ghost masks in Back From The Brink drama. I was not too impressed with the costume. Yet a question popped out of my mind.
Why did the academy in most historical dramas use blue as their uniform color? As far as I remember, Zhao Lu Si's A Female Student Arrives At The Imperial College drama, Dance of The Sky Empire, and In A Class Of Her Own, also used blue as their uniform color.
You could see the costume was not too different from other dramas. They use a design that would create a heroic look for the male characters. While the designs for the female characters varied according to their characters.
Yu Jing Qiu's clothes were more feminine compared to Kong You Yue's clothes. But my favorite one was Mrs. Xue Ruo Shang's costume. She looked very ethereal with platinum blond hair, a sparkling robe, a pale complexion, and rosy lips. My favorite piece of her costume was the hairpiece that looked like a tree branch.
The Story
The story started in Xue Ying territory, a snowy place part of the Dragon Mountain Empire. Xue Ying territory was the home of the Xia clan. This is the home of Dongbo Xue Ying, where he lived with his parents, younger brother, and uncles. The people in the territory regarded them as their lords and respected them. And in return, the Dongbo family protects the people inside Xue Ying territory.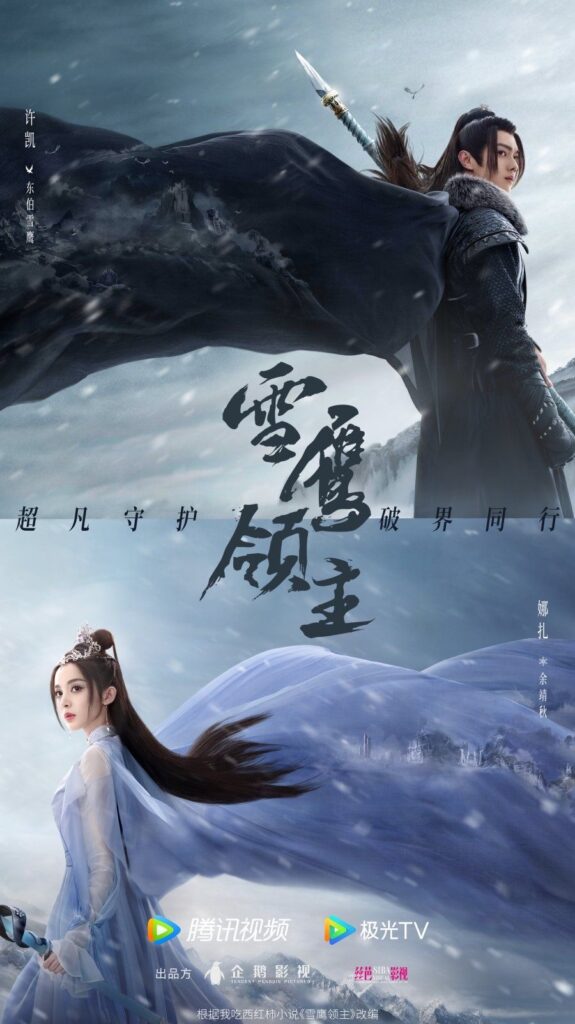 Dongbo Lie and Moyang Yu were good parents. They raise their sons as gentle and kind people. Dongbo Lie was a commoner who rise to noble status because he married Moyang Yu, a mage with noble status. What made Moyang Yu special was that an Ancient Bloodline runs through her vein. But this Ancient Bloodline was also the source of their bad fate that made their family shattered when Dongbo Lie died and Moyang Yu was kidnapped.
To gather information about his mother's whereabouts, Dongbo Xue Ying had to join a competition to get Black Iron Order. Whoever had this token could ask for anything from the Lord of Dragon Mountain mansion. And because of this event, Dongbo Xue Ying learned about Demon Clan. Who knew that Demon Clan was connected to his mother, Moyang Yu?
Dongbo Xue Ying met two people that important in his life and journey when he was fighting with the Demon Clan. They were Yu Jing Qiu, who would become his lover, and Chi Qiu Bai, who would become his teacher. These two people also connected because they originated from the Water Daoist Temple. Yu Jing Qiu was Chi Qiu Bai's junior.
Yu Jing Qiu helped Dongbo Xue Ying first. Back then, Dongbo Xue Ying was significantly weaker than Yu Jing Qiu. But she was fascinated by him when Yu Jing Qiu saw Dongbo Xue Ying was a person who was highly regarded by Xue Ying Territory's people despite his young age.
It showed that Dongbo Xue Ying was a person with a good nature. Yu Jing Qiu's positive opinion of Dongbo Xue Ying increased when she saw him diligently work hard to practice his spear technique. Although Dongbo Xue Ying lacked Dou Qi, it did not make him feel inferior or envious of others.
Chi Qiu Bai saw Dongbo Xue Ying's potential and righteous traits. Therefore, he asked Dongbo Xue Ying to join his Changfeng Academy. And Dongbo Xue Ying who idolized Chi Qiu Bai did not waste the chance. Yu Jing Qiu also followed suit. So, they entered another phase of their life as a disciple of Chi Qiu Bai.
Dongbo Xue Ying's life at Changfeng Academy was quite lively. He met with many people in this school. He also learned how to distinguish friends and foes. As someone with innate talent in martial arts, Dongbo Xue Ying had a very good temper. He did not have a slight arrogance in him. He was willing to sacrifice himself for the sake of the people. A trait that obviously inherited from his parents.
The conflict arise when Dongbo Xue Ying met with Situ Hong. Well, actually it was Situ Hong who felt offended and irritated by Dongbo Xue Ying. Situ Hong always regarded himself as a talented person and his ability in martial arts was number one. Yet, compared to DOngbo Xue Ying, he was a nobody. In my opinion, if Situ Hong had a better personality, he could improve greatly and would achieve many great things in his life.
Dongbo Xue Ying made friends with many people, who in the end would be a good supporter who will fight side by side with him. They would also be willing to sacrifice their life for him. This kind of friendship was precious and you could find it only in wuxia drama.
There were several relationships aside from Dongbo Xue Ying and Yu Jing Qiu's. Kong You Yue and Pu Yang Bo's relationship was cute. They were perfectly fit for each other and it was funny how Pu Yang Bo secretly sabotage Kong You Yue's romantic intentions towards Dongbo Xue Ying. There was a scene when Kong You Yue cooked meat for Dongbo Xue Ying.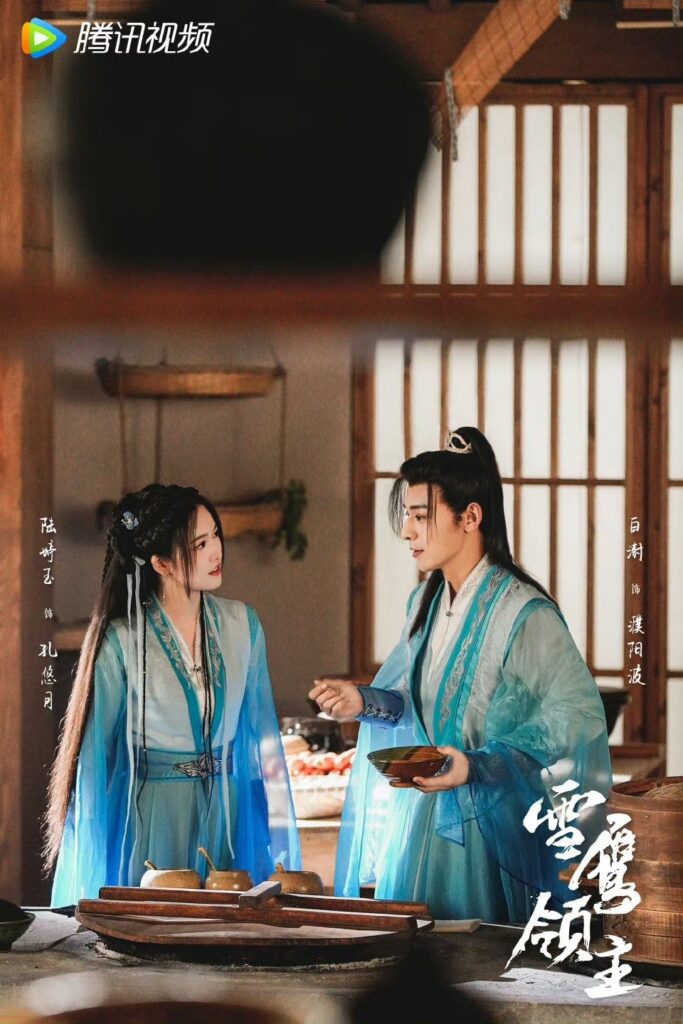 Pu Yang Bo saw it and eat all the meat. By the time he was finished eating, there was only one small piece of meat on the wok. Pu Yang Bo's ability in eating was truly mindblowing. Probably because he also spent many calories dashing around here and there as a Chinese version of the Flash.
There were not many obstacles in Dongbo Xue Ying and Yu Jing Qiu's relationship until the latter episodes. They seemed to have a tacit understanding of each other feelings. Dongbo Xue Ying did not have to try hard to win Yu Jing Qiu's feelings and she did not make things hard as well.
They were always together and when there was danger around them, they would instinctively protect each other. But after the secret identity of Yu Jing Qiu, as a goddess was revealed, a problem arose because a goddess should not linger too long in the human world much less involved in a relationship with a human.
The Demon Clan was the enemy of all Xia Clan. They create chaos everywhere and kidnapped many people so they could turn those innocent people into a demon army. The Demon Clan had one secret mission. And for that, they needed an Ancient Bloodline that belonged to Moyang Yu and Dongbo Xue Ying.
Moyang Chen was Moyang Yu's biological brother. Yet, unlike Moyang Yu, he did not inherit Ancient Bloodline. But the power of Ancient Bloodline blinded him. Moyang Chen took away his sister because he wanted to know the secret behind this incredible power. Moyang Chen would do anything to make himself the strongest and most powerful person on earth. Including colliding with the Demon Clan.
The ending of Snow Eagle Lord was a happy ending, but because this was a story about heroes, then you should brace yourself for an inevitable death. You can read the detail about it on Snow Eagle Lord ending explained.
The Characters
Dongbo Xue Ying
Dongbo Xue (played by Xu Kai) Ying used to feel down because he could not awaken his Dou Qi. He could only resort to martial art technique because he could not use magic, unlike his brother Dongbo Qing Shi . Yet, when his Dou Qi suddenly appear when he fought Ge Bin, Dongbo Xue Ying soared to Meteor-level. But Dongbo Xue Ying's kind and righteous heart kept him from arrogance.
Dongbo Xue Ying's weapon was a silver spear. He found it in the city when he was looking for a spear. Back then the silver spear was old and rusty. Yet, there was something inside the spear that seemed to call him. When he used it to kill a demon, the old and rusted spear turned into a shiny spear. Dongbo Xue Ying's spear could assemble itself after it break into pieces in a fight against the Demon Clan priest.
His persistence in training builds a solid foundation for Dongbo Xue Ying's martial art. He had an extremely high comprehension of all techniques, a natural fast learner. His master, Chi Qiu Bai, acknowledge his talent and regarded him as the most promising disciple in his school.
And not only that, according to Chi Qiu Bai, aside from being talented in martial arts, Dongbo Xue Ying could tell right from wrong, take responsibility in difficult situations, and stick to his principle. Those were qualities that were more important than martial arts skills. Dongbo Xue Ying was a natural-born leader. He showed it when he lead the other disciple from the maze of illusion.
Dongbo Xue Ying was protective of the people he loved the most. He kept his intention to save his mother for years and it become the sole reason why he worked so hard to train his martial art skills. Dongbo Xue Ying rather keeps his intention to save his mother a secret because he thought it would be too dangerous for his younger brother and uncles. When he met Yu Jing Qiu, Dongbo Xue Ying would do anything to keep her safe and alive, even though it means he had to sacrifice himself.
Yu Jing Qiu
Yu Jing Qiu (played by Gulnezer Bextiyar) was an orphan who was taken in by Sikong Yang, the leader of The Water Daoist Temple. She lost her memories, but later it was revealed that the memories were deliberately sealed by someone. And Sikong Yang could not unseal it by force because it would hurt Yu Jing Qiu.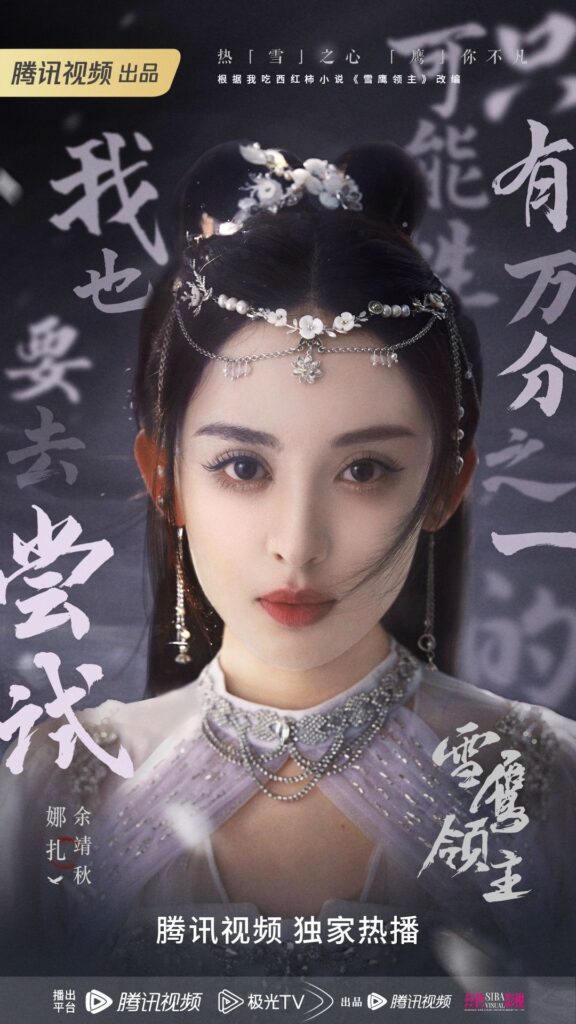 Under the guidance of Sikong Yang, Yu Jing Qiu learn about Ice Technique when she was a child. Her intelligence and talent, made her highly regarded by her teacher, as well as her senior turned to be master, Knight Changfeng or Chi Qiu Bai. In his eyes, Yu Jing Qiu was one of the most promising talents who would be a strong protector of the Xia Clan and Dragon Mountain Empire.
Yu Jing Qiu had another identity. She was a goddess who fell into the human world. As the young master of the Moxue Empire, She got a divine power in her body which was unfortunately incompatible with Dongbo Xue Ying's Ancient Bloodline.
Yu Jing Qiu's feelings for Dongbo Xue Ying were strong and everybody could see that. However, as a talented and intelligent mage, Yu Jing Qiu was too gullible.
Dongbo Qing Shi
Dongbo Qing Shi (played by Liu Zi Rui) was Dongbo Xue Ying's younger brother. When his father died and his mother went missing, Dongbo Qing Shi was just a child and he was not there when Moyang Chen came. Dongbo Qing Shi grew up under the care and protection of Dongbo Xue Ying and his uncles.
For Dongbo Qing Shi, there was nobody more important than his brother. He always wanted to help Dongbo Xue Ying although Dongbo Qing Shi was too young and weak.
Since he was young, Dongbo Qing Shi was able to use Dou Qi. But he was not as strong as his brother. He needs more cultivation to hone his Dou Qi. Dongbo Qing Shi was a gentle and kind-hearted young man. He was not suitable to fight the Demon Clan because he was too naïve.
Chi Qiu Bai
Chi Qiu Bai (played by Zheng Kai) or famously known as Knight Changfeng used to be a disciple in Water Daoist Temple. He was the only transcended knight who was able to use teleportation through True Meaning of Realm. He met Dongbo Xue Ying for the first time when the Demon clan invaded Xue Ying's territory. Chi Qiu Bai gave some of his Dou Qi to Dongbo Xue Ying, he hoped it could stimulate the Dou Qi inside Dongbo Xue Ying's body.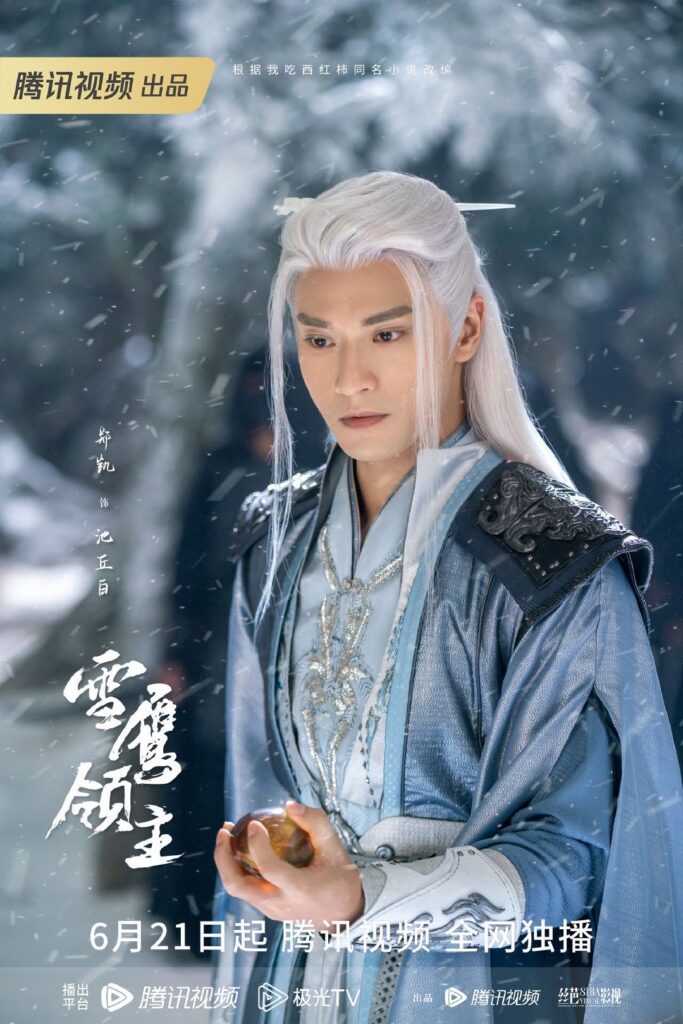 Chi Qiu Bai was the head of Changfeng Academy. He was a very kind person who was able to distinguish right from wrong. He did not afraid to sacrifice himself for the greater good. Chi Qiu Bai's lover was Bu Xiao Xi, one of the twin sisters in Fog City.
Situ Hong
Situ Hong (played by Chen Xun) was a member of the Si family. They were punished to guard the Demon Well in Nanqing City because of their negligence. Back then, Situ Hong and Si Borong, his younger brother, were tasked to guard the Demon Well. Si Borong irresponsibly took the guards to drink because he was boring. Coincidentally, that day the Demon Clan decided to attack the Dragon Well.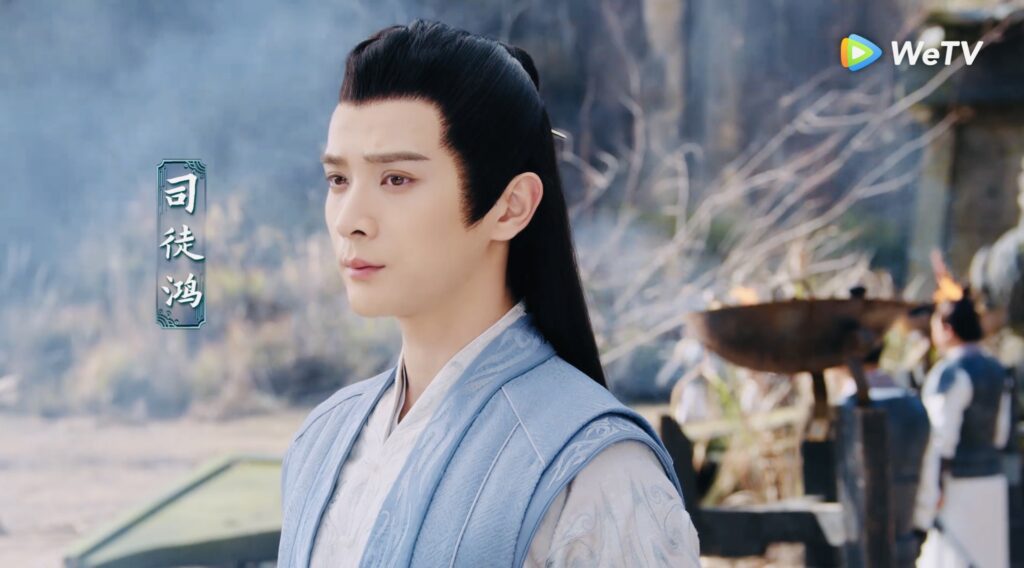 Situ Hong and Si family guards were almost defeated if Situ Hong's aunt did not come to help. Even though the Si family won, some Abyss Demons could sneak into the Empire. The Si family was punished to guard the well forever. Situ Hong and his brother were sent to Changfeng Academy to be Chi Qiu Bai's disciples. Before they go, Aunt Si told Situ Hong, that only being a strong person, he could avoid being bullied by others. Situ Hong took her words seriously.
Situ Hong used to be bullied when he was young. And when he joined the Si family he was repressed and burdened by his aunt's demands. Situ Hong had a sense of insecurity inside him and always need validation from others. That was why he always wanted to be regarded as the most talented disciple in Changfeng Academy. When it become his obsession, Situ Hong was easily led astray by others.
Kong You Yue
As the daughter of a weapon merchant, Kong You Yue (played by Lu Ting Yu) had an innate talent for business. Her memory was exceptional and she could do mental arithmetic. Compared to her brother, she was more suitable to manage her family business.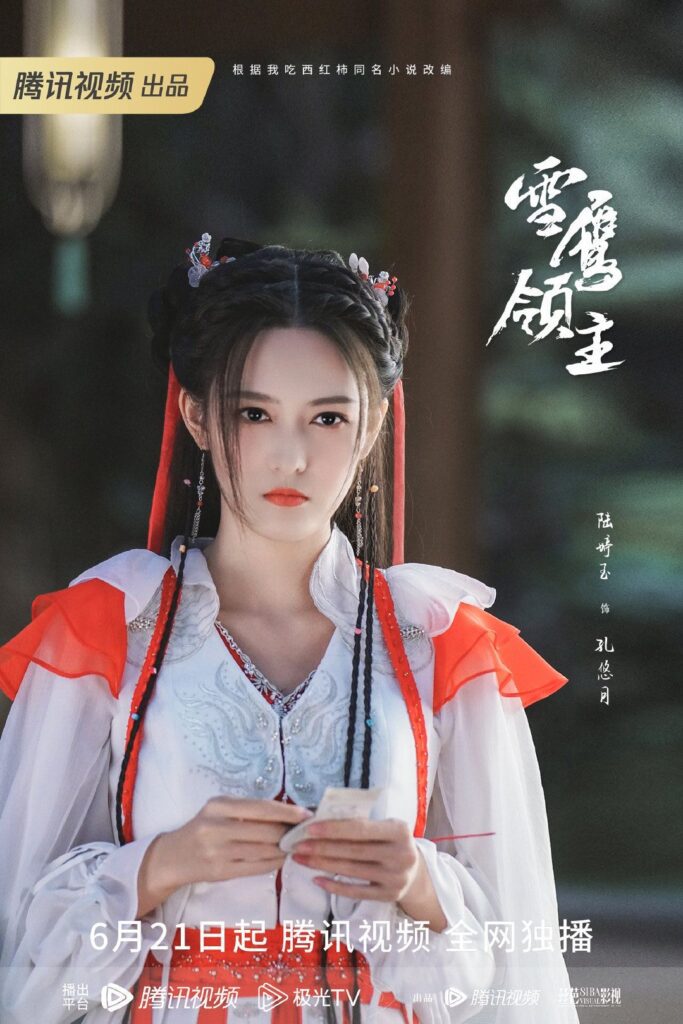 Kong You Yue meet Dongbo Xue Ying for the first time when her entourage was attacked by a group of bandits. Dongbo Xue Ying's heroic appearance as well as his handsome countenance made her fall in love in an instant. Kong You Yue learned from her father that their parents used to have the intention to make them a couple.
But when Dongbo Xue Ying asked for help to save his mother, Kong Hai was not willing to lend a hand. Kong You Yue had a righteous mind, so she feel that what her father did to Dongbo Xue Ying was shameful.
Kong You Yue learned to accept that Dongbo Xue Ying did not love her when she followed him to Changfeng Academy. She learned that in terms of martial arts and intelligence, she could not be compared to Yu Jing Qiu.
Although Kong You Yue came from a wealthy family, she was not a spoiled princess and was willing to go through hardships. When she was in Changfeng Academy, it was revealed that she was good at cooking. A perfect match for Pu Yang Bo who loves to eat.
The Conclusion
Snow Eagle Lord was the latest Wuxia drama that I watched and it did not seem to be the last since I began to enjoy this genre. I had a good impression of this drama, mostly because of the fighting scenes and the amazing act from the casts. The story itself runs at a very fast pace. You should be on guard and concentrate, or else you would miss some important part of the drama.
I might want to rewatch it again so I could see the whole story from a different angle. Yet, I had the urge to Google the donghua version. I thought it would be more satisfying rather than the drama, although I might not find Xu Kai's handsomeness there.😝
So, if you like this kind of genre, please make sure to put Snow Eagle Lord drama on your watch list. Don't forget to tell me your impression of this drama in the comment box below. I'll see you in another post of the drama review. Ciao!