Title: The Ingenious One
Also Known As: 云襄传, The Gate of Renewal , Yun Xiang Zhuan , Yunxiang Biography , Qiān mén zhī mén
Director: Patrick Yau
Casts: Chen Xiao, Mo Xiao Tong, Tang Xiao Tian, Xu Ling Yue, Liu Guan Lin
Screenwriter: Jiang Da Qiao, Liang Zhen Hua
Genres: Wuxia, Romance, Drama
Country: China
Type: Drama
Episodes: 36
Year: May 2023
Original Network: iQiyi, Tencent Video
Where to Watch: iQiyi, Viki
Adapted from the novel "Qianmen the Secret Manual" by Fang Bai Yu.
Hello dear readers… This is the new post of The Ingenious One drama review. The Ingenious One had been on my watchlist for some time, it is one of the new Chinese dramas premier in May 2023. The title was enticing and the poster reminded me of The Side Story of Fox Volant drama. Probably, many wuxia dramas prefer to have this kind of poster…🤷‍♀️
Anyway, I enjoyed my time writing this post and hoped that it would help you with some insight into this good but serious drama. Happy reading!
The Ingenious One Drama Synopsis
The legend said that there was a secret clan of reclusive people in the world. The Qianmen (Qian Clan) consisted of smart and intelligent people who could do extraordinary things such as stabilizing the country to protect the people. Yet, their impressive track record eventually enraged the Emperor because they disturb social order. The Qianmen was split into two sects.
The first one was Lingyuan Sect. The disciple of Lingyuan had incredible talent in martial arts and they vowed to go against the imperial court. While the second one was Yuntai Sect. The disciple of Yuntai became merchants and stayed away from the political world. However, for more than a century, the two sects have been competing with each other.
Yun Xiang was born with the name Luo Wen Jia. He was just a young boy when his family village was raided by the soldiers on the pretext of investigating the pirate. Many people died that night, to be precise 313 people, except him. Wen Cong, an official, and Yuntai sect disciple, found Luo Wen Jia crying over his dead father and saved him. He took Luo Wen Jia to Yuntai Mountain.
Thus the little boy stayed there and learned as a Yuntai disciple, Wen Cong changed his name and called him Yun Xiang.
Fast forward 15 years later, Yun Xiang left the mountain to settle his personal business. He disregarded the Yuntai principle to care for the world and help people because he had to avenge his massacred family. Along the way, Yun Xiang meet many people but made friends with few.
Shu Ya Nan, the beautiful and mysterious orphaned girl; Jin Shiliang or Jin Biao, the martial art ace swordsman; and Su Ming Yu, a young master from a prominent business family who hid his skill under the weak appearance and naïve mind.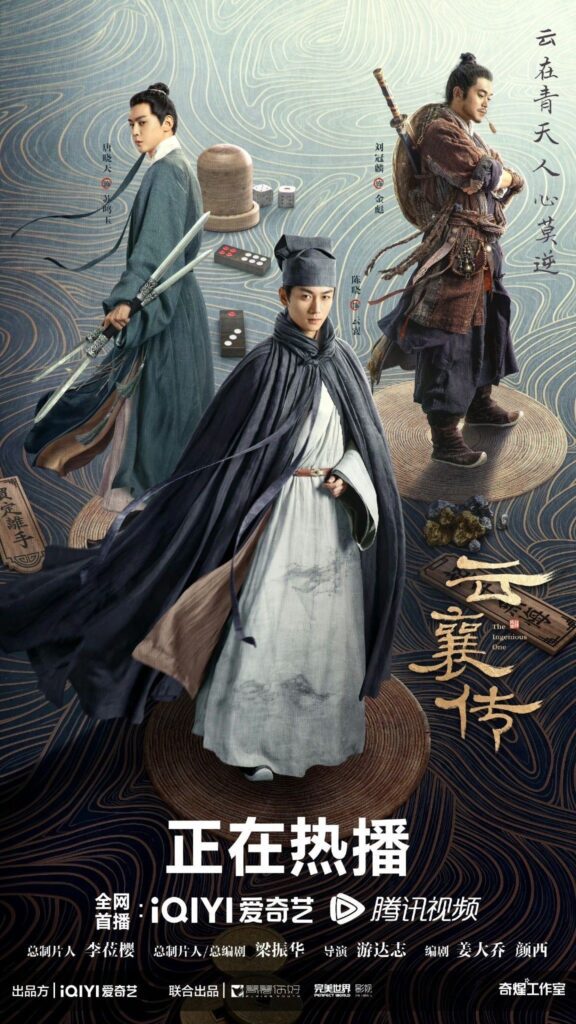 Yun Xiang's problem was not only his revenge. Inwardly, Yun Xiang had to face his feelings. As a Yuntai sect disciple, Yun Xiang must discard all worldly feelings inside him. Yet, he could not let go of love and hatred inside. He wanted to avenge his family and at the same time he wanted to love the girl that captured his heart.
Yun Xiang and his friend went through thick and thin to solve many problems along the way. Quietly, they tried to probe and unveil each other's secrets to determine whether they were friends or foes.
After a twist and turn, Yun Xiang and his friends must face a bigger secret that was waiting for them. Would they succeed in avenging their loved ones or would they surrender in the hand of the evil?
The Ingenious One Drama Review
Dear readers, be prepared to be amazed and thrilled by the ancient business world in this drama. The story rolled at a slow pace yet it has its own charm. In the end, you would never realize that you have spent hours and hours immersed in Yun Xiang's journey.
To be honest, I was a bit bored when I watched the first episode. Wuxia drama rarely becomes my choice. But this drama's promotion made me interested, I put this on my watchlist. So a few days ago I started my journey with Yun Xiang. Because of my lack of attention, I watched the first episode for 2 or 3 times.
Because when I realized that I did not understand the story, I started it from the beginning, then I got lost again in the middle, and I should go back again. What an arduous job to finish the first episode. But then in the second episode, I managed to gather all of my attention. Thus I got bewitched by the next episode and another one, and another one, all the way until the sixth episode.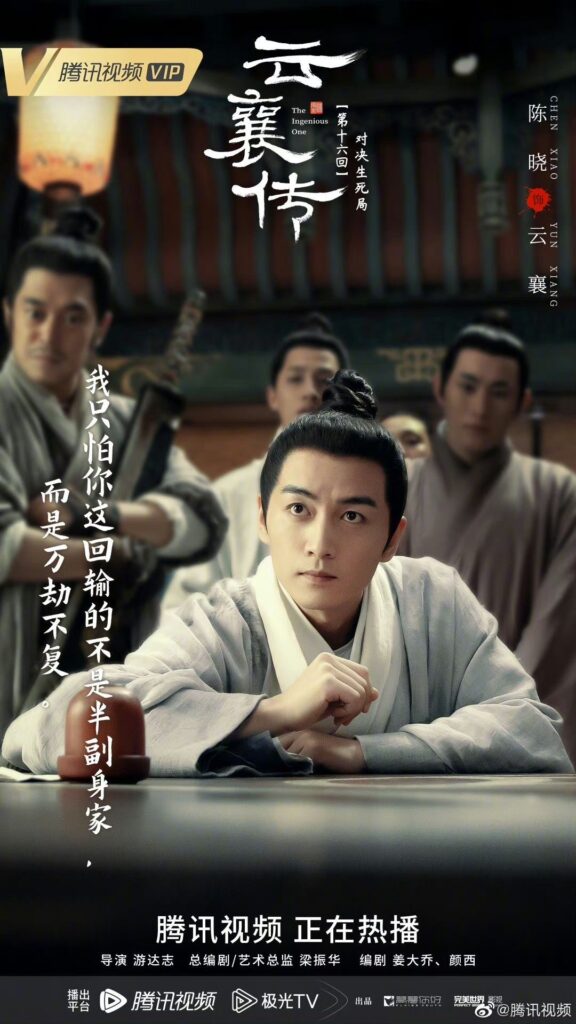 This drama offered you a complicated story, amazing visuals, excellent acting, and witty dialogue. However, the pace was still slow-paced. You might want to stop in the middle of the drama. But if you persist, you would find that the story was addictive. The scenario was written by Liang Zhen Hua and Jiang Da Qiao. This drama was the fourth drama in which they collaborated, after Yang Mi's Storm Eye, Hero's Dream, and Dilireba's Hot Girl.
Meanwhile, the director of The Ingenuous One was Patrick Yau. He was the one who directed Mirror: A Tale of Twin Cities and Secret of Three Kingdoms. I really like his style of directing in this drama. He could bring out the very best of his actors. To be able to transform a heavy novel story into an enjoyable drama, Patrick Yau surely was amazing. 👍
Another thing that made this drama praiseworthy was the acting of all casts. Just in case, if you read the casts, it was quite a long list. Many names were considered veteran actors with impressive filmography. Therefore, you could enjoy the smooth-flowing act of these masters. With just a small movement of gesture or micro expression, you could feel the emotions conveyed.
Chen Xiao who played Yun Xiang used to act in 2022's A Dream of Splendor drama as Gu Qian Fan. He also played in 2023's Miles To Go. Together with the beautiful Rachel Momo and Mao Xiao Tong, they shared good chemistry in this drama.
Yun Xiang and Shu Ya Nan could exchange loving gaze and in a flash, they resumed the serious and business-like expression. In their expressions, we immediately could tell that both of them hid many secrets from each other (and us too…😆). If you were curious about Mao Xiao Tong, she used to Act as Song Jia Ming in Delicious Destiny, Princess Wei Yong, and Love O2O.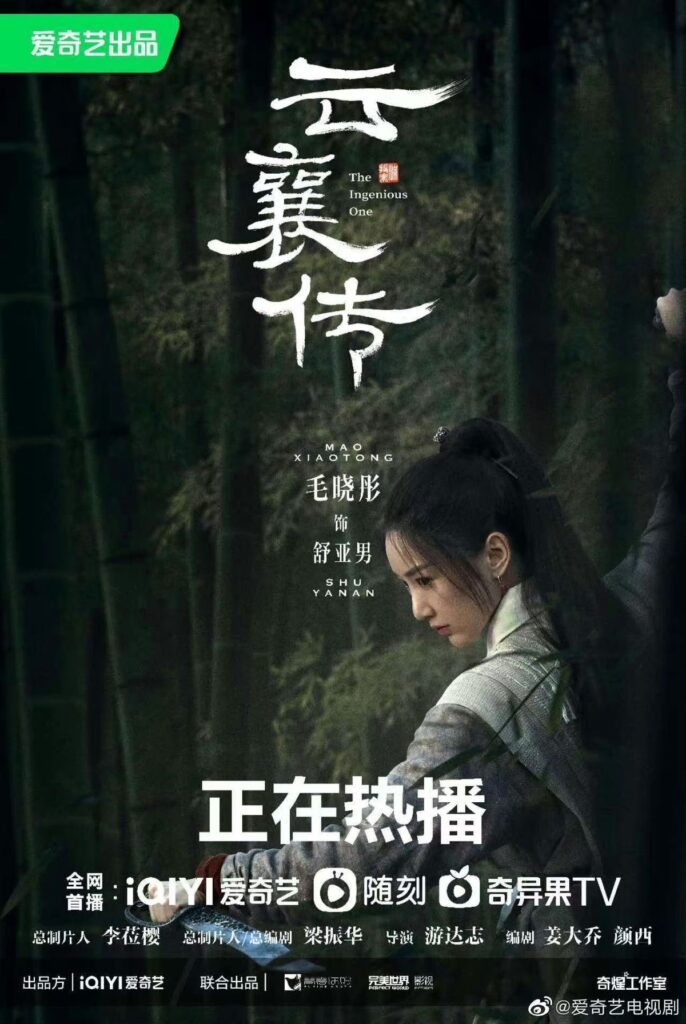 I thought Tang Xiao Tian's act as Su Ming Yu was a bit stiff compared to when he acted as Ou Yan Xing in The Sword and the Brocade. But then Tang Xiao Tian showed his acting skill when Su Ming Yu revealed his trauma of blood and killing. His chemistry with Xu Ling Yue made my heart melt because their love story was too heart-wrenching. This is my first time watching Xu Ling Yue's acting. Even though her acting was a bit overshadowed by the other actors, I felt that she has her own light.
Acted as Su Ming Yu's sister, Su Huai Rou, was Qin Lan who played Su Fei in The Magical Woman drama. I was amazed because Qin Lan in a costume period was totally different from the modern Qin Lan in The Magical Woman. I almost did not recognize her in the costume.
My favorite actor was Liu Guan Lin. After he acted as Yin An, the 3rd prince in New Life Begins, I was interested in his acting. I have watched other dramas of his, such as Echo, Reset, Choice Husband, and My Uncanny Destiny, and I love them. He was able to perform flawlessly in every character.
Peng Bo, who played Mo Bu Fan was also another veteran actor. He used to act as Li Yuan in Love Between Fairy and Devil, You Are My Glory, the Long Ballad, and my favorite drama, The Rebel Princess as one of Xiao Qi's subordinates. And to be honest, I feel like his chemistry with Chen Xiao was better than Chen Xiao and Mao Xiao Tong. I really enjoyed their scene. Whether when they were bantering, scheming, or teasing each other.
And don't forget Wang Zi Rui who acted as Liu Gong Quan, the Commanding Officer of Beidu Department of Imperial Security. I'm starting to pay attention to Wang Zi Rui after he acted as Lou Ben, Lou Yao's brother in Love Like a Galaxy, and Tao Si Wei in Romance of a Twin Flower. He was quite busy in 2023 with four new dramas in a row.
Every time I watch a drama and find sooooo many familiar faces, it reminded me that I've been swimming in the world of Chinese drama for quite some time. Now I rarely watch another Asian drama, because this dramaland was enough to quench my thirst.
Another thing that made this drama special, was the episode title. It was simple and gave you the overall situation of every episode. And due to The Ingenious One's complicated story, it helped me to understand the story better. 😉
I was expecting a bit of comedy in this drama, but I had to admit that this drama was too serious. You might smile at some scenes, but I did not find myself laughing loudly during this 36-episode journey. The comedy was there, but this drama was definitely not a comedy genre.
The Cinematography
The Cinematography of The Ingenious One was impeccable. I really like when the camera only shot the eyes of the characters. You see, it was said that the eyes were the window of the soul. Yun Xiang was the master of deceit, a top-notch manipulator, and taking his eyes in close-up shoots emphasized the phrase.
We could instantly feel that behind his friendly face and amiable manners, he was cold-hearted and a master of duplicitous. And he was not the only one. When a character had something on their mind or try to deceive others, the director would take close-up shoots. So we, viewers, could guess the meaning behind their actions.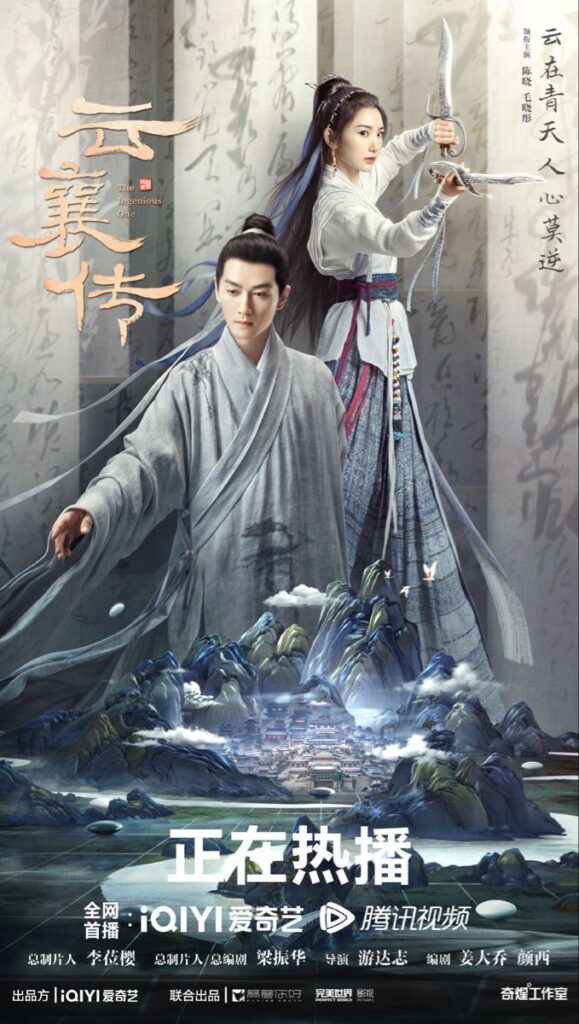 And it was not the only technique the director would do to emphasize a scene. He would also make use of the lighting. For instance, was the scene when Qian Rong came to threaten Yun Xiang in episode 11. The room was dark, but there was moonlight from the windows that illuminated the face of Qian Rong. Suddenly I feel like I'm watching an old mystery movie. I could not remember the title or the director. But probably it was Alfred Hitchcock's movie. Well, correct me if I'm wrong dear readers.
Anyhow… the visual of The Ingenious One was beyond my expectation. Every scene was shot aesthetically. I was pleased to watch the entire drama. And my favorite scene was when Yun Xiang recalled the time when he leaned his head on Shu Ya Nan's chest after their intimate moments.
The director used sepia as the color tone and added a blurred effect. It feels like you were diving into Yun Xiang's memory. You would see that in his mind, the focus was solely on Shu Ya Nan and him. The sepia color represents the warmth he felt in his heart when Yun Xiang remembered that day.
I did not have too many impressions of the costumes. After all, this was not an imperial drama. The Ingenious One was a drama about common people so our main characters dressed casually. However, I do pay attention to the accessories. Shu Ya Nan wore a different type of earring in her ears. I like it because, in my eyes, it symbolized the unrestrained life she had.
The set of this drama was beautiful! I was in love with Liansheng House. The intricate details on the buildings and rooms were pretty. The building uses many green and red colors. Added with wood and it made an exquisite combination. A truly eye candy. But the Liansheng building was not the only one. Although the other sets were not as eye-catching as the Liansheng house, the details showed that everything was arranged thoughtfully.
The Story
The women in The Ingenious One were free to do what they wanted to do. There was no segregation between men and women. Usually, women's roles in the historical dramas were primarily as daughters or sisters. They would turn into wives and daughter-in-laws, and ultimately become mothers and mother-in-laws. But in this drama, women could be a hero, a strategist, a chairman, a sect leader, and many more. It was such a delight to see these roles.
The Ingenious One was fueled by revenge and hatred. The two things unexpectedly connect different people. At first, Yun Xiang was the only one. Then, driven by revenge, he went to seek justice for the people of the Luo family. In Hongyung gambling house where he started to investigate the missing Wen Cao, Yun Xiang saw Shu Ya Nan.
The cold-hearted and indifferent Yun Xiang was immediately smitten by her. They met again when Yun Xiang sneaked into Yan Luo Wang's room to find a fake account. After that, they striked a deal to work together. Later the two of them met with Jin Biao or Jin Shi Liang.
Yun Xiang decided to hire him as a bodyguard. Then Su Ming Yu, the young master of the Su family, joined the team. It was Yun Xiang who pulled some tricks on him, so Su Ming Yu would accept Yun Xiang, Shu Ya Nan, and Jin Biao and let him join his entourage to Nandu. All main leads were completed when Ke Meng Lan joined them. She was a gambling house manager and Su Ming Yu's love interest.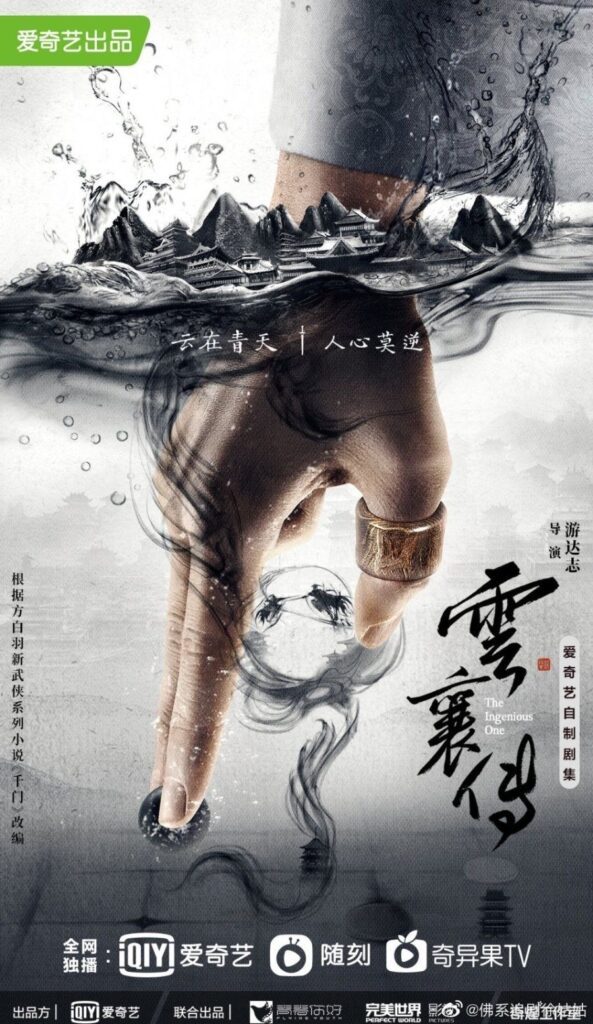 Yun Xiang and his friends tried to find the truth behind the massacre of Luo's family village. Yet, they met many problems such as market monopoly, human trafficking, money laundering, corrupted officials, and drugs (although it was said as a poison that controled people's mind). Those problems seemed familiar since we could find them in any part of this world nowadays.
The Yuntai sect had its own principle. Every disciple of Yuntai must care about the world and help people. They should be able to dispel their mortal heart. They should stay away from the most passionate things in the world: Love and Hate.
Wen Cong reminded Yun Xiang about worldly desires. He responded that if Yuntai acts for the sake of the people, society, and the world. They should have a mortal heart to understand human desire. And so far, it was logical for me. You could not understand someone if you did not try to stand in their shoes. There would be no empathy nor understanding if you did not have a heart.
Yuntai and Lingyuan themselves were mysterious sects. The disciple of Yuntai never saw their master's face. They worked on their cultivation for less than 5 years. However, special people would stay longer. And Yun Xiang had been staying there for 15 years. The Yuntai people were never involved in the court. They were adept businessmen and build the world through business.
For example, Mo Bu Fan. He was Yun Xiang's senior disciple who left the mountain before him. In ten years, he was able to build a successful Guanghui Bank that control the money in Nandu. He was aiming for profit. When Yun Xiang came to ask for his help, Mo Bu Fan would consider the gain and loss if he helped him. Even though Mo Bu Fan admired his junior, he never forget to consider many things when he was dealing with him.
The Lingyuan sect's disciples were adept in martial arts and poisons. They would openly oppose the court officials while Yuntai's people were forbidden to do that. Lingyuan people could be recognized by their actions or poisons. For example, a Lingyuan disciple would bite poison to death when they encountered a dire situation. So, people with knowledge and keen observation could distinguish the difference between the two sects.
The truth that Yun Xiang tried hard to find was hidden very deep and he had to dig into it. Whenever Yun Xiang thought that he had found the answer, it turned out he had to dig deeper. And the deeper a secret was hidden, the truth became uglier. And it frustrated him.
Although Yun Xiang did not show it, he was bleeding inside. Yun Xiang kept thinking about what Wen Cong told him when he bid goodbye in Yuntai Mountain. Wen Cong told him that when he decided to get revenge, he must ask himself whether he was willing to sacrifice what was important for petty gain.
Usually, when you watch a mystery drama/movie, you would have some hunch about who was the real villain and how the ending would be. But The Ingenious One was beyond my imagination. It was like a snowball that rolled around the cliff. It gets bigger and the direction could change anytime.
I thought Qi Tian Feng was the ultimate villain, but he was just a small piece of a pawn in a very large scheming plan. And the mystery of the Luo Village massacre would turn into a bigger scheme that involved the imperial family.
There were 3 couples romance in this drama. The first couple was Yun Xian and Shu Ya Nan, the second was Ke Meng Lan and Su Ming Yu, and the last was Jin Biao and Tian Hui. Yun Xiang and Shu Ya Nan's romance was slow but natural. Su Ming Yu and Ke Meng Lan's relationship were full of determination. Meanwhile, Jian Biao and Tian Hui's relationship were awkward but sweet.
Yun Xiang and Shu Ya Nan truly loved each other, but there were too many issues between them. Both of them were good strategists and they were well aware of each other's identity. Therefore, it was hard to erase the doubts. Yet, they managed to be together and spent a good time with each other, before they separated because Shu Ya Nan's real identity was exposed.
The Ingenious One ended with a happy ending. There were many ups and downs and major plot twists that Yun Xiang and his friends had to go through. They had to bid goodbye to their closest kin and faced the death of their loved ones. However, the people who left will eventually return in the end.
The Characters
Yun Xiang or Luo Wen Jia
As a Yuntai disciple, Yun Xiang (played by Chen Xiao) was an anomaly. He should have dispelled his mortal hearts a long time ago. Yet, for years, he carried a grudge and hatred inside his heart. When he finally left Yuntai Mountain, Yun Xiang was prepared to find the truth and avenged his family.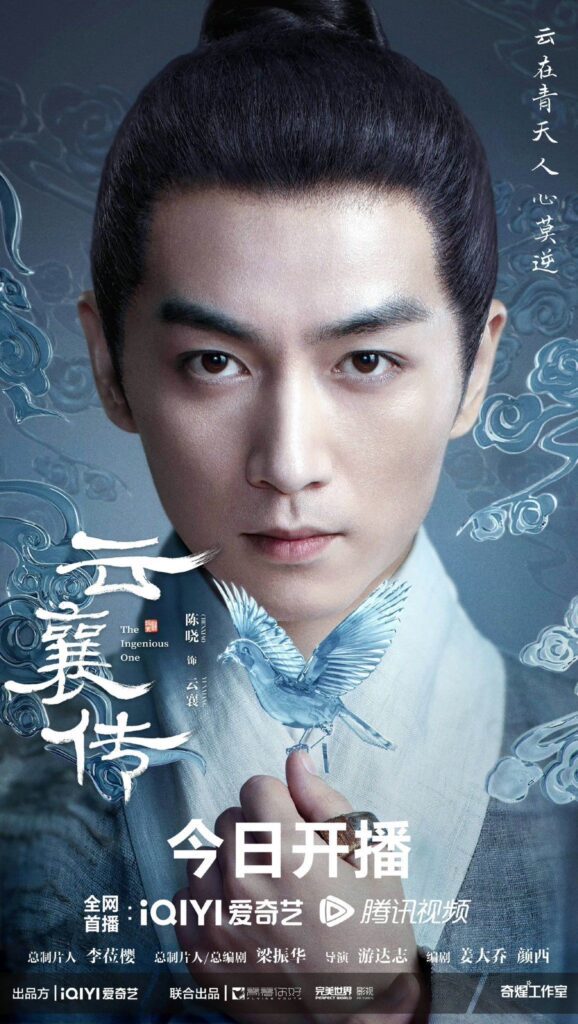 Yun Xiang wanted to know why the soldiers massacred the entire village and who was the mastermind. He kept those questions in mind and it had become an obsession that he could not let go of. Even though Wen Cong had reminded him about it.
Yun Xiang's real name was Luo Wen Jia. For 15 years he hid his identity. The only thing left by his father was a ring with Luo character written on it. Yun Xiang was extremely intelligent. He was rational and logical. Cold-hearted and indifferent. He was a great manipulator and he was focused on his mission. As a Yuntai disciple, he also held the principle that as long as the ending was good, the process was secondary.
He did not hesitate to make use of people around him, because to use everything and everyone as their resources was the true Yuntai's way. Yet, after he met Shu Ya Nan and Jin Biao his cold heart started to melt. He was touched by Jin Biao's sincerity and he fell in love with Shu Ya Nan. And she was the only person who could scold him and make him ponder his actions.
Shu Ya Nan
The martial arts prodigy, Shu Ya Nan (played by Mao Xiao Tong), was a mystery that Yun Xiang must crack. He could not decide whether she was a friend or foe, but Yun Xiang already fell in love with her. They met at the gambling house. When Shu Ya Nan followed Yun Xiang to Yang Luo Wang's study, she could let him get caught. But she saved him instead. I guess, at that time Shu Ya Nan already had some feelings for him.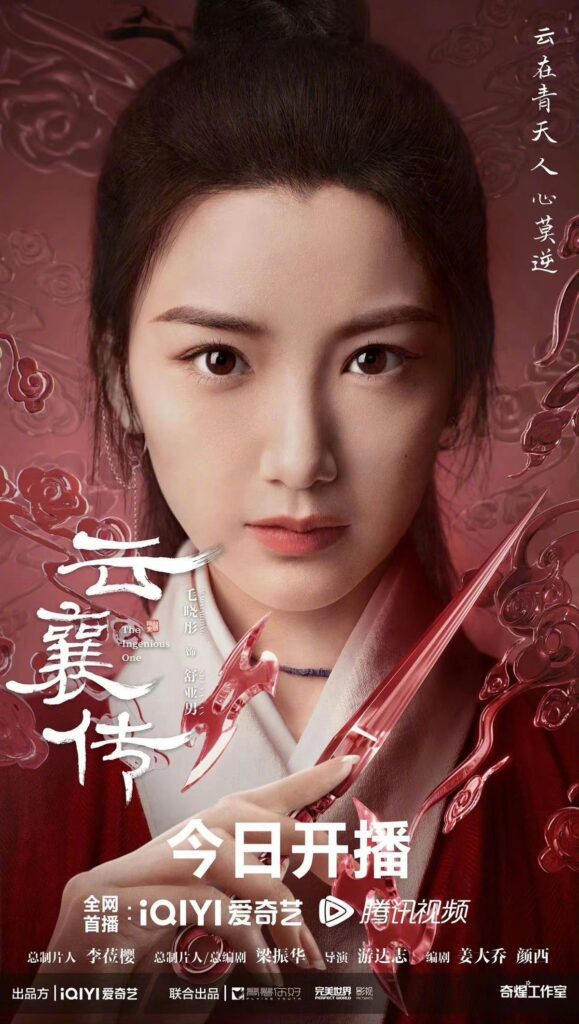 Shu Ya Nan agreed to help Yun Xiang after she realized that Yun Xiang's identity must be special. They walked together side by side, but their heart and mind were wary of each other and at the same time, loved each other. When Shu Ya Nan disclosed her identity as a member of the Lingyuan sect, she could guess that Yun Xiang was a disciple of the Yuntai sect.
Shu Ya Nan was adept in strategy, her mind was sharp, and she was a keen observer. Only second to Yun Xiang. Shu Ya Nan hid her identity from her friend. They saw her as a wanderer, Wen Cong's goddaughter, and the last member of the Shu family. However, in reality, Shu Ya Nan was the eldest young lady of the Kou family. Her mother, Kou Yan, was the Lingyuan Sect master. She came to Yun Xiang with the secret intention, to use Yun Xiang as a pawn for her mission.
Shu Ya Nan realized that her relationship with Yun Xiang would go nowhere since Lingyuan and Yuntai were practically enemies.
Jin Biao or Jin Shi Liang (Jin Ten Taels of Gold)
Jin Biao (played by Liu Guan Lin) was famous for his unbeatable swordsmanship. He lived as a hitman, a killer who killed for money. To be precise, he asked for payment of ten taels of gold for every person he killed. Although he killed for money, Jin Biao never kill women and children. He also refused to fight women.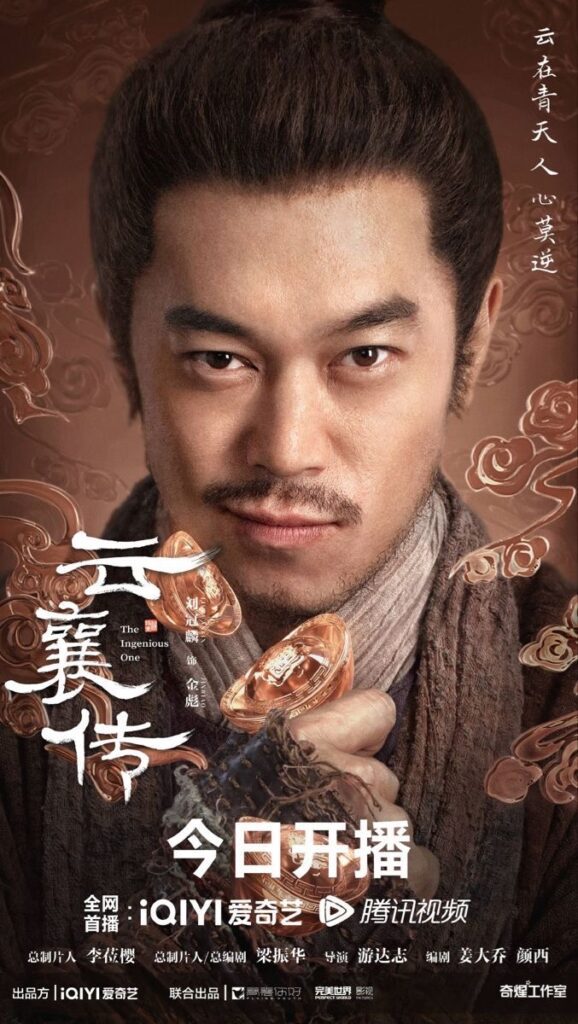 Behind his disheveled appearance and rude attitude, Jin Biao was a very kind and gentle person. Every month, Jin Biao would donate money to Jieshan Hall, a place where orphaned children stay. Whenever he came to Nandu, he would spare some time to visit Jieshan Hall. His love for the children was real and sincere, however, Jin Biao had a problem with his judgment.
He did not realize that the couple who ran the orphanage had evil hearts. Well, he did not realize it because he was illiterate and could not read the ledger. If he could, he would realize that something was amiss a long time ago.
Although he made a grave mistake by trusting the Jia couple in Jieshan Hall, Jian Biao still bragged that he had a good ability to judge others 😅. Therefore although Yun Xiang always took advantage of him, Jin Biao believed that Yun Xiang was a good man. And Jin Biao was a person who was loyal to his friend. He would do anything to protect them although it would cost him his life.
Jin Biao fell in love with Ke Meng Lan's maidservant, Tian Hui. He always casted a glance and then blushed whenever she appeared.😁
Su Ming Yu
As the only young master of the Su family, Su Ming Yu (played by Tang Xiao Tian) realized that he eventually would take over the chairman position of the Su family silk business. However, he was never attracted in doing business. His ambition lied somewhere else.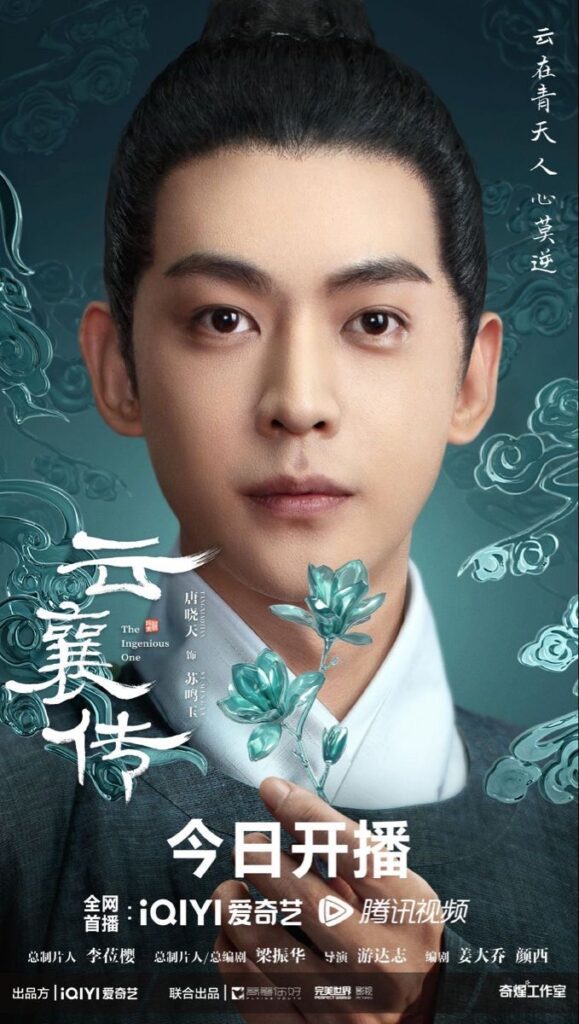 He wanted to be a martial arts master and to travel around the world. Su Ming Yu was capable of distinguishing a person's martial art style. He could see the strength and the flaw of the said style. Even Jin Biao was impressed by his ability, including his talent in swordsmanship.
However, Su Ming Yu had PSTD. When he had to protect the valuable raw silk on an expedition, Su Ming Yu encountered many bandits. Su Ming Yu lost his mind after he killed a bandit. The shock turned into a killer autopilot. Jin Biao had to strike his neck after Su Ming Yu tried to attack Shu Ya Nan. However, slowly Su Ming Yu fixed his mentality, especially after he realized that he had to protect Ke Meng Lan, his love interest.
Su Ming Yu's sister, Su Huai Rou, was the chairman and the head of the Su family. She was weak because her body was not in good condition. However, her mind was clear as day. She ran her business and had become the leader of Nandu's Chamber of Commerce.
Ke Meng Lan
Ke Meng Lan (played by Xu Ling Xue) was the owner of Liansheng House, a gambling house in Nandu. She was a gentle and beautiful woman. But don't underestimate her, Ke Meng Lan was a smart woman who could run a business under the pressure of the lecherous Tang Xiao.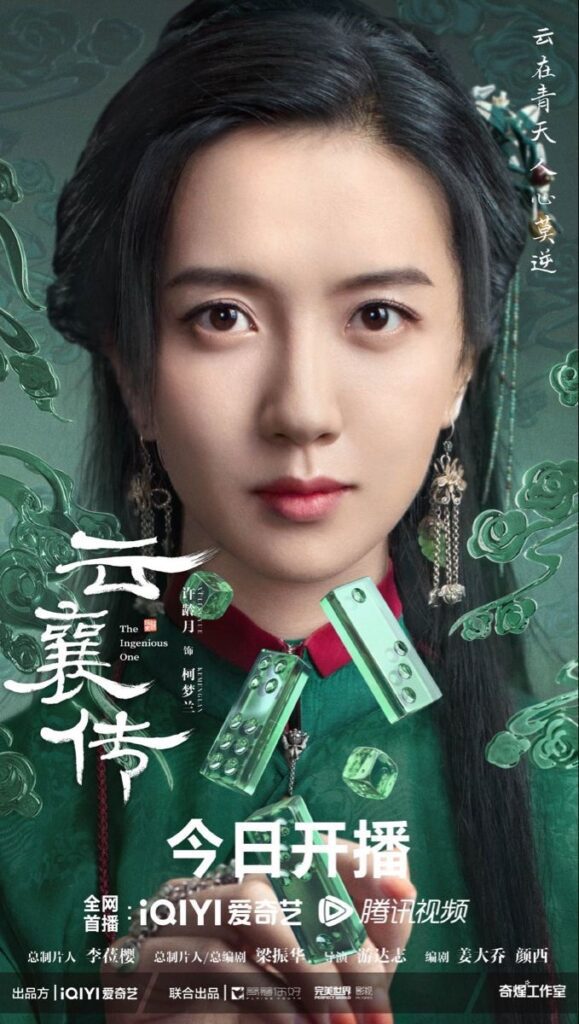 Ke Meng Lan loved Su Ming Yu but she was feeling inferior because she was born as a sinner's daughter and her status was a slave. She tried many times to push Su Ming Yu away, but he was persistent and adamant to protect her at all costs. Ke Meng Lan was touched by his sincerity and started to open her heart after Su Ming Yu and Yun Xiang took over Liansheng House.
The Conclusion
The Ingenious One was a wuxia drama with a complicated story. It had many ups and downs, twists and turns, including plot twists. When you think a problem was solved, it turned out the almost-finished problem was linked to another big problem. And it happened in a full 36 episodes. You should be very meticulous and attentive when you watch this drama.
However, for those who like a heavy and complicated story, The Ingenious One would offer you a lot of things. The story, the visuals, the impeccable acting, all you need was free time to slowly watch and absorb the story of this amazing drama. If you feel bored in the beginning, do not give up.. because good things was not easily obtained.
If you want to read this drama ending, you can read it on The Ingenious One ending explained post.
Happy watching!