Title: Nothing But You
Also knowns as: 爱情而已, Just Love , Nothing But Love
Director: Chen Chang
Casts: Leo Wu (Wu Lei), Zhou Yu Tong
Screenwriter: Zhang Ying Ji
Genres: Romance, Drama, Sports
Country: China
Type: Drama
Episodes: 38
Year: 2023
Original Network: CCTV, iQiyi, JSTV, Tencent Video
Where to Watch: WeTV, Viki, iQiyi, Tencent Video
Dear readers… Nothing But You was a drama that had been on my watchlist for a long time. Why? Of course, because it was Leo Wu's recent drama and one of a Popular Chinese Dramas Premiering in 2023. As a good fan, I should never miss his work of art.
A quick note, I also wrote Nothing But You ending explained, you can read it if you want to know the ending detail of this drama.
So, without further ado. Let's start! Happy reading!
Nothing But You Synopsis
Song San Chuan was a 22 years old badminton athlete who was stuck in his career. His years of trauma led his career to the brink of death. His talent was wasted and he stayed at the bottom list of his badminton club. Song San Chuan got bullied by his teammates and his coach lost hope in him. However, Song San Chuan could feel his life changed after he met Liang You'an.
Liang You'an was an Executive Assistant at Young Space, a sports goods company. She was ten years older than him and she led a lonely life. They met in a marathon game where Song San Chuan was paid as a pacer and Ling You'an was the event coordinator. The meetings left a sweet trace in both minds, especially Song San Chuan.
Later, they meet again when Liang You'an was looking for an athlete to be a brand ambassador for her company. At that time, Song San Chuan has never been an option because of his terrible score record. But Liang You'an was interested in Song San Chuan. She saw something that people around him did not see: his talent.
None of them realized that their fateful meeting would change their world. Because of her choice, Liang You'an resigned from her job while Song San Chuan ended his badminton career. They started their new path together and tennis became a strong bond between them. Liang You'an became a tennis club manager and Song San Chuan became the first badminton athlete who changed track into a tennis athlete.
Although Liang You'an and Song San Chuan's age gap was ten years, they slowly learned that age was just a number. The quality within was the one that defines wisdom. Liang You'an helped Song San Chuan learn how to deal with his emotion and past trauma. While Song San Chuan helped Liang You'an with his unlimited support and filled up her lonely life.
One thing led to another. Their professional bond slowly turned into a romantic relationship. But could they stay professional when love was involved? Will they finally succeed in their life, career, and love?
Nothing But You Review
I'm not the sporty girl kind of person. The only sport that I was quite good at was swimming. However, back in my school years besides swimming, I've been into softball and tennis. I know how to swing a bat or racket. But if you asked me whether my swings were good enough, I must say: Nah! It was bad. But still, I felt happiness back then. It was true that if you were exposed to the sun, your vitamin D level would increase resulting in more endorphins and serotonin that release happiness.
Nothing But You has been on my wishlist for a very loooong time. This drama was sweet, but not the kind that was too sweet like Road Home. The fluffiness was enough since Leo Wu's character, Song San Chuan was an attentive lover who knew how to treat his girlfriend, Liang You'an. She was played by the cute Zhou Yu Tong. There was ten years of age-gap between Song San Chuan and Liang You'an. But it did not affect them and their bonding was strong.
The drama was good, and the main theme was good, but I feel something was lacking and I could not figure it out. When a drama made me binge-watch it for several consecutive days, it was addicting. But if I could manage to watch several dramas in a day, it means they were good to watch, but could not attract my full attention. And Nothing But You could be regarded as the latter since I was able to watch it with The Romance of Twin Flowers. I'll write about this drama later…😉
But if you asked me, whether this drama was good, I would say it is good. But until I write this review, I still could not find the answer to why I felt this way. Can somebody help me with that?🤷‍♀️
Anyway, there was nothing wrong with the acting. Leo Wu and Zhou Yu Tong did a very good job. Especially Leo Wu, did he build his upper arm? because it caught my attention immediately on the first episode. And on the entire episode when he wore sleeveless t-shirts. It was such eye candy for me…😁
Back to the acting. Leo Wu and Zhou Yu Tong's chemistry nailed it. They were soooo adorable together. Zhou Yu Tong was indeed older than Leo Wu by several years, but she was so cute, so I could not really feel the ten years age gap between their characters. But when Zhou Yu Tong started to talk seriously in her business attire, you could see that Liang You'an was a mature and capable person.
Compared to Leo Wu's character who seemed immature with his shorts and t-shirts. But you could never judge others based on their appearances. Due to his bitter relationship with his mother, Song San Chuan had some wisdom that matured him beyond his age.
In my opinion, the actors did a good job. However, I was a bit disappointed with Ma Fan Ding, who played Liang Tao, and Xia Hao Ran, who played, Jiang Jiao Jiao. Their acting was stiff and I could not feel any chemistry between them. 😣
But Ma Fan Ding and Xia Hao Ran's filmography was still short and their age was still young. So, we might have to wait for them to hone their acting skills later in the future.
The Cinematography
Nothing But You was pleasing to the eye. I really like the way they took the pictures. Do you know the familiar feeling that you feel when a drama/movie was close to reality? That was what I felt when I saw several sets in this drama. Especially the narrow alley where Song San Chuan and An Cong live in their small house. The director pays attention to small details in it.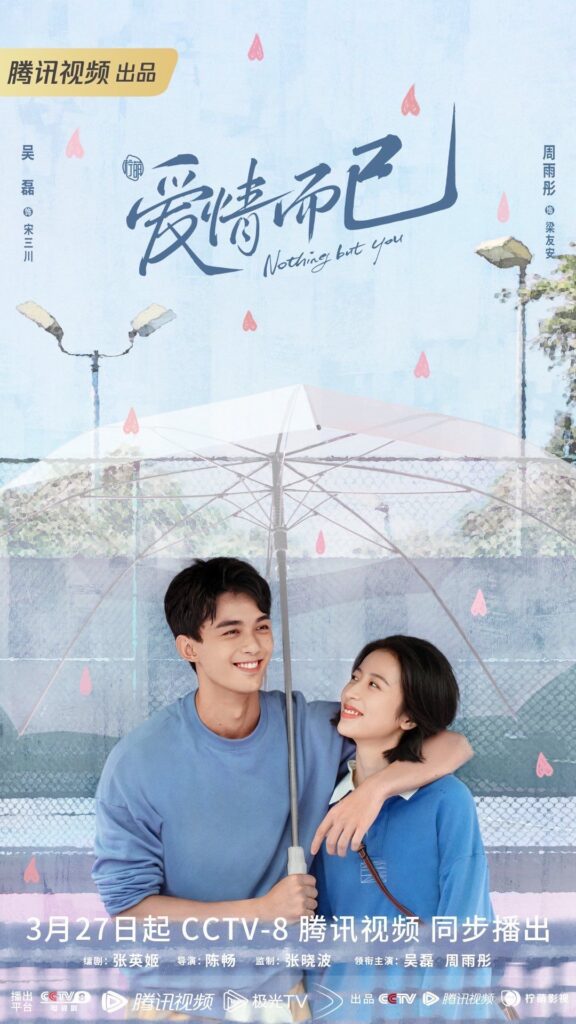 I remembered a scene in the early episode, of a pair of mother and daughter who walked out from a small place with luggage early in the morning. I kept wondering, why they brought so many things with them. But then in a later episode, An Cong said that many shops were closed in the alley because their business went down. I instantly remembered the scene. In real life, people did come and go because the wheel of life was turning.
And the car scene. It was good to see the crew record the driving scenes on the road. Unlike She and Her Perfect Husband's drama. Aarrggh… I like the drama but the driving scene was meh…😭
I have no complaints about the lighting and the shooting angles were good. Everything was good, including the sets. It was fully detailed but did not feel like a made-up set. And they had many outdoor sets. It was such a good thing that prevents you from boredom. The director and production crew were doing an amazing job. Two thumbs for them!
The Characters
Liang You'an
As a 32-year-old executive, Liang You'an (played by Zhou Yu Tong) was a very good and loyal employee. She was fast and concise. She is also available for 24 hours and 365 days a year. Her life only consisted of her work, work, and work. There was no time for social life much less a love life. Her only friends were Luo Nian and her daughter Luo Le. So, yes, her life was lonely.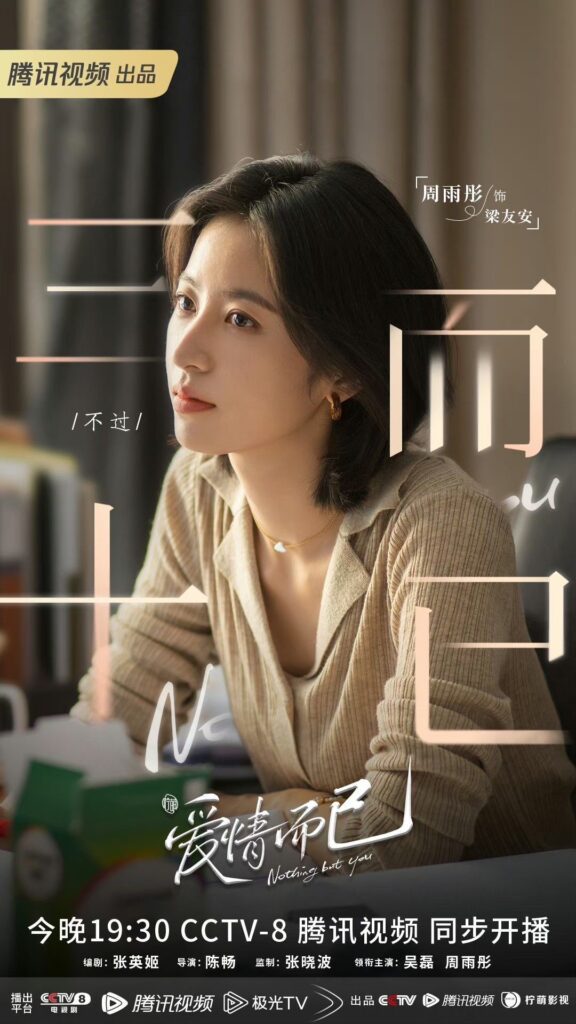 Her direct superior, Jiang Jie, was her mentor. Liang You'an had followed him since the first day he opened a marketing department. Since then Liang You'an had been working for 6 years in Young Space. However, Liang You'an felt that her career was stuck. Her boss never approved her transfer request because he needed her. So Liang You'an made a plan to leave the company. And this plan was made because she saw Song San Chuan.
Liang You'an was a smart person. She had a lot of ideas in her mind. She had the will and the determination. But she lacked opportunity. When Liang You'an finally got the resignation that she needed, she was quite shocked because it was not like she imagined before. Yet, when she was at her lowest point and got kicked out of the company by her boss, it was Song San Chuan who helped her and told her to keep her head up.
She got a knack for handling office business. She was efficient and fast. Liang You'an was also a good lobbyist and she had a talent for finding opportunities. She learned all the tricks from her ex-boss, Jiang Jie. They parted ways not in a good way. However, they seemed to have a strong bond as mentor and mentee. Jiang Jie was the person who shaped Liang You'an.
Liang You'an was very careful when it came to romantic relationships. All thanks to her mother who always told her that it was better to live alone, and never had a boyfriend, a husband, or kids. Luo Nian believed that she felt that way because Liang You'an had never meet anyone she liked very much.
But, Luo Nian also knew that Liang You'an always held back her feelings when she was attracted to the opposite sex. She was afraid of a breakup when the feelings deepened. But Song San Chuan made her change her mind. She was willing to take risks whether in her career or love because of him.
Song San Chuan
As a 22-year-old athlete, Song San Chuan (played by Leo Wu) should have been at the peak of his badminton career. However, his mother left some trauma that made his career stuck. Every time he was in a game and the score reached 18-18, he would drastically lose his focus and ended up loosing the game. That was why Song San Chua landed on the bottom list of his team.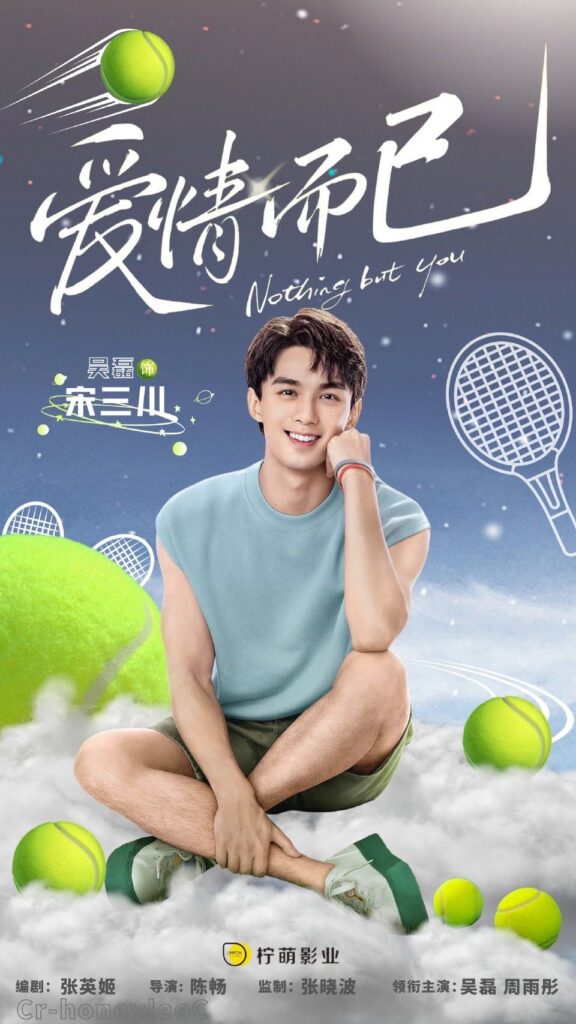 Song San Chuan's parents were badminton athletes. His mother, Tong Lu, used to have good skills. His father was Tong Lu's teammate. They did not get married, but then Tong Lu married An Cong, a stringer in their team. After Tong Lu gave birth to Song San Chuan, she retired from badminton. But she never forgets her passions and projected all her hopes and dreams on her son. She became a very strict coach for him. But when Tong Lu was diagnosed with cancer, she decided to leave her family.
Back then Song San Chuan was only 15 years old. He lived with An Cong and always waited for Tong Lu's return. An Cong told him that Tong Lu went abroad to be a coach. Song San Chuan believed him, but then he found his mother's letter and learned what happened to his mother back then.
Song San Chuan never felt that badminton was his dream or passion. He always wanted to play tennis, but his mother wanted him to be a badminton player. He knew very well about his shortcomings but Song San Chuan had no way out of it.
It was cute to see Song San Chuan who was very mature and understanding when he was with Liang You'an and his friends. But he turned stubborn and childish at home. Well, it happens in real life. We tend to show people the best version of our life because people might judge us. But in front of our parents, we dare to show our wildest version because deep down inside, we know they would not judge us.
Although Song San Chuan seldom called him father, An Cong had a special place in his heart. An Cong was the one who provided a home and had a deep influence on him. Song San Chuan became kind, attentive, understanding, and gentle because An Cong was that kind of person. An Cong was the anchor that he sought when nobody was around, including Liang You'an.
An Cong
An Cong (played by Tu Song Yan) was Song San Chuan's mother's husband who worked as a wig maker. An Cong was a very kind and gentle person. He never gets angry over Song San Chuan's emotional outbursts because he cared about him. An Cong treated Song San Chuan as his own son and never thought of him as a burden.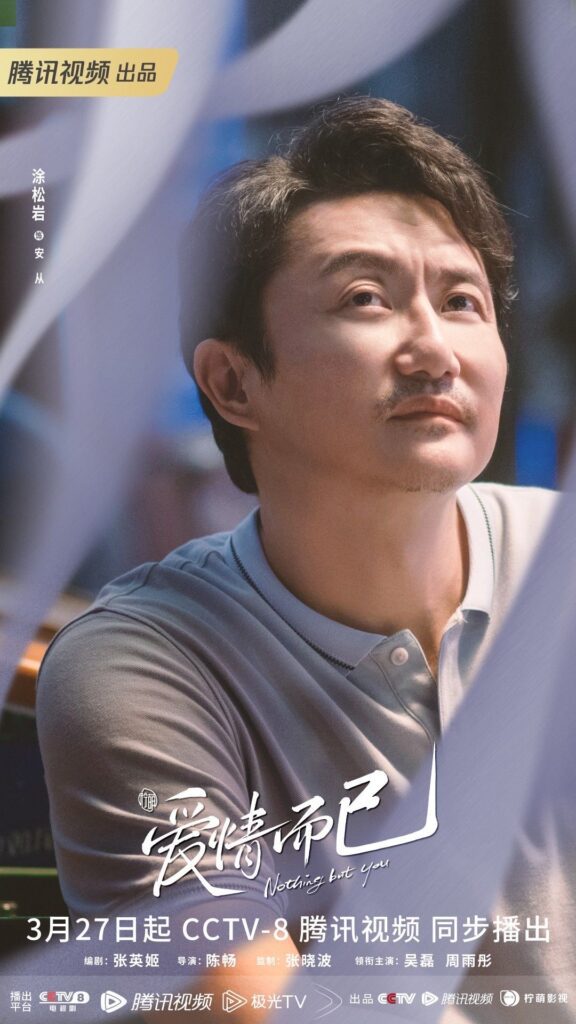 Meanwhile, Song San Chuan used to treat him coldly. And the reason was that Song San Chuan was still frustrated with his life and the only person to whom he could vent his emotion was An Cong. However, Song San Chuan started to change his point of view when he realized An Cong was really paying attention to his life. But he hid it well, so Song San Chuan did not think that An Cong understood him.
There was a time when Song San Chuan was arrested by hospital security because he was accused of stealing a patient's money. But in reality, he put the money instead of taking it. He was ready to get scolded, but Song San Chuan was stunned when he heard that An Cong understood and knew what he did.
Jiang Jie
Jiang Jie (played by Zhu Yong Teng) was Liang You'an ex-boss in Young Space. He is also Jiang Jiao Jiao's father and Chen Ke's husband. Jiang Jie worked as the Marketing Director of Young Space. He and Gao Li could be regarded as the Young Space president's hands. Jiang Jie and Gao Li always competed openly or secretly. However, both of them knew that none of them should win or lose. The purpose of their competition was to maintain a balanced environment. Something that the Young Space's President wanted from them.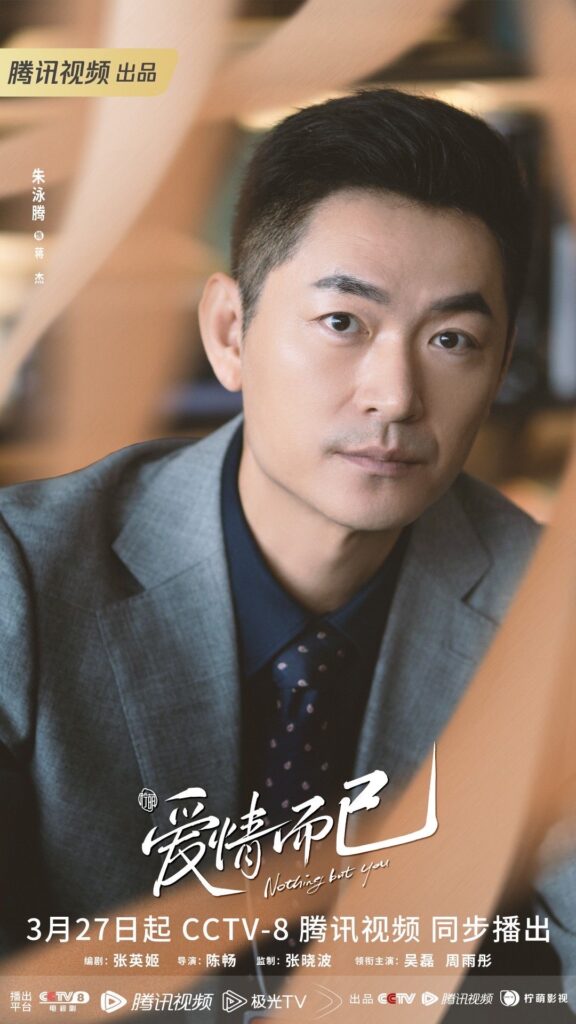 Jiang Jie always maintained a timid and conservative image, although, in reality, he was a very sly man. Jiang Jie regarded Liang You'an as his treasure. He refused to give her promotions because he wanted to keep her as his Executive Assistant.
Jiang Jie's family looked harmonious from the outside. Yet, his son never respected him and they always fought. His relationship with his wife, Chen Ke, was cold and their love slowly fades away. Jiang Jie was too busy with his job. He thought by providing his family with ample money for their life and accommodation was enough. In Jiang Jie's world, everyone revolves around him. He never regarded others as equal beings. Therefore, when they left him, he could not understand the reason.
The Story
The sports theme was quite interesting, although I did not know whether a badminton athlete could change into tennis in reality. Just like the coach said that badminton relied on wrist flexibility. But tennis needs a stiff wrist. The footwork is also different between the two sports. Yet Song San Chuan was able to master the profession in short months. Unbelievable isn't it?
Well, there's nothing a Cdrama writer could not write. And if you are a big fan of Cdrama like me, you'll learn how to accept it. Besides, they made a background story that Song San Chuan learnt how to play tennis for a few years. Adding to his talent and determination, I found it quite acceptable.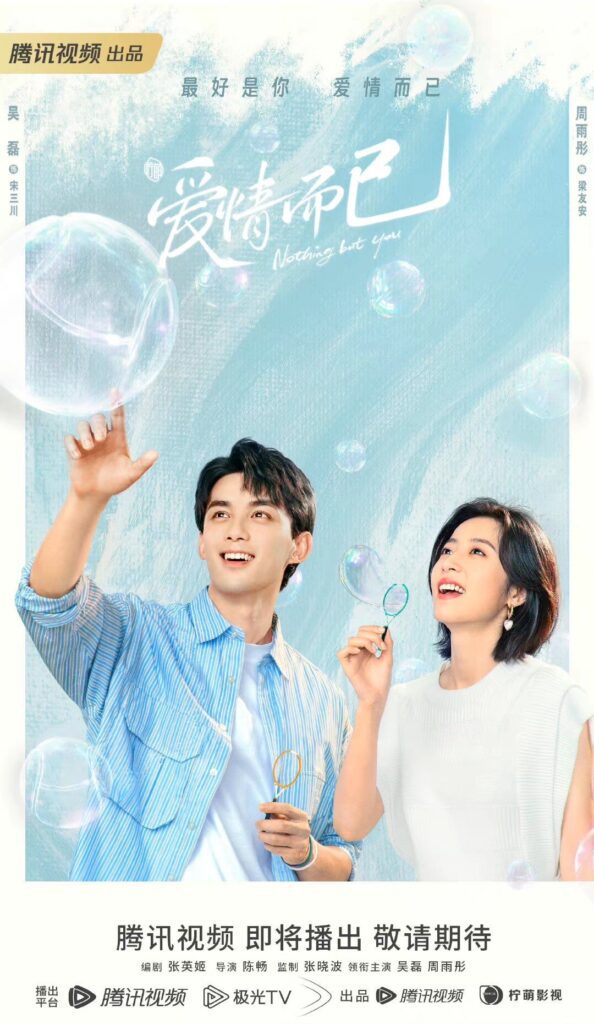 The relationship between Liang You'an and Song San Chuan was very good whether as friends, manager-athlete, or lovers. They have a tacit understanding between them. Their 10 years age gap made people around them worried. But actually, they had a good bond. Liang You'an as an older person seemed to have a pearl of good wisdom and experience. Her logical thinking and careful manners were leading their relationship. But in reality, she could do it because Song San Chuan gave her enough mental support.
Because of Liang You'an's fear of relationships, the romance was running at a slow pace. Liang You'an and Song San Chuan had been in a friend zone for quite some time and then suddenly… they had a one-night stand. It was such a big moment in their relationship. But then, it became their first quarrel and they had a cold war for several days. Liang You'an had a good talk with Luo Nian and realized that Song San Chuan had already entered her heart a long time ago. Liang You'an finally took Song San Chuan as her lover in a later episode. And it also took a big turn over such heavy injury to make her do that.
There were three couples in this drama besides Liang You'an and Song San Chuan. They were Jiang Jiao Jiao and Liang Tao; Zhang Yan and Luo Nian; and Jiang Jie and Chen Ke. Not all of them had a good ending. But their love stories kinda enriched Nothing But You. However, I feel that Jiang Jiao Jiao and Liang Tao's relationship was somehow out of the story frame. In my opinion, it was a bit forced
The brotherhood between Song San Chuan, Chen Ze, Jiang Jiao Jiao, and Dai Yi was adorable. They started badly in Young Space, but then it become a strong bond when they supported each other through thick and thin.
Cdrama always had a thing for toxic parents. And Nothing But You was not an exception. Liang You'an had a toxic mother who was unhappy because of her failed marriage. She loved to transfer her own unhappiness and never cared to realize that her words might hurt her daughter. The same thing happened to Liang Tao.
Liang You'an and Liang Tao were sisters of the same father. Their mothers hated each other and both of them made sure that their daughters also felt the same. Their father was a weak person who loved to pretend that everything was fine between him and his daughters.
Song San Chuan's family was also a mess. His biological father left him and her mother then married An Cong. Tong Lu and Song San Chuan's father were professional badminton athletes too. Tong Lu realized that her son had talents in sports so she always made sure that Song San Chuan would follow in her footprints.
Tong Lu was a strict mother, to begin with, and became a strict coach for Song San Chuan. But then one day she found out that she had cancer. And because she did not want her family to see her in a weak state, she walked away from them. Her departure left a trauma for Song San Chuan and a heartache for An Cong. Years had gone by, but An Cong still waited for her.
Jiang Jiao Jiao's father was Liang You'an's superior at Young Space. Jiang Jie provided enough money for his family, but it lacked warmth. Chen Ke was depressed by her unhappy marriage. Jiang Jiao Jiao was raised as a spoiled young master who hated his crown prince moniker but did not know how to change it. He depended on his father's financial support and did not know how to support himself. The cold relationship between Jiang Jie and Chen Ke made Jiang Jiao Jiao grew up alone.
Nothing But You had enough stock of toxic parents. Including Dai Yi, whose mother was obsessed to make him enter the university through his tennis accomplishment. Well, this was another sample of parents who forced their dream onto their children. It was a sad situation, but it was a reality that you could see everywhere.
But do not worry, dear readers. You might still be able to see some harmonious family scenes between An Cong and Song San Chuan, later in the drama. And there were also my favorite family scenes between Luo Nian (Jang Pei Yao), her daughter, Luo Le (Sissi Yin), and Zhang Yan (Zhang Tao). They were sooo cute as a family.
And if you were curious about the ending… fret not. It was a happy ending and I was quite satisfied with it.
The Conclusion
Nothing But You was a good sports theme drama. The romance would give you enough dose of fluffiness and the sport would make you feel like working out. But for me… it was not the working out part that inspired me. It's the wonton soup. With a clear soup and lots of cilantro at the top of the bowl. You could find the wonton soup in early episodes when Song San Chuan was still a badminton player.
Nothing But You drama was a perfect choice for your weekend. Do watch this on Friday and Saturday, so you would have enough motivation to work out on Sunday. All in all, Nothing But You was worth your time. And don't worry, even if you never find your workout motivation, at least you could enjoy the sight of Leo Wu's incredible upper arms… 😉.
Hope you enjoy this Nothing But You drama review. Happy Watching!