Dear readers, here comes the Ending Explained of Leo Wu's latest Chinese drama, Nothing But You. This drama has a happy ending, and I am sure you would be satisfied with it. Without further ado, let's go!
Nothing But You Ending Explained
What Happened to Song San Chuan?
Song San Chuan was able to untie the knot in his heart after he learned that Tong Lu had passed away six years ago. Only a year after she left the house. It was Liang You'an who took the initiative to search for her. She used Song San Chuan's profile video to find out Tong Lu's whereabouts. And when Song San Chuan found his mother, he was able to release all the pent-up emotions.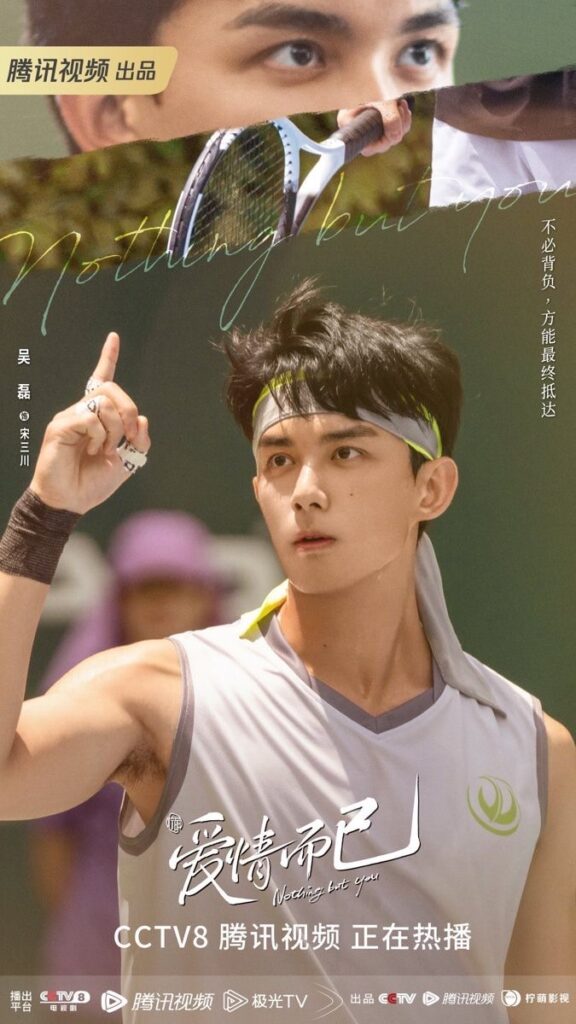 Although Song San Chuan never said it, he really missed her. And after he found Tong Lu, Song San Chuan's trauma healed and his game started to improve again.
Song San Chuan got another chance to play in an international competition because he got a wild card from Gao Li. However, because of rumors about his relationship with Liang You'an, Song San Chuan doubled his effort to win. After a long and arduous match, Song San Chuan managed to win against a Japanese tennis player. But after the game, Song San Chuan's left knee got heavily injured.
The injury made Song San Chuan's mood plummet. However, good things come out of bad times. Song San Chuan and Liang You'an finally became an item. He took leave from his career because he had to go through rehabilitation in Chengdu. He went there with Liang You'an and lived together during that time. Song San Chuan's condition improved greatly and even the therapist was surprised.
However, Song San Chuan now had another problem: phantom pain. The doctor said that it was only psychological pain. With support from Liang You'an, Zhang Yan, Luo Nian, and everybody in the club, Song San Chuan managed to overcome the pain and came back stronger.
Gao Li took advantage of Liang You'an's promise when she begged for the wild card. He offered a 5 years contract to Song San Chuan as a commercial star, but the deal was unfavorable for him. Gao Li always used the underhanded method to get what he wanted and Liang You'an understood him very well. However, Song San Chuan made his own decision and signed the contract. They had a huge fight because of the contract.
Liang You'an helped Song San Chuan to terminate the contract with Young Space. Her lawyer said that he could do that on one condition, Song San Chuan must quit Top Smash. Although he hesitated, Liang You'an told him that it was the only way for him. Their small club was no longer suitable for Song San Chua's talent. Liang You'an arranged for him to join a European agency. Song San Chuan must fly to a tennis academy in Spain. They had a passionate long-distance relationship for two years. When he returned, Liang You'an and Song San Chuan tied the knot.
What Happened to Liang You'an?
Liang You'an started to increase Song San Chuan's competition level. When she got a bit of inside information from Alex about Young Space's wild card, she tried hard to get it for Song San Chuan. Liang You'an went through many obstacles to get the wild card from Gao Li. He gave her many conditions that were unfavorable for Liang You'an because Gao Li already had a plan for the wild card.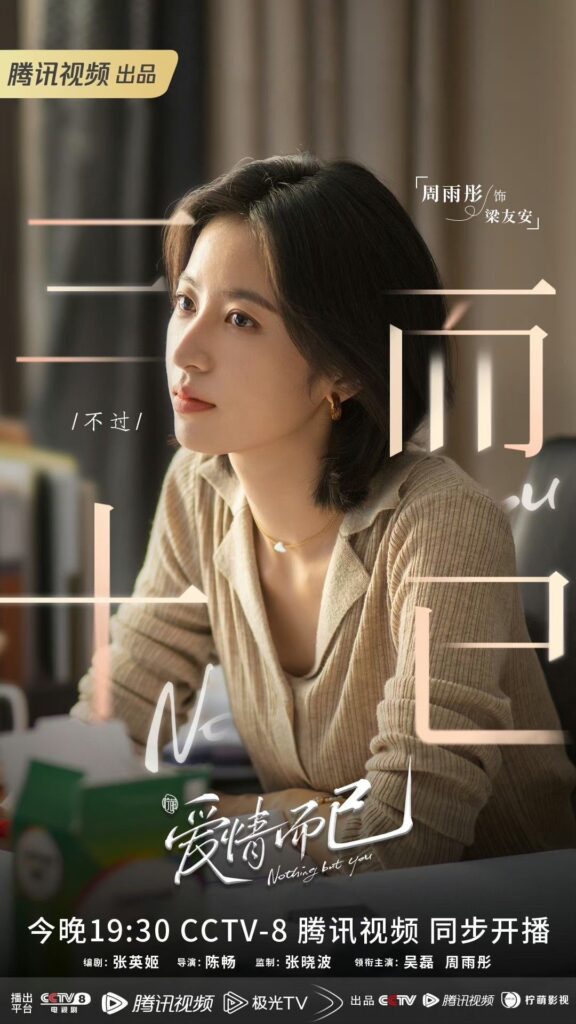 With help from Jiang Jiao Jiao, Liang You'an managed to change Gao Li's mind. He agreed to give the wild card to Song San Chuan but with a condition. He did not mention the condition, but he wanted Liang You'an to fulfill the promise when the time has come.
But before Liang You'an could announce the wild card, she must handle another problem. Somebody leaked a photo of Song San Chuan and her hugging at the badminton court. And nasty rumors about them started to spread on the internet. Liang You'an decided that if the rumors were still around after the wild card game, she would find another manager for Song San Chuan.
Song San Chuan tried hard to win in his wild card game, but it resulted in injury. When he went through surgery, Liang You'an realized that she was afraid to lose him and could not wait for him to win all the trophies. Liang You'an asked him to be her boyfriend. That night, they became an item.
Liang You'an and Song San Chuan went to Chengdu to a rehabilitation centre. They lived together and Liang You'an was really happy. Finally, she could taste the feeling of falling in love again.
After she learned about Liang Tao's marriage, Liang You'an started to think about her future with Song San Chuan. She decided to tell him that she had a slim chance to have children in the future. Liang You'an was relieved because Song San Chuan did not mind her condition.
Liang You'an's mother was angry because Liang You'an found a younger boyfriend. She was afraid her daughter would walk her path but expressed her feelings in mean words. Her words slowly seeped into Liang You'an's heart and they swayed her feelings. When Liang Shu was diagnosed with kidney cancer, Liang You'an was afraid to face the situation. Song San Chuan took care of Liang Shu in her stead. His action convinced her and her mother. Liang You'an's mother now believed that Song San Chuan was a reliable man.
After Song San Chuan left for Spain, Liang You'an was getting busy. She opened tennis clubs in different cities and became a sought-after club manager. Liang You'an was able to meet Song San Chuan and spend a few days with him when Song San Chuan had a match in China. Before he went back to Spain, Song San Chuan gave Liang You'an a surprise gift: Eel-san, the corgi that she had wanted to adopt.
What Happened to An Cong?
When he got the news that Tong Lu had died, An Cong rushed to the beach. He saw Song San Chuan holding a funerary urn in his hands and his feet became weak. An Cong could not believe that Tong Lu had passed away. He turned his head when Song San Chuan scattered the ashes into the ocean.
But then An Cong changed his mind. He stopped Song San Chuan and took the urn. With teary eyes, An Cong talked to Tong Lu about his grievances and yearning. He let go of all his pent-up emotions. An Cong scattered the remaining ashes and left. He said to Song San Chuan that he would tidy up the house which was his mother's house. They should do what Song San Chuan always said, to live separately. But one day, Song San Chuan returned to An Cong Wig Store, looking tired and sad.
An Cong saw him and let him in, but he hid his face which was full of sadness. An Cong was stunned when Song San Chuan called him Father. Song San Chuan also said that even if Tong Lu returned alive, he had decided to choose An Cong. With teary eyes, An Cong stared at the son that he always loved.
When Liang Shu was hospitalized because of kidney cancer, it was An Cong who helped him. He took Liang Shu and Wang Xue Rong in his car and drove them to and from the hospital or home. He also accompanied him during Liang Shu's stay at the hospital.
In the last episode, Song San Chuan gave An Cong a membership card of a matchmaker agency. Song Sam Chuan told him that it was time for him to let go of the past and look to the future. An Cong laughed awkwardly, but after some thought he put the card into his pocket.
What Happened to Jiang Jie and Chen Ke?
After a long and hard time, Jiang Jie finally agreed to divorce Chen Ke. They split the marital assets in half and moved on with their life.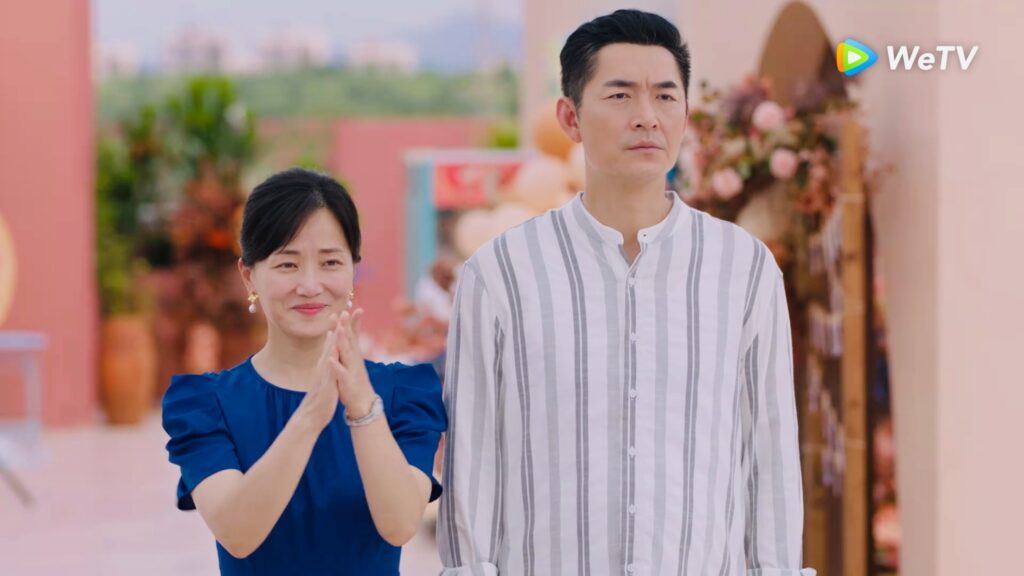 The first thing that Chen Ke did post-divorce was to invest in Liang You'an's tennis club. She become the biggest investor who filled the empty fund. She told Liang You'an that she did it for the sake of her son, Jiang Jiao Jiao.
Jiang Jie who felt left out tried to use the wild card to see Chen Ke. He wanted to know where she lived and her condition. It seemed that he still could not move on from Chen Ke. She reprimanded him because she felt that Jiang Jie had crossed the boundaries. Chen Ke was a stubborn person. When she had determined to sever their relationship, she never had any thoughts of reconciliation.
Jiang Jie had another fight with Liang You'an regarding the wild card. He finally admitted that the wild card was not in his hand, but Gao Li's. Liang You'an felt that he had deceived her and got angry. She yelled and called Jiang Jie a selfish person and because of it, he would have retribution. Jiang Jie was stunned when he heard her words.
Jiang Jie finally understood why his marriage fell apart when Chen Ke talked to him at Jiang Jiao Jiao's wedding. Chen Ke said that she, Jiang Jiao Jiao, and Liang You'an, appreciated Jiang Jie's kindness. But somehow, they lost respect and equality. And a relationship without respect and equality was bound to fall apart.
Jiang Jie and Chen Ke worked together when Liang You'an opened another tennis club. Chen Ke was making money and Jiang Jie finally had to let her go when he learned that Chen Ke had a boyfriend.
What Happened to Jiang Jiao Jiao and Liang Tao?
After so many months pursuing Liang Tao, but to no avail, Jiang Jiao Jiao realized that he could not buy sincerity with money. Liang Tao was having a hard time because of the rumor about her status as an illegitimate daughter. Although people who knew her very well understood that it was a lie, the rumor still made her sad. And during hard times, Jiang Jiao Jiao was there to cheer her up.
Their relationship progressed fast. And Jiang Jie learned about it after Jiang Jiao Jiao bought an expensive ring using his credit card to propose to Liang Tao. Jiang Jie was against the idea of marriage, but then he changed his strategy. Jiang Jie told his son to find a stable job to provide for himself. Jiang Jie's words made Jiang Jiao Jiao stunned. But Liang Tao refused the idea because she did not want Jiang Jiao Jiao to trade his dream for her. Jiang Jiao Jiao was now determined to make tennis his career.
In the end, Jiang Jiao Jiao and Liang Tao registered their marriage first. After that, they held a small wedding in a promotional venue. They did it to save their money and show their determination to their parents, especially Jiang Jie. To save money they stayed in a hotel since they could only stayed together for 10 days in a month. Things changed when Liang Tao found that she was pregnant. Jiang Jiao Jiao worked harder and they finally found a home for them to live in.
What Happened to Luo Nian and Zhang Yan?
Zhang Yan secretly had some feelings for Luo Nian. He often offered to drive Luo Nian's car and send her home. But Luo Nian rejected the offer because Zhang Yan secretly still drank alcohol. Zhang Yan was motivated by her and he worked hard to be sober.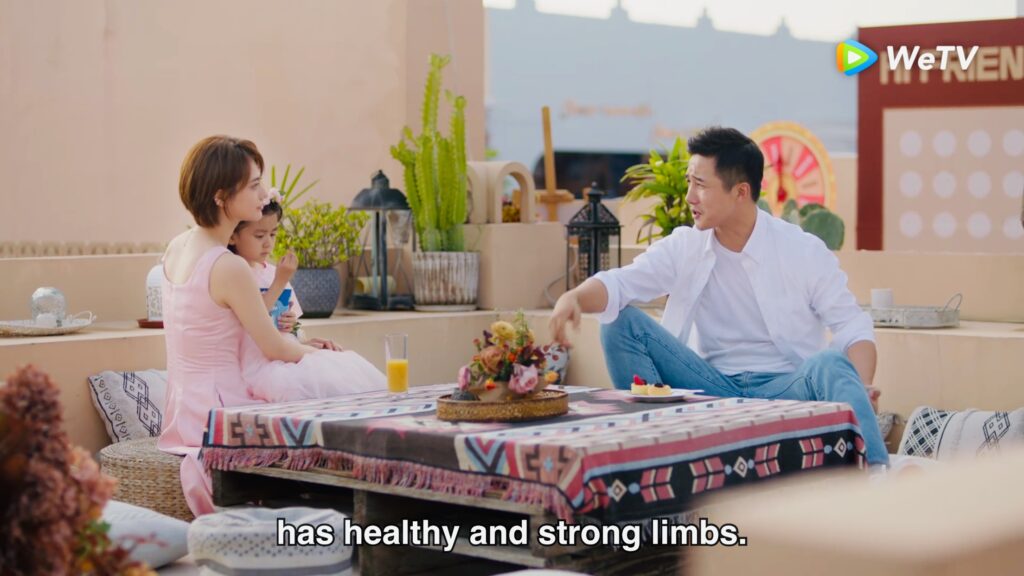 Zhang Yan and Luo Nian's relationship was just getting better when suddenly his ex-wife came. Xu Le Xi was a toxic person who always wanted to sabotage Zhang Yan's career and love life. She went up to Luo Nian and spoke about Zhang Yan's terrible past and also mentioned Song San Chuan. Luo Nian reprimanded Xu Le Xi and told her that an outsider had no right to talk about Song San Chuan and Zhang Yan.
Xu Le Xi still tried to ruin Zhang Yan's confidence. She said that he was the one who destroyed Song San Chuan's career. She also called him an ambitious man but easily lost. Those words started to sink deeper into his mind until Luo Nian came to save him. She yelled at him and told him that Xu Le Xi was not a good person.
Luo Nian showed Zhang Yan his worth and it made him realize that all this time, he was manipulated by his ex-wife. Zhang Yan decided to push himself to the limit. He decided to stay, train and learn from everybody in the club.
Zhang Yan and Luo Nian's relationship was progressing very slowly. He also built a good relationship with Luo Le, Luo Nian's only daughter. They stayed and still worked together at Top Smash.
My Two Cents
Well… dear readers, were you satisfied with Nothing But You ending? Do not forget to watch Song San Chuan and Liang You'an's life after marriage. Song San Chuan who claimed himself to be a good hairdresser, decided to trim Liang You'an's bangs. And the result was horrible..🤣🤣
I previously wrote Nothing But You drama review, you can read it if you want to know my opinion about this drama. See you on the next ending explained post, thank you!