Last month we have been spoiled with so many good new Chinese dramas released September 2023. So, will this October also be a good month for us, CDrama lovers? Let's keep our finger crossed and hope for a good luck. At least this month has started well with Tiger and Crane drama. This is the list of upcoming dramas in October 2023 for all of you, specially curated by our love of CDramas.
Upcoming New Chinese Dramas Premiere in October 2023
1. Tiger and Crane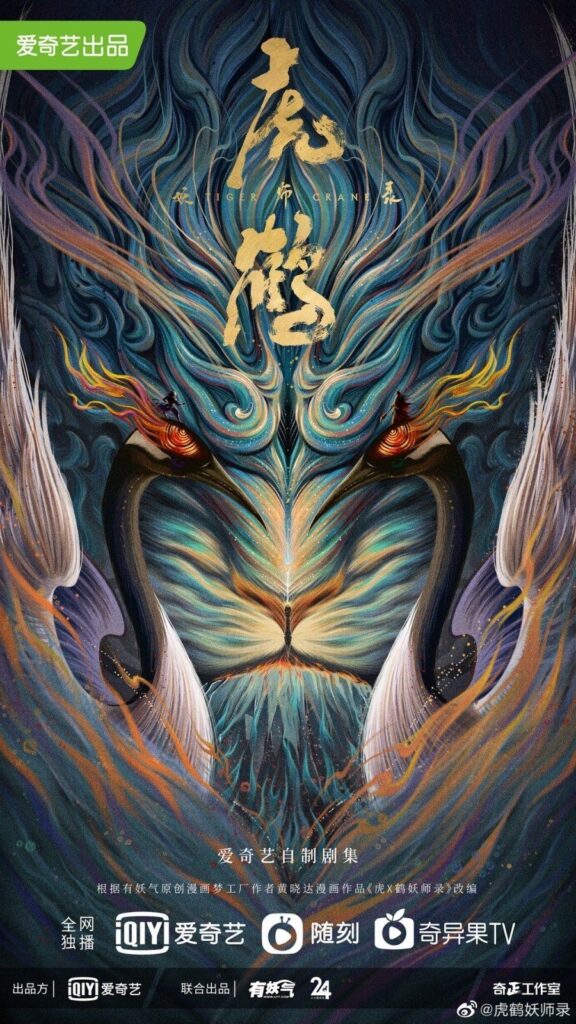 Title: Tiger and Crane
Also Known As: 虎鹤妖师录, Tiger Crane, Hu He Yao Shi Lu, 虎鶴妖師錄
Cast: Jiang Long, Zhang Ling He, Wang Yu Wen, Chen You Wei, Ye Qing, He Lan Dou
Genres: Mystery, Wuxia, Youth, Fantasy
Number of Episodes: 36
Date of Release: Oct 2, 2023
Original Network: iQiyi
Where to Watch: iQIyi
Another original drama from iQiyi this month was Tiger and Crane. Zhang Ling He plays the role of a demonologist commander. Together with Jiang Long as Huzi, Wang Yu Wen as Zhao Xin Tong and Chen You Wei as Wang Yu Qian, we can surely hope for another entertaining drama worth your time.
In a world full of demons, a group of young and passionate teenagers strive to be a helping hand for the people. Qi Xiao Xuan, the ice-cold young man from a prominent family. He was young, but already a commander of the Imperial Demonologists. One day, because of the Red Pearl, Qi Xiao Xuan met Huzi, the careless and carefree orphan.
Later, they were joined by the strong demonologist Zhao Xin Tong and Wang Yu Qian, a novelist who could heal people by hitting them with a brick. This group embarks on a journey to find the truth about the human-demon war that took place five hundred years ago. And when the world was on the brink of catastrophe, this group of young and spirited people were willing to sacrifice themselves to save the world.
2. The Heart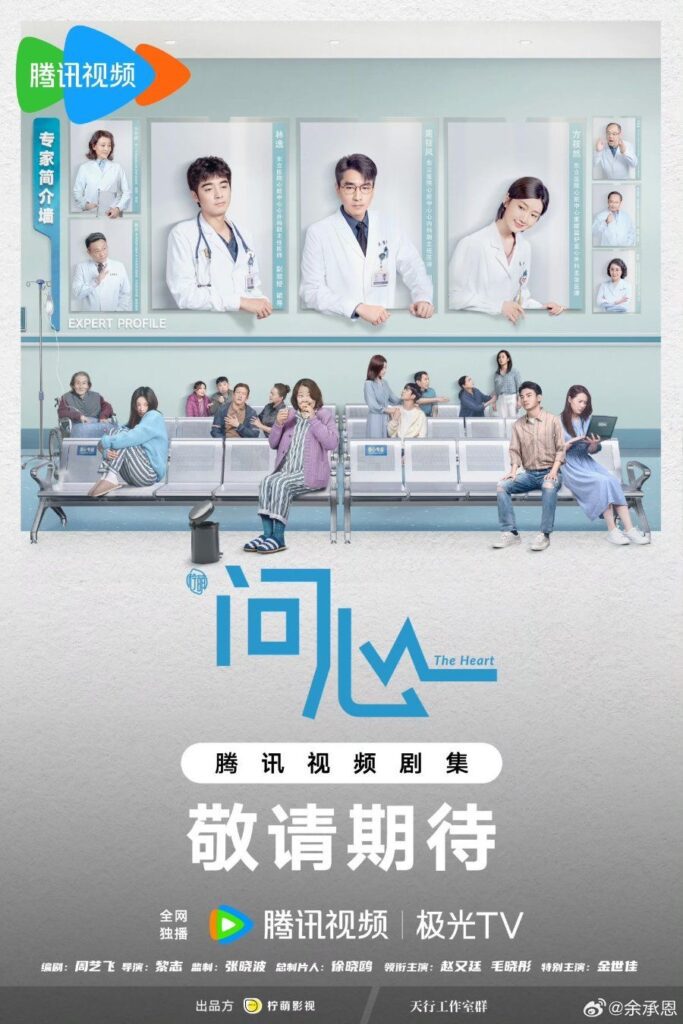 Title: The Heart
Also Known As: 问心, 死者之书, Si Zhe Zhi Shu, New Heart
Cast: Mao Xiao Tong, Jin Shi Jia, Mark Chao
Genres: Romance, Drama, Medical
Number of Episodes: 38
Date of Release: Oct 7, 2023
Original Network: CCTV
Where to Watch: WeTV
The Heart was the remake of the 2017 Korean drama New Heart. This medical drama starred the gorgeous Mao Xiao Tong as Fang Xiao Ran, Jin Shi Jia as Lin Yi, and the one and only Mark Chao as Zhou Xiao Feng. A story about young doctors that will surely make your heart beat faster.
Zhao Xiao Feng is the deputy chief of the cardiology department at Dongli Hospital. Lin Yi is the new cardiologist who has just joined the same department. The friction between the two surgeons happened because of the difference between their temperaments. Zhao Xiao Feng is an introverted person. He rarely speaks, but he has a good work ethic.
Meanwhile, Lin Yi is a straightforward, impulsive, but brilliant doctor. Zhao Xiao Feng's personal life was complicated. He always avoided his younger sister, Fang Xiao Ran, who also works in the same hospital. Fang Xiao Ran moved to Dongli Hospital to ease the relationship between her mother and Zhao Xiao Feng.
3. Inextricable Destiny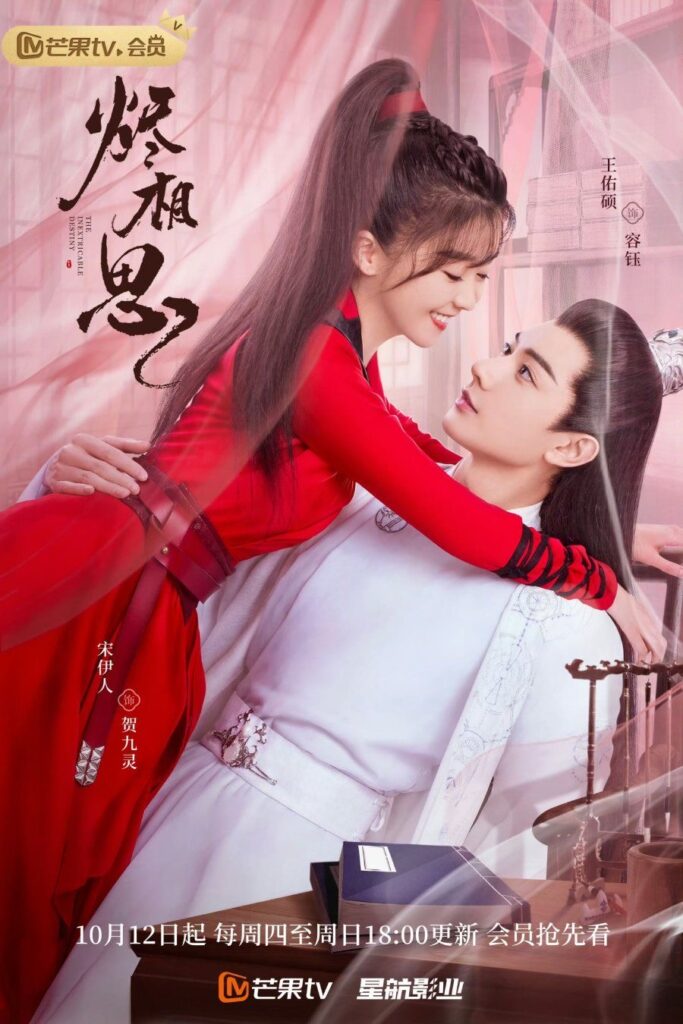 Title: Inextricable Destiny
Also Known As: 烬相思, Xiang Si Gu Li Jin Xiang Si, Acacia, Jin Xiang Si
Cast: Song Yi Ren, Wang You Shuo
Genres: Historical, Romance
Number of Episodes: 27
Date of Release: Oct 12, 2023
Original Network: Mango TV
Where To Watch: Mango TV
Inextricable Destiny is the new upcoming drama on Mango TV. It stars the lovely Song Yi Ren as He Jiu Ling and Wang You Shuo as Rong Yu. This is their first collaboration. We could not wait for the first episode to be aired.
He Jiu Ling is the youngest daughter of General He Liang of the Jialin Kingdom. She is known for her domineering nature and mischievous personality. Rong Yu is the young master of the Jialin National Astrology Hall. He is the complete opposite of He Jiu Ling.
Rong Yu is a gentle person, kind but cold personality. He Jiu Ling's life changes after she meets Rong Yu and makes him lost his mind. Through their funny interaction, the affection between them slowly emerged. And at the same time, unravel the conspiracy that involved many parties.
4. Mr. & Mrs. Chen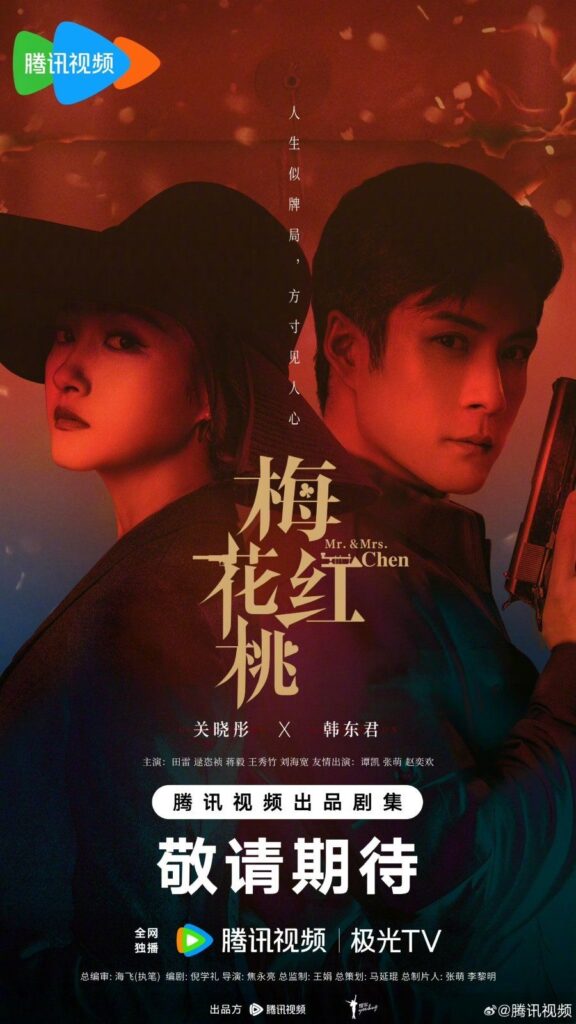 Title: Mr. & Mrs. Chen
Also Known As: 梅花桃红, Mr. & Mrs. Wu, Mei Hua Hong Tao
Genres: Action, Historical, Romance, Crime
Cast: Guan Xiao Tong, Han Dong Jun
Number of Episodes: 32
Date of Release: Oct 11, 2023
Original Network: JSTV, Tencent Video
Where to Watch: WeTV
Mr. & Mrs. Chen was a remake of Brad Pitt and Angelina Jolie's Mr. & Mrs. Smith. Apart from the beautiful presence of Han Dong Jun and Gua Xiao Tong, this drama was special because the story background was the 1940s era.
Chen Jia Ping and Zuo Shuang Tao were former lovers who unexpectedly meet again after a failed assassination attempt. They pursue the same goal in the world of espionage. Thus, rekindle their love.
5. Ripe Town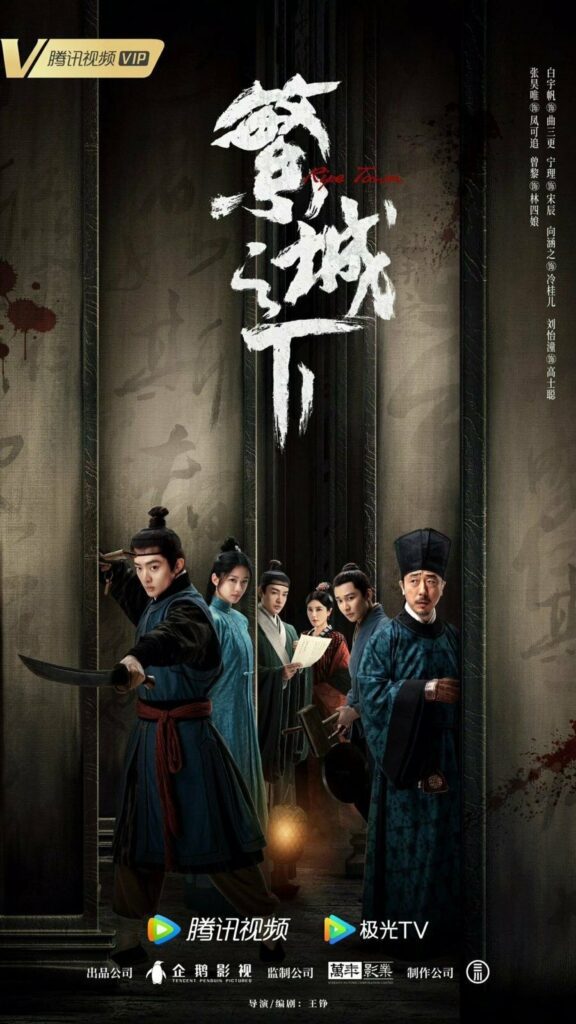 Title: Ripe Town
Also Known As: 繁城之下, Under the Prosperous City, Fan Cheng Zhi Xia
Cast: Bai Yu Fan, Julia Xiang, Ning Li, Liu Yi Tong
Genres: Historical, Mystery
Number of Episodes: 12
Date of Release: Oct 13, 2023
Original Network: Tencent Video
Where to watch: WeTV, Viki
Ripe Town may only have 12 episodes. But each one is an hour long. The story was gripping and you would find yourself glued to the couch. If you are a fan of the historical genre and like the story about mysterious murders. Then you should not miss this one.
When the villagers of Du County found a strange scarecrow in their field, they asked two small yamen runners to investigate. This case became the beginning of the mysterious murders in Jiangnan. The identities of the dead seemed to be unrelated. All of their corpses were arranged in a bizarre position, and the murderer would leave a quoted sentence at the scene.
Thus, the small Yamen runners, Qu Sang Geng, and his friend Gao Shi Cong started the investigation. As the investigation deepened, they found that the case was somehow related to an old case from 20 years ago.
6. Romance On The Farm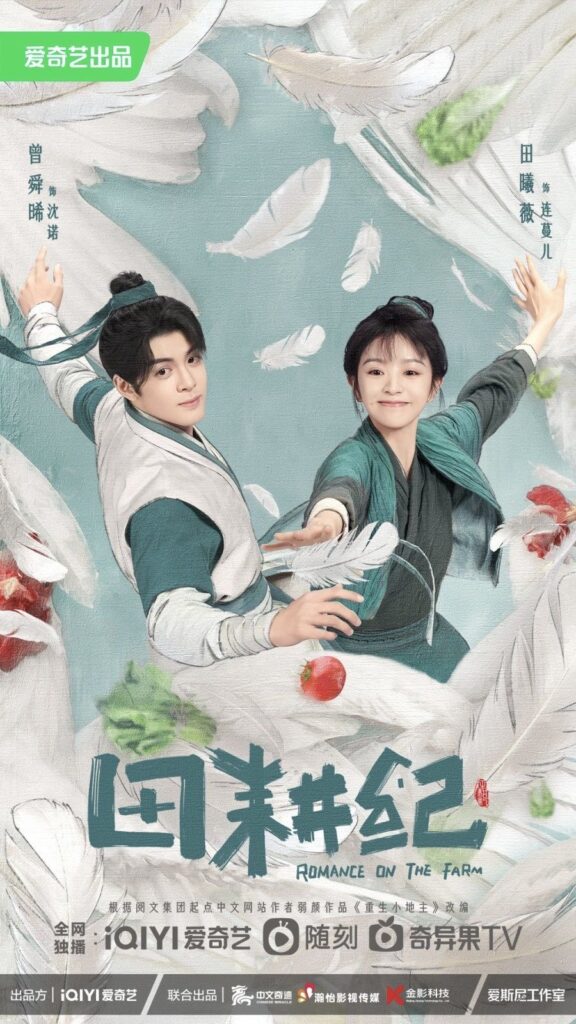 Title: Romance on The Farm
Also Known As: 田耕纪, Wo Shi Xiao Di Zhu , Chong Sheng Xiao Di Zhu
Cast: Joseph Zeng, Tian Xi Wei
Genres: Fantasy, Historical, Comedy, Romance
Number of Episodes: 26
Date of Release: Oct 14, 2023
Original Network: iQiyi
Where to watch: iQiyi
Adapted from the novel "Zhong Sheng Xiao Di Zhu" by Ruo Yan
When you were tired from work or school and needed some entertainment. Romance on the Farm was a perfect choice to relieve the tiredness. The story was light-hearted and funny. And if it does not suit your taste, at least Joseph Zeng and Tian Xi Wi would brighten up your day.
Lian Man Er, a modern girl, joined a company and became their subject to try out a new game program. This program can transport her to an unknown period and experience life in that place and time. After a series of failures, she finally found herself in an ancient rural village. She became a member of the eccentric Lian family.
To escape a forced marriage, she leaves the house and meets Shen Nuo, an unknown character that she has to save. They work together to confront troublesome relatives, engage in farming and business ventures, and strive for a better life. As they go through the ups and downs of life, Lian Man Er and Shen Nuo's relationship deepens, and they promise to be together. But what about Lian Man Er's real life back in the modern world? Will she return or stay for her love?
7. The Bionic Life
Title: The Bionic Life
Also Known As: 仿生人间, Fake Life , Fang Sheng Ren Jian, Bionic
Cast: Song Wei Long, Vicky Chen
Genres: Thriller, Drama, Sci-Fi
Number of Episodes: 12
Date of Release: Oct 18, 2023
Original Network: iQiyi
Where to Watch: iQiyi
Another case for Song Wei Long to crack. Since the success of The League of Nobleman, Song Wei Long is always on our watchlist. And unexpectedly, he always shines in this genre of drama.
There was a time in the world when humanoids and humans lived side by side. Since the physiological structure of humanoids is almost the same as humans, it was hard to distinguish them from humans. The only difference was that humanoids have a single initial obsession that must be obeyed. However, the rapid development of humanoids began to raise public concern.
When the city was shaken by the continuous murders of humanoids, Chen Nuo, an employee of the Sheen Genome Institute who works as a humanoid investigator, and An Qiu, a psychologist. joined hands to investigate the case. And every step they take would rewrite the fate of humans and humanoids.
8. The Furthest Distance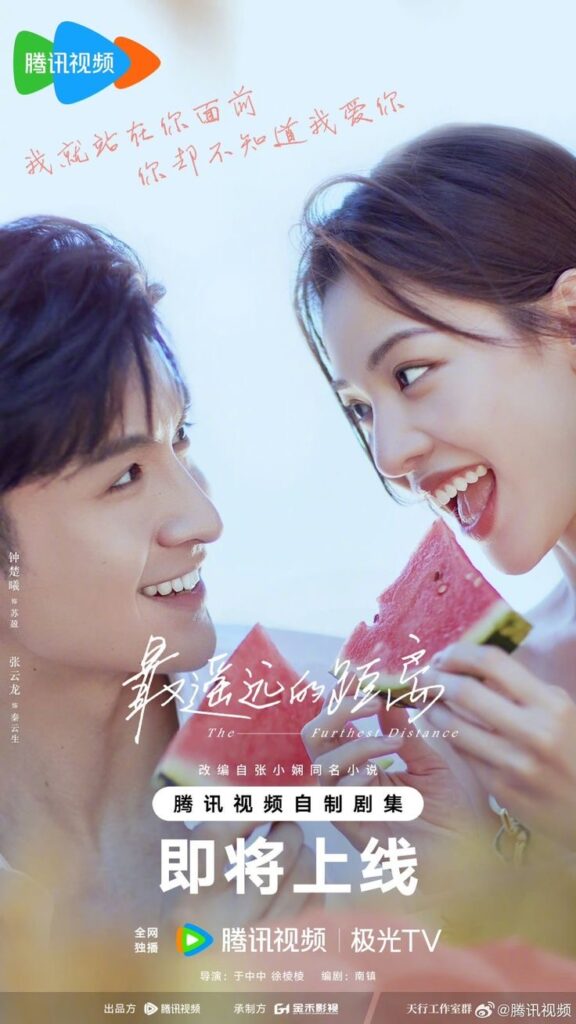 Title: The Furtherst Distance
Also Known As: 最遥远的距离 Zui Yao Yuan De Ju Li, The Farthest Distance
Cast: Zhong Chu Xi, Zhang Yun Long, Li Xi Rui, Liu Yu Hang
Genres: Romance
Number of Episodes: 26
Date of Release: Oct 26, 2023
Original Network: Tencent Video
Where to Watch: WeTV
Adapted from the novel "Zui Yao Yuan De Ju Li" by Zhang Xiao Xian
We are still waiting for this drama to be aired. From the trailer and the synopsis, The Furthest Distance promised a sweet and romantic urban drama. A great choice to warm up a lonely night.
Qin Yun Sheng is a young doctor who works in an emergency room. Su Ying is a talented interior designer. A doctor and an interior designer meet after they participate in a home renovation reality TV show.
As they began to get to know each other, Su Ying gradually opened her heart to him, only to find out that Qin Yun Sheng never forgot his deceased girlfriend. So close yet so far, that was the meaning of the furthest distance for Su Ying. So she took the initiative to fight for his love.
How about it dear readers? Do these new Chinese dramas premiere in October 2023 arouse your taste? This post will always be updated if there is latest information about the drama that will be released. So stay tuned!