Title: Tiger and Crane
Also Known As: 虎鹤妖师录, Tiger Crane, Hu He Yao Shi Lu
Director: Guo Hu
Cast: Jiang Long, Zhang Ling He, Wang Yu Wen, Chen You Wei, Ye Qing, He Lan Dou
Genres: Wuxia, Mystery, Fantasy
Country: China
Type: Drama
Number of Episodes: 36
Date of Release: Oct 2, 2023
Original Network: iQiyi
Where to Watch: iQiyi
Dear readers, the weather is still hot right now, though it has been slightly cooler compared to a few weeks ago. I still could not live without a fan or air conditioner, since the humidity is still too much for me. I hope that everything is better in your area and remember to stay hydrated and be sure to get enough vitamins in your diet. But first, let's read a Tiger and Crane review that I have painstakingly wrote… 😉
Tiger and Crane Synopsis
In a world filled with demons, a group of young and passionate teenagers strive to be a helping hand for the people. Qi Xiao Xuan, the icy young man from a prominent family of demon hunters, was on a mission to find the Red Pearl, which is important for protecting the world from the flame of the Legendary Sea. He was trapped in the forest and robbed by Hu Zi, a careless and carefree orphan from a small village.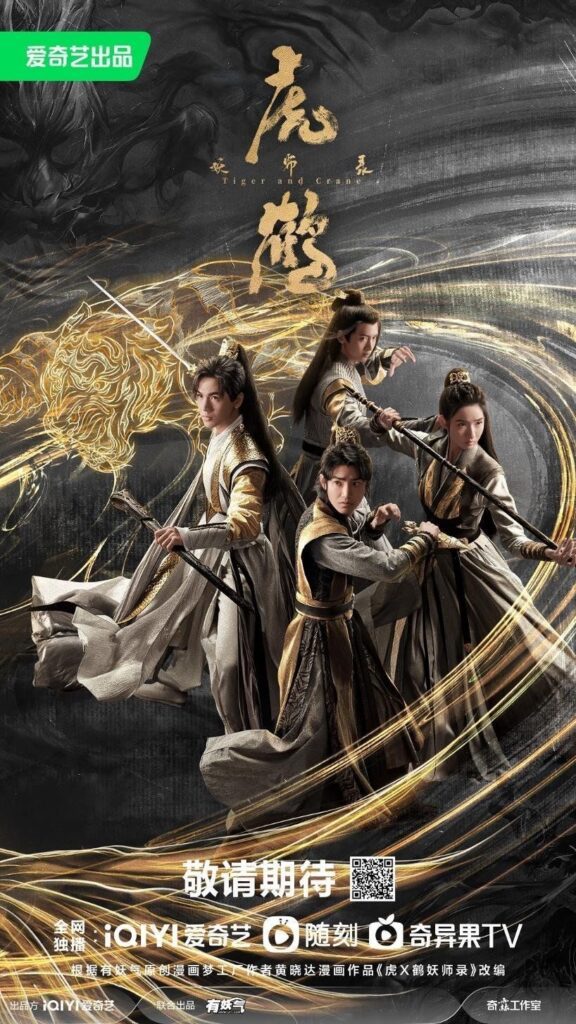 Hu Zi took the precious Red Pearl without knowing that the Red Pearl would attract the demon and destroy the village. During a fight with the demon, Hu Zi swallowed the pearl. Now, Qi Xiao Xuan has another problem because the Red Pearl cannot be extracted from Hu Zi's body. Fortunately, a five-century-old fairy named Yimei claims she has a way to extract the Red Pearl from Hu Zi's body.
This incident marked the beginning of Hu Zi and Qi Xiao Xuan's journey. They met two new comrades, Zhao Xin Tong, a tough and reasonable bounty hunter, and Wang Yu Qian, a frail-looking novelist who could cure diseases with a brick. Initially, they didn't get along, but eventually, they became close friends who looked out for each other.
Through their participation in the Red Pearl and Demon Hunter Selection, they discovered the truth behind the great war between humans and demons 500 years ago, as well as the destiny that bound them together.
Tiger and Crane Review
The Tiger and Crane is one of the new Chinese dramas premiered in October 2023 and I already had it on my watchlist. This drama would complete my Zhang Ling He's watch list at the end of the year 2023, after the phenomenal My Journey to You drama followed by Bright Eyes in the Dark drama.
As soon as it's over, I'll be sitting on my chair and waiting patiently for The Grand Princess and Story of Kunning Palace drama. Despite everyone's hype around the Story of Kunning Palace, I'm personally excited for The Grand Princess. I read the book and loved the story. Now, I am very curious to see Zhang Ling He's version of Pei Wen Xuan.
Back to Tiger and Crane. This drama reminded me why I seldom choose a wuxia drama genre. Although I ended up liking it, wuxia dramas have a higher chance of having a sad ending as compared to the romance genre. So, if I had to choose between wuxia and romance, I would definitely choose the latter.
Don't get me wrong, I'm not saying that Tiger and Crane ended badly. It can be seen as a happy ending, but I didn't feel happy at all after watching the last episode. Everything went back to square one and there were many unprecedented deaths. I wrote about it on seperate post, Tiger and Crane ending explained.
If the story hadn't ended that way, I would have been thrilled to add this drama to my favorites. However, it's not surprising since it's common to see so many deaths in the wuxia genre. Nonetheless, it pained my fragile heart.
Tiger and Crane drama portrays the friendship of four dedicated youths. Hu Zi is a cheerful and stubborn orphan, while Qi Xiao Xuan is a cold but talented demon hunter. The stark differences in their characters were the main attraction to their close brotherhood.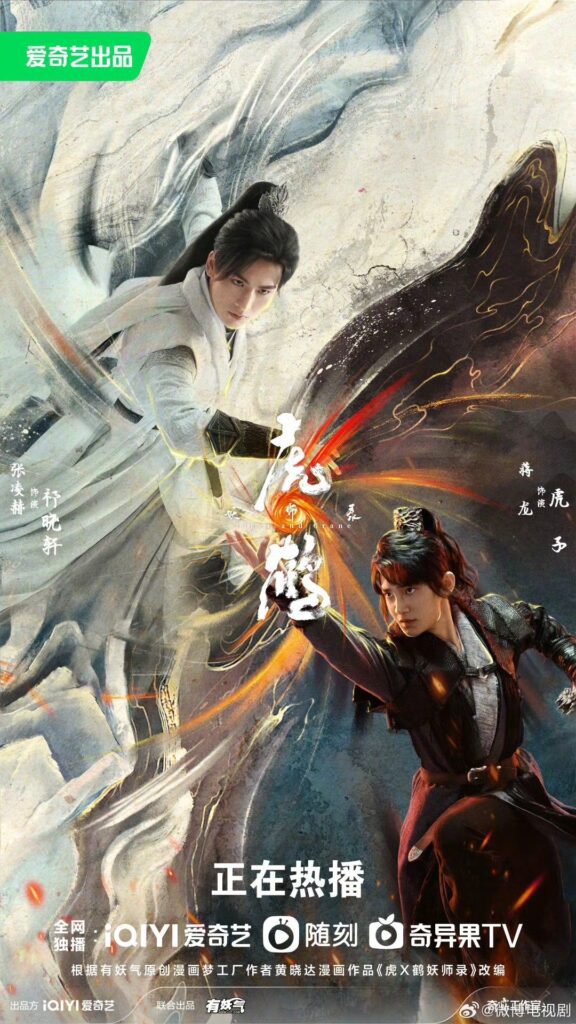 My favorite characters in this story were not the cold Qi Xiao Xuan or the silly Hu Zi. From the four of them, I like Zhao Xin Tong and Wang Yu Qian. Zhao Xin Tong was a dedicated and hardworking person, even though she was so stubborn.
Meanwhile, Wang Yu Qian was funny and very interesting. He was a dedicated friend with a remarkable background. Together, their unique dynamic created a vibrant atmosphere wherever they went, and their bond was strong.
There was a brief romance between Qi Xiao Xuan and Mudan, who disguised herself as a popular courtesan. The romance was short, but we could see the heartbroken expression on Qi Xiao Xuan's cold face. Zhao Xin Tong and Hu Zi also had a romance, but their feelings seemed more platonic and it didn't go anywhere.
However, somewhere in the middle of the drama, I feel that the brotherhood between Hu Zi and Qi Xiao Xuan has turned into a bromance. It may seem odd, but their gazes towards each other felt too intimate… LOL.
Initially, I disliked Hu Zi at the beginning of the drama. He was difficult and irresponsible. He was totally thoughtless and when he did something wrong, he would blame it on others. I hate Hu Zi for blaming Qi Xiao Xuan when he stole the Red Pearl that attracts demons that burned the village.
I found a little bit of a plot hole in the first episode. Hu Zi took the Red Pearl from Qi Xiao Xuan who put it in a tin box and kept it neatly inside his bag. Hu Zi noticed that Qi Xiao Xuan was keen on getting his box back. Meanwhile, Hu Zi was in need of something valuable to help the granny buy medicine.
But instead of trying to sell the pearl for more money, he gave it to Gouzi, an unfortunate young boy. It's unclear if Hu Zi was naive or foolish, but giving away the pearl without a second thought surprised me.
Tiger and Crane, being a fantasy wuxia, gave me high expectations for top-notch CGI. However, I was somewhat disappointed when I saw the final battle between the Demon Emperor's beasts and the Demon Hunter. But they made up for it with the excellent CGI in the final battle between the Demon Emperor versus Hu Zi and Qi Xiao Xuan. The sets were quite good and the costumes were well done. However, it was not Tiger and Crane's greatest strength.
The show was directed by Guo Hu, an award-winning director. After he successfully created one of the best dramas in 2023, Mysterious Lotus Casebook, I became his fan. Guo Hu also directed many famous shows, including Immortal Samsara, One and Only, and Eternal Love. I like how he creates detailed sets and uses clean and precise camera angles.
Jiang Long did well playing the character Hu Zi in this drama. He made me go from hating Hu Zi at the beginning to pitying him at the end. Jiang Long's vivid facial expressions match well with Hu Zi's character, a village boy who doesn't know how to act reserved.
Zhang Ling He's popularity grew after his successful performance as Changheng in Love Between Fairy and Devil. I enjoyed his wardrobe in Love Between Fairy and Devil and My Journey to You, although I didn't like his hairstyle in this drama. Despite that, he still performed well. His character Qi Xiao Xuan was consisted of two different persona.
Therefore he had to perform as the ruthless Yan and the icy-cold Qian who later become more and more warm and kind to other. And I like his acting since the transition between the ice cold Qian and the kind Qian was so subtle and natural. However, to see the bad Zhang Ling He was a new thing to me. He always act as a good person, so it was a little refreshing.
This is my second time watching Wang Yu Wen's dramas. She looked great in modern outfits, but the costume suited her better. I really enjoyed her performance in this drama. She was able to show herself as a strong woman and a tomboy. When I saw her in a feminine dress, I thought something was wrong here…😅
I watched Chen You Wei in the Ray of Light drama, as the silly but strong student Da Shou. He is also in Hello My Shining Love with Jin Han. I found his acting as Brick to be entertaining and comical.
Ye Qing acted as Chu Lin Lang in Novoland: Pearl Eclipse drama alongside Yang Mi and William Chen. She also appeared in Under the Power and The Starry Night, The Starry Sea Season 2. Her portrayal of Qi Yin Ran was impressive. Every time she swung her sword, her heroic aura radiated from her body.
This is my first time seeing He Lan Dou. She usually starred in movies instead of dramas. She acted in Star Crossed Lovers and My Dearest in the past. I found her performance as Fairy Yimei a bit lacking. Her rigid face and aloof demeanor did not seem natural. However, the explanation for her emotionless face and her apathetic attitude was revealed at the end. Afterward, you could see how amazing He Lan Dou's acting was. Kudos to her!👍
The strong chemistry between our fab four was something to be mentioned. I enjoy watching them together, you could almost feel the aura of friendship coming from them. Each tiny movement and subtle expression they make shows that a tacit understanding between them is very natural.
The Story
Everything is void, except karma. Said the Mountain God.
Humans and demons never lived together in peace. Five hundred years ago, the Continent was plagued by rampant demons that caused human suffering. But there are five demon hunters who lead a group of demonologists to kill the Demon Emperor. All of them made the ultimate sacrifice to protect their people.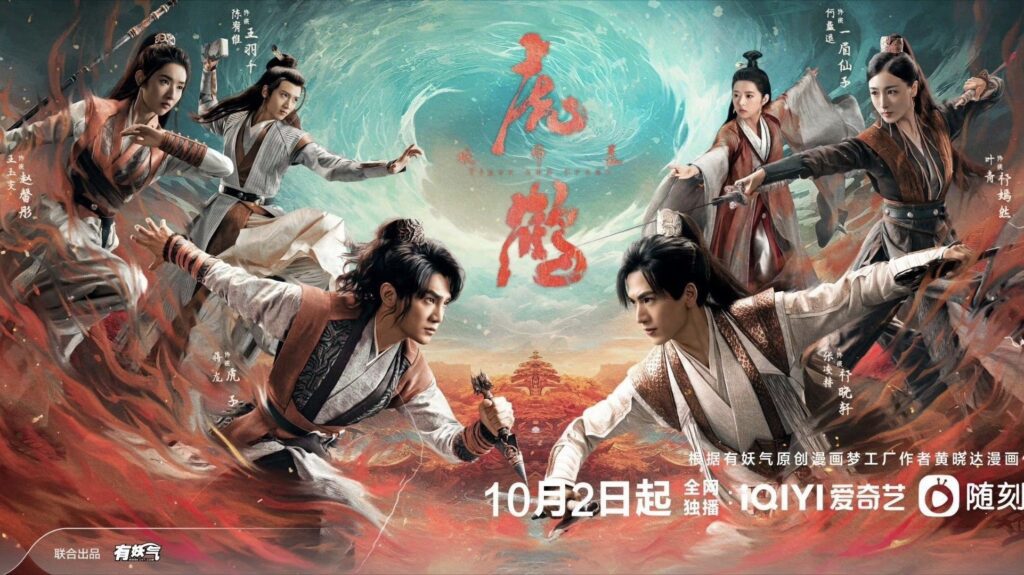 The blood of the Demon Emperor flowed into the Netherworld as fire, which was intense enough to scorch both heaven and earth. The fire that burned the world divided the continent into three regions: Fulong, Qianyu, and Julun.
To protect the world from the Legendary Sea, the demonologists from these regions agreed to use a red pearl to create a ten thousand li barrier. And this red pearl was the beginning of everything.
FYI, li is also known as the Chinese mile. It was a traditional Chinese unit of distance. One li was 500 meters or 0.311 miles.
The four friends, Hu Zi, Qi Xiao Xuan, Zhao Xin Tong, and Wang Yu Qian, met by chance and became friends during their journey. However, fate played a significant role in their meeting. Initially, they were unaware that all of them had ties to the Great War between humans and demons 500 years ago.
This was not the only unique aspect of their story. Each of them had a unique history, and there were secrets behind their past. The most important secret was Hu Zi's past and Qi Xiao Xuan's twin primordial spirit curse.
Hu Zi had a mysterious past. He possessed an unusual power within him. The power originated from his mother, a nine-tailed tiger demon. This made everyone see him as a demon. During the Demon Hunter Selection, while the other candidates disdained him, only his friend recognized him as one of their own, regardless of his demon status.
Qi Xiao Xuan not only carried the curse of the Qi family but also faced estrangement due to family problems. Qi Zi Lu was the father of Qi Yan Ran and Qi Xiao Xuan. However, Qi Zi Lu only supported Qi Yan Ran, while Qi Xiao Xuan received support from his grandmother, Jiang Xi Ci.
Qi Xiao Xuan's closeness to Jiang Xi Ci was evident from the way he referred to her as "Grandma," whereas Qi Yan Ran called her "Chief." Qi Yan Ran's animosity towards Qi Xiao Xuan arose from their rivalry to become the successor of the Qi family.
The Qi family was famous for their heroic ancestor and the strength of each family member. However, there was a dark secret within the Qi family. No one wanted to talk about it because it was cruel. For 500 years, every child born into the Qi family had a twin primordial spirit inside one body. It was an inescapable curse.
At the age of 12, they would undergo the Spirit Lock Ritual. Every time someone attempted to unlock the Crane Demon Longevity Lock, they aimed to claim the body as their own. However, if they failed, they would be sucked into a mirror world, and the mirror would be stored in the Qi family's secret chamber. Qi Xiao Xuan and Qi Yan Ran also have twins. Qi Xiao Xuan's personas were Qian and Yan, while Qi Yan Ran's personas were Fei and Jiang.
Qian secretly watched as Qi Yan Ran performed a ritual and witnessed how the lock was absorbing the spirit of Fei. Before leaving, Qi Yan Ran warned Qian that Yan might kill him and steal his body. These words echoed in Qian's mind and made him wonder about this possibility. This was the beginning of the rift between Yan and Qian, who had lived in harmony for 12 years.
The friendship between Qi Xiao Xuan and his friends was broken after the Demon Hunter selection ended and Qi Yan Ran was chosen to be the Chief Commander. Qi Xiao Xuan knew that Hu Zi was a demon and Qi Yan Ran would hunt him down no matter what. So, Qi Xiao Xuan had to send him out of town right away. The only way to do that was to make Hu Zi, Zhao Xin Tong, and Wang Yu Qian believe that he had betrayed them.
They became friends again after Qi Xiao Xuan and Hu Zi spoke about their secret. Qi Xiao Xuan said he was cursed, while Hu Zi admitted he was a demon. Zhao Xin Tong and Wang Yu Qian were supportive friends who left them alone to give them some space. They didn't go too far though, as they could still hear Hu Zi and Qi Xiao Xuan's conversation…
One important thing was Hu Zi's phurba, an ancient artifact given by Yi Mei to suppress the demon power within him. However, Hu ZI was unaware that the phurba was part of her evil scheme.
I believed Yi Mei was the mastermind behind every crime, but I was mistaken. In the last ten episodes, the truth behind the Demon Emperor's death was uncovered, and the true mastermind, along with Hu Zi's mother, was revealed. It was an unexpected twist in the plot, but by paying close attention to the story, one may guess the secret.
The Characters
Hu Zi
Hu Zi (played by Jiang Long) was not an ordinary orphan. His mother was a powerful nine-tailed white tiger demon. She was killed by Qi Wuji 500 years ago. Before she left, Hu Zi's mother put a strong power inside his body to protect Hu Zi.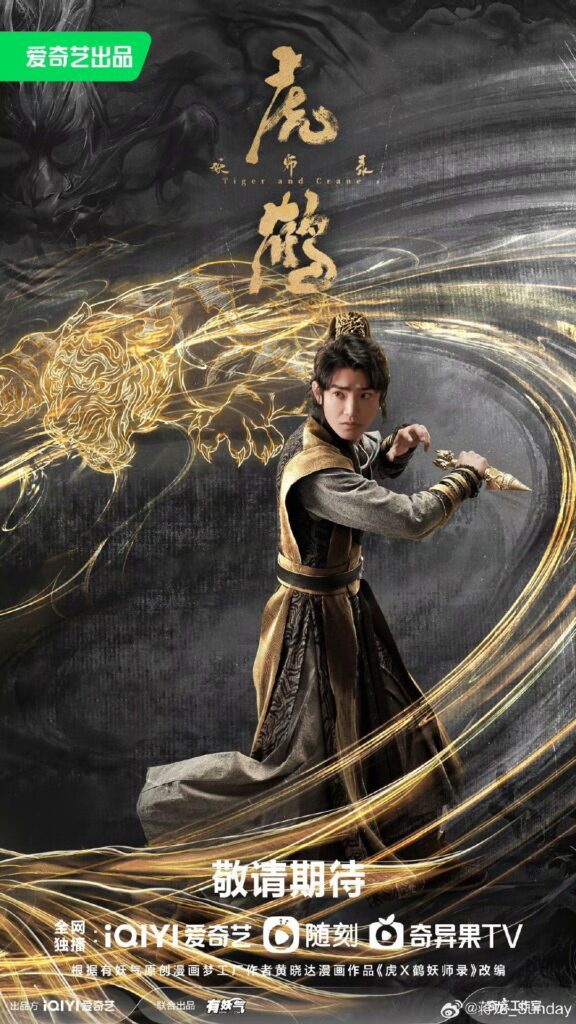 This demon aura protected Hu Zi from the power of the Red Pearl and revealed the secret of his past. If he never met Qi Xiao Xuan and the Red Pearl, the power would have remained a secret buried within his body.
Hu Zi was a stubborn person despite his reckless behavior. Although he had good intentions, his persistence was still annoying. As an orphan, he treasured his friends' care and friendship, including that of the ice-cold Qi Xiao Xuan. It was difficult not to accept Hu Zi, even though his shamelessness was annoying at times.
However, his sincerity made up for his shamelessness. Therefore, it may be the reason why Qi Xiao Xuan, Zhao Xin Tong, and Wang Yu Qian were willing to be close to him.
Hu Zi concealed his loneliness with a happy facade. He had a loving mother who vanished without a trace one evening and never returned. Since then, Hu Zi has been all alone. He longed to find his mother and learn about his past and why she abandoned him. Hu Zi joined the Demon Hunter selection to learn more about his mother, and he believed the only place to find this knowledge was at the Tiangang Hall.
Qi Xiao Xuan
Qi Xiao Xuan (played by Zhang Ling He) was a handsome young man, but his nature was cold and indifferent. Hu Zi has a perfect nickname for him: Ice Block. Before he met Hu Zi, Zhao Xin Tong, and Wang Yu Qian, Qi Xiao Xuan's life only consisted of his work as the captain of the Imperial Demon Hunter. But thanks to them, his life became more lively.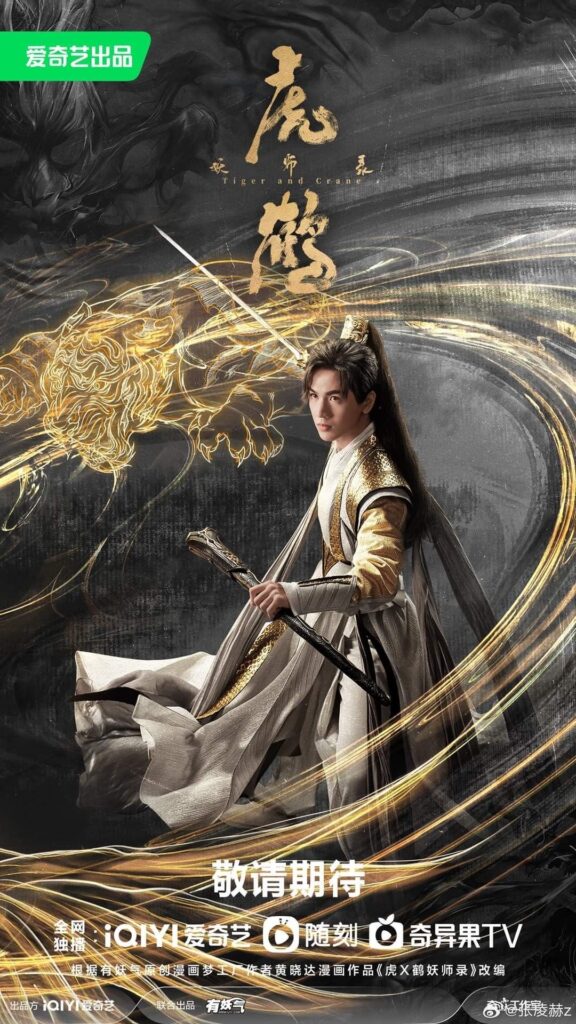 Demon hunting was already in Qi Xiao Xuan's blood. He came from a family of demon hunters, and his ancestor was the famous demon hunter Qi Wuji, who was one of the five heroes who defeated the Demon Emperor. Qi Xiao Xuan always carried the Great Master, also known as the Purple Gold Wolf Haired Calligraphy Brush.
The Great Master, who was 500 years old, used to be Qi Wu Ji's magic weapon. However, he lost much of his power after the great war, and now he could only appear for 5 hours before he had to rest and return to his original form as a calligraphy brush.
Qi Xiao Xuan, a Qi family descendant, also faced the Twin Primordial Spirit curse. Yan and Qian lived together peacefully, and they took turns occupying the body for 12 years until the Spirit Lock Ritual. There was a secret behind Qian and Yan's ritual. Qi Yan Ran once advised Yan to give Qian a pill that could kill Qian's original spirit. Qian took the pill, but Jiang Xi Ci saved him.
Jiang Xi Ci was very angry. He accused Yan of committing the unforgivable act. But, it was actually Qi Yan Ran who had secretly placed the pill on their body. So, when Qian woke up, he would drink the pill, thinking that it was Yan who provided the pill.
Later, Jiang Xi Ci chose to imprison Yan in the Spirit Mirror world. According to her, Yan lacked the qualifications to occupy the body, and without performing the ritual, Yan was trapped in the mirror world for years.
This incident changed Yan's personality. Before the ceremony, Yan was calm and composed while Qian was warm and kindhearted. However, after the ceremony, Qian's demeanor changed to cold and ruthless. Nevertheless, he still maintains a warm and loving relationship with his grandmother, Jiang Xi Ci.
Qi Xiao Xuan had a difficult relationship with his father and older sister, Qi Yan Ran. Fortunately, he was cherished by his grandmother, Jiang Xi Ci, with whom he had a close and loving bond.
Zhao Xin Tong
This courageous lady was a bounty demon hunter from Babao Town. As the only descendant of the Zhao family who guarded the city, Zhao Xin Tong (played by Wang Yu We) was forbidden to learn martial arts, especially the Zhao spear techniques. Although her parents were well-known demon hunters, her mother was killed by a powerful demon.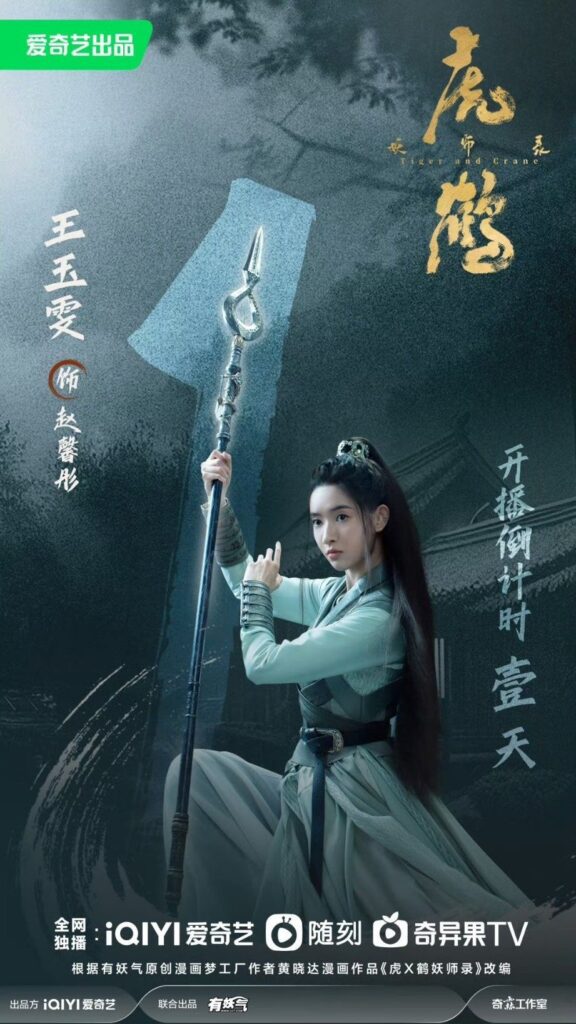 Before she died, Zhao Xin Tong's mother asked her father to forbid her from becoming a demon hunter. Zhao Hao Tian agreed and honored his dying wife's wish. However, Zhao Xin Tong was passionate about demon hunting, so she tricked her father by letting her maid impersonate her while she roamed the world to hunt demons. With the guidance of Zhao Ling Yang, an ancestor of the Zhao family trapped inside a cave in Dianfeng Alley, she perfected the technique.
Zhao Xin Tong was both intelligent and kind-hearted. She was a rational person who did not act based on emotion but analyzed the situation and found the most reasonable solution.
This was evident when her father passed away and Wu Hei Dan forced her to kneel down and admit that her ancestor was despicable. Zhao Xin Tong didn't hesitate to comply because she knew that reputation could be rebuilt, but human life couldn't return once it was gone.
Zhao Xin Tong decided to become an Imperial Demon Hunter and joined Tiangang Hall in order to restore her family's honor. She aimed to place the Zhao family nameplate on the Fame Hall altar in Tiangang Hall.
Wang Yu Qian
Wang Yu Qian (played by Chen You Wei) was my favorite character in t his drama. He earned the nickname "Brick" for his ability to heal people by striking them with a special brick. Wang Yu Qian was the least powerful member of the group and he dressed like a frail scholar. Wang Yu Qian was a womanizer, but not in a flirty way; women were drawn to him despite his foolish appearance.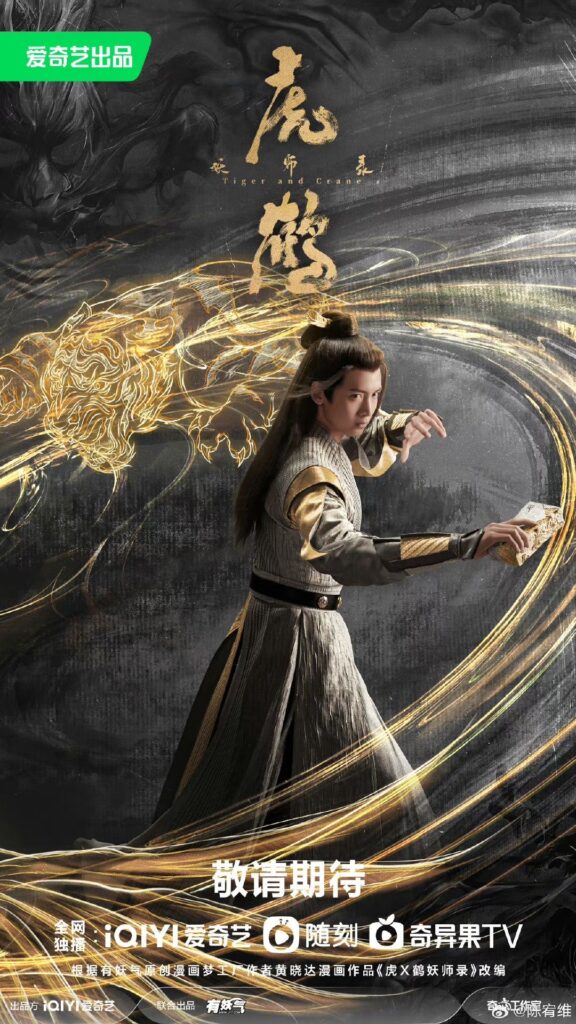 Unlike any of the other men in this genre, Wang Yu Qian was a man who took good care of his appearance. He likes to bathe in a tub filled with flower petals to maintain his radiant and delicate skin. This reveals Wang Yu Qian's unique background, as he was the crown prince of Qianyu State and sought new experiences outside the palace.
Although Wang Yu Qian always wanted to learn martial arts, his father refused to give him permission. To protect his son, the King of Qianyu State sent the most powerful guard in the state to secretly follow Wang Yu Qian. Unfortunately, Qianyu State could not escape Yi Mei's evil plan.
The King was infected with incurable demon poison and could turn into a demon at any time. Having just come back to Qianyu State, Wang Yu Qian felt remorse for not taking his father's feelings into account before he left his home.
Just like his friends, there was something unique about Wang Yu Qian. He was a descendant of the Wang family and served as a vessel for the Qilin God's consciousness. His talent for healing people came from the Qilin God's power. It happened because the ancestor of Wang's family, Wang Qianyu made an agreement with God because he wanted to expand Qianyu's territory.
The divine power of Qilin God had become the origin of Qianyu State's prosperity. Once someone possessed the divine power, they would die and the Qilin God would take over their body. Wang Qianyu used the power to build the Legendary Sea Barrier, and he died shortly after. The divine power seemed to be a blessing for others, but for the Wang family, it was a sign that they were a prisoner of the Qilin God.
Qi Yan Ran
Qi Yan Ran (played by Ye Qing) is Qi Xiao Xuan's elder sister. They did not have a good relationship because Qi Yan Ran always competed with her brother for the position of Chief Commander and the successor position.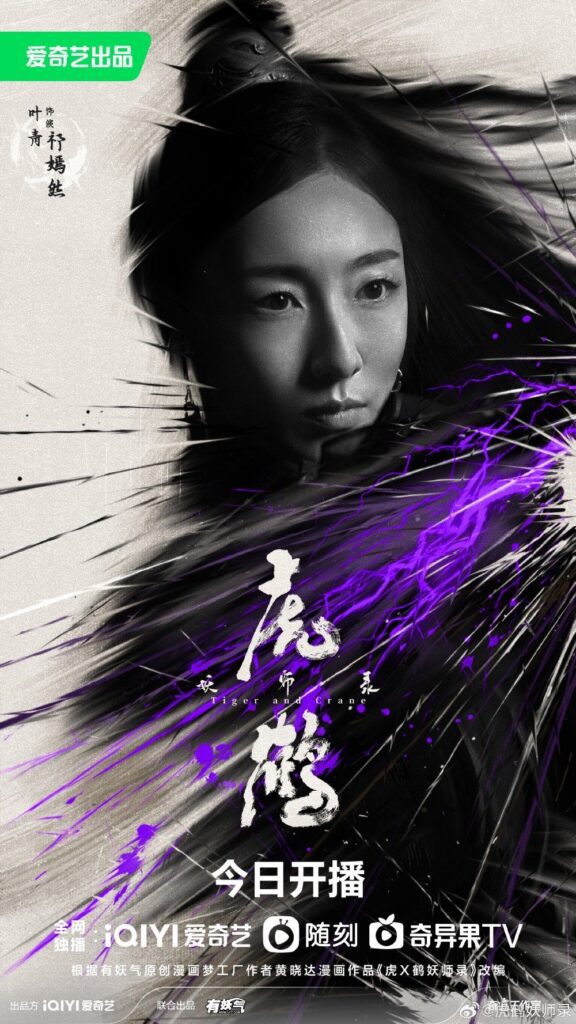 Just like Qi Xiao Xuan, Qi Yan Ran also born as a twin and also carried the curse. Her twin sister was named Fei while she was named Jiang. Fei was sweet and kind while Jiang was ruthless and cunning. Unfortunately, Fei failed the Spirit Lock Ritual test, so Jiang had the right to occupy Qi Yan Ran's body.
Few people know that this happened because Jiang secretly gave Fei a pill that could have killed her spiritual essence. Therefore, during the ritual, Jiang was chosen by the lock because her primordial spirit was stronger than Fei's. However, by doing so, Jiang sacrificed her ability to have children of her own.
As Jiang, Qi Yan Ran lived a difficult life because their grandmother, Jiang Xi Ci, was impartial. She loved Fei and Qian, who were both kind-hearted and obedient. However, Yimei did not fancy Jiang and Yan, who were livelier and more playful at that time. This favouritism hurt a child's heart, making them feel unwanted. Consequently, they became ruthless and cold.
Fairy Yimei
Yimei (played by He Lan Dou) was known as the only Demonologist of Treasure of three states. She was more than 500 years old but did not look like that old. She crafted magic weapons renowned for their incomparable strength and invincible power. Fairy Yimei had special rules for those who wished to obtain her weapon. They must win the tournament held at the Babao Town's fighting ring.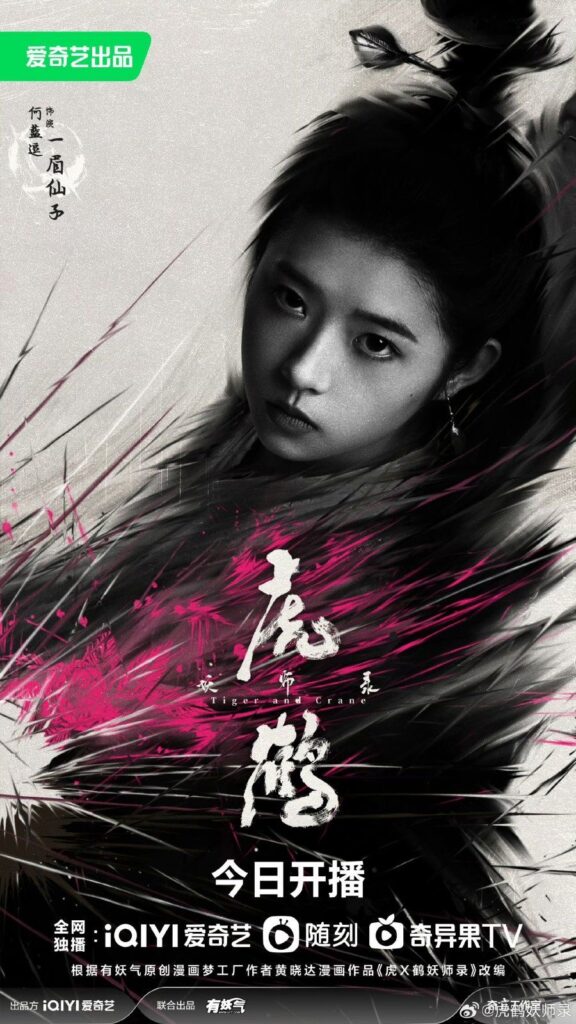 Fairy Yimei was a cold and aloof person. Her face rarely showed any expression. However, she would become angry if her hair was harmed, especially in later episodes. Yimei was a mysterious figure whose true character remained unclear until halfway through the drama, when it was revealed that she had masterminded everything.
However, Yimei's true motives were only revealed in the end, and the story behind it was quite tragic. My initial hatred for her slowly turned into sympathy.
Yimei served as Ye Kong Ming's assistant. When a boat crafted from the bone of the Demon Emperor sailed across the Legendary Sea to the Mainland, Yi Mei transported the descendant of Qi Wu Ji and Ye Kong Ming. The infant boy was the first to possess a twin primordial power in his body.
The Conclusion
Tiger and Crane's story was started at a slow pace. It seemed draggy in the beginning, but later the pace increased and suddenly you've reached the ending. The story itself was quite engaging but the plot twist was a bit predictable.
However, if you are a fan of the fantasy and wuxia genre, especially the one with many side characters and a story that goes around in a circle, then you are in the right place.
Tiger and Crane is a good choice for a daily dose of Cdrama. It's not recommended for binge-watching. You might get lost in the beginning because of the slow pacing.
So, have you made up your mind? Share your thoughts on this drama and review in the comment section below. Happy Watching!