Title: Love Between Fairy and Devil
Also Known As: 苍兰诀, Cang Lan Jue, Parting of Orchid and Demon king
Director: Yi Zheng
Screenwriter: Bai Jin Jin
Genres: Fantasy, Romance, XianXia, Comedy
Country: China
Episodes: 36
Year: 2022
Original Network: iQiyi
Where to watch: iQiyi, WeTv
Adapted from the novel: "Cang Lan Jue" (苍兰诀) by Jiu Lu Fei Xiang (九鹭非香)
Love Between Fairy and Devil Synopsis
Love Between Fairy and Devis was a Chinese fantasy drama released in 2022, it has total of 36 episodes. The story was about Dongfang Qingcang, who was the strongest person in all realms. He mastered the ancient skill of hellfire after he erased all his emotions. He killed his father to seize the throne of the Moon Supreme Lord, the leader of the Moon Tribe of the Changyan Sea.
As a tribe leader, Dongfang Qingcang was ruthless and without mercy. He leads 100,000 demon soldiers to destroy the fairy realm, Shuiyuntian, and the mortal world, Yungmeng Lake. Chidi Nvzi, Shuiyuntian's God of War, sacrifices herself to save the world. She uses her primordial spirit to seal the demon soldiers and perishes with Dongfang Qingcang.
However, Dongfang Qingcang's primordial spirit managed to survive. Dongfang Qingcang was prisoned by the immortals of Shiyuntian inside the Haotian Tower to prevent his resurrection. According to legend, only Goddess of Xishan could solve the catastrophe if Dongfang Qingcang's hellfire once again swept through three realms.
Three thousand years later, a little fairy named Xiao Lan Hua was born at the Arbiter Hall. As a plant fairy, she was weak, her position in Shuiyuntian was low, and everybody bullied her. Xiao Lan Hua lives in a remote Arbiter Hall where the Destiny tree lives. Everyday she worked to guard the tree and fix broken destiny books. But nobody knows that she was the reincarnation of the Goddess of Xishan. Her late parents sealed Xishan power, memories, and appearance to protect her.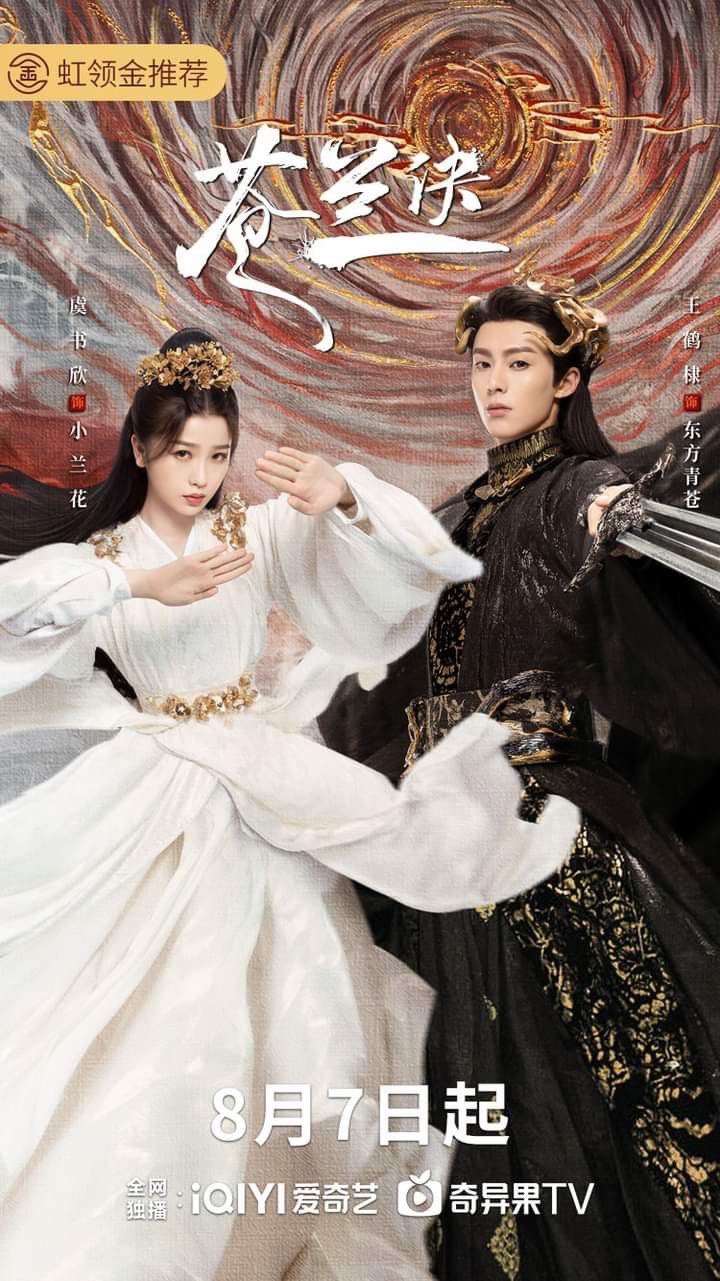 But fate truly loves to play with them. Xiao Lan Hua accidentally freed Dongfang Qingcang from Haotian Tower. Xishan's power inside her put a curse on Dongfang Qigcang's body. The Heart Curse binds them together, and only death can free them.
Love Between Fairy and Devil Review
A few days ago, iQiyi and WeTV released the last two episodes of Love Between Fairy and Devil. Finally, this drama comes to an end. I rarely followed an ongoing drama simply because I was not patient enough to wait. But these last few months, I betrayed my own principles. All because of my new habit of scrolling through the latest release drama sections. I used to watch several episodes to quench my thirst and to decide whether the drama was to my liking or not, and then wait for the drama to complete before a binge-watching session. But lately, I didn't do it.
First, I watched Love From the Galaxy drama and I got hooked (I also wrote Love From the Galaxy episode recap). The second was this drama, Love Between Fairy and Devil. I watched the first episode, and before I realized it, I had spent half the night watching six episodes in a row. At that time, I regret everything. However, I can not stop. Therefore, I am patiently waiting for the episode's release. I even turn on the app's notification. It was such torture to wait for the new episode. Those dramas were soo good that I chose to be tortured by waiting for the release rather than waiting for a few months and binge-watched them for a week. By the way, I also wrote Love Between Fairy and Devil episode recap, if you feel like to read it, please do so, I will much appreciate it.
Beautiful! Truly Beautiful Visuals!
I fell for this drama instantly because of the beautiful and artistic visuals. As a Xianxia drama, they nailed all the visual effects, props, sets, and costumes. I was drawn particularly to the realm of Shuiyuntian. It was the perfect image of a fairy realm With pink clouds and clouds whales.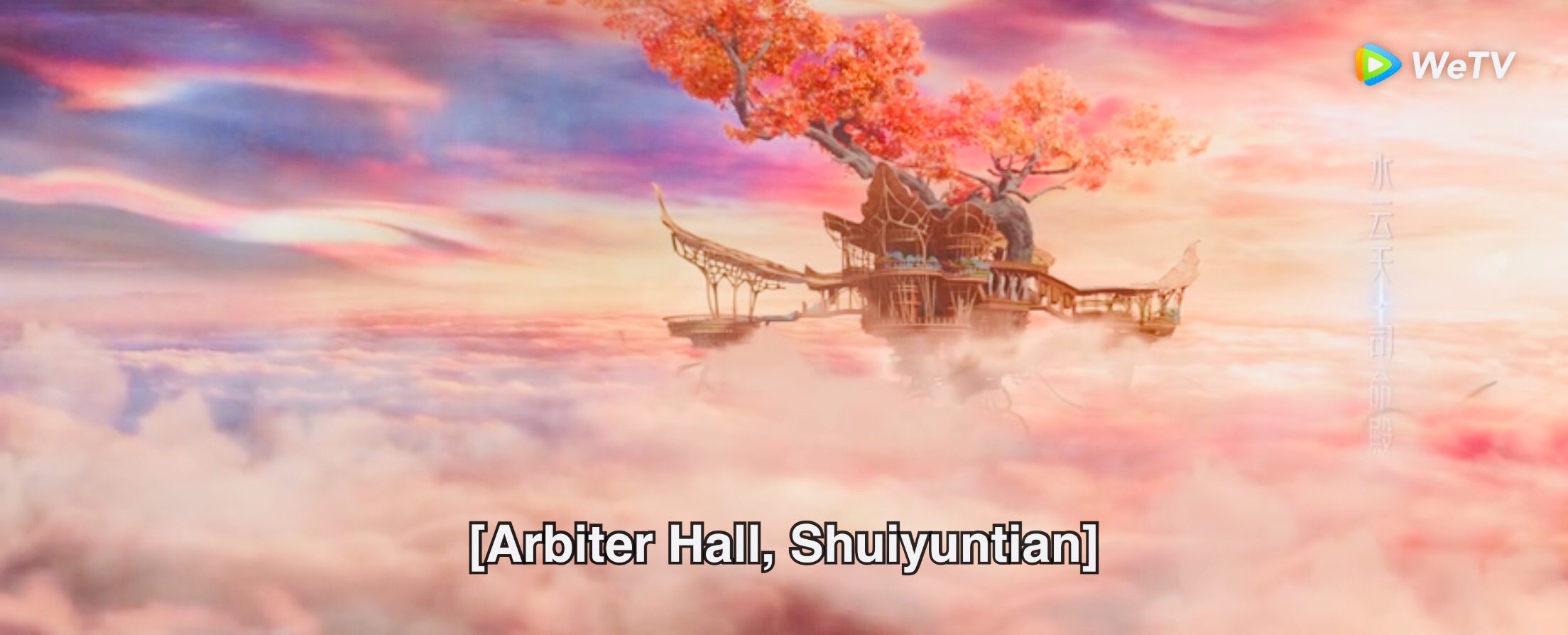 But the Changyan Sea, where the Moon Tribe lives, is also not the one to be missed out. Although it was all gloomy and dark, the palace was amazing and the details were impeccable with a touch of Moroccan features.
The CGI also needs to be praised. The sight of hellfire was mind-blowing. But my favorite scene was the sight of a colored explosion at the Haotian Tower when Dongfang Qingcang and Xiao Lan Hua kissed.
The only place which ordinary was the Yunmeng Lake where the mortal lived. Basically, it was another set of ancient Chinese historical dramas.
Stunning Wardrobes and Costumes
The costumes were my favorite part of Love Between Fairy and Devil. The Shuiyuntian people used flowy dresses and robes made from light garments and moved like water ripples. The Shuiyuntians use pastel-colored tones for their clothes. Nobody used solid and vibrant colors, therefore they looked like walking cotton candy. And I like that.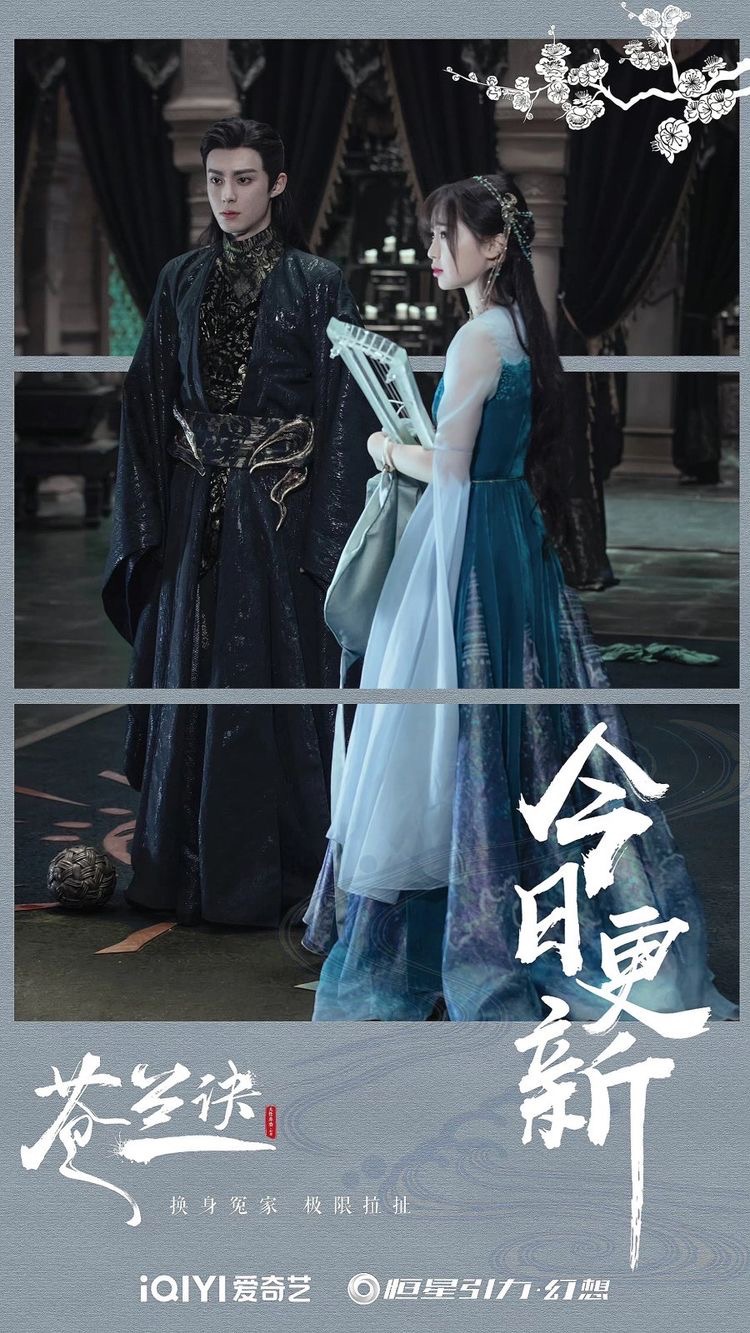 The moon tribe was the exact opposite of the Shuiyuntian. Their costumes were heavy and structured, with embroidery or beads attached to them. The color was solid dark, with a little touch of silver or gold to add some elegance. Those clothes emphasize the handsomeness of Dylan Wang 😍
The people from Haishi City were another style. They were more flamboyant with a vibrant color mixed with darker tones. Their hairstyles were weird. I can not find another word to describe their hairstyle. Especially in Jieli.
And one more thing to be praised. The accessories. They used beautiful headpieces. Both male and female. I like the beads that hanging around at Xiao Lan Hua's hair and Changheng's headpiece. Even their armor was unique. Although, I cannot stop thinking that the armors were useless when you took them to war, but at least you could swing your sword in style…🤣
The last one is the soundtrack. I'm not a fan of Chinese songs, and sometimes I overlook this section. But not this one. Love Betweeen Fairy and Devil had such good and memorable soundtracks.
The Cast and Character
Dongfang Qingcang and Xiao Lan Hua
Dongfang Qincang, played perfectly by the handsome Dylan Wang, was the most arrogant, ruthless, aggressive, and complex antagonist. He was the devil that everybody feared and hated. He killed countless people, including his father. And on top of that, he was emotionless. Dongfang Qingcang was a perfect monster.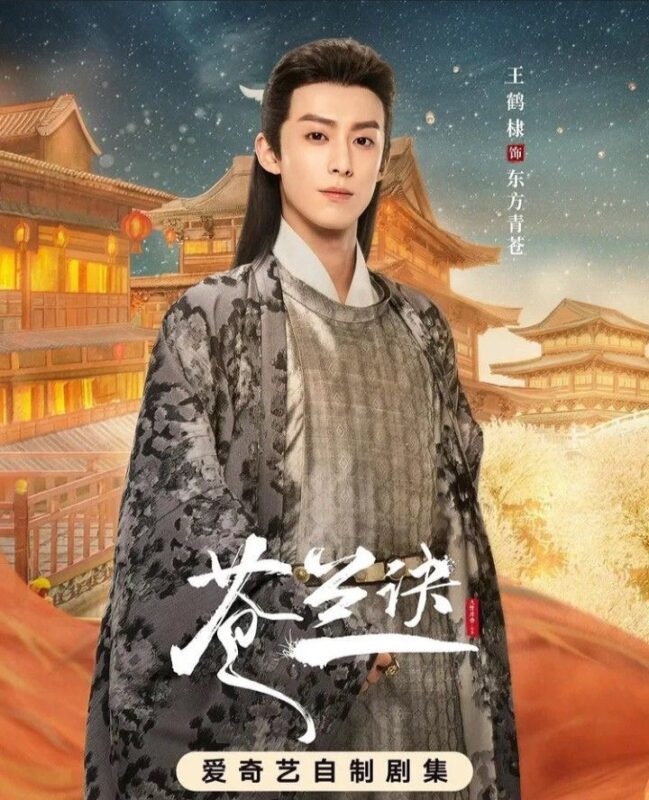 But it only lasted a few episodes because Xiao Lan Hua revived his emotion tree, and Dongfang Qingcang regained the emotions that has lost for thousands of years. Hence, he became more humane. Dongfang Qingcang re-learned how to deal with emotions such as love, hate, fear, jealousy, or worry. It was funny to see his sweet side when he finally admitted that he had fallen in love with Xiao Lan Hua.
Xiao Lan Hua, played by Yu Shu Xin, was a naïve orchid fairy. Her mind was simple. She is also nice, persevering, childish, and meddlesome. In my opinion, she was impulsive and maybe a little overconfident. When she decided to protect Changheng back in the Haotian Tower, did she ever think that Changheng was THE God of War, whilst she was only an orchid?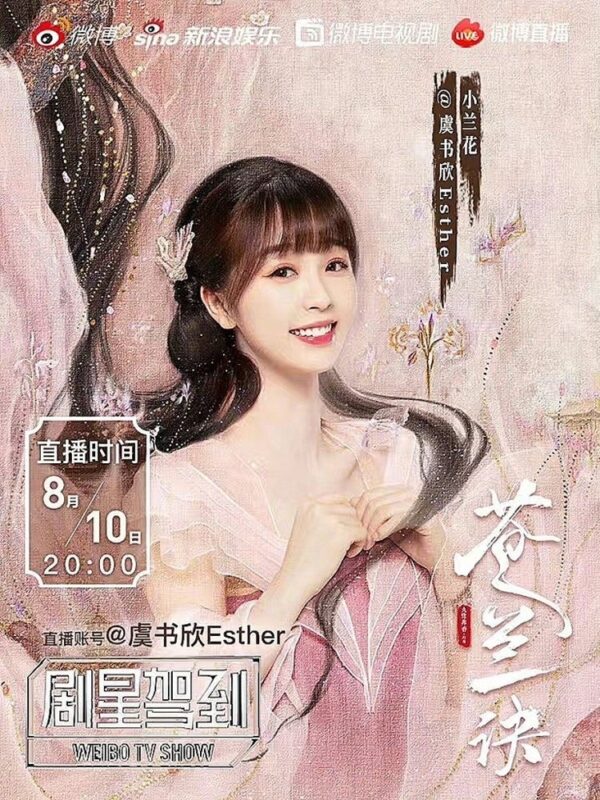 I was a bit annoyed by Xiao Lan Hua's character. She always needs someone to protect her. Her one-track mind kept her from realizing Dongfang Qincang's sacrifice for her. However, her bubbly personality won me over. It was hard not to like sweet people. Xiao Lan Hua always wanted to care for others. That was the reason why Dongfang Qingcang was hell-bent on her.
There were times when Dongfang Qingcang swapped bodies with Xiao Lan Hua's bodies. When you see the scenes, you will realize that Yu Shu Xin and Dylan Wang were good actors. They did an amazing job. Even small gestures were well thought out. I grinned from ear to ear every time I saw Dongfang Qingcang, the majestic sovereign, lift his robe like a princess when he walked. 🤣
The God Of War
Anyway, Changheng was the god of war that I mentioned before. As a God of War, I think he was a bit too soft. Well, compared to Ling Bu Yi from Love Like The Galaxy, Changheng was more like a royal prince. He was soft, kind, very polite, and considerate. I cannot believe that he was the only hope for Shuiyuntian to face Dongfang Qingcang. I would love to see him become a bit cruel. That'll be interesting.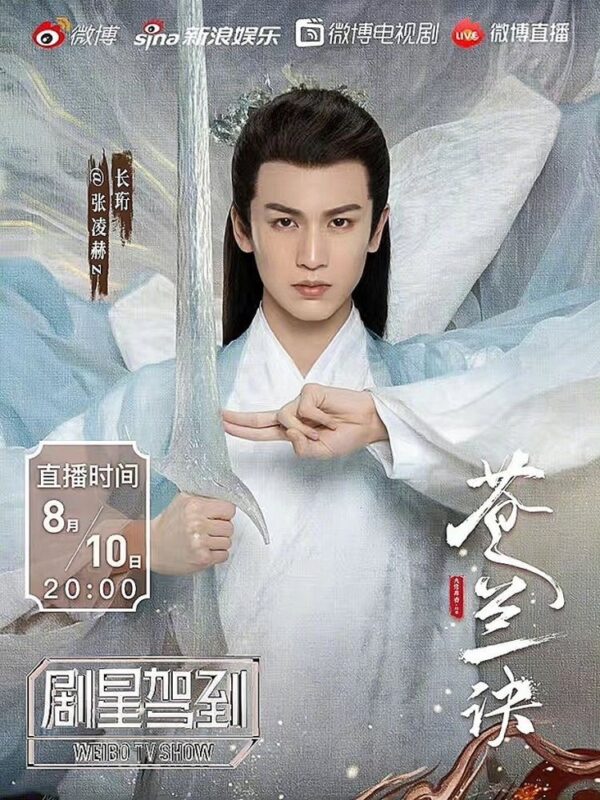 Changheng was betrothed to the Goddess of Xishan. Because she was missing for thousand of years, their marriage was delayed. Changheng fall in love with Xiao Lan Hua long before she know that he was the one who saved her. Changheng keep his feeling hidden because he afraid if it was exposed, his brother would punished Xiao Lan Hua.
Zhang Ling He has a soft and gentle expression when he acts as Changheng. Even when he was on the war, he didn't erase those expressions. But when he acts as Xiao Run, we get to see his playful side. It was funny to watch Changheng trying hard to be friends with Dongfang Qingcang in Lucheng City.
The Villains, But I Love Them
Rong Hao was the best example of a two-faced character. I used to guess he was the biggest villain in this drama, but no, he was not. Even though he did many despicable deeds, his only reason was love. He didn't vie for power nor did he want glory. All he ever wanted was for his master to come back.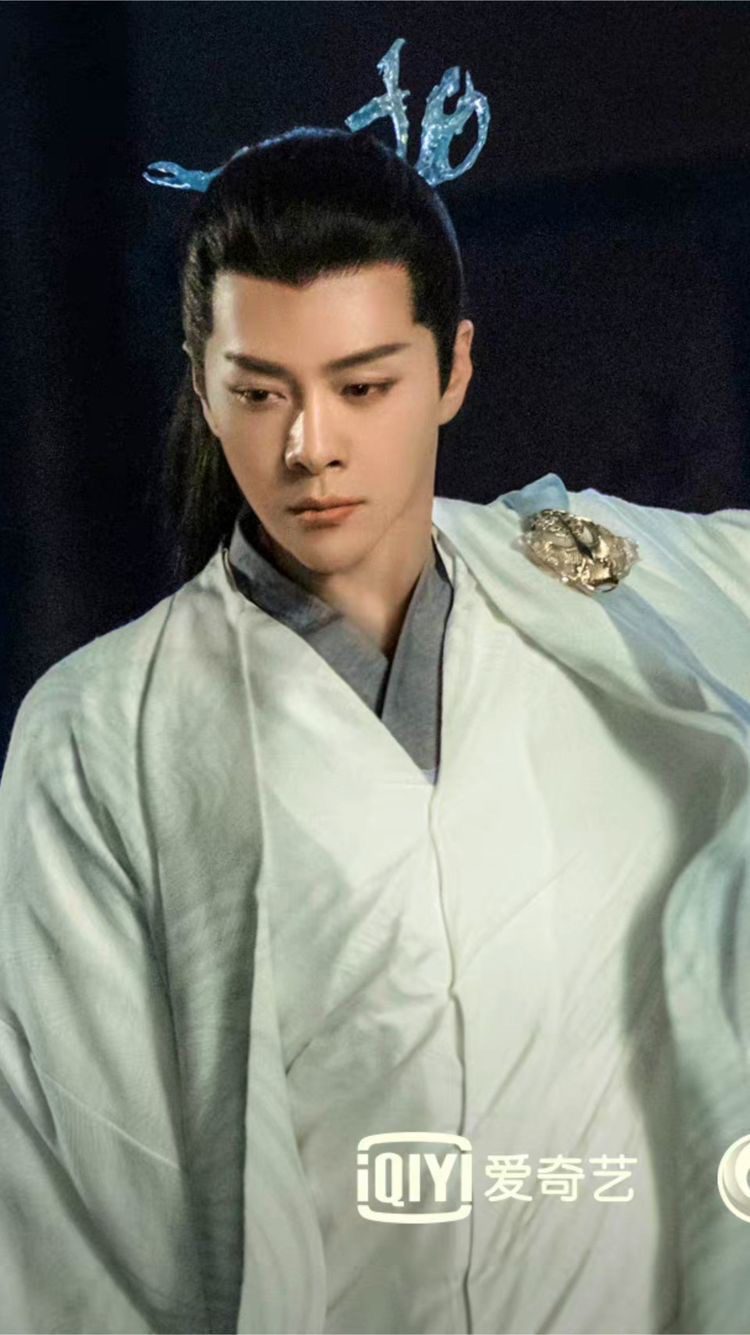 I was stunned to see Xu Hai Qiao. He was handsome and his handsomeness made his name written on my must-see actor's list. As Rong Hao, Xu Hai Qiao acts as an irksome person. From the beginning, I sensed something bad about his character. And it turned out he was a traitor. But every time you see him looking at his master with loving eyes, you'll understand why he did those things. Xu Hai Qiao did a good job with his character, and he was particularly handsome in a black costume as the Haishy City lord, although his hair was awful.
Chidi Nvzi was the First God of War with a sad fate. She used to love Dongfang Qingcang and that's why she decided to perish with him and leave Rong Hao alone. When Rong Hao preserved her body with an evil spirit, it eroded her soul. The effect of 30,000 years of being nourished by an evil spirit made her mad. She was always in pain, and there were voices inside her head. Eventually, she wanted to be free, and Rong Hao must comply with her wish, even though it broke his heart.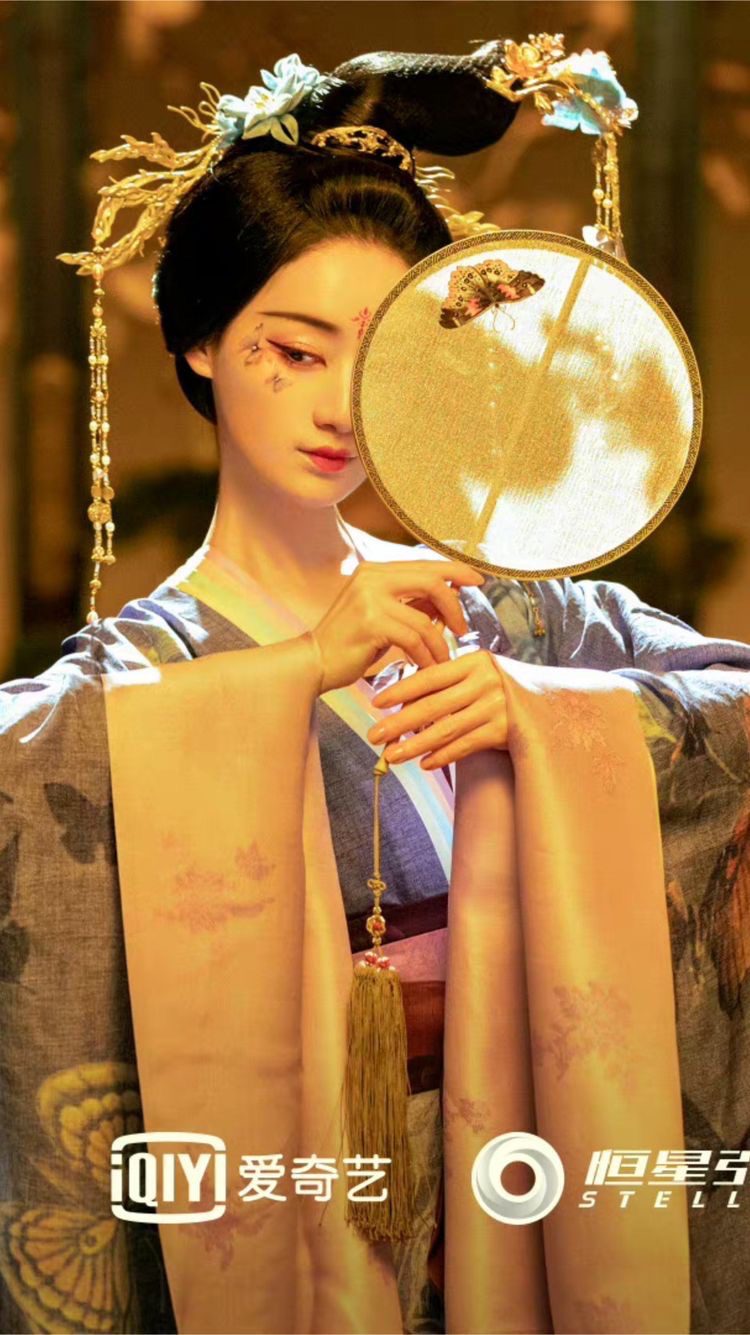 I saw Guo Xiao Ting for the first time as the cruel Fairy Shunde in The Blue Whisper drama. In this drama, we can see her softer expression as Chidi Nvzi when she interacts with Rong Hao, her disciple. As the first God of War of Shuiyuntian, she seemed too frail. I wanted to complain about these soft and gentle Gods of Wars, but perhaps, that was what a Shuiyuntian fairy looks like. Both Changheng and Chidi Nvzi didn't have any aura of someone who wields swords at war.
The Story
Love Between Fairy and Devil was an adaptation of a novel. If I like drama, I usually also read the novel, because I would want to know whether the story was the same or not.
This drama mainly follows the relationship between Dongfang Qingcang and Xiao Lan Hua, a tsundere devil, and a naïve fairy. But their relationship was complex because Xiao Lan Hua was betrothed to Changheng, even though she did not know it yet. Also, there was another couple who were the ones who had gone astray, Rong Hao and his master, Chidi Nvzi.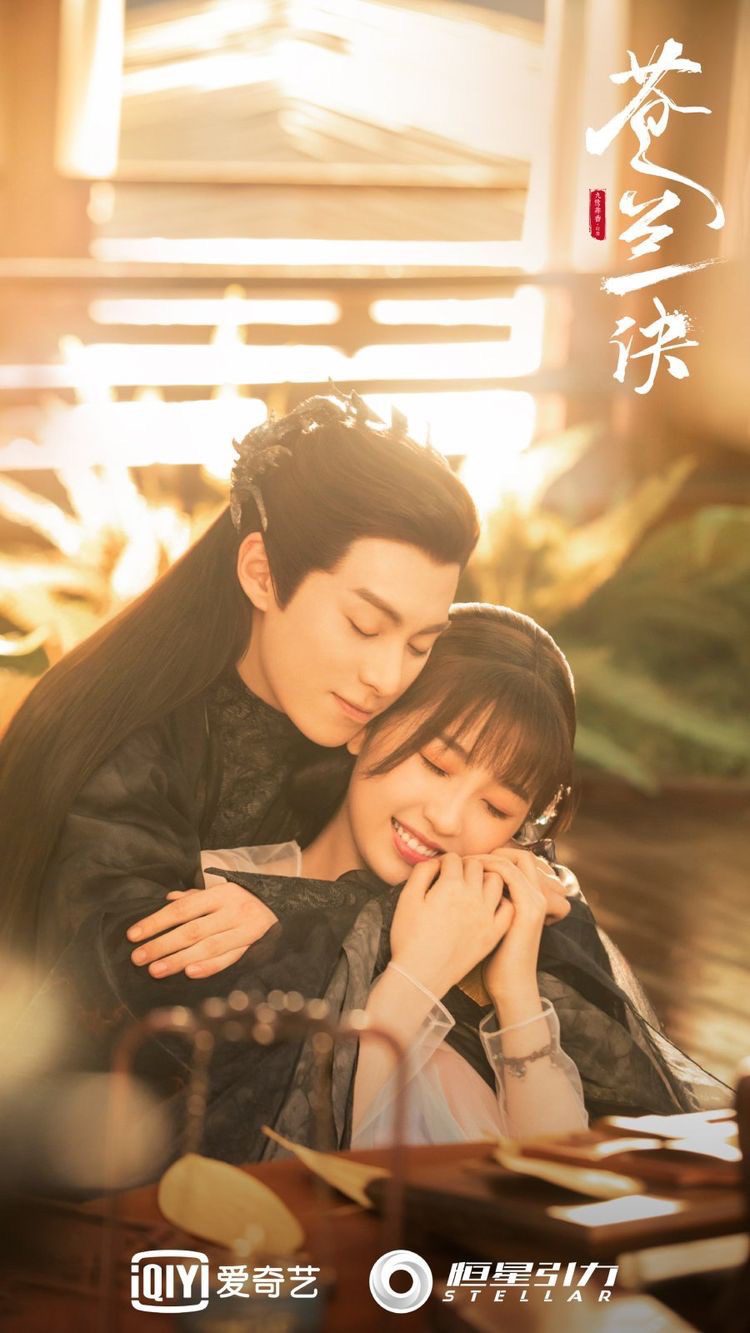 The story was quite good about a forbidden relationship between a demon lord with a fairy, whose real identity was a goddess. At the beginning of the drama, you might find it unbearable because of Xiao Lan Hua's character. But everything becomes more interesting when Dongfang Qingcang regains his emotions. As someone who has been emotionless for thousands of years, his confusion over every kind of emotion was natural. Sometimes if he did not understand the meaning of Xiao Lan Hua's remark, he would ask his trusted aide, Shangque. Who, in my opinion, was as bad as he was in terms of relationships. What can you expect from two grown-up men with the EQ of a child? 🤣
The first half of the drama mostly tells about how Dongfang Qingcang tries to increase the power of Xiao Lan Hua so she can fix the destiny book of Chidi Nvzi. Meanwhile, Xiao Lan Hua is busy with her fangirling Changheng. The conflict increased in later episodes. In episode 16, the story becomes complicated when Dongfang Qingcang resumes his position as Moon Supreme at The Moon Tribe. He also took Xiao Lan Hua with him to the Changyan Sea. They almost got married before a massive war broke between Shuiyuntian and the Moon Tribe.
The second half of Love Between Fairy and Devil was more interesting for me. We could see the character growth. The childish Xiao Lan Hua in the Arbiter Hall has changed into a woman with wisdom. She helped Dongfang Qingcang find his father's secret, revive his relationship with his brother Xunfeng, clear the misunderstanding between them, and also broke her ties with Changheng. All hidden stories behind Xiao Lan Hua's past life, Haishi City Lord, Chidi Nvzi, and the Evil God Tai Su were revealed. It was such a delight to watch this drama although the ending seemed to be hurried.
The Ending, Beware of the Spoiler
I was delighted because Love Between Fairy and Devil has a happy ending. A great war between the Shuiyuntian and the Moon tribe broke out at the border of the Changyan Sea. Changheng leads the soldiers of Shuiyuntian. Meanwhile, the Moon tribe was led by Dongfang Qingcang and his brother Yunfeng.
Their power was unbalanced because the Moon tribe had not recovered from years of civil unrest. However, Dongfang Qingcang was still the feared one because he was the strongest person in all realms. His hellfire alone was enough to wipe out all three realms. The war started, and many people died.
Xiao Lan Hua remembers her fate and decides to kill herself. Her death revived dead soldiers, including the 100,000 demon soldiers of the Moon Tribe who perished 30,000 years ago. She also revived the first God of War, Chidi Nvzi. Xiao Lan Hua perished into dust and left the weeping Dongfang Qingcang.
Changheng and Dongfang Qingcang find a way to resurrect Xiao Lan Hua with the help of Si Ming, Xiao Lan Hua's master. They work together to restore her primordial spirit into an orchid seed. After that, Dongfang Qingcang nursed the orchid seed until it turned into a human form. But she was not Xiao Lan Hua. She was the goddess of Xishan who forgot everything about Xiao Lan Hua.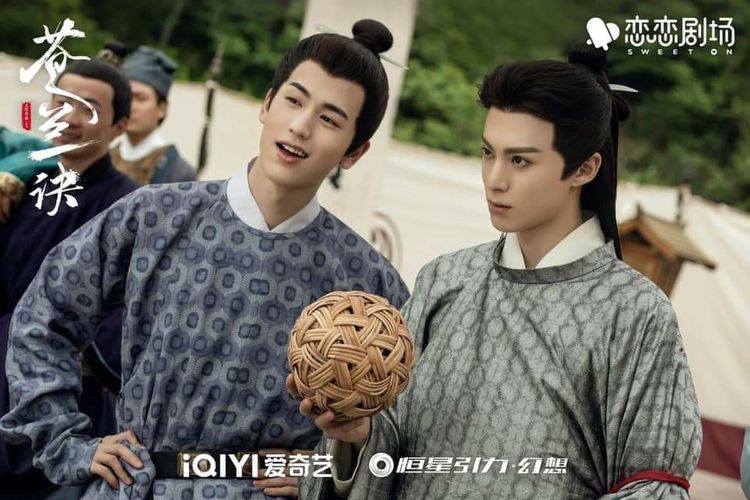 This time, Dongfang Qingcang tries everything he knows to make her remember her life as Xiao Lan Hua. But his effort was for naught because the Goddess of Xishan decided to continue her engagement with Changheng. Their marriage would be held before a war to destroy the Evil God Tai Sui.
The brokenhearted Dongfang Qingcang decided to change Xiao Lan Hua's fate. He wanted to prevent Xiao Lan Hua from sacrificing herself. This is the sad fate of the Goddess of Xishan.
Therefore, Dongfang Qingcang trapped the Evil God Tai Sui inside his sea of hearts. But Tai Sui's provocation affected him and made Tai Sui's primordial spirit occupies Dongfang Qingcang's body. When Dongfang Qingcang showed up in front of the world, it shook all realms because Tai Sui could use Dongfang Qingcang's hellfire and destroy all realms.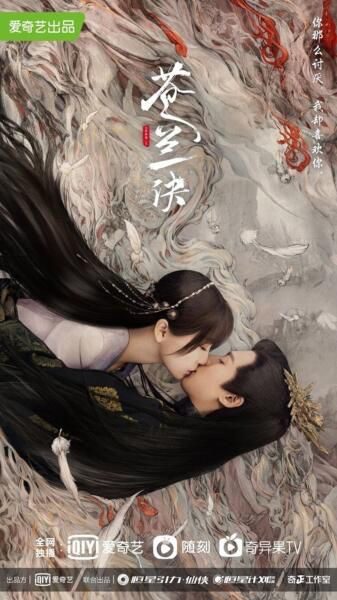 Knowing that Shuiyuntian alone can not handle Dongfang Qingcang, Yunfeng and the Moon Tribe's people come and help them. But the only person who could stop him was the Goddes of Xishan. Dongfang Qingcang begs her to kill him because it would also destroy Tai Sui. Xiao Lan Hua refused to kill him, but she knew that was the only choice. Therefore, while crying profusely, she directed her power to the only person she loved the most.
Eventually, Dongfang Qingcang died and only left a memento for her.
Five hundred years later, all realms were at peace. There was no more hatred and war between Shuiyuntian and the Moon tribe. Inside the flower pavilion at the Arbiter Hall, in the exact place where Xiao Lan Hua keeps the memento, Dongfang Qingcang appeared once again.
If you want to know more detail about Love Between Fairy and Devil ending, I wrote it on a seperate post, please visit this post Love Between Fairy and Devil ending explained.
The Conclusion
Love Between Fairy and Devil brought me a bittersweet feeling. Too many partings scenes that made me cry. However, the love story between Dongfang Qingcang and Xiao Lan Hua was beautifully written. I definitely would rewatch this drama, not only for the story of Dylan Wang and Xu Hai Qiao but also for the visuals.
If you love fantasy dramas such as Three Lives Three Worlds Ten Miles of Peach Blossoms, you might not want to miss this one. The story was sweet, the visuals were impeccable, the acting was top-notch, and the soundtrack was good. And do not forget the best part: Dylan Wang and Xu Hai Qiao…😁. Love Between Fairy and Devil is a complete package of entertainment.
There were many things to appreciate in every episode and I hope you, readers, will feel the same as I did when you watched this drama. Really hope this Love Between Fairy and Devil drama review post helps. Happy watching!