Only two months remain until 2024. I have high hopes that Cdramaland will have some great dramas for us this month. And after we gave you New Chinese Dramas Premiere in October 2023 article, so far we have already had a couple of good options at the beginning of November. Here are the new dramas that will be released in the month of November 2023.
New Release Chinese Dramas November 2023
1. We Go Fast on Trust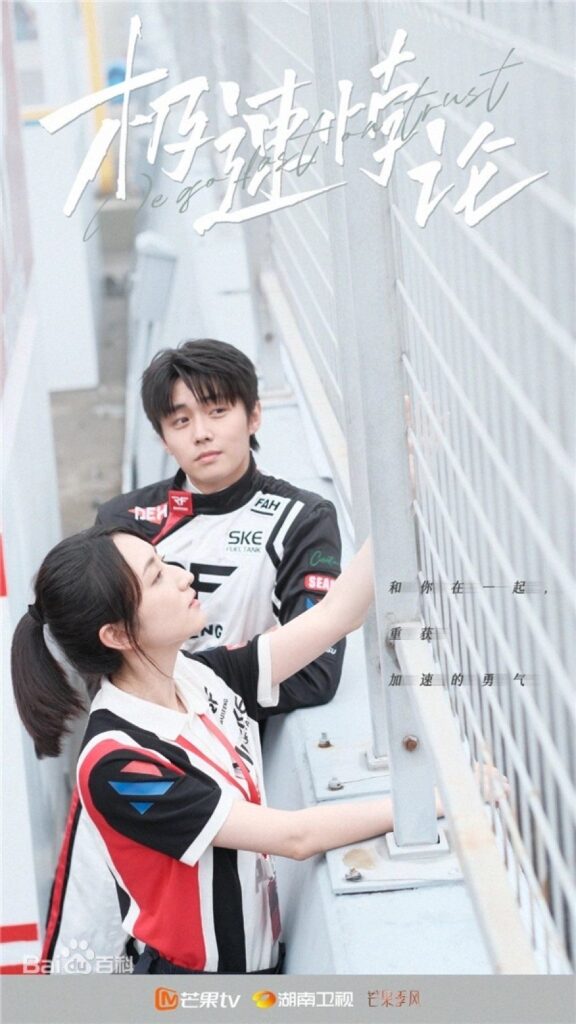 Title: We Go Fast on Trust
Also Known As: 极速悖论, Ji Su Bei Lun, Speed Paradox
Genres: Romance, Sports
Cast: Zhai Zi Lu, Ko Chia Yen
Number of Episodes: 22
Date of Release: Nov 1, 2023
Original Network: Hunan TV Mango TV
Where to Watch: MGTV, Viki
This show just came out yesterday. We decided to check it out and thought it was worth trying because the first episode was produced in a very good quality. Moreover, the characters seemed interesting, especially Shen Xi.
Chen Mo Bai was a race car driver who was obsessed with speed and dreamed of being a top-level driver. Without the support of his family, Chen Mo Bai struggled with his career choice. Meanwhile, Shen Xi was a mediocre office worker who ran away from her painful past. When destiny brought them together, Shen Xi was forced to face her long-lost passion.
Behind her indifferent expression and cold nature, Shen Xi used to be a passionate engineer, but something happened two years ago and she quit the field. When an obsessed driver met an ace engineer, could Chen Mo Bai and Shen Xi find their way again?
2. Love is Panacea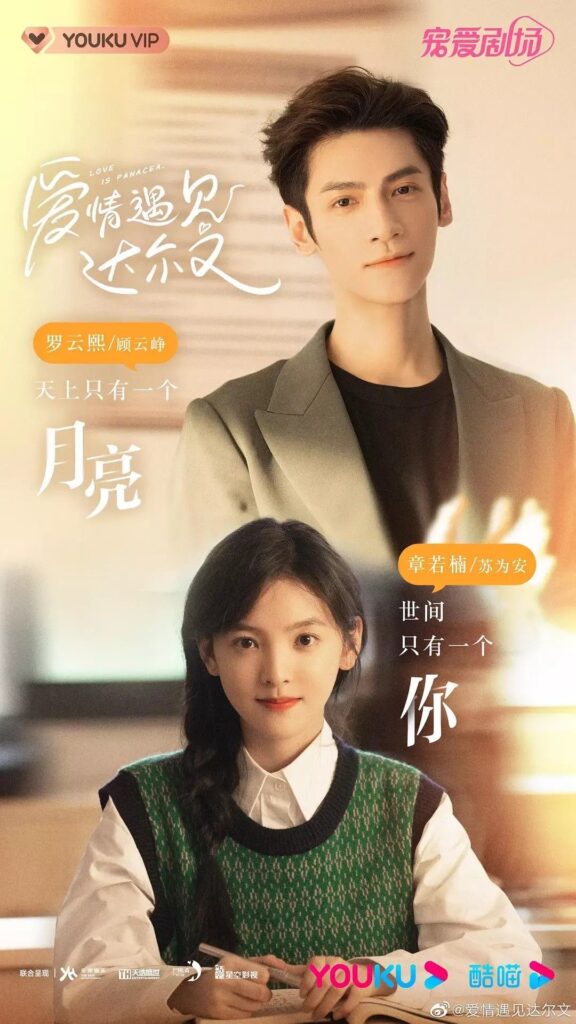 Title: Love is Panacea
Also Known As: 治愈系恋人,Zhi Yu Xi Lian Ren, Ai Qing Yu Jian Da Er Wen
Genres: Romance, Drama, Melodrama
Cast: Zhang Ruo Nan, Luo Yun Xi
Number of Episodes: 34
Date of Release: Nov 2, 2023
Original Network: CCTV Youku
Where to watch: Youku
Adapted from the web novel: "Zhi Yu Zhe" by Ning Meng Xi Yan
Another medical drama for your watchlist. Get ready for some emotional moments as Love is Panacea is considered a melodrama. When we added this drama to our watchlist, we already considered replenishing our tissue stock, which was depleted significantly after the South Wind Knows drama.
Gu Yun Heng is an exceptionally talented doctor and the youngest neurosurgeon in China. Besides his talent, Gu Yun Heng's handsome and dignified countenance has made many women fall head over heels. While he was working as a medical aid worker in Africa, he crossed paths with Su Wei An, who was suffering from Huntington's disease.
Gu Yun Heng was a source of support and encouragement to Su Wei An in her battle with the disease. Together, they researched for a cure to this disease, overcoming personal and professional obstacles. Will Gu Yun Heng be able to find the cure and save Su Wei An from an untimely death?
3. The Fearless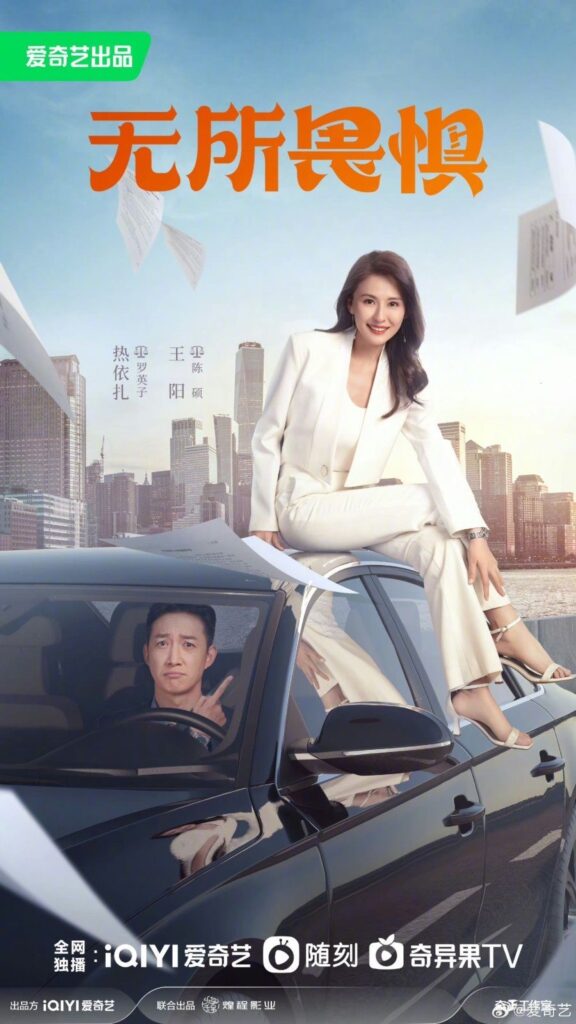 Title: The Fearless
Also Known As: 无所畏惧,Ni Hao Sheng Huo , Hello Life , Wu Suo Wei Ju
Genres: Drama, Life, Law
Cast: Rayzha Alimjan, Wang Yan, Chuai Ni
Number of Episodes: 40
Date of Release: Nov 3, 2023
Original Network: CCTV, iQiyi,
Where to Watch: iQiyi
A new urban drama for your November watch list. The beautiful Rayzha Alimjan and Wang Yan team up in this complicated but engaging story. It's a great choice for your weekend.
Luo Ying Zi's perfect life was shattered when she found out that her husband Liu Ming had abandoned her for her best friend, Wen Li. Liu Ming not only took their hard-earned shared property but also left her with an insurmountable debt.
Luo Ying Zi was devastated, and her only hope was her newly obtained lawyer's qualification certificate. She started working at Liang Cheng Law Firm and embarked on a career as a lawyer. This journey was a rocky road, and Luo Ying Zi had to depend on herself.
4. Only For Love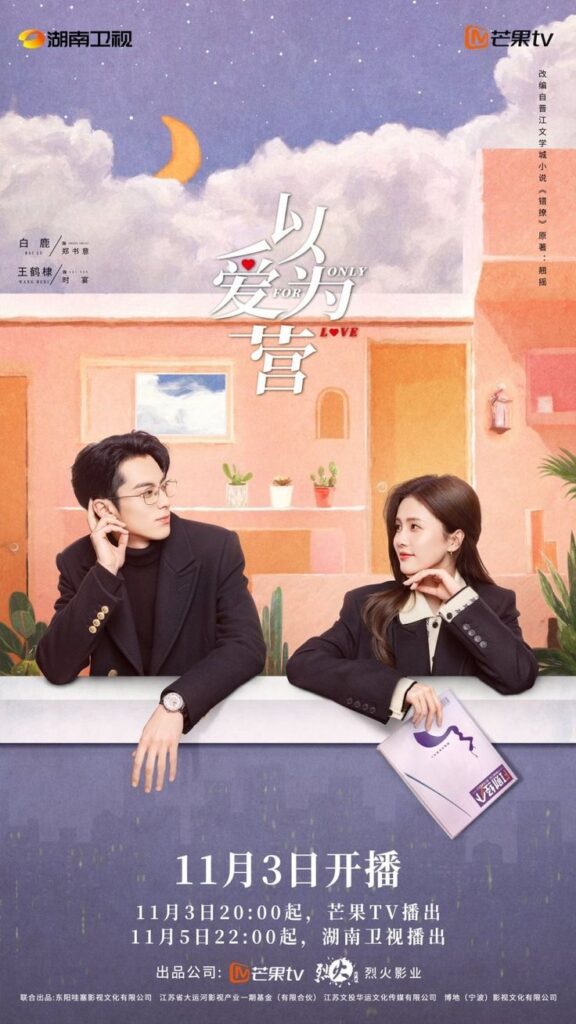 Title: Only For Love
Also Known As: 以爱为营, Cuo Liao, Yi Ai Wei Ying, Accidental Love
Genres: Romance, Comedy
Cast: Bai Lu, Dylan Wang
Number of Episodes: 36
Date of Release: Nov 3, 2023
Original Network: Hunan TV, Mango TV
Where to Watch: Viki
Adapted from the web novel: "Accidental Love" by Qiao Yao
Bai Lu and Dylan Wang in one scene? After a very short scene in Love Between Fairy and Devil (Bai Lu acted as Shi Ming, Xiao Lan Hua's master), we could not wait for them to share another scene. And Cdramaland was so kind to give us, Only For Love.
Zheng Shu Yi is a hardworking financial journalist working for China's top financial newspaper. To get a front-page story, she tried all means to get an interview with Shi Yan, a very famous and promising young CEO. At the same time, Shi Yan was looking for local startups to invest in. This was his way of giving back to the community. Zheng Shu Yi and Shi Yan's relationship started inadvertently.
Later, Shi Yan agreed to let Zheng Shu Yi write about his company, which provided an opportunity for them to get to know each other. Could this collaboration lead to a chance for romance?
5. Wonderland of Love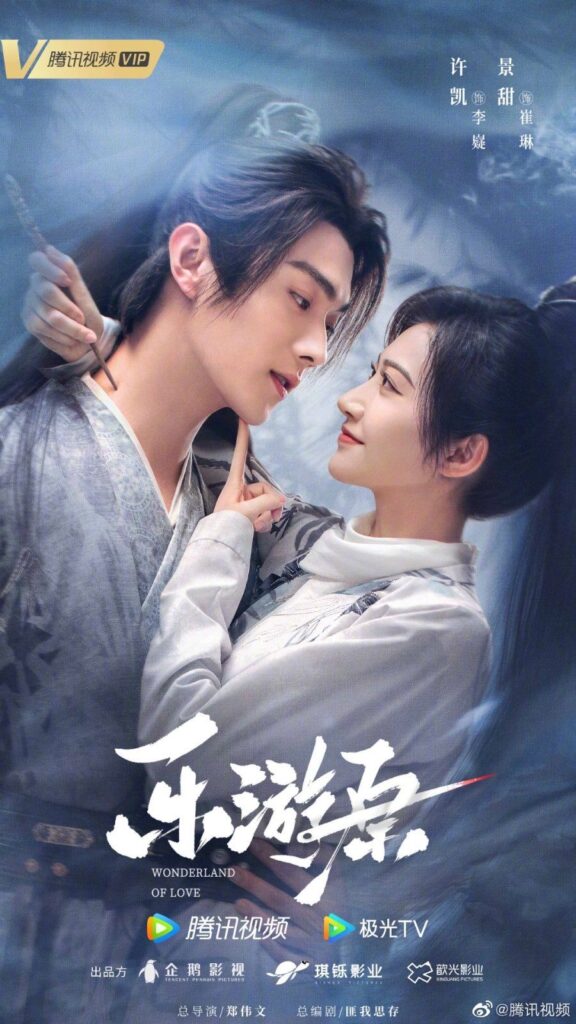 Title: Wonderland of Love
Also Known As: 乐游原, Le You Yuan, Wonderland to Love
Genres: Romance, Drama, Political
Cast: Xu Kai, Jing Tian
Number of Episodes: 40
Date of Release: Nov 6, 2023
Original Network: Tencent Video
Where to watch: WeTV, Viki
Adapted from the novel: "Le You Yuan" by Fei Wo Si Cun
It's Xu Kai's new drama, everybody!!! Mark your calendar now!
Li Ni, the emperor's grandson, concealed his identity and served as a carefree border general. Li Ni was never loved by his father and did not intend to compete for power. During a rebellion outbreak, Li Ni was forced to take on the responsibility of quelling the unrest. During his battles against the rebels, Li Ni met Cui Lin. Just like him, Cui Lin hid her true identity as the daughter of General Cui Yi from the Cui family. She disguised herself as a lieutenant and fought alongside the army.
Li Ni and Cui Lin met over and over again. They began to compete with each other and were busy calculating and predicting each other's plans and movements. However, they never predicted that they would fall in love with each other.
6. There Will Be Ample Time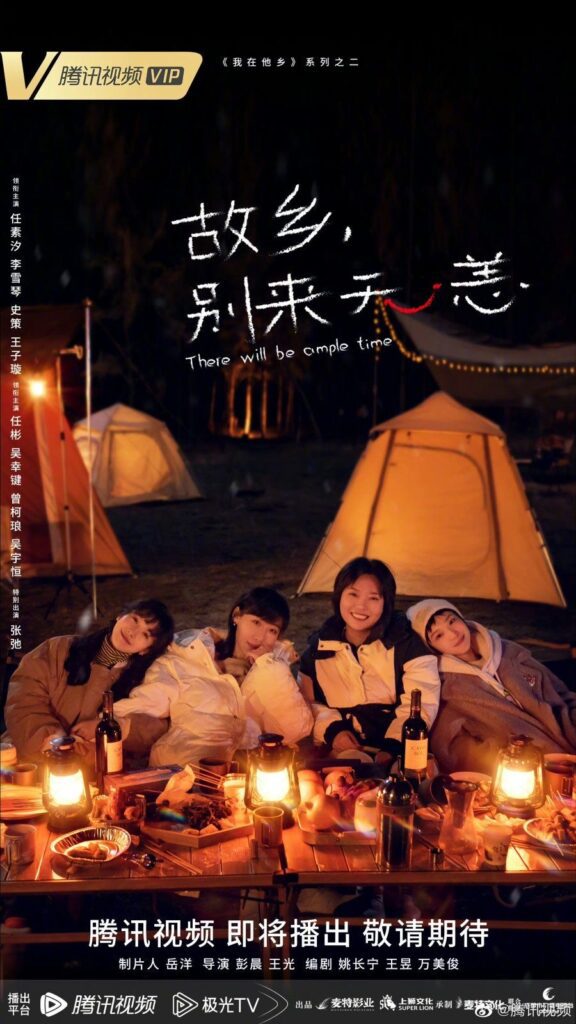 Title: There Will Be Ample Time
Also Known As: 故乡,别来无恙, Gu Xiang Bie Lai Wu Yang , Wo Zai Ta Xiang Ting Hao De 2
Genres: Drama, Friendship
Cast: Ren Su Xi, Li Xue Qin, Shi Ce, Wang Zi Xuan
Number of Episodes: 36
Date of Release: Nov 3, 2023
Original Network: Tencent Video
Where to Watch: Tencent Video, WeTV
There Will Be Ample Time is a heartwarming, female-centric drama about dreams, friendship, and family. A perfect choice for a lazy night after a hard day at work.
Zhang Pei, Gou Dan Dan, Dong Jia Xi, and Wu Yun are childhood friends. They grew up together. At the moment, they live different lives in different places, but they still keep an eye on each other. Zhang Pei is a successful insurance agent, Gou Dan Dan is a beauty vlogger, Dong Jia Xi works in a theater, and Wu Yan was admitted to become a sub-district civil officer.
Fate reunites them in Chengdu, their hometown. They never thought that moving back would lead them to a new direction in career, friendship, family, and love.
7. Sacred Tree Has Heart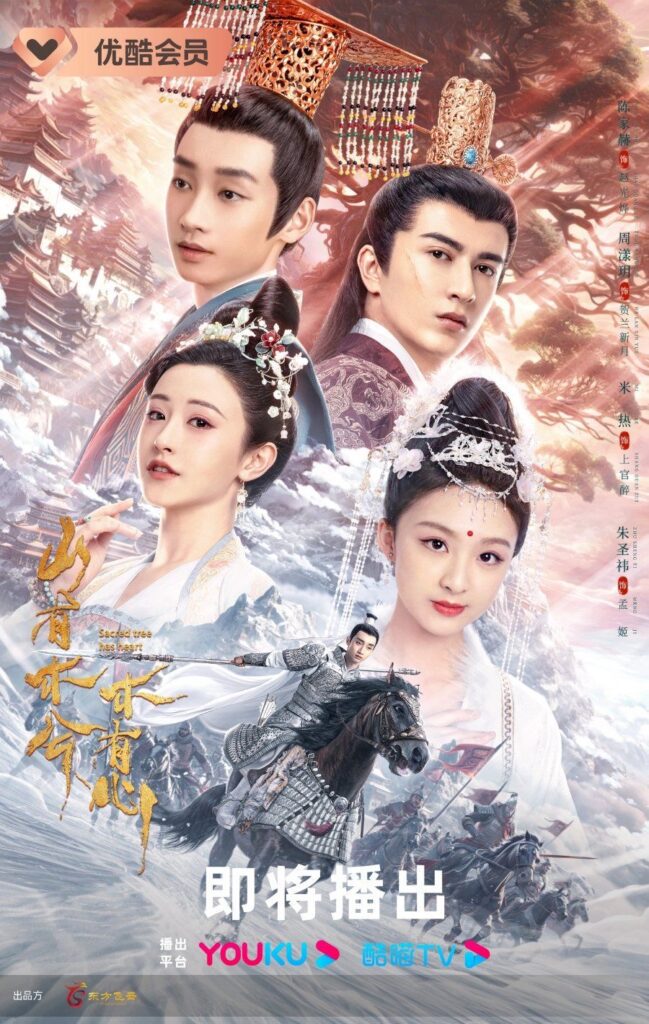 Title: Sacred Tree has Heart
Also Known As: 山有木兮木有心, Shan You Mu Xi Mu You Xin
Genres: Fantasy, Historical, Costume
Cast: Chen Jia He, Zhou Yang Yue, Merxat, Pei Jia Xin
Number of Episodes: 40
Date of Release: Nov 1, 2023
Original Network: Youku
Where to Watch: Tencent QQ
Sacred Tree Has Heart is an option for those who love fantasy costume dramas, or just love to see Merxat on screen. We watched the first episode. Even though the CGI was so-so, the story was quite promising.
Xin Yue, the Saintess of the Snowfall Tribe, has the divine ability to foresee the future. And those who could win her favor would rule the world. When the Crown Prince of Beirong personally seeks Xin Yue's insight, she manages to escape, but it leads to competition between the countries.
Taichu, the sacred ancient tree of Xuefeng Mountain, wanted to repay Xin Yue's kindness. It assumes the appearance of Dongling King Guang Ye and becomes his replacement. In a world full of chaos, could Guang Ye achieve his grand aspiration of a peaceful world?
8. Story Of Kunning Palace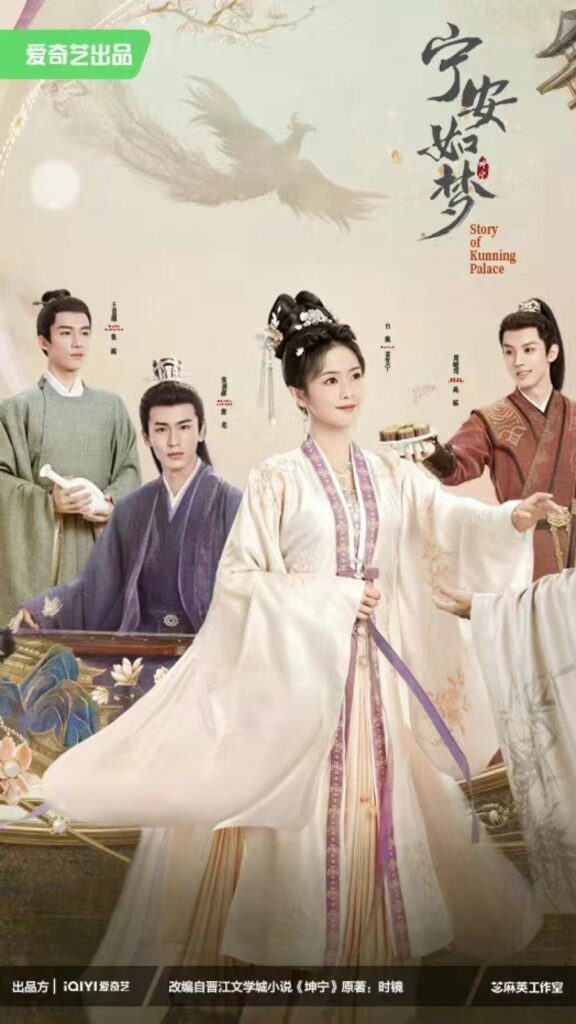 Title: Story Of Kunning Palace
Also Known As: 宁安如梦, Peaceful as a Dream, Kun Ning , Ning An Ru Meng
Genres: Historical, Romance, Drama, Fantasy
Cast: Bai Lu, Zhang Ling He, Wang Xing Yue, Zhou Jun Wei, Liu Xie Ning
Number of episodes: 38
Date of Release: November 7, 2023 – November 25, 2023
Original Network: iQiyi
Where to Watch: iQiyi, WeTv
Adapted from the web novel: "Kun Ning" by Shi Jing
This drama had been on our Watch List for a very long time. We were thrilled when it finally aired and didn't even grab popcorn. We did not regret waiting though. The first episode had us hooked.
Jiang Xue Ning gets a second chance in life by going back to when she was 18 years old. She was blinded by desire before but is now turning over a new leaf to lead a better life. In her previous life, she was empress for a short time. But her life ended tragically, full of guilt and remorse. This time, she tried to avoid the things that brought her to her previous life.
Nevertheless, fate had other plans when she was sent to the palace as Princess Le Yang's study companion. Later, she once again became the student of Xie Wei, the respected imperial teacher and advisor to the emperor who happened to be the mastermind of the rebellion that led to her tragic death.
9. Chase the Truth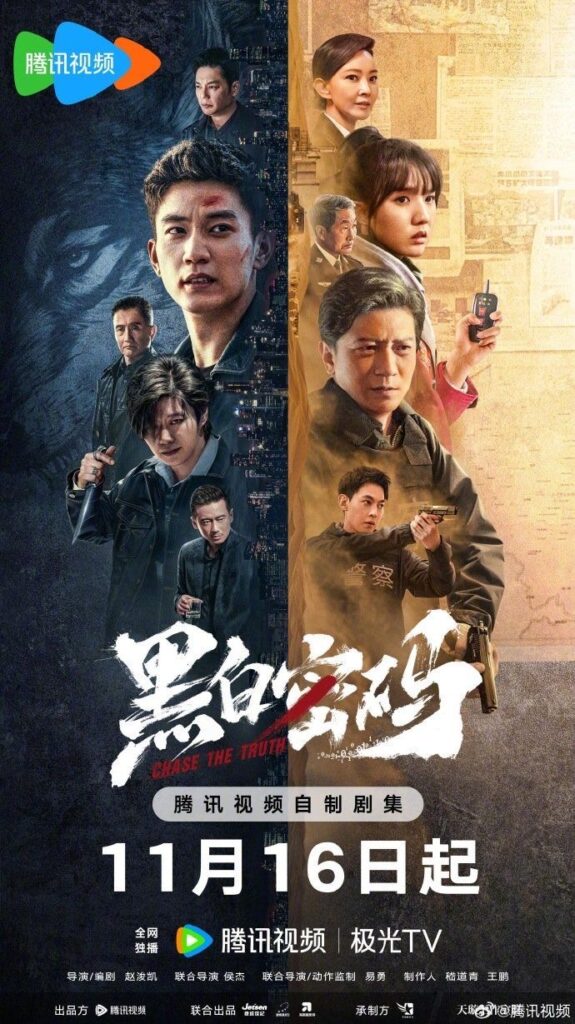 Title: Chase the Truth
Also Known As: 黑白密码, Black and White Password , Chasing the Truth , Hei Bai Mi Ma
Genres: Action, Thriller, Mystery, Crime
Cast: Wang Zi Qi, Su Xiao Tong, Tian Yu
Number of Episodes: 24
Date of Release: Nov 16, 2023
Original Network: Tencent Video
Where to Watch: WeTV, Tencent Video
In November, we saw Wang Zi Qi play a tough police detective. After we saw him as a sweet and gentle lover, now it's time to see his masculine side.
Chu Yi Han is a dedicated police officer. He went on an undercover mission to infiltrate the Northwest Wolves, a criminal organization. He was hoping to find his mother. During his mission, Chu Yi Han crosses paths with Gu Lin Na, a popular dancer. Over time, their relationship deepens.
10. Fantastic Doctors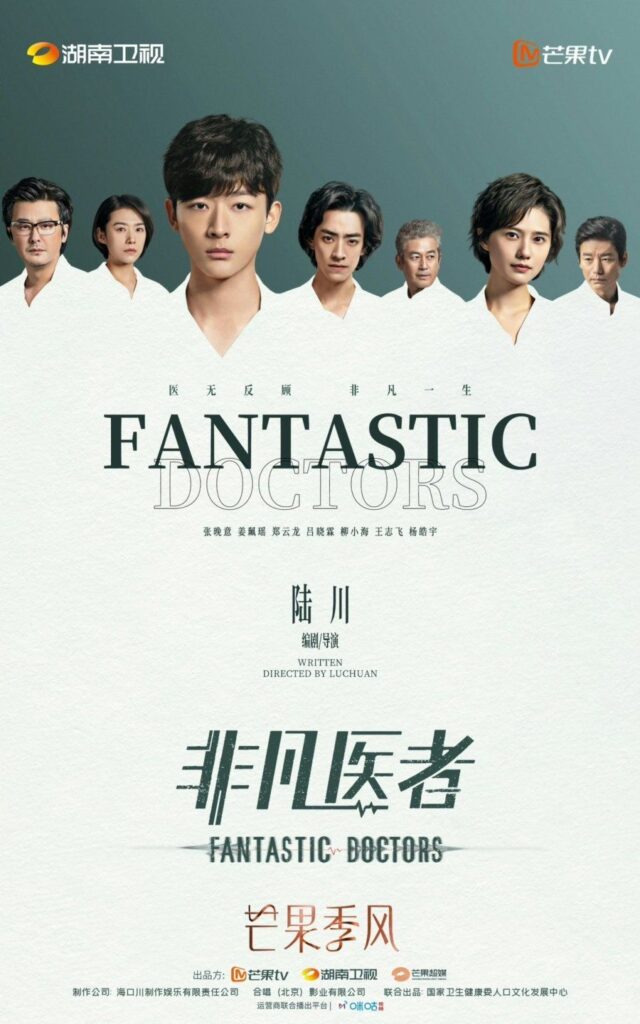 Title: Fantastic Doctors
Also Known As: 非凡医者, Extraordinary Medic , Fei Fan Yi Zhe
Genres: Life, Drama, Medical
Cast: Zhang Wan Yi, Jiang Pei Yao
Number of Episodes: 16
Date of Release: Nov 17, 2023 – Dec 15, 2023
Original Network: Hunan TV Mango TV
Where to Watch: Hunan TV
This drama is the remake of the 2013 Korean drama Good Doctor. The story is both touching and sweet.
Jiang Le Zhi has Asperger Syndrome, which makes it hard for him to relate to others socially. However, he has exceptional intelligence and graduated from medical school. He joined Songjia Hospital as a surgeon. Because he struggled with reading and expressing emotions, patients and their families often misunderstood and complained about him.
The hospital began to question his medical qualifications and conducted an inspection period. Jiang Le Zhi worked hard to prove himself. With the help of his colleagues, Shen Tong and Ruan Yun Duo, Jiang Le Zhi try to foster his empathy, learn to communicate, and continue to develop his medical skill. Ultimately in the end he won the trust of the hospital and became an extraordinary doctor.
11. Welcome to Milele Village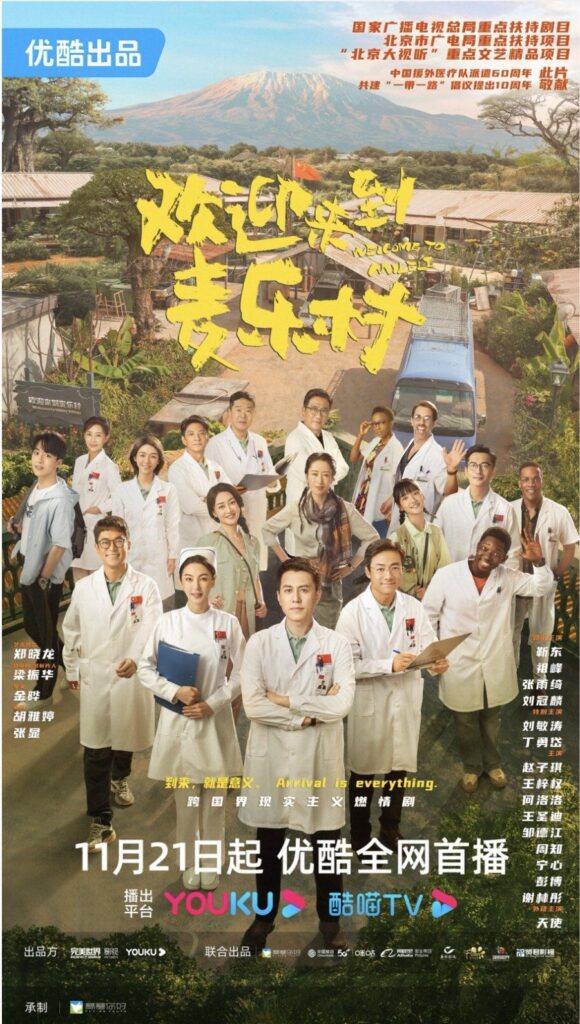 Title: Welcome to Milele Village
Also Known As: 欢迎来到麦乐村, Huan Ying Lai Dao Mai Le Cun
Genre: Medical, Drama
Cast: Jin Dong, Zu Feng, Zhang Yu Qi, Liu Guan Lin
Number of Episodes: 32
Date of Release: Nov 21, 2023
Original Network: Youku
Where to Watch: DragonTV, Hunan TV, Jiangsu TV, Youku
Recently, Cdramaland was full of medical dramas, and most of them were about doctors who volunteered in foreign countries. The new drama, Welcome to Milele Village, follows this trend. I wondered if this drama would bring a fresh story, but after watching the trailer, it looks promising.
Ma Jia, a doctor from the First Affiliated Hospital at Jiangnan University, joins the Chinese medical aid team on a mission to Africa. Ma Jia and his friend are dealing with a new environment and big cultural differences between China and Africa.
However, during their two-year volunteer work, Ma Hua and his friend have developed their physical and mental strength. It's surprising that they found happiness, friendship, and exciting experiences in Milele Village.
So, dear readers, have you decided which drama to start your November? This post would always be updated with the latest information of new released Chinese drama. So be sure to check back.