Title: Dominator of Martial Gods
Also Known As: 武神主宰, Wu Shen Zhu Zai
Directors: Wang Tai, Sun Run Wei, and Zhang Lihua
Casts: Zhan Yu, Chen Yi Ying
Genres: Fantasy, Wuxia, Adventure
Country: China
Type: DramaEpisodes: 30
Date of Released: Jun 14, 2023 – Jul 4, 2023
Original Network: Youku
Where to Watch: Youku
Adapted from the novel "Wu Shen Zhu Zai" by An Mo Shi
Dear readers… Dominator of Martial God for me was like a new dish that I never tried but it was prepared at the dinner table. It made me question myself, whether should I try it or not because I knew that this dish was not my cup of tea. But I was a curious cat, so I give it a try. And this is the result… happy reading folks!
Dominator of Martial Gods Synopsis
Qin Chen was a Supreme God in Martial Domain. He descended to earth to fight the evil and chaos caused by the Demon clan. He was later referred to as the Martial God. He got himself a beautiful lover, Sangguan Yi'er and he lived a peaceful life in the Martial Domain which is located at Nine Heaven.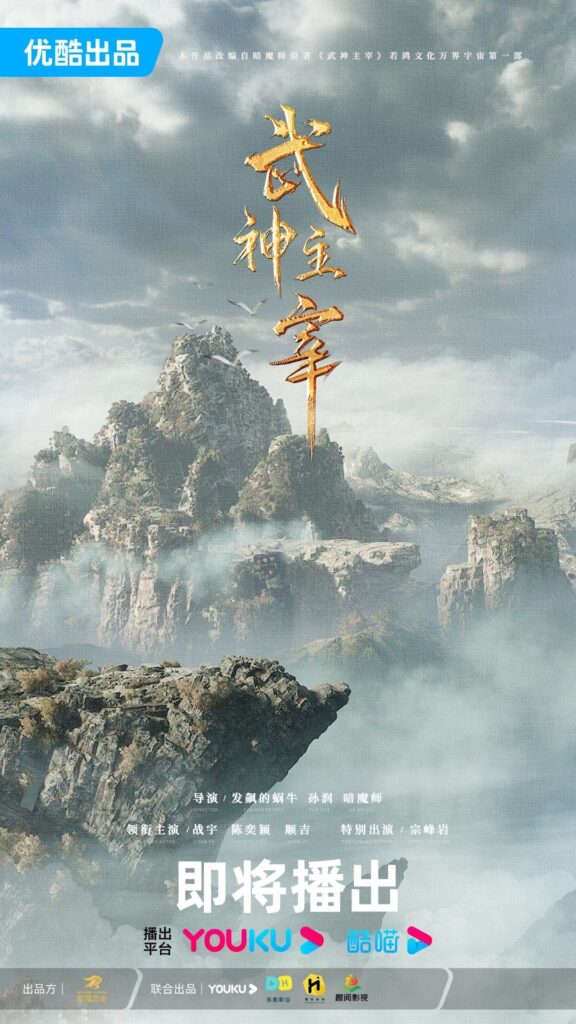 Yet, Qin Chen had to face a cold hard truth when Shangguan Yi'er and Qin Chen's best friend, Feng Shaoyu, betrayed him. They had planned to use Qin Chen as a stepping stone and killed him when they rise to the position of emperor and empress of the Nine Heaven. Feng Shaoyu also wanted to take a divine artifact from Qin Chen.
Qin Chen realized that the artifact should not fall into Feng Shaoyu and Shangguan Xi'er's hands. So he decided to take the hardest road to prevent Feng Shaoyu and Sangguan Xi'er from their villainous deeds, he kill himself and turned into dust. His soul flew through the space for a very long time.
Qin Chen woke up three hundred years later in the body of a good-for-nothing son of the Qin Family, with the same name as his. With new knowledge of a Martial God etched in his mind, Qin Chen start over his life and honed his skill to rise on the road of hegemony once again.
Dominator of Martial Gods Review
Dominator of Martial God drama was an adaptation of a novel titled Wu Shen Zhu Zai written by An Mo Shi. This novel also had been adapted into Manhua (Chinese manga) and donghua (Chinese anime) with the same name. The novel had many chapters, more than 5,000 chapters. I could never finish such a long web novel.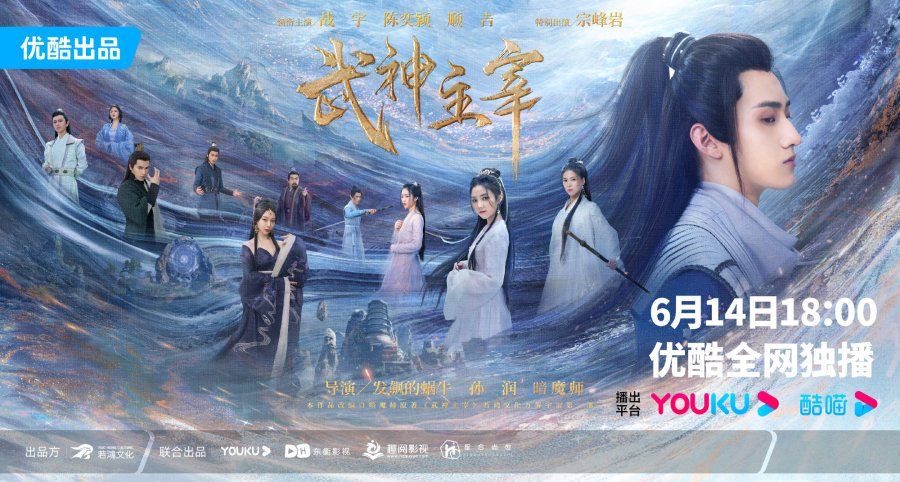 The longest novel I read was The Poison Genius Consort (adapted into the drama The Legend of Yun Xi) which has 1370 chapters. And I stop reading before it reaches 800 chapters. I guess I was too lazy for a very long novel like this, much less Wu She Zhu Zai.
This kind of martial art drama usually would not be my choice. But I've been fixated on my Youku app for a while since I watch When I Fly Towards You and Hidden Love (ps. Don't forget to read my review about those dramas..😉). And I saw this drama had been sitting on the top list for a while and I got curious.
Dominator of Martial Gods was a Wuxia drama about a powerful martial god who was forced to rebirth after his lover and best friend worked together to kill him. Being betrayed by your girlfriend was painful. But when she betrayed you with your best friend AND tried to kill you, well… it was a bit hard to imagine the pain. However, Qin Chen choose to die and go through the rebirth process because he did not have any choice. He got poisoned and those villains try to take his divine artifact.
And this was the beginning of Qin Chen's adventure on Earth.
To be honest, this drama was waaaaaaaaaaaayyyyy below my expectation. At first glance, you could tell that the production budget was low. I barely recognized most of the actresses or the actors. Their acting was a bit stiff and the CGI was weak. And the story was not detailed so I had to find some clues by surfing the internet.
Unlike other wuxia I've ever watched, people in Dominator of Martial God did not fight with their punches or kicks, they use their inner power to create an attack. So when you see a fighting scene, it was going to be two people standing face to face. They used their hand and movements and generate an attack. The attack itself could be in the form of electricity current, fire, or gasses.
Well, I did not have any proper way to describe the attack. But those masses would turn into something that could hit you, literally. During the drama, there were only a few people who carried weapons. Since they did not need it very much because they could generate the weapon using their inner power.
Dominator of Martial Gods' story was quite interesting, or else I would stop midway and choose another drama instead. I wanted to know how Qin Chen avenged his grievances to Shangguan Xi'er and Feng Shaoyu while tackling all the annoying characters on earth like Zhao Feng and Qin Fen.
The story runs very fast given the 30-minute duration for each episode. However, it was too fast that I thought some details were left behind and you just have to accept it as it was.
I got slightly annoyed by how young Qin Yuechi was. She was Qin Chen's mother. And Qin Chen was 18 years old. So Qin Yuechi was supposed to be more than 35 years old. But the actor who played her was too young. This age matter combined with the maiden hairstyle, made her look like Qin Chen's sister instead of her mother.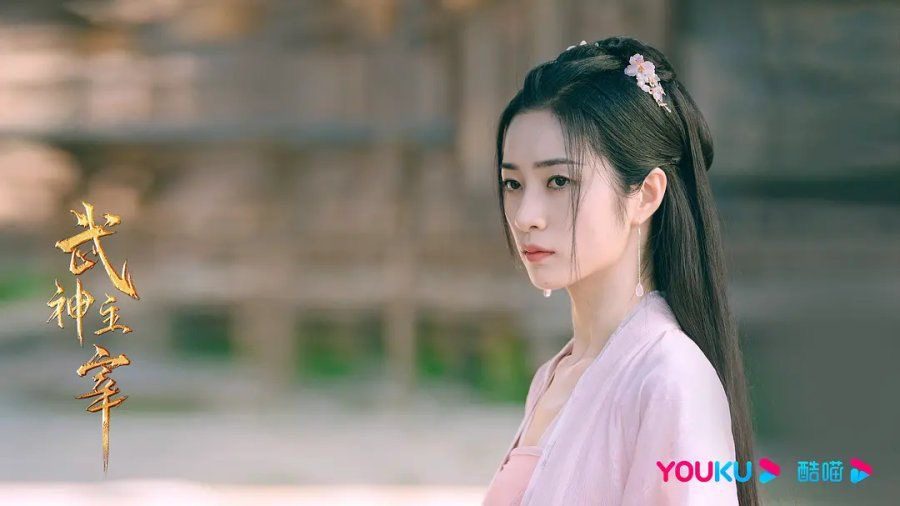 Qin Chen was originally a god. Therefore he should be distant and arrogant compared to mere mortals. There was no information that he used to live on earth before except for the time he fought the demon clan. And I guess he did not have time to socialize with humans either. Plus he admitted that he was oblivious of human nature.
But Qin Chen act too calmly as someone who was never a human before, there was no confusion whatsoever in his face. He knew exactly what to do and what to say on every occasion. And not to mention that he seemed to have that same expression on his face, for almost the entire drama.
Chen Yi Ying was slightly better than Zhan Yu. Although her expression was not the best either but I guess she managed to act decently. And sadly I barely could sense any chemistry between our main leads. Yet, I'm an optimist, so let's hope that the next season would be better than this one. 🤞
The other cast was, I'm so sorry to say, too superficial. Especially the one who acted as Zhao Feng. The way she flicks her right hand every time she was angry towards her husband was unappealing. She irked me so much but, I still watch her anyway.
There were three directors in this drama, Wang Tai, Sun Run Wei, and Zhang Lihua. I did not have much information about them, only the fact that Wang Tai and Zhang Lihua mostly directed Donghuas and this was their first drama. Meanwhile, Sun Runwei used to direct a movie titled Sleeping Dog.
Zhan Yu as Qin Chen had been acting in many dramas as a support role. This was his first time working in a main role. Previously you could watch him on The Autumn Ballad, A Girl Like Me, and CrossFire. In 2023, besides this drama, Zhan Yu also acted in The Legend of Zhuohua and Wrong Carriage, Right Groom. Both as support roles.
Unlike Zhan Yu, Dominator of Martial Gods was not Chen Yi Ying's first role. She used to act as Ye Yan Ran in The Wizard of Ten Thousand Worlds in 2020. She also acts in The Legend of Hao Lan and The Legend of the Phoenix. Her latest work before Dominator of Martila Gods was The Promise of Chang'an as Su Xi.
You could see several familiar faces like Wang Lue Tao (Qin Feng) who previously also played in Till The End of The Moon drama as Liu Jiang Hai. Chen Si Xu who acted as Xiao Ya used to act as Bai Nu in The Journey of Chong Zi. And I was pretty sure I'd seen the Emperor's face before. It turned out he used to act as Han Xuan Ling in Who Rules The World drama, he also act in several high-rating dramas such as The Imperial Coroner, Legend of Fei, and The Legend of the Condor Heroes.
The actor's voices were dubbed by voice actors. The actor who dubbed Qin Chen was also the one who dubbed Yan Luo in Beauty of Resilience drama, Zhu Duan Shan in The Starry Love, and Lei Wujie in The Blood of Youth drama. Meanwhile, the actor who dubbed Zhao Ling Shan is also the person who dubbed Xi Yun in Back From The Brink drama, A Ming in The Blue Whisper drama, and Huang Ling in Thousand Years For You.
The Cinematography
I'm so sorry to say that this drama's cinematography was the worst of every drama I've ever watched. I used to mock the dragon and golden tiger of Eternal Love: Ten Miles of Peach Blossom drama. Because it was bad. Yet, I could tolerate it because the drama was produced in 2016. But now I feel the dragon and golden tiger were not the worst. This drama did.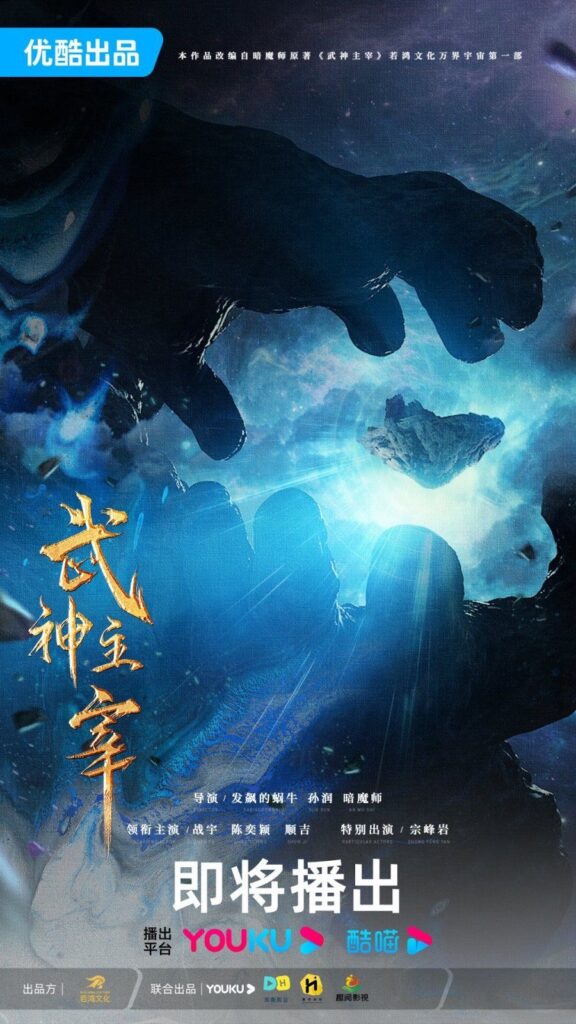 Dominator of Martial Gods relied heavily on CGI. From the first episode, we already presented a fantasy land called Nine Heaven. It was located in outer space. And it reminded me of Thanos of The Avengers. Everything was made by CGI. Yet, since it was in the first episode, I felt that the effects when Qin Chen fought with Shangguan Xi'er and Feng Shaoyu were slightly better than the rest of the episode. Or is it just my imagination?
But of course, they did not only use CGI for whole sets. Several sets were real and I should say that I was quite satisfied to see that. But it was before I saw they using a CGI for fire on the stove. And I was like…"Ohhh… Come on!!"
Anyhow… It was safe to say that Dominator of Martial Gods' forte was not in the cinematography. I don't want to talk about it anymore, so let's talk about the story.
The Story
It started when Qin Chen was betrayed by Shangguan Xi'er and Feng Shaoyu. This was similar to the novel story. Yet, the brief introduction of Shangguan Xi'er and Feng Shaoyu added to their dialogue about using Qin Chen as a stepping stone was still not enough for me. So, I did a little research and read the first chapter of the book to get some enlightenment.
Qin Chen was a 9th-rank emperor-level alchemist and 8th-level imperial bloodline master. His amazing talent made him a Martial God at a very young age. Qin Chen helped Shangguan Xi'er with her cultivation so she could be a Supreme God of the Martial Domain. He also helped Feng Shaoyu to build Tianwu Empire. Qin Chen regarded them as his closest relatives, but now they wanted to kill him.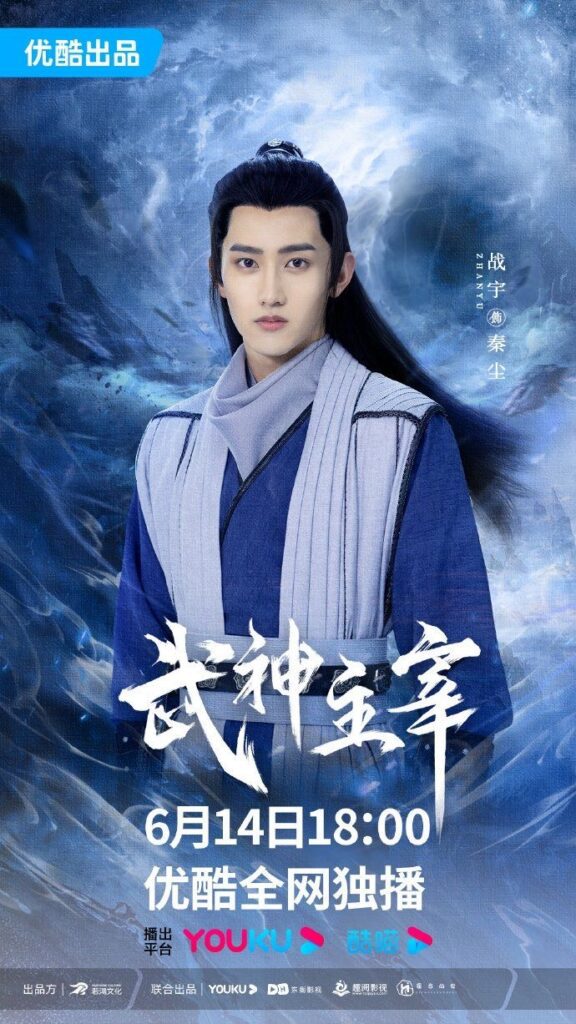 Shangguan Xi'er and Feng Shaoyu planned that when they had become the Emperor and Empress of Nine Heaven, they would kill Qin Chen. But it seemed that they hasten the plan because Qin Chen possessed a divine artifact that he found in Forbidden Place. The artifact was an ancient sword and it held the secret of the universe. The sword must be very important and powerful, otherwise, Feng Shaoyu would not desire it.
Qin Chen might be very strong, but Shangguan Xi'er already has poisoned him with something that could weaken his power. Therefore, when Qin Chen could only resort to killing himself to protect the artifact and found a chance to revenge. His soul flew and landed in a young man's body, also named Qin Chen, 300 years later.
This Qin Chen was the grandson of Qin Baotian or King Dingwu (or King of Might in the subtitle), a mighty general of the Xuan Kingdom. Qin Chen's mother was Qin Yuechi, Qin Baotian's only daughter and his father was a mysterious man. Qin Yuechi was not married. Therefore, even though she already had a teenage son, she still donned a maiden hairstyle.
The godly Qin Chen could feel the affection from the young Qin Chen in his mind and heart. He was also touched by the warmth of Qin Yuechi because he lived alone in Nine Heaven (the novel said he was an orphan). And being betrayed by those closest to him made him lonelier.
The young Qin Chen was a good-for-nothing young master. He could not awaken his bloodline, so the godly Qin Chen only have one choice which was to destroy the bloodline and then reshape it. And it worked. Yet, unfortunately, his cultivation level remained low. But his strength was unfathomable.
I was kinda confused by Qin Chen's mother. Qin Chen's progress rapidly made Qin Yuechi suspect him as an impostor. Luckily, the godly Qin Chen still had the young Qin Chen's memories. So Qin Chen could dodge the suspicion and make up a lie about his ability.
The masters that acknowledge him thought that Qin Chen had someone powerful behind him. But how come Qin Yuechi did not think the same? If your son was a late bloomer, that was acceptable. But if he suddenly could use many martial art moves without any master who guided him, shouldn't you have a slight suspicion?
There were many details were forsaken in this drama. Like the basic information about bloodline and about the cultivation level and how to achieve it. I knew that martial artists had to cultivate to have their level increased. But I was wondering what did they do when are they cultivating. Did they gather energy from the surrounding? What happened to their inner power when they mediated?
Oh, so many questions inside my brain, and none of the episodes offered the answer. Several episodes DID have an explanation, such as the 1st episode with the explanation about the geography of the Xuan Kingdom and Tianwu continent. And there was another one in episode 5 about the Bloodline instrument and Bloodline Holy Land. But it did not explain why the bloodline was an important attribute for a martial artist. This incomplete information irked me so much.
So to gain some information, I have to dig the internet to find some explanation. Thank God, Dominator of Martial Art was quite famous as a novel/manhua/donghua since I found a fandom that offered a thorough explanation. Yet, I'm still unsettled because many novel adaptation drama was different from the original work.
Oke, back to the story.
As a mortal who possessed the knowledge of a Martial God, Qin Chen was an overpowered (OP) main lead. He used to be a good-for-nothing young man, but after he woke up from a coma, he changed drastically. Even the masters of the Palace of Instrument, Dan Pavillion, and the leader of Bloodline Holy Land regarded him as superior to them.
But all of it happened because Xuan Kingdom was a small kingdom located in a remote area so most of the knowledge Qin Chen possessed was not known by them. It feels like Qin Chen was a student with a powerful cheat sheet that made him get full marks on an exam.
But I still found some positive points for Dominator of Martial Gods. I like the way they had comedy incorporated into the story. For instance was when Qin Chen made a trip to the Palace of Instrument and met a second-class refiner, Master Liang Yu. He was Zhao Ling Shan's master and was famous to be the best refiner in the Xuan Kingdom.
Master Liang Yu was a cold and hard-to-please person. Yet after Qin Chen helped detoxify the poison in his body, Master Liang Yu become weird. He smiles every time he saw Qin Chen and tried hard to please him. His smile made me think that he was fangirling over Qin Chen. 😂 From every comedy scene of this drama, I found that Master Liang Yu's character was the most hilarious.
And if you were here and looking for romance between heroes, just turn your back right now. There was no romance whatsoever with the characters. Only a slight blushing, secret admiration, and nothing more. Nada! 😝
Qin Chen's adventure ended after the competition at the Bloodmist Holy Land. Dominator of Martial God was only a part of the whole story. Therefore, it was not finished yet. The story was only at the beginning and still far from the ending. So if you were not a person who likes to wait for the next season, I recommend you to wait just a little bit longer before watching this drama. Because I don't even know when the next season would be aired. Or if you still wanted to watch the end, you could continue watch the donghua. If you want to read this season ending, you can read it on Dominator of Martial Gods ending explained.
Well, I haven't watched it either but I heard that it had reached 300++ episodes. So probably you could find the answer in it.
The Character
Qin Chen
As a Martial God, Qin Chen (played by Zhan Yu) was exceptionally talented. He held the knowledge and power of a bloodline master and alchemy master when he died. And after his rebirth, the memories and knowledge of the godly Qin Chen remained with him. I guess if the young Qin Chen's body was feasible, his godly power might also follow suit.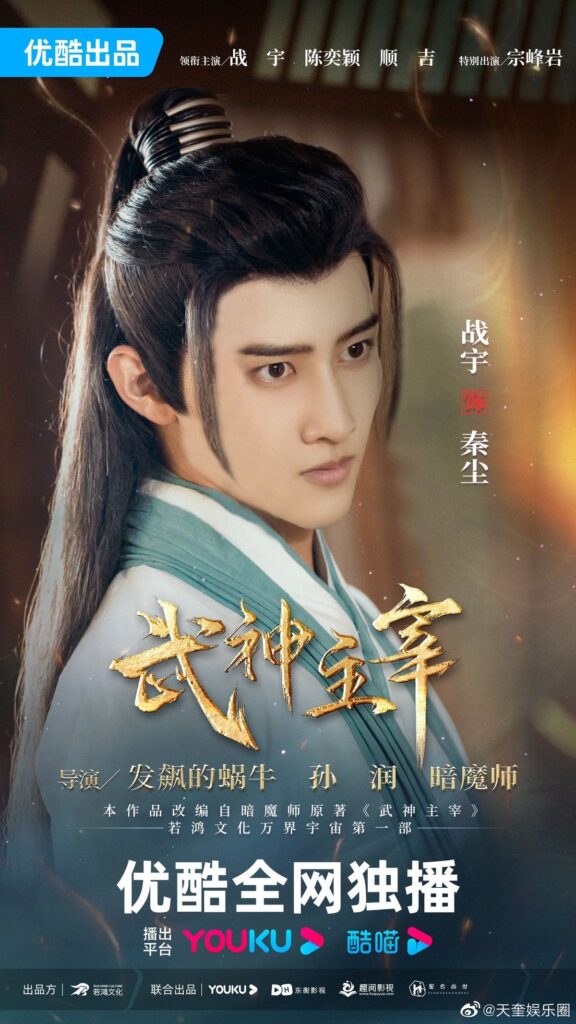 The godly Qin Chen was full of wisdom and bravery. He told Shangguan Xi'er and Feng Shaoyu that they could not defeat him because of one thing that they did not know about him: Qin Chen had no fear of death.
Contrary to the godly Qin Chen, the young Qin Chen had no talent in martial art. His body failed to awaken the bloodline. The bloodline was an important attribute for a cultivator. Due to the useless bloodline, Qin Chen's power was inferior compared to his older cousin, Qin Feng, and younger cousin, Qin Fen.
After his rebirth, Qin Chen becomes a calm and smart person. He had the confidence of a powerful martial artist but he was not an arrogant person. Rather, he was willing to help others with their poison, problems, and cultivation. Regarding his family problem, Qin Chen chooses to cut ties with the Qin family.
Yet, he still told his elders that his mother was still a member of the Qin family. He did it to protect his mother. So when he was away and something happened to Qin Yuechi, she still had a place to go. Qin Chen was protective of the people who he regarded as important.
There was no romance in this drama. However, even though it was subtle, I could see that Qin Chen had different feelings toward Zhao Ling Shan. There was a scene in the latter episode when Qin Chen moved his body to shield Zhao Ling Shan when the situation gets dangerous.
Yet, toward the enemy, Qin Chen was ruthless and had no mercy. He might look weak and kind. But do not mess with him.
Zhao Ling Shan
Zhao Ling Shan (played by Chen Yi Ying) was a royal princess because her father was Lord Kang, the Emperor's brother. She was a beautiful, smart, and talented martial artist. Although she came from the royal family, she was not a spoiled princess. On the contrary, she was a calm and composed person. She was willing to work hard and was a very loyal friend.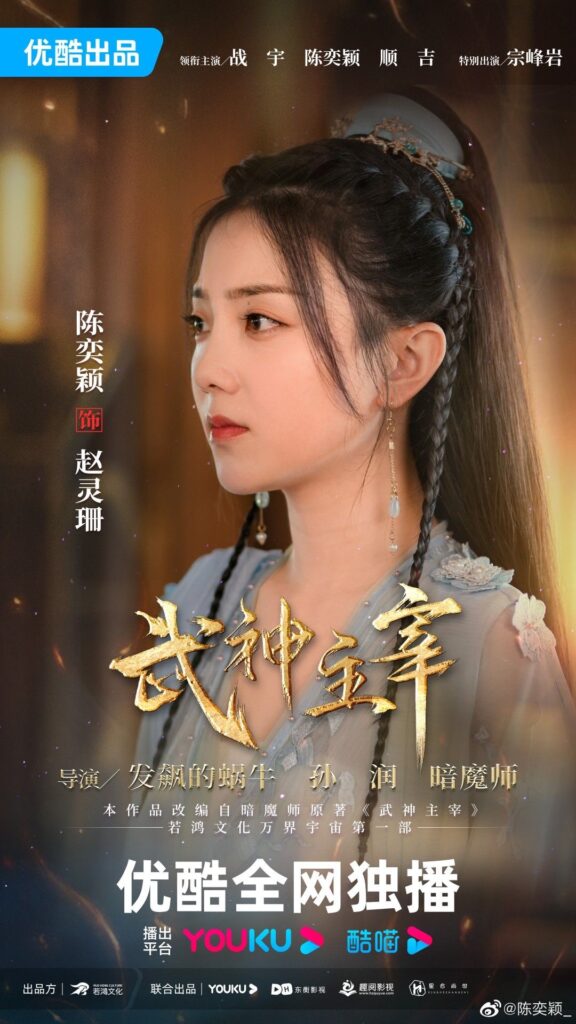 Zhao Ling Shan met Qin Chen for the first time at the The Palace of Instrument where he wanted to refine a Heavenly Needle to awaken his bloodline. Zhao Ling Shan thought that Qin Chen's calm and composed demeanor was interesting. Later she was smitten with him when he protect her from assassins. Qin Chen took her to his house, helped her with her cultivation, and then gave her a pouch of medicines that could protect her from poisons.
Qin Yuechi
Qin Yuechi (played by Luan Lei Ying) was the only daughter of Qin Baotian. She was very beautiful that even the Emperor of Xuan Kingdom wanted to take her as his concubine. Yet, Qin Yuechi refused and choose to run away from home. She wandered alone and met a mysterious man. Later, she secretly carried his baby. And returned to Qin residence three years later holding a baby boy.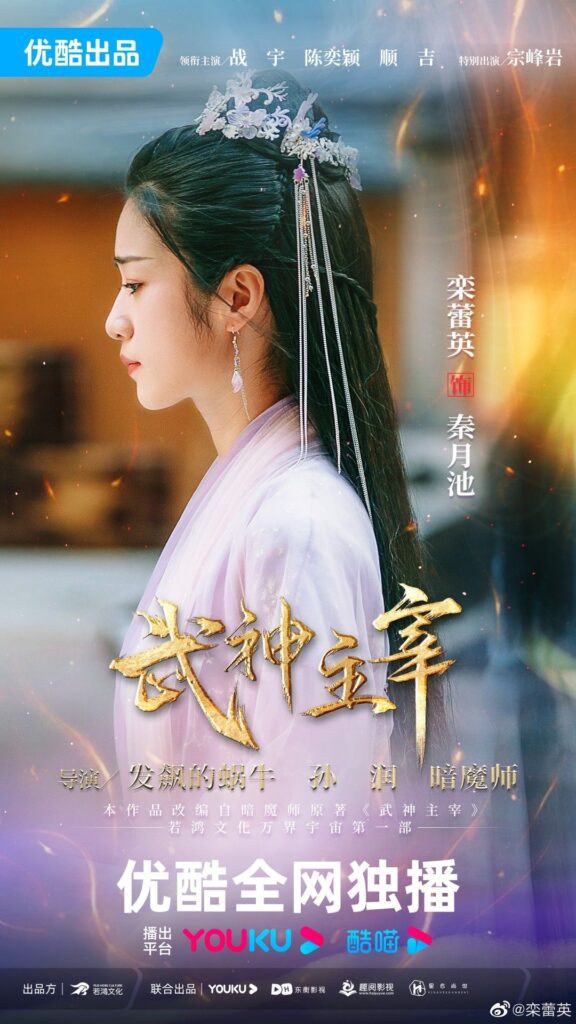 Her situation was an embarrassment for the family, but her father still took her and Qin Chen in the name of preserving the family line. But when Qin Baotian went to the border, Qin Yuechi's 1st brother and his wife often bullied them.
Qin Baotian was a mighty general. His innate talent and power were exceptional. Therefore, it was not surprising that Qin Yuechi had some magic power within her. Yet, she pretend to be a weak person because she did not want anybody else to find out about it. Qin Yuechi could endure others' mocking and bullying. For her, it was not important at all. The only thing that constantly appeared on her mind was to have Qin Chen live a safe and trouble-free life.
Zhao Feng
Zhao Feng (played by He Yu Yong) was Qin Chen's aunt. She was the wife of Qin Yuan Hong, Qin Yuechi's 1st brother. She was arrogant, petty, cunning, and ruthless. She admitted to Qin Fen that she use an aphrodisiac to drug Qin Yuan Hong and made him marry her.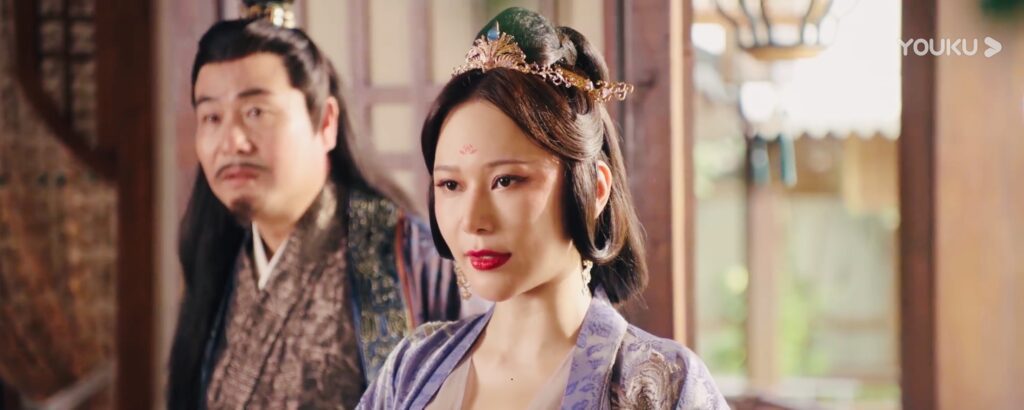 Zhao Feng hated Qin Yuechi and Qin Chen. It seemed that the hate stemmed deeper than a grudge because Qin Yuechi disgraced the prestige of the Qin family. I guess she was jealous of Qin Yuechi's peerless beauty. But later it was known that Zhao Feng hated Qin Yuechi because she refused to marry the Emperor. This made them miss the opportunity to be the kin to the royal family. Plus Zhao Feng was greedy for the Qin family's wealth and wanted to secure it to be hers.
Zhao Feng was a hot-tempered woman. She hold grudges and tried hard to have Qin Chen and his mother to be kicked from the Qin family. And as she never cares about the consequences, she would resort to any possible means to do it.
Qin Feng
Qin Feng (played by Wang Lue Tao) was Qin Yuan Hong's first son. He was powerful and considered the most talented person in the family. At a young age, he had reached Heaven level. Qin Feng's status in the military was high and had many achievements that even the Emperor was impressed by him.
To be born into a prestigious family and also be able to gain status from his power and talent made Qin Feng arrogant. He regarded others as nothing and very cunning. Qin Feng hated Qin Chen and his mother because his mother hated them.
Qin Fen
Qin Fen (played by Wu Zai Dong) was Qin Yuan Hong's second son. He was arrogant, selfish, and a spoiled mama boy. Although Qin Fen's ability was far from Qin Feng, his level was still considered high. The elders of Star Academy regarded him as one of the talented students.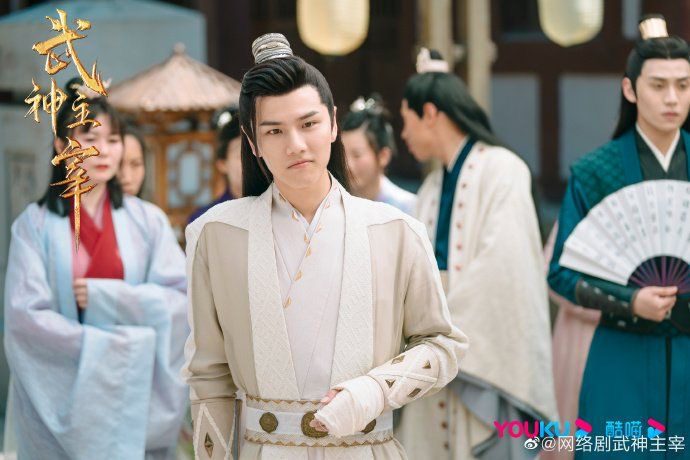 Arrogance seemed hereditary trait in his family because just like his parents and brother, Qin Fen also had it 😆. However, unlike his brother, this hot-tempered lad was obviously less smart aka stupid.
My Conclusion
All in all, in my humble opinion Dominator of Martial Gods was a good story for manhua or donghua, but it was not fit for a life action. The story was too complicated so it would need longer scenes and resulted in longer episodes.
Yet, this is still a new kind of adventure for me because this story was different from other wuxia dramas that I've ever watched. I was not a fan of anime or donghua so this kind of story was out of my league.
But if my dear readers were avid fans of wuxia drama or just want to try something different, then go for it. Don't forget to tell me about your opinion about this drama. I hope you all enjoy this Dominator of Martial Gods drama review. Happy watching!