Title: Hidden Love
Also Known As: 偷偷藏不, Secretly, Secretly, but Unable to Hide It, Can't Be Concealed
Director: Lee Ching Jung
Cast: Zhao Lu Si, Chen Zhe Yuan
Screenwriter: Shen Fei Xian
Genres: Romance, Comedy, Youth
Country: China
Episodes: 25
Aired: June 20, 2023 – July 6, 2023
Original Network: Youku
Where to Watch: Netflix, Youku
Adapted from the web novel: "Secretly, Secretly; But Unable to Hide It" by Zhu Yi
Dear readers… Hidden Love was another Zhao Lu Si's artwork and I was soooooo excited to watch it. This long post described how much I enjoyed the drama. And believe me, I still have many things to write about Hidden Love. So, let's get into this. Happy reading!
Hidden Love Synopsis
Sang Zhi was only 14 years old when she met Duan Jia Xu. He was her brother's best friend in college. Duan Jia Xu helped her to deal with her teacher at school. Since then, she start to develop a fondness for him. Duan Jia Xu treated her kindly and he was way more gentle than Sang Yan, her own brother.
Fast forward three years later, Sang Zhi met him once again when she helped her brother move to a new dorm room. He did not change a bit. Still handsome, gentle, with a touch of playfulness. Sang Zhi realized that the feelings she had for him had not changed. But this time, Sang Zhi realized that she had fallen in love with Duan Jia Xu. The universe seemed to help her when her mother decided to hire Duan Jia Xu as her physics tutor.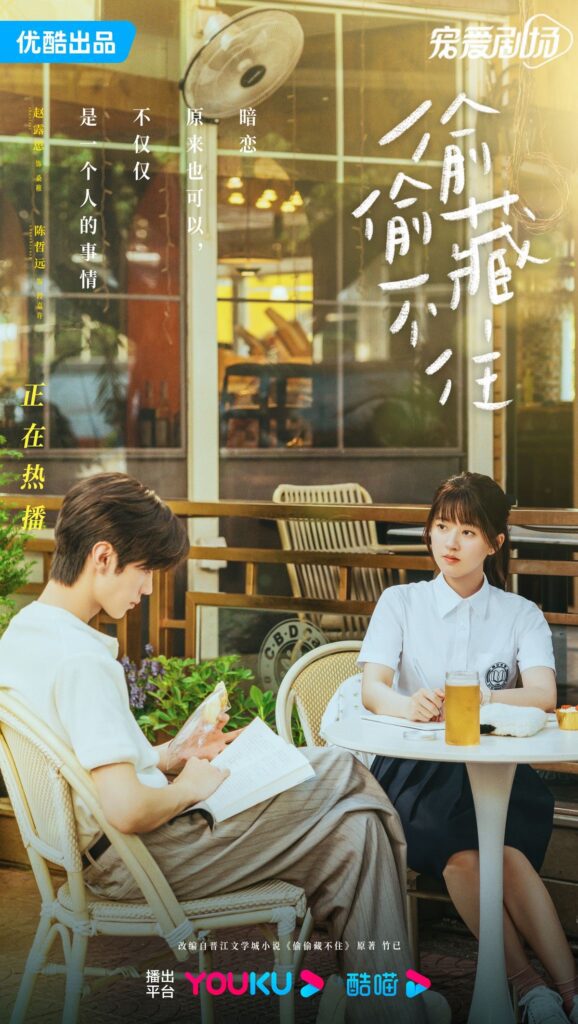 Her heart was beating like crazy every time she heard him talk. But the happy time did not last for too long. Duang Jia Xu graduate and moved back to his hometown in Yihe. Sang Zhi made up her mind and decided to choose Yihe University for her future. But before she was able to enter the university, she got the news that Duan Jia Xu already had a girlfriend.
Duan Jia Xu never thought that the day he got to know the cheeky Sang Zhi would change his life forever. The 19 years-old Duan Jia Xu always lived a hard life due to his father's mistake. He had to juggle several part-time jobs to pay off all the debts left by his parents. When he was at a loss for what to do next, San Zhi's presence warmed his heart and showed him that there was still hope in his lonely life.
The constant interaction made Duan Jia Xu genuinely think of Sang Zhi as his little sister. He was completely oblivious that the young little sister has a crush on him. Their relationship remain stagnant for years until he met her again in Yihe.
Will Duan Jia Xu realize that the adult Sang Zhi still had feelings for him? Or will he give her up to someone else who had been eyeing his "little sister"?
Hidden Love Review
Be careful of this drama! Hidden Love was packed with sweetness and adorable moments that have negative effects such as daydreaming and deprivation of sleep. You will feel like you saw Chen Zhe Yuan's face everywhere and you'll become an impatient person because you just want to watch another episode which is followed by another one and ended up binge-watching the entire drama. This drama was a total enemy to my beauty sleep.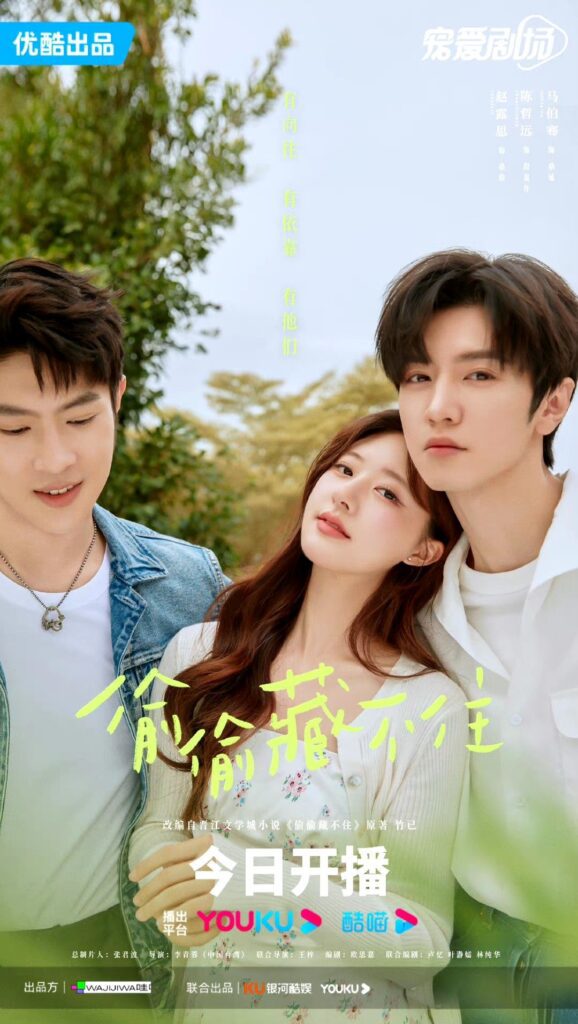 Hidden Love was a romance-comedy youth drama adapted from a web novel titled Secretly, Secretly; But Unable to Hide It by the author Zhu Yi. She was the same author who write She's a Little Crazy which had been adapted into a drama titled When I Fly Towards You drama. If you compare the dramas, you could see the similarity of their female leads. Sang Zhi and Su Zai Zai were lively and childish young women.
Both of them were born into a harmonious family where the parents had a good relationship with each other. They lived a good life that sheltered them from all the ugly sides of the world. Meanwhile, Duan Jia Xu and Zhang Lu Rang came from the opposite world. Both of them carried emotional baggage left by their parents and strive to live alone in a different town.
Yet, you could also instantly see the difference between the two dramas. Although Hidden Love and When I Fly Towards You tell a tale about youth romance, When I Fly Towards You also emphasized the friendship between Su Za Zai and her friends. Meanwhile, Hidden Love's main story was the romance between Sang Zhi and Duan Jia Xu. They had friends around them, but their role was not as significant as Su Zai Zai and Zhang Lu Rang's friends.
Both dramas had bring tremendous happiness to my heart. Their light story warmed my heart and gave me a sense of nostalgia for my teenage years. If you haven't watched When I Fly Towards You drama, I strongly recommend you give it a try.
Hidden Love was Zhao Lu Si's first modern school drama. She was also a student in A Female Students Arrives at the Imperial College and Gen Z, but that drama was in a different genre with Hidden Love. Meanwhile, Chen Zhe Yuan said that this was the first time he acted as an older person.
He usually acted as a younger person or younger brother. So, Hidden Love was a brand new experience for both of them. Yet, both of them showed amazing on-screen chemistry which made me forget that this was just a drama. Even the hot steamy kiss scenes seemed real.
Zhao Lu Si and Chen Zhe Yuan's acting was very natural. Their laughter was contagious and their hardships gave me poignant feelings. Zhao Lu Si was always good at acting as a childish but courageous person. She made us believe that she is really a teenage schoolgirl who loves to make fun of her brother.
But when she got older and matured, you could feel that her aura changed into a more serious and reserved person. While Chen Zhe Yuan was all out with his expressive eyes. He played with his micro expression to give us a clear understanding of Duan Jia Xu's feelings.
And I just noticed in this drama that Zhao Lu Si's expression when she eat was bad for my diet. She made me think that everything she ate was delicious, including the strawberries. For your record, I love fruits but I did not like sour fruit. And although people said that their strawberries were sweet, I always could find a hint of sourness inside them. 😖
The main focus of Hidden Love was Sang Zhi and Duan Jia Xu. But you would not miss Sang Yan, Sang Zhi's brother. He was my favorite character aside from our main leads. Sang Yan was the annoying brother who tease and mocked Sang Zhi at every turn, but he would protect her at all costs.
He would rant about how his parents doted on the little princess, but Sang Yan would immediately turn into attack mode every time Sang Zhi was in trouble. Sang Zhi was his soft spot, but Sang Yan would never admit it. Even if you use torture methods 😂.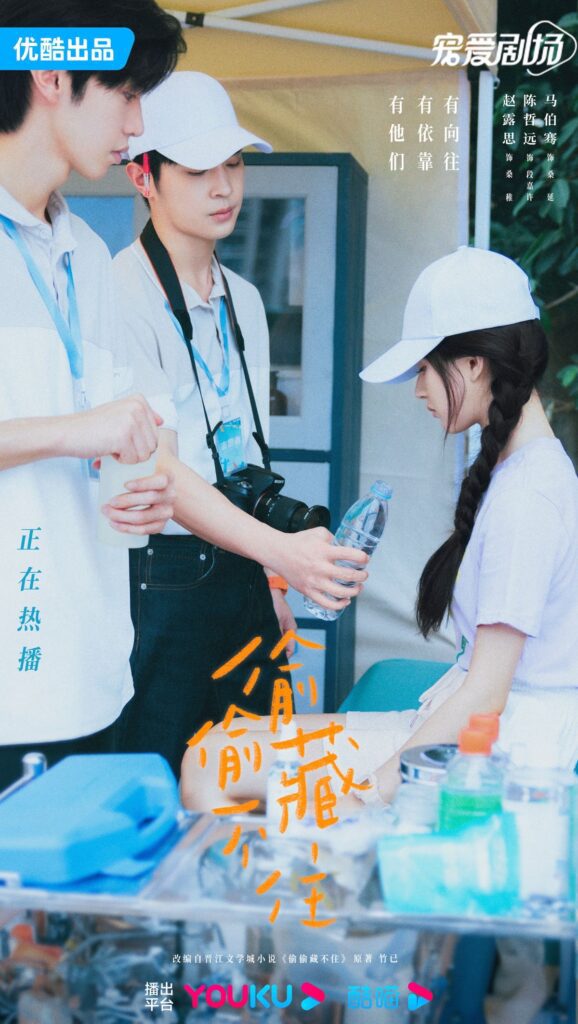 I love the way the author describes Sang Zhi's confusion about love. She was a rookie when it comes to love. The first time she rejected a boy, it was Fu Cheng Zu. And he cried like a baby that day. Duan Jia Xu taught her that she should do it nicely and refrain from hurting others.
Sang Zhi showed confusion about the mixed signals Duan Jia Xu sent her. Combined with her habit of overanalyzing everything made her thoughts spiraling. Thankfully she had a roommate, Ning Wei, who seemed to be a love expert to help Sang Zhi with those feelings.
Hidden Love's director was Lee Ching Jung. She was the one behind successful dramas such as Mr. Bad drama and Go Go Squid. This drama was the second time she worked together with Chen Zhe Yuan. I'll be waiting for their next project since I already fell in love with Mr. Bad and Hidden Love.
Meanwhile, the screenwriter was a veteran writer who had made adaptations from many famous novels and I should say, none of them was disappointing. I really loved the works of Shen Fei Xian. She was the person behind the well-written dramas such as Love O2O and One Smile is Very Alluring (both were adaptations from the same novel, One A Slight Smile is Very Charming written by my favorite author, Gu Man). And you should not miss My Sunshine, another drama adaptation from Gu Man's novel Silent Separation.
Hidden Love was another hit drama from Zhao Lu Si since Love Like The Galaxy drama and Who Rules The World. Her latest drama, Gen Z, was quite good but I did not feel the excitement unlike when I watched this drama. If you had not watched Love Like The Galaxy and Who Rules The World, then I would beg you to watch them. These dramas should be on your watch list.
The handsome Chen Zhe Yuan made my heart beat a little faster, especially when the director took a close-up shoot of his face. I watch him in Renanescence, then Our Secret drama, where he teamed up with Xu Meng Jie, and the last one was Mr. Bad as Xiao Wu Di (with Shen Yue). But boy, I felt his acting in Hidden Love Was the best.
This was the first time I watch Victor Ma's drama. He took the role of Sang Yan naturally. He truly looks like an annoying brother. But through his micro expression, you could see that he genuinely loved his sister very much. I also see some familiar people such as Zeng Li and Qiu Xin Zhi.
Zeng Li played another role as Zhao Lu Si's mother after they were teamed up as an unharmonious but kicked-ass mother and daughter-duo in Love Like The Galaxy. Meanwhile, Qiu Xin Zhi appeared at The Road To Ordinary drama and as Lord of Jin Chuan in the comical drama, New Life Begins.
After so many dramas that portrayed a toxic family relationship, Hidden Love left me impressed by the Sang family. Their dynamics were good and the bond was strong. The parents were busy, but they still managed to be present in their children's life. The siblings would bicker and tease each other every single minute.
But when something happened to one of them, the family join forces to protect each other. The parents and brother seemed very strict with Sang Zhi (those calls and video calls!) but you could feel that everything they did was based on love.
Although Hidden Love has some nerve-wracking characters, all of them were needed for the personal development of Sang Zhi and Duan Jia Xu. There were love rivals as well, but all of them could be tackled by Sang Zhi and Duan Jia Xu nicely.
The Cinematography
Every episode was arranged in the same concept of opening scene-sequence-title-larger sequences that made up the story-flashback-sneak peek-extra scene-ending scene. Pardon me if I am wrong since I did not study any filming major… But this arrangement was very well made and enjoyable. I admired that the director had thought the presentation so well.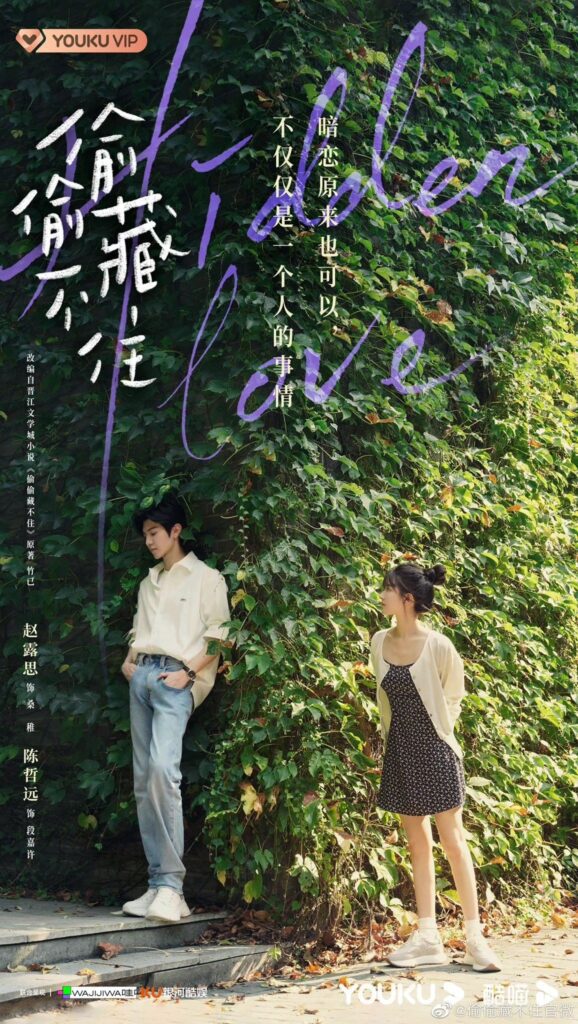 The director also use a special point of view that made me feel like I could see Duan Jia Xu from Sang Zhi's eyes. The shoot tends to be long and slow as it represents that when Sang Zhi saw Duan Jia Xu, time would pass very slowly. You could see it right in the first episode when Sang Zhi met Duan Jia Xu again after three years. She was stunned, and we could feel it right away.
If you noticed, there was such a slightly different tone in the flashback compared to the present time. However, The lighting was bright that it did not feel real. And I got slightly confused about the bicycle scenes because it feels unreal. Did they use a green screen and did it in the studio? And I would not talk about the car scenes. I've always criticized this aspect in every review that I post. But could they make it more realistic? I was disappointed with the picture shown on the car windows.
Well, I could say that Hidden Love's strength did not lie in the cinematography aspects but in the story and the acting. So let's call it off for today and just enjoy the cuteness of Zhao Lu Si and Chen Zhe Yuan's relationship…😁
The Story
Hidden Love tells the story of Sang Zhi's first love and it emphasized the age gap between hers and Duan Jia Xu's. Well, 5 years gap was not something uncommon between lovers. What make their story special was that the love started from a one-sided puppy love of a teenager into a real relationship between adults. The growth itself was the most exciting part.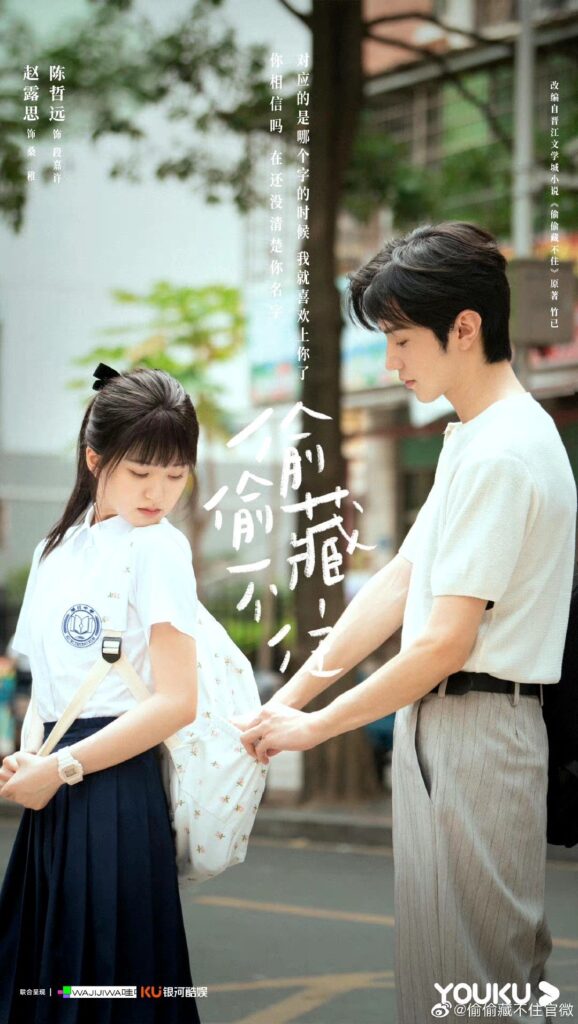 Sang Zhi lived a good life. Her parents were wealthy and she did not lack anything. She had plenty of love surrounding her life from childhood to adulthood. Her brother might seem like a bully who likes to tease Sang Zhi, but Sang Yan always let her fight him back. Yet, with all the access, facility, and love that surround her, Sang Zhi grew up as a sensible and independent person.
I divided the story into 2 life phases of Sang Zhi. The teenage life and adult life. The teenage life started the first time Sang Zhi met Duan Jia Xu when she was 14 years old and ended when she left Yihe airport in tears because she saw Duan Jia Xu's girlfriend.
When she met him for the first time, Duan Jia Xu was covered in sunlight. He looked kind and amicable, not to mention very handsome. That moment was Sang Zhi's first time being attracted to the opposite sex. And because her heart was already touched, she was more docile when she faced Duan Jia Xu. Unlike when she was with Sang Yan.
Sang Zhi was like a small firecracker that would explode nonstop every time they spoke. Little did Sang Zhi know that everything Duan Jia Xu did was known to Sang Yan, including the school visit. Duan Jia Xu knew how important Sang Zhi to San Yan was. So he would not be carelessly doing something when it related to Sang Zhi.
The story skipped three years to the time when Sang Zhi was 17 years old. It was not clear why Duan Jia Xu was absent for three whole years since he was Sang Yan's best friend. But I guess that was the time when his mother fell ill and Duan Jia Xu need to take care of her.
When it comes to family, Duan Jia Xu's condition was the complete opposite of Sang Zhi's. They lived in a small apartment while Sang Zhi's family owned a two-story house. Their family financial differences become more apparent after Duan Jia Xu's father was bedridden and they were burdened with huge amounts of debt for the hospital bills.
The problem of Duan Jia Xu's family started with his father who was involved in a hit-and-run accident. That night, the Duan family prepared a small celebration for Duan Jia Xu. I loved to think that the father hurried home to join the celebration. But his carelessness made him run over someone.
Father Duan went home in a chaotic state and told his family about the accident. His wife and son urged him to surrender, but he was too cowardly to face imprisonment. Duan Jia Xu called the police to report the incident because he was concerned about the victim. But Father Duan thought Duan Jia Xu reported him, so he jumped out of the balcony. The accident victim died and Father Duan had to be hospitalized.
For Duan Jia Xu and his mother, that night was the beginning of their endless nightmare. Father Duan's hospital bills were huge because he went into a coma and his body relied on life support equipment. His mother had to borrow money from relatives to pay the hospital bills and the compensation for the victim's family.
The daughter of the victim happened to be Duan Jia Xu's classmate, Jiang Ying. It was hard for Duan Jia Xu to earn money when he was still a high school student. He had to work several part-time jobs and still had to deal with rumors about him being a murderer's son.
Sang Zhi loves to draw. She wrote a visual diary in her sketchbook. And most of it was about Duan Jia Xu. So when her book went missing and fall into Duan Jia Xu's hand, Sang Zhi was panicked. Sang Zhi thought that Duan Jia Xu find out about her hidden feelings. So she made up an elaborate story about an online crush. The lies lasted for years and made her family stricter with her.
Sang Zhi was brokenhearted when she overheard Sang Yan gossiping with Qian Fei about Duan Jia Xu having a girlfriend in Yihe. She impulsively flew to Yihe and made her family anxious because they worried about her. To keep her family and Duan Jia Xu from her secret, she told them that she went to Yihe because her online crush ask her to do that.
The lies made her secret safe but her family confiscated her ID to prevent her from repeating the same careless action. The short trip to Yihe made her bury all her feelings about Duan Jia Xu. Our little Sang Zhi learned how hurtful it was to have a broken heart.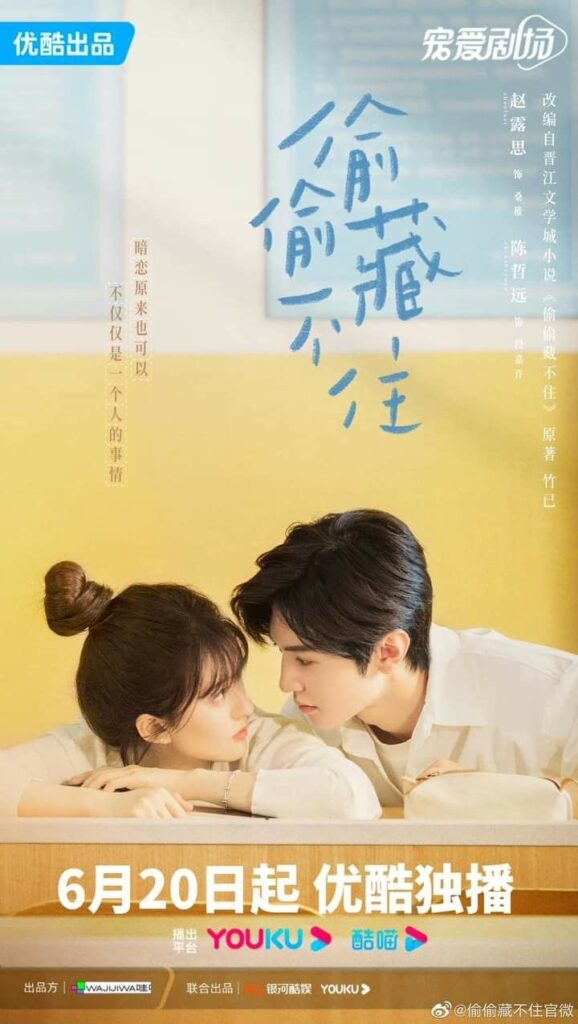 Sang Zhi's adult life started when she was in college. She managed to be admitted into Digital Media Department at Yihe University and lived in a dorm room with three roommates. They were the cheerful vlogger Ning Wei, the gamer girl Yu Xin, and the shy girl Wang Ruo Lan. The girls lived harmoniously and always had each other's back. Their story did not have much portion in this drama. But each scene was meaningful.
In Yihe, although Sang Zhi managed to keep some distance from Duan Jia Xu, they still fated to meet. And the first meeting was quite unpleasant. Duan Jia Xia found a cigarette falling from Sang Zhi's pocket and thought it was hers. He also smells alcohol from her. Duan Jia Xu was angry because she avoided him while he was happy to have her in Yihe because it made him feel less lonely.
As she realized that she have to make peace with her inner turmoil. Sang Zhi decided to treat Duan Jia Xiu better. I do realize that to put on pretense and acted as if nothing happened in front of your crush was not easy. Even Sang Zhi could not hide it well. But Duan Jia Xu was not an experienced person either. If Qian Fei did not help him, he would never realize that Sang Zhi secretly had a crush on him.
There was something that I need to address in this drama. I was an avid reader of Chinese web novels and a Cdrama junkie. Therefore I was quite familiar with the historical genre where people would consider adults when they were just 14 or 15 years old. They would get engaged and get married early on.
But in the modern genre, everything was completely different. Children under the legal age of 18 years old were protected by law. And we, as modern people, see things differently from ancient people. So I guess some people might get uncomfortable with Sang Zhi and Duan Jia Xu's romance story.
Sang Zhi feel admiration for Duan Jia Xu when she was 14 years old and he was 19 years old. There was an age gap of 5 years between them. Then the story skipped 3 years later when Sang Zhi was 17 years old and studying in 11th grade. While Duan Jia Xu was 22 years old and was in his 4th year of college. This was the time when Sang Zhi realized that she fell in love with Duan Jia Xu.
And what about him? He was completely oblivious to it and treat Sang Zhi as his little sister. Duan Jia Xu lived a lonely life. He had no mother and his father could be considered absent due to his bedridden condition. Duan Jia Xu had regarded Sang Yan's family as his family for years.
You could see it from the early episode when Duan Jia Xu saw that the lightbulb in the Sang house need to be replaced. He bought a new lightbulb and give it to Sang Zhi, hoping that she would give it to her mother. But Sang Zhi took it and put the lightbulb in the lamp by her bed. Duan Jia Xu also helped Mother Sang with the garbages while Sang Yan was reluctant about it.
The story pace was quite fast. Duan Jia Xu graduated in the same year and return to Yihe. Sang Zhi was still in 11th grade when she was brokenhearted. Their communication was reduced to non-existence for a year until they met again when Sang Zhi was admitted to Yihe University. Duan Jia Xu realized that he started to fall in love with Sang Zhi when she was 18 years old and asked permission to pursue her on her 19th birthday. They got together not long after that.
So it could be said that although puppy love started when she was 14 years old, Duan Jia Xu fall in love with Sang Zhi when she had reach adulthood at 18 years old. Before that, he had no romantic feelings whatsoever about her. And a 5 years age gap in adult romance could be considered common.
I was slightly dissatisfied with the ending of Jiang Ying's story. She was the antagonist in this story who deter Sang Zhi and Duan Jia Xu's romance. Yet it feel so abruptly ended. I wish there was more story and explanations about her.
What I like about Sang Zhi, Sang Yan, and Duan Jia Xu's personalities as they came from different backgrounds but still they able to maintain kindness and empathy towards others. Sang Zhi and Sang Yan were sensible people. The only difference was Sang Zhi would express her concern but Sang Yan, as he was a typical male character, would never express the concern but still secretly helped others. Meanwhile, Duan Jia Xu did not grow up as a bitter person although he had all the right reasons to do that.
The ending for this adorable couple was a happy ending. Yet, there were some problems that they had to face before they could be together but they managed to deal with them nicely. I am sure that all of you could guess what was the ending. You can read the detail of this drama ending on Hidden Love ending explained post, I just posted it.
The Characters
Sang Zhi
As a child, Sang Zhi (played by Zhao Lu Si) was adorable. She was kind but naughty at the same time. She had many ideas inside her small brain and always thought outside the box. Just like when she met Duan Jia Xu for the first time, she did not think of asking about his identity, but immediately made a bold guess that Sang Yan had plastic surgery on his face. This scene was hilarious but it gave us a general idea of how Sang Zhi's mind works.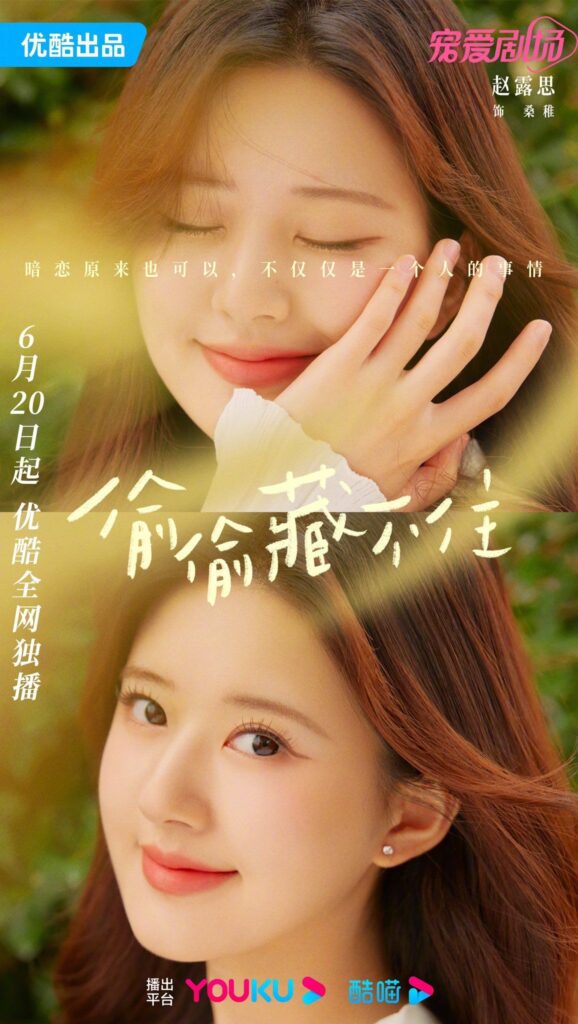 Although both of her parents were working, they always made time for their children and maintain good communication between the family members. As a parent myself, I must say that they had succeeded in educating their children. Sang Zhi grew up as a spoiled little princess. But she could maintain a sensible and courageous personality as well as the naivety of a sheltered daughter.
Sang Zhi's independent and mature mind was somehow contrary to her childish nature. She was sensible enough to realize that she must not develop romantic feelings towards her brother's friend. But she could not help herself by wanting to help him during his hard times.
As someone who came from a wealthy family, she realized that money was a problem for Duan Jia Xu. So she tried not to burden him with her matter but tried so hard to help him at every turn. She keep every problem for herself because she did not want her parents nor Duan Jia Xu to be worried about her.
Duan Jia Xu
Duan Jia Xu (played by Chen Zhe Yuan) was the older brother that every little girl dreamed of. He was handsome, tall, gentle, amicable, and kind. Duan Jia Xu was a sensible person who refused to be a burden to others. He loved being around Sang Yan's family because I think he could feel the love from them and they fill the hole inside his heart.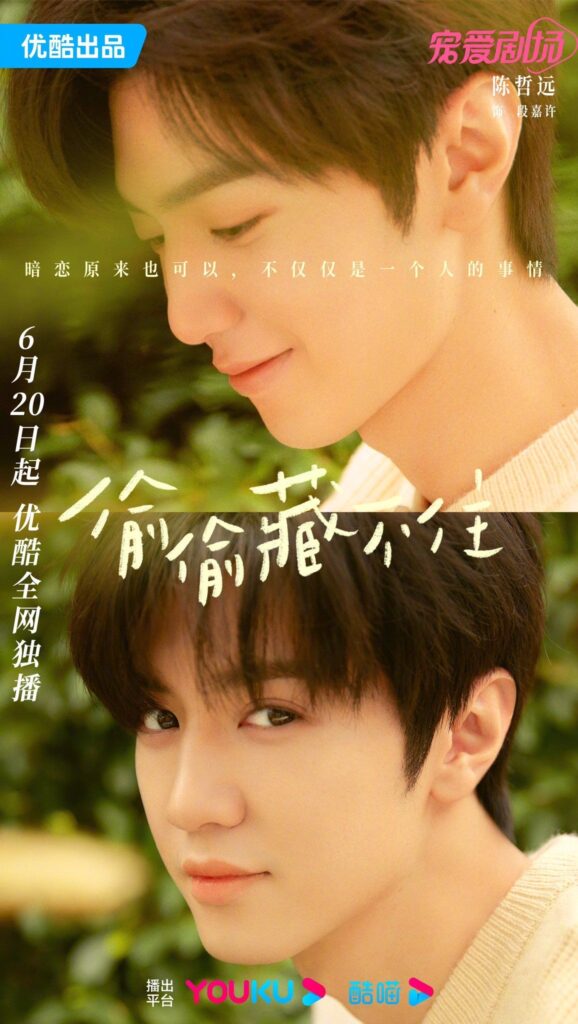 But Duan Jia Xu realized that they were not his parents and he did not want to make himself too comfortable around them. For instance when he refuses the New Year dinner invitation from Mother Sang. He said that the campus would host a dinner party and there would be red envelopes for everybody.
He told them with a very convincing happiness. But when the night comes, he spent the night alone in the dorm room playing an online game. It breaks my heart that he choose to refuse the warmth of Sang family.
Duan Jia Xu's most recognizable trait was hard work. He had been juggling from job to job since he was in high school. His sense of responsibility was high and he always take good care of others. That was the reason he was always surrounded by good people like Sang Yan (yes, I admit that he was a kind person 😆), Qian Fei, Chen Jun Wen, Li Xun, and Jiang Si Yun.
A person like Duan Jia Xu was too busy for romance. He never had a girlfriend before and Sang Zhi was the first girl that made him attracted. When it comes to physical contact, Duan Jia Xu knew his limit and never force himself to her unless she give him her consent. He was good at restraining his desire but also naughty enough to provoke Sang Zhi.
Even though Duan Jia Xu needed some guidance to understand a woman's heart, he was quick-witted and surprisingly cunning. He keeps asking tricky questions to Sang Zhi when he suspected that she harbor romantic feelings for him. Through the questions, he was like guiding Sang Zhi into his trap. After you realized this fact, then you understand the meaning of the fox plushies that he gave to Sang Zhi in the first episode.
Sang Yan
Sang Yan (played by Victor Ma) was the annoying elder brother. He reminded me of Rodrick Heffley, but more good-looking. He loves to bicker and tease Sang Zhi a lot. I loved to think that every time Sang Yan made Sang Zhi cry, he would feel a sense of accomplishment and have a wide smile on his face. Before he hurriedly made a plan to stop her cry or else Mother Sang would beat him up.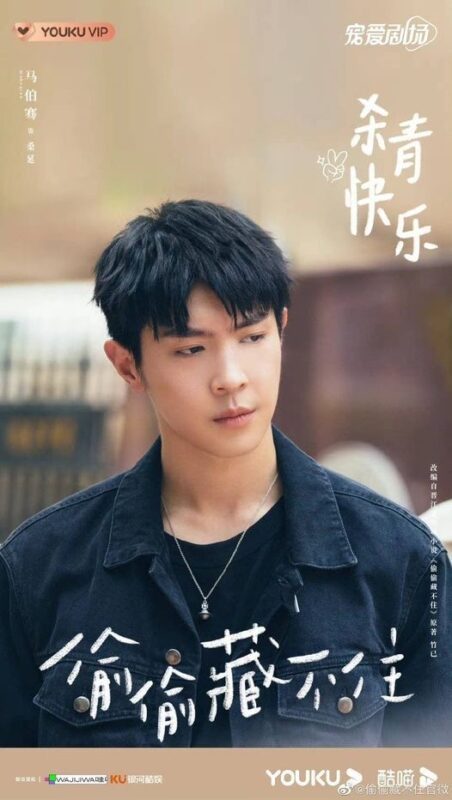 Behind those teasing remarks, Sang Yan genuinely loves his sister and always protect her at all cost. When Sang Zhi told Sang Yan that she had an online crush, the first thing he did was scold her as much as he could before he told her parents about it. Sang Yan might look a little bit reckless, but he did his role as brother perfectly.
Jiang Ying
Jiang Ying (played by Xu Shi Xin) used to be Duan Jia Xu's classmate in high school. Jiang Ying harbors some feelings for Duan Jia Xu. But everything changed after her father died because of the hit-and-run accident. Duan Jia Xu's father was too cowardly to face the consequences and it worsened the situation.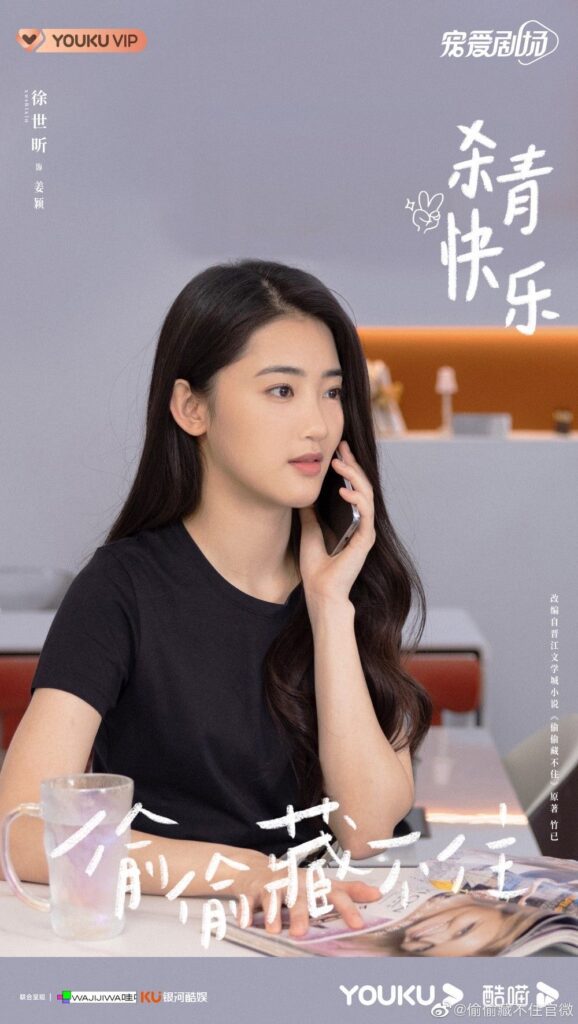 The death of her father made Jiang Ying sad and angry. Combined with her infatuation towards Duan Jia Xu, those feelings developed into an obsession. She used emotional blackmail towards Duan Jia Xu. She keep on repeating that his father killed hers and his mother wanted him to take care of her. The emotional fluctuation she had every time Jiang Ying saw Duan Jia Xu confirms that she was mentally unstable.
The Conclusion
Hidden Love drama brought joy to my days. This drama was packed with adorable moments. The comedy was here and there, mainly happened when Sang Yan was in the frame. And it made him my favorite annoying elder brother character.
If you watch this drama, be prepared to get swooned by Duan Jia Xu's sweetness to Sang Zhi. While your heart would beating hard just like Sang Zhi's every time she was near him. Hidden Love was a romance junkie must-watch drama. So I strongly advise you to watch it.
Don't forget to clear out your schedule, because once you start, there'll be no turning back. Just make sure you had plenty of eye serum to help you with the eye bag later… Happy watching!