Title: Master of My Own
Also Known As: 请叫我总监, Qing Jiao Wo Zong Jian, Please Call Me CEO, Please Call Me Director, Secretary Tan
Director: Yao Ting Ting
Screenwriter: Hu Fei Zi
Genres: Business, Life, Drama, Romance
Country: China
Episodes: 32
Year: 2022
Original Network: Dragon TV, Youku
Where to Watch: Youku
 Adapted from the novel "Please Call Me The Director" (请叫我总监) by Hong Jiu (红九)
Master of My Own Synopsis
Master of My Own is a Chinese drama released in 2022. The story focusing on Ning Meng, who is always had a dream to work as an investment officer. Three years ago, she applied for an investment officer position at Joint Capital, an investment company. But something came up and she accidentally became the secretary of the company's CEO, Lu Ji Ming. She accepted the job, on condition that after three years she would be reassigned to the Project Department.
Lu Ji Ming is a hard-to-serve boss, and Ning Meng is the only person who can satisfy his demands. To keep her as his secretary, Ji Ming tried every possible way to make her forget her intention. He even used the hurtful way by mocking Ning Meng and telling her that she did not have capability to handle any project.
In order to make Ning Meng understand his intentions, Ji Ming allowed her to join the Project Department for two months as a trial. If it doesn't work well, she has to return to her position as a secretary.
The trial went awry as her colleagues played tricks on her. Ning Meng got emotional in front of Ji Ming and decided to resign.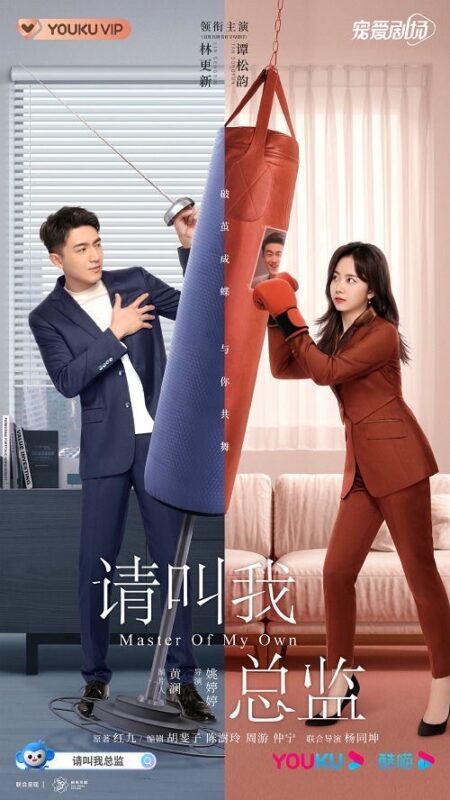 And The Story Goes..
Eager to prove herself, Ning Meng got a job as an investment analyst at Eaglestone Capital. She finally got a chance to spread her wings and reach her dream. Ning Meng used all her experience and every lesson that she'd  learnt from Lu Ji Ming in her new career. With her perceptive nature and strong intuition, she managed to deal with several projects. However, her chosen path is a rocky road. So, despite his contradictory demeanor, Ji Ming always finds a path to help her secretly.
Their communication got intense when Ning Meng was assigned to work as her office representative on Joint Capital-Eaglestone Capital cooperation. Slowly but sure, one thing leads to another. Unfortunately, Ning Meng and Ji Ming are not aware of their  feelings until the love rivals appear. Now, juggling between love and work, would Ning Meng reach her dream?
Master of My Own Review
Master of My Own is an office romance drama. But it was a slow-paced romance, really slow as snails, and no passionate scenes between our Ning Meng (played by Tan Song Yun) and Lu Ji Ming (played by Lin Gen Xin). Well, you can't expect a fast-paced romance from two people who are full of themselves and their EQ seems a little low. It really needs a full 32 episodes to get to their confession.
I was sooooo disappointed about not getting enough romantic scenes…😩
But, there were some things to be noted and praised about this drama. It was far from boring. I've binge-watched it for 10 straight episodes. I started early in the morning and forgot about my chores. My house was a mess back then. But, anyway… I have no regrets over it.
The conflict was mostly about business. It was fast-paced and I really like the way they use many places as background sets, so it was not tiresome at all. You know, the problem with office dramas is they tend to be boring for me because the background is mainly in the same place. But not this time.
Thank you Mr. Director…👏
And if you need some office attire inspo, this Cdrama could provide you with one. The costume is simple and the color tone is neutral. No strong or too flashy outfits (except for Xu Si Tian 😉), so it is easy and convenient to imitate one.
A Group Of interesting People
My favorite part of this Cdrama is the first ten episodes, where I could see Ning Meng getting scolded by Ji Ming or vice versa when Ning Meng had a temper. They were like natural enemies, it feels so real unlike a drama at all.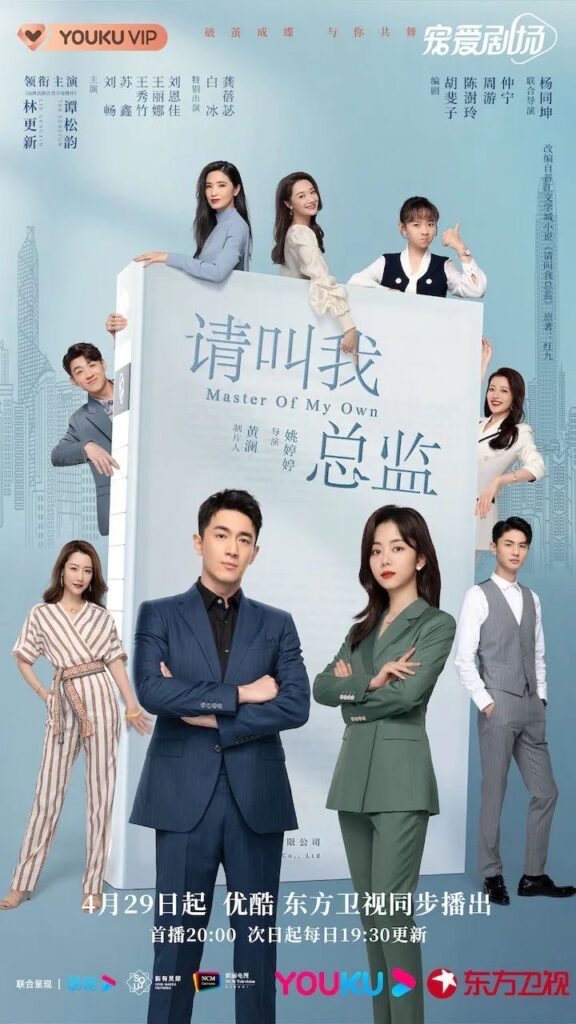 Lu Ji Ming was born as a second-generation rich man. His father is a successful businessman. But Ji Ming built his own company from scratch. As a golden spoon generation, he exudes an arrogant aura and a hard-to-please nature. He likes to make things hard for everyone around him, because his demands and expectations were high. But, actually he was a nice and kind person. He just has no clue how to treat people around him. The only one who can satisfy his needs is Ning Meng.
Ning Meng is a cheerful person. She has a strong understanding of people. She could read clearly what Ji Ming needed at the moment. For instance, there was a scene where Ji Ming was in a foul mood and kept on asking for coffee from his second secretary, Yang Xiao Yang. But when Xiao Yang made him a cup of coffee, there were always mistakes in it.
Ning Meng asked Ji Ming what kind of drink he wanted. Ji Ming said a cold tea with milk, but Ning Meng made him the opposite, a hot coffee with sugar. And he was content with the coffee. When Xiao Yang asked why she made coffee instead of tea, Ning Meng's answer was "Mr Lu likes to play guessing games, and he says things he doesn't mean."
Ning Meng really understands what Ji Ming needs and wants, even if he doesn't say it out loud.
Office Romances
As an investment officer, Ning Meng has a strong intuition. She is also a persistent and persevering person. And with those qualities, Ning meng paved her way to success.
I really like Ning Meng and Ji Ming's relationship in this drama. They started as a superior-subordinate, but slowly they progressed into friendship and finally become a lover. There were some awkward moments between them, and it's so cute. When it comes to relationships, both of them are clueless. It's so cute to see Lin Gen Xin act as a childish person, especially when he was jealous. Ning Meng, on the other hand, is quite mature, but she becomes a short-tempered person when she was near him.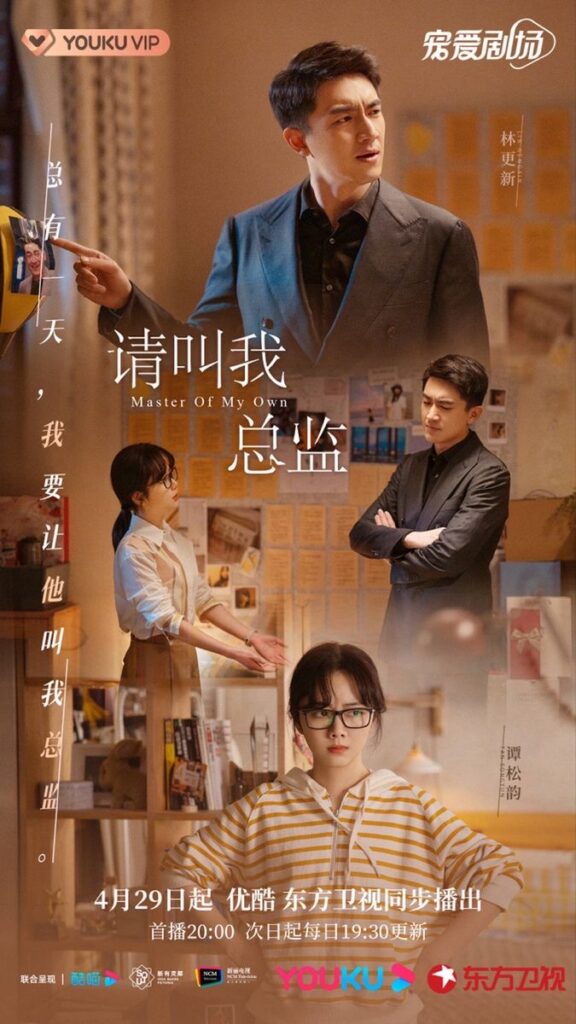 My favorite couple in this Chinese drama is Zhen Yu Han (Su Xin) and Xu Si Tian (Wang Xiu Zhu), Ji Ming's childhood friends. Together they were a trio with a weird personality. Ji Ming is aloof, Si Tian is a spoiled princess, and Yu Han is always the mediator. Ji Ming is Si Tian's love interest. She was passionate, aggressive, and very eager to show her feelings for Ji Ming, but only to get rebuked by him. She was jealous of Ning Meng because she could feel that Ji Ming's feeling for Ning Meng was somehow different from others. In short, Si Tian's intuition for love matters is quite sharp but very blunt when it comes to business.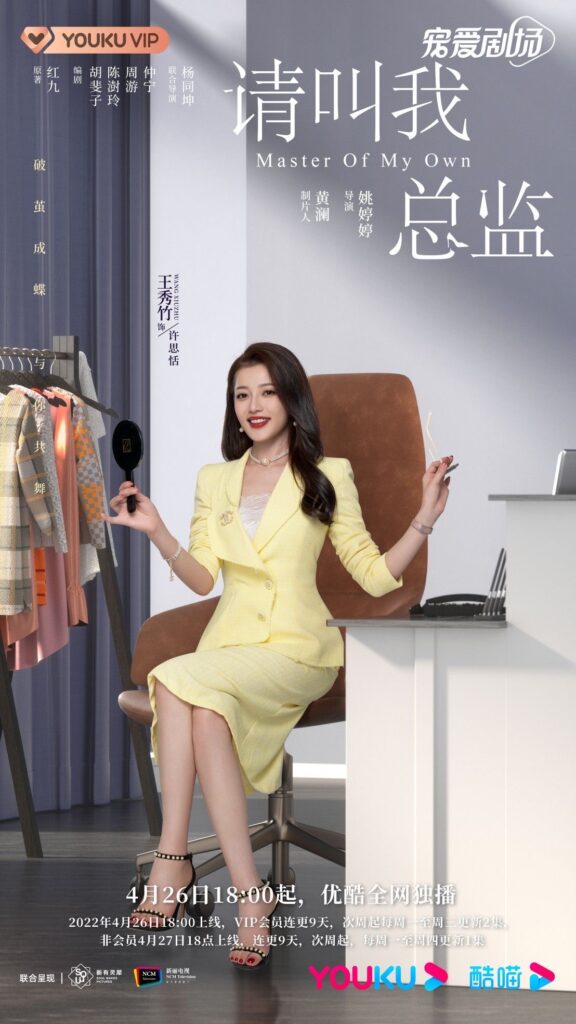 Zheng Yu Han is a kind person. He hides his feelings for Si Tian, because he knows that Si Tian loves Ji Ming. He always supported her in whatever decisions she made and was always ready to catch her when she's fall. Si Tian finally acknowledges his feelings when she decides to forget her love for Ji Ming. Their love scenes were so sweet. I really like their chemistry…😍
Love Rivalry
Ji Ming's love rival is Su Wei Ran (played by Liu Chang), Ning Meng's senior and love interest back in college. Wei Ran suffered from a bad heartbreak when his college girlfriend was cheating on him with a second-generation rich man. This disappointment left him with some trauma and he stayed single for years until he met Ning Meng by accident.
Since then, he has tried to pursue Ning Meng and they finally become a lover. But something came up and Ning Meng dumped him. Wei Ran carries some mysterious aura in him. He looks like he's been hiding something. But I can feel that he truly in love with Ning Meng.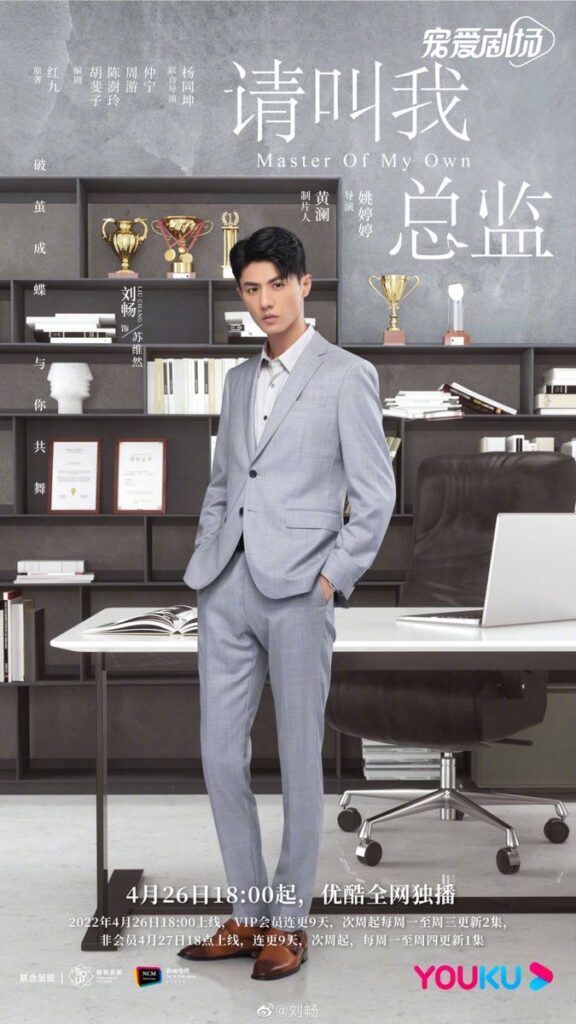 All cast members of Master Of My Own have their own charm, but my favourite is Wang Xiu Zhu. She used to act as Miao Qing in Eternal Love: Ten Miles of Peach Blossoms Cdrama. But her acting as Si Tian is way better than when she acted as Miao Qing. Her ugly crying is over the top, she looked pitiful and funny at the same time.
This Is Just a Hint of The Ending
I wont give you more spoilers, as I have leaked it here and there… 😉. But I enjoy Master Of My Own when the plot gets thicker in the second half of the drama. The business conflict became much more complex and more characters were involved. Ji Ming meets misfortune when somebody lays a trap for him and his father. With the help of Ning Meng, they were finally able to solve the problem. But they must prepare for an act of betrayal from a close friend.
Later, the death of someone important to Ji Ming became his turning point. He changed his personality into someone who was more considerate. He is still sharp and clever, but the way he handles people is more refined.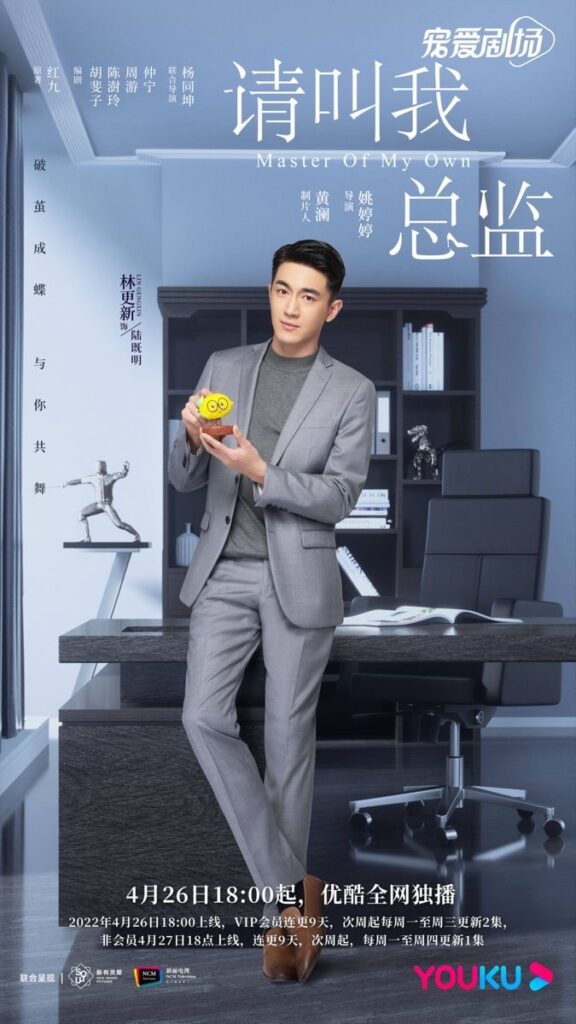 Master Of My Own has a happy ending. Ning Meng and Ji Ming finally became a couple, but it took a long and winding road for them to finally be able to admit their feelings. It is really such a long journey for them to be together… 😤
The Conclusion
I love this Chinese drama. It's a mix of fast-paced conflicts and a slow-paced romance. I feel the urge to hit the forward button because I want to see the ending of Ning Meng-Ji Ming relationship, but my head tells me not to because it will spoil the story. And I'm glad I didn't do it. It was more satisfying when I was finally able to watch the entire episode without hitting the forward button.
I would give this Cdrama 4 points for the story. It was an intriguing story and with a touch of humor every now and then, Master Of My Own is good entertainment to enjoy after a long day of work. Just sit back, relax, and don't forget your instant noodles. Happy watching!