Title: You Are Desire
Also Known As: 白日梦我, Bai Ri Meng Wo, Daydreaming Me, You Are My Desire
Director: Deng Ke
Casts: Zhou Yi Ran, Zhuang Da Fei
Screenwriter: Xia Feng Yan
Genres: Romance, Drama, Youth
Country: China
Number of Episodes: 30
Date of Release: August 12, 2023
Original Network: Mango TV
Where to Watch: MGTV, Viki, Youku
Adapted from the novel: "Bai Ri Meng Wo" by Qi Jian
Hola readers… Zhou Yi Ran was quite busy, he already has 4 dramas aired this year. I'm still in the middle of watching The Legend of Zhuohua, and I was quite impressed by that one. Anyhow… this You Are Desire drama also caught my attention. In the midst of watching Love You Seven Times drama, I was stumbled into this one. I got hooked after several episodes and could not stop. There was a charm in this drama but then I got disappointed. If you eager to know the reason, this You Are Desire drama review post would tell you why. So what are you waiting for? Let's start!
You Are Desire Synopsis
Lin Yu Jing's parents were divorced and she had to live with her domineering mother in Huaicheng City. One day she was sent to live with her father for a few days. Unbeknownst to Lin Yu Jing, her mother had already arranged for her to live with her father longer than she expected.
The situation was unfavorable for Lin Yu Jing since her father was an unreliable person who did not welcome her and her new brother was cold to her. But after a series of rejections from her mother, Lin Yu Jing started to believe that none of her parents wanted her and she started to rely on herself.
But her lonely heart started to open up when she entered her new school and met an ill-tempered desk mate.
Shen Juan was notoriously famous as a school bully. The news that he had beaten up people were widely spread and every student at school avoided him at all cost. However, not many people knew the real reason for the rumors. As a high school student, the burden on his shoulders was too heavy and it involved human life.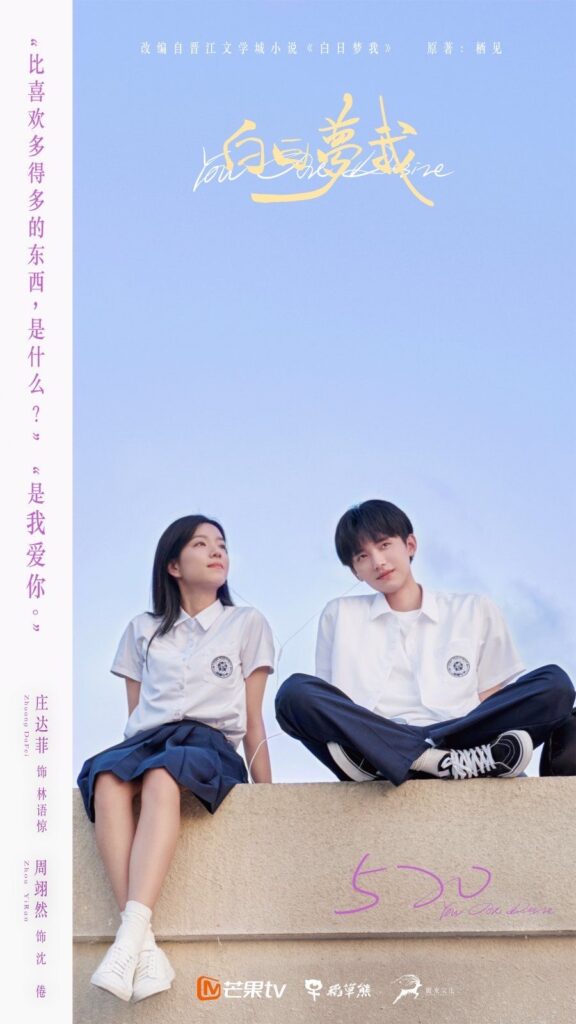 Only a few people know the reasons why Shen Jun was always late and slept during class. It was because he had to take care of his bedridden uncle and work to earn money so he could maintain the old silver jewelry shop that belonged to his uncle.
Unlike the other students, Lin Yu Jing felt comfortable being around Shen Juan and his group. They also accepted her and wholeheartedly regarded her as their friend. Lin Yu Jing also found a way to help Shen Juan and herself earn some money. Both of them were in dire need of money. Shen Juan's money was not enough to pay rent, and Lin Yu Jing needed money to book a room in the school dormitory.
But the happiest time never lasts for a long time. When she already found comfort in life, making new friends, and even love, Lin Yu Jing's mother appeared. Lin Zhi wanted to take Lin Yu Jing back to Huaicheng.
Lin Yu Jing begged and pleaded to stay but everything was futile. Because the more she begs, her mother becomes more determined to take her away. Helpless, Lin Yu Jing had to accept the reality. She left when Shen Juan's uncle's condition worsened.
A year and a half later, Lin Yu Jing and Shen Juan met again at Pucheng University. She took a Finance major while he took Physics. Lin Yu Jing thought that they could resume their friendship. But reconciliation was not easy and she had to racked her brain to coax the angry Shen Juan.
It was not an easy job since Shen Juan was often surrounded by girls who drove Lin Yu Jing to jealousy. On the other hand, Shen Juan still had to deal with the store and his uncle's last disciple, Nie Xinghe, who held a grudge against him.
Lin Yu Jing and Shen Juan managed to walk side by side and supported each other in their university days. They also rediscover their lives and strive to live the life that they always wanted, free from shackles and move on from the past.
You Are Desire Review
You Are Desire or You Are My Desire was a good drama about youngsters who struggled to face the world. And at the same time, I struggled to understand the subtitle because MGTV seemed to using a machine translation that sometimes did not make any sense.
Thankfully, Viki comes to help. This streaming app always had a better translation compared to other apps. However, as the translation was dependent on independent contributors, the progress was slightly slower than MGTV.
As a non-native speaker (I barely could recognize any character nor speak Chinese), I rely heavily upon translation. Whether it was in English or Indonesian or sometimes, Bahasa Melayu (for emergencies only). Therefore, I really appreciated a good translation.
Anyhow, despite the language barrier, I managed to get through all 30 episodes in two days. With lots of snacks, coffee, and tonnes of eye serum to help me with the eye bag. I wonder if any skincare brand would pay attention to a small drama reviewer like me. After all, I was a devoted user of eye serums thanks to my years of dedication to Chinese dramas.
I liked this drama because the story was so heartwarming and heart-wrenching at the same time. It made me cry a bucket full of tears. You know, youth drama was still a hit right now, and I still heard people talking about Hidden Love, although it was not as much as it used to be. But the hype was still there and I'm trying to catch up with the trend.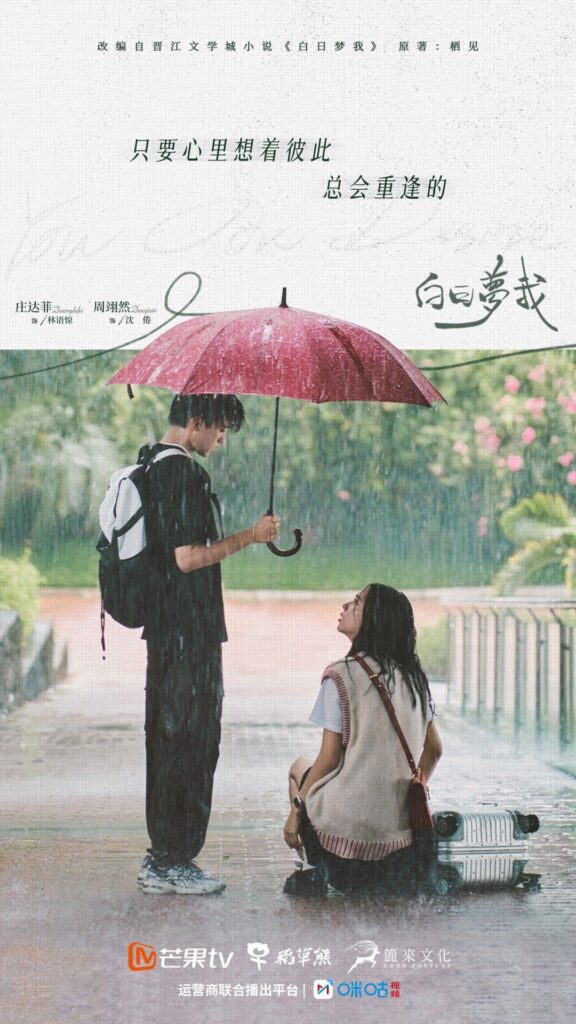 My first impression of this drama was the story was quite heavy for the youth genre. However, Lin Yu Jing and Shen Juan's character was tough and strong, so we rarely saw tears only suppressed pain in their faces. But those rare tears give me more sensation than flowing tears.
I could not help but compare this drama with Lost You Forever (Season 1) drama where all the male leads around Xiao Yao seemed to easily shed tears. Well, except for the ice-cold demon Xiang Liu. Personally, I did not against male characters crying since it was a natural thing to do. We, humans, would cry whether it was a cry of joy or a cry out of desperation. But watching too many crying scenes would make me numb. And I would be like, "Aaarrgghhh… not again…".
So, seeing two strong main leads was a good thing. Besides, Lin Yu Jing and Shen Juan's relationship and interactions were quite real, unlike the problems. But, this is the Cdramaland, anything could happen no matter how the circumstances were.
You Are Desire started like any other youth drama. Full of sweet interaction and adorable scenes. However, as the story deepened, you'll find that Shen Juan and Lin Yu Jing were more than just ordinary high school students. They were mature enough to realize that they needed someone who could understand their pain and emotional baggage. A supportive partner who did not back down when they met problems. It was quite mature was it?
There was more than one love story in this drama aside from Lin Yu Jing and Shen Juan's story. They were Gu Xia-Fu Ming Xiu couple and He Song Nan-Xu Ruyi couple. The story between Lin Yu Jing and Shen Juan was too complicated. So it makes the other's story seem average.
I don't have much impression of Gu Xia-Fu Ming Xiu's story other than a love story between two different characters. And it was no different for He Song Nan-Xu Ruyi's story. They were a couple who came from two different backgrounds. And even Wang Yi Yang's problem at the end of the drama feels like an add-on to this drama.
You could see how Lin Yu Jing, Shen Juan, NieXinghe, and even Lin Zhi's character had developed. At the same time, Gu Xia, Fu Ming Xiu, He Song Nan, Xu Ruyi, and Wang Yi Yan's character remain stagnant.
So it was logical if my main interest was only in Lin Yu Jing and Shen Juan. They were adorable and their chemistry was good enough. You could see it from the sidelong glances and the slight smile that appeared even when they quarreled. What I liked about this drama was there was no angst in their relationship. No jealous exes, no obsessed fans, or misunderstandings that lead to disaster.
Well, there was jealousy in the story, but it was just a small thing that spiced up their relationship. Yet, I feel that after they got together, the romance did not improve. Lin Yu Jing and Shen Juan rarely showed intimacy, and they focused on their personal problems. So, yeah… I'm a bit disappointed in this aspect.
I really enjoyed Zhou Yi Ran's expression when he was in the shooting range. Shooting itself was quite an expensive activity in my country. It was not an activity for everyone. A person who wants to strive to be a shooting athlete must have good accuracy and speed.
It also needs a strong focus, concentration, and most importantly, emotional control. This was the important aspect that Nie Xinghe used to manipulate Shen Juan. Rapid shooting was Shen Juan's passion and he was talented in this sport.
Anyhow, he looks good at the shooting range with his cold expression and nature. Could I hope for another drama where Zhou Yi Ran acts as a man in uniform and wielding a gun? He might be the next Johnny Huang in my heart…LOL
At the beginning of the drama, You Are Desire has the same vibe as When I Fly Towards You. But the story developed in a totally different direction. And I like the way Shen Juan exuded a different aura than Zhang Lu Rang.
Shen Juan was more mature and confident than Zhang Lu Rang who always felt oppressed by his genius brother. So although Shen Juan and Zhang Lu Rang looked similar (Zhou Yi Ran had the same hairstyle and fashion style in both drama), he managed to show that it was two completely different characters.
Zhuang Da Fei also known as Sabrina Zhuang has been in the Chinese drama industry for quite some time. I used to watch her latest drama, Miss Chun Is The Litigator, but I dropped it for some reason. So this was my first time to see her acting thoroughly.
Although her facial expression sometimes was a bit wooden, it was a match for her character as the strong Lin Yu Jing. There were not many scenes that showed her weak moments, but when it came, she nailed it.
My favorite actor in this drama was the one and only Zeng Li. Since I saw her as Cheng Shao Shang's mother in Love Like The Galaxy, I've been her fan. Whenever she acted as a domineering mother, I always cursed her character. But when she acts as a kind mother just like in Hidden Love, I praise her. It showed how well she acted in every drama.
You Are Desire was Deng Ke's third drama as a director. And I was quite impressed by You Are Desire. Deng Ke managed to convey the gloomy atmosphere in this drama with the right color tone and perfect angle. However, I feel that the lighting was a bit superficial.
Another thing that has been bothering me is the shaky scenes. I don't know whether this was a new trend or not, but I notice that in several dramas nowadays, there is always a scene taken by a shaky camera. Is it intentional? Because sometimes I did not get the purpose of the shaky camera. If any of you could give me some explanation, I'll be very glad to hear it.
One thing that impressed me much, was the words that Shen Juan and Lin Yu Jing said at the end of every episode. It feels like a summary of the episode and also a link that connects the whole plot.
For instance, these words at the end of episode 17.
"You said with a smile, "I'm fine..". But I only saw one soul licking the wound alone. Stubbornly keeping a memory. Carrying the future of others. But I forgot to find myself". Said Lin Yu Jing to Shen Juan.
The Story
In this world, the happiest thing is to do what you want to do. You go ahead and do it, spread your enthusiasm to the fullest. Release your light. And I would stand behind you to look at you, support you, and be with you. Said Uncle Qinghe to Shen Juan.
You Are My Desire was not only a Story about love and romance. It was about self-discovery when you strive hard for something and someone you love, your passion, and your happiness. And how you move on from the past, forgive yourself, and learn to let go.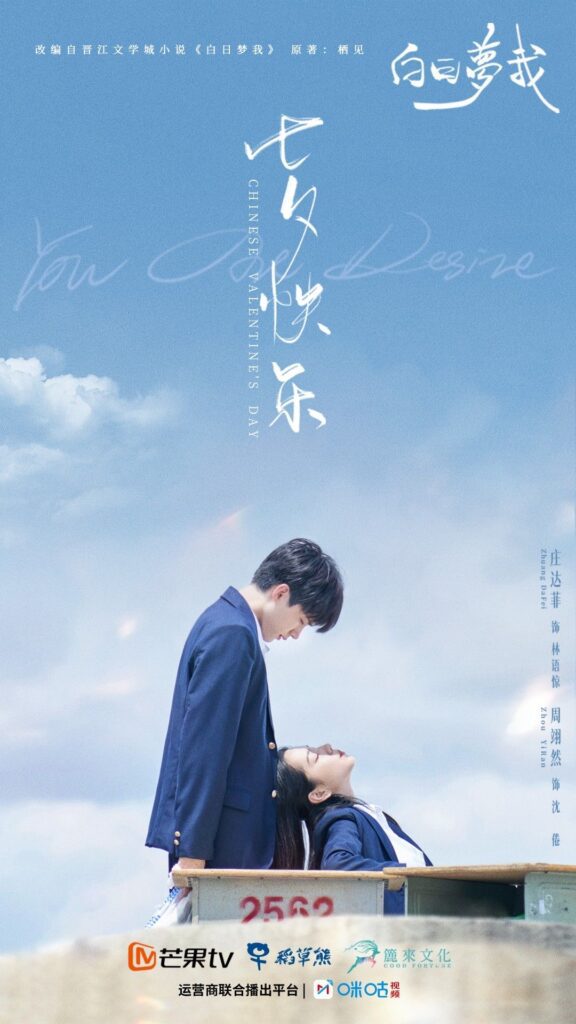 The story began when Lin Yu Jing went to Pucheng for a visit to her father's new family. Lin Yu Jing's relationship with her parents was bad. Her mother was a domineering and authoritative person while her father was a person who lacked responsibility. And now her father had married a successful wife so he was reluctant to welcome Lin Yu Jing at his wife's home.
Not to mention that his wife already had a son who already worked as a lawyer. Lin Yu Jing could sense his refusal but she had no other choice. Her stepmother's reception was quite warm to her. But her son, Fu Ming Xiu, rejected Lin Yu Jing.
Lin Yu Jing looked like someone indifferent and cold but she was quite sensitive underneath. She cherishes memories and feelings. And even though she never showed it, she held high hopes and yearned for her mother's love. So when her mother's bracelet was broken, she had to fix it. And this bracelet took her to Qinghe Jewelry Store.
Qinghe Jewelry Store was more than a store for Shen Juan. He regarded this store as his home. After his uncle was bedridden, Shen Juan instantly took this store as his responsibility. He worked hard to earn money by making jewelry at night so he could pay the rent.
In the daytime, he went to school and never forgot to visit his uncle. It was an arduous job for a high school student. So he was always late and appeared sleepy at school.
But fret not… although he had never seen studying, apparently Shen Juan was a bright student. With a little bit of hard work, he rocketed to the top of the student list.
Shen Juan's life was a bit deserted. His family only consisted of a father who lives far away and a big uncle. Before he met Lin Yu Jing, he only had two friends, Wang Yi Yang and He Song Nan. He also had one mortal enemy and lots of ordinary enemies. LOL
Meanwhile, Lin Yu Jing also had the same desolate life. Her family consisted an estranged parents, a stepmother, and a stepbrother. Back in Huaicheng, she only had one friend Lu Yao. While in Pucheng, she made friends with Xu Ruyi, Gu Xia, and Xiao Mo Gu.
These lonely people find comfort and companionship in each other. Shen Juan was attracted to Lin Yu Jing's strength and self-reliance. Lin Yu Jing was attracted to him first because he was handsome and cool. You know that bad boys or people who had a strong aura were inevitably attractive. But later she was attracted to his persistence and strength.
Long story short, Lin Yu Jing and Shen Juan became a couple after they were admitted into the same university. It was amazing that they could stay faithful for 1.5 years being apart without any contact whatsoever. It seemed that they did have a strong bond since the beginning and their heart was already fixed on each other.
If you ever noticed in the youth genre, the couple always be together after they finish the college entrance exams. They might start to flirt or be attracted to each other, but the relationship always starts after the exams. It seemed in China this college entrance exam was the real deal that even a drama avoids giving a bad example for the students in real life.
It was fun to see Shen Juan sulking when they met again at the university. In many dramas, it was always the woman who needed to coax the man. But in You Are Desire, Lin Yu Jing who was equally cold and indifferent must coax Shen Juan. He wanted to show Lin Yu Jing that he was hurting because she disappeared for a long time.
But later, when she was ready to be the one who pursued him, Shen Juan's fans made her angry and jealous. So Shen Juan had no choice but to be the one who coaxed her…🤣
Lin Yu Jing was an independent and forthright person. She never relied upon anyone therefore, it was not surprising when she was the one who asked Shen Juan if he ever needed a girlfriend. And Shen Juan being a man, told her to let him do things such as confessing. I guess his ego was a little bit wounded…😅
Later on, Shen Juan and Lin Yu Jing had to deal with their problem. Shen Juan must find a way to protect his uncle's legacy as well as deal with his enemy, Nie Xinghe. The problem with Nie Xinghe was his jealousy toward Shen Juan. Nie Xinghe was Luo Qinghe's last disciple. He took Nie Xinghe from the street and gave him a home and a family. He also taught him about craftsmanship.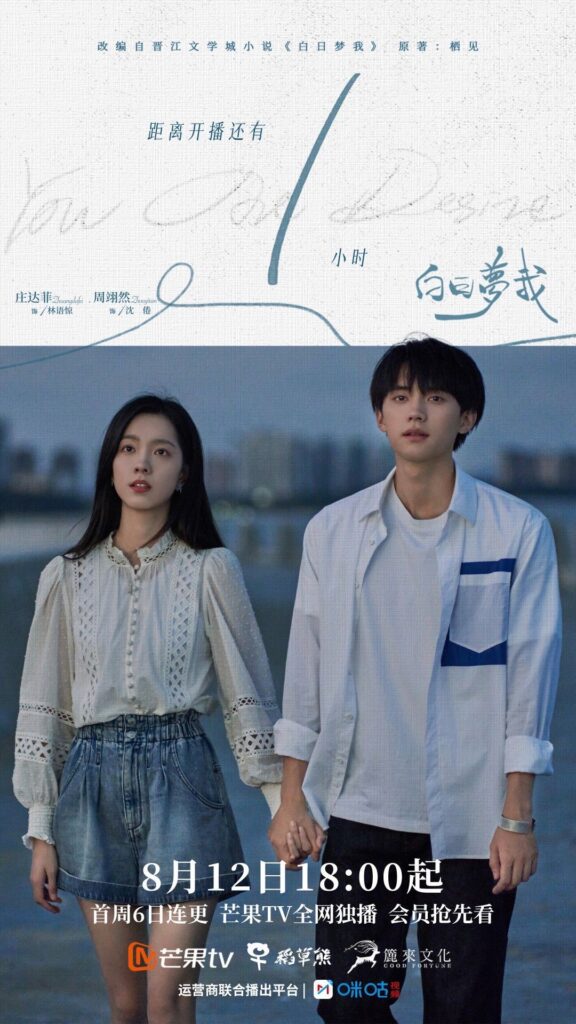 In Lu Qinghe's eyes, Nie Xinghe was talented. However, as someone who grew up without any care or love from his mother, Nie Xinghe was greedy for love. He got jealous because Luo Qinghe always cared about Shen Juan. In Nie Xinghe's mind, Shen Juan had everything he wanted but he was an ungrateful person.
The source of all of the resentment was that Shen Juan chose to pursue his passion for shooting rather than inheriting his uncle's craftsmanship. So Nie Xinghe took a drastic measure and ended up being an enemy of Shen Juan.
Meanwhile, Lin Yu Jing's problem was rooted in her domineering mother. Lin Zhi was afraid that her daughter would make a wrong decision like her back then. So she made sure that Lin Yu Jing was going to walk on the right path. The first this she did was to make Lin Yu Jing take her surname. This explains why Lin Yu Jing was surnamed Lin, while his father's name was Meng Wei Guo.
Lin Zhi had already made plans for Lin Yu Jing's future. She taught her well and made a thorough arrangement for her school and career. Although Lin Yu Jing never liked her mother's arrangement, she followed every step of it because she wanted to be an obedient daughter.
So Lin Zhi would look at her and acknowledge her. It was a heartbreaking thought for a sensible daughter like Lin Yu Jing begged to be loved by her own mother.
Later when she moved to Pucheng, Lin Yu Jing was able to taste freedom. It was painful to have to rely on herself, while she was only a teenager. She did not have enough money because her mother did not give her some and her father only gave her cards for food and transportation.
The lack of money brought her to the store where she thought of a marketing strategy to earn money. However, at that time, Lin Yu Jing hadn't realized her passion for the marketing world.
Lin Zhi did not realize that her plan to send Lin Yu Jing to live in Pucheng had opened up a door to a new world. Lin Yu Jing could taste the sweet taste of friendship and love. She also learned how to rely on herself which led to her self-discovery.
Meanwhile, with her by his side, Shen Juan felt the support that he lost after the accident. And with the help of Lin Yu Jing, Shen Juan was able to move on from the past and re-discover his passion.
The ending of this drama was considered as an open ending. The story ended 4 years after they entered university. If you are waiting for a sweet marriage life like in When I Fly Towards You or Hidden Love, you should find it somewhere else. I already wrote about You Are Desire ending explained, you can check it anytime.
The Characters
Lin Yu Jing
Lin Yu Jing (played by Zhuang Da Fei) was a smart, independent, and sensible person. She was self-reliant since her relationship with her divorced parents was not very good. Although she looked cold and indifferent, Lin Yu Jing was yearning for love and care. She wanted to gain her mother's love therefore she always tried to be an obedient daughter. When she moved to Pucheng, she was reluctant because her father already had a new family.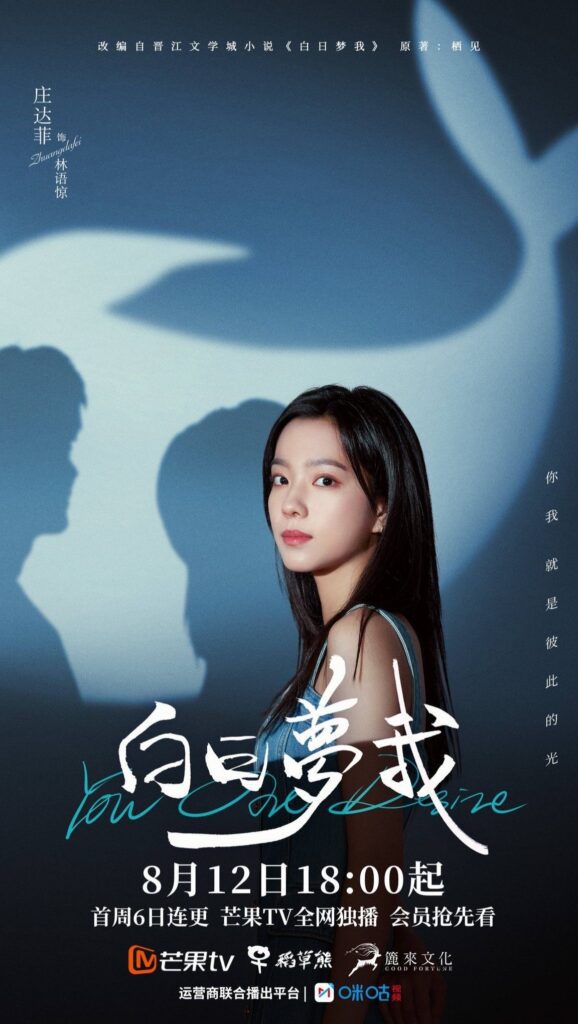 Lin Yu Jing's mother was a successful businesswoman. Lin Zhi was a cold and domineering mother. She expressed her love towards Lin Yu Jing in the wrong way. She never listened to her words and always thought of Lin Yu Jing as a child who did not have any opinion at all. And it was all because Lin Zhi regretted her life after she married Meng Wei Guo.
Lin Yu Jing's father was a writer, but he did not seem successful in his career. Meng Wei Guo lived in his new wife's home and he was a boot licker kind of person. He was so nice and attentive towards his wife and Fu Ming Xiu, but harsh and stingy towards Lin Yu Jing.
Lin Zhi did not give her any money because she thought that Meng Wei Guo would provide it for Lin Yu Jing. Yet, Meng Wei Guo only gave Lin Yu Jing enough money for food and transportation. Lin Yu Jing could sense that she was not welcome there. Her father did not give her the access card to his home.
So, Lin Yu Jing had to wait until Fu Ming Yu returned before she could enter the house. Fu Ming Xiu also treats her coldly. Only after he knew that Meng Wei Guo treated Lin Yu Jing badly, he started to care for her.
Lin Yu Jing liked to study and was good at managing things. She was the one who came up with a marketing plan and strategy to earn money for Qinghe Jewelry Store. She also did it for herself because she needed money so she could live in the dormitory. Back then, she had sold her belongings but the money was not enough.
It takes time for Lin Yu Jing that she had no passion for everything. She likes to study and get good grades, but could it be called passion? So she took a lot of time before she could finally decide for herself.
Shen Juan
Shen Juan (played by Zhou Yi Ran) always seemed cold and distant. While in reality, he was a thoughtful and attentive person. At school, Shen Juan was infamous because of the rumors that surrounded him. He was a year older than Lin Yu Jing, but he was suspended from school after he was caught beating up someone.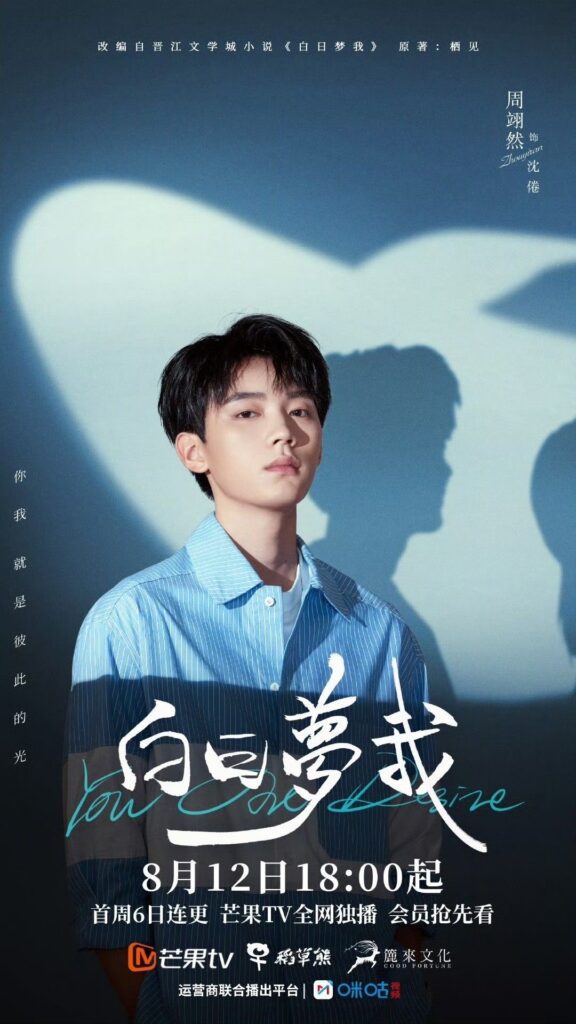 When he was a child, Shen Juan's parents left for Africa. They did not want him to follow them into hardships so they entrusted him to his uncle. Luo Qinghe was his mother's younger brother, a respectable craftsman and the owner of Qinghe Jewelry Store. He lived in the store and regarded it as his home.
Luo Qingh trained him to be a craftsman and he did a very good job since he seemed to have a talent in that area. But Shen Juan was not the only person that his uncle trained. Luo Qinghe took a child from the street named Nie Xinghe and regarded them as his disciples. However, after the uncle was bedridden, Nie Xinghe blamed Shen Juan for the accident and they had a bad relationship ever since.
Shen Juan has always liked rapid shooting since he was young. He was a natural-born talent and I am sure he would soar if only the accident never happened. But everything was already fated and he could not continue to pursue his passion in rapid shooting.
Shen Juan put down his gun and closed one chapter of his life for four whole years. He then focused on taking care of Luo Qinghe and protecting his legacy. Even after Luo Qinghe died, he still avoided the gun. Until Lin Yu Jing encouraged him to pursue his passion and dream.
The Conclusion
You Are Desire was not an ordinary youth drama. If you only wanted a heartwarming story without heart-wrenching scenes, then you should pass this one. But if your heart was strong enough and you did not mind to shed a bucket of tears, then you are in the right place.
What makes this story poignant is not because the main leads easily shed their tears, but it was the exact opposite. They were strong and because of it, it hurt us even more.
This 30-long-episode drama was worth your time. It might not be a perfect stress-releasing drama. But Zhou Yi Ran's dimples and Zhuang Da Fei's adorable smiles were enough to brighten up your night. And if the story was not to your liking, just consider my sentence earlier. So, have you made up your mind? Don't forget to tell us your opinion. Hope this You Are Desire drama review helps. Happy watching!