Title: The Legend of Zhuohua
Also Known As: 灼灼风流, Nv Ren Bu Hao Hao Du Shu Shi Yao Jia Ren De, Zhuo Zhuo Feng Liu
Director: Wen De Guang
Cast: Jing Tian, Feng Shao Feng, Wang Li Kun,Zhou Yi Ran, Xu Hai Qiao
Screenwriter: Wang Hong, Feng Shu Wen, Yu Kun
Genres: Romance, Historical, Mystery, Drama
Country: China
Number of Episodes: 40
Date of Release: Aug 19, 2023
Original Network: Tencent Video
Where to Watch: WeTV, Viki
Adapted from the web novel: "Ceng Feng Liu" by Sui Yu Er An
Dear readers… The Legend of Zhuo Hua was a 40 episodes long drama. The synopsis on Viki made me interested of this drama. So if you were curious about my verdict after I watch this drama, please proceed to read the rest of this post. Happy reading!
The Legend of Zhuohua Synopsis
Mu Qi was the 7th daughter of the Mu family. She avoided arranged marriage and went to the capital to join the imperial examination. She then changed her name to Mu Zhuo Hua. Unlike any other girl in her age, Mu Zhuo Hua enjoyed studying and regarded herself as a scholar who yearned for freedom.
And just like her mother, Mu Zhuo Hua was adept in medicine as well. She was good at talking and her mind was sharp. She got all the qualifications to be an official if only she was born in a different gender.
Liu Yan was the God of War of the Southern Chen Kingdom. His name was powerful enough to make another kingdom avoid war with the Southern Chen. He was adept in warfare and his strategy was unbeatable. Liu Yan was never interested in the opposite sex. In his mind, Li Yan only focused on helping his brother, the emperor, to create a peaceful and prosperous country.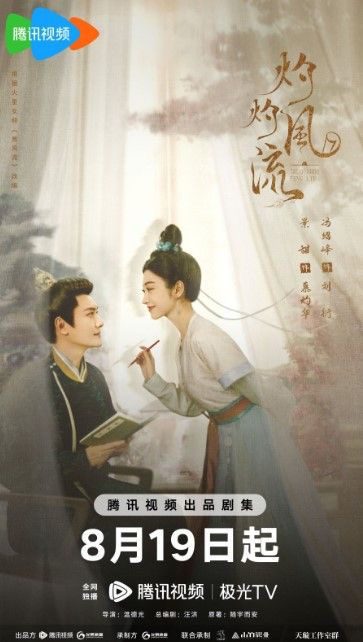 Mu Zhuo Hua and Liu Yan accidentally met at the famous brothel house. At that time, Liu Yan was poisoned, and Mu Zhuo Hua was on her way home after she cured a courtesan. Mu Zhuo Hua cured his poison but pretended not to recognize him as the mighty Lord Ding.
However, it did not stop him from suspecting her. To keep her life intact, Mu Zhuo Hua had to resort to being his subordinate. Mu Zhuo Hua and Liu Yan worked together to achieve their respective goals. Mu Zhuo Hua planned to be a female official who served the court while Liu Yan investigated the death of 30,000 soldiers at the Juma River, five years ago.
The constant interaction between them get to know each other better. Admiration and respect followed suit and deepened the feeling between them. They started to fall in love without realizing it.
However, they must set their feelings aside for the sake of the greater good. Because danger lurked behind the dark, and if they could not defeat it, then the whole county of Southern Chen would be in jeopardy.
The Legend of Zhuohua Review
The Legend of Zhuo Hua was a story about woman empowerment. In the ancient society of China, women were suppressed in every aspect of their life. Except for the Empress and Empress Dowager, ordinary women would never hold any prestigious or important position in politics.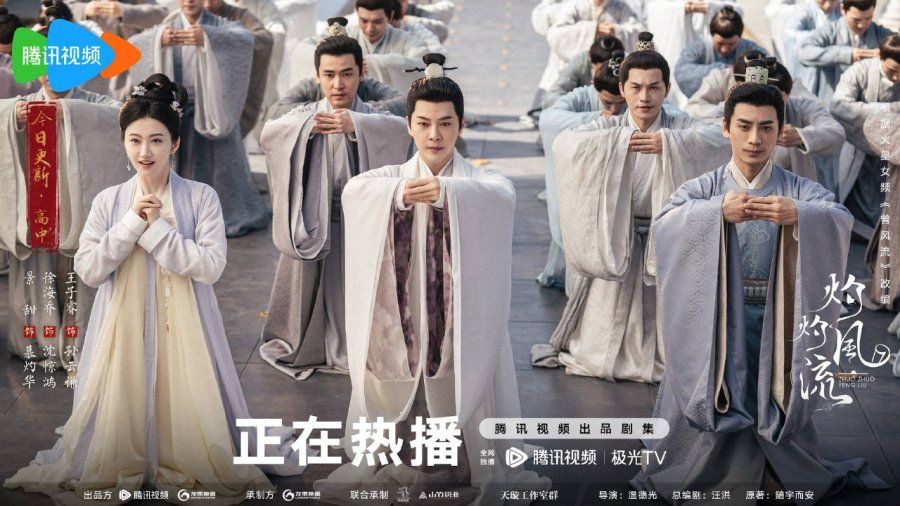 They could only exist inside the family as a matriarch or a mother. You could find many historical dramas where women tried hard to break free from the invisible chain that bound their feet and hands.
In a family, the women relied on their husbands. Regrettably, men could have several wives or concubines in their homes. Even the emperor could have 3,000 beauties in his harem.
So, these women had to fight each other to get the affection of their husbands. They believed that with the husband's love supporting them from behind, they would hold the highest power in the house/the palace.
In the POV of a modern person, I felt that this power struggle was quite scary because most of them resort to violence and human life is often worthless. Poisons had become a common thing and those who were too ignorant could be killed and they would not even realize it.
So, it is no wonder that many dramas have a strong and tough woman as their main character. We, modern people, would feel at ease when the characters were someone who could fend for themselves at every turn.
If you were curious, you could watch dramas about the royal family such as Ruyi's Royal Love in The Palace or the classic drama Empresses in The Palace. Despite the unbearable story, these palace dramas were often adorned with luxurious sets, amazing costumes, and beautiful faces. They were specially made as a feast for your eyes.
My favorite was Ruyi's Royal Love in The Palace. The story was unbearable, the emperor was a scumbag. But the costume… Oh boy! I have never found anything like it. The headdresses were AH-MA-ZING!😍
Anyhow… what I loved about Legend of Zhuo Hua was that the character was quite realistic. When I saw the first episode, my first impression of Liu Yan was he was slightly too old in age compared to the young and lively Mu Zhuo Hua. I thought I was just being too salty here. But then in the second episode, Mu Zhuo Hua said to him that Liu Yan was in old age and had a weak vitality… LOL
I've been watching too many Cdrama that showed a young and charismatic God of War. But pay close attention to the word "Young". Well, I did not mind having young and handsome faces on the screen of course. But if we calculate logically, a 20-something God of War was beyond reasonable doubt.
A God of War should have been on the battlefield for more than 10 years. If he was too young, don't tell me that he already is a general at 12 years of age. So, it was understandable if Liu Yan's age was probably 30-something. As far as I can remember, the only God of War in Cdrama that matches the criteria was Xiao Qi in The Rebel Princess drama.
Back to this drama. The Legend of Zhuo Hua's story was perfect in the beginning. Mu Zhuo Hua and her dreams and passion moved my heart. She was a modern woman trapped in an ancient body. She aspires to be a female official and wants to devote herself to the country. Her way of thinking was a contrast to any other girl on her age, who dreamed of, marrying a young man from a prominent family.
It was a delightful experience to see Mu Zhuo Hua working her way up. She earns money for her living expenses as a physician. She treats women from the brothel who cannot go to any medical clinics because those physicians refuse to treat them. She studied hard and when she passed the exam, the women who used to be her patients came to celebrate. It was such a good sight, a perfect example of women supporting women.
However, as the story goes on, I feel like the grand theme slowly turns into an ordinary love story between Mu Zhuo Hua and Liu Yan. Yes, there was a plot twist in the middle of the drama, and the political plot was getting deeper after the emperor died.
However, I feel there was no development in Mu Zhuo Hua and Liu Yan's characters. Instead, the other characters become more interesting compared to our main couple. For instance, you could feel the confusion of Liu Chen after he ascended to the throne. He was a bit too young and immature to be an emperor.
In short, he was not 100% ready to don the dragon robe. But when Liu Chen learned that the path of an emperor was a lonely path and he had to rely on himself, he became mature and lost his naivety.
Another example was Shen Jing Hong's character who was blinded by love. You could see how passionate he was at the beginning of the drama. But then slowly, you could feel his pain when he realized that he had gone astray.
Liu Chen and Shen Jing Hong went through a lot, which made their characters change. And it was interesting to observe how the characters transformed throughout the drama. Unfortunately, my heart did not feel the excitement when I saw Mu Zhuo Hua and Liu Yan in the second half of the drama.
I felt that Mu Zhuo Hua lost her charm. Her medical expertise looked like an add-on to the story and her struggle had lost its purpose. Yes, she was a talented scholar and it was proven by how eloquent she was at the court.
But I wish to see her having more discussions with many people, instead of being a hopeless romantic who ponders Liu Yan's actions towards her. And the way she suddenly realized that the clue left by the Empress Dowager for Liu Yan was too forced.
She was indeed clever, but the way she could guess the villain and be calm about it was unconvincing at all. I think she should have been shocked by her discovery. After all, they just exposed the main villain of the story.🤨
Liu Yan, on the other hand, was the main lead, but I thought that his character was a bit two-dimensional. we could see that he was a cold and indifferent person. Yes, he was a sickly person, indeed. But I feel that he was too gentle and soft for a general. Liu Yan's character was not scary at all.
Unlike his image as the God of War that frightened the surrounding countries. He only looked threatening when something happened to Mu Zhuo Hua. In my eyes, Liu Yan had turned from an invincible God of War into a lovestruck man.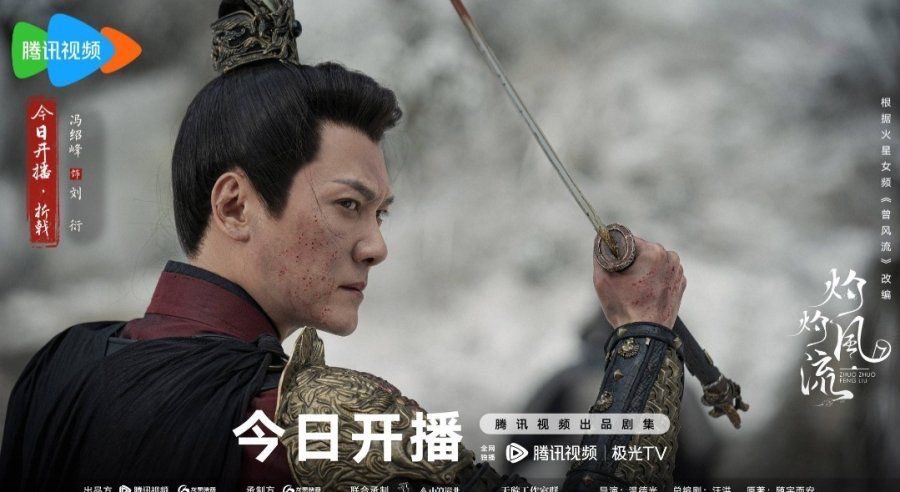 This sickly Liu Yan made me think of another sickly character who was also on the verge of dying, Li Lian Hua from The Mysterious Lotus Casebook. Li Lian Hua knew his day was numbered and he was also burdened by the death of his fellow sect members.
I feel my heart jumping in joy while I watch Li Lian Hua. But when I saw Liu Yan, my heart was smiling politely. I was not going to say that Feng Shao Feng did a bad job acting as Liu Yan. But his character was too flat and combined with the deadpan face, I was disappointed. 😕
The Legend of Mu Zhuo Hua was my first Jing Tian drama. But I watched her Hollywood movie, Pacific Rim: Uprising, which sadly had a low rating compared to the prior installments. Her acting was good, and she could portray Mu Zhuo Hua's expression very well. I like to see her when she wears female outfits. She looked very pretty in pastel colors.
Meanwhile, this was not my first time seeing Feng Shao Feng's drama. However, it had been a long time since I saw Feng Shao Feng's last drama, The Story of Minglan where he acts as Gu Ting Ye. And to be honest, I did not have much impression about his acting. But in this drama, he did have a strong and majestic aura when he wore the armor or when he rode his horse. Fit for the role of Liu Yan.
And just like this was my first Jing Tian drama. The Legend of Zhuo Hua also my first Wang Li Kun's drama. I like to see her tranquil expression as Princess Rou Jia. Especially because she always wore white robes. She looked like the ice princess in the Narnia series. Indifferent but soft, with a little bit of secrecy in her eyes.
My favorite casts in this drama were Zhou Yi Ran and Xu Hai Qiao. Zhou Yi Ran as Liu Chen of First Prince was s stunner. I have just finished writing You Are Desire drama review and You Are Desire ending explained post, Zhou Yi Ran's latest drama. And I was thrilled to see him in costume. Zhou Yi Ran looked handsome in school uniform, but he was even more dashing in ancient costume. And he did a good job in this drama as a hot-tempered future king.
Xu Hao Qiao as the Zhuanyuan Shen Jing Hong. Aahhhh… this is my favorite villain in Love Between Fairy and Devil. It has been a long time since I saw him in that drama and still looks as handsome as ever. But how could he take another role as someone with an unrequited love? Let me tell you, Mr. Producer, this handsome dude deserves a happy love story.😁
Another familiar face was Wang Zi Rui who act as Sun Yun Qian, which character rarely appears. And the one and only Shi Yue Ling. This time Shi Yue Ling acted as the cruel Empress Dowager. Every time I saw her in a drama, she mostly acted as a villain. The only time I saw her as someone nice was in The Romance of Little Forest as Zhuang Yu's mother who was a successful businesswoman.
The director of The Legend of Zhuo Hua was Wen De Guang who used to create The Sword and The Brocade and The Story of Yanxi Palace. The prior dramas were aesthetically satisfying and so with this one. I like how he took the shots, even though I feel the light was slightly too bright in some scenes.
What I loved about The Legend of Zhuo Hua was the sets had been arranged meticulously. The shooting angles were good, and Wen De Guang managed to bring out the atmosphere. Every character has their own dressing style. I like the way Mu Zhuo Hua used long ribbons on her hair, even though she dressed as a girl. As far as I saw, only scholars such as Shen Jiang Hong wore a long ribbon on his hair when he was on a casual robe.
The producers of this drama were also the people behind many well-known dramas such as Sunshine by My Side (this one was currently airing, just wait for the review), The Longest Promise drama, A League of Nobleman, Novoland: Pearl Eclipse, The Sword and the Brocade, and Ruyi's Royal Love in the Palace. All of them were highly praised drama, you might want to put it on your watch list.
The Story
The story begins with Mu Zhuo Hua running away from her home on her father's wedding day. The Mu family was the wealthiest in Jiangnan. Even though it was a wedding to accept a concubine, it was as grand as a wedding for a legal wife. Mu Rong was an amorous person. He only had a wife, but his backyard was full of concubines. The one he marries in the first episode is his 18th concubine.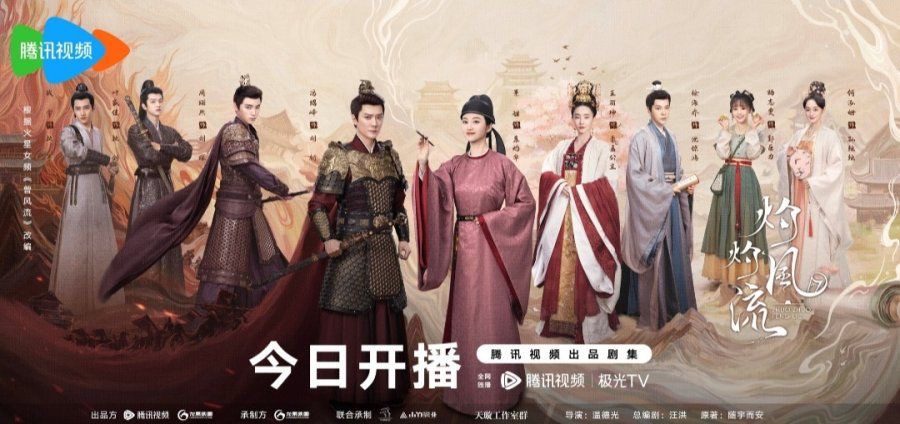 I bet he did not remember many of them or even his children because, in the latter episode, Mu Rong could not remember Mu Zhuo Hua's face and only thought that "Official Mu's face was familiar to me". 🤪
You should see the first episode cautiously. It was funny to see the bride had to bow to the chicken, well, and the Kitchen God tablet. The meaning was obvious, they prayed for the God to make the livestock thrive, and the offspring flourish, while the Kitchen God served as the deity who witnessed the wedding.
Why did it have to be the Kitchen God, I'm not quite sure about this one. But probably prayed to God so they would not run out of food or wealth.
Mu Zhuo Hua did not believe in love and marriage. Her father used to vow to her mother that he would not marry another woman. But in the end, only six months after their marriage, Mu Rong took in another woman as his concubine.
Mu Zhuo Hua also thought that when a woman fell in love with a man, then her life would be doomed. She did not believe that any man would only have one wife in his life. She would not succumb to the traditional value of marriage and choose to stand on her own feet.
So, she chooses to run away from her marriage with Zhuang Wen Feng, the County Magistrate of Yongding, Huaizhou. Later, it was her 8th sister who replaced her to be Zhuang Wen Feng's wife. Mu Zhuo Hua was lucky to run away from the marriage because Zhuang Wen Feng was a corrupt official who liked to beat his wife.
Mu Zhuo Hua's contact with Liu Yan was when she found him inside an empty room at the brothel. Mu Zhuo Hua was such a brave person who was willing to treat an unknown person who almost attacked her. She found his royal identity in the gold fabric of his undergarment. But pretend that she saw it from the unfitting clothes. Well, I guess it was unwise to tell the God of War that she had seen his underwear…😙
As someone who is used to schemes and plots, it was predictable that Liu Yan would suspect Mu Zhuo Hua. Later he suspects her and investigates her. Mu Zhuo Hua knew that it was not wise to stand against the God of War, so she tried to coax him and later pledged her loyalty to him.
This is the only way she could keep her life. Even though Liu Yan looked weak, he still held enormous power in his hand. It was an easy thing for him to destroy her life.
The kingdom of Southern Chen was peaceful. On the surface, Liu Yan was seen as someone who was recuperating in the capital. But in secret, he still investigates the matter that caused the death of 30,000 souls in Juma River. Back then, one of their comrades betrayed him and worked with Northern Liang to kill Liu Yan and his troop.
Liu Yan survived because his subordinates were willing to sacrifice their life to be his shield. But there was something suspicious about the incident and Liu Yan wanted to seek justice for the 30,000 lost souls.
However, Liu Yan was racing against the time. His body condition was deteriorating because he was poisoned by Yangluo Flower, and it could not be detoxified. So, he relied on medication to support his body. But no physician could eradicate the poison completely.
Meanwhile, Mu Zhuo Hua was able to join the imperial exams with many other women. But she was the only one who succeeded and managed to get the third place and become the first female tanhua in history. She later was appointed to be a 6th-grade official by the emperor.
Mu Zhuo Hua's intention to the capital was not only for the exam. But also to trace back to her ancestors. She wanted to find the house where her mother lived when she was young. She got no clue except the house had a pond and a plum blossom tree in the yard. Mu Zhuo Hua's mother was a mysterious person. She told everybody that she lost her memory.
But she could pass her medical knowledge to Mu Zhuo Hua. However, Mu Zhuo Hua must conceal her ability. Later, with the help of Liu Yan, Mu Zhuo Hua learned that her maternal grandfather was an imperial physician. But someone uses the death of a certain Imperial consort as a reason to put him and his whole family to death.
Mu Zhuo Hua and Liu Yan later found a jar buried under the plum blossom tree. Inside the jar, there was a letter that could clear her grandfather's crime.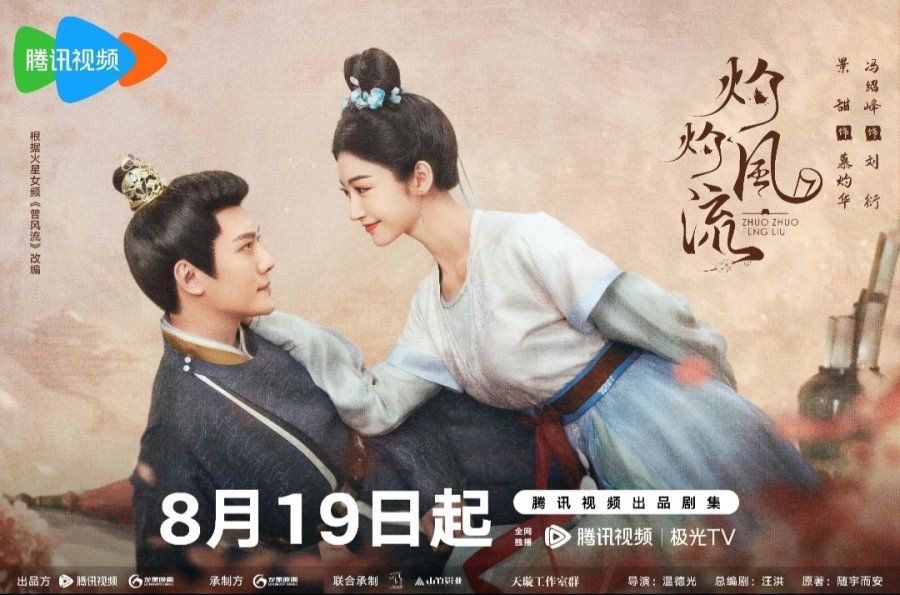 The romance between Mu Zhuo Hua and Liu Yan was a slow burn. She was already mesmerized by Liu Yan's dashing appearance in 2nd episode when she mistook him for a male prostitute. Mu Zhuo Hua was often dazed when she looked at him.
Yet, she only realized that she had fallen in love with him in the 16th episode when Liu Yan drunkenly kissed her. Unfortunately, he did not remember the kiss at all. Back then, Liu Yan had already fallen in love with her.
It was predictable that Liu Yan would never fall in love with a frail woman, instead, he was looking for a strong woman who could stand side by side with him. And Mu Zhuo Hua belonged to the criteria.
Liu Yan easily gets jealous over many rumors surrounding Mu Zhuo Hua. And when he got jealous, he would avoid her and give her cold shoulders. This silent treatment irked me out. Did Mu Zhuo Hua know that this was some kind of abuse? 🤨
However, I am willing to forgive him because every time she was in trouble, Liu Yan would rush out of his mansion to help her. Even though he has not thought of a way to help her yet.
There were three princes in the imperial family, and Liu Chen was the first prince. Everyone knew that he was the emperor's favorite son. And Liu Chen is also very close to his uncle, Liu Yan. So, his siblings, Liu Ju, the Second Prince, and Liu Jin, the Third Prince were very jealous and would do anything to sabotage him.
However, during the interaction between Liu Chen and his siblings, we could see clearly that Liu Chen's emotional state was immature. He was always easy to provoke. The way he hates Mu Zhuo Hua but later interested in her is too childish.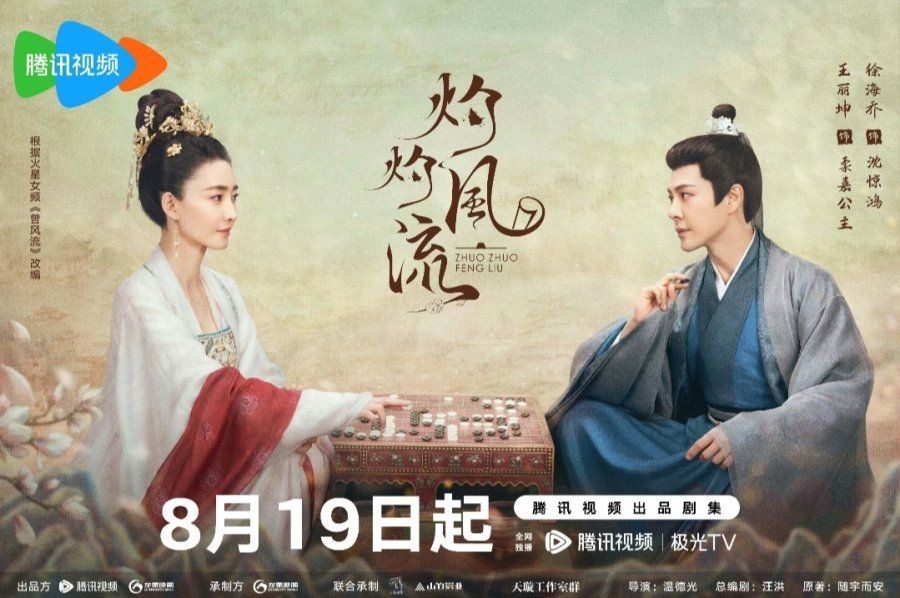 Princess Ruo Jia and Shen Jing Hong's relationship was easy to decipher. He loved her very much, but she only saw him as her younger brother. Yes, Ruo Jia was older than Shen Jing Hong. They met when he was a young teenager.
Back then it was Ruo Jia who helped him from being bullied by the children from noble families. She took him to Jishan Hall, a place where she helped the needy and the impoverished family. She also provides classes and teachers for the children, so they can learn how to read and write. Later when he became an adult, Shen Jing Hong also became a teacher in that place. Even so, the relationship between them was harmonious.
After the death of the emperor, the secret story behind the incident of Juma River was revealed. Liu Yan and Mu Zhuo Hua found that the Empress Dowager was the one behind the Juma River incident. She always wanted to kill Liu Yan because his military power threatened the emperor's position.
The Empress Dowager was not Liu Yan's birth mother, but he had always regarded her as his mother. Meanwhile, the relationship between Liu Yan and his brother, the Emperor, has always been harmonious since they were young. But even so, it did not make the Empress Dowager deter her evil intention.
It was sad to see the Emperor being torn between his mother and brother. He already knew that his mother was the one behind the Juma River incident, yet he had to cover her crime because of filial piety.
Therefore, the Emperor hid his remorse for years and it took a toll on his already withering body. But not until the death of the Emperor, Liu Yan, and Mu Zhuo Hua learned that there was someone else behind the incident. And this person was scary enough to use The Empress Dowager and Liu Yan as pawns.
After the death of the emperor, Liu Chen also became a new target. The mastermind did not want him to become the new emperor. A fabricated will appear and choose the 2nd Prince to be the emperor. But the late emperor had entrusted Liu Yan with his last edict.
Taken from the secret compartment, the real will of the late emperor chose Liu Chen to be the next emperor. Liu Yan took the position as Prince Regent who assisted Liu Chen as the new emperor.
Liu Yan put the 2nd and 3rd Prince into house confinement, not to punish them but to protect them from unknown people who wanted to use them for their gain. Meanwhile, the Empress Dowager was poisoned and she became paralyzed and could not talk.
The ending of this drama was a happy ending. But I was not happy and satisfied because of a certain death. Still, it was a happy ending for everyone. I also wrote the ending in a separate post, The Legend of Zhuohua ending explained.
The Characters
Mu Zhuo Hua
Mu Zhuo Hua (played by Jing Tian) came from Huaizhou, Jingnan. Her real name was Mu Qi, the 7th daughter of the Mu family. She was a smart person, bold, and courageous person.
As someone who has tasted the bitter life of the backyard, where women fight for men's affection, Mu Zhuo Hua yearns for freedom and wishes to live independently. Never relied on others, especially men, and strived to reach her dream as a female official.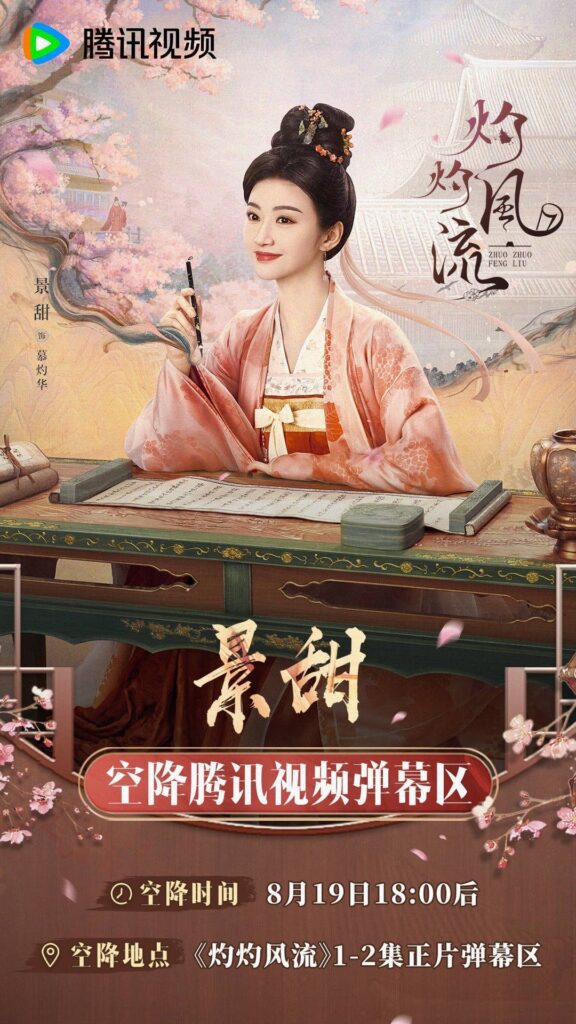 In Prince Ding's eyes, she was a sensible person. But in reality, she was a competitive person, so when she met a love rival, Miss Sun, Mu Zhuo Hua did not back down easily.
In Mu Zhuo Hua's eyes, every person was the same. So as a physician, she always overlooks statuses and treats her patients all the same. For Mu Zhuo Hua, the country and the people were above everything. So, she was willing to sacrifice her happiness for the sake of them.
Liu Yan/Prince Ding
Liu Yan (played by Feng Shao) was the God of War in the Southern Chen Kingdom. Yet, he was injured and poisoned, so his body never regained its strength. Fortunately, Liu Yan's strength did not just lie in his physique. He was adept in strategy and his mind was sharp. He might be a man with a few words, but every word he said was heavy.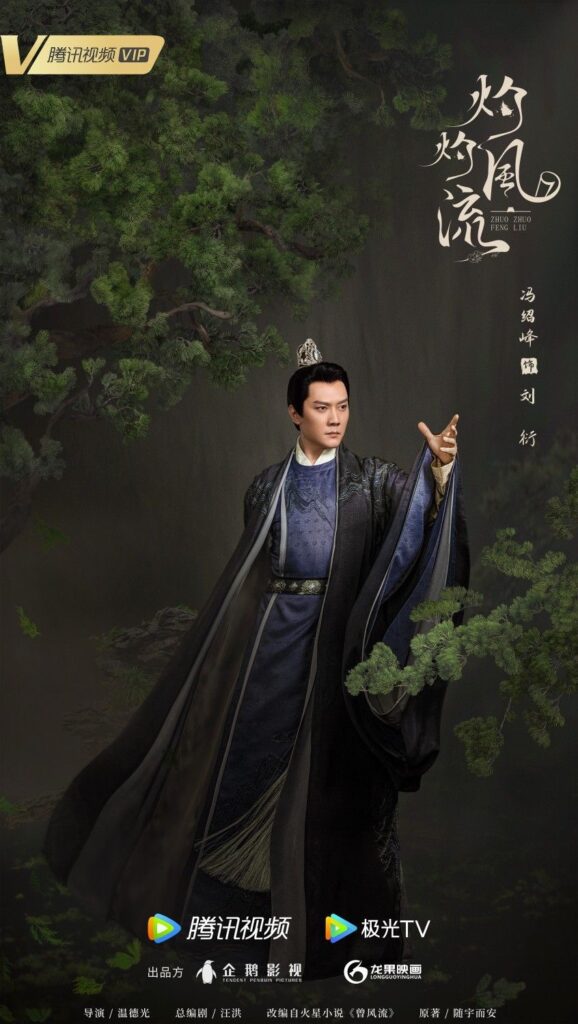 Even so, there was a time when he was so fragile because of his declining health. Liu Yan did not wish to be a burden to everyone else, especially Mu Zhuo Hua.
Liu Yan traded his military reward so that women were allowed to partake in the imperial examination and be an official. Because of this, he pays more attention to Mu Zhuo Hua and her aspirations. Although Liu Yan looked cold, he was kind and gentle to his family. He especially had a strong bond with Liu Chen.
Princess Rou Jia
Rou Jia (played by Wang Li Kun) was the Emperor's favorite daughter. She was a kindhearted and compassionate person. Even though she looked calm and composed like any other noble princess, she was good at management and strategy.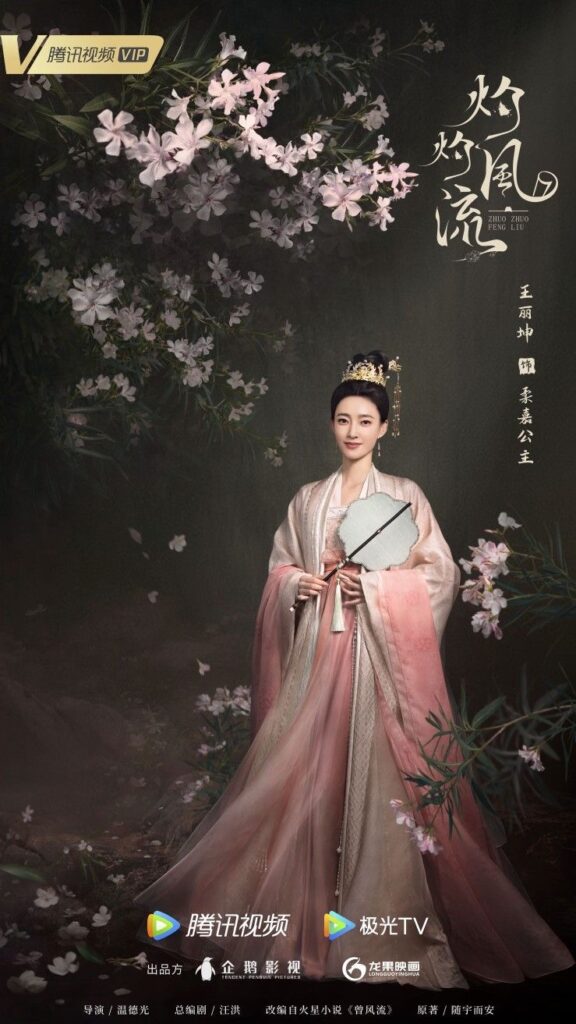 Otherwise, she would be able to operate the Jishen Hall across the country. Rou Jia was born when the emperor was a prince and had yet to ascend the throne. Her mother was born from a lowly status. She was bullied when she was young. After her mother passed away, she was taken to Jiangnan.
Ruo Jia used to have a fiancée. A general who served under Liu Yan. His name was Xue Xiaotang. He died in the Juma River incident. Ruo Jia never forget her fiancée and insister to mourn for her fiancée. With her tranquil face and calm demeanor, the people of Southern Chen called Ruo Jia the Holy Maiden.
Liu Chen/First Prince
Liu Chen (played by Zhou Yi Ran) was hot-tempered and emotional. He was a good person, yet his judgment was sometimes clouded by the emotion. However, compared to his siblings, Liu Chen had a gentle heart. And was good at strategy and warfare thanks to Liu Yan's teaching. Therefore, his father and uncle believed that he would be a good ruler.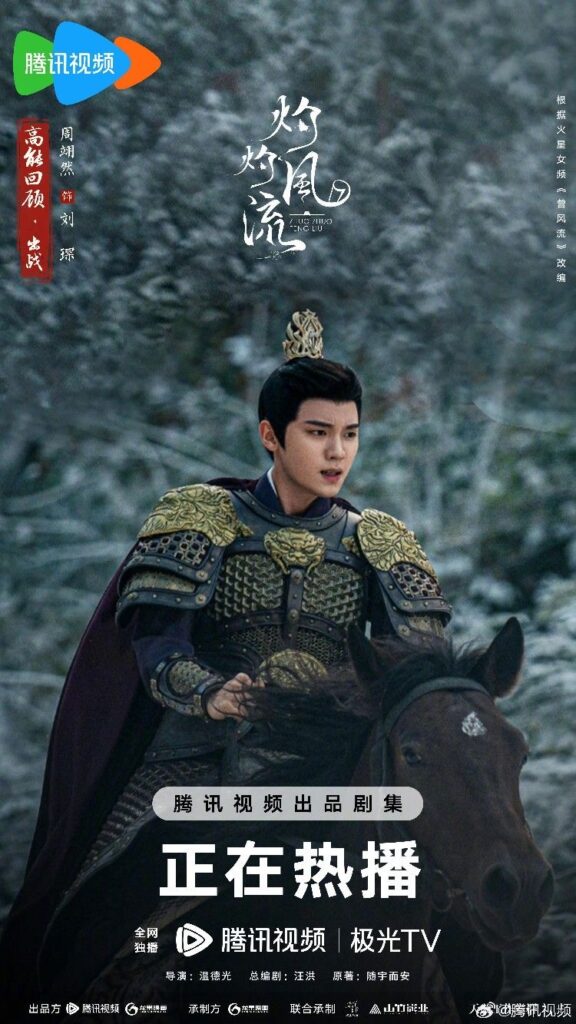 Shen Jing Hong
Shen Jing Hong (played by Xi Hai Qiao) came from a family of hunters. He teaches children to write and read at the Jinshan Hall. When he was a teenager, he was often bullied by others because he was a poor scholar. Rou Jia helped him and since then he has fallen in love with her and was willing to follow her everywhere. When she was in need, Shen Jing Hong would be ready to help her.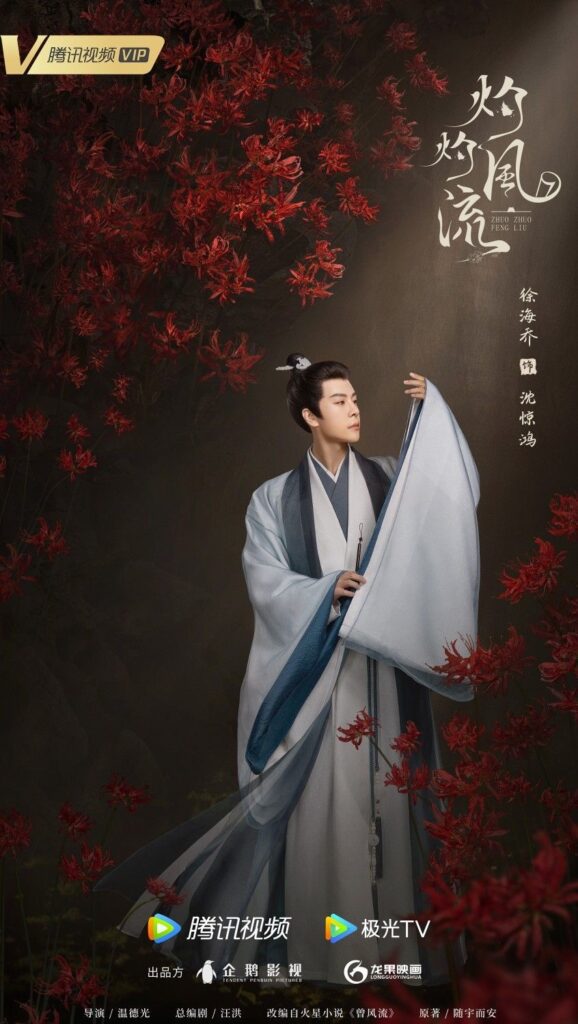 As a scholar, Shen Jing Hong was ranked to be number one in the capital. He was talented, smart, and exceptional in four arts. His demeanor was gentle and humble. Even Mu Zhuo Hua was very quick to regard him as a friend.
The Conclusion
The Legend of Zhuo Hua was a good and quite entertaining drama. The theme of the story was grand, but I feel that it slowly turned into another ordinary love story. yet, the political plot was quite interesting. If you follow the story closely, it is quite easy to guess the mastermind. But the story still baffled me.
This drama was a good choice if you have plenty of spare time because 40 episodes were quite time-consuming, and the story pace was a bit slow. But if you manage to squeeze some time, don't forget to add more snacks to relieve the boredom. Happy watching!