Title: The Princess and The Werewolf
Also Known As: 郎君不如意,Tai Zi Fei Sheng Zhi Ji 2: Gong Zhu Shang Jia Ji, Go Princess, Go! Season 2
Director: Cheng Feng
Cast: Wu Yuan Xi, Chen Zhe Yuan
Screenwriter: Chu Chu
Genres: Comedy, Romance, Fantasy
Country: China
Type: Drama
Episodes: 30
Date of Release: July 20, 2023
Original Network: Youku
Where To Watch: Youku , Viki
The Princess and The Werewolf unexpectedly landed on the top 10 list in my region, right under The Legend of Anle drama and Hidden Love. I've decided to give it a go since this was Chen Zhe Yuan's drama. He was too dashing on Hidden Love drama that I could not resist the temptation to see his face in another drama. Unexpectedly, the result was far from my imagination. I was baffled by this drama. This drama review post would tell you the reason. Enjoy your reading!
The Princess and The Werewolf Synopsis
Princess Qi Pa of Daxia Kingdom is a free-spirited woman who was born to free-spirited parents. She is courageous, smart, and loves to learn new things. She enjoyed her life to its fullest. She got everything except one, a husband. So her uncle and aunt arrange a marriage for her, but of course, Qi Pa refused because she was not ready to lose her freedom.
Kui Mu Lang is the king of the Beast Tribe. A secret tribe where everybody had a characteristic of an animal due to a plague that happened hundreds of years ago. Over the years, Kui Mu Lang's body weakened and only the Holy Pearl that was lost five years ago could help him. And coincidentally, the pearl was in Qi Pa's body.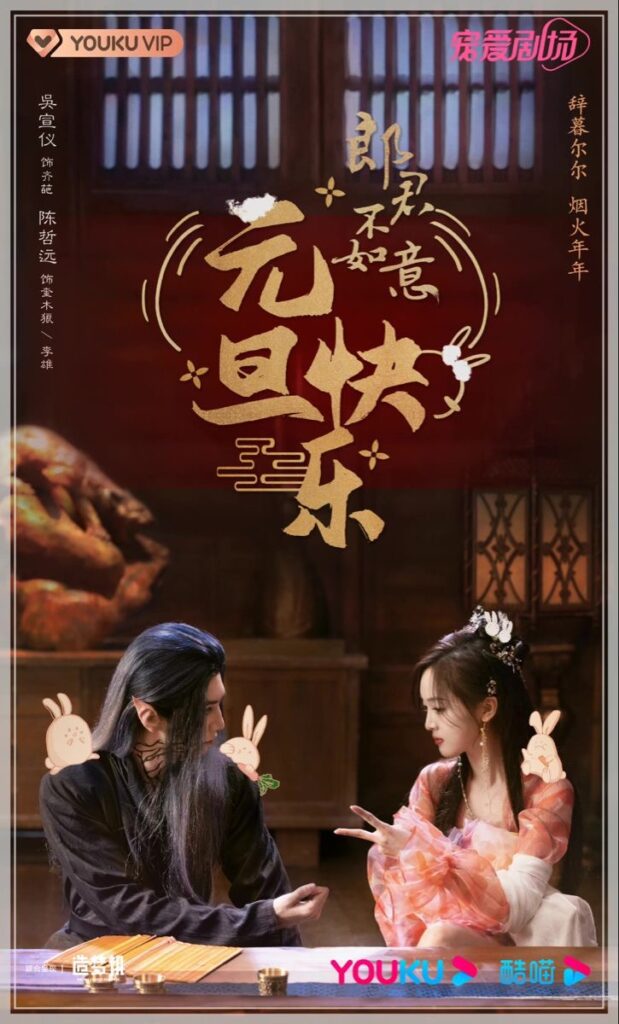 Kui Mu Lang had been looking for her but no to avail, so when he saw her and sensed the Holy Pearl, he knew that he must take her to his kingdom right away.
Qi Pa suddenly woke up in the fantasy world of the Beast Tribe. She met with a cute servant girl named Hongxiu who was half human and cat. From her, Qi Pa learned about Kui Mu Lang, the king who had wolf blood and was said to have a dapper appearance.
Qi Pa learned that Kui Mu Lang wanted to marry her as his queen. Shocked by the news, Qi Pa went to see Kui Mu Lang only to be shocked again when she knew that the wolf-king was a horrendous monster. So Qi Pa started to plan her escape, yet she always failed.
Not until she met with Li Xiong, a handsome young man who she mistakenly took as Zimei, her former bodyguard in Daxia. Li Xiong helped her and accompanied her during the day. But mysteriously gone when the night has come.
Although Qi Pa was smart, she never connected the handsome Li Xiong with the horrendous Kui Mu Lang were the same person. Meanwhile, Kui Mu Lang had to make Qi Pa fall in love with him before the marriage. It was the only way to obtain the pearl. But little did he know that he was the only one who fall first.
Things get complicated when Kui Mu Lang's mortal enemy appeared. They always plan to assassinate Qi Pa since they knew how important of her to Kui Mu Lang. Would Kui Mu Lang succeed in making her fall in love with him? And would Qi Pa ever return to her home?
The Princess and The Werewolf Review
Well… I should have realized the absurdity of this The Princess and The Werewolf drama when I read the synopsis. Unfortunately, I did not watch the trailer first since I prefer a synopsis to a trailer. Perhaps I should have done that, then maybe I would be more prepared to see this drama.
Don't get me wrong, The Princess and The Werewolf was a pretty good drama. The story was light and quite entertaining. It was just this kind of fantasy drama was not my cup of tea. I like fantasy drama, but not this kind of fantasy where everything was mixed up and infused with modern things. After some time, I tried to accept this drama solely because of the story and ignored the absurdity. Surprisingly it worked.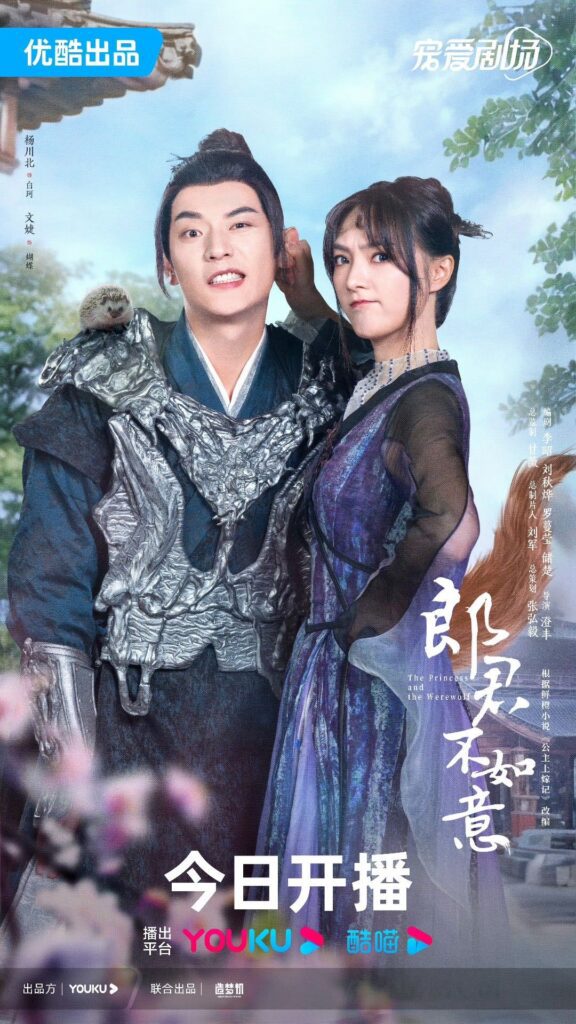 The Princess and The Werewolf was the second installment of 2015's Go Princess, Go! The latter was a drama about a man who was transmigrated to a fantasy world and become a woman. The Princess and The Werewolf were all about Qi Pa, the daughter of Qi Zi Sheng and Zhang Peng Peng, the happy couple on Go Princess, Go! Sheng Yi Lun and Zhang Tian Ai even made an appearance as Qi Pa's parents in the first episode.
They never appeared again because Qi Pa's parents were told to have a very long holiday in a place called Europa. They were waiting for this honeymoon time so much, that Qi Zi Sheng choose to abdicate the throne to his brother Qi Ming or King Zhao so he could spend more time with his wife.
Europa meant a lot to Qi Pa. She dreamed to go there just like her parents do. As someone who was deeply influenced by her mother, Qi Pa loves anything about modern things. She got a David looked alike statue in her room, she dance the tango, and she wore modern clothes. If you are highly influenced by Chinese historical drama like I did, you will find it hard to accept the absurdity in this aspect.
The main story of The Princess and The Werewolf was about Qi Pa and Kui Mu Lang's journey to find their true love. It took more than half of the drama for Kui Mu Lang to make Qi Pa fall in love with him.
Meanwhile, Qi Pa also spent more than half of the drama to devise an escape plan from Kui Mu Lang. She did not want to be in Beast City, much less marry their king. Things get more complicated when the power struggle happened and Kui Mu Lang's family members were involved.
I admired Chen Zhe Yuan's versatile acting in this drama. He could put on a serious or pained expression when he was Kui Mu Lang and the next second he turned into a friendly and naïve Li Xiong. But there were also times when he looked foolish as when he sniffed at the wolf grass.
Even when you were dissatisfied with the drama, you could never be dissatisfied with him. And you could not forget the fact that Chen Zhe Yuan always succeeded in building good chemistry with his drama partners.
You could see it in Hidden Love drama, a hit drama where Chen Zhe Yuan act as Duan Jia Xu who falls in love with Zhao Lu Si's Sang Zhi. Or in Mr. Bad drama, where he acts as an ancient man from a novel who transmigrated into the modern world and meets with the novel author, Nan Xing, who is played by Shen Yue.
And if two examples were not enough, you should watch Our Secret drama. In this drama, Chen Zhe Yuan acted as a high school genius Zhou Si Yue who falls for his deskmate, Ding Xian (Rainbow Xu). Chen Zhe Yuan's acting was getting better and better each time. I am sure that his future was bound to be great. Kudos to Chen Zhe Yuan 😍
Wu Yuan Xi's acting as the high-spirited and open-minded Qi Pa was good as well. Even though her acting could not surpass Chen Zhe Yuan's, she is still a perfect fit for Qi Pa's role. As a Qi Pa, there were not many emotions involved in the first half of the drama. Only after she fall in love with Li Xiong, there were more emotions embroiled inside her. And she did a good job in this drama.
The Princess and The Werewolf were born in the hand of Cheng Feng. A seasoned director who was behind 2018's hit drama Ashes of Love and Ms. Cupid series. This time, he hit it off with the help of Chu Chu as a screenwriter. The drama itself was an adaptation of the novel Tai Zi Fei Sheng Zhi Ji 2: Gong Zhu Shang Jia Ji written by Xian Cheng. I have not read the novel yet, so I could not make a comparison between the novel and the drama.
The Cinematography
Although The Princess and The Werewolf was a low-budget drama, however, they had tried their best. The make-up was balanced between bad and decent enough. The panda person and the dog person were good examples of the bad ones.
Meanwhile, the silkworm person, although it was eerie, could be regarded as decent. There was a significant difference between the commoner and the palace people's make-up. The commoner on the street had a very distinctive animal character on their face. But the palace people, except for Kui Mu Lang and Hong Xiu, did not have a very clear sign for their animal character.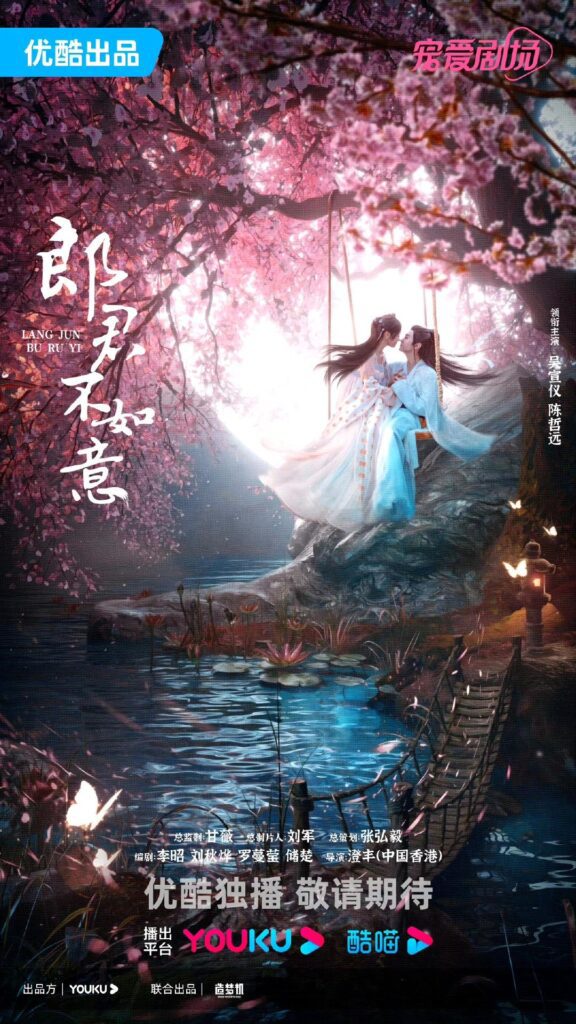 Liu Jun is a snake, Haitang is a chameleon, Hu Die is a weasel, Bai Ke is a hedgehog, and Chun'er is a sparrow. Yet, none of them looked like the animal. Hong Xiu could be regarded as different because she had a small pink reverse triangle at the tip of her nose and a cat-ear hairstyle. And Kui Mu Lang had a Dobbie, the house elf, which looked like ears. It was far from the image of the wolf, but let just accepted it anyway.
The costumes in this drama were different from a normal historical drama. They had a touch of modern things. Qi Pa's flowy dresses were made from sheer fabrics with modern prints and colors. The design itself was an empire waistline dress with long sleeves.
My favorite dress was the pale pink with a huge ribbon in front of it combined with black and white fabrics. Qi Pa also loves to use big earrings to complement her looks. And don't forget her nightdress consisted of shorts and tank tops instead of the inner garments that usually appear in historical dramas. There were many modern touches here and there.
I like Qi Pa's casual hairstyle as well. While on the maidservants, you could see that their hairstyle was more like the ancient people with double ponytails near the ears. However, when it comes to Hu Die… I was speechless. Her hairstyle was the weirdest.
Do I have to comment on Chen Zhe Yuan's appearance in costume? Besides the catfish hairstyle, I had no complaints about him. He always looked gorgeous in whatever. Even the catfish hair looked okay on him.
On the contrary, Jing Mu Han's outfit looked normal. His costumes and hairstyle were perfect. He only got one problem: the fake eyelashes. Why did they have to put fake eyelashes on him? Once you see the eyelashes, you could not unsee them ever again…🤯
In contrast with the costumes and make-up, the director and the production teams had been working very hard to set up the sets. Everything was arranged to perfection. Every detail was arranged carefully. There were not many differences between the room interior of the Beast Tribe and the Daxia Kingdom. You could see how much effort had been poured into this aspect.
The director also uses camera angles to emphasize Kui Mu Lang's horrendous appearance in the early episodes. The close-up shots with unbalanced proportions successfully made Kui Mu Lang look uglier than before. And I liked the written character that helped us to recognize the characters. I would appreciate it if the writing did not repeatedly show up. Thankfully it did not last forever.
The Story
The story started five years ago when Princess Qi Pan met with Kui Mu Lang who was chased by Su Daqiang and his people. She fall from the tree and plunged onto Kui Mu Lang. The comical incident accidentally made Qi Pa swallow the Holy Pearl. And for the next five years, Kui Mu Lang spends his time wandering around Daxia to look for her and the pearl. Meanwhile, Qi Pa did not realize that the Holy Pearl was in her body.

Later, they met again in Daxia. This time, Qi Pa fell from her horse. Kui Mu Lang saved her and sensed the Holy Pearl on her body. So he decided to bring her back to the Beast Tribe. But due to his weak state, Kui Mu Lang had to wait for a while and look for another chance to kidnap her.
The love story between them started after Qi Pa entered the Beast tribe and lived in the Royal Palace. Kui Mu Lang had to make Qi Pa fall in love with him to get the Holy Pearl. Because the pearl could only be delivered to his body through a true love kiss. This part of the story reminded me of Disney's The Princess and The Frog story. Wait, did the title ring a bell too? 😁
As a King, Kui Mu Lang took his job seriously. However, he did not seem to have any court at all. But Liu Jun would often come with a tray full of memorials. Kui Mu Lang was also rarely busy with state affairs, we could see that he spend most of his time thinking about how to get the Holy Pearl out of Qi Pa.
Kui Mu Lang realized that Qi Pa couldn't fall in love with him since she was afraid of his monster appearance. And he also could not carelessly show his looks to her because it was related to the secret behind the position of King of The Beast Tribe. So he came up with an idea to make her fall in love with Li Xiong, his daytime persona who looked dapper and dashing in appearance.
Things started to escalate near episode 20 when Qi Pa realized that she fall in love with Li Xiong and wanted to divorce Kui Mu Lang. She still did not recognize them as the same person. While Qi Pa was struggling with her feelings and also her effort to find another queen for Kui Mu Lang.
The Beast King also struggled to find a way to reveal that he and Li Xiong were the same person. He was happy because Qi Pa finally opened her heart to him but at the same time he realized that it was Li Xiong with his handsome appearance whom Qi Pa loves.
While he, a horrendous monster, was someone who Qi Pa hated because he kidnapped and forced her to be his queen. And when every secret was finally revealed, Qi Pa was disappointed with Kui Mu Lang. She then demanded to return to Daxia. Kui Mu Lang who loved her decided to let her go. His love for her was bigger than his concerns about the Holy Pearl.
Did it end right there? Of course not! Qi Pa realized that her feelings for Li Xiong were the same as her feelings for Kui Mu Lang. After all, Kui Mu Lang had done many things sincerely for her. And she just realized it when she was already far away from him.
The episode when Qi Pa tried to find a new lover for Kui Mu Lang was supposed to be a turning point in their relationship. However, the story was laced with Jing Mu Han's love story with Haitang.
As I said before, Jing Mu Han hated his brother and wanted to get rid of him. He tried to use Haitang in a honey-trap strategy. Haitang has the blood of a chameleon and was a suitable candidate for this role since she could act seductively. But then when Jing Mu Han asked Haitang to perform in front of him to show her capability, he was the one who fall for the trap.
Jing Mu Han started to be obsessed with her and was jealous of Kui Mu Lang because Haitang do everything to seduce him. Jing Mu Han completely forgot that Haitang only do her job to kill Kui Mu Lang. 😅
Before the story ended, there was another villain showed up. She was Su He, the former Deputy Commander of The Imperial Guard as well as Qi Pa's love rival. Qi Pa and Kui Mu Lang must work together to face Su Daqiang and Su He's scheme.
Besides the love story between Kui Mu Lang and Qi Pa. This drama also had 4 side couples as well as 4 side stories. I have never seen a Chinese drama with this much of side stories.
The couples were Liu Jun and Hong Xiu whose love story was very slow; Hu Die and Bai Ke's emotional relationship; Ma Ying Xiong and Chun'er tragic love; and Jing Mu Han and Haitang's hard-to-fathom relationship. Although there were many side stories, they did not take too much time and blended well with the main story.
The Princess and The Werewolf was a slow-burn romance. It took more than half of the drama to see some lovey-dovey scenes between Kui Mulang/Li Xiong and Qi Pa. However, the story ends abruptly. Even though it was a happy ending, the closure for the villain was unsatisfying. Their fate is only explained in a sentence. They had been planning many schemes during the drama, I think they deserve something more than this. For more detail about it, you can read it on The Princess and The Werewolf ending explained post.
The Characters
Princess Qi Pa
Princess Qi Pa (played by Wu Yuan Xi) of the Daxia Kingdom was the only daughter of Emperor Qi Zi Sheng and Empress Zhang Peng Peng. She was a quirky, high-spirited, and open-minded person. She got a hint of cleverness that was beyond anybody else since she grew up in an ancient world infused with modernity.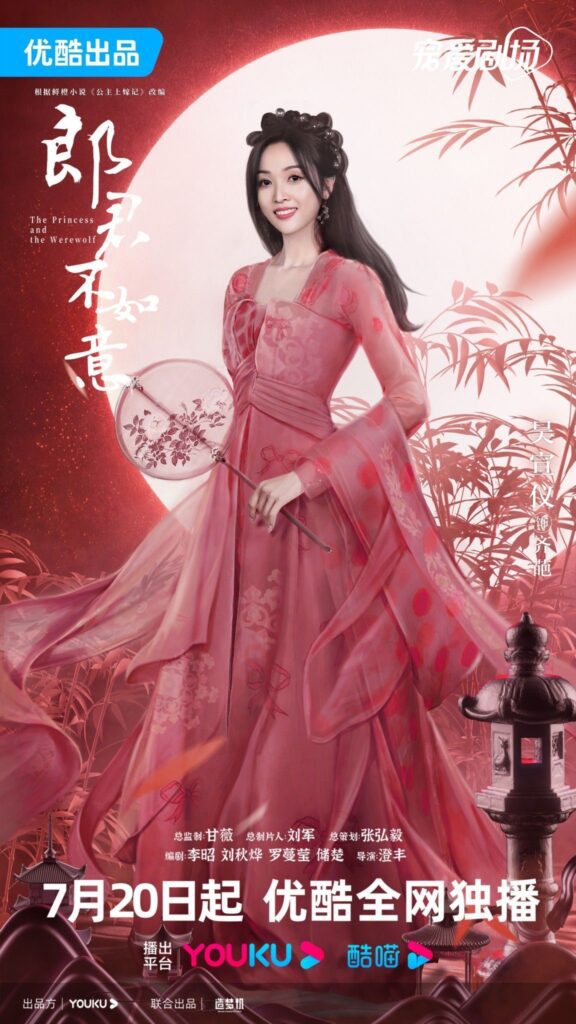 For a quick description, Qi Pa's parents leave her for a trip to Europa with a modern-kind-of wooden suitcase (yes, including the handle and wheels) and she got a full body size of Michaelangelo's David statue to look like in her bedroom, but of course, the statue was covered in robe to protect its modesty…😅
Even though she looked like a hot-tempered and disorganized person, Qi Pa was very thoughtful. She analyzed every possibility and planned everything even though her escape plans were quite challenging and often failed miserably. Qi Pa cared a lot about the people around her. She would carefully devise a plan that would not harm others.
Qi Pa had a talent as a fashion designer. Her aesthetic taste came from her transmigrated mother, Zhang Peng Peng. She loves everything modern and yearned to see the vast world. Her open-mindedness could be seen when she came to the Beast City for the first time. She was shocked when she saw the animal characteristics on human faces.
Yet, she did not look fearful or disgusted or anything. Only pure shock. If it was me, I would cry at the sight of the panda person, because he looked exactly like an Asian ghost. And the eerie silkworm person… I'd rather not. 😭
Qi Pa did not realize that all her schemes to trouble Kui Mu Lang would make her fall for him. Unbeknownst to her, she was moved by his sincerity and slowly fall in love with him. She only realized it when she was far away from him. Just like a proverb that says, absence made the heart grow fonder. Qi Pa only realized how much Kui Mu Lang meant to her when she no longer could see him.
Kui Mu Lang
Kui Mu Lang (played by Chen Zhe Yuan) was the King of the Beast Tribe, a secret tribe hidden behind enchantment. He was a good king and the people of Beast Tribe respected him, although he rarely made an appearance. The Kings of the Beast Tribe always dressed mysteriously in masks and hooded robes.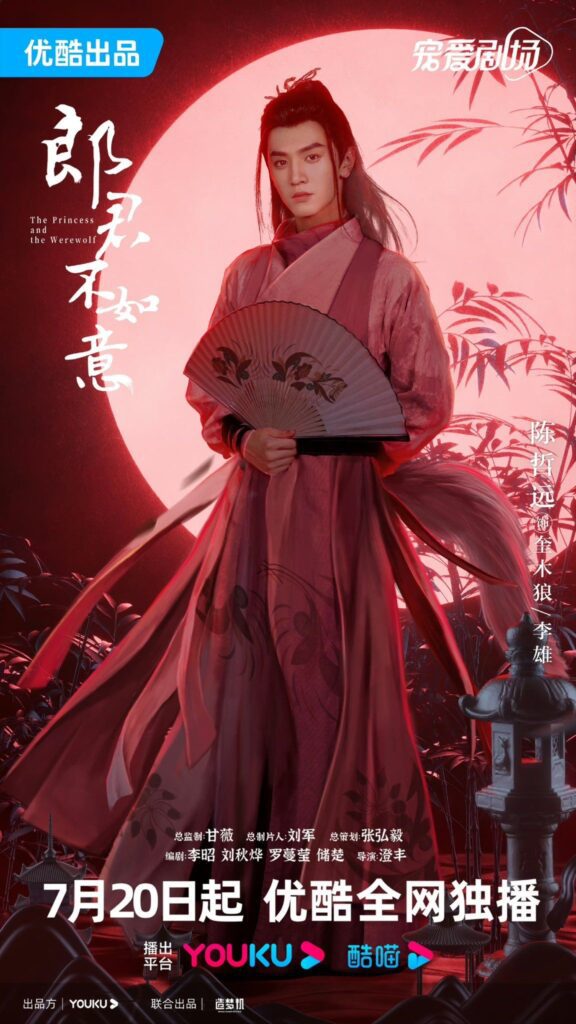 They never showed their faces, except to their closest attendant. Therefore, although later Kui Mu Lang appeared as Li Xiong, nobody recognized him, except Liu Jun, even his younger brother Jing Mu Han did not know his real look. Kui Mu Lang is determined to change the fate of the Beast Tribe kings. For that reason, he needed the Holy Pearl. Therefore, this determination leads him to the quirky Qi Pa.
As a king, Kui Mu Lang looked fierce, but in reality, he was a soft-hearted person. He wanted to take the Holy Pearl from Qi Pa and wanted to do it rightfully, by making her fall in love with him first. But when he was the one who fall first, it showed how soft his heart was. Kui Mu Lang was a good, kind, and protective person.
And it was not only for Qi Pa, Kui Mu Lang's heart was also soft for his brother, Jing Mu Han. Even though he was betrayed, Kui Mu Lang still regard Jing Mu Han as his brother. As a wolf, Kui Mu Lang only had one lover in his life and only marry one wife. Later, he was brokenhearted when Qi Pa showed her determination to never fall in love with him.
Kui Mu Lang's real appearance was Li Xiong, and he only showed up in day time. Meanwhile, when he turned into a monster, it was a reminder of his responsibility for the Beast Tribe. As Li Xiong, he was more approachable and friendly. However, as Kui Mu Lang, he did not show any intelligence either.
It was easy to deceive Kui Mu Lang with wolf grass. Every time Qi Pa came up with wolf grass, Kui Mu Lang would show a drunk expression. He looked like a cat that was drunk on catnips. 🤣 Why did Su Daqiang not use this kind of tactic on Kui Mu Lang, it looked more efficient than his coup tactics.🤪
Jing Mu Han
As the younger brother of Kui Mu Lang (played by Xi Er Li), Jing Mu Han also had the blood of a wolf. Both of them were sensitive to smells and it saves them from being drugged. Jing Mu Han was imprisoned for five years by Kui Mu Lan because he tried to do a coup against him.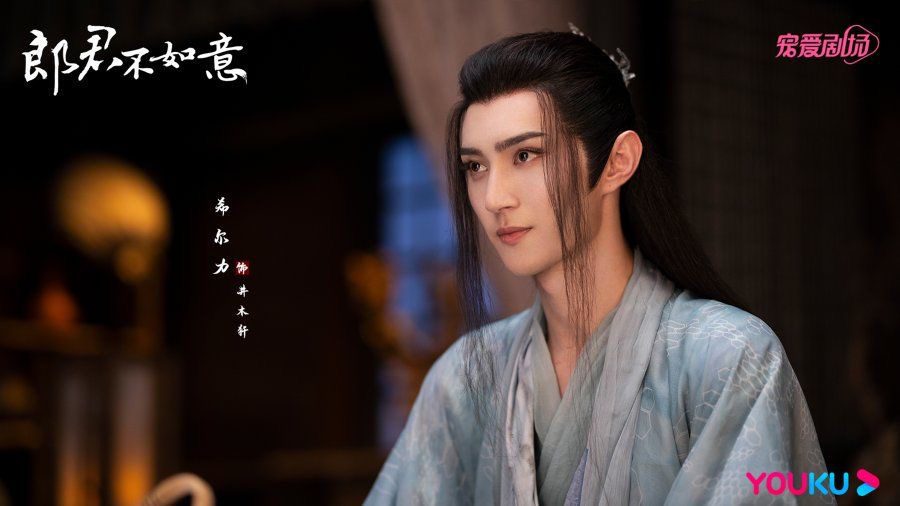 Jing Mu Han was dissatisfied with his father's decision to make Kui Mu Lang the King of The Beast Tribe. He thought that he was as good as Kui Mu Lang, therefore he also deserved to sit on the throne. As a small-minded person, Jing Mu Han was often blinded by his hatred and could not see the bigger picture of everything.
However, even though he hated his brother and resented his position, his love for the country and the people was embedded deep inside his heart. It could be seen when he could not refrain from helping Li Xiong in the beach volleyball competition against the Daxia people.
Su Daqiang
Su Daqiang (played by Yin Jing Wen) was the mastermind behind the coup five years ago. He concealed himself very well that nobody know about it, including Kui Mu Lang. Su Daqiang was a master of poison because he got a scorpion bloodline. Su Daqian always wanted the throne of the Beast Tribe and he knew that the key to it was the Holy Pearl.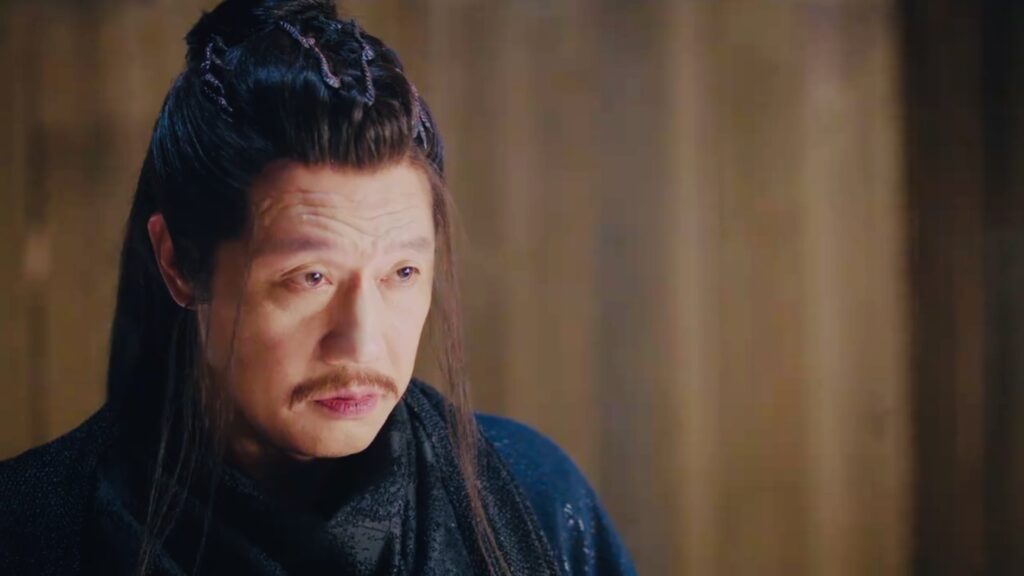 If he could get the pearl before Kui Mu Lang, he was sure that he would have more power to defeat him. And as the throne become his obsession, Su Daqiang would do anything for it. Su Daqiang had a daughter and she was Su He. Su Daqiang was not a good father since he could manipulate his daughter to get revenge on Kui Mu Lang.
Su Daqiang is always accompanied by Xiniang. Her status was unclear, but I guess she was his concubine because Su Daqiang promised her to give her status if he rise to the throne. Xiniang had a fox bloodline. She was seductively charming and capable in martial arts.
Su He
As the only daughter of Su Daqiang, Su He (played by Wang Mu) also inherited the scorpion bloodline. She used to be a commander of the imperial guard before Hu Die.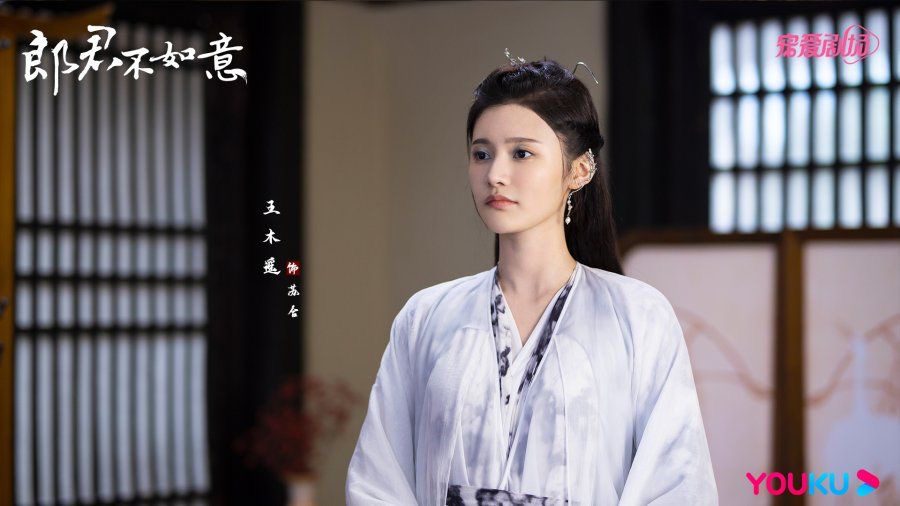 Su He lost her life after she shielded Kui Mu Lang from Jing Mu Han's attack and fell from a cliff. Back then, Su He assisted her father in rebelling, but she already falls in love with Kui Mu Lang so she could not let him die.
The Conclusion
The Princess and The Werewolf might be not a cup of tea for everyone. Although the comedy was quite good, in my eyes the absurdity was too much. I am not fond of the first installment of Go, Princess Go! and I'm surely not a fan of the second installment, The Princess and The Werewolf.
However, if you overlook the absurdity and focused on the story, this drama was quite good. It may have a plot hole here and there and the visual was somehow lacking in many aspects. Yet, as entertainment, The Princess and The Werewolf was pretty enjoyable.
The actors and actresses acting were quite decent and the chemistry was pretty good. So, if you could not find the story entertaining, Chen Zhe Yuan and Wu Yuan Xi's gorgeous appearance would soothe your heart. Happy watching!