Title: The Romance of Tiger And Rose
Also Known As: 传闻中的陈芊芊, The Third Princess From the
Rumors , The Rumored Third Princess , 传闻中的三公主 , The rumored Chen Qianqian
Director: Cha Chuen Yee
Cast: Zhao Lu Si, Ding Yu Xi, Zhou Zi Xin, Sheng Ying Hao
Screenwriter: Nan Zhen
Genres: Comedy, Historical, Romance, Fantasy
Country: China
Type: Drama
Episodes: 24
Year: 2020
Original Network: Tencent Video
Where To watch: Viki, WeTV, Prime Video, TencentVideo
Rating: 8/10
Hi dear readers… I've just finished this drama a few nights ago. It felt so good to be able to binge-watch a drama from the first episode to the last one. Therefore, I wrote this The Romance of Tiger and Rose drama review in a very happy mood.
I always said that I prefer to watch a completed drama rather than the ongoing one because I could not stand the waiting. But here I am, trapped in several ongoing dramas such as She and Her Perfect Husband (I wrote She and Her Perfect Husband drama review and She and Her Perfect Husband episode recap here, you might want to look at it and enjoy the stills of Xu Kai and Yang Mi 😉), New Life Begins, and Fairy From the Painting. Well, enough with the rumbles, let's start the review. But first i'm gonna explain the synopsis first.
The Romance of Tiger And Rose Synopsis
Chen Xiao Qian was a drama scriptwriter who worked hard to fill her bank account. One day she wrote a story about a hero who saved the wrong princess. Who would have thought, that after a laborious day of finishing the script, she would wake up in the body of Chen Qian Qian, the Third Princess in her story?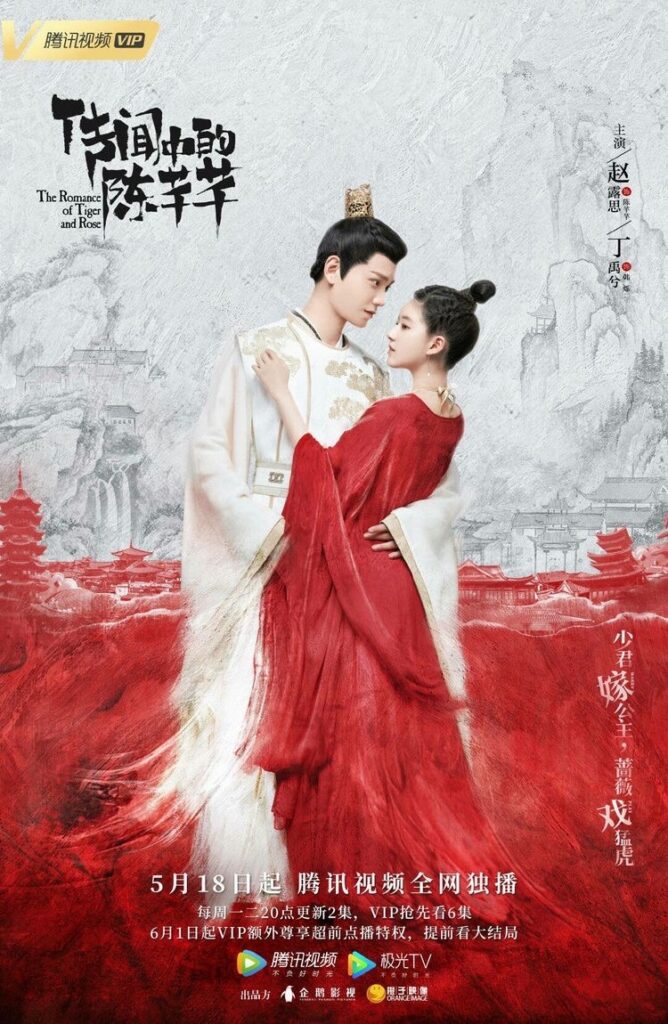 Chen Xiao Qian was panic-stricken because she knew that the princess did not live a long life. As a supporting character, Chen Qian Qian would only live for 3 episodes before she died on her wedding night. When Chen Xiao Qian saw the hero in her story, she was shocked because he looked like Han Min Xing, the actor who played Han Shuo's character in real life.
Because when she woke up, she was already on the 3rd episode, Chen Xiao Qian must rack her brain to find a way to save herself and return to her world. She used to think that if Chen Qian Qian died, she would return to her world. But it turned out that she must follow the plot until the end before she could return.
Therefore, Chen Xiao Qian struggled to keep herself alive and at the same time, tried to avoid disrupting the original plot. It was an arduous task because Han Shuo was a ruthless man who did not hesitate to kill.
Things get more complicated when feelings was involved. Chen Qian Qian and Han Shuo fall in love with each other after they got married. What should Chen Xiao Qian do to stay alive and reach the end of the plot? Will she be able to return to her world?
The Romance of Tiger And Rose Review
November was Zhao Lu Si's month, therefore, I decided to watch this drama for one sole reason: Zhao Lu Si 😆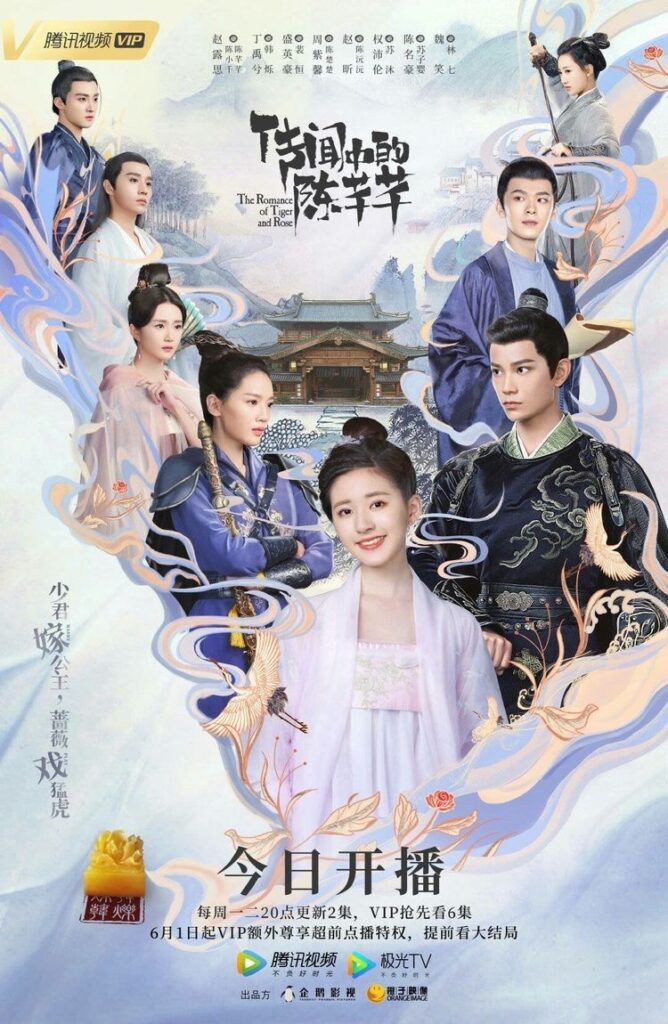 But, seriously, I've been looking for a light rom-com drama so I could have a good laugh when I came across The Romance of Tiger and Rose. When I clicked on the title, there was only one thing on my mind, a hope that this drama would be much better than A Female Student Arrives At Imperial College drama.
And it is… this drama was surely entertaining. I really had a good laugh and 24 episodes seemed to be too short. When I search for Zhao Lu Si's upcoming works, I was thrilled when I found out that she would act in The romance of Tiger and Rose 2. Well, let's wait for the sequel.
Zhao Lu Si is Still My Favorite
When I saw the poster of The Romance of Tiger and Rose, I thought that this drama would be a serious romantic drama with a mellow story. But boy, I was wrong. The comedy was thick and I must admit that Zhao Lu Si was an expert to act as a silly girl just like Chen Qian Qian. I like the way she plays with her expression and gestures.
However, I had a different impression of Ding Yu Xi. This is my first time watching his drama, and I thought that his acting was quite good, but he was totally overshadowed by Zhao Lu Si. Compares to the rich expression of Zhao Lu Si, Ding Yu Xi's expression was a bit lacking. But still, I love him for his cuteness especially when he was in a quirky mode.
Zhao Lu Si always had a good chemistry with her partner, including Ding Yu Xi. Although the kisses was stiff as brick, but the way the looked at each other was enough to make me feel like they were real.
The other characters such as Chen Chu Chu also won my heart. She was a pitiful person who was consumed by negative thoughts. Chen Chu Chu used to be a good person who treated and tolerated Chen Qian Qian's misbehaviors. However, later she was jealous of Chen Qian Qian and the feeling drove her mad.
Zhao Zi Qin played as Chen Chu Chu, she was quite good although her expression was a bit stony, but I can't take my eyes of her when she wore the blue gradient robe. She looked gorgeous in dark colors clothes.
The Story
The Story was not too complicated. In summary, The Romance of Tiger and Rose mainly told a story about the ups and downs relationship between Chen Qian Qian and Han Shuo and also the fight for the throne. Something that we often see in a historical drama.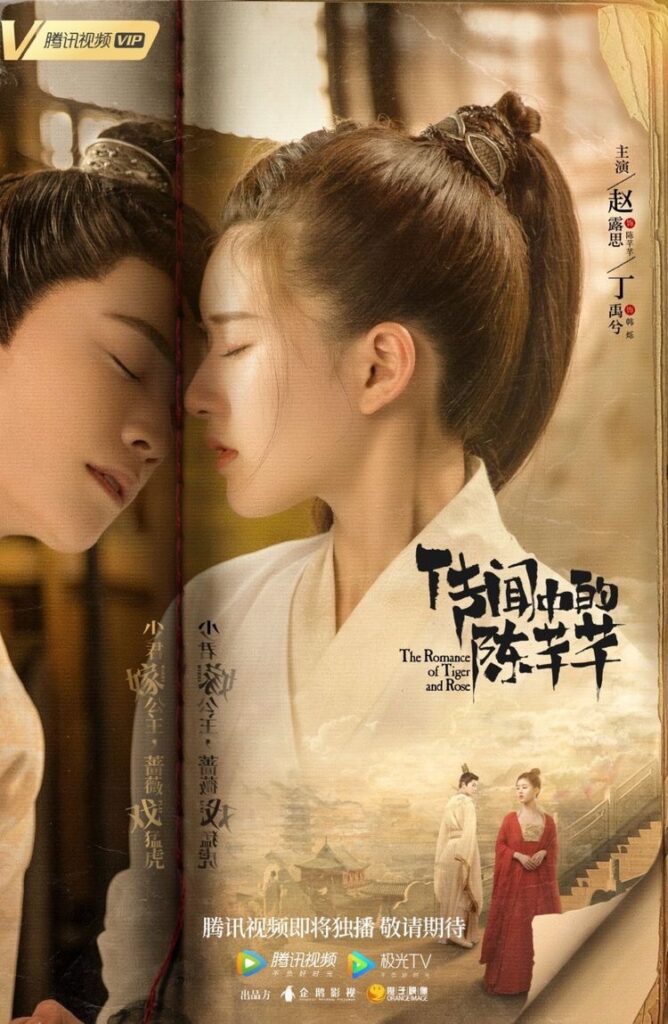 However, The Romance of Tiger and Rose was different. In this drama, there were two cities with different gender norm. Xuanhu City was a patriarchal city where men were the leader and women were seen as a lower class.
The woman could not hold the important position and treated as servants with many restriction. Well, it was common thing that you would find in Chinese historical dramas. While Huayuan City adhered to the matriarchal system where women were valued more than men.
In Huayuan City, every servant or entertainer was a man, including the servant at Chen Qian Qian's side. Every important position was held by women, except for Pei Heng. He was the only male minister because his mother sacrificed herself for the city. To make up for their family's loss, the City Ruler appointed him as a minister.
I like the touch of modern things that Chen Xiao Qian did. For example when she said Thank You or when she looked at her wrist just like she was about to look at a wristwatch, or a Do Not Disturb sign on the door when she wanted to be intimate with Han Shuo.
But the one that made me laugh out loud was when Chen Xiao Qian found out that Han Shuo's mother used to disguise herself as a man and went to war on behalf of her ailing father. Chen Xiao Qian only asked one question, Han Shuo's mother's surname. And when she said that her surname was Hua, Chen Xiao Qian must be thinking about Hua Mulan.🤣
It Was All About Survival
The story started when Chen Xiao Qian had to strive hard to keep herself alive. Chen Qian Qian, the 3rd Princess, was merely cannon fodder who was destined to die in the early stage of the story conflict. However, if Chen Xiao Qian wanted to return to her real world, she must stay alive until the plot ended. As the real scriptwriter, she used her knowledge to avoid death. But things did not go as planned.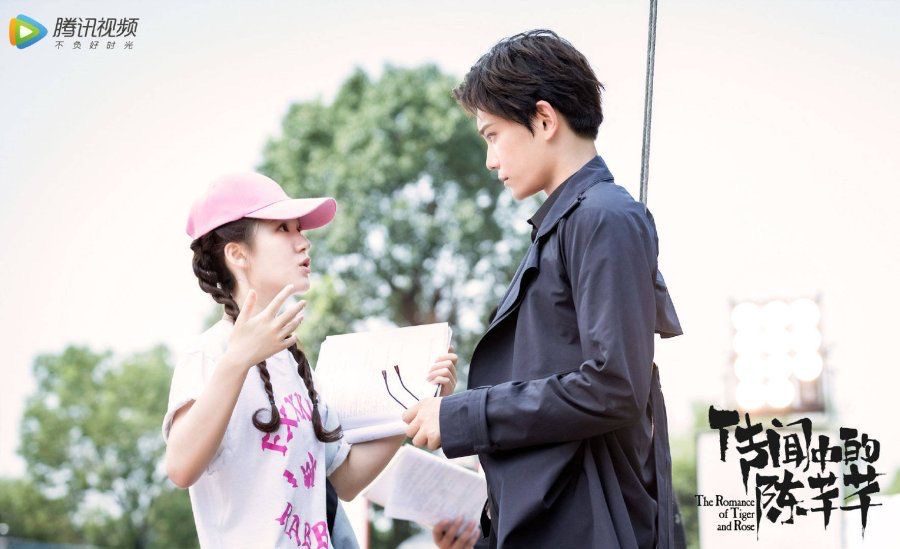 When she was stuck with no way out, Chen Xiao Qian looked for help from three storytellers. They would act as her strategy counselor. And to tell them her story without revealing her identity, Chen Xiao Qian used fruits as their aliases. Chen Qian Qian was an orange, Han Shuo was a banana, Chen Chu Chu was an apple, and Pei Heng was a cherry.
Chen Qian Qian was a facetious person. It was an arduous job to keep herself alive while the plot and character slowly changed. Chen Xiao Qian racked her brain to find a way out while she maintained her image as a presumptuous person. But in the end, her real character showed up.
The 3rd Princess had changed into a better version of herself, she was no longer a bully or an arrogant person. She become Chen Xiao Qian who was kind, goofy, and a little bit silly, but also hardworking and a responsible person.
But when the story was getting deeper, Chen Xiao Qian no longer thought about herself. When she fell in love with Han Shuo, she tried so hard to keep him alive because she did not want to see Han Shuo die.
In the original plot, after Han Shuo attacked Huayuan City, he spared Chen Chu Chu for the sake of their love. But Chen Chu Chu returned with the aid of Su Zi Ying and killed Han Shuo. The way Chu Chu killed Han Shuo reminded me of the ending of The King's Woman drama when Dilraba Dilmurat flip over her knife but Vin Zhang's sword stabbed her.
The one who plotted in the dark was Su Zi Ying. He used Pei Heng to get close to Chen Qian Qian and ruined her. When it failed, he came to the Second Princess and used her as a tool for revenge. Su Zi Ying hated Chen Qian Qian because she used to bully him when they were young.
One thing that I noticed from the story was Chen Qian Qian acted as an agent of change for gender equality in both cities. You see, most historical Chinese dramas or novels put women's position to be weaker and inferior to men's. The Romance of Tiger and Rose, basically, was a parody of it. And Chen Qian Qian with her modern values had come to give people insight into it.
Did she succeed? Well… sort of, she almost made the Xuanhu City Ruler die from anger because his wife abandoned him to be the Minister of Defense and many wives in Xuanhu City asked for a divorce from their husband …😅
The Characters
Chen Qian Qian/Chen Xiao Qian (Zhao Lu Si)
Chen Qian Qian was an unscrupulous person who dare to go against the norms. She was lecherous, arrogant, and unruly. A totally spoiled princess who is never afraid of anything at all.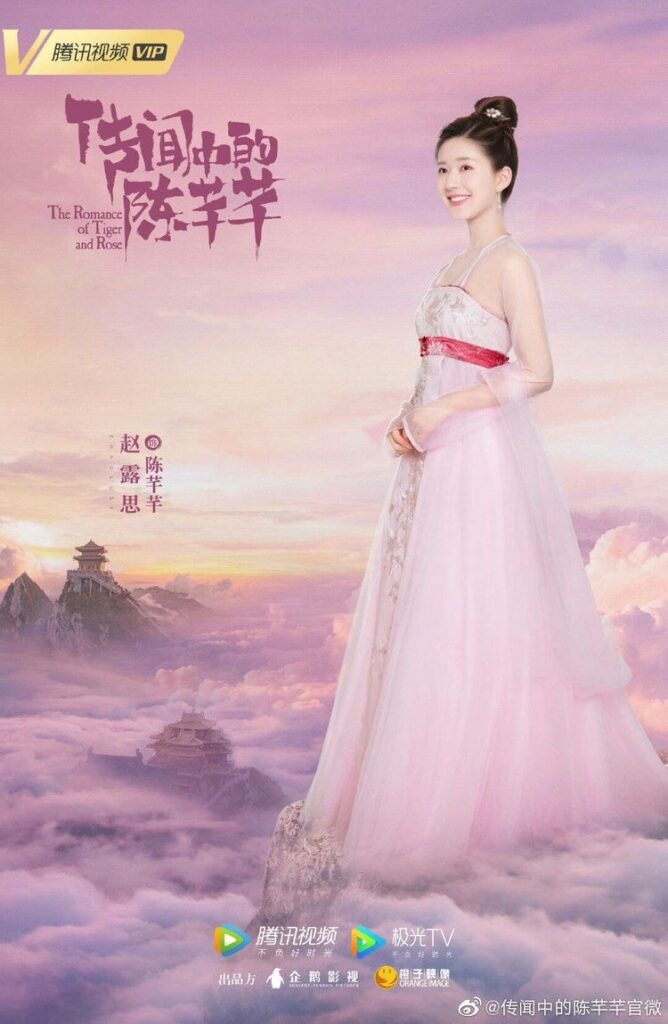 When she intended to do something, she would do it without hesitation because she believed that her mother, the City Ruler, was her backer and no one dared to go against her mother. Basically, you could say that besides her pretty face, Chen Qian Qian has no other positive qualities.
On the contrary. Chen Xiao Qian was a nice, responsible, and hardworking person. As a modern person, she was very practical. She might be a bit naive and impulsive but somehow her creative mind and golden tongue always came handy in an urgent situation.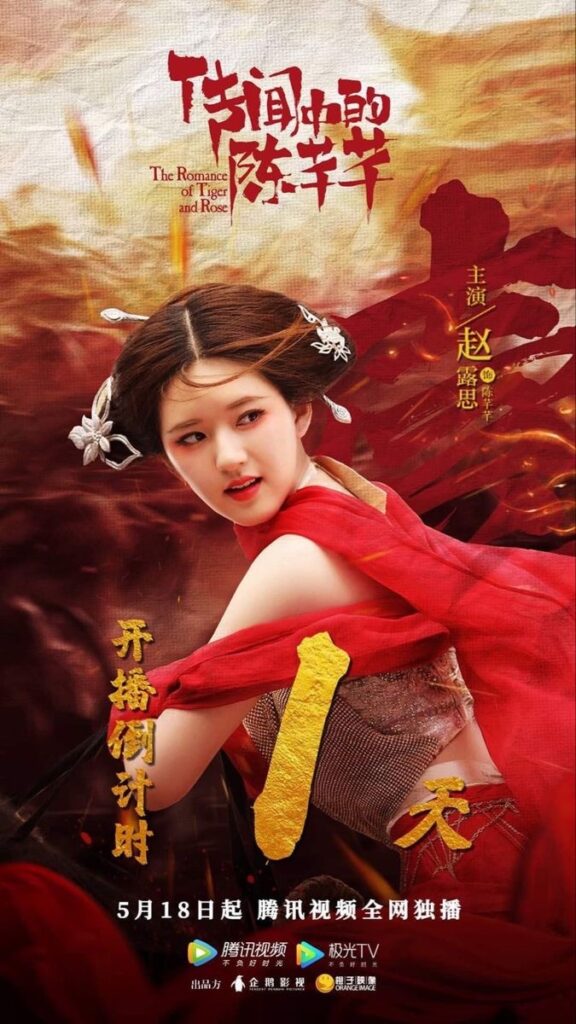 After Chen Xiao Qian took over the body of Chen Qian Qian, the 3rd princess became more conscientious. And it made Han Shuo and Pei Heng competed for her love.
Han Shuo (Ding Yu Xi)
Han Shuo was the Xuanhu City Young Master. He came to Huayuan City as a hostage. He schemed to marry to 2nd princess but ended up snatched by the 3rd princess and was forced to marry her. Han Shuo was a meticulous person. He was a good strategist who looked far ahead. When it came to completing his mission, he was ruthless.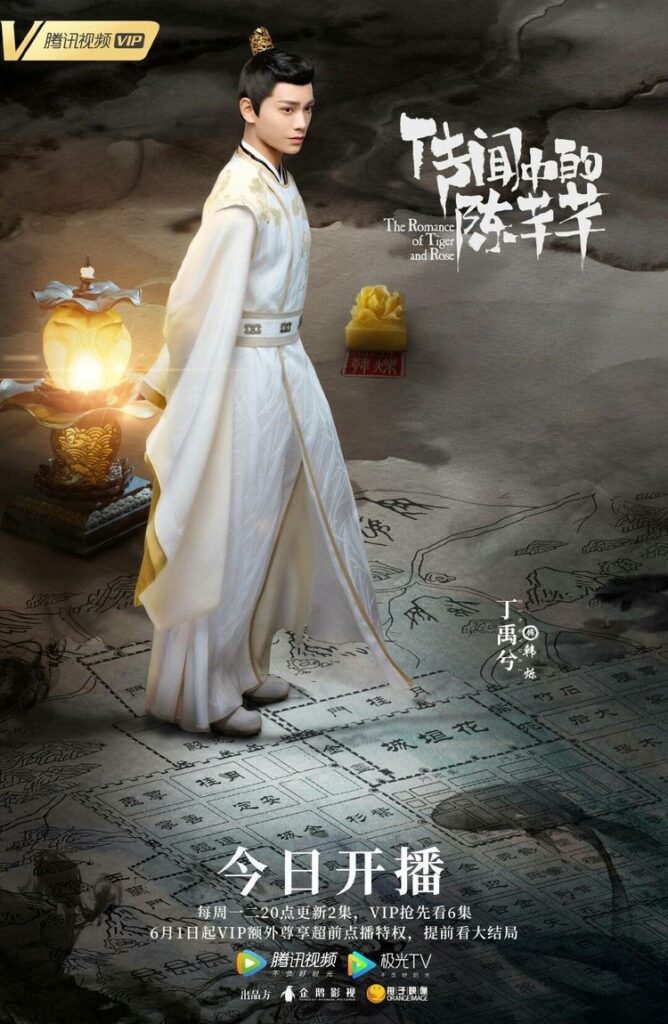 However, all of his traits seemed to vanish when he was with Chen Qian Qian. He became nicer, kinder, and more attentive. Every time he was with Chen Qian Qian, there were only two expressions on him: annoyance or devotion.
He was clearly the first who fell in love with Qian Qian but her indifference made him helpless and combined with his jealousy of Qian Qian's feelings for Pei Heng. Han Shuo was doomed to be a miserable male lead.
Chen Chu Chu (Zhou Zi Xin)
Chen Chu Chu was the 2nd Princess. She was the epitome of Huanyuan's princesses. She possessed good looks, excellent martial arts, and amazing literature knowledge, combined with her humble nature, and her power over Huanyuan's army, which led her to a bright future. The City Ruler herself trained Chen Chu Chu to be her successor.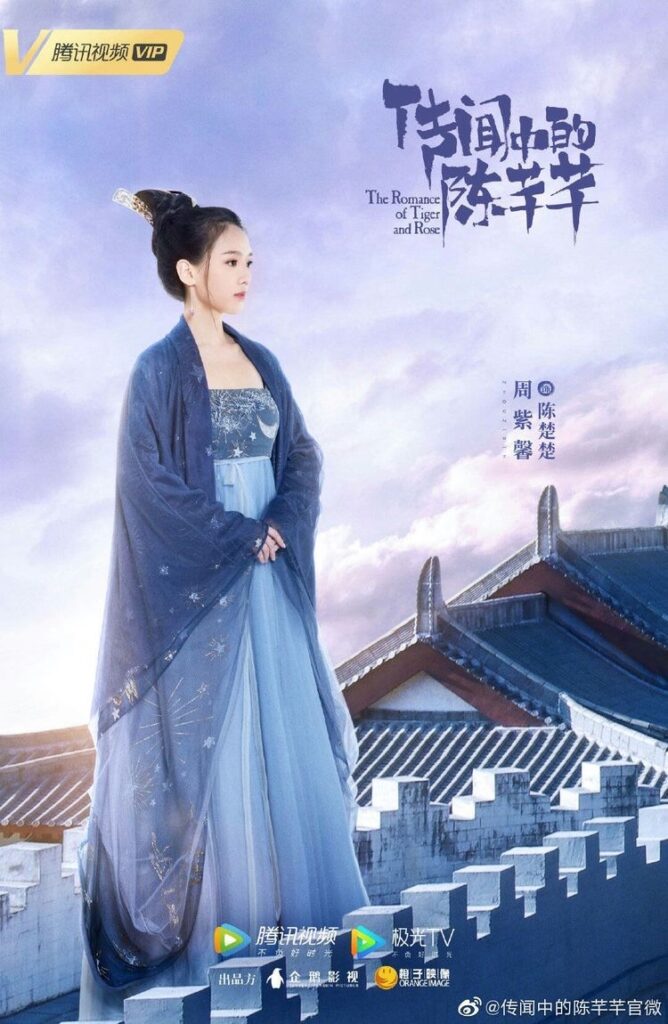 No wonder Han Shuo wanted to marry her in the first place. However, Chen Chu Chu was not the biological daughter of the City Ruler. Chen Chu Chu always felt that their mother was biased toward the three of them. She particularly loved Qian Qian the most. As the 2nd Princess she strived hard to gain merits so her mother would see her in a different light, but still, feel unappreciated.
Pei Heng (Sheng Yin Hao)
Pei Heng was the son of the late Minister Pei. The late minister Pei died because she sacrificed herself in the war. To makeup for the loss, the City Ruler made him a minister and let him teach at Imperial School.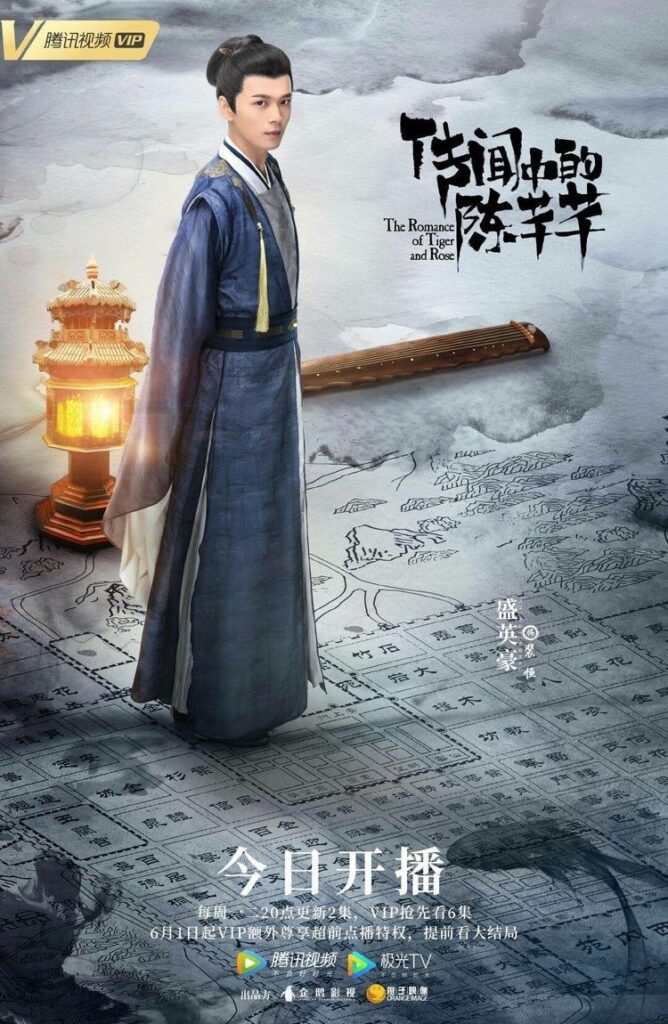 Pei Heng and Chen Qian Qian were childhood friends. They were engaged for many years, but Pei Heng always stalled their wedding. He hated the character of Chen Qian Qian who was arrogant and unruly. Only after Chen Xiao Qian took over the body of The 3rd Princess, Pei Heng started to fall for her.
In the real life, Pei Heng was the favorite character of Chen Xiao Qian. She said that the hero belonged to the heroine, while the second male lead belonged to everybody. Pei Heng was the designated second lead. He was kind, sweet, smart, and also good-looking. He was taller than Han Shuo but because he did not have any martial arts ability, he looked a little bit weak.
After Pei Heng fell in love with Chen Qian Qian, he became much more attentive to her. And this attention drove Han Shuo to his jealousy because he could see that Chen Qian Qian also liked him. However, Han Shuo did not know that her admiration for Pei Heng was different from his thought.
Su Zi Ying (Chen Ming Hao)
Su Zi Ying used to be a servant around Pei Heng. He was saved by him and to pay for his gratitude, he worked for Pei Heng. Su Zi Ying was sent to Chen Qian Qian's side by Pei Heng to help her when Chen Qian Qian was ordered to suppress the mountain bandits. He looked weak and harmless, but he harbored evil intentions toward Chen Qian Qian.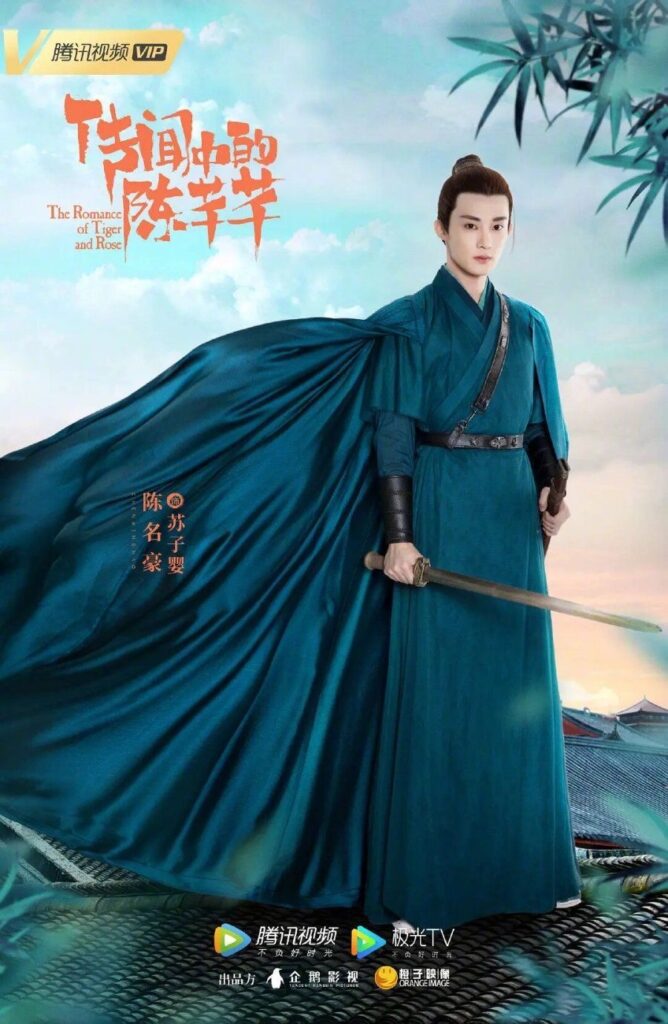 Aside from his intention to kill Chen Qian Qian, he also tried to separate Chen Qian Qian from Han Shuo, so Chen Chu Chu could end up together with him. When he failed and got kicked out, Su Zi Ying went to Chen Chu Chu's side and provided her with aid, so he could borrow her hand to bring Chen Qian Qian down. He did all of that because he wanted to revenge on Chen Qian Qian who used to bully him when they were younger.
Zi Rui (Wu Yi Jia) and Bai Ji (Liu Shu Yan)
Zi Rui and Bai Ji were the most entertaining duo in this drama. He was a servant of Chen Qian Qian and Bai Ji was Han Shuo's servant. They had different characters. Zi Rui was a man with many words.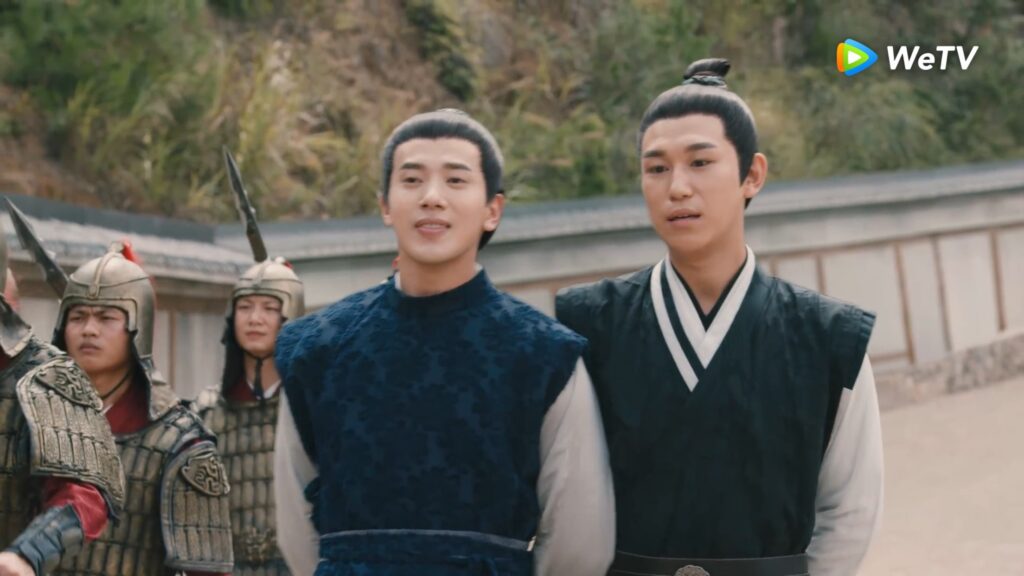 When I say many, it means MANY. When Chen Xiao Qian first came into the story world, she regretted writing Zi Rui's character as a chatter-box with long lines only to fulfill the necessary word counts…😅
Bai Ji, on the other hand, talked less and his words were sharper than Zi Rui's. But it did not make him a bit smarter than Zi Rui. On the contrary, their IQ and EQ seemed to be equal. They often fight on behalf of their masters. When they were together in one scene, I am sure you'll be grinning from ear to ear.
The Ending
Many time-traveled/transmigration dramas ended with a sad or bittersweet ending. Just looked at the Lost Track of Time drama. Even though the female lead did not die, she could not be together with the male lead. However, The Romance of Tiger and Rose was the contrary. The screenwriter was kind enough to give us a happy ending with a bonus of a possibility of a sequel. Let's just wait for Zhao Lu Si and The Romance of Tiger and Rose 2. Yay!!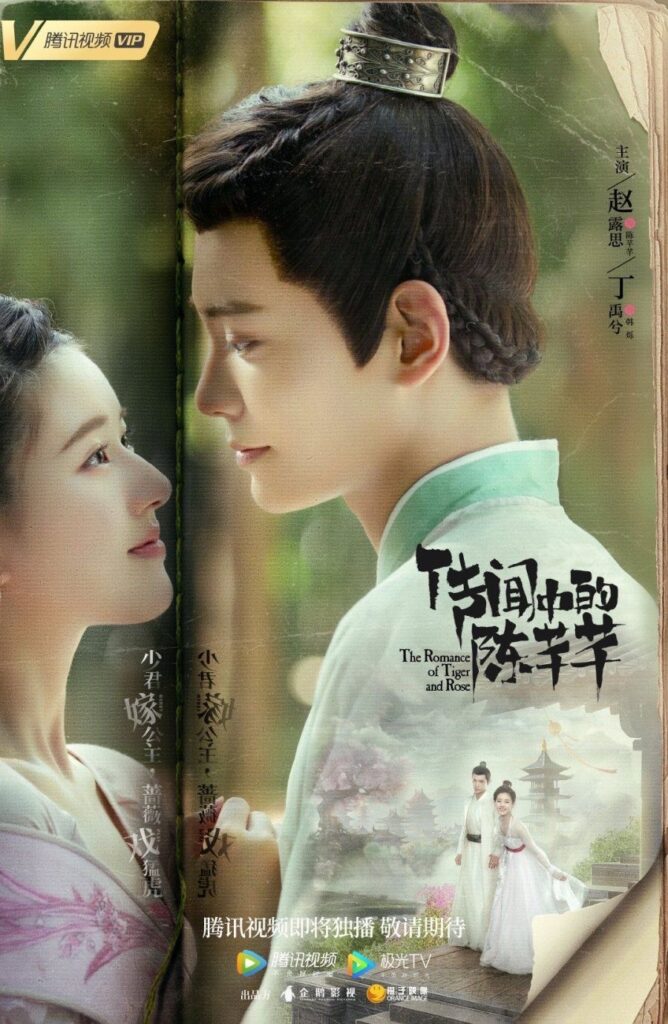 Chen Chu Chu was shocked when she learned that she was not the biological daughter of the City Ruler, but the daughter of the late Minister Pei, which means she was the sister of Pei Heng. But it did not make her stop to plot for the throne. Chen Chu Chu realized that everything she always wanted, such as the position of The City Ruler and her mother's affection and appreciation was only a dream.
She shifted her aim from becoming a City Ruler to Minister of Defense because she realized as long as she held military power, she still hold the power inside Huayuan City. Therefore, she took the Pei family's flower token by force from her brother, Pei Heng.
Chen Chu Chu threatened Xuanhu City to hand over Chen Qian Qian to her. But Chen Qian Qian, Han Shuo, and his parents came to attack Huayuan City to rescue her mother from Chen Chu Chu. Chen Qian Qian pretended to be Su Zi Ying's hostage to enter the city while Han Shuo, his parents, and the troop sneaked into Huayuan city.
When Chen Qian Qian stopped Chen Chu Chu, they were engaged in a deadlock situation. But then Pei Heng came with soldiers to surround them. After Chen Qian Qian pointed out Chen Chu Chu's mistakes, the soldiers wavered and in the end, they stood against her. There was a commotion inside the hall when Chen Chu Chu knocked Su Zi Ying and raised her swords against Chen Qian Qian.
She tried to stab her but Han Shuo blocked the sword and got injured. The injury was too severe and his life was hanging by a thread. Chen Chu Chu was captured and thrown into prison. She regretted her action because deep down inside, Chen Chu Chu still held her feelings for Han Shuo.
The City Ruler gave all her daughters, including Chen Chu Chu, an opportunity to walk in the flower path during the Succession Ceremony. If the auspicious vision appeared, then the one who walked in the flower path was blessed as the next city ruler.
Chen Xiao Qian hesitated to do that because she knew that when the auspicious vision appeared, she would be transported back to her real world, and she did not want to leave Han Shuo behind. But, Han Shuo was the one who made her walk down the path because he wanted Chen Xiao Qian to return to her world since his life would not be long.
When Chen Xiao Qian returned to her world, she realized that everything that happened was a dream. But she was surprised when she heard the news that Han Min Xing, the male actor who played Han Shuo in the drama, was also injured because of a car accident. It made her suspicious that Han Min Xing also had the same dream.
Chen Xiao Qian went to the hospital to confirm her suspicion, Han Min Xing recognized her, but he was unsure about his dream. They reconciled in a hug, just in time when Han Min Xing's manager came followed by a group of reporters. Chen Xiao Qian changed her script again, and wrote a happy ending for all the characters.
For more detail about the ending, you can read it on The Romance of Tiger and Rose Ending Explained post.
The Conclusion
This drama was beyond my expectation. I was having a good time and a good laugh watching this drama. The story was good, the acting was good, and the comedy was hilarious. And after I finished this drama and wrote this drama review, I found out that The romance of Tiger and Rose was quite popular back then. Many people watched it and liked it.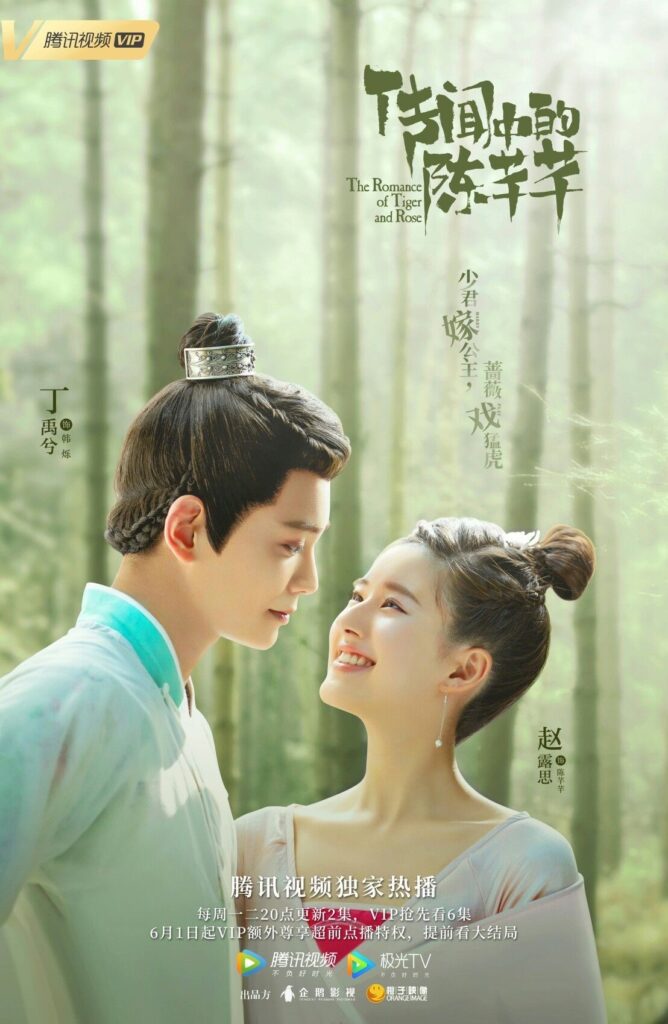 Well, I agree with them. This drama deserved its reputation. I'm having a good time watching it and I'll put it inside my rewatch list. But, not now of course. The Romance of Tiger and Rose was suitable for you if you have spare time away from work or chores and you need good entertainment. You could binge-watch it for a thorough experience if you have the time. But it would also be good if you want to watch it on a day-to-day basis.
Hope this The Romance of Tiger And Rose drama review helps. Don't forget your snack and drinks. Happy watching!