Title: Road Home
Also Known As: 归路, The Road Home , Gui Lu , Road to Home
Director: Yu Cui Hua
Casts: Jing Bo Ran, Tan Song Yun
Genres: Romance, Melodrama
Country: China
Type: Drama
Episodes: 30
Year: 2023
Original Network: Hunan TV, iQiyi, Mango TV
Where To watch: iQiyi, Viki
Rating: 8,5/10
Adapted from the novel The Road Home by Mo Bao Fei Bao.
Dear readers, 2023 is going amazing. March had just passed and April is just starting, but many good dramas are airing. I am so excited that I could not keep my eyes off the screen. Road Home was a much-anticipated Cdrama from our favorite actors, Jing Bo Ran and Tan Song Yun.
We included this drama on our Popular Chinese Dramas Premiering in 2023 list. And a quick note, I also wrote Road Home ending explained, you can stop by if you curious how this drama ended. Without further ado, let's start!
Road Home Synopsis
Lu Yan Chen or Lu Chen was a courageous SWAT member who lived for his country and the corps. His life revolved around his complicated family and his job. At the moment, he had reached an age when all of his peers already built a family. But Lu Yan Chen's heart never moved on from his first love. They had separated for ten years, but Lu Yan Chen has never forgotten her. His love was hidden deep inside his heart until he met her again.
Gui Xiao was a sweet, kind, and independent woman. She worked as an investment manager and her life was good. But everybody around her knew that she never forgets her first love, Lu Yan Chen or Lu Chen. She always felt guilt and regret when she remembered their separation was because of her moment of impulse. Therefore just like Lu Yan Chen, she never opened her heart to another man.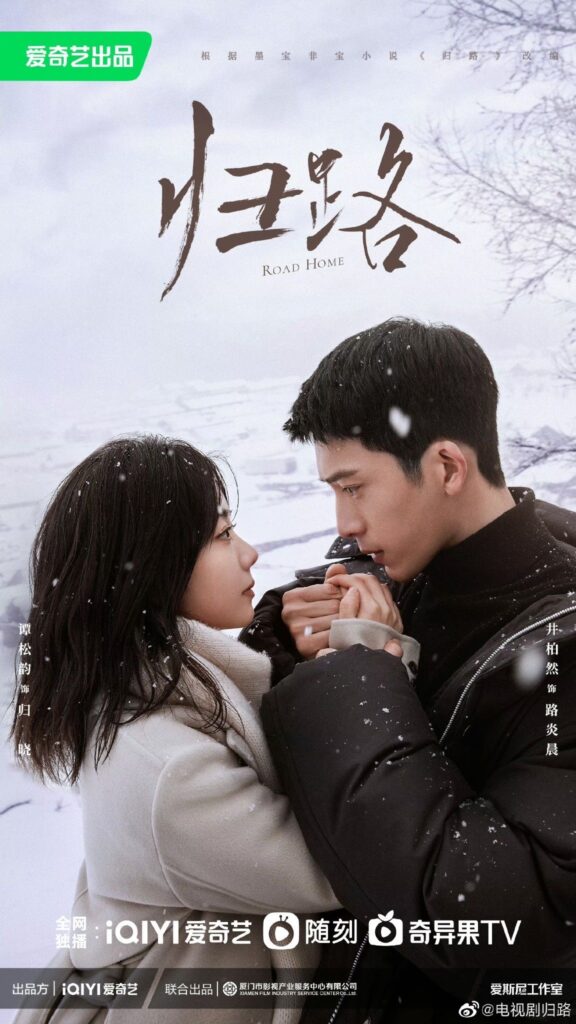 One day, Gui Xiao went to Qining, a cold and snowy place where Lu Yan Chen was stationed. She went there with her friends and got caught in trouble because her friend's car was stolen. She had no other way than to call Lu Yan Chen and asked for his help. One thing led to another. Their meeting opened up the empty hearts that longed for love.
But their path was destined to be hard. Family issues became their stumbling block. Gui Xiao's father never approved of her relationship with Lu Yan Chen. While Lu Yan Chen's family has a toxic father who at the drop of hat, willingly sold his son to pay off his debt. Will Gui Xiao and Lu Yan Chen overcome their problems and rekindle their love before it's too late?
Road Home Review
When you mix a good director, a well-known author, and an amazing cast, I bet there would be a spark in the sky and you would not want to miss it. This drama was the perfect example. Director Yu Cui Hua did not produce many drama, but each of them has its charm. You must have heard of Eternal Love: Ten Miles of Peach Blossoms drama, Lost Love in Times, or The Love Last Two Minds. Those dramas were well executed and had given me much delight when I watched them.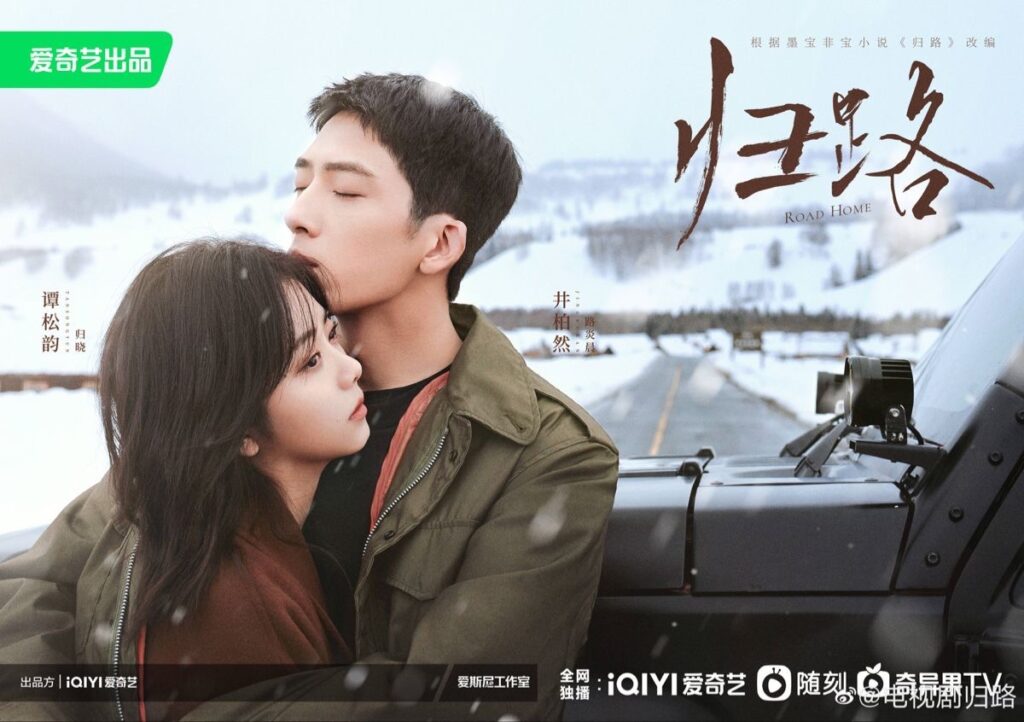 Mo Bao Fei Bao was one of my favorite Chinese novel authors and screenwriter. I've read and watched several of his work of art, such as One Life One Incarnation-Beautiful Bone (Novel), The Healing Sunshine (Novel), and Go Go Squid! (Drama), One and Only (Drama), and The Flame's Daughter (Drama). She was amazing in describing the character and ambiance. I usually fall in love with her main characters right away after I read a few chapters or watch the first episode.
And this Road Home was no exception. I like Gui Xiao and Lu Yan Chen's characters right away. Gui Xiao, played by Tan Song Yun or Seven Tan, was described as a woman who was independent and smart. However, she was also a foolish girl when it comes to love. And I'm pretty sure you'll love Lu Yan Chen. A perfect man who was masculine in his job but turned out to be a family man who treats his loved ones with utmost sincerity. Their chemistry was something to be jealous of.
I always like Tan Song Yun. She is a very good actress and you'll love her character. My favorite is when she acted in Under the Power drama. My least favorite is The Swords and the Brocade drama, but she still acted well in this drama. You might want to read my review of those dramas, including another Tan Song Yun drama, Master of My Own. It was a good one and I have rewatched it a few times.
Every time Tan Song Yun acted, you'll get immersed in her character. You'll laugh when she laughed and cry when she cried. My opinion of her acting may be a little unpopular, but I thought that Tang Song Yun's hopeless expression was the best among Chinese actresses. I like seeing her staring at nothing or gets dumbstruck which rendered her speechless. Cute.
While I fell in love with Jing Bo Ran's peerless elegance in A League of Nobleman, he was more masculine in this drama. His countenance with his perfectly built body, crew-cut hair, and cold face reminded me of Jhonny Huang's character in My Dear Guardian. However, I am always swayed every time I see gorgeous men in uniform. So, Jing Bo Ran in a uniform was a feast for my eyes. Added to the fact that Jing Bo Ran's sexy voice was truly magnetic.😅
Anyway, I loved to see Jing Bo Ran when he had become the adult Lu Yan Chen (Lu Chen) compared to when he acted as a high school student. His feature was too mature and he did not look like a youngster. He seemed out of place when he was with another high school boy. But of course, I found a justified reason for it. Lu Chen's life was never easy because of his father and he was also working at the moment. Therefore, how could he not mature early compared to his peers?
When it comes to acting as a younger character, Tan Song Yun won because she could pull off as a high school girl and a mature woman. Tan Song Yun might not be as enchanting as Dilireba but she had those charms that made people remember her.
There were also many familiar faces in support roles in this drama. Such as Baby Zhang who plays Yao Yao in She and Her Perfect Husband. Karina Hai, who acted in The Rebel Princess. Guo Xao Tian whom you could find in Double Love, Mr. Bad, and My Sassy Princess drama.
The Cinematography
The first episode caught my attention. I live in a tropical country where you could see the sun all year round and the weather is always warm. Therefore, snow would always be my obsession. And in the first and second episodes of Road Home, you'll see a vast land full of snow. Now you tell me, how can I not fall in love with this drama?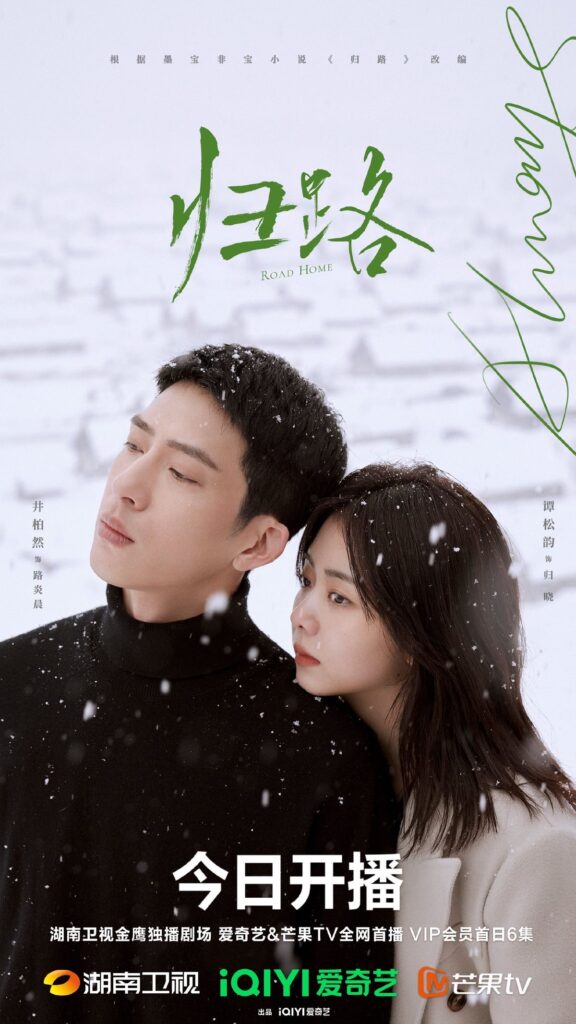 The visual of this drama was good. There were many sets of Road Home to keep you from boredom. My favorite one was of course Qining. That city was great and I wanted to try to live in a Mongolian yurt, but I'm not sure I wanted to try the horse meat dishes…😆
The director also made a distinct difference between Lu Yan Chen and Gui Xiao's house. Lu Yan Chen preferred a clean and functional house while Gui Xiao loved to collect beautiful things. But one thing was for sure, although she did not cook, her kitchen was fully equipped as if it was made for Lu Yan Chen to cook. And Gui Xiao's office seemed too casual for an investment company. But it was good to see a homey office since urban drama's office tends to have a grey building with leather chairs and floor-to-ceiling windows.
Since Lu Yan Chen worked as a SWAT member, I am glad they did not make his job a story add-on only. You'll see Jing Bo Ran wielding a rifle, wearing a police uniform and a bomb suit (EOD, Explosive Ordnance Disposal suit). And because police officers need to maintain their physical fitness. You'll get to see Jing Bo Ran do physical exercises such as running, jumping, crawling, swinging, and many other things. He did it smoothly and, I think Jing Bo Ran was ready to join the latest season of America's Ninja Warriors…😅
And don't forget the scenes of Jing Bo Ran and the cute K9 puppies. 😍
The Story
Road Home was all about the unforgettable first love. Lu Yan Chen was Gui Xiao's first love and vice versa. They never fell in love with anybody else and could not move on from their relationship. The ten-year separation was something Gui Xiao and Lu Yan Chen actually needed. They broke up because they were immature and lacked communication. When they reunited, Gui Xiao and Lu Yan Chen tried hard to maintain their communication to avoid misunderstandings.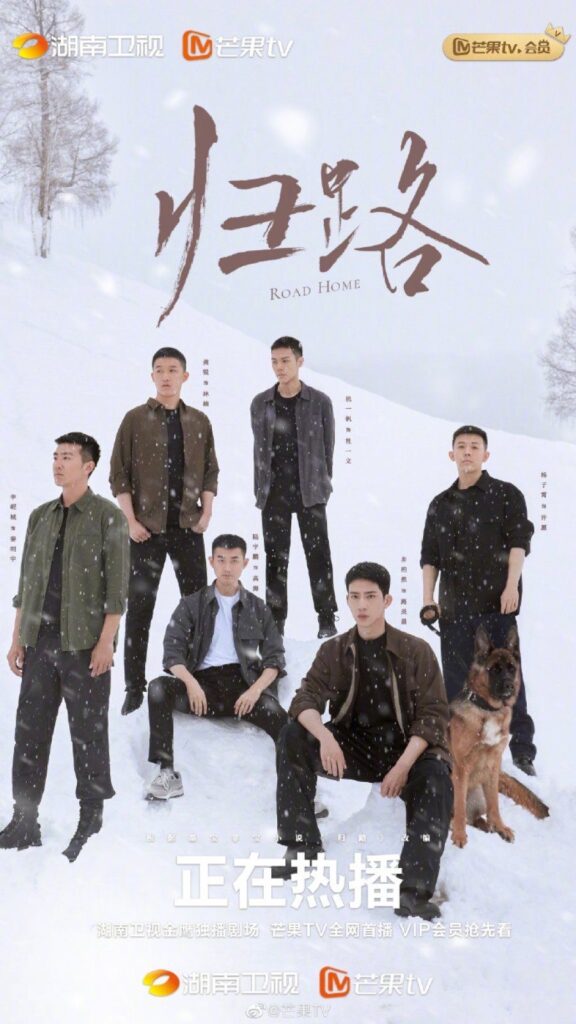 The story was soo sweet that I get a toothache. Lu Yan Chen might not be an ideal boyfriend since his family was a big problem, but he treated Gui Xiao nicely. It was the same with Gui Xiao. She was sweet and kind, but her father was also a stumbling block in their relationship.
Gui Xiao and Lu Yan Chen became an item after they graduated from high school. But soon after, they had to separate. Gui Xiao went to a university while Lu Chen entered a police academy.
There were misunderstandings between the couple in this drama since the first episode. Gui Xiao thought that Lu Yan Chen has already married because she mistakenly thought Qin Xiao Nan was his son. She was disappointed because Gui Xiao went to Qining because she wanted to see him. While Lu Yan Chen immediately realized what was happening and signaled his friend Qin Ming Yu to clean up the mess.
Another thing that added some comedy to this drama was Lu Yan Chen's camaraderie. They were way too cute. A group of single males who were fierce on their job but quite naive when it came to women and men's relationships. They were very curious about their captain's first love. And because Lu Chen never had any relationship with women except Gui Xiao, those brothers were dying to see her. Those young policemen went as far as to eavesdrop on their captain's tent when they camping in Qining…😅
And don't forget Qin Ming Yu. He was Lu Yan Chen's partner and friend. He was a single father who was clueless about raising a son. He was also a divorcee who was clueless about relationships as well. Luckily, he met Duan Rou, Gui Xiao's friend. Duan Rou was willing to take care of Qin Xiao Nan, Qin Ming Yu's son. They fell in love with each other after several phone calls and text messages. When they met for the first time. Well… it was Qin Ming Yu who was awkward. Duan Rou was more relaxed but because of his awkwardness, Duan Rou could not tell whether Qin Ming Yu liked her or not.
Road Home talked about marriage and divorce as well. Several families might able to maintain the relationship to the end, but some of them had to collapse mid way.
Lu Yan Chen's former captain died in a mission. He and his wife were the ones who took care of Lu Yan Chen the most in Qining. They never had a child, therefore they treated Lu Yan Chen as their son and even prepared a wedding gift for Lu Yan Chen's future wife. It was an example of a love that lasted until death do us part.
Meanwhile Gui Xiao's parents separated when she was in college, but finalised their divorce ten years later. Back then Gui Yan Shan had an affair and Shen Jin could not forgive him. She decided to leave her husband and went abroad. Gui Xiao was brokenhearted but she managed to understand her parents' relationship only after Shen Jin explained it to her. She talked to Gui Xiao about her feelings.
The hesitation, the frustration, and eventually the decision she took in her marriage. Gui Xiao's relationship with her mother was good. But she avoided her father because she thought that he was the one who ruined the relationship and hurt Shen Jin.
When her mother returned to China to deal with the divorce, it was Gui Xiao who found her a divorce lawyer. When they met to talk to the lawyer, Gui Xiao took Qin Xiao Nan with her. It seemed inappropriate to bring someone else child to a divorce meeting, but Gui Xiao used the chance to make Qin Xiao Nan understand something. She explained that some people get married to find happiness. And some people get divorced to find happiness as well.
At first, I thought Gui Xiao was too meddlesome in this. But then I realized that Gui Xiao also came from a separated family. Therefore, she must know what might be hidden inside Qin Xiao Nan's heart.
I like the way the director made us learn about their past by making them recount their history to others.
The story was slow-paced. However, it was a bit dragging after the 20th episode. The 21-30 episodes were so slow that I felt bored watching them. The story did not explain clearly how Lu Yan Chen got injured in a mission and the death of Mr. Shen, Lu Yan Chen's colleague, which seemed like a passing scene.
There were many kissing and hugging scenes in Road Home. However, the director made it as sweet and romantic scenes instead of hot and steamy scenes as in Forbidden Flower. Yet, it fits my appetite as a romance junkie…😁
The Characters
Gui Xiao
Gui Xiao (played by Tan Song Yun) was a typical sweetheart. She was cute, smart, diligent, and kind, and came from a well-off family. Her father was a wealthy businessman and her mother was a diplomat. Both of them were strong-headed people, stubborn, and strict. And all those traits were inherited by Gui Xiao.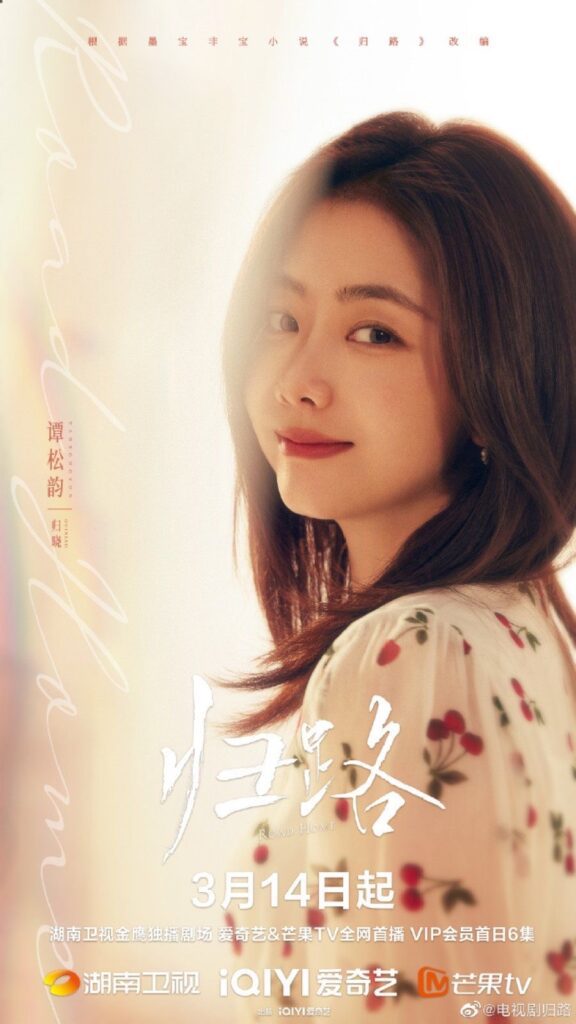 Underneath her gentle and cute appearance, Gui Xiao held some temper and stubbornness. She did not like her father because he cheated on her mother. Over the years, Gui Xiao's treated her father, Gui Yan Shan, coldly. He tried to get along with her, but Gui Xiao was always distant from him.
As a daughter from a well-off family, Gui Xiao inherited her father's talent in the business. She worked as an investment manager and made a lot of money. She was also a very independent person. She managed her life and wealth without any help from her parents. She even managed to save a million Yuan for her mother's retirement.
Mother Gui, Shen Jin, was never against their relationship, unlike Gui Yan Shan. She thought that Lu Yan Chen was a good person. Moreover, Shen Jin trusted her daughter's judgment of Lu Yan Chen's character. And she was right. Lu Yan Chen indeed treated Gui Xiao very well. Meanwhile, Gui Yan Shan was adamant to oppose Gui Xiao's relationship with Lu Yan Chen.
Gui Yan Shan was fine with Lu Yan Chen's job because he used to be a police officer too. He also admitted that Lu Yan Chen's career and achievements were good, but Gui Yan Shan thought that Lu Yan Chen's family was too complicated. Therefore he did not think that Lu Yan Chen was fit for Gui Xiao.
For Gui Xiao, marriage felt like home. A sense of belonging that she wanted since her parents were separated. But not only that. She also thought that marriage would be a way for Lu Yan Chen to get away from his father's clutches.
Lu Yan Chen / Lu Chen
Lu Yan Chen's name used to be Lu Chen (played by Jing Bo Ran). He changed his name after knowing one of his friends had the same name. He introduced his name to Gui Xiao for the first time as Lu Yan Chen, but she always called him Lu Chen.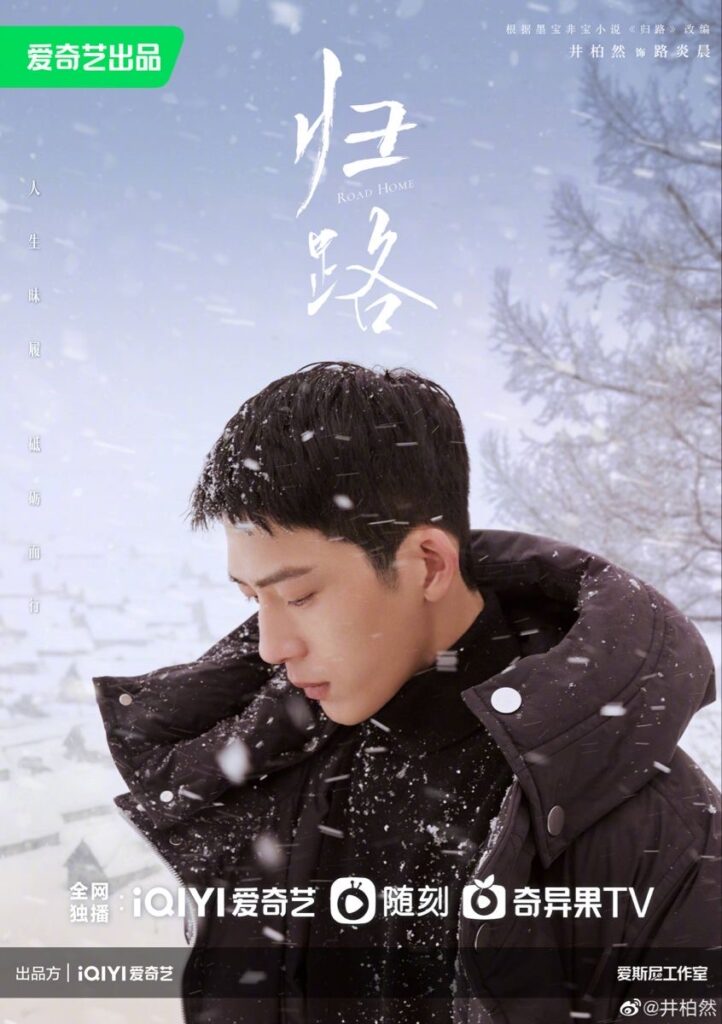 Lu Yan Chen's family was complicated. His parents were divorced and then remarried. But before they remarried, Mother Lu used to marry a police officer who died of illness. Lu Yan Chen was impressed by his stepfather and decided to follow in his footstep. But it made Father Lu angry because of jealousy. Lu Yan Chen still chose to enter a Police Academy because he needed to stay out of his abusive father.
Lu Yan Chen was a sensible and considerate man. Father Lu was a man who favored sons over daughters. Lu Yan Chen's sisters were having a hard time because of their father. To protect his sisters and mother, Lu Yan Chen often acted rebellious to shift Father Lu's attention to him. His life was hard, but thankfully he got many uncles who helped him. When he was an adult, Lu Yan Chen still had to free himself from a marriage arranged by Father Lu. Lu Yan Chen knew that his family was complicated, therefore he tried not to involve Gui Xiao in his family matter. He protected her, especially from his father.
Lu Yan Chen knew very well that most people, especially girls, would find it hard to accept his job. It was endless, tiresome, dangerous, and full of uncertainty. Added to his complicated family, Lu Yan Chen was afraid that he would wrong Gui Xiao. Therefore, he hesitated to rekindle his love with Gui Xiao, although he yearned for her for years.
As a SWAT member, Lu Yan Chen was a cold, capable, responsible, and strict person. But when he was with Gui Xiao, he became a gentle, attentive, sweet, and considerate family man. He was also good at cooking and the way he treated Gui Xiao made me jealous. Cdramaland never failed to produce such an amazing prince charming like him.
Meng Xiao Shan and Qin Feng
Meng Xiao Shan (played by Baby Zhang) was Gui Xiao's childhood friend. She knew Gui Xiao and Lu Yan Chen very well since they had the same friend when in high school. Back then Meng Xiao Shan was Hai Dong's girlfriend. But they broke up after Hai Dong cheated on her.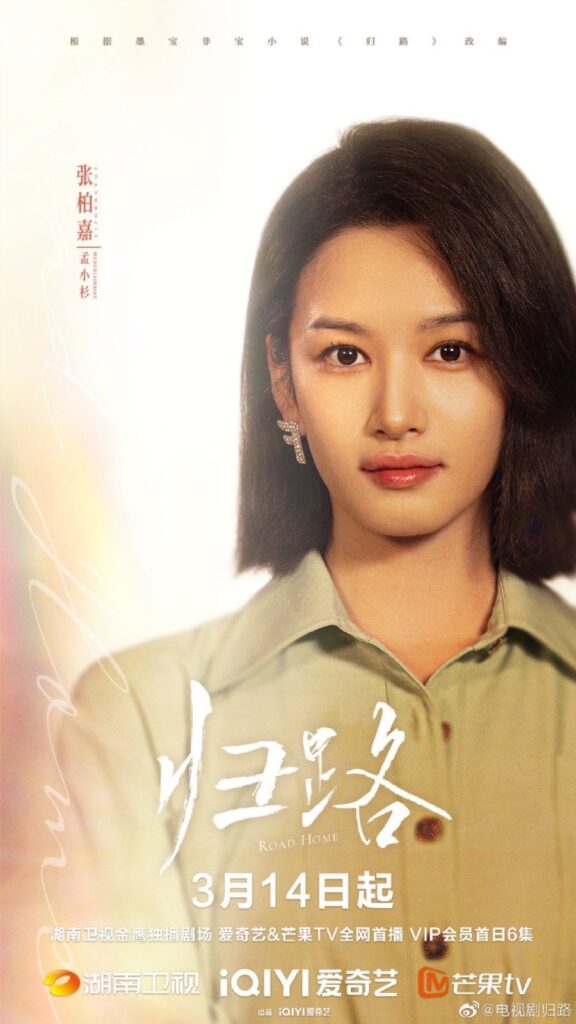 Meng Xiao Shan married Qin Feng afterward. They lived harmoniously as a couple and managed a restaurant together. Qin Feng was much older than her. He also knew Lu Yan Chen and his family very well, since he happened to live in the same neighborhood. Meng Xiao Shan and Qin Feng took care of Gui Xiao and Lu Yan Chen for years.
Duan Rou
Duan Rou (played by Zhang Qiao Er) loved children and she liked Qin Xiao Nan. She had been taking care of him since Gui Xiao had to go on a business trip and Qin Xiao Nan had nobody to take care of him. Duan Rou's life was quite hard. Her parents divorced when she was young and she had to live with her grandmother who was clueless about raising a granddaughter. So she learned how to take care of herself which eventually made her a person who was good at taking care of others.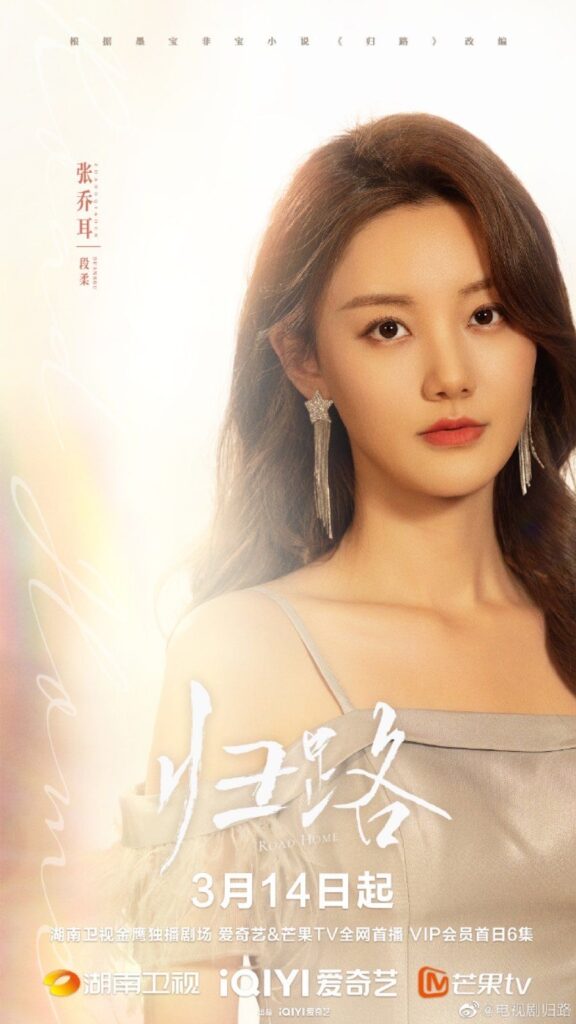 Duan Rou sympathized with Qin Xiao Nan's situation. She put him in her care with utmost sincerity and treated him like a son. Duan Rou also had been married before but divorced before they could hold the wedding. She had a conflict with her then-husband because of premarital assets.
Duan Rou did have a slight feeling for Qin Ming Yu since they often talked on the phone about Qin Xiao Nan.
Qin Ming Yu
Qin Ming Yu (played Li Min Cheng) was Lu Yan Chen's direct subordinate. He was not only Lu Yan Chen's partner in life and death but also a very dear friend. Qin Ming Yu was a single father. He divorced his wife and took his son, Qin Xiao Nan, to live with him. As a father, Qin Ming Yu cared about his son, but he was too busy. A SWAT member's job was endless. And most of the time, Qin Xiao Nan was left alone in the apartment.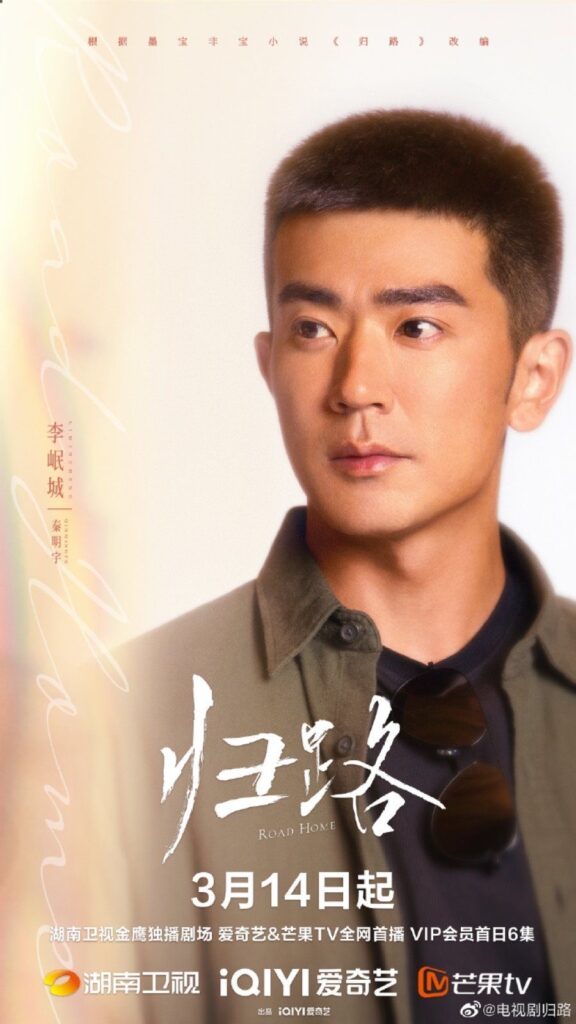 He was grateful when Gui Xiao and Duan Rou could take care of Qin Xiao Nan for him. Although he never neglected his son's food or education, Qin Ming Yu realized that his son needed a home and someone who was always there to take care of him.
Qin Ming Yu was a single-minded man who was clueless about men's and women's relationships. He was fierce when it came to work, but so silly when in front of a woman, especially Duan Rou. It was always funny to see his awkward manner, every time Duan Rou called him.
Qin Xiao Nan
Qin Xiao Nan (played by Zhang En Shou) was a very sensible child. He knew that his father was too busy to take care of him. He grew up among his father's camaraderie who was also equally busy. When Lu Yan Chen asked Gui Xiao to take care of him, Qin Xiao Nan finally got to taste a home. But still, the situation was not ideal because he could not stay in one place. If Gui Xiao had to go on a business trip, Qin Xiao Nan would stay with Hai Dong or Duan Rou.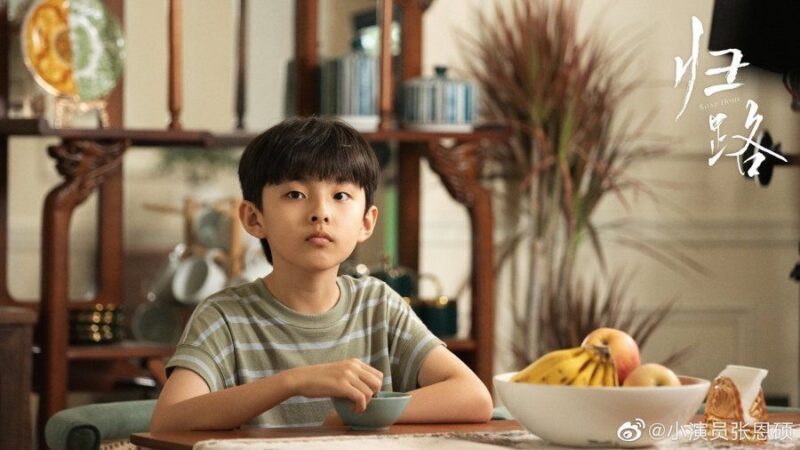 One time, Hai Dong could not take care of him, he took Qin Xiao Nan to Meng Xiao Shan's place. Qin Feng, Meng Xiao Shan's husband, consoled the boy. He told Qin Xiao Nan it was inevitable that he had to move from one place to another and had different people to take care of him. However, Qin Feng said that Qin Xiao Nan could consider it as he has more parents to care for him. Thankfully, Qin Xiao Nan understood his situation.
The Conclusion
Road Home drama did not disappoint me. Mo Bao Fei Bao was truly a master at writing romance stories. The story was sweet, and although the latter episodes were a bit dragging and ended abruptly, I still felt happy to watch this drama.
The visuals, acting, and story were amazing. The chemistry between Tan Song Yun and Jing Bo Ran was excellent. Plus you got bonus scenes of the shirtless Jing Bo Ran. He was soooo gorgeous that my eyes were teary with happiness while my husband's eyes were green from jealousy…🤣
Anyway… Road Home was worthy of my time. And I'm pretty sure you'll love it too if you claimed yourself as a romance junkie like me. Do not forget to prepare some food and drink while you binge watch this drama. Because after I watch it, I craved some meat buns and fruity sparkling water…😁
Happy watching, dear readers!