Title: The Blue Whisper
Also Known As: 与君初相识, Yu Jiao Ji

Part 1

Title: Yu Jun Chu Xiang Shi
Episodes: 22

Part 2

Title: 恰似故人归 / Qia Si Gu Ren Gui
Episodes: 20

Director: Chu Yui Bun
Screenwriter: Li Jing Ling
Genres: Romance, Wuxia, Fantasy
Country: China
Year: 2022
Original Network: Youku
Where to Watch: Rakuten Viki
Adapted from the novel "Yu Jiao Ji" (驭鲛记) by Jiu Lu Fei Xiang (九鹭非香)
The Blue Whisper Synopsis
The Blue Whisper is a Chinese romance drama released in 2022. Deep inside the Wanhua Valley, where the spirit masters lives. There was Ji Yunhe, a lively and cheerful but righteous spirit master with an impressive persuasive power. Her job is to subdue magical beasts and lead them to a better life. Yunhe hates being controlled, hence her only wish is freedom. Together with her senseless but kind-hearted attendant, Luo Jinsang, they made a plan to runaway from Wanhua Valley.
Yunhe is the most powerful spirit master. Her only competitor is her senior brother Lin Haoqing, the son of Wanhhua Valley master, Lin Canglan. Yunhe lives under the strict control of the Frost Spell that she got from Lin Canglan.
One day, Fairy Princess Shunde captures Chang Yi, a merman from the East Sea. She gave him to the Wanhua Valley to be subdued. Yunhe volunteered for this arduous task, because her goal was the reward from Fairy Shunde. By her persuasive power, Yunhe was able to gain Chang Yi's trust.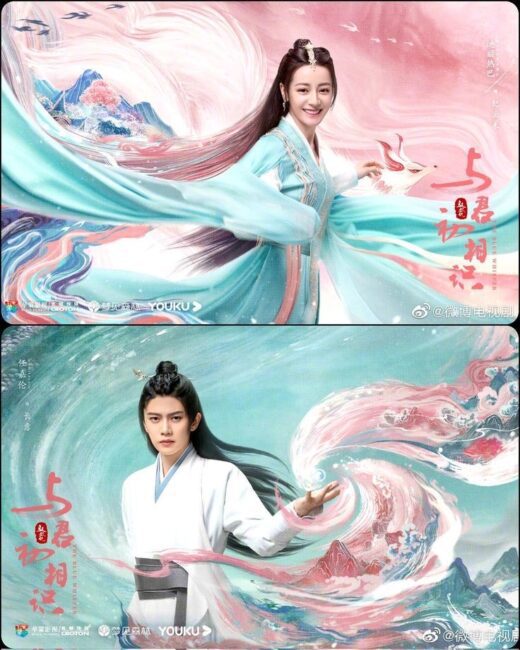 Driven by her righteous nature and sympathy towards Chang Yi, Yunhe decided to send Chang Yi back to the East Sea. But the sympathy turns into love. And with love comes tribulations. Will their ill-fated love be able to overcome the betrayal, deception, torture, and grief?
The Blue Whisper Review
Wooow!!! I thoroughly enjoy this Cdrama. I spent 4 days in a row watching the entire 42 episodes. It was juggling between chores, work, and drama. I stay up so late that my eye bag would grow as big as a tote bag.
The Blue Whisper is another great job from Director Zhu Rui Bin. Previously, when I watched dramas or movies, I barely paid enough attention to the directors. I just gave them credit for the cinematography. But after The Long Ballad, I started to notice the director. Zhu Rui Bin or Chu Yui Bun is the same person who directed The Long Ballad and Ashes of Love.
I love The Long Ballad, hence, I'm expecting the same quality of drama.
Different Parts, Different People
This drama was adapted from a novel, Yu Jiao Ji (驭鲛记) by Jiu Lu Fei Xiang (九鹭非香). I have never read the novel yet, but it's just a matter of time. The Blue whisper was divided into 2 parts. The Blue Whisper Part I and Part II with different titles, respectively.
The story itself seems a bit cliché. A forbidden love between a spiritual master and earth immortal. But if you thought this drama would be another romance drama, be ready to be surprised. There were so many things to be enjoyed apart from the romance. For instance, the hot merman, Chang Yi played by Ren Jialun.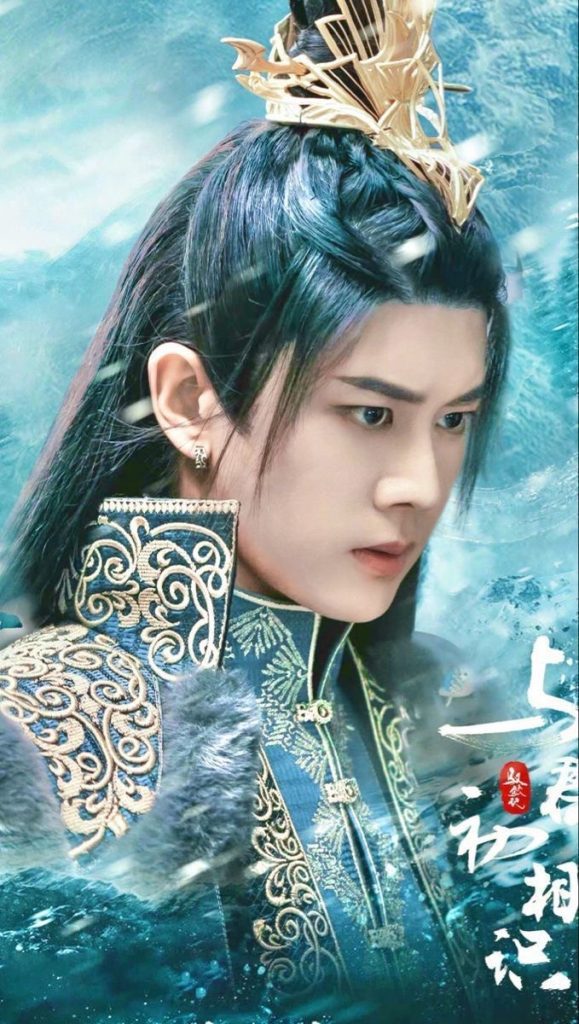 I had my eyes on him since I watched Under the Power. Jialun has a heroic aura every time he wears a dark-colored suit. I especially like his serious expressions, therefore, I got hooked up in Part II where I can see a serious, domineering, and calculative Chang Yi, compared to the naïve and submissive Chang Yi in Part I.
In my humble opinion, the star of this drama is him, and not Dilraba Dilmurat (Dilireba). Jialun's strong emotion was displayed clearly in his expression. He could go as a submissive, kind-hearted, naïve person with smiles on his face and in the next episode he transformed into an angry, domineering, and calculative kind of person. Completely different, as if they were two persons instead of one.
I was awed by him. 😍😍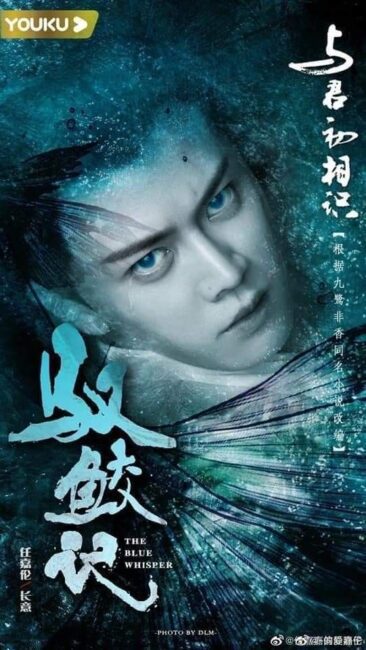 And how about our dear Dilireba? As beautiful as always. In Part I, we can all see the vigorous and vivacious Ji Yunhe who is brimming with vitality. But in Part II we'll see Yunhe as the sickly beauty as she was dying. Personally, I would say that her best acting is in The Long Ballad. Compared to Jialun, her expression seems flat and you can't really feel Yunhe's emotions. 🤔
The Supportings are Superb
I cannot forget to praise Guo Xiao Ting as the Fairy Princess Shunde. Shunde is cruel, selfish, narcissistic, self-centered, obsessed, almost crazy, and evil to the core. And Xiao Ting is doing a great job portraying those negative traits. Her scenes are always lively and, trust me, you'll want to slap her every time she laughs! 😤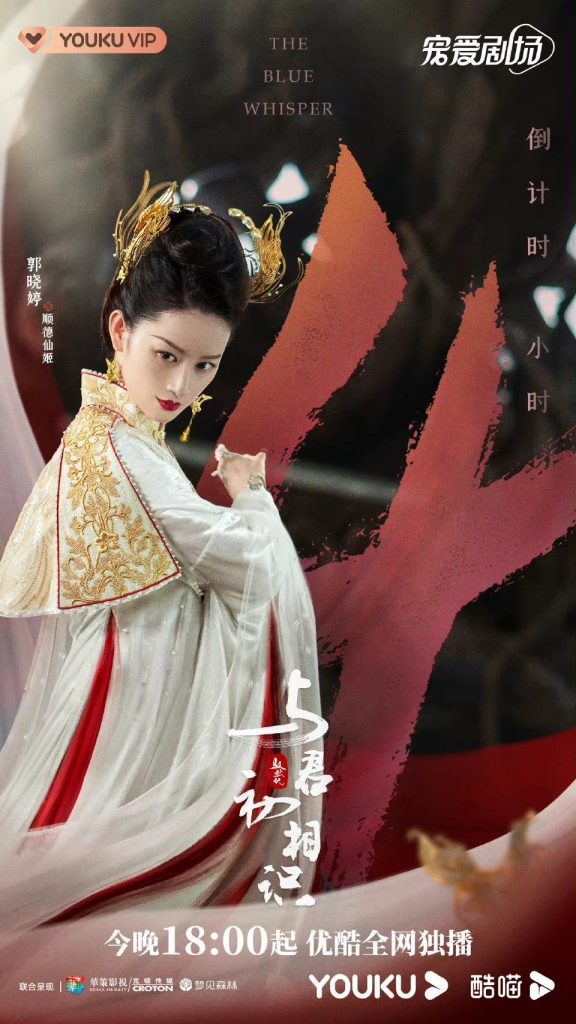 Our second male lead is Xiao Shun Yao, as Lin Haoqing, Yunhe's senior and adopted brother. Their relationship has become awkward because of Lin Canglan interference. They put a disturbing expression in front of each other, but keep a warm protective feeling when away. It's too bad Haoqing only have a very short moment of happiness with Ah Ji in Part II.
They were cute together, more like a father and daughter instead master and disciple. My favorite scene is when Ah Ji put a wreath on Haoqing. As I see it, Shun Yao's acting is better in Part II compared to Part I. More emotions were on display compared to the cold and detached Haoqing in Part I.
There were many characters in this drama. But my heart goes to The Heavenly Emperor, Ru Jun, portrayed by He Yu Xiao. He's the youngest person in this drama, but his wisdom is beyond others. He was a soft-hearted emperor, but later he learns to be more resolute including towards his only sister, Ru Ling, who is also known as the cruel Shunde.
Visually Pleasing
The costumes department is my favorite issue to be discussed. I have a fondness for the historical/fantasy genre's costumes. My favorite are the costumes in Ruyi Royal Love in the Palace and Eternal Love: Ten Miles of Peach Blossom. And guess what, Chen Tong Xun, the costume designer for this drama, also known as the costume designer for Ruyi Royal Love in The Palace 👏.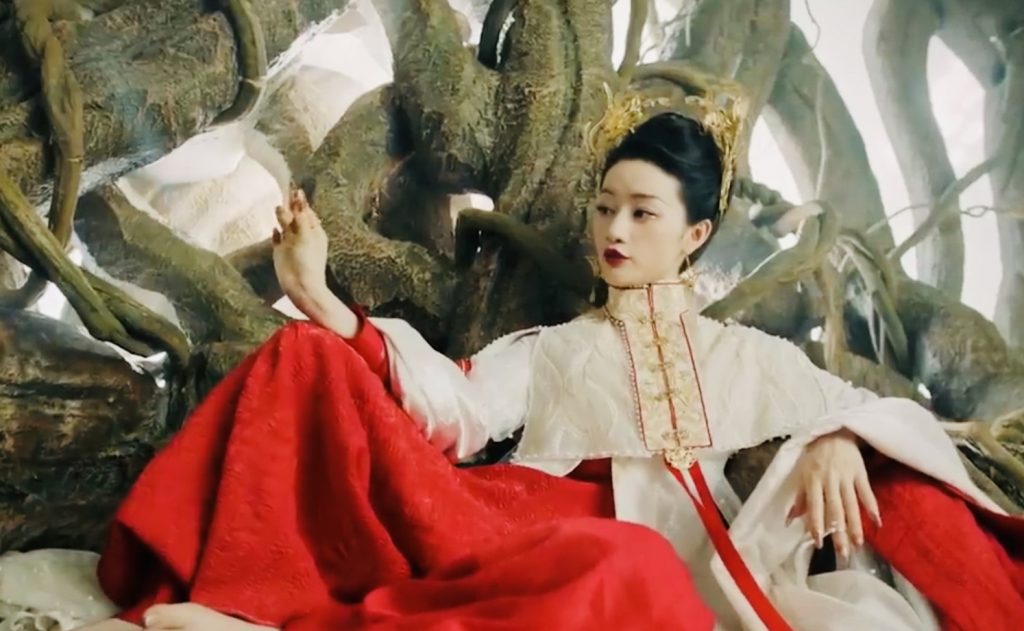 My favorite costume in this Chinese drama is Shunde's. They were beautiful and the colors depicted her character well. But Shunde's black gown for the big war has some resemblance to the Evil Queen of Disney's The Snow White and Seven Dwarfs. Dilireba and Jialun's costumes were simple with strong colors. Suitable for their strong personality. As I see it, I prefer the costumes in Part II better than Part I. Jialun's costumes are dark colored gowns with a sharp cut, and contrasting color for the embroideries. It emphasizes his handsomeness…😍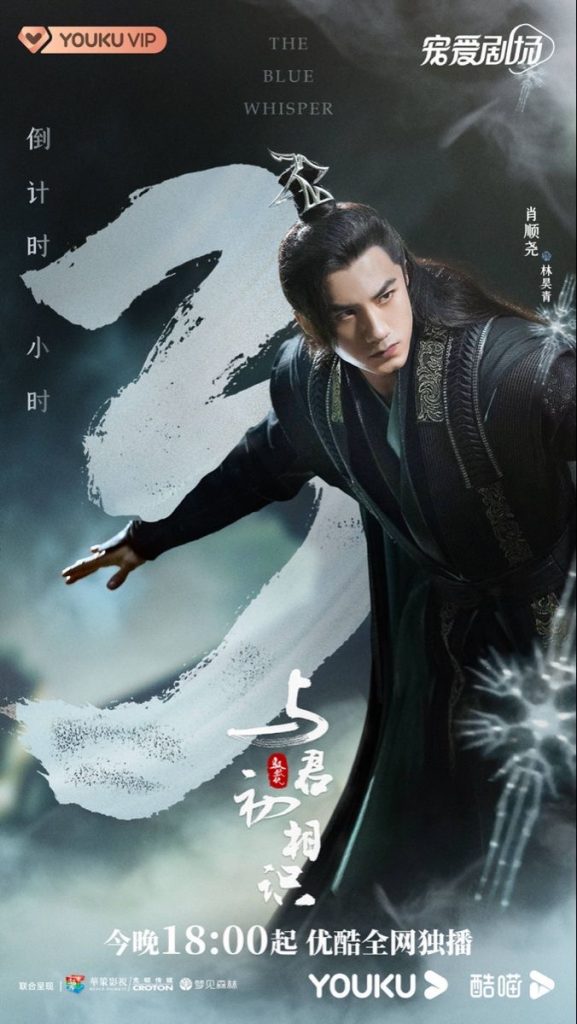 The star of the costume department is the hair ornaments. They made a complicated ornaments for Shunde, a simple one for the spirit masters, and the one for Fox Princess Qingyao is a bit weird, but if you take a closer look, it was pretty. And don't forget the bird's feathery headdress. I love every hair ornament and crown in this drama.
All in all, the whole outfit in The Blue Whisper is superb. They were meticulously styled for every character. Absolutely love it!
Great Sets
There were 3 major sets in The Blue Whisper. The Wanhua Valley, The Immortal Master manor, and The North Abyss. All of them have their distinctive characteristics. The Wanhua Valley is where the spirit masters live side by side with the earth immortals, were made colorful with earthy vibes.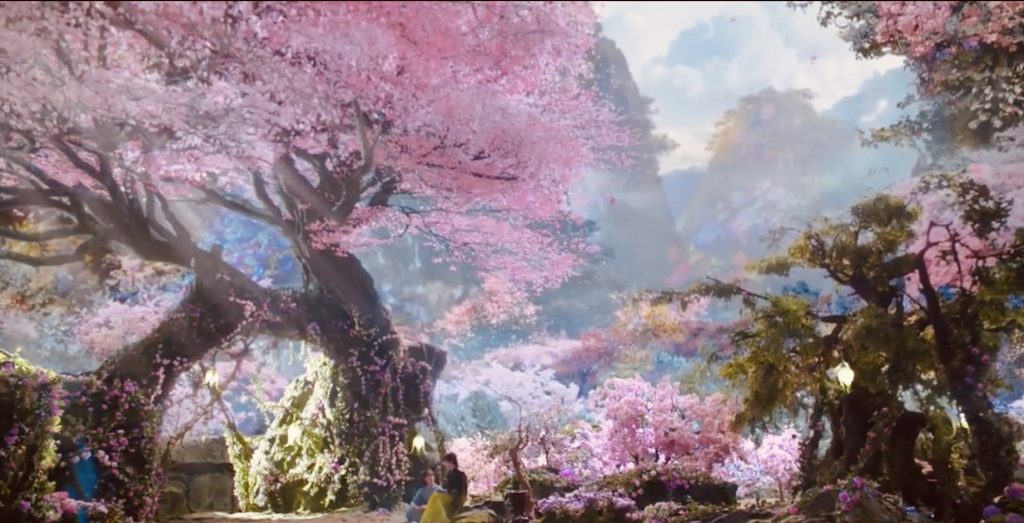 While the immortal Master Manor, where all the bad guys live, was made luxurious but, somehow, is cold and arrogant, and the last one is North Abyss. It was located in the far away north, where winter is the only season and there was snow all over the place. The challenging surroundings were depicted by the cold Linshuang Pavilion and the warm woody houses.
Every set was made in a detail-oriented manner.
The visual effect, on the other hand, is a bit lacking. But there's so many things to be praised instead of that. So after a few episode, you'll forget it completely.
And the fighting scenes choreography is totally awesome. My favourite fighter is Commander Xue Sanyue but the best scene is the Mermaid Tail slap on Shunde in the final war. 😆😆
Be Ready for Twists and Turns
Watching The Blue Whisper is engaging. You'll never guess which one is the biggest villain. First, you'll guess that the villain was Lin Haoqing, because there is always a rivalry between disciples. Second, you'll guess Yunhe's master, Lin Changlan, is the villain because he's the one who controlled her through The Frost Spell. Third, you'll guess it's The Fairy Princess, Shunde, because she was arrogant, narcissistic, and irritating as hell.
Fourth, you'll decide it's Ning Qing, The Immortal Master, because it turns out he's the one who invented The Frost Spell to control everyone, including all the spirit masters of Wanhua Valley. But then it was told that Ning Qing relies on a mysterious evil spirit for his invincible power. So, who is the biggest villain in this drama?
You will have to guess until the last 10 episodes.
And I'm sure you'll be crying ugly when Yunhe has to die in the 32nd episode. Or when Chang Yi was frozen in the 40th episode, just a moment before the major war broke out between Shunde's army and the North Abyss. Will the North people win? Is that the ending for Yunhe and Chang Yi? Well, I give some hint… fret not, this drama has a happy ending. 😁😁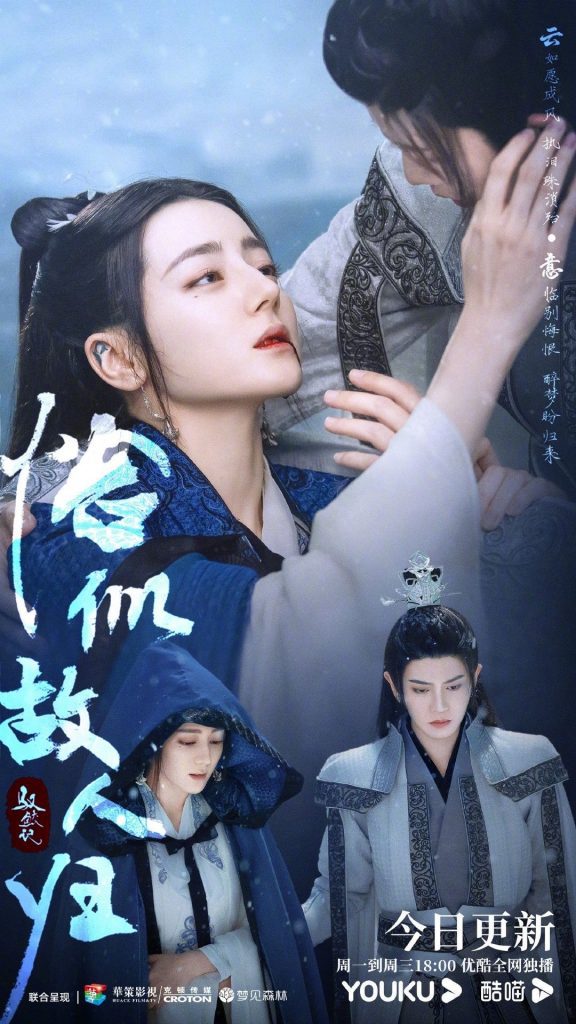 The Conclusion
The last four days have been more than satisfying for me. This Cdrama deserves your full attention because the story itself is intriguing. And to be glued to the sofa and the iPad watching Ren Jialun as a hot merman is beyond my expectations of The Blue Whisper. The story, the characters, the sets, the costumes, all of them were a perfect ensemble to quench my thirst for a good fantasy drama. I enjoyed it very much.
About the detail of this drama ending, you can read it on The Blue Whisper ending explained post, just in case you miss some of it.
Hope this The Blue Whisper drama review helps. I would recommend The Blue Whisper on your watch list. Just sit tight, grab some snacks, and let them take you to the fantasy world.