Title: Side Story of Fox Volant
Also Known As: 飛狐外傳, The Young Flying Fox , Fei Hu
Wai Zhuan
Director: Lian Yi Ming
Screenwriter: Bai Yi Cong
Genres: Wuxia, Historical
Country: China
Episodes: 40
Year: 2022
Original Network: Tencent Video
Adapted from the novel "The Young Flying Fox" (飛狐外傳) by Jin Yong (金庸)
Hello readers, how is your day lately, I hope you are doing just fine. Like ussual I will give you a drama review, today is Side Story of Fox Volant drama review. I hope you enjoy it. Let's start with the synopsis first.
Side Story of Fox Volant Synopsis
Side Story of Fox Volant is Chinese wuxia drama, with 40 episodes in total. The story was about Hu Fei, who was a baby when his parents died. He grew up under the care of his 4th Uncle, Pei Si. He inherited his father's passion and talent for martial arts. As the son of the legendary hero, Hu Yidao, Hu Fei promised to avenge the death of his parents.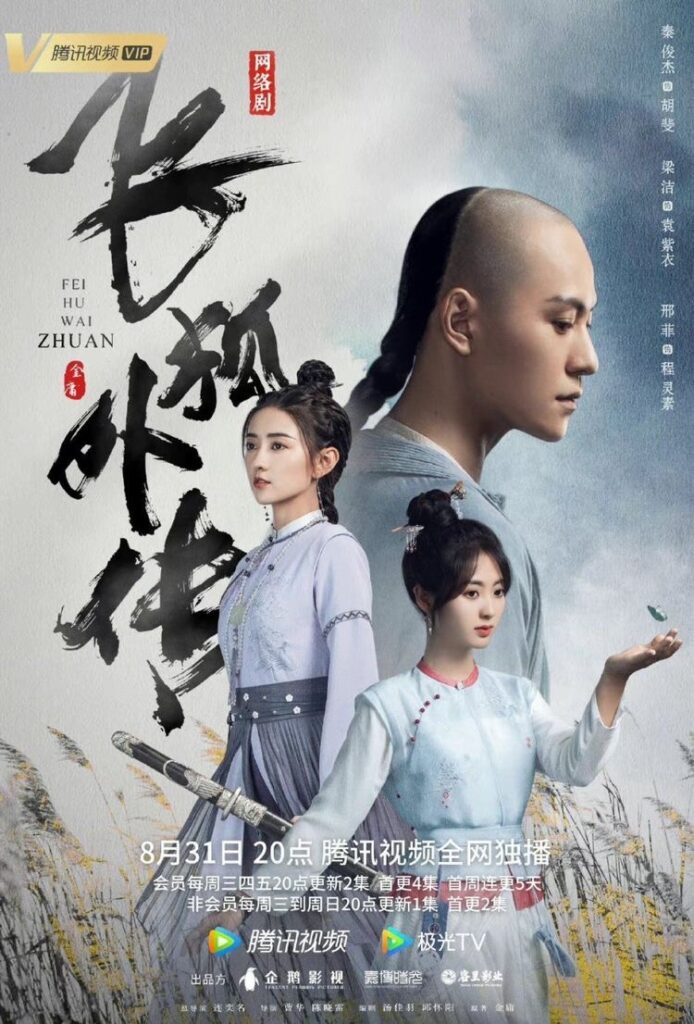 When Hu Fei met Miao Renfeng, he was trapped inside a steel room. Hu Fei could let him die there, but his upright nature was against his will. He helped Miao Renfeng and promised that he would defeat him in a just duel. Several years later, Hu Fei met him again. This time he was ready to avenge his parents. But things were not as they seem. Miao Renfeng might not be the one who killed his parents.
His journey brought hu Fei to meet several people. He falls in love with the mysterious and secretive Yuan Ziyi. However, when Yuan Ziyi left him, he met with the warm and kind Cheng Lingsu, a disciple of the Medicine King.
Will Hu Fei be able to uncover the truth behind the death of his parents and avenged them? And how about his feeling, will he be able to live a good life with the one he loved?
Side Story of Fox Volant Review
If you read my reviews, you would probably know that I am not a big fan of the wuxia genre. I often avoid this genre and choose romance. It is not because I hate this genre… No… Absolutely not! My problem with wuxia drama was: they have too many characters. Well, it's okay if I just watched it for entertainment, but writing a review about wuxia drama is a headache.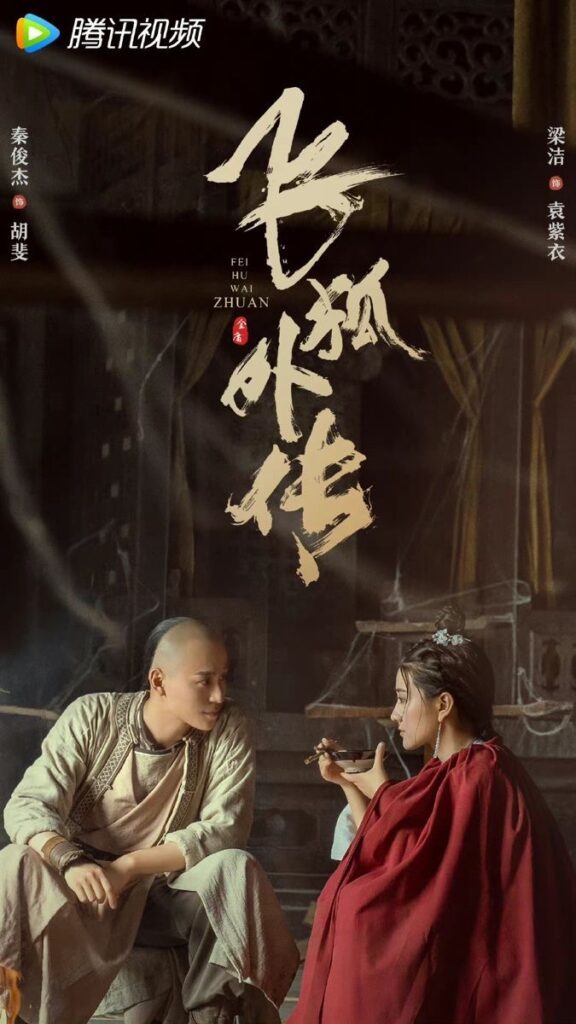 Every time I watched wuxia drama, I had to prepare to keep tabs on the names and the sects. Or else, I would be lost somewhere in the middle of the drama.
That was the reason why Side Story of Fox Volant was not on my watch list. However, I started to get curious because this drama was listed on WeTV Hot list for weeks. And I started to think. Did this drama was good? Should I watch it? Would it be worth my time? Would I remember the story? I took my time to do some research. I Google it…😅
And after I took a glimpse at the cast, I found Xing Fei, Karina Hai, and Huang Mengying's names on the list.
Well, I just watch Xing Fei in Lost Track of Time, and I like her acting in that drama. Karina Hai stunned me in the Rebel Princess, and I definitely hate Huang Mengying's Sujin in Ten Miles of Peach Blossom. Well, those names were enough as a reason to watch this drama. Sooo… I clicked on the drama. And here I am, three days after I watched the first episode. Ready to sing my praises on Side Story of Fox Volant.
The Cinematography
First of all, let me be clear here. I am not a sports person, I did badly in my PE classes. But, I was good at cheering others. And that was exactly what I did in this wuxia drama. I cheered for the martial arts scenes.
Why? Because they were stunning! The choreography was so good that you couldn't take your eyes off the screen. People might say that Hu Yidao and Miao Renfeng's sword dance at the beginning of the drama was the best fighting scene. But in my opinion, Hu Fei's fighting scenes at the World's Sect Leaders Gathering were the best. I really like the way he moves his body and dance all around the arena while he kicks some butt.
The cinematography was great. Especially when they shoot the fighting scenes. Sometimes they use slow motion to catch the expression of the actors or to emphasize the moves. However, I might not be a big fan of the costume department. Especially when we talked about hairstyle. I have never been a fan of half-bald hairstyles anyway.
The Story
Side Story of Fox Volant was adapted from a wuxia classic novel, The Young Flying Fox by Jin Yong. Of course, I haven't read it. But because I like this drama so much, I going to put it on my must-read list. The story was quite fast paced, with a time leap for around 5 years. In the beginning of the drama, Hu Fei was only 13 yeas old. After his 4th Uncle Pei Si died, he wandered alone until he was 18 yeas old. By that time, he met Yuan Ziyi for the first time. After that, it only took several months until Hu Fei entered the gathering.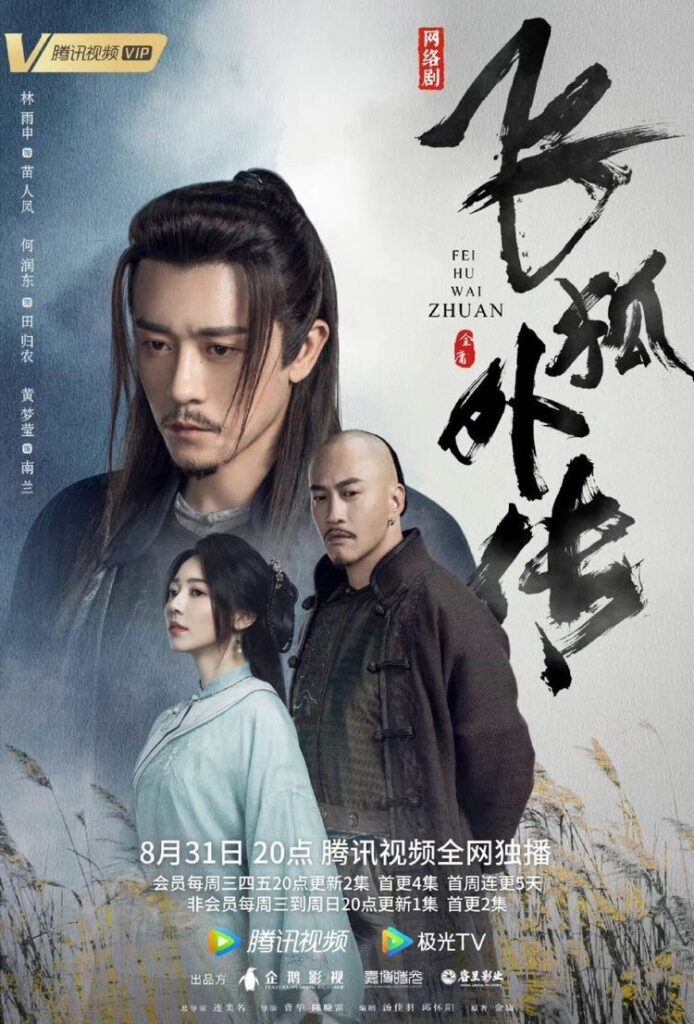 Because the story was fast-paced, there were several character that seemed to be an addition. However, I though that some of them such as Ma Chunhua and Lv Xiaomei, needed more screen time because I like them very much. And probably because the real story was very long and detailed, the screenwriter must made several adjustment so the story could flow and fit in 40 episodes.
As a romance drama fan, I was quite disappointed by the small portion of romance in this drama. However, the romance shaped Hu Fei into a much more mature person. In the end, he was no longer a simple and naïve person. There were three sets of love stories in this drama. The first one was the affair between Ma Chunhua and Fu Kang'an; triangle love between Hu Fei-Yuan Ziyi-Cheng Lingsu; and another triangle love between Miao Renfeng-Nan Lan-Tian Guinong.
The Character
Hu Fei
Qin Jun Jie played the talented Hu Fei. He has an innocent-looking face that fits perfectly for Hu Fei's character. I used to watch him in Listening Snow Tower, it was too bad I did not finish the drama. Therefore I didn't have enough impression of him. However, I like him in this drama. I found his crooked smile adorable…😍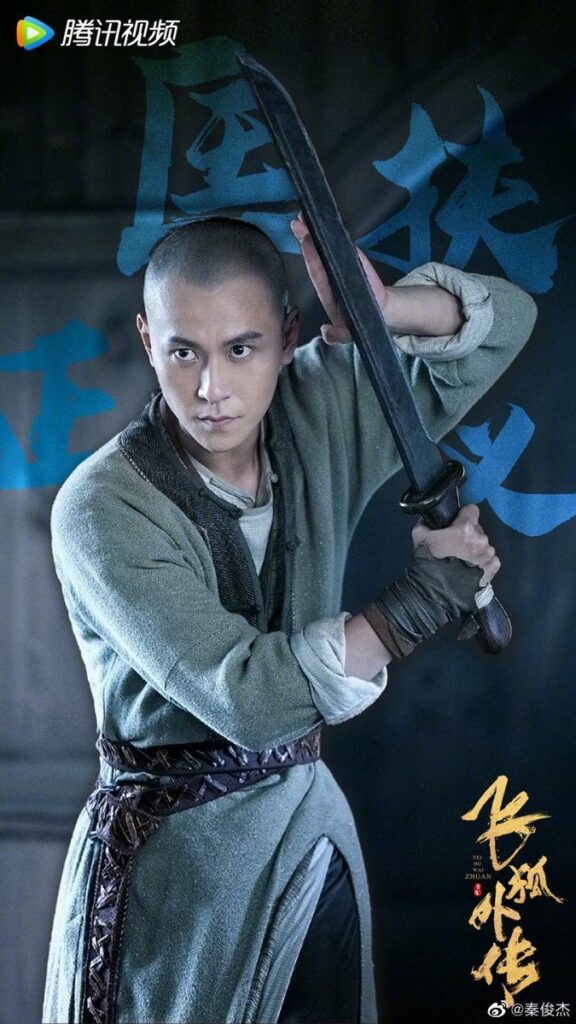 Hu Fei has shown a heroic quality since he was 13 years old. He already shouted that one should stand up for injustice while kicking a bad guy. However, he was still a weakling. Hu Fei might have already be dead if Miao Renfeng did not help him. Hu Fei was impressed by Miao Renfeng's undefeated moves. Back then, he didn't know that Miao Renfeng was involved in his parent's death. His uncle, Peng Si, told him that it was Miao Renfeng who killed them.
Hu Fei had a chance to let Miao Renfeng be killed when he was trapped in a steel room. But the young promising hero wanted to kill Miao Renfeng with his hand, so he helped him out. After that Hu Fei left without revealing his identity. But Hu Fei's presence left a deep impression on Miao Renfeng's mind.
Side Story of Fox Volant might be a drama about Hu Fei seeking revenge. But he was not a person who would do anything to do it. It was the contrary. Hu Fei followed his conscience every time he crossed paths with Miao Renfeng. He helped him at the Shang's fort, and he helped him again when Miao Renfeng was blind. Hu Fei was different from any other character in other dramas, who are blinded by hate.
Hu Fei wandered alone for 5 years. He learn many kinds of martial arts moves and mastered Hu's Sabre manual. As the son of Hu Yidao, the legendary hero, Hu Fei kept his identity hidden. He was born a talented and humble man, and those were traits that only a great hero could have.
Hu Fei was able to learn martial arts only by observing. Before the gathering, Hu Fei shows us his capability.
He took the Huaguan Sect leader position by winning the fights. Hu Fei learns the Huaguan Sect's famous fist technique only by observing the disciples' moves. And because he was a talented expert, he almost won the tournament easily.
However, Hu Fei was not that lucky in love. He missed two women that loved him deeply. He might be an expert in martial arts, but we can call him a newbie when it comes to love. Well, we could understand that because Hu Fei grew up alone, he had nobody to teach him about love. If the situation was different, I hope Hu Fei would stop thinking about Yuan Ziyi and start looking at Cheng Lingsu who was always by his side.
And one thing that came across my mind when I saw Hu Fei. Thank goodness he had a good upbringing naturally installed in him. Otherwise, he could use his innocent look to deceive girls…😆
Yuan Ziyi
When I wrote about Yuan Ziyi, I feel so sad. At first, I wondered why her face in every poster was so cold and detached, I even thought that she was a villain, not the female lead.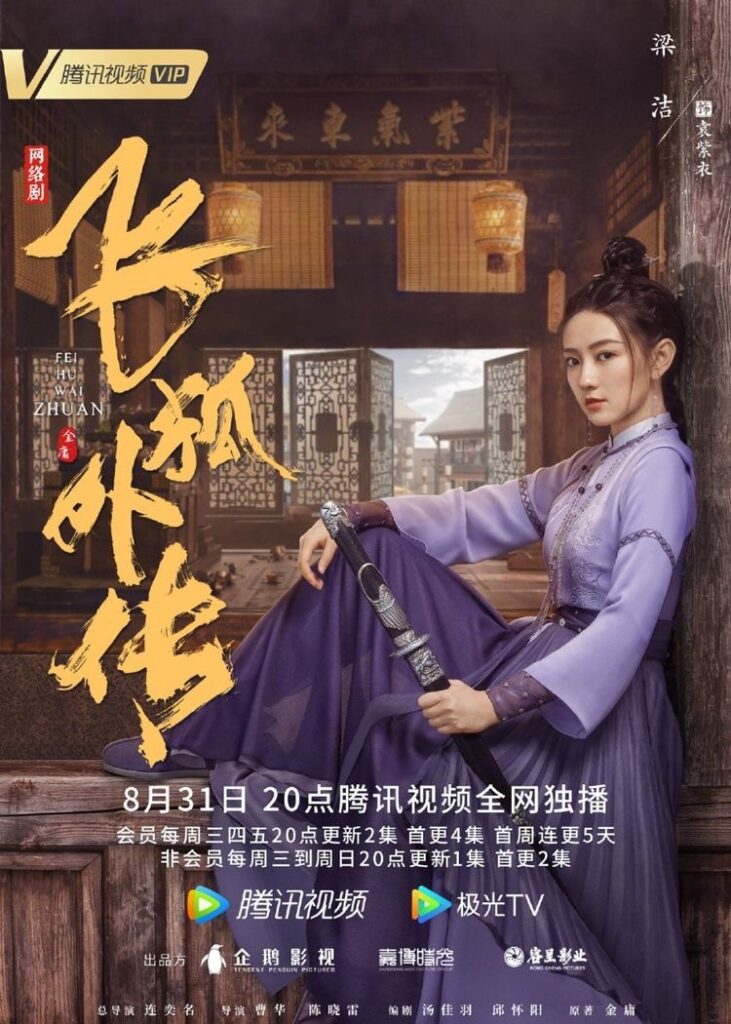 As the disciple of The All-Knowing Nun from the Tianshan Sect, she was an expert in martial arts. Just like Hu Fei, she had a great sense of justice. That was why they could work together to punish Feng Tiannan and his son Feng Yiming in Fushan city. Although she looked cold, her heart was kind. She took good care of Hu Fei when he was injured and even sacrificed a lot for him.
Yuan Ziyi's life was bitter. Her emotional baggage holds her back from love because she felt surrounded by bad karma. Yuan Ziyi was the illegitimate daughter of Feng Tiannan. He molested her mother who was only a servant at Feng's residence. Feng Tiannan's wife kicked her out of the residence and accused her of seducing the master.
After her mother's death, Yuan Ziyi almost sold to a human trafficker, but the All-Knowing Nun helped her and made her a disciple of the Tianshan Sect. However, the emotional baggage was not the only reason why she denied her love for Hu Fei. Yuan Ziyi has a secret mission entrusted by her master.
The secret mission involved many important people and was intended for the greater good. Therefore, she cannot afford to ruin it only for her love affair. But there were times when she give in to her feelings and willingly helped Hu Fei although she knew it was a risky move.
As a woman, Yuan Ziyi longed for the warm love that Hu Fei offered her. She kept her distance from him, acted cold to him, and even said mean words to Hu Fei, but we all could see that that was all pretense. Well, even her master and fellow disciple could see that she had been distracted after she parted ways with Hu Fei.
One thing that made me respect her was Yuan Ziyi had always been determined by her choice. She might have a hard time forgetting her love for Hu Fei, however, she never wavers. She could run away with him and forget everything. But she didn't. Just like Hu Fei, she was born a heroine.
Liang Jie played perfectly as Yuan Ziyi. She had put some personality on her. It really stressed me out to see her character. I could feel the gloomy atmosphere in her scenes. And the end of their tragic love was heartbreaking.
Cheng Lingsu
Xing Fei played the warm and kind Cheng Lingsu, the disciple of the Medicine King. Although her acting was good, I was more impressed by her acting in Lost Track of Time.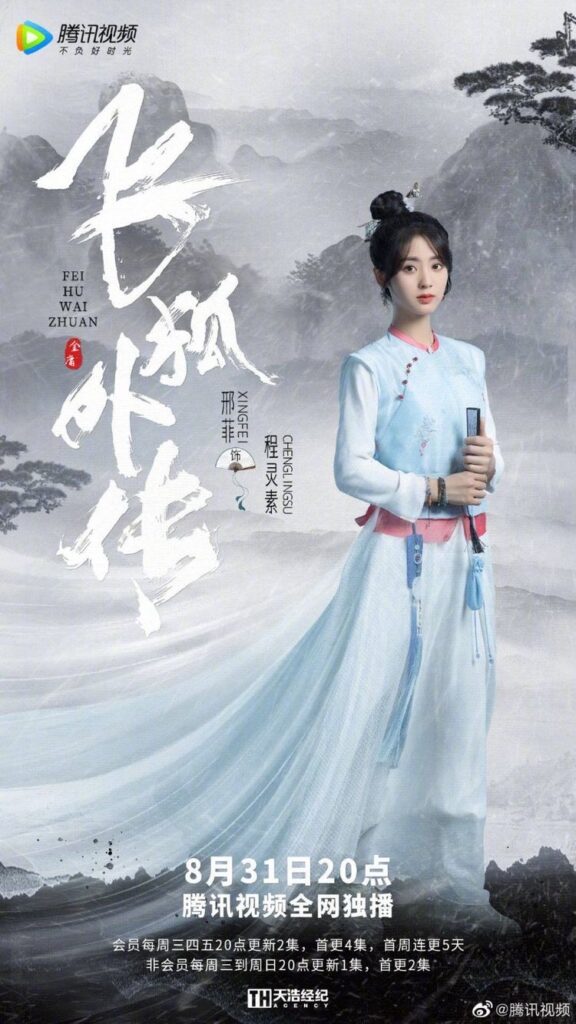 Cheng Lingsu was the second female lead who fall in love deeply with Hu Fei. I'm a bit dissatisfied with her character. Although Cheng Lingsu was smart, a healer with great talent, and also a natural-born strategist. She chooses to risk her life for the sake of Hu Fei, who failed to recognize her love.
She did sooo much for him, but she didn't dare to tell him her feeling. Instead, she agreed to be his sworn sister. I really want to smack her head because of this. In terms of love, she was on the same level as Hu Fei: a newbie…😆
Cheng Lingsu grew up with a weak body. She was poisoned when she was a child and the Medicine King helped restore her health. However, the poison already takes its toll on her body. She might not live a long life if not for the medicine. Her bitter ending was predicted, but still, I cried my eyes out.
Miao Renfeng
Lin Yu Shen's filmography was an impressive list. As a veteran actor, he portrayed Miao Renfeng in perfection. Very impressive indeed.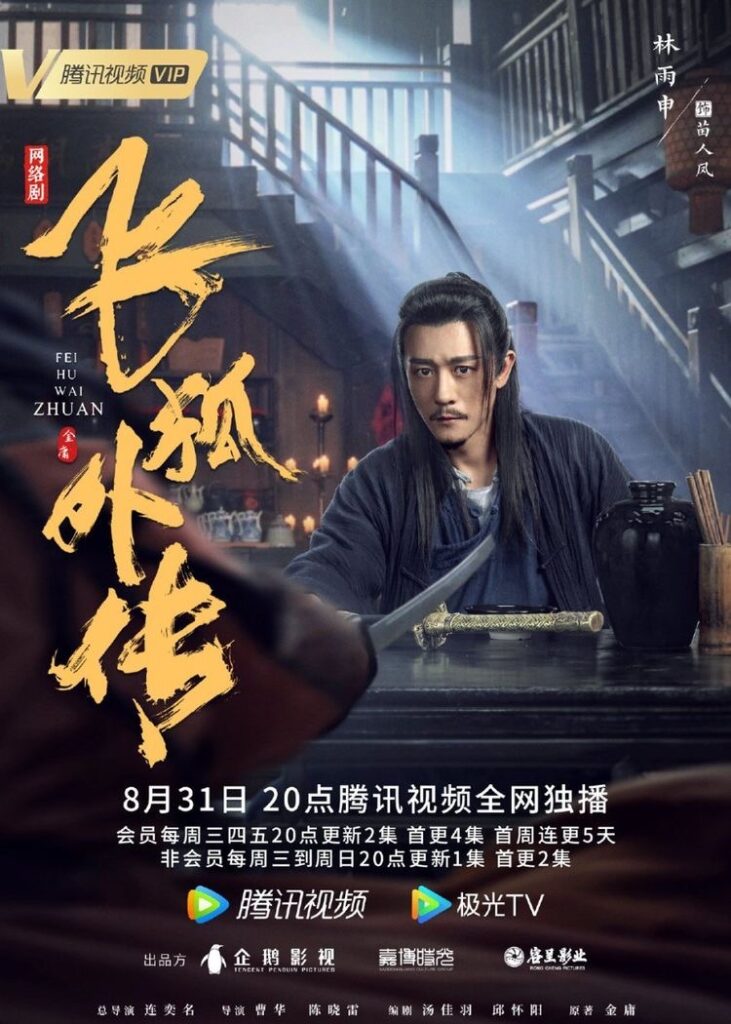 Miao Renfeng was a legendary hero in the martial arts world. Everybody knew his name and his capabilities. The one who did not know his face would recognize the sword and his technique. In short, Miao Renfeng was a celebrity in the martial arts world.
However, many heroes were destined to live lonely life. So did Miao Renfeng. He lost his best friend Hu Yidao because somebody plotted on them. He spent 18 years trying to uncover the truth and the culprit and simultaneously trying to find the missing son of Hu Yidao.
Miao Renfeng married a beautiful wife, Nan Lan (played by Huang Mengying). He saved her when her father was killed. Nan Lan helped Miao Renfeng suck the poison in his leg. Her action reminded him of Hu Yidao's wife who also sucked the poison in her husband's wound that led to their death.
Miao Renfeng was touched by Nan Lan's help. He proposed to her, and Nan Lan who just lost her kin accepted the proposal. They lived a simple life for several years and were blessed with a cute baby daughter, Miao Ruolan.
But the happiness did not last for long. Miao Renfeng went to look for a clue about Hu Yidao's poison and entrusted his wife and child to Tian Guinong, his friend who was also the leader of the Tianlong Sect.
Miao Renfeng went for a long time and it gave Tian Guinong a chance to approach his wife. Nan Lan was born into a wealthy family. She used to live a stable life and showered with love from her family. When Miao Renfeng left, their communication was cut. She met with uncertainty situation and kept worrying about her husband and her life.
Therefore, when Tian Guinong came with his sweet talk and pampered her, Nan Lan's heart was swayed. When Miao Renfeng return from his mission, Nan Lan was already with Tian Guinong. Miao Renfeng was able to let go of his wife. However, he could not let go of her daughter. He took her from Nan Lan and raised her by himself.
A hero's life was never smooth. They are always met with hardship, whether they like it or not. Miao Renfeng's life was an example. And I hope Hu Fei's life was better than his.
The Ending, beware of spoiler!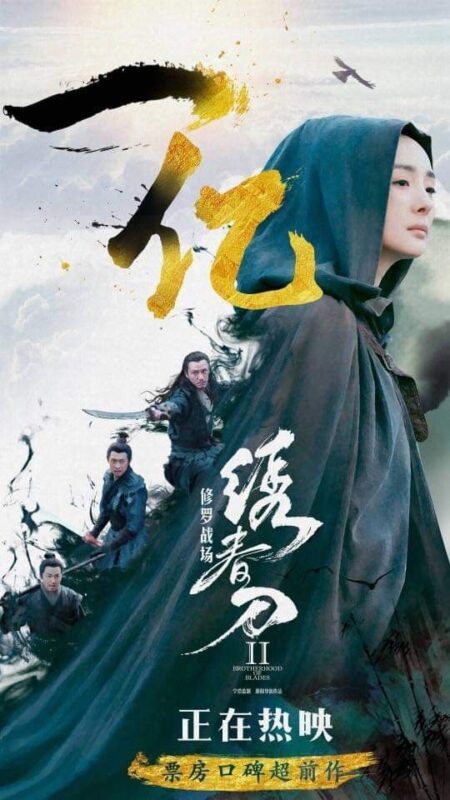 Tian Guinong used Miao Ruolan and the Cold Moon Sword as bait to capture Miao Renfeng. He chained the Golden-Faced Buddha in a secret room and tortured him. Tian Guinong confessed that he was the one behind the murder of Hu Yidao and Miao Renfeng's blindness.
He smeared Hu Yidao's sword with poison from Shi Wanchen, but he never thought that they would exchange swords, and the one who died was Hu Yidao. Tian Guinong also uses the poison from Shi Wanchen to make Miao Renfeng blind. He intended to do that because he knew that he could not defeat Miao Renfeng if his eyes were perfect.
The vile Tian Guinong also purposely approached Nan Lan because he thought that Miao Renfeng was not worthy to have a such beautiful wife. And when he looked at Nan Lan, her beauty would remind her that he had beaten Miao Renfeng.
Unbeknownst to them, Nan Lan listened to all the conversation behind the door. She was heartbroken that the man she loved was a villain. Well, she should have guessed that when Tian Guinong dug Hu Yidao's grave to take the Cold Moon Sword. Only a bad guy did those kinds of things. When Tian Guinong went to the capital, she used the opportunity to free Miao Renfeng and run away with her baby.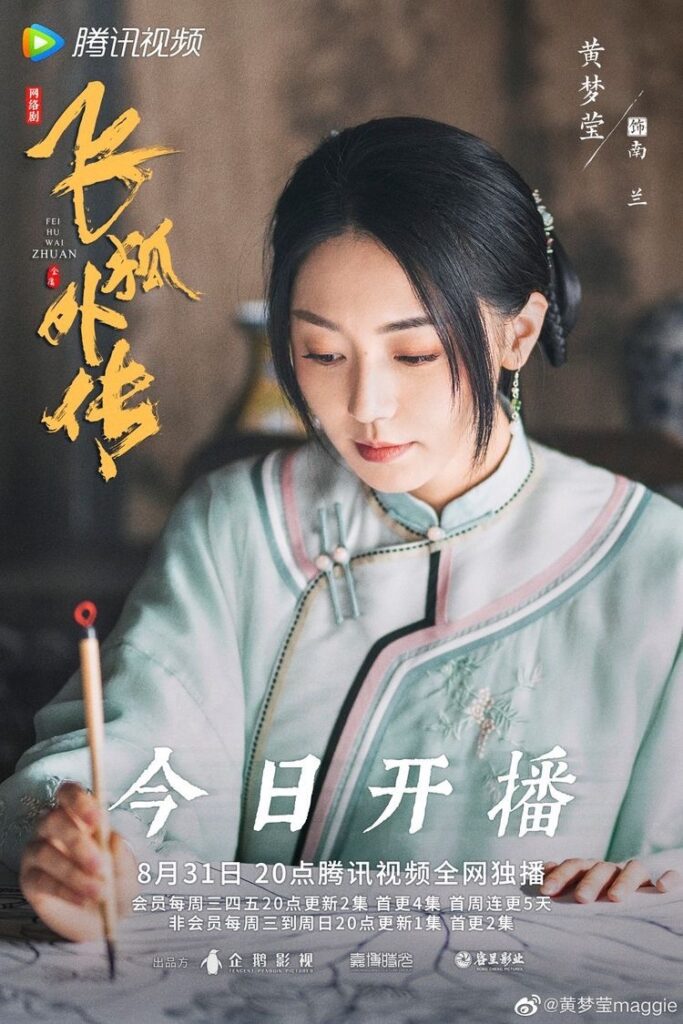 Meanwhile, Hu Fei used the position of Huaguang Sect leader to attend The World's Sects Leader Gathering. He knew that this gathering was only a cover to destroy the martial art world. However, he promised Ji Xiaofeng that he would bring honor to Huaquan Sect as his gratitude and also wanted to help Cheng Lingsu kill Shi Wanchen, the vile Poison King.
Hu Fei managed to destroy the Hailan Bi's fights arrangement and win several consecutive fights. With his great capabilities and Cheng Lingsu's strategy, the first round was like a walk in the park. Hu Fei had to win the first round to enter the second round. Because the real fight would happen in the second round where all the strongest leaders of the martial arts world would fight. And he was sure that Shi Wanchen would be there.
In the next round, Hu Fei was surprised to see Yuan Ziyi had become a nun. She fought him and managed to show Hu Fei what has arranged by Fu Kang'an and Hailan Bi outside the building: A Firearm Brigade that was ready to launch an attack. But that was not the only surprise for Hu Fei.
He found out that the culprit behind his parent's death was Tian Guinong, the Tianlong sect leader and Miao Renfeng's childhood friend, who also colluded with Shi Wanchen. Tian Guinong managed to get the upper hand because the Cold Moon Sword could easily cut Hu Fei's sword. Tian Guinong later was killed by Miao Renfeng who suddenly appeared and managed to save Hu Fei in time.
When Tian Guinong died, Fu Kang'an ordered the Firearm brigade to arrest all the martial art experts. The All-Knowing Nun use Fu Kang'an as a hostage to stop them. However, Fu Kang'an refused to yield. Then everything became chaos. The martial experts were nothing compared to bullets. Many of them died on spot. Miao Renfeng sacrificed himself in front of the firearm brigade to help them get out of the building.
Using Fu Kang'an as a shield, Hu Fei and his group managed to get into the city gate. However, they couldn't make it if Ma Chunhua didn't sacrifice herself to shield the carriage. Ma Chunhua died that night. Her condition was never good since the poisoning and now the wound was too severe. Cheng Lingsu only could prolong her life for 15 minutes. She uses her last moments to be with Fu Kang'an. The one that she really loved.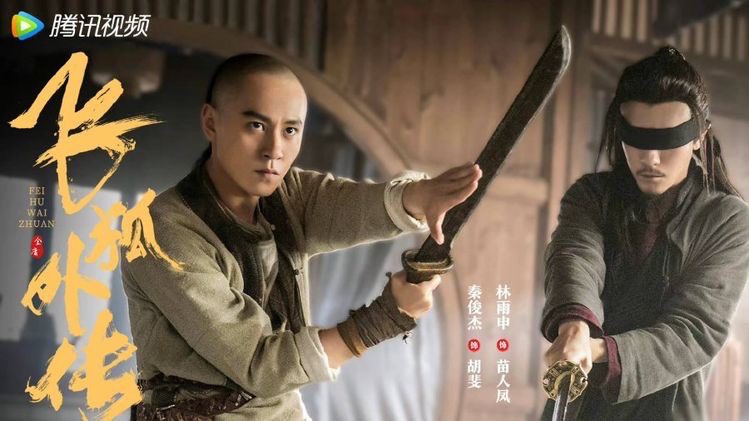 The Emperor finally yield in. He issued a decree to maintain a peaceful life between the imperial court and the martial arts world. It was also a settlement of the dispute with The Red Flower Society. Fu Kang'an was released and he took the imperial troop back to the capital.
The group separated ways in the suburbs. Yuan Ziyi returns to Tianshan Sect. She brought Ma Chunhua's sons and Lv Xiaomei with her. While Hu Fei followed Cheng Lingsu to the Medicine King Valley. They lived a good life for some time there until Shi Wanchen and his disciples came.
Cheng Lingsu and Hu Fei had a tough fight with them. Hu Fei was poisoned, but when he saw Cheng Lingsu was in danger, he fought hard to save her and got poisoned again by Shi Wanchen. But Hu Fei managed to kill his disciples and slit Shi Wanchen's eyes.
The poison was incurable. Hu Fei thought that he was going to die. However, it was the way around. Cheng Lingsu fed him a paralysis medicine so she could suck the poison out of his bloodstream.
It was the only way to save Hu Fei, but it would cost Cheng Lingsu her life. However, Cheng Lingsu mentioned that her life was not going to be long anyway and she also told Hu Fei about her feelings. The paralyzed Hu Fei could not do or say anything. He cried and cried when Cheng Lingsu put her head on his chest and died there.
Several years later, the bearded Hu Fei came to the cave where his parents, Miao Renfeng, and Cheng Lingsu were buried. He was not alone because Nan Lan and Miao Ruolan were also there to pay respect to the deceased. Hu Fei told Cheng Lingsu that he already killed Shi Wanchen as an act of revenge for her. Hu Fei still regretted the death of Cheng Lingsu.
The story closed with Hu Fei telling Miao Ruolan the tragic love story of Epyphillum and Veda. Epyphillum was a flower goddes who fall in love with an ordinary man. Although Epyphillum was punished by the Jade Emperor, she could never forget the man she loves so much.
The Conclusion
Side Story of The Fox Volant leaves me wanting more. It was quite a rare occasion since I was not a big fan of wuxia drama. Maybe that's why I wrote this drama review with so many words and sentences.
But the story seemed not over yet. I really wanted to know what will happen next to Hu Fei. Will everything between him and Yuan Ziyi end just like that or there would be a more exciting story for them? I really wished for a second season of this drama…😫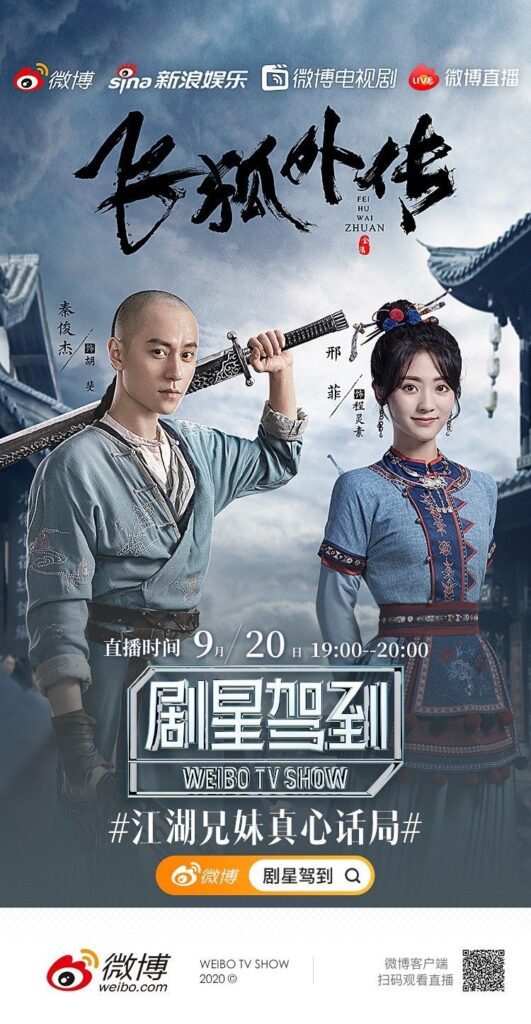 If you were a wuxia lover, you might want to watch this drama, simply because it was adapted from Jin Yong's novel. His name was already a guarantee for an exciting story. Well, at least my husband said so…😆
So, you might want to clear your weekend schedule for this one. Don't forget to tell your spouse that you might not be able to walk the dogs, feed the cats, or even visit your in-laws…😁.
Hope you like this Side Story of Fox Voland drama review. Happy watching!