Title: Unchained Love
Also Known As: 浮图缘, Floating on the Edge, Forbidden Love
Director: Wu Qiang
Casts: Dylan Wang, Chen Yu Qi, Peter Ho, Zheng Li
Screenwriter: Li Jing Ling
Genres: Romance, Comedy, Historical
Country: China
Episodes: 36
Original Network: iQiyi
Where to Watch: iQiyi, WeTV
Adapted from the web novel: Fu Tu Yuan by You Si Jie
List of Recap:
Hello dear readers, here is another Unchained Love episode recap just for you. Xiao Duo finally understood his feelings toward Bu Yin Lou. And guess what, Bu Yin Lou also had guessed that he liked her, but how she reacted to his feelings was hilarious. Well, without further ado. Let's start! Happy reading!
But first, let's meet new character!
New Characters Appearance
Meng Jieyu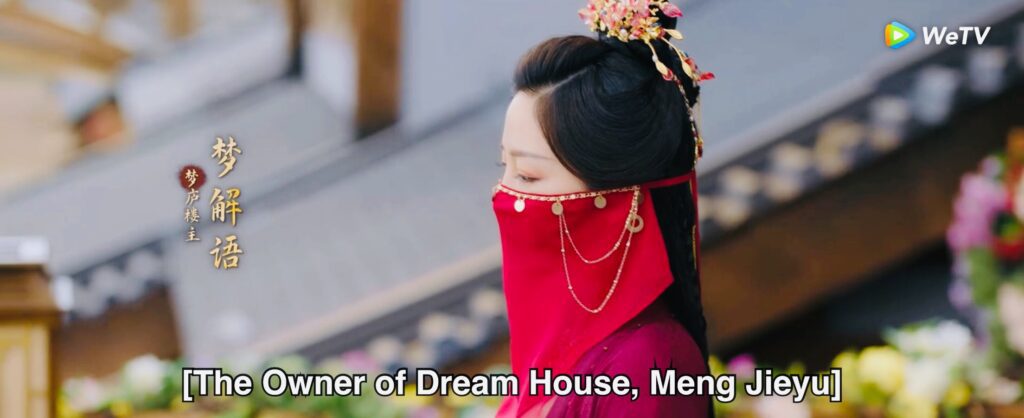 Meng Jieyu was the owner of Dream House, a brothel in the capital. She was beautiful and famous for her drum dance. However, behind her beautiful façade, she had a sad story about her love life.
Episode Recap
Episode 11

Tong Yun eavesdropped on the conversation between Sun Tai Qing and Xiao Duo. She hurriedly inform her mistress about Xiao Duo's intention to take her to Dream House because he wanted Bu Yin Lou to learn how to please a man from the owner of the brothel, Meng Jieyu.
Bu Yin Lou was angry with Xiao Duo because his words could not be trusted because sooner or later, he would send her to the palace. She told him that she would go to the brothel the next day. Xiao Duo's anger was ignited by her outburst and told her that if she wanted to go to the brothel herself, he would not stop her. Yet, when Bu Yin Lou tripped, he instinctively reached out to help her.
The next day, Xiao Duo was restless. He anxiously waited in his study room and hoped that Bu Yin Lou would come to visit him. He waited and waited until Cao Chun'ang came and told him that Bu Yin Lou had already left early in the morning. He was angry and sullenly told Cao Chun'ang to just leave her alone. But in a split second, he yelled to Cao Chun'ang and told him to go and have a look on Bu Yin Lou…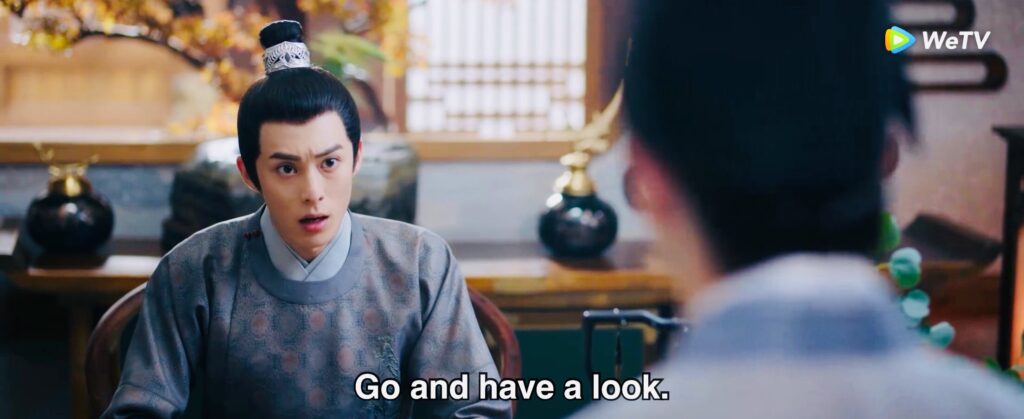 What a tsundere…🤣
Bu Yin Lou went to the Dream House and watched Meng Jieyu dance on the balcony. After she finished the dance, men would throw flowers for her. When a flower attracted her attention, the person who threw it would have a chance to meet Meng Jieyu personally. The witty Bu Yin Lou immediately understood Meng Jieyu's intention with the strange rule. She took a bald branch and threw it onto the balcony. Who would have known that her branch attracted Meng Jieyu's attention?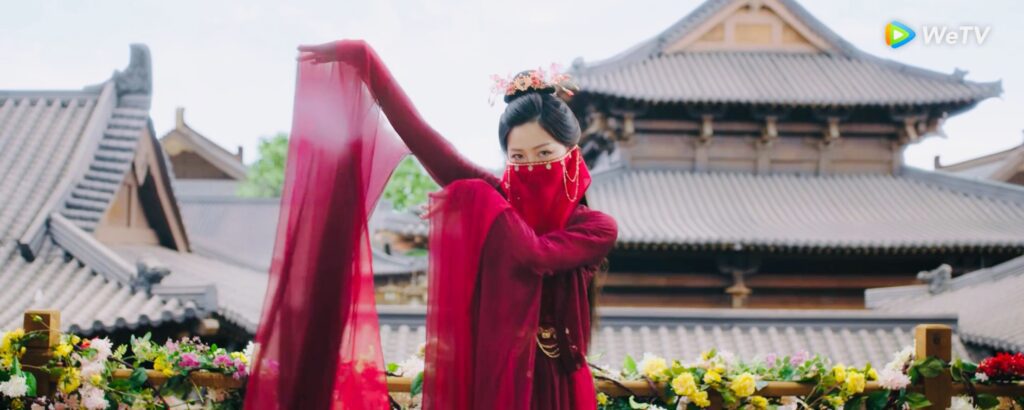 Bu Yin Lou entered the brothel and was amazed by Meng Jieyu's beauty. She explained that her family wanted to marry her off. Hence, she came to learn how to do drum dance and how to please a man. Meng Jieyu refused because she thought that the job was not interesting. Bu Yin Lou refused to relent and asked for a test from Meng Jieyu.
Yet, after the test, Meng Jieyu agreed to accept Bu Yin Lou as her disciple. According to Meng Jieyu, Bu Yin Lou lacked talent and did not have any sexy charm at all. Hence, she was a challenge of a life time for Meng Jieyu because she proclaimed that she never failed at teaching a girl. Since that day Bu Yin Lou had to stay at the brothel and could only leave the place when she graduated.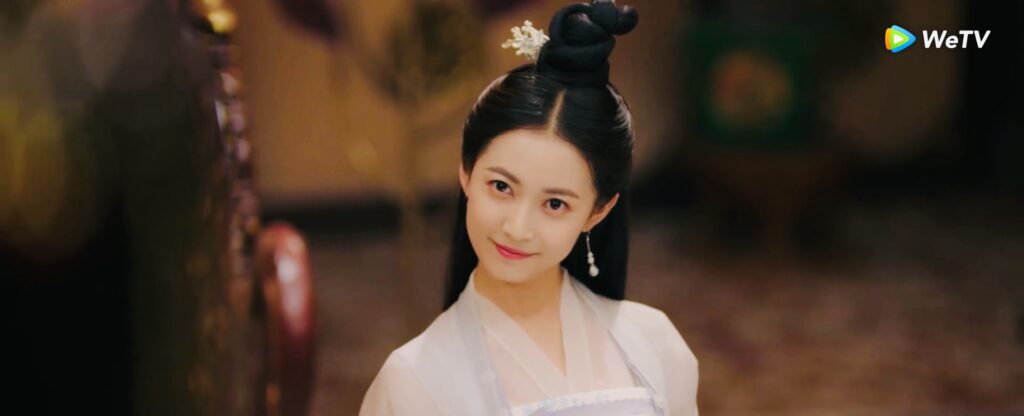 Cao Chun'ang who spied on Bu Yin Lou hurriedly reported the situation to the sullen Xiao Duo. This cold master ordered him to keep an eye on Bu Yin Lou. He wanted to know how long Consort Dowager Duan would mess around at the brothel.
Meng Jieyu taught her to dance a song titled Love Choice. The dance was sexy but not vulgar. It could confuse the audience and and make them hard to cover their feelings. Bu Yin Lou tried hard to learn the dance but with her untalented nature, she failed again and again. The difference between her dance and Meng Jieyu's dance was as vast as heaven and earth. Even Cao Chun'ang said in his report that Bu Yin Lou's dance was unbearable. Xiao Duo was angry because Bu Yin Lou learnt how to dance to seduce men. With an angry face, he decided that The Zhaoding Bureau would gather manpower and ban prostitution.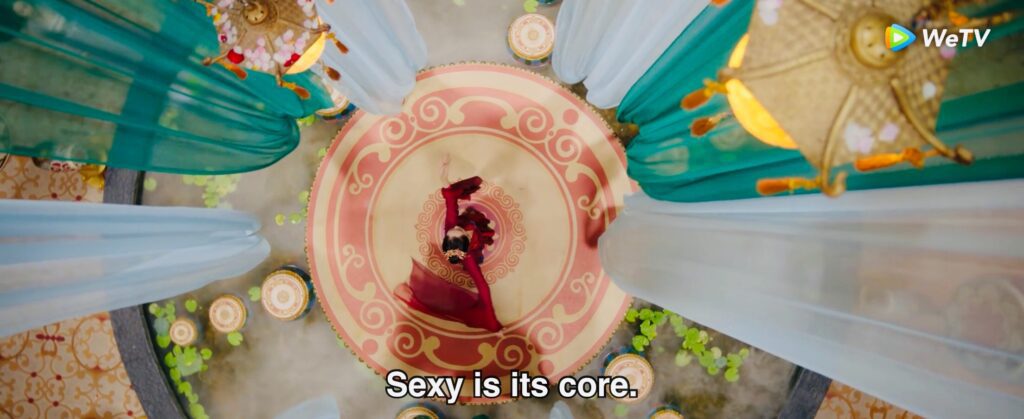 Tong Yun advised her mistress to ask for Xiao Duo's forgiveness. She could not bear to see Bu Yin Lou strive hard to master the dance. Bu Yin Lou explained that she was not angry anymore. But now she realized that she could not rely on Xiao Duo and be his burden anymore. When the pair mistress and maid chatted, Meng Jieyu entered and hid behind her.
She was running away from a pervert who wanted to learn art from her. When Bu Yin Lou saw his face, she was shocked because the pervert was Yuwen Liang Xu. Meng Jieyu told her that Yuwen Liang Xu's love interest ignored him and now he begged her to teach him how to seduce a woman.
Bu Yin Lou was suspicious of Yuwen Liang Xu's intentions. She felt that he pretended to be stupid all this time. Yuwen Liang Xu had come to Xiao's residence and confessed his love to Murong Wan Wan publicly. And now he lowered himself to live in a brothel. It was too suspicious for Bu Yin Lou. To probe his true intention, Bu Yin Lou pretended to hate Xiao Duo. Because Yuwen Liang Xu regarded her as a junior, and in return, Bu Yin Lou also called her a senior.
Yuwen Liang Xu learned how to arrange a flower bouquet because he wanted to give it as an apology gift to his Wan Wan (Princess Hede's nick name). His flower arrangement was very ugly that Meng Jieyu said that his bouquet would not move anybody's heart. Bu Yin Lou told Yuwen Liang Xu that his flower arrangement was quite good and that he should give it to Princess Hede. Yuwen Liang Xu ran as fast as he could to find Wan Wan.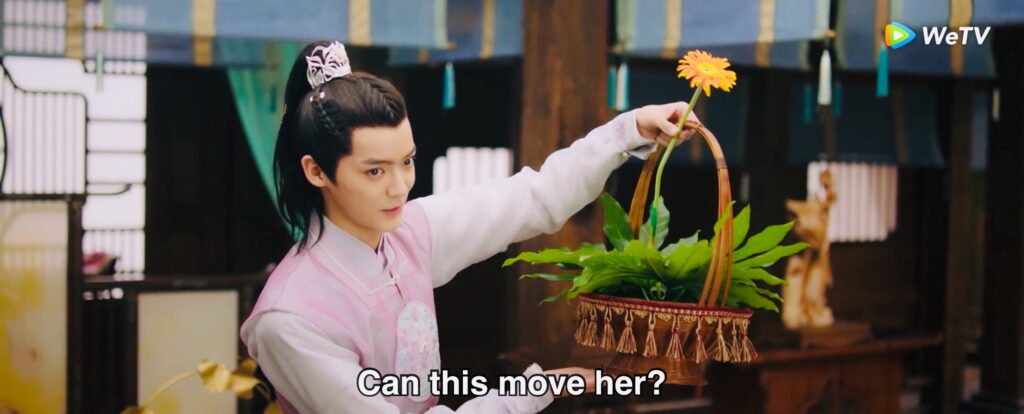 Bu Yin Lou thought that Yuwen Liang Xu approached Princess Hede with ulterior motives and she intended to find out the truth. While Tong Yun also made her own conclusion, which was Yuwen Liang Xu was not interested in Princess Hede, instead, he was attracted to Xiao Duo. Bu Yin Lou frowned when she heard her maid's words. But decided not to comment on it..😂
Xiao Duo found out that Yuwen Liang Xu had moved into the Dream House. However, Yuwen Liang Xu paid no attention to Xiao Duo's guard there. Xiao Duo only ordered his guard to keep a close eye on him just in case Yuwen Liang Xu bothered Bu Yin Lou. Yet, Cao Chun'ang told him that the reality was different. It was Bu Yin Lou who bothered Yuwen Liang Xu.
The young prince went to Bu Yin Lou to protest. He had done everything she told him, and as the result, Princess Hede punched him right in the eye. Yet, Bu Yin Lou said that the punch was a good sign since Princess Hede no longer ignored Yuwen Liang Xu. Therefore, he has to keep up with the good work. Bu Yin Lou told him to be himself and follow the princess wherever she go. Bu Yin Lou did not realize that she just made chaos in Princess Hede and Yuwen Liang Xu's lives…😂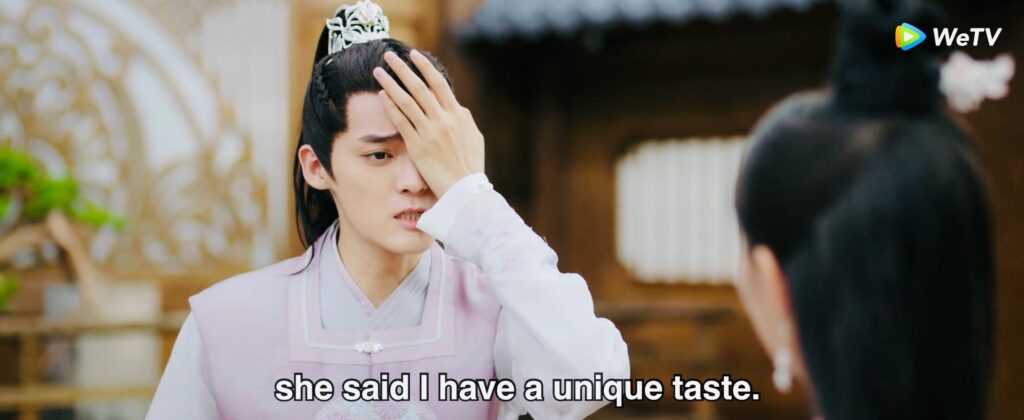 Princess Hede was annoyed by Yuwen Liang Xu's presence and Princess Hede's anticipation made Yuwen Liang Xu's life miserable. Even Tong Yun thought that the prince was pretty dumb.
Cao Chun'ang reported that Bu Yin Lou had been working hard in her dance practices and then following Yuwen Liang Xu everywhere he went.
Bu Yin Lou finally stopped beating around the bush and asked Yuwen Liang Xu what was his intention towards Princess Hede. And why he kept chasing her although his brother was in a dispute with Princess Hede's brother. Yuwen Liang Xu admitted that he really had nothing else to do but chase after Princess Hede. Bu Yin Lou started to pity him. She also gave him an idea to gain Princess Hede's attention.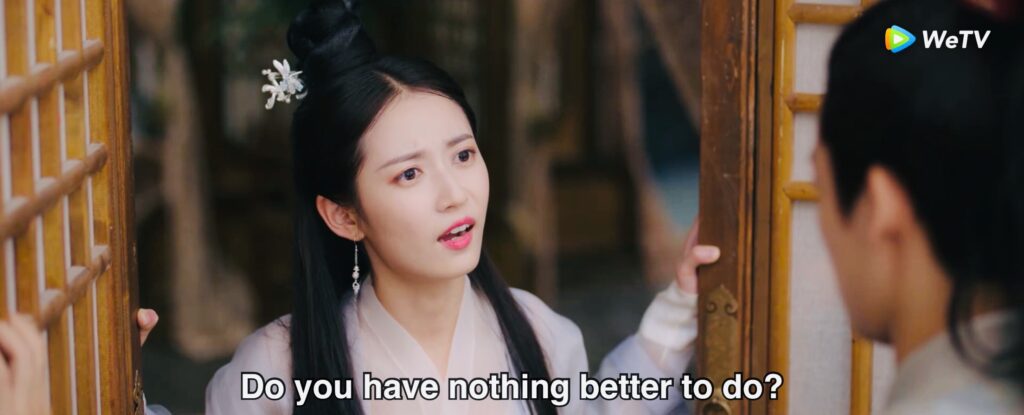 When Princess Hede went to pick plum blossom flowers, Yuwen Liang Xu was already there and picked so many plum blossom flowers for her. When Princess Hede saw him, she helplessly asked what Yuwen Liang Xu wanted from her. He said that he only wanted her to accept those flowers as an apology. Princess Hede was a little bit touched by his sincerity. Especially since she saw the bruises on his face. Yuwen Liang Xu gave the flowers to her before he left hurriedly to avoid embarrassment.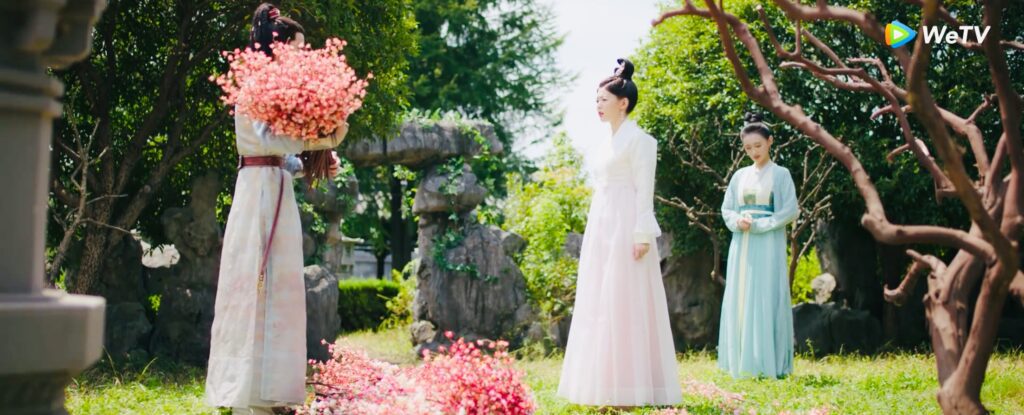 Because of Bu Yin Lou's silly advice, Yuwen Liang Xu succeeded in his mission. And at the same time, Bu Yin Lou was also able to master the drum dance. Meng Jieyu smiled and accepted Yuwen Liang Xu as her disciple. She was willing to teach him a trick. Meng Jieyu said that after he annoyed Princess Hede all the time, he was not allowed to go and see her.
This trick would make Princess Hede think about him. Bu Yin Lou who heard the advice was stunned. She had a thought on her mind. Meng Jieyu said that love started from overthinking. She also warned Bu Yin Lou to be careful, lest she would suffer the same fate. Meng Jieyu told Bu Yin Lou to dance on the flower window the next day because she was busy with an official who wanted to shut down her business.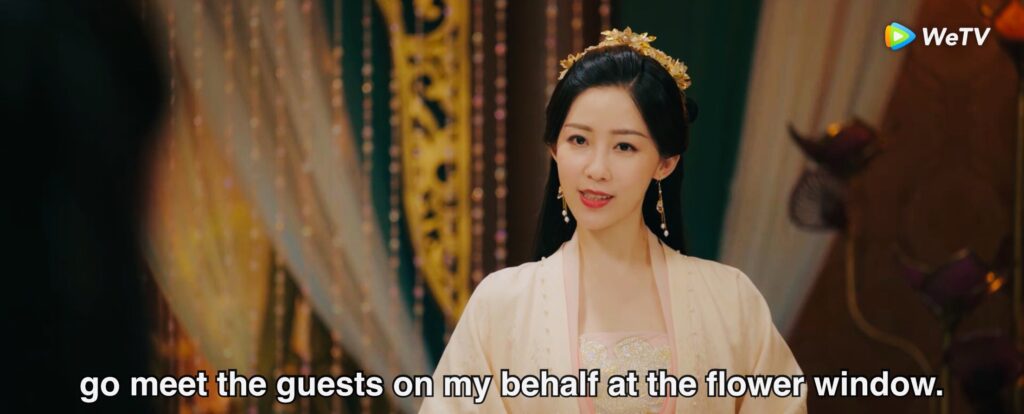 Meanwhile, Cao Chun'ang conveyed a message to Xiao Duo from Bu Yin Lou. She said that he did not have to worry about Yuwen Liang Xu because he would not hinder Xiao Duo's great plan. Her intention to find out the truth touched Xiao Duo's heart. He ordered Cao Chun'ang to tell her that she should go back to the residence as soon as possible.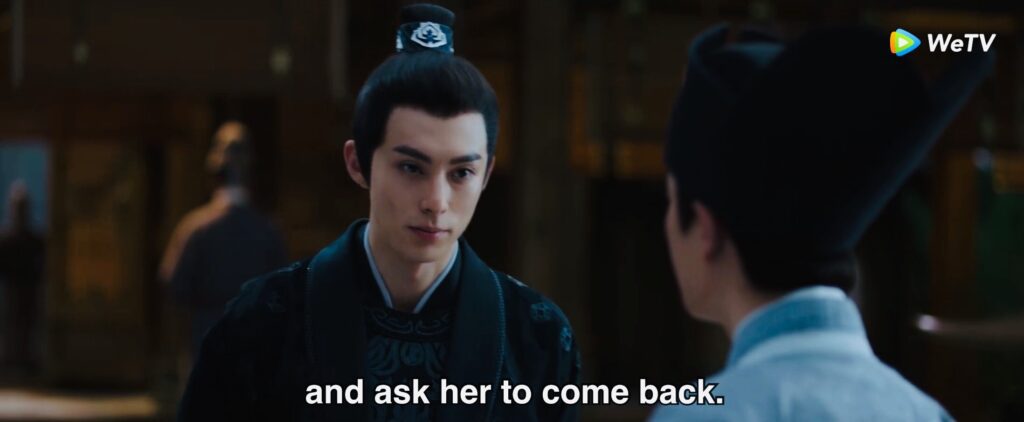 Cao Chun'ang bought so many flowers because he pitied the children who sell them. Tong Yun saw it and thought that he wanted to go to the brothel. They joined many men who wanted to see the balcony dance. Nobody realized that the one who danced was Bu Yin Lou.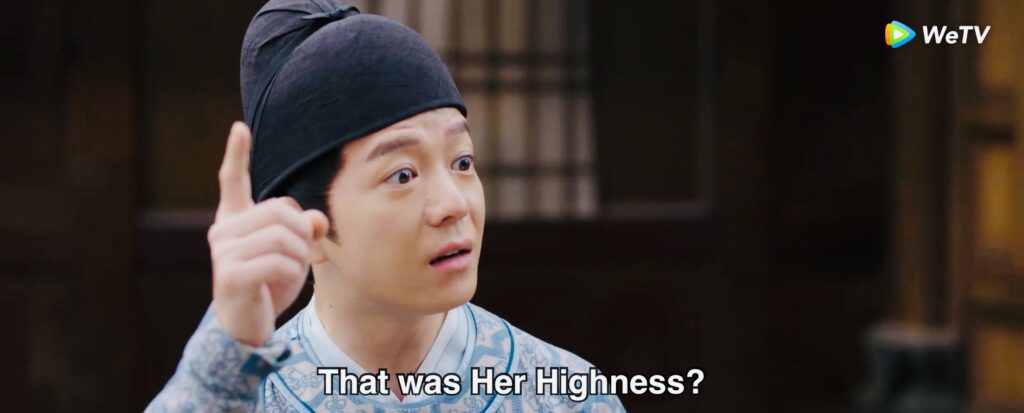 When it was time to throw the flowers, Cao Chun'ang gave his flowers to Tong Yun who revealed that the one who danced was Bu Yin Lou. Cao Chun'ang was shocked when he learned the truth.
Episode 12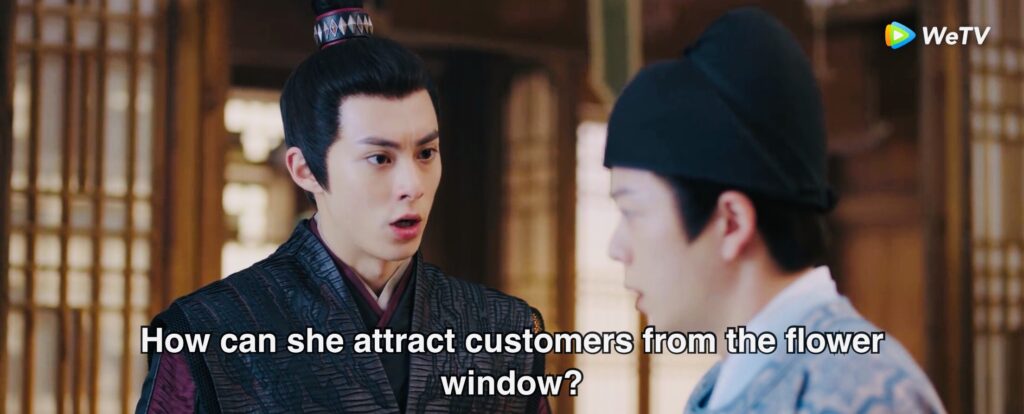 Xiao Duo's anger ignited again when he heard that Bu Yin Lou had danced at the flower windows and attracted many men. Although Cao Chun'ang explained that she wore a veil to cover her face, Xiao Duo was still angry because he thought Bu Yin Lou would dress in revealing clothes.
Cao Chun'ang calmed him down. He said that if the Emperor favored Bu Yin Lou, Xiao Duo would have a person inside the harem to help him. Yet, Cao Chun'ang refused to return to the brothel anymore because of Tong Yun's words. She laughed at him, a eunuch, who wanted to visit a brothel.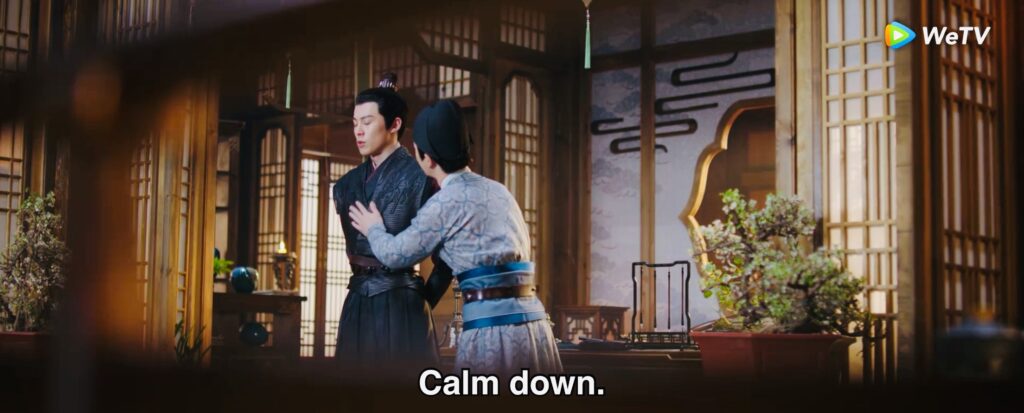 Bu Yin Lou mulled over her mother's words that the most irresistible temptation was love. She hoped that in the future, her daughter would find the one who loved her. They would be each other's only love and take on the world together. However, Bu Yin Lou did not believe that she could do what her mother told her.
Xio Duo thought about something when he saw two leaf cards on his table. It was his and Bu Yin Lou's cards. He was jealous because Cao Chun'ang said that Bu Yin Lou had attracted many men.
What Meng Jieyu said really happened. Princess Hede felt that she missed something when she realized that Yuwen Liang Xu did not follow her anymore. The princess canceled her plan to play cuju and went to find Bu Yin Lou. Ruolan tried to make her mistress change her mind.
But before they succeeded to enter the brothel, they saw Xiao Duo forcing his way in. Because he made a ruckus at the front door, Princess Hede was able to enter the brothel from the back door and saw Meng Jieyu who played a guqin in a hall. Suddenly Yuwen Liang Xu entered the hall and asked about his belt. The Princess was shocked to see his state.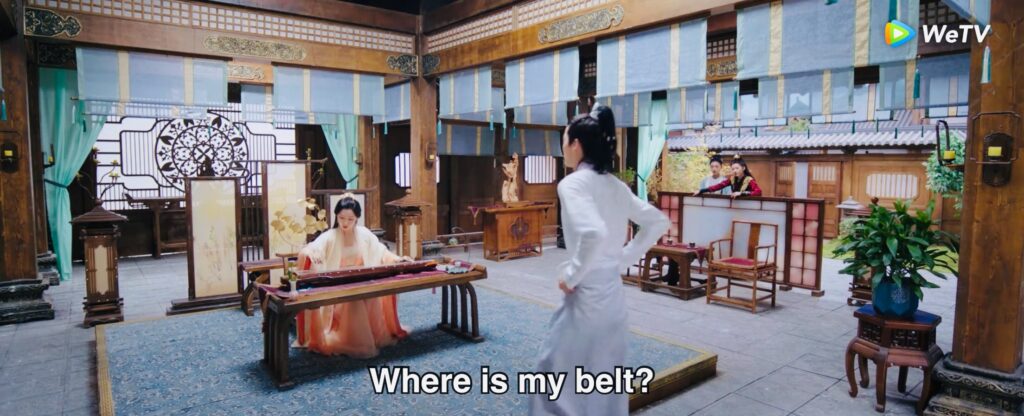 When he saw Princess Hede, he was elated that he forgot he did not wear a belt. Princess Hede thought that he was there to have fun with brothel girls. Yuwen Liang Xu asked Meng Jieyu to explain the reason why he was in the Dream House, but Meng Jieyu said the he was there to learn how to seduce Princess Hede. The frank explanation made Princess Hede got angrier. They fought in the hall, while Meng Jieyu still played the guqin without any worry..🤣.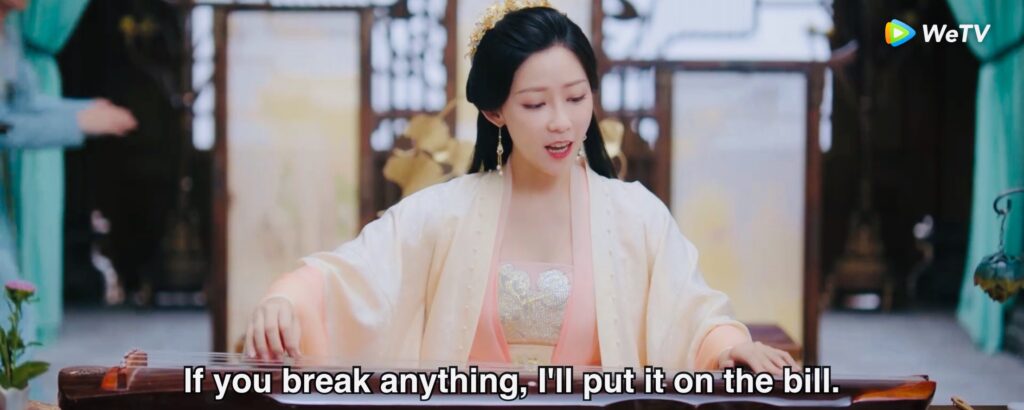 Xiao Duo found Bu Yin Lou dancing behind the curtain. Her dance captivated him and he did not realize that Tong Yun was standing behind him. Tong Yun wanted to warn her mistress but she could not do it and ran from the room. Xiao Duo hurriedly helped Bu Yin Lou when she almost fall into the water.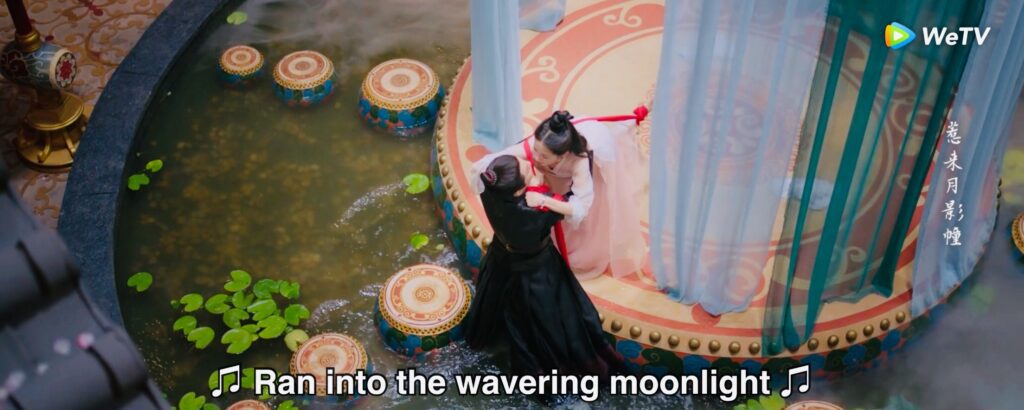 When Meng Jieyu came and asked who he was, Xiao Duo awkwardly left the room. But then he realized that he had thrown his precious double swords into the pond…😂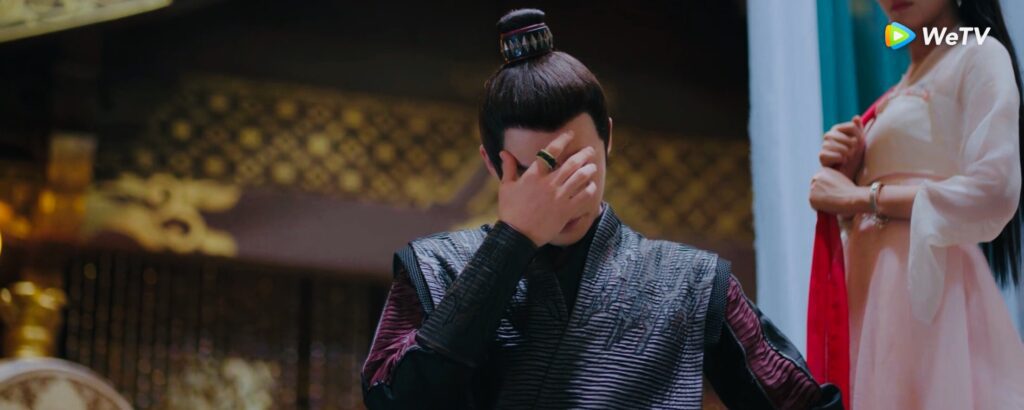 Meng Jieyu understood his intention, but Bu Yin Lou did not. Before Bu Yin Lou left, Meng Jieyu told her that she must cherish her time and if someday she found a person she loved. She should not waste her time and missed her chance lest she missed it for good.
Bu Yin Lou did not think about her words seriously at that time. But then, she saw Xiao Duo in a different light. She realized that Xiao Duo was too concerned about her. And it was not something reasonable since they were just friends. She concluded that Xiao Duo might be falling for her looks.
Many thoughts flashed in her head. She thought about Xiao Duo's soft hand. She also realized that Xiao Duo had beautiful eyes, nose, and mouth. That night, Bu Yin Lou was restless. She told Tong Yun that she knew Xiao Duo's secretly coveting for her. Tong Yun did not believe her words and told her to sleep.

At the same time, one person could not sleep because of a dance. Xiao Duo kept tossing and turning because he thought about Bu Yin Lou's graceful dance and her charm crept into his dream.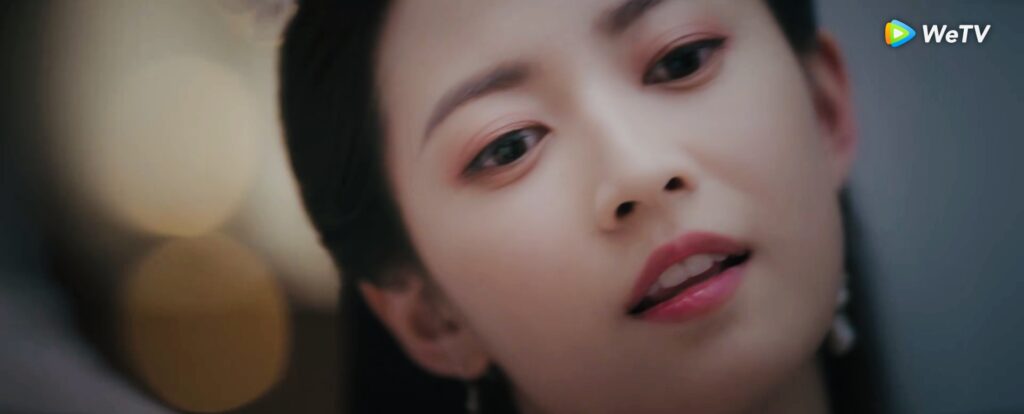 After he woke up, he could not sleep anymore and left the room. But then he found Cao Chun'ang sitting on the stair in front of his room. Cao Chun'ang asked him a question about liking someone. Xiao Duo was restless because everything he said was exactly the same with his feelings at the moment. Cao Chun'ang recounted that he always felt helpless and did not know when his mind started to be filled with the thought of her. He felt weird if he did not see her.
But when he sees her, he felt flustered and happy at the same time. He did not dare to cast a glance at her. Cao Chun'ang also said that his heart melted every time she smiled at him. Xiao Duo could not stand to hear Cao Chun'ang's words. He went back into the room and pondered about it while staring at Bu Yin Lou's leaf card.
The Emperor was angry because Bu Yin Lou went to the Dream House. He thought that it was Sun Tai Qing's idea. But he said that he just said it casually to Xiao Duo. He never thought that Xiao Duo would do it. The Emperor was afraid Bu Yin Lou would be mad at him. Sun Tai Qing offered an idea to invite Bu Yin Lou to the Lantern Festival. The Emperor mulled it over and agreed to meet Bu Yin Lou, but he would make it as a surprise.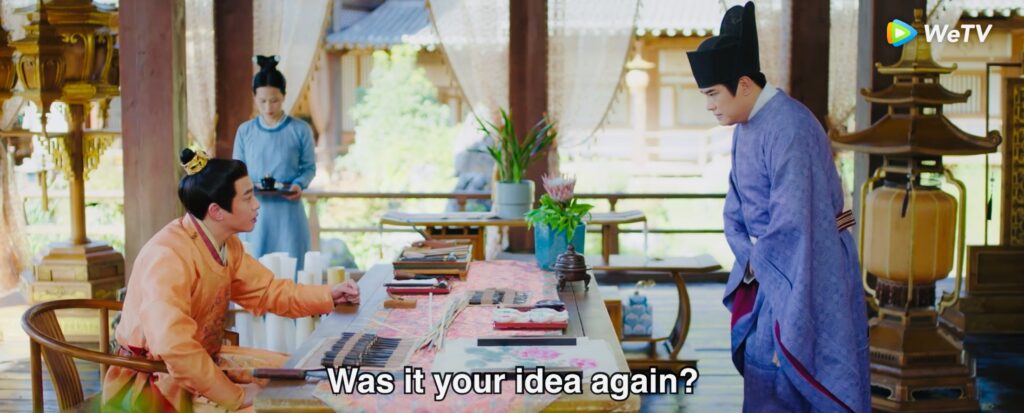 She Qilang lost Yuwen Liang Shi's spy on his mission. He asked Xiao Duo how to handle the problem. Xiao Duo told him to be careful during the Lantern Festival lest it would create trouble.
Yuwen Liang Xu visited Xiao Duo to ask a favor. He wanted to ask Princess Hede to go out but she always drove him away. Yuwen Liang Xu wanted Xiao Duo to help him with his date. Xiao Duo reminded him that the Emperor was wary of his brother, Yuwen Liang Shi. Hence, Yuwen Liang Xu and princess Hede's relationship might not end well.
But Yuwen Liang Xu did not care about it. In his eyes, everything that happened in the future was heaven's will. He just wanted to do what he could do in the present and loved the person he wanted to love. Yet Xiao Duo still did not want to help him and dismissed the young prince. But he pondered Yuwen Liang Xu's request quietly.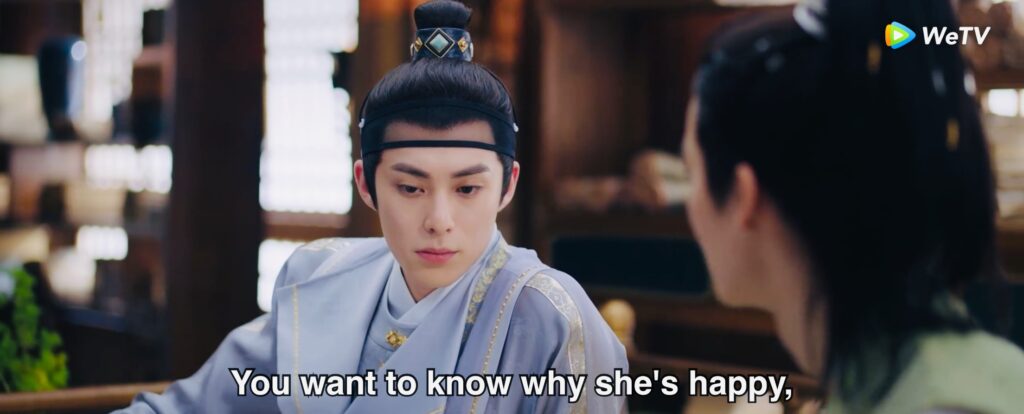 Bu Yin Lou still mulled over the possibility of Xiao Duo coveting her beautiful looks. She was angry because she had treated him as a sister (yes, you read it right. A sister.😂), she thought all this time Xiao Duo admired her intelligence. Tong Yun tried to dismiss the idea but failed.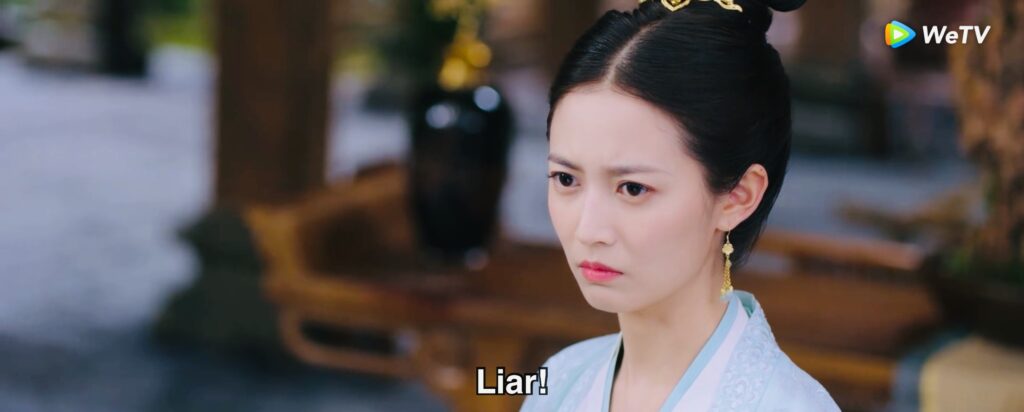 Bu Yin Lou saw the dejected Yuwen Liang Xu and called him. Yuwen Liang Xu used the chance to ask for her help but took back his request because he thought that Bu Yin Lou did not mean much to Xiao Duo. It was impossible for Xiao Duo to help him only because she asked him to.
Bu Yin Lou came to visit Xiao Duo, but she could not muster the courage to tell him about Yuwen Liang Xu's request. After some uuuuhhh and aaahhh… Xiao Duo could guess that she was there to help Yuwen Liang Xu. He warned Bu Yin Lou that Yuwen Liang Xu and Murong Wan Wan's statuses were incompatible. Their relationship would be bad for both of them.
Although she also said that everything would be fine if Xiao Duo and Bu Yin Lou also came to the festival, Xiao Duo still rejected the idea. Bu Yin Lou could not stand the rejection and decided to do everything by herself. She was determined to help Yuwen Liang Xu with his date. Unbeknownst to her, Xiao Duo told Princess Hede that Bu Yin Lou had asked her to spend the Lantern Festival with her.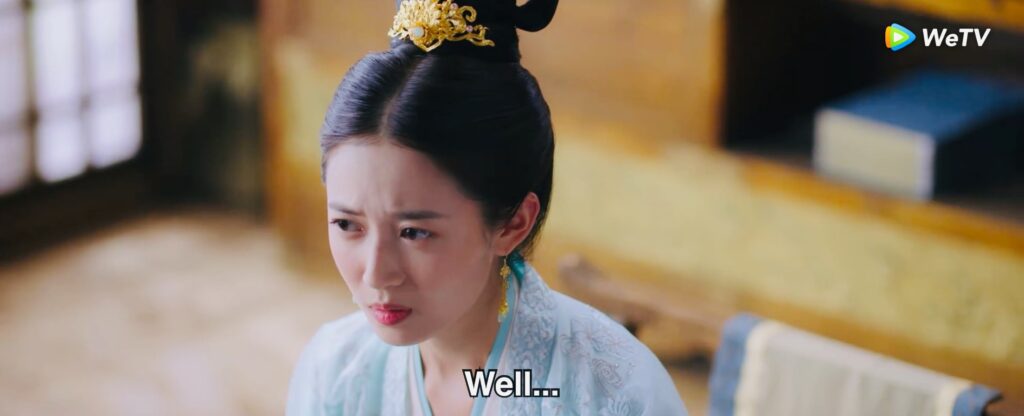 Bu Yin Lou and Tong Yun waited for Princess Hede to arrive at the festival. She did not have much confidence that Murong Wan Wan would come because she only handed a note to the guard and did not talk directly to the princess. But then a carriage stopped in front of them. Xiao Duo and Princess Hede alighted from the carriage. Bu Yin Lou was happy to see her friend came but she was happier because Xiao Duo helped her.
They watched a dance show on stage. There was a huge lotus in the middle of the stage while the dancer danced around it. While everybody fixated their eyes on the dancer, Xiao Duo took Bu Yin Lou to another place.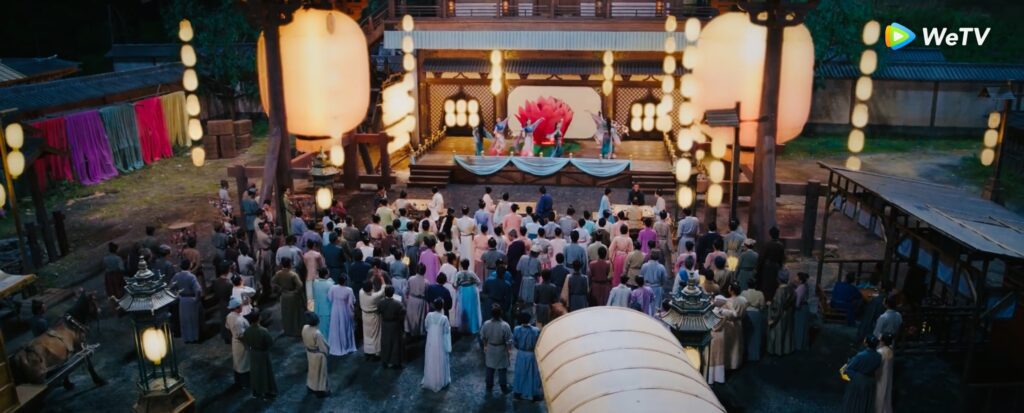 From afar, they saw Yuwen Liang Xu emerged from the lotus and took the princess to the stage. Princess Hede was surprised that she had suddenly flown to the stage. Bu Yin Lou smiled when she saw the weird couple on stage. She said that it was nice to like somebody. Xiao Duo agreed with her words silently. Meanwhile, Bu Yin Lou was determined to figure out what was on his mind.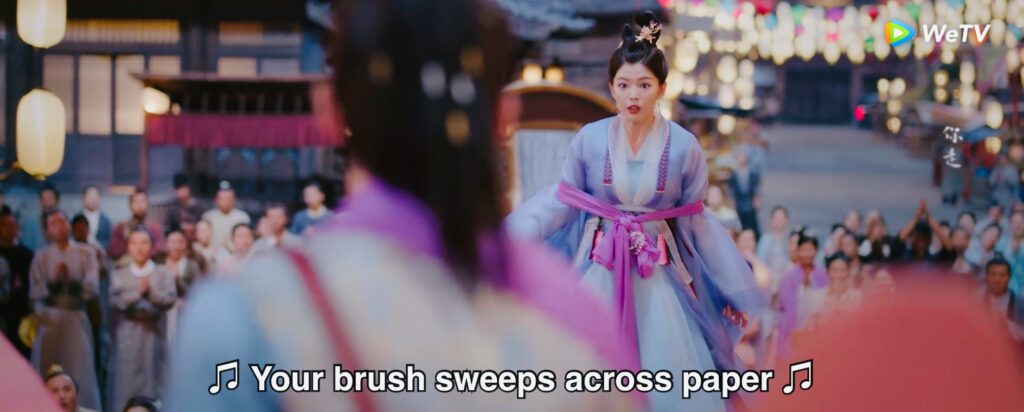 Bu Yin Lou took Xiao Duo to see the lanterns on a bridge. When she was standing there alone, Xiao Duo came with a fish lantern for her. Bu Yin Lou happily accepted the lantern. For her, this was the first time somebody other than her mother gave her a lantern.

She did not remember that the Emperor had given her a lantern before….😆
Bu Yin Lou recited a poem about a fisherman and a peaceful life. Xiao Duo was mesmerized by her charm. And Bu Yin Lou also saw him in a different light Both of them stood at a bridge and watched the fireworks.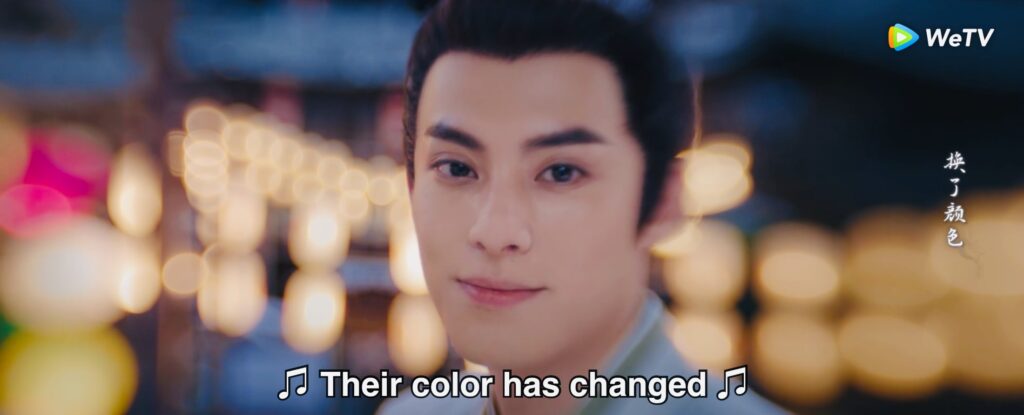 Meanwhile, Tong Yun and Cao Chun'ang searched for them. Cao Chun'ang saw the lantern seller and stopped. But Tong Yun urged him to find her mistress as soon as possible. Cao Chun'ang reassured her that as long as his godfather was with Bu Yin Lou, nothing would happen to her. He brought the lantern and gave it to Tong Yun. Bu Yin Lou asked Xiao Duo whether he celebrated the Lantern festival every year. Xiao Duo answered that he liked the festival because he knew someone who liked it too.
Xiao Duo recalled the story of that someone. The person would come to the festival every year to admire the lantern and only leave after the crowd dispersed. He did it because then he could pick up the lantern left by the visitor.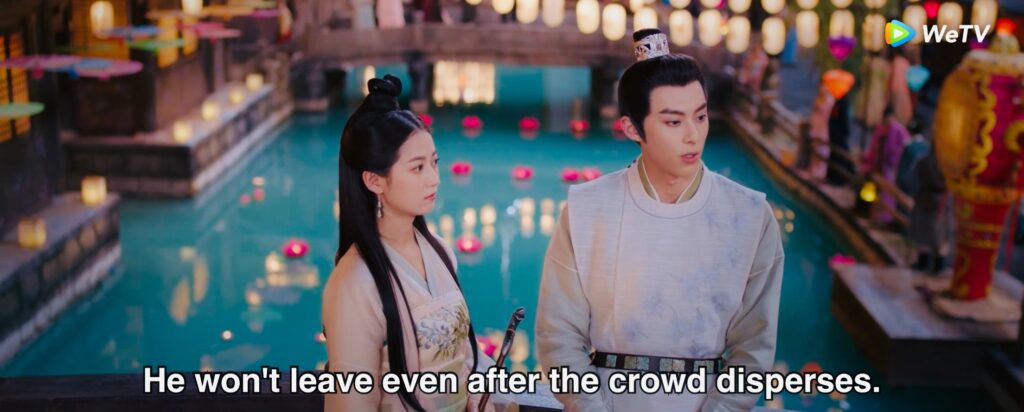 In the 8th year of the Tianyou reign, that boy's village was attacked by locusts. There was nothing left to eat and the price rose exorbitantly. He had to sell everything he had, but he still could not feed his family. His parents died one by one. Then he and his brother entered the capital as beggars. His first day at the capital was the Lantern festival. He picked a lantern and showed it to his older brother.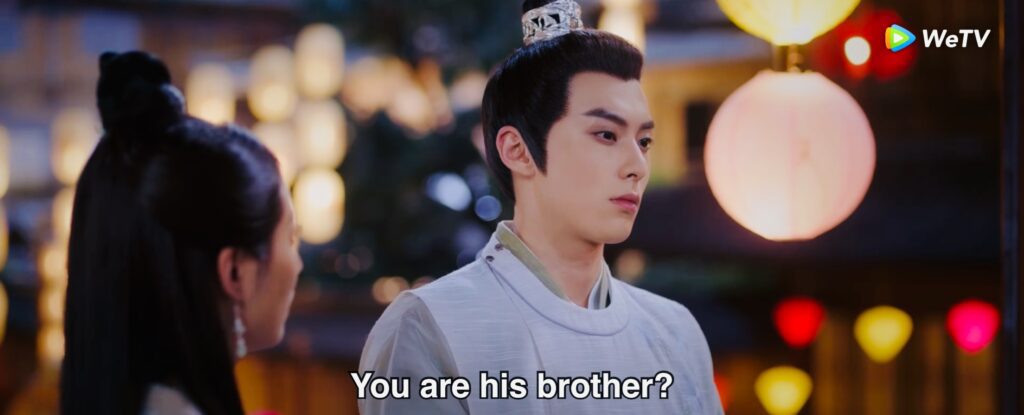 Bu Yin Lou asked the sad Xiao Duo, whether he was the older brother in his story. Xiao Duo nodded his head. Bu Yin Lou said that the man in the story must be a lucky man because Xiao Duo was now a rich and powerful person. She asked where his brother was right now and why he did not take him to play. Xiao Duo answered that his younger brother has died. Bu Yin Lou was taken aback. She never thought that under his cold bearings, Xiao Duo was all alone without his parents and brother. He must have suffered a lot. To comfort him, Bu Yin Lou took the sad Xiao Duo to float the lantern on the river.
My Musing
Finally, we had a glimpse of Xiao Duo's past. It was so sad that he had to be alone without family by his side. No wonder he always put on a cold face and never smile.