Title: My Journey To You
Also Known As: 云之羽,Yun Zhi Yu, Cloud Feather , Half of Us
Director: Luo Luo
Screenwriter & Director: Edward Guo
Cast: Yu Shu Xin, Zhang Ling He, Cheng Lei, Lu Yu Xiao
Genres: Romance, Wuxia, Drama, Fantasy
Country: China
Type: Drama
Number of Episodes: 24
Date of Release: Sep 2, 2023
Original Network: iQiyi
Where to Watch: WeTV, iQiyi
Dear readers… It soooo hot here in my place. The weather was dry and the water was scarce. We desperately hoped for the rain to come soon. What about you? I hope everything was well in your place. Don't forget to drink plenty of water and keep yourself from the scorching heat. Heatstroke is no joke.
While you keep yourself cool from this endless heat, you might need some Cdrama to entertain yourself. My Journey To You was another good Chinese drama released in September 2023 you should not miss in . It might not be everyone's cup of tea, but it would not harm you either to try something that is beyond your comfort zone.
On what basis I could tell you that? Well… I have plenty of reasons. So, if you are curious, let's get on with it. Happy reading!
My Journey To You Synopsis
Yun Wei Shan was an assassin from Wufeng. She had one last mission to complete before she could gain her freedom. However, this mission was a one-way ticket, she had to succeed or only death would await her. Yun Wei Shan's mission was to infiltrate the most dangerous place, the Gong residence, as a bride candidate for the young master of the Gong family.
Yun Wei Shan was no ordinary assassin. She might have come from the lowest level of Wufeng assassins, but she was smart and perceptive. Soon she was able to enter the Gong family and win the sympathy of Gong Zi Yu, the gentle and carefree young master.
Gong Zi Yu never interfered with the business and affairs of the Gong family. However, after a twist of fate, he had to shoulder the burden of being the next Sword Wielder, the leader of the Gong Family.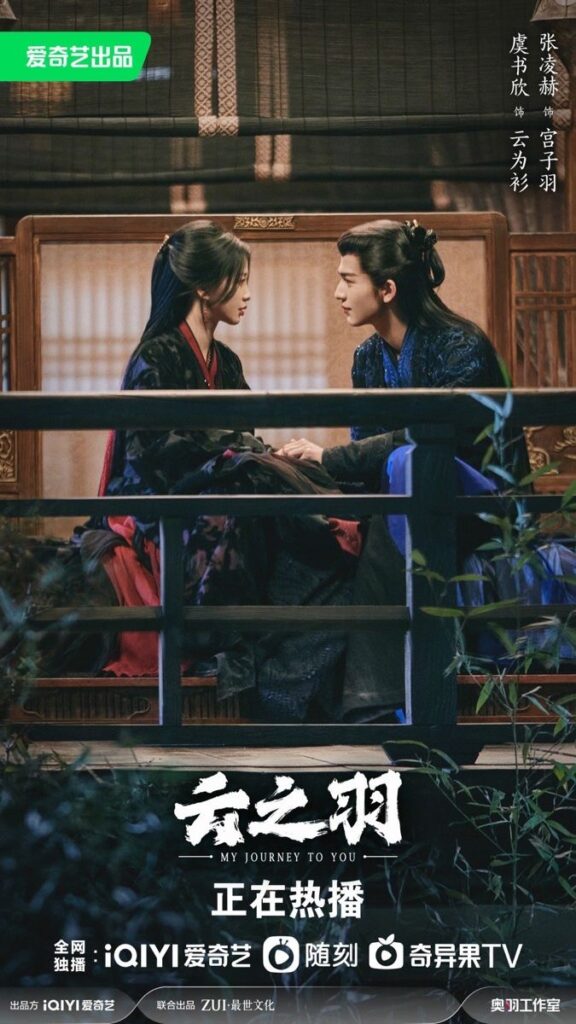 Their relationship began to deepen as Yun Wei Shan helped Gong Zi Yu deal with the pressure from his family members who refused to recognize him as their leader. Meanwhile, Yun Wei Shan also had to deal with her fellow assassin, Shangguan Qian, who was also sent to the Gong family as a bride candidate.
Yun Wei Shan faced a dilemma when she realized that she had fallen in love with Gong Zi Yu. Which one must she choose, her freedom or her love?
My Journey To You Drama Review
As a drama reviewer, I have to say that 2023 was the most satisfying year so far. There were so many dramas that caught my attention and really quenched my thirst for good drama. My Journey To You was one of the most highly-rated dramas on my list. Everything in this drama was sooooo good that I could not take my eyes off the screen.
If you ever watched Love Between Fairy and Devil drama and you shipped Xiao Lan Hua dan Changheng, My Journey to You would be a cure for your broken heart. In this drama, you could enjoy Zhang Ling He's loving look at Yu Shu Xin. Or Yu Shu Xin's longing look at Zhang Ling He. And I personally love to see it.
The story itself went in circles and the pacing was quite slow. Although I enjoyed the visuals, the story sometimes made me want to skip an episode. Luckily I was a bit patient. Because if you skip an episode, you might get confused.
The big theme of My Journey to You was loyalty and betrayal. The betrayers were not afraid to betray their sect, family, and friends for the sake of their revenge. It was such a dark and heavy subject. It might not be everyone's cup of tea. But for me this drama was extraordinary.
My Journey To You was a story with so many things to tell, so many mysteries to solve, and so many characters to perceive. And so little time. Even though the episode of My Journey To You was 1 hour long, it was a shame that this drama only has 24 episodes.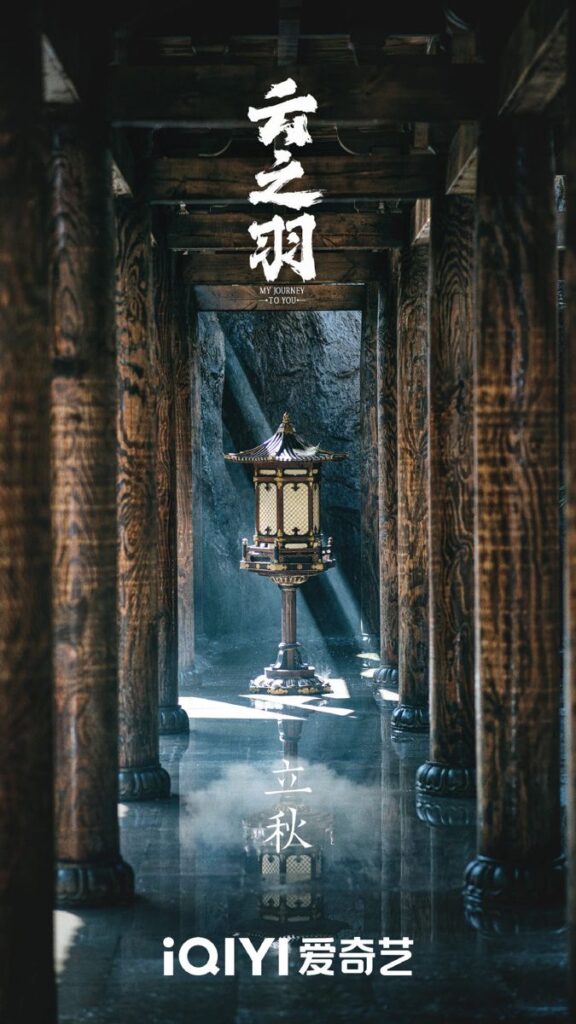 Only this time I wished Cdrama would return to the old days where the number of episodes could escalate to more than 60. I'm thinking of The Rebel Princess and Eternal Love: Ten Miles of Peach Blossoms, both of which had more than 60 episodes, and all the problems in the story were completely resolved in a way that made me happy.
Unfortunately, this was not the case with My Journey To You. There was little information about the characters and the history of the Gong family and Wufeng. Two powerful groups that ruled the martial world clashed with each other. It was like two tigers in a mountain. One wanted to take the other's property.
In this case, the Infinite Heat. This powerful weapon was so mysterious that the blueprints had to be divided into two parts. One was tattooed on the back of the Sword Wielder, while the other was hidden deep inside the mountain. And the Infinite Heat was somehow connected to a fallen meteorite.
The romance between the four main characters was slow-burning. There was a lot of mistrust and suspicion between them. Yun Wei Shan and Shangguan Qian entered the Gong family as bride candidates for Gong Han Yu. But after a twist of fate, Yun Wei Shan was chosen by Gong Zi Yu, and Shangguan Qian was chosen by Gong Shang Jue. These were arranged marriages with a political interest.
The relationship was sweeter for Yun Wei Shan and Gong Zi Yu because he was a compassionate man. Gong Zi Yu was attracted to Yun Wei Shan from the beginning. It was easy to see that Gong Zi Yu had no prejudice against Yun Wei Shan. He believed in her and had opened his heart to her.
However, it was not the same with Yun Wei Shan. Gong Zi Yu was her target and she wanted to complete the mission because it was the key to her freedom. Yun Wei Shan showed attentiveness, love, and care. But there was no warmth in her eyes. She seemed so close, but so far away.
As a Wufeng assassin, love was a weakness. But she could not control her heart and longed for love, so we could see how Yun Wei Shan tried to keep the wall protecting her heart. Deep inside, Yun Wei Shan always wanted a family, a safe place, and a person to care for her.
So, slowly but surely, she was drawn into his warmth. In the end, Yun Wei Shan realizes that Gong Zi Yu was the only person she ever wanted in her life.
Meanwhile, the relationship between Shangguan Qian and Gong Shang Jue was thorny at first. The icy cold Gong Shang Jue slowly fell in love with the sweet, fragile-looking Shangguan Qian, who tried so hard to please him.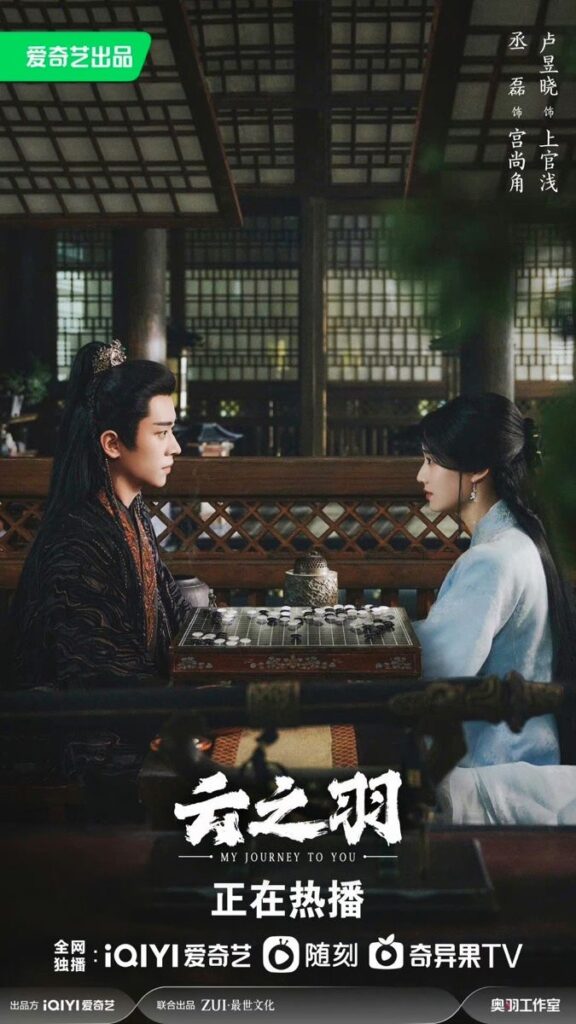 Gong Shang Jue's life was not easy. He lost his family to Wufeng before he took Gong Yuan Zhi and considered him his younger brother. But since then, his heart has grown cold. He distrusted everyone except Gong Yuan Zhi. He was cautious because he put the safety of the Gong family above everything.
Shangguan Qian came with warmth in her words and actions. It might be fake, but her stubbornness and persistence touched the softest spot in his heart. Slowly but surely, Gong Shang Jue gave in.
Meanwhile, Shangguan Qian was only thinking about the mission she had to accomplish. She was a manipulative person and knew how to use her charm. She knew that Gong Shang Jue was falling in love with her, and it was a temptation for her as well. But Shangguan Qian was a selfish person who only cared about herself.
My favorite character in this drama was not Yun Wei Shan or Gong Zi Yu. It was Gong Shang Jue and Gong Zi Shang. Gong Shang Jue was a complicated person and I love to see his character development, especially when he started to show feelings for Shangguan Qian.
Meanwhile, Gong Zi Shang seemed out of place with her dramatic nature and theatrical gestures. Her creative thinking was amazing. However, her relationship with Jin Fan was a comedy that lightened the atmosphere.
I was baffled when I realized that I was not that interested in the relationship between Yun Wei Shan and Gong Zi Yu. Yes, they were sweet indeed, and it would satisfy a romance junkie like me.
But I was more engrossed in the interaction between Gong Shang Jue, Gong Yuan Zhi, and Shangguan Qian. Those banter, side eyes, and provoking gesture was livelier than those lovey-dovey scenes.
The mystery behind the Gong family and Wufeng was slowly unraveling. And it leads to… another mystery. And it happened all the time. Just when you thought the problem was solved after one episode, the next episode had another mystery for you to think about.
There was a major plot twist near the end of the drama. My Journey To You was not suitable for those in need of light entertainment. You might as well watch You Are Desire or Sunshine By My Side.
This drama added another name to my watch list, Cheng Lei. This is my first Cheng Lei drama and I was quite impressed by him. How could someone be both annoying and interesting at the same time? Anyway, I was not only fascinated by his good looks, but his acting was also quite good. I'll be looking for Cheng Lei's next drama.
Esther Yu or Yu Shu Xin took her acting to another level. There was no trace of the childish Xiao Lan Hua in Love Between Fairy and Devil or the coquettish Yu Mei Ren in Romance of the Little Forest. In this drama, there was only Yun Wei Shan, a tough, calculating, and duplicitous assassin. Her aura changed even though she still donned that red lipstick on her lips.
I found her character refreshing. I haven't seen all of Yu Shu Xin's dramas. But every time I watched, she always played a cute and sweet character because of her adorable looks. But this time she really nailed it.
As a cold and ruthless assassin who used the honey trap as a method of infiltration, you could see several emotions in her heart. Yun Wei Shan realized that she did not want to hurt Gong Zi Yu, but it conflicted with her mission. And if she did not complete the mission, Yun Wei Shan would never be free.
However, staying with the Gong family was another form of entrapment, as she could never leave Jiuchen Valley. Yu Shu Xin showed us all this. And what amazed me was her movement and nimble body during the fight scenes. She did a very good job as Yun Wei Shan!
Zhang Ling He's Gong Zi Yu was a mixture of Changheng's seriousness and Xiao Run's playfulness. He looked like a young master from a wealthy family who had nothing to do but play around. He was good at expressing his sadness because Gong Zi Yu's tears fell easily.
However, I did not see too much progress in his acting compared to Love Between Fairy and Devil. However, I'm going to start watching Bright Eyes in the Dark, because Zhang Ling He also took part as one of the supporting actors.
So I'll let you know when he's made progress in that drama. In the meantime, even though his acting skills were still below Yu Shu Xin's, I enjoyed their chemistry. Probably because this was not their first drama as a couple, their acting was more natural and their chemistry was stronger compared to what they have in Love Between Fairy and Devil.
Lu Yu Xiao, who played Shangguan Qian, has been quite busy this year. She already had 5 dramas aired: To Ship Someone, The Longest Promise, Love You Seven Times, Parallel World, and My Journey to You. Her performance as Shangguan Qian made me loathe this two-faced and cunning woman.
However, she was able to bring the character to life, and I could not think of another woman who could fit the role of Shangguan Qian.
My favourite character Gong Zi Shang was played by Jin Jing or Jolin Jin. I never saw her movies or dramas, but she often appeared in a TV show. Unfortunately, I rarely watch Chinese TV shows. Still, I think I would watch this drama again just for her scenes.
My Journey to You was written by Guo Jing Ming, a young writer, producer, and director. I have never seen his work before, but I must say that I was impressed by this one. My Journey to You was also directed by Luo Luo. This was not their first collaboration, but I suspect it will not be their last.
They still have a drama on the shelf waiting to be aired. The drama is titled The Story of Mystics. It starred Hou Ming Hou, Chen Du Ling, Cheng Xiao, and Tian Jia Rui. I was excited to see this drama. I wondered if it would be better than My Journey to You.
The Cinematography
This was the real reason why I watched My Journey to You. From the very first episode, everything I saw was a feast for my eyes. My Journey to You just gives me a great cinematic experience. Even though the color tone was black and grey and the drama was full of gloomy atmosphere.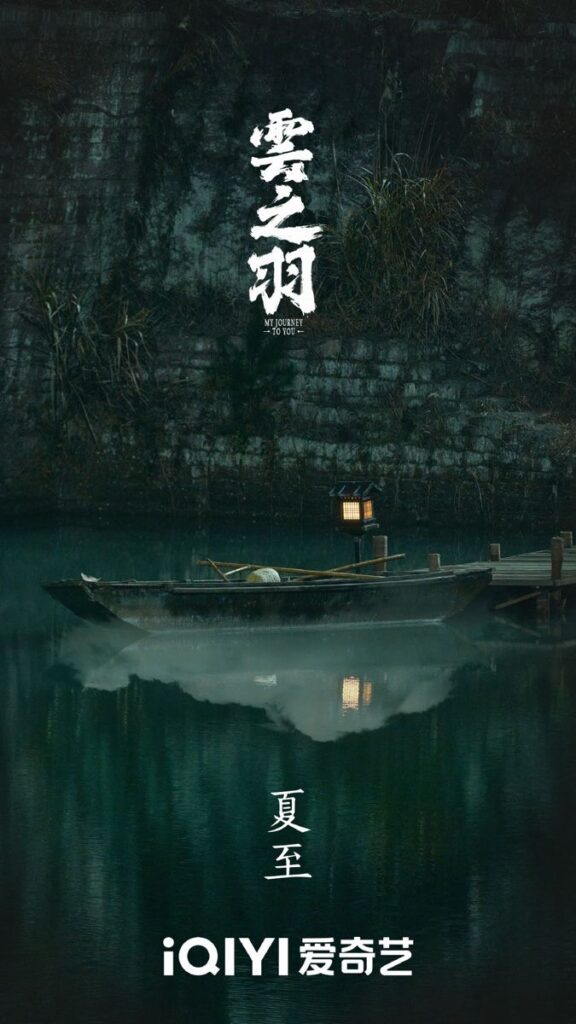 But every scene was truly stunning and artistic. The lighting and camera angles conveyed all the emotions that each character was trying to tell us. The sets also amazed me. Especially the Back Hill where the Xue family lived, which was full of snow.
The fight scene was great. The choreography was dynamic and beautiful. The directors used slow and fast camera movements to capture the beauty of it. And I could not stop myself from watching. My favorite scenes were when Yun Wei Shan had a fight in a muddy cell and when she fought Jin Fan before she went into the Back Hill.
The Story
From the beginning of the story, we knew that the main conflict in this drama was the grudge between Wufeng and the Gong family, who had been sworn enemies for years.
The Gong Family itself was a mysterious clan that had lived in isolation for centuries. They lived in the Jiuchen Valley. It was very difficult to penetrate their fortress. Meanwhile, Wufeng was also a mysterious organization that recruited assassins and was feared by the martial world.
I used to write a general plot in the story section, but I would not do it today. Instead, I would write some important facts about the Gong Family, Wufeng, and the people in it.
Let us start with Yun Wei Shan. She was from Wufeng, a mysterious assassination organization. Wufeng recruited children. After Wufeng was tipped off by Anonymous a few years ago that the Gong family only let outsiders into Jiuchen Valley for bride selection. So Wufeng started recruiting girls to be their assassins, including Yun Wei Shan.
The assassins in Wufeng were divided into 4 levels. Chi, Mei, Wang and Liang. Chi was the lowest and Liang the highest. There were only 4 people in the Wang class, and not many people had seen them. Liang was more mysterious. Even Hanya Si had never seen a Lian in his life.
Yun Wei Shan had a sworn sister in Wufeng named Yun Que. She was the person she had in mind whenever Yun Wei Shan spoke to Gong Zi Yu about her sister. Yun Que once tried to enter the Gong's residence, but she failed and died.
Just like other Wufeng assassins, Yun Wei Shan and Shangguan Qian's body was controlled by Fortnight Flies. They have to drink the antidote every half a month, or else they would feel immense pain throughout their body. Yun Wei Shan and Shangguan Qian must exchange the antidotes with information regarding the Gong Family.
There were many secrets in the Gong family. Not only the family but also the people within the family were mysterious. Each and every one of them carried a secret deep in their hearts. The only person who looked transparent was Gong Zi Shang, the eldest lady of the Gong family. She looked carefree and uninhibited in her everyday life.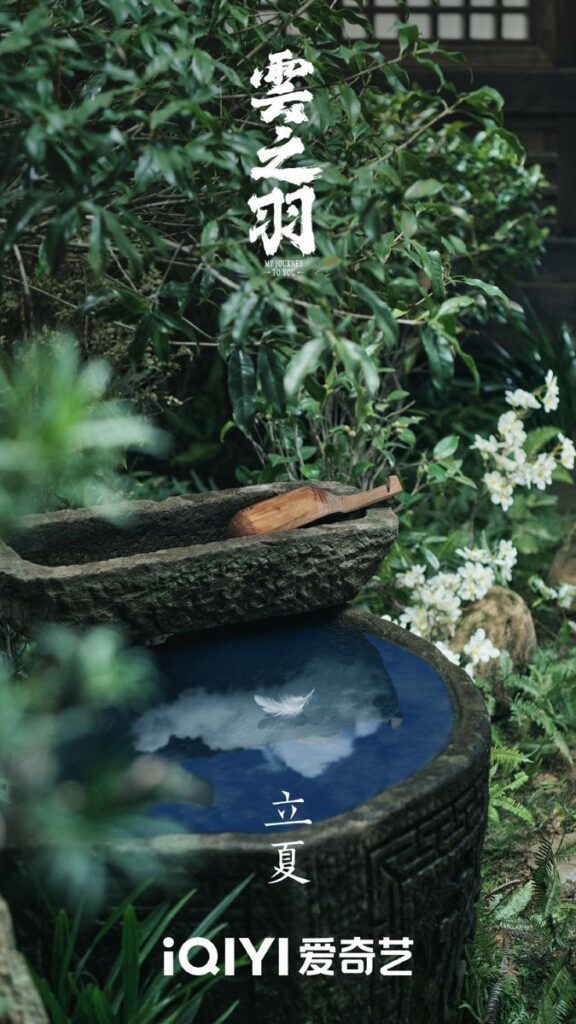 Gong Zi Shang never hides the fact that she loves to see young men and their strong and healthy bodies (who doesn't?). But no one knows that she spends the whole night in her workshop, trying to build many weapons and a huge wooden robot. Yes, I meant it when I said it. It was a giant wooden robot. That somehow reminded me of Dr. Tenma in the Astro Boy series.
The Gong Family was known for its Front Hill, where the 4 Lineage resided. They were Zhi, who was skilled in poisons and hidden weapons; Shang, who was in charge of forging weapons; Jue, who dealt with the outside world and was in charge of the family business and mediating between the martial worlds; and the last one was Yu, who dealt with the defense system and was in charge of the Gong family's security. The Sword Wielder used to come from the Yu lineage.
However, not many people knew that the most important place in the Gong residence was the Back Hill, where the core support of the Gong family resided. There were 3 families, Xue, Yue, and Hua.
The Council Elders consisted of the elders from those families. The three families had guarded the Back Hill for many generations. When Gong Zi Yu had to go through the Trial of the Three Realms, he had to pass the test of the Xue, Yue, and Hua families.
There was a connection between Yun Wei Shan and Shangguan Qian's background that they revealed to the Gong family. The depth of the fact showed how much effort Wufeng had put into preparation.
Yun Wei Shan revealed to Jin Fan and Gong Zi Shang that she had mastered the Qingfeng Nine Moves Sword from Zhuo Mei, a traitor of the Qingfeng Sect. She told them that fourteen years ago, her father found her hiding in his ship because she was being hunted by her own sect.
Zhuo Mei taught Yun Wei Shan the sword moves. She did this because Zhuo Mei wanted Yun Wei Shan to avenge her lover who was tortured by Dianzhu, the former Qinfeng sect leader who later joined Wufeng. Zhuo Mei's lover was Shangguan Qian's uncle from the Gushan sect. Dianzhu led the Wufeng assassins to the Gushan Clan and wiped them out.
Shangguan Qian was saved because her father hid her in the secret tunnel. She was later adopted by the Shangguan family. She became the bride of the Gong family because she acted as a substitute for the real daughter of the Shangguan family.
The ending of My Journey To You was an open ending that made me scream for a second season. The mystery is still there and I don't think I could sleep well for a few days after watching the last episode. Still, there was a pleasant surprise from Xue Chong Zi in this episode as well. At least it left me with a good feeling afterward. You can read the full ending explaination in My Journey To You ending explained post that I also wrote.
The Characters
Yun Wei Shan
Yun Wei Shan is an assassin from Wufeng. She is skilled in martial arts, weapons, and poisons. She was a cold and indifferent person. Ruthless on the outside, but a compassionate person by nature. It was a rare quality for an assassin. Especially for those from Wufeng, who were merciless and heartless.
But Yun Wei Shan always had a close bond with her fellow student Yun Que. Their sisterhood was what kept them humane.
As an assassin in Wufeng, Yun Wei Shan belonged to the Chi class, the lowest of the four. However, Yun Wei Shan had the ability to rise up in rank due to her clever and perceptive nature. But she refused to do so and chose to remain a Chi. Because to rise up in rank would mean more blood on her hands.
And the only one who knew her very well was her mentor, Hanya Si. He had been her trainer since she was a child recruited by Wufeng. Her relationship with Hanya Si was more like a father and daughter. However, there were times when Hanya Si would look at her with affection.
Yun Wei Shan's only wish was to live a normal life. She wanted to be an ordinary person who washed her lover's clothes or cooked porridge for him. She wanted to live on a snowcapped hill, where they would light a lamp in an obscure corner and watch over the fire. As a person, Yun Wei Shan only wanted to live a quiet and peaceful life. She longed for freedom, away from the high walls and shackles of Wufeng.
Gong Zi Yu
Gong Zi Yu was the only son of Gong Hong Yu, the former Sword Wielder. He had a carefree attitude, and compared to his brothers, Gong Zi Yu lived a very good life. He was not burdened by the affairs of the Gong family. But even though he seemed to be enjoying his life, Gong Zi Yu's heart was empty. He seemed to be searching for something in his life.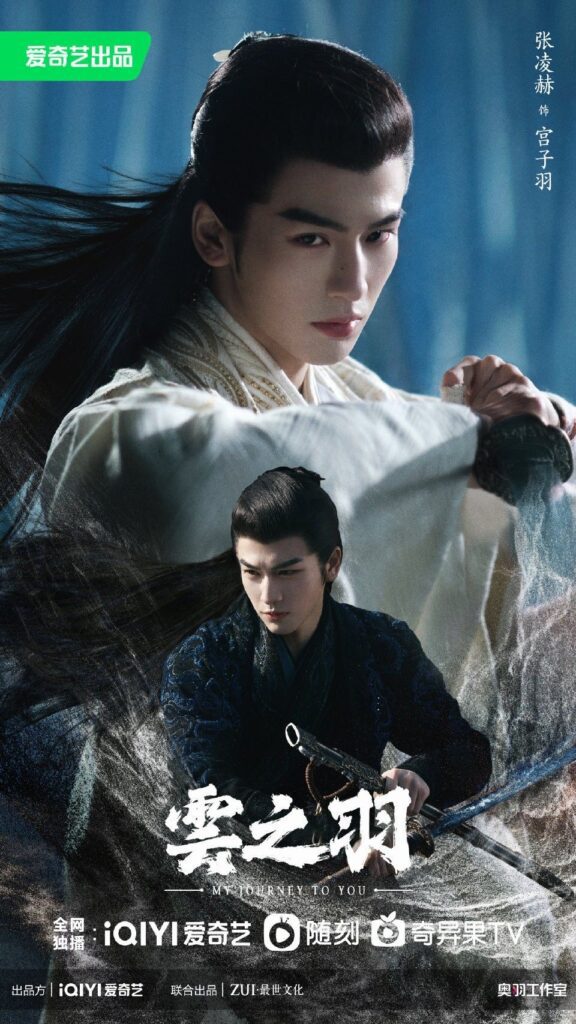 Was it freedom? He had more freedom than any other member of the Gong family. Was it love? He was not loved by his parents, but he still had a very good relationship with Lady Wuji, Gong Han Yu and Gong Zi Shan. He was also close to Ziyi, a famous brothel lady who fell in love with him. Was it power? Gong Zi Yu never cared about the family business. So what was he looking for?
After some thought, I thought that Gong Zi Yu's heart was empty because although he longed for love, no one could really enter his heart. He wanted his mother's love, and he also wanted his father's love.
But they refused him. Madam Lan was too too preoccupied with her sorrow. Gong Hong Yu was disappointed because of his weakness. So Gong Zi Yu longed for someone to love and accept him wholeheartedly.
As the son of a powerful swordsman of the Gong family, Gong Zi Yu was not like his father or his brother, Gong Han Yu. He was gentle and kind. His heart was full of compassion and kindness for others.
Gong Zi Yu was the only member of the Gong family who remembered all the names of the Gong family servants. This only showed how thoughtful he was. He shed tears easily, was easy to get close to, and had a friendly demeanour and attitude. His whole nature was not suitable to be the leader of the Gong family.
Therefore, his father never chose him as the heir to be the next swordsman. He never thought that Gong Zi Yu had the heart and ability to be one. In addition, Gong Zi Yu was born with poor circulation. He could not stand the cold. Therefore, his physique was weaker than anyone else in the Gong family.
But Gong Zi Yu was someone who hid his depth and true feelings. In reality, he was an intelligent person and his martial arts were good. But he was burdened with emotional baggage. His mother, Madam Lan, fell into depression because she was not happy living in the Gong family.
After his mother died, his father had become colder and stricter towards him. And later, the wedge between father and son had become wider and wider.
Gong Shang Jue
Gong Shang Jue was from the Jue Clan. He was the strongest member of the Gong family, that even Wufeng was afraid of him. He was clever but ruthless. Gong Shan Jue was cold to others, he was never a friendly person to begin with. The only one he trusted and was close to was Gong Yuan Zhi. But even though they were close, Gong Yuan Zhi never tried to guess his thoughts.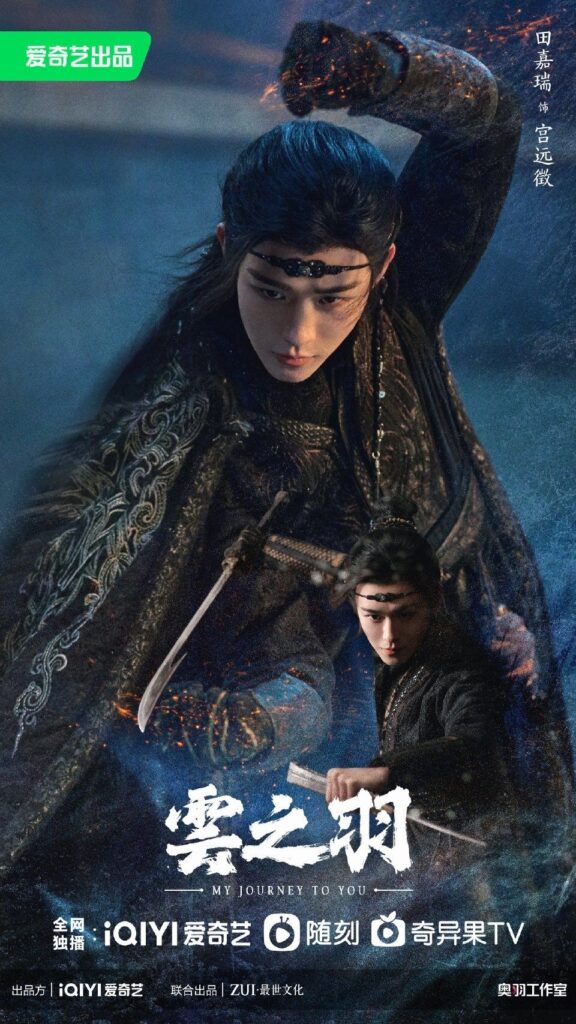 In the eyes of Gong Hong Yu, the swordsman, he was better than his own son, Gong Zi Yu. Therefore, he was the second in line to the throne after Gong Han Yu, even though he was from the Jue Clan.
Gong Shang Jue's mother and younger brother were killed by Wufeng ten years ago. After that, he took Gong Yuan Zhi into
Shangguan Qian
Shangguan Qian was also a Wufeng assassin. Unlike Yun Wei Shan, Shangguan Qian belonged to the Mei class. Higher than a Chi. Therefore, her position was higher than Yun Mei Shan's and she could order or suppress Yun Wei Shan. Shangguan Qian was an smart and cunning person. And as a Wufeng assassin, she was also adept at using weapons and poison.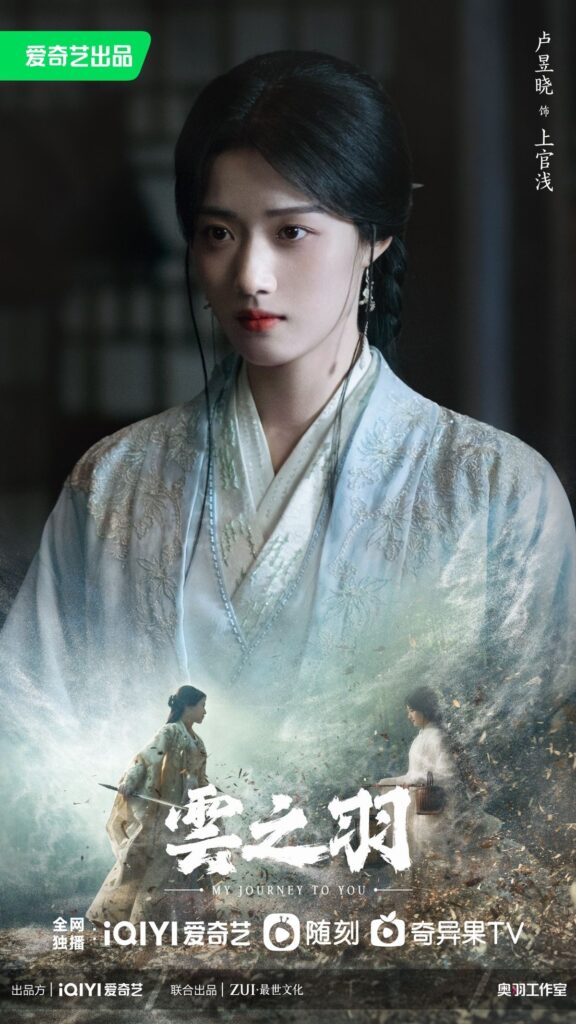 Just like Yun Wei Shan, she entered the Gong Mansion as one of the bride candidates of Gong Han Yu. Her sweet, adorable and fragile appearance was able to fool the Gong family.
However, she hid her ruthlessness and emotions very well. She was calculative and good at manipulating others. Shangguan Qian only showed her true colours when she was with Yun Wei Shan or her mentor Hanya Qi.
Lady Wuji/Ming Wuji
Lady Wuji was the concubine of Gong Hong Yu. She was another assassin from Wufeng who was able to infiltrate the Gong family for 20 years. Ming Wuji was known as Anonymous. Although she was from Wufeng, Ming Wuji fell in love with Gong Hong Yu. Ming Wuji loved flowers, and she spent her time caring for flowers.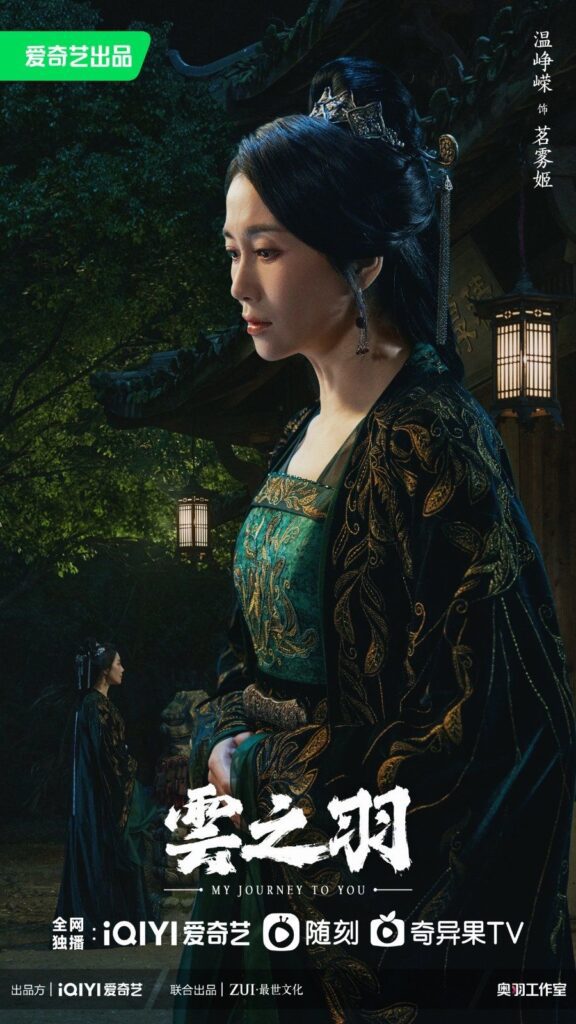 Ming Wuji was known for her kindness. She personally treated Gong Zi Yu as her own son since Madam Lan fell into depression and later died. Even Gong Zi Shan loves Ming Wuji's kindness and always comes to her whenever she needs someone to talk to, especially when she wants to vent her frustration with Jin Fan.
Jin Fan
Jin Fan was the shadow of Gong Zi Yu. He was the closest person to Gong Zi Yu and his most loyal subordinate and guardian Jin Fan was the only person who could answer his words and remind him of his unrestrained behaviour. Although their relationship was one of master and servant.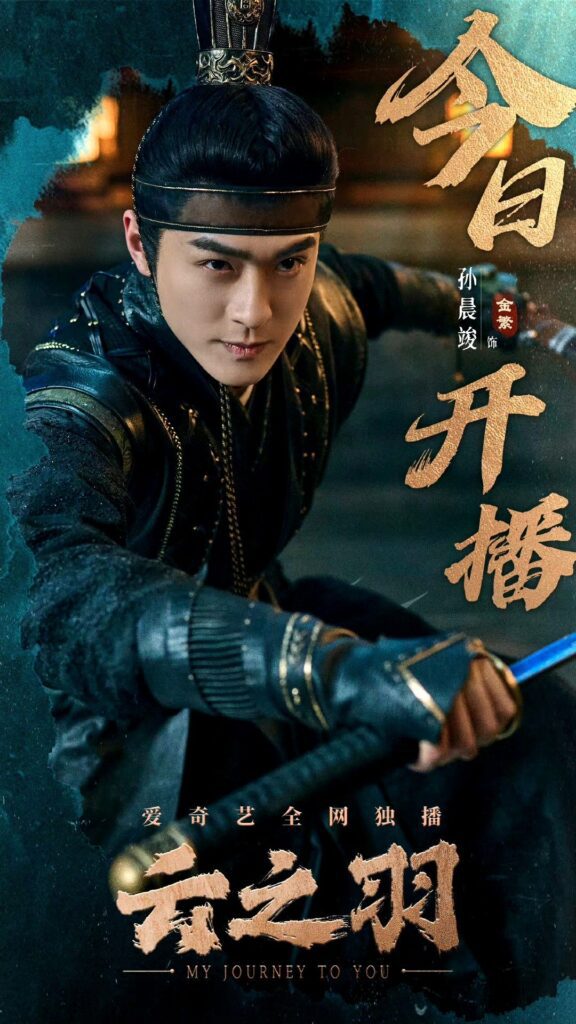 Gong Zi Yu regarded Jin Fan as a member of his family. When he was not busy with the task or guarding Gong Zi Yu, Jin Fan could be found hiding from Gong Zi Shang's pursuit. He seemed to be annoyed by her, but sometimes you could see that he was NOT THAT annoyed by her.
Jin Fan was hiding a secret from Gong Zi Yu. He was assigned to be Gong Zi Yu's guard by the Sword Wielder himself. Jin Fan's skill was at the Red Jade Guardian level, the highest level of guardian. But the Sword Wielder asked him to disguise himself as a Green Jade Guardian so that he could stay by Gong Zi Yu's side.
Gong Zi Shang
Gong Zi Shang was the eldest lady of the Gong family and the Lord of the Shang Lineage. Gong Zi Shang was a cheerful person, very dramatic, and always true to herself. Even though the people in the Gong family considered her a useless person who only did three things a day (sleep, eat, and look for Jin Fan), Gong Zi Shang never cared about those people.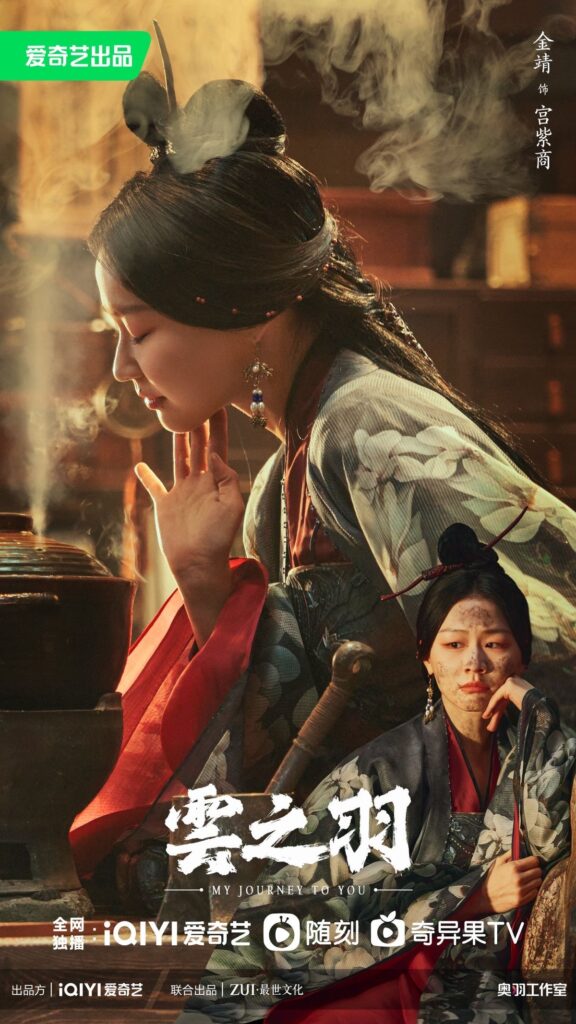 Behind this cheerful and unrestrained laughter, Gong Zi Shang had her own difficulties. Although she was capable, no one took her seriously. Her own father did not like her and just waited for her younger brother to grow up. Among the members of the Gong family, she had the best relationship with Gong Zi Yu and was very close to Ming Wuji.
Gong Yuan Zhi
Gong Yuan Zhi was the poison expert of the Zhi Clan. Gong Shang Jue took him in after losing his younger brother to Wufeng, while Gong Yuan Zhi had just lost his father and had no one to teach him the martial arts.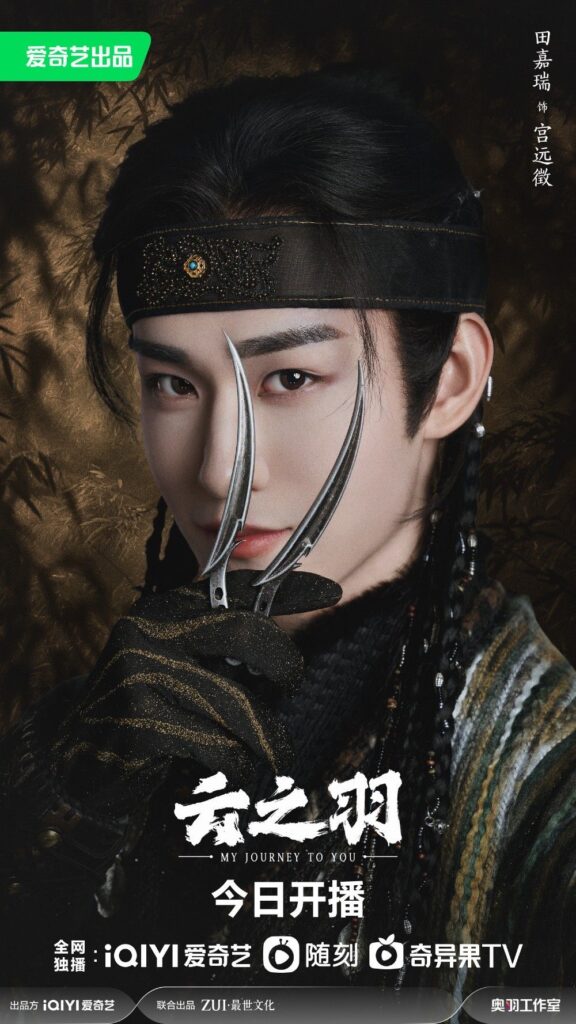 Two lonely people met by fate and formed a strong bond as siblings. They would look after and protect each other. In the eyes of Gong Yuan Zhi, Gong Shang Jue was the best person in the whole Gong family. He devoted himself to him and would do anything to support Gong Shang Jue.
Although his devotion ran deep in his bones, Gong Shang Jue also had some scruples in his heart, and although he did everything for Gong Shang Jue's sake, Gong Yuan Zhi knew that he could never replace Gong Shang Jue's little brother in his heart.
Gong Yuan Zhi shared the same nature as Gong Shang Jue. He was cold and ruthless. However, he was more emotional and easily provoked. The people around him must have understood that Gong Yuan Zhi was the person with the most poisonous mouth in the whole house.
The Conclusion
My Journey To You may not be a perfect drama in terms of plot. Nor a drama with the best ending. But the visuals themselves could give you an amazing cinematic experience. Everything about this drama was perfect. The cast was a sight for sore eyes. The costumes were great. The soundtrack was good. The set was beautiful. And the way the camera moved and captured the scene was so satisfying.
So, even if you did not like this heavy and dark wuxia story, you should not miss this one, because the visuals would take you to another world full of excitement.
My advice to you who have chosen this drama. First of all, this is not a light-hearted drama, the story is complicated, so do not watch My Journey To You when you are tired and stressed because of work. Pick a day when you have cleared your diary, the house is already clean and there is no laundry to fold. Find a good sofa to sit on, as each episode was an hour long.
When you've finished the last episode, feel free to leave your thoughts in the comments section below. I'll see you in another drama review post. Bye!