Title: Love Between Fairy and Devil
Also Known As: 苍兰诀, Cang Lan Jue, Parting of Orchid and Demon king
Director: Yi Zheng
Screenwriter: Bai Jin Jin
Genres: Fantasy, Romance, XianXia, Comedy
Country: China
Episodes: 36
Year: 2022
Original Network: iQiyi
Adapted from the novel "Cang Lan Jue" (苍兰诀) by Jiu Lu Fei Xiang (九鹭非香)
List of Recap:
Hi readers… It's a sunny day right here at my place. Here are new Love Between Fairy and Devil episode recap for you. In this episodes 10 and 11, we get to see different scenery. Yep! We were moving to the Cangyan Sea. Get ready for a gorgeous view of the Silent Moon Palace. But before that, let's meet the new characters.
New Characters Appearance
Dongfang Xunfeng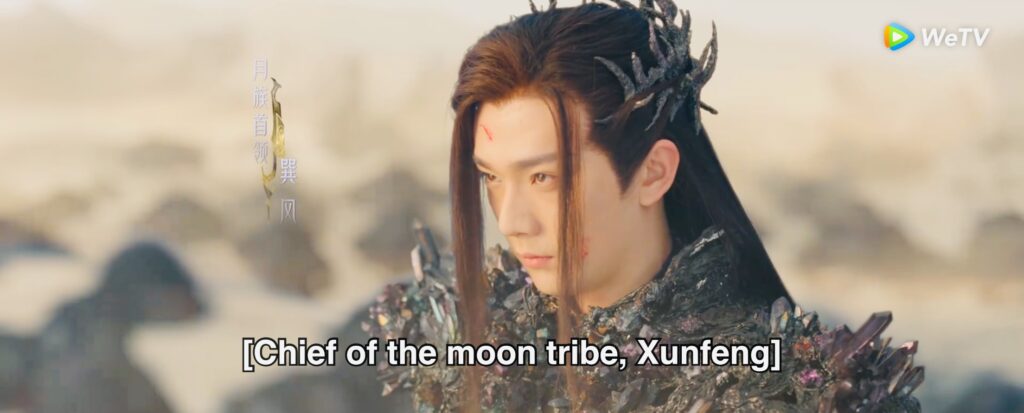 Dongfang Xunfeng was the only younger brother of Dongfang Xingcang. After Dongfang Xingcang was pronounced dead, he held the highest position in the Moon Tribe, the Moon Supreme. Dongfang Xunfeng hated his brother because he killed their father.
The Kings of Southern and Northern Youxian County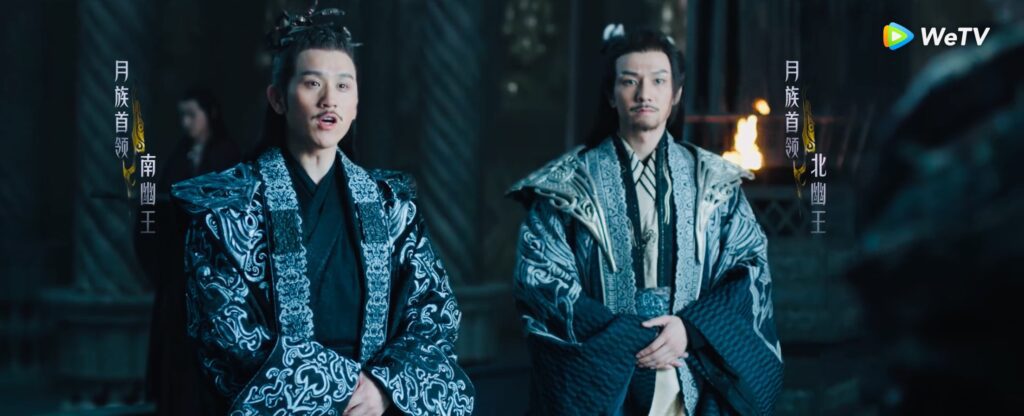 The Kings of Southern and Northern Youxian County were Dongfang Qingcang's subordinates since 30,000 years ago. The Southern and Northern Youxian County were part of Cangyan Sea and the Moon Tribe. Both kings have always been ambitious and coveted the position of the Moon Supreme. They always fought with Dongfang Xunfeng and it made the civil unrest all over the Cangyan Sea. But they were afraid of Dongfang Qingcang, therefore, they never do anything when he was around.
Episode Recap
Episode 10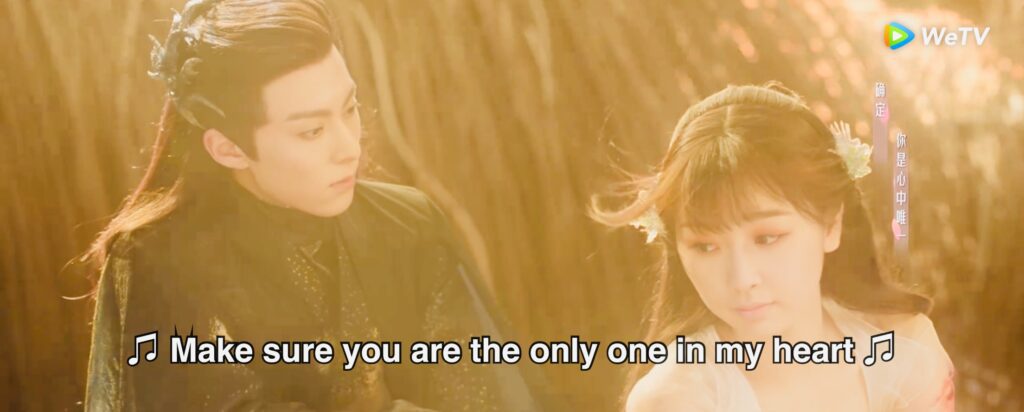 Xiao Lan Hua, Dongfang Qingcang, and Shang Que continue their journey to the Wind Plains to save Dongfang Xunfeng and stop the war. After a roller coaster ride through the thunder, the sky is finally full of sunlight. Xiao Lan Hua started to enjoy the ride. She no longer screamed or clung to Dongfang Qingcang. The Moon Supreme stared at the little orchid during the journey.
At the Wind Plain, the battle stopped when the soldiers heard the roar of a dragon. The sky was dark, the lightning flashed, and thunder rumbled. The soldiers at the Wind Plain raise their heads and look at the sky. They were anticipating something or someone.

Their hopes came true when they saw the massive body of a dragon hovering under the dark sky. The soldiers throw their weapons to the ground and greet their lord. Dongfang Qingcang jumped down carrying Xiao Lan Hua. He told the little orchid to follow him. Dongfang Xunfeng's expression was unsightly. The way he looked at his brother was full of hatred. Dongfang Qingcang stretches out his hand to the Kings of Southern and Northern Youxian County. They kissed his hand and kowtowed to him. Dongfang Xunfeng was hesitant to do that. He hated his brother, and Dongfang Qingcang knew that.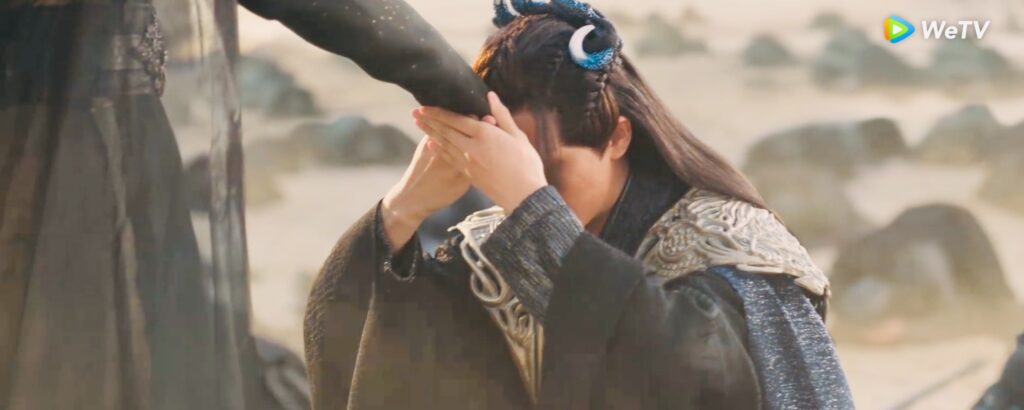 This looks like a scene from The Godfather when everybody would kiss Don Corleone's hand when they met him.
Dongfang Qingcang only said one word, "I'm back". Under the command of Shang Que, everybody welcomed their long-lost lord. Our little orchid was at a loss, everybody kowtowed to Dongfang Qingcang. She was the only one standing. Hurriedly, she did the same and kowtowed to Dongfang Qingcang.
Meanwhile, in the Shuiyuntian, nobody feels happy after Dongfang Qingcang wreaks havoc in Yujing. Changheng reported to the Emperor that the Four Water Pearls had been repaired. He asked forgiveness for his negligence.

Lord Li Yuan said that Dongfang Qingcang had been resurrected for more than ten days, but he did not go to the Cangyan Sea. Instead, he stayed in Yujing. Li Yuan believed that there must be a reason for his action. Changheng asked permission to hunt down and kill Dongfang Qingcang. But Lord Yunzhong snapped at him. He knew that Changheng main reason was not Dongfang Qingcang, but Xiao Lan Hua. Lord Yunzhong forbade Changheng from going anywhere without his order.

At the Cangyan Sea, Shang Que took Xiao Lan Hua to somewhere inside the Silent Moon Palace. The little orchid asked where did he take her. Shang Que answered that he was taking her to Devouring Immortal House. Xiao Lan Hua was terrified when she heard the name. The little orchid remembered that Daqiang used to say that Dongfang Qingcang likes to eat a chubby and thin-skinned fairy like her.

Shang Que saw her fear. He told her the Devouring Immortal House was just an ordinary bedroom. The first Moon Supreme likes to name the room according to their goal, which was to destroy Shuiyuntian. Therefore, the Palace has a room with gruesome names such as Immortal Slaying pavilion or Divine Slayer Ward as a remembrance of their goal. The little orchid obviously did not believe his explanations…😂
Dongfang Qingcang enjoyed his bath when Shang Que reported that Xiao Lan Hua had been settled in a bedroom and had doctors checkup on her. Dongfang Qingcang said that he found a way to break the Xilan seal. He only needs to kill the orchid using the ancient sword of Changying. But the problem is that sword was destroyed in an ancient war. Shang Que told him there was a piece of the sword at the bottom of the Silver Lake, and he was ready to pick it up.
Meanwhile, in the Devouring Immortal House (what a name…🤣), the doctors were busy checking on Xiao Lan Hua. They found her appearance odd and average. Completely different from what was written in the book.

It seemed that both Shuiyuntian and Cangyan Sea's history books were unreliable… Do you remember that Shuiyuntian's history book wrote Dongfang Qingcang as another version of Shrek? 🤣
Xiao Lan Hua cried because she was annoyed by them. One of the doctors said that their lord might bring her to the Cangyan Sea because he liked her. But everybody refuted her because Xiao Lan Hua's appearance was too ordinary, and her power was weak. It was absolutely impossible for their lord to like her. The little orchid was not satisfied with their words. Xiao Lan Hua was often bullied in Shuiyuntian, and now she had to accept the fact that people in the Cangyan Sea also criticized her. It was unbearable for her. Her face looked sour…😅
Dongfang Qingcang came and told the physician to go. Xiao Lan Hua immediately hides under the blanket. Dongfang Qingcang wanted her to treat him just like the way she did in Shuiyuntian and not fear him. But Xiao Lan Hua refused. The Moon Supreme seemed disappointed to hear the rejection.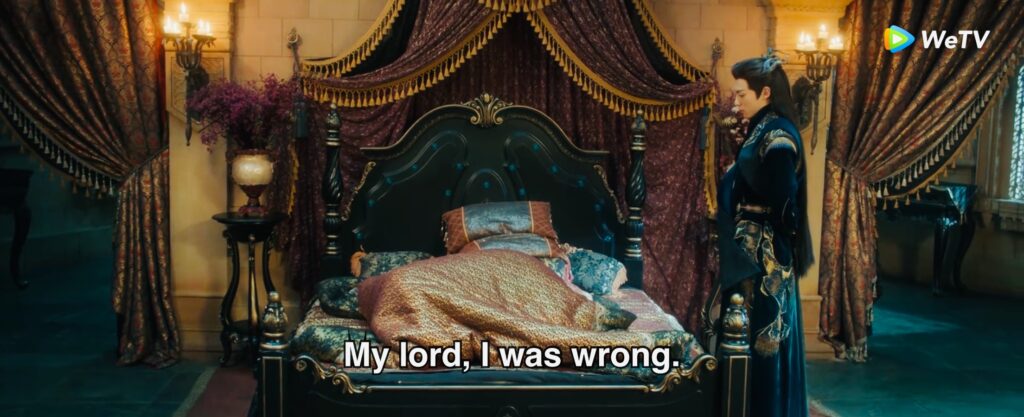 Xiao Lan Hua reminded him that he could take her away from Shuiyuntian, but he must know that she already had someone else in her heart. It was useless for Dongfang Qingcang to fall in love with her, and he better release her. Dongfang Qingcang snapped at her. He said that she was ridiculous because he would not fall in love with her. He told her that Xiao Lan Hua did not have a place to go because she was a traitor to Shuiyuntian. Dongfang Qingcang gave her the broken destiny book and ordered her to fix it.

Dongfang Xunfeng came to give his brother a jade ring. The brothers showed enmity towards each other. Dongfang Xunfeng asked Dongfang Qingcang where has he been for the last 30,000 years. Dongfang Qingcang refused to give him an explanation. Dongfang Xunfeng intentionally dropped the jade ring when Dongfang Qingcang took it.

Shang Que asked his master whether they should kill Dongfang Xunfeng or not. The Moon Supreme told him Dongfang Xunfeng could be killed when he made mistakes.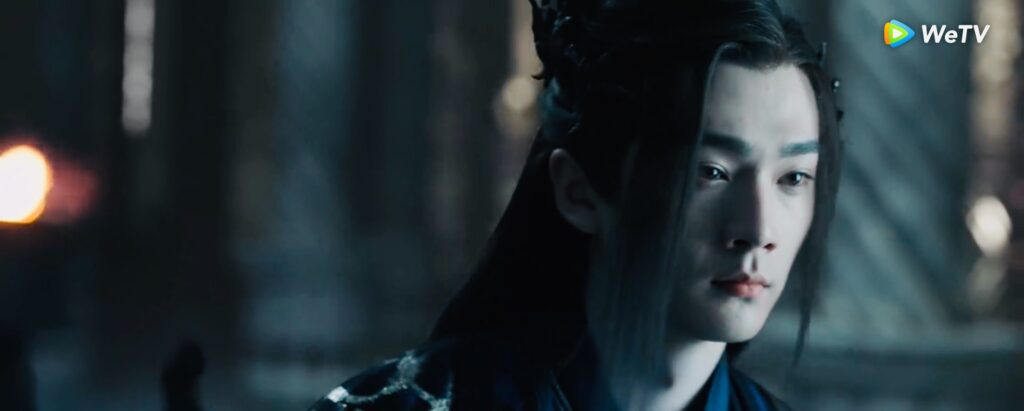 I was a bit swayed by Dongfang Xunfeng. He was soooo cute.. 😍
In Haishi City, Rong Hao racked his brain to solve his problem. He had searched the Destiny Book at the Arbiter Hall, but he could find it. Die Yi expresses her concern that Dongfang Qingcang might already read the book and planned to use Chidi Nüzi's primordial soul to resurrect his 10,000 demon soldiers. Rong Hao called his spy in Silent Moon Palace to find out whether Dongfang Qingcang knew the existence of the Destiny book. Rong Hao also had a plan for Xiao Lan Hua.
Xiao Lan Hua tried to run away from her bedroom. She used flower pollen to make the guards unconscious. But the little orchid bumped into Shang Que who took her into the dungeon. Dongfang Qingcang has been waiting for her in the dungeon. The Moon Supreme took her to a dark cell. She was terrified to see the dark space and begged for mercy. But the Moon Supreme told her she was too late and the little orchid must live there forever.

When Dongfang Qingcang turned on the light, there was Arbiter Hall. Xiao Lan Hua was stunned to see her home. She was elated and thought they were in Shuiyuntian, but when Dongfang Qingcang said that he built the Arbiter Hall for her, she realized that it was just an imitation. Her happiness vanished instantly.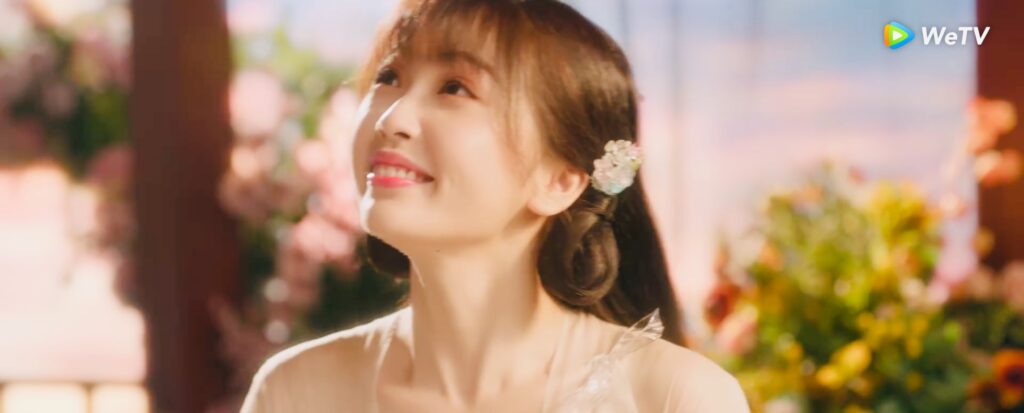 The little orchid begged the Moon Supreme that she wanted to go back to her real home in Shuiyuntian. Her request ignite his anger. To vent his anger, Dongfang Qingcang told her about the Heart Curse. He said that everything he did back in the Arbiter Hall was for the sake of the curse. There was never love between them. Dongfang Qingcang left the sad Xiao Lan Hua. When they parted, the skies turned dark with rain and thunders. The bad weather lasted for several days. Xiao Lan Hua shouts every day to curse Dongfang Qingcang.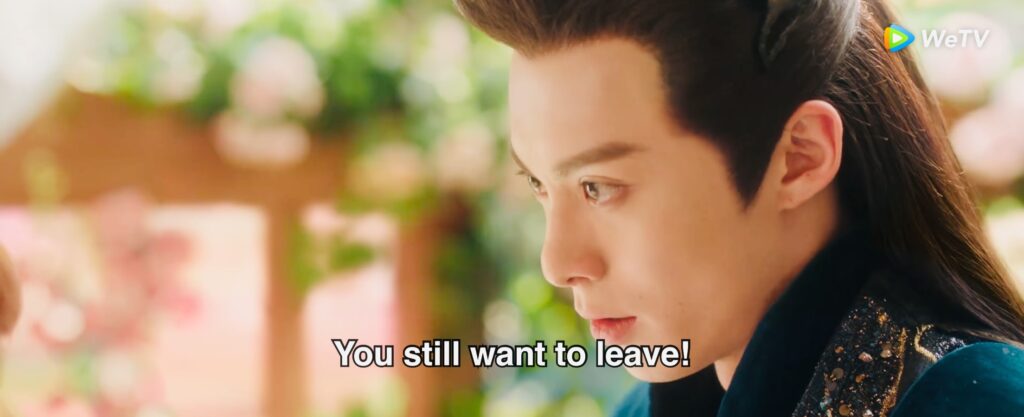 A few days later, a soldier reported that Xiao Lan Hua was on a hunger strike. She also stood in the rain and became sick afterward. The doctor had come, but she refused to be treated and only wanted to meet Dongfang Qingcang.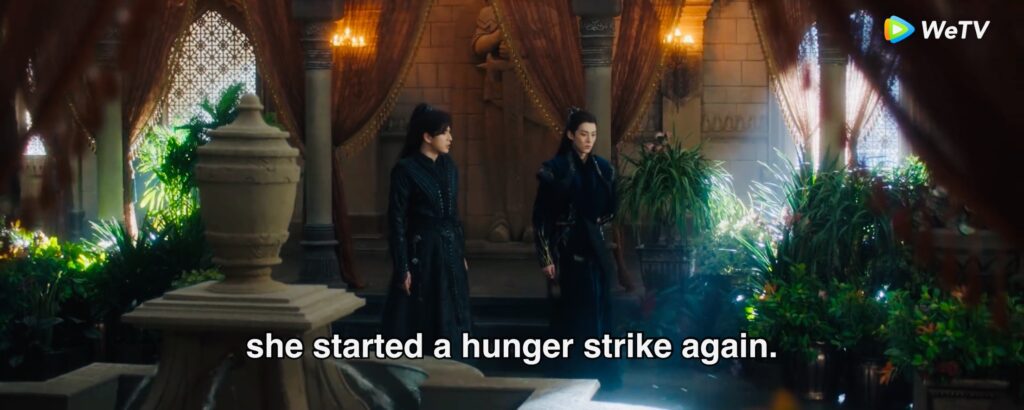 The Moon Supreme immediately went to her room. But Xiao Lan Hua did not seem to be severely ill. She took him outside near the destiny tree and kissed him under the lightning and thunder..
Episode 11
Suddenly the weather changed from rain, thunder, and lightning into a sunny and bright weather. Dongfang Qingcang's eyes showed that he was shocked. The kiss made Xiao Lan Hua and Dongfang Qingcang switch their bodies!
I had to write this warning to avoid confusion when you read the paragraph that did not match the picture. Please remember when I write "Xiao Lan Hua was running", it was Dongfang Qingcang's body that run.
They were not the only ones who were confused with this body swapped things… Me too…🤯
Dongfang Qingcang was furious. He tried to kiss her again, but the orchid bit his lips. He realized that he needed lightning to switch back their bodies. However, he could not produce lightning with Xiao Lan Hua's weak power.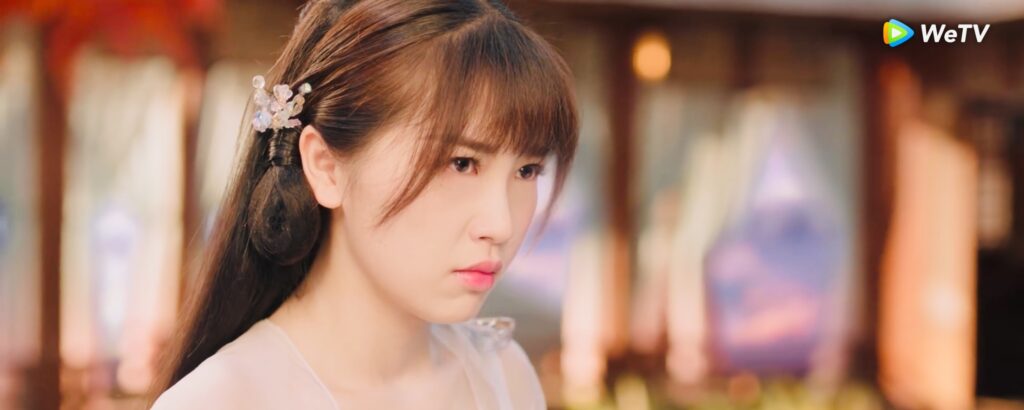 Amid his anger, he charged at Xiao Lan Hua and tried to strangle her. Shang Que, who saw Xiao Lan Hua trying to hurt his master, stopped Dongfang Qingcang.
The little orchid's brain worked quite fast right now…😅
She told Shang Que to lock Dongfang Qingcang up. Of course, Shang Que did not realize the strangeness in his master's actions. In one swift movement, he carried the angry Dongfang Qingcang on his shoulder and left to lock him up somewhere.

Yep… Shang Que carried Dongfang Qingcang (in the form of Xiao Lan Hua) on his shoulder. I could see Dongfang Qingcang seething up in rage. I hoped when they switched back, Dongfang Qingcang would not be angry toward the innocent Shang Que…😅
Xiao Lan Hua did not know that there would be a ceremony at the hall. She could only pretend to be Dongfang Qingcang that day, but her gestures were awkward. Xiao Lan Hua was unfamiliar with the heavy robe and the protruding armor. She kept tripping over the robe, and her armor stuck into the curtains. Shang Que was confused when Xiao Lan Hua told him to show her the way to the hall. Of course, the real Dongfang Qingcang would not do that. The Silent Moon Palace was his home, and he remembered every nook and cranny. But Shang Que never questioned his master. He kept silent and showed her the way.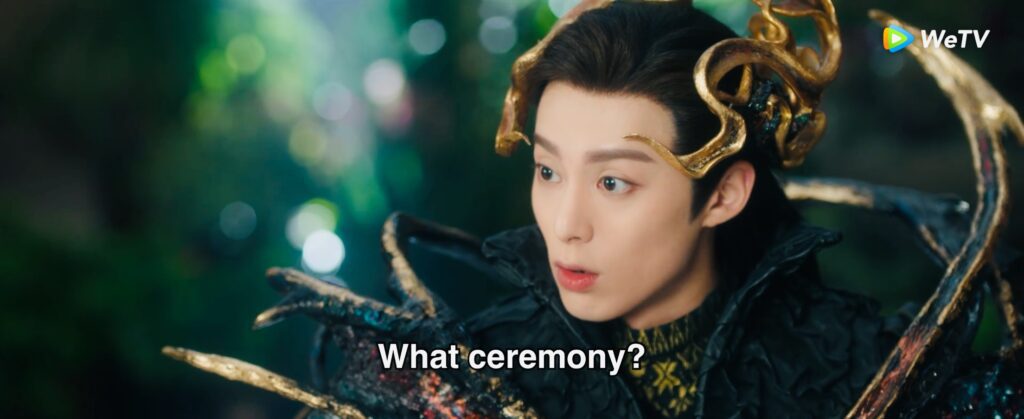 I really like the scene where they switched bodies. Dylan Wang was able to mimic Xiao Lan Hua's childish expression and her way of talking. Even the tone was perfect…👍
At the hall, every minister of the Moon Tribe and also Dongfang Xunfeng was there. Xiao Lan Hua's confused expression was displayed on Dongfang Qingcang's face. She did not behave like a Moon Supreme. She even bows when they salute him.
The King of Northern and Southern Youxian County congratulates Dongfang Qingcang. They had already prepared a gift for him. Two soldiers brought a man dressed in white. He was a spy leader from Shuiyuntian. They want to use the fairy as a sacrifice to celebrate his return.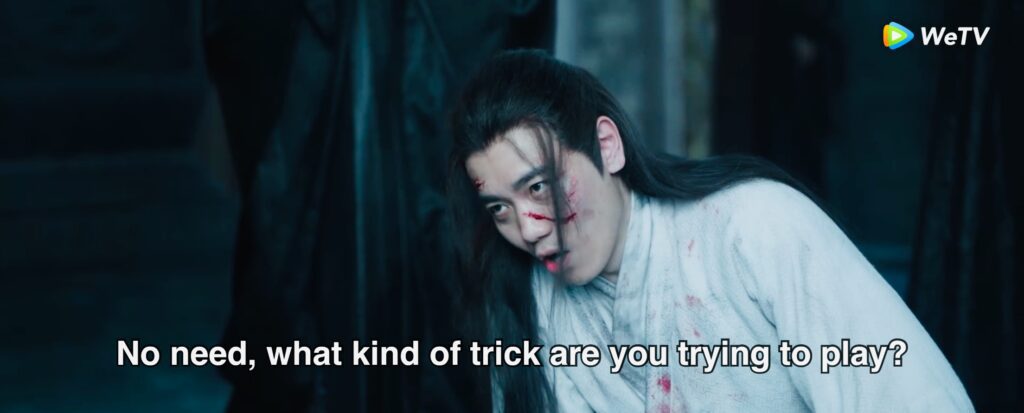 Xiao Lan Hua's eyes were bulging. When they gave her a sword. She can not even lift it. She racked her brain so the fairy could escape the execution. But the fairy himself was adamant to be killed rather than becoming a traitor. Xiao Lan Hua realized that she could do something about the spy.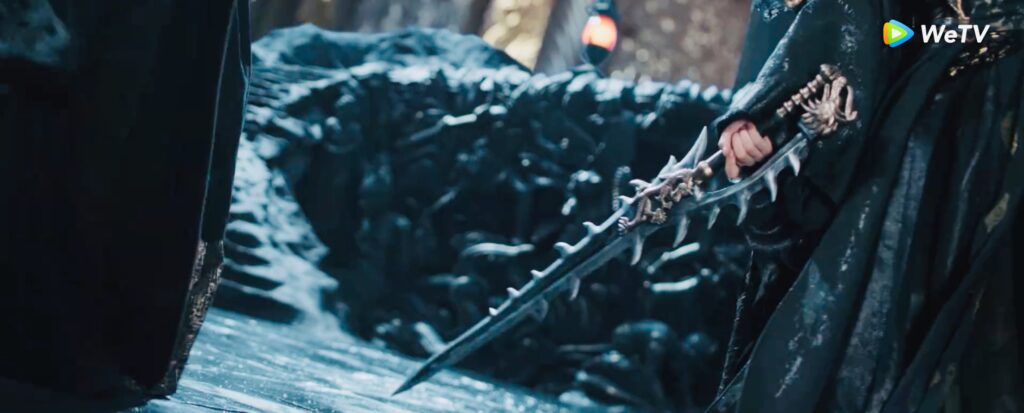 She ordered him to be released so he could deliver a message to Lord Yunzhong. Xiao Lan Hua told the spy to convey her message to Lord Yunzhong, that The Moon Tribe would not be lenient towards them in the battle. When Xiao Lan Hua looked at Dongfang Xunfeng, she could see the suspicion were displayed all over his face.

This scene showed us, how foolish Xiao Lan Hua was… 🤦🏻‍♀️
Meanwhile, in the dungeon, Dongfang Qingcang told the guards that he wanted to see Moon Supreme. The guards laugh at him. Of course, Dongfang Qingcang lost his ability to intimidate others when he was in Xiao Lan Hua's body. Although his tone and words are full of threats, the guards were not scared at all. They went into the cell to kill her. Dongfang Qingcang used the chance to run away from the cell and went to find the little orchid.

After the ceremony ended, Dongfang Qingcang returned to his bedroom to rest. He managed to get rid of the guardian and throw himself into the bed when suddenly, women surrounded her, including the spy that Rong Hao sent. They touched her here and there and speak in sweet tones. All of them wanted to serve Dongfang Qingcang. The little fairy panicked and told them to leave.

Xiao Lan Hua called Shang Que to her room. She asked him many things about Dongfang Qingcang's nature and preferences. Xiao Lan Hua also told Shang Que that Dongfang Qingcang suffered some injuries during the war. His power was weak, and it could not be matched to the Kings of Southern and Northern Youxian. Xiao Lan Hua and Shang Que were engaged in a discussion when suddenly Dongfang Qingcang (in a form of Xiao Lan Hua) charged Xiao Lan Hua and attempted to kiss her. Shang Que's eyes were bulging to see the such scene. Dongfang Qingcang told him to get out because he was going to make out with the Moon Supreme.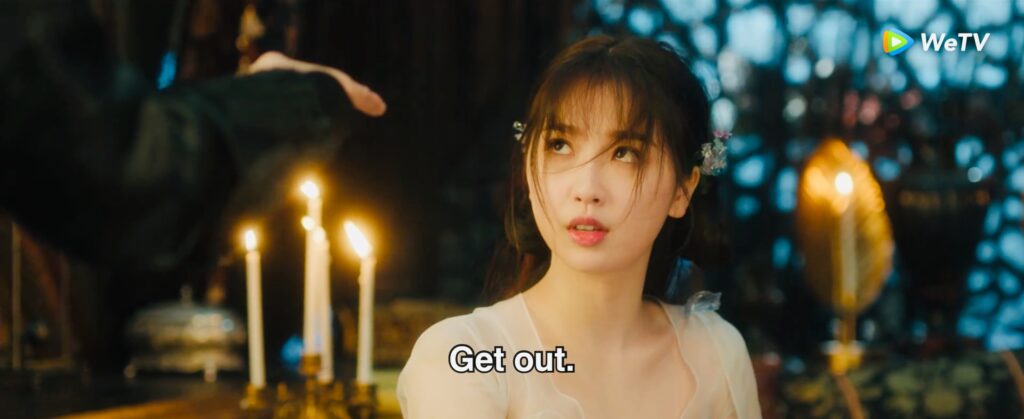 Xiao Lan Hua stopped Dongfang Qingcang's attack and told him to be switched back, they needed lightning. Dongfang Qingcang accused her of using his body to find a man for her. Xiao Lan Hua refutes his words. She accused him back of having a bunch of women around him. Dongfang Qingcang denied it, but Xiao Lan Hua did not believe it.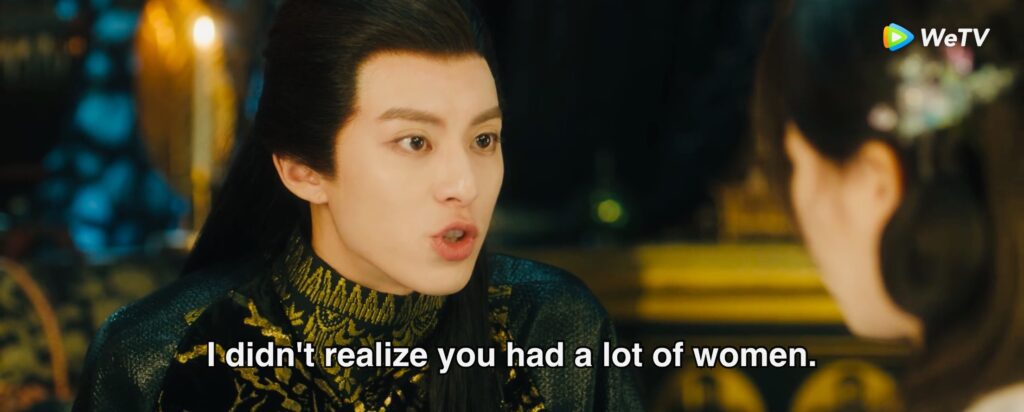 Dongfang Qingcang explained that they were in a dire situation. If somebody found out that they were switched, both of them would die. Xiao Lan Hua started to panic, she tried to use Dongfang Qingcang's power to make lightning but it was in vain. Dongfang Qingcang said that there would be thunder and lightning in 3 days. They have to make do with it. Dongfang Qingcang told her to watch his words and actions.
The spy from Haishi City reported that Dongfang Qingcang did have the destiny book. Rong Hao and Die Yi were confused because Dongfang Qingcang did not immediately take Chidi Nüzi's soul to resurrect his 10,000 demon soldiers. They believed that something must be hindering Dongfang Qingcang from doing so. However, Rong Hao still had one more person to help him. It was Dongfang Xunfeng.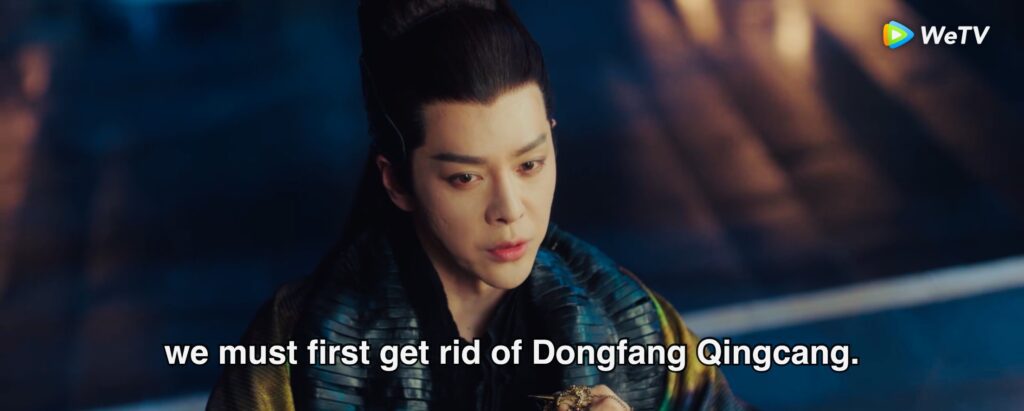 Dongfang Qingcang trained Xiao Lan Hua on how to act as the cold and intimidating Moon Supreme. I must say that he failed… Xiao Lan Hua still acts like… her 🤣.

Rong Hao tried to incite fear in Dongfang Xunfeng. He reminds him that 30,000 years ago, Dongfang Xunfeng and his soldiers left Dongfang Qingcang alone in the battle. Dongfang Qingcang died because Dongfang Xunfeng arrived late.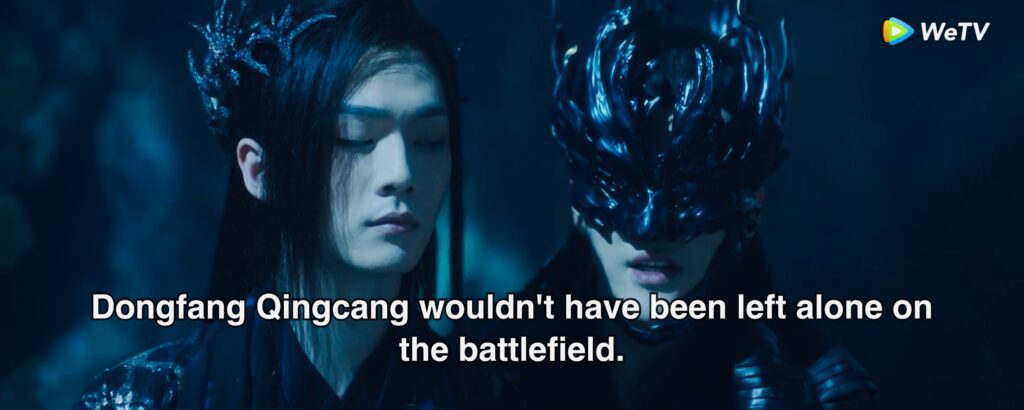 This is the perfect reason for Dongfang Qingcang to kill his brother. Rong Hao also mentioned the death of the first Moon Supreme and offered his help to kill Dongfang Qingcang. Dongfang Xunfeng reminiscences the scene when Dongfang Qingcang killed their father.

Xiao Lan Hua questioned Dongfang Qingcang about his father. Why did he kill him and why did she cannot see any regret or sadness on his face? Dongfang Qingcang answered why should he regret it. Dongfang Qingcang taught her that if she wanted to survive, she must learn how to be a bad guy. The little fairy protested because she did not want to be a bad guy. Xiao Lan Hua kicked Dongfang Qingcang out of his bedroom, afterward..