Title: A Date With The Future
Also Known As: 照亮你, Illuminate You, Zhao Liang Ni, Shi Guang Ru Yue
Director: Jin Sha and Yu Bo
Casts: William Chan, Zhang Ruo Nan
Screenwriter: Li Jie
Genres: Romance, Drama
Country: China
Type: Drama
Episodes: 36
Release Date: June 2, 2023
Original Network: Tencent Video ZJTV
Where To Watch: WeTV, Viki, Tencent Video, MGTV, Viu
Adapted from the web novel "Shi Guang Ru Yue" by Xiao Lu
Dear readers, how are you today? I wished the sun in your place was shining brightly and your day was full of happiness. A Date With The Future drama had been on the WeTV Hot list for several weeks. I'm so excited to write this review, because this was William Chan's drama. I was more than happy to enjoy his sweet smile and dimple. Because it brighten up my day and I could not wait to share it with you. So, let's get started. Happy reading!
A Date With The Future Synopsis
Fifteen years old Xu Lai was trapped under the ruins after an earthquake shake the City of Huining in China. Her head was hurt and she was tired. Xu Lai could only cry and hoped that somebody would hear her call for help. After a long dark and rainy night that seemed to last forever, suddenly she saw a ray of light.
Xu Lai heard a dog barking followed by a man who stretched his hand and comforted her. He told her not to be afraid because he would save her. The man had become a light that lit up her world for the next ten years.
Jin Shi Chuan was a member of the Search and Rescue Squad of the Huaigang Fire Fighter Brigade. He pitied Xu Lai who was suffering from shock. Through his rescue dog, Zhui Feng (Windchase), he comforted Xu Lai and brought back her spirit. His kind attitude touched Xu Lai deeply. Especially when he left a photocard of Zhui Feng and a box of milk for her before he left.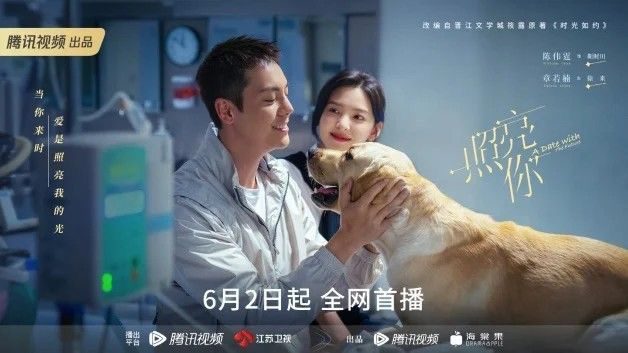 Afraid that she would miss him for good, Xu Lai chased after the fire truck. She made a promise that she would come and find him ten years later. Jin Shi Chuan did not think the promise seriously but still agree to it.
Ten years later, the now-grown-up Xu Lai worked as a journalist. She return to China from abroad to fulfill a promise she made with Jin Shi Chuan. They accidentally meet when a horrible accident happened on the highway. As a journalist, Xu Lai must go there to cover the news. When her fellow journalist made a mistake by leaving the camera behind, she run into an explosion and Jin Shi Chuan saved her once again.
Xu Lai felt an inexplicable happiness when she finally found him. Crouching near the deadly explosion seemed nothing to her. The only thing that shone more brightly than fire in her eyes was the one and only, Jin Shi Chuan.
Yet, this Jin Shi Chuan was no longer the same person from ten years ago. After a heartbreaking experience, Jin Shi Chuan turned into a cold, strict, and harsh person. The sweet and warm Jin Shi Chuan no longer existed when he scolded her for being too brazen to risk her life.
The one-sided relationship continued because Xu Lai asked to be stationed in the Fire Fighter Brigade. She wanted to make an in-depth report about the firefighter's everyday life and make up for her mistake.
When she started to appear daily in front of Jin Shi Chuan, he got annoyed and tried every possible means to make her understand it. Things changed after she introduced a new rescue dog to him, Ping'An (Peace). Jin Shi Chuan now must face his painful memories head-on.
Will Jin Shi Chuan able to cast away the guilty feelings that had been lingered for too long? And will Xu Lai be able to make him realize that she was the one for him before a love rival's persistence took her away?
A Date With The Future Review
Who could reject the charm of William Chan's sweet smile and dimple? Not me. I was so ready to spend my beauty sleep binge watching his drama. And I am sure, my dear readers would not mind reading my review which would be full of praise for him.
A Date With A Future was a romantic-comedy drama about Jin Shi Chuan, a firefighter who never thought of building a relationship, with a daring journalist, Xu Lai. This drama was an adaptation of a web novel written by Xiao Lu. What was interesting about the plot was Xu Lai's persistence and resilience to chase Jin Shi Chuan.
I found many dramas where the female lead chases the male lead demurely or meekly. They would make the male lead feel helpless but then slowly drawn to them. This plot was also a common thing in Chinese novels or web novels. And since this drama was based on a web novel, I thought the plot would somehow lead in the same direction.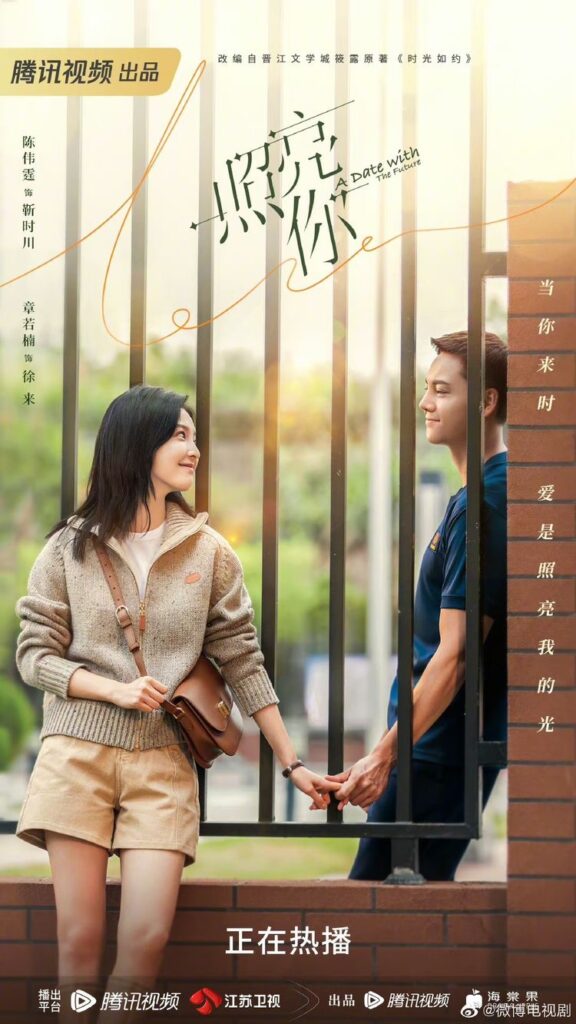 But Oh Boy! Xu Lai was far from the terms demure and meek. She was smart, confident, brave, and sometimes cute. In my opinion, she shone brightly at all times. It was hard for Jin Shi Chuan to reject her charm because Xu Lai had spent ten years planning all of her moves.
She was not some cute girl who fall in love with a guy because of his handsomeness. In a short time, she managed to decide her direction and purpose in life. She thought logically and calculate the time needed to be able to be on a par with him. So when she decided to stay close to him, Jin Shi Chuan's fate has been decided.
This drama was really enjoyable for me. The story was light but full of wisdom. The dialogue was smart and at the same time romantic. The relationship between Xu Lai and Jin Shi Chuan at some point was enviable. I did not enjoy it wholly, because there was a break-up phase in their relationship and I was never fond of break-up stories. But still, their bond was strong and I like it.
A Date with the Future was not only a romance drama. It was more about loyalty and camaraderie. Jin Shi Chuan was a firefighter and his job was not only served as a background of the story. But also played an important part in the plot and character development of our main lead. The rescue squad was hilarious and their naivety really made me choke on laughter. However, I found that the best part of this drama was not William Chan and Zhang Rou Nan, but the dogs.
The dogs were a nice surprise in the drama. They were adorable and the relationship between the firefighter and them reminded me of Adoring movie that released in 2019. It was a comedy movie about the relationship between humans and animals.
Adoring was an ensemble of short stories and William Chan also act in one of them as a man who could not get intimate with his wife because of her Rottweiler. Adoring was a good movie and Wiliam Chan showed his closeness with animals, so I was not surprised that he was so natural when handling the dogs in this drama.
A Date With the Future was packed with famous names. Started with the directors, Jin Sha and Yu Bo. This was not their first time to team up with William Chan. Prior to A Date With The Future, William Chan also acted in their drama, Novoland: Pearl Eclipse drama with the one and only Yang Mi. Their cooperation was very good and I really enjoyed the drama. I also wrote the review don't forget to check it out.
The screenwriter of this drama also wrote Jin Han's drama, Hello My Shining Love. I haven't been able to watch the drama, although it stayed on my watchlist. Since I enjoyed A Date With The Future's plot, I might be going to watch Hello My Shining Love. Hopefully, I had enough free time to do it.
William Chan, what can I say about him? He was handsome and I could not get my eyes off his dimple. As an actor, William Chan fit perfectly into a role of a serious person. He got that cold stare that would penetrate your soul. And his calm demeanor would be enough to make your heart shivers.
But in this drama, he turned out to be a clingy boyfriend who was so sweet and affectionate. You should watch the part when he shakes his booty. I have no idea that he could be so cute like that…😂
I have never watched Zhang Ruo Lan's drama before A Date With The Future. I have no idea why she could be out of my radar before. I like her acting and the chemistry between William Chan and her was terrific. She act mostly in movies therefore her facial expression was so vivid and lively.
Ci Sha acted as Jin Shi Chuan's love rival Huo Yan Zong. This time he acted as a wealthy CEO who fall in love head over heels with Xu Lai. Ci Sha's handsomeness was unique and I instantly recognized him as Li Shu, the cat prince in The Blue Whisper drama. Funnily, although his characters in The Blue Whisper and A Date With The Future were not ordinary men, they had the same bitter fate in love. Yet, they were willing to sacrifice themselves for their loved ones.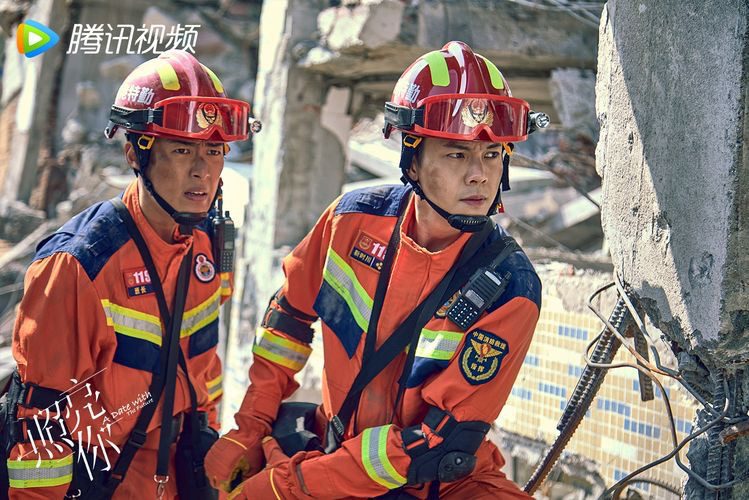 Besides Ci Sha, I see other familiar faces such as Ren Hao who acted as Lu Fangqi. He used to play in A Female Student Arrives at The Imperial College drama as Zhuo Wen Yuan. There was also Jia Nai who acted as Yu Shi Shi, a famous actress who fall in love with Huo Yan Zong. Jia Nai used to act as Wen Wan, the evil concubine in Romance of a Twin Flower drama, and as Zhang Hao Hao in A Dream of Splendor.
If you take a closer look at Wen Qing Guo, the commissioner of the Firefighter Brigade, you'll be surprised to recognize him as Ru Yang Wang. The hilarious old prince who was the Emperor's uncle on Love Like The Galaxy drama. I really love Zheng Xiao Ning's character in Love Like the Galaxy drama. Therefore I remembered his face. But he was not the only one who acted in Love Like the Galaxy drama.
Our guest role, Wang Zi Rui, acted as Zang Qiu's husband and Jin Shi Chua's best friend, Fang Huai. Wang Zi Rui could be recognized as Lou Ben in Love Like The Galaxy, Liu Gong Quan in The Ingenious One drama, and Tao Si Wei in Romance of A Twin Flower drama. This new rising star had acted in many dramas this year.
I found an interesting quote from James McAvoy (Professor X in the X-Men film series), he said that "Filmmaking is a miracle of collaboration". It takes a harmonious collaboration between the production team and the cast to produce a good movie or drama. A Date With The Future was one of the examples and I truly enjoyed every bit of the episodes.
The Cinematography
A Date With The Future invited us to see a glimpse of the daily life of a firefighter. I would give a high rating for A Date With The Future's maximum effort to use real props in the drama. I had enough of drama that use complicated background story but the sets was barely convincing.
A Date With The Future gives a more convincing visual for me. Especially for the sets where the firefighters work and are trained. They were meticulously arranged. And although the CGI was not excellent, I was satisfied with the whole drama.
The makeup and the costume on the other hand were not their forte. I could see the thick foundation and the smear of dust and ashes was unconvincing since the first episode. Xu Lai was trapped under ruins for a night. Her face was covered in dust. But then after she was taken to the emergency tent, her face had been cleaned but it still leaves her a little bit of stain.
However, her white sports uniform was too clean for someone who had been bathing in the dust. And this occurrence happened throughout the entire drama. I was a bit disappointed by these slips.
I like how the director shoots the action at a high speed. I could feel the tension and the excitement. However, some editing seemed to overlook the extras. Some of them seemed out of place and did not seem to bother to act. I feel it was a bit annoying but it did not affect the whole drama for sure. I was quite satisfied with the lighting and shooting angles. Everything was good and I could feel the emotion from the actors
The Story
Unless they come from the Marvel Universe, real-life heroes are human too. Probably this was something the author wanted to convey to those who read or watch A Date From the Future. We were so accustomed to seeing firefighters or rescue squads every time there were natural disasters or incidents around us. But have you ever thought about what kind of a burden they have to shoulder every time? Surely they have to save lives, but if they failed what would they feel inside?
In my humble opinion, in every story, although it was fictional, there'll be a glimmer of truth inside it. A Date With The Future told us about PSTD among firefighters, soldiers, or policemen was real. They put their life in the line of duty and used their body to shield and protect others. However, it was not only them who get affected.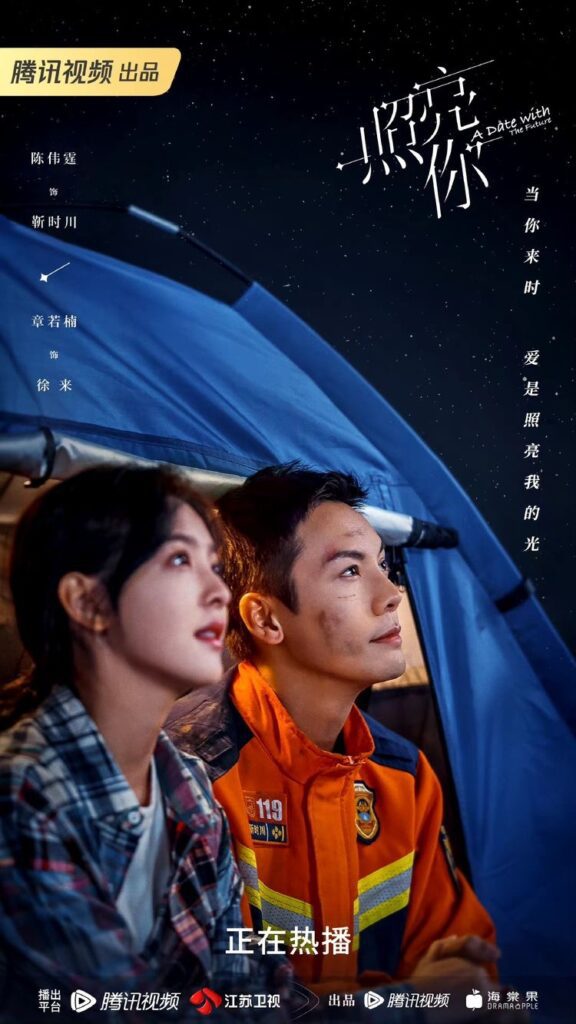 Their family member could suffer from the trauma of losing their loved one. Surely life was precious, everybody knew it well, much less those who worked as firefighters. But nobody was immune to emotional changes when they see death.
Jin Shi Chuan was ridden by guilt when his best friend and dog sacrificed their lives to save him. His character then changed. Jin Shi Chuan who was once sweet and warm become cold and very strict with his teammates.
He refuse to be a dog handler after Zhui Feng died. But he was not the only one. Lu Fangqi, one of his colleagues also developed a symptom of fear when he saw fire. This drama showed us, that heroes in real life would bleed and their hearts could break.
Every character in this story was going through some development. Well, I guess most of them, because our nasty villain, Jiang Xin, did not seem to have any development at all. She is still a villain for more than 30 episodes. Well, I almost gnashed my teeth every time she showed up.
The story was fast-paced. The 45 minutes episode feels like only 20 minutes. The director uses many flashbacks to explain the story. I'm sure you would not miss it because they use different color tones to make it notable.
The relationship between Jin Shi Chuan and Xu Lai was interesting. Usually in a drama, after a first kiss, the woman would be the focus. She would be sleepless, blushing, tossing and turning in her bed, or daydreaming. For instance, in Here We Meet Again when Xiao Yuan and Xu Yan Shi accidentally kissed on the balcony.
But in A Date in The Future, we have the privilege to see Jin Shi Chuan become distracted, sleepless, absent-minded, and confused after Xu Lai kissed him and then acted coldly at him. Although he was an ace firefighter, Jin Shi Chuan was completely a novice in love. He even needed Lu Fangqi's help to interpret his situation.
It was hilarious to see him sneak into Lu Fangqi's bed and secretly ask him about the kiss. And after Lu Fangqi said that there must be something wrong with the man's technique, he could not sleep all night and showed up with panda eyes the next day.
Speaking about techniques, why did Cdrama was lacking appropriate and realistic kissing scenes? I had enough of this closed mouth and stiff kisses. Most Chinese actors needed to learn how to kiss from Vin Zhang or Luo Zheng.
One thing that made me a little bit dissatisfied was this drama followed the common plot of long-lost friends turned into lovers. You see, Jin Shi Chuan's mother was a music teacher who died in an accident. On the day he learned that his mother died, he went to her music school and met with a girl who played piano for her.
The song was something his mother had composed personally. Her piano play gave him some hope and power to move on. But then he never saw her again. It was so predictable that the young girl was Xu Lai. Am I disappointed? Yes, I am.
And just like another drama about a hero, there must be a betrayal and tragedy in it. I thought the death of Fang Huai and Zhui Feng was enough. Nah! The author had another idea to put another person to death. I would not tell you who died because when I wrote this review, I could not accept his death. You should find it yourself. Sound vengeful? Yes, I am!
But I hope that the screenwriter gave the dogs more chances to act. It seemed after Jin Shi Chuan was able to overcome the sadness of losing Zhui Feng, their role decreased significantly. It was too bad because I like to see them very much. But worry not my disappointment did not last for a long time. The story was still far from boring and the ending was beautiful and full of happiness, you can read the detail about it on A Date With The Future ending explained post.
The Characters
Xu Lai
Ten years ago, Xu Lai (played Zhang Ruo Nan) was a 15 years old girl who run away from home. Her parents were constantly arguing and it made her uncomfortable. She went to Huining alone to find some solace. She was in her hotel room when the earthquake that brought Jin Shi Chuan to her happened.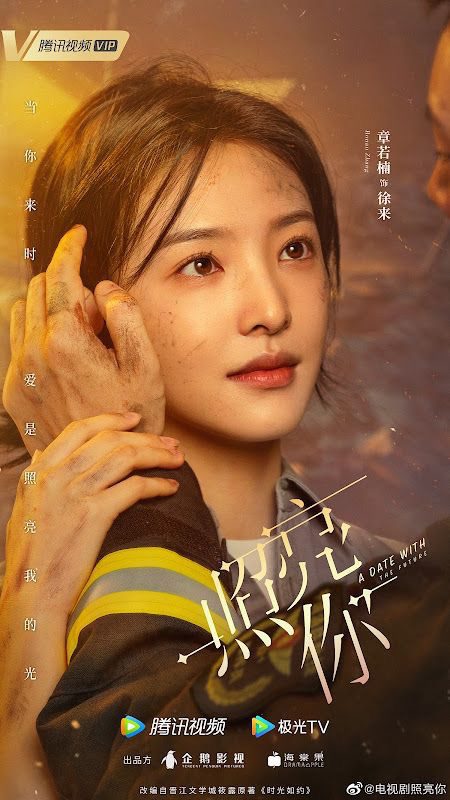 Since young, Xu Lai was proven to be a smart woman. She was logical, calculative, and determined. Before she made the promise, she give herself ten years to prepare herself to be on par with him. Xu Lai went abroad and made her way as a journalist and an international dog trainer.
This was her way to track and find Jin Shi Chuan. A journalist would be sent to the most dangerous places where only the rescue squad would go. And she choose to be a dog trainer because Jin Shi Chuan used to communicate with her through his rescue dog, Zhui Feng.
As a journalist, Xu Lai made a good track record on the international branch. However, she choose to return to China to fulfill the ten years promise she made. She used her position as a journalist to cover a report about the firefighter. And this report took her a step closer to Jin Shi Chuan.
One thing that I like about Xu Lai was she seemed casually hitting on Jin Shi Chuan. But in reality, she calculates it very carefully. Including the time she did not show up at the firefighter station. She could predict that Jin Shi Chuan would secretly looking for her. All of it happened because she possessed an innate ability of a journalist: keen observation. Xu Lai had been keeping a tab on Jin Shi Chuan's expression every time she was near him.
Xu Lai also has a strong sense of justice and always wanted to help others find the truth. However, sometimes the truth was far more cruel than her imagination. And when it happened, she could only seek solace from her dog Ping'an or Jin Shi Chuan.
Jin Shi Chuan
Jin Shi Chuan (played William Chan) was born into a firefighter family. His grandfather and father were firefighters and he followed their footsteps. Jin Shi Chuan knew exactly that his profession was dangerous. When his father died, he was just a boy. He feel sad but his broken heart was healed by his grandfather. Grandpa had painstakingly tried to fill the role of parent for Jin Shi Chuan.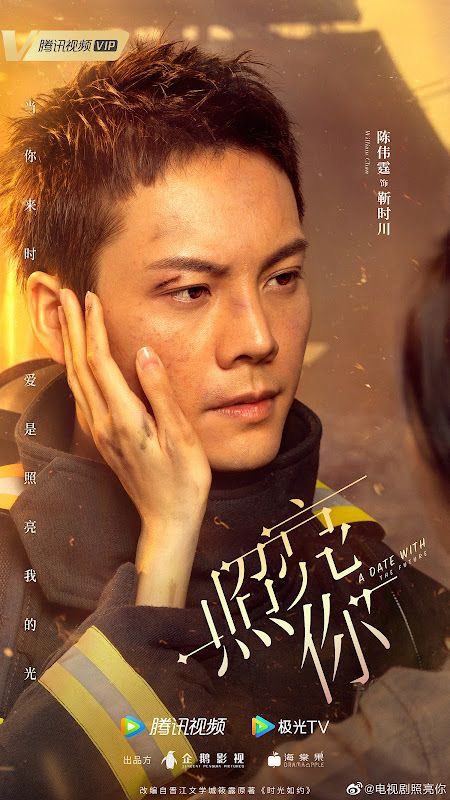 However, when Fang Huai and Zhui Feng died, it hits him differently and changed his personality completely. The sweet and warm Jin Shi Chuan had become a cold and serious Captain Jin. His teammate knew the story and they understand the pain. They still believed in him 100% and remained loyal to him no matter what. Even Xu Lai was impressed by how well Jin Shi Chuan managed his subordinates. Although he was strict and harsh, they knew that he did it for their good.
As someone who had been targeted by Xu Lai, there was no turning back for him. Jin Shi Chuan had to accept his fate so that she would turn his world upside down. Even if he disagree, there was nothing he could do but succumb to her. Xu Lai was a hunter and he was the prey…😂
Slowly but surely, Xu Lai breathes a new life into his life. Jin Shi Chuan learned to let go of his feelings. He tried to move on from the past because after he met her, Jin Shi Chuan's bleak future was suddenly gone. He got another purpose in life and he got a shoulder to cry on. Jin Shi Chuan's cold heart was warmed by Xu Lai.
However, I am sure the feeling started ten years ago when he pitied Xu Lai who could not bring herself to eat or drink because of shock. His heart was already softened for her. Therefore, although he had been alienating her, Jin Shi Chuan could not bear to see her suffer.
There was a scene when the firefighter squad was called to get rid of a wasp nest downtown. Xu Lai and Xiao Zhou followed them. Xu Lai bravely took a close-range shoot for better footage. When a wasp chased him. She instinctively ran towards Jin Shi Chuan and hide behind his towering body. Jin Shi Chuan did not shake her off or avoided her. He helped her get rid of the wasp. And after they arrived at the station, he gave her a wasp ointment.
And another case, was when Jin Shi Chuan saw her after she secretly showered at the station. When Jin Shi Chuan heard his teammate enter the shower room, he pulled her to his shower cubicle. He could push her into another cubicle or throw a towel to her to cover up. But no! Jin Shi Chuan had to pull her to his cubicle and endured an awkward situation for some time.
So, Jin Shi Chuan's heart had long recognized her. He just needed some time to adapt.😁
After his cold heart was warmed by Xu Lai's presence. Jin Shi Chuan returned to what he used to be. He was all smiles and happier. Even the commissioner could see the changes. When he was with Xu Lai, he was affectionate, attentive, protective, a little bit clingy, and cunning for sure.
Huo Yan Zong
If there was someone who could match Xu Lai's unrequited love for ten years, the man was Huo Yan Zong (played Ci Sha). He had secretly loved her for thirteen years. Huo Yan Zong was Xu Lai's childhood friend, together with Han Fang they made a trio and spend their childhood supporting each other. Especially Xu Lai whose family situation was not harmonious.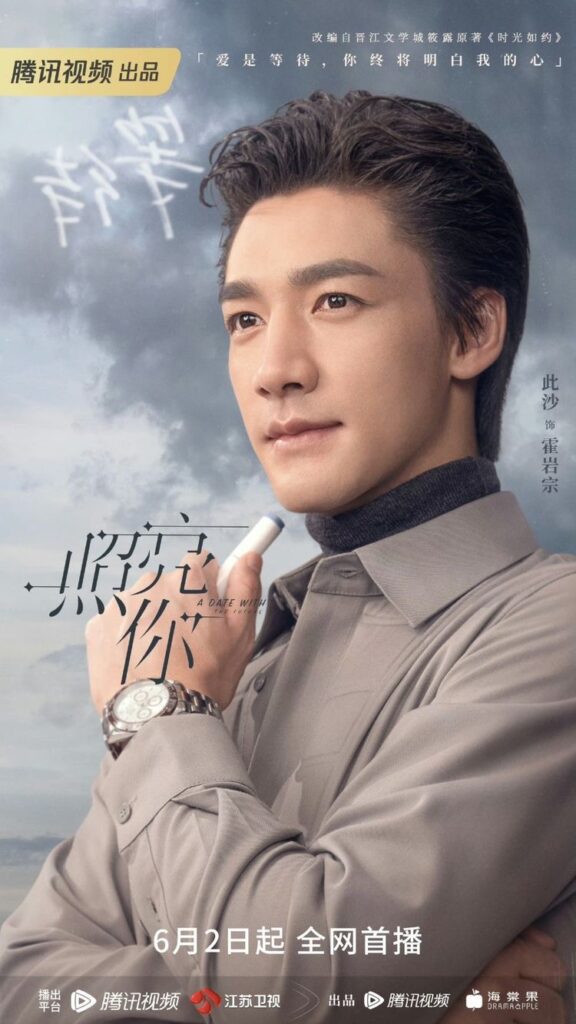 Huo Yan Zong never thought he had fallen for Xu Lai until he learned that Xu Lai was trapped in an earthquake. Feared of losing her, Huo Yan Zong's first instinct was to find her. But he failed because no taxi driver nor bus would drive to Huining City. It was too dangerous for them.
Huo Yan Zong never dared to confess to Xu Lai. He always waiting for the right time to do it. But then ten years had passed and he still could not find the right time. Huo Yan Zong's only regret was missing the bus to Huining. He believed that if he was there earlier, Xu Lai would never meet Jin Shi Chuan and fallen for him.
Although Huo Yan Zong was the same age as Xu Lai and it made him younger than Jin Shi Chuan, Huo Yan Zong was already a successful person in terms of money. He followed his parent's wish to follow in his father's footsteps to be a businessman. And apparently, his talent lies there. At a young age, he had become the powerful and wealthy CEO of the Yunkai Group.
Huo Yan Zong was ready to help Xu Lai at any turn. Yet he failed to realize that she was a warrior who always tried not to be a burden to others. Xu Lai had learned to be independent from an early age. But Huo Yan Zong always takes things into his hand without notifying her, including in her career.
This initiative was something Xu Lai did not like. She needed someone who support her career but did not interfere with it. I guess if Huo Yan Zong understand this, Xu Lai's opinion of him would have changed.
Huo Yan Zong was not an expert in human relationships. After he messed up his relationship with Xu Lai, he got involved with Yu Shi Shi, who genuinely loved him. He disregarded her feelings and made her a decoy for the paparazzi. Well… no wonder whatever he did for Xu Lai, she never fall for him. Huo Yan Zong really needs some upgrades in the character.
Zang Qiu
Zang Qiu (played Luo Qiu Yun) was a doctor who married Fang Huai, Jin Shi Chuan's best friend. Zang Qiu was like a hedgehog who hide her wounded heart beneath the sharp remark and cold demeanor. She holds a grudge toward Jin Shi Chuan because he forbid her from seeing Fang Huai on his deathbed.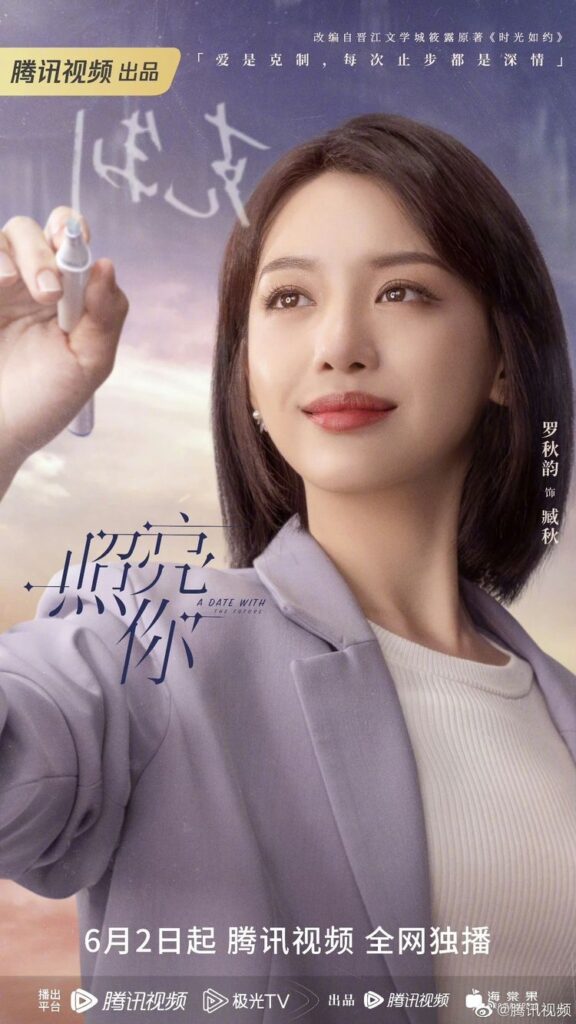 Back then, Fang Huai was injured because he tried to save Jin Shi Chuan. He was still alive when he was taken to the hospital. However, his burnt injuries were too severe. Fang Huai realized his condition and made a last wish of did not want Zang Qiu to see him like that.
Jin Shi Chuan guarded Fang Huai's ward door and never let Zang Qiu enter. Ever since Zang Qiu hated him and did not want to be associated with Jin Shi Chuan. Zang Qiu's grudge had burdened her for years. In reality, Zang Qiu's anger was not solely directed at Jin Shi Chuan.
She was angry with Fang Huai for not believing her in the end. Zang Qiu was a doctor. She had seen much death and seen many people with terrible conditions. So, Fang Huai's protectiveness of her unexpectedly hurt her.
Zang Qiu refused to open her heart and could not move on from the past. Even Fang Huai's parents hoped she would forget their son and start a new relationship. But nobody could shake him until she met with Lu Fanqi's persistence. He was a firefighter and Jin Shi Chuan's subordinate.
Lu Fangqi was younger than her and he was afraid of needles. When Lu Fangqi looked at her with eyes full of hope, he reminded her of Fang Huai. Although she was touched by his love, Zang Qiu feared that she would feel the pain once again. So she tried all means to drive him away. But Lu Fangqi was not an easy opponent. He keep pestering her again and again until she was willing to accept him in her heart.
The Conclusion
A Date With The Future was a romance-comedy drama about Xu Lai, a brazen journalist, and Jin Shi Chuan, a serious and cold firefighter. I really enjoyed every single episode of this drama. The dialogue was smart and romantic and the story was far from boring. Everything was beyond my expectation.
Although some aspect, such as CGI, was far from my expectation. I was quite satisfied with the whole visual of this drama. Moreover, in the latter episode, you'll get to see William Chan shake his booty. This was a big surprise. This drama was a must for any romance junkie and don't forget to bring your tissue box with you. Some part was too heart-wrenching that I could not stop crying.
So, dear readers, you better not waste your time. Go prepared your favorite couch, sofa, or bed. And make sure you had enough supplies before you binge-watch this good drama. Once you started, it would be hard to stop. Yet, I'm sure you won't regret it. Happy watching!