Title: Novoland: Pearl Eclipse
Also Known As: 斛珠夫人, Hu Zhu Fu Ren, Jiu Zhou: Hu Zhu Fu Ren
Director: Lin Yu Fen, Jin Sha
Screenwriter: Li Yan Qian
Genres: Romance, Fantasy, Historical, Wuxia
Country: China
Type: Drama
Number of Episodes: 48
Year: 2021
Original Network: BTV, Tencent Video, ViuTV
Where to watch: WeTV
Novoland: Pearl Eclipse Synopsis
Novoland: Pearl Eclipse is a Chinese drama released in 2021. In the Zheng Dynasty, under the reign of Dazheng's emperor, Chi Zhong Xu, there was Ye Haishi, a villager who lived by the sea. Her father is a fisherman. And like any other fisherman, they were looking for the highly valuable luminous pearls that were formed from merfolk tears.
The pearls were vital, villagers were willing to sacrifice their children to get them. At that time, the tax was unbelievably high, and only luminous pearls could pay it. Haishi was one of sacrificed children. Her father tried to kill her, but the merfolk saved her.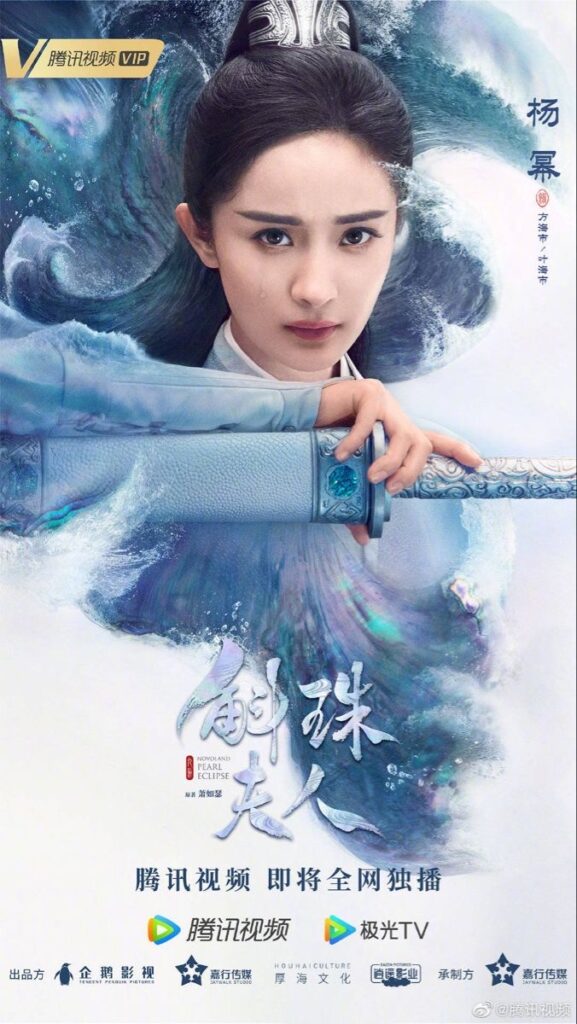 The luminous pearls should be enough for Haishi's village tax payment. But the corrupt officials were not satisfied. He took the pearl for his personal use and he ordered his troops to massacre the entire village. Haishi was able to run away. Coincidently, she met with Fang Jainming and Fang Zhao Ying who were on a journey back to Tianqi. Fang Jianming saved her. Since then, she changed her name to Fang Haishi, concealed her identity as a girl, and became his youngest disciple in Jifeng Pavillion.
Years had passed by, Haishi had a great brotherhood with all the Jifeng Pavillion members, especially her senior brother, Zhuo Ying. Her master was powerful and attentive to her. She had the best time of her life. But fate was unpredictable. Everything seems to be out of control when she falls in love with her master, Jianming. At the same time, there was danger lurking in the shadow of the palace. What would Haishi choose; love or the country?
Novoland: Pearl Eclipse Review
Before I start, let me remind you that this review was full of rants 🙃
Not because I don't like the drama, I do like it…
The cinematography? Nope, they were perfect. Perfect angles, perfect lighting, and the set was awesome.
The fighting choreography? Again, nope. This wuxia drama deserves two thumbs up.
The costumes? Obviously not. I love the simplicity of the costumes. They were elegantly designed. I especially like Fang Haishi's mustard gown in episode 45.
The actors? Big NO. I always like Yang Mi and William Chan. He is handsome, even with a catfish hairdo 😆😆
So, what exactly the reason that makes me want to rant all through this drama?
The Story!!!!
There were too many ups and downs and also the plot twist.. 😩
My fragile heart really couldn't handle it. Miss Li Yan Qian, how could you write this kind of story? 😭 I should stop at episode 46 and never watch the ending… 😭😭😭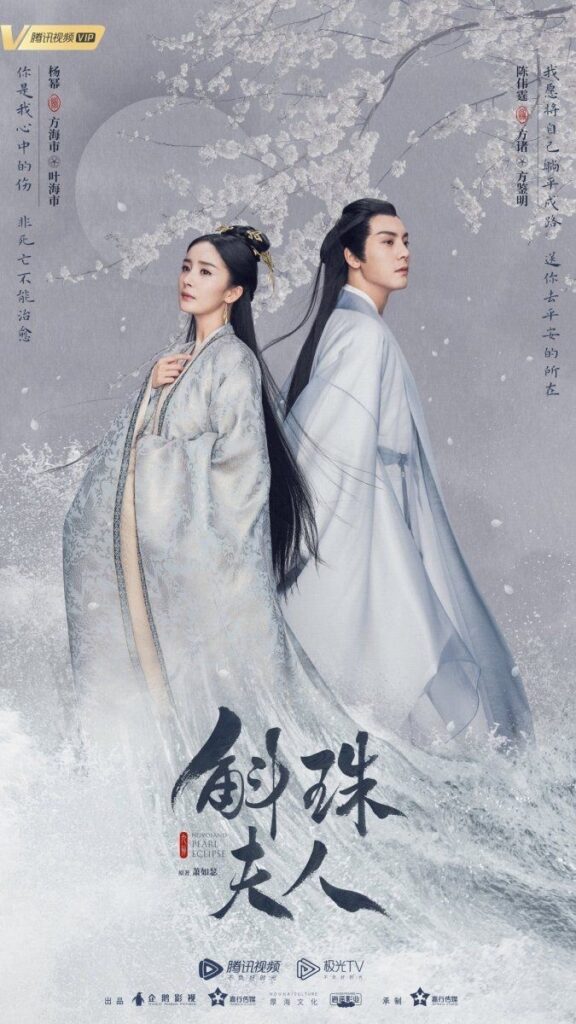 Our directors, Lin Yu Fen and Jin Sha were veteran directors with an impressive filmography. Lin Yu Fen was the one behind several amazing historical and fantasy dramas, such as Scarlet Heart, Eternal Love: Ten Miles of Peach Blossom, Love O2O, The Journey of Flower, Love Lost in Time and Love and Destiny. Meanwhile, Jin Sha, even though her filmography isn't as long as Lin Yun Fen, she was the one behind The Great Craftsman, Sweet Dreams, and Storm Eye. Both of them were amazing directors who created masterpieces.
Our screenwriter, Li Yan Qian, has written two dramas. Both of them were novel adaptations. Novoland: Pearl Eclipse was adapted from a novel of the same title, by Xiao Ru Se and 2016's drama Singing All Along. The latter was adapted from a novel by Li Xin. I have never read Novoland: Pearl Eclipse before, but I'm not sure I want to read it just to make sure they have the same ending.
The last time I watched The Blue Whisper drama (I also wrote The Blue Whisper Ending Explained), I really liked the drama. And I ended up looking for the novel too (English translation, of course). Even though they were somehow different, I do enjoy both of them. But, I'm not sure I would do the same with this Pearl Eclipse. The story was so heartbreaking for me.
For those who have never heard about Novoland before, let me explain for you. If you ever dive into the world of Cdrama, some of them have the same title. For instance, Novoland: The Castle in The Sky, Novoland: Eagle flag, Novoland: Castle in The Sky-Time Reversal, and, of course, Novoland: Pearl Eclipse. All of them were a novel adaptation of the same book series. But, you also might find some dramas that don't use the same Novoland title, such as Tribes and Empires: Storm of Prophecy and Hua Xu Yin: City of Desperate Love. They didn't put the Novoland title, but they shared the same universe.
Novoland is a series of books written mainly by 7 renowned authors. All of them shared a fictional universe called Novoland where merfolks or winged creatures lived. Novoland consisted of three continents and nine provinces. And they shared a history of 10,000 years divided into 10 eras and 16 dynasties. If you have some spare time, I recommend you to take a look at those dramas.
For those who opt for romantic stories, you may start with The Castle in the Sky and, for those who love intense drama, you may choose Storm of Prophecy. It was a heavy drama, but definitely worth to watch (the only reason I watched it because of Shawn Dou and Zhou Yi Wei, obviously… 😆😆). What I like about the Novoland series is that you don't have to watch all the series in a certain order, because all of them are not connected to one another.
Novoland: Pearl Eclipse mainly centered on Ye Haishi (later to become Fang Haishi) played by the one and only Yang Mi and her shifu/master, Fang Zhu or Fang Jianming, played by the handsome William Chan. But aside from them, there were also other couples. The complicated couple, Chu Zong Xu (Xu Kai Cheng) and Ti Lan (Chen Xiao Yun) and the cute couple, Fang Zhuo Ying (Wang Sen) and Zhe Liu (Yuan Yu Xuan).
Just a quick note, Yang Mi and Xu Kai Cheng played together in She and Her Perfect Husband drama. You can read the review here She and Her Perfect Husband drama review, and the recap She and Her Perfect Husband episode recap.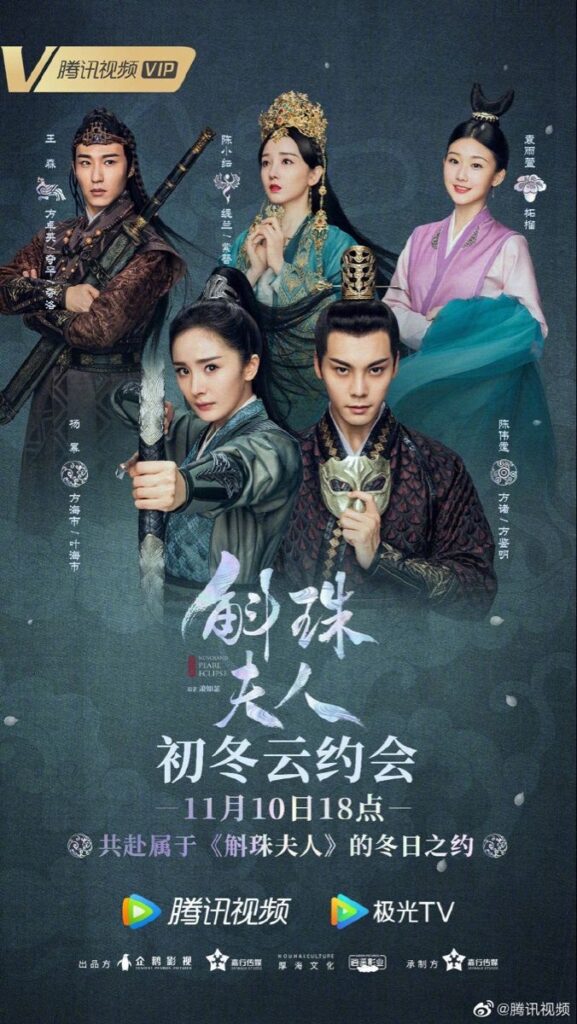 The Fangs
Fang Haishi was born as Ye Haishi, a girl from a fishing village. She had a special connection with merfolk, because she was saved by one when she was a child. On the same night, her village was massacred and Haishi was saved by Fang Jianming. From then on, Haishi changed her name to Fang Haishi, disguised as a boy, and became his disciple.
Fang Zhu or Fang Jianming was the emperor's trusted aide. He was the leader of the Fang family from Liushang who had hundred years of magical connections with the emperors of Dazheng and also the commander of Jifeng Pavillion, the emperor's secret service.. He was a cold person with loads of secrets.
Fang Haishi is a talented martial artist. She's a kind-hearted person, but also a brave one with a short-tempered and impulsive nature. She formed a close brotherhood with Fang Zhao Ying.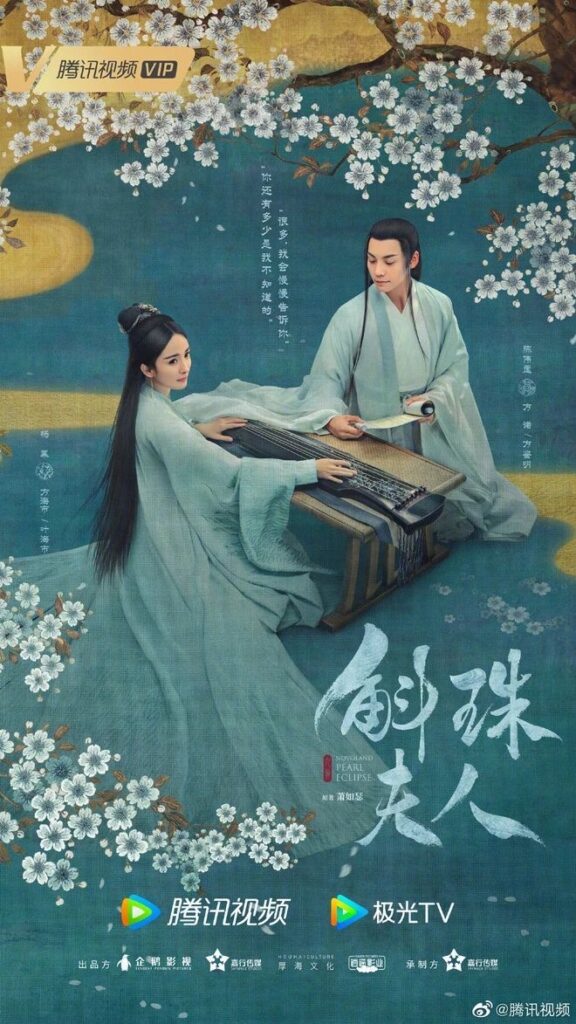 I admired their dynamics as master and disciples. They take care of each other just like a real family does. When Haishi was preparing for her first day working at the Palace, Jianming helped her when she was dressing up, by putting on her outer robe, her waistband, and her armour. He even helped comb her hair. He looked at her just like a proud father did. And it was the same with Zhou Ying. From the small gestures, I can tell that Jianming really loved his disciples.
Zhuo Ying was more reliable because he was older than Haishi. Haishi, as the younger one, was more capricious and prone to problems, so mostly Zhuo Ying was the one who had to deal with those problems. But I love Zhuo Ying for that.
Acting as a cross dresser is nothing new for Yang Mi. She did the same thing in Eternal Love when she acted as Si Yin. In my opinion, Yang Mi was more heroic in this drama, and I like it when she had a high ponytail like Ariana Grande's. But I was wondering something. Haishi has a petite build compared to any other male in this drama. But why was nobody curious about it? Well, sometimes you can't use any logical reasoning when you watch Cdrama… 😂
Next is William Chan. What can I say? He was handsome, and he nailed the hairdos. Whether it was the high bun or the half bun, he always looked stunning. I just don't agree with the catfish-whiskers hair 😆. His acting was good. I was watching Adoring before the Pearl Eclipse. William Chan also acts in the movie as a merry and passionate husband, completely the opposite of Jianming. And he performs well in both characters..
Wang Sen acted as two characters in this drama. As Fang Zhuo Ying/Duo Han and as Duo Luo, Duo Han's elder brother. Personally, I chose Zhuo Ying because he looked much more handsome compared to Duo Han. Duo Luo is out of the discussion, because I really don't like his unkempt hair. Comb, anyone?🤨
The Brotherhood
I admired the brotherhood between Jianming and Xu. Especially when they were young and carefree. Together they do mischievous things as a youngster always does. They enjoy life so much. Everything changed when Chu Zong Xu had to ascend to the throne and Zizan passed away.
Their relationship was changed into an emperor-subordinate, and Jianming must shoulder the burden of every Fang family's leader: as a Baixi of the emperor. Something that the emperor himself hated and he wished that Jianming wasn't his baixi. But, Jianming was the one who was willing to be the baixi.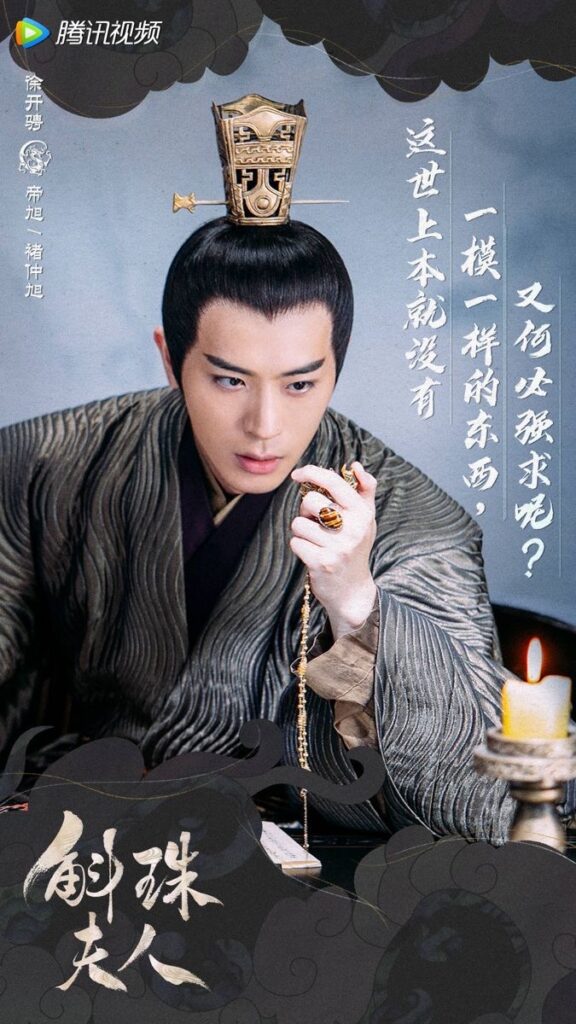 Baixi bonds them together. Every time the emperor was wounded or poisoned, he wouldn't feel a thing, but their baixi would shoulder the pain and the wound.
In the first half of the drama, I hate the emperor. He was such a nasty person! Arrogant, rude, unreasonable, and the way he looked down upon his consort Ti Lan is unforgivable. It turns out, that he was in despair after he lost his wife, Zizan. Jianming described him as a tough guy with a soft heart. And as an emperor, he had no one to talk to. Therefore, he became a bitterman. When the emperor finally learned that he was slowly falling in love with Ti Lan, their relationship improved. They become sweet lovebirds.
Their marriage is a political and suspicious one, because Ti Lan's appearance is indistinguisable to Zizan. Her father, the king of Zhunian, has some hidden agenda behind this marriage.
Ti Lan is a weak person, but it doesn't mean her will is also weak. She was willing to carve 300,000 dragon emblems for the soldiers just because the emperor told her to. And she made it using her hand and a carving tool. But, despite the traditional way of production, she managed to make half of it (around 150,000 emblems) in a span of days… another absurd logic of Cdrama.. 😂
The emperor and Ti Lan have a good relationship at the end of the drama, but their tragic death is breaking my heart. The emperor fought for Ti Lan, whom he loved so much. Ti Lan knew that he was at the death door, so she was willing to die too. It was saddening to know that their child was just born a few moments before his parents' death. Thankfully, they still had Jianming and Haishi as their back up, so the little prince was not alone.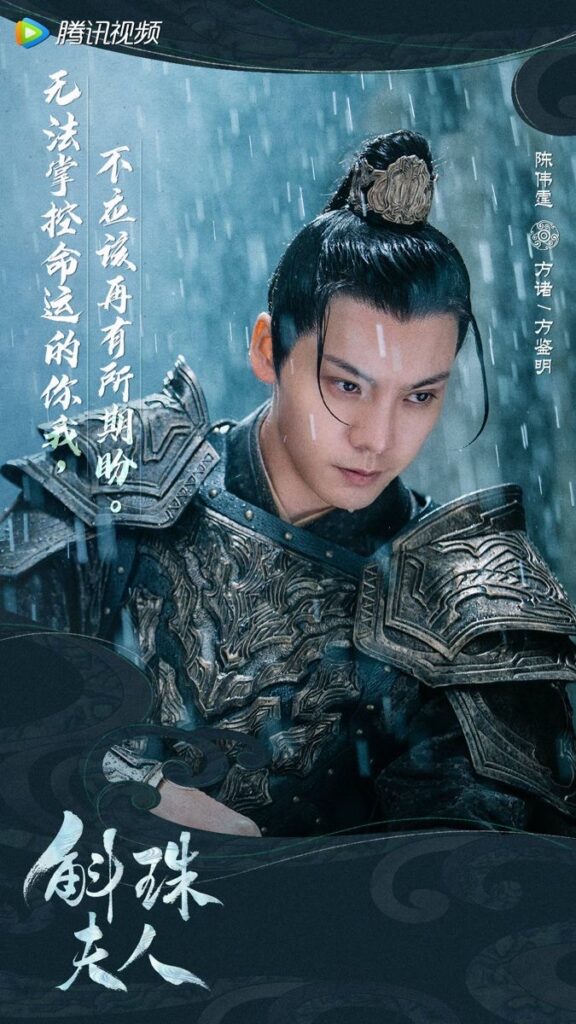 Xu Kai Cheng managed to act perfectly as the emperor of Dazheng. I went from hate to fond of him in just 48 episodes. And also his shirtless scene was a bonus for me.. 😆. I used to watch Chen Xiao Yun as Ruyi's maid, Suo Xin, in Ruyi's Royal Love in The Palace. She had this gentle appearance, very suitable to act as the meek Ti Lan.
But, I had some complaints about this Cdrama. Previously, it was said that the Palace's embroidery department was the best in the world. Their embroiderer could even do their job with their eyes closed. I like the new robe that was made for Zhuo Ying and Haishi. The design and the embroidery were exquisite.
But why did the design for the emperor and his consort's gown be so simple? In my opinion, it was unbefitting for an emperor and his consort.
The Ending
The ending is not as nice as I expected it to be. The biggest villain that has been hidden all this time showed up only two episodes before the finale. The tragic death of the emperor and Ti Lan, brought Jianming and Haishi's lives in a different direction. But as heroes, Jianming and Haishi weren't fated to be together in a peaceful life.
The ending was considered an open ending. You can have your own interpretation of Jianming and Haishi's life. Personally, I always prefer a happy drama-ending. But sometimes you just have to accept a different kind of ending. Or else, the Cdrama realm would be completely boring.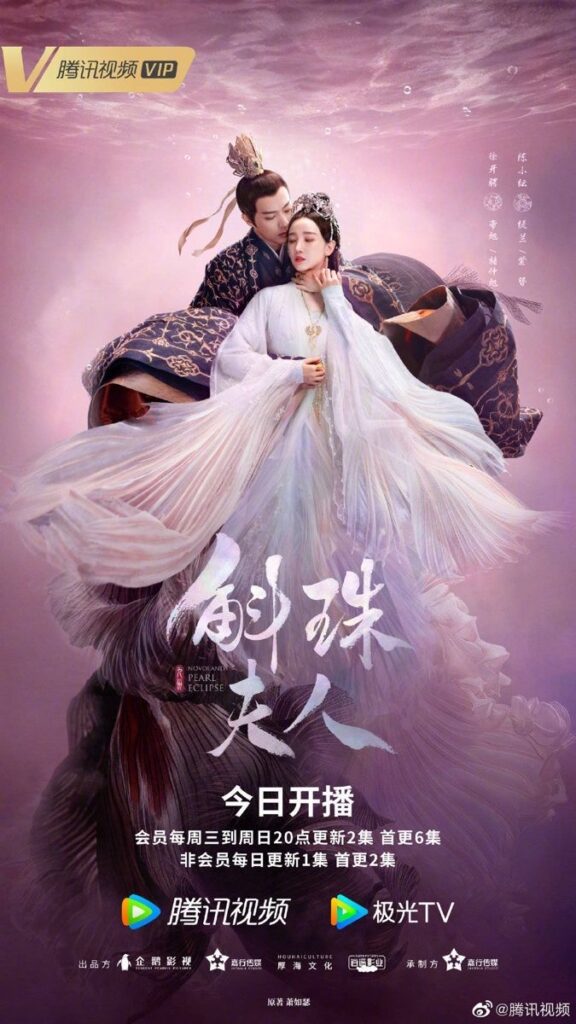 But for this drama, readers, I warn you.. If you have a fragile heart, I suggest you to stop at episode 46. Well, you might want to watch the first half of episode 47, but that's it. Do not continue! 😩
The Conclusion
Novoland: Pearl Eclipse is a good drama that satiates my thirst for a good fantasy drama. It has everything that I wish for. Good story (although I don't like the up and down), good directors, good actors, perfect sets and cinematography, even the action was fascinating. The only thing that was lacking was the happy ending.
But fret not, I still consider Pearls Eclipse as a 4-star drama. Take your time to enjoy all the fun. Feed your pets, pile up your snacks, brew the coffee. Be prepared for a long journey of Jianming and Haishi's love. Happy watching!