Title: Unchained Love
Also Known As: 浮图缘, Floating on the Edge, Forbidden Love
Director: Wu Qiang
Casts: Dylan Wang, Chen Yu Qi, Peter Ho, Zheng Li
Screenwriter: Li Jing Ling
Genres: Romance, Comedy, Historical
Country: China
Episodes: 36
Original Network: iQiyi
Where to Watch: iQiyi, WeTV
Adapted from the web novel: Fu Tu Yuan by You Si Jie
List of Recap:
Hola readers… another Unchained Love episode recap for you. In these episodes 3 and 4, Bu Yin Lou showed some of her persuasion skills to Xiao Duo. Would it make him trust her or the other way around? But first, let's meet new characters.
New Characters Appearance
Prince Rong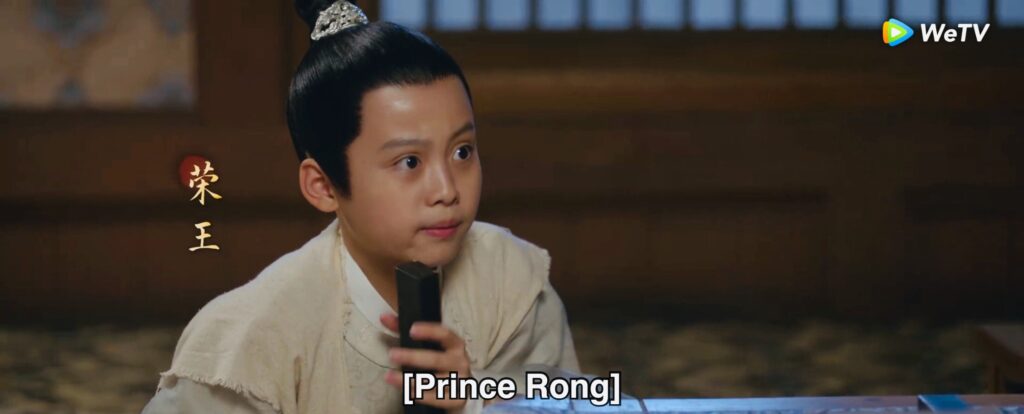 Prince Rong was the only son of Emperor Yuanzhen and the only heir to the throne. He was very young and still needed an assistant if he ascended to the throne. Right now, everyone was fighting for the right to be his regent.
Murong Wan Wan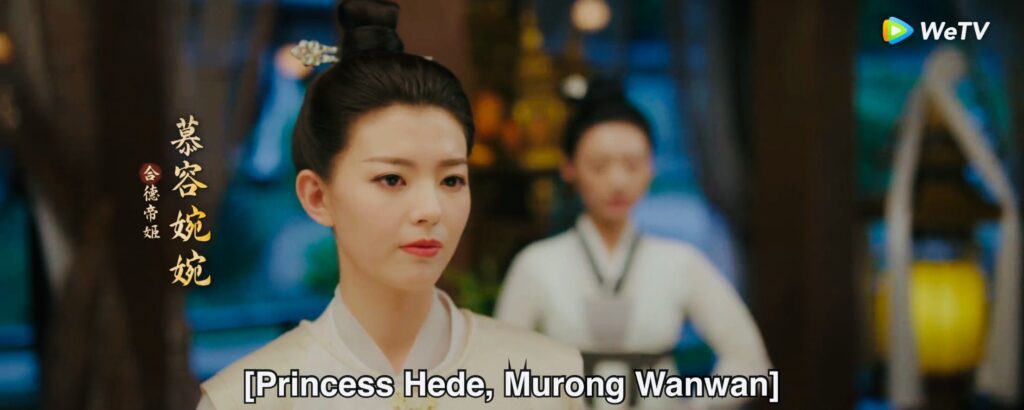 The fierce Murong Wan Wan was the first princess of the late Emperor and sister of Emperor Yuanzhen. She was brazen, and short-tempered, but kind. Her talent lies in physical activities. She was a good martial artist and loved to engage in physical activities such as cuju.
Episode Recap
Episode 3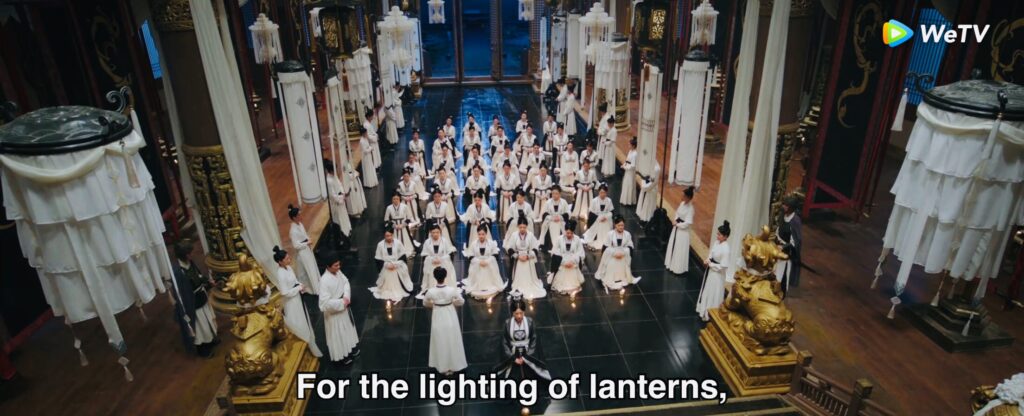 During the funeral ceremony, Bu Yin Lou and Tong Yun were anxious about whether they could accomplish the task given by the scary Xiao Duo. Yulin instructed the concubines to light candles near the Emperor's coffin. They have to keep the candles burning or else, they have to repeat the ceremony from the start.
Bu Yin Lou saw the candles and an idea flashed in her mind. When she was near the empress, she threw her candle and it burned the Empress's robe immediately. The once solemn atmosphere inside the hall turned into chaos. The Empress screamed, and the maids and eunuchs tried to help put off the fire.
After the fire was gone, the Empress was furious. She turned around and yelled to the trembling concubines. Nobody admitted the fire was theirs, including Bu Yin Lou. Thus, all concubines were punished to kneel in the hall.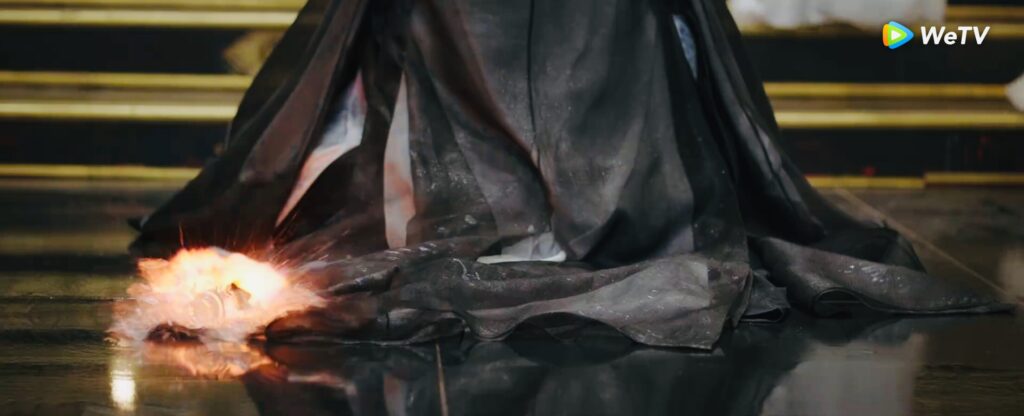 Meanwhile, She Qilang found Prince Rong in a bedroom of Fengyi Palace. She Qilang signed the guards to pretend that there were assassins outside and left the room, leaving She Qilang alone with the prince. After everything settled, Xiao Duo entered the room from the window.
Inside the funeral hall, the Empress punished the concubines when a guard reported that Prince Rong was missing. Bu Yin Lou assessed the whole situation. It would be unfavorable for her if the Empress found Xiao Duo. She was afraid that Xiao Duo would turn her in.
Bu Yin Lou still wanted to live. Therefore, the only way was to help Xiao Duo succeed in his mission. She told Tong Yun to help her cover up while she went to her Xiecui garden because it was the only place where Xiao Duo could hide.
Bu Yin Lou's analysis was correct. When she returned to the Xiecui Garden, Xiao Duo was already there with Prince Rong. Xiao Duo was suspicious of her. Yet Bu Yin Lou use her persuasive ability to coax Prince Rong and made him listen to Xiao Duo.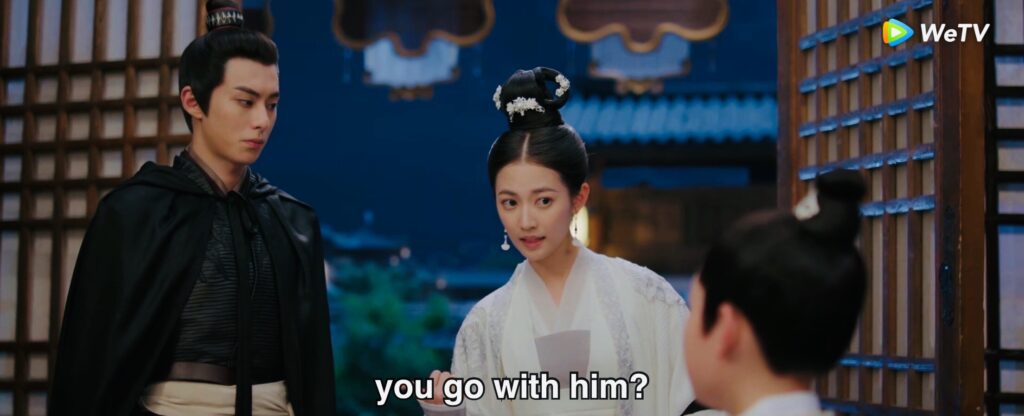 The scary eunuch, Xiao Duo, promised that he would protect the young prince. Prince Rong finally believed in Xiao Duo. When Empress Rong'an and her guards came to search Xiecui garden, Bu Yin Lou frantically tried to hide Xiao Duo and the young prince. Bu Yin Lou knew that the Empress was suspicious of her because she was there instead of in the hall. Therefore, she admitted that she was the one who burned her robe.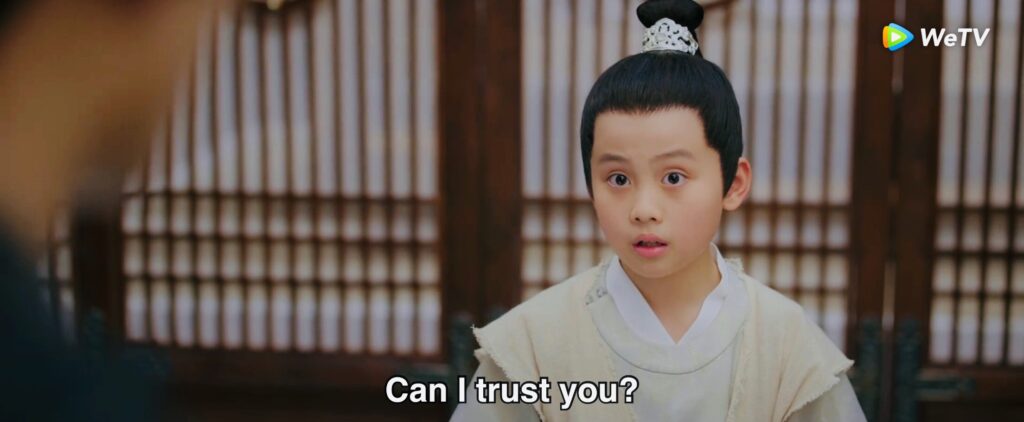 Bu Yin Lou was good at making up stories. Although her acting was mediocre, yet she was able to stall the time before the guards searched her place. The Empress was not satisfied with her because she found out that Bu Yin Lou made a leaf card with her face on it.
However, Prince Rong's matter was more urgent than a little concubine like Bu Yin Lou. She strode out of the courtyard with her entourage and guards followed behind her. After she saw the Empress leave the gate, Bu Yin Lou immediately checked on Xiao Duo and the little prince. They were already gone and left a window ajar.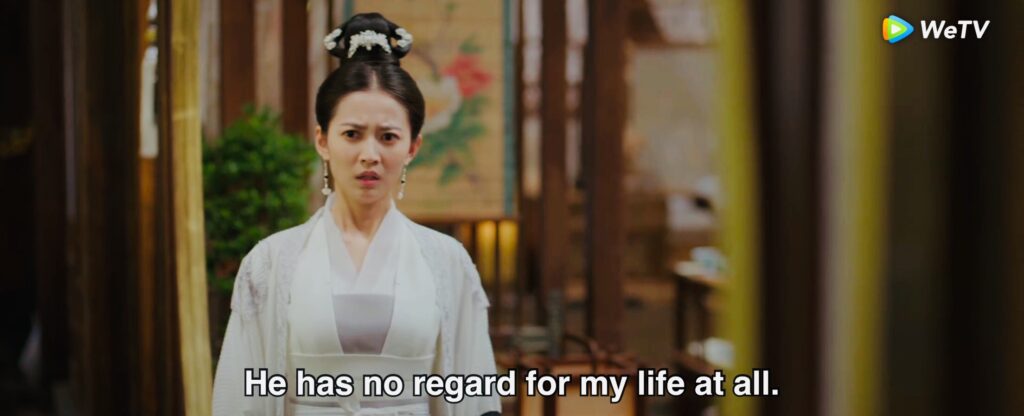 At the moment, Xiao Duo was already inside a carriage with his attendant Cao Chun'ang and the sleeping Prince Rong. Xiao Duo had to admit that without Bu Yin Lou's help, he would not be able to escape from the Empress's guards.
Cao Chun'ang told his master what happened in the hall when Bu Yin Lou burned the Empress's dress. He was sure that the Empress would punish Bu Yin Lou if she did not find Prince Rong that night. Bu Yin Lou was a delicate girl and she might not able to handle the punishment. But even if Prince Fu found out about it, he could not blame Xiao Duo because Bu Yin Lou did not seem to have any connection with Xiao Duo's actions that night.
Xiao Duo was silent but he clearly thought about something. He remembered that the First Princess Hede will enter the city. He told the coachman to change their destination from the Prince Fu residence to the city gate.

At the Palace, Empress Rong'an realized that she was deceived by Bu Yin Lou. She returned to Xiecui Garden and had Bu Yin Lou and Tong Yun detained. She almost lay her hand on Bu Yin Lou when Princess Hede came to interrupt. Princes Hede, Murong Wan Wan, came to convey Empress Dowager's messages. The Empress Dowager said that it was highly inappropriate when they were still in mourning period, but the Shangqiong Palace was already in chaos.
Princess Hede noticed the unsightly expression of the Empress. She said that these words were not intended to rebuke the Empress (which meant it was indeed for her 😂) who was busy with the palace and official affairs but for insignificant concubines such as Bu Yin Lou. Therefore, she needs to be punished and Princess Hede was there to take her to Shouhe Palace to receive punishment.
Before she left, Princess Hede told the Empress to return to Shangqiong Palace to mourn lest make the Empress Dowager worry. Empress Rong'an could do nothing about it since it was Empress Dowager's decree.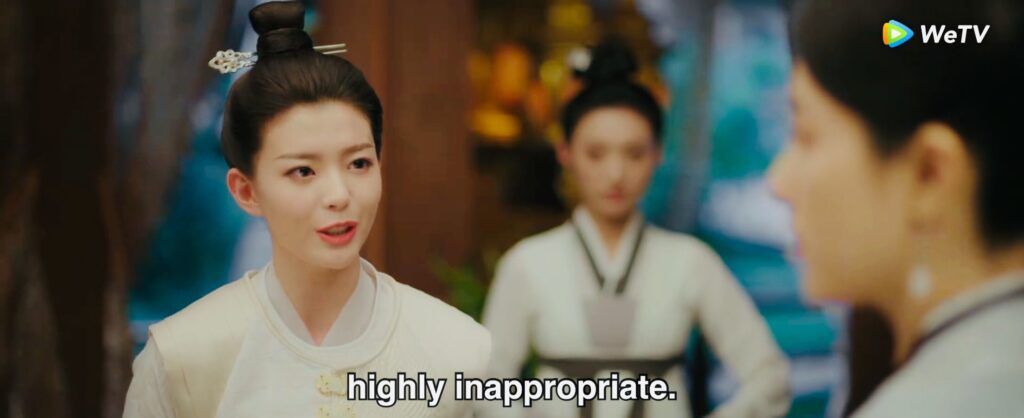 Bu Yin Lou followed Princess Hede. They made a detour to a quiet corner to talk. Bu Yin Lou was able to guess that it was Xiao Duo who asked the princess to save her. His request aroused Princess Hede's curiosity about Bu Yin Lou's relationship with Xiao Duo. Bu Yin Lou denied that she had a relationship with him.
Princess Hede found that Bu Yin Lou was an interesting person and she immediately liked her. Furthermore, because she had a bad relationship with her sister-in-law, she felt that what Bu Yin Lou did that night could be considered as favorable to her. However, Bu Yin Lou never thought that the princess really came with a decree to punish her…🤣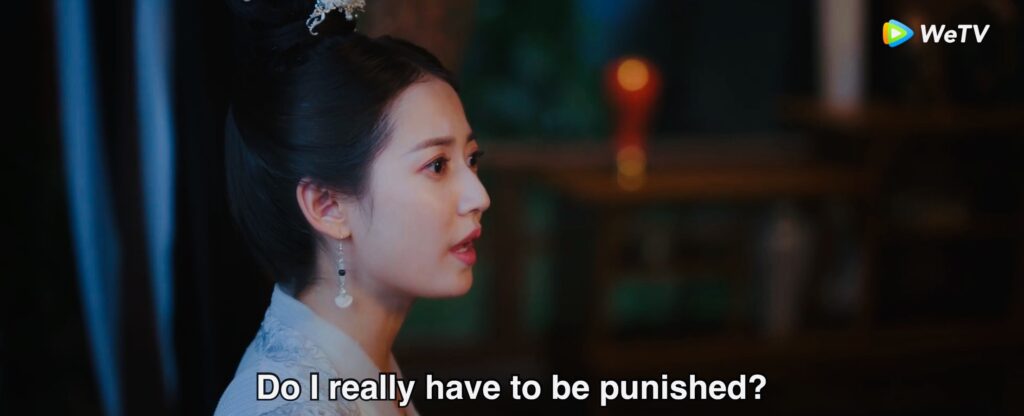 Xiao Duo took Prince Rong to Prince Fu's residence. Sun Tai Qing came to receive the young prince. Prince Rong said that Bu Yin Lou told him to live a simple life. He wondered if in the future he could live like that. Xiao Duo promised the young prince that with him around, he did not have to worry about his future.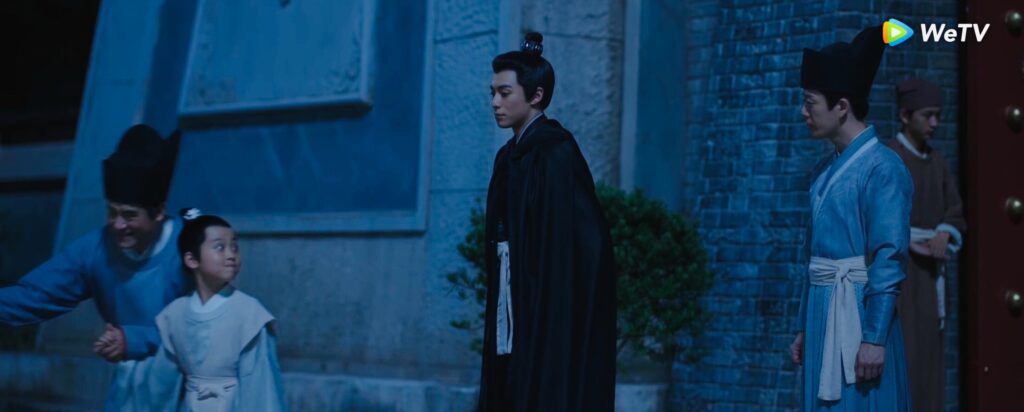 Empress Rong'an was furious when she found out that Xiao Duo had betrayed her. Xiao Duo visited the cabinet members and asked them to support Prince Fu as the regent. When she vented her anger, Yan Sun Lang came to pledge his loyalty to the Empress and slighted Xiao Duo. He told her that Prince Fu had colluded with Xiao Duo and kidnapped Prince Rong. He also told her about how Xiao Duo helped Prince Fu to save Bu Yin Lou.
He did it because Yan Sun Lang wanted to take the position of head of the Zhaoding Bureau from Xiao Duo. After Yan Sun Lang left, the Empress immediately sent a message to the Prince of Nanyuan, Yuwen Liang Shi, and took some prevention measures to guard against Xiao Duo and his Zhaoding Bureau.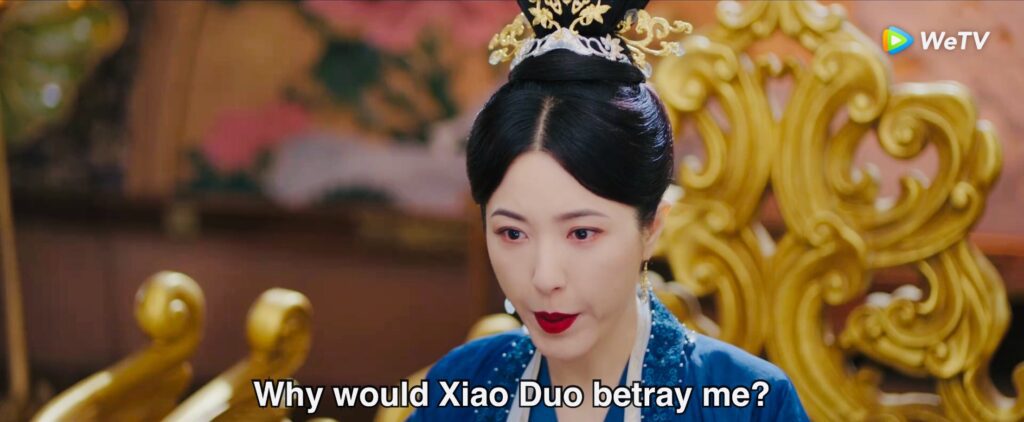 But Empress Rong'an effort was fruitless because Cao Chun'ang already reported her actions to his master. Xiao Duo who had been waiting for the arrival of Yuwen Liang Shi decided to send him a message and asked Yuwen Liang Shi to meet him at Zhongshan. He also ordered Cao Chun'ang to buy some gifts for the First Princess Hede as a thank-you gift for her.
Princess Hede, Bu Yin Lou, and their maids played cards in a pavilion. This time, Bu Yin Lou must admit that the princess was more talented than her. She lost to her student…🤣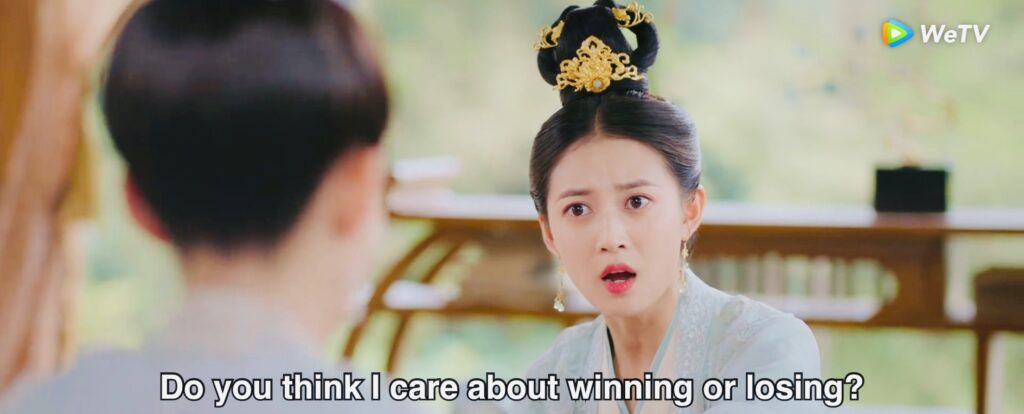 To coax her, Princess Hede promised to make her Xiao Duo's card and would give it to her. But before Bu Yin Lou could accept or refuse, the real person came to the pavilion. Bu Yin Lou who was displeased refuse his attention and gratitude. She even refused his kind gesture and gratitude. Xiao Duo thought her acting arrogantly was because Prince Fu has gained some power. And Bu Yin Lou who relies on him wouldn't miss the opportunity.
Prince Fu, Murong Gao Gong, made a lantern for Bu Yin Lou meticulously. He planned to give it to Bu Yin Lou as a gift when he entered the palace. However, Prince Fu was stopped at the gate of his residence. She Qilang tried to stop him because he had to inform Xiao Duo before he let the prince leave. Sun Tai Qing berated She Qilang and accused Xiao Duo of treating his master as a prisoner. The prince himself remarked to challenge She Qilang and of course, as a subordinate, She Qilang would not dare to openly argue with him.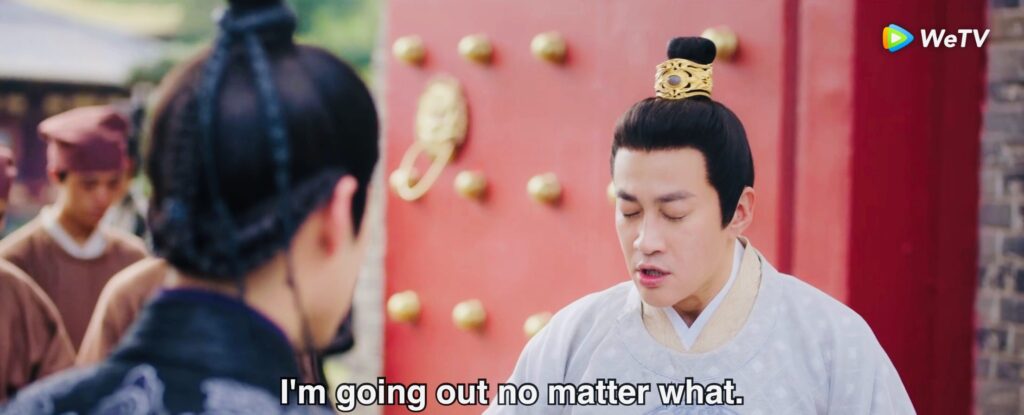 He immediately ordered two guards to follow the prince while he went to the palace to report. Xiao Duo's face instantly became unsightly. He left the Zhaoding Bureau without any words.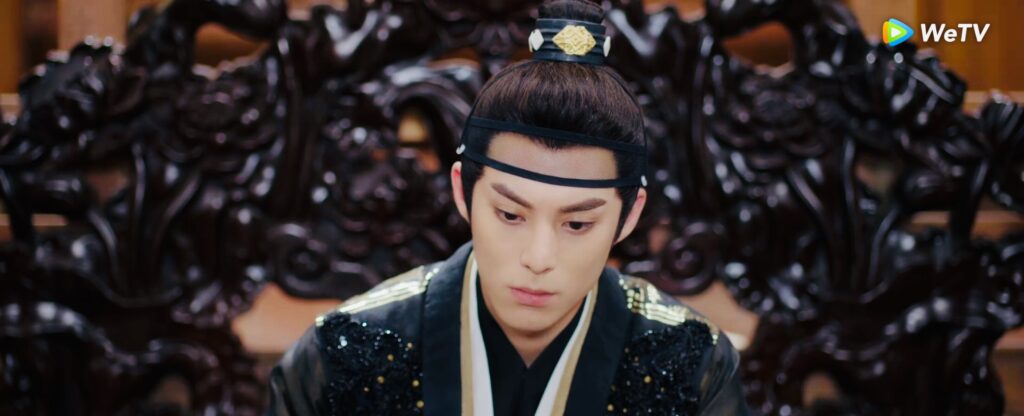 Sun Tai Qing took Bu Yin Lou to the Lotus Pond. She thought that it was Xiao Duo who invited her there. The surrounding of the Lotus Pond was dark, except for a lantern on the dock. When she examined the well-made lantern, Prince Fu came. Bu Yin Lou never met Prince Fu and she was uncomfortable being with an unknown man in a dark place late at night.
Murong Gao Gong introduced himself and told her that he was the one who asked Xiao Duo to save her when she almost became a tribute lady. Bu Yin Lou was grateful for his help but she was still confused about Prince Fu's reason to help her. Murong Gao Gong told Bu Yin Lou that they have met before at the Bu residence a few years ago.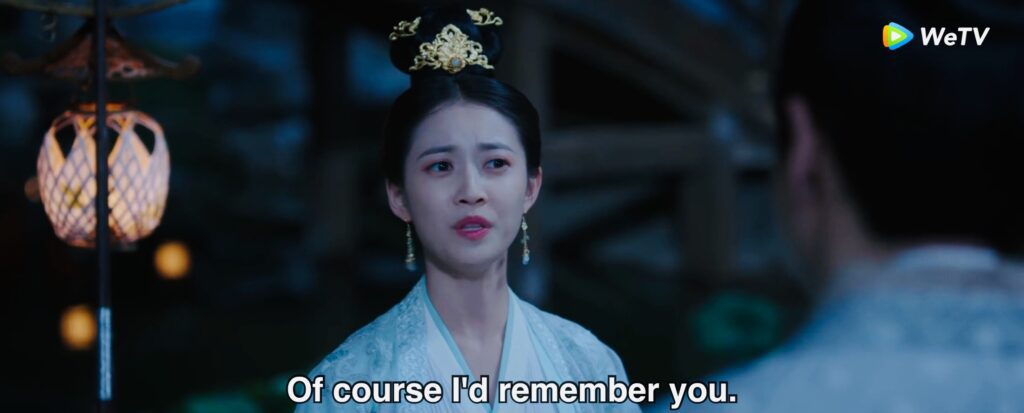 Well, actually Bu Yin Lou did not remember him at all. There were many people who went to the Bu's residence to learn from her father. But she could not admit that she did not remember him. She racked her brain and found some memory. But it was all wrong…🤣 And in the middle of his eagerness to explain, Prince Fu fell into the pond.

When she helped Prince Fu, Bu Yin Lou threw away his lantern because she felt that it hindered her from supporting the prince. But her action made the prince sad because he valued the lantern very much. Prince Fu took the wrecked lantern dejectedly. Xiao Duo who just arrived saw that and said nothing. He just told the prince that his men would escort him back to the Fu residence.
But there was one person who held a grudge about the whole incident. It was Sun Tai Qing. He did not believe that the prince fall to the pond by himself. He accused Bu Yin Lou of pushing the prince to the pond because someone instructed her to do it. That someone must be Xiao Duo because when he scolded Bu Yin Lou, Sun Tai Qing cast a glance at the wooden face of Xiao Duo. He demanded Bu Yin Lou give them an explanation. Bu Yin Lou was afraid of his aggressive behavior and ran to seek shelter behind Xiao Duo's back.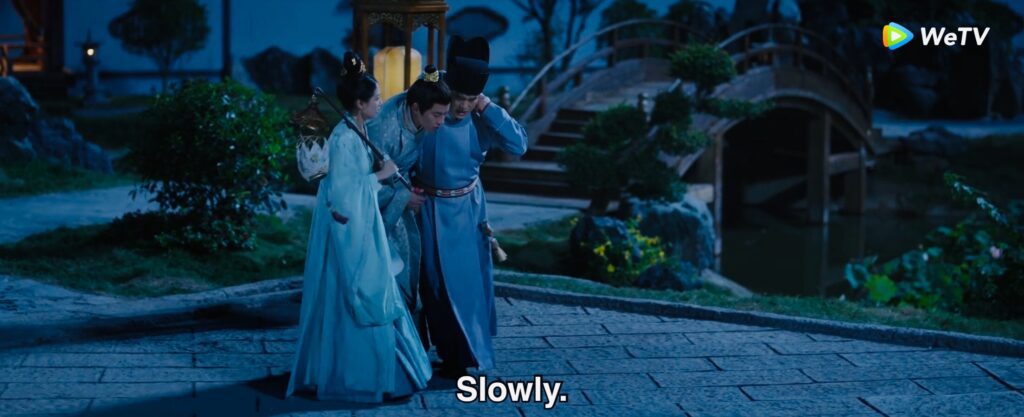 Sun Tai Qing berated Xiao Duo. He said that if not for the sake of Bu Yin Lou, Prince Fu would never help him. Bu Yin Lou who listened to his words cursed Xiao Duo in her heart. She realized now that Xiao Duo really sold her out. But she could not do anything about it for now because Sun Tai Qing still wanted to punish her.
Xiao Duo told Sun Tai Qing that the palace was still in mourning period. Sun Tai Qing could not make a fuss about what happened that night. Or else, his life would not be able to pay for it. Sun Tai Qing understood the underline words of Xiao Duo and stop his nagging and left. Bu Yin Lou also wanted to leave that place because she could not bear to face the frightening Xiao Duo. But the problem was, she did not know the way to her Xiecui garden 🤣

Xiao Duo asked Bu Yin Lou what she wanted to say. Bu Yin Lou told him to spare her life. She thought that Xiao Duo planned to give her to Prince Fu to please him. She was unwilling to do that. Xiao Duo answered that he finally understood her. He thought that Bu Yin Lou liked Prince Fu. He prepared to cup his hand to apologized, but Bu Yin Lou who was overly cautious, saw his gesture as a threat to her. She took his scepter and incidentally revealed that the scepter was a double sword. Bu Yin Lou's sudden encounter with a sharp object frightened her.

Xiao Duo told Bu Yin Lou that after the new emperor ascended to the throne, according to the rules she must guard the mausoleum. Xiao Duo gave her two options. Since they were in the same boat, he suggested Bu Yin Lou choose the first option, which was she accept Prince Fu to fulfill his desire and help him to get the power he needed. Or the second option was to die in Xiao Duo's hand. Of course, Bu Yin Lou refuse those options and asked for the third option.

Xiao Duo said that Bu Yin Lou was an illegitimate child who never tasted power and wealth. He was sure that once she tasted the greatness of wealth or had people at her command, she would understand his kindness. Bu Yin Lou told him that it was impossible because she was not a greedy person.
The next day Xiao Duo came to her Xiecui garden with a bunch of maids that would serve her and boxes of treasures and money. Bu Yin Lou who used to say that she was not a greedy person was tempted by the sparkling gold but she pretended that those things were nothing to her. Xiao Duo told her that if she listens to his arrangements, a luxurious life would await her. Yet she still refused him. Cao Chun'ang noticed that his master wanted to talk to Bu Yin Lou in private so he dragged the stunned Tong Yun out of the room.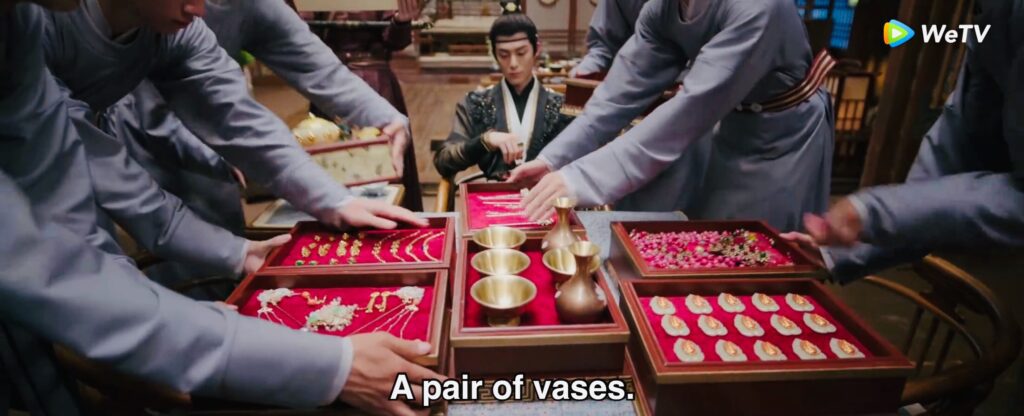 Episode 4
Xiao Duo asked Bu Yin Lou whether she was determined to make this difficult for him. Bu Yin Lou persuaded him to restrain himself a little bit. In her opinion, Xiao Duo should keep her by his side as a bargaining chip and stop trying to give her to Prince Fu. Lest the Empress used her to get something from Prince Fu and ruined his big plan.
Xiao Duo observed her to make sure that Bu Yin Lou chose to conspire and colluded with him rather than joining Prince Fu's residence. He asked whether Bu Yin Lou had someone she liked more than the prince. Bu Yin Lou reassured him that she liked nobody. She just wanted to live a peaceful life, do nothing and be lazy all the time. She would leave the ambition to the ambitious people who needed it.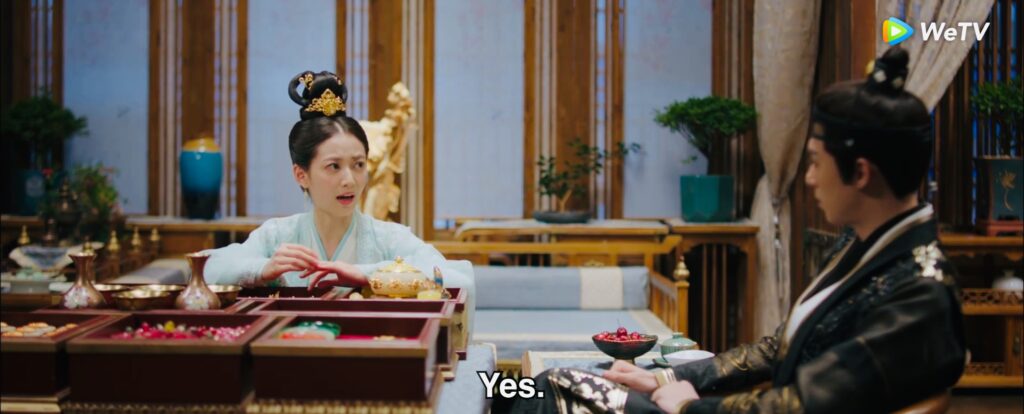 Meanwhile, outside the hall…🤣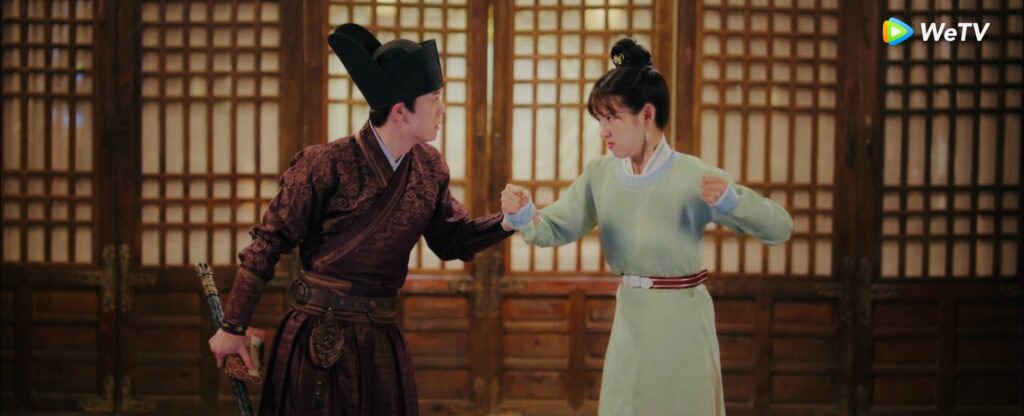 Bu Yin Lou who saw Xiao Duo not believing her words at all started to panic and told him that he could not push her too hard. Xiao Duo only raised his eyebrow and asked what could she do if he did that. But then everything was out of his expectation when Bu Yin Lou started to cry and grabbed his robe. Xiao Duo widened his eyes. He never dealt with something like this before.
Tong Yun heard her mistress's cries and immediately barged into the room to save her. Her mistress's state made her dumbfounded. Bu Yin Lou was hanging on Xiao Duo's robe while Xiao Duo tried to push her away.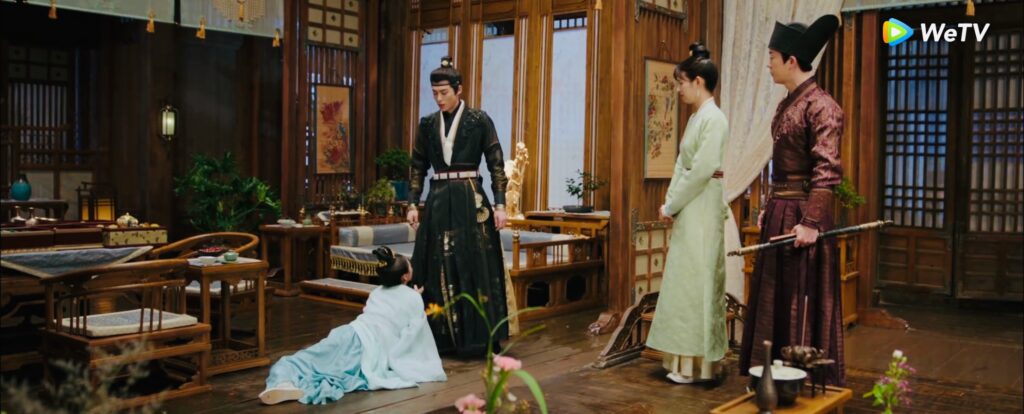 It was a petty trick, but it worked. Xiao Duo promised her that he would keep her by his side and protect her. His words made Bu Yin Lou elated, but she did not forget to ask for some guarantee. Xiao Duo showed her his thumb ring which was given by the previous emperor with an insignia carved on it. Bu Yin Lou was happy and without too much thought she use her lipstick as ink and pressed the insignia to her fish immortal amulet. It happened in a flash that Xiao Duo was unable to say no.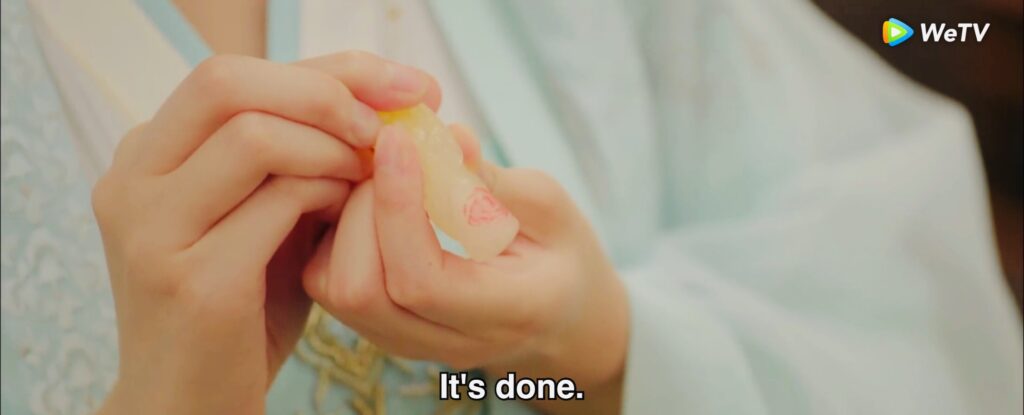 Cao Chun'ang asked his godfather if he believed everything Bu Yin Lou said. But of course, he did not. In Xiao Duo's eyes, Bu Yin Lou pretended to be obedient and naïve but in reality, she was a calculative person. Prince Fu had not taken the power yet, so Bu Yin Lou was taking a step back for a while. She wanted to use Xiao Duo's power to shield her from danger. And when the situation becomes clear, she would make the decision.
In his eyes, Bu Yin Lou was a cautious person and was not a careless person. Xiao Duo agreed to her request because he realized that Bu Yin Lou was right when she said that she was his bargaining chip. And if Bu Yin Lou was in his control, Prince Fu would not dare to mess with his plan. After all, Prince Fu was an unreliable man and it was hard to tell whether they would succeed to put him in the regent position or not.

Meanwhile, at the Fu residence, the prince regretted what happened in the lotus pond. He thought that Bu Yin Lou must despised him because he made a fool of himself. Sun Tai Qing tried to console his master and told him that Bu Yin Lou praised his lantern. Sun Tai Qing's words gave Murong Gao Gong another shot of energy to make another lantern for her.
After a series of hard work, Murong Gao Gong fell asleep and dreamed of his first encounter with Bu Yin Lou. Back then, some princes bullied him. They locked him inside a room in Bu's residence. The room was pitch black and Murong Gao Gong was afraid of the dark. However, Bu Yin Lou came with a lantern and became his savior. Afterward, Murong Gao Gong was infatuated with her and would use his spare time to draw her portrait.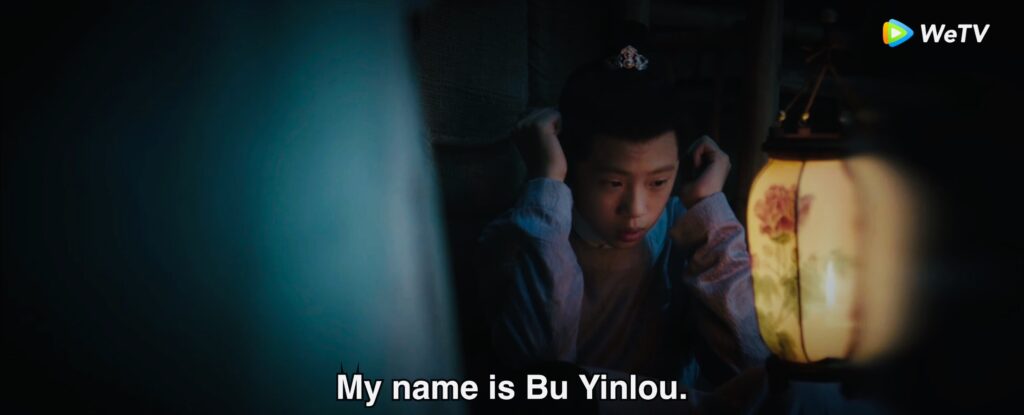 When he woke up, the wind blew out the candle and everything was dark. Prince Fu panicked when he felt that somebody was in the room and tried to touch his eyes. He used his full power to hit the assailant and shouted for Sun Tai Qing to help him. The old Sun Tai Qing came with a lantern to light up the room. He also searched everywhere for the person. The master and servant were shocked when they found the assailant dead on the floor. He was Prince Rong. The young prince wanted to tease his uncle but ended up dead with a fatal wound on his head.

Everything changed that night. Xiao Duo stormed into Prince Fu's residence. After he saw Prince Rong's body and the leaf card that he carried on his body, Xiao Duo was raging. He grabbed the trembling Prince Fu by his collar. With a dangerous voice, Xiao Duo asked whether the prince realized that he had murdered his own nephew and the Crown Prince of Great Ye. And Prince Rong's death would greatly impact the Zhaoding Bureau and Prince Fu's residence.
Sun Tai Qing rebuked Xiao Duo for being too harsh on his master but he get yelled at by Xiao Duo. The prince cried and begged Xiao Duo to save him. He said that he would do everything Xiao Duo told him to.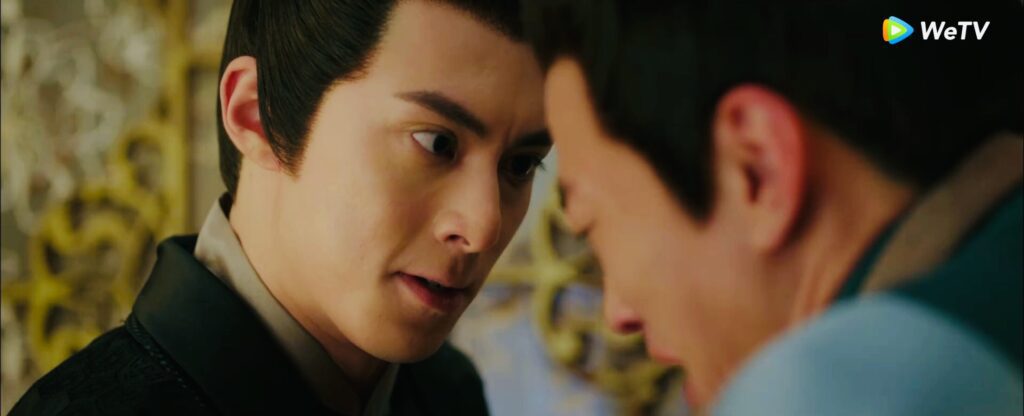 Later that night, a young eunuch walked past the hall of Futu Pagoda when he saw blood dripping out of the Noble Consort Shao's coffin. He screamed when he saw the sight. The Empress was notified about the incident and hastily went to the pagoda. She looked inside the coffin and was petrified when she saw Prince Rong dead on his mother's body. Empress Rong'an called Prince Fu, Xiao Duo, and also the cabinet members to come to Futu Pagoda.

Empress Rong'an did not believe in Murong Gao Gong's story. Prince Fu said that he was making a lantern and did not realize that Prince Rong had gone to the pagoda. The young eunuch who was in charge of the pagoda was called as a witness. With a trembling voice, he said that he saw the dead Noble Consort Shao woke up from her coffin. She called for his son and suddenly Prince Rong crashed his head into the coffin and died. After that, the coffin returned to its original position. Empress Rong'an did not believe his story and ordered the investigation.

Xiao Duo took the chance and talked to the Empress. He said that the country could not be without an emperor. And there was only one person who was qualified left in the Murong family. Before the Empress realized what he meant, Xiao Duo had kneeled in front of Prince Fu and begged him to take the position of the Emperor of Great Ye. The cabinet members also kneeled and begged the stunned Prince Fu. Empress Rong'an was stupified. When she regained consciousness, she was angered to the point that she could not say anything.

The news of the death of Prince Rong and the rumor that Xiao Duo was the killer had spread over the palace, including Xiecui Garden. Tong Yun tells the news to Bu Yin Lou and suggested her mistress stay away from the scary eunuch. But Bu Yin Lou did not believe the rumor. She came to find Xiao Duo at Futu Pagoda.
He stood alone at the wall and stared at Bu Yin Lou's leaf card of Prince Rong. Bu Yin Lou told him that she did not believe the news because Xiao Duo was too smart to do that. Xiao Duo was touched because she was the only one who believed that he did not do it. She was also the one who could sense his guilt towards the young prince.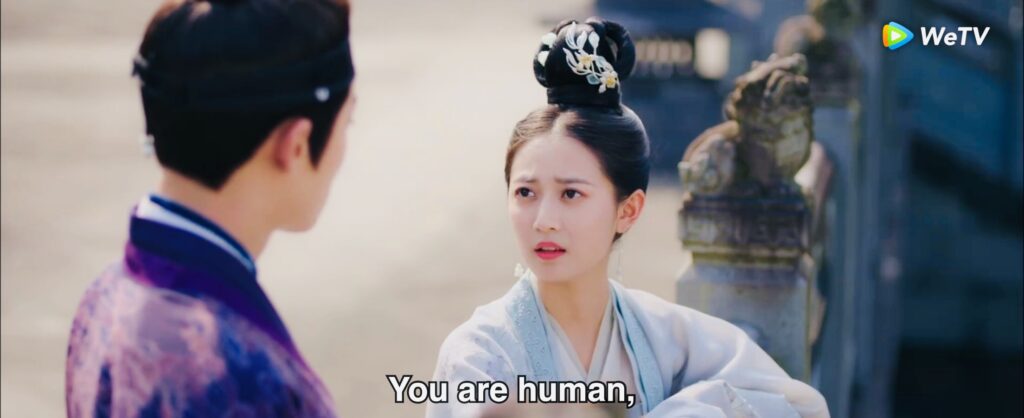 Bu Yin Lou consoled him and took him to the tea plantation. She picked a day lily plant. Bu Yin Lou explained that a day lily has a poisonous root, but a good chef would use its root to make a delicious dish. In her mind, Xiao Duo was the same as the day lily. He was ruthless on the outside, but actually a good person on the inside. That day, Xiao Duo returned to the Zhaoding Bureau in a good mood.

When he saw his master returned, Cao Chun'ang hurriedly reported that they got the news from Zhongshan. Meanwhile, Empress Rong'an was confused that Yuwen Liang Shi did not contact her even though there was a big movement in the palace. Yulin told her that their people had been caught by the Zhaoding Bureau and the important people in the palace had taken Xiao Duo's side.
Yan Sun Lang came to report to her that on the night Prince Rong died, Prince Fu came to the palace secretly to meet Bu Yin Lou. Empress Rong'an thought that Prince Fu had made a big move because of his feeling for Bu Yin Lou. Yan Sun Lang did not forget to slander Xiao Duo but instead, he got yelled at by the Empress. The Empress ordered Yan Sun Lang and Zhang Yujin to trap Bu Yin Lou.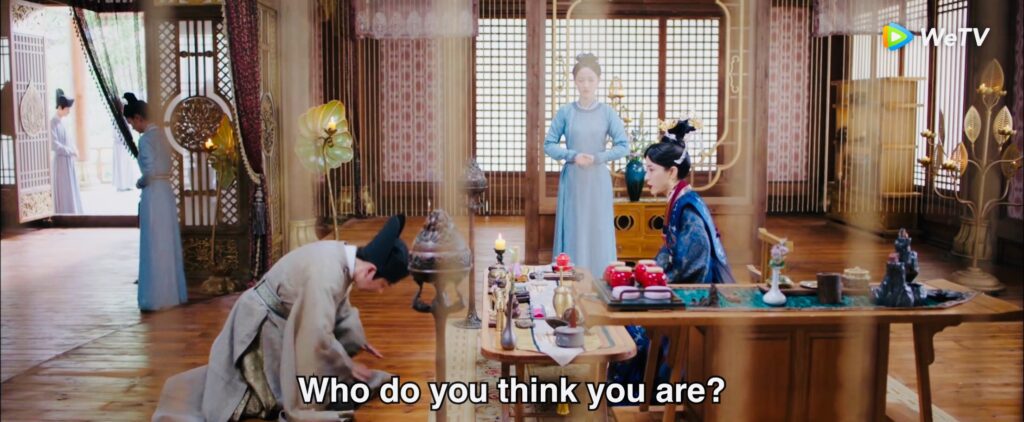 Zhang Yujin came to Xiecui Garden to take Bu Yin Lou by force. Bu Yin Lou understood that she was in a dire situation and left a secret message for Xiao Duo. It was a leaf card with Empress Rong'an picture.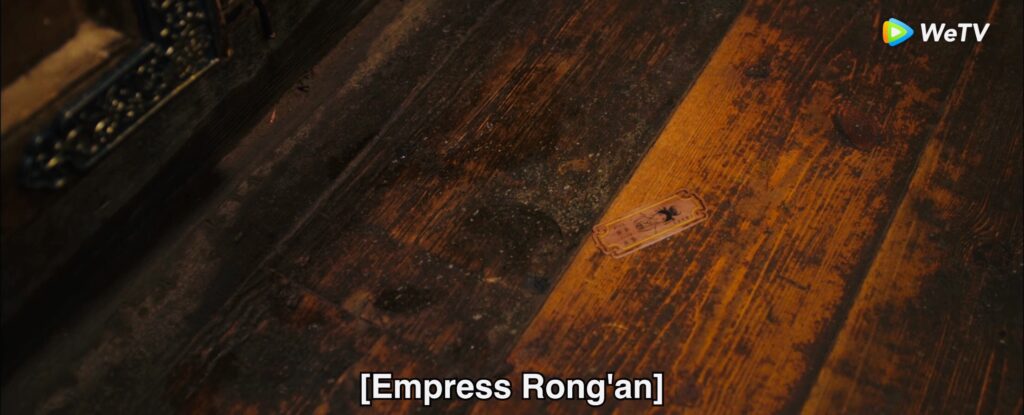 Zhang Yujin took Bu Yin Lou to a secluded courtyard and locked her up inside the room. Zhang Yujin told her that Xiao Duo could not help her because he was out of town. Bu Yin Lou had to stay there and wait for an exciting thing to happen later. After Zhang Yujin left, Bu Yin Lou sat on the bed. She noticed a strange incense was burned next to the bed.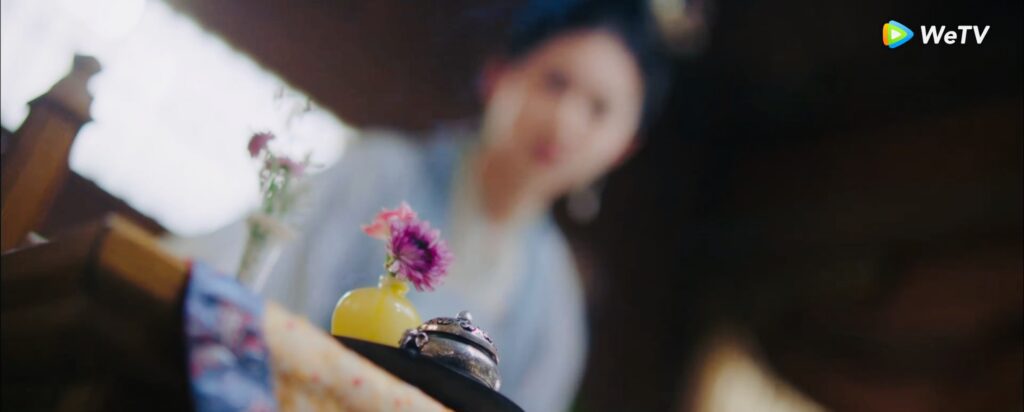 Somebody came and passed a letter from Bu Yin Lou to Prince Fu's residence. She said that she was in danger and asked him to save her. Prince Fu panicked and hurriedly left to enter the palace.
Meanwhile, Yan Sun Lang reported to Empress Rong'an that they just have to wait for Prince Fu to enter the palace and for the aphrodisiac incense to work. By then Prince Fu would be charged with the crime of incest and immorality. He would not be able to claim the throne. Empress Rong'an also made another move by finding a suitable child from the Murong family to replace the emperor. Empress Rong'an said that if Xiao Duo did not betray her, she would need to act that way. Now she would do anything to make him crawl back to her.

My Musing
I thought the young prince would be in the scene for a bit longer… he was sooo adorable! 😔