Title: Unchained Love
Also Known As: 浮图缘, Floating on the Edge, Forbidden Love
Director: Wu Qiang
Casts: Dylan Wang, Chen Yu Qi, Peter Ho, Zheng Li
Screenwriter: Li Jing Ling
Genres: Romance, Comedy, Historical
Country: China
Episodes: 36
Original Network: iQiyi
Where to Watch: iQiyi, WeTV
Adapted from the web novel: Fu Tu Yuan by You Si Jie
List of Recap:
Ciao readers… This is another Unchained Love episode recap for you. The weather in my place was a bit rainy. And when it rains all day, it is a perfect time to lazying around with Cdrama played on your gadget. Well, the talk is over. Let's start with the episodes 13 and 14. Happy reading!
But first, let's meet new character!
New Characters Appearance
Senior Eunuch Zhang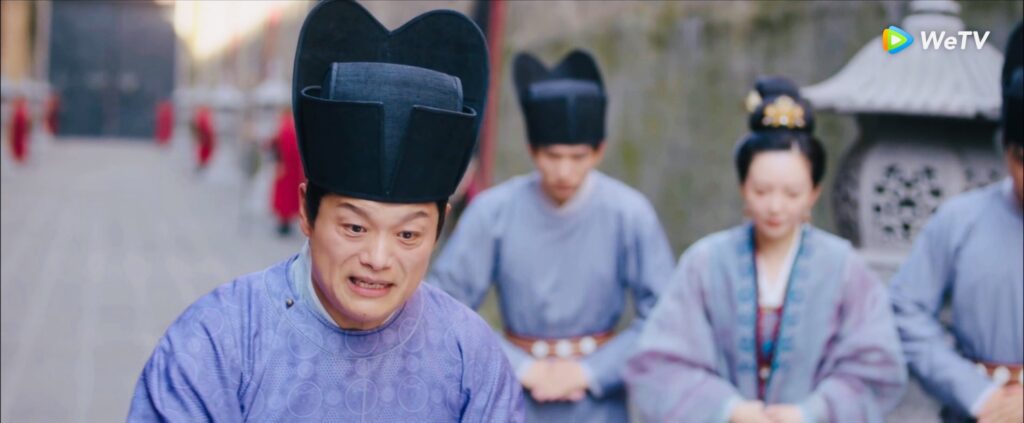 Eunuch Zhang was the senior eunuch served on the side of the Empress Dowager.
Episode Recap
Episode 13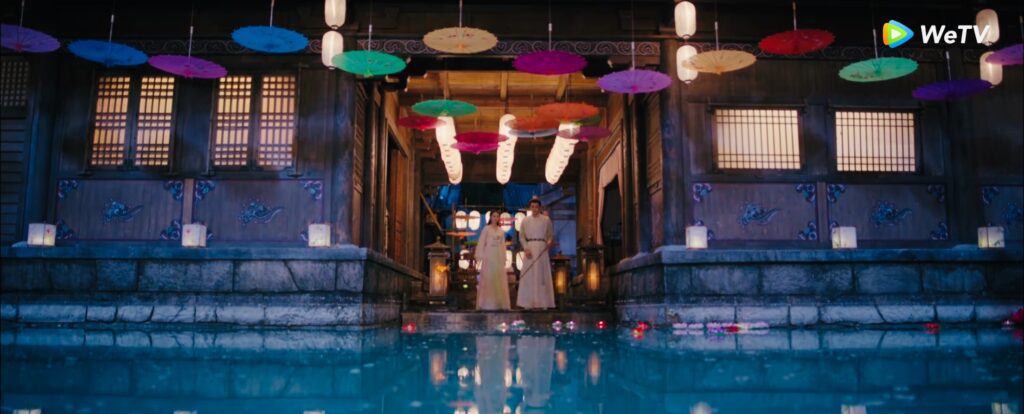 Bu Yin Lou took Xiao Duo to float a lantern and make a wish. The gloomy Xiao Duo did not have any wishes for himself. However, he wished that the world would be prosperous and peaceful and the common people would never be separated from their loved ones. And he also wished that the world would no longer need a man like himself.
Bu Yin Lou disagreed with his last wish. Yet, Xiao Duo explained that if and when the Great Ye did not need him or Zhaoding Bureau was the day when the world has become a better place. Bu Yin Lou told him that even though the world had become a better place, many people still needed him, including her.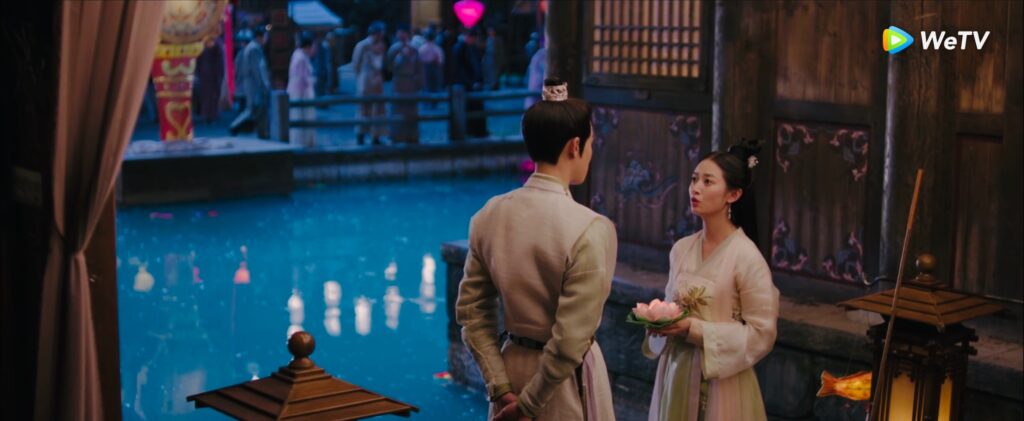 Bu Yin Lou told Xiao Duo that he was a good person. He had suffered so much, but he wished that others would not feel his suffering. All this time, Xiao Duo seemed like a vicious person, but he used his sword only to kill corrupted officials. His reputation was sullied, but all he did was protected the country and common people. In her eyes, Xiao Duo was a gentle person. A smile bloomed on Xiao Duo's face.
He told her that he was not as good as she thought. Xiao Duo and Bu Yin Lou watched their lantern drifted away. Xiao Duo thanked her. Bu Yin Lou thought that he thanked her for the lantern. But inside his heart, Xiao Duo thanked Bu Yin Lou because after he met her, Xiao Duo no longer despised himself.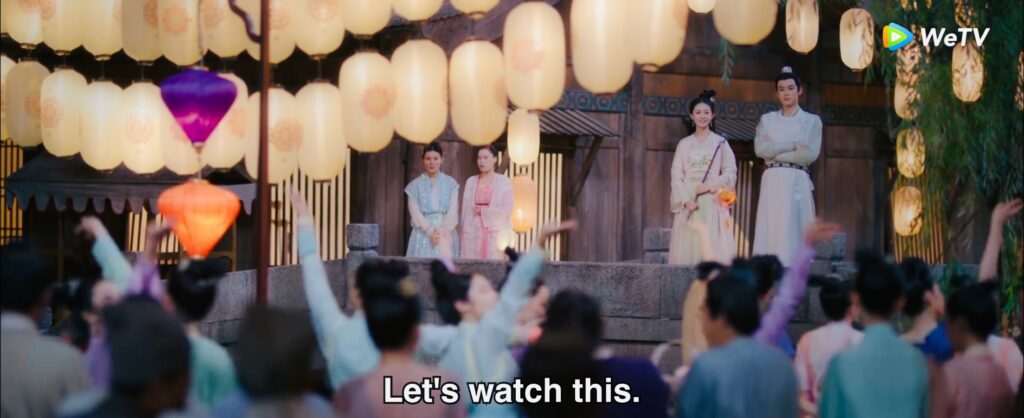 They went to the bridge to watch the lantern and the dancers. Bu Yin Lou saw the dancer and haughtily claimed that her dancing was better than theirs and Xiao Duo knew it because he saw her dancing in the Dream House. Xiao Duo feigned ignorance and said that he did not see it clearly because it was dark back then. Bu Yin Lou imitated the dancer's movement.
Meanwhile, Xiao Duo stared at her and lost in thought about his only wish. Unconsciously, his hand moved towards Bu Yin Lou. However, before he touched her, there was a voice that came out of nowhere and praised Bu Yin Lou's beauty. Bu Yin Lou was startled to see the Emperor at the festival. Meanwhile, Xiao Duo put on an expressionless face like he always had.
The Emperor told her that the Dream House matter was Sun Tai Qing's idea and he already punished him. The Emperor also scolded Xiao Duo because he was thoughtless. Bu Yin Lou protected Xiao Duo and admitted that she was the one who decided to go to the Dream House. The Emperor said that she did not have to do that because no matter how she was, he still liked her.
Bu Yin Lou pretended not to hear the words and asked the Emperor why he was there instead at the royal banquet. The Emperor whispered that he ran away from the banquet because it was a boring banquet. He rather spent the night with Bu Yin Lou.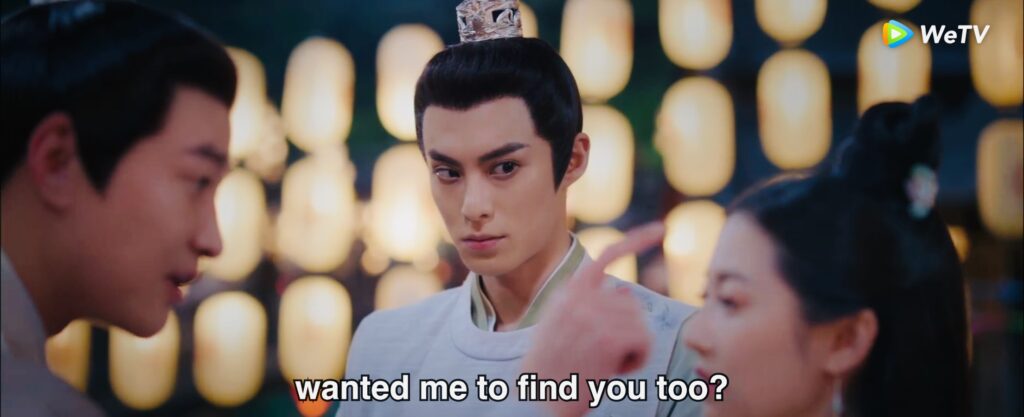 The Emperor saw her lantern and mocked it because the craft was too crude and it did not suit her. He gave the lantern to Sun Tai Qing, took her hand, and led her to a courtyard. The place was heavily decorated with lanterns. Sun Tai Qing explained that every lantern was finely crafted by the Emperor himself for her.
Bu Yin Lou noticed that the lantern has words written on it. The Emperor said that the words written were his nickname, Youwu. Then he asked for her nickname, but Bu Yin Lou was reluctant to tell him. To cover it, Bu Yin Lou pretended to sneeze. Yet, the Emperor has prepared a coat beforehand and put the coat for her. Xiao Duo's face was sour. He did not like what he saw.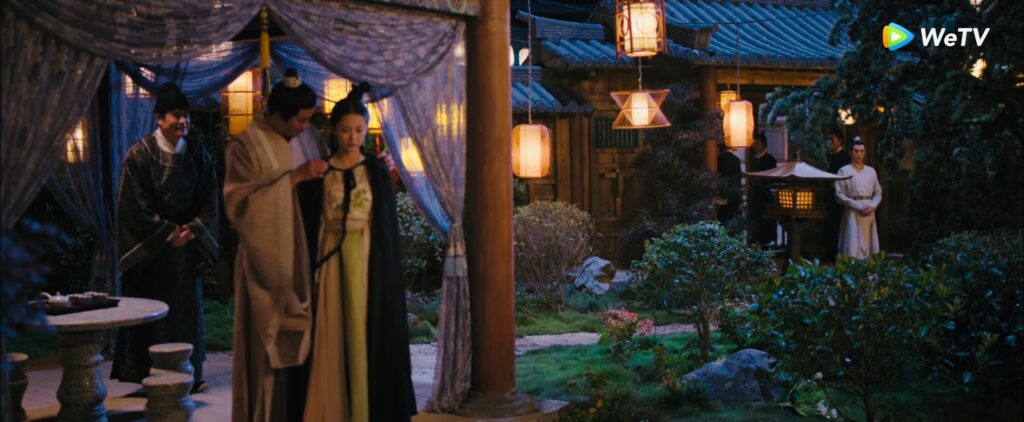 The Emperor took Bu Yin Lou to watch the dancer. All of a sudden, a man ran through the crowd and created chaos among the people. A pillar was pushed and almost fell on the Emperor. Bu Yin Lou saw it and pushed The Emperor away from the pillar, but it fell on her back. The Emperor was shocked and pulled her into his arms. The Imperial Guard and Zhaoding Guard immediately came to control the situation.
According to Xiao Duo, the man who instigated the chaos was one of Yuwen Liang Shi's spies. The Emperor was so angry he killed the spy himself. Bu Yin Lou was shocked when she saw the Emperor slashed his sword over the spy's body over and over again. To hide the gore view, Xiao Duo moved his body and stood in front of Bu Yin Lou.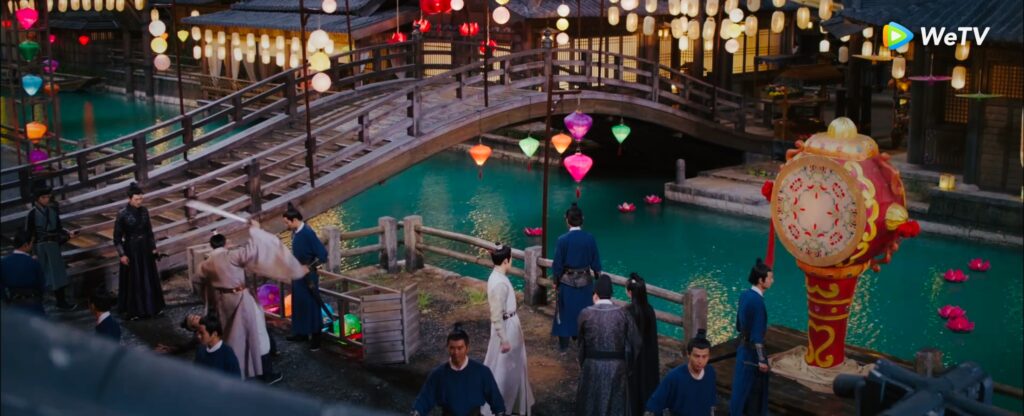 The Emperor felt a sense of satisfaction after he killed the spy. He turned to tell Bu Yin Lou that he would not allow anyone to hurt her and that he was the only person who could protect her. The Emperor walked towards her but Xiao Duo stopped him. The Emperor's expression became grave and everybody was tense. But then Xiao Duo took the unsheathed sword from his hand. He warned the Emperor to be careful and offered his handkerchief to the Emperor.
The Emperor's face was eased with a hint of embarrassment. He took the handkerchief and carefully cleaned his hand while Xiao Duo obediently retreated to the side. The Emperor used the safety measure as a consideration to order Bu Yin Lou's return to the palace. Bu Yin Lou said nothing but she furrowed her brows.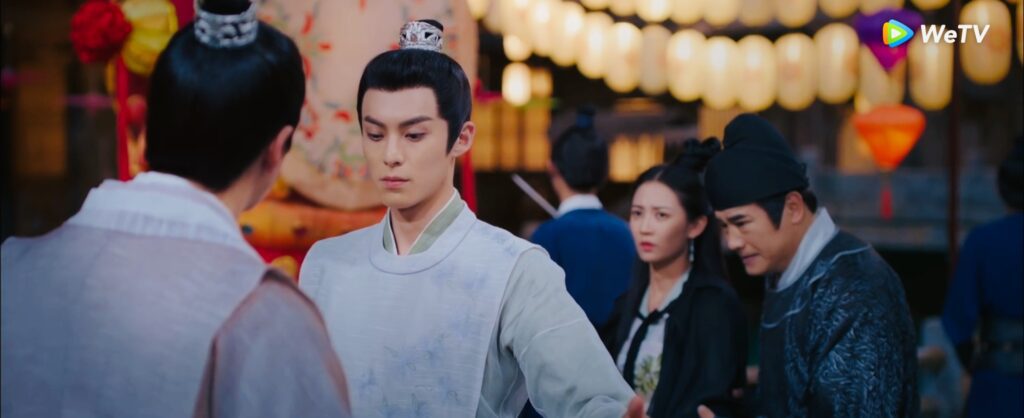 Xiao Duo stepped up to remind the Emperor that the court was not stabilized right now. He feared that the court would criticize him by then. Sun Tai Qing cut in and said that the matter should be an easy feat for him. Bu Yin Lou was not safe when she was outside, it showed that the safest place for her was in the palace.
Xiao Duo was about to say something but was interrupted by the Emperor. He said that he had made up his mind about the matter. The Emperor refused Xiao Duo's intention to take Bu Yin Lou for treatment first. He said that he would take her personally to the Xiao Residence. He also ordered Xiao Duo to check court officials who were affiliated with Yuwen Liang Shi, before he took Bu Yin Lou and left.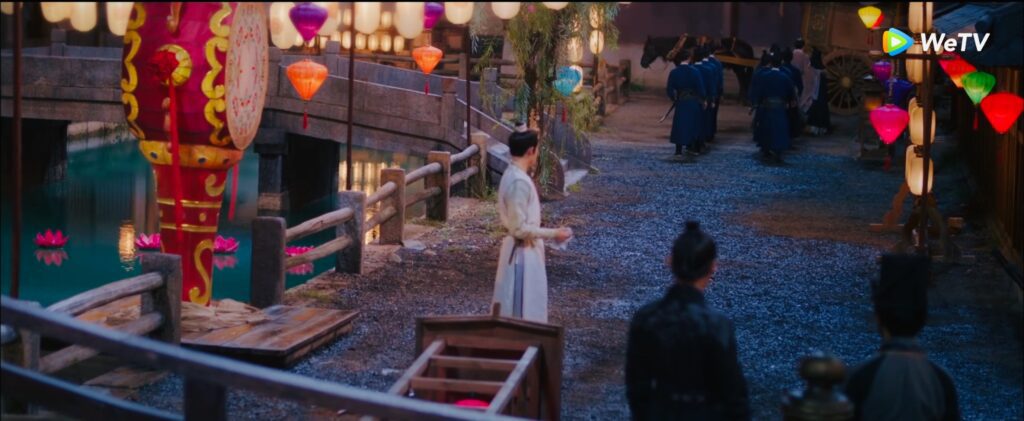 The Emperor obviously wanted to shake off Xiao Duo's influence on him. He no longer wanted to be dictated by Xiao Duo. But could he really do something without Xiao Duo's help? 🤷‍♀️
For the next few days, Xiao Duo was busy with the spies' affairs. When he returned, he saw Steward Zheng supervising the servants who packed up Bu Yin Lou's stuff since she was leaving. Cao Chun'ang saw Xiao Duo's mood depleted. He reassured Xiao Duo that they had enough people in the palace and nobody would be stupid enough to bully Bu Yin Lou.
On the contrary, they had to be thankful if she did not bully others… 😅 Cao Chun'ang also reminded his Godfather that he should not be distracted because he still had many things to do and Bu Yin Lou had a fate that she must face.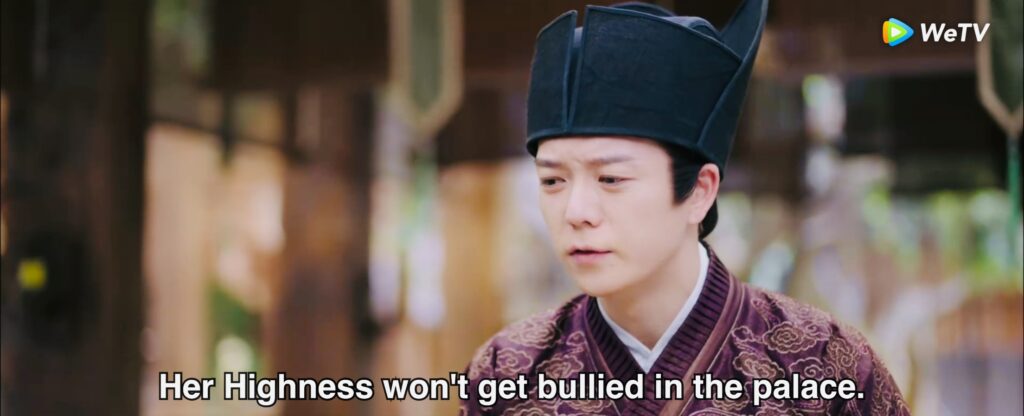 Xiao Duo went to see Bu Yin Lou and asked her whether she did not feel reluctant to enter the palace anymore. Bu Yin Lou bitterly said that no one ever asked her what she wanted or even cared about it. She was stunned when Xiao Duo said that he cared. But then she said that Xiao Duo had done enough for her and also saved her life.
She reassured Xiao Duo that if she received an official title, she would never forget his kindness. Xiao Duo could not say the words he wanted to say. Bu Yin Lou left the room in haste when she saw it. But she stood for a while in front of the closed door before she left.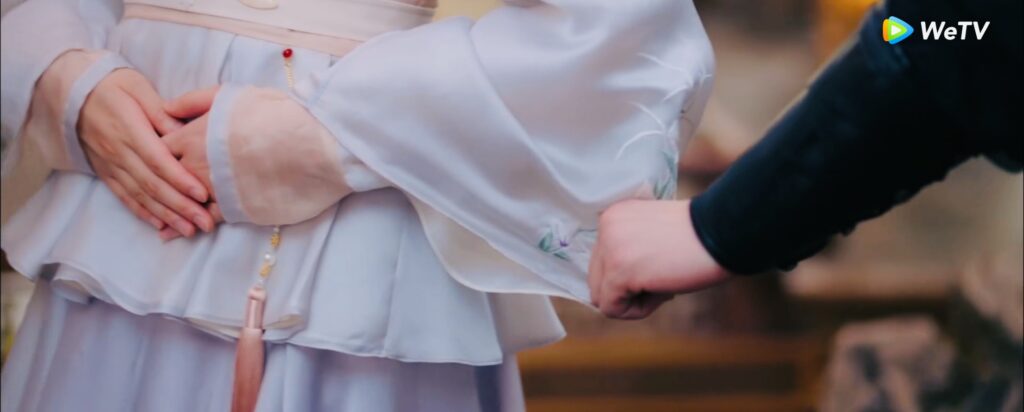 At the palace, Xiao Duo and Cao Chun'ang saw Madam Bu clamored to see the Empress Dowager. Senior Eunuch Zhang explained that the late Emperor used to make a promise to make the Bu family's legitimate daughter as a concubine of Yuwen Liang Shi. Due to a recent situation, the Bu's family no longer wanted to send their precious daughter anymore. Since Xiao Duo did not say anything after he listened to the explanation, Eunuch Zhang decided to take Madam Bu away.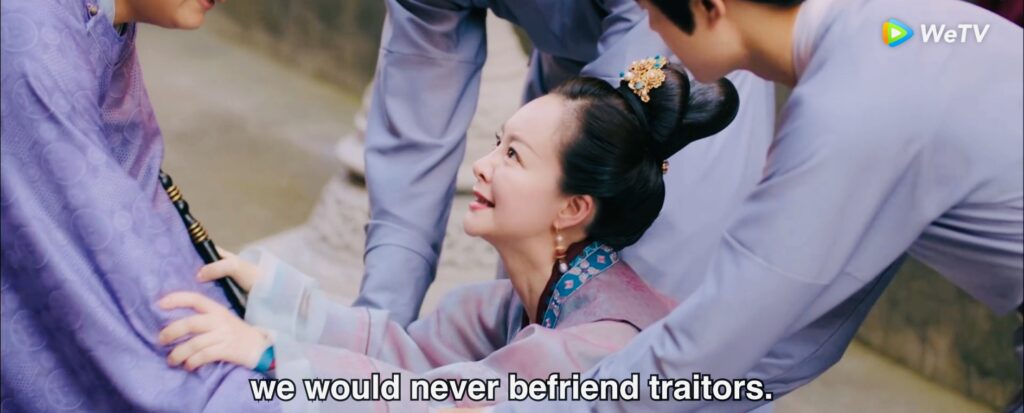 Xiao Duo greeted the Emperor and reported the incident. The Emperor thought that Xiao Duo would persuade him to cancel the engagement. But he was surprised because Xiao Duo told him that the marriage was a chance to send their people to the West Shu. On the contrary, if they let the marriage fail, they gave the West Shu a reason to collude with another country.
Xiao Duo also reminded him that Bu Yin Lou's status would jeopardize their great plan. The Emperor was angry because his plan to bring Bu Yin Lou to the palace was obstructed again. Xiao Duo told him that as long as the West Shu's matter was unsolved, he would always be controlled by others. The Emperor immediately ordered Xiao Duo to personally go to West Shu and take care of the wedding.
Sun Tai Qing reminded the Emperor that Xiao Duo's action was suspicious and if he really sent Xiao Duo to the West Shu, Sun Tai Qing was afraid that they would collude. The Emperor answered that he used the chance to send Xiao Duo because he felt threatened by him. If in the end, Xiao Duo must face Yuwen Liang Shi, no matter who would die or be injured, The Emperor would be the one who reaped the benefits. He wanted to take over the power of Xiao Duo since all the court members and officials feared him and his Zhaoding Bureau.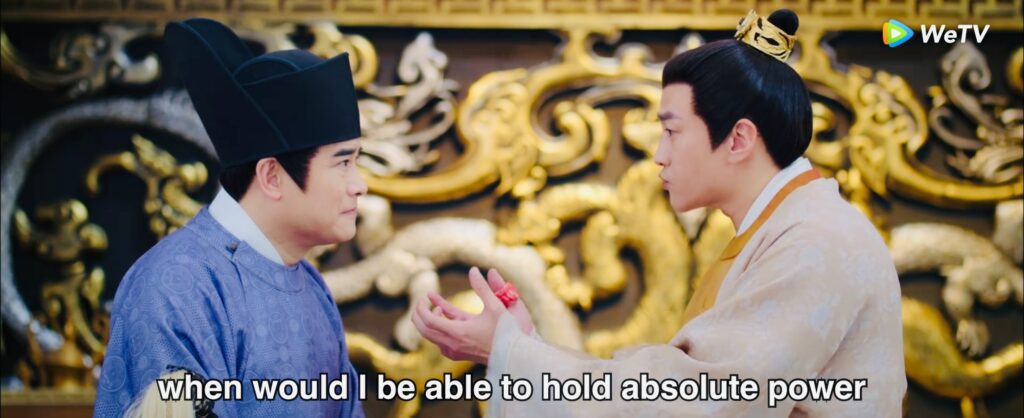 The Bu family was in turmoil because of the marriage. Madam Bu did not want Bu Yin Ge to be sent to Nanyuan. Yet, Bu Yu Lu was only worried about himself. She had an idea to use Bu Yin Lou as a substitute. Bu Yu Lu reminded her that the Emperor was fond of Bu Yin Lou, but Madam Bu did not believe it. She was suspicious that Bu Yu Lu wanted to keep Bu Yin Lou because he still needed her, otherwise he would not keep the news about Bu Yin Lou's mother demise. The Bu couple argued about the matter.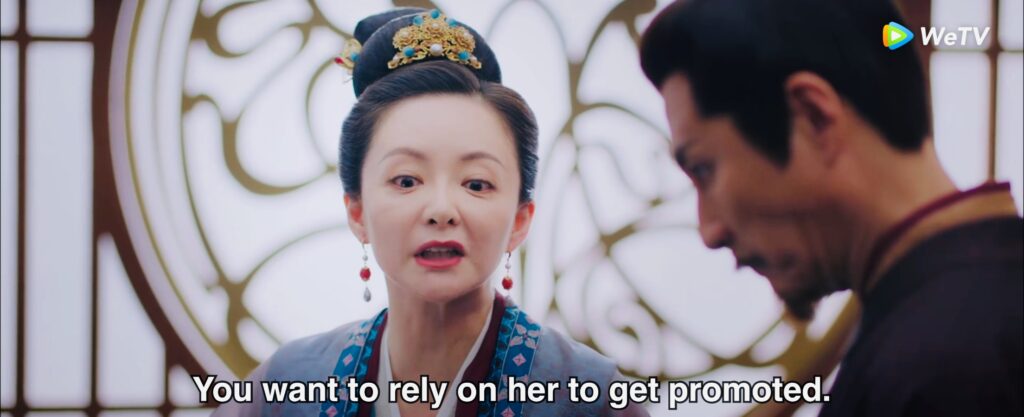 Tong Yun rushed to see Bu Yin Lou. She said that the Bu family sent a message that Bu Yin Lou's mother was dying. Bu Yin Lou went to the Bu residence without informing Xiao Duo about it. But the message was only a ploy to lure Bu Yin Lou to Bu residence.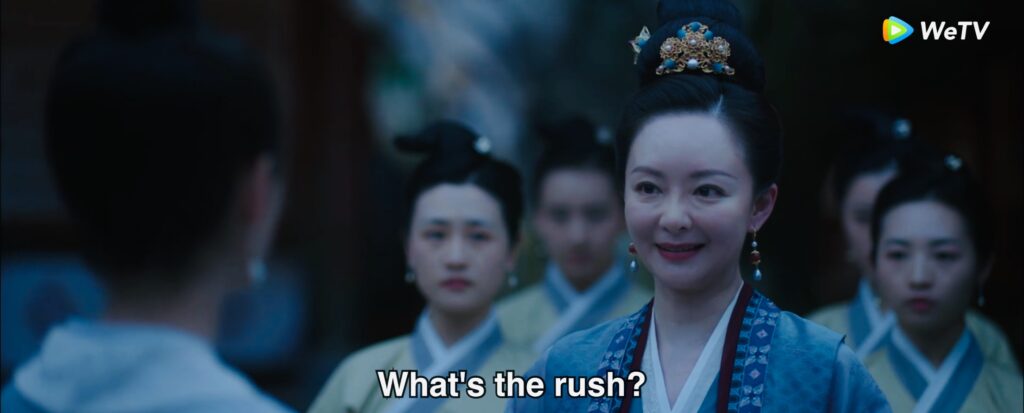 The next day when Xiao Duo returned to his residence, Cao Chun'ang told him about his thought regarding the West Shu matter. Cao Chun'ang suspected the Emperor was purposely sending his Godfather to the West Shu as soon as possible. Xiao Duo already realized it. He said that although the Emperor relied on him in the past, now he had sat on the throne, therefore, the way he looked up to others must have changed.
He was not worried about the order because his intention was always in the West Shu. Xiao Duo gave Cao Chun'ang the Yuwen token and told him to leave for the West Shu together with She Qilang and the Bu family entourage.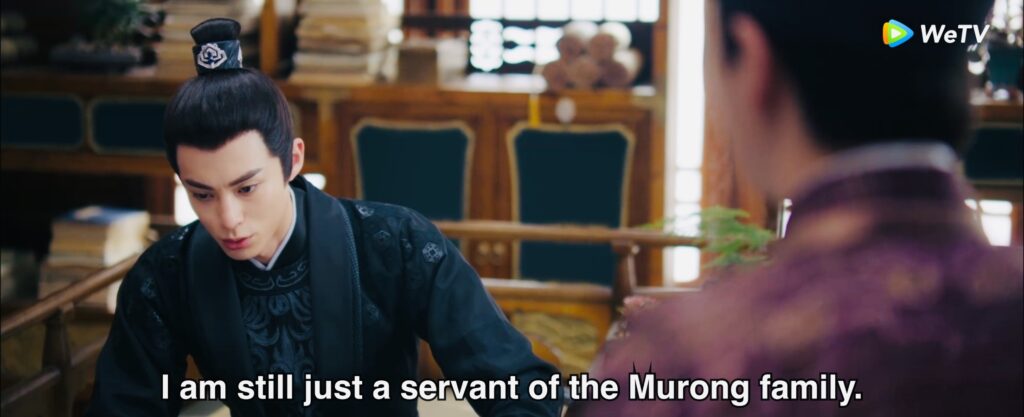 Suddenly Steward Zheng came running. He reported that the day before, the Bu family sent a message that Bu Yin Lou's mother was ill. She hurriedly went to the Bu residence and has not returned yet. Xiao Duo put down the teacup carelessly, picked up his sword, and immediately went out. Xiao Duo had a hunch that there must be some conspiracy behind the message.
Xiao Duo arrived at the Bu Residence and told Cao Chun'ang to search the house. When Xiao Duo asked where Bu Yin Lou was, Bu Yu Lu was confused and answered that Bu Yin Lou should be at Xiao's residence. Cao Chun'ang found Tong Yun inside the residence. She reported that the Bu family forced Bu Yin Lou to be a replacement for the marriage.
Anger welled up in Xiao Duo's chest. Xiao Duo stared at the Bu couple and told them that Bu Yin Lou better be safe, or else he would punish them. Bu Yu Lu pointed his finger at Madam Bu but was too angry to speak.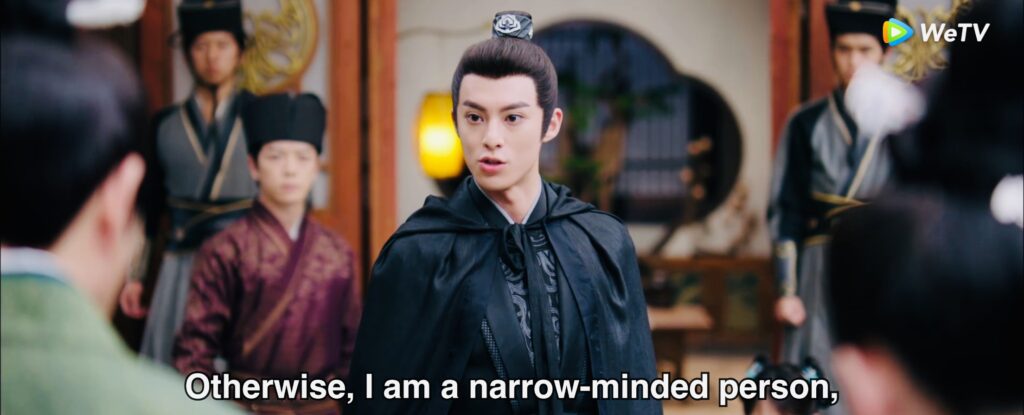 Bu Yin Lou was tied and gagged inside the carriage. She saw Xiao Duo when they passed him on the street. However, he must not have realized that she was inside the carriage. Bu Yin Lou used her hairpin to cut the ropes that bind her. She managed to escape and run into the river bank.
Bu Yin Lou used a sword to threaten the guards who were after her. All of the sudden, Xiao Duo arrived and subdued the guards. His worry was displayed on his face. He checked on Bu Yin Lou and was relieved to see that she was unharmed. Bu Yin Lou asked him to take her to Fushui town.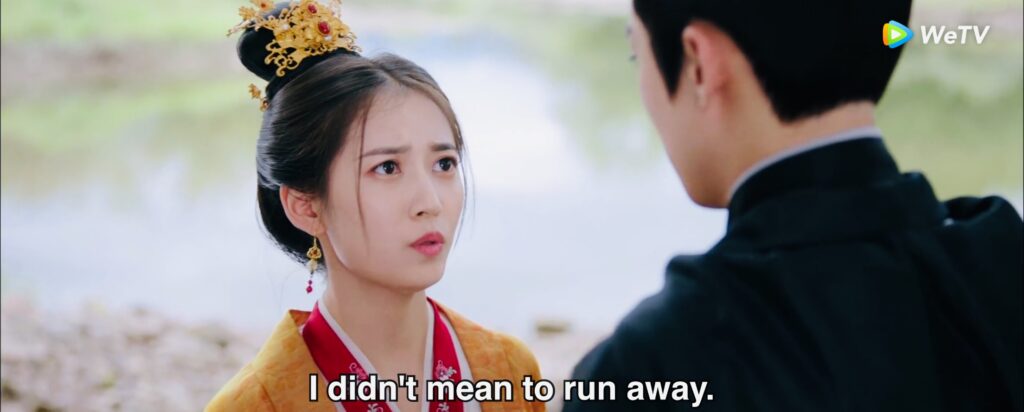 Episode 14
At Fushui town, Bu Yin Lou was shocked when she learned that her mother has passed away six months prior. She cried in front of her tomb and Xiao Duo hugged her to comfort her.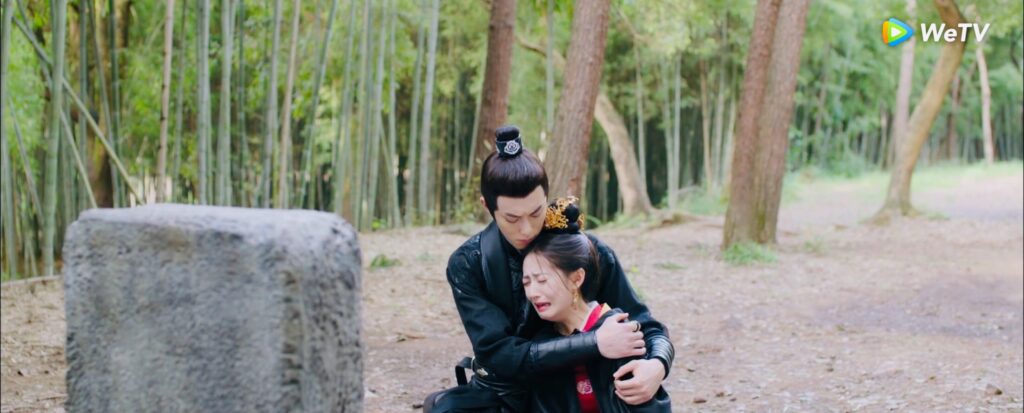 Bu Yin Lou and Xiao Duo came to Bu's residence for revenge. Bu Yu Lu, Madam Bu, and Bu Yin Ge waited for them in the hall. When Bu Yu Lu approached her, Xiao Duo stopped him with his sword. Xiao Duo opened his mouth and announced that the Bu family forced Consort Dowager Duan to replace her sister. This was the crime of deceiving the Emperor. He ordered them to kneel and plead guilty.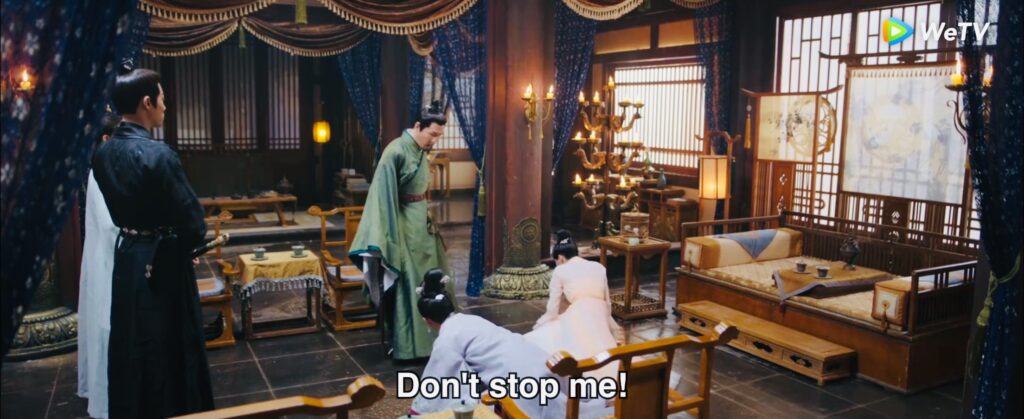 Bu Yu Lu ordered his wife and daughter to kneel. Bu Yu Lu begged Bu Yin Lou and said that his wife deserved to die. However, when he saw Bu Yin Lou did not say anything, he pretended to be angry and called the servant to bring him a cane. He would personally hit Madam Bu to death. Madam Bu and Bu Yin Ge hurriedly played along with him. Madam Bu plead and begged for mercy while Bu Yin Ge scolded Bu Yin Lou as an unfilial child.
However, they never thought that when Bu Yin Lou was willing to say a word, she told Bu Yu Lu that she wanted to watch him hit Madam Bu. Xiao Duo saw through the act and told Bu Yu Lu that if he could not handle such a trivial matter, the Zhaoding Bureau would take over. Madam Bu fainted on the spot when she heard Xiao Duo's words.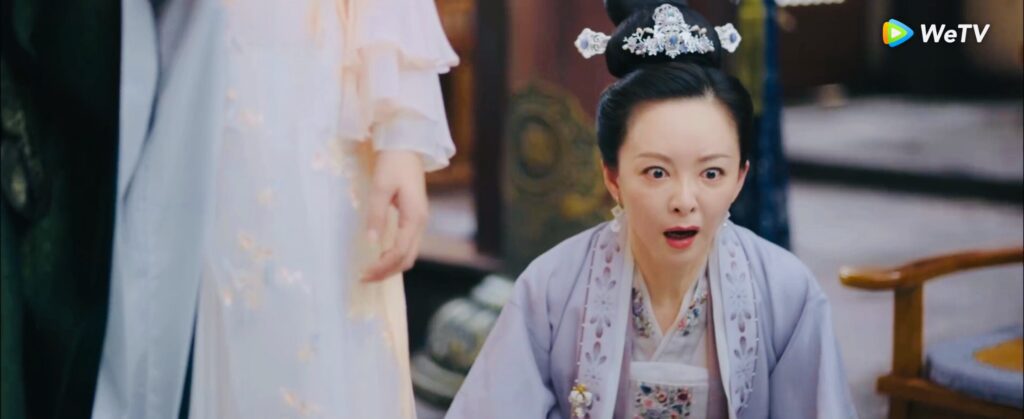 Cao Chun'ang ordered the guards to drag Madam Bu and stopped Bu Yin Ge from entering the hall because Bu Yu Lu asked for a private conversation with Bu Yin Lou. Xiao Duo stayed with Bu Yin Lou during the conversation. Bu Yu Lu shamelessly coerced Bu Yin Lou to let Madam Bu off the hook. But Bu Yin Lou used the chance to settle the score with her father. She told him that Madam Bu had been wanting to take her life. Bu Yu Lu retorted her words but Xiao Duo said that the Zhaoding Bureau had the proof of Madam Bu's misconduct.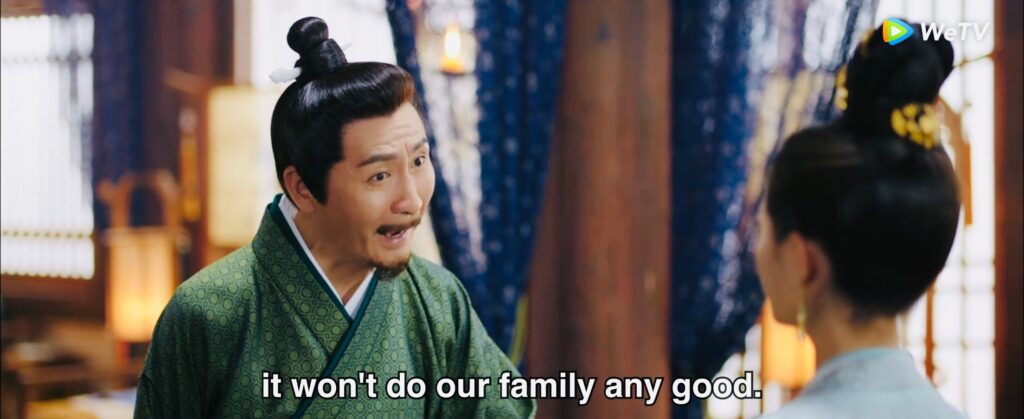 Right now, it was Bu Yin Lou and Xiao Duo who played an act. Xiao Duo wanted to report the Bu family for the crime of deceiving the Emperor. Bu Yin Lou stopped him. Bu Yu Lu butted in and pretended to be a good father that took the punishment for his daughter.
Xiao Duo reminded Bu Yin Lou that this was not her Bu family's matter anymore. He also did not want to hide it from the Emperor. Bu Yin Lou advised him to plead guilty. She would also join them because a family always share weal and woe. By then, Bu Yu Lu would be praised for his good deed. She and Xiao duo left him afterward.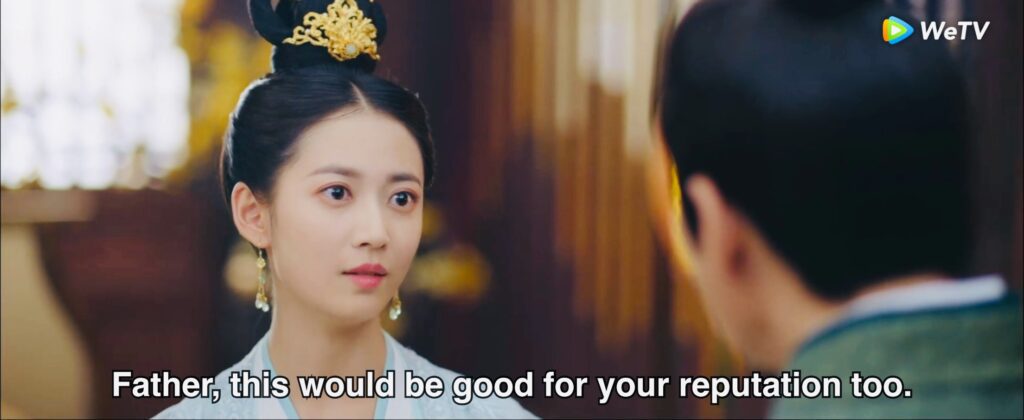 Bu Yu Lu ran after Bu Yin Lou and told her that he would divorce madam Bu. Bu Yin Ge who heard his words protested. Xiao Duo told Bu Yin Ge that he would personally plead with the Emperor to delay the wedding. He also said that if the matter of replacing the bride happened again, he would destroy the Bu family. Bu Yin Lou and Xiao Duo left afterward.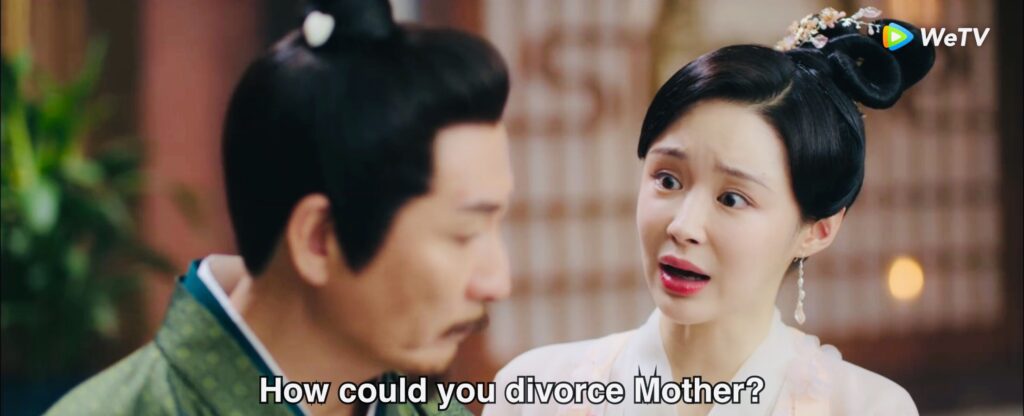 On the journey from the Bu residence, Xiao Duo saw that Bu Yin Lou's mood still had not recovered. He offered to execute the Bu family if it made her feel better…😅
Bu Yin Lou said that her father was a calculative person who did not care for others as long as he was unharmed. By now, Bu Yin Lou realized that she no longer feel affectionate feeling towards her father. Bu Yin Lou felt sad for her mother who put him inside her heart. After the incident, Bu Yin Lou felt that she no longer had a home. Xiao Duo refuted her words and she immediately felt something warm inside her heart.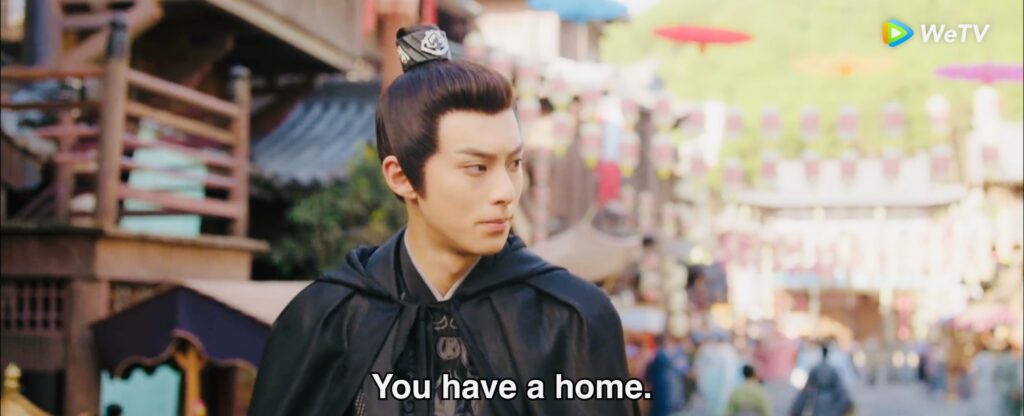 The Emperor was angry because of the Bu family matter, Bu Yin Lou's identity had spread in the capital. The matter concerning his desire to take Bu Yin Lou as his consort made the officials scold him and the common people gossip about him.
Through a calligraphy, Bu Yin Lou advised The Emperor to strive to be a benevolent and diligent ruler. The Emperor stared at her suspiciously. He said that Bu Yin Lou wanted to act like the court official and admonished him. Yet, with her honeyed tongue, the Emperor took her advice lightly.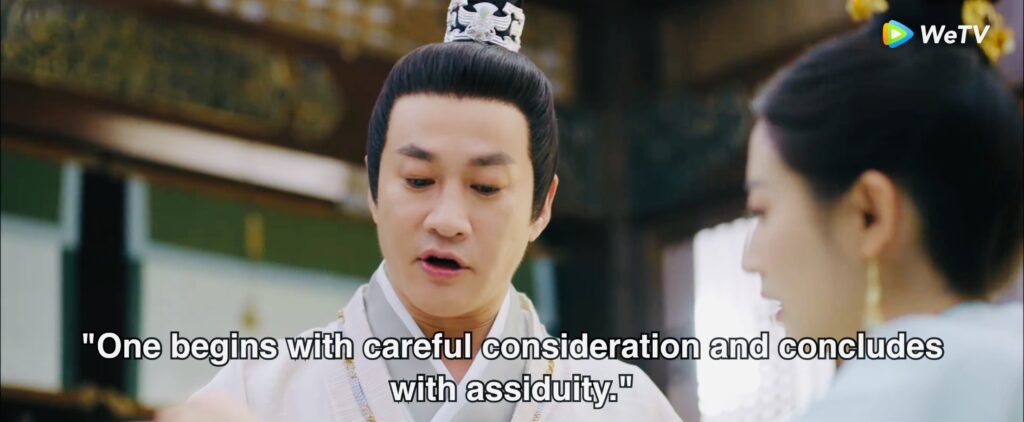 The Emperor was annoyed with the rumors about him and Bu Yin Lou. He asked Xiao Duo for a strategy to dispel it. Xiao Duo gave him the advice to let Bu Yin Lou leave with him to the West Shu on account of accompanying a legitimate sister. By the time she returned, people would no longer remember the rumor. When the Emperor refused the idea, Xiao Duo also said that the Emperor should build a benevolent reputation.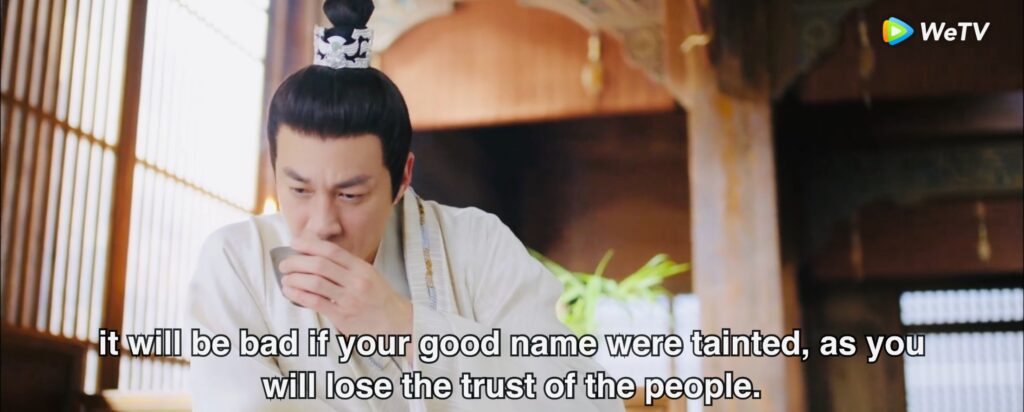 The Emperor remembered that Bu Yin Lou also said the same earlier. He told Xiao Duo that he allowed him to bring Bu Yin Lou to the West Shu but when Xiao Duo returned, he must hand over all the power of Zhaoding Bureau to the Emperor for the sake of Bu Yin Lou's wishes for him to be a diligent emperor.
The Emperor did not realize that everything that happened was orchestrated by Xiao Duo with the help of Bu Yin Lou. He had planned the officials' protests, the words on Bu Yin Lou's calligraphy, to bring Bu Yin Lou out of the capital. He knew that the Emperor was wary of him and the Zhaoding Bureau's power and wanted to take it from him.
Xiao Duo merely wanted to make a chance for him to do it. Bu Yin Lou was worried that when Xiao Duo returned to the capital, everything had changed. But he reassured her that he would be fine, and perhaps he would never returned again. Bu Yin Lou did not think about his words at that time. However, when everything happened as planned, she smiled triumphantly.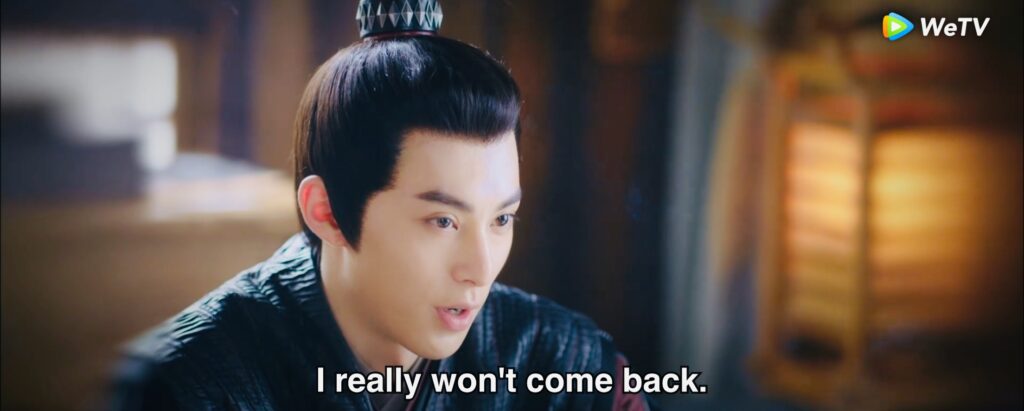 When they were about to depart from the port, Bu Yin Ge came to bully Bu Yin Lou. She thought that Bu Yin Lou had lost the Emperor's favor and had to leave the capital. Bu Yin Ge also threw away her belongings into the river. She thought Bu Yin Lou would be sad over it when bu Yin Lou abruptly snatched Bu Yin Ge's boxes and threw them into the river. She also managed to slap Bu Yin Ge's face twice. Bu Yin Ge's anger erupted.
She ordered her maidservants to slap Bu Yin Lou. But then Xiao Duo's voice boomed. He asked who dared to slap Bu Yin Lou. The maidservants hastily retreated in fear. Even Bu Yin Ge backed away a few steps. He said that since Bu Yin Ge was not satisfied with the bigger ship, she should move to the small ship. He ordered Cao Chun'ang to escort Bu Yin Ge out of the ship.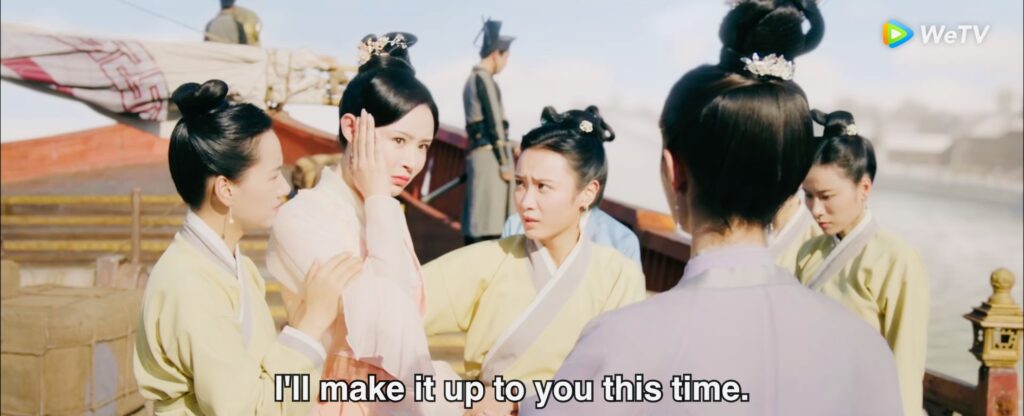 The small ship should be for Xiao Duo and his entourage. But since Bu Yin Ge used the ship, then Xiao Duo would board the same ship with Bu Yin Lou. He even used the bedroom next to Bu Yin Lou's. Xiao Duo reasoned that he was there to take care of her, it was better for him to stay near her.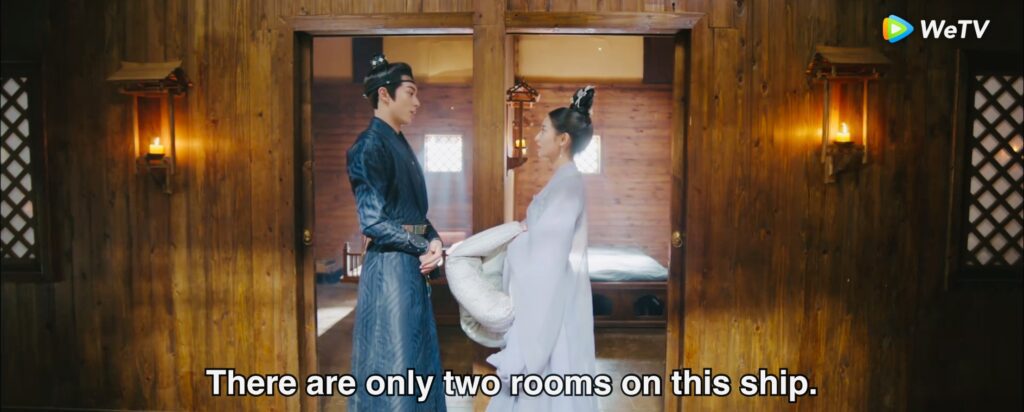 Cao Chun'ang saw the interaction between Xiao Duo and Bu Yin Lou. He was worried that the relationship would bring harm to both Xiao Duo and Bu Yin Lou.
The Emperor learned to master archery. He said that he wanted to learn every knowledge that an emperor must have. By the time Bu Yin Lou returned, he would be a real benevolent emperor so nobody would dare to criticize him.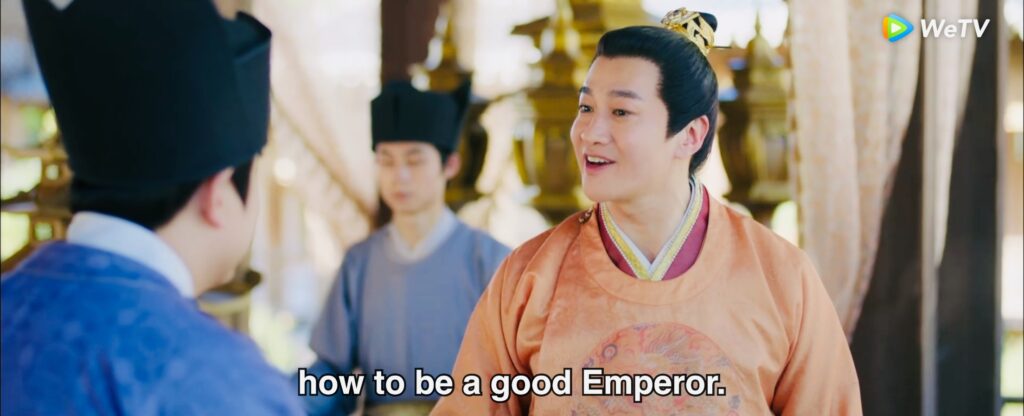 Bu Yin Lou was having very bad seasickness. Between her whim, she told Tong Yuan that she was awry about Xiao Duo's feelings for her. Tong Yun thought that her mistress was hallucinating.
Xiao Duo took care of the sick Bu Yin Lou. He even fed her the medicine and especially made it sweet because Bu Yin Lou could not stand bitterness. When he wiped the remaining medicine on Bu Yin Lou's lips, they stared at each other awkwardly before another wave of nausea struck her again. Because Bu Yin Lou vomited the medicine, Xiao Duo offered to use acupuncture to ease the sickness. But the acupoint was situated 7 fingers from her navel, under her chest. Bu Yin Lou still let Xiao Duo massage the acupoint.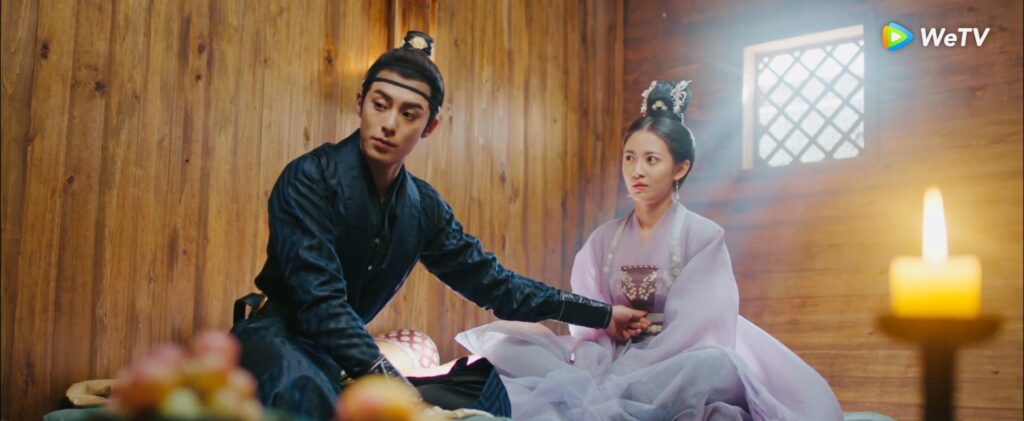 Yet, this time it was Xiao Duo who lost his composure and hurriedly left the room to calm his beating heart.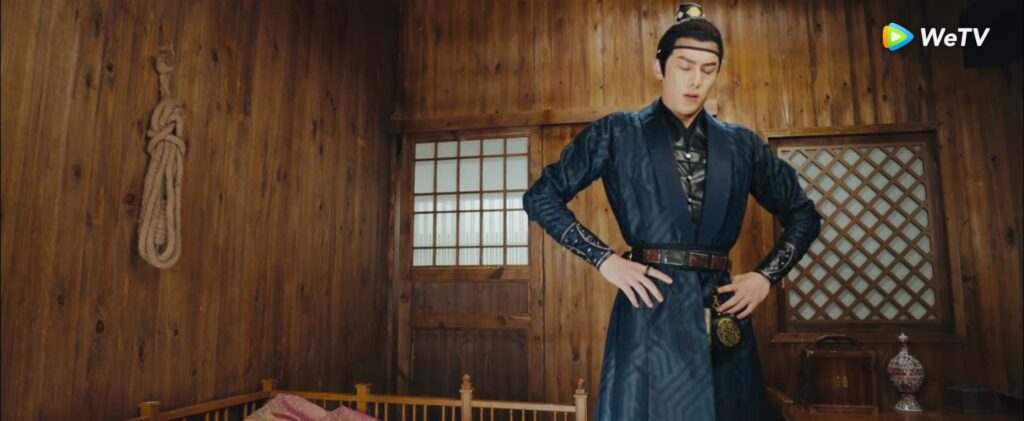 At the Taizi temple, Empress Rong'an concocted incense that could make the people who smell it to have nightmares in their sleep and disrupt their heart. She told her maidservant to give it to Eunuch Zhang and told him to bring it to the Shangqiong palace. Late at night after the Emperor smelled the incense, he dreamed about Young Prince Rong.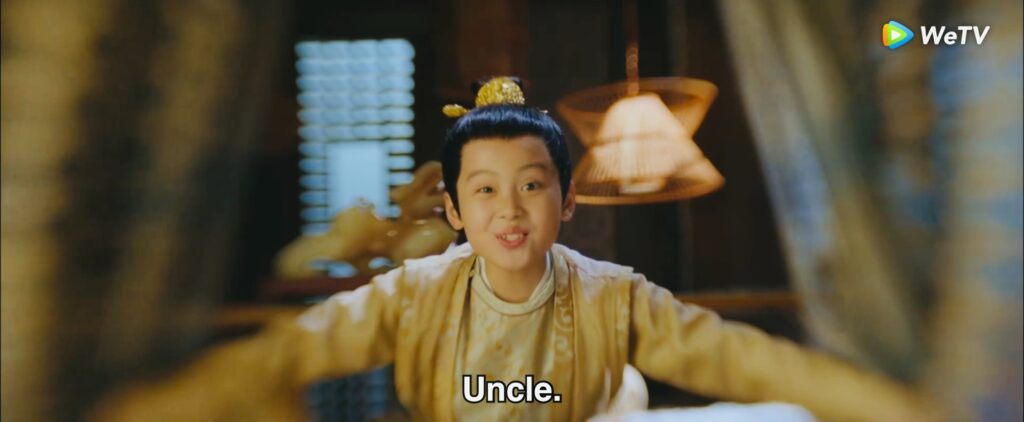 My Musing
The cute young prince is back!!