Choosing a drama in 2023 was an easy thing to do since we could help you with that. However, guessing the ending of dramas whether it would be a happy, sad, or maybe an open ending, was a hassle. But fret not, we surely will help you with that too. So, this is an article about Chinese dramas with a happy ending that guaranteed will satisfy you.
Best Chinese Dramas in 2023 With Happy Ending, That Guaranteed Will Satisfy You
1. Hidden Love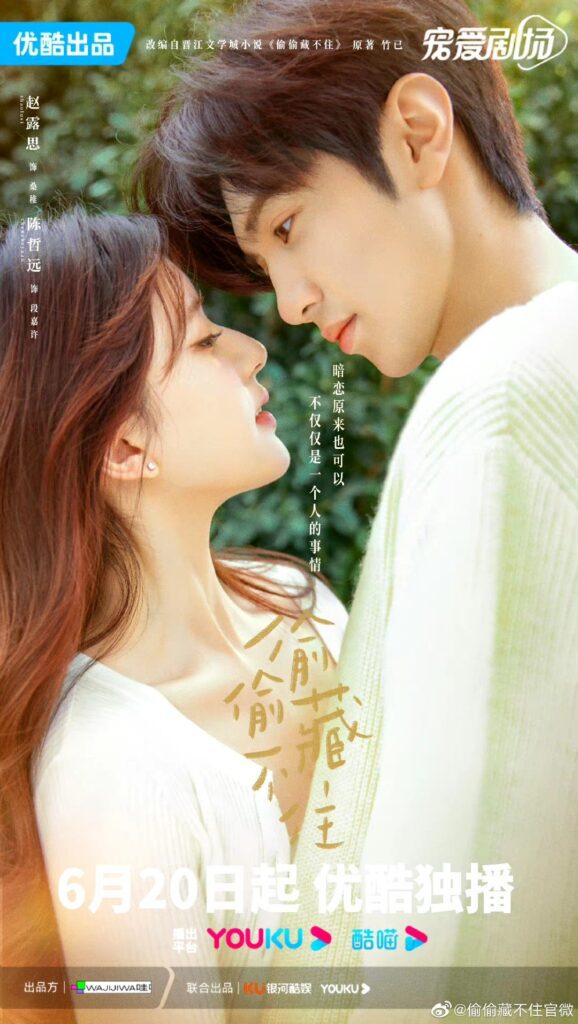 Title: Hidden Love
Also Known As: 偷偷藏不, Secretly, Secretly, but Unable to Hide It, Can't Be Concealed
Genres: Romance, Comedy, Youth
Cast: Zhao Lu Si, Chen Zhe Yuan
Episodes: 25
Date of Release: June 20, 2023
Where to Watch: Netflix, Youku
Adapted from the web novel: "Secretly, Secretly; But Unable to Hide It" by Zhu Yi
Hidden Love was a hit romance drama starring Zhao Lu Si and Chen Zhe Yuan. It stays on the top list in my regions for weeks. Up until now, we still heard people talk about this drama or post it on their social media. The story was sweet and at the same time, hilarious.
This romance drama tells you the love story between Sang Zhi and Duan Jia Xu. It started early when Sang Zhi was 14 years old and met Duan Jia Xu, her brother's best friend. Since their meeting, Sang Zhi start to develop a fondness for him. Three years later, Sang Zhi met again with Duan Jia Xu. He was still handsome and gentle to her.
This time, Sang Zhi realized that she had fallen in love with him. But the happy time did not last for too long. Sang Zhi got the news that break her heart, Duan Jia Xu already had a girlfriend. The next year, they met again in Yihe, Duan Jia Xu's hometown.
Sang Zhi now has grown up. She was a beautiful and talented college student. The constant interaction between them made Duan Jia Xu realize that he had fallen in love with her. And this time, Duan Jia Xu must pursue her.
The ending of this drama is surely a happy ending. However, the relationship was full of up and downs. Duan Jia Xu's family problem was complicated and Sang Zhi was troubled when her brother found out about their relationship.
2. The Legend of Anle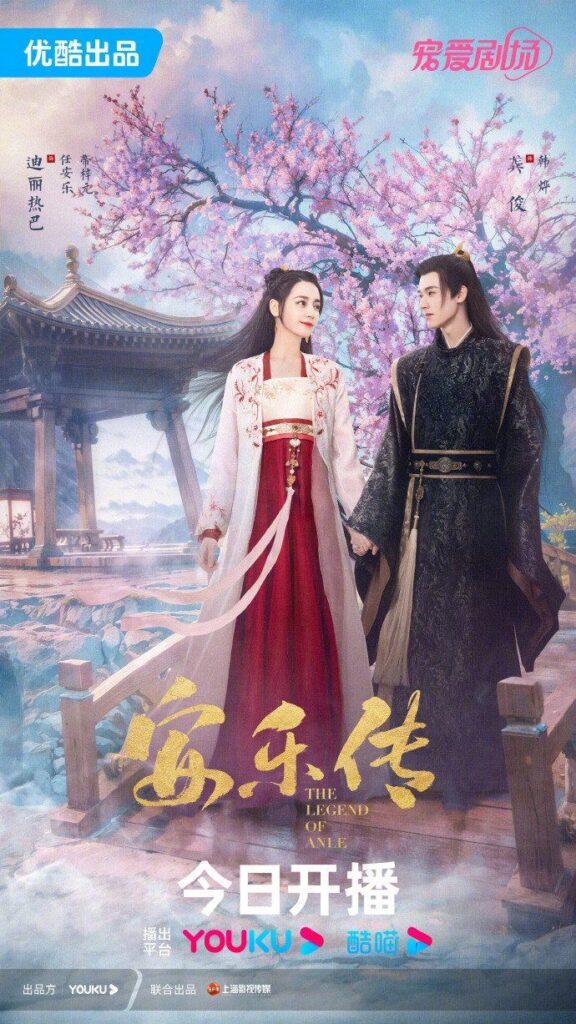 Title: The Legend of Anle
Also Known As: 安乐传, An Le Zhuan, Di Huang Shu, Book of Emperors, The Emperor's Book
Genres: Mystery, Romance, Wuxia
Cast: Dilraba Dilmurat, Gong Jun, Liu Yu Ning
Episodes: 39
Date of Release: July 12, 2023
Where To Watch: Youku, Viki
Adapted from the web novel: "Di Huang Shu" by Xing Ling
The Legend of Anle was the first collaboration between Dilireba and Gong Jun. The story was heavy and complicated. But oh boy! The visual was a feast for the eyes. Beautiful faces and beautiful sets were everywhere.
This drama tell you the story of Di Zi Yuan the sole descendant of the Di family and the future Crown Princess of Jing State. However, her family was annihilated due to treason and she was sent to life a solitude life in Dai Mountain. Her fiancee, the Crown Prince Han Ye refused to replace her and had been waiting for her patiently for ten years.
During the exile, Di Zi Yuan managed to sneak out and built Anle Abode. A strong fleet of pirates, and she changed her identity to Ren Anle, the female pirate. As a part of her revenge, Ren Anle then proposed to Han Ye with a dowry of 30,000 soldiers of Anle Abode. Han Ye was distressed when he slowly fall in love with Ren Anle while he had to keep his promise to protect Di Zi Yuan.
The ending of The Legend of Anle was happy for both Di Zi Yuan and Han Ye. But their love story was not a smooth sailing. There too many obstruction on their relationship. Hatred, betrayal, deception, and even war obstruct them from each other. Eventually, it was regret and love that bring them together.
3. Meet Yourself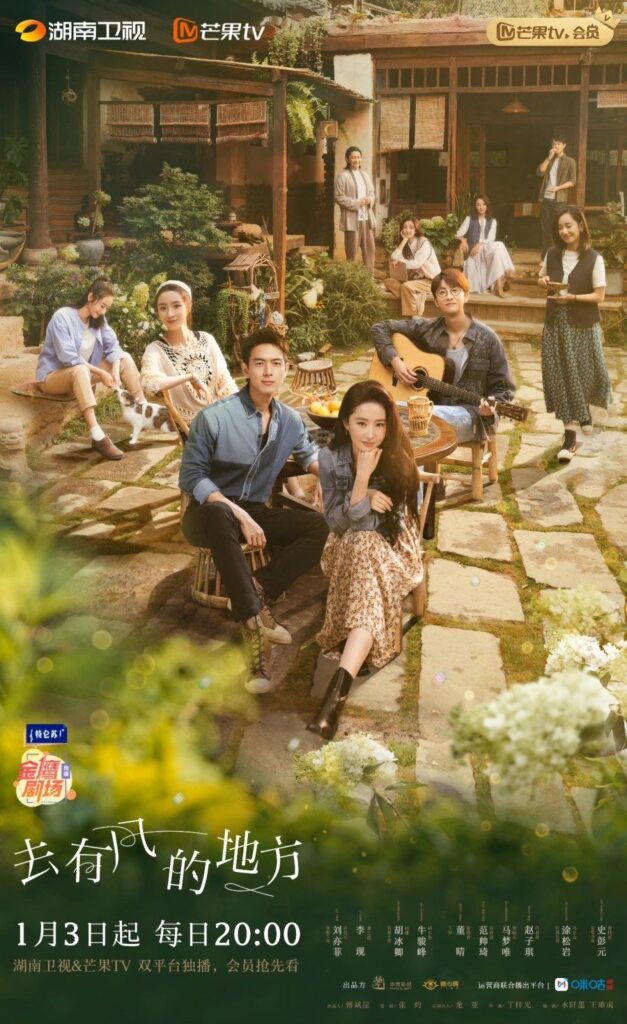 Title: Meet Yourself
Also Known As: 去有风的地方,Windy Place, You Feng De Di Fang
Genres: Life, Romance, Drama
Cast: Crystal Liu, Li Xian
Episodes: 40
Date of Release: January 3, 2023
Where To Watch: Viki, China Huace TV
Meet Yourself drama was a gem that we found in our spare time. The story was well written and full of witty conversation. It may looked slow paced, but you'll slowly get carried away by the story.
Meet Yourself was a journey of self reinvention. Xu Hong Dou used to be a floor manger of a 5-star hotel. But after her best friend died, Xu Hong Dou feel that life was not fulfilling anymore. She quit her job and went to a small vilage in Yunnan Province. Xu Hong Dou detemined to enjoy an idle life, something that never occurred to her.
In Yunmiao Village, Xu Hong Dou met Xie Zhao, a young man whose brimming with spirit and ideas. He dreamed of making the Yunmiao Village a better place for its people. Xu Hong Dou started to open up and move on with her life.
The ending of this drama was happy and very satisfying. The relationship between Xu Hong Dou and Xie Zhao was unhurried and realistic. And you could get some life lessons in this drama, such as what Granny Xie said, "Fight for what you desire. Do not wait for someone else's offering".
4. Fireworks of My Heart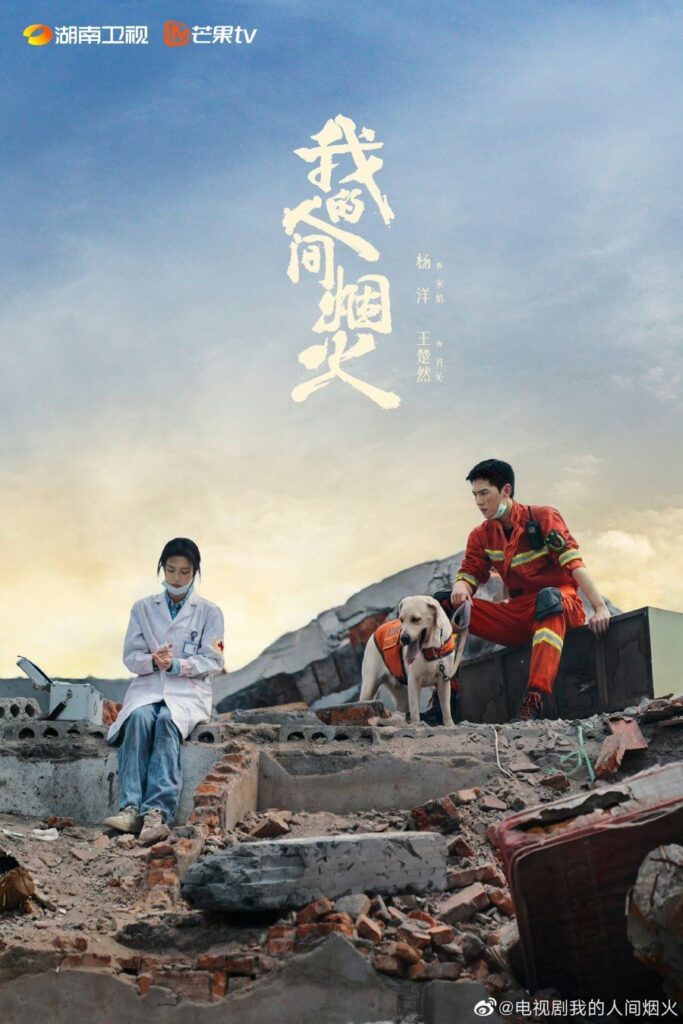 Title: Fireworks of My Heart
Also Known As: My Fireworks on Earth , Waiting for You in a City, 一座城,在等你
Genres: Action, Romance
Cast: Yang Yang, Wang Chu Ran
Episodes: 40
Date of release: July 5, 2023
Where to Watch: Viki, iQiyi, MGTV
Adapted from the web novel: "Waiting for You in a City" by Jiu Yue Xi
Fireworks of My Heart was another hit drama in 2023 that you should put on your watchlist. The story was entertaining and the chemistry between Yang Yang and Wang Chu Ran was something to be jealous of.
This drama was about the romance between Song Yan, a firefighter, and Xu Qin, a doctor. Song Yan was a strict captain who appeared cold and fierce but has a warm heart. Xu Qin was an emergency surgeon who was calm and reserved. Her straightforward attitude hides her fragile and soft heart. They met in their teenage years and become best friends for each other.
Yet, their families saw their relationship as something unfavorable and forced them to separate. Ten years later, Song Yan and Xu Qin worked hard to build their life and career. Although they worked in different fields, they have the same aspiration: to save lives. Both Song Yan and Xu Qin have not moved on from their past relationship. And the meeting ignites the hidden feelings in their heart.
Fireworks of My Heart ended with a happy ending for Song Yan and Xu Qin. But their road was bumpy and it takes a lot of hard work to resolve the stumbling blocks of their relationship.
5. Destined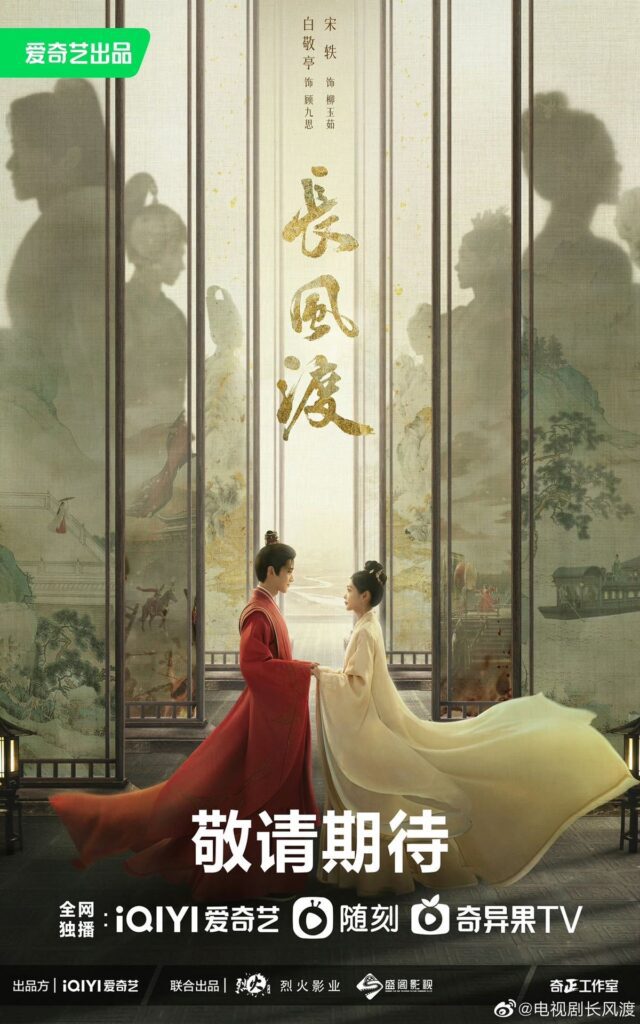 Title: Destined
Also Known As: Chang Feng Du , 長風渡
Genres: Historical, Comedy, Romance
Cast: Bai Jing Ting, Song Yi, Liu Xue Yi, Zhang Hao Wei, Ray Chang
Episodes: 40
Date of Release: June 18, 2023
Where To Watch: iQiYi
Adapted from the web novel: "Chang Feng Du" by Mo Shu Bai
Destined was a top-rating drama in our region. The story was exciting to follow, the performance was memorable, and the chemistry between the actors and actresses flowed naturally.
This historical-romance drama tells the story of Liu Yu Ru, the legitimate daughter of a declining cloth merchant family. Despite her status, Liu Yu Ru grows up with less privilege than her illegitimate sisters. However, she was a smart and resourceful girl. She managed to create a preferable image and reputation, for the sake of attracting a promising suitor from a prominent family.
Unexpectedly she crosses paths with Gu Jiu Si. A pampered, carefree, and lazy young master of the wealthy Gu family. Being wary of each other, Liu Yu Ru and Gu Jiu Si have to face many challenges in their marriage life.
The love story of Liu Yu Ru and Gu Jiu Si ended in a happy and satisfying ending. The couple must face numerous hardships and their bond was tested time and again. However, those challenges and hurdles made them grow even closer.
6. Here We Meet Again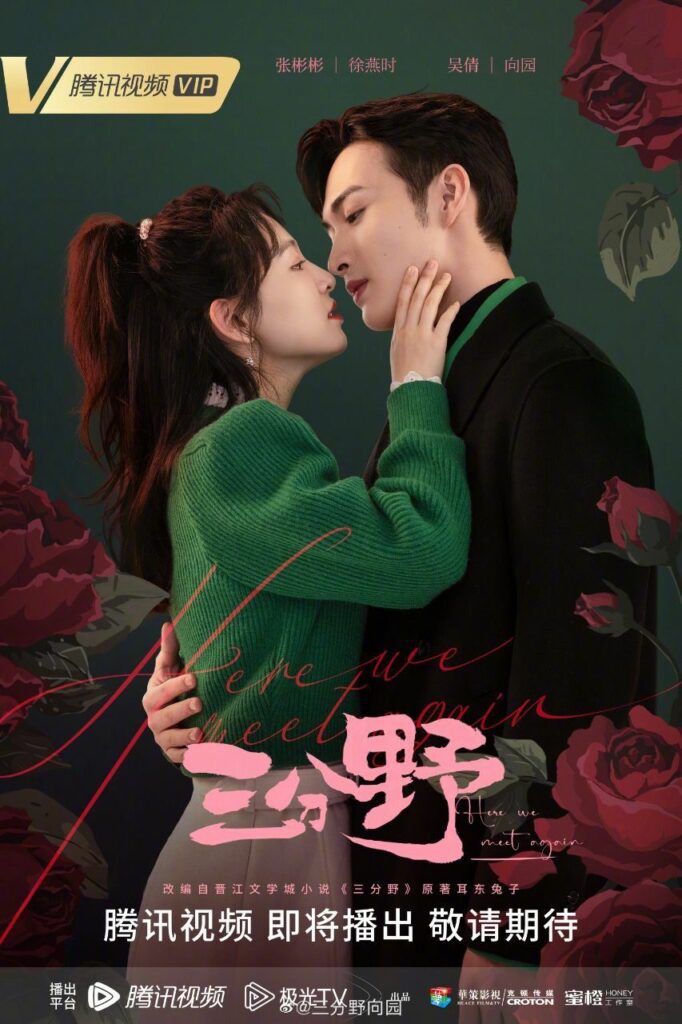 Title: Here We Meet Again
Also Known As: 三分野, San Fen Ye
Genres: Romance, comedy
Cast: Wu Qian, Vin Zhang, Huang De Yi, Nita Xia
Episodes: 32
Date of Release: May 22, 2023
Where To Watch: WeTV, Viki, Tencent Video
Adapted from the novel: "Here We Meet Again" by Er Dong Tu Zi
Here We Meet Again was a light rom-com drama. The comedy was enough to balance the heavy background of navigation system technology. As a romance story, there were some love rivals, jealousy, misunderstanding, and heartbreak.
Here We Meet Again was the story of Xiang Yuan, a smart, modern, open-minded, and cheerful girl. As a free-spirited person, she was troubled by her grandfather who urged her to get married. Xiang Yuan refused the idea of marriage in any way possible, including with a bet. If Xiang Yuan was able to increase the sales of Velin company by 10%, then her grandfather would stop urging her to get married.
The only problem was, Velin was a company that was on a the verge of bankruptcy. Xiang Yuan agreed with the bet and condition and flew to Xi'an City. She did not know that in Velin, Xiang Yuan would work with Xu Yan Shi, the Team Leader of Velin's Tech Department. He was Xiang Yuan's high school crush. Xu Yan Shi made her brokenhearted and stuck with sad memories for years.
This time, they have to work together in the same tech department. Xiang Yuan learned how to solve the company's problem and at the same time get to know Xu Yan Shi once again. While Xu Yan Shi learned to embrace his passion and end his apathetic sentiment.
The conflict intensifies at the end of the drama, but it was a happy ending for everyone. One lesson that we get from this drama was you reap what you sow. If you were a good person then good things would come to you. And if you were bad, then just wait for the retribution.
7. Road Home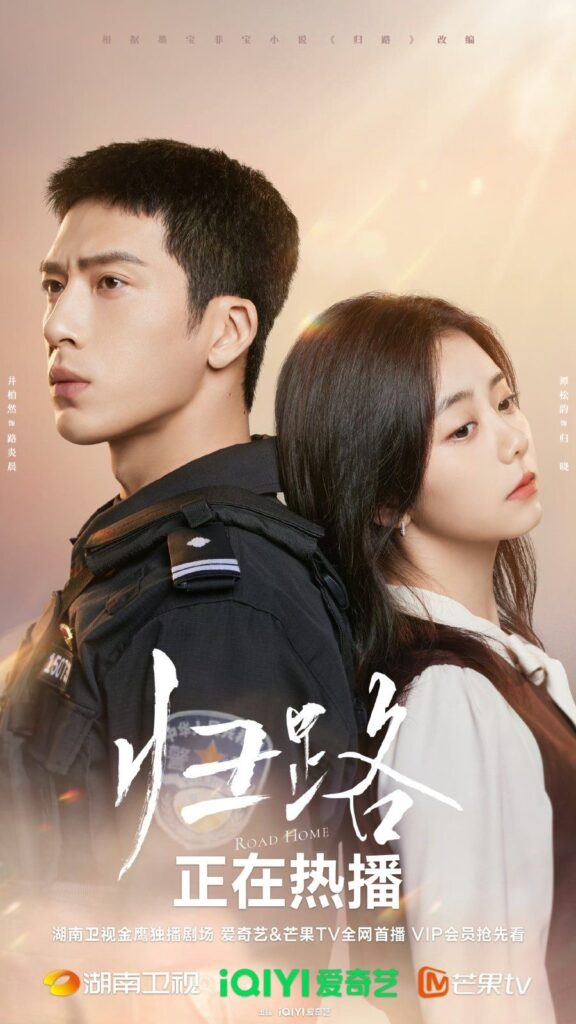 Title: Road Home
Also Known As: 归路, The Road Home, Gui Lu, Road to Home
Genres: Romance, Melodrama
Cast: Jing Bo Ran, Tan Song Yun
Episodes: 30
Date of Release: March 14, 2023
Where To Watch: IQiyi, Viki
Adapted from the novel: The Road Home by Mo Bao Fei Bao.
When you mix a good director, a well-known author, and an amazing cast, you get a whole package of entertainment. Road Home was the perfect example. The story was well-written and the execution was impeccable.
Road Home was all about the unforgettable first love. Lu Yan Chen was Gui Xiao's first love and vice versa. They started the relationship after they graduated from high school. And were separated because of the lack of communication. Yet, they were never able to move on from the relationship. When they reunited, Gui Xiao and Lu Yan Chen tried to maintain their communication to avoid misunderstandings.
The story and the ending of Road Home were very sweet that you'll get a toothache. Gui Xiao and Lu Yan Chen managed to build a life that they always dream of. However, family problems were a stumbling block for them. And because Lu Yan Chen's profession was a SWAT member, Gui Xiao must be ready for a bad news delivered to her door.
8. Snow Eagle Lord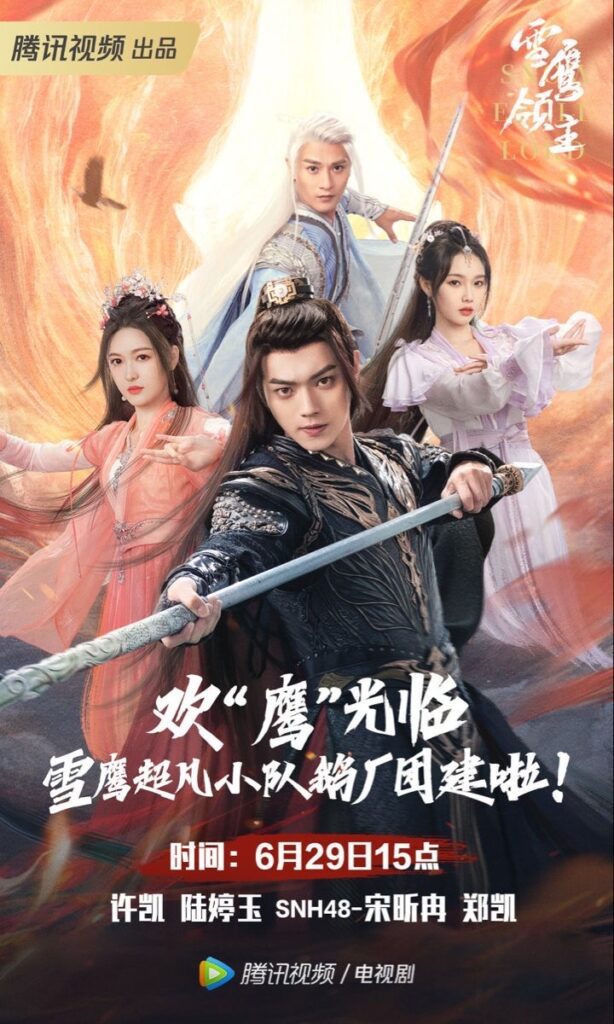 Title: Snow Eagle Lord
Also Known As: 雪鹰领主,Lord Snow Eagle , Dongbo Xueying Land , Xue Ying Ling Zhu Director: Lee Tat Chiu, Li Wen Long
Genres: Wuxia, Romance, Fantasy
Cast: Xu Kai, Gulnezer Bextiyar, Bai Shu, Lu Ting Yu, Liu Zi Rui, Song Xi Ran
Episodes: 40
Release Date: Jun 21, 2023 – Jul 14, 2023
Where To Watch: WeTV, Viki, TencentVideo
Adapted from the web novel "Xue Ying Ling Zhu" by Wo Chi Xi Hong Shi
If you were a fan of the wuxia genre, you should not miss this one. Snow Eagle Lord was an adaptation of a famous web novel titled Xue Ying Ling Zhu or Lord Xue Ying written by Wo Chi Xi Hong Shi. The fighting choreography in this drama was a must-see.
Snow Eagle Lord was a story about Dongbo Xue Ying looking for his mother, Moyang Yu, who was kidnapped. To save her, Dong Bo Xue Ying must hone his talent first. He joined a competition and then entered Changfeng Academy. Dongbo Xue Ying learned that his real enemy was the Demon Clan.
And his mother's kidnapping was somehow related to them. During his journey, Dongbo Xu eYing falls in love with Yu Jing Qiu, a female martial artist from the Water Daoist Temple. Yu Jing Qiu had a secret identity and her past was mysterious. They have positive opinions about each other that leads to deeper feelings.
Dongbo Xue Ying and Yu Jing Qiu's relationship ended in a happy ending. Even though to achieve it, one of them had to make a sacrifice first.
9. Wulin Heroes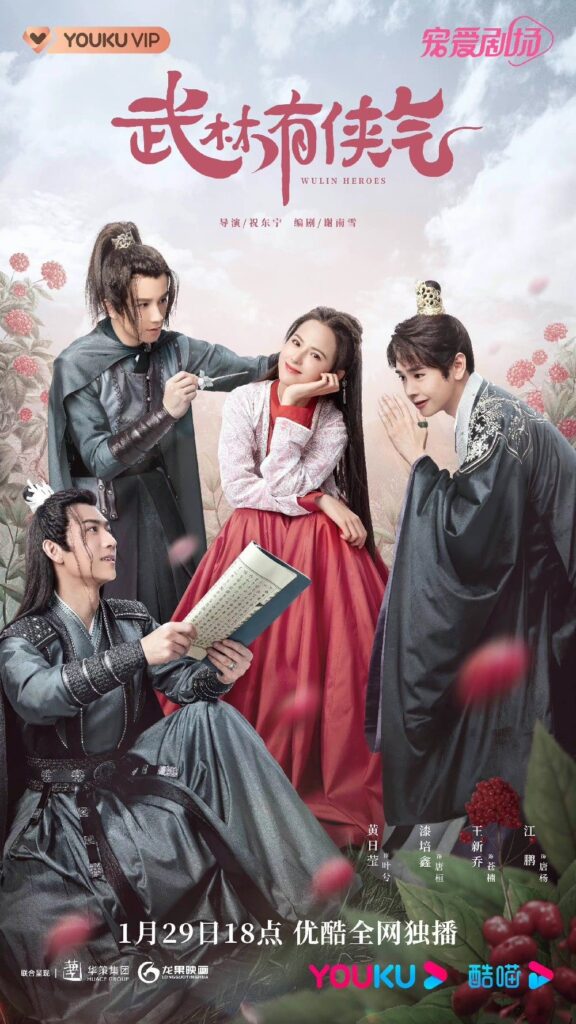 Title: Wulin Heroes
Also Known As: 武林有侠气, Wulin Has Pride , Wu Lin You Xia Qi
Genres: Comedy, Romance, Fantasy, Wuxia
Cast: Li Hong Yi, Huang Ri Ying, Zhu Zhanjin, Qi Pei Xin
Episodes: 22
Date of Release: Jan 29, 2023
Where to Watch: Youku, Viki
Adapted from the novel: "Wu Lin You Xia Qi" by Bai Ze
Wulin Heroes was another wuxia-romance drama that was entertaining to watch. This drama was set up to be a light-hearted, easy-to-watch drama. Laced with comedy, this drama was fun, entertaining, and in the end, would give you a warm wholesome feeling. Even though, you should endure the complicated and heartbreaking love story.
Ye Xi is a Ginseng fairy who finally transforms into a human. She aspires to be a model, honorable, virtuous heroine. Meanwhile, Bai Yue was a talented and well-respected doctor who was dedicated and passionate in finding the cure to all kinds of ailments and sicknesses in the world. He seems cold and detached from the outside but has warm and willing to fight for justice.
Ye Xi was attracted to Bai Yue's mesmerizing looks and intrigued by his knowledge of medicine. After Ye Xi gave a piece of herself to Bai Yue as a form of gratitude for saving her life, Bai Yue learned about Ye Xi's existence. He witnessed her every failed relationship from the sideline and was driven to frustration by it.
Bai Yue loved Ye Xi, but he realized that he may not be the right person for her. Bai Yue was afflicted with a curse that prohibited him from falling in love.
Although the story would drive you to the same frustration as Bai Yue's, the ending was satisfying. From Wulin Heroes, you could learn a lesson that fate is the choice that you make.
So, have you decided which drama for this weekend? We hope this list article of Chinese Dramas in 2023 With Happy Ending will help you find some warmhearted dramas to watch. We'll keep updating the list, so stay tune. Do not forget to tell us which drama you choose and what you think about it. Happy Watching!