Chinese dramas was famous for their elaborate stories, especially for modern romance Chinese dramas. The long episodes provide you with enough time (and enjoyment) to convey the story. Because finishing a drama would take a long time, we are sure all of you would be very careful when it comes for choosing one to watch, in this year 2023.
However, we are here to help. So, we have carefully selected some titles of modern romance Chinese dramas released in 2023, for you to watch and should not miss. So, let's start the list, and happy reading!
Modern Romance Chinese Dramas You Shouldn't Miss in 2023
1. Meet Yourself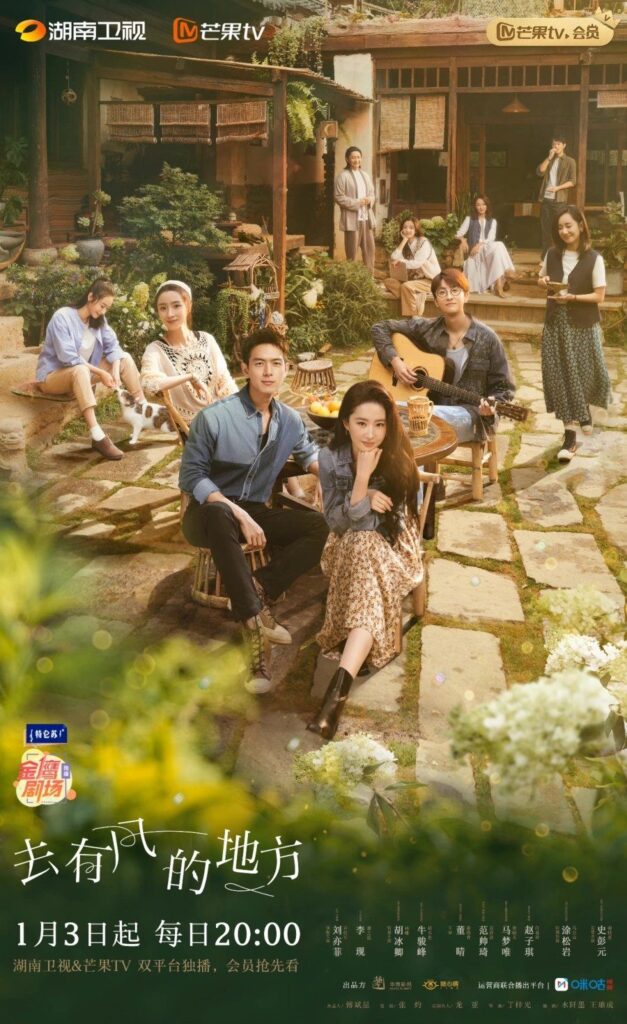 Title: Meet Yourself
Also Known As: 去有风的地方, Windy Place, Qu You Feng De Di Fang
Casts: Crystal Liu, Li Xian
Genres: Life, Romance, Drama
Total Episodes: 40
Date of Release: January 2023
Original Network: Hunan TV, Mango TV
Where To watch: Viki, China Huace TV
This is the drama you should never miss! The relationship between Xu Hong Dou and Xie Zhi Yao in Yunmiao Village would warm your heart. Meet Yourself would bring you to unravel the beauty of human relationships and let you learn how to deal with problems within. This drama also taught us to live in the present, not brood over the past, or worry about the future.
Xu Hong Dou felt her life slowly lost its value when her best friend died of cancer. She eventually quit her job in a 5-star hotel and chose a small village near Dali in Yunnan Province. She planned to settle there for three months and spent her time as an idle tourist. But a village beau, Xie Zhie Yao turned her plan upside down.
Suddenly she found herself wholeheartedly dedicating all her professional experiences to helping him with his business. Xu Hong Dou also made some friends with some girls at the inn. The three months in Yunmiao Village should just be a refreshing retreat. Who would have thought that Xu Hong Dou would return with a better version of herself, new friends, and new love?
2. Road Home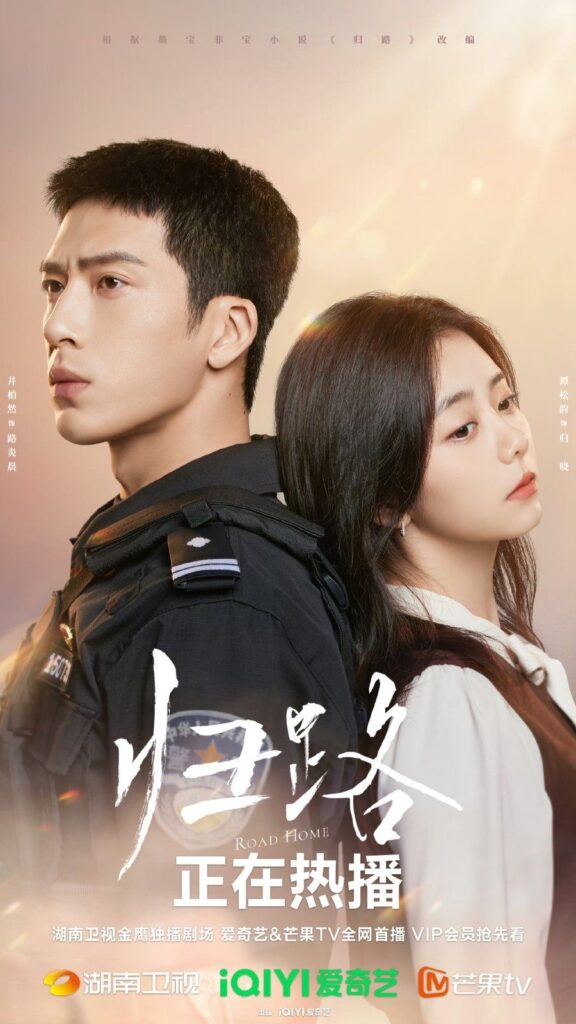 Title: Road Home
Also Known As: 归路, The Road Home, Gui Lu, Road to Home
Casts: Jing Bo Ran, Tan Song Yun
Genres: Romance, Melodrama
Episodes: 30
Date of Release: March 2023
Original Network: Hunan TV, iQiyi, Mango TV
Where To watch: iQiyi, Viki
Adapted from the novel The Road Home by Mo Bao Fei Bao.
Road Home was a good combination of a good director, a well-known author, and an amazing cast. You'll be smitten by this drama from the very first episode. It was all about the unforgettable first love between the cute Gui Xiao and the handsome but cold, Lu Yan Chen. The story was so sweet that you'll get a toothache.
Lu Yan Chen and Gui Xiao used to be high-school lovers. They went to different places after they graduated. Lu Yan Chen entered a Police Academy while Gui Xiao went to university. However, they broke up due to miscommunication and misunderstanding.
Ten years later they met again. And the meeting opened up the empty hearts that longed for each other. But their path was destined to be hard. Family issues became their stumbling blocks. Could Gui Xiao and Lu Yan Chen overcome their problem and rekindle their love before it's too late?
3. The Love You Give Me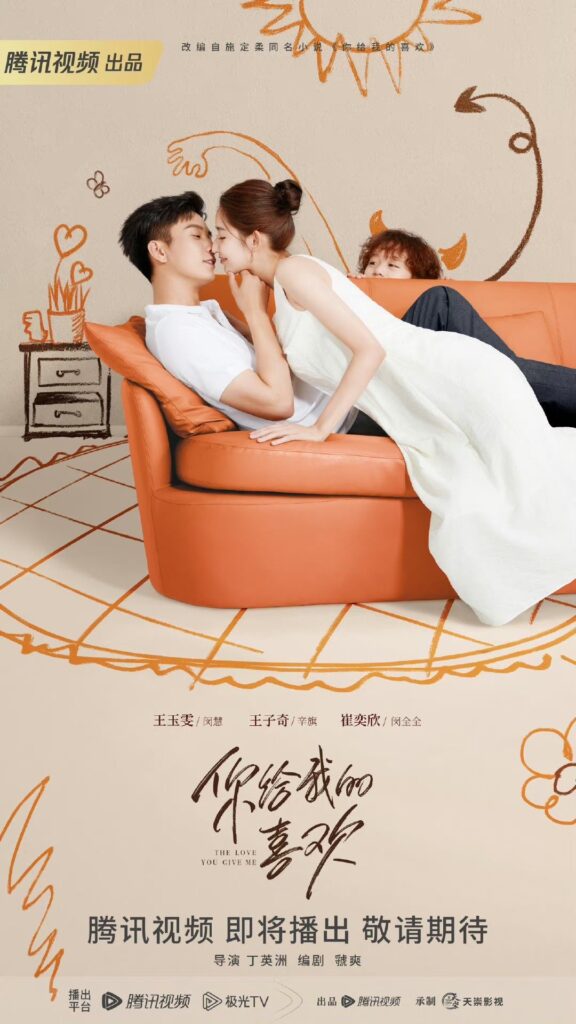 Title: The Love You Give Me
Also Known As: 你给我的喜欢, Ni Gei Wo De Xi Huan
Casts: Wang Yu Wen, Wang Zi Qi
Genres: Romance, Drama, Comedy
Episodes: 28
Date of Release: April 2023
Original Network: Tencent Video
Where To Watch: WeTV, TencentVideo, Viki
Adapted from the novel "Ni Gei Wo De Xi Huan" by Shi Ding Rou
The Love You Give Me offered a plate full of sweetness. The story was so light, it tasted like a popsicle for every romance junkie. You'll enjoy the chemistry between the Wang Wang couple and this time, a cute little boy would make your heart melt.
Min Hui got entangled in a love relationship with Xin Qi on behalf of her deceased friend, Su Tian. She pretended to be Su Tian because she did not want Xin Qi to suffer from emotional fluctuation that could threaten his life. However, Xin Qi found out the truth. He was disappointed and thought Min Hui deceive him.
They separated afterward. Fast forward, five years later. Min Hui met him again. Xin Qi still held a grudge in his heart and vowed to make her life miserable. But when he knew that Min Hui had a son with a similar congenital heart condition with him, everything became complicated for Xin Qi.
Now he was torn between his hatred for Min Hui and fatherly love for Quan Quan. Now he must make a decision before somebody took Min Hui and his son away.
4. Here We Meet Again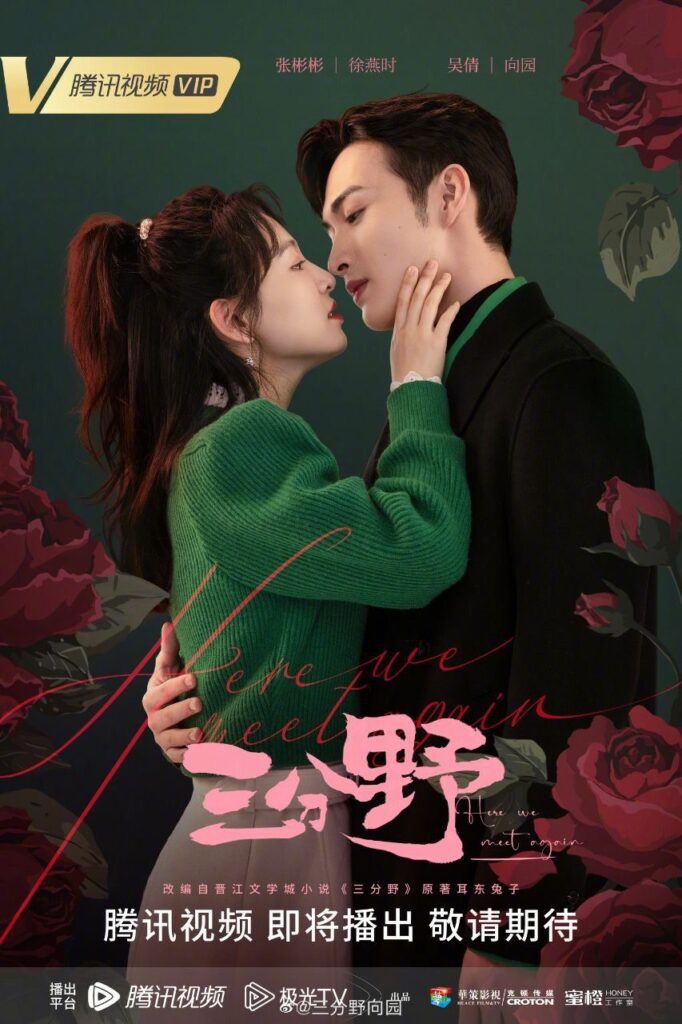 Title: Here We Meet Again
Also Known As: 三分野, San Fen Ye
Casts: Vin Zhang, Janice Wu
Genres: Comedy, Romance
Episodes: 32
Date of Release: May 2023
Original Network: Tencent Video
Where To Watch: Tencent Video, Viki, WeTV
Adapted from the novel "San Fen Ye" by Er Dong Tu Zi
Another Vin Zhang's drama and this time, he also wore gold-rimmed glasses. I was instantly smitten by him. 😍This drama was still ongoing at the moment, and I was excited to watch it. FYI, I often wait until the drama was almost finished before started to watch. But after I took a sneak peek at the first episode, I think the fluffiness level was enough for a romance junkie like me.
Xiang Yuan fell in love with the handsome and smart Xu Yan Shi back then when she was in high school. The infatuation was short because Xu Yan Shi had to move to another town. Years later, they met again. This time, they became coworkers. Xu Yan Shi was the Director of the Technical Department in Velin, a technology company listed under Donghe Group.
As the granddaughter of Donghe Group's chairman, Xiang Yuan went to Velin because she made a deal with her grandfather. If Xiang Yuan could save Velin from bankruptcy, then her grandfather would not meddle in her marriage. Xiang Yuan came to Velin with a strong will to avoid her marriage, but then the will was shaken when she saw him.
5. The Forbidden Flower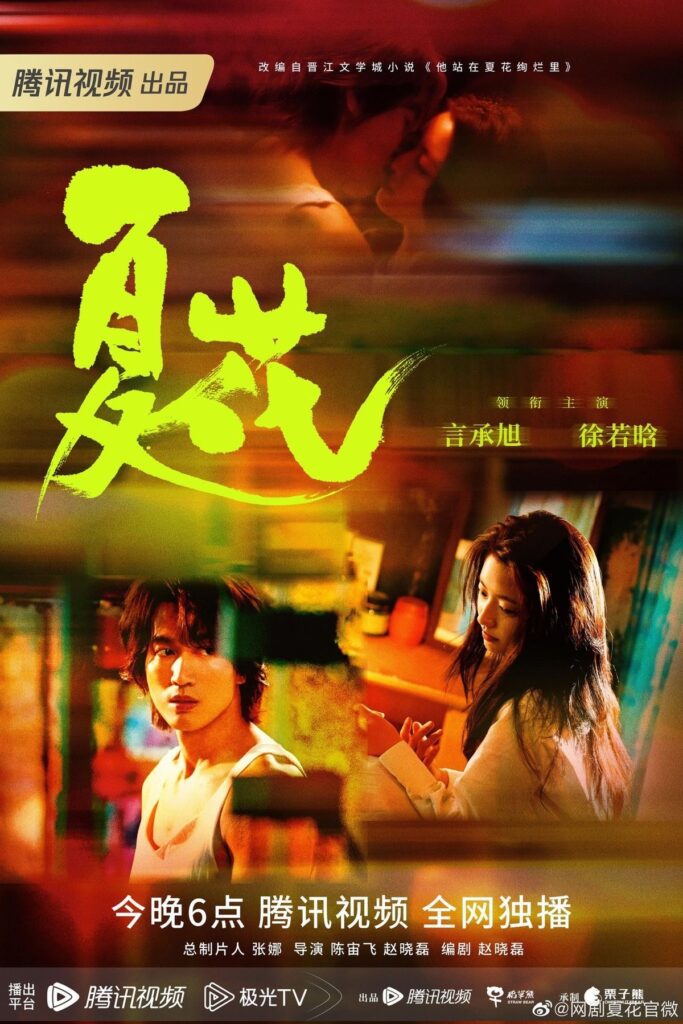 Title: The Forbidden Flower
Also Known As: 夏花, Summer Flowers , Xia Hua
Casts: Jerry Yan, Xu Ruo Han
Genres: Romance, Melodrama
Episodes: 24
Date of Release: February 2023
Original Network: Tencent Video
Where To Watch: Tencent Video, WeTV
Adapted from the novel He Stands in the Gorgeous Summer Flowers by Taihou Guilai
This drama was addictive! The Forbidden Flower was well written and the story was heart-wrenching. The cast was great and everything was beyond my expectations. You'll be amazed by how Jerry Yan barely changed over the years. He got good chemistry with his co-star, Xu Ruo Han. You'll definitely enjoy this drama.
He Ran knew that her life was numbered due to Leukemia. Yet, as an 18 year old young woman, she was thirsty for adventure and romance. He Ran wanted to pursue her passion, fall in love, and live courageously. Xiao Han was a quiet middle-aged horticulturist. They met at a salon where Xiao Han took a day job and coincidentally was chosen to wash her hair.
The ten minutes interaction made her obsessed with him. His voice and presence ignited hopes that had been gone for years. Xiao Han tried to shake her off of his life, but she was adamant to be there. But there were so many secrets between them. Would they be able to forget their differences and be together before He Ran's time was up?
6. Falling Before Fireworks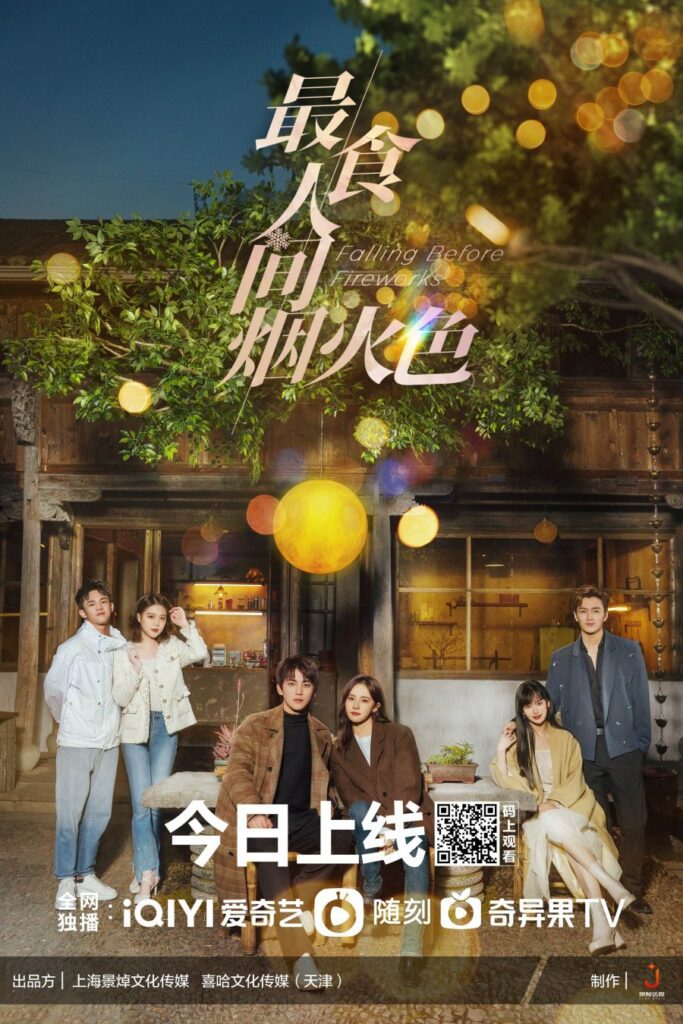 Title: Falling Before Fireworks
Also Known As: 最食人間煙火色 , Zui Shi Ren Jian Yan Huo Se , Most Amazing Fireworks in the World
Cast: Lu Yang Yang, Chen Xin Hai
Genres: Romance, Drama
Episodes: 23
Date of Release: 31 March 2023
Original Network: iQiyi
Where to Watch: iQiyi
If you were looking for a drama with a view, you might want to consider this drama. Falling Before Fireworks was a 30-something minutes drama. The pace was quite fast and the chemistry between Lu Yang Yang and Chen Xin Hai was very good. Overall, Falling Before Fireworks was a perfect choice after a long day of work.
Si Qing work at a bank and her life was fast-paced and full of the hustle and bustle of the city. While Jin Cheng was an artisan who lived in a tourism village and lead a quiet life accompanied by his pets. They met after Si Qing had to find a debtor who ran off. They started off bad and it seemed that their relationship would never change.
But on a winter night, when Si Qing was in the lowest state of her life, Jin Cheng was the only one who provided warmth to her. Thus she impulsively proposed marriage to him. Will their relationship improve after the marriage, or was it a mistake from the beginning?
7. Nothing But You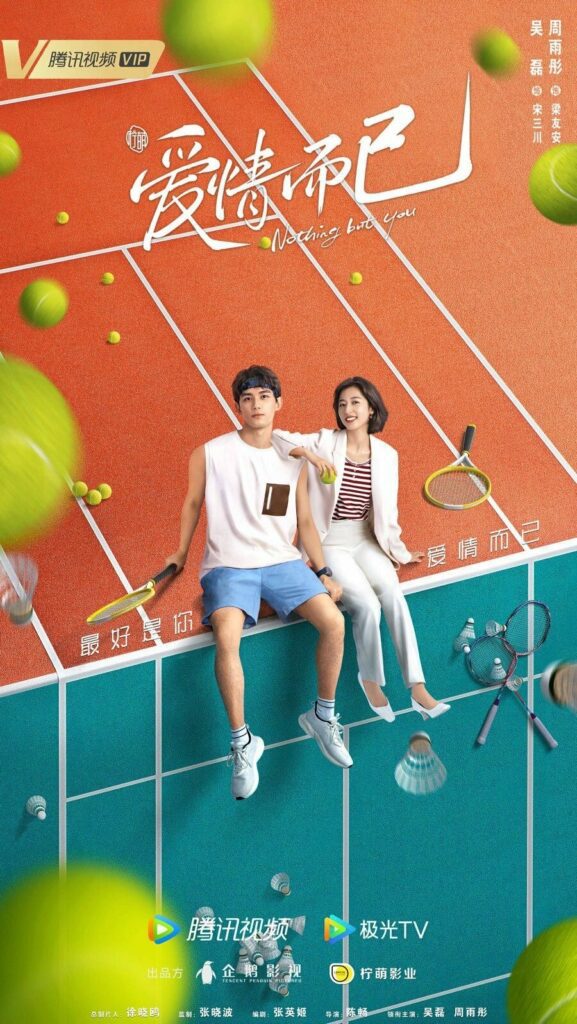 Title: Nothing But You
Also Known As: 爱情而已, Just Love , Nothing But Love
Cast: Leo Wu / Wu Lei, Zhou Yu Tong
Genres: Romance, Drama, Sports
Episodes: 38
Date of Release: 27 March 2023
Original Network: CCTV, iQiyi, JSTV, Tencent Video
Where to Watch: WeTV, Viki, iQiyi, Tencent Video
This was a romance drama between an athlete and his older manager. Another drama with an age gap tag in it. This drama was sweet because the couple was adorable and their bonding was strong. You'll have the urge to start working out after you watch this drama. And if you were lucky, you might find a trainer as handsome as Wu Lei on the tennis court. 😉
Song San Chuan was stuck in his badminton career because of a trauma. When he almost gave up, Liang You'an appeared and changed his life. She was the only person who believed that Song San Chuan's future would be bright. Liang You'an saw something that people around Song San Chuan did not see: his talent.
Liang You'an and Song San Chuan did not realize that their meeting would completely change their world. They started a new path together and tennis become a strong bond between them. Liang You'an became a tennis club manager and Song San Chuan became the first badminton athlete who changed track to tennis.
There you go, we just gave you Modern Romance Chinese Dramas You Shouldn't Miss in 2023 article. Hope you enjoy it, and help you which drama to watch and accompany you through the year 2023. See you on another article list post!