Title: She and Her Perfect Husband
Also Known As: 爱的二八定律, The 80/20 Rule of Love, Qin Shi and Her Perfect Husband, The Two Eight Law of Love
Director: Lin Yan
Screenwriter: Zhu Li
Genres: Romance, Comedy, Law
Country: China
Episodes: 40
Year: 2022
Original Network: Tencent Video
Where to Watch: Viki, WeTV
List of Recap:
Readeeeerrrss… It's time to continue She and Her Perfect Husband episode recap. There were many exciting moments in these episodes 17 and 18! Qin Shi finally had to reveal whatever happened between her and Tao Jun Hui. Mrs. Lan's case met a closure. Wu Fei found the truth. Tao Jun Hui investigated his rival. And the last was Qin Shi and Yang Hua's marriage. Did they finally get the holy scriptures of Household Registrations? Let's get started! Happy reading!
Episode Recap
Episode 17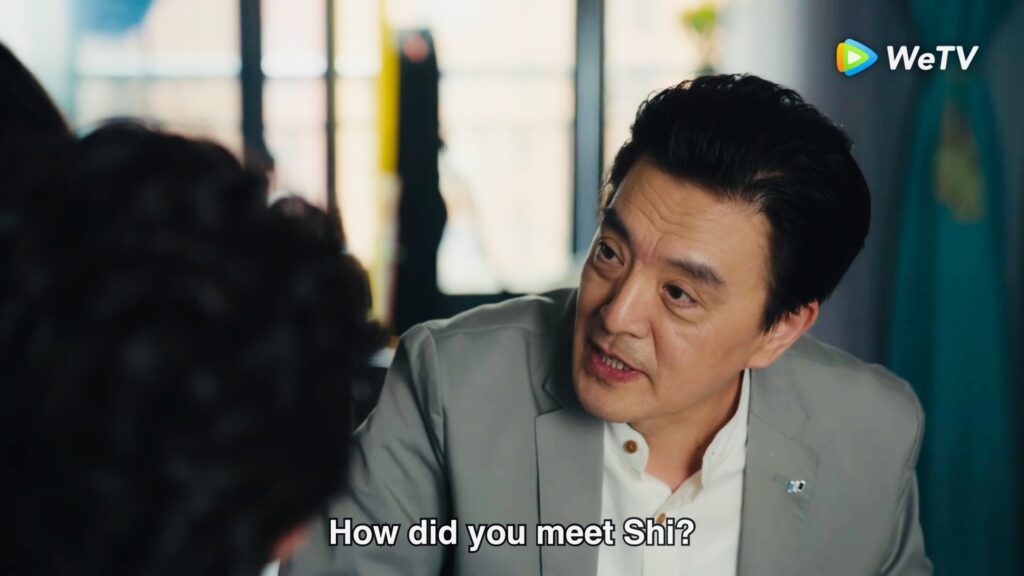 Yang Hua was wasted. When Qin Shi's father asked about how they met, he started to recite poems. He called their first meeting a perfect encounter and Qin Shi was adorable and kind. He fell in love right away. Well, it was a different image of Qin Shi if we consider her action at the last family meeting. Even his brother Qin Wenbin thought that Qin Shi's mouth was a destruction weapon…😅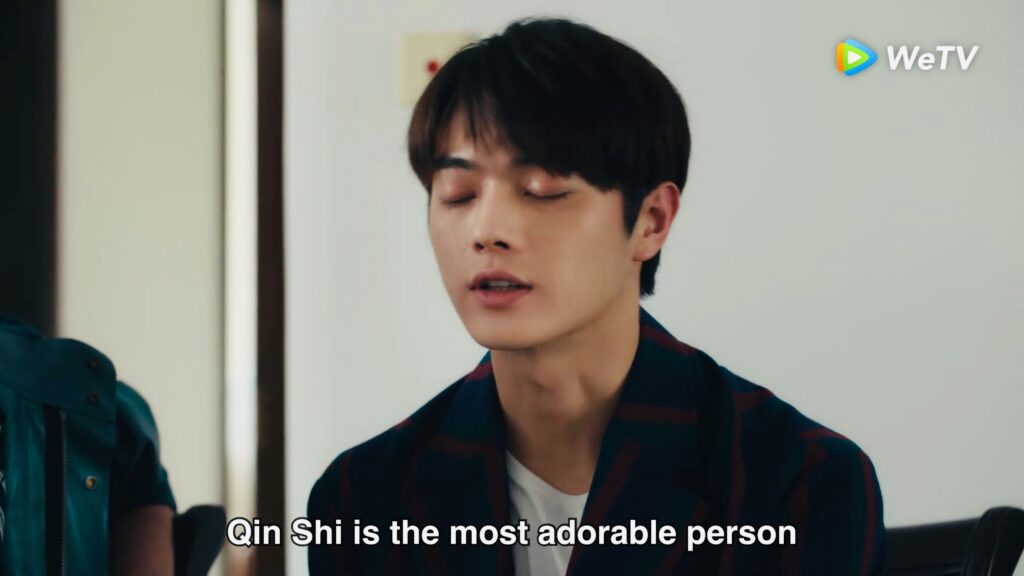 Anyhow, Qin Shi's father seemed happy when he heard Yang Hua's opinion on his daughter, and even Ren Mei Mei was stunned to hear his words. Only Qin Wenyu did not take Yang Hua's words seriously. He laughed a lot every time Yang Hua talked about Qin Shi. Father Qin was concerned about how are they going to sustain the marriage when they live separately.
It would be better if Yang Hua just moved and find another job. Qin Shi came from the kitchen at the right time because Yang Hua started to tell Father Qin the truth, that he did not study abroad and now lived with Qin Shi. His drunken word had caused a commotion in the Qin family.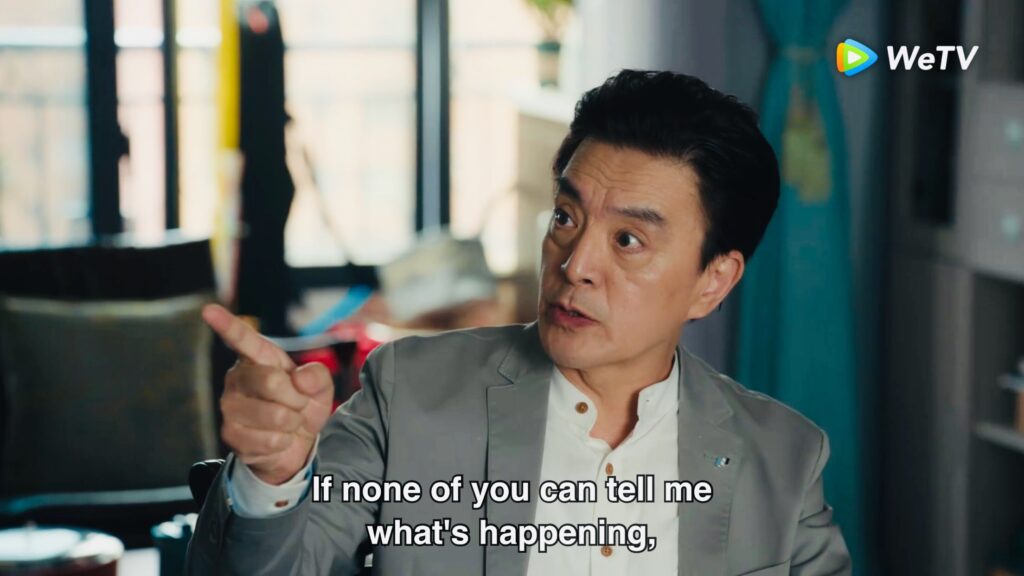 Mother Qin ran out from the kitchen with a spatula in her hand and started to throw mean words to Yang Hua. She was dissatisfied with him and even called him a leech. She said that she never wanted Qin Shi to marry a rich man, but she could not accept an unemployed son-in-law who lived off her daughter. Mother Qin yelled at Qin Shi over her breakup with Tao Jun Hui. She told her that he was a good choice, her relationship with Tao Jun Hui was fine, but she broke up with him for a person like Yang Hua.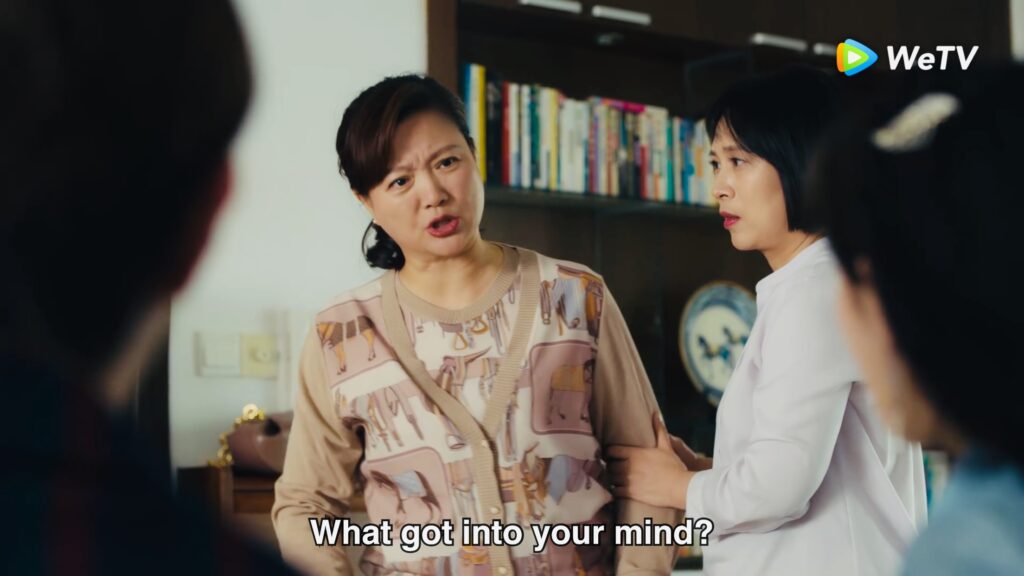 Mother Qin's words about Tao Jun Hui triggered Qin Shi. The brave Qin Shi who had held everything inside her heart exploded. She disregarded proprietary and basic decency and retorted her mother's words. She said that Tao Jun Hui's family disliked her. They had been together for years but Tao Jun Hui never told his mother about the Qin family because Tao's family did not like her background.
Qin Shi came from a broken family and the Tao family did not accept her. In their mind, a child from a broken family was a pariah, delinquent, parasite, and a lowly being (awww… that harsh, Qin Shi!). She never refused to marry Tao Jun Hui, but his family did not want her to marry him.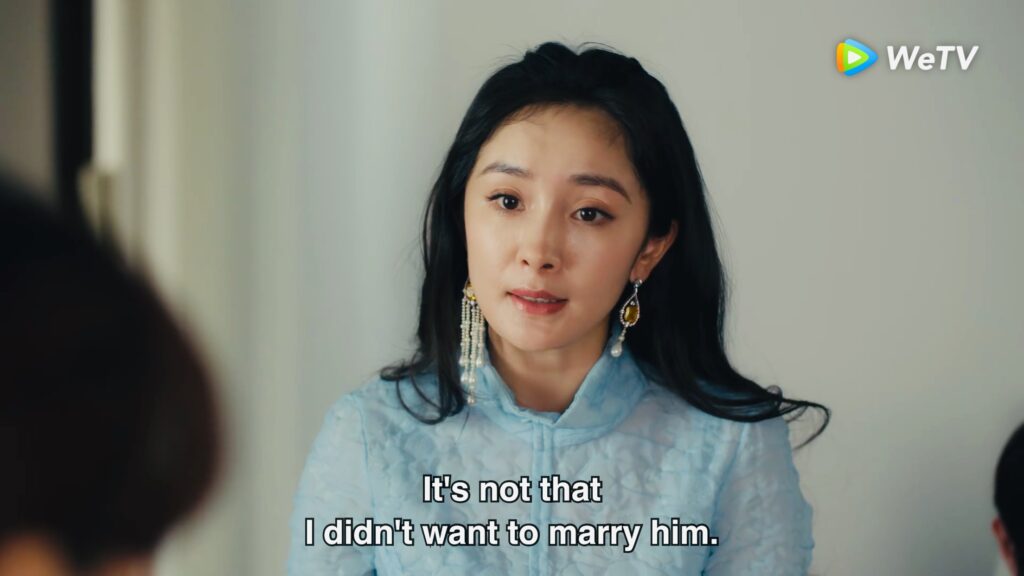 Everybody was speechless when they heard the truth. Even Yang Hua looked at Qin Shi with sad eyes. The only person who was excited was Qin Wenyu, but even he was berated and got hit several times by his mother, Liu Yan, when he told her that. Liu Yan could see that the Tao had humiliated Qin Shi and her father. So it was wrong for Qin Wenyu to laugh at Qin Shi's situation.
Qin Shi saw that they could not sit there anymore and told Yang Hua to leave immediately. Yang Hua who was silent suddenly opened his mouth and pledged to Father and Mother Qin. He said that he might not be a perfect son-in-law. But he promised that he would never ask Qin Shi to change nor hindered her from her future. They left afterward.
At the parking lot, the fuming Qin Shi suddenly stopped and looked back at the drunken man behind her. When he saw her turned her back, Yang Hua opened his hand, it seemed like he was waiting for a hug. But Qin Shi coldly asked for the car key. Suddenly Mother Qin called her name. She asked her whether she forgot something and handed her the Household Register Book. Hua Xiao Mei said that she would not meddle in her marriage anymore.
Qin Shi could choose her husband and the path she would take. Her mother's action was something that even Qin Shi could not predict and it moved her. During their ride home, Qin Shi scolded Yang Hua only to find that he did not listen at all because he was asleep.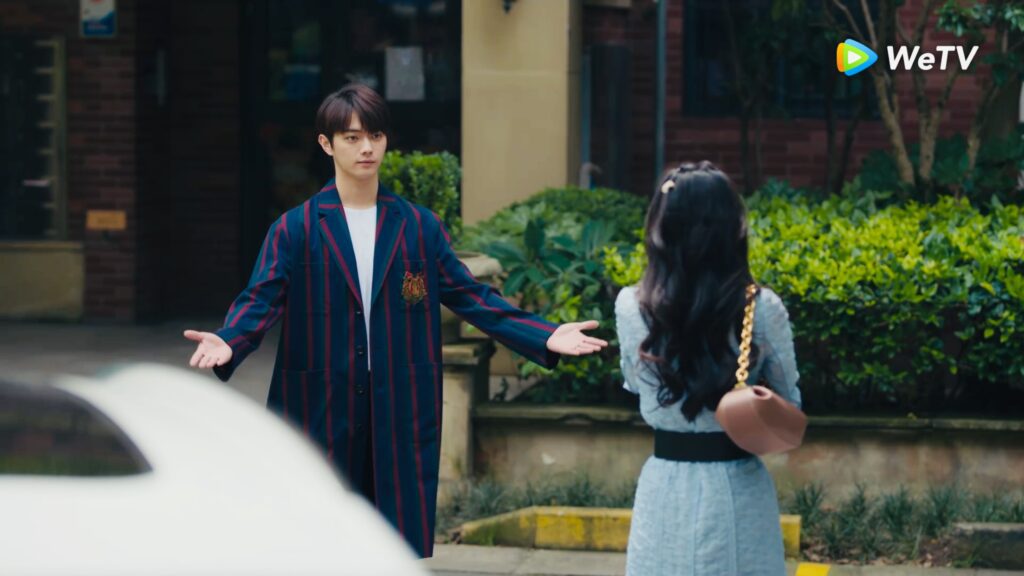 At a bar, Gang Zi brought a file to Tao Jun Hui. After Tao Jun Hui saw the content, he was dissatisfied because the information was not complete. But Gang Zi said that it was the best thing he could do because Tao Jun Hui only gave him a name without further information. Gang Zi told Tao Jun Hui that lately, he did not act like himself.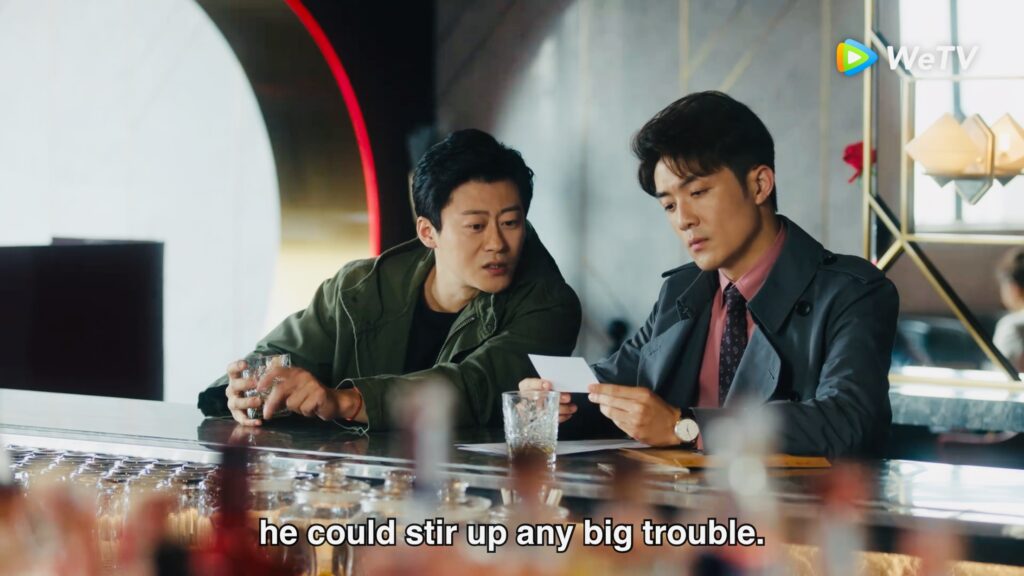 Meanwhile, Wu Fei investigated Tao Jun Hui and Qin Shi's relationship. She even looked for a record of the 2007 National Varsity Debate Tournament where Qin Shi and Tao Jun Hui joined and won the tournament. She remembered that both Tao Jun Hui and Qin Shi refused to acknowledge that they used to know each other. She cried when she found out that they knew each other all along.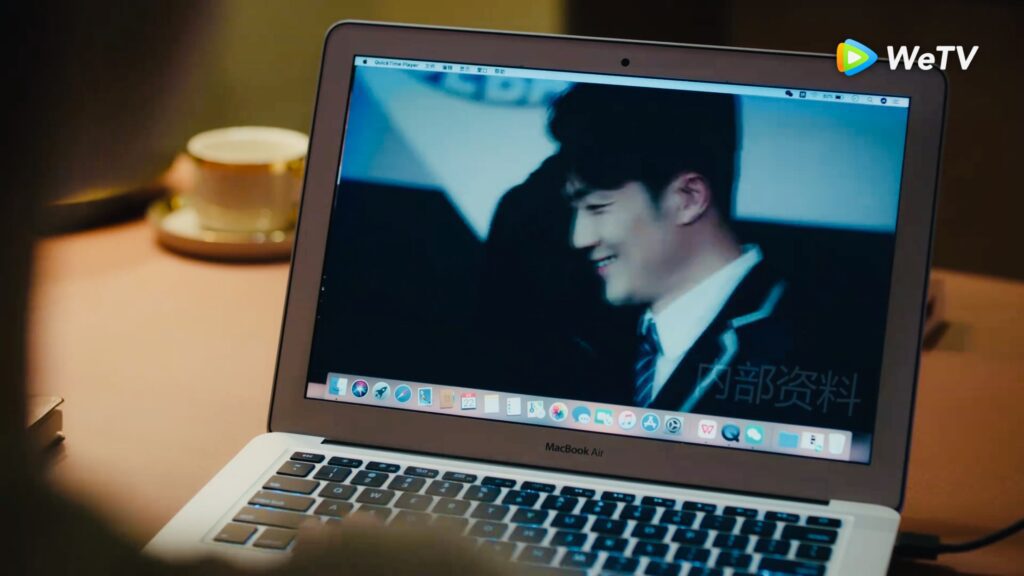 At the Dojo, Tao Jun Hui was tormenting Gang Zi when Qin Shi arrived and challenge him to a fight. Qin Shi had not fought for years since she broke up with Tao Jun Hui. However, she had a mission right now. She was there to negotiate Lan Xiao Ting's case with him. The dojo members were astonished that a petite lady such as Qin Shi would let herself be tortured by Tao Jun Hui. However, they thought that since Qin Shi was a beauty, then Tao Jun Hui surely would be relented with her.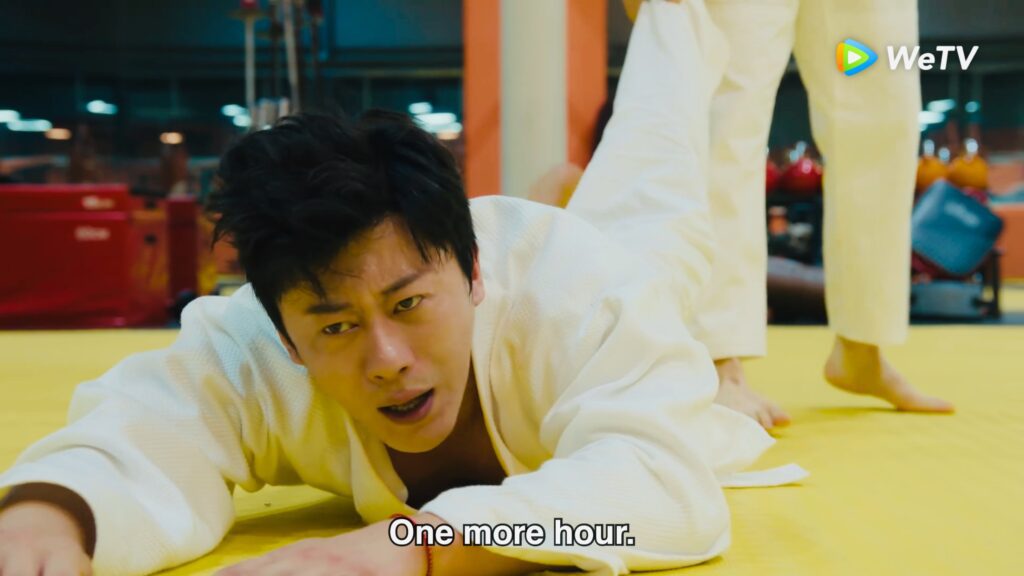 But their jaws dropped when they saw Tao Jun Hui throw Qin Shi mercilessly. Qin Shi was thrown several times before she used her petty trick to turn back the position. When she was in the upper position, Qin Shi asked about the condition that Tao Jun Hui mentioned in his car. The fight had become a business deal.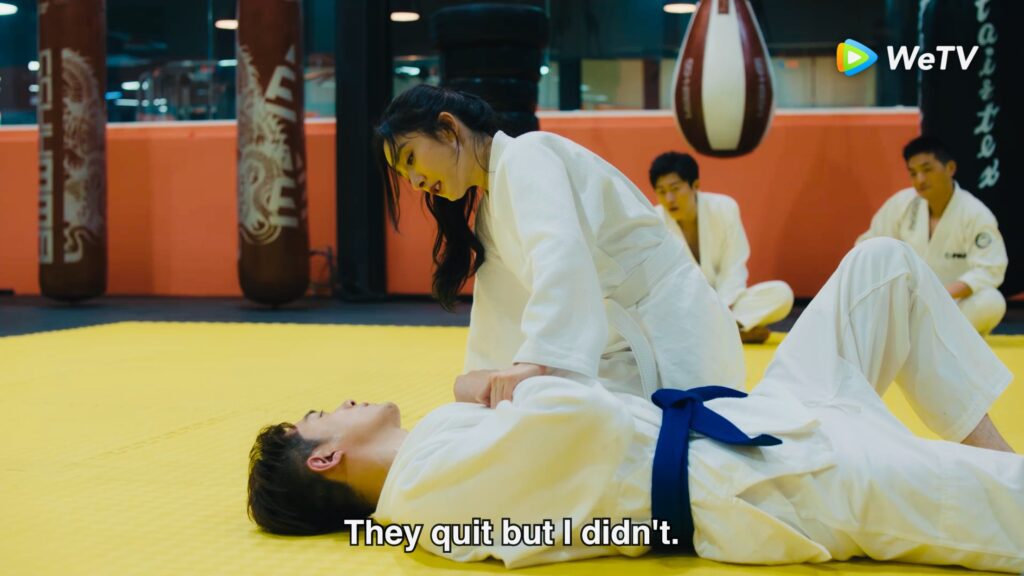 Tao Jun Hui said that the condition would remain the same. However, he asked for a guarantor that could reassure him and his client that there would be no issue found in Lan Xiao Ting's business during the 3 years of payment time. The term surely would put Qin Shi and Lan Xiao Ting in a tight position. Qin Shi was unwilling to relent.
She stormed to the changing room and told Tao Jun Hui that he was forcing a vulnerable woman like Lan Xiao Ting. Tao Jun Hui said that woman change all the time. An anti-marriage woman could break up with him and marry another man, so he would not reduce his condition. Tao Jun Hui told Qin Shi to leave the changing room and flashed his abs for us to see… 😚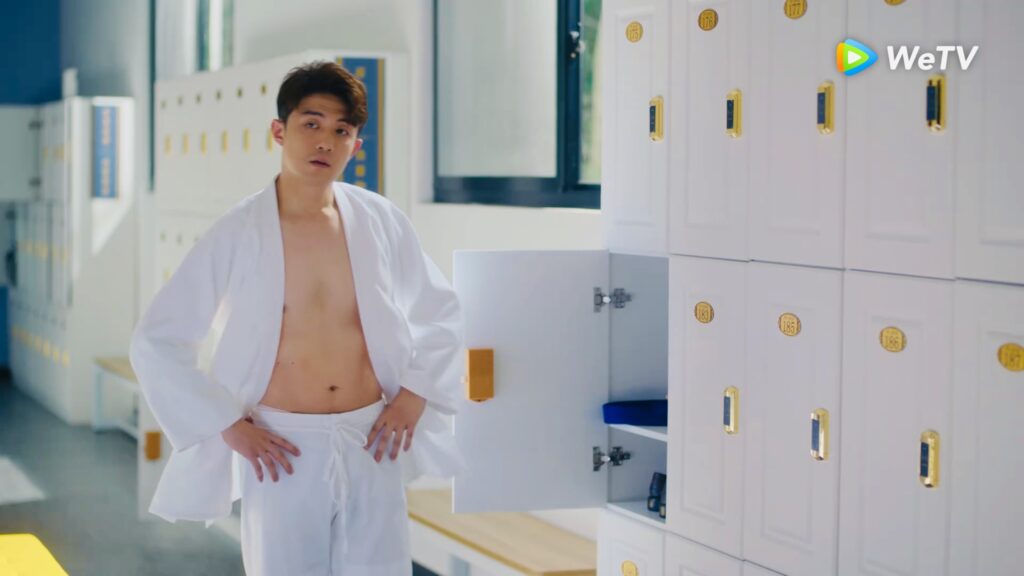 That night, Qin Shi's arm was hurting so much that she barely could lift it. She stared at a plate of chicken but could not eat it. Yang Hua laughed, took a piece of chicken, and feed her. He also prepared a drink for Qin Shi. While she ate, they discussed the solution for Lan Xiao Ting's case. According to his analysis, they could not rely on banks and should go to private funding.
However, because the investment risk was too high, they should split Lan Xiao Ting's big business into small-scale companies. And it means more guarantors for each company. And to find them, Qin Shi needed Yang Hua's help to persuade Jin Cheng and Tang Yi Hui.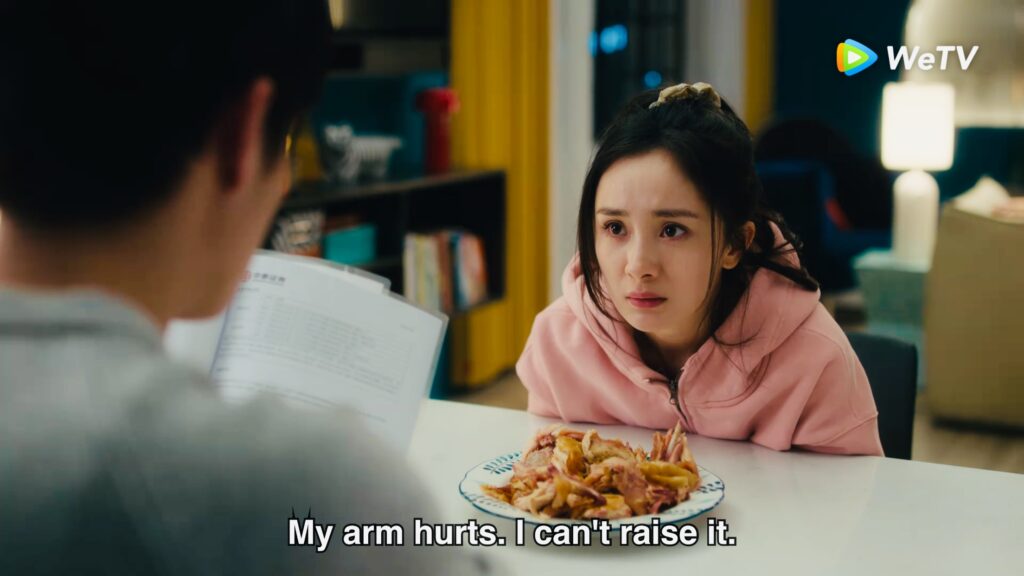 Tang Yi Hui's face was unsightly when Qin Shi and Yang Hua came to her office the next day. She could not believe what she heard that Qin Shi wanted her to find a guarantor for Lan Xiao Ting's business. Yang Hua explained that the business had a good prospect and that if they could invest by now, they could get a bigger portion of shares.
Jin Cheng and Tang Yi Hui did not give any answer right away, however, Qin Shi was an optimist. She knew her bosses well, no direct opposition means that they considered her request. Qin Shi reassured Yang Hua that she was sure because of her absolute confidence in Yang Hua. Her words improved his mood.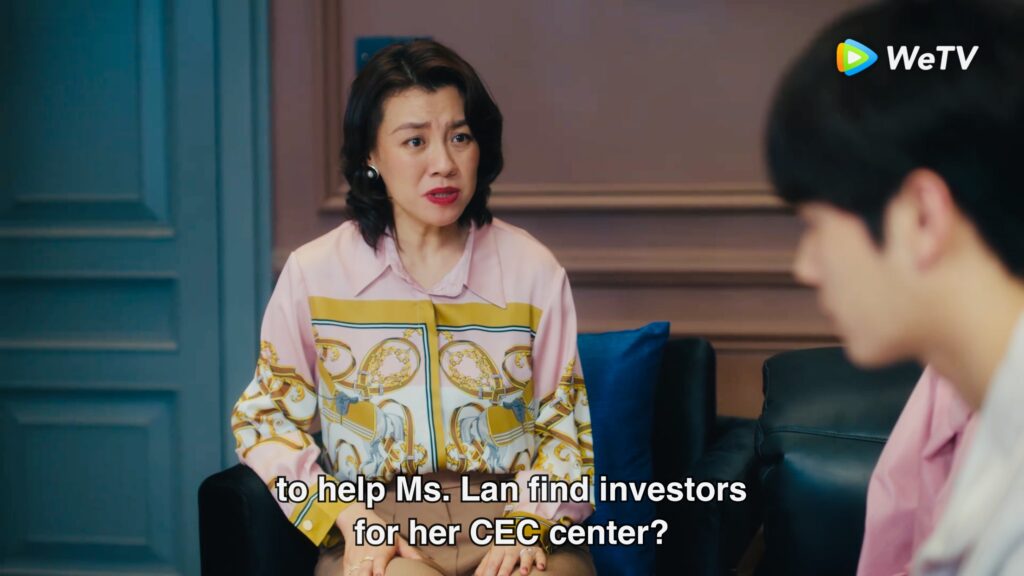 When they returned from the 11th floor, Qin Shi took Yang Hua to her office. But when she saw Qiao Si Ming, she immediately took a detour and hid inside the utility room because she wanted to avoid Qiao Si Ming. Qin Shi and Yang Hua stood behind the door. It was a very narrow space where their body stick onto one another. Qiao Si Ming checked the room and saw nobody was there and left in confusion.
The intimate position and ambiguous atmosphere affected both Qin Shi and Yang Hua. Yang Hua was going to ask about something to Qin Shi, but their position was too close and he forgot the question. As if Yang Hua was enticed by Qin Shi, he leaned to her and they almost kissed but a phone call from Father Yang spoiled the moment… 💀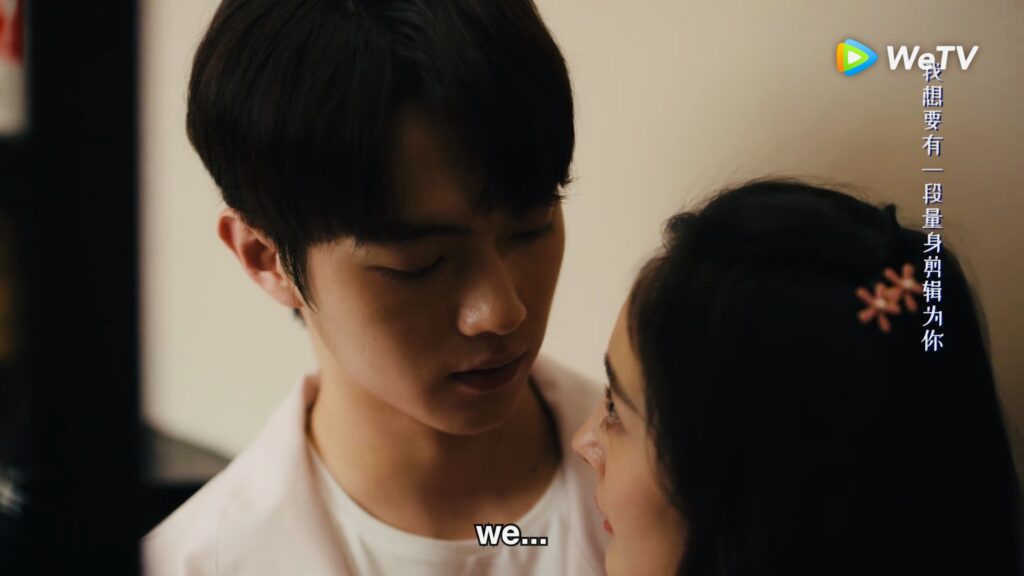 Father Yang asked for a meeting with his son and Qin Shi. They met at a restaurant and talked about the marriage. Father Yang was alone and he directly apologized to Qin Shi on behalf of his wife. Father Yang told Qin Shi that he was grateful to her. Qin Shi has helped Yang Hua to change into a better version of himself. Qin Shi asked Father Yang the only question that always bothered her, it was about her family.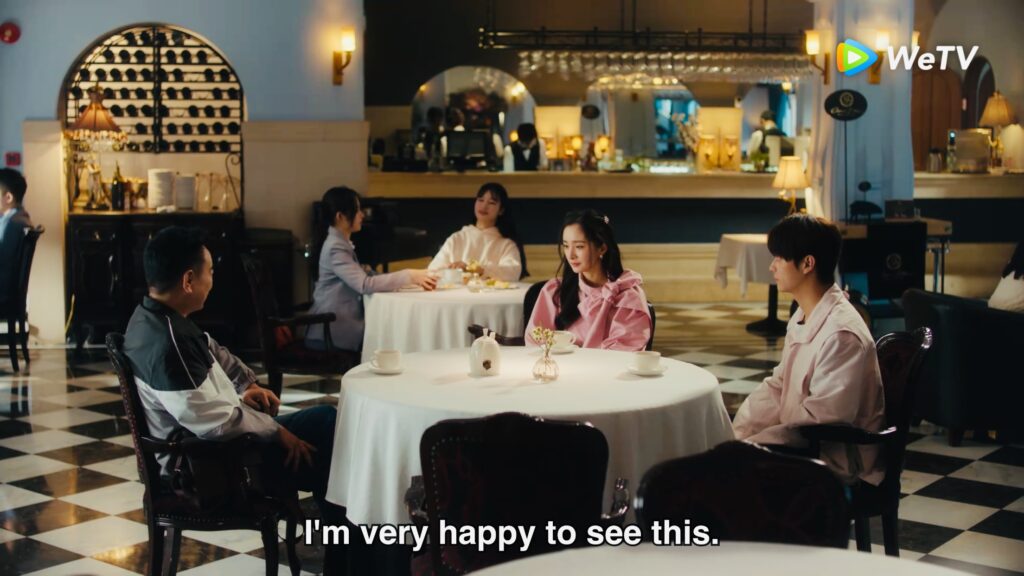 Qin Shi wanted to know whether the Yangs did not mind her family situation. Father Yang told her that it did not matter at all. The divorce rate nowadays was high and he was sure that a person from a divorced family would value marriage higher than most people. However, Qin Shi was not convinced. So Yang Hua helped his father.
He said that others' opinion about her was not important and what mattered most was her opinion about herself. And for him, her family's affair was not a problem at all. Father Yang stared at his son proudly. Qin Shi also stared at him. There was a warm feeling in her heart. She thought that the touching moments in life often came at the least expected time.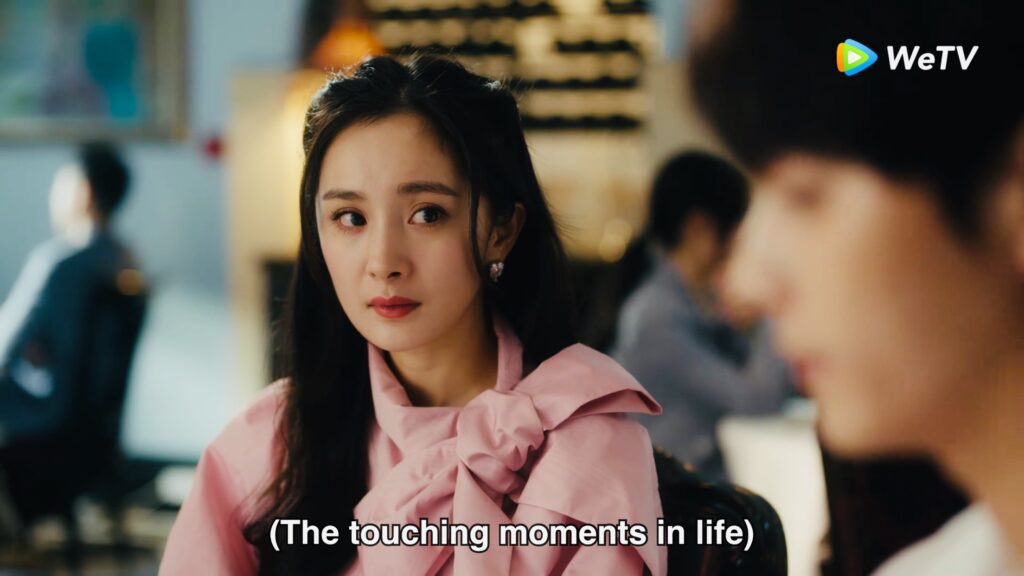 Father Yang also brought them a gift: the Household Register Book. Yang Hua was surprised, he thought that his mother had hidden the book.
Meanwhile, Mother Yang frantically searched for the Register Book at her house.
Qiao Si Ming brought new gossip to Li Dai. And as usual, they talked at different frequencies. Qiao Si Ming said Qin Shi had been hiding something that made Tang Yi Hui mad at her. Her performance bonuses, transport, and meal subsidiary were canceled. It was all because Qin Shi helped Lan Xiao Ting in secret.
Meanwhile, Li Dai thought that Qiao Si Ming talked about Qin Shi's secret marital status. She thought that Qin Shi would lose her promotion. When she knew that Qin Shi had acted behind her back on the case, Li Dai was angry.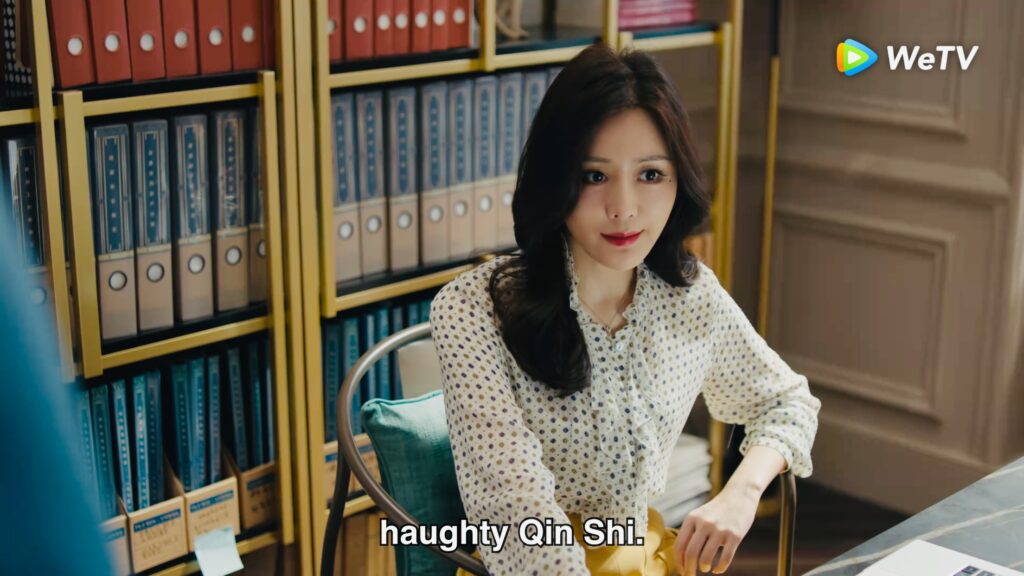 Wu Fei and Tao Jun Hui were prepared for Mrs. Tao's birthday. Mrs. Tao was busy preparing dinner while Wu Fei waited in his bedroom. She commented on his debate trophies and mentioned the missing trophy from the 2007 debate tournament. Tao Jun Hui dodged the question and asked Wu Fei to join his mother at the dinner table. During dinner, they talked about work matters and mentioned Qin Shi.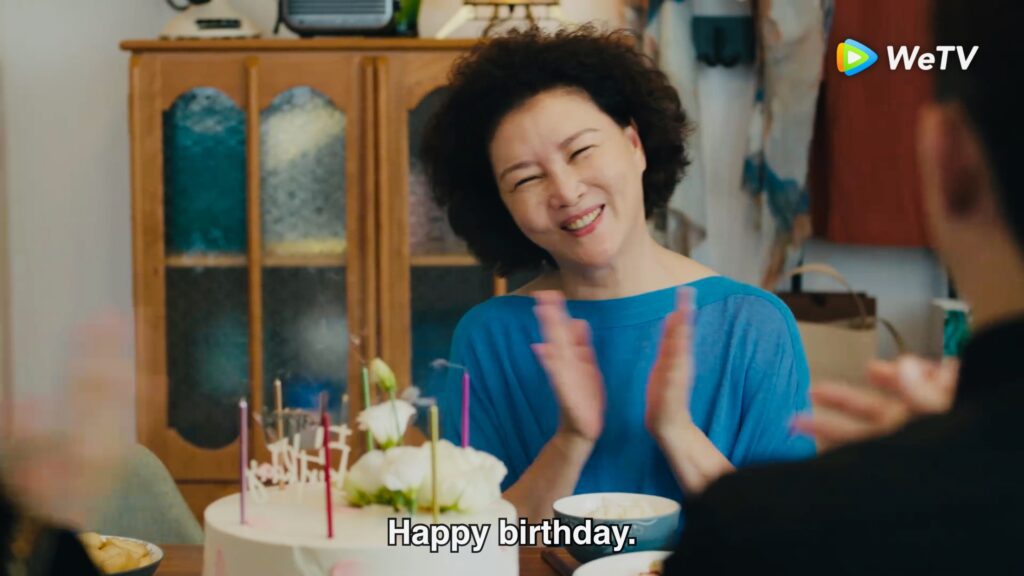 Episode 18
Mrs. Tao was shocked when she heard Qin Shi's name. She pretended not to know Qin Shi, but her body language said otherwise. Tao Jun Hui silently ate his meal. Wu Fei knew that something was wrong at that time.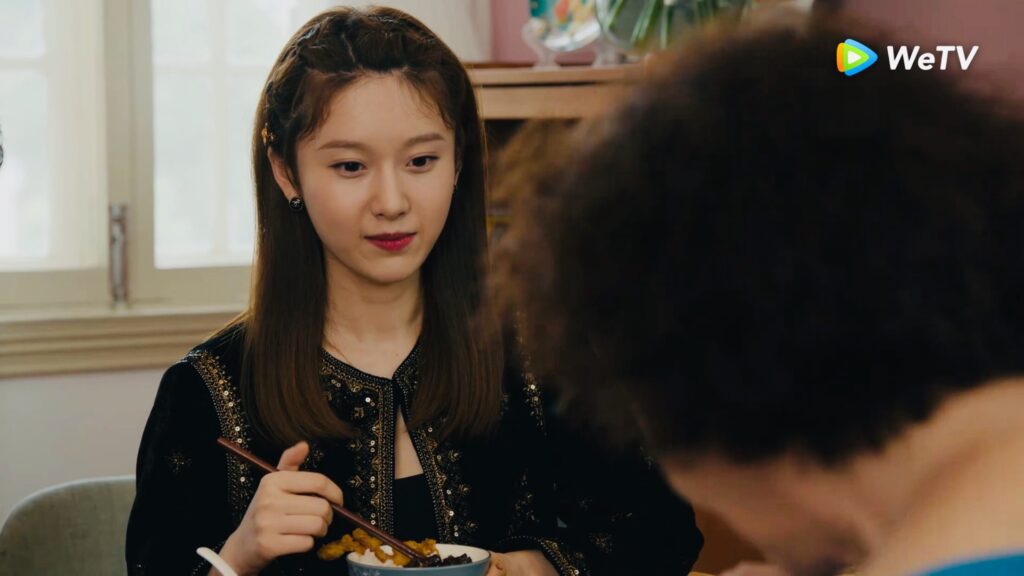 Qin Shi was busy with her files when she noticed a small red book. It was their marriage certificate.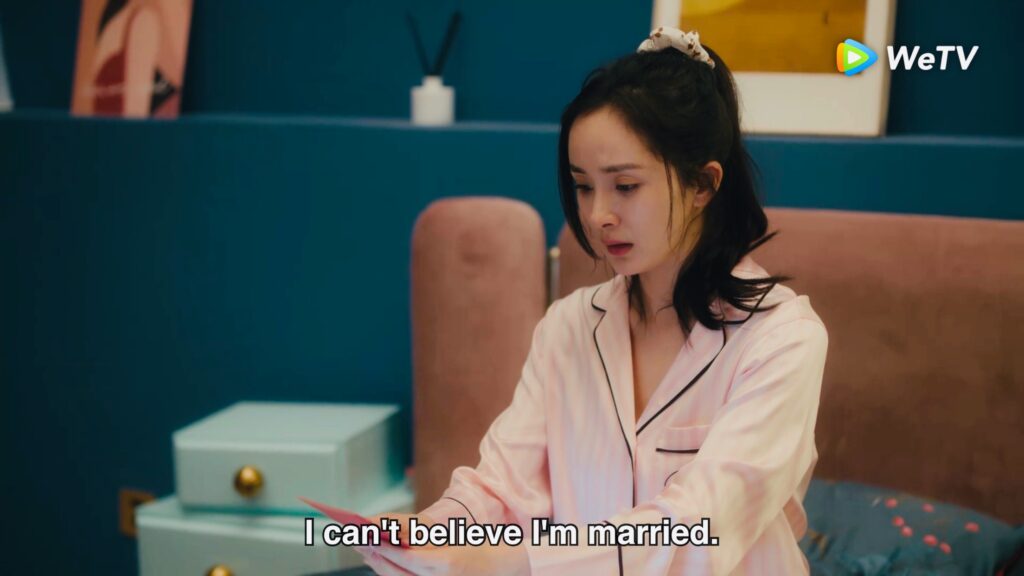 They got married… Oh, My God!! 😱
She looked at the book intently. It was her masterpiece. The red book was a proof that there was nothing she could not do in this world. Meanwhile, Yang Hua stared at their photo in the booklet. He thought that his smile was unnatural. He even showed the book to the God of Wealth.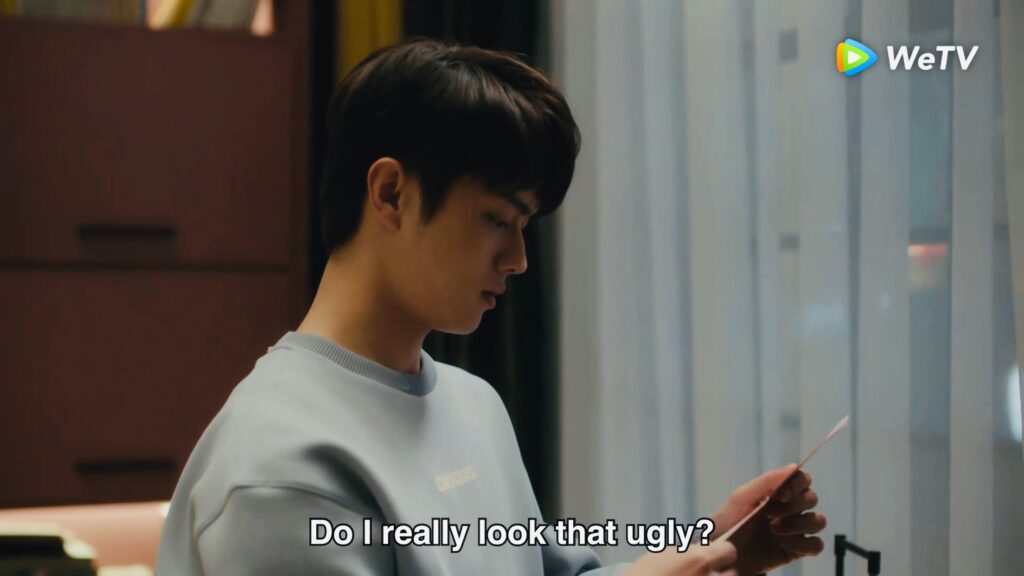 Qin Shi sent a message to Yang Hua. She asked what was Yang Hua trying to say when they were in the utility room. He instantly remembered that he almost kissed Qin Shi back then. Yang Hua walked to Qin Shi's room. When Qin Shi tripped and almost fall backward, he took her to his arm and kissed her.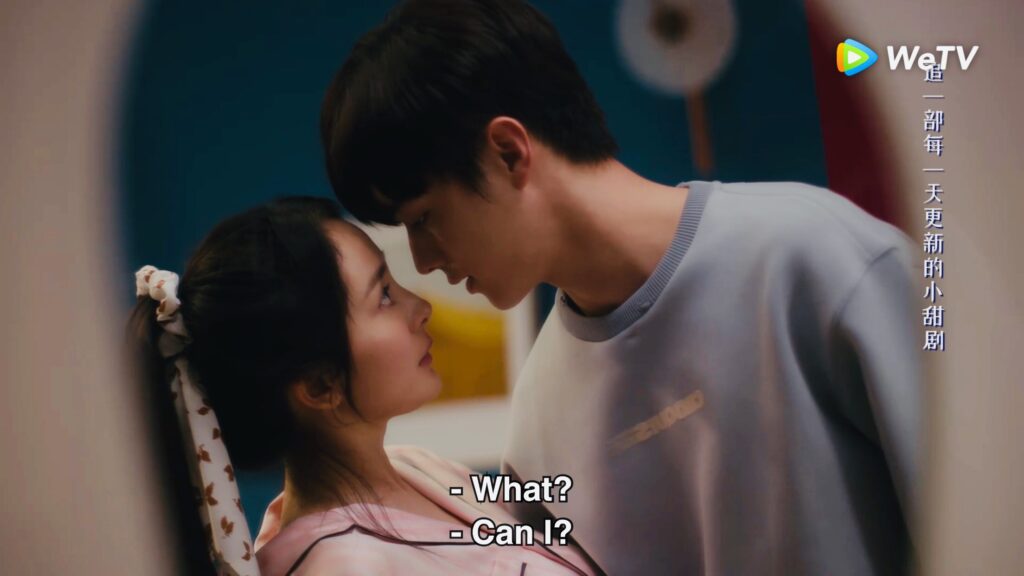 The kiss was hot, but sadly it was only Yang Hua's imagination… 😅
The truth was Yang Hua racked his brain about how to answer the question. While Qin Shi waited for his message, impatiently.
Yang Hua went to her room and asked whether they should try to date each other. Qin Shi took their agreement and told him that they would be only husband and wife in name only. They did not have to fulfill any emotional or physical obligation toward each other. Including developing a romantic relationship, or they would be prosecuted and have to pay 5 million worth of compensation.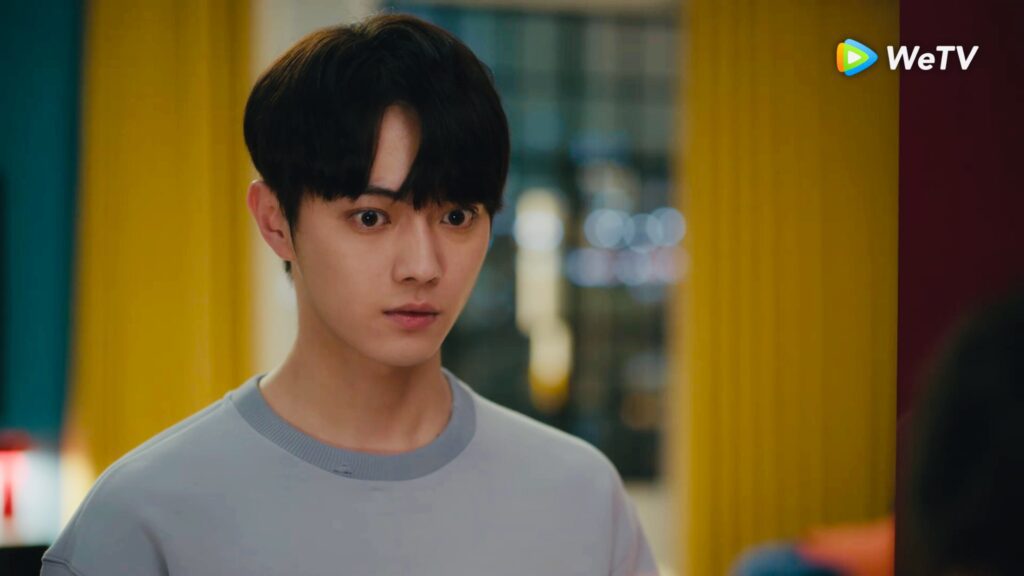 And… This was another imagination of Yang Hua…😂
When Qin Shi opened the door, she was surprised to see Yang Hua that she tripped backward. Yang Hua took her by his arm, but this time his brain gave an alert to remind him about the 5 million compensation. But when Qin Shi circled her arm on his neck, he did not hesitate to take her to bed…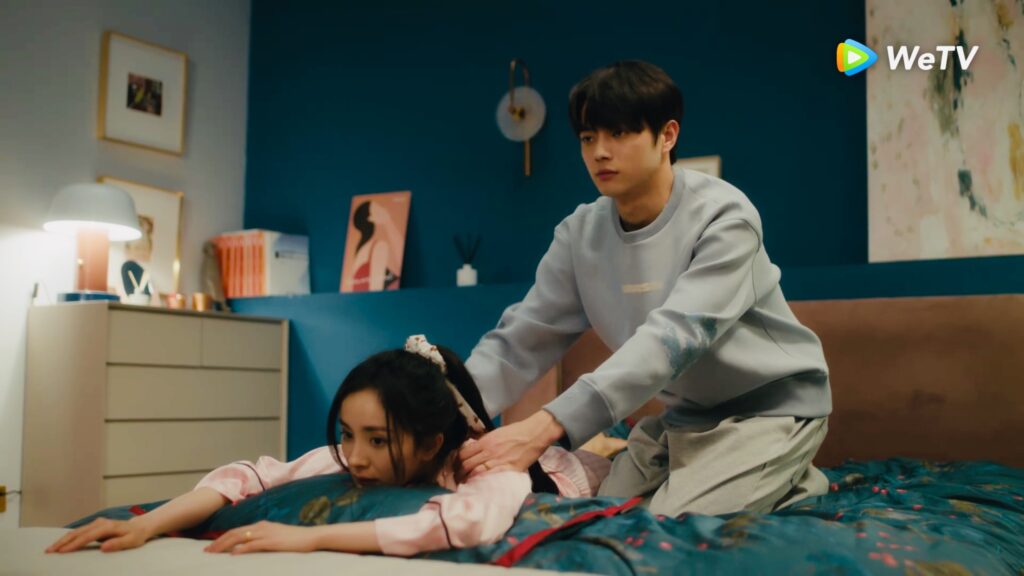 And gave her a back massage. 🤣🤣
He said that her body was stiff because she overworked herself. Amidst the pain, Qin Shi still asked the question. Yang Hua firmly said what he was about to say in the utility room was about her poor body condition.
Tao Jun Hui admitted to wu Fei that Qin Shi used to be his fiancee and they broke up before he went abroad. He said that his mother did not like Qin Shi and she also had a fear of marriage. However, that was 2 years ago and Wu Fei remembered that Qin Shi had a 2.5-year-old son. Tao Jun Hui was surprised that Qin Shi had a son. Wu Fei concluded that Qin Shi must have cheated on Tao Jun Hui before they broke up. Tao Jun Hui told her to forget it but Wu Fei did not want to let it go easily. She did not want him to be bullied by others.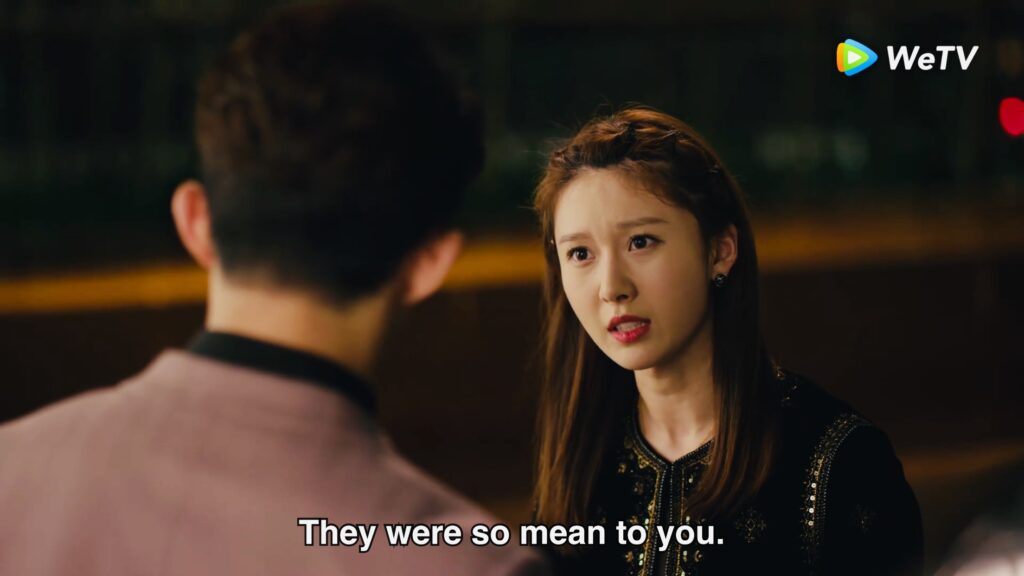 According to the latest news, the prosecutor of Luowei Yulan's case decided to confiscate all illegal funds collected by Pang Ding Fang and freeze his application for foreign assets. Right now, Pang Ding Fang was labelled as international fugitive.
Zhao Dan Ping in a press conference asked the press to help her convey a message to Pang Ding Fang. As the spokesperson of Lan Xiao Ting and the newly appointed CEO of the Yulan Group, she asked Pang Ding Fang to return to China and resume his responsibility as a company manager and a husband. Meanwhile, Lan Xiao Ting would be responsible for the debt of Luowei Yulan as well. She was backed by an investment company and also Cheng & Hui Law Firm.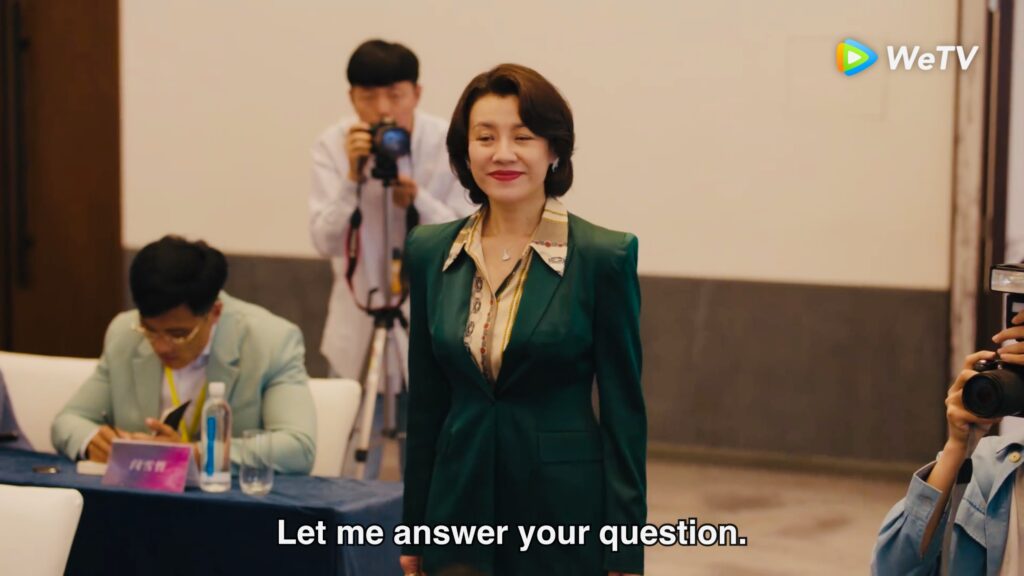 Li Dai was amazed by Qin Shi's marriage certificate that was dated 2 days ago. But Qiao Si Ming said that Qin Shi has already stated her reason. She had canceled her marriage abroad and because Yang Hua had returned to China, they decided to register their marriage locally. Li Dai tried to find out whether the certificate was a counterfeit or not when Qiao Si Ming stopped her and told her to get one by herself.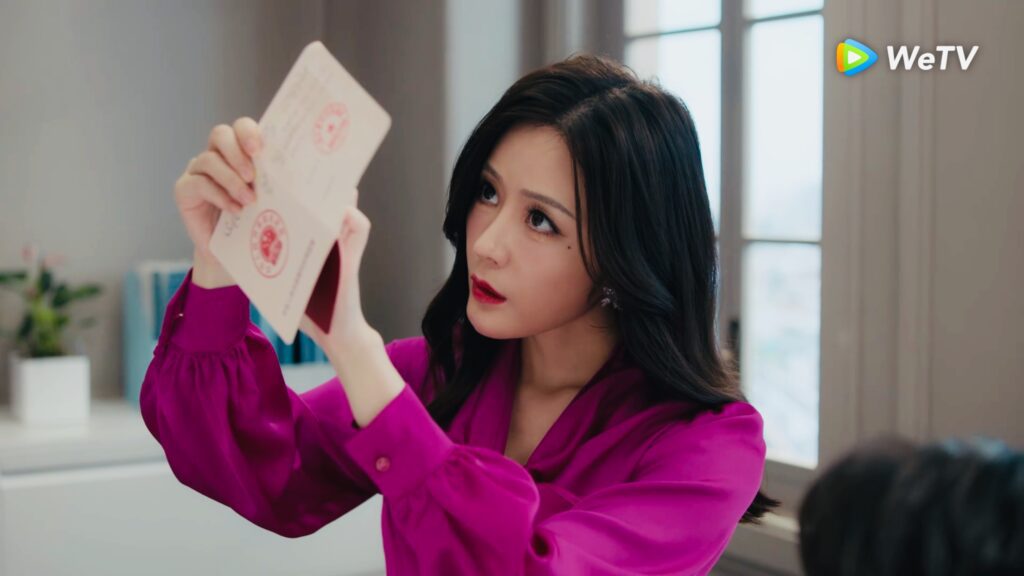 Lan Xiao Ting's case ended well after Tao Jun Hui helped Qin Shi to convince his clients. Qin Shi offered to take him and Wu Fei to lunch, but he refused. Wu Fei watched them from her table with a sullen face.
Yang Hua met Tao Jun Hui at the elevator door. He got angry all of a sudden when he saw Tao Jun Hui's face. When he tried to pass him by, Yang Hua pushed him back. Yang Hua berated him for what he did to Qin Shi. Tao Jun Hui retorted that everything he did to Qin Shi was none of Yang Hua's business and he pushed Yang Hua back.
Tao Jun Hui's words made Yang Hua's anger explode. He punched Tao Jun Hui, but he was able to dodge it Yang Hua's punches landed on the glass door and shattered it to pieces. The front lady immediately came after she heard the commotion. Tao Jun Hui left the building and the angry Yang Hua.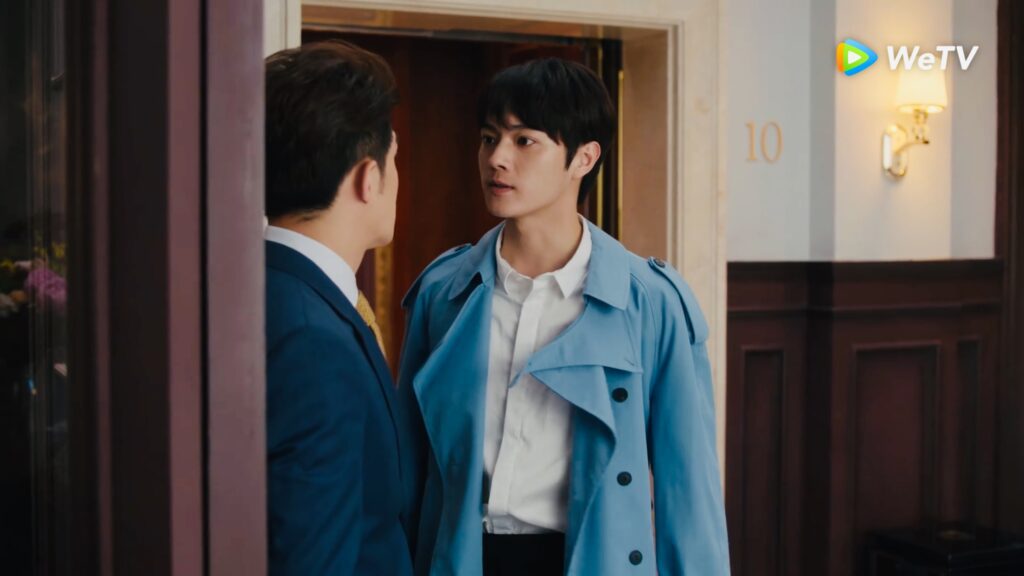 Li Dai asked Qin Shi whether she had to go to such lengths for a job and whether she was not afraid that someday she would fall when she climbed the ladder. Qin Shi said that for her it was not a job and she did not climb the ladder. She just took advantage of others' incompetence, fear, and laziness. She also said that she did not fear her boss would find out what she did behind their back.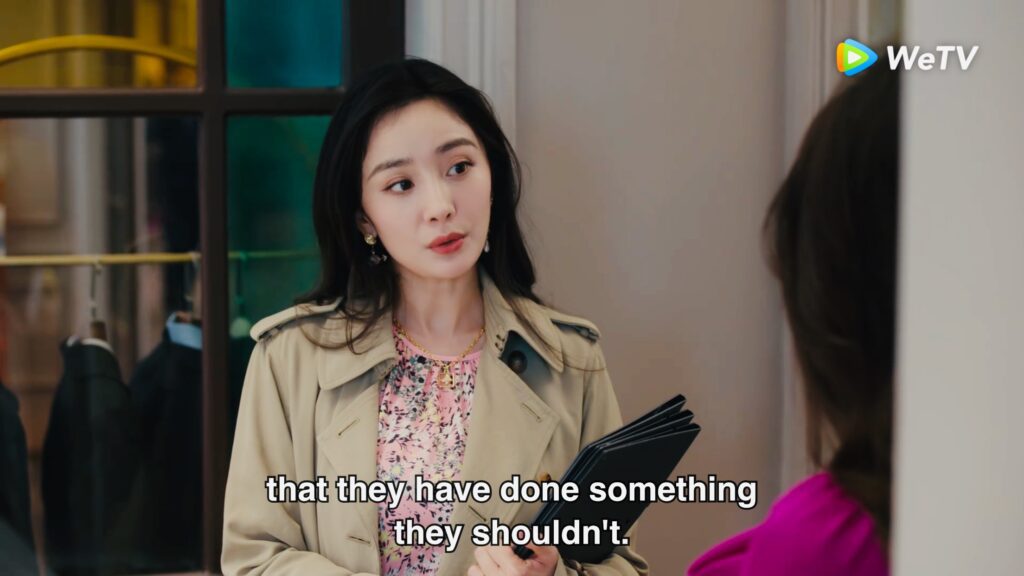 Yang Hua called Qin Shi and she immediately came to him and they left for a coffee. Qin Shi saw his hand and asked what happened, but Yang Hua said that he was fine. Yang Hua came to tell her that his mother wanted to meet Qin Shi's parents. He was worried because although Mother Qin was quite ferocious she could not be compared to Mother Yang's eloquence and creativity. And he was so sure that his mother had tons of ideas to bring trouble to the meeting.
Qin Shi reassured him that everything would be okay. The hardest person to deal with in the Qin family was not her mother. The one with the worst temper was her father, whom she inherited the trait. When Mother Yang met Father Qin. It would be a small-scale world war of argument.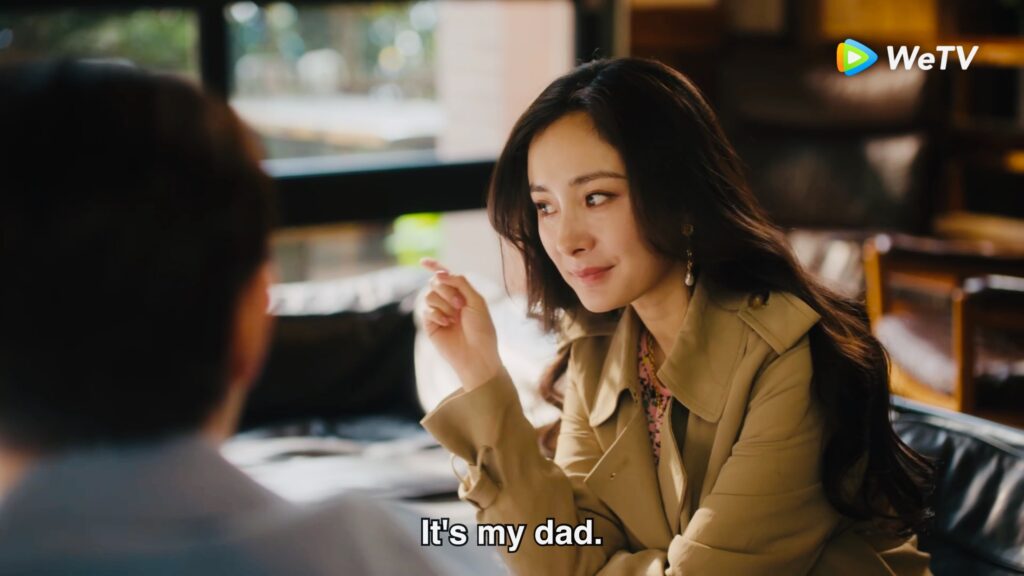 But Qin Shi was wrong. During parent's meeting later that day. Father Qin and Mother Yang were harmoniuosly engaging in a Chinese opera performance. The only one who enjoyed the performance was Father Yang. While the other three stayed silent the whole time.
The thing got escalated very quickly when Mother Yang and Mother Qin disagreed about the wedding. Mother Yang tried to dodge the wedding while Mother Qin insisted that they deserved a wedding. Mother Qin wanted the house and the car as well. The argument was quite fierce that they started to compare Qin Shi and Yang Hua.
However, thankfully that the fathers were cool-headed. Father Yang decided that they would have a wedding although it may not as grand as Mother Qin wanted. Father Qin agreed with him. Therefore, the wedding matter was settled And both families went home.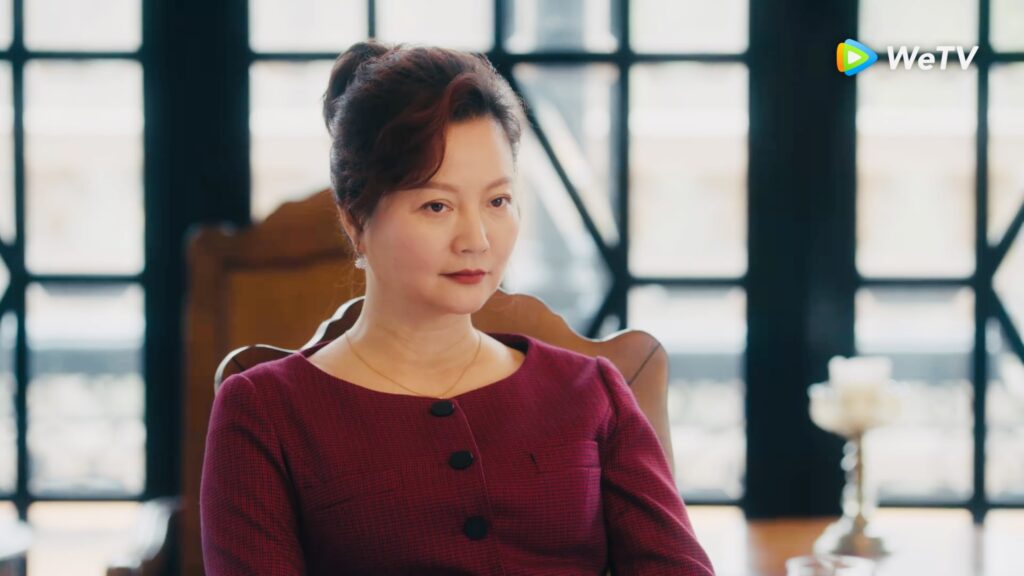 Mother Yang was not content with the meeting. She said that the Qins were too much. Qin Shi used to say that she did not want to hold a wedding, but suddenly they had to prepare the wedding and the gifts. Father Yang rarely being decisive but this time he managed to make Mother Yang kept her mouth shut. He said that they would hold the wedding according to the Qin family's wishes. Mother Yang who was eloquent and stubborn was actually yielding to Father Yang…😱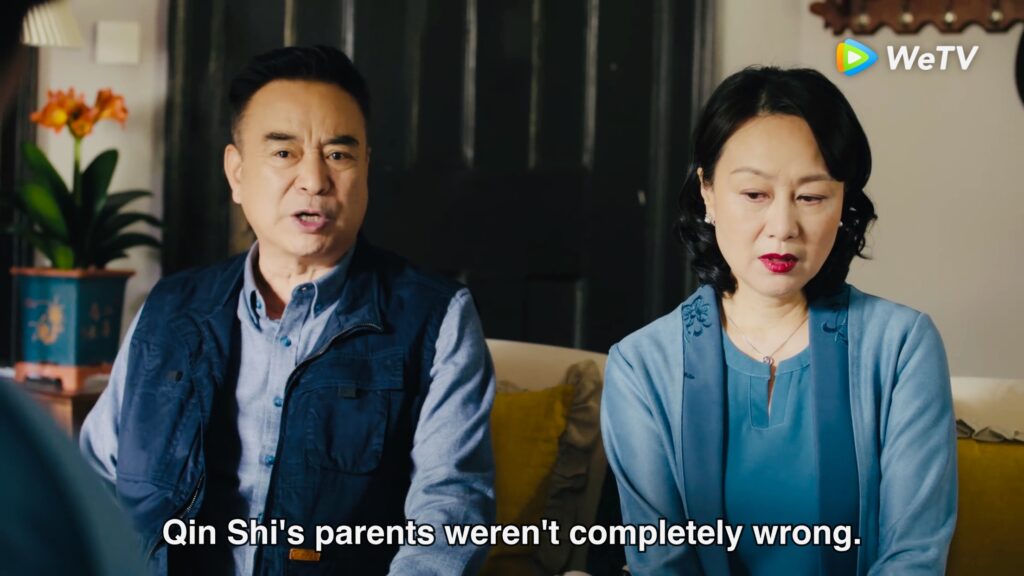 Meanwhile, Qin Shi tried to calm down her mother who was fuming inside the car. Qin Shi's prediction failed because Mother Qin was more determined than Father Qin. She insisted to have a grand wedding for Qin Shi because she wanted to show off to the people who used to mock her and said that Qin Shi would not be able to get married. Qin Shi also failed to calm her down and instead she made her anger intensify.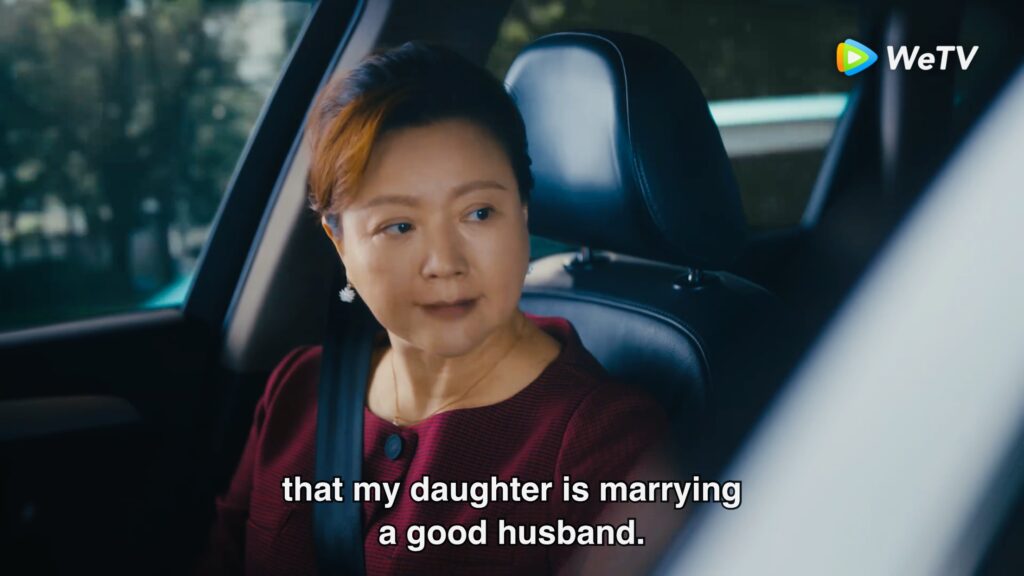 Yang Hua was troubled by the wedding. He took Cai Liang for a drink at their usual place. Contrary to his usual style, Cai Liang agreed with Mother Qin's request. A daughter was precious and they could not just give her away for free. Yang Hua mulled over his words and took out his phone to call Qin Shi.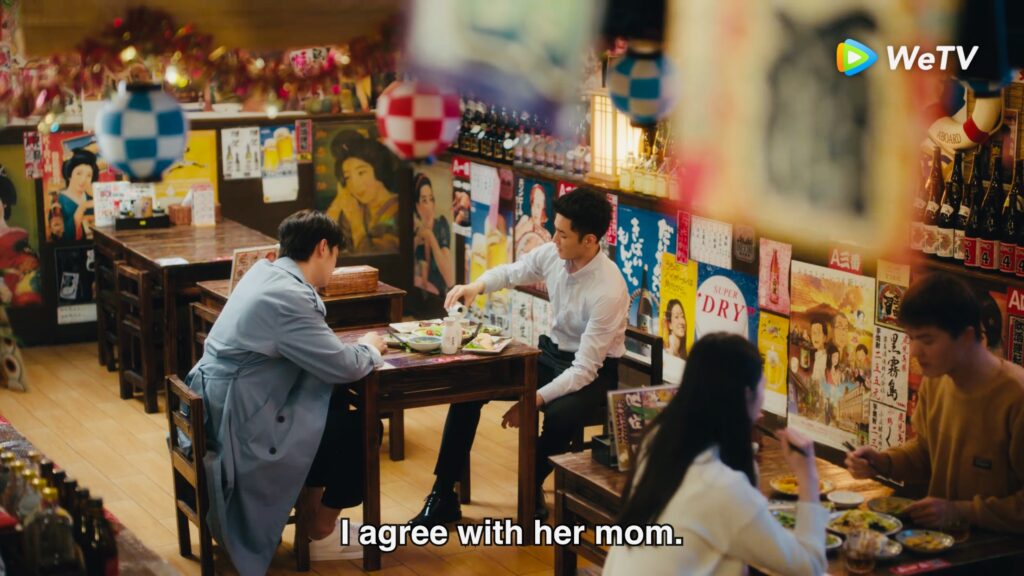 Qin Shi was still at the office when Yang Hua called. However, when she picked up the phone Yang Hua was silent. After she threatened to hang up the call, he started to recite a poem. Yang Hua rambled about things that he did not like: his mother's nags about getting married, the blind dates, the hotel in front of his house (😅), and recently the thing he hated the most was Tao Jun Hui.
He said that he hated the way Tao Jun Hui stared at Qin Shi, he hated that Qin Shi was hurt because of Tao Jun Hui. Yang Hua said that he hated Tao Jun Hui and wanted to hit him. But then he missed it because Tao Jun Hui was lucky.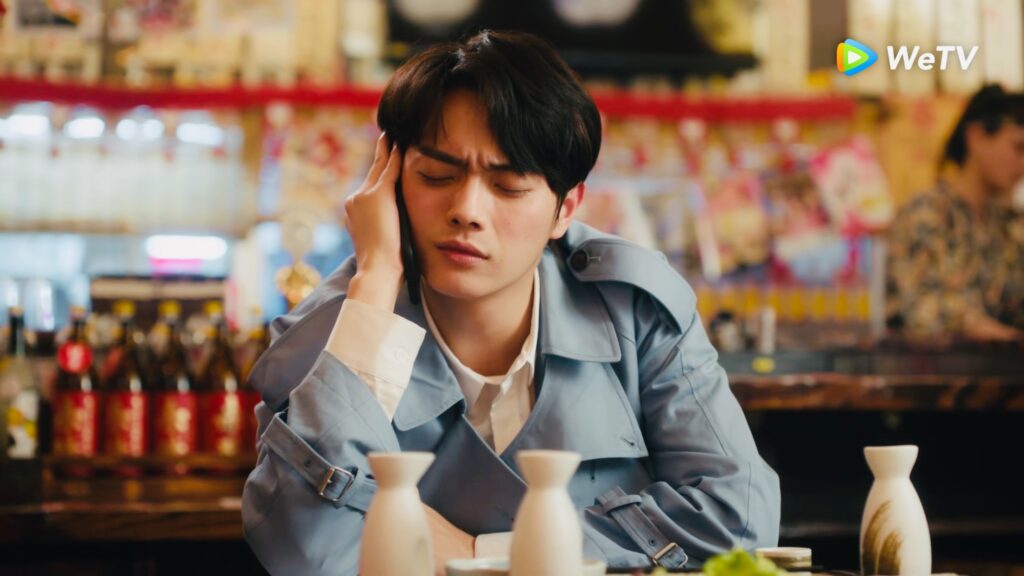 Yang Hua said that Qin Shi was a priceless treasure and she wanted to give her everything. Qin Shi listened to his rambling with glistened eyes. She was touched by his words. Before he passed out, Yang Hua told her that he loved her very much and wanted to give her the wedding that she always asked for.
Qin Shi closed the call and stared at her Macbook. It played a recording from her office CCTV and showed Yang Hua and Tao Jun Hui's dispute earlier that day. Qin Shi now understood why Yang Hua was so angry towards Tao Jun Hui. She smiled and muttered that Yang Hua was childish.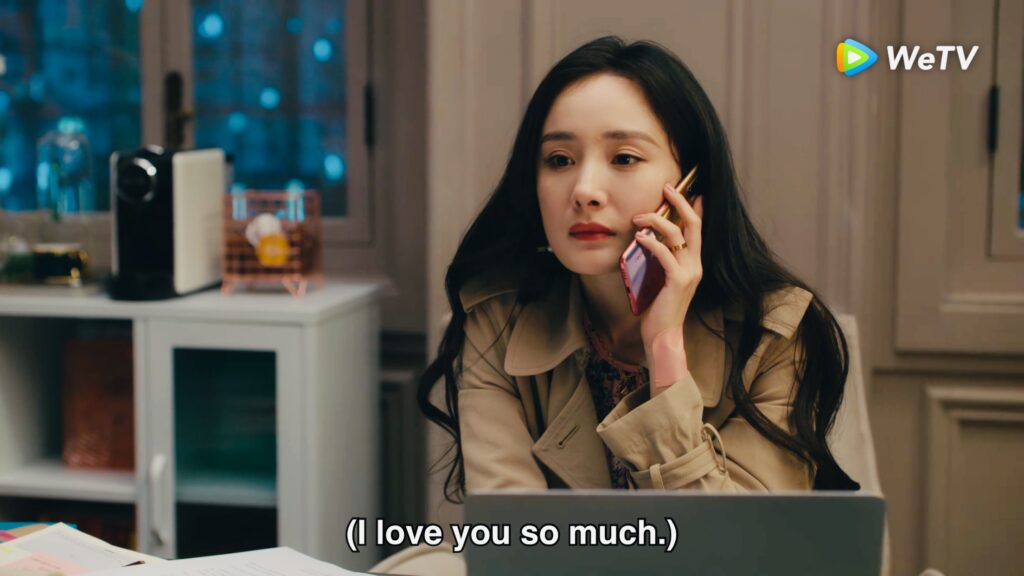 Meanwhile, at a small private club. Tang Yi Hui saw Wu Fei dancing with a man. After some inquiry, she learned that the man was Wu Wei Song from the Ximei PR company.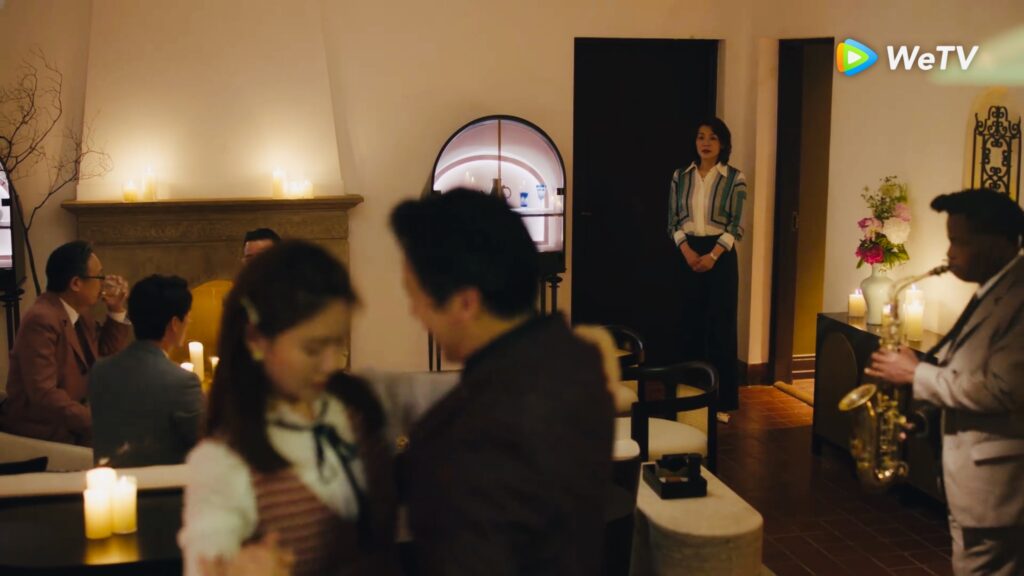 Qin Shi came to pick Yang Hua up. But she had to wake him up first. Cai Liang patted Yang Hua's shoulder and told her that his wife was there. Yang Hua woke up in a confusion and told Cai Liang that he did not have a wife. But when he looked at Qin Shi, he was dazed.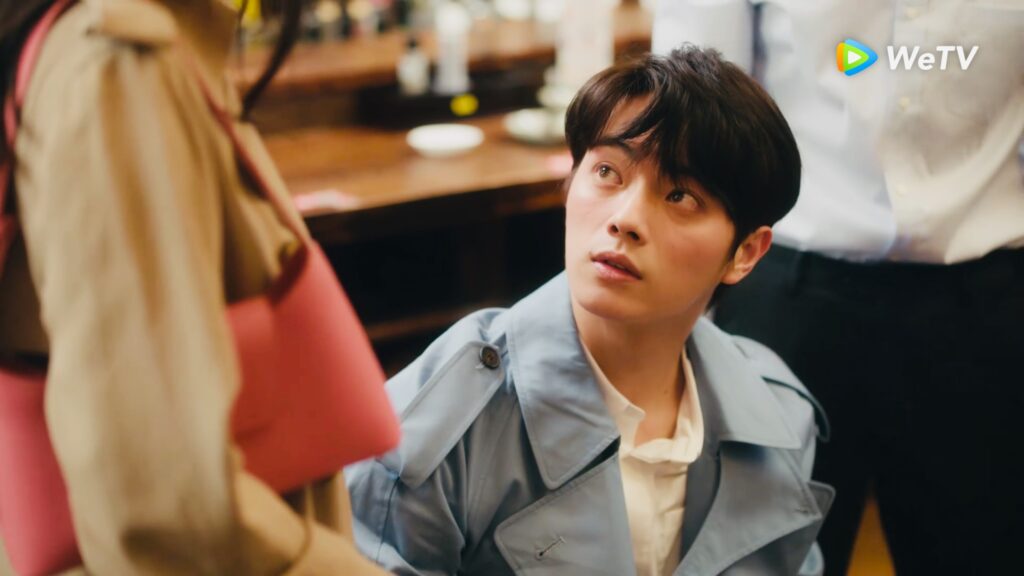 My Two Cents
Finally, Yang Hua and Qin Shi tied the knot. And I thought that the hot kiss was real… 😅😅
Mother Yang and Father Qin could sing very well, and I was curious whether they were chosen as the characters because they could sing very well…🤔