Title: She and Her Perfect Husband
Also Known As: 爱的二八定律, The 80/20 Rule of Love, Qin Shi and Her Perfect Husband, The Two Eight Law of Love
Director: Lin Yan
Screenwriter: Zhu Li
Genres: Romance, Comedy, Law
Country: China
Episodes: 40
Year: 2022
Original Network: Tencent Video
Where to Watch: Viki, WeTV
List of Recap:
Hey readers… It is good to see you again. It was crazy weather here at my place. Every day was raining cats and dogs. I hope the weather in your place was better than mine. Here is another She and Her Perfect Husband episode recap for you. In these episodes 13 and 14, Qin Shi was in danger, who was going to be there and help her? Was it Yang Hua or Tao Jun Hui? Let's found out, readers… Happy reading!
New Characters Appearance
These Character were Legal Assistants at Cheng & Hui Law Firm
Hai Tao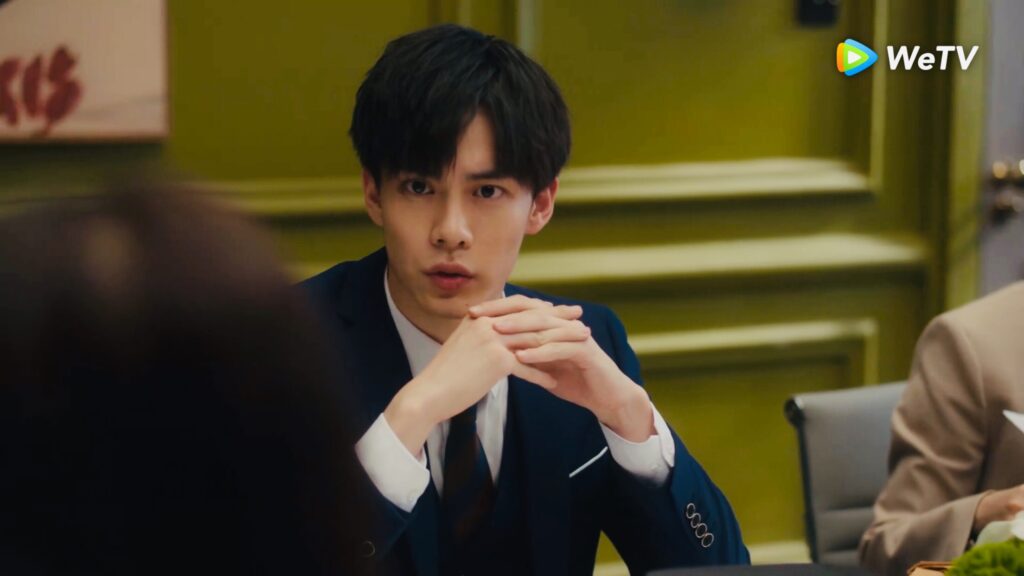 Zhen Dai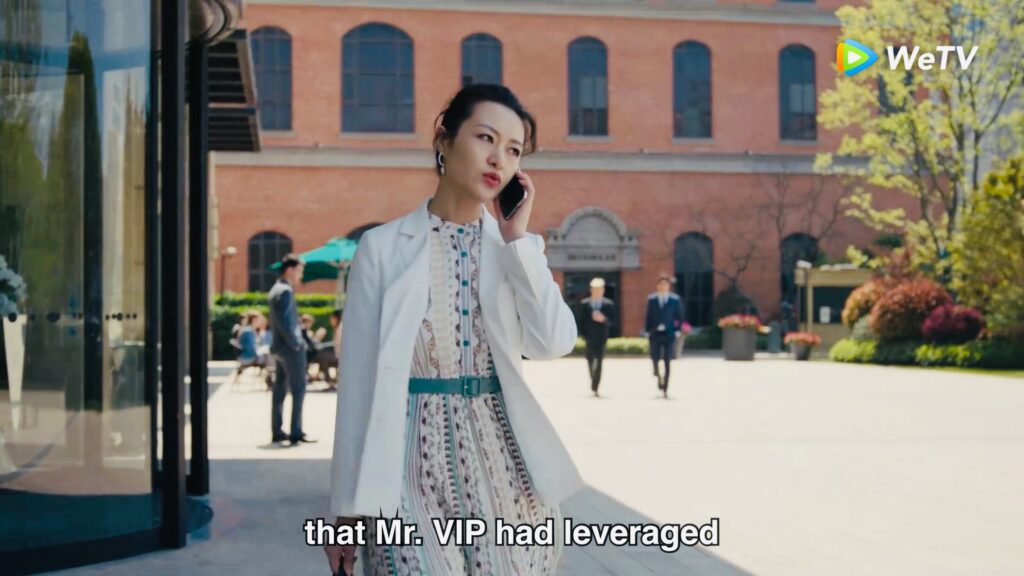 Chang Ming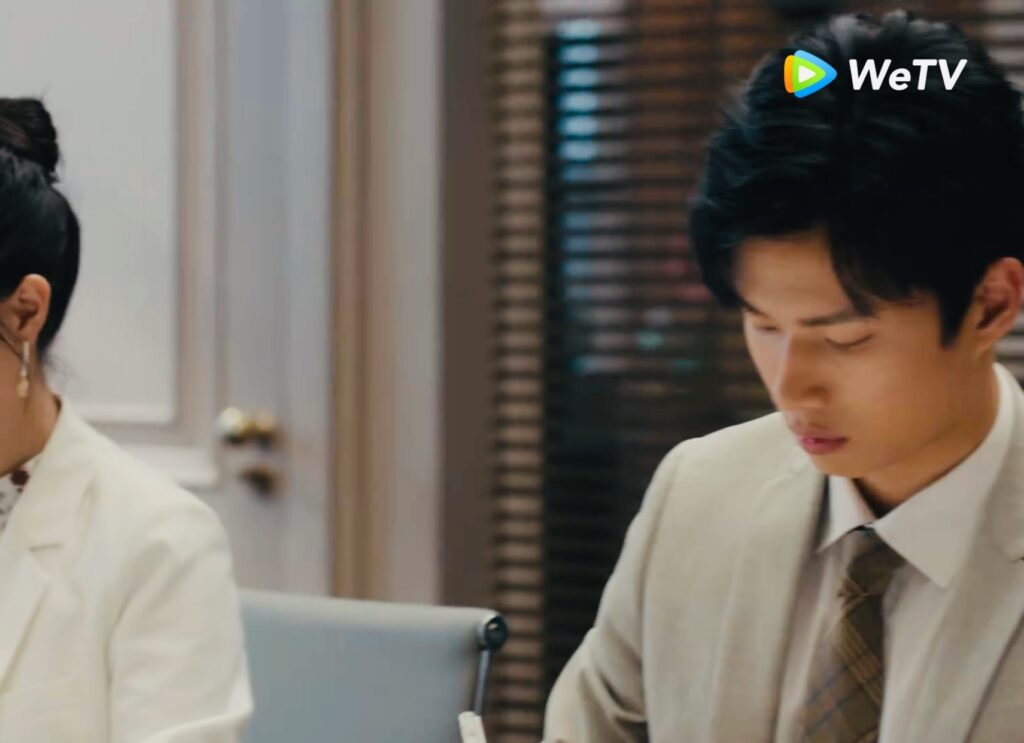 The Crooks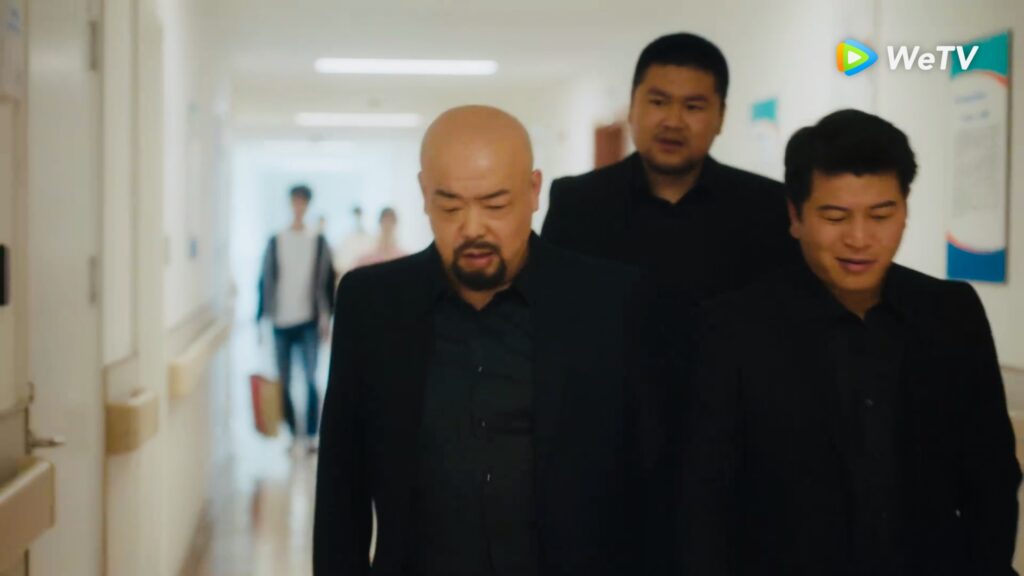 Oh no, these people were not legal assistants. They definitely were not related to Cheng & Hui. They were bad people, period.
Episode Recap
Episode 13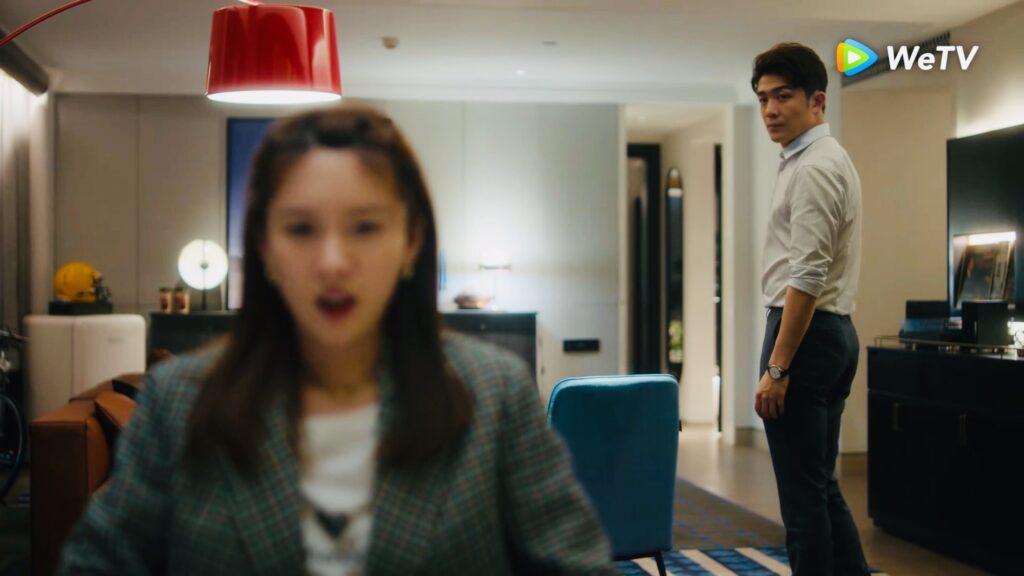 Tao Jun Hui realized that Lan Xiao Ting had filed a divorce from Pang Ding Fang. He immediately texted his colleague to inform the news. Meanwhile, Qin Shi and her colleagues searched the city to find Lan Xiao Ting. Jin Cheng and Tang Yi Hui stayed with Zhao Dan Ping at her hotel to check the hotel CCTV.
According to Jin Cheng, Lan Xiao Ting might look for someone important to her. However, Lan Xiao Ting never had a close friend and her relationship with her family was also strained. The only person she believed was her husband, Pang Ding Fang.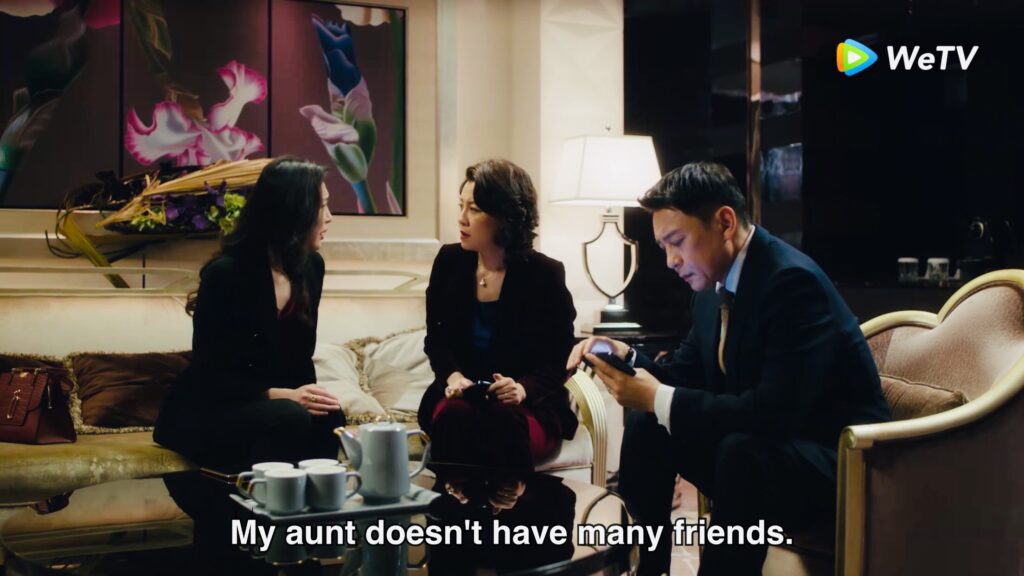 Qin Shi and Yang Hua checked in at the airport and found Lan Xiao Ting at the arrival gate, waiting for her husband. Qin Shi turned off her phone so nobody would disturb her while she talked to Lan Xiao Ting.
Yang Hua came with a cup of coffee and food for Lan Xiao Ting. After several calls to her husband only to hear that his number cannot be contacted, Lan Xiao Ting finally realized that her husband had abandoned her. Qin Shi encouraged her not to give up on her life.
After she calmed down, Qin Shi took Lan Xiao Ting back to her hotel. Cheng & Hui secured the divorce case with Lan Xiao Ting, thanks to Qin Shi.
Qin Shi went home in a sleepy state. Yang Hua must carry her because she was asleep in the elevator. When he lay her down on her bed, Qin Shi was holding his coat tightly. Yang Hua was taken aback when he heard Qin Shi whispered his name in her sleep. There was an indescribable feeling arose in his heart. But then she muttered something about grilled pork, it turned off all those feelings…😂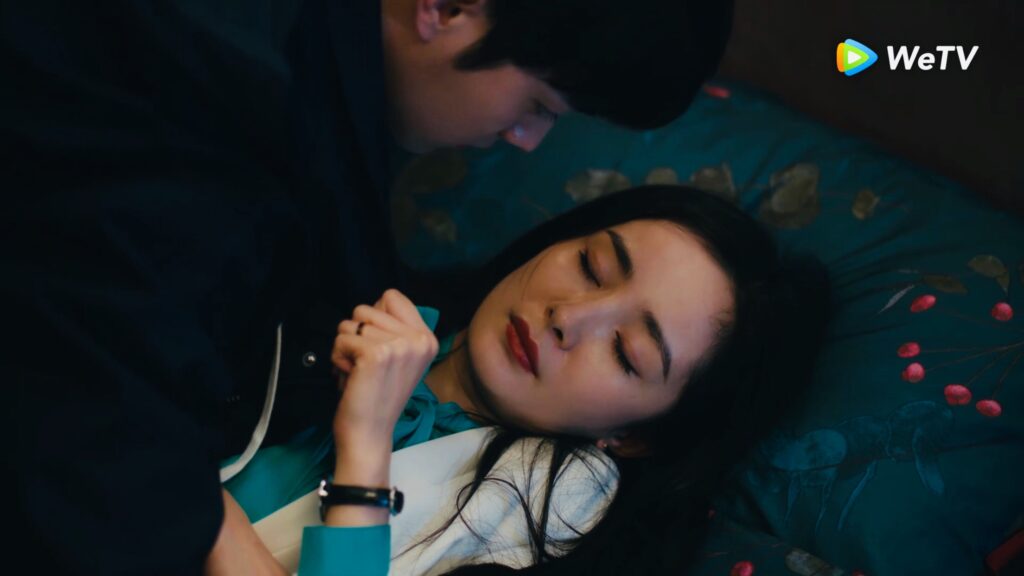 The next morning, Yang Hua reminded Qin Shi that she had to care more about her life, especially her sleeping and eating schedule.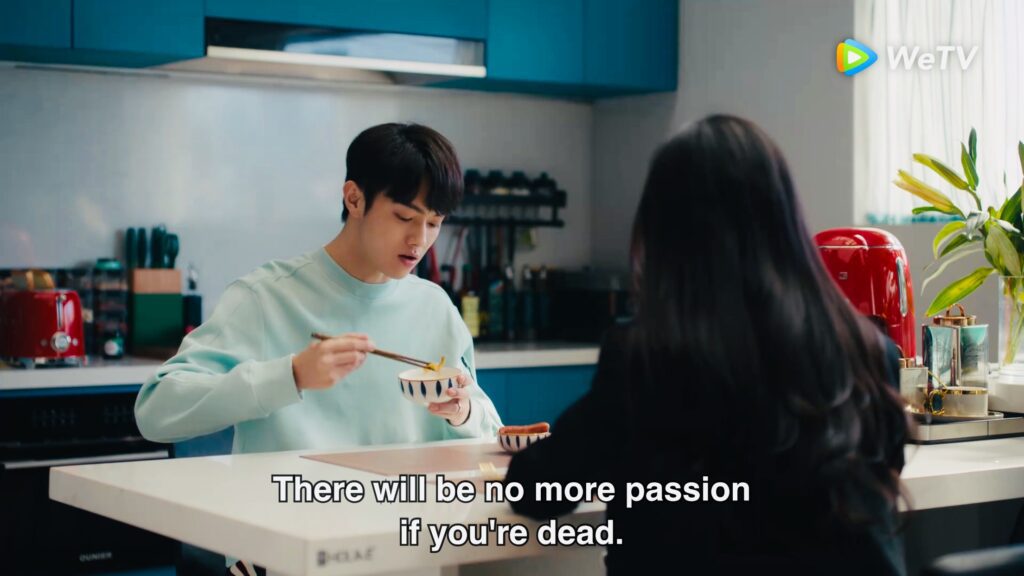 Suddenly both of them remembered about their groceries that were still left in the car trunk. Yang Hua volunteered to take care of it for Qin Shi. Before she left to work, Qin Shi gave Yang Hua an offer to stay at her apartment until he found a place for himself. Yang Hua only had to take care of the apartment as the rent fee. Yang Hua agreed after less than a minute's hesitation. Qin Shi was elated to hear that.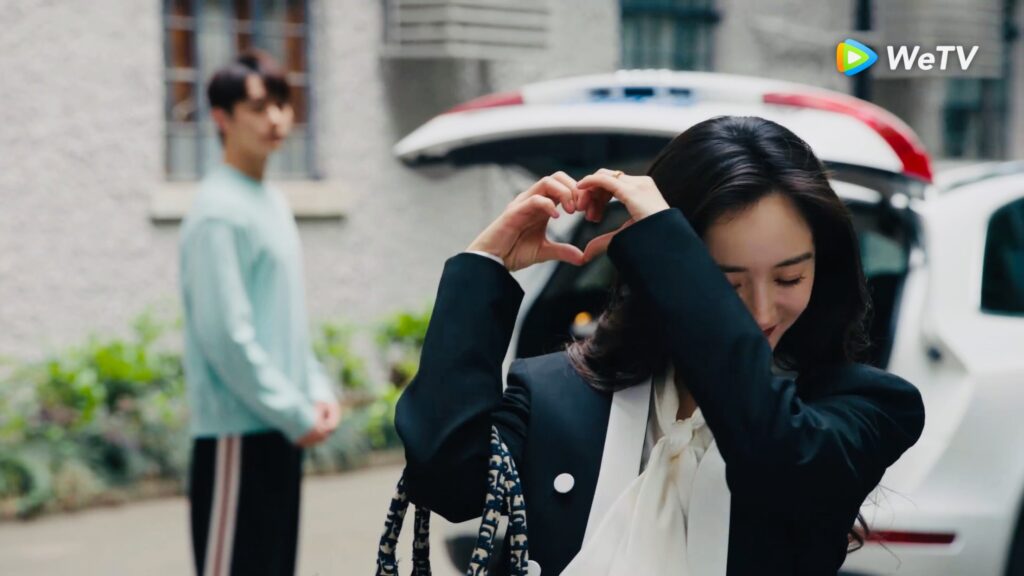 At another apartment, two love birds were also prepared to go to work. This time Qin Wenyu took over the responsibility and would manage the company instead of his wife, Ren Mei Mei. They flirted with each other as if they were never parted. Well, it seemed that both of them have forgotten the last incident with a woman named Vivian..😅😅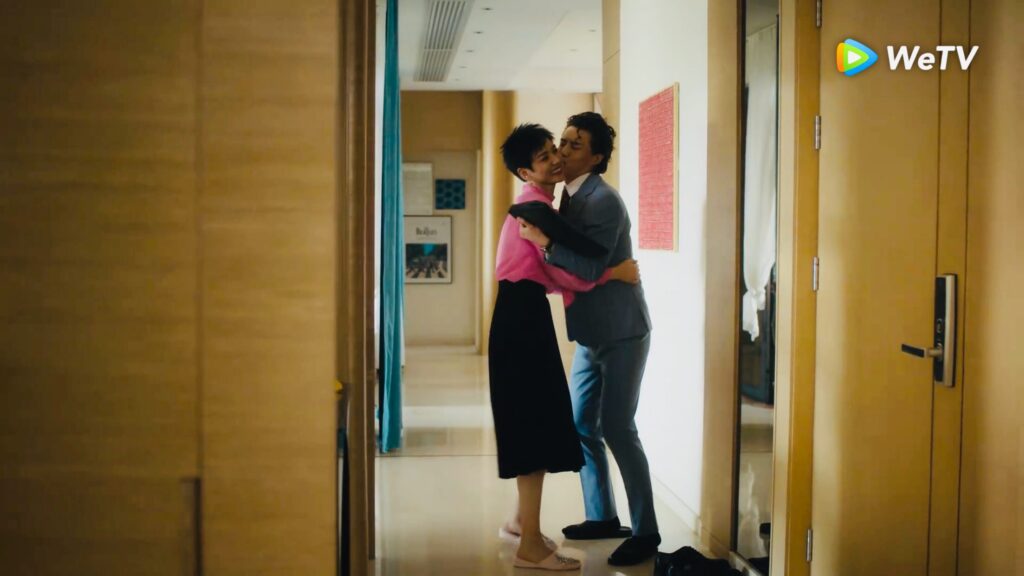 Mother Yang had to deal with Mrs. Sun from the matchmaking agency because Li Dai asked for compensation. After all, according to Li Dai, Yang Hua was already married. The agency blamed Yang Hua's side for giving false information. Mother Yang explained that her son only had a girlfriend but never married.
At Cheng & Hui, Tang Yi Hui appointed Qin Shi and Li Dai to be in charge of Lan Xiao Ting's divorce case. Qin Shi chose Zhou Qian Qian, Hai Tao, Chang Ming, and Zhen Dai to assist her with the case. She purposedly ignored Wu Fei who eagerly wanted to help her. Wu Fei stood awkwardly next to her table while she watched her colleagues entered the meeting room.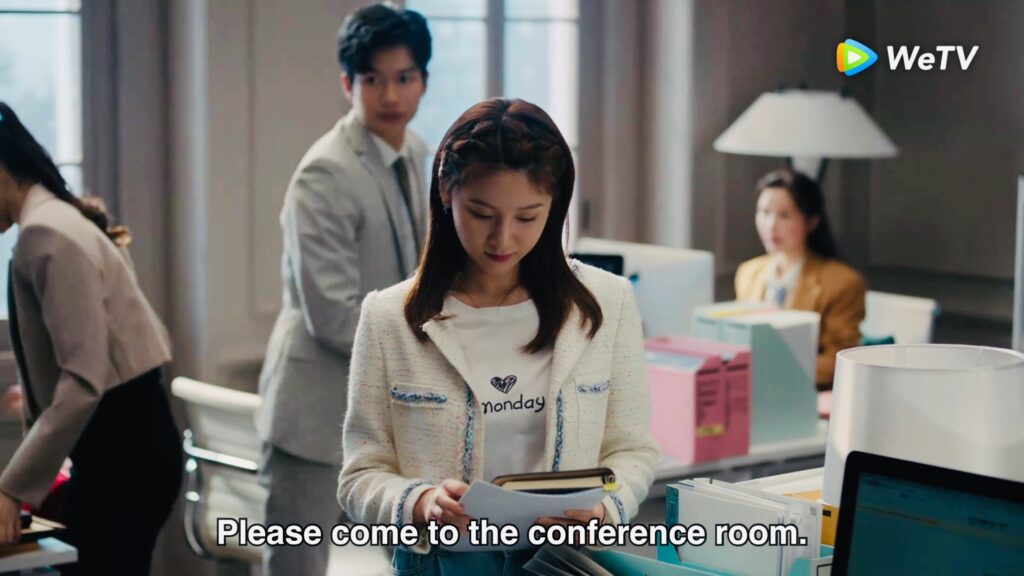 Because Lan Xiao Ting was already an adult, therefore the main issue of their divorce was not child custody, but the distribution of wealth.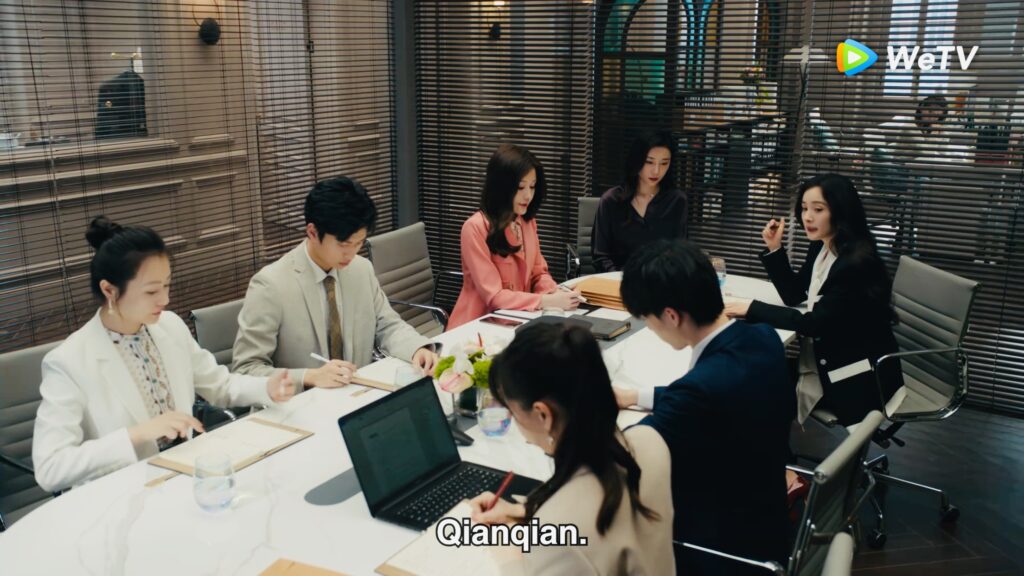 According to the analysis of Qin Shi's side and also Tao Jun Hui's side, the debt of Luowei Yulan did not meet the criteria as joint debt. Lan Xiao Ting also did not run the company with her husband. However, in the worst-case scenario, Lan Xiao Ting could only secure half of the marital assets.
But if the husband committed a fault that jeopardize the marriage, the court could lessen his share of the marital asset from 50% to 0. This situation would be not favorable for Tao Jun Hui's side since he tried to get his client's money back from Luowei Yulan.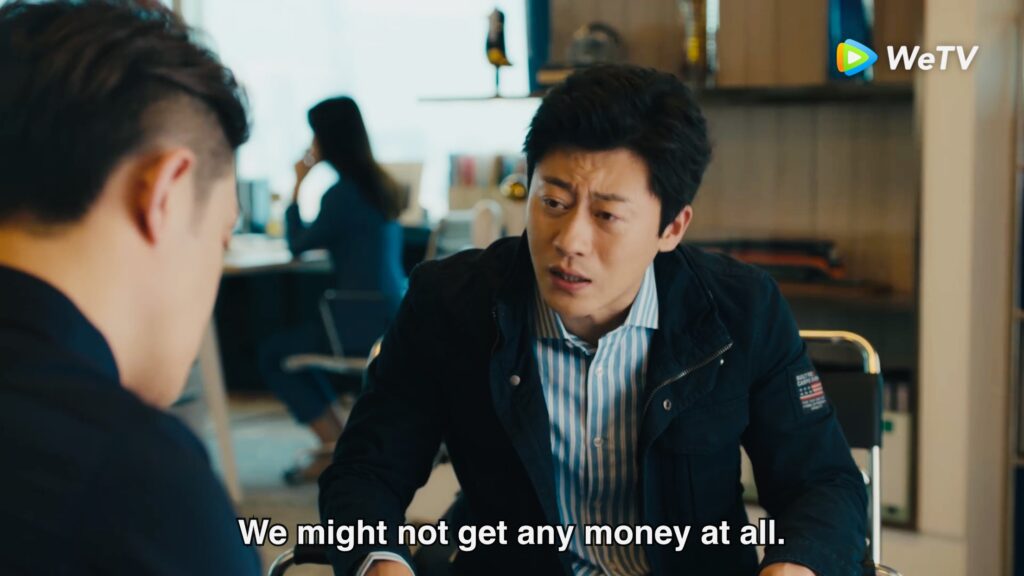 Tao Jun Hui's side thought that nothing was wrong with Lan Xiao Ting and Pang Ding Fang's marriage. However, Zhou Qian Qian has found a proof that Pang Ding Fang committed adultery with his son's private teacher, Joyce Wang or Wang Jialing. Zhao Dan Ping fumed when she saw the photograph of Pang Ding Fang and his mistress.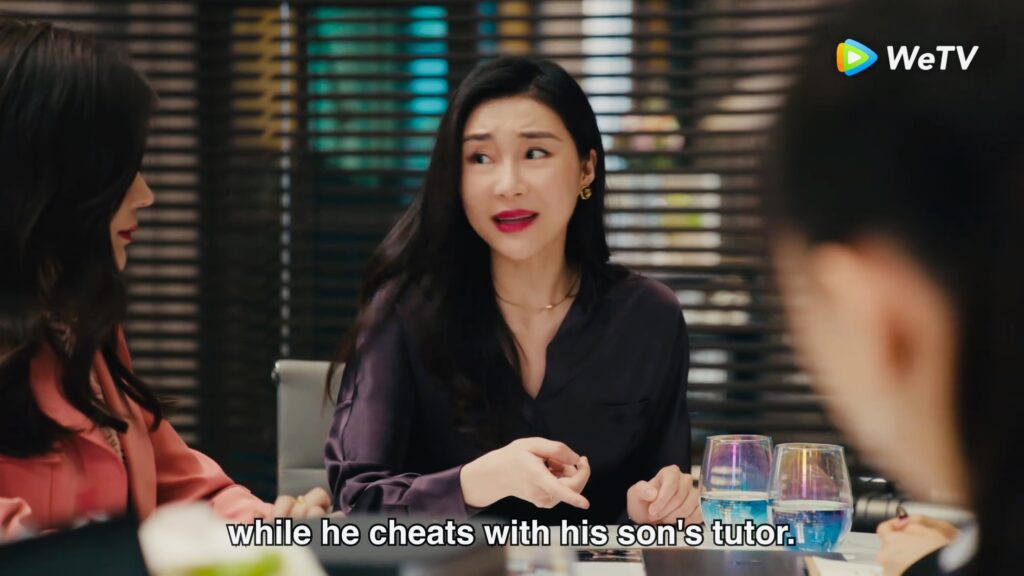 Zhao Dan Ping wanted to settle her aunt's case as soon as possible. But neither Qin Shi nor Li Dai could answer her wish, because in reality, the divorce process would be difficult and would take so much time. Especially because Pang Ding Fang was abroad.
Qin Shi's side was not the only one who was having a hard time because Tao Jun Hui also hit the hard wall. They did not have complete information about Lan Xiao Ting and Pang Ding Fang's assets. According to Tao Jun Hui, only the divorce attorney knew the exact information about that.
After Zhao Dan Ping left the law firm, Qin Shi and Li Dai had time to talk to each other. After years of being colleagues, this was the first time they worked together. Li Dai tried to shake Qin Shi from the case. She asked Qin Shi whether she really wanted to take the case since she would move to the 11th floor.
Qin Shi who understood very well her intention told her that the case had nothing to do with her promotion. Li Dai pretended to be nice and advocated a fair competition between them. And Qin Shi, who also pretended to be nice, agreed to her words.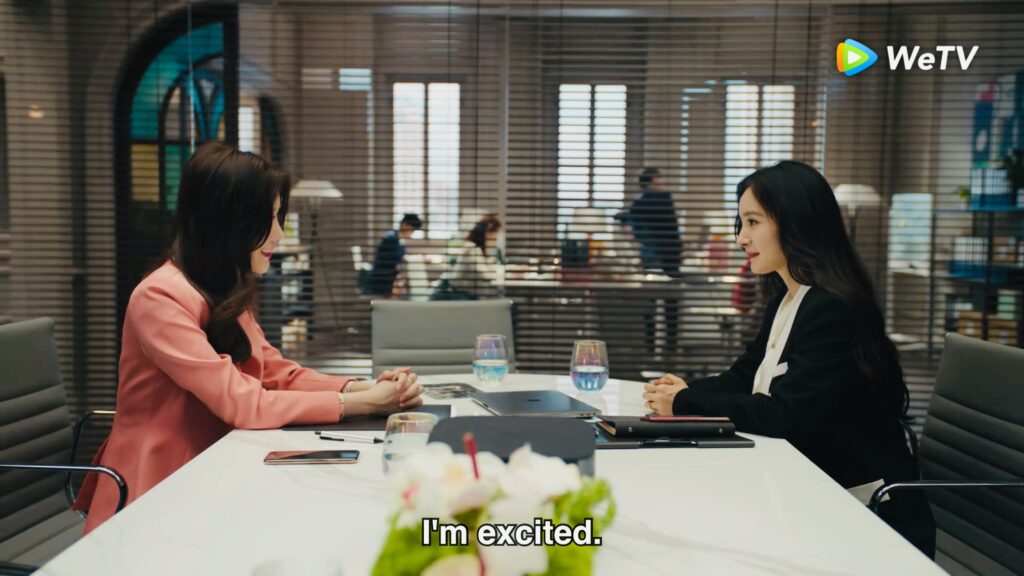 It was fun to see Qin Shi and Li Dai pretended to be nice to each other. They talked in nice and flowery words but actually they mocked each other…😅
Yang Hua visited Lao Zhou at the hospital. He saw three crooks coming out from Lao Zhou's ward and they mocked him. They said that Lao Zhou was stupid because he did not care about the one million yuan that he lost from Luowei Yulan's case. Yang Hua was worried and asked him about them. Lao Zhou said that the crooks came from a debt-collecting company. They persuaded people who lost the money from Luowei Yulan to join them.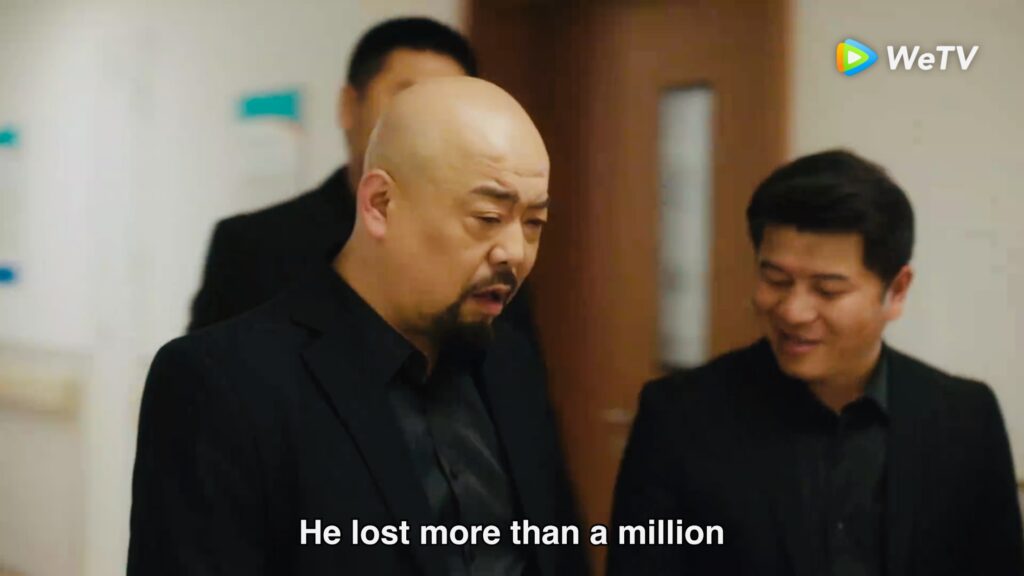 Lao Zhou also gave Yang Hua a piece of information about Lan Xiao Ting who would file a divorce from Pang Ding Fang. She already asked a famous law firm to represent her. Yang Hua was stunned to hear the news. His expression showed that he was worried about something. From the hospital, Yang Hua drove by his parent's house to look for a thing. Mother Yang saw him and told him to stay for dinner, but he refused because he was in rush.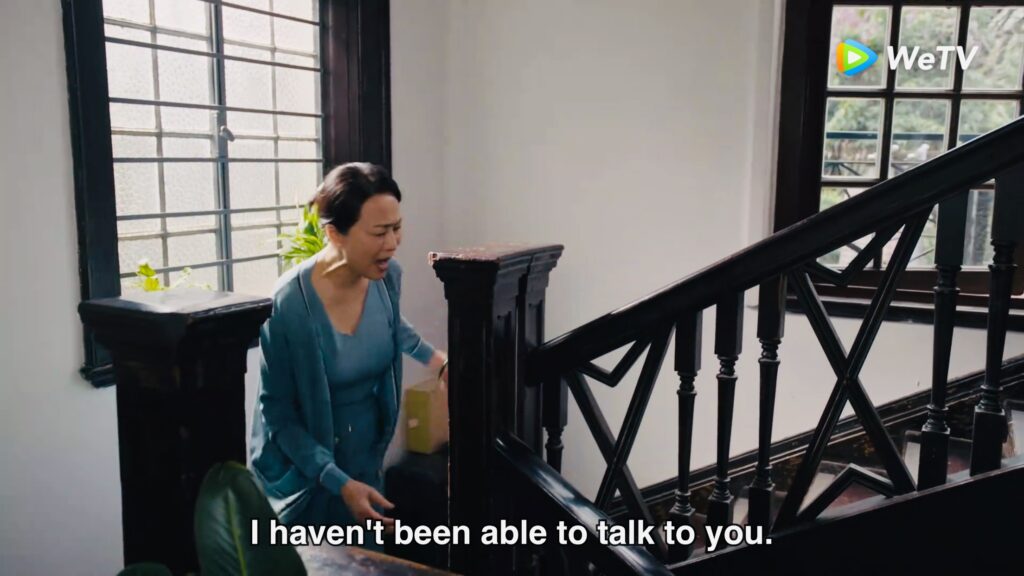 Wu Fei came to Qin Shi's office and told her that she wanted to join Lan Xiao Ting's case. She promised that she would not talk about the case to anyone else, especially to Tao Jun Hui. Qin Shi stared at Wu Fei and told her that the reason why she did not pick her was because Wu Fei lacked experience. It had nothing to do with Tao Jun Hui's words.
However, Wu Fei thought that Qin Shi's words were too harsh and full of prejudices. She left Qin Shi's office angrily. Qin Shi admitted to herself that she talked harshly because she was jealous of Wu Fei.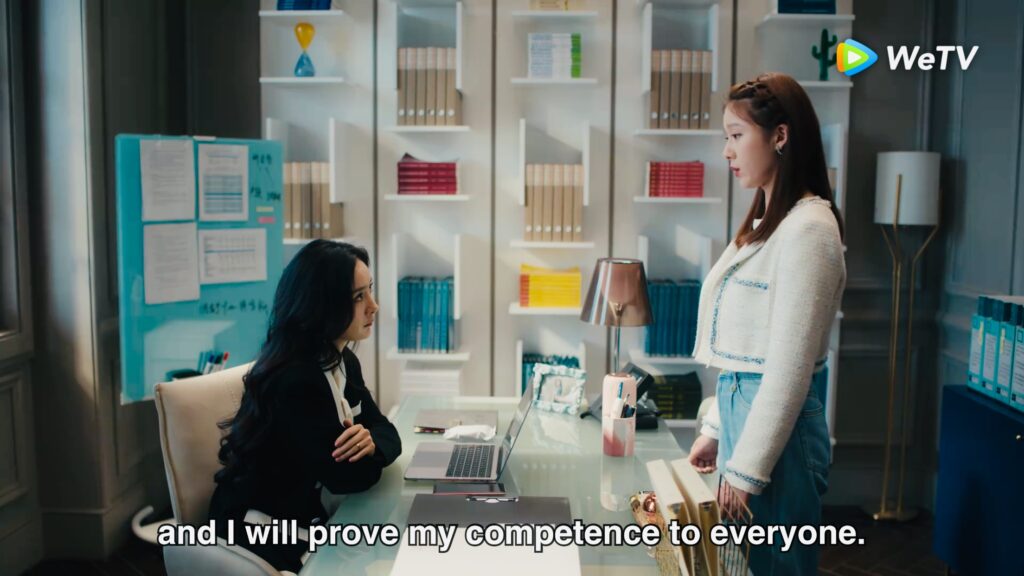 Qin Shi and Li Dai were very busy that day. From their subordinates, they found that most of Lan Xiao Ting's estate and business had been leveraged. Both of them were shocked when they found out that the leverage has reached almost 2,3 billion yuan (around 329 million USD). It was a death trap for Lan Xiao Ting and them.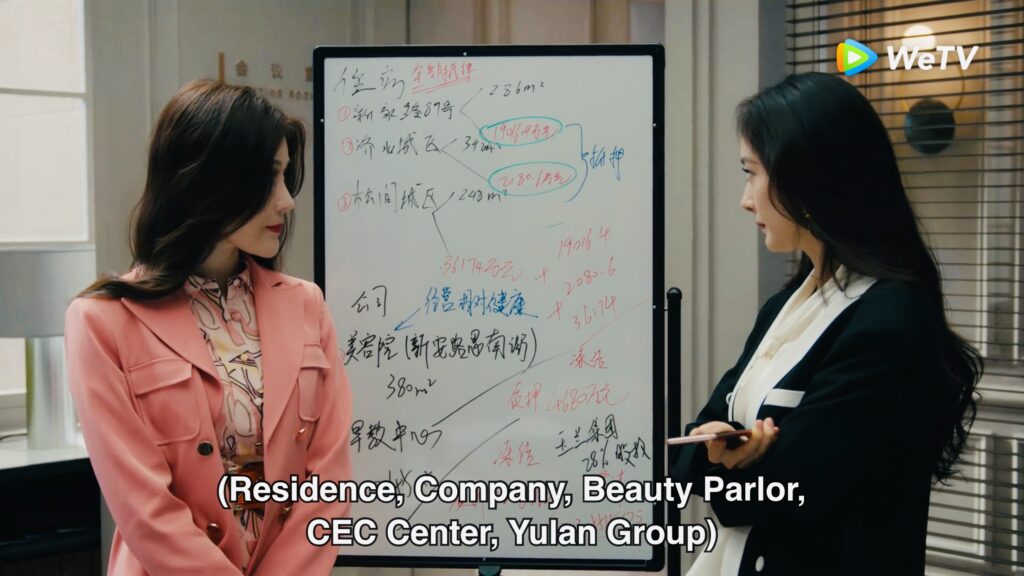 That night, Wu Fei left the office in a gloomy mood. She called Tao Jun Hui, but he was too busy to talk at the moment. He only told her to wait for him at the apartment. Both of them did not notice that their cars ran towards each other because Tao Jun Hui's destination was the parking lot of Cheng & Hui's building.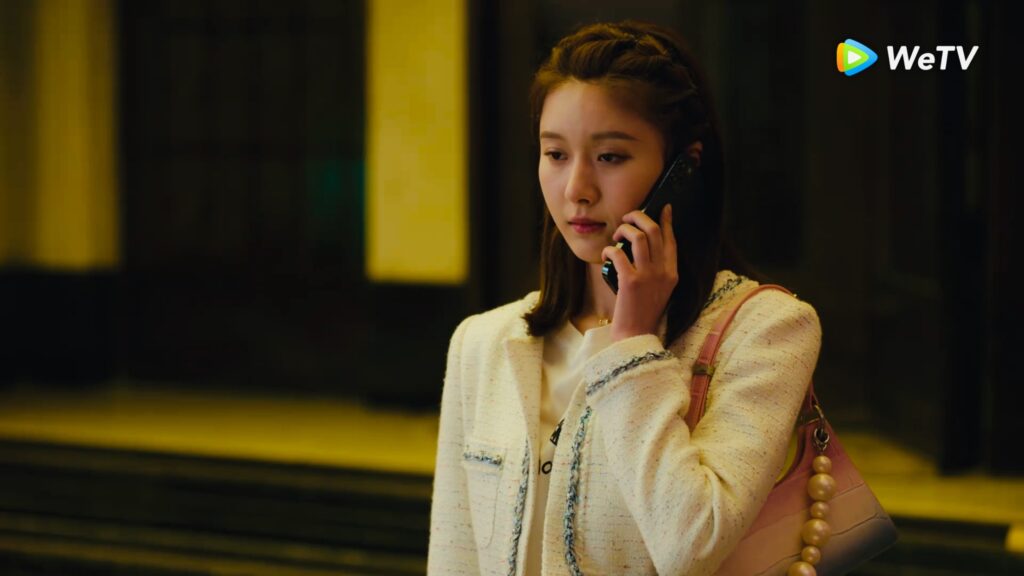 Meanwhile, Mother Yang was looking for something at her house. When she finally found the thing, it was Li Dai's name card.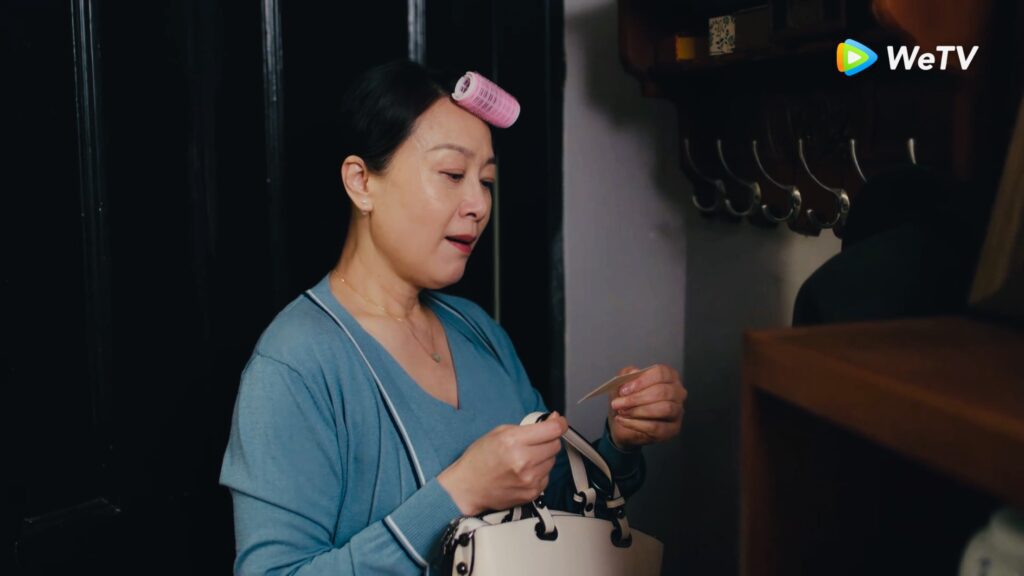 Episode 14
Qin Shi and her team found out that the biggest asset of Lan Xiao Ting and Pang Ding Fang was her 28% Yulan Group stock. However, the stock was a premarital asset that she inherited with a condition that the asset must not be transferred to her spouse.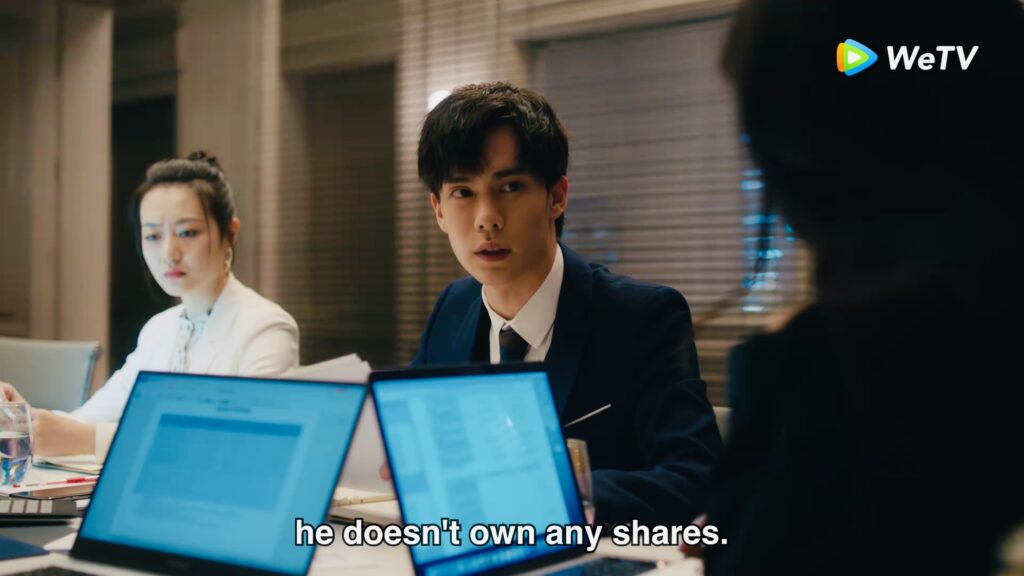 While she checked the data, Qin Shi questioned why the Yulan Group management fell into Pang Ding Fang's hand. Hai Tao told her that the management used to be in Lan Xiao Ting's brother's hands. But since Zhao Dan Ping's mother (Lan Xiao Ting's sister) died and transferred her share of stock to her, Lan Xiao Ting became the biggest shareholder of the Yulan Group.
The right to manage the group automatically fell into her. Henceforth, Lan Xiao Ting's husband became the General Manager of Yulan Group. And the change in equity and management ruined the sibling relationship between Lan Xiao Ting and her brother.
After a calculation, Qin Shi and Li Dai found out that the 2,2 million yuan of Lan Xiao Ting's Yulan Group stock was a match with the amount of the assets leveraged. They realized that Pang Ding Fang has calculated everything thoroughly. He planned to bail out Luowei Yulan with Lan Xiao Ting's stock.
It seemed that he was holding a grudge against Yulan Group and his wife. They made a few speculations about the reason for Pang Ding Fang's action.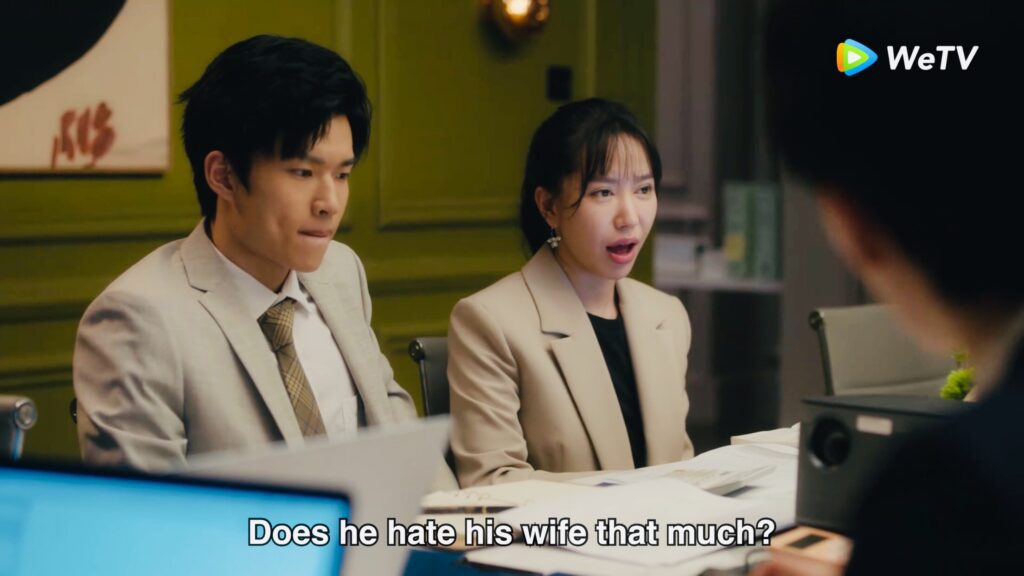 The first speculation was because Pang Ding Fang had an affair with Joyce Wang and plotted everything for her sake. The next speculation was because 5 years ago, Lan Xiao Ting's nephew (her brother's son) entered Yulan Group management and his presence was a threat to Pang Ding Fang's position. Although Lan Xiao Ting was his wife, Pang Ding Fang was just an employee in the company.
Yang Hua's call distracted Qin Shi from the case. He was already at the parking lot near Cheng & Hui's building and waiting for her. At the same time after Yang Hua's call, Tao Jun Hui called Qin Shi. And she was stunned for a while. Tao Jun Hui wanted to meet her to talk about Luowei Yulan's case. Qin Shi refused to meet him. She said that she still had a meeting, but he was determined to wait for her.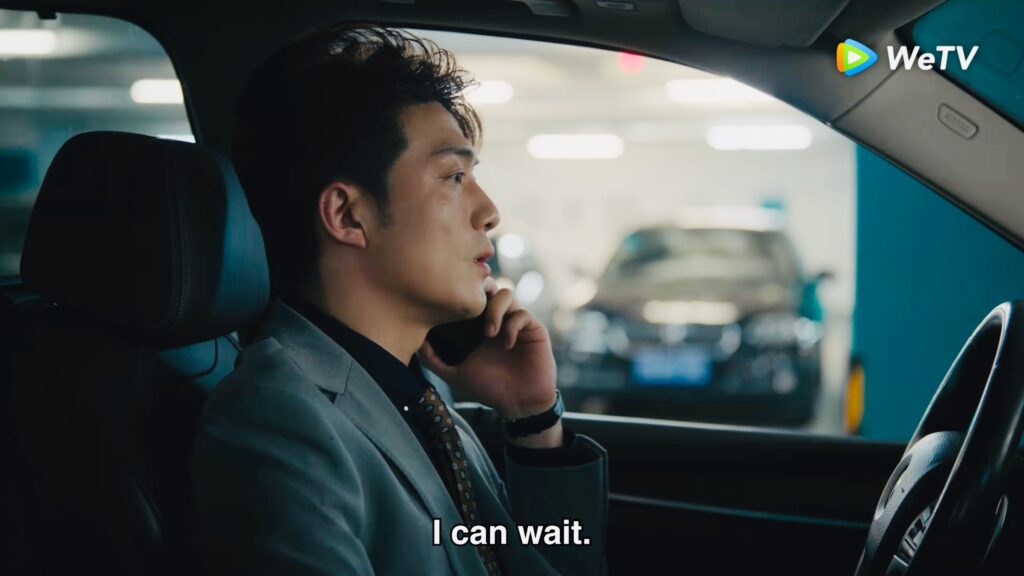 But the meeting was canceled later because somebody had sent a bag full of dung and a threat letter to Qin Shi. It smelled awful that everybody had to hold their breath.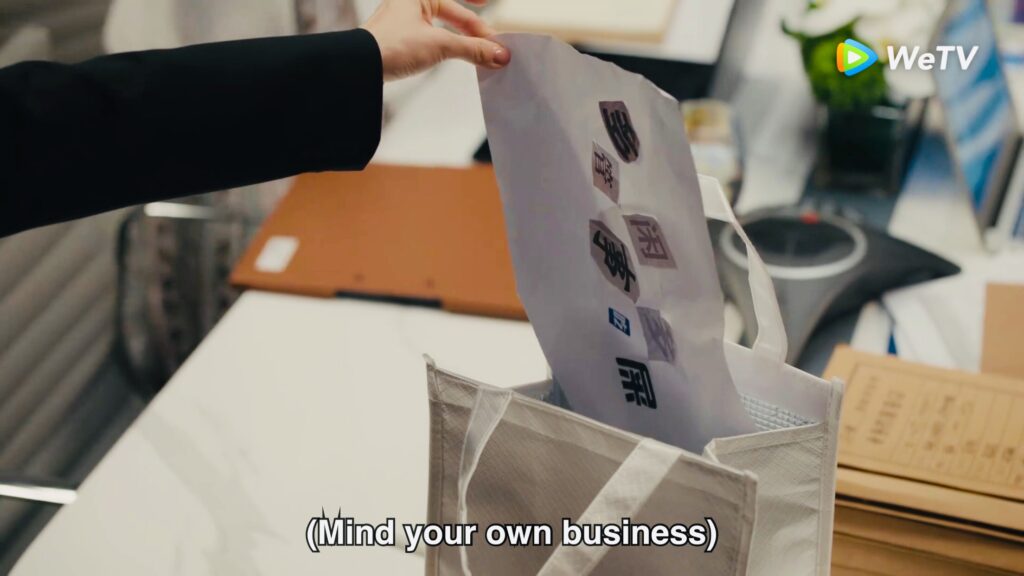 Wu Fei waited for Tao Jun Hui in his apartment. When she took out a book from the shelves, she found an old photograph. It was a picture of the 2007 Debate Tournament Championship. In the picture were Qin Shi and Tao Jun Hui, alongside another winner from a different university. Wu Fei was taken aback when she saw the picture because Tao Jun Hui used to say that he did not know Qin Shi. However, the photograph showed otherwise.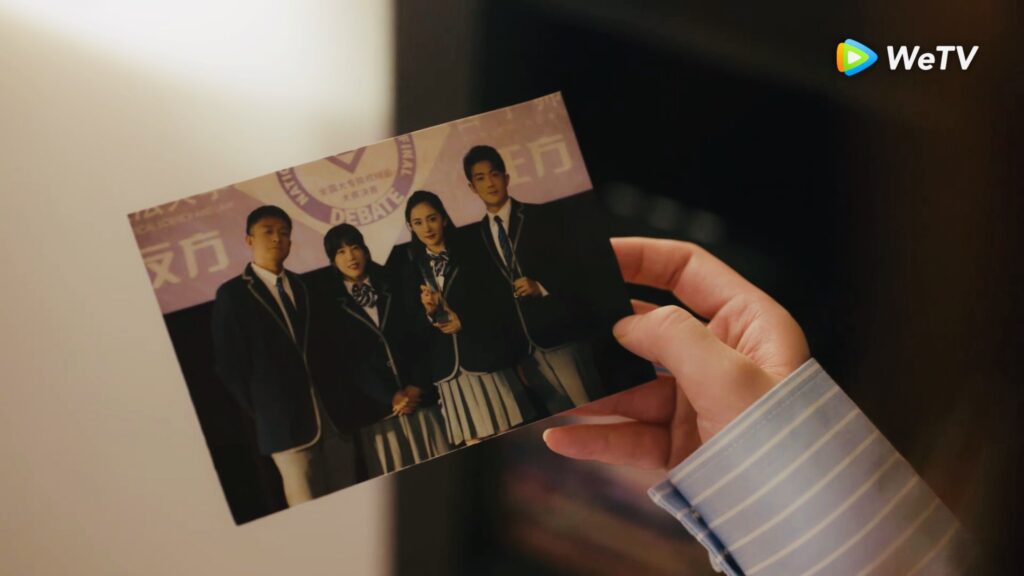 Whilst Yang Hua parked outside the building, Tao Jun Hui was in the basement. Qin Shi left her office and headed straight to the basement because she decided to meet Tao Jun Hui there. When she entered the elevator, a bald man entered. He was the same person Yang Hua saw outside Lao Zhou's ward.
When Qin Shi saw the man, she became alert because that man did not seem like a person who worked at the building. She typed the police emergency number on her phone and prepared to hit the call button. But the man exited the elevator on a different floor.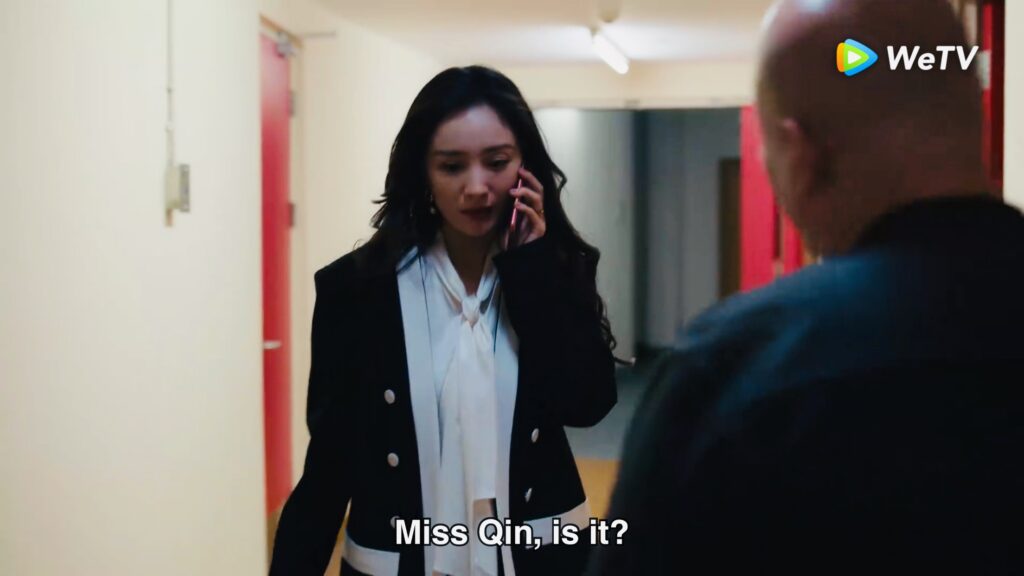 Qin Shi arrived at the floor where Tao Jun Hui parked his car when suddenly Yang Hua called. She picked up the call and exited the elevator. Qin Shi saw the bald man standing before the door. When she walked into the parking area, a white van stopped. A man got off the car and walked toward her.
Qin Shi started to get panicked because those crooks tried to kidnap her. She told Yang Hua which floor she was before throwing her bag to those crooks and ran. Unfortunately, her phone dropped to the floor when she ran.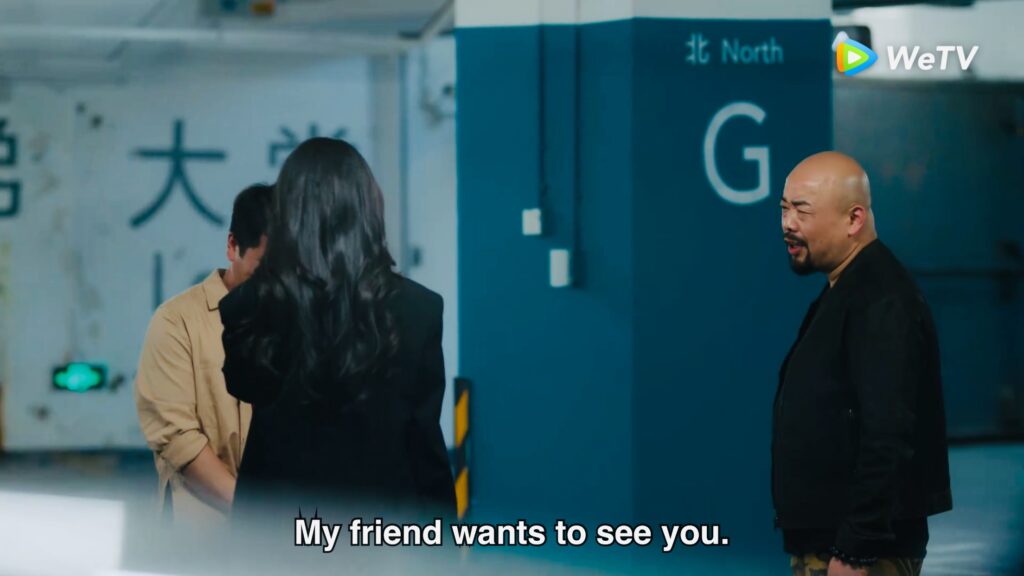 Qin Shi hid behind a pillar when Tao Jun Hui pulled her to run. But they were found, and Tao Jun Hui had to fight them. Thank goodness he knew karate. Qin Shi hit one of the crooks and ran. She still remembered what Tao Jun Hui taught her: to deal with a threat, it was either launch a sudden attack or ran. But Qin Shi tripped and fell.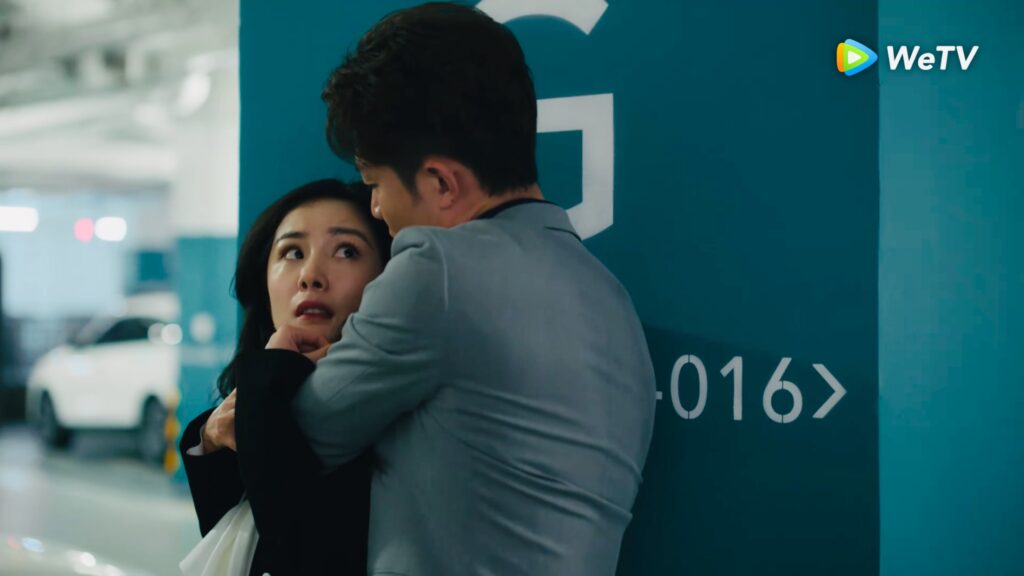 Qin Shi prepared for an impact when the crook suddenly fell. It was Yang Hua who struck him with a stun gun. Yang Hua took the dazed Qin Shi to run, but she refused because she did not want to leave Tao Jun Hui behind. Yang Hua gritted his teeth and went back to help Tao Jun Hui. But he was unlucky because his stun gun ran out of battery.
The crook was not hurt at all and hit Yang Hua right in the jaw. In the end, Tao Jun Hui was the one who KOed the crook. Tao Jun Hui looked at Yang Hua who bend his body in pain and asked him whether he was okay. Yang Hua immediately stood up and answered he was okay. I thought the hit was painful, but it seemed that Tao Jun Hui's question seemed to hurt him more.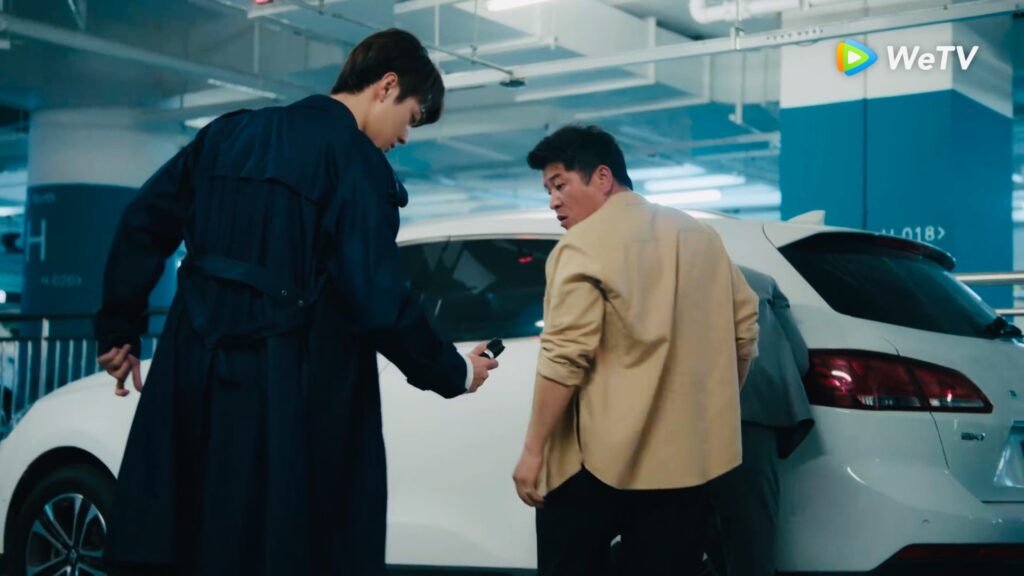 Meanwhile at the Yang House. After she called Li Dai, Mother Yang sat alone in the living room and looked troubled. Father Yang came and asked her what was wrong. Mother Yang was sad because Yang Hua seemed to forget about her after he was in a relationship. Father Yang coaxed her.
He said that Mother Yang did not know much about Yang Hua and Yang Hua was a possessive person. When he liked something, he would not compromised for anybody. Mother Yang was surprised when she realized that Yang Hua's feelings for Qin Shi were real.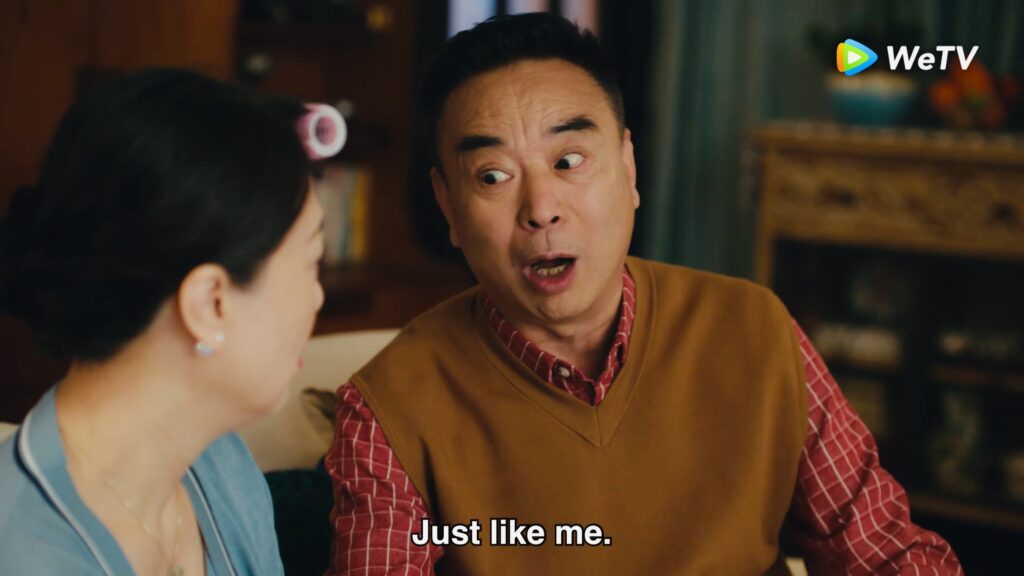 Qin Shi coaxed the sullen Yang Hua. Tao Jun Hui wanted them to use his car to go to the police station. Yang Hua refused and stopped Qin Shi from leaving with Tao Jun Hui. He said to Tao Jun Hui that they had their own car. Tao Jun Hui looked at him and said that it would be the same if they used his car, besides he still had to talk about business with Qin Shi.
Yang Hua added that if Tao Jun Hui wanted to talk to his wife, he could ride in their car. When she saw Tao Jun Hui had gotten impatient, Qin Shi took the decision and stop the argument between the two grown-up men.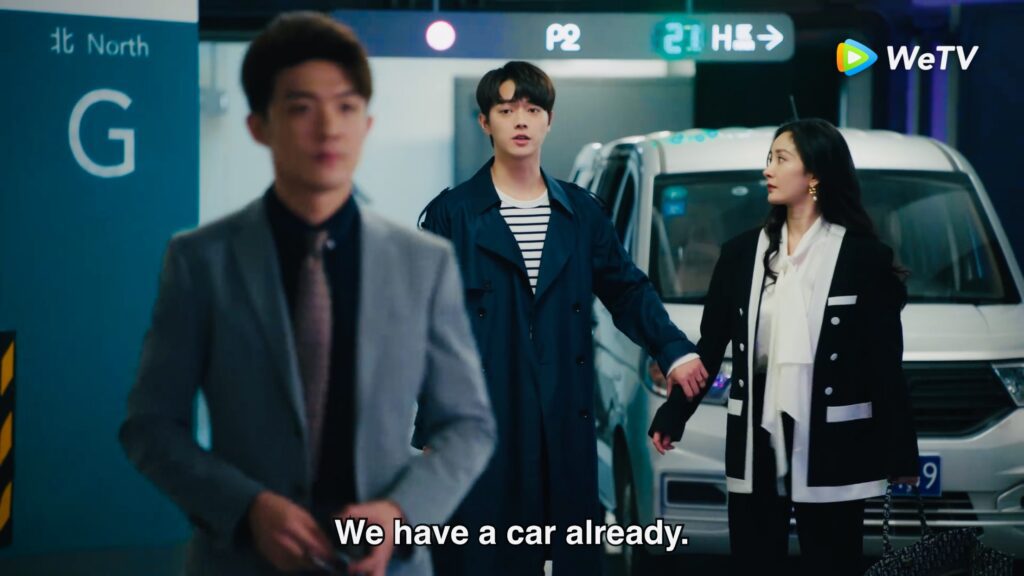 In the end, they used Tao Jun Hui's car. It was an awkward ride for the three of them. Tao Jun Hui sat next to Yang Hua in the back seat while Qin Shi drove the car.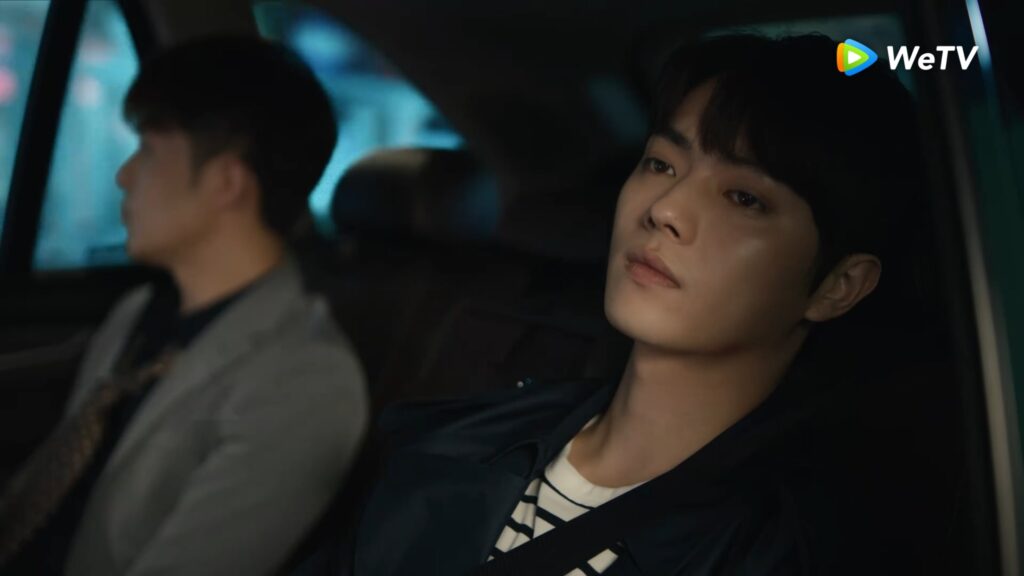 Tao Jun Hui said he wanted to talk to Qin Shi about the debt settlement. He wanted them to proactively pay the debt because Pang Ding Fang would surely be found guilty in the case. Therefore, they could plead for leniency. Qin Shi responded that he should look for Pang Ding Fang because it was his debt. It got nothing to do with her client, Lan Xiao Ting. Tao Jun Hui refuted her words. He said that husband and wife share the same profit as well as a burden.
Tao Jun Hui used her marriage as an example. He was sure Qin Shi would not divorce her unemployed husband. Qin Shi sighed. In her mind, she cursed Wu Fei as a blabbermouth who tells tales. While Yang Hua's face had gotten more unsightly.
Tao Jun Hui still tried to persuade Qin Shi to agree with his advice but she refused. Instead, she advised him to quit the case. However, Tao Jun Hui was determined to help his clients to get their money back. Their conversation was going nowhere.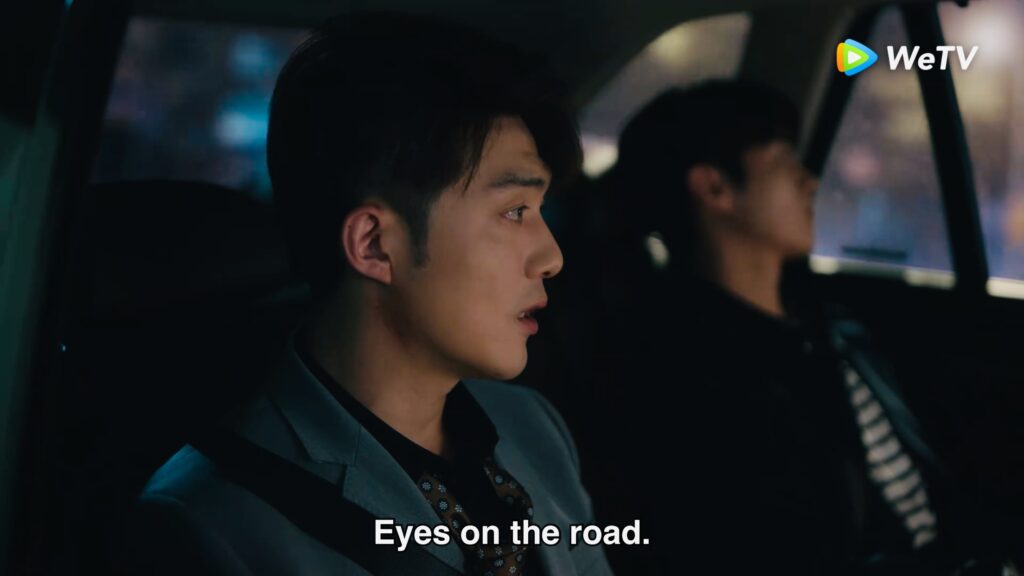 Ahhhh… I really admired Tao Jun Hui, compared to Yang Hua, in this episode he really showed that he was the person that I could rely on… 😆
Qin Shi stopped at a convenience store to eat because she was starving. She asked Yang Hua why he was there at the right time, right weapon, and right attitude. Yang Hua told her about the debt collector that Lao Zhou met earlier. Qin Shi was thankful for his help. She even praised him for his actions as a jealous husband.
Yang Hua noticed that Qin Shi's arm was scratched. He bought a bunch of first aid stuff and treated her injury. And to pay back his kindness, Qin Shi also helped him with the injury on his jaw. Yang Hua was not prepared for her sudden attention. He was uncomfortable being in such close proximity to Qin Shi.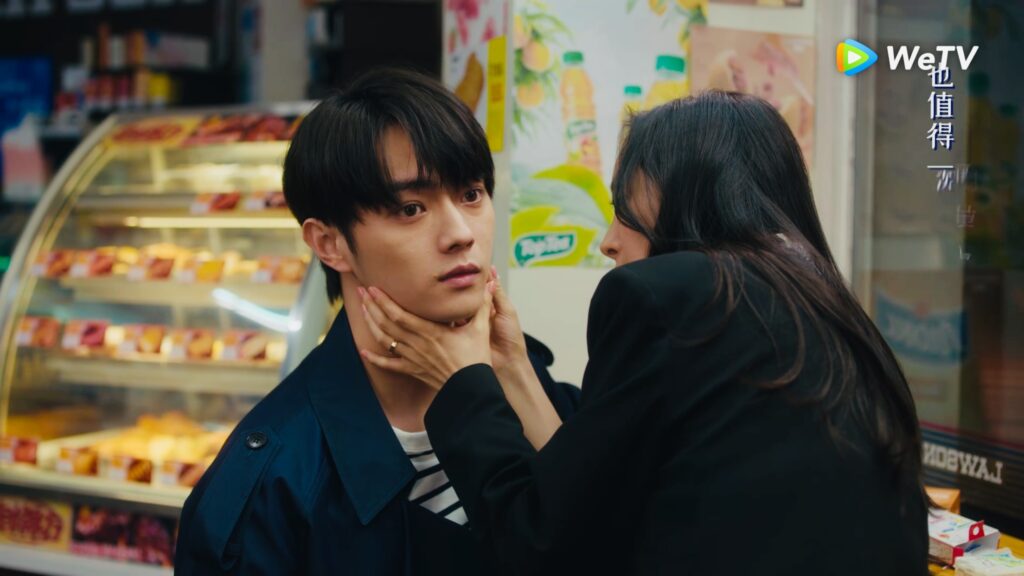 Yang Hua was sooooo adorable with his awkward expression, especially when she looked into his eyes…🥰
Yang Hua asked her whether she was afraid or not. Qin Shi said she was afraid. But she could not retreat only because she was afraid. She did not want to be the good people who did nothing when they saw evil things. She wanted to protect the justice and the right of every citizen.
After she finished the treatment, a group of people entered the convenience store. One of them swung his bag and it almost hit Qin Shi. When he saw this, Yang Hua instinctively took Qin Shi into his arms to protect her from the bag. Yang Hua was surprised by his own action and Yang Hua immediately left the convenience store.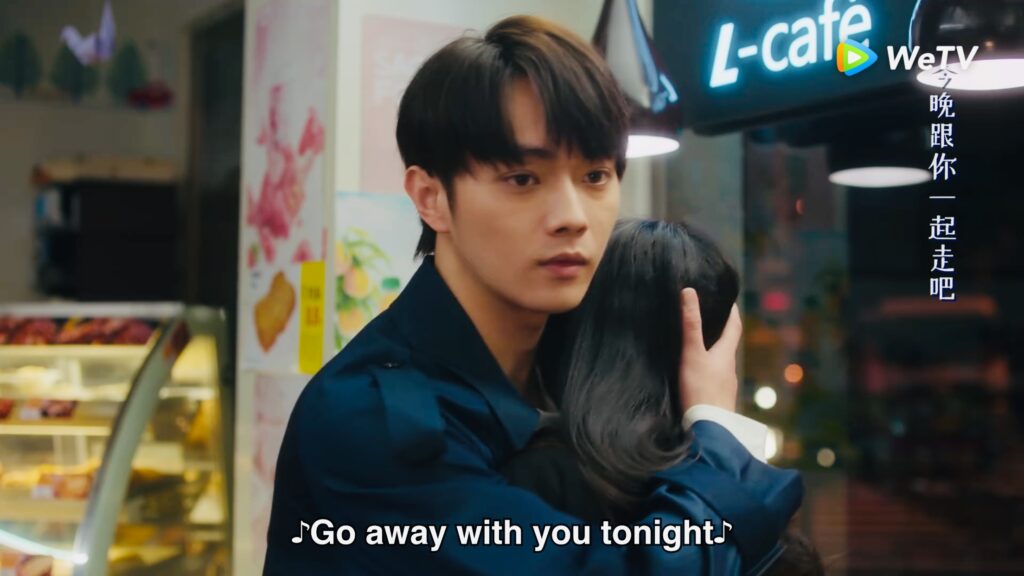 At the apartment, Wu Fei was asleep when Tao Jun Hui returned. She woke up when he covered her with his jacket. Wu Fei saw the injury on his neck and panicked. It intensified when she knew that his arm was also injured. She almost dragged him to the hospital. Tao Jun Hui smiled when he saw her cry.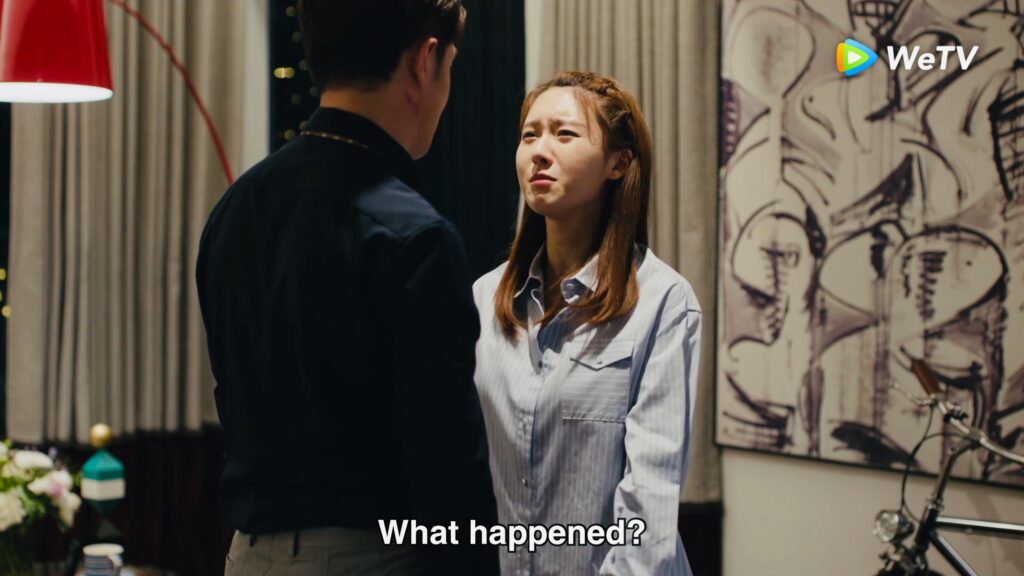 He told her the story of the debt collectors who attacked Qin Shi. He said that it was Cheng & Hui's fault that made Lan Xiao Ting divorce Pang Ding Fang. Wu Fei pouted when she heard his remark. She blamed him that because of what he said to Qin Shi, she was no longer involved in the case. Tao Jun Hui apologized to her and the couple ended their conversation sweetly.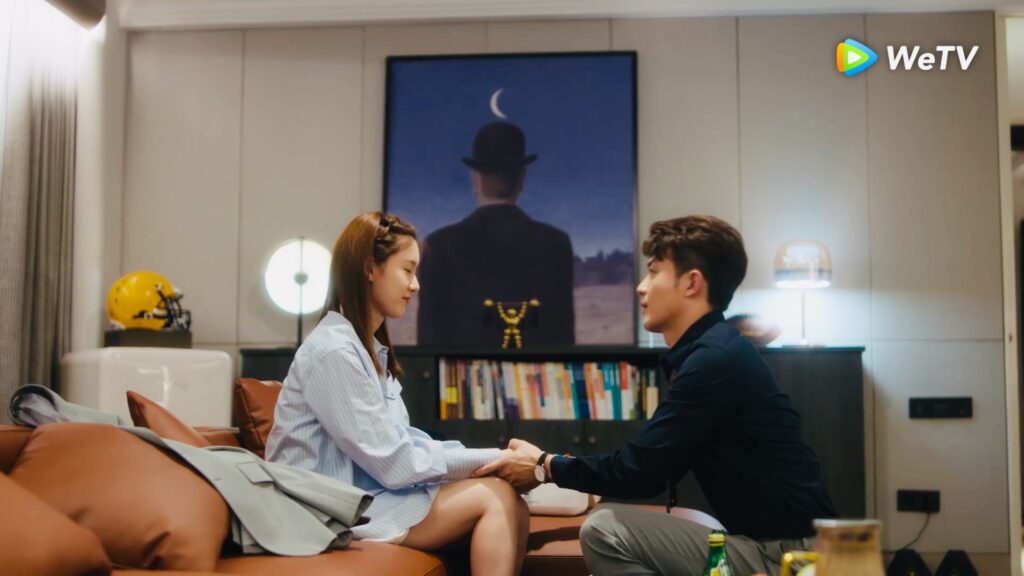 Qin Shi had a strange dream that night. When she slept, she dreamt she was sleeping on Yang Hua's arms in her bed. She went out to grab some soda to cool down herself before she went back to sleep. But then she dreamt of herself soaking in the bathtub. Suddenly Yang Hua came and asked her whether she needed more hot water. Qin Shi woke up in a daze and went back to sleep in a sitting posture. Now she dreamt of Yang Hua who leaned on her and told her to call him if she needed his help.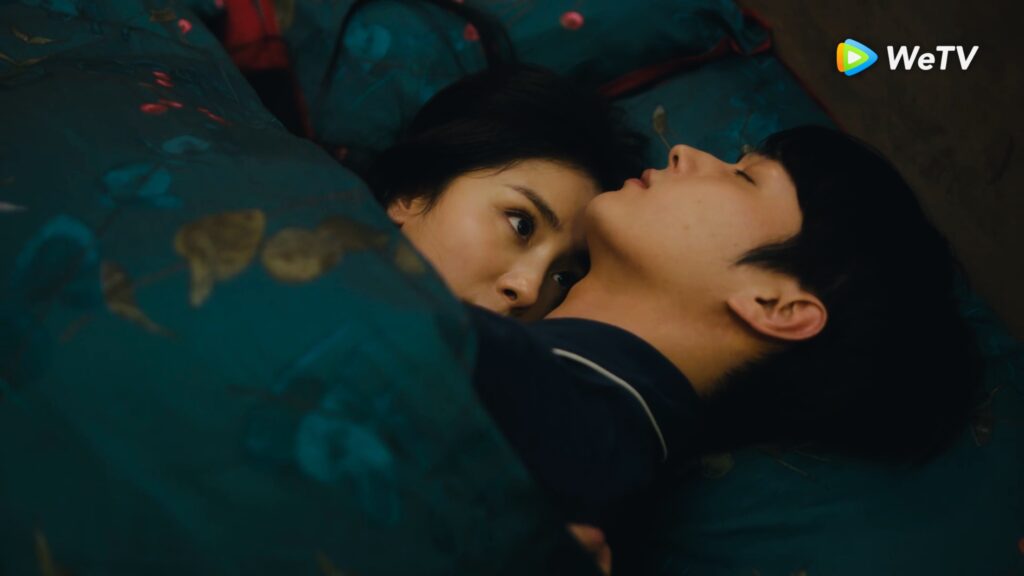 In the morning Yang Hua woke up in an empty house. Qin Shi has already left and she even prepared breakfast for him. Yang Hua happily ate the food. Lao Zhou called him and asked for some instructions.
Meanwhile, at the law firm, people talked about an attack on a female lawyer last night. They guessed whether the lawyer was Qin Shi or somebody else. Li Dai looked scared when she heard the news. When she was at the front of her door, Li Dai saw Qin Shi's door was ajar. She called Haitao and Zhou Qian Qian. The three of them entered the office and saw a person bundled in a sleeping bag. They used a broom to nudge the person. They sighed in relief when they knew it was Qin Shi.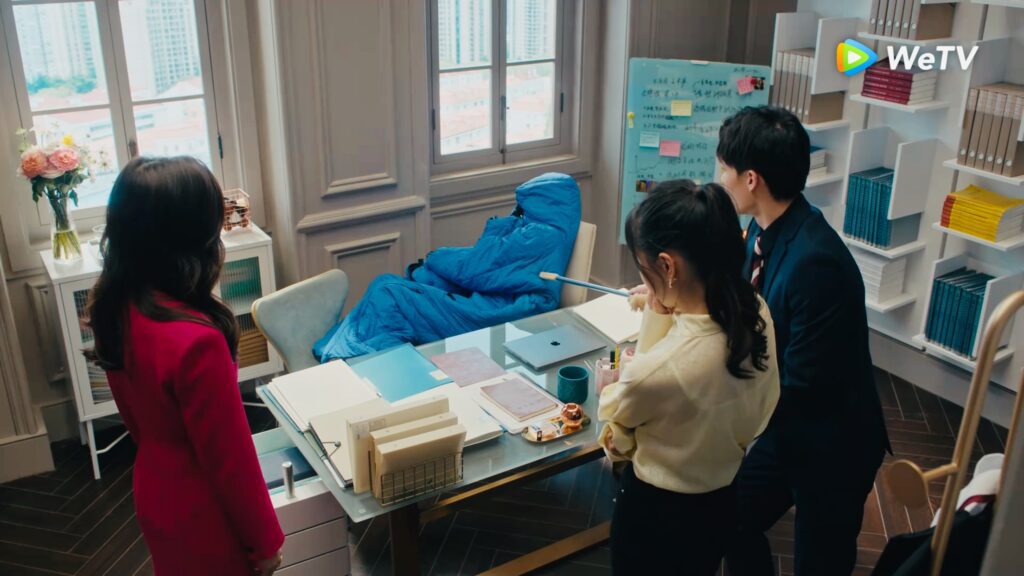 When Li Dai and Qin Shi were ready for a meeting, they were told that the meeting was no longer needed. Qin Shi and Li Dai went to Tang Yi Hui and asked the reason. Tang Yi Hui told them that Pang Ding Fang used Luowei Yulan's name to take out loans from a private bank. The amount was up to 1 billion yuan and he use Lan Xiao Ting's name as the guarantor. The situation was unfavorable for them, so Cheng & Hui decided to withdraw from the case.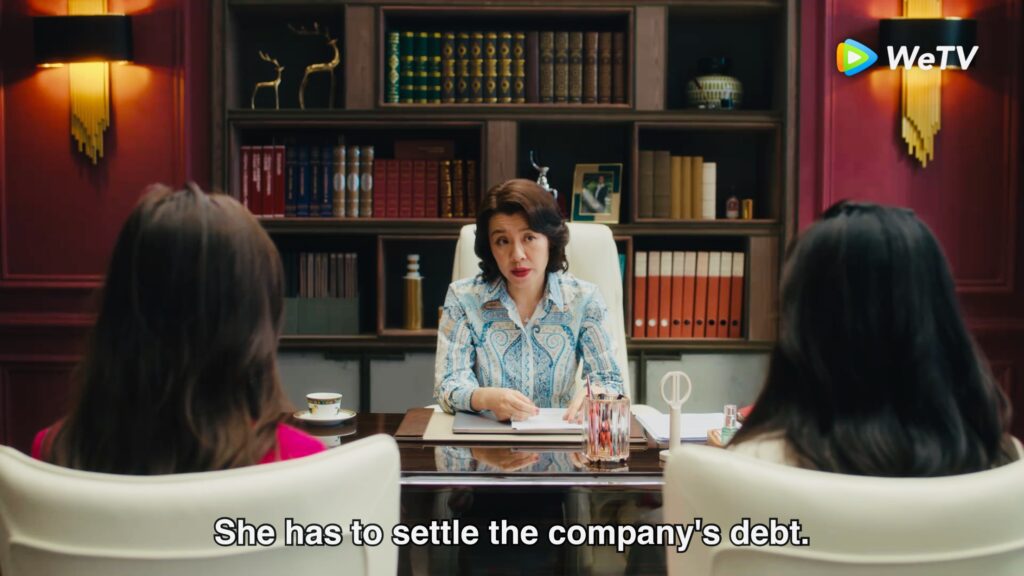 Yang Hua gave instructions to Lao Zhou who visited a factory. He told Lao Zhou everything he needed to investigate before he decided to invest his money in it.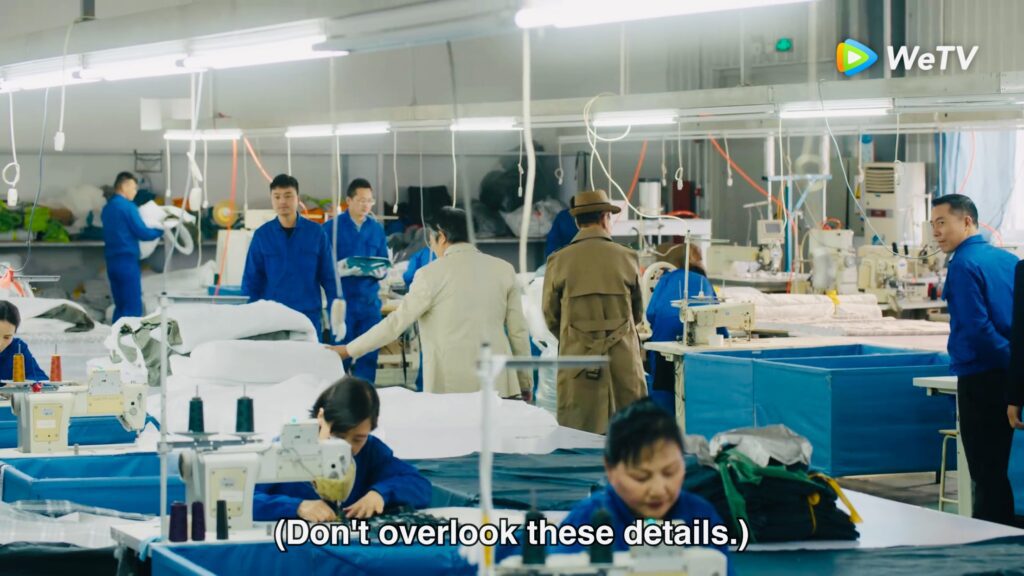 My Two Cents
Did Yang Mi bump her head on the elevator door when Xu Kai carry her home? 😆